9 Kitchen Island Decor Ideas
Is your kitchen island or countertop a blank slate? Check out these creative kitchen island decor ideas for a fresh new look!
Spice up your kitchen with these 9 kitchen island decor ideas! From adding a pop of color to adding natural elements, there's no shortage of creative ways to give your kitchen islands a personalized touch that provides both function and style. So brew some coffee, roll up your sleeves, and let's get decorating!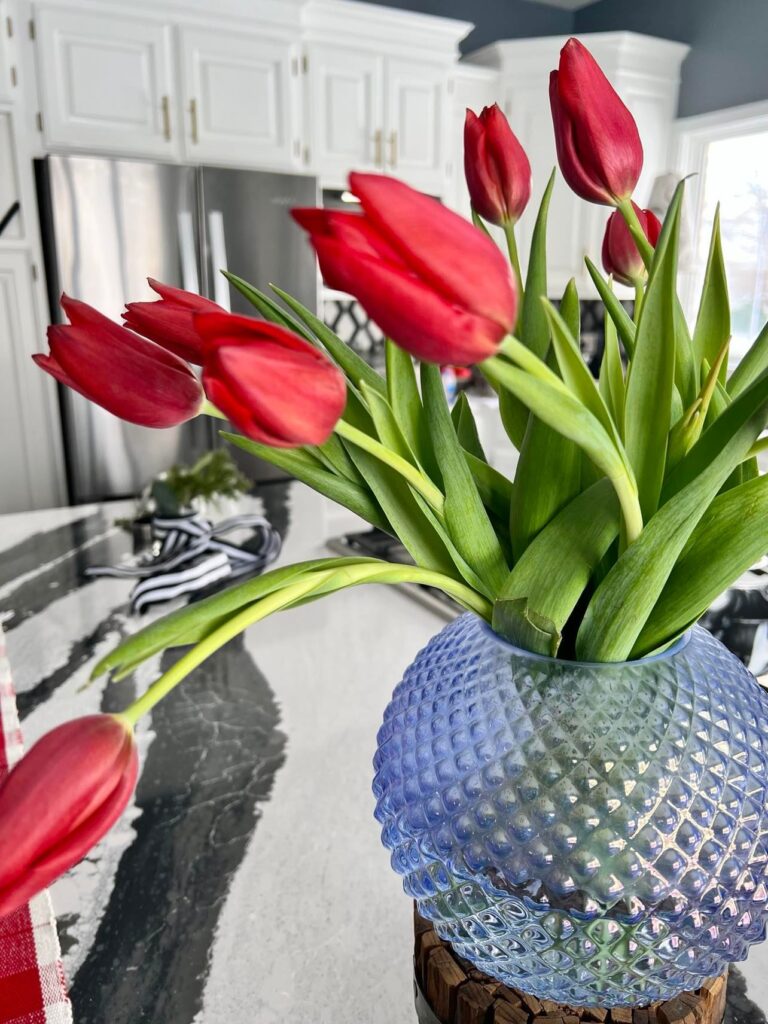 This blog contains affiliate links. This means a small commission is earned if you make a purchase by using this link. The price you pay will be the same whether you use the affiliate link or go directly to the vendor's website using a non-affiliate link. Sonata Home Design is a participant in the Amazon Services LLC Associates Program, an affiliate advertising program designed to provide a means for us to earn fees by linking to Amazon.com and affiliated sites.
Wouldn't you agree, every kitchen has its "hub?"
Ours is the kitchen island.
Of course, it is used for eating meals.
But also…opening mail, crafting, flower arranging, computer work, watching tv, drinking coffee, and just hanging out!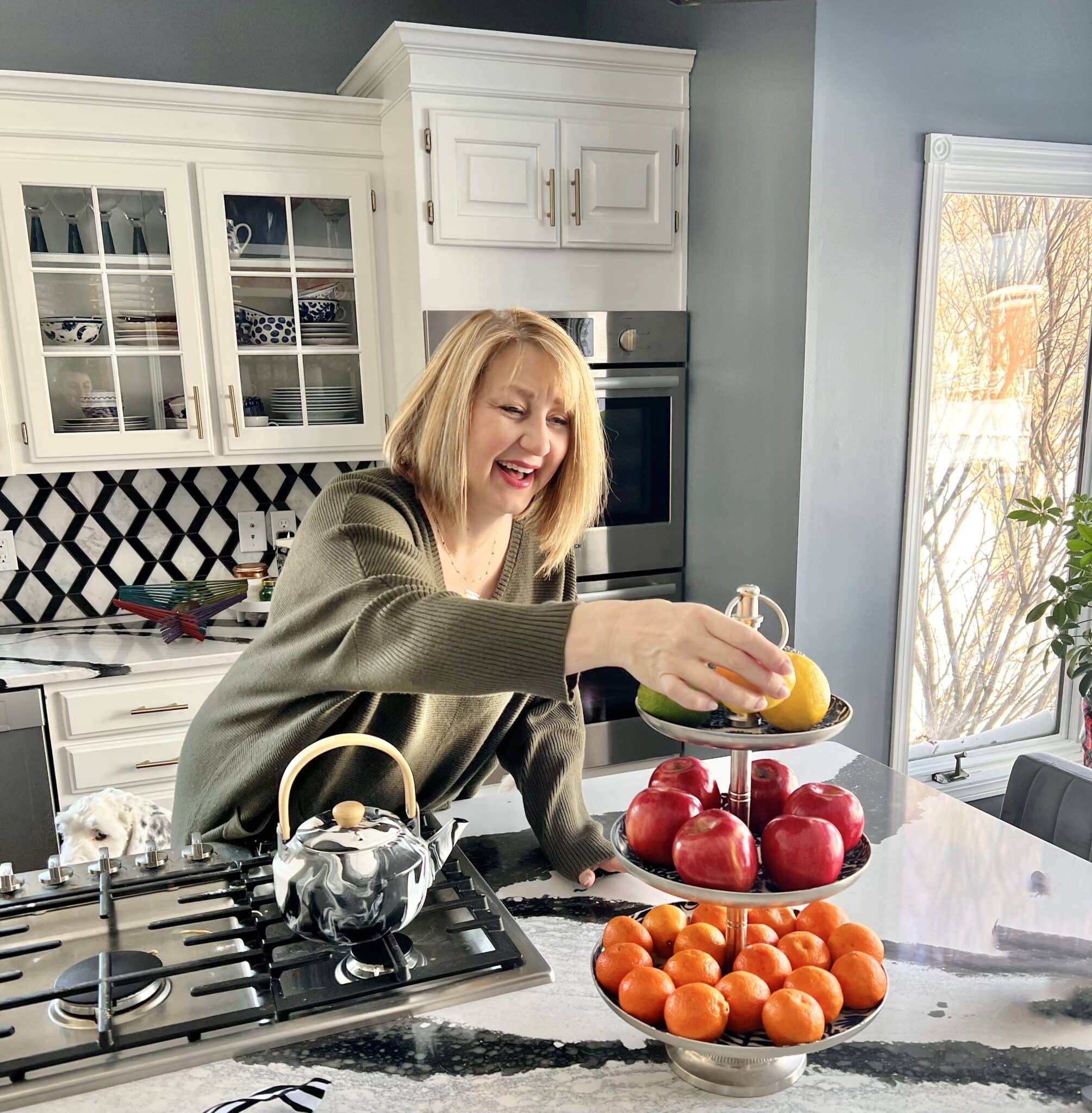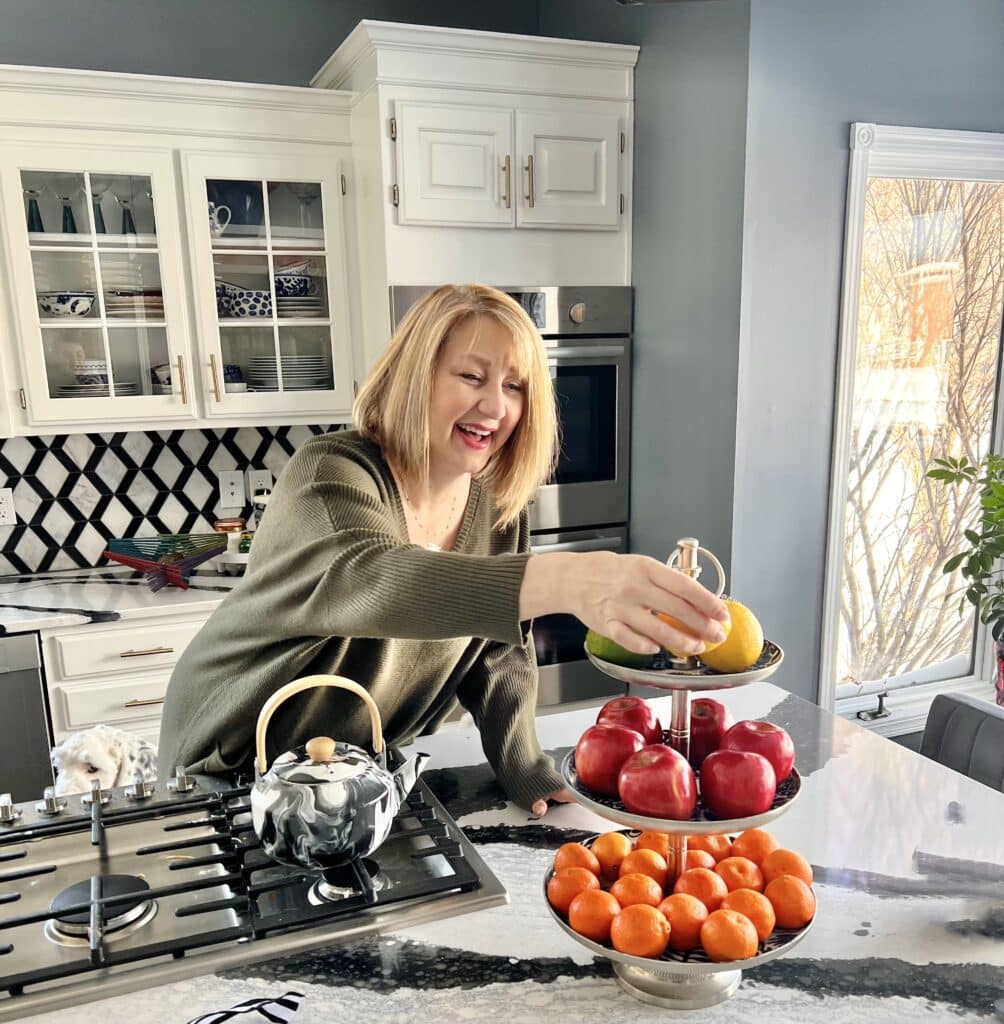 After years of not having a kitchen island, creating one in our new kitchen was at the top of my dream list.
When we redid our kitchen, the island became my new decorating blank slate. (Check out the before pics of our kitchen renovation here.)
And creating kitchen island displays is now a fun weekly treat!
Oh, the possibilities of changing out a kitchen island display!
Here is our new kitchen island when it was just on the verge of completion. Space! Glorious space!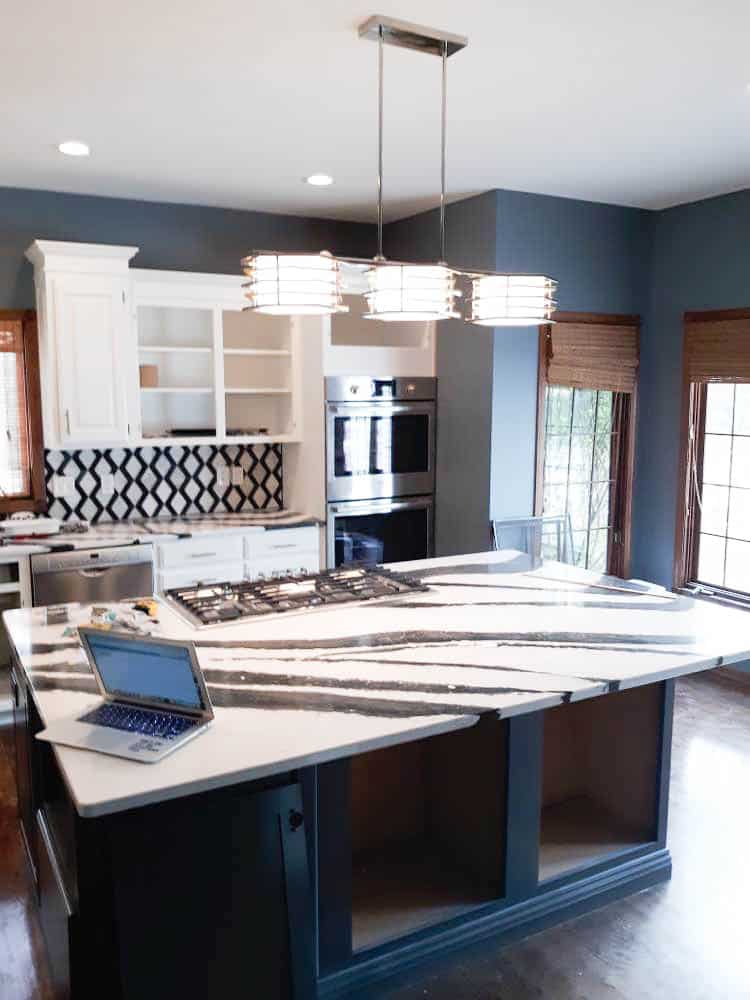 Here is the after photo. Have kitchen island space is such a gift!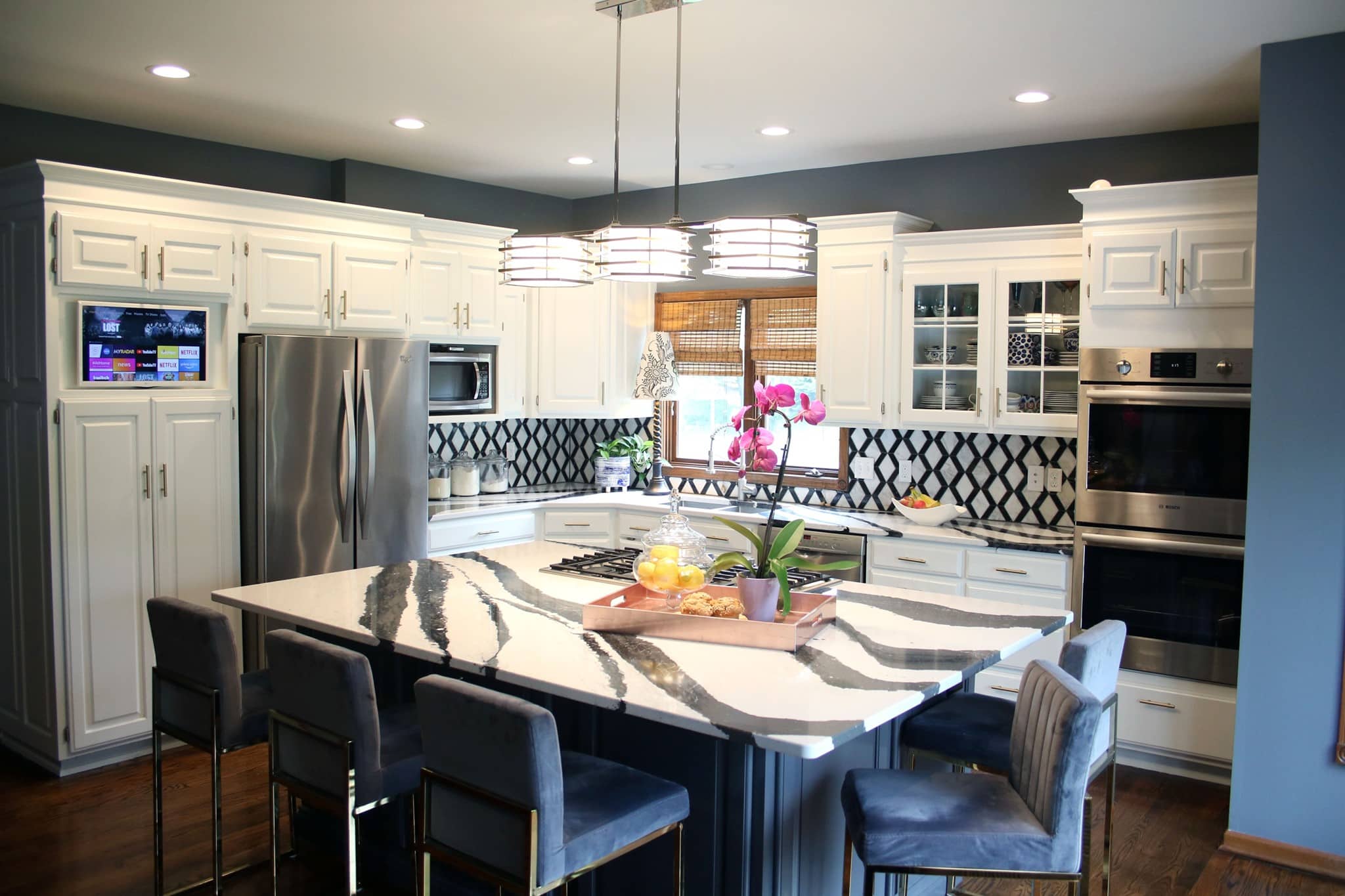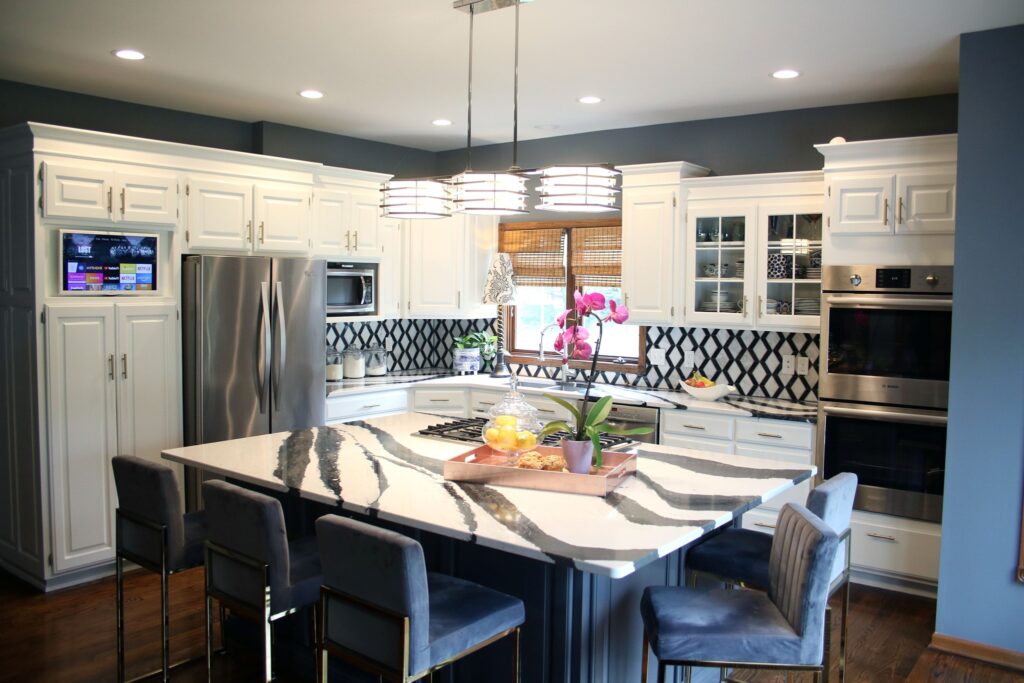 I thought I would share some of my favorite kitchen island displays.
There are 9 categories but lots more ideas within each type!
Any countertop will work. A dining table will work. A baker's rack will work. Even the space beside your sink will work.
The point is that adding decorative touches to kitchen surfaces provides form, function, and just plain fun!
21 Kitchen Island Decor Ideas
1. Fruit
There are some obvious choices for a display. Obvious because…hello! They work!
A classic bowl of fruit NEVER fails!
Add a bag of bright, yellow lemons to an open air fruit bowl and your kitchen will just say "Fresh!"
A jumbled pile of red apples in a white bowl will really pop against a kitchen island counter or backsplash.


2. Flowers
Flowers are another obvious choice.
And such a great choice!
Tulips are one of my favorites and look so cheerful and welcoming on the kitchen island.
Rather than display in one large vase, I had fun dividing them into three adorable blue and white jars.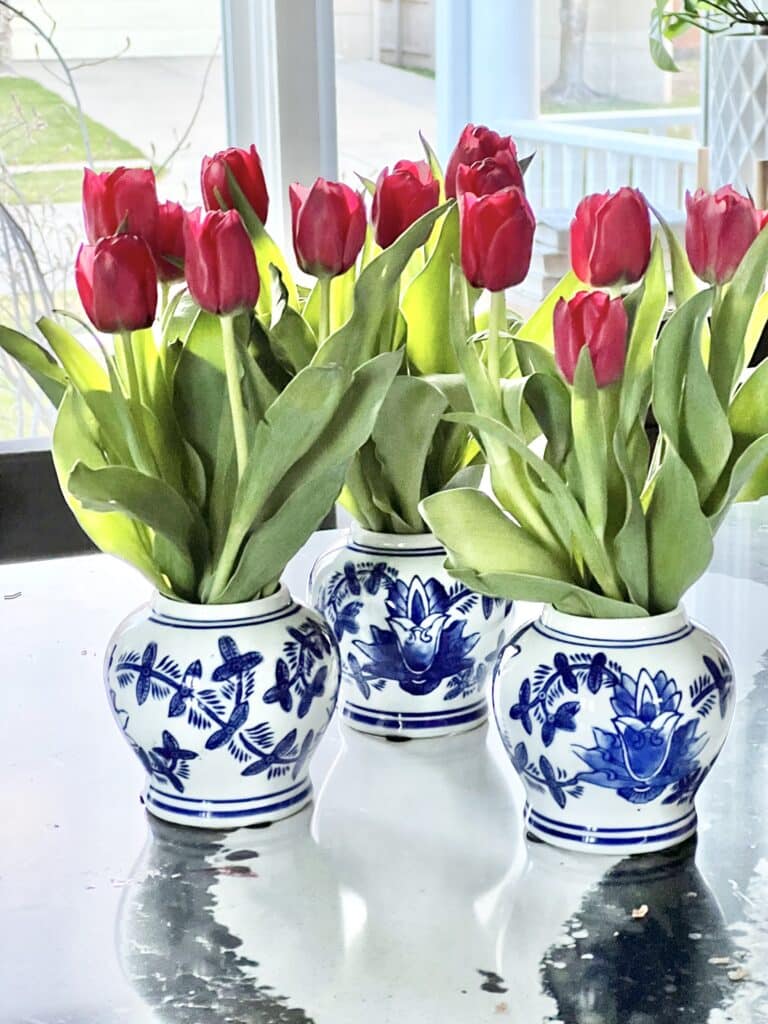 With flowers still in mind, I added some dianthus (still in their grow pots!) to a moss-covered basket for a beautiful May Day basket display.
We enjoyed it as kitchen island decor before I gave it away on May Day!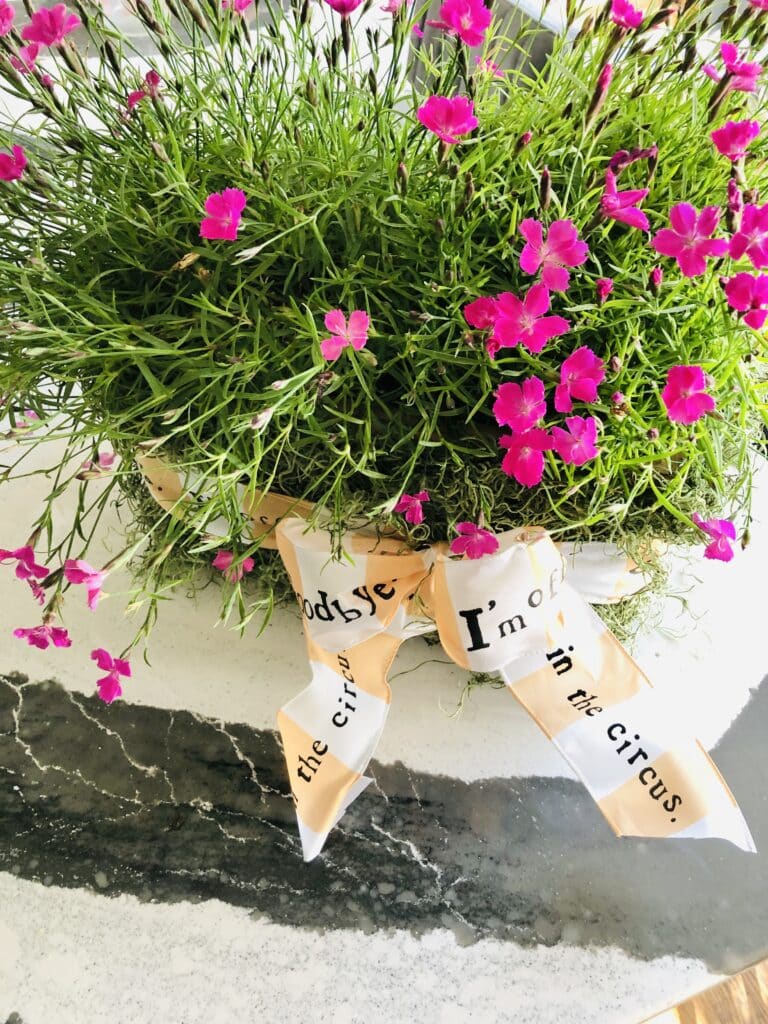 3. Plants
This is one of my favorite types of kitchen island decor…because it is alive and continues to grow and change!
This is my "I need something to take care of and grow while I am in quarantine" plant that has FLOURISHED over the past couple of years.
She was just a small baby when I got her. I am quite proud of my fiddle-leaf fig baby!
So, she deserves center stage on the kitchen island!
Do you like the pom poms on the baskets? You can learn how to make pom poms with this tutorial!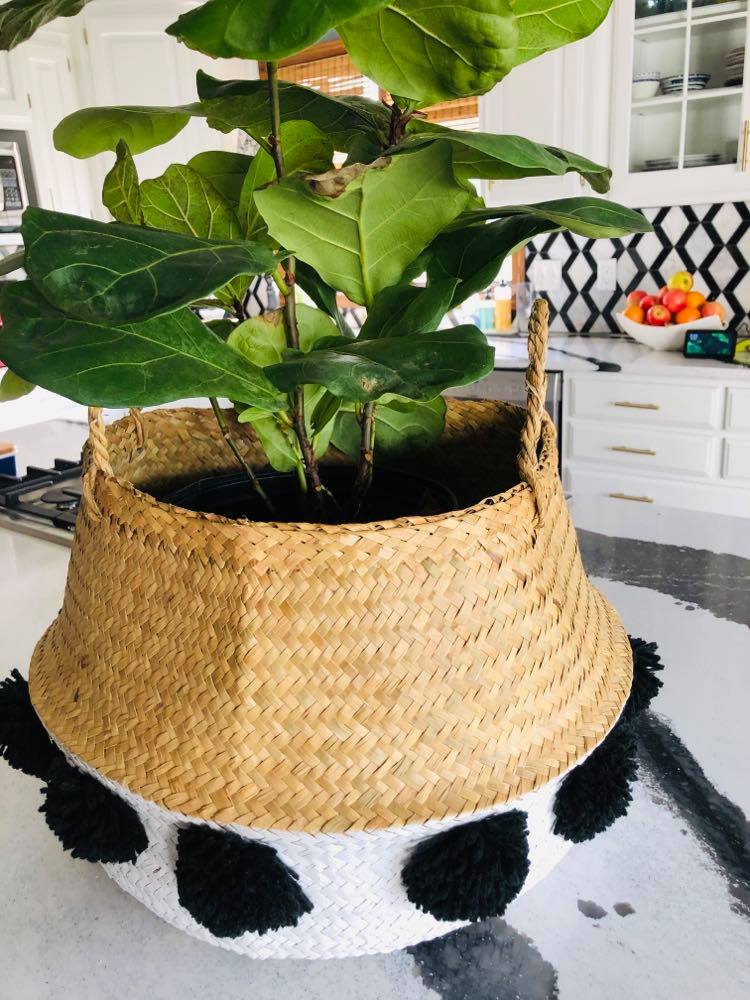 I like to find different ways to display plants on the kitchen island.
Like this greenhouse made from photo frames.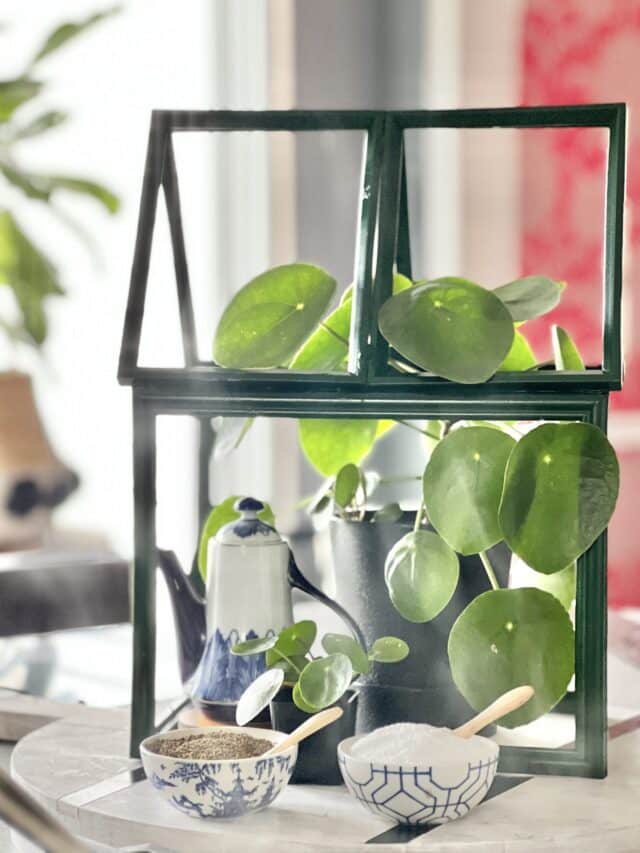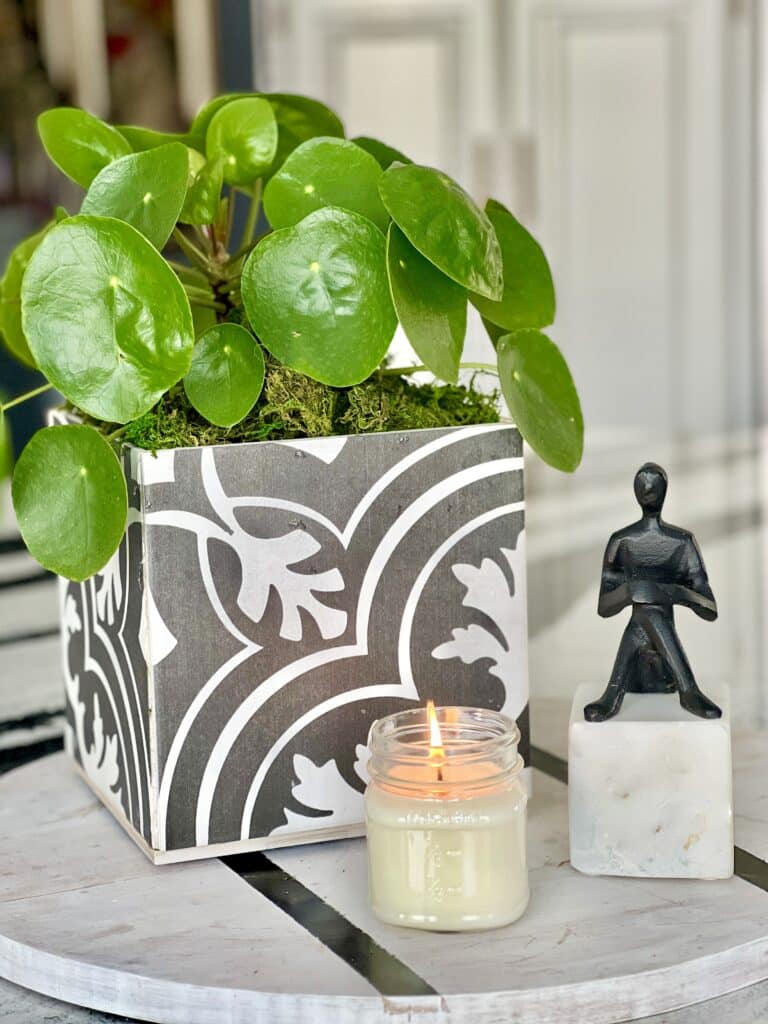 Or this thrifted cobalt blue glass vase that matches the blue and white dishes styled in the glass front cabinets.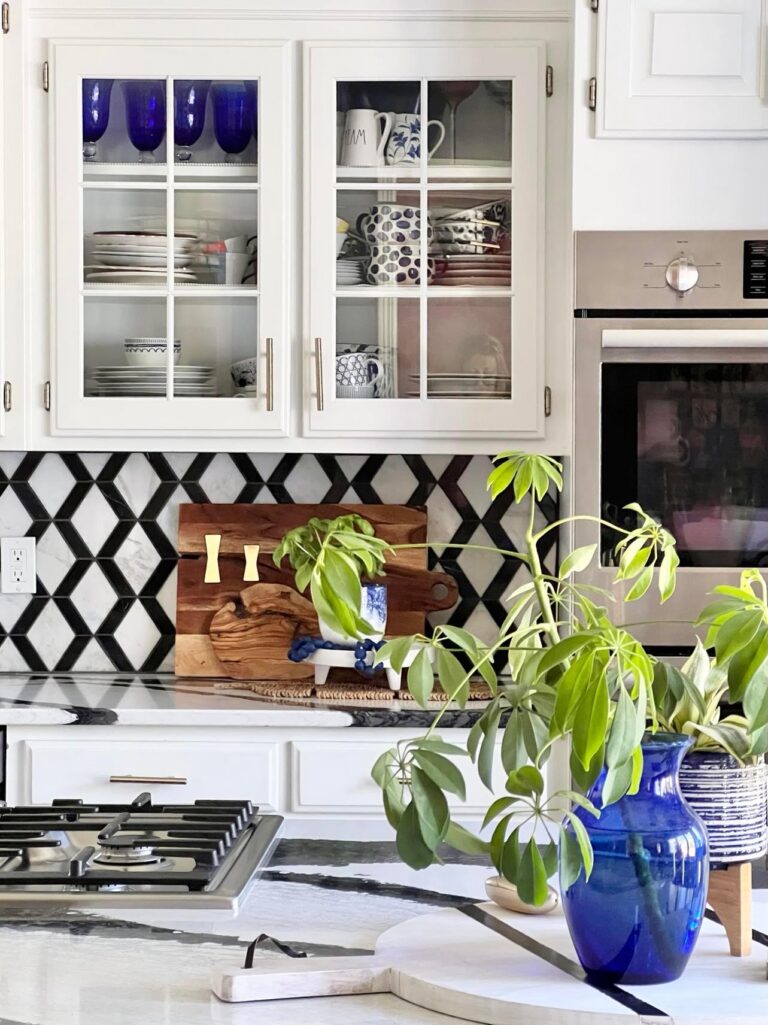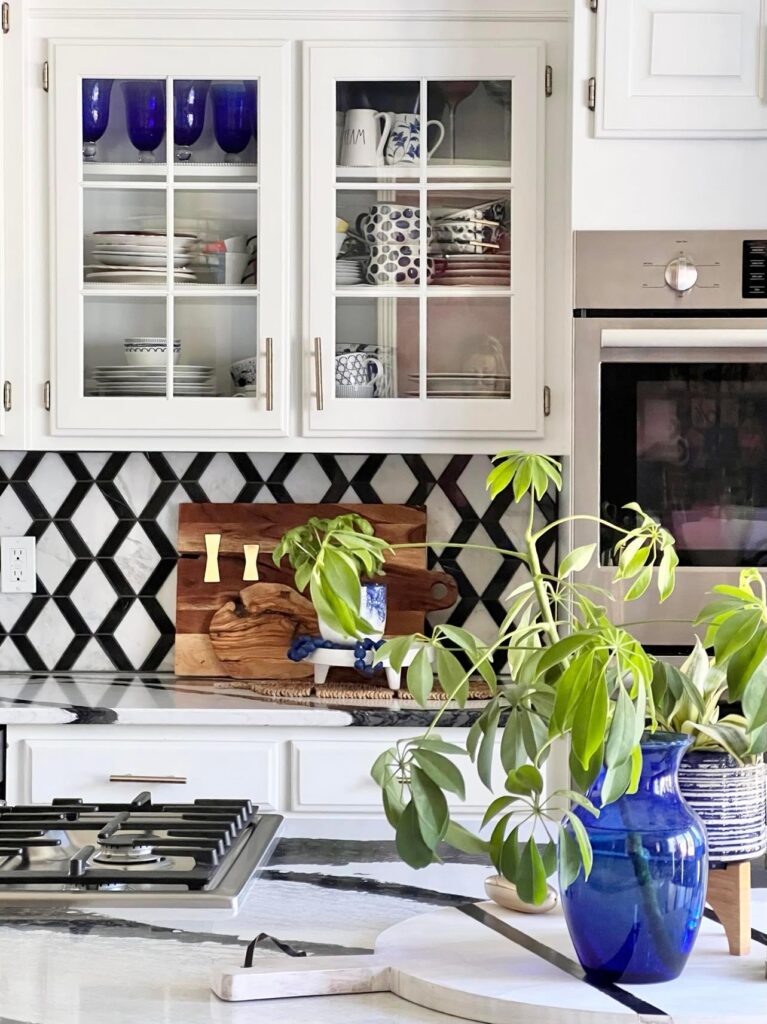 This portable plant garden sits lower to the counter so it is PERFECT for island conversation. And, because the basket has side handles, it can be whisked away at a moment's notice if you need more room on the counter.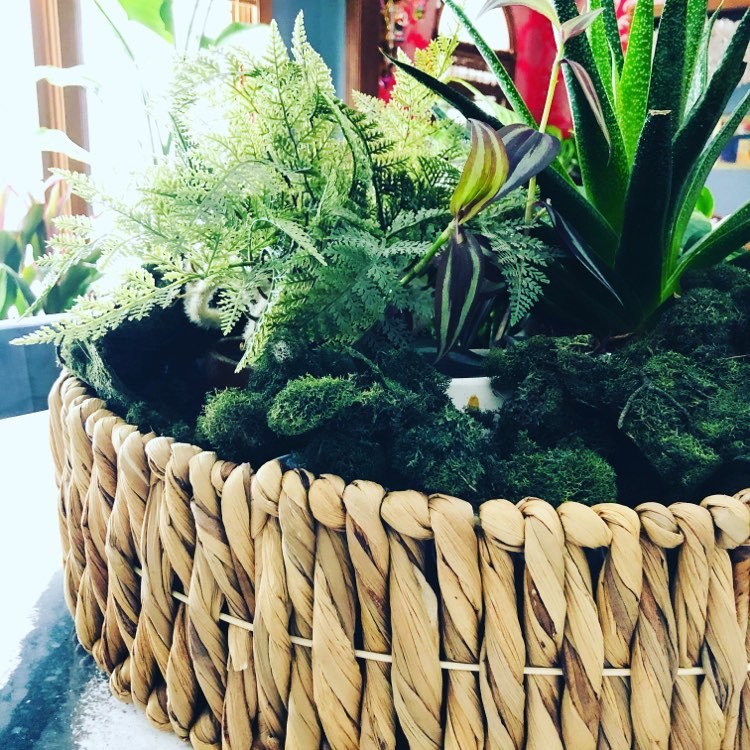 4. Trays
Trays are home decor workhorses!
You can avoid countertop clutter by grouping home decor on a tray.
And there are so many wonderful trays out there!
Stock up on different sizes…I promise you will love swapping them out for different home decor displays!
By placing a couple of my favorite blue and white vases on top of this gnarled wood tray, I discovered one of my favorite pairings…elegant and rustic!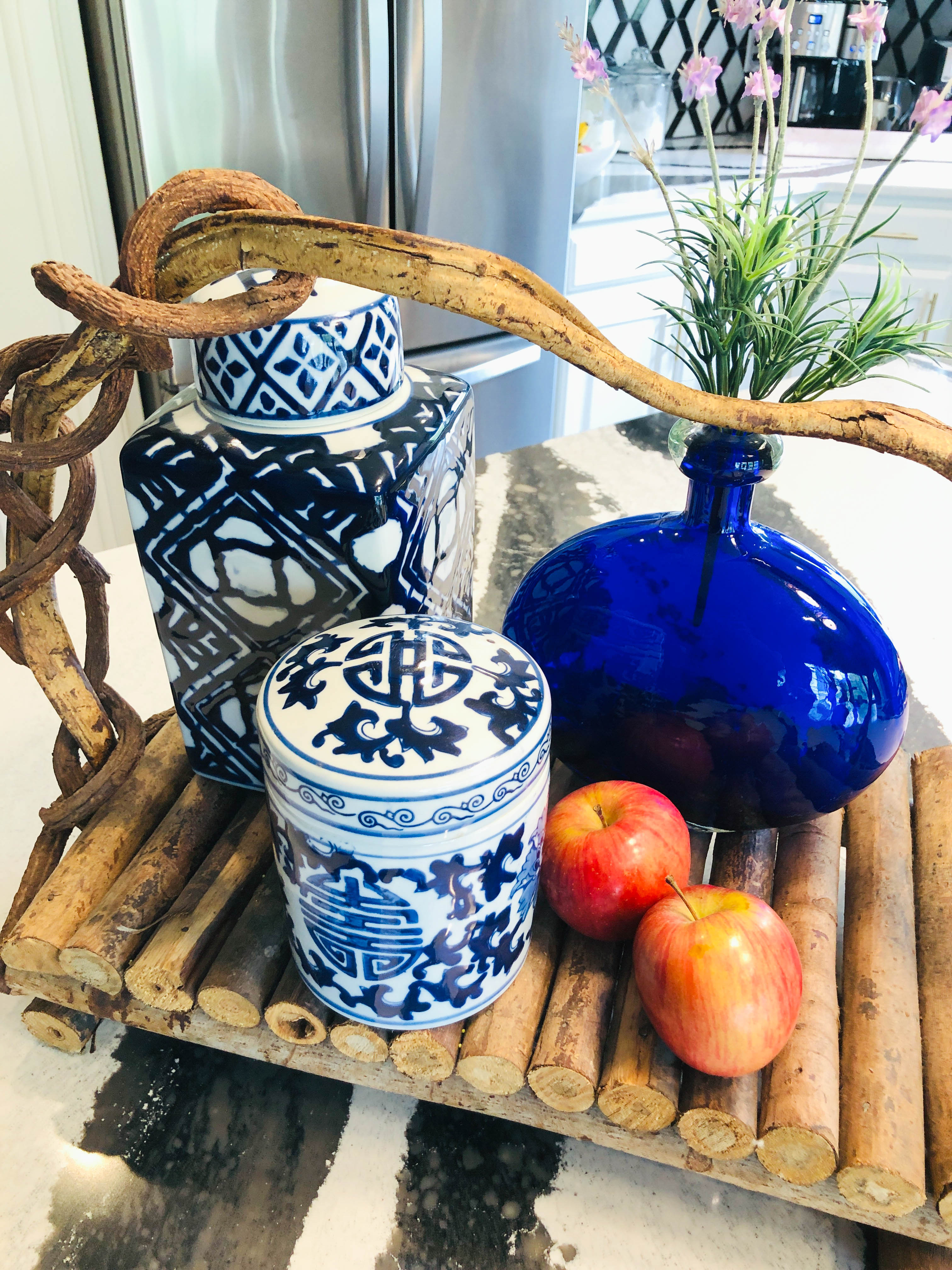 Is it a basket? Is it a tray?
In this case, I am calling it a tray as it corrals a myriad of faux plants.
Yes, I could have included this photo under plants but it is the TRAY that saves the day here!
The tray gathers all of the elements…plants, vases, and books...and creates one lovely display!
Plus, it is a great place to tuck my reading glasses!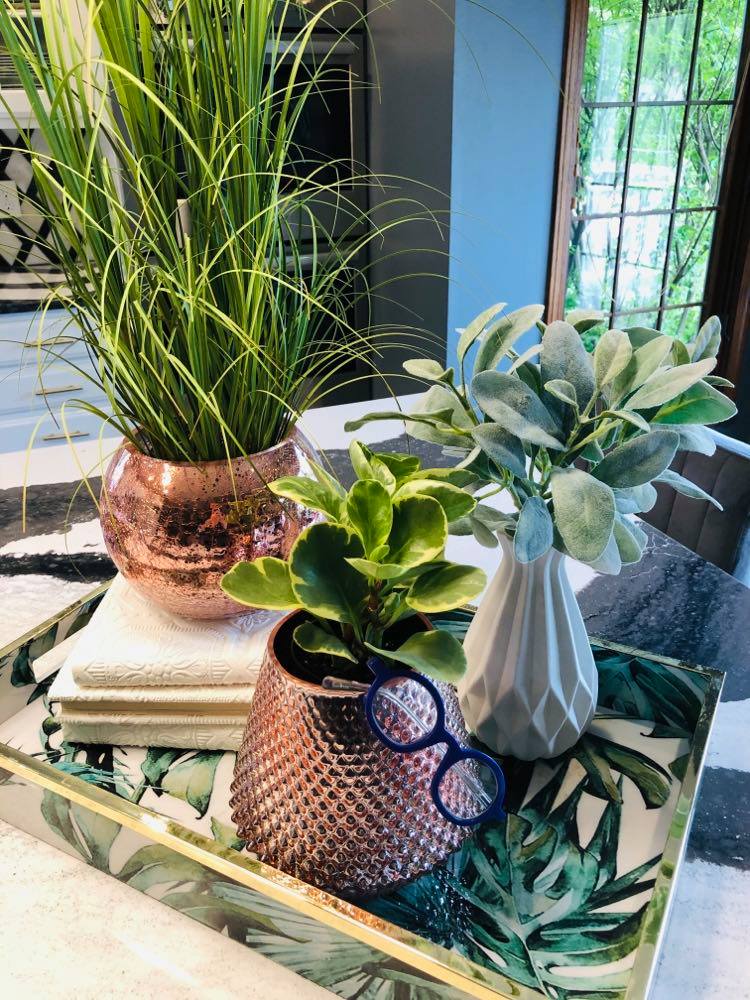 5. Dinnerware
Dinnerware does not have to stay tucked away in a cupboard.
Display it!
Whether you are entertaining buffet style or just want to show off your pretty plates, creating a display on your kitchen island or countertop is a wonderful way to show off dinnerware decor
These melamine plates and glasses are ready to be taken out to the patio for outdoor entertaining. In the meantime, they look great on the kitchen island!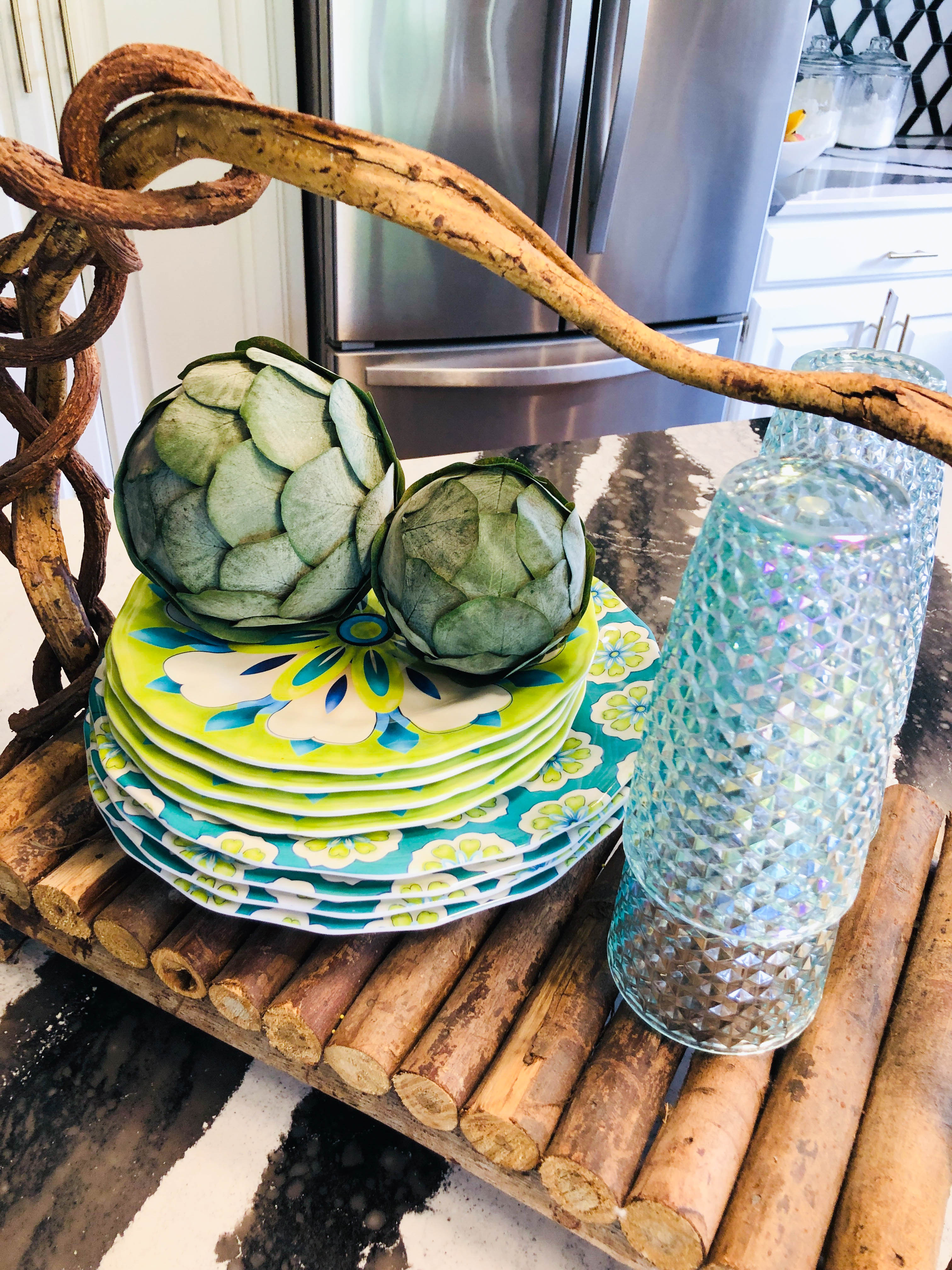 These bottles of Perrier, mini wine glasses, and paper guest towels are like a mini countertop bar cart!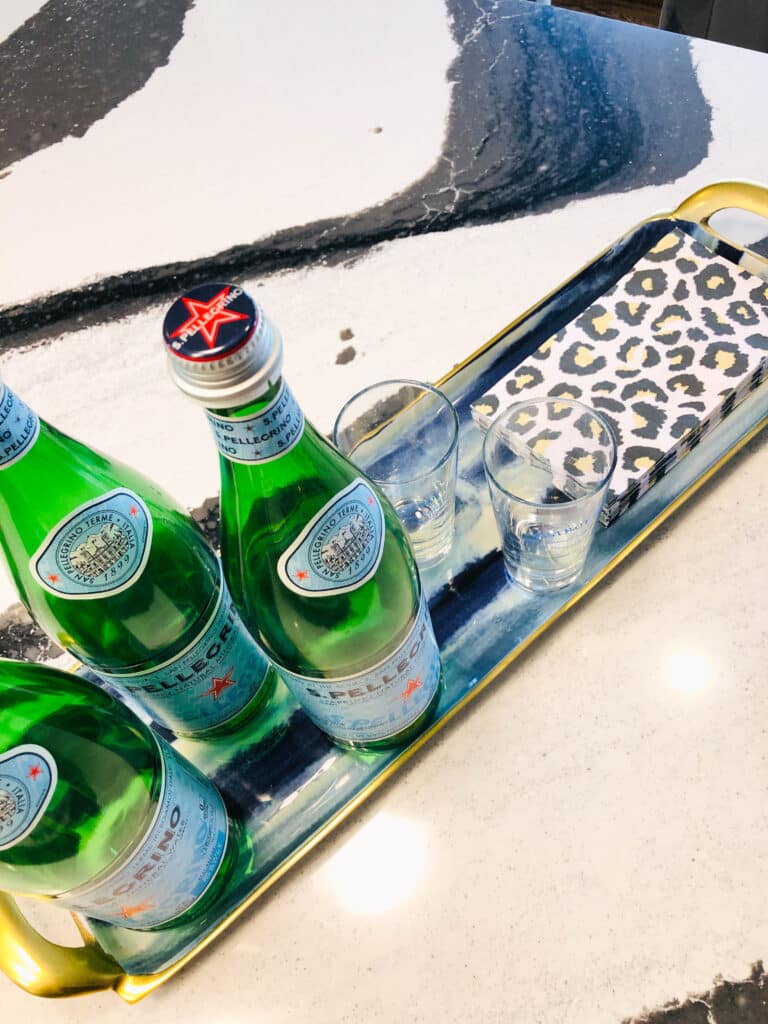 Let's have a tea party!
A lovely teapot (my mother's!) and some cups take center stage in this book top display.
One of my favorite books is Reese Witherspoon's book "Whiskey in a Teacup."
Hmmm…there might just be some whiskey nearby!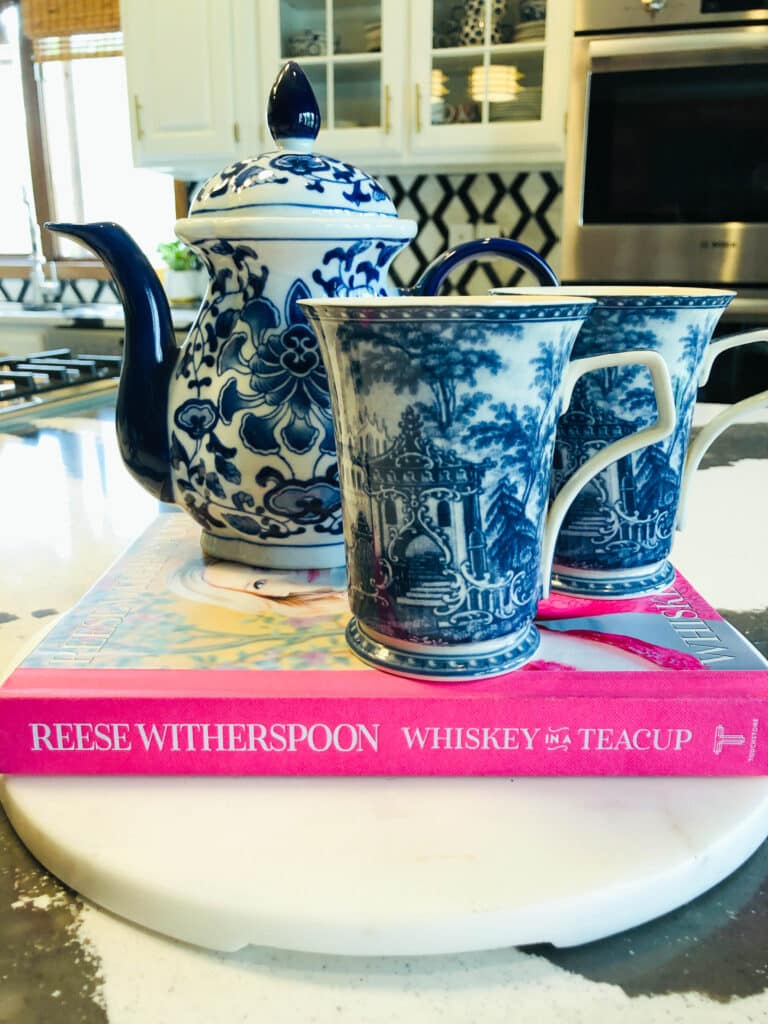 6. Candles
When I am home, there is always a candle burning in the kitchen.
Always!
A candle's flame is so welcoming when we are a group and keeps me company if I'm alone.
This simple display consists of a warm candle and some napkin-wrapped birch logs on a wood breadboard.
So simple!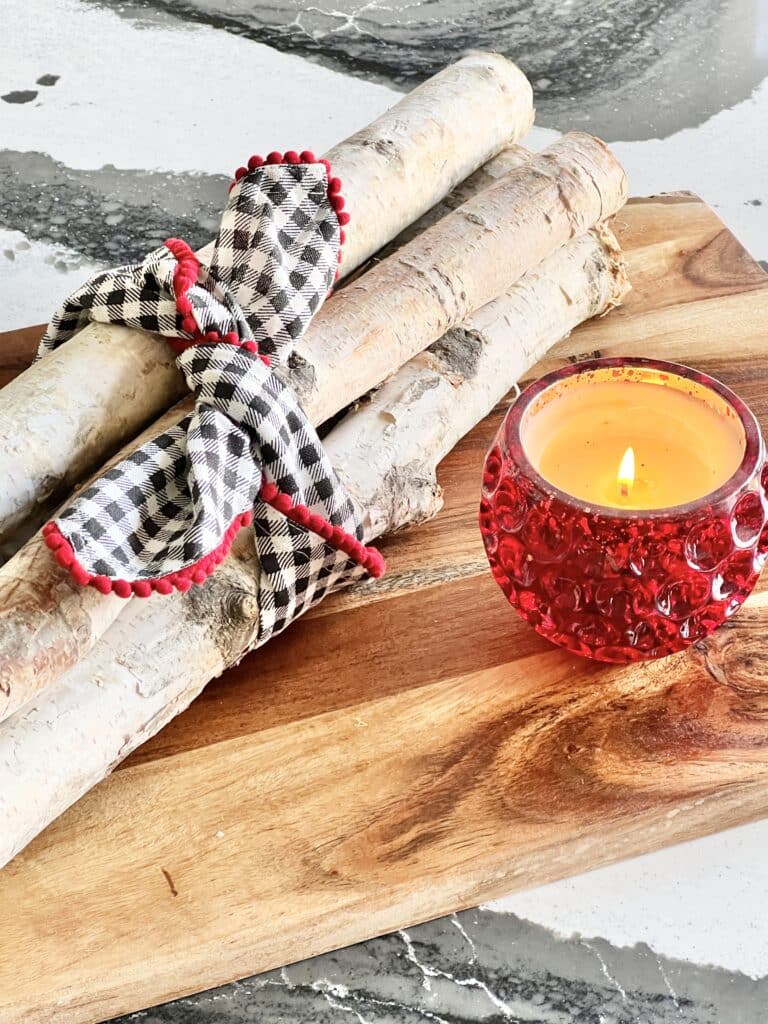 7. Food and Drink
Since the kitchen is our food "warehouse", why not use some of that food for kitchen island decor?
If I go to the work making our favorite homemade lemon curd to go without breakfast English muffins, I want it to be seen!
This took 2 minutes to display and was the perfect arrangement for Sunday breakfast!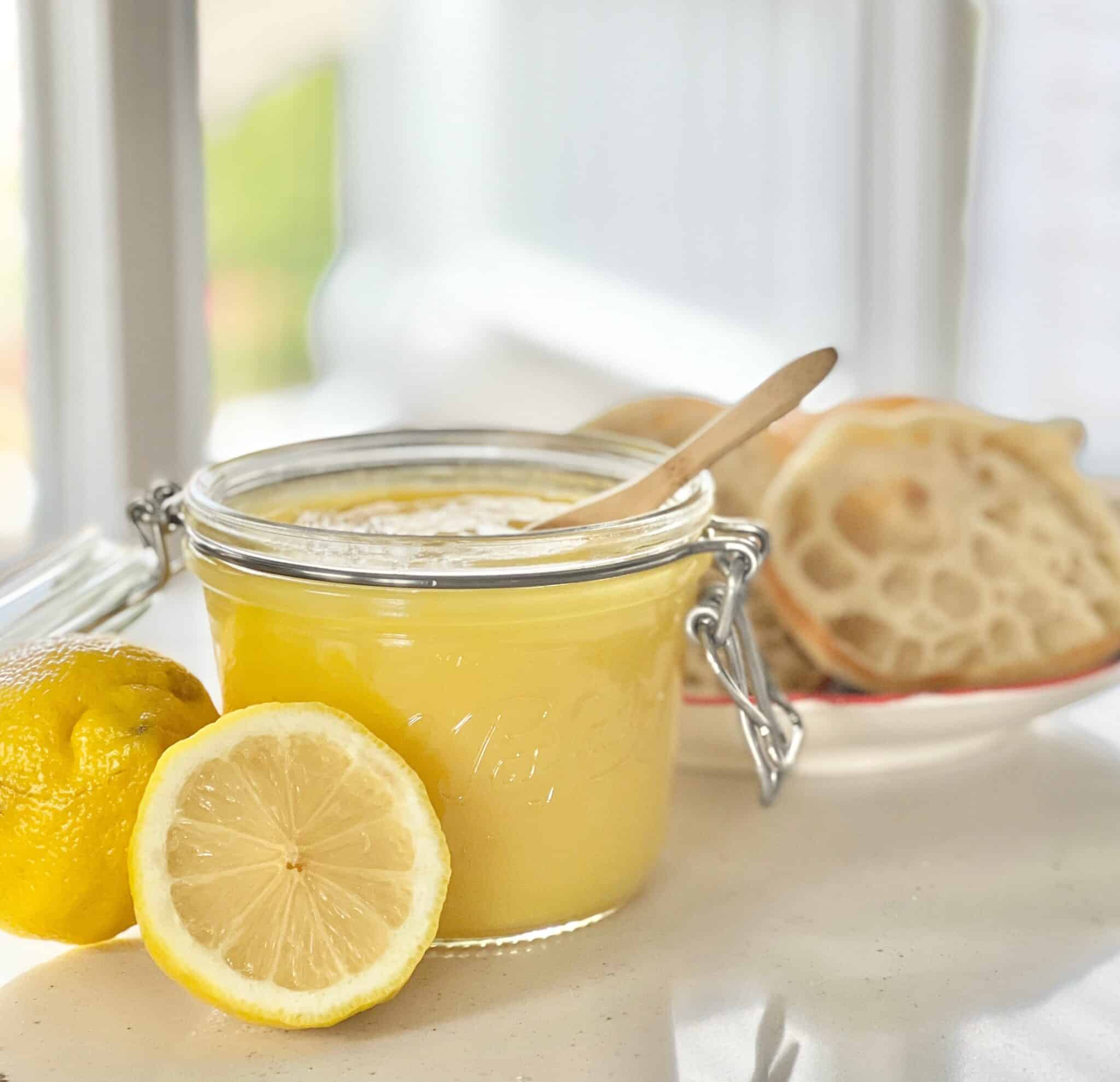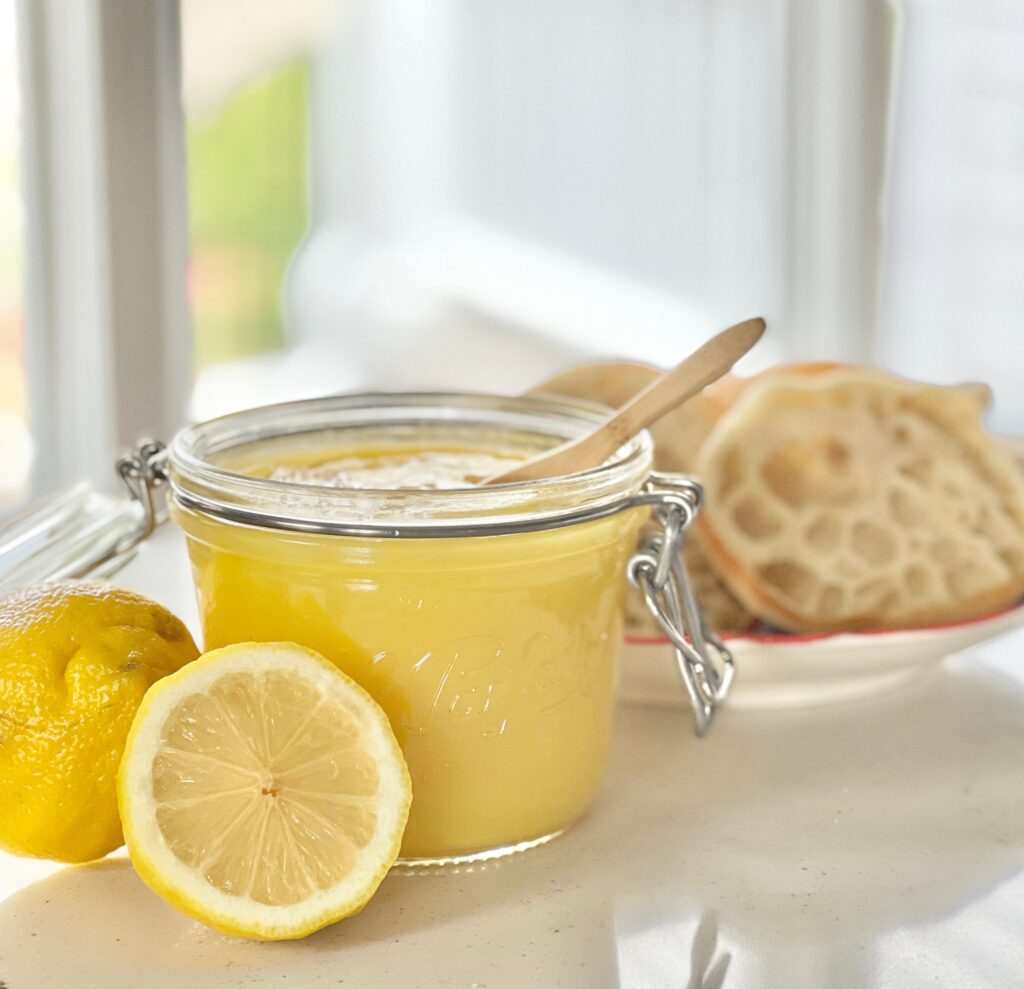 8. DIY Home Decor
Display your DIYs with pride!
These upcycled glass bottles got a DIY upgrade with some decoupage and paper napkins.
I love how the windows light them up in the afternoon!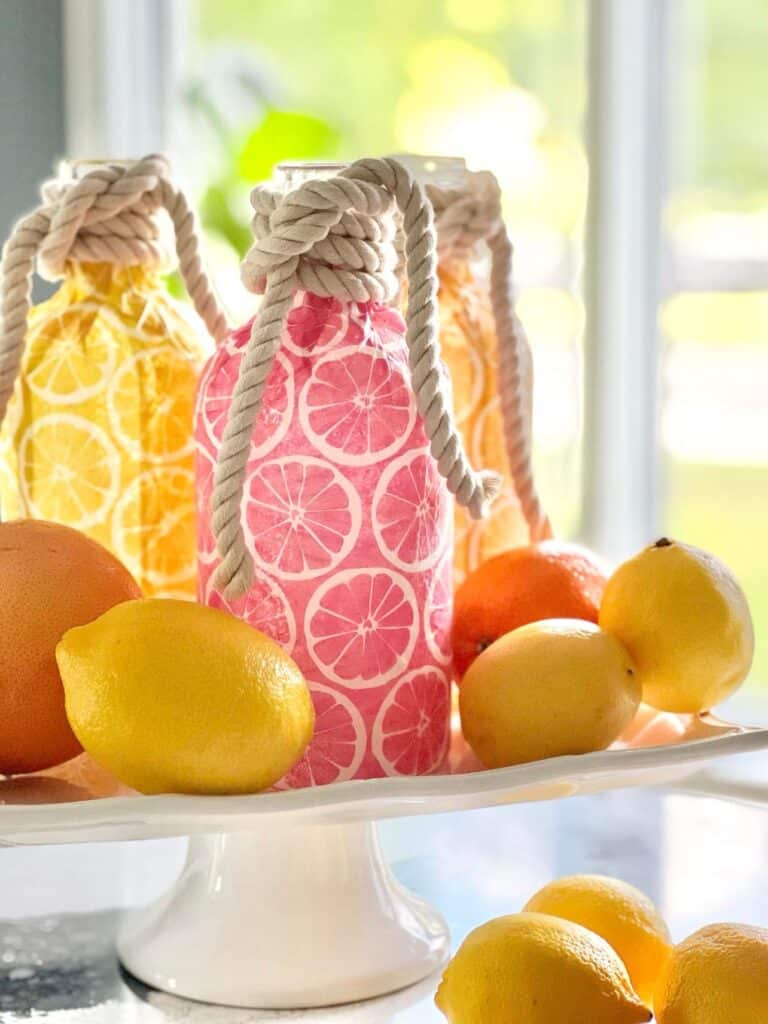 9. Unexpected Drama
Sometimes you just want to go BIG!
Some simple branches cut from the backyard are enjoying a dramatic moment displayed in a large glass vase on the island.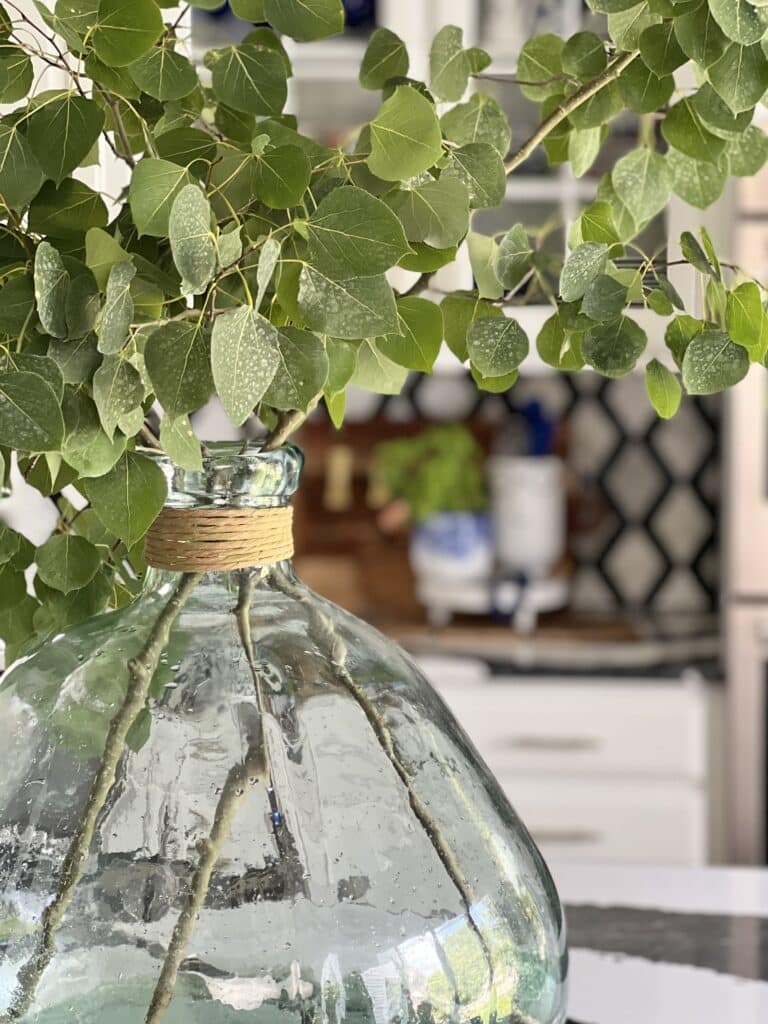 While large showstopper displays are not the greatest for conversing across the island, (it is VERY tall!) it does make my heart sing when I enter the room.
Same vase…tall, colorful faux stems create some kitchen "Wowza!"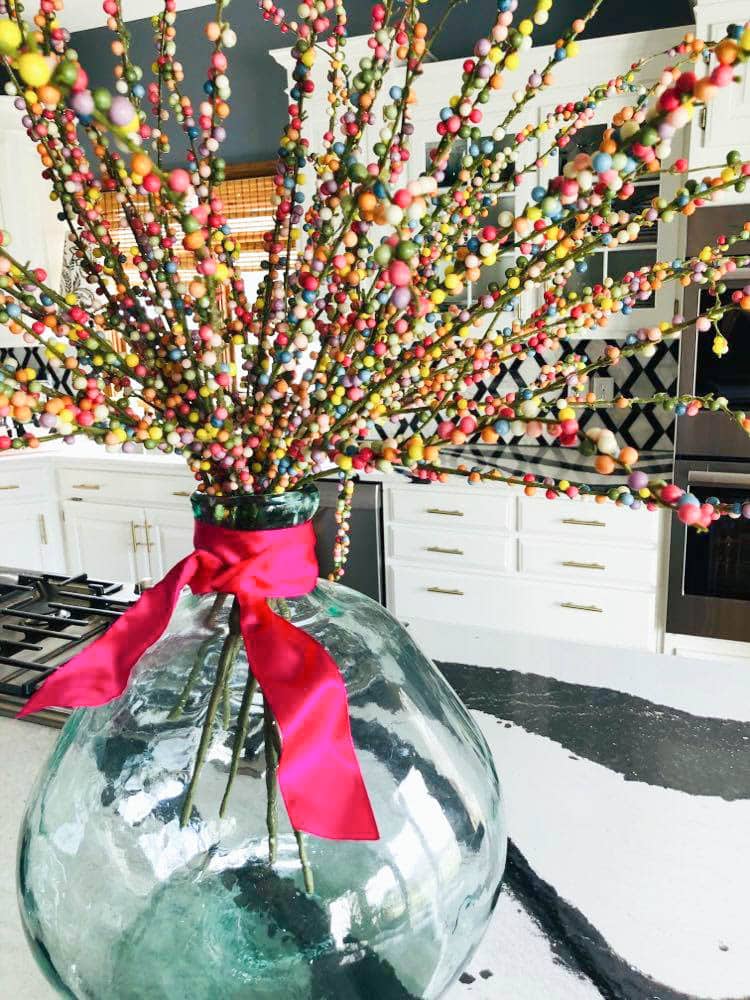 Ultimately, the best kitchen island decor is what makes you happy!
If you love to cook, your island should be inviting and comfortable.
If you entertain often, your island should make a statement!
And if you just need more storage and prep space, well, there are plenty of functional options out there too.
So take your time perusing these ideas, find what speaks to you, and get ready to start decorating your kitchen island. Try one of these kitchen island decorating ideas today and let me know how it looks in your kitchen!
Cheers!

Don't Forget to Pin It!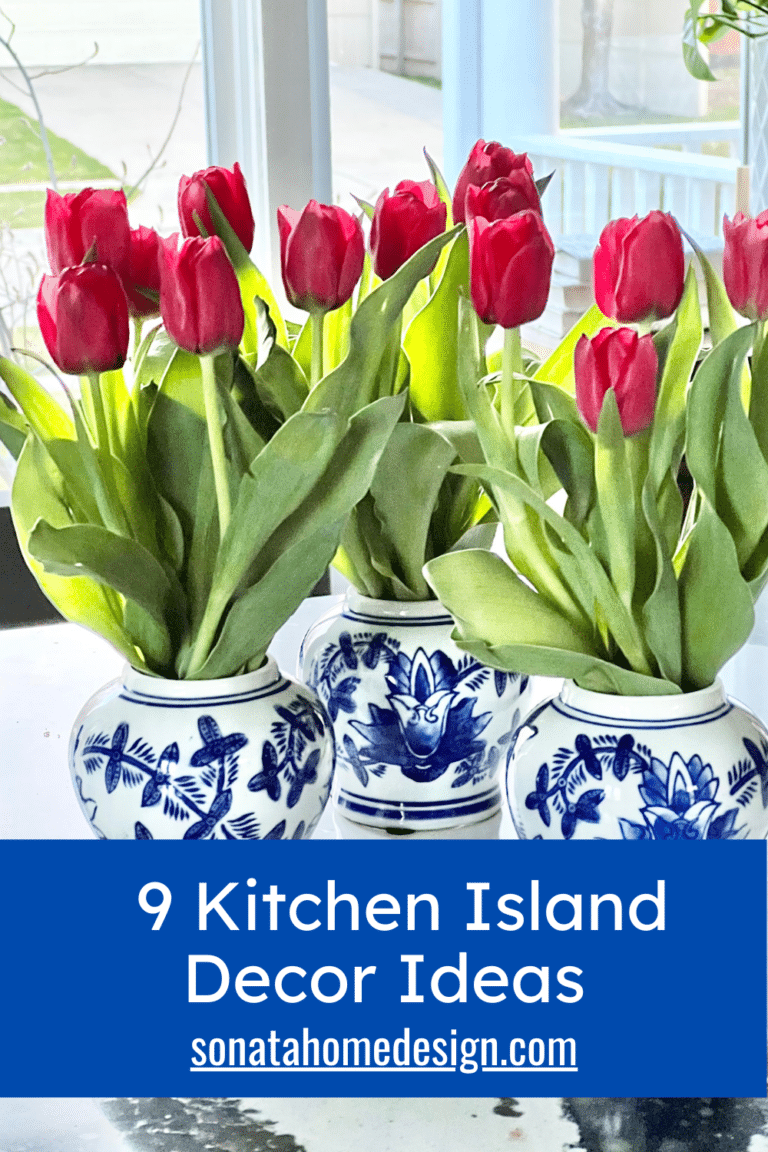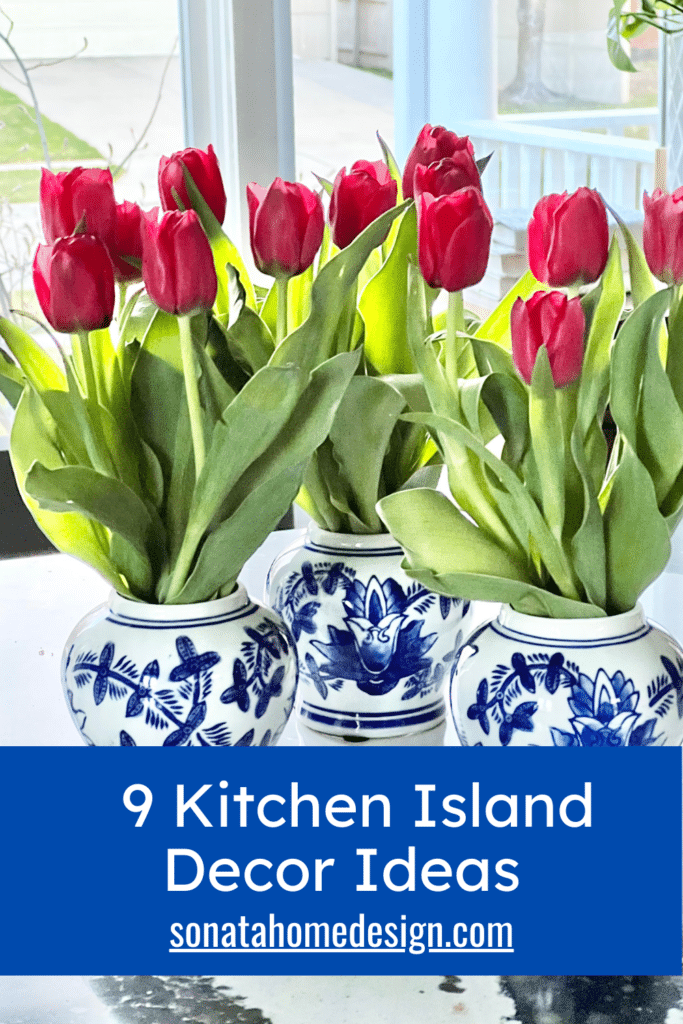 You might also like this!
What to Put in Decorative Glass Jars in the Kitchen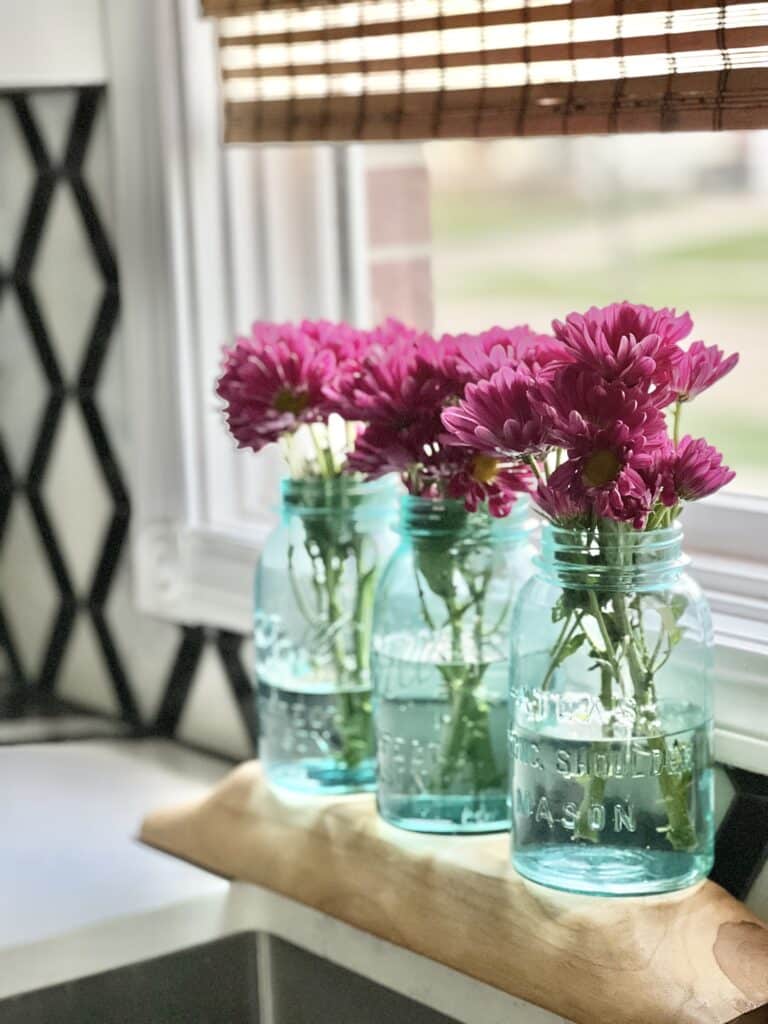 Favorite Things