How to Make a Moss May Day Basket in Five Easy Steps
Can you believe it is almost May 1?
That means…MAY DAY! Whee!
As fun as this day is, it always seems to creep up on me, both as a kid and as a mom.
Now, truth be told…there were some years when popcorn and m&m's were the filler choice because I ran out of time to be more creative.
Even worse…(ooh, I hate to confess this!) Once in a while, I would gather leftover Easter candy and "re-package" it in gift form.
Please tell me someone else has done this? (Uh oh…Crickets?)
While my kids are grown and out of the house, I am evidently still wracked with May Day Guilt.
Time to do it right! I've decided that, this year, it is quality not quantity that will count. I'm giving just a few but they will be AMAZING! LET'S GO!
You Will Need These Things
-Basket of your choosing. I found the one I am using here at the thrift store for 50 cents!
-Green Faux Moss
-Spray Adhesive
-Hairspray
-Wired ribbon of your choosing. I decided to go whimsical with a ribbon that says "I'm Off to Join the Circus!"
-Flowers or Plants of your choosing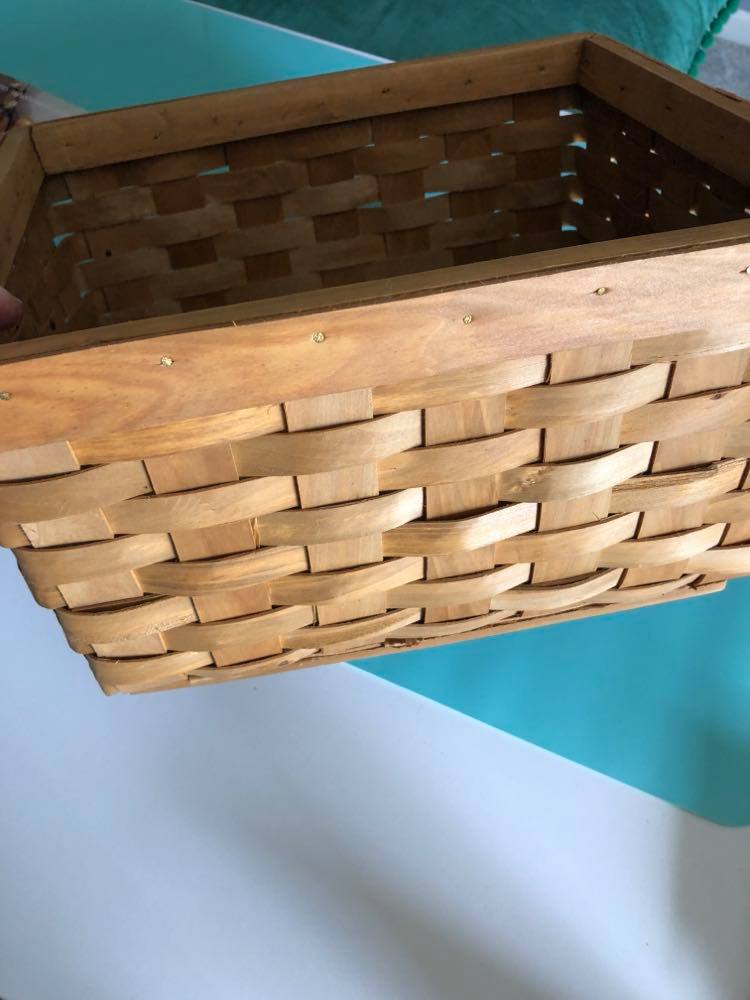 Let's Start Spraying! (Step #1)
It seems to work best if you work on one side of the basket at a time. Lightly spray the side of the basket with the spray adhesive. (I held the basket up in the air for this so my desk did not get all sticky!)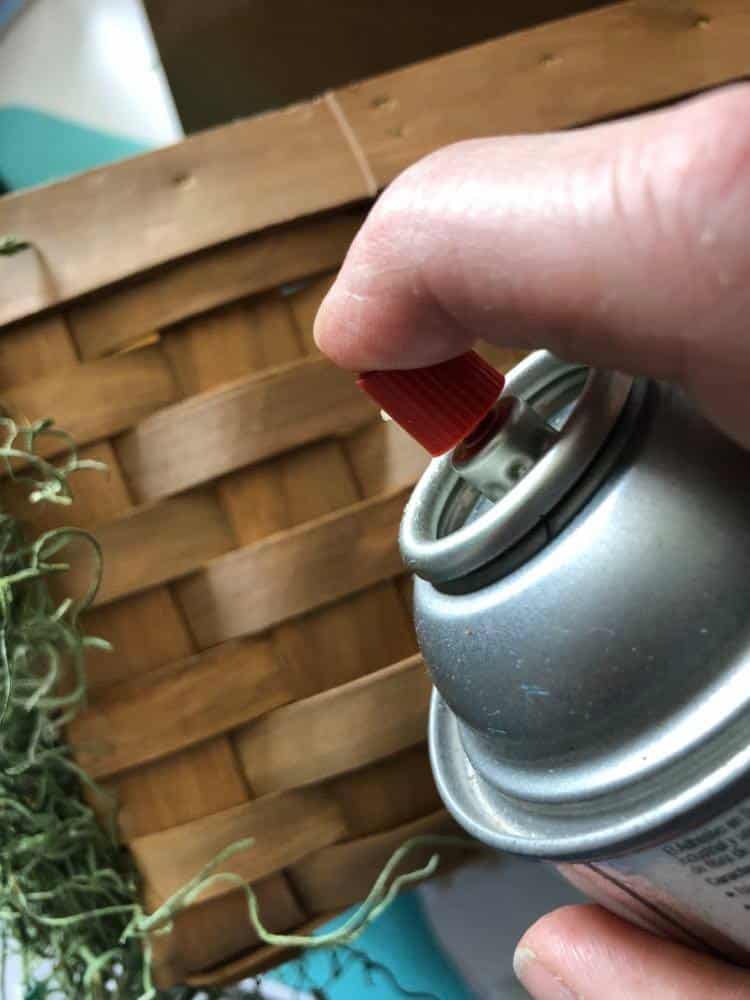 Moss Time! (Step #2)
Once sprayed, grab some faux moss and evenly attach to the stick side. Fill in any empty spaces with small bits of moss.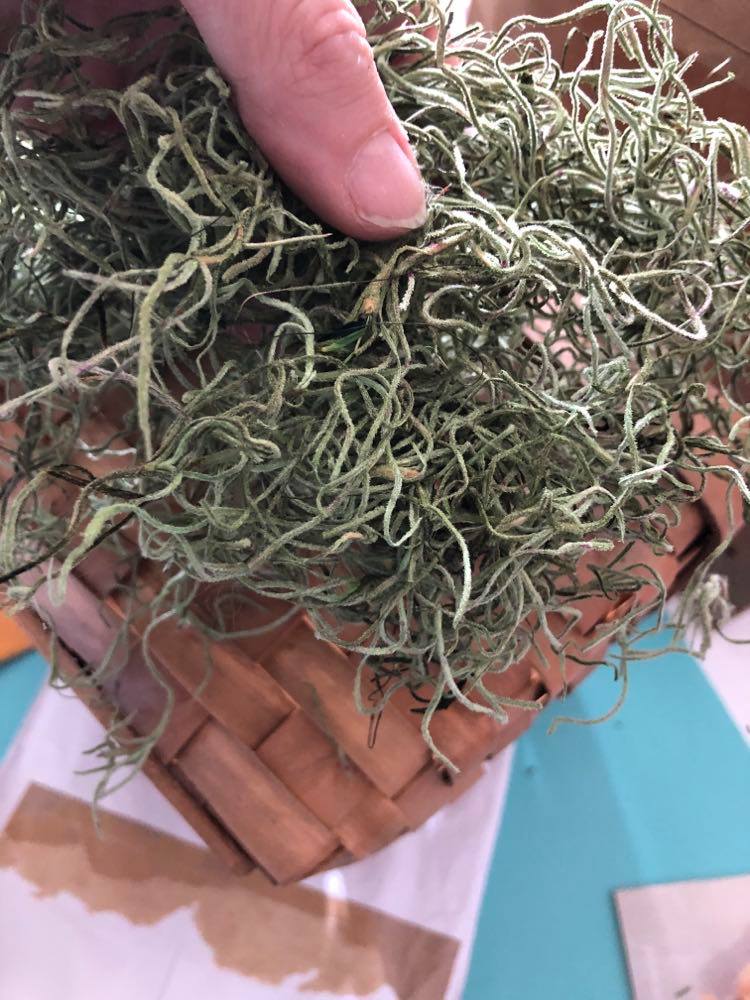 Repeat until all sides are covered. It is really fun as you see your results immediately!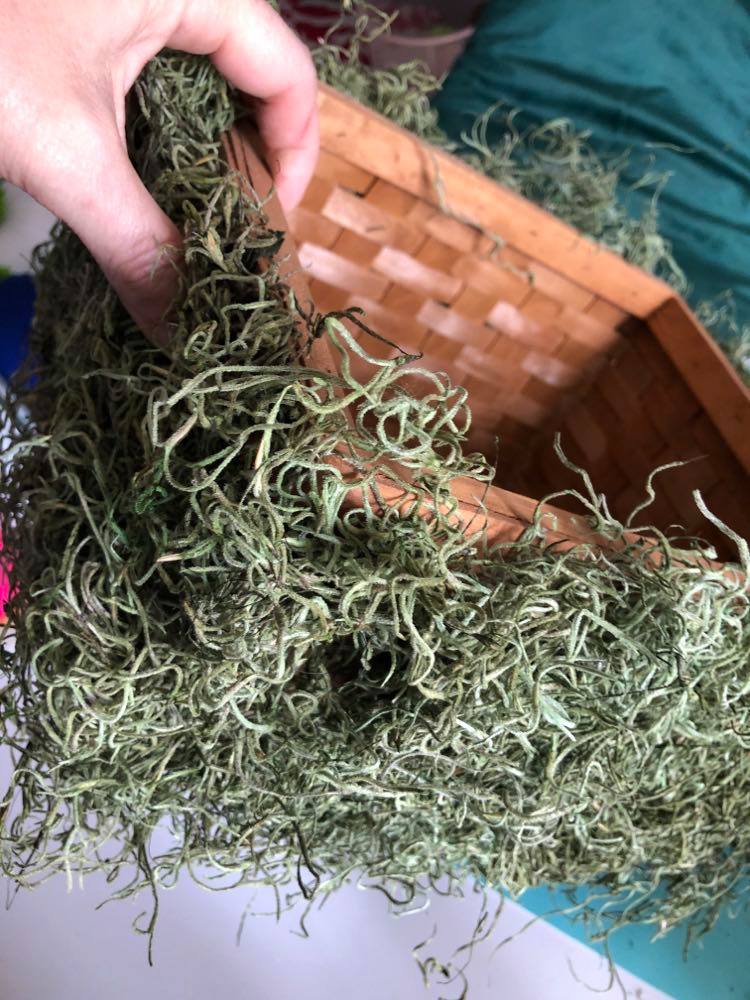 Secret Weapon! (Step #3)
Now for the secret weapon! Faux moss can go a little haywire so I pulled out my handy-dandy bottle of hairspray! Lightly spray the basket on all sides and now the moss isn't going anywhere!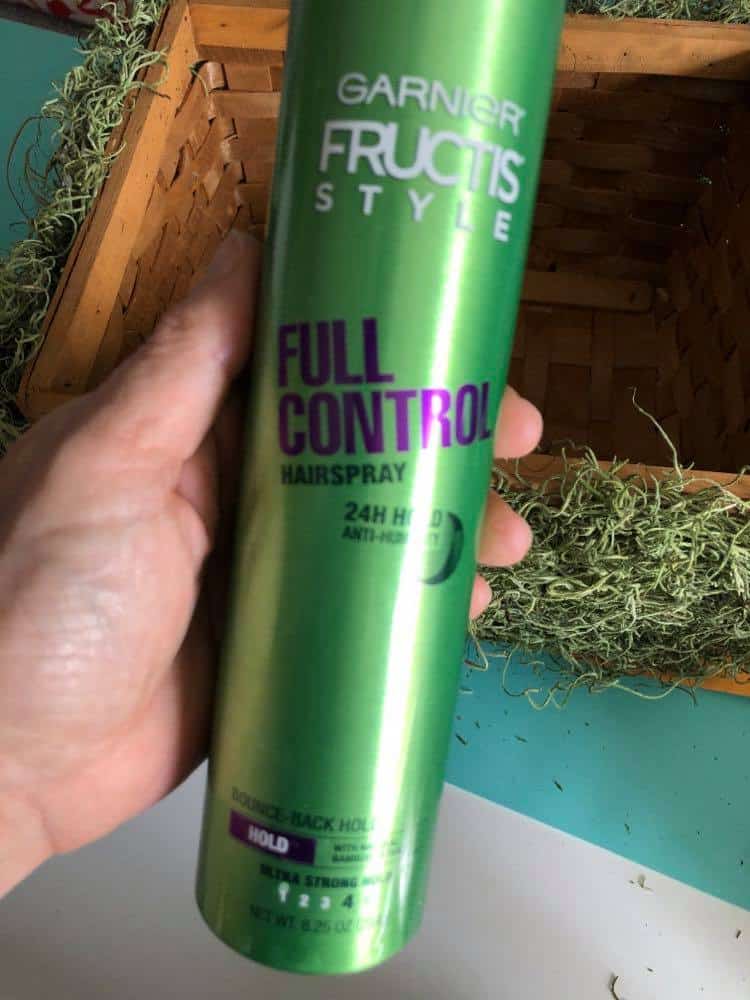 "I'm Off to Join the Circus!" (Step #4)
Cut a healthy length of wired ribbon to go around the basket. I couldn't resist this ribbon…"Goodbye. I'm off to join the circus!"
If you are looking for some fun, whimsical, colorful wired ribbon, here are some options that I LOVE!
Wrap the wired ribbon all around the basket and tie with a festive bow. (Nothing fancy…just like tying your shoe!)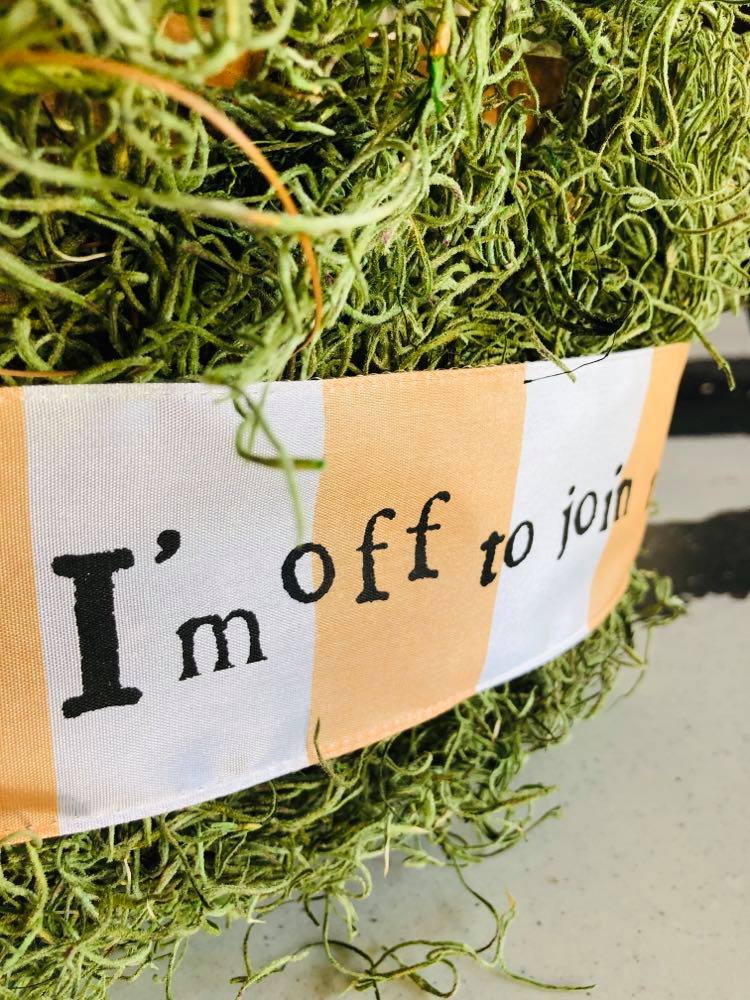 Flowers! (Step #5)
Fill with flowers! I chose to use two pots of dianthus. I love the pink flowers and it is a perennial. So, the gift will just keep on giving!
And now for the BEST part!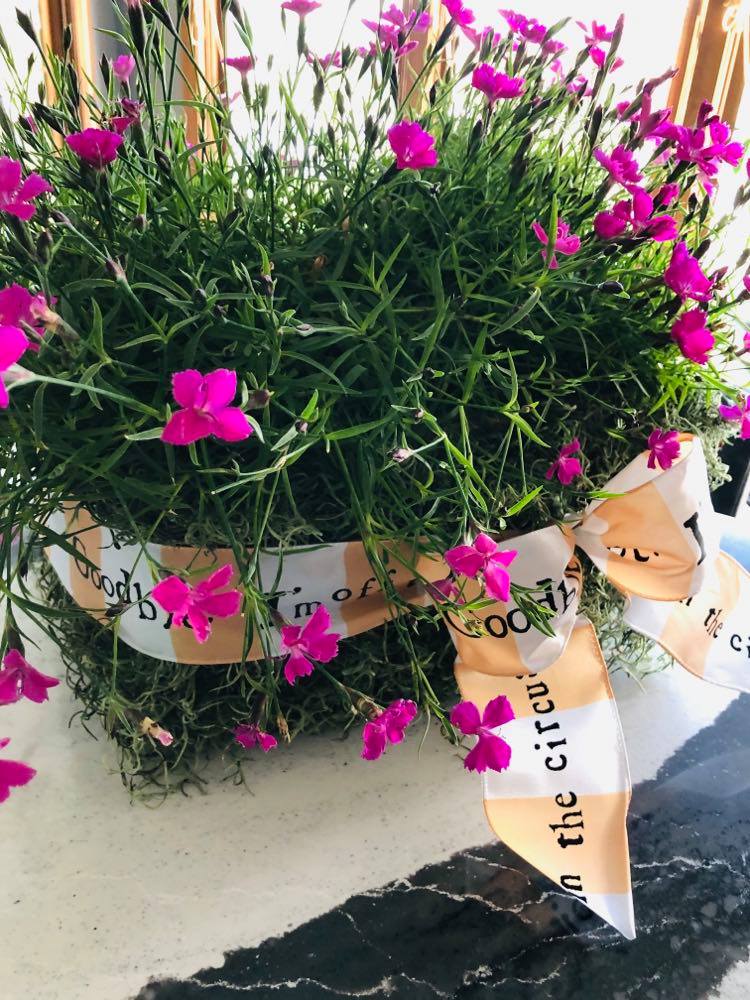 We are enjoying this on our front porch for a few days until I give it away on May Day. Maybe I need to make another one for us to keep!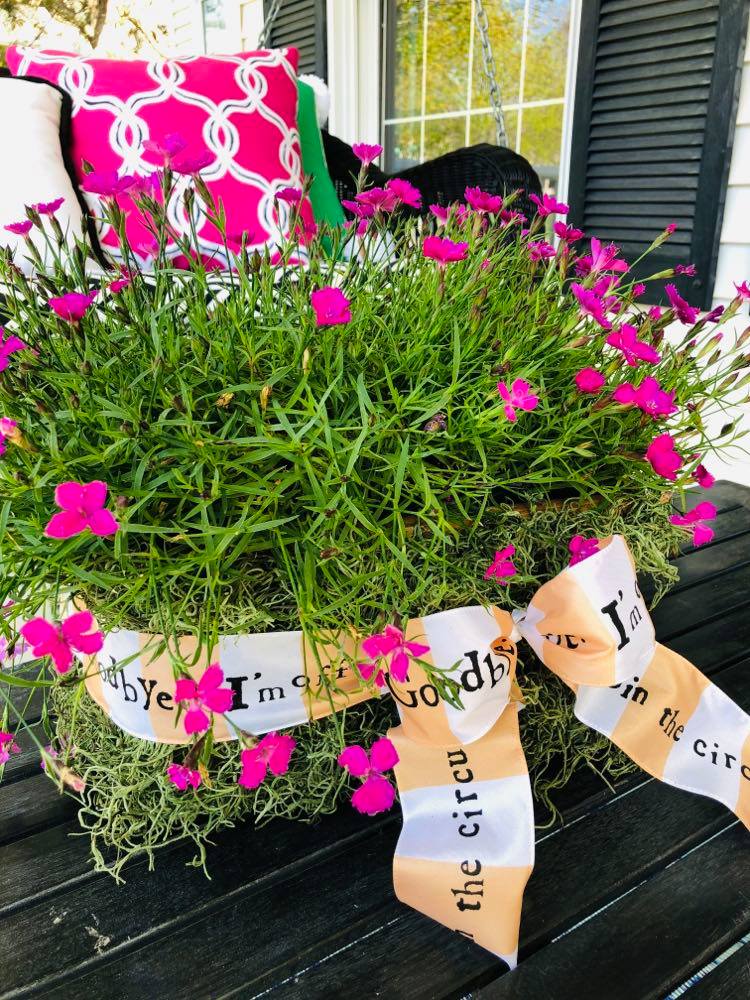 Here are some other ideas for giving "living gifts":
–Giving someone an Earth Day gift.
–How to create your own "Plant Throne"
-Creating a succulent garden in a dog dish
I love to give living gifts! And May Day is a perfect day to spread some sunshine with a living basket.
And I didn't have to pop any popcorn!
Happy May Day!
Cheers!

Disclaimer: This post contains affiliate links.