How to Transform a Dog Bowl into a Beautiful Planter
Don't throw away that old dog dish! Give it new life by transforming it into a beautiful dog bowl planter for your home. You might be surprised to learn how easy it is to take your beloved pet's food dish and give it a chic makeover!
Who said dog bowls could only be used for Fido's meals? Don't let that plain old bowl just sit in the corner collecting dust. With a few simple steps, you can turn an ordinary dog bowl into an eye-catching planter and really spruce up your home decor!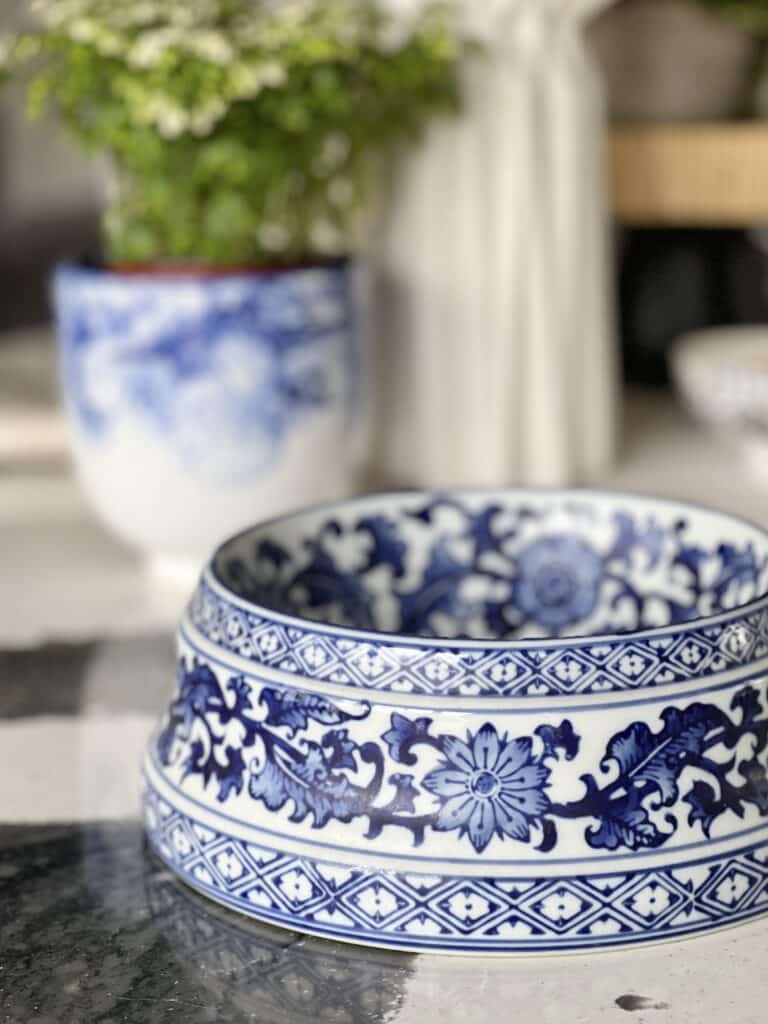 The Sonata Home Design blog contains affiliate links. This means a small commission is earned if you make a purchase by using this link. The price you pay will be the same whether you use the affiliate link or go directly to the vendor's website using a non-affiliate link. Sonata Home Design is a participant in the Amazon Services LLC Associates Program, an affiliate advertising program designed to provide a means for us to earn fees by linking to Amazon.com and affiliated sites.
The Dogs Behind the Dog Bowl Planter
Some things just pair well together.
Shoes and socks. Salt and pepper. Peanut butter and jelly.
A used dog dish and three lonely succulents are not exactly a pair that pops easily into my head.
And as with most odd combinations, there is a story behind this. Let me introduce you!
Charlie the Poodle
We lost our beloved 17 year old poodle, Charlie, in the Fall of 2019. He was our joyful, lovable, adorable family pet during those precious years of raising our daughters. Charlie was a best friend to each of us and we were heartbroken when his health failed and we had to let him go.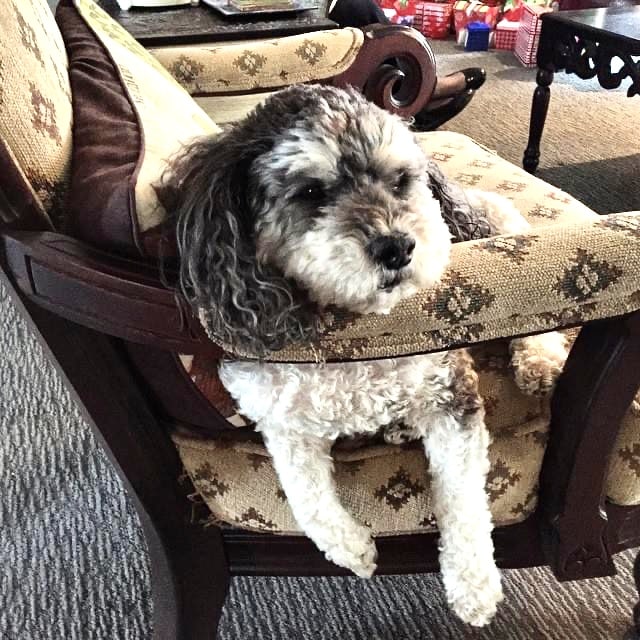 Bentley, the Sheep-a-doodle
While Charlie can never be replaced, we did add another beloved pet to our home in the form of Bentley, a charming 6-month-old sheep-a-doodle puppy. (You can meet him here!) Bentley has brought renewed energy (as in neverending!) into our home and is joyful, lovable, and adorable as well. Just in a different and LARGER way!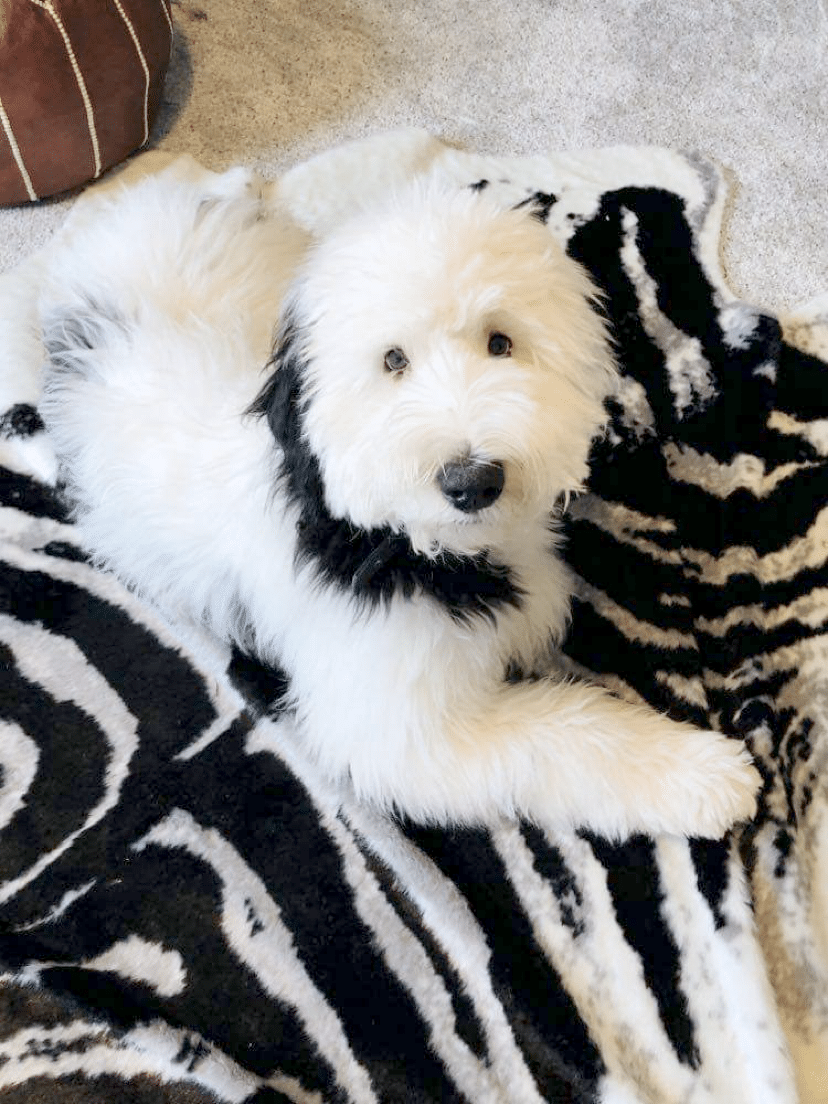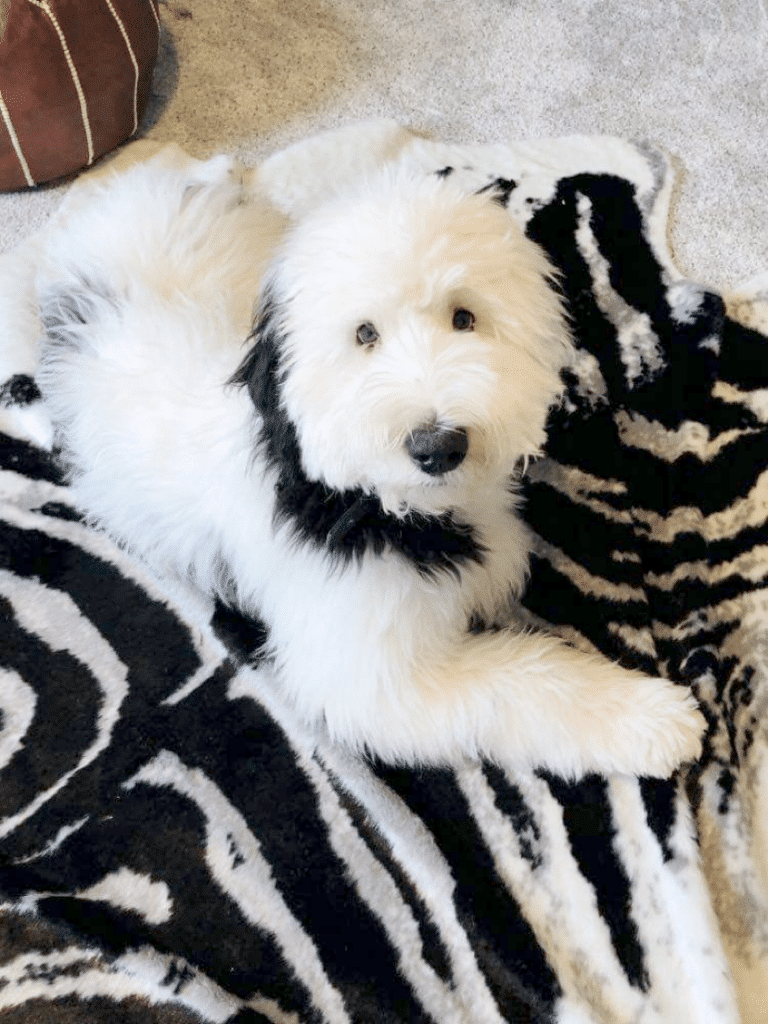 (So, where is she going with this?)
Well, we fed Charlie for 17 years in a beautiful, blue and white porcelain dog bowl that was perfect for our perky, Parisienne poodle.
Not so with a jumbo sheep-a-doodle with paws the size of the said bowl!
What to do with this beautiful dog bowl with nary a chip but no longer useful to our new playful pup?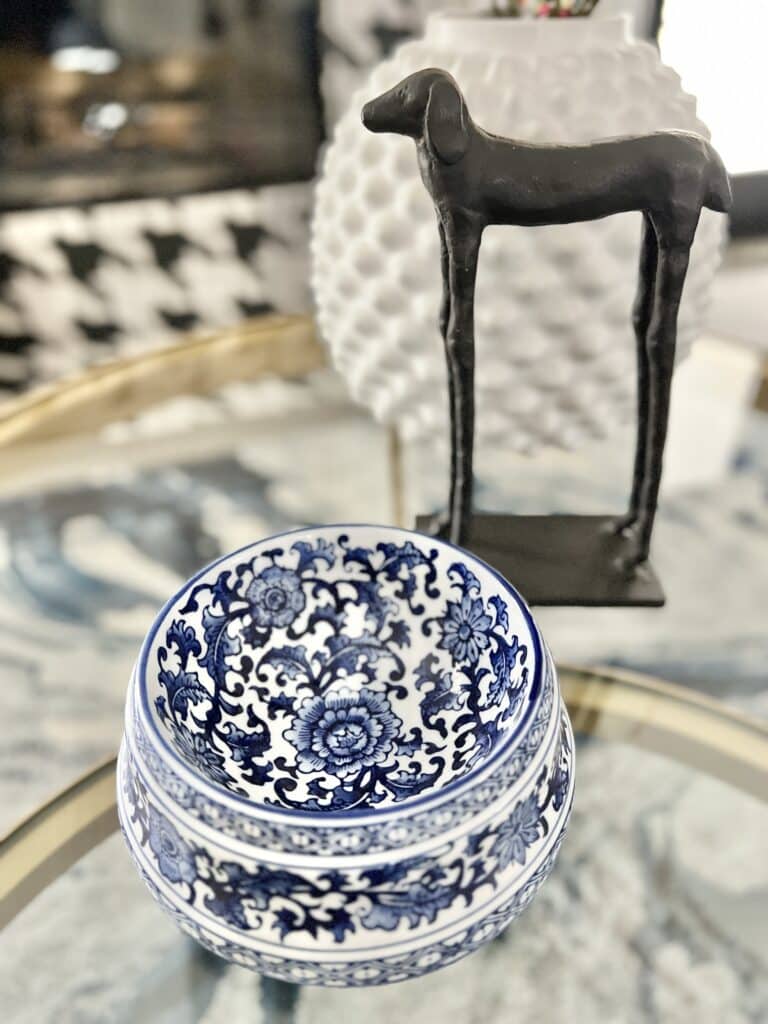 You know the word…upcycle!
And I think succulents are the way to go!
I love a good plant garden so this makes perfect sense!
Succulents thrive as a shallow planting and do not need much depth to grow. A dog bowl is pretty much perfect for creating a garden of succulents that require very little maintenance after planting. (aka…they will still live if you forget to water them!)
Let's get started!
Dog Bowl Planter Supply List
Once you have your dog bowl (or other shallow dish), here is what you need: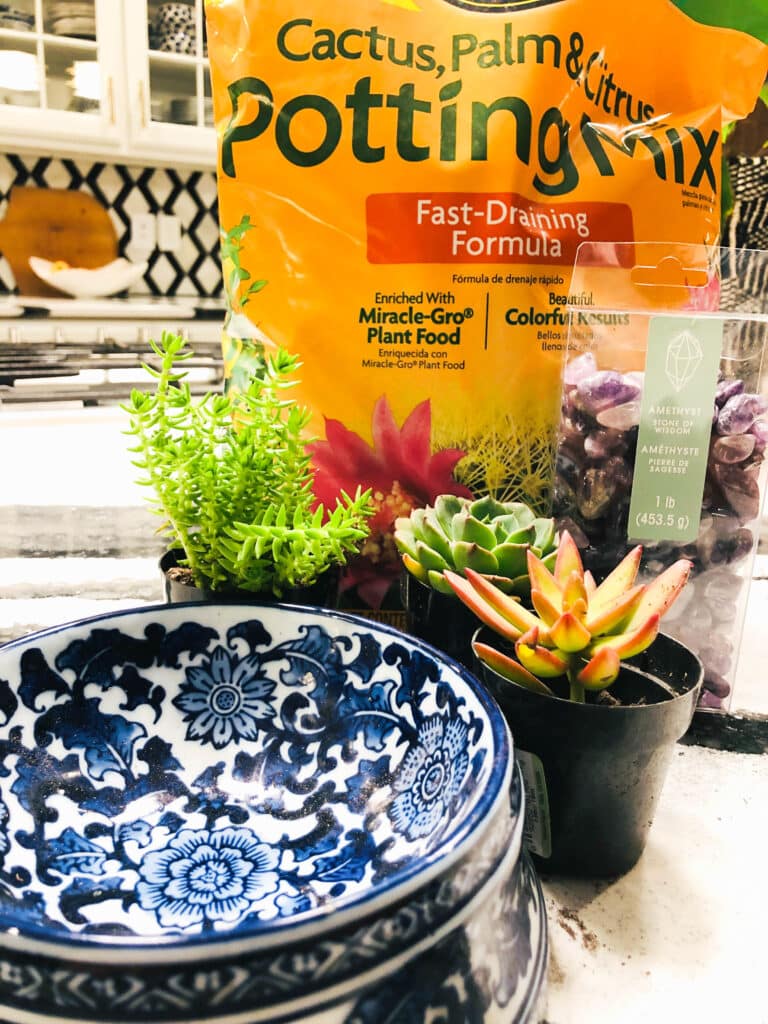 How to Choose Succulents for Your Dog Bowl Planter
Time to choose your plants! There are so many beautiful succulents to choose from, so take your time and pick the ones you love the most.
When shopping for succulents, follow this list to find the healthiest plants.
Look out for plants with leaves that feel firm and have vibrant, lively colors.
Give each leaf a gentle tap to test its sturdiness – vibrant foliage is key if you want your green friend to thrive in its new home.
Be wary of any plants that have scars or soft spots.
Check for bugs! They can be teeny-tiny so inspect them closely.
Choose succulents with different textures, leaf sizes, and colors. Remember that an odd number of plants will create the most balanced garden.
Now here is a shocker…I ordered these succulents from Amazon! And they passed the test on everything from the list!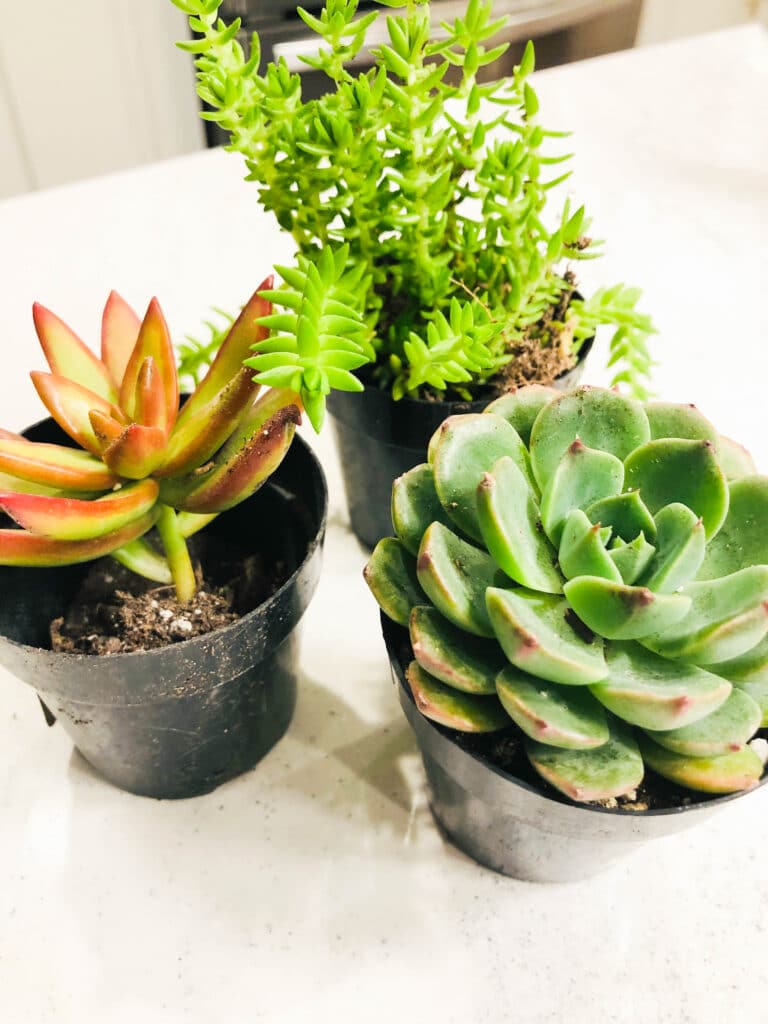 How to Plant Succulents
1. You Need a Pot
Of course, you need a pot…and in this case, we are using a dog bowl!
Any pot will actually do, as long as it has a drainage hole in the bottom. Or, if your pot doesn't have a drainage hole, you can drill one yourself or line the bottom with rocks or gravel to help with drainage.
In the case of this dog bowl, I placed some rocks in a thin layer at the bottom of the bowl. Only a thin layer…dog bowls are not very deep!
This does not have to be a pretty rock as it is just for drainage and covered by dirt.
I literally dug mine out of the ground in the backyard. Now you will ensure that your succulents, which do not need much water, will have good drainage.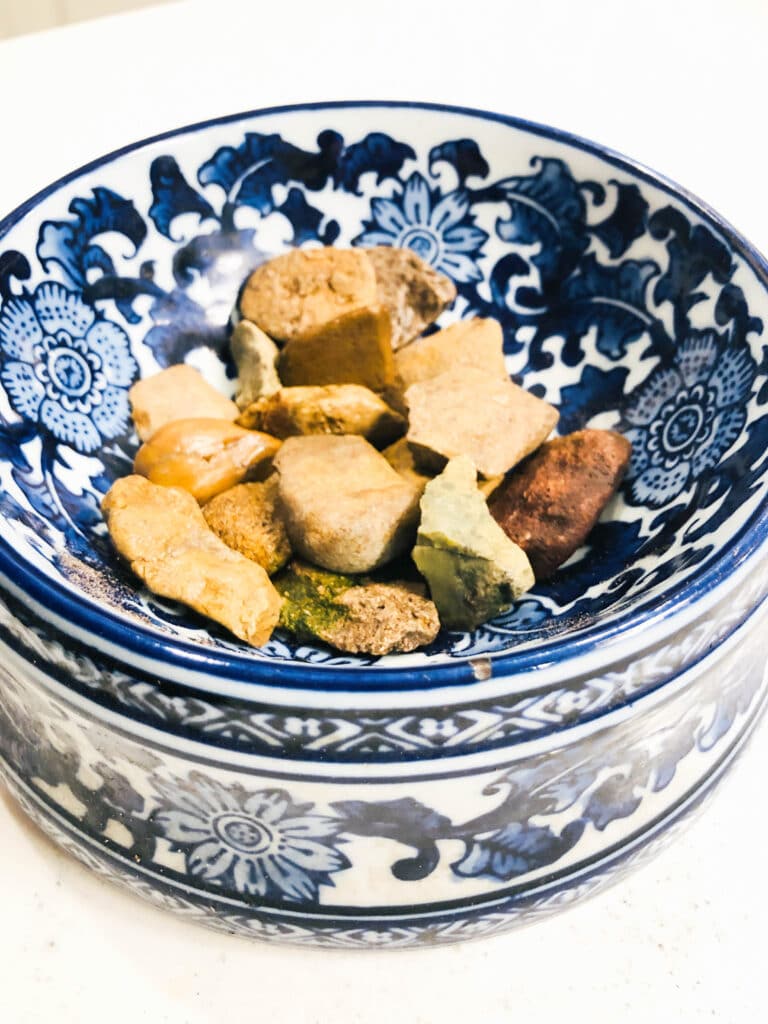 2. Some Soil Please!
Next, fill your pot with succulent soil. Because a dog bowl is shallow, you don't need a lot.
But you need good soil for succulents.
This is important because succulents need well-draining soil in order to thrive. You can find succulent soil at most garden centers or online.
3. Plant Your Babies
Pull a succulent from its grow pot and loosen the roots at the bottom. Arrange it loosely in the design that you want in the bowl and fill in around the plant with the succulent potting soil.
Place the succulents in whatever arrangement you want. This is like tucking kids into bed. Just nestle them in and make them cozy!
Make sure to gently loosen the roots of each plant before placing them in the pot.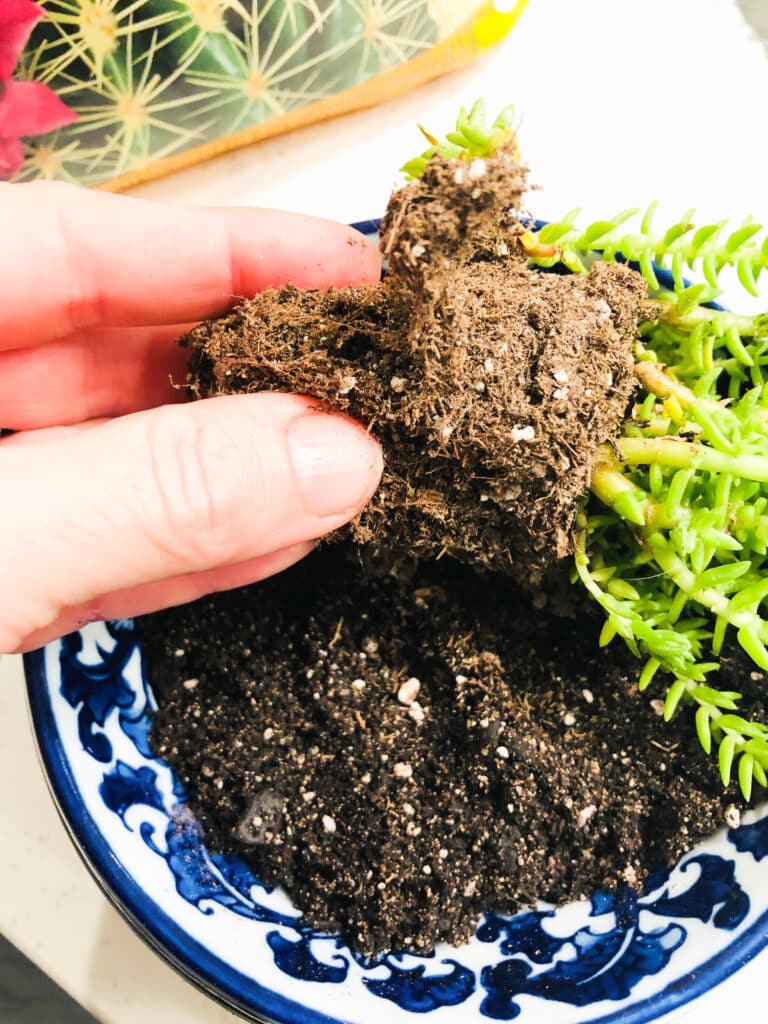 4. Just Add a Little Water
Once all of your plants are in the pot, give them a good watering. Succulents don't need a lot of water, so be sure not to overwater them. A general rule of thumb is to water them about once a week or even every other week. Basically, water when the soil is dry to the touch.
5. Let the Sunshine in
Place your pot in a bright location, but out of direct sunlight. Too much sun can scorch your succulents, so it's important to find a spot that gets bright light but isn't in full sun all day long
6. Clean It Up and Bling It Up!
Oops! I spilled some of the dirt on top of the plants. No worries! A soft-bristled paintbrush will work to clean up the mess. I actually left a little of the dirt on the plants so it has a natural look.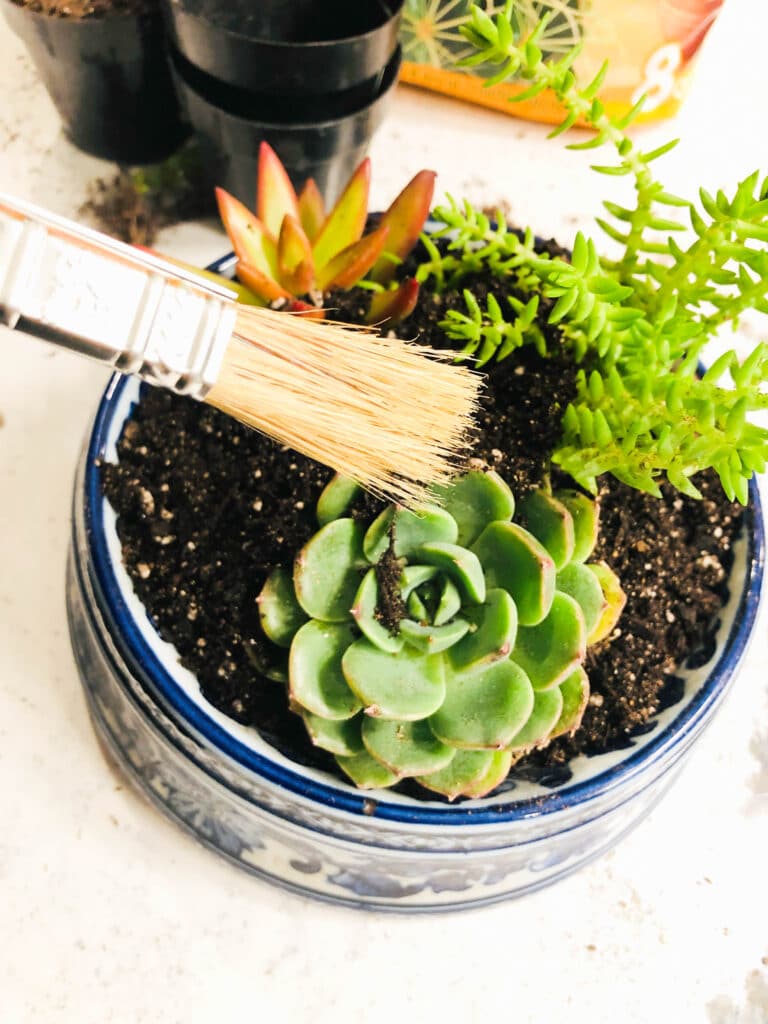 Look at this pretty purple amethyst stone that I used to cover the dirt and give my creation a rock garden look.
Purple and green look so good together so this rock choice color was perfect!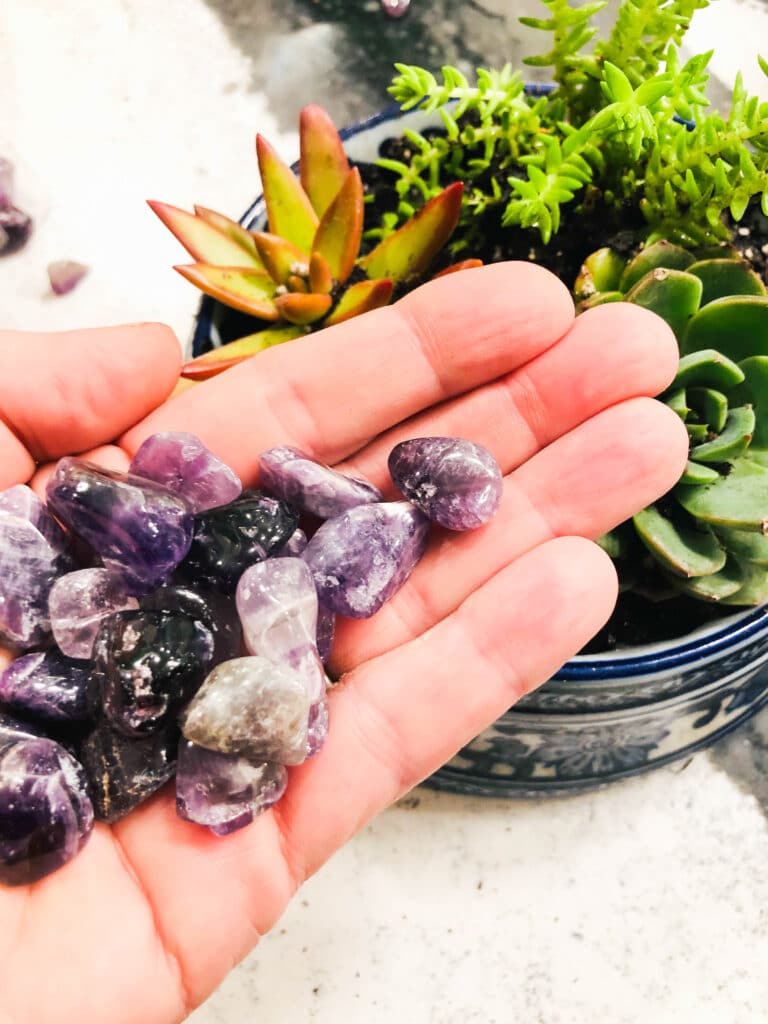 This succulent garden is complete!
The combination of colors and texture is so lovely with the purple rock!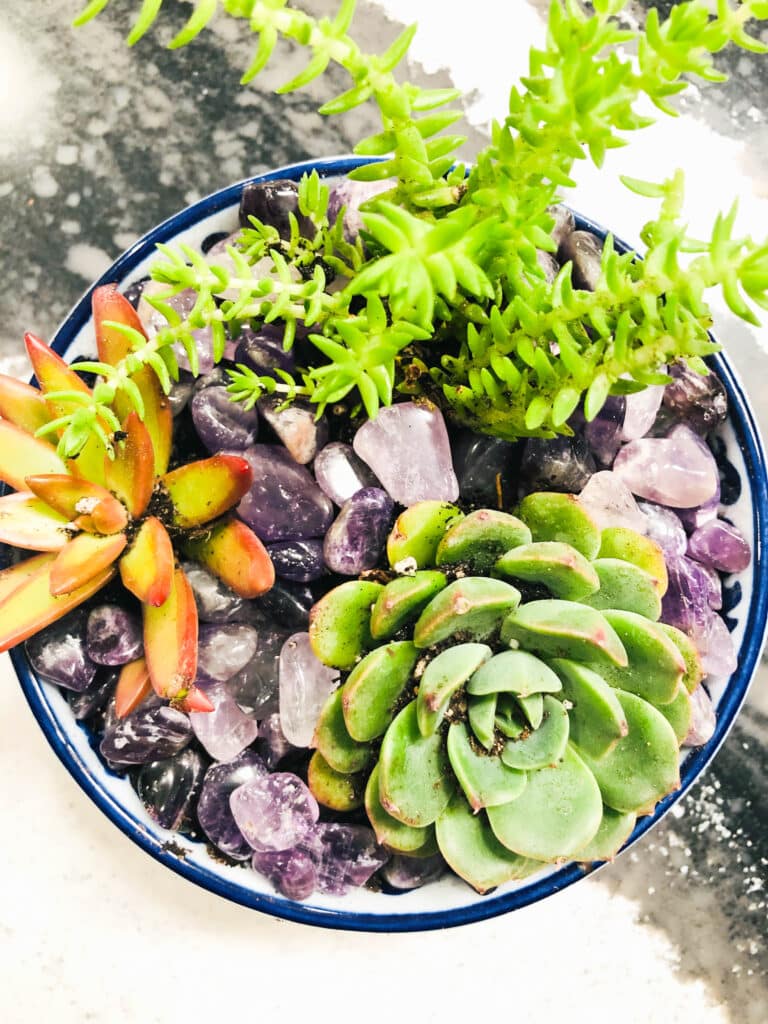 I love blue and white accessory pieces, so this dog bowl garden fits right in!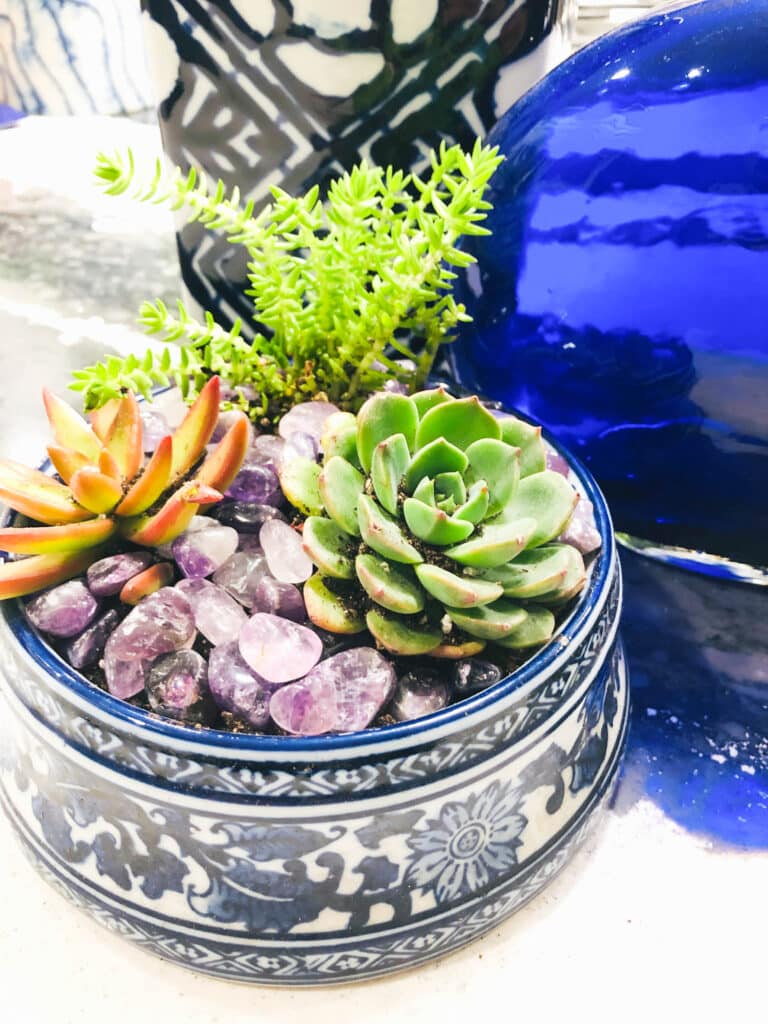 Time to Plant Your Dog Bowl Planter
No matter the season or your growing greenery knowledge, this project is sure to bring inside your home the beauty of nature with minimal effort and maximum vibes.
Having your own pet-inspired planter just might be the best thing ever. Because even when we can't always have a pup around, at least we'll still have something cute in our homes to remind us of them—a living centerpiece inspired by the four-legged friends who melt our hearts!
Perhaps the thing that I like most about this project is that I am reminded of our precious Charlie every time I look at it. And don't worry about Bentley…he has a GIANT new dog bowl of his own!
All it takes is some love and patience and you'll be able to admire the stunning handmade creation that you can proudly display in every room around the house. Until next time – happy planting!
Cheers!

Love Plants? Try These!
How to Transplant Your Plants to Bigger Pots
My Favorite Plants that are Hard to Kill
How to Create a Portable Plant Garden
Don't Forget to Pin It!
Pin the image below to your boards on Pinterest (just click the Pin button in the top left corner). You can also follow along with me on Pinterest!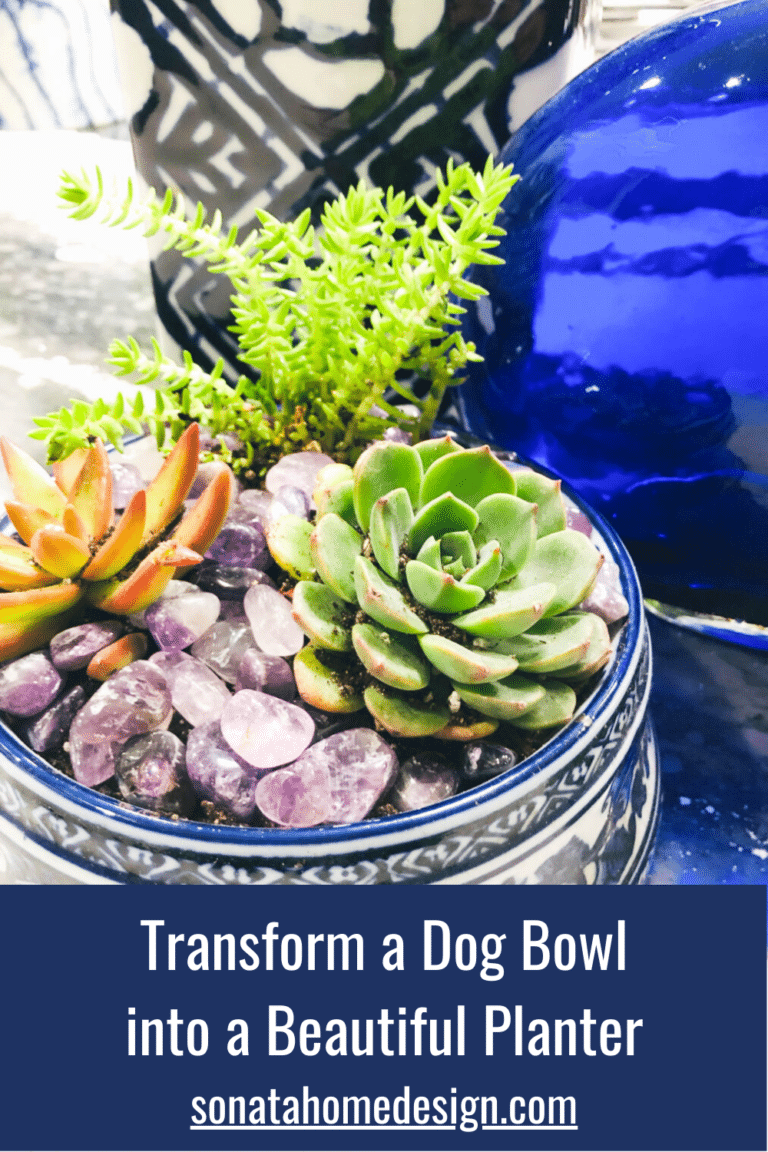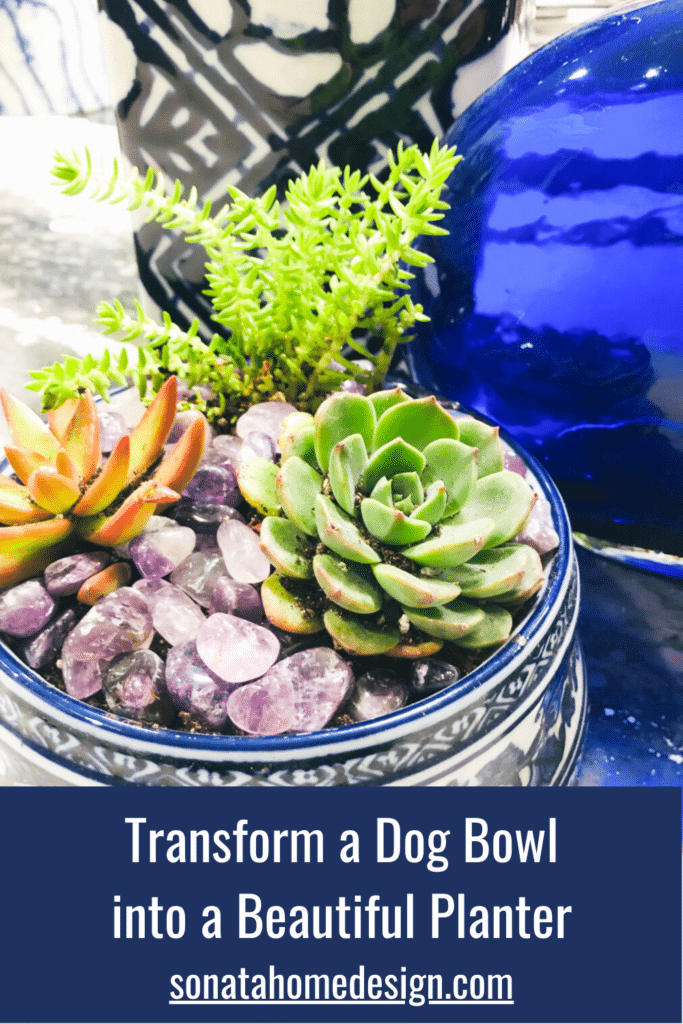 Some of My Favorite Dog Bowls



Others Supplies That Can Help