3 Easy Steps to "Pop of Color" Books
I'm feeling "bookish" these days. Thankfully, not peckish…just bookish.
Maybe it's because of SonataScript, my new virtual book club.
I want to style everything with books! So, let's shake things up a bit with our books!
You've perhaps seen my book covering tutorial? I get the question every time…Is that WALLPAPER? (yes, that is wallpaper!).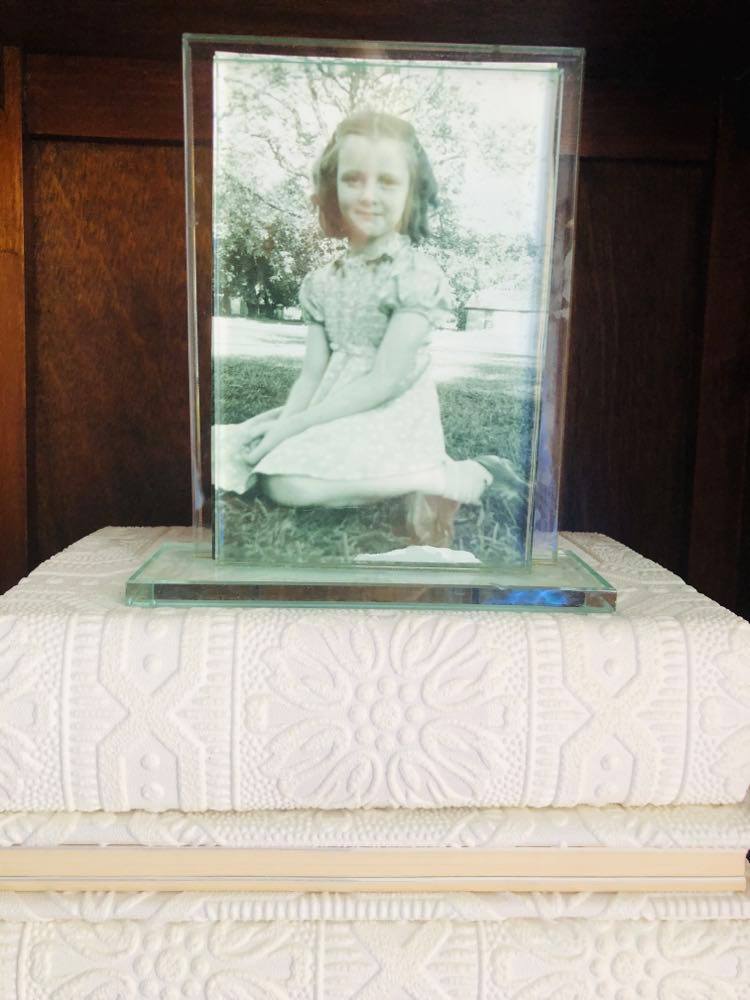 Well, in addition to giving your books a unified jacket, give your books a quick (and I do mean quick) makeover by painting them!
WHAAAT?
Close that jaw, open your mind, and get some quirky vibes going. If not quirky vibes, then positive vibes!
I'm not talking all-out painting. I'm talking "give them a little shot of color" painting. I love a good "Pop of Color!"
So, let's take it a step further, and PAINT some books!
Ok, let me be more specific. Let's paint an ombre effect on the facing pages of the book.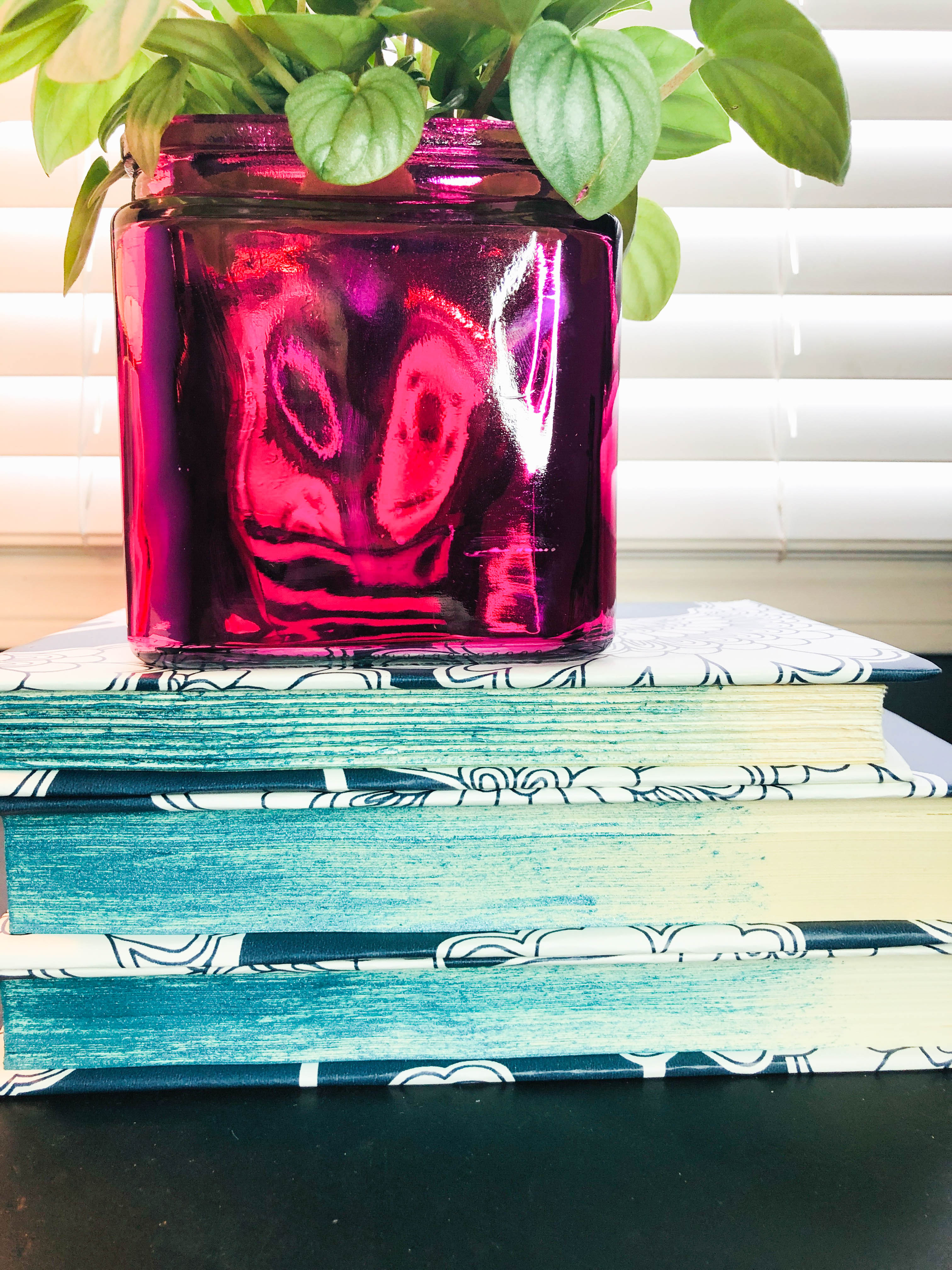 Let's Start with the Supplies.
You will need:
Books (jackets removed) – choose books that are not your favorite, repeat reads. If you are attached to the book jacket, just fold it and tuck inside the cover.
Craft Paint – If you are covering your books with wallpaper jackets, choose a coordinating color. I started out fairly conservatively with a metallic bronze and got more courageous as I went. (Hello PINK!)
Practice Books? (I tested this technique on some paperback books that I was donating. The thrift store is going to get some cool, ombre-effect paperbacks!)
Positive Vibes – just in case you are missing quirky vibes!
3 Easy Steps to the Ombre Effect
First, protect the book.
Use the painter's tape to cover the book's binding edge so it doesn't get a misdirected splotch. After a few books, I got much better at directing the paintbrush and decided to forego this step (I was covering the book with wallpaper anyway.).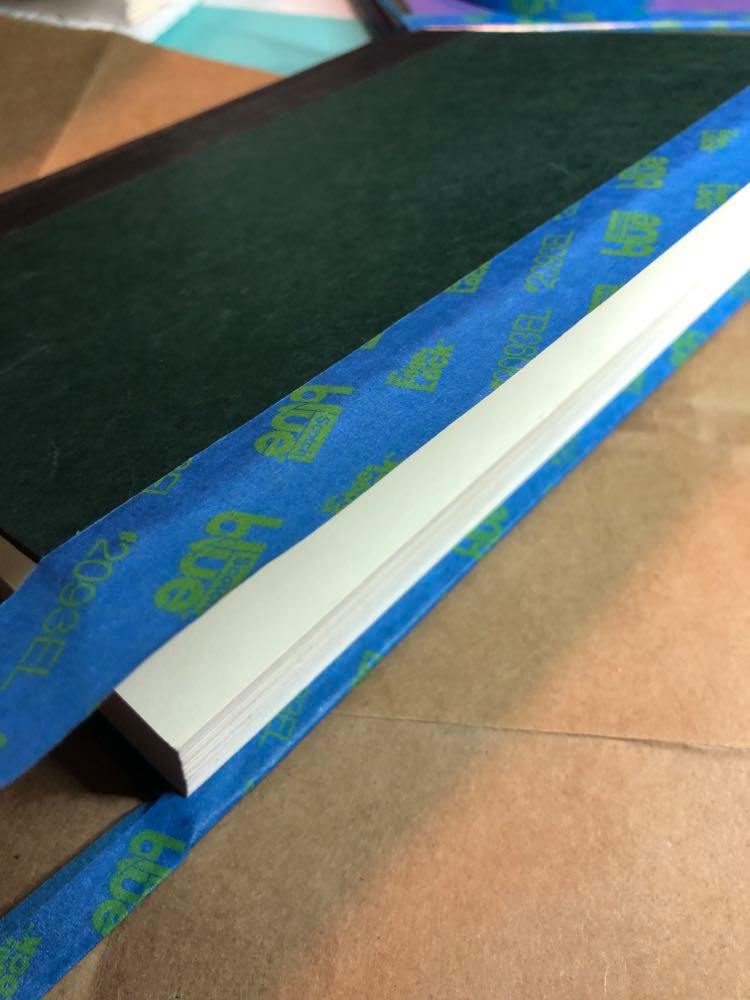 Next, paint the book edge!
Dip your brush into the craft paint and then immediately brush on to scratch paper so there is very little on the brush. Decide which end of the book you want to have the heaviest amount of paint. Dry brush the paint onto the book starting on this of the book and drawing the paint outward. Don't be in a hurry and load your brush too heavily. It is better to dry brush with lots of layers to create the ombre effect.
Important to note: This does NOT need to be perfect! I practiced on some paperbacks and had to give myself a little shake when I started overthinking it. Let the imperfection shine!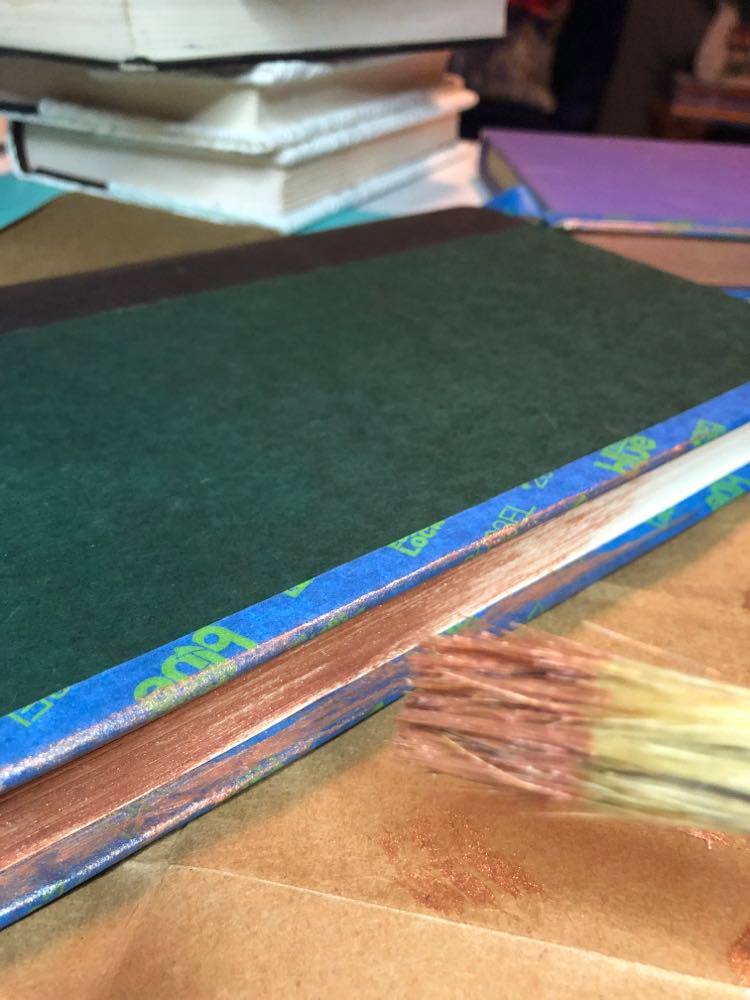 Last, but most important… let it dry.
Wow! How is that for a challenging third step!
After the books dry, (it doesn't take long because they were dry brushed.) cover the books with wallpaper. Click here for the video tutorial.) Now the fun begins as you style the books in your home.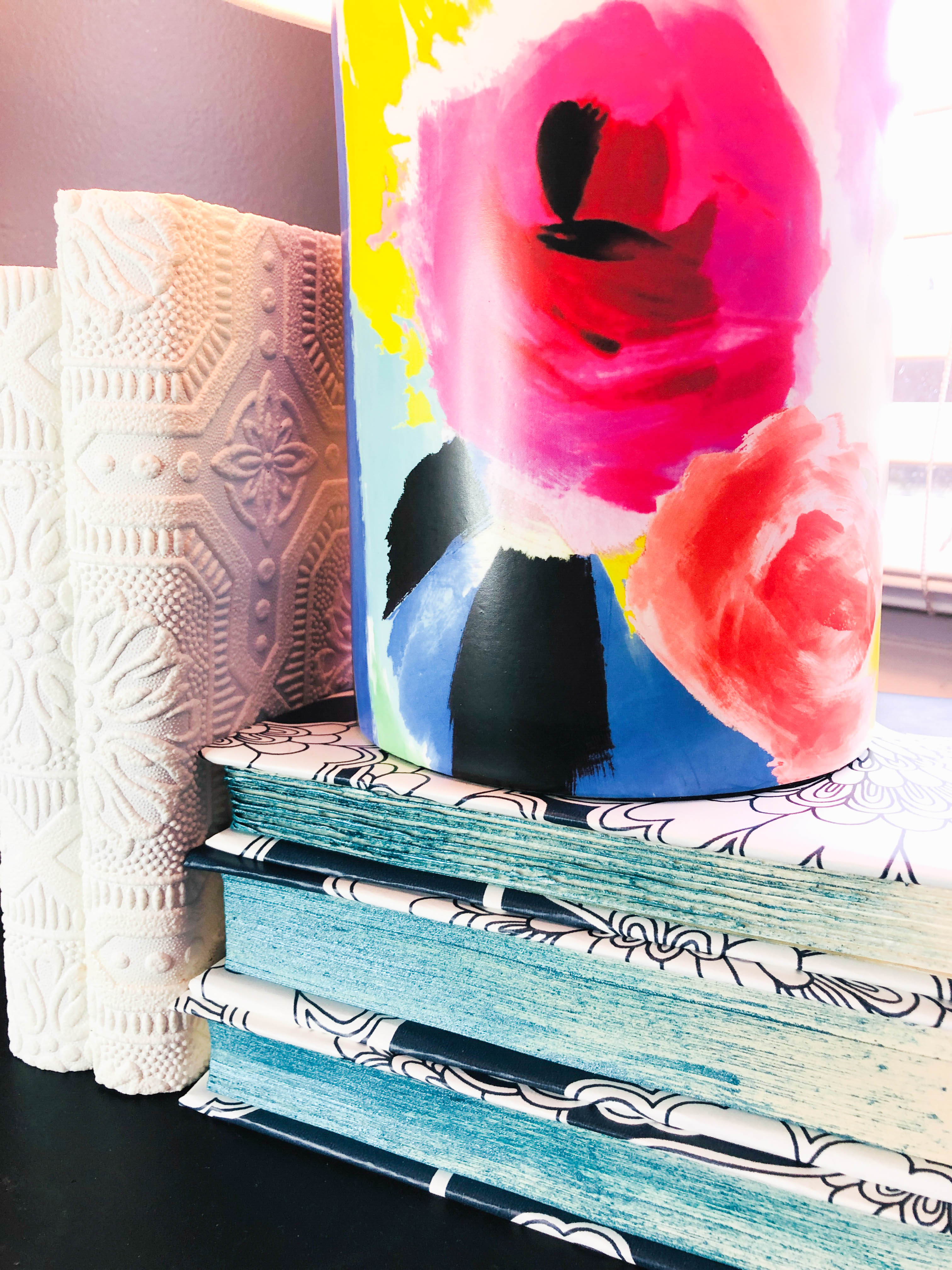 Tie in with other books and color friendly items.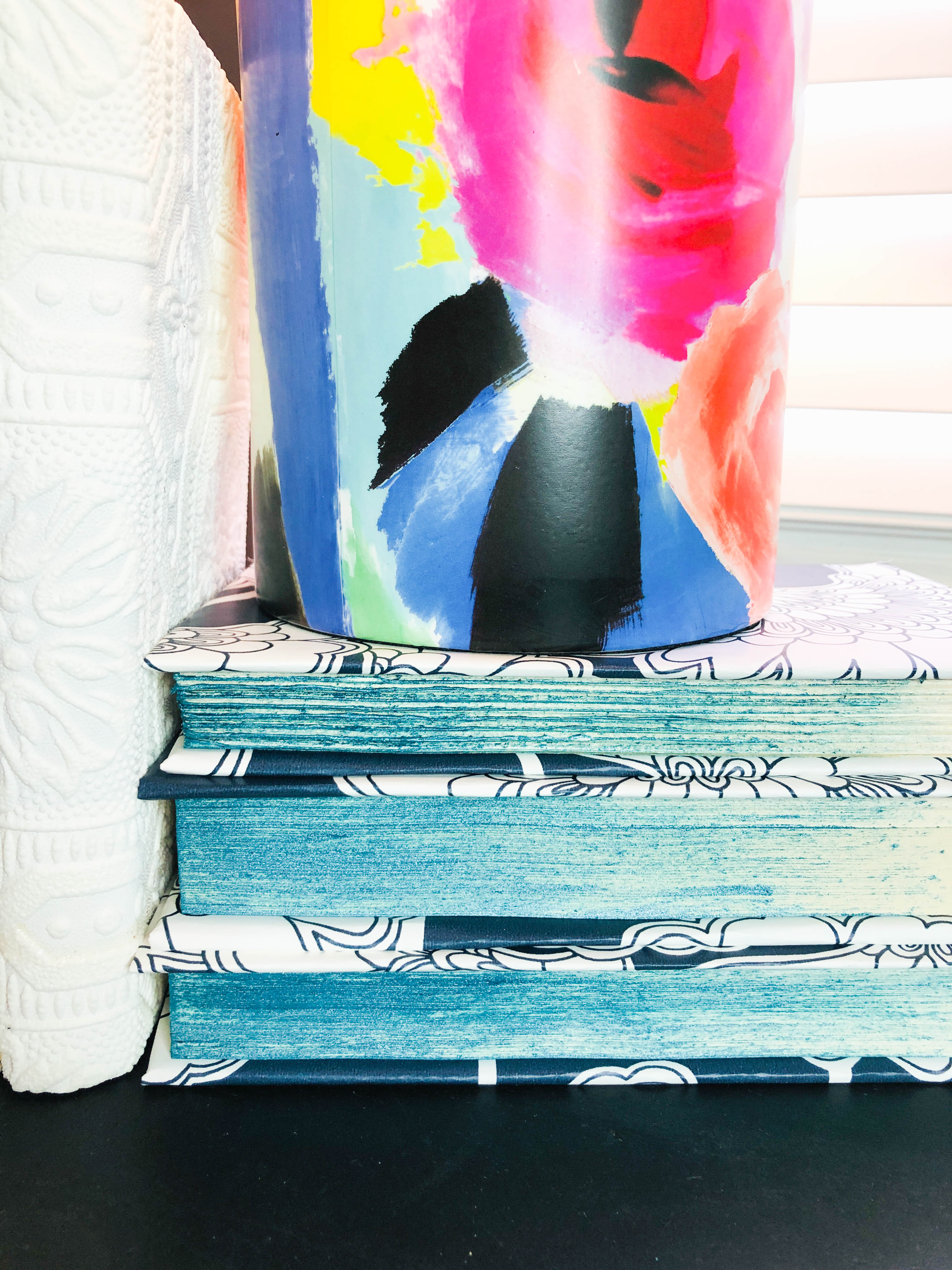 So, there are the three steps.
Ok, so it is really a two-stepper but drying does count!
So, play with paint, paper, pattern, and color. (Ooo…I almost had perfect alliteration there!)
Well, here is another "P" word. Always, always…keep the QUIRKY and POSITIVE vibes!
Cheers! ~Missy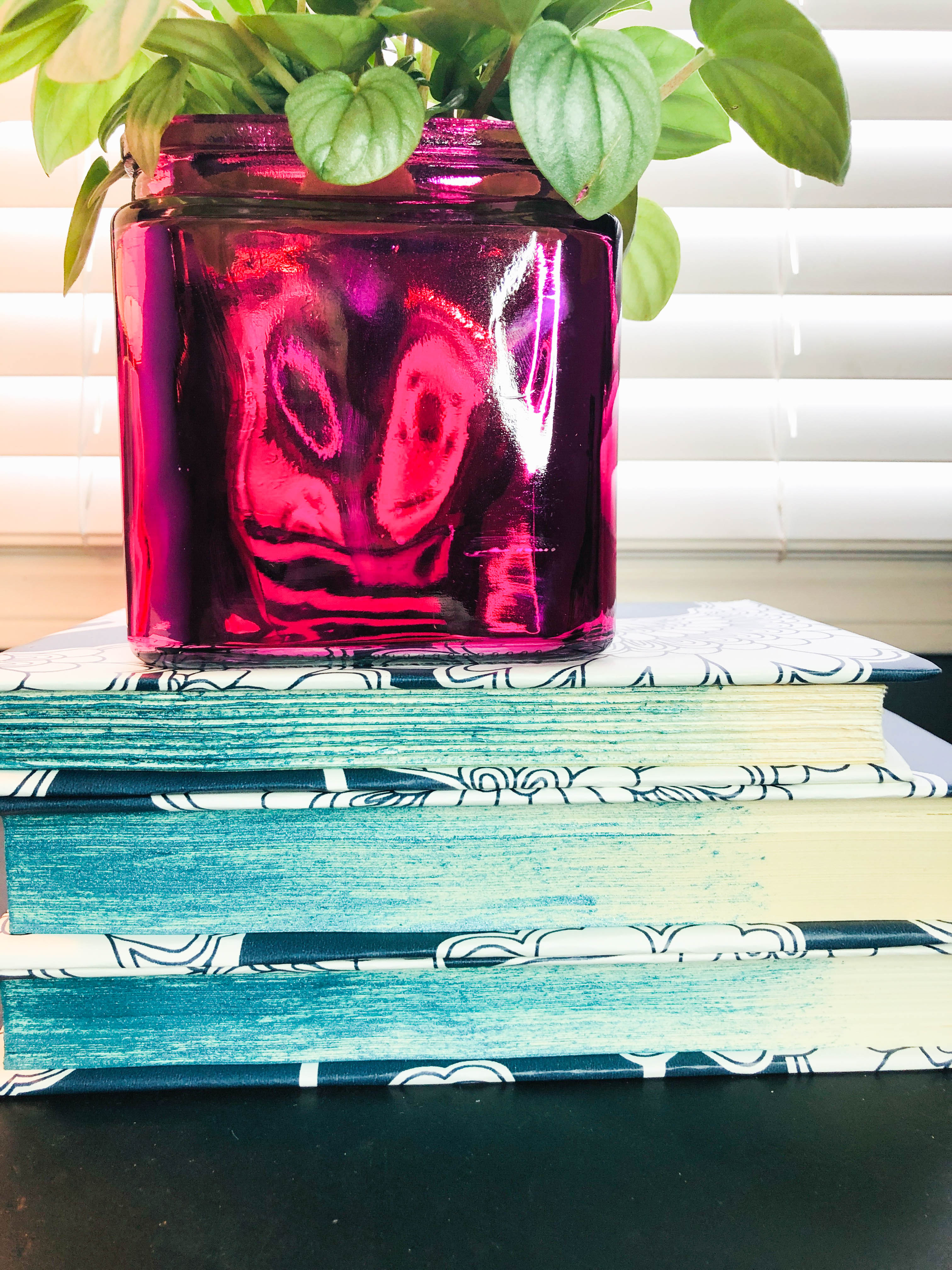 *contains affiliate links
p.s. If you are looking for ways to add "pops of color" to an outdoor area, click here.
p.s.s. Love the color RED? Click here for my 10 Favorite Ways to add RED to a room!