How to Add Color to a Shady area Without Plants
*Disclaimer: This posts contains affiliate links #RewardedByQVC
Warm temps, blue skies, and green grass…finally!
Summer has never been more welcome as we begin planting beautiful flowers and jumping into outdoor living.
My favorite thing in our backyard is our giant maple tree. It is SO beautiful and gives our patio much-needed shade during the hottest days of the summer.
As beautiful as this tree is, it is REALLY hard to grow anything underneath it.
The Problem – Three Reasons
Full shade. This area gets NO sun. None. Not even a tiny bit of filtered light.
Tree roots. Trying to dig a hole to plant something is useless. I managed to transplant some hosta plants several years back and they have done really well! However, I honestly think I have exhausted every possible non-rooted spot.
Bentley. Oh, my dearest Bentley! This is probably the biggest reason to avoid actual plants. Our adorable sheep-a-doodle puppy, Bentley, loves to go tearing through the yard as he plays chase with his toys. He has already crushed some emerging coneflowers in another bed. To try to plant in this shaded area with this unpredictable dog-child in the picture is just not realistic.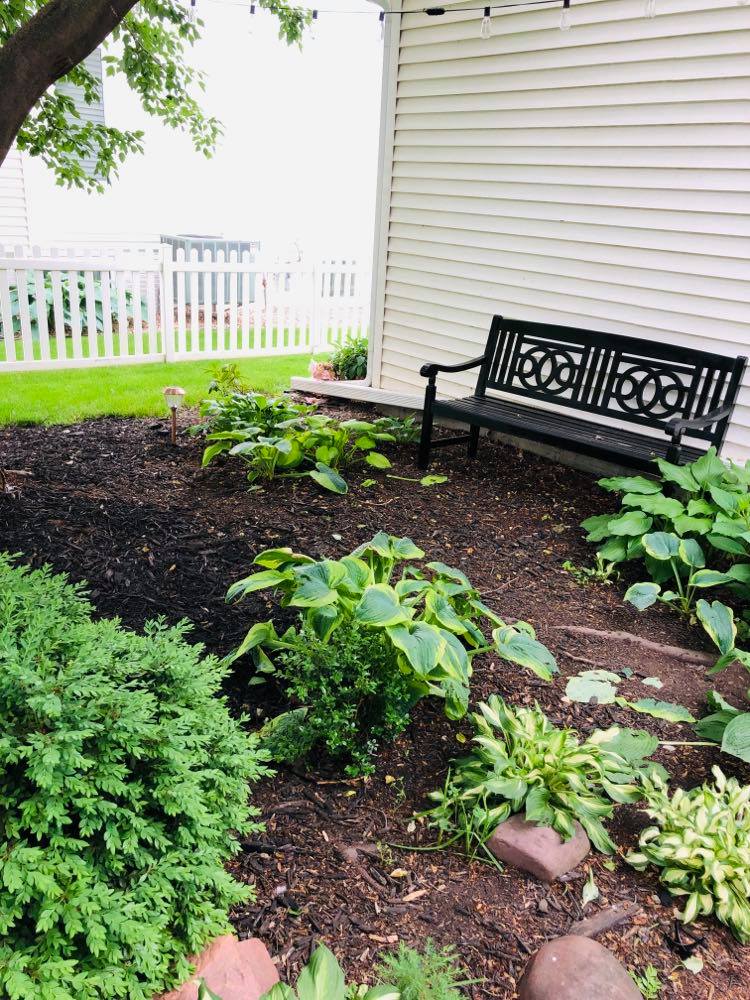 It would be so nice to have some color in the area underneath the tree. We have hostas, black mulch, and a charming black bench. However, this area needs color and it needs to come in non-plant form.
My "Round" Solution
Rather than bring in a bunch of random garden art, I decided to go with a theme of circles and balls. Inspired by three gazing balls in blue and white colors, it seemed a good place to start!
No stands. I'm just nestling them into the ground as if they popped up organically.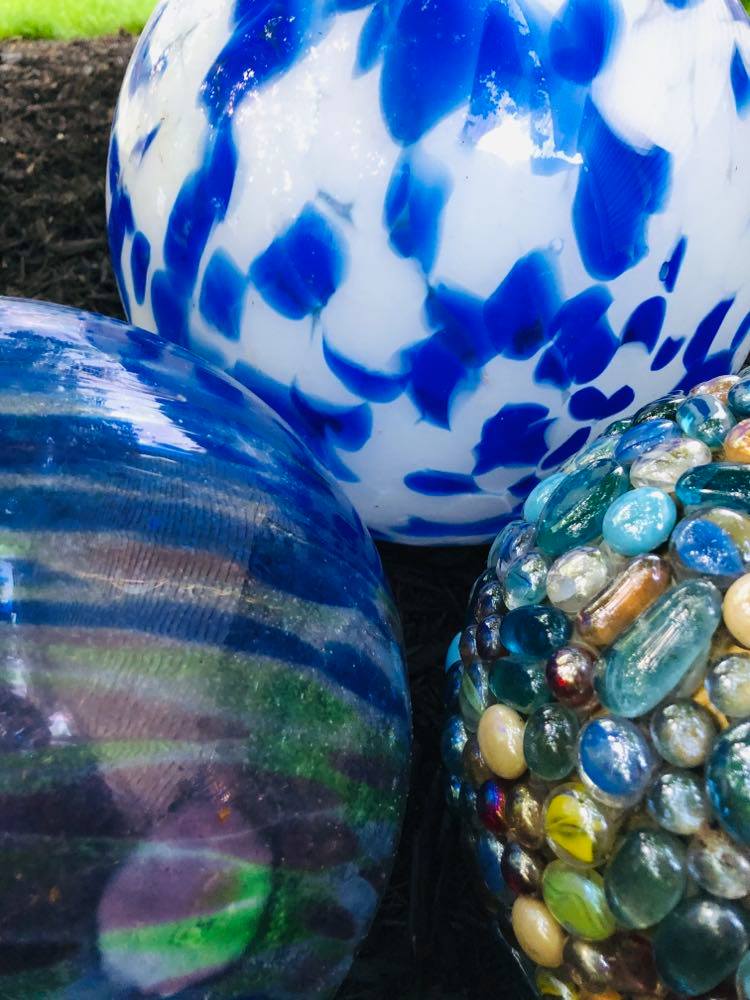 Here are some other gazing balls that I love!
Swirly glass is so interesting to look at and reflects the light in so many different ways.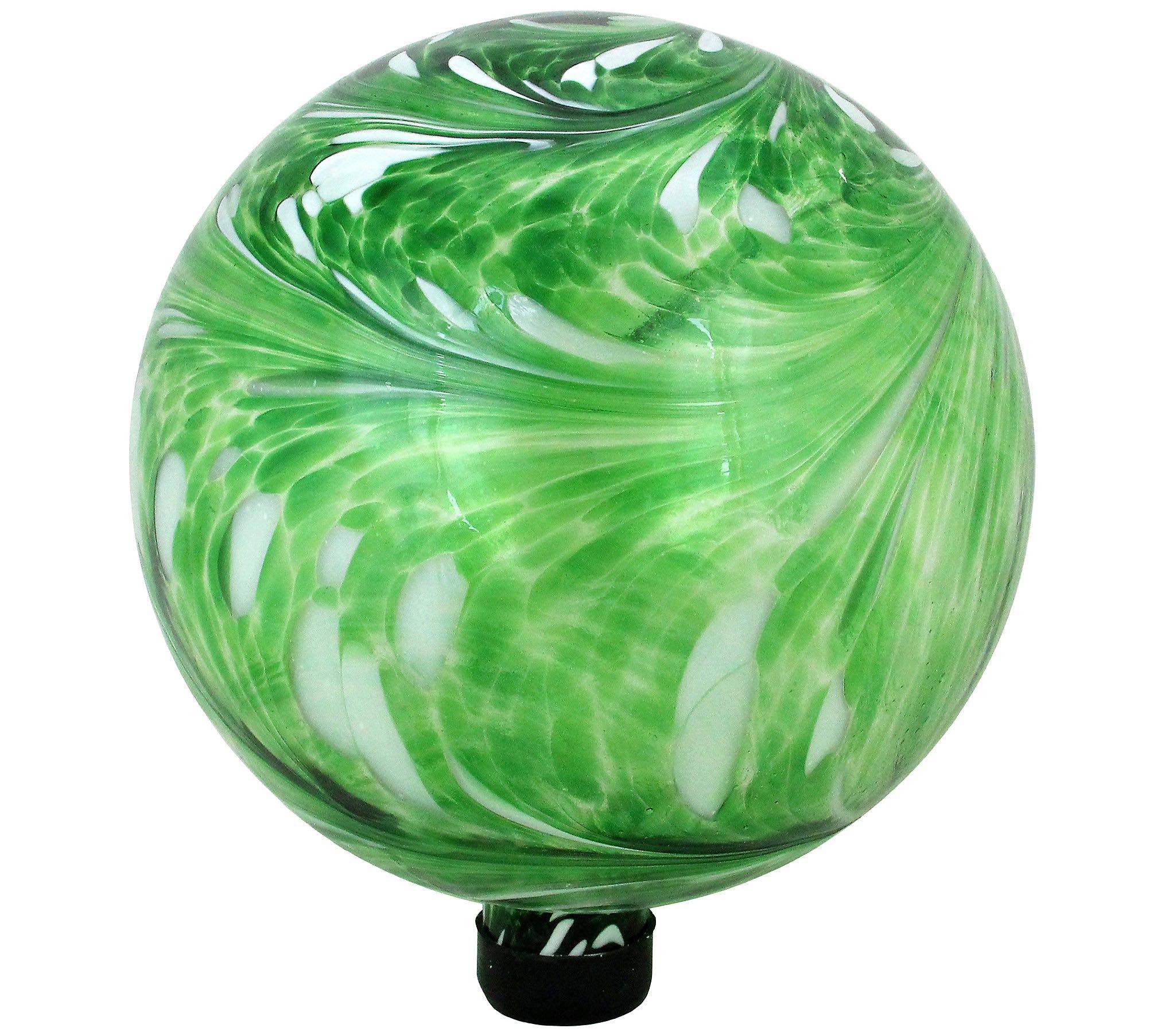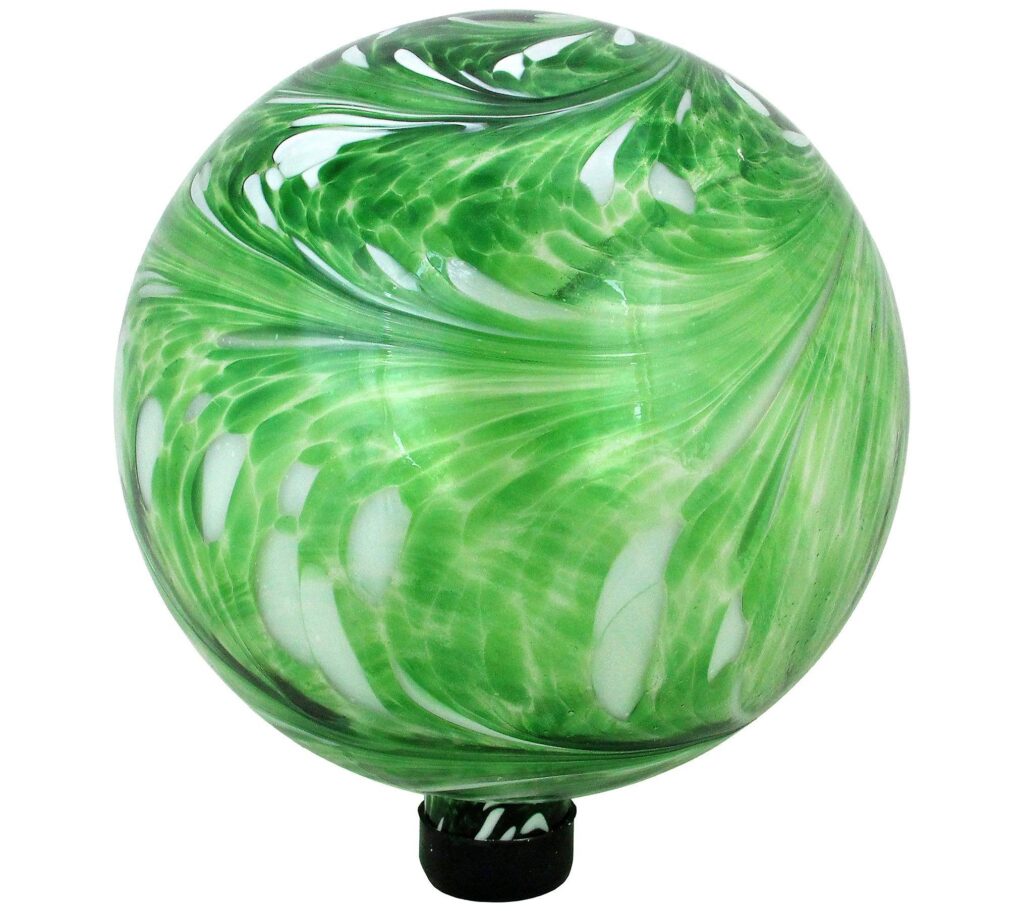 This set of three mercury glass gazing sphere come in a TON of colors, light up within, and have a timer!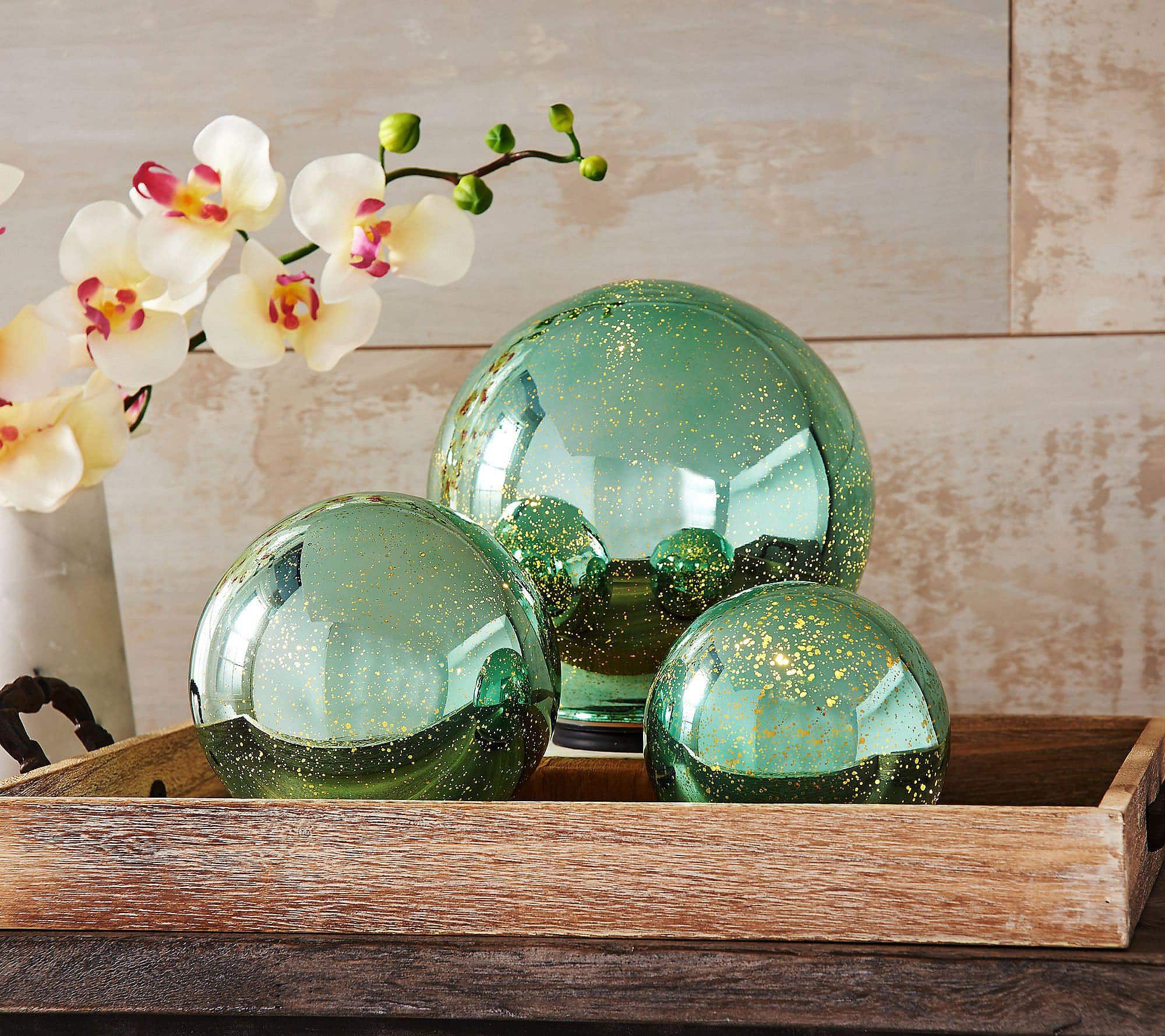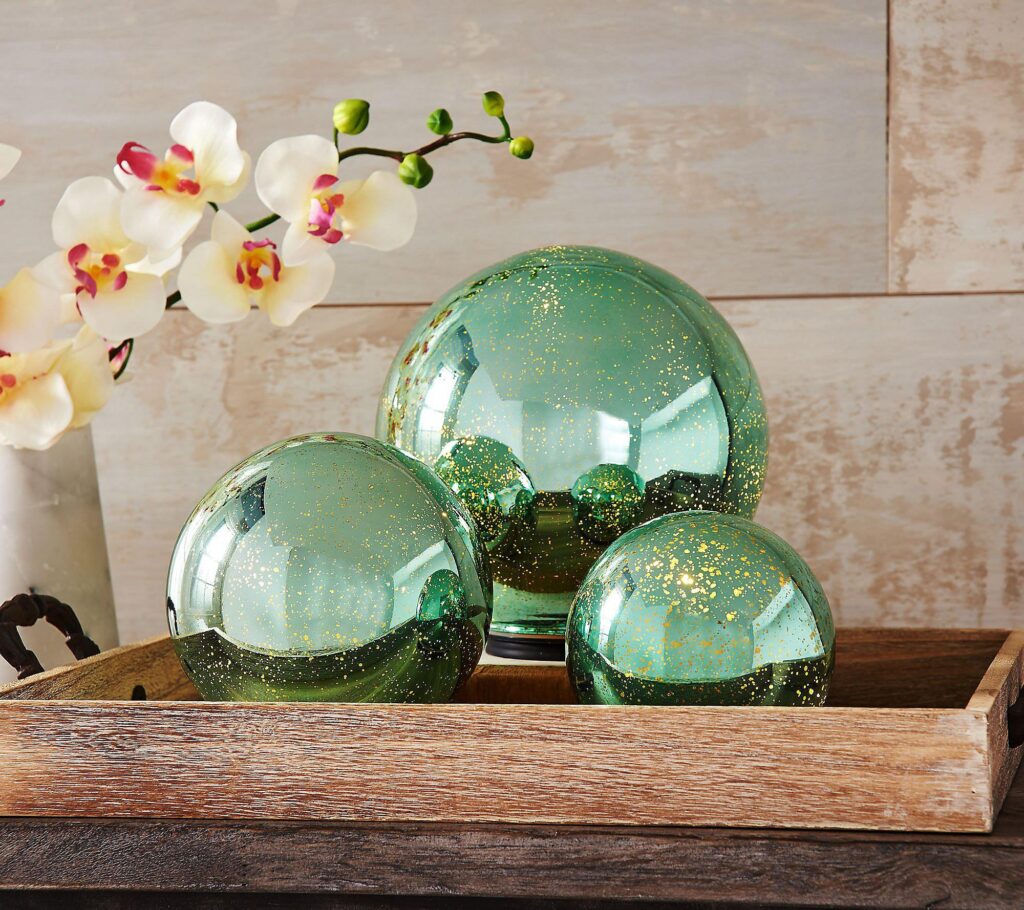 Hidden in the garage and gathering dust, I found our well-used, rusty, open weave metal orb. A quick sanding and spritz of black spray paint were all that was needed to bring it back to life. Time to nestle this next to the other spheres.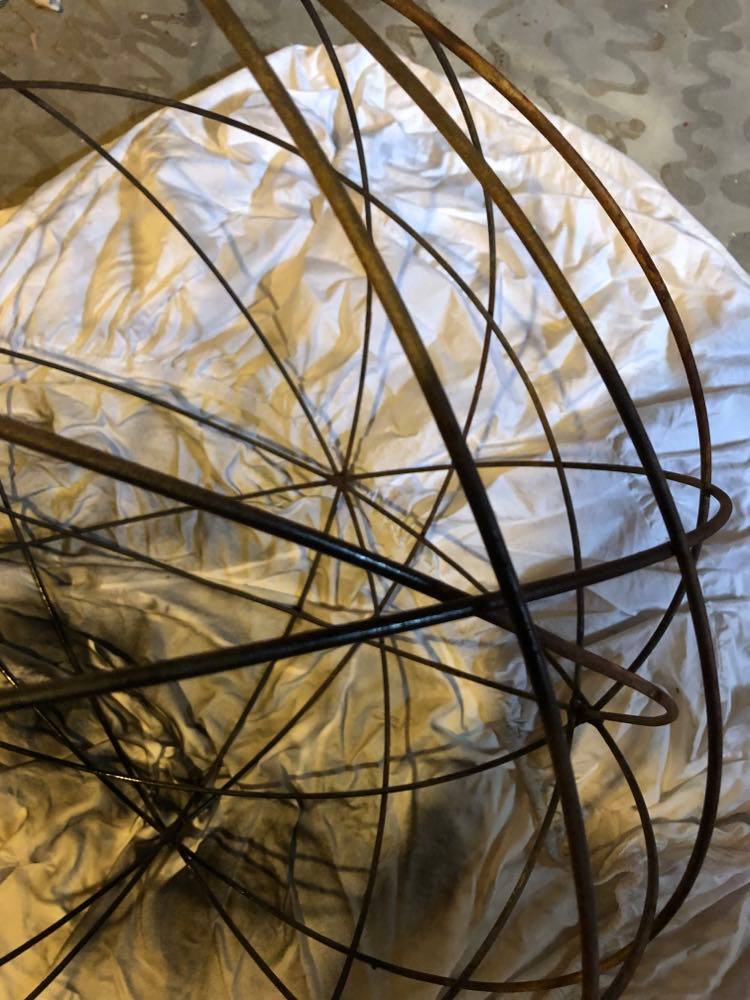 Here is something similar: Foreside Home and Garden Black Large Distressed Metal Decorative Sphere Sculpture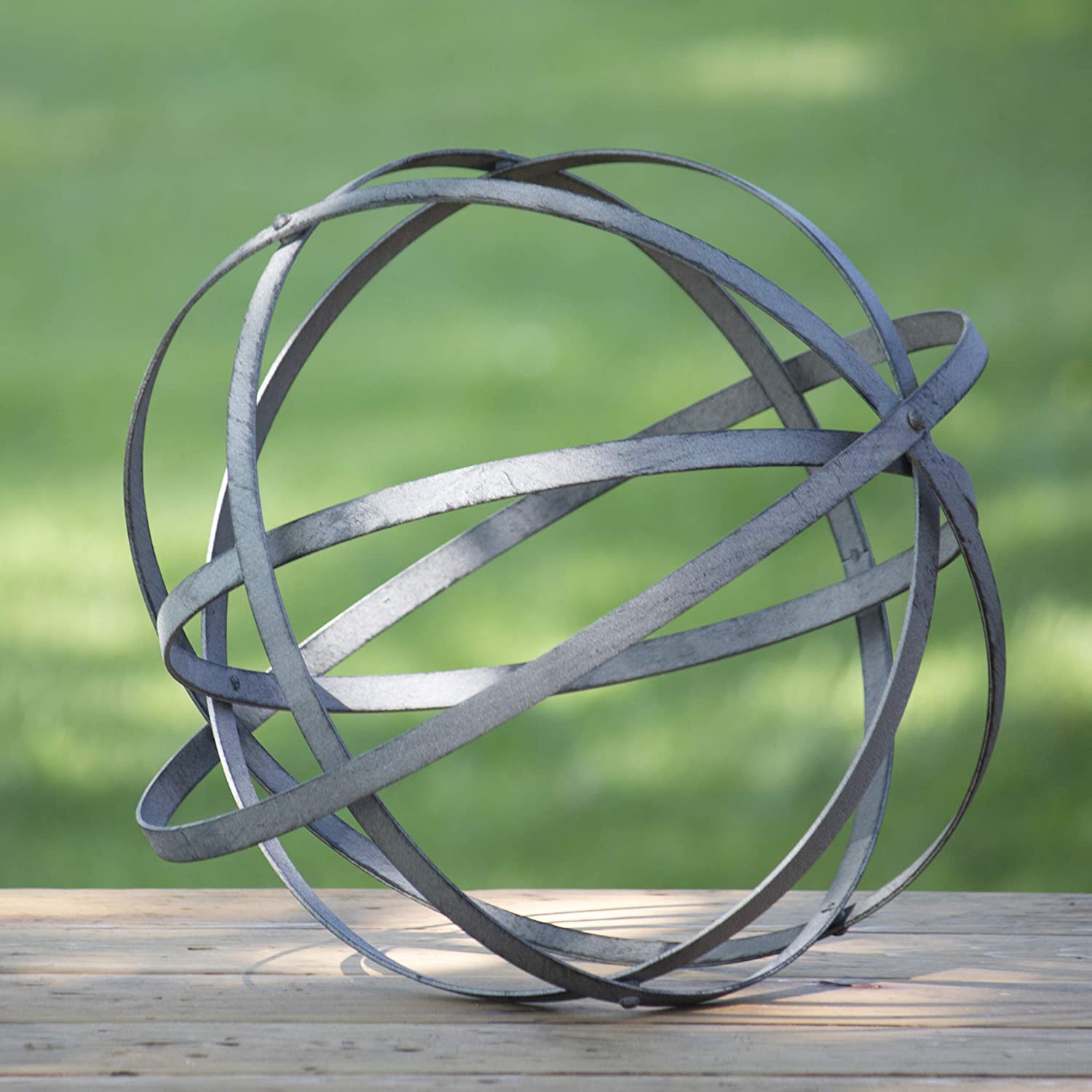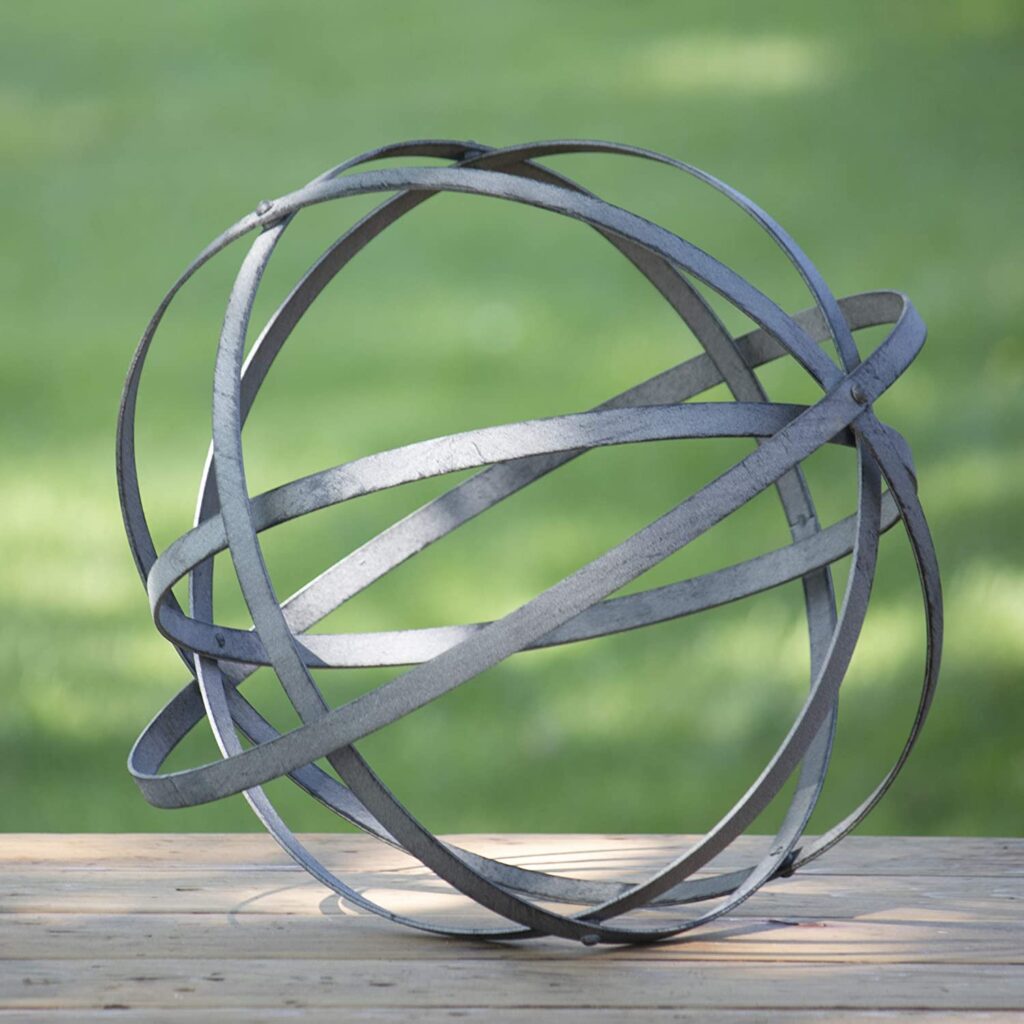 Now for a real pop of color. I found these amazing Faux Flower Indoor/Outdoor Garden Spheres at QVC. These incredibly versatile floral garden balls can be hung, staked in the ground, or placed in pots and planters. They come in several different sizes as well as different colors. My color of choice…bright PINK!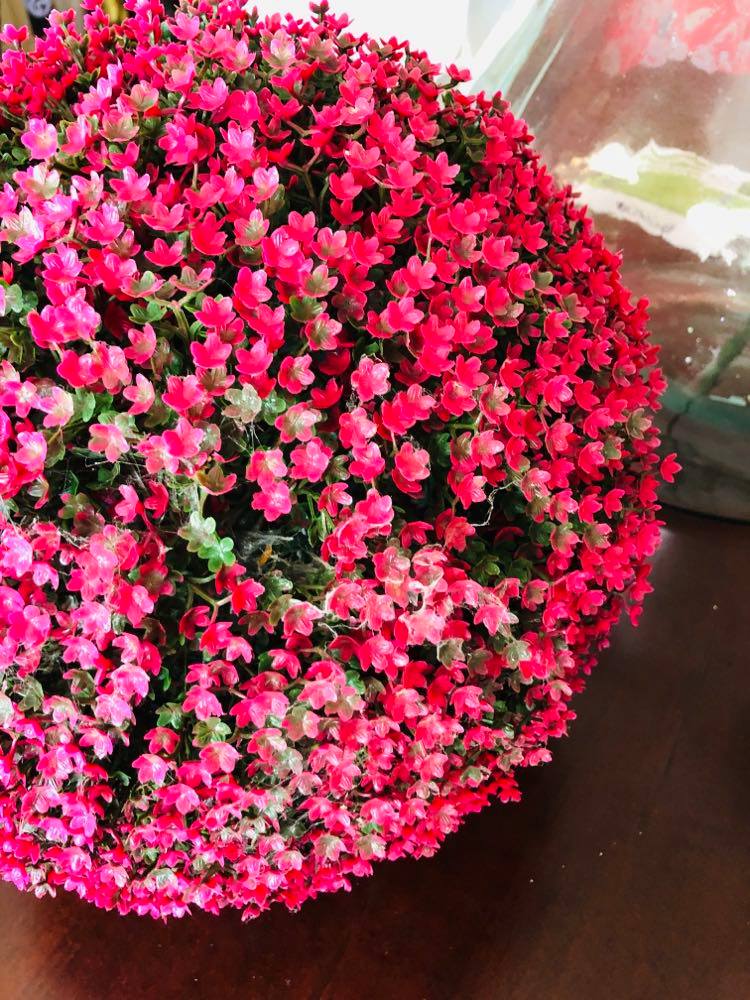 One of these spheres fits beautifully INSIDE the metal sphere. The bright pink faux flowers bring out the blue in the other spheres and give dimension to the display because it is inside the other sphere.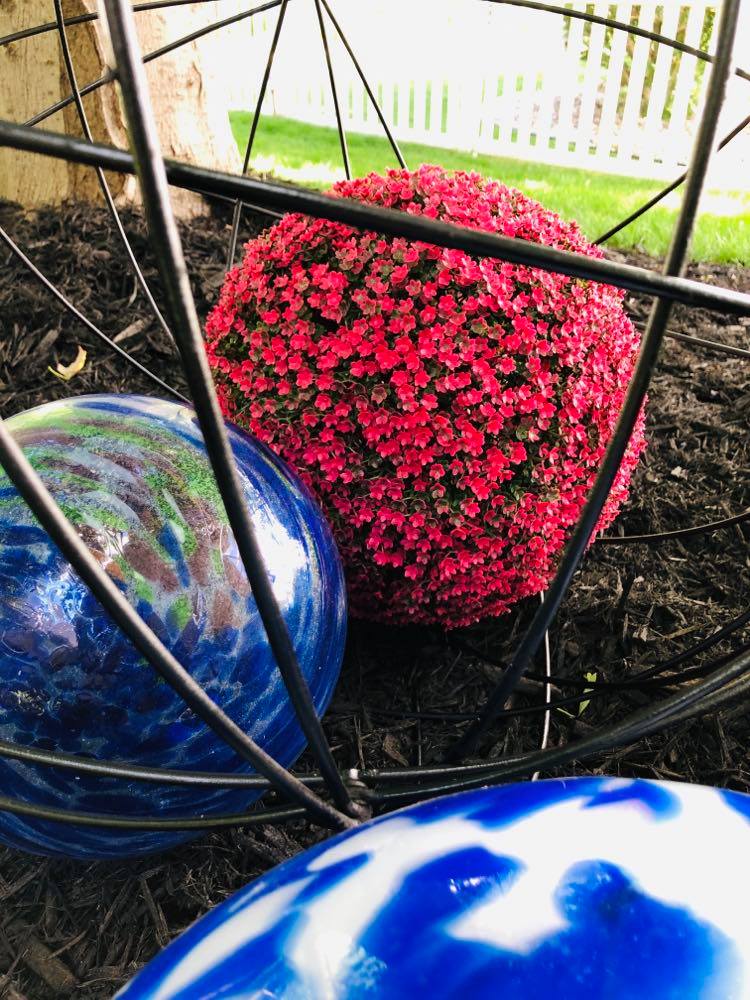 Because the faux flower spheres can be split in half, I decided to "plant" two half-spheres next to some of the hosta close to the bench.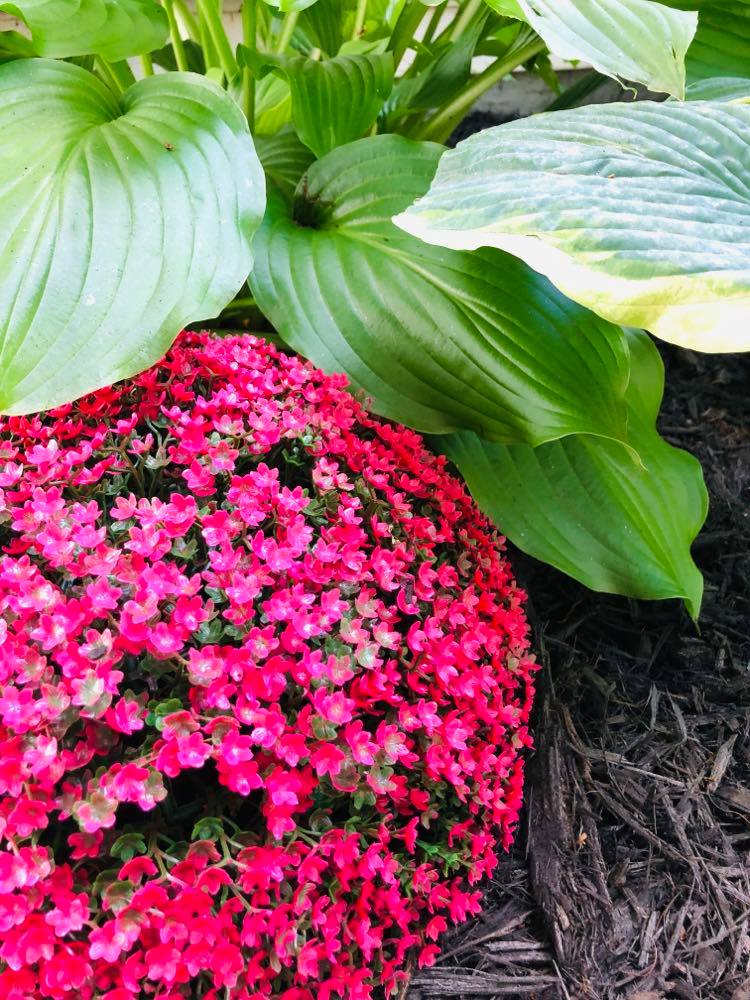 Add some colorful pillows and BAM! Colorful personality without adding one plant!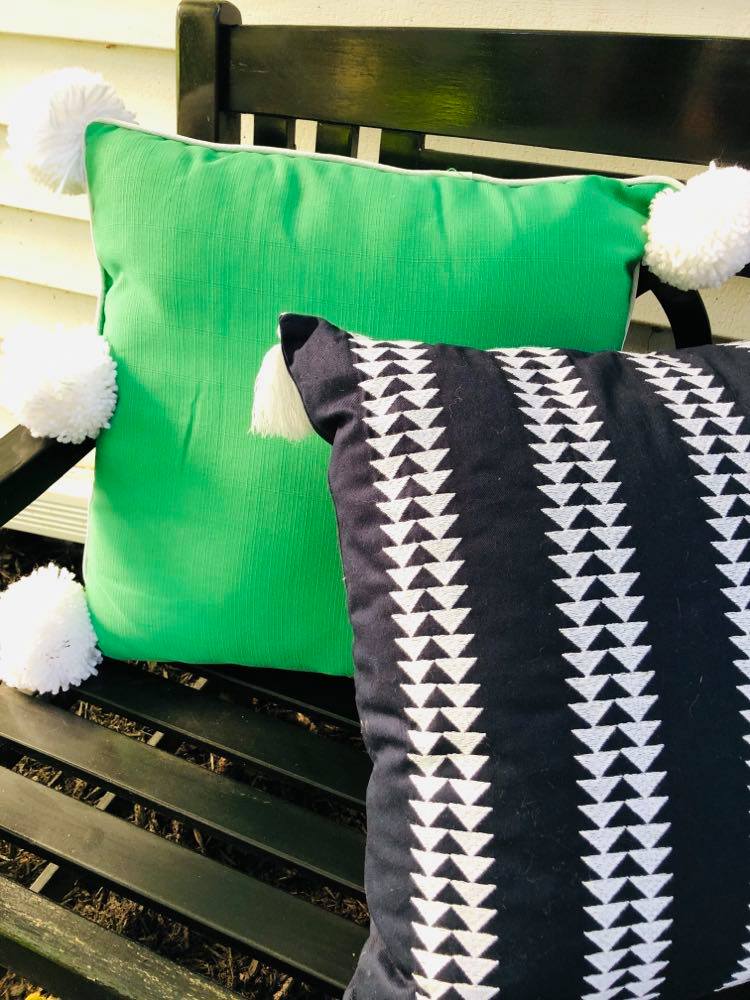 An additional option is to add some pots with shade-loving plants. For now, I am adding one pot of pink double impatiens. While I may add some more potted flowers later in the summer, I prefer to keep it "pot-free" until Bentley grows out of his puppy stage.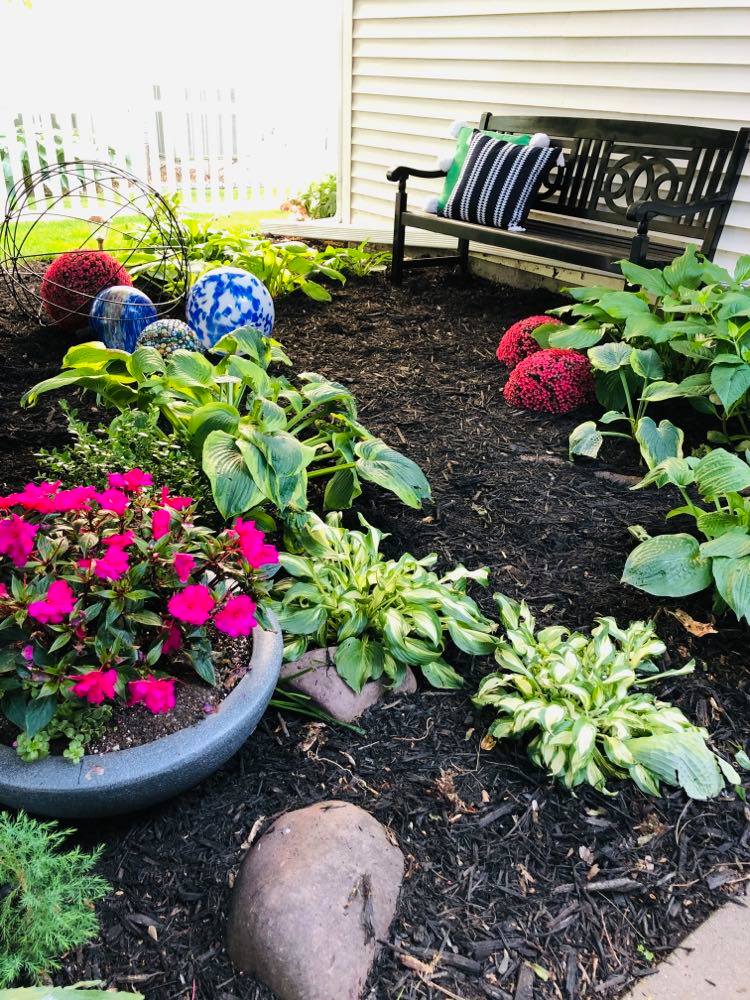 Now I can sit under my favorite tree while drinking coffee and watching Bentley play. There are pops of color in this full shade area and I have no fear of delicate plants being ruined.
Come on, Bentley…bring it on!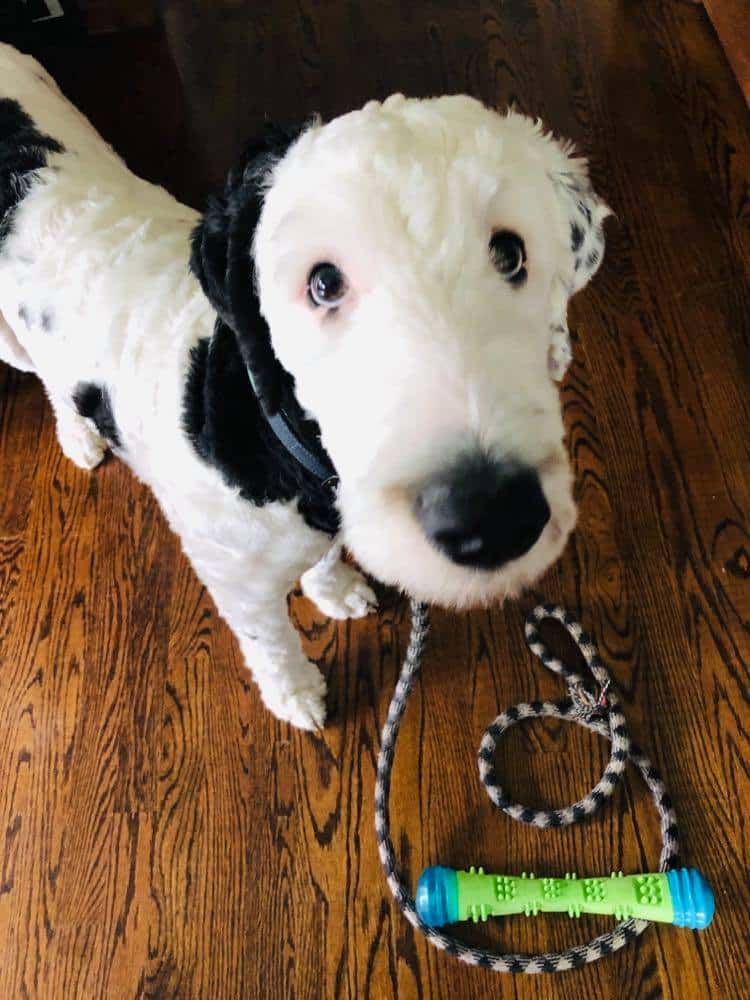 Cheers!