How to Style Glass Front Kitchen Cabinets
If you're like me, then you love glass front kitchen cabinets. There's just something about seeing all of your pretty dishes and knick-knacks on display that makes me happy.
But sometimes it can be tough to style them in a way that looks good and is also functional. So I decided to put together a few tips on how to style glass front cabinets so that you can get the most out of them!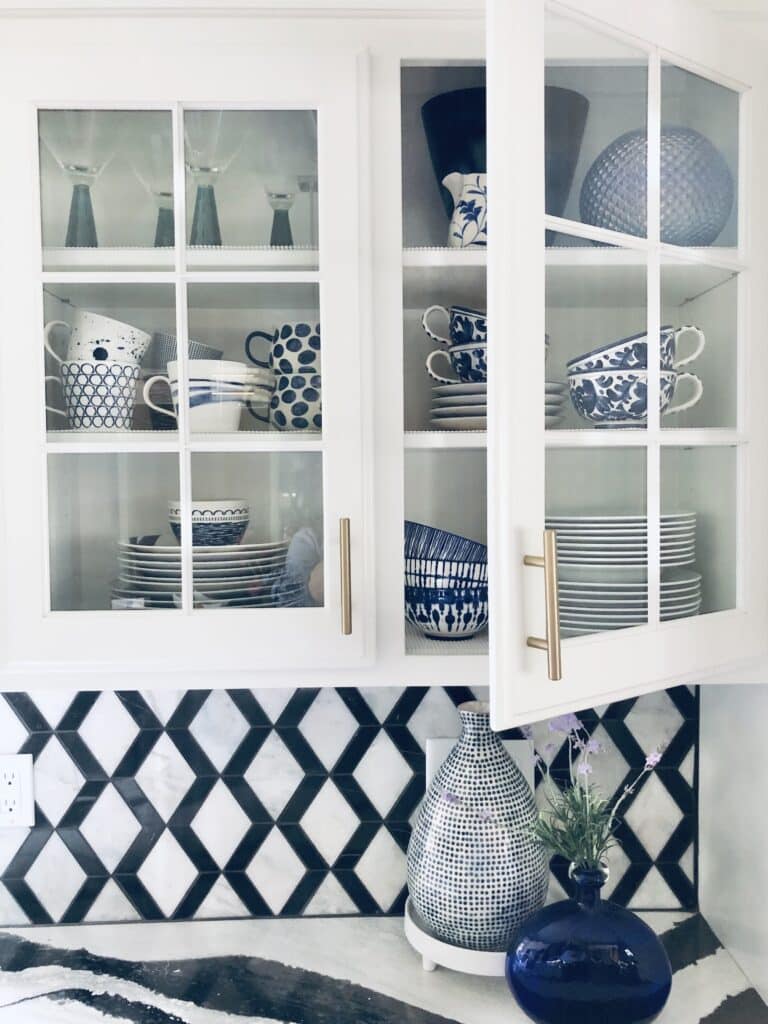 Sonata Home Design is a participant in the Amazon Services LLC Associates Program, an affiliate advertising program designed to provide a means for us to earn fees by linking to Amazon.com and affiliated sites. Affiliate links to other businesses may also be provided in this post.
Table of Contents
Through the Looking Glass
Alice's Wonderland turned upside down when she went through the looking glass.
Honestly, sometimes (ok, often), our kitchen cabinets look upside down and topsy turvy inside.
But, spaces like our pantry or our Tupperware drawer (Eek!) can be hidden away if untidy with a quick closing of the door.
However, if you have glass front cabinets…UH OH!
When You Dream of Kitchen Cabinets…
Eighteen years ago, we bought the house of our dreams.
And the kitchen cabinets of my dreams!
I was beyond ecstatic with the kitchen and the glass front cabinets. I could not wait to dig in and display all of my dishes, pitchers, glasses, etc.
Glass front cabinets have always felt so classic and lovely to me.
So European.
So "Oo La La!"
Careful what you wish for!
The Dream Darkens
This was prior to our kitchen renovation and the cabinets were dark wood and the glass front cabinets resembled dark caves.
And I was new to the whole idea of how to style glass front kitchen cabinets.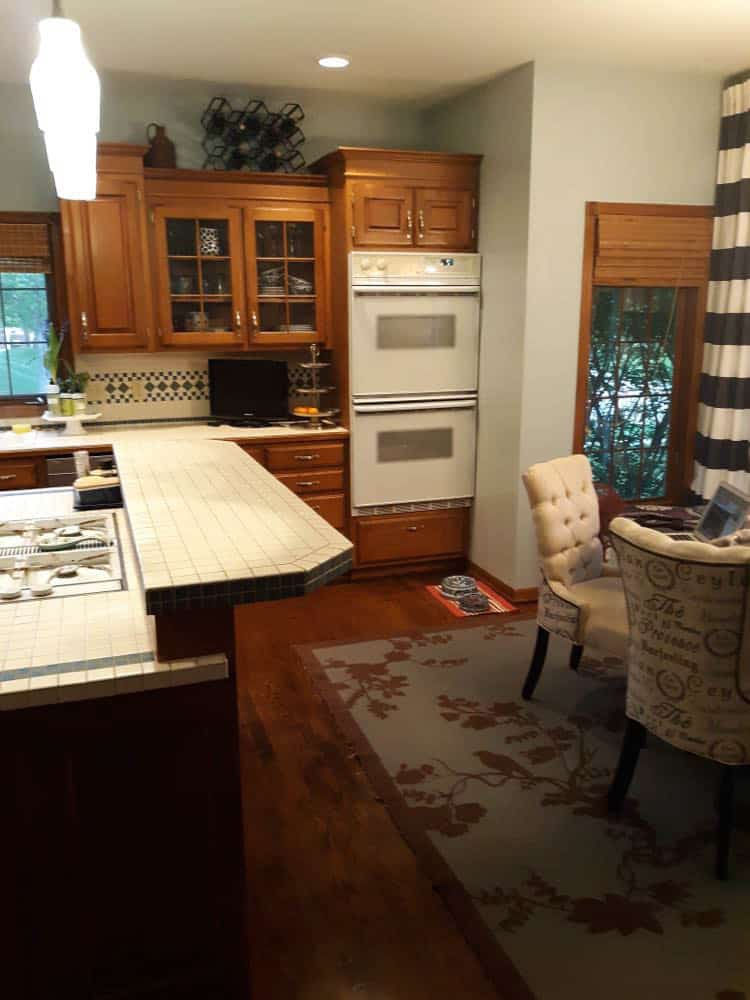 I learned quickly that, while it is lovely to see a pretty plate through the glass…we had to keep it looking lovely at all times!
Not so easy with two kids and a husband who doesn't appreciate a well-displayed cabinet as much as I do. (Sorry, dear!)
Color consideration is very important in order for things to be seen.
How do you style glass front kitchen cabinets so they are functional and still look good?
How to Style Glass Front Kitchen Cabinets
In some ways, it is similar to how we style a bookcase.
Or, decorating a kitchen baker's rack.
Here are 5 easy tips on how to style glass front kitchen cabinets:
#1 – Decide Exactly What Will "Live" Behind the Glass Front Cabinet Doors.
These cabinets take up valuable real estate in your kitchen so the items you store should be FUNCTIONAL.
While your Aunt Zelda's tea set might look lovely behind the glass, it is probably not something you use every day.
Furthermore, items that are not used become museum relics that gather dust, take up space, and would be better displayed elsewhere.
Tip: USE what is in the cabinet and you won't need to dust them!
On the flip side, this is probably not the best place for your Tupperware, freebie glasses covered with the latest ads, or small appliances with irritating, long cords.
What does work?
Everyday dishes, serving pieces, glasses, barware, vases, etc. are excellent choices.
I will also encourage you to display your best china…and then USE THE CHINA!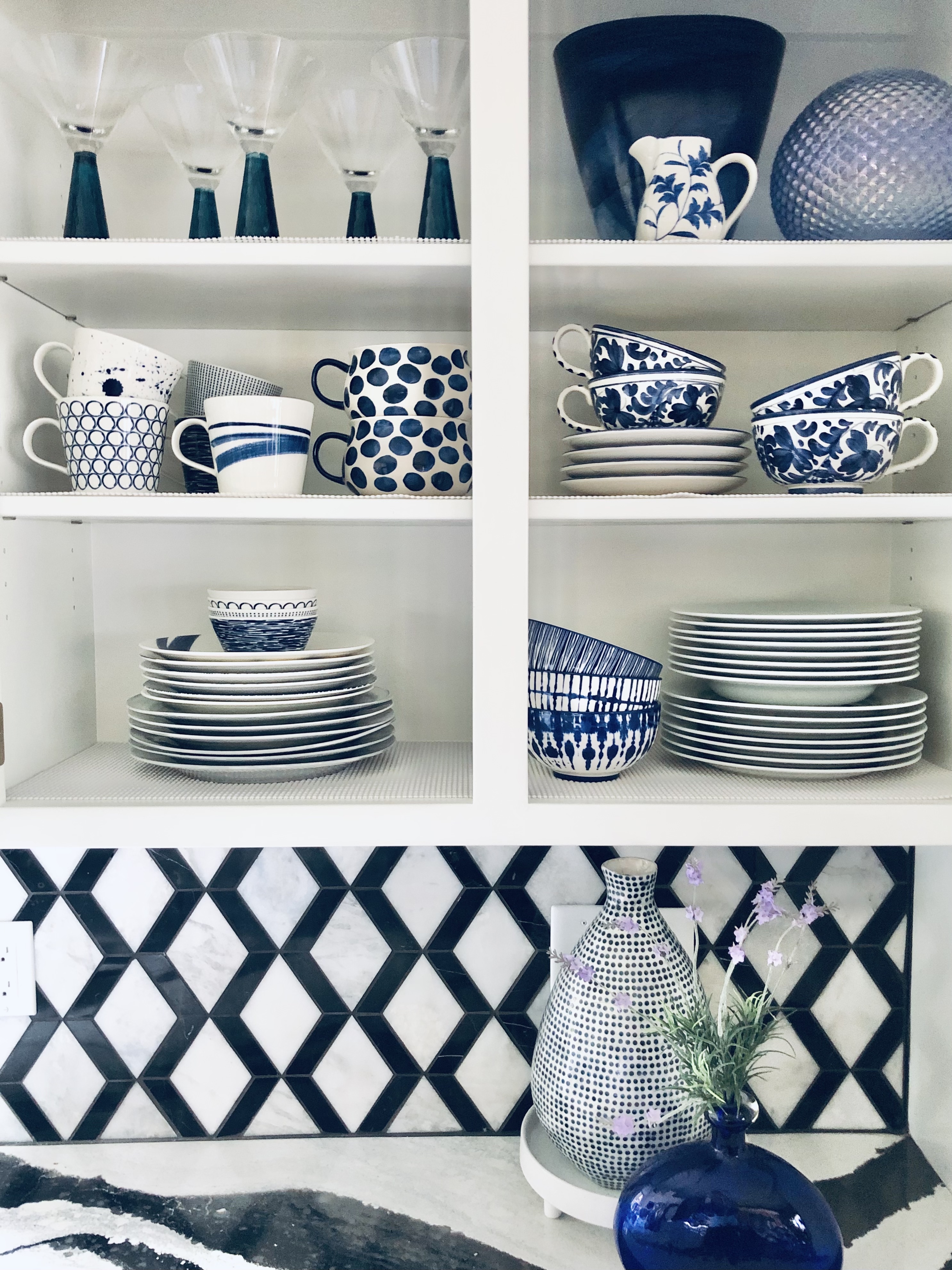 #2 – Create a Cohesive Look
You may have matching dishes or you may have various pieces that have been picked up here and there.
Actually, vintage pieces that were handed down to you or discovered in a vintage shop are some of the most fun to display in a glass-front cabinet.
The key is to find the common thread…
It could be a similar color or pattern.
Or, it could be a total lack of color or pattern.
I love blue and white dishes and have accumulated various pieces or sets through the years.
The color combination does create a cohesive look.
However, I do have my grey swirl dishes stacked under the blue dishes.
And, I have a stack of pure white plates and pasta bowls that sit in the corner.
Find the commonalities in your pieces (they are there!) and let them be your guide.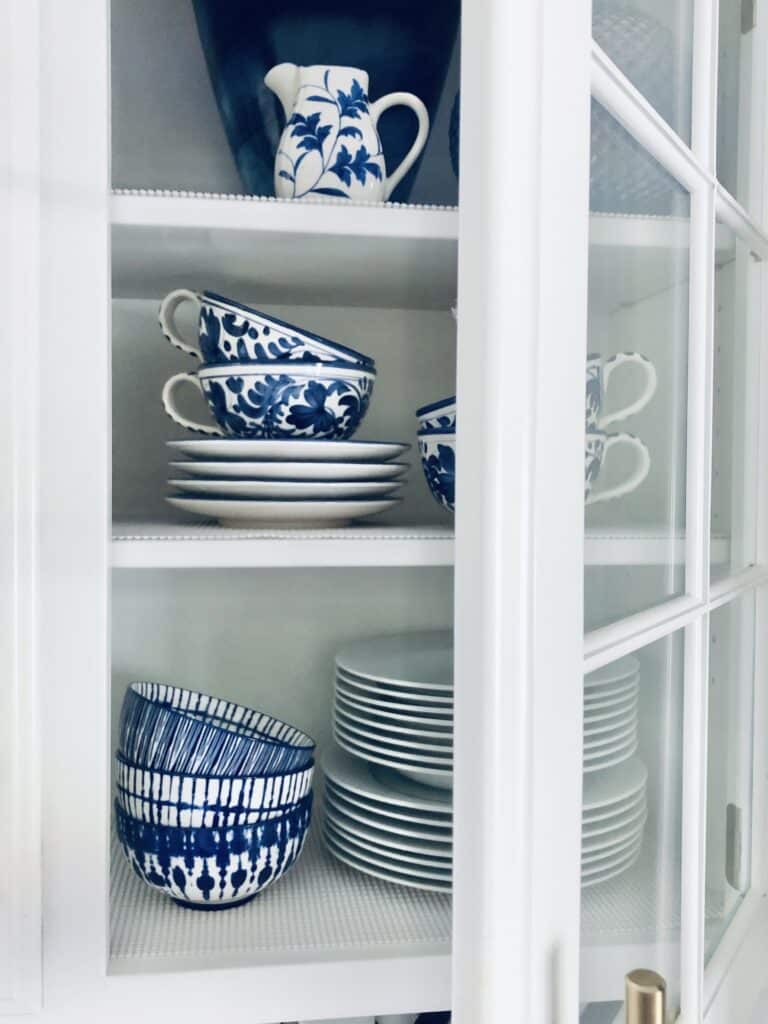 #3 – Let Color and Pattern Be Your Guide
The beauty of a pattern is that it will POP through the glass.
Like any graphic on a tee-shirt, the eye goes to color and to the pattern.
Pattern gives your dishes a voice that, like the Whos in Whoville shout "We're Here! We're Here! We're Here!"
I have only two of these polka dot soup bowls but they demand attention on the shelf!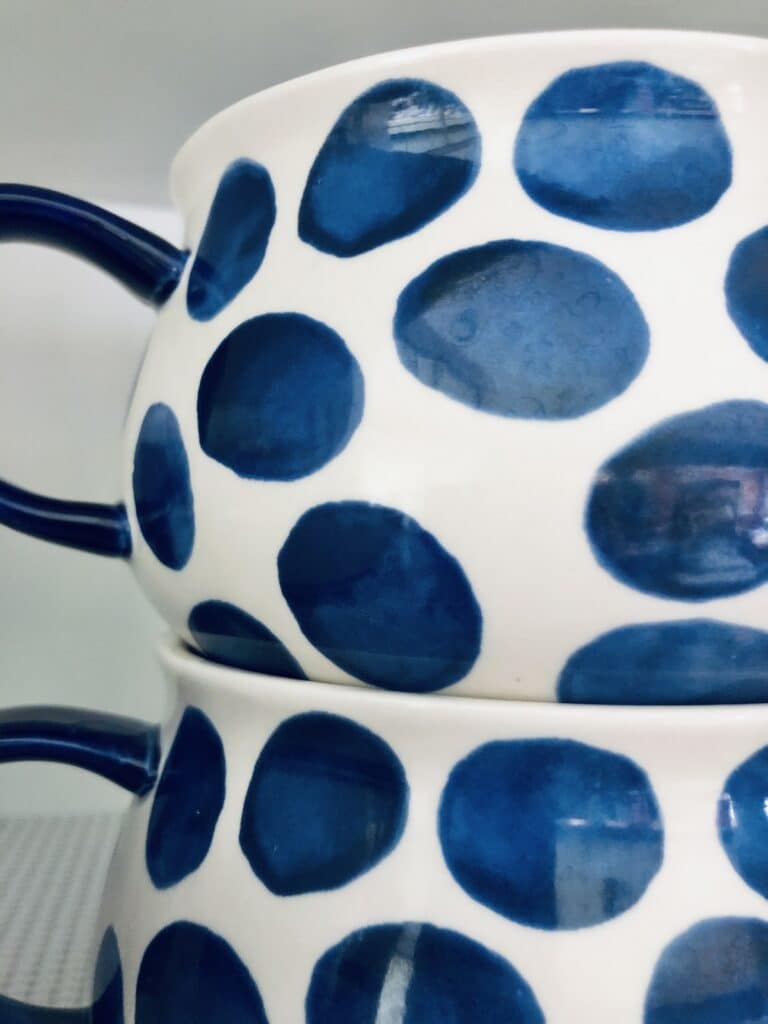 These tapas plates and small bowls are all different patterns but their color gives them cohesion.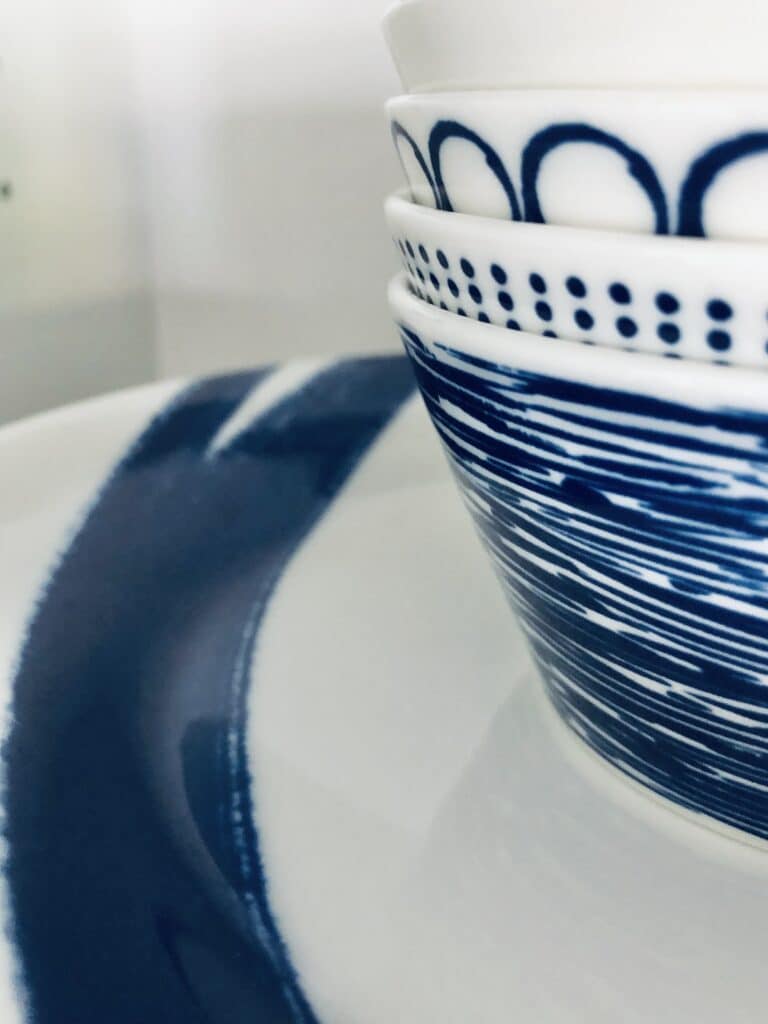 Perhaps my favorite "stack" in the cabinet, these bowls came as a set but each has its own crazy pattern.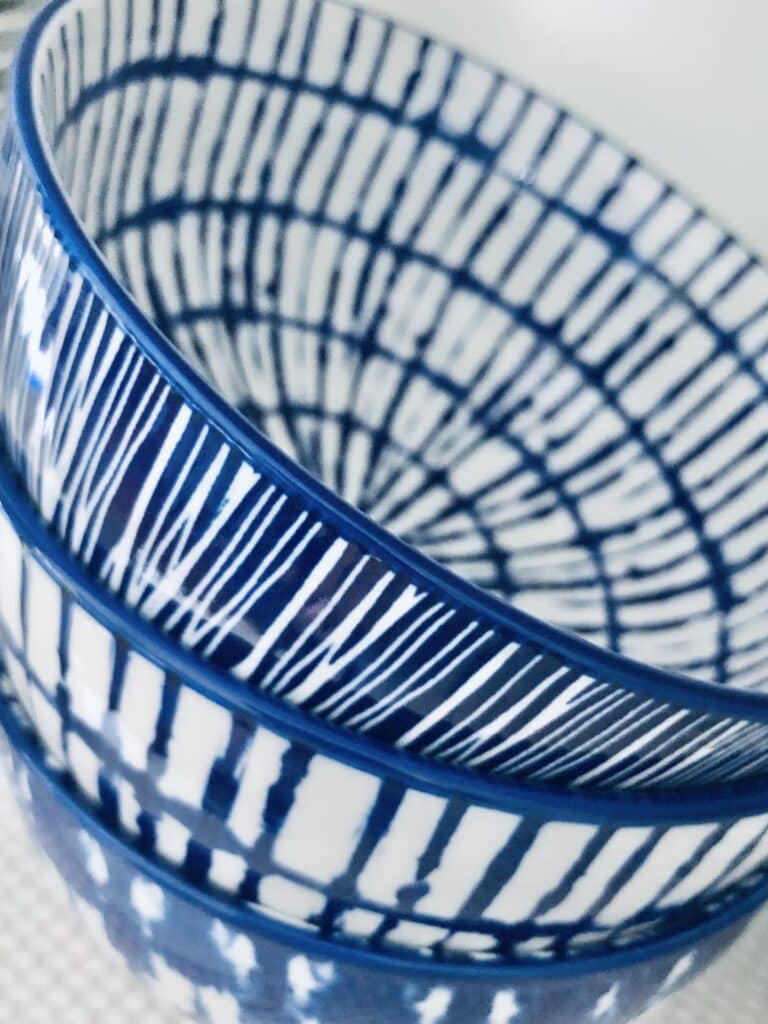 Here are some similar bowls that are every color of the rainbow with a different pattern on each one. Yet, they are cohesive when stacked. (I love bowls that are turned every which way in a stack!)
#4 – Absence of Color
Glass or white items can look stunning in glass-front cabinets.
This stack of white bowls is lacking color but still has a graphic, almost sculptural look when stacked neatly.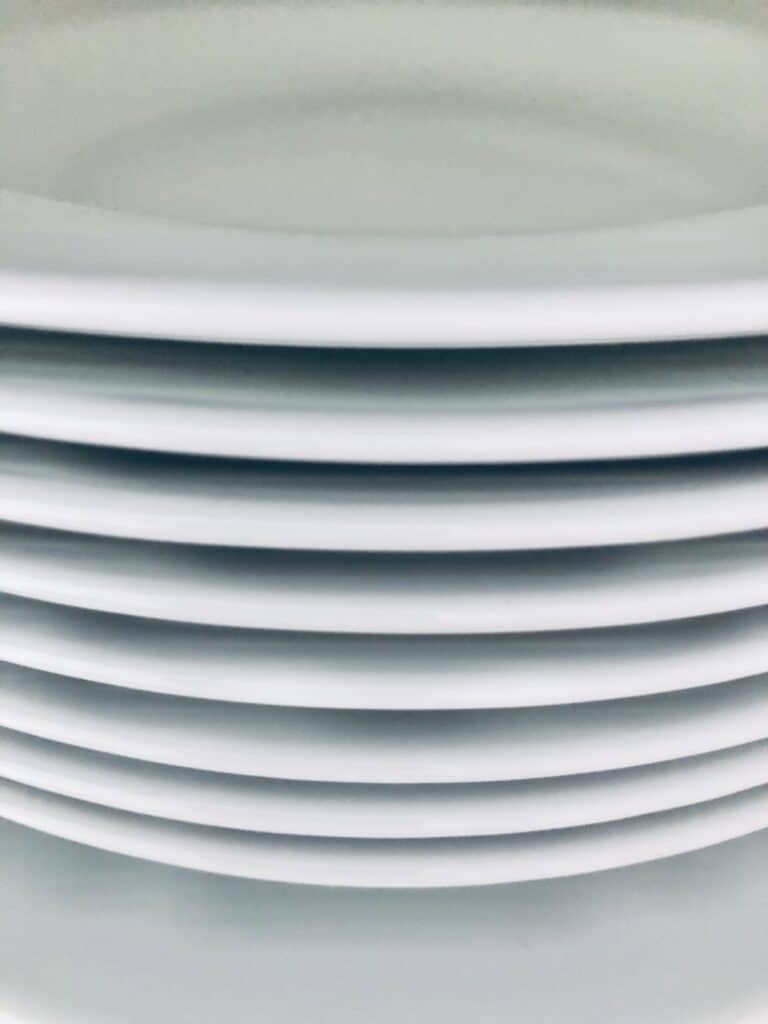 You can see some similar white bowls here.
Make sure that any glass pieces are sparkling clean so they gleam through the glass doors.
Place items toward the front edge of the shelf so they are easily seen and grab the spotlight.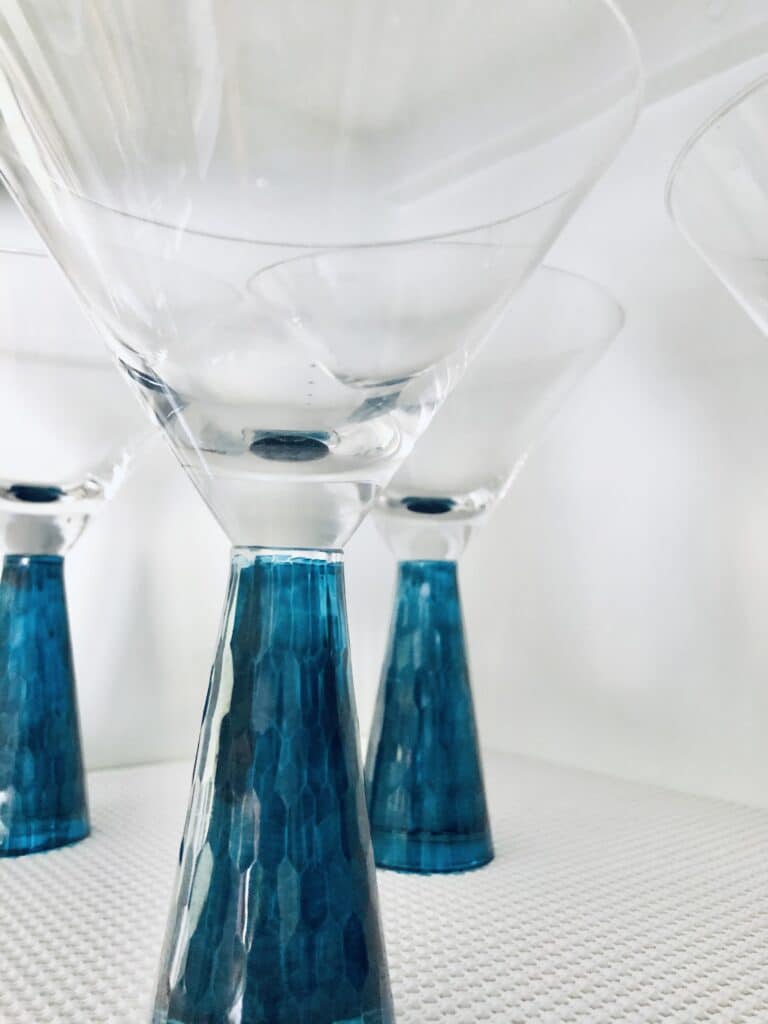 #5 – Give Your Family a Map
I'm not kidding.
Your family needs a map of the items placed on the shelves!
Once the shelves are styled, it is important to think of each placement as a "home."
It is easy to toss dishes here and there.
In their growing-up years, how many times did I ask one of my kids to empty the dishwasher…?
…and discovered dishes in the STRANGEST places!
Has this ever happened to you?
Tip: Sketch a small "map" of where the contents in the cabinet are to be located and share it with your family. After a week or so, the family is "trained" as to where things belong.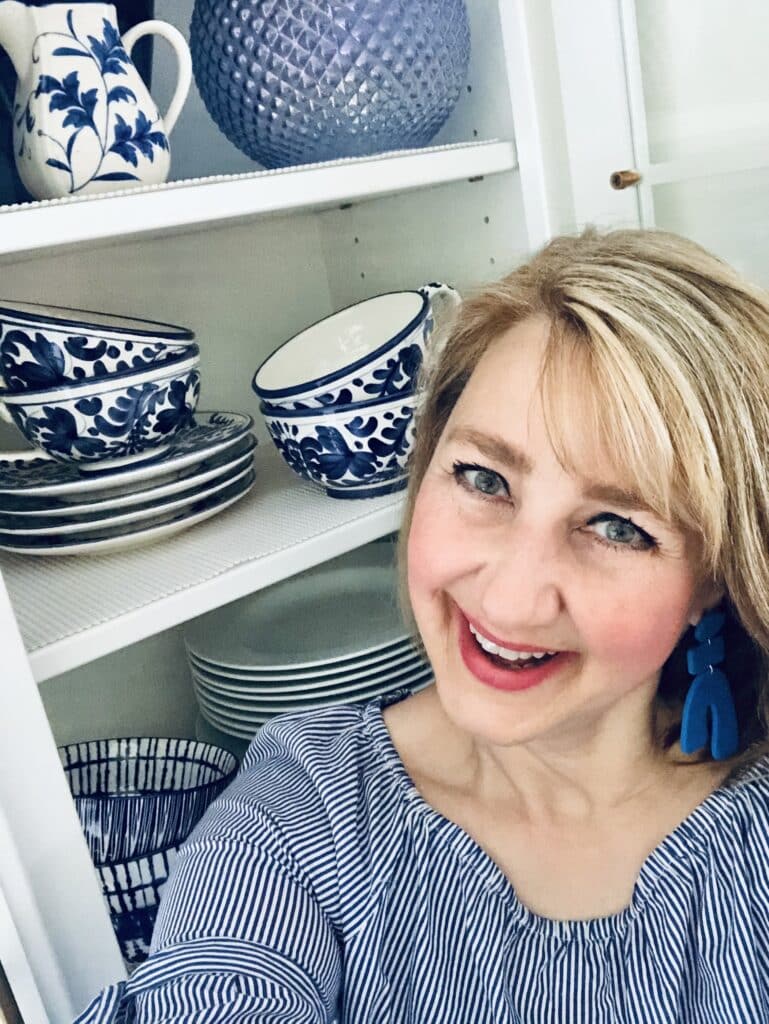 There you have it! 5 easy tips on how to style glass front kitchen cabinets. So much FUN to style!
Every once in a while, I take everything OUT and RE-display the shelves. It is like playing Tetris with glasses and plates! Different every time but SO satisfying!
So, enjoy those glass-front cabinets each and every day!
Cheers!

Don't Forget to Pin It!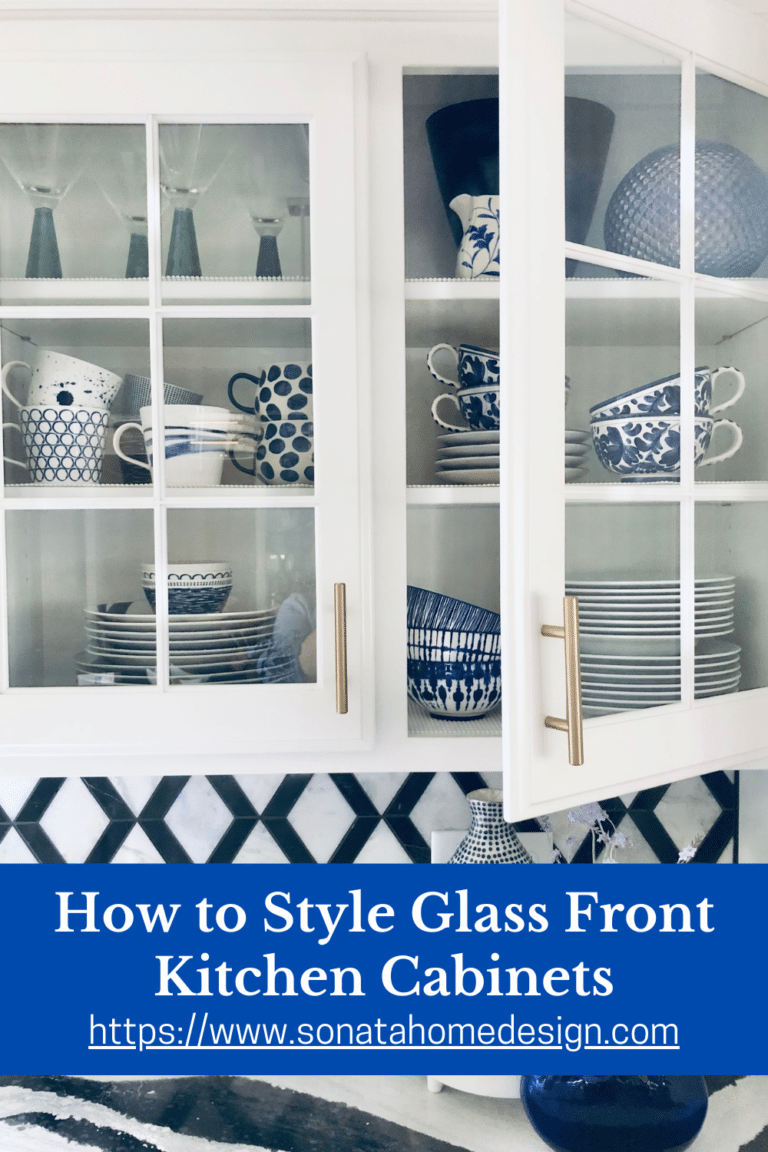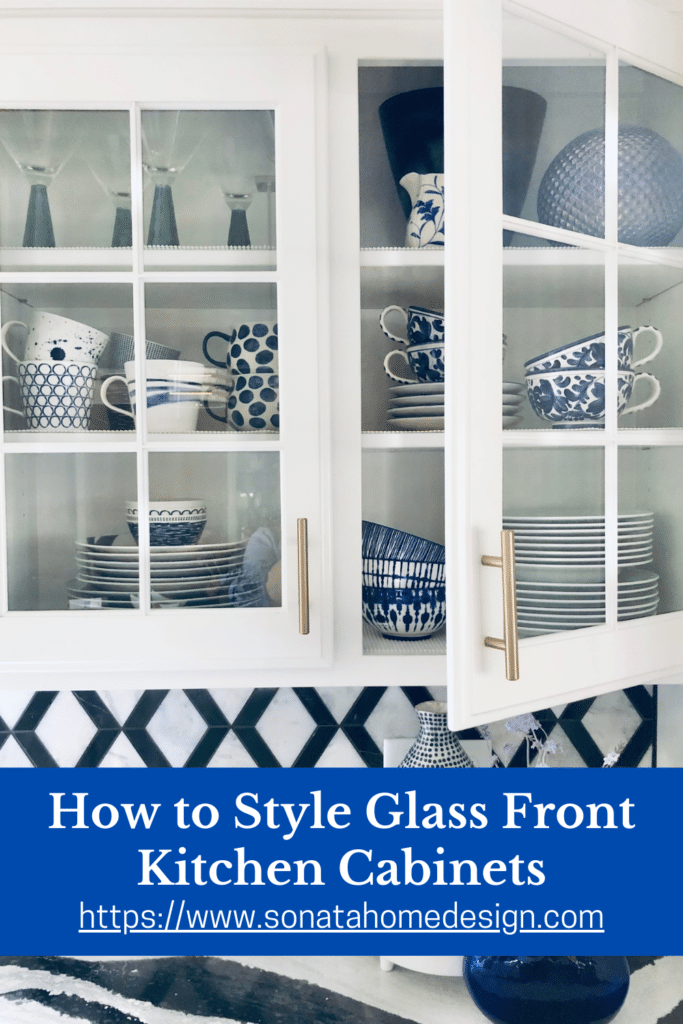 While you are in the kitchen, here are a few more "rabbit holes" for you to go down!
Top 7 Must-Have Kitchen Decor Items
My Favorite Kitchen Island Displays
A Fall Simmer Pot to Make Your House Smell Amazing