What to Put in Decorative Glass Jars in the Kitchen
Spice up your kitchen décor with these clever ideas for decorative glass jars! Let me show you what to put in them that may surprise you.
Decorative glass jars in your kitchen provide the perfect opportunity to organize and decorate at the same time. Check out these ideas on how to choose what goes in your decorative glass jars so they become something special within your home!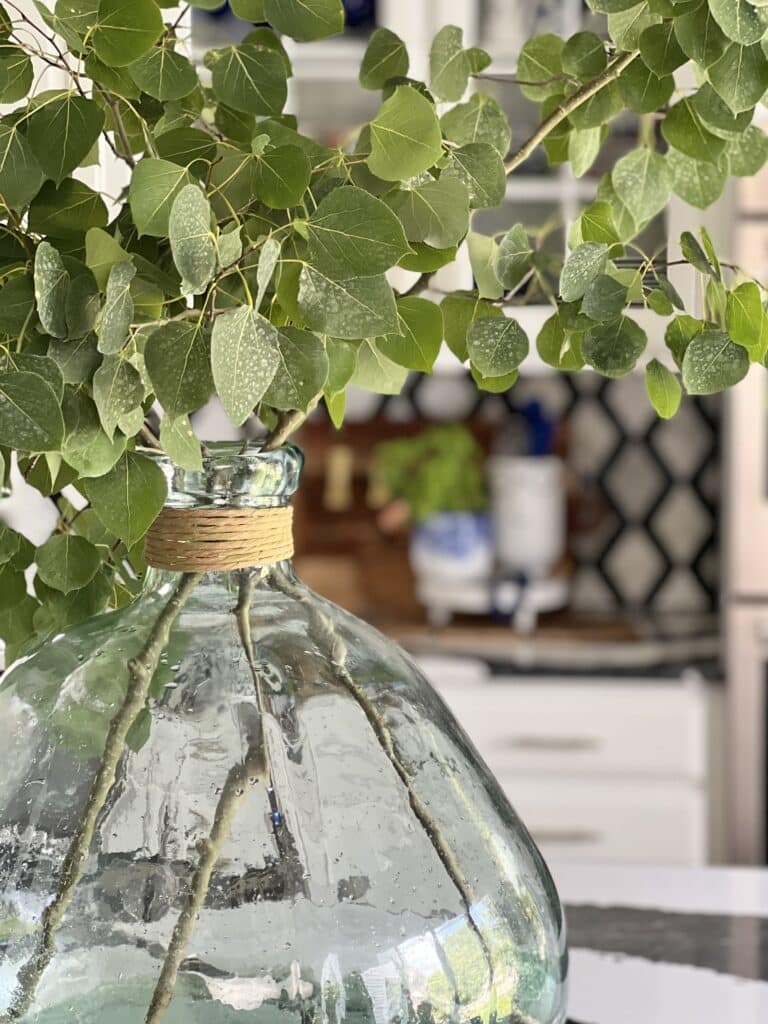 This blog contains affiliate links. This means a small commission is earned if you make a purchase by using this link. The price you pay will be the same whether you use the affiliate link or go directly to the vendor's website using a non-affiliate link.

My grandma had a cookie jar.
And this cookie jar was full of magic! At least it was for 7-year-old me!
Homemade cookies were housed in this magical cookie jar and I would wait anxiously for that moment when the cookies were offered.
This memory sticks with me after all these years and I am struck by how a functional yet decorative item can have such an impact.
Kitchens need storage. But they also need a little magic!
I think decorative glass jars used as home decor in the kitchen are the perfect way to work some functional and decorative magic.
What types of glass containers work best on a kitchen counter or baker's rack?
Consider the immense world of empty jars and then start to fill them. Any clear jar will do. There is not a "wrong" glass jar choice!
Look for jars in different sizes that can hold a variety of things that you use every day in the kitchen.
You can find them at home stores or the dollar store, fancy boutiques, or thrift stores! Here are some types to look out for. Many of these are similar in style but just have different names.
Large glass jars
Canning jars
Mason jars/Ball jar
Glass apothecary jars
Wide mouth jar
Soap Dispenser
Glass storage jars
Beverage dispenser
But what to put in them? Here are some new ideas you might not have considered!
Glass Jar Food Storage
Open your pantry doors and start filling glass jars!
From rice to pasta to cereal, various grains, beans, and noodles have beautiful colors and textures that are so appealing when displayed in glass jars in the kitchen.
This lidded glass jar has an airtight seal that helps keep balsamic rice dry and fresh. Displayed on a wooden board right next to the olive oil is a handy reach when creating a main or side dish for dinner!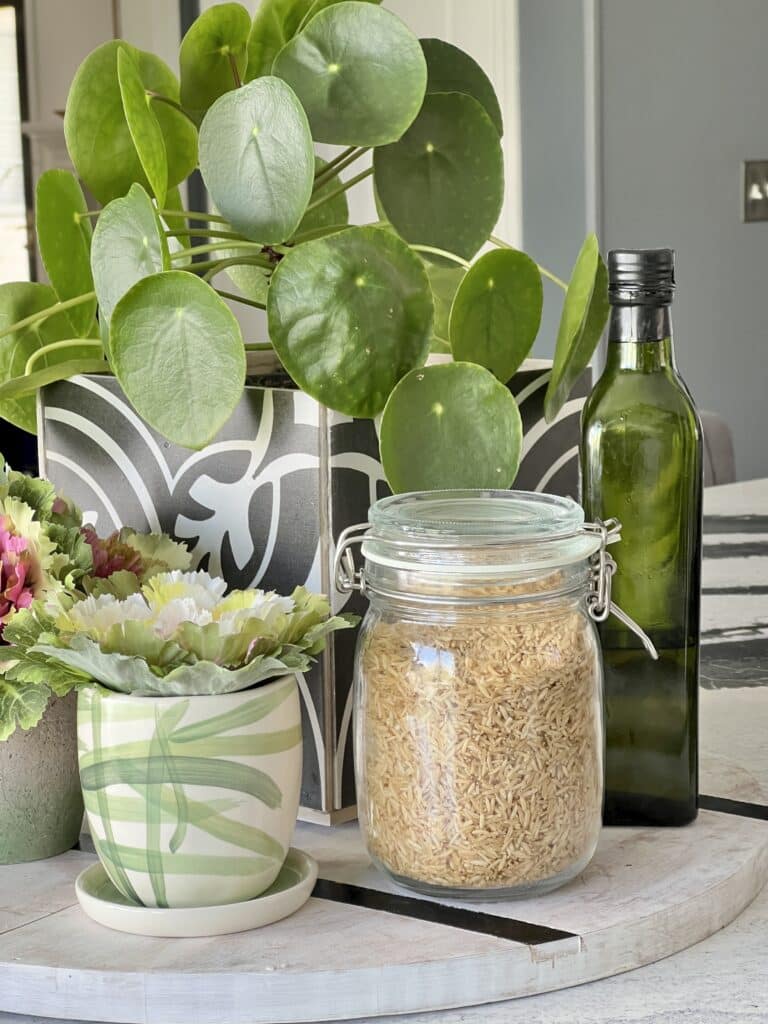 One problem that I ran into when storing grains in jars…the cooking instructions got thrown away when I filled the jars!
My solution? I cut out the cooking instructions and tape them to the bottom of the jar.
It is an easy way to keep the instructions handy!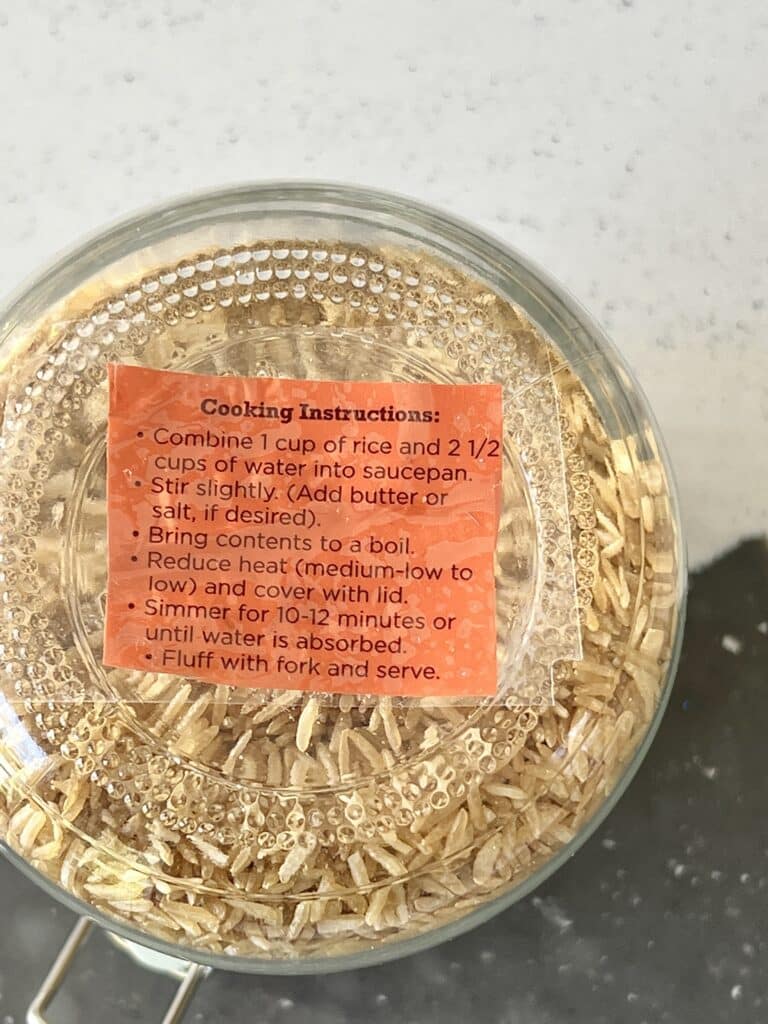 I like to store chia seeds in a sealed glass jar on the kitchen counter. It reminds me to add a little to my yogurt each day.
And the seeds look fabulous under glass!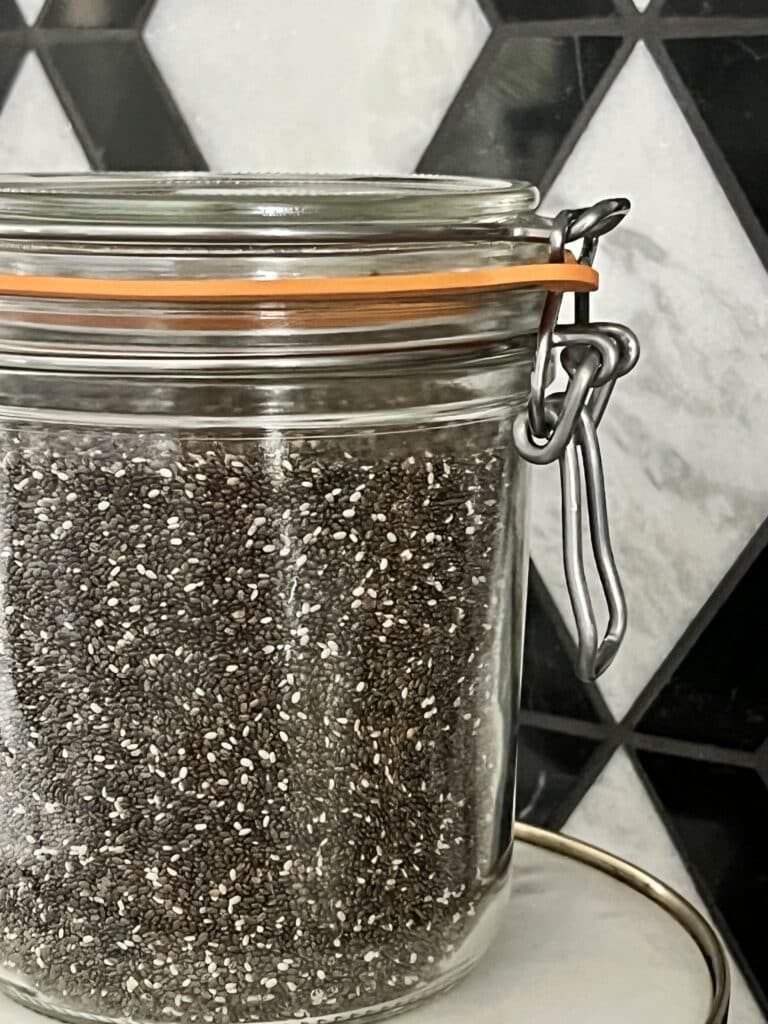 After years of storing sugar and various flours in the pantry, I decided to keep them handy on the counter in these lidded glass canisters.
This saves so much time when baking and I am visually reminded when we are low on certain staples.
Plus, it just looks so pretty on the kitchen countertop!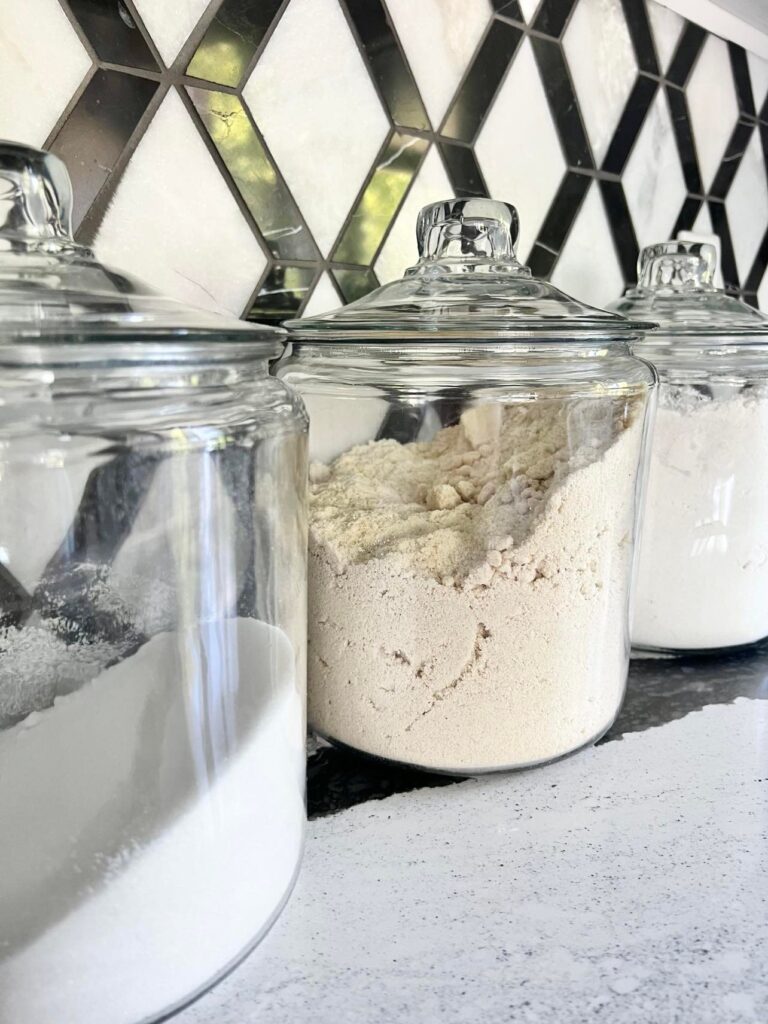 Perhaps my favorite glass jar hack is my "lazy one-cup" teacup. This charming teacup is just shy of a perfect one-cup measure and is perfect for a quick scoop of sugar when baking!
I love seeing the teacup buried in a mini-mountain of sugar!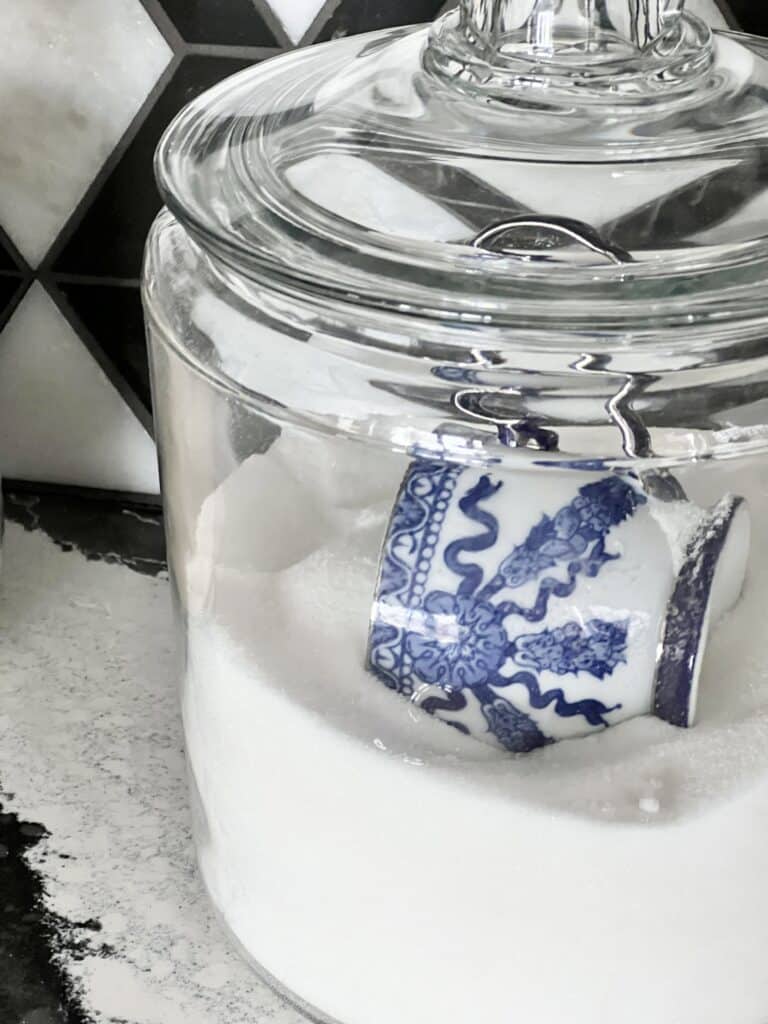 Colorful Glass Storage
I used to find little containers of colorful red and green sprinkles floating around a pantry drawer with a sweet trail of color close behind.
Kitchen glass jars solve this problem. They take up little counter space and the bright colors are so cheerful seen through the glass.
Whether celebrating a birthday, anniversary, holiday, or other special occasions, keep the sprinkles and candy on display!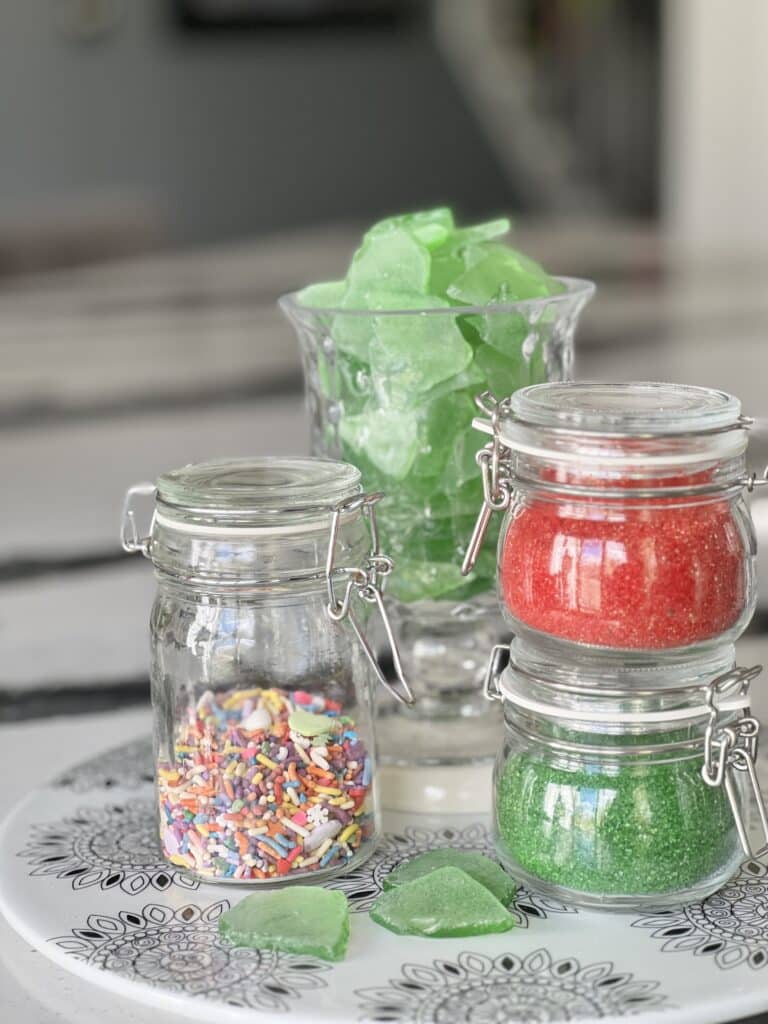 Glass Storage for Beverages
What would I do without my coffee? Not much, I'm afraid!
While the idea of a kitchen coffee bar is very appealing to me, I always drink my coffee black or with just a splash of cream. So a couple of glass jars with regular and dark roasted ground coffee are all I need for my morning, afternoon, and yes, evening coffee!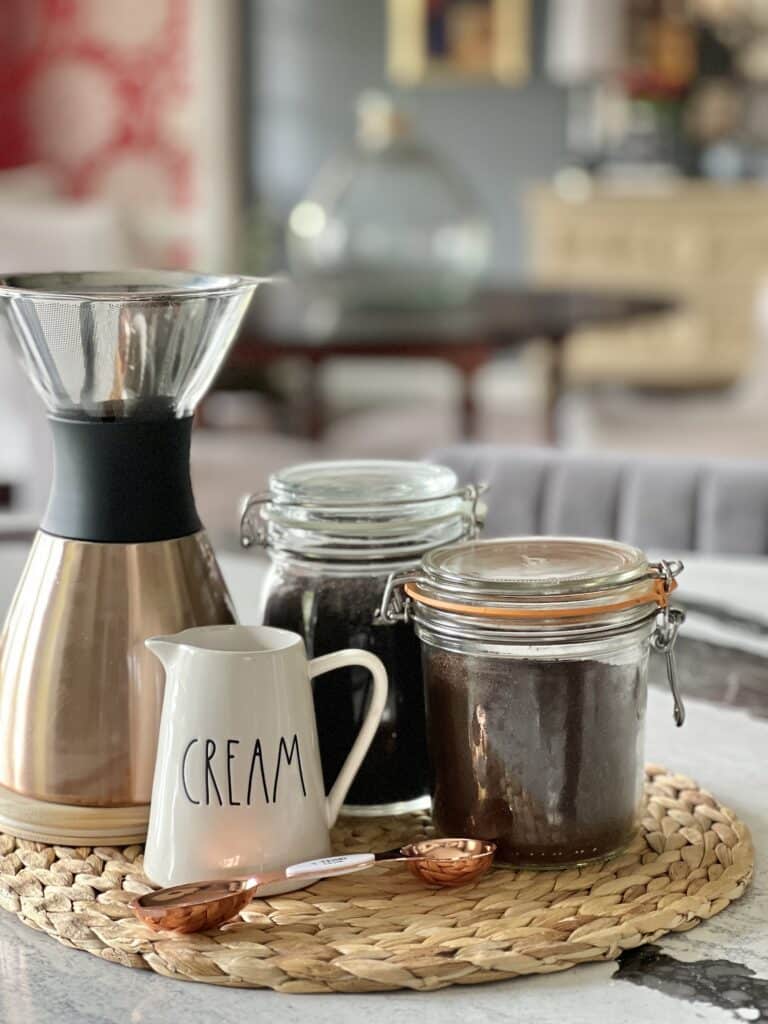 And in coffee central #2, I keep coffee pods handy by piling them into an open glass jar. Easy access to a quick cup of coffee!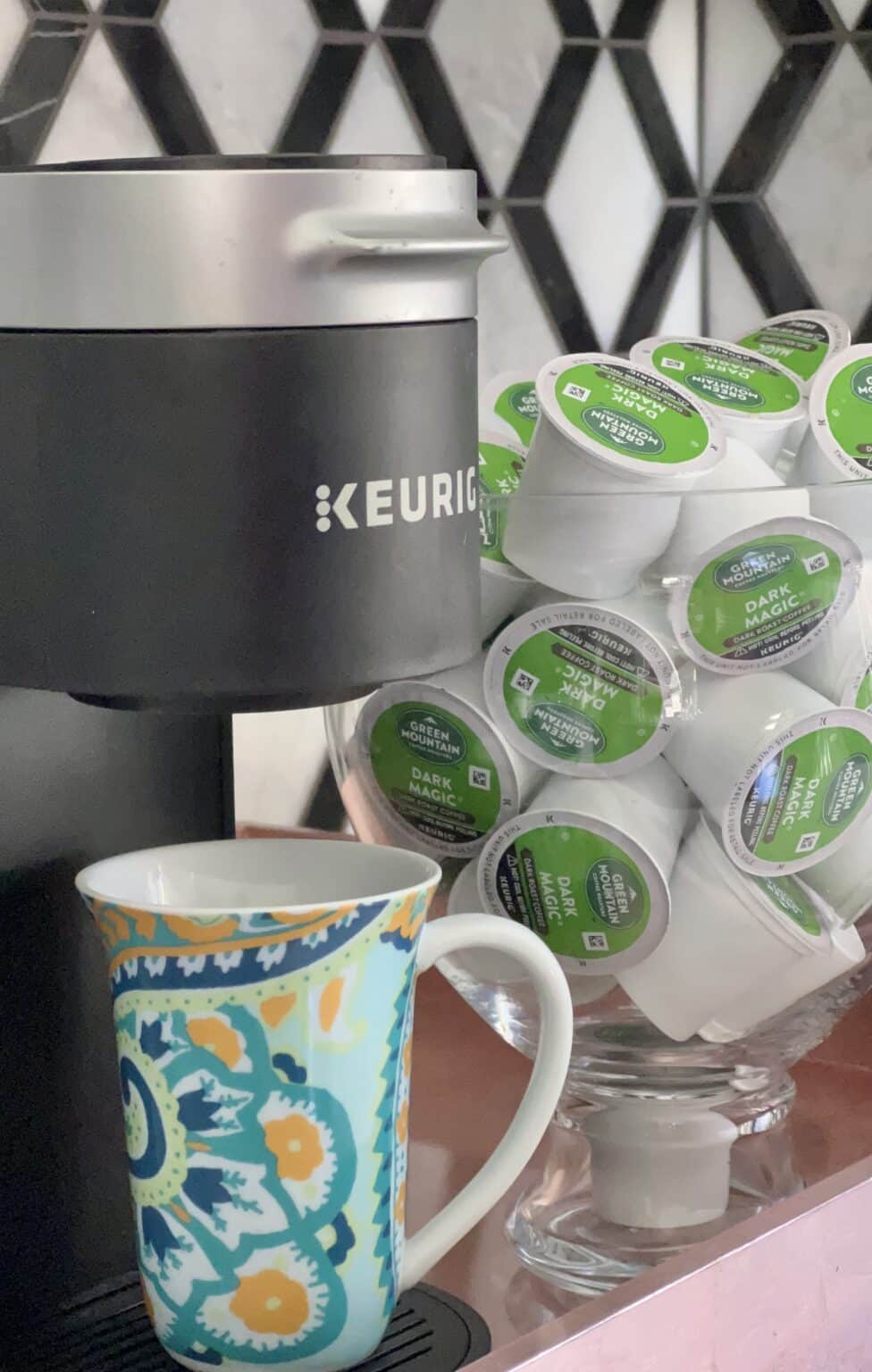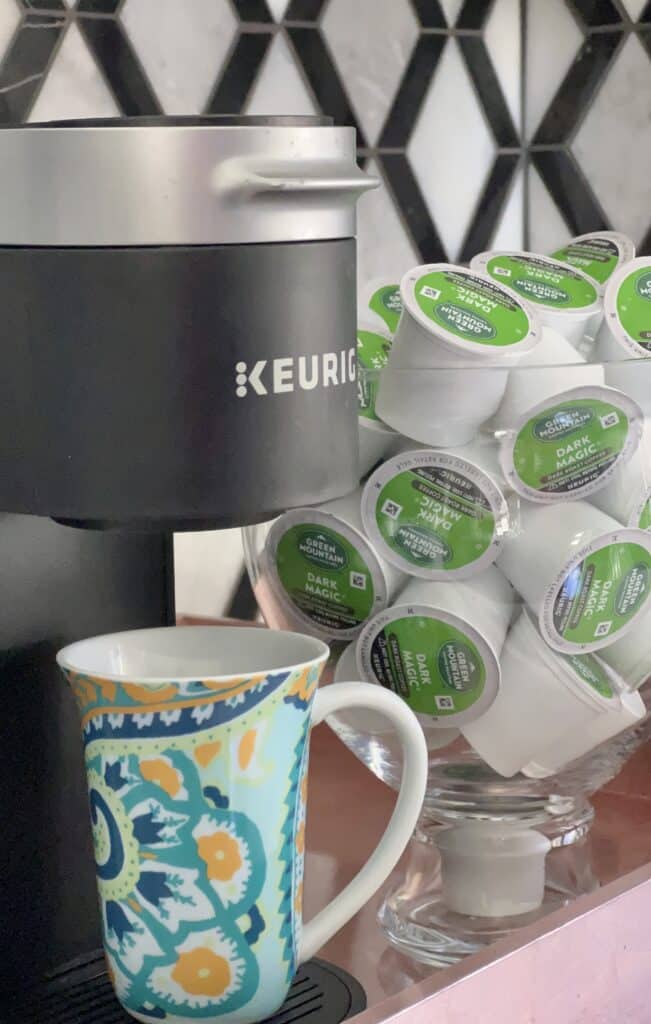 I drink tea too! Hot tea is the choice when trying to avoid my late-night munchies so this lidded glass jar is a practical way to store tea bags. And individual cold tea packets help me meet my water quota for the day.
Keep both handy in beautiful glass jars!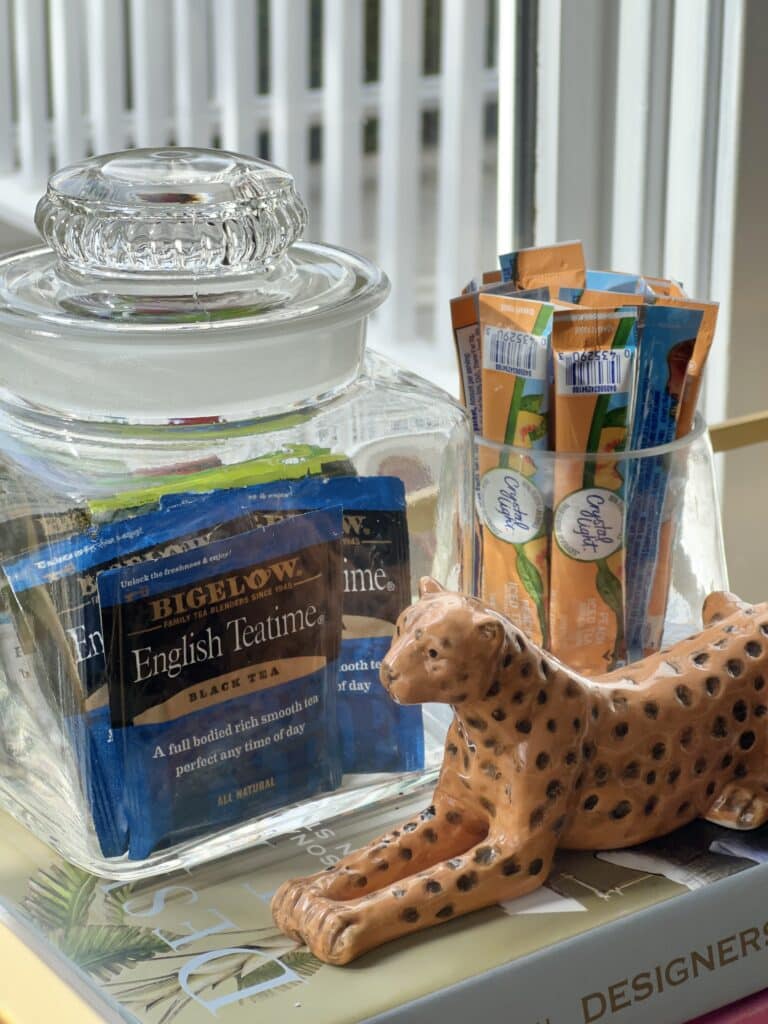 Functional and Lovely Glass Jars in the Kitchen
Functionality can be attractive!
This leather-handled glass jar is perfect for collecting change at the day's end. This is a great filler that actually saves you money!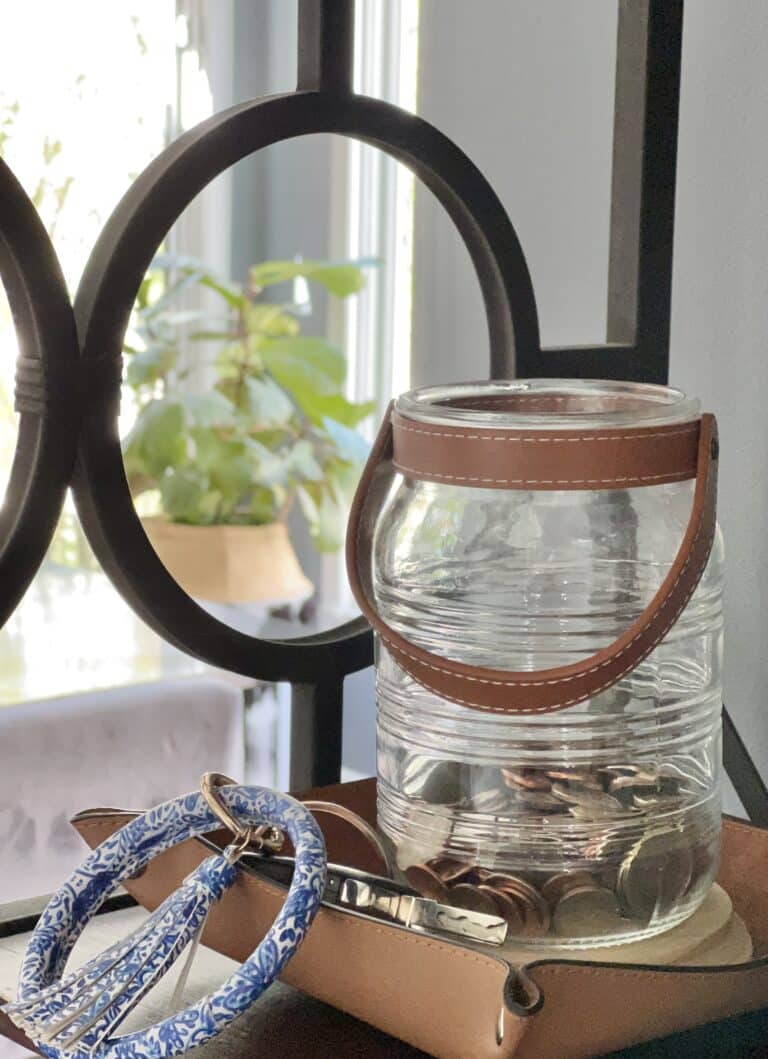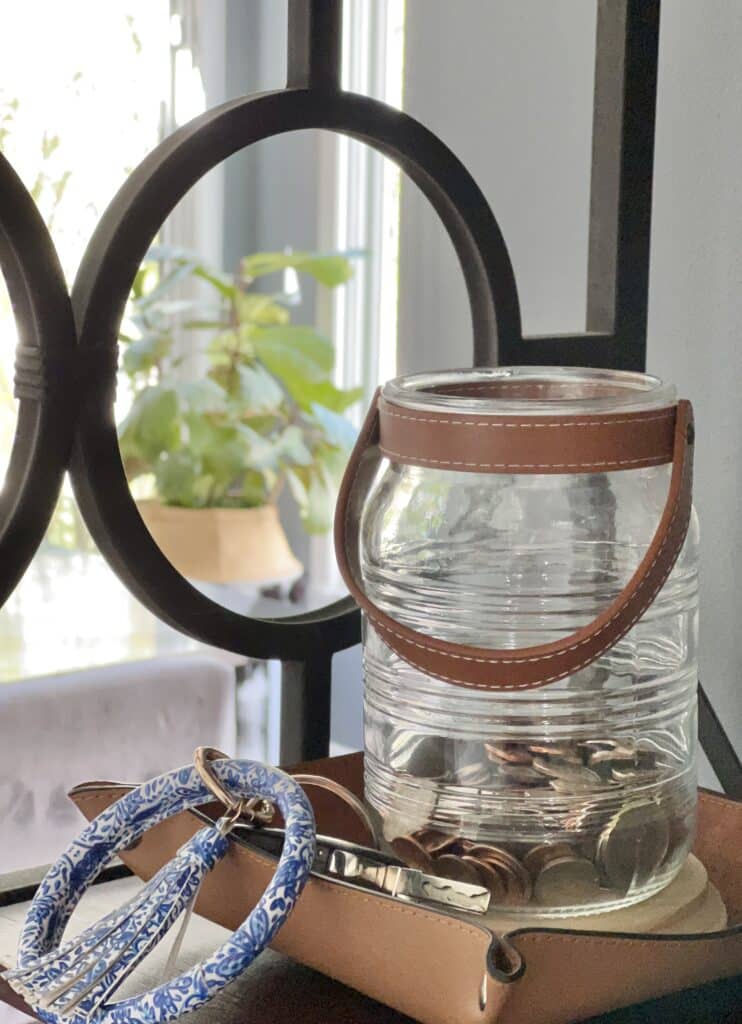 If you have a dog, you probably have dog treats in the house. Why not give Fido an upgrade in his treat container?
I am a huge fan of large apothecary jars and have used this one for many, many years. Right now, the best way to use it is to store Bentley's dog treats!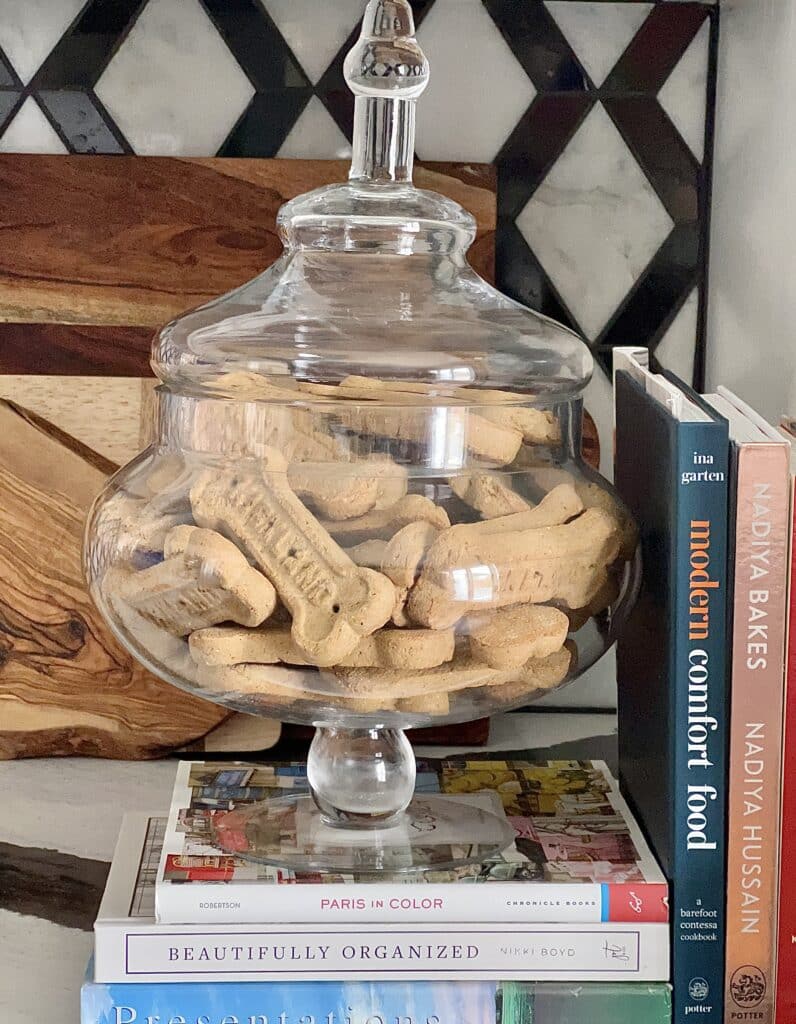 Bentley knows that the "good treats" are kept in this lidded apothecary jar. He is a smart dog and "assumes the position" in front of the jar when he wants a snack!
Don't worry! He got a treat after this photo was taken!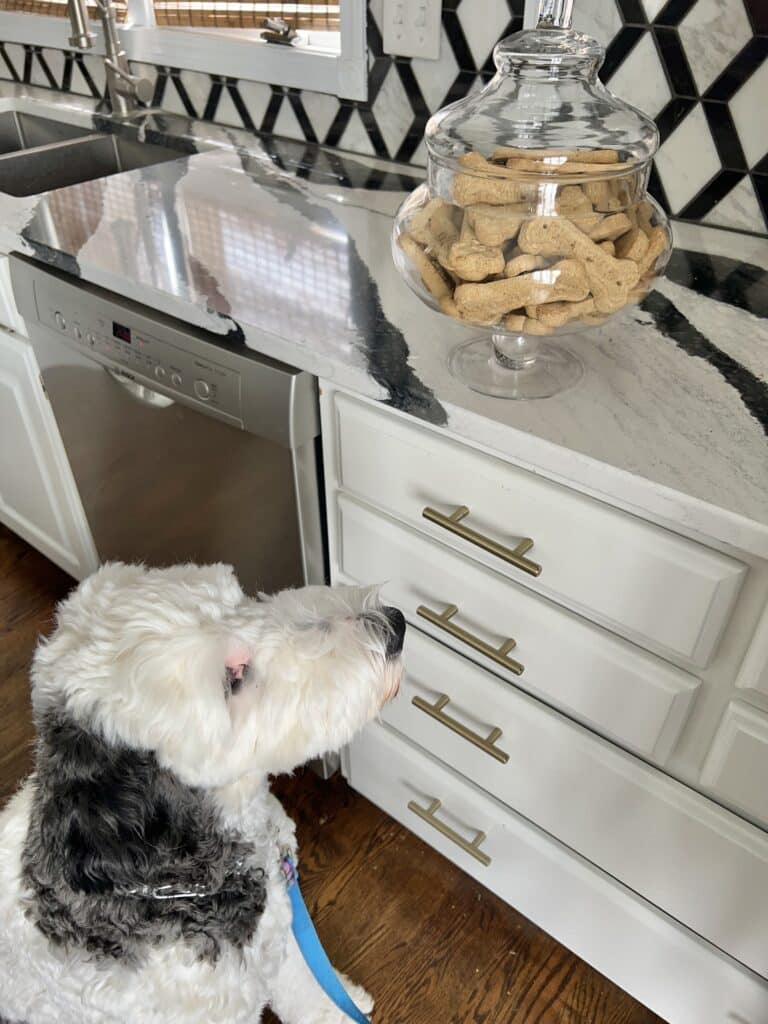 Place a candle in a jar.
Or beautify something as utilitarian as hand sanitizer by storing it in glass.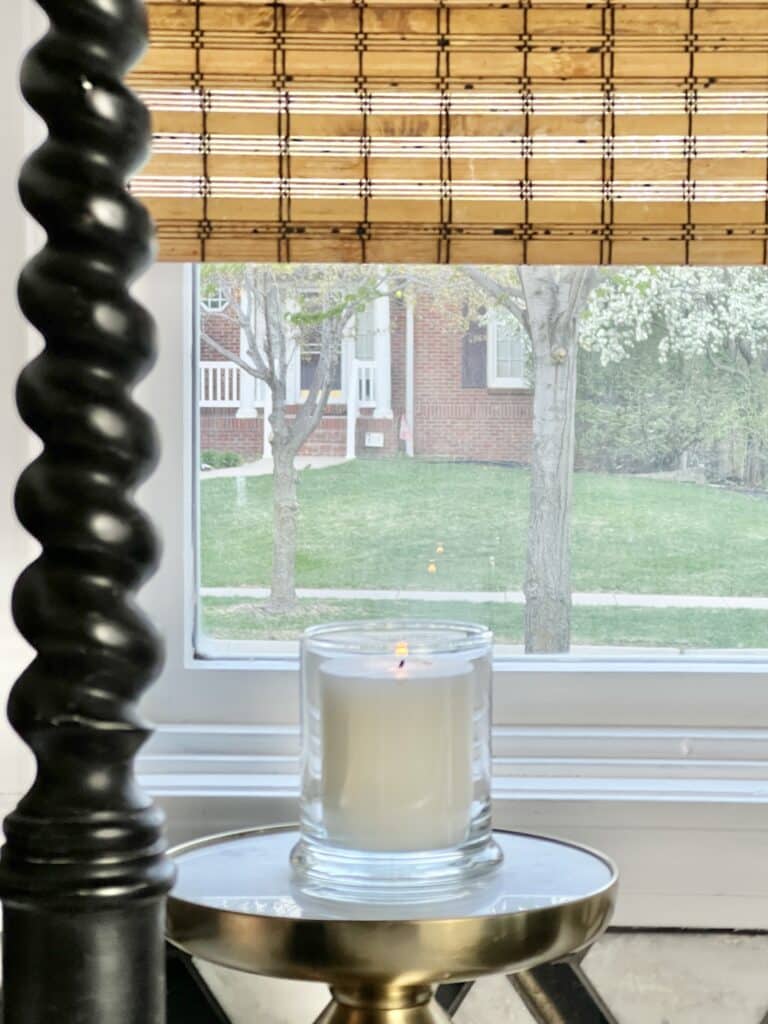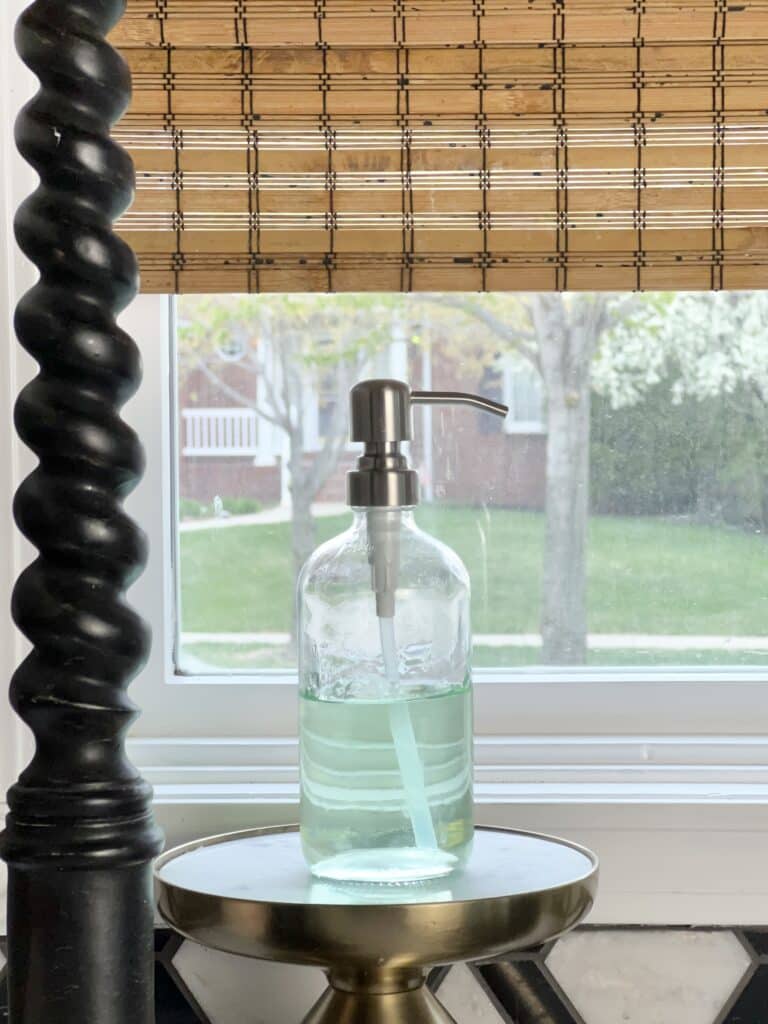 We can't forget flowers!
Pretty blooms are perfect in a kitchen glass jar that is repurposed as a lovely vase.
Does a recycled vodka bottle count as a glass container for kitchen decor?
Abso-bloomin'-lutely!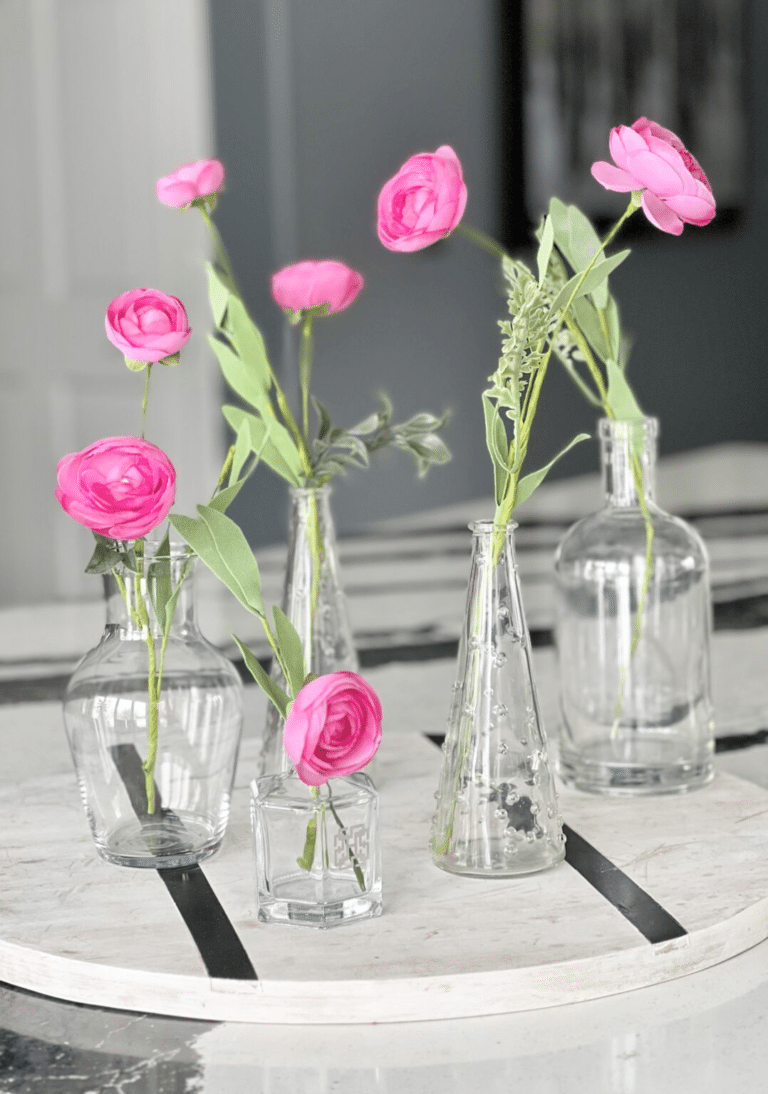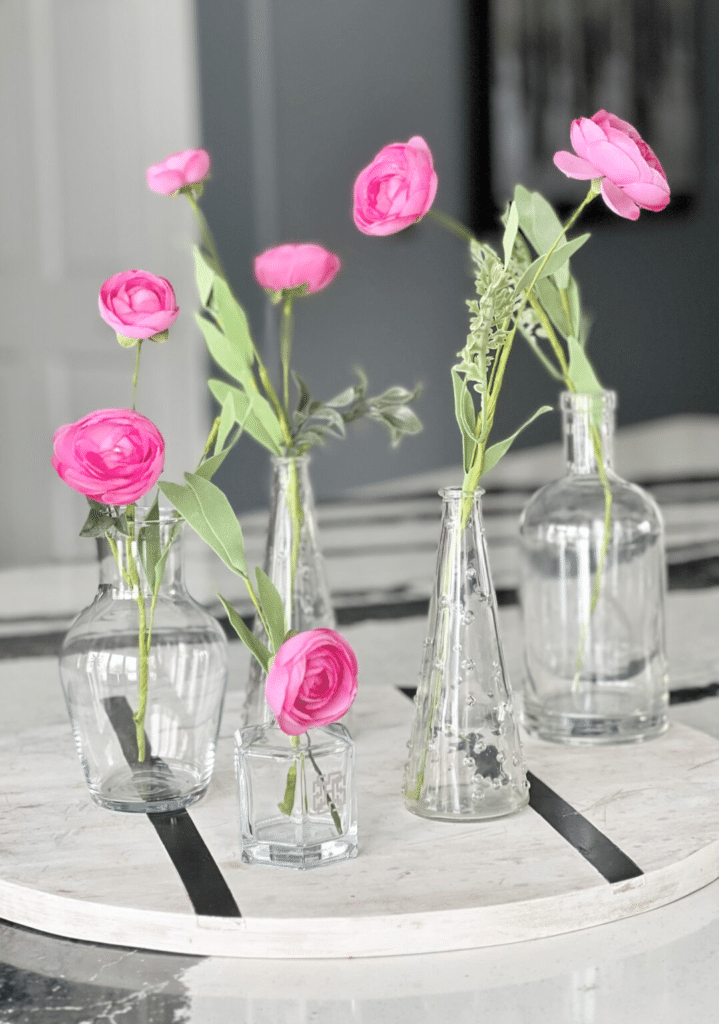 These blue jars were a fun thrift store find and are a great way to display flowers on a kitchen island or counter.
Light shining through the window really illumintes the blue glass. To help the light find the glass, I elevated the jars on a dough bowl turned upside down.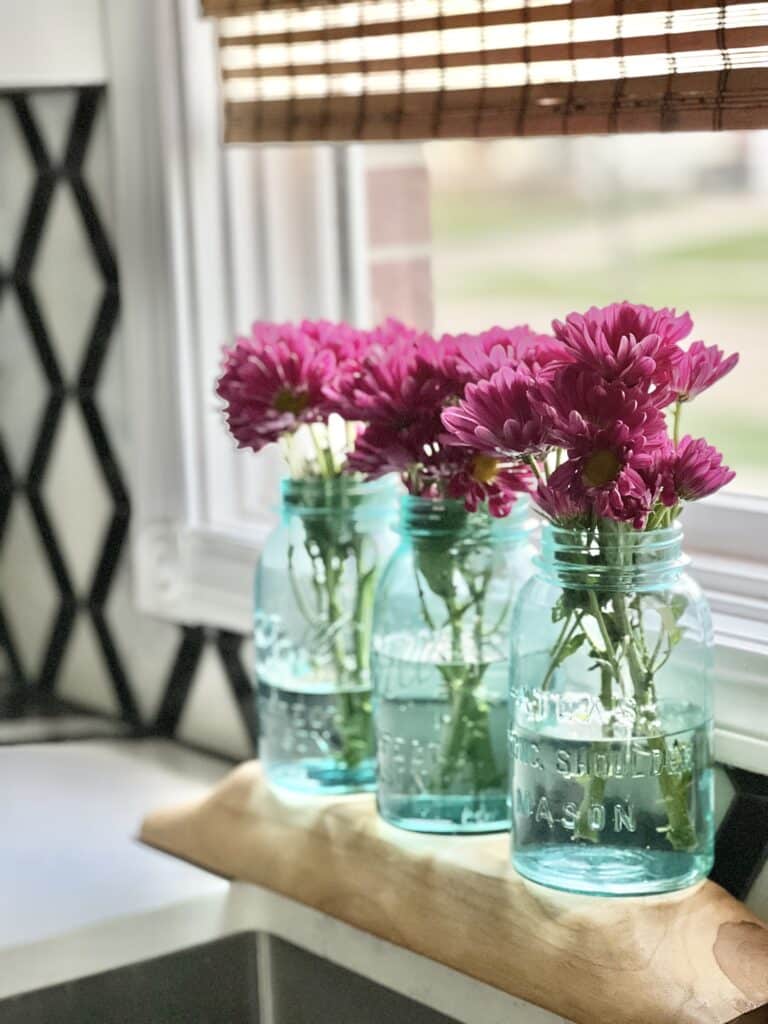 Decorative glass jars are a great addition to any kitchen. They add character and charm while also having practical functions like storing spices and pantry staples. With these ideas, you may be inspired to get some decorative glass jars for your own kitchen. I'll bet you have some great ideas of your own!
Of course, it doesn't have to stop there! You could also use the jars to store odds and ends like candy or snacks or use them as travel mugs for picnicking. No matter what option you choose, decorative glass jars can make a plain kitchen look stylish.
Cheers!

Don't Forget to Pin It!
Pin the image below to your boards on Pinterest (just click the Pin button in the top left corner). You can also follow along with me on Pinterest!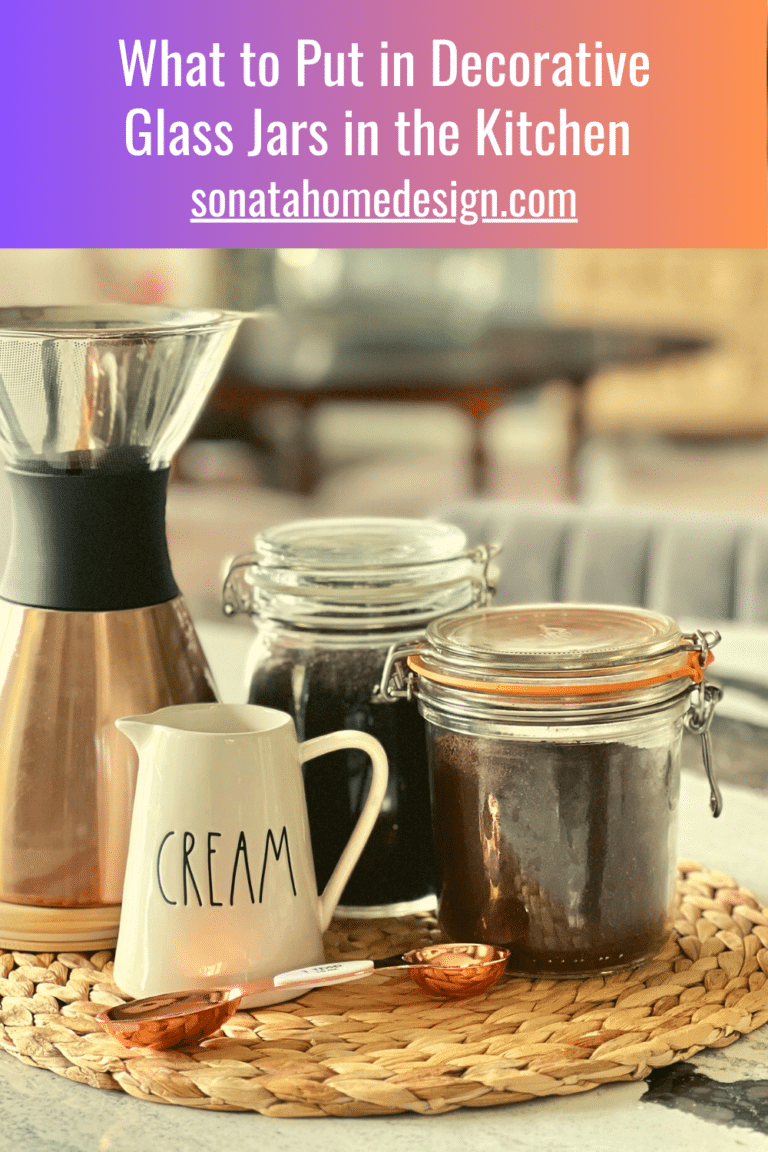 Looking for other kitchen decor ideas?
9 Kitchen Island Display Ideas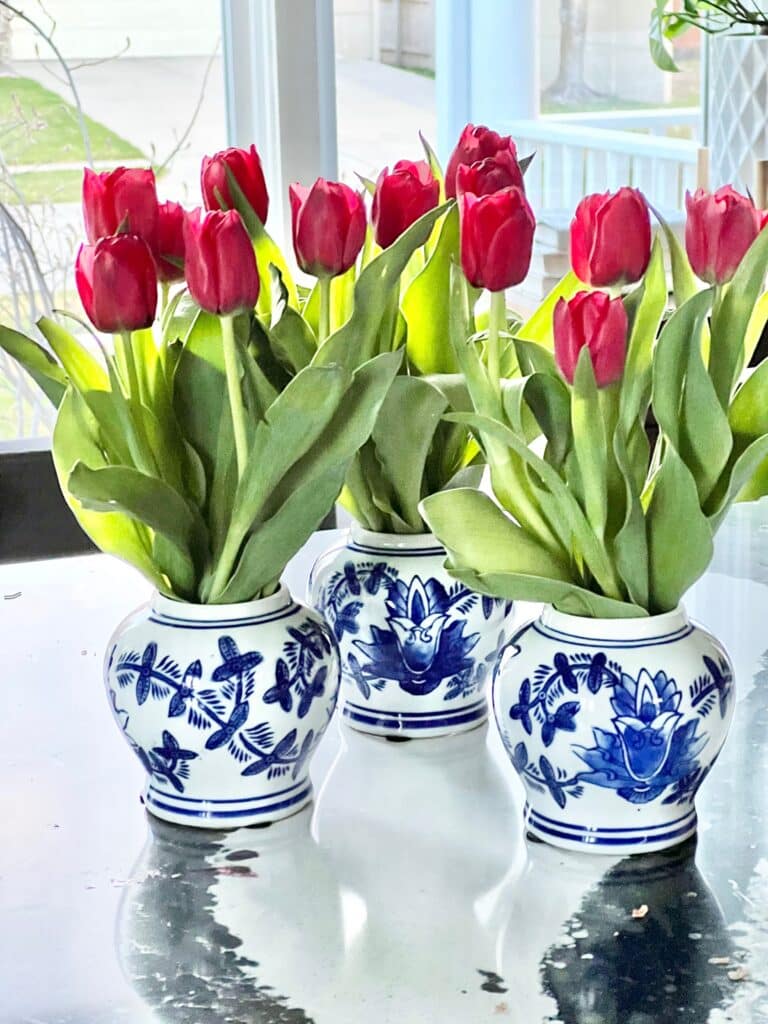 How to Style Glass Front Kitchen Cabinets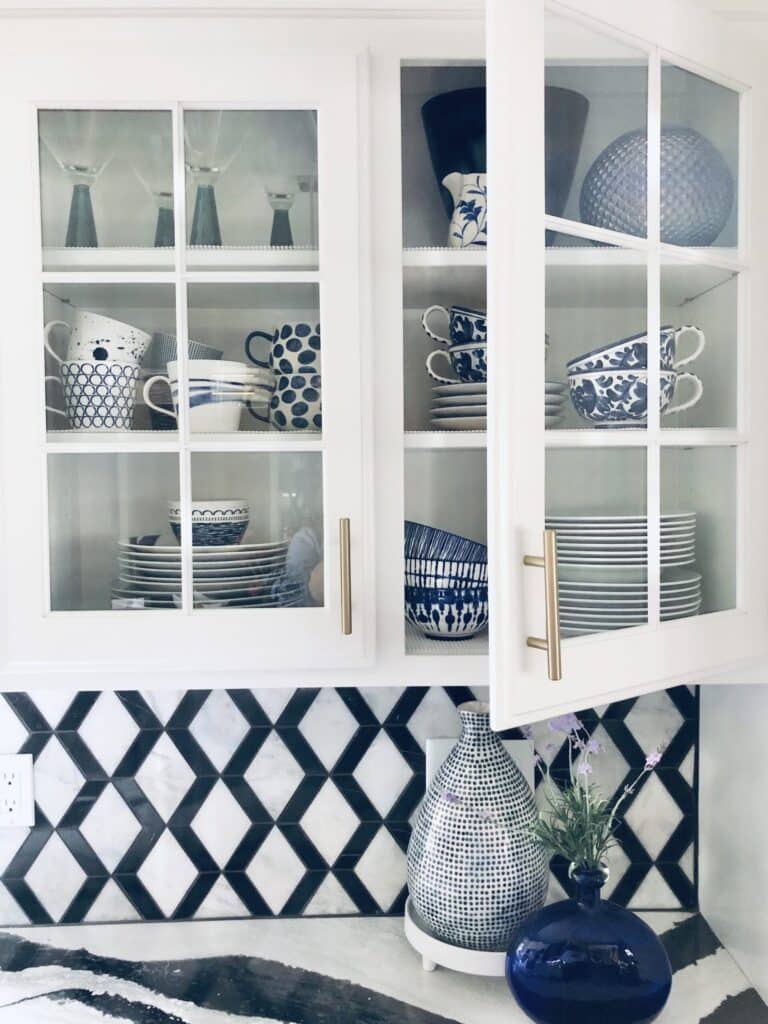 Top 7 Must-Have Kitchen Decor Items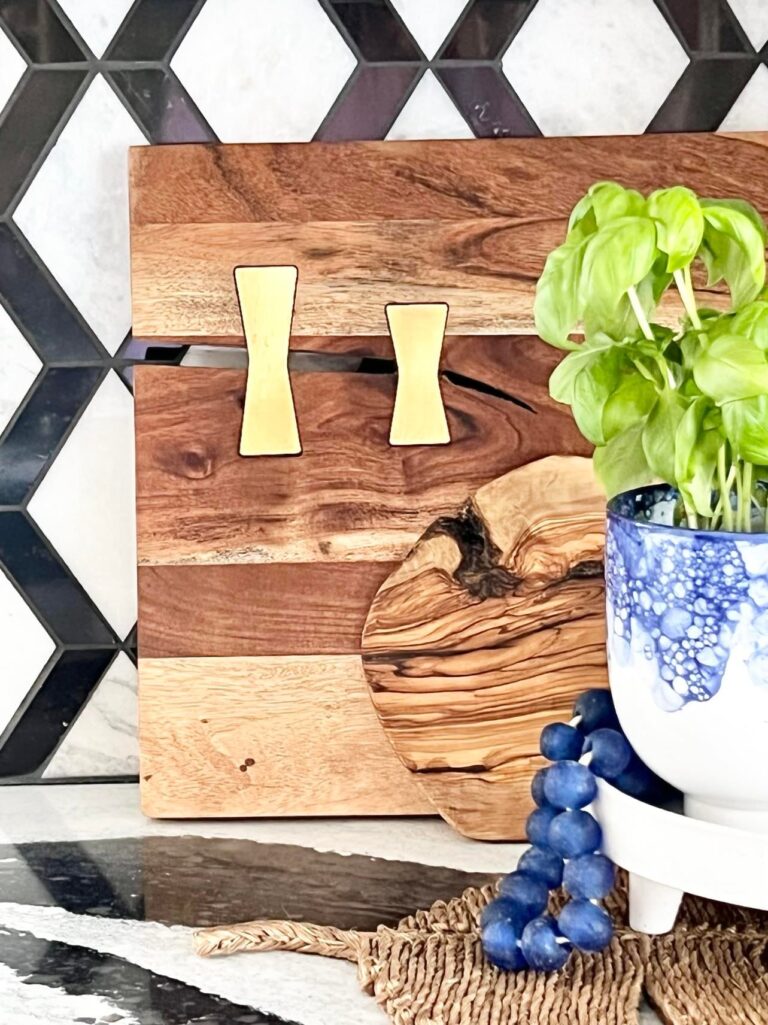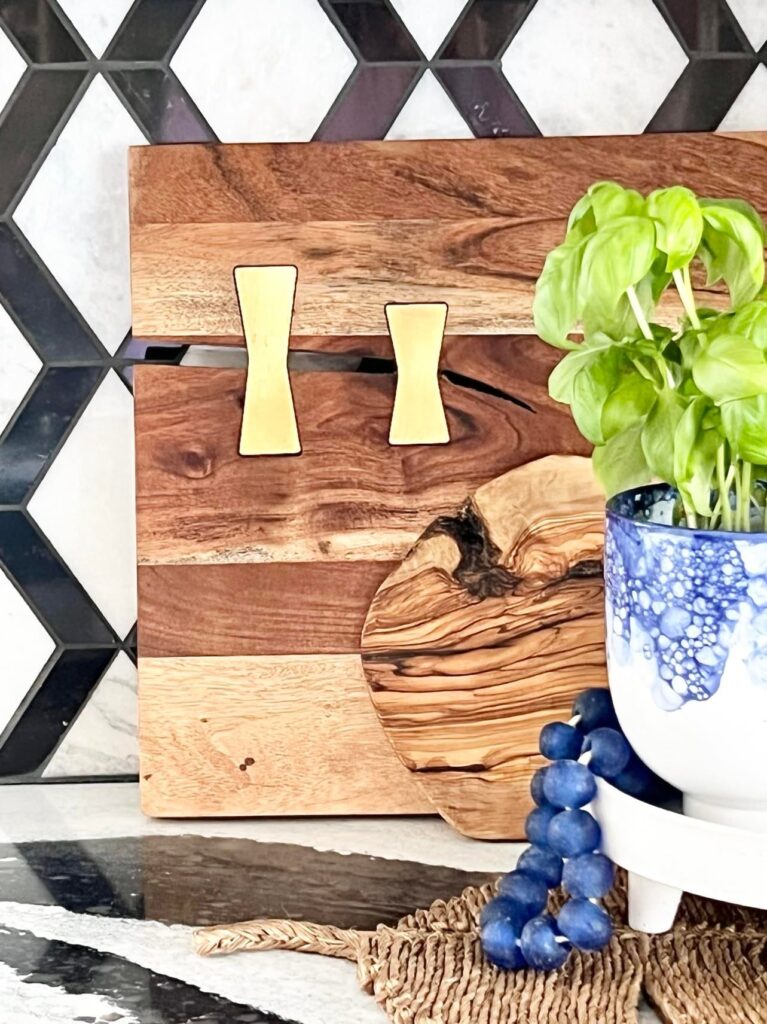 Some of My Favorite Things