Let's Make a Simple Small Flower Arrangement!
Who likes flowers?
I do! I do!
And, who likes flower arrangements that are simple and easy?
We do! We do!
My husband came home with flowers. (One of the many reasons we have stayed married for over 32 years!)
Plopping in a large vase with water is one option.
But why should only one room benefit from the flowers? Let's spread the floral love around the house!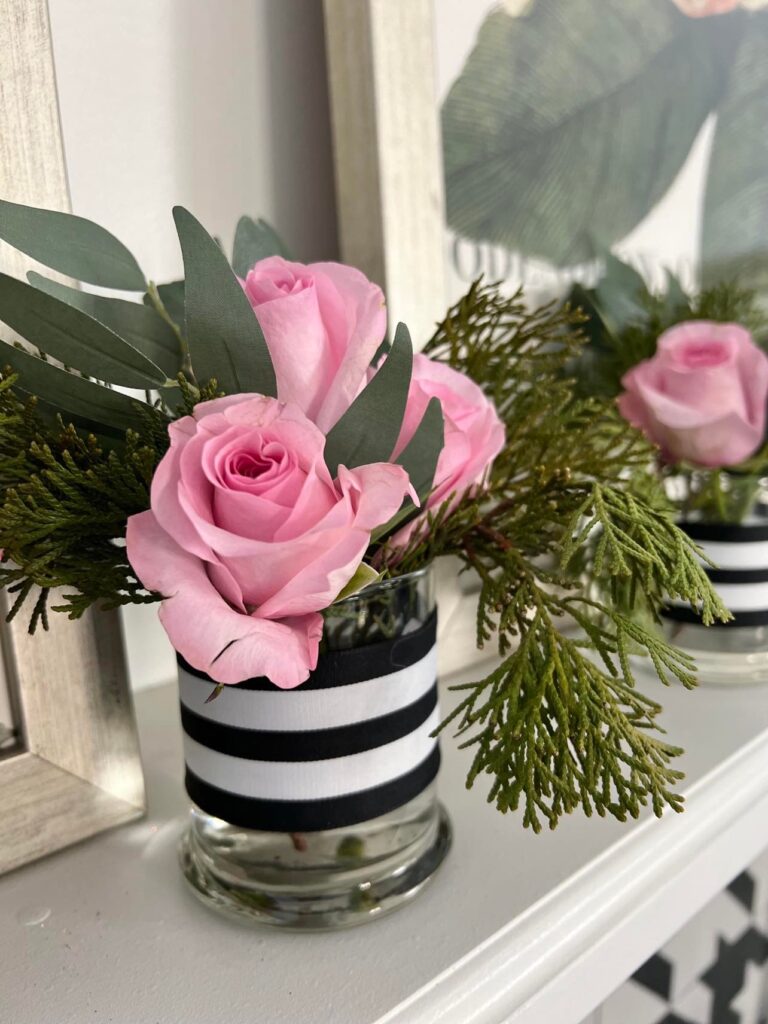 Here is What You Need for your Small Flower Arrangement
When I say simple, I mean simple! You just need a few things…
Small glass vase or jar. I found mine at a dollar store. With a dozen blooms, I used 4 small vases. Mason jars also work beautifully!
Ribbon of your choice. I love a bold black and white stripe ribbon. This ribbon is actually leftover from a Christmas tree that I recently packed up for the year. You can see this ribbon HERE.
Flowers of your choice. In the cold gloom of January, Trader Joes to the rescue!
Natural, fresh cuttings from a backyard tree!
If desired, a few cuttings from a faux greenery garland.
Glue gun and glue sticks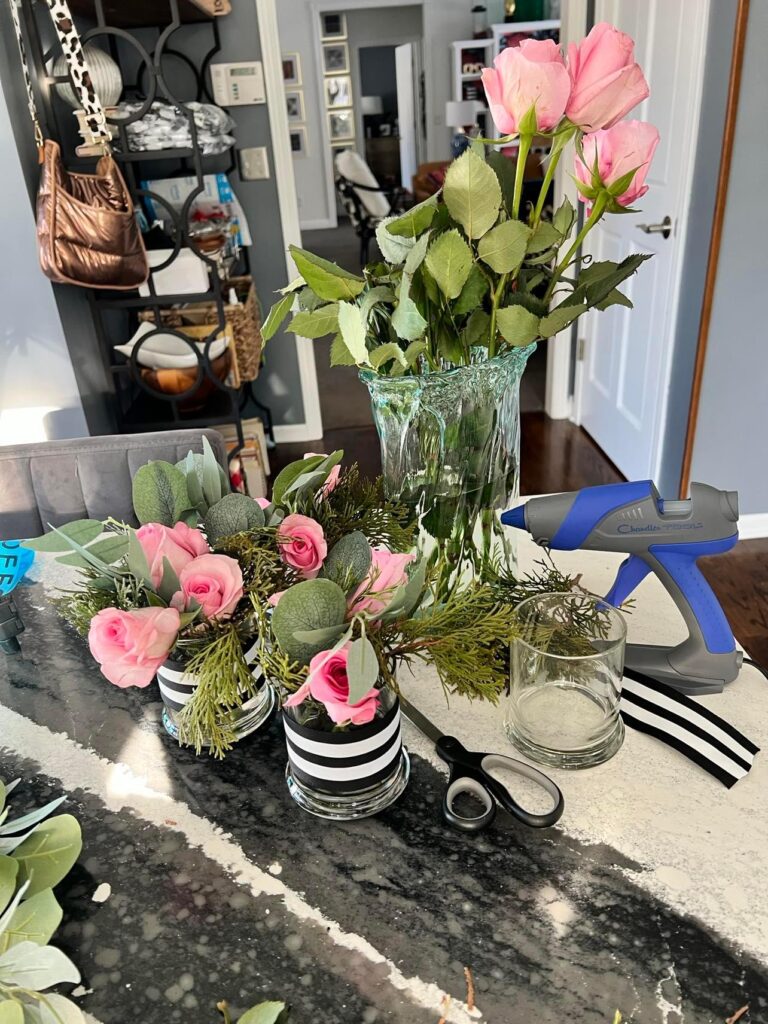 Set a timer! You can create these in minutes!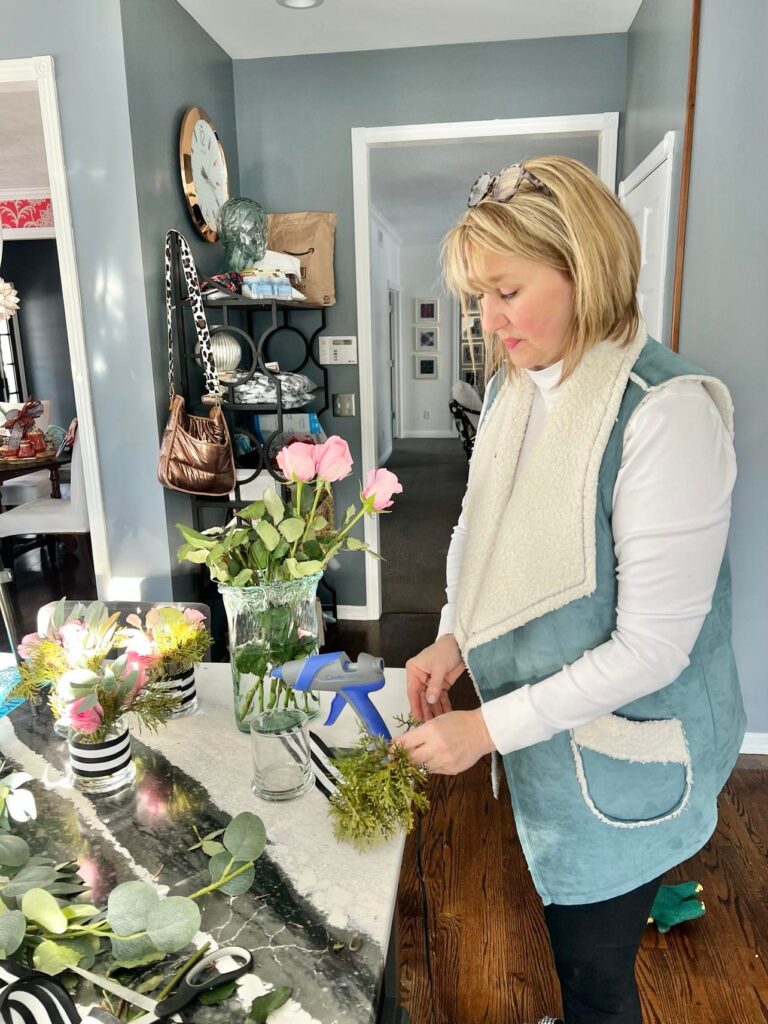 Steps to your Beautiful Small Flower Arrangement
Run a small line of hot glue on the center of the glass jar side.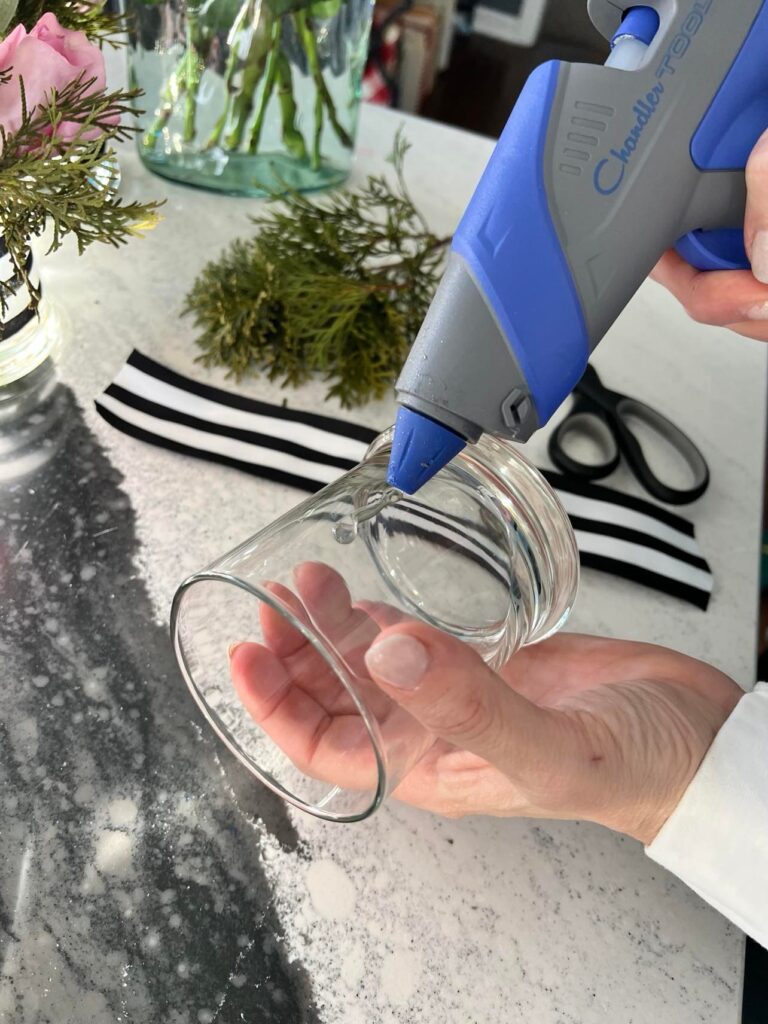 2. Press the end of your ribbon onto the glue. Wrap the ribbon around the jar and glue the other end of the ribbon where the ribbon meets.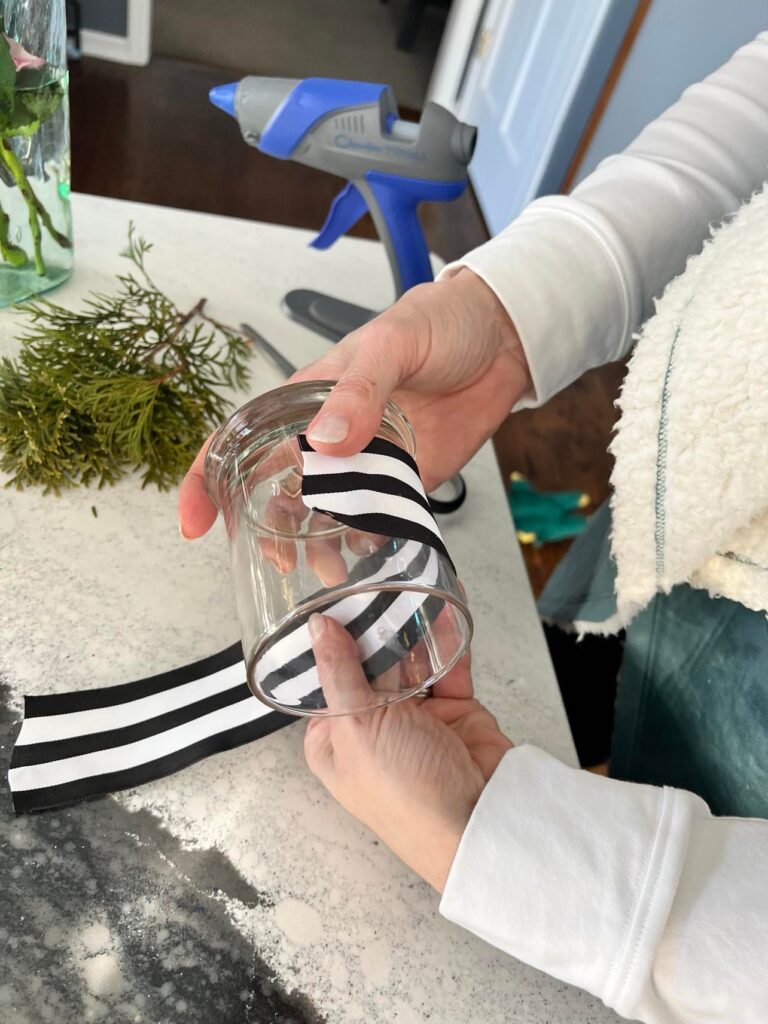 3. Fill your vase with water.
Trim your flower stems down so the bloom peeks over the top edge of the glass container. I placed three in each vase.
Remove any stem leaves that might sit in the water. Submerged greenery will just get gloopy and affect the freshness of the flowers.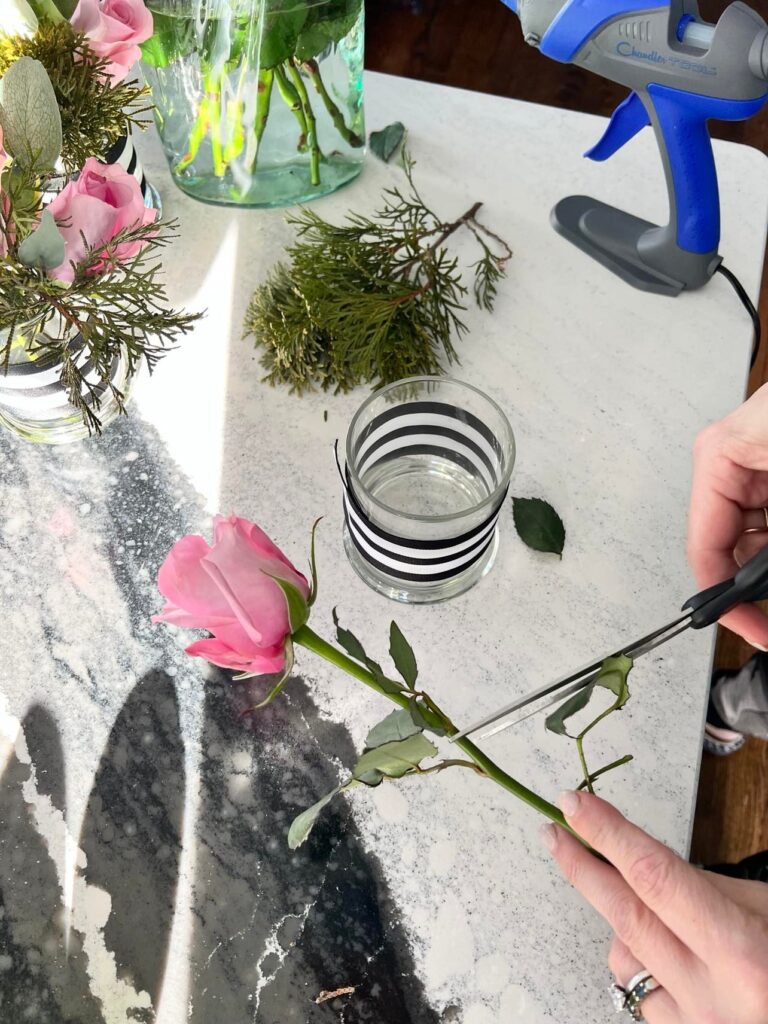 4. Nature to the rescue! Tuck in some green clippings from your yard. We have an arborvitae tree in our back yard that obliged.
Nestle the greenery among the flowers.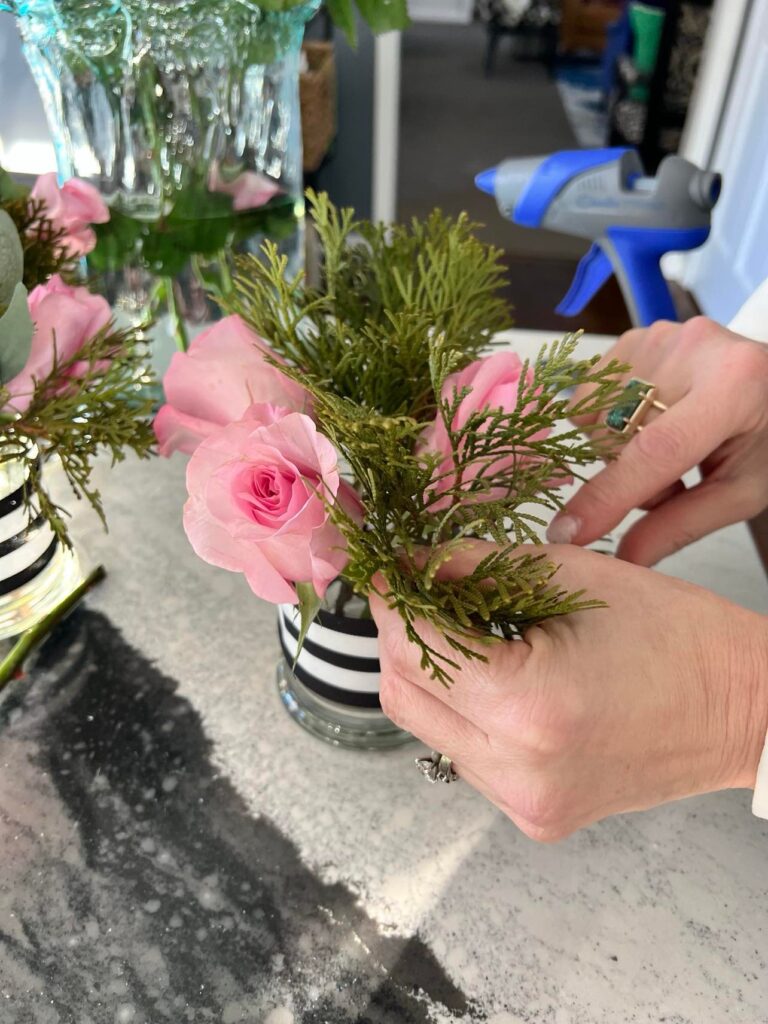 5. Adding another type of greenery adds depth and texture to your arrangement. Since I have no other "clippable" backyard trees, I cut the end off a faux eucalyptus garland. You can see my favorite eucalyptus garland HERE.
Trust me…the garland will never miss it! Your small flower arrangement will love it!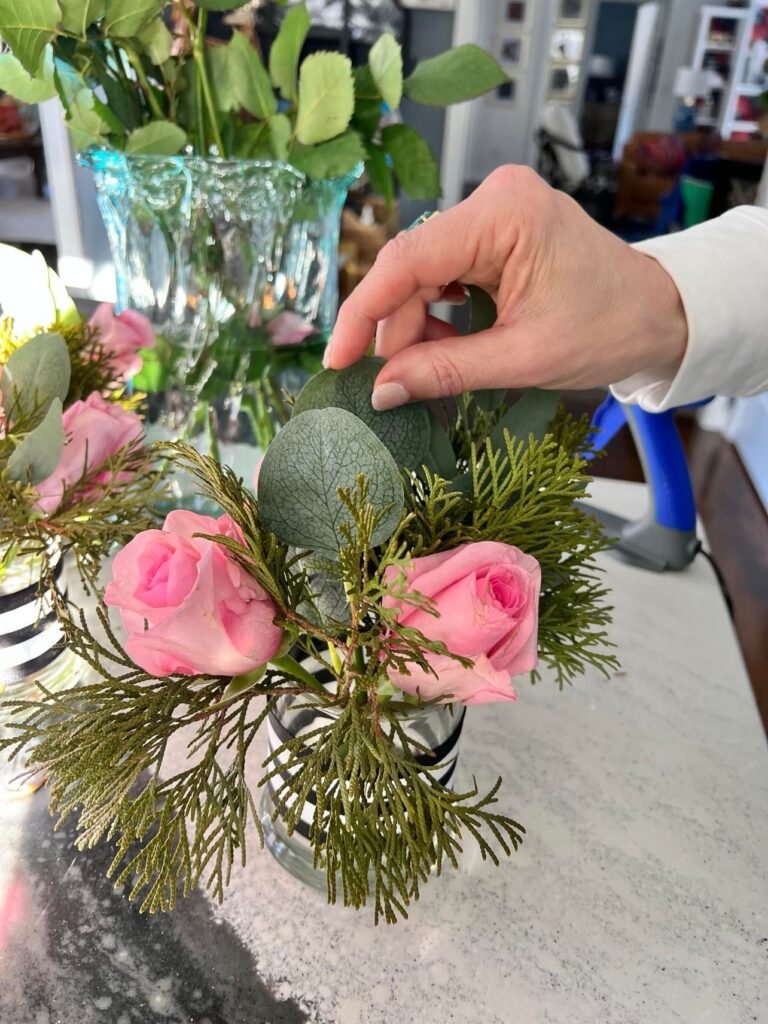 What was your time? I'm guessing this took you 2-3 minutes?
Three minute countdown to ADORABLE!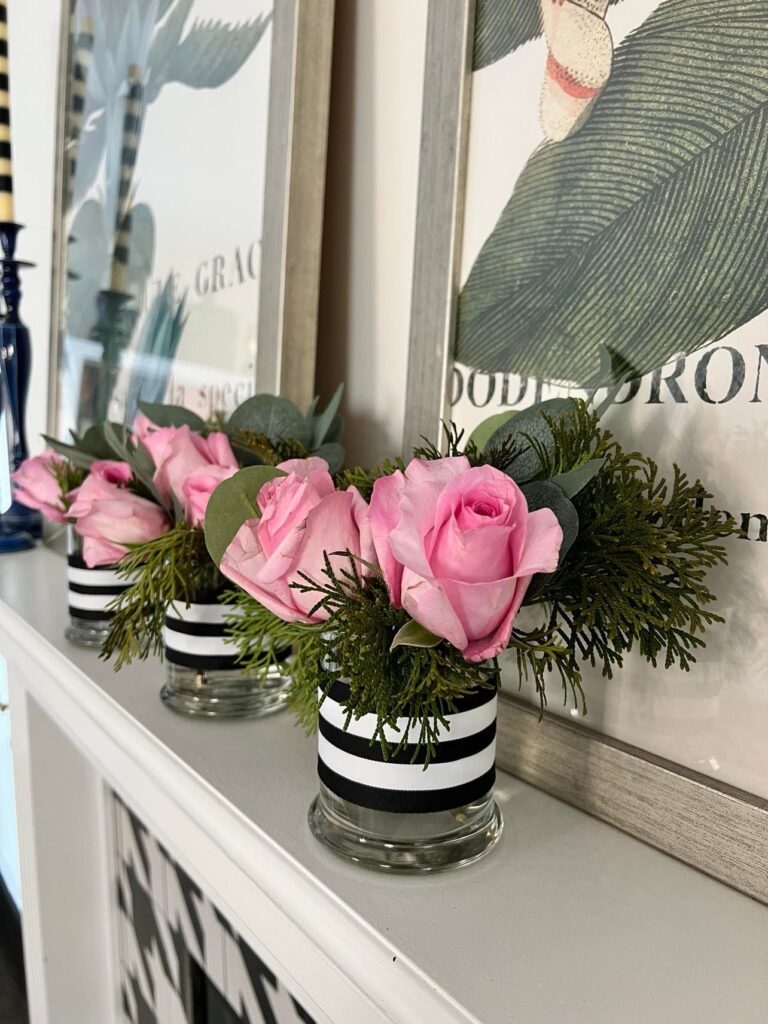 Perfect Places for your Small Flower Arrangements
There are SO many ways to incorporate these into your home!
Place in a grouping on your dining table for an instant centerpiece.
Set a few on your kitchen window sill for a fresh, fragrant view.
Keep one on your desk, one on your nightstand, and one on the bathroom vanity
Surprise your houseguests with several arrangement scattered in the guest room.
If you are staging your home for sale, place a few by the sign-in sheet in the front entry.
Line them up on your fireplace mantel.
Check out this Valentine Table for Any Day of the Year. Perfect for small flower arrangements!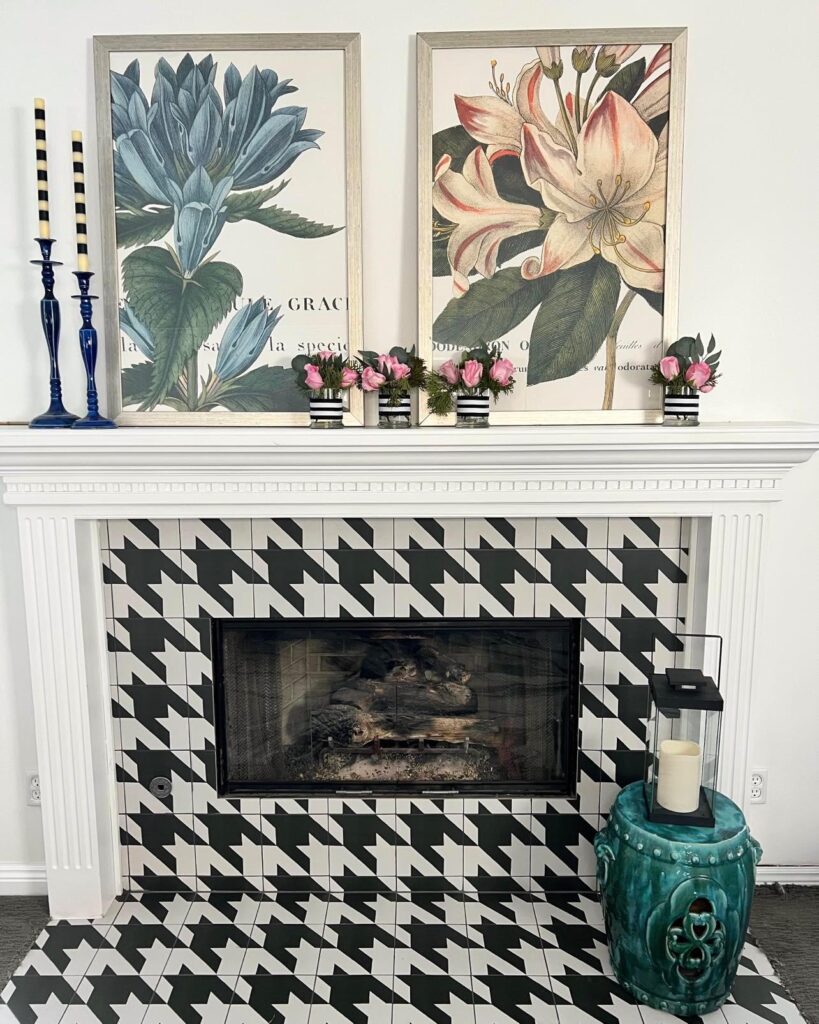 Simple. Fast. And, oh so lovely!
Cheers!

Sonata Home Design is a participant in the Amazon Services LLC Associates Program, an affiliate advertising program designed to provide a means for us to earn fees by linking to Amazon.com and affiliated sites. Additional affiliates links are also included for your convenience.
Looking for other ways to brighten up your winter? Take a look at these…
Simple Ideas to Transition from Christmas to Winter Decor
How to Make a Sweater Weather Candle Sleeve
A Bright and Colorful Living Room Revamp
Let's Connect!
Please follow me on Instagram!
You can also follow me on Pinterest!
Don't forget to follow me on Youtube!
Head on over and follow me on Facebook!