Simple Ideas to Transition from Christmas to Winter Decor
Have you packed up your Christmas decor? Here are some simple ideas to transition from Christmas to winter decor.
We just stored 5 trees and multiple (I'm afraid to count) storage totes. Slowly, the transition from Christmas to winter decor begins.
I'm a little slow. I pack a tote and then take a break to eat a leftover Christmas cookie. Not a very good work ethic!
Finally, surfaces are cleared, the Roomba is running, and our dog, Bentley, has much more room to roam and create mischief.
Sigh. It feels open, clean, and fresh…BUT!
The house feels a little bare, a little stark, a little (dare I say)…naked!
Time to warm things up a bit!
Texture, nature, and color (or lack of) is my recipe for transitioning from Christmas to winter decor.
Christmas to Winter Decor…Nature to the Rescue
As cold and stark as it is outdoors, nature can still come to the rescue with lovely texture and color.
Pull out your favorite bowl or tray and layer the bottom with some fresh evergreens.
Leftover greens from Christmas will do. Or, do as I do and head outside with a pair of scissors. We have a lovely arborvitae tree that is always willing to share!
We also have some prolific pine trees in our yard and I gather the best pinecones throughout the year.
This year's crop got a quick coat of silver and rose gold spray paint.
Toss pinecones on top of the greens and you are done! Instant winter display!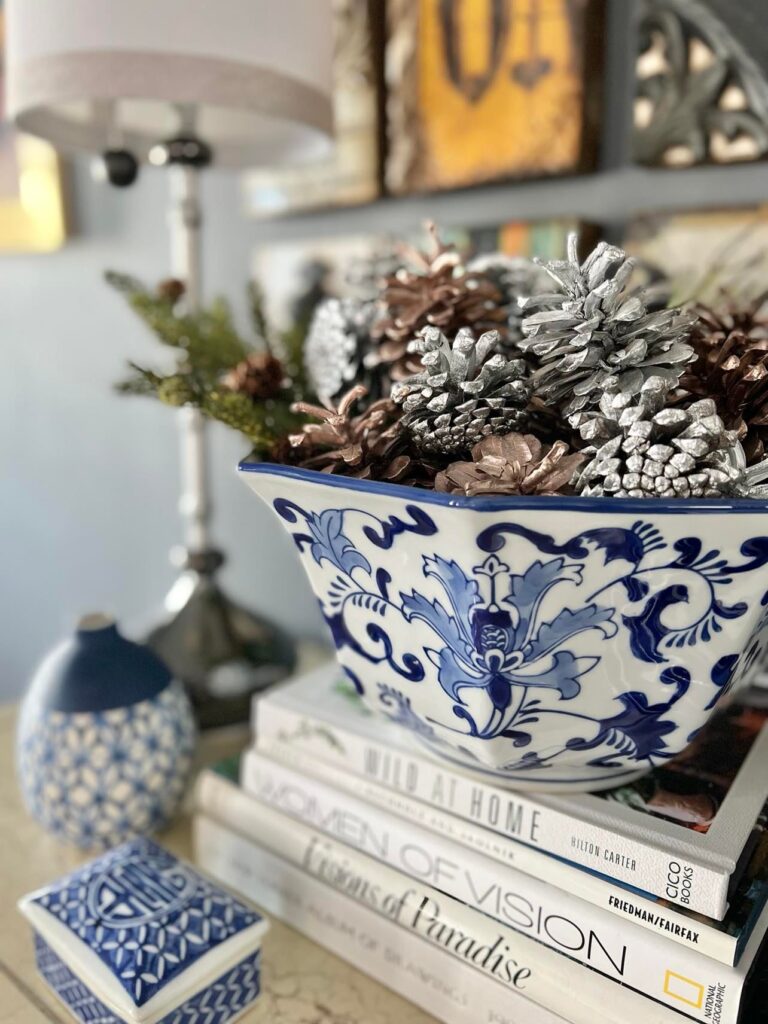 Texture Over Pattern
While I will be the first to overload your visual senses with colorful, patterned pillows, there is something crisp and cozy about a simple, cuddly white pillow.
Swap out your fall and Christmas pillows for ones that are full of soft, yummy texture.
Fleece, velvet, chenille, faux fur….can you feel it? You are mentally "snuggling in!"
Squeezy pillows are an added bonus!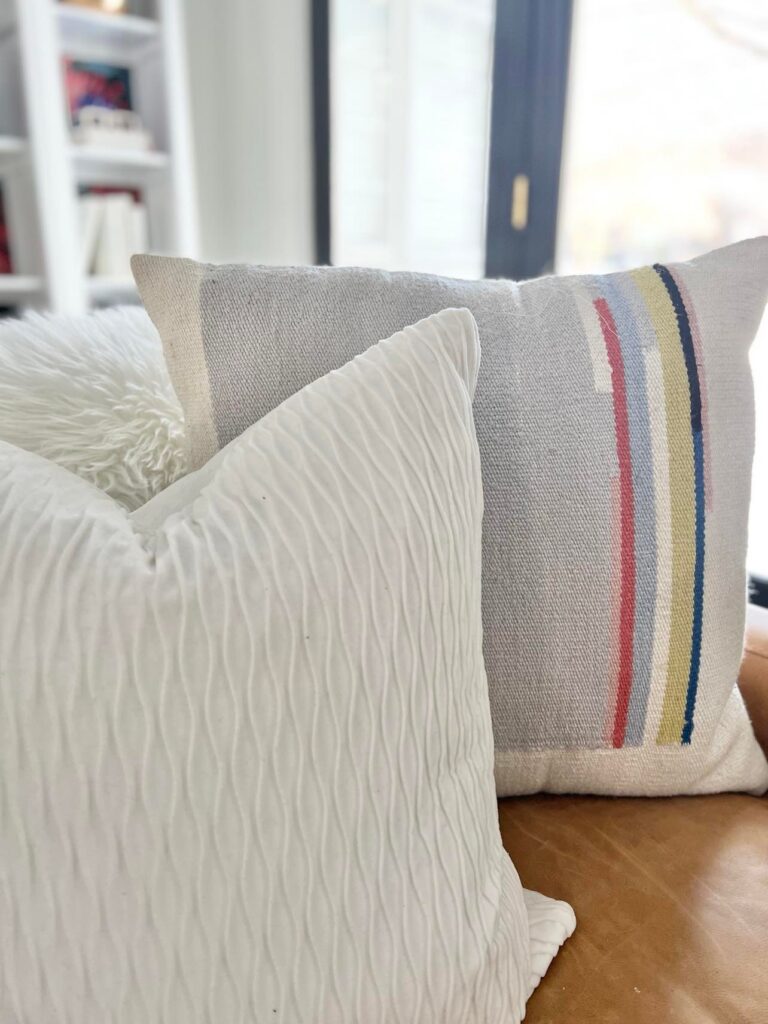 Green It Up
Every January, I am reborn as a plant expert. At least in my head I am!
Green plants can retake their centerstage position in your home and, literally, breathe life into the starkness of a post-holiday home.
Once upon a time, I shared how to create a portable plant garden. Perfect ways to chase away winter blues!
I like to take the green theme further and display my favorite garden books.
When you get tired of winter, grab one of these books and crank up your imagination! This is garden dreaming at its best!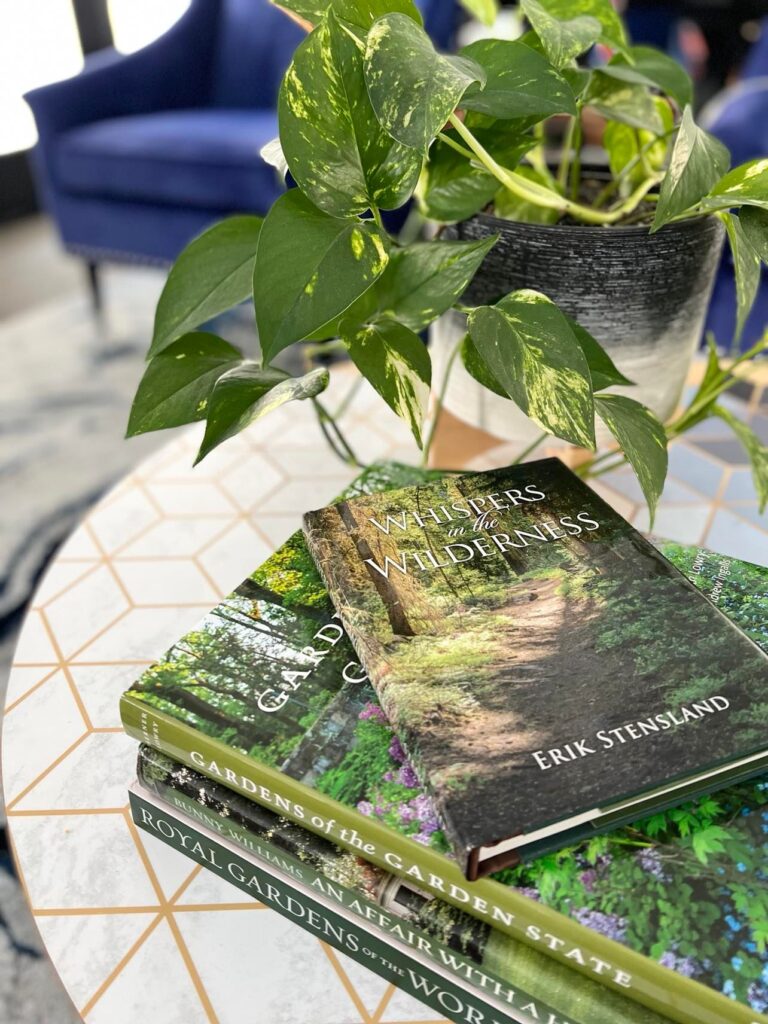 Here are a few of my favorite garden books for winter dreaming!
Whispers in the Wilderness by Erik Stensland
Gardens of the Garden State by Nancy Berner and Susan Lowry (New Jersey…I had no idea!)
Royal Gardens of the World by Mark Lane
An Affair with a House (my FAVORITE home decor book!) by Bunny Williams
Edible Home Decor
When will I learn?
I should know by now that, if the cookies are sitting out on a cookie plate, I will eat them.
Refer to my Christmas packing routine!
Now is the time to take my newfound snacking awareness and set out fresh fruit on the kitchen island.
Healthy and beautiful!
Even basic apples and oranges can look pretty and elegant when displayed intentionally.
Colorblock your fruit on a tiered tray for an instant winter fruit stand.
Pre-wash all fruit and remove the stickers so they are ready to eat.
And, don't forget to keep your citrus away from other fruits so as to keep fruit fresher longer!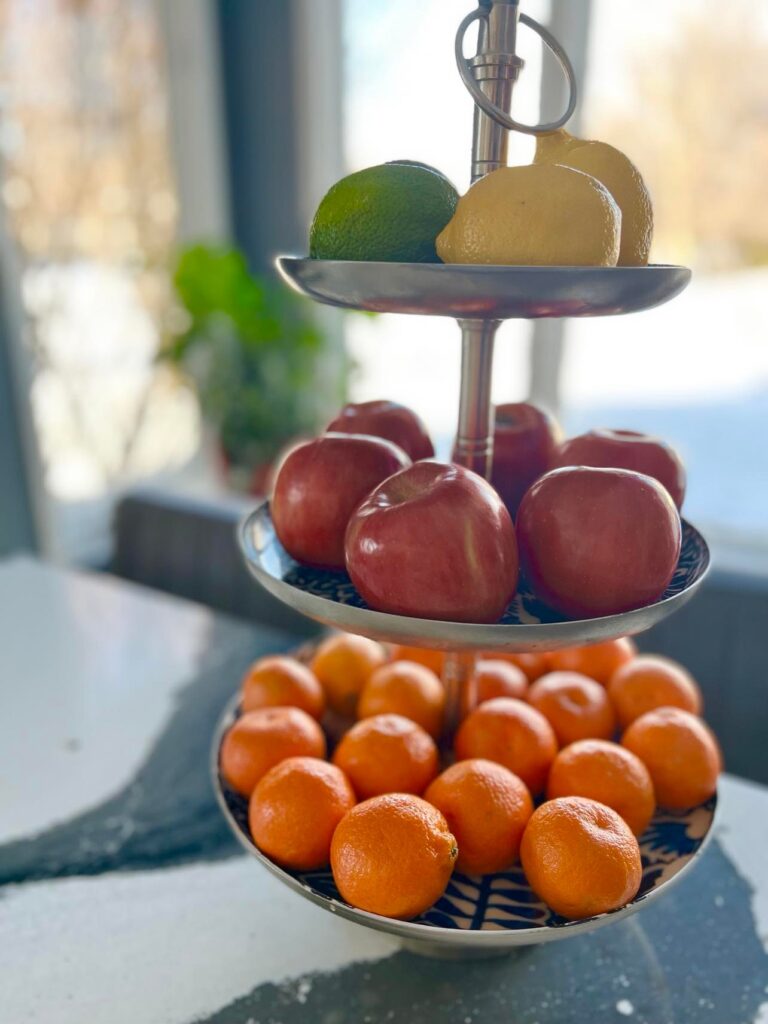 One of my favorite things to do is create displays for the kitchen island. Here are 13 of My Favorite Kitchen Island Displays!
Color…I Can't Help It!
Just like a winter infusion of vitamin D, I need some color in my life!
Not a lot. Just a nice little punch.
Color brightens grey days and brings vibrancy to longer hours of darkness.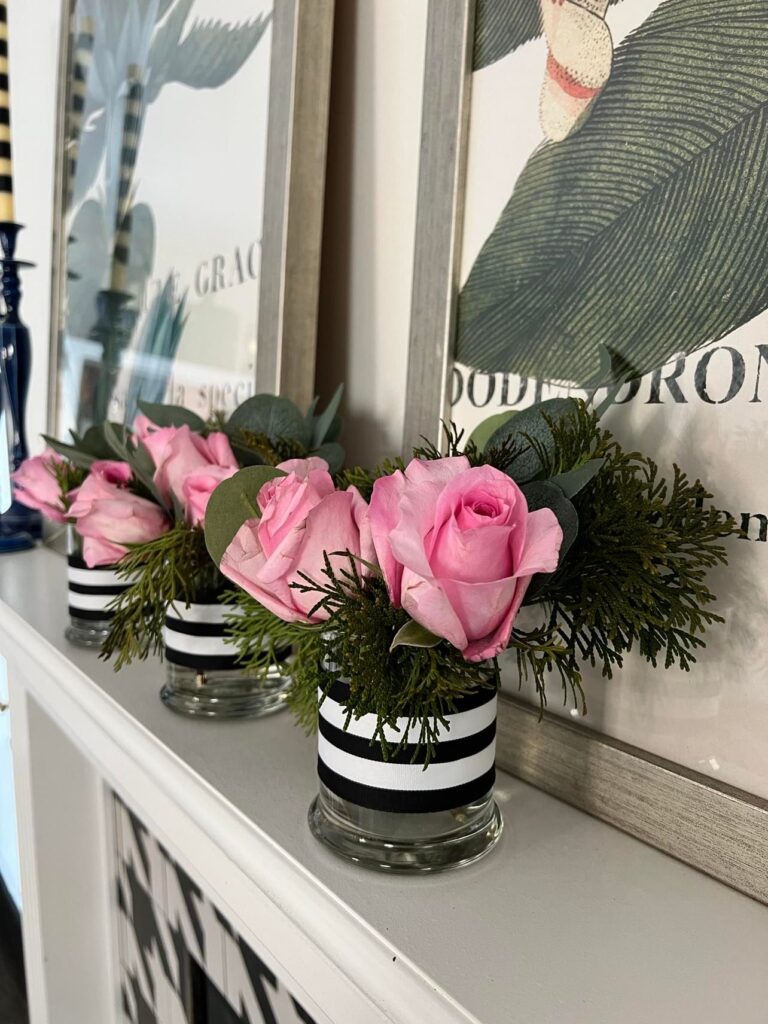 The fireplace is now ready for a January fireplace blaze, some February hearts, and maybe even some March birthday presents! (Guess who?)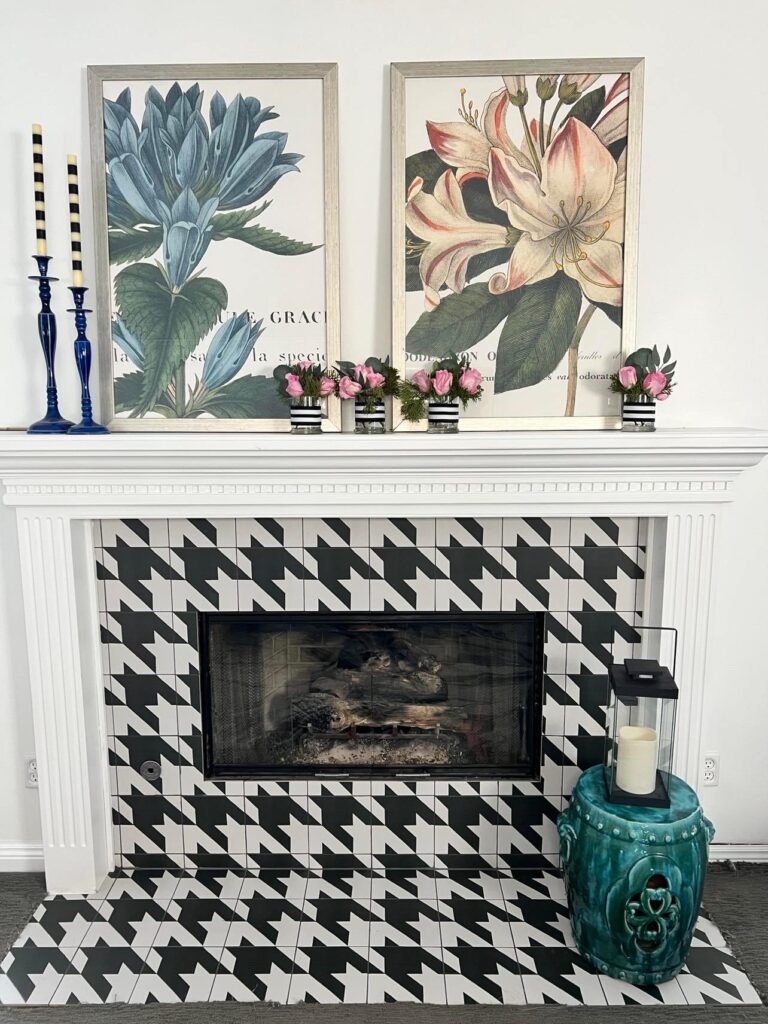 Cheers!

disclosure: affiliate links are used in this post
p.s. Who am I kidding? I love to add "pops of color" all the time! Here are a few other color related posts you might enjoy!
3 Easy Steps to "Pop of Color" Books
A Living Room Revamp that is Bright and Colorful