How to Make a Sweater Weather Candle Wrap
It's Sweater Weather! Learn how to make this easy sweater weather candle wrap!
Is there anything better than pulling out your sweaters in the fall? Give your home decor the vibe of sweater weather by making a snuggly candle cozy.
Sweaters help to bring in cool weather right along with falling leaves, crisp autumn apples, and earlier evening darkness.
Bring it on! I am a sucker for a great sweater and am ready to snuggle in with some hot tea, a good book and…
a cozy candle!
Even better…how about a cozy candle wearing a sweater wrap!
You know, those adorable (and often expensive) jar or pillar candles you see in stores that are wrapped in a sassy nordic sweater cozy.
Don't Buy It! Cut It Up!
Not possessing the skill of knitting, I decided I am pretty good with a pair of scissors.
And I own way too many sweaters that I have not worn in years.
I found this old gem in the back of the closet. I bought it on a clearance rack years ago (for $8!) but it never really fit me well. So, I never really wore it and it was just gathering dust.
It was destined for the donation pile.
Find an old, no longer worn sweater, or do some digging at your local thrift store to find a sweater to dissect!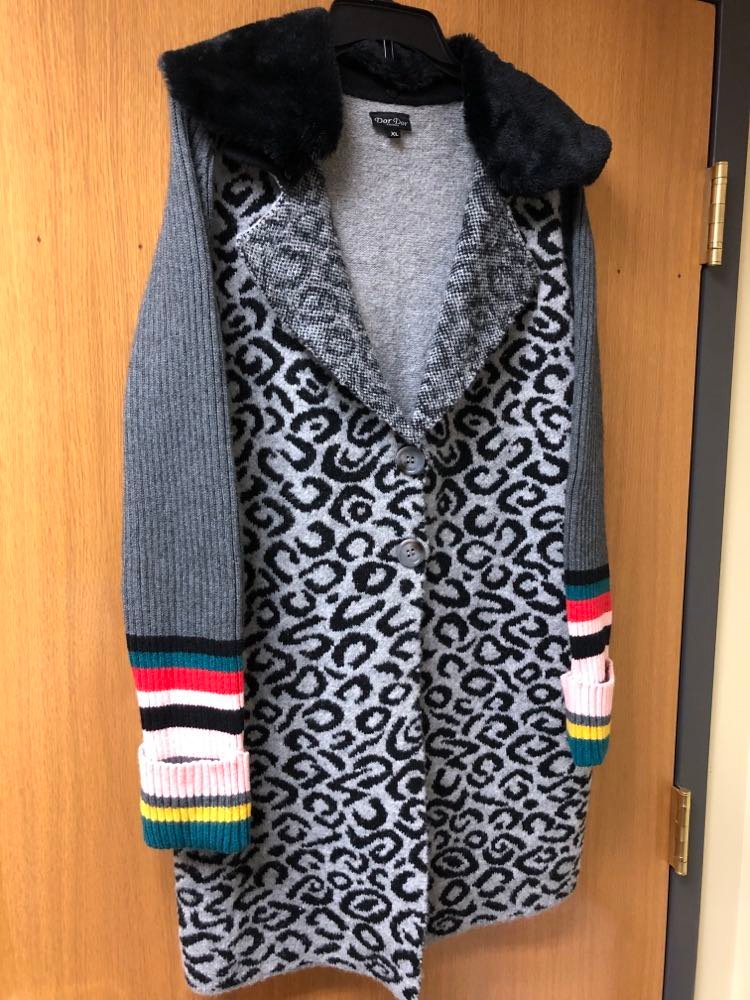 This sweater was going to be donated BUT, I really love the sleeve!
I mean, I really LOVE the sleeve! (I think that is why I bought the sweater in the first place!)
Obviously, perfect for jar candle sweaters!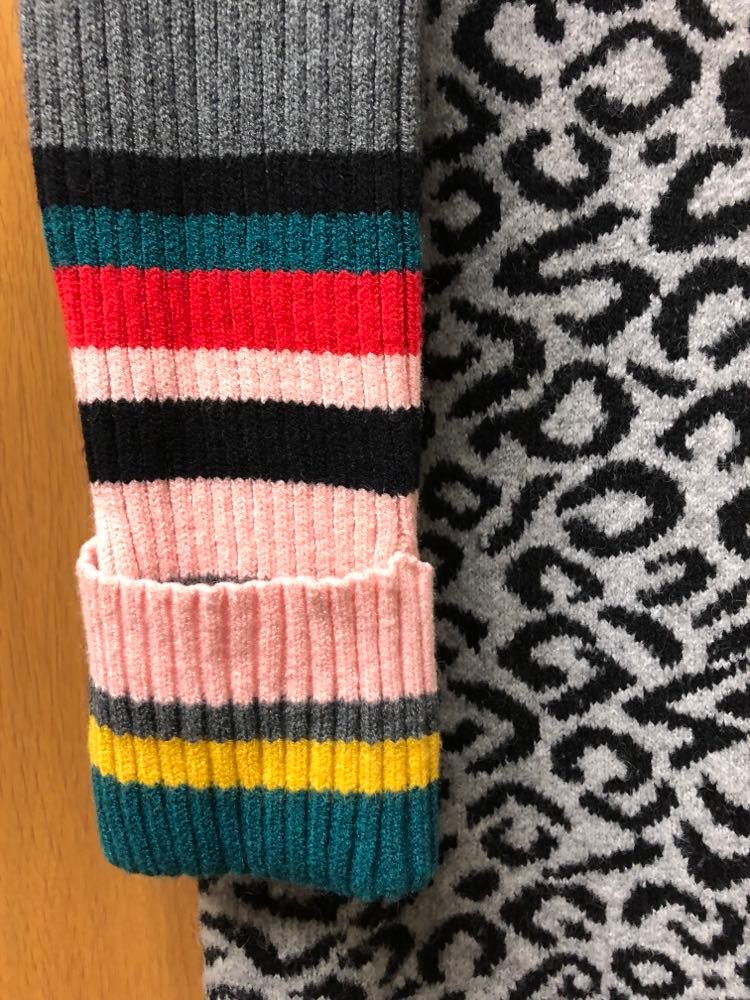 How to Make a Candle Wrap
First, measure your jar candle and decide how tall you want the cozy to be.
Also, decide what section of the sweater sleeve you want for the candle or jar.
Finally, do a quick measure on the sweater sleeve, grab your scissors and start cutting!
For this first one, I cut "mid-arm" as well as just above the cuff.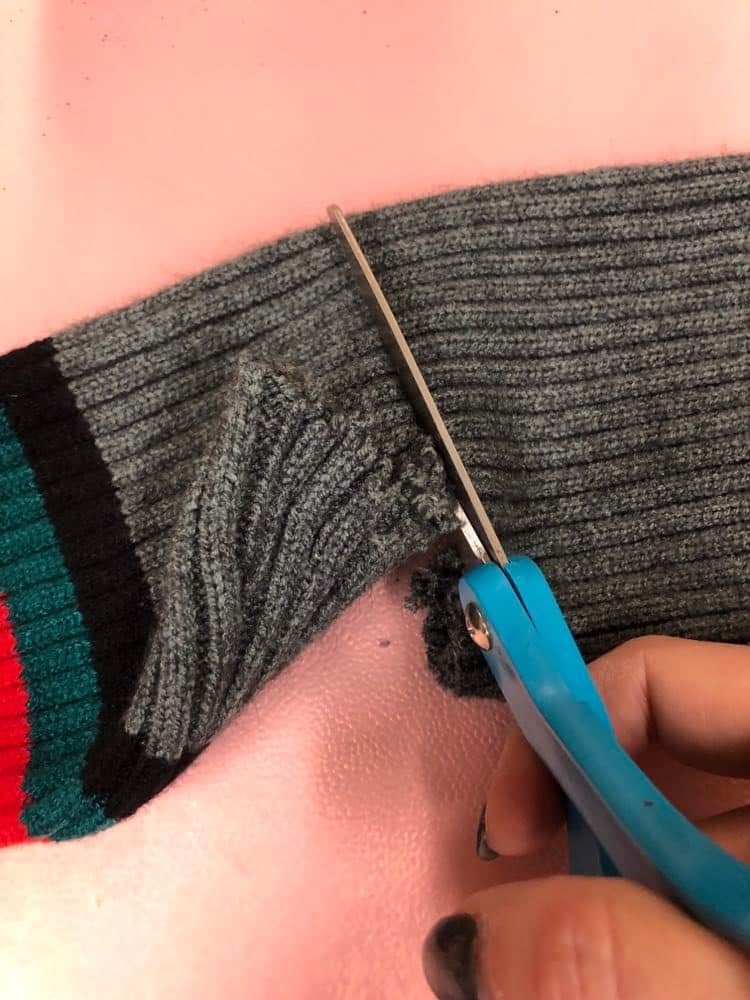 For this candle, I wanted a finished edge.
So, I tucked the top edge of the sleeve tube in toward the candle and did a large basting stitch to keep it in place.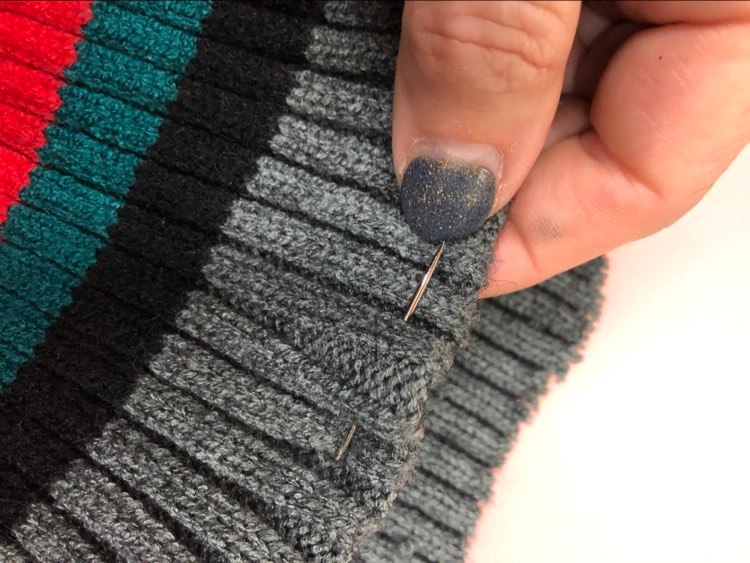 The bottom of the sleeve naturally curved in around the bottom of the candle jar so I didn't have to do anything more. It literally HUGGED the jar!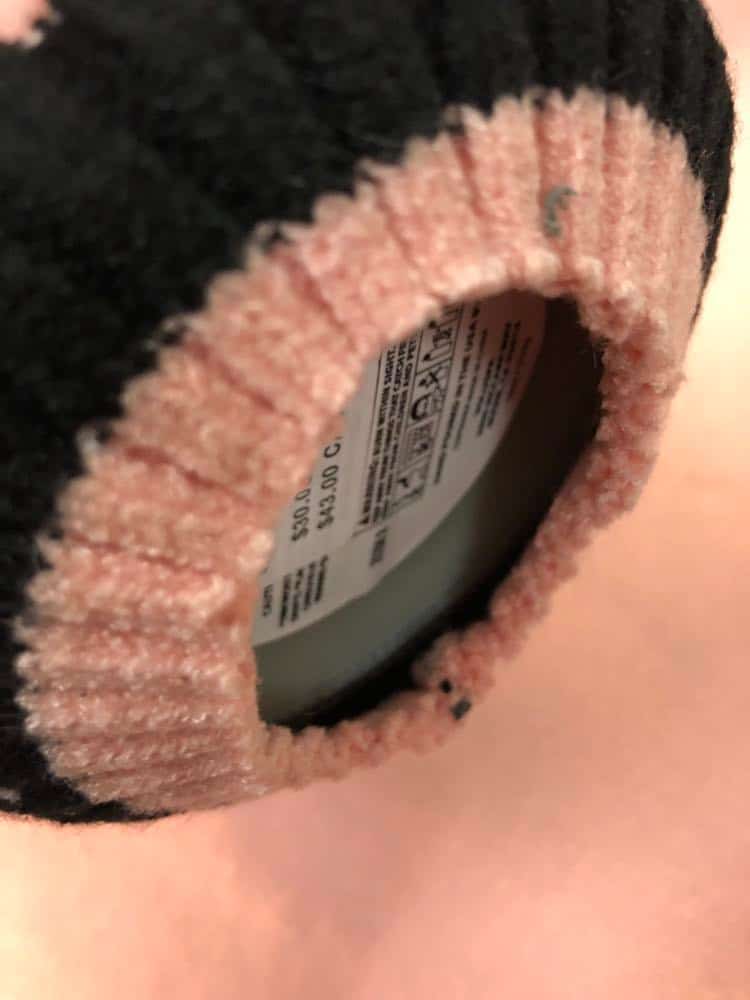 Dressed for sweater weather!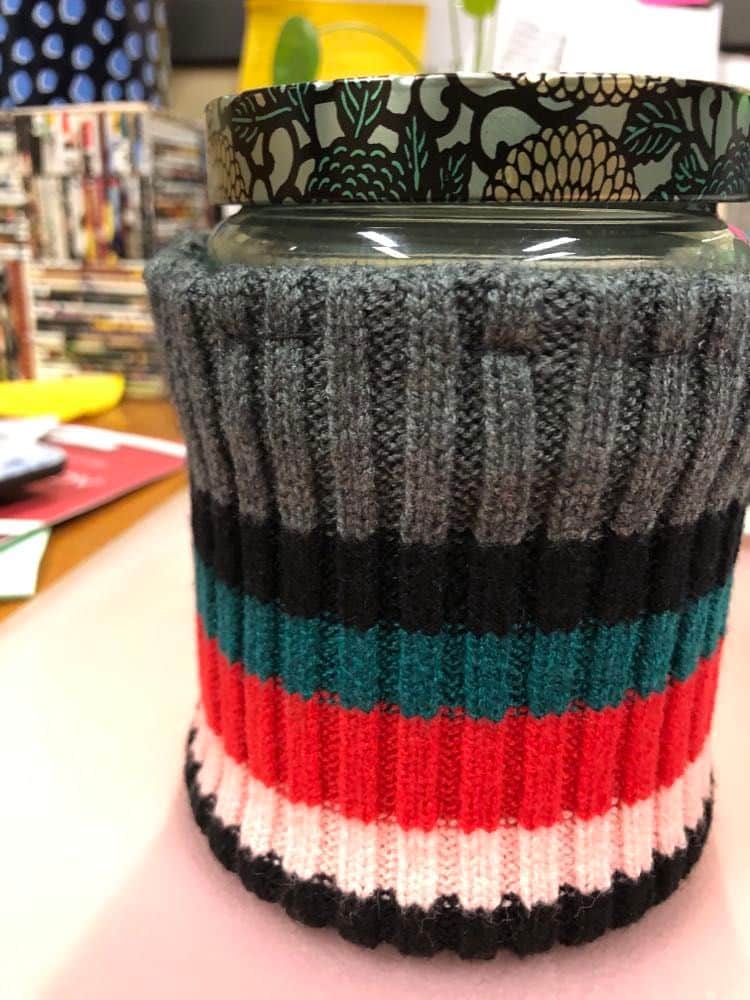 The remaining sweater cuff fits this candle perfectly.
No sewing at all! I just slid it onto the jar!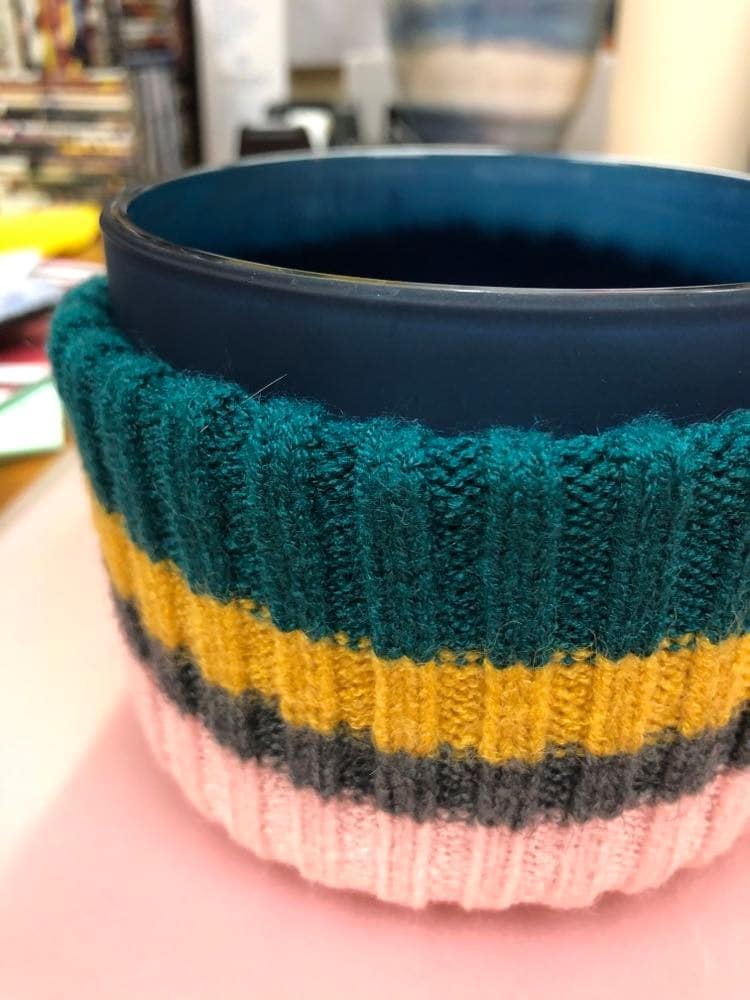 But What About the Rest of the Sweater?
The original sweater has some great components that should not go to waste.
Namely, the cool animal print and big buttons!
How about another candle wrap!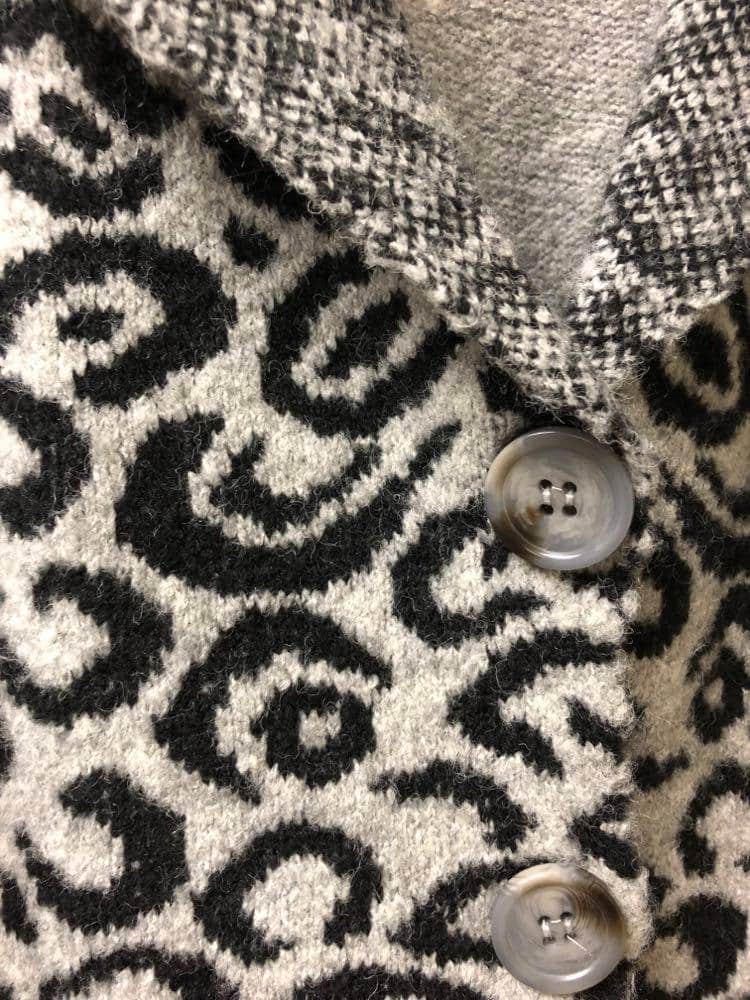 In order to incorporate the buttons and buttons hole, I measured the diameter of the candle and cut a rectangle of fabric that includes those parts.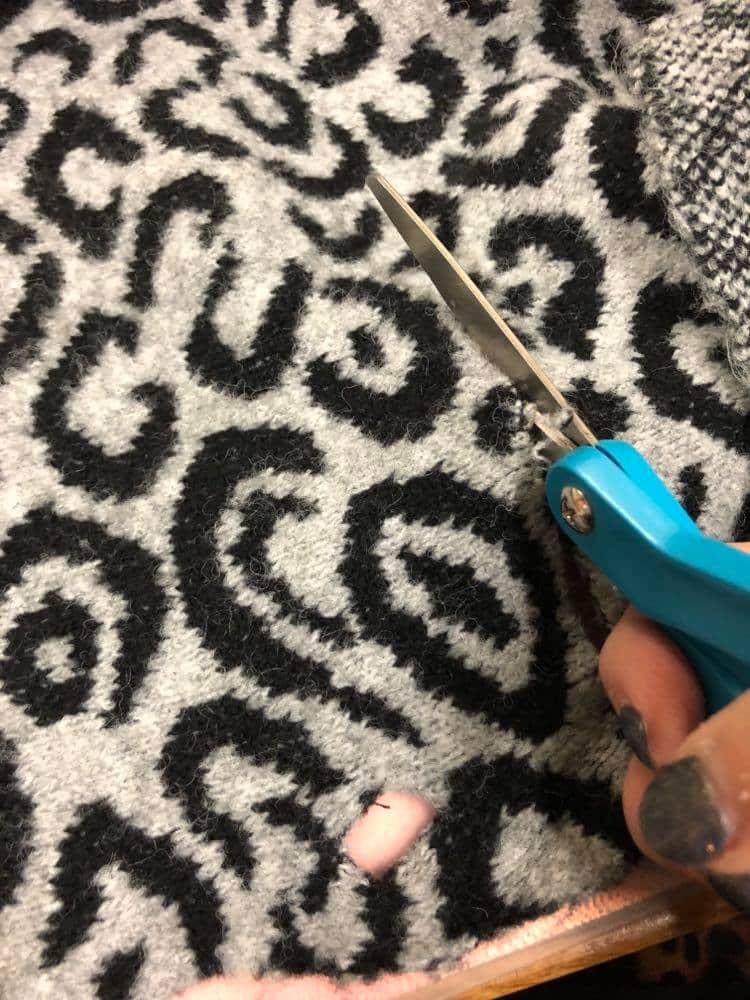 I decided not to hem the top edge as I like the rougher, uneven edge.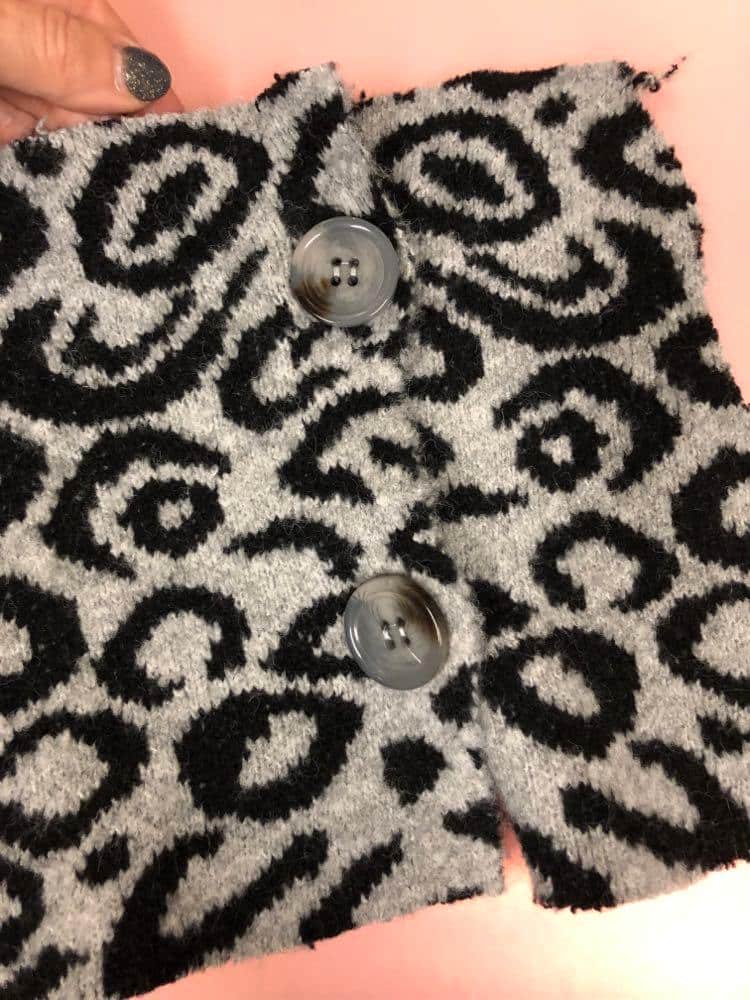 Next, I wrapped the fabric around the candle, and hand sewed a quick whip stitch to connect the edges on the backside.
Last, I gathered the corners of fabric on the bottom of the candle into bunches and ran some stitches through.
Nothing fancy!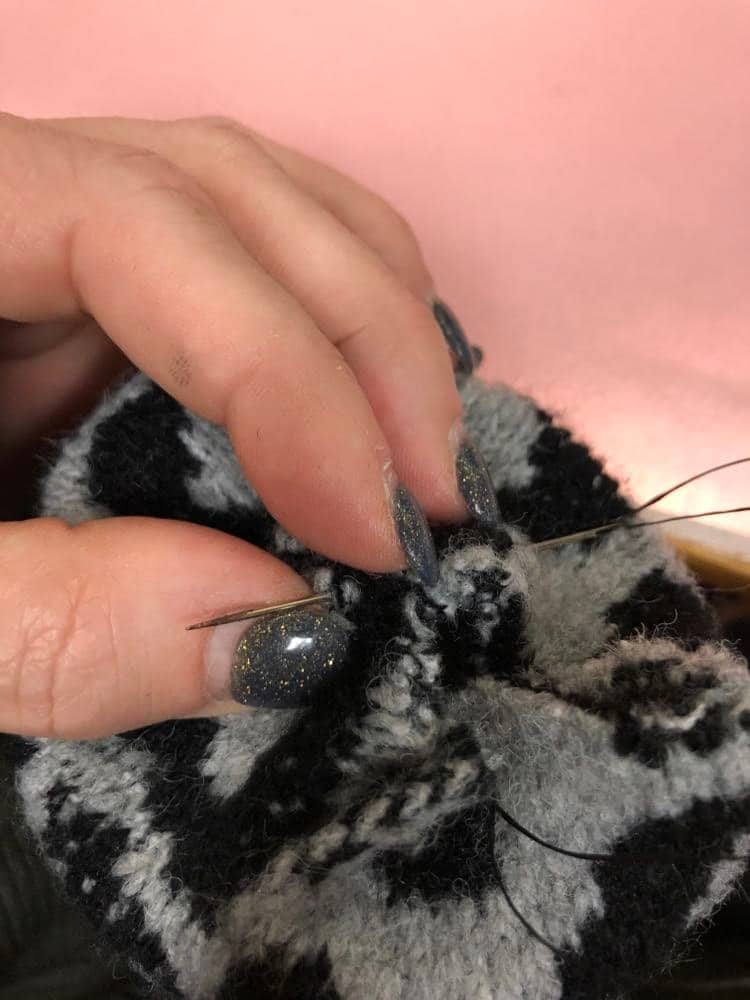 I love how this faux candle from Lights.com looks with its animal print sweater!
This candle is from their Infinity Collection. Battery operated with a timer and so realistic! You can see if HERE.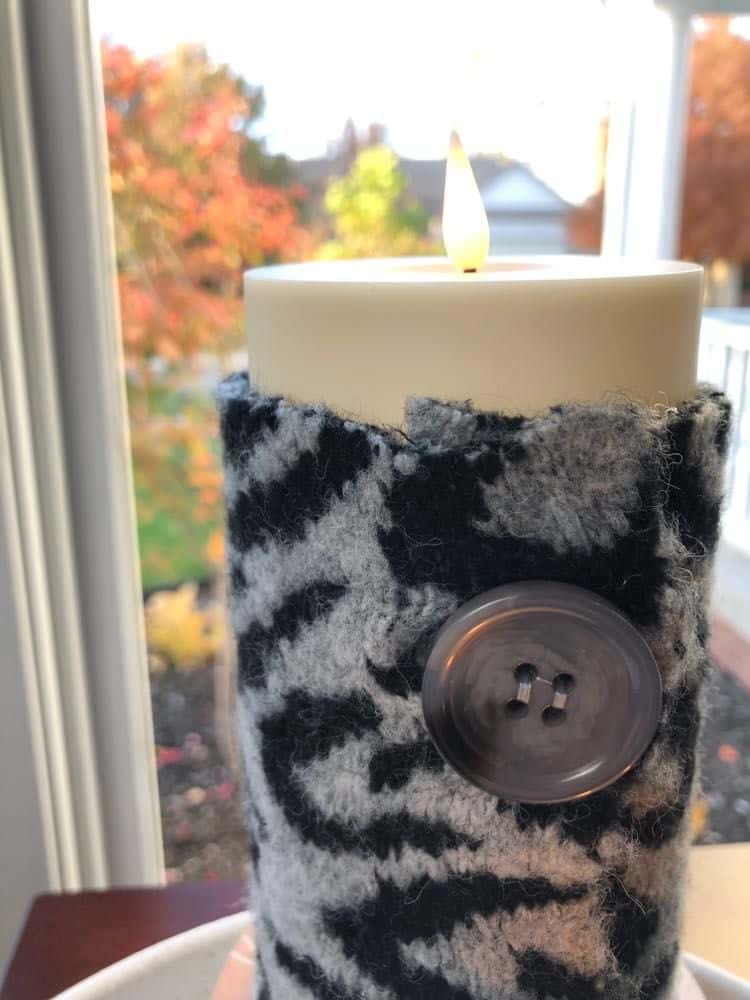 Remember the two jar candle wraps from earlier?
Look at the colors outside! The perfect backdrop for sweatered candles!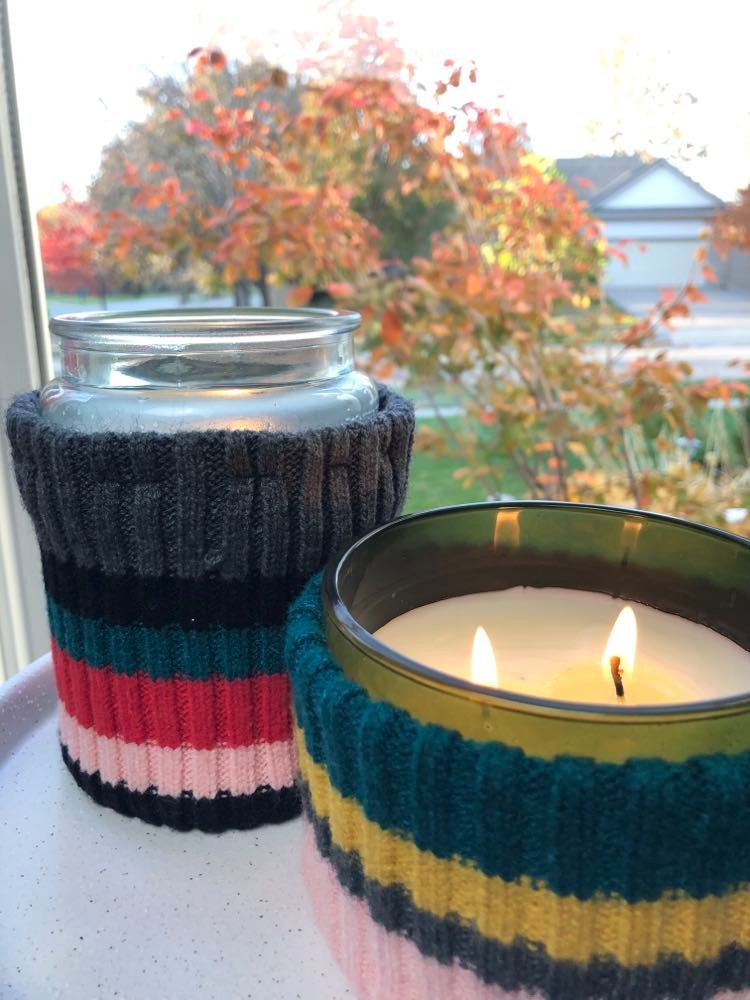 Decorate your home with candles for fall, winter, holiday…any time of year that is sweater weather!
A Reminder: Never leave your lighted candles unattended!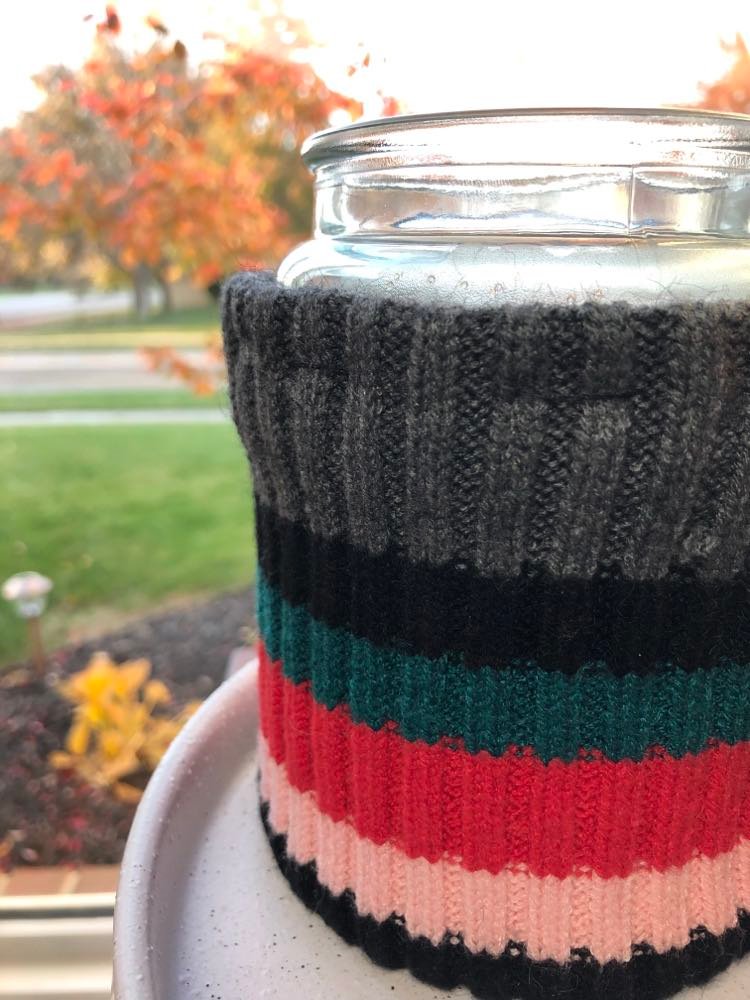 Wouldn't this make a lovely hostess gift?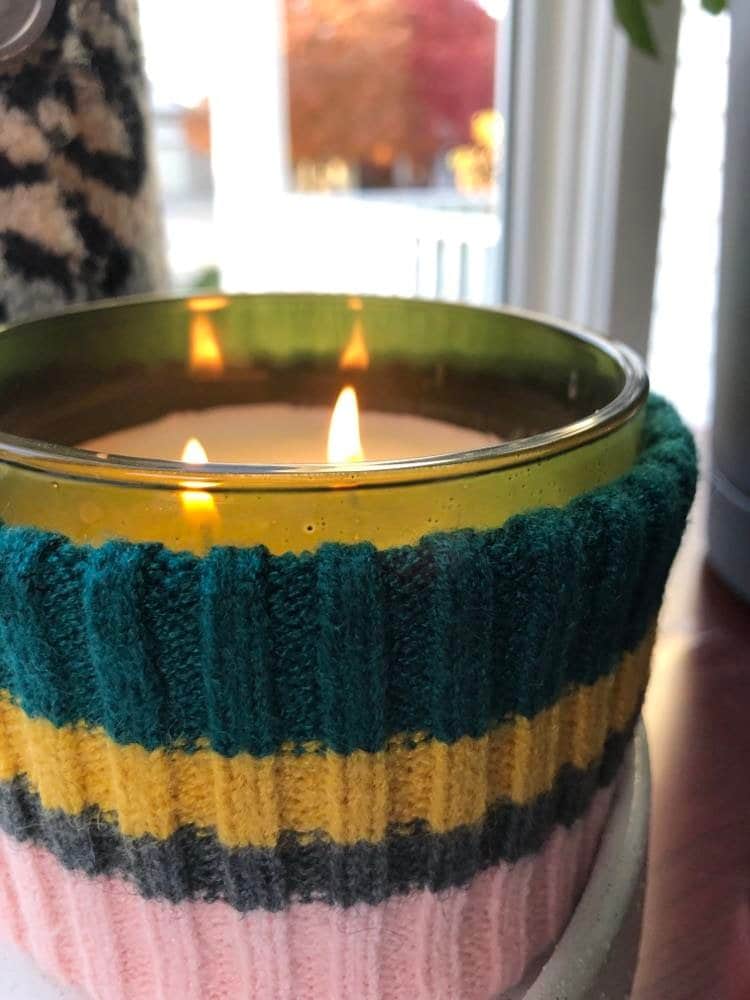 I love these so much I decided to cut up another cardigan that was threadbare and falling apart. The button was already on the sleeve of the cardigan…adorable!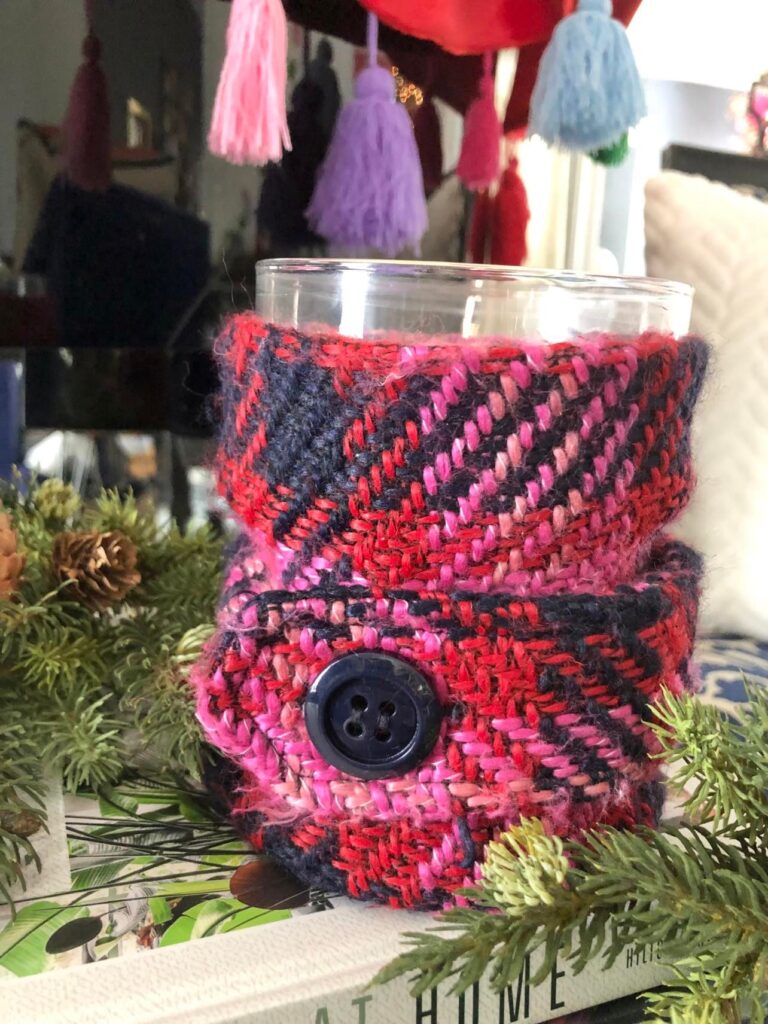 You are invited to take 20 seconds and enjoy these COZY candle flames!
Cheers!

Looking for more gift ideas? Check out these Three Gift Guides!
Here are some other home decorating posts that you might like…
A Living Room Revamp that is Bright and Colorful
An Inexpensive and and Easy Wall Art Idea
How to Creatively Style Your Pillows
P.S. Need a good jar candle recommendation? Here is a great one for sweater weather gifting and decorating!
Who wouldn't love a Red Apple Wreath Candle!