Introducing Our Upside Down Christmas Tree (and How to Decorate Yours!)
Keep your Christmas holiday right side up with the addition of an upside down Christmas Tree!
This month's blog will include sharing lots of Christmas tree ideas. This week, I would love to introduce you to our upside-down Christmas tree!
Sonata Home Design is a participant in the Amazon Services LLC Associates Program, an affiliate advertising program designed to provide a means for us to earn fees by linking to Amazon.com and affiliated sites. Additional affiliates links are also included for your convenience.
It's officially the holiday season…Whoo Hoo!
Time to jump into decorating, baking, making lists, gift-giving…
I'm trying to wrap my head around everything.
You know…the LIST. So much to do!
The weekend after Thanksgiving always seems topsy turvy to me.
I am still drying wine goblets from Thanksgiving dinner all the while decorating the Christmas mantle, and checking my email box for the massive onslaught of Black Friday sales.
Everything feels upside down!
Speaking of Upside Down…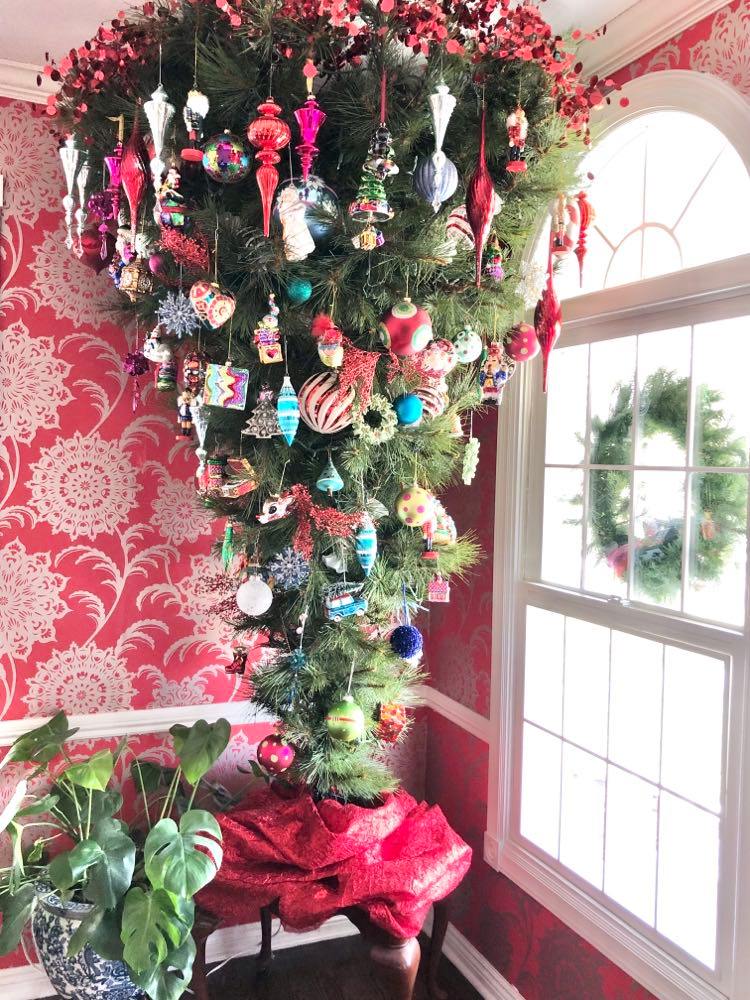 One of my favorite Christmas trees to decorate each year is our upside-down Christmas tree.
Yes! Upside down!
(Psst…this is one of several trees that I am sharing this season. Here are a couple of others that you might like to see…)
Time for a Merry and Bright Christmas Tree Reveal
Create a Twine Christmas Tree in Three Easy Steps
Unusual…yes! Quirky…yes! Conversation starter…absolutely!
But there are also some practical reasons for including an upside-down Christmas tree in your holiday decorating.
So many reasons why this might be the tree for you!
Interested in owning an upside-down Christmas tree? You can see a similar one HERE. (Note: on today's publish date, this tree is 60% off with the Black Friday sale!)
1. Upside Down Christmas Tree Footprint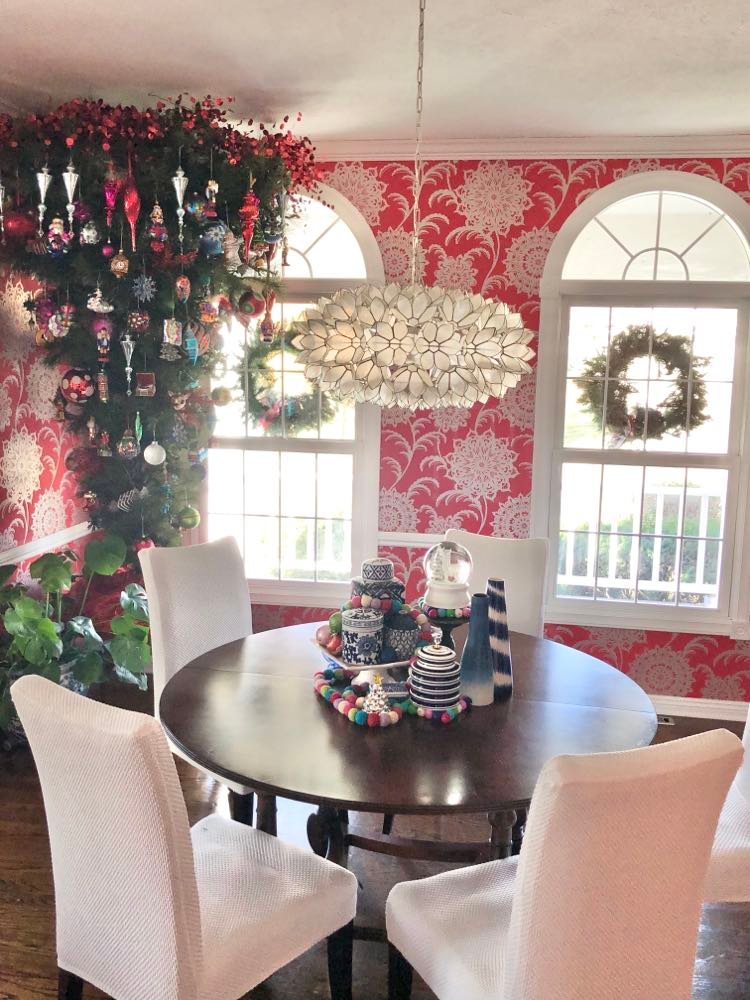 Because the tree is narrow at the bottom and broad at the top, this tree has a very small "footprint" and takes up very little real estate on your floor.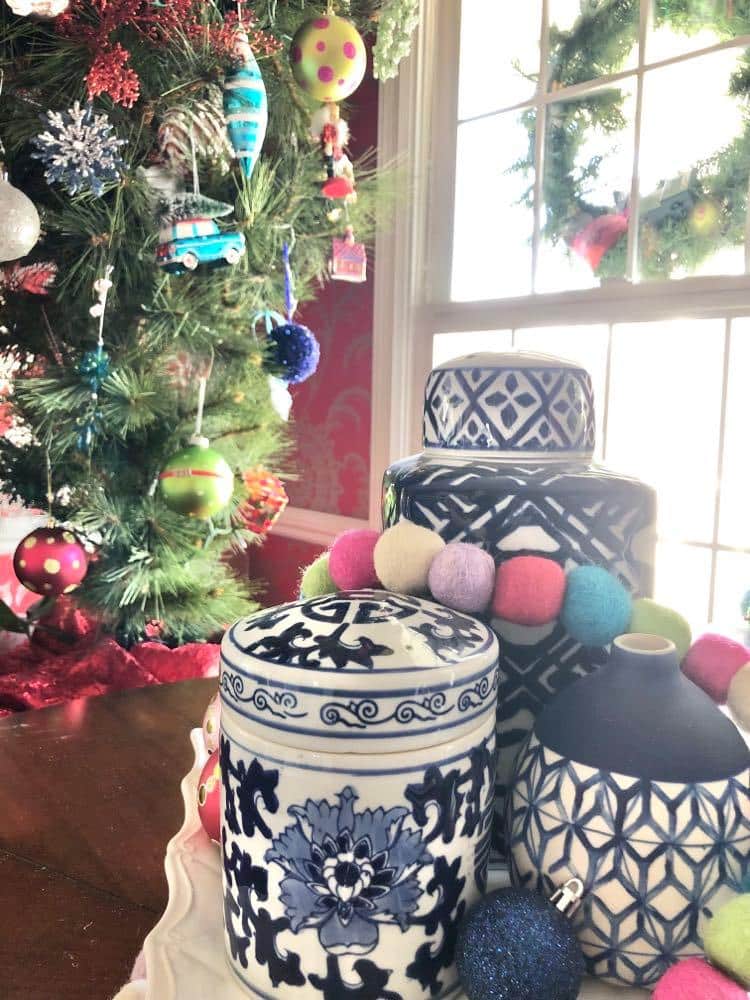 This is perfect for those living in an apartment, a smaller home, or just have a smaller room that is begging for a tree.
Our dining room is not large… about 12′ x 13′. With the tree tucked in the corner, we still have full use of the room and all of our dining room furniture.
2. Showcase the Ornaments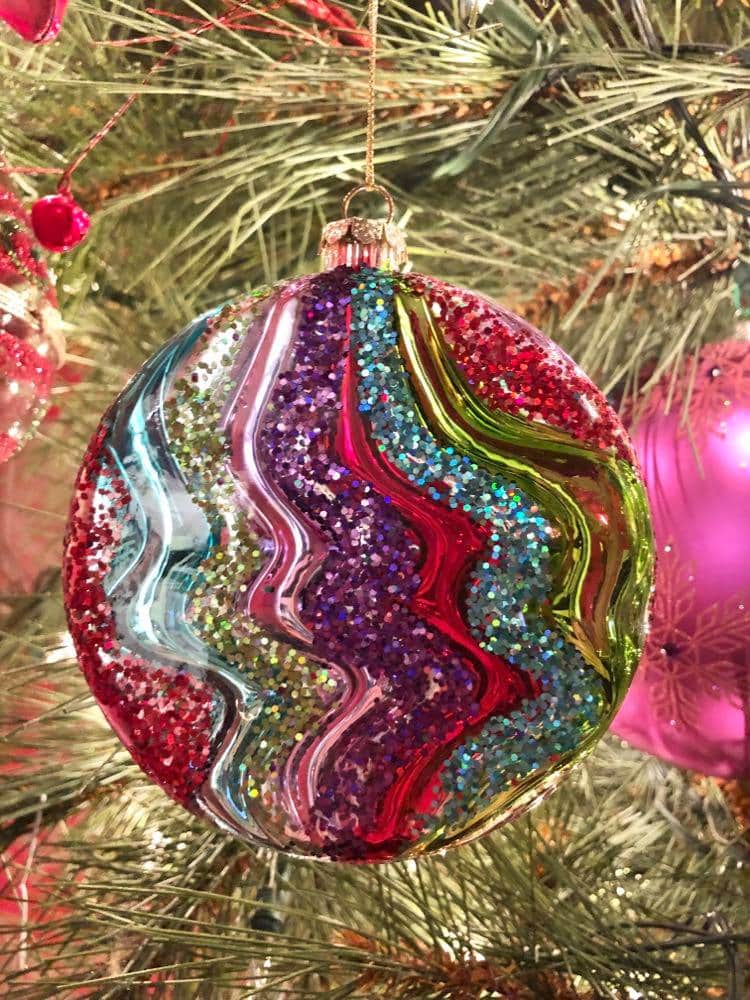 With the branches getting broader as you look up, any ornament that you hang is truly showcased. You can see the ENTIRE ornament! The tree looks like it is "dripping" ornaments!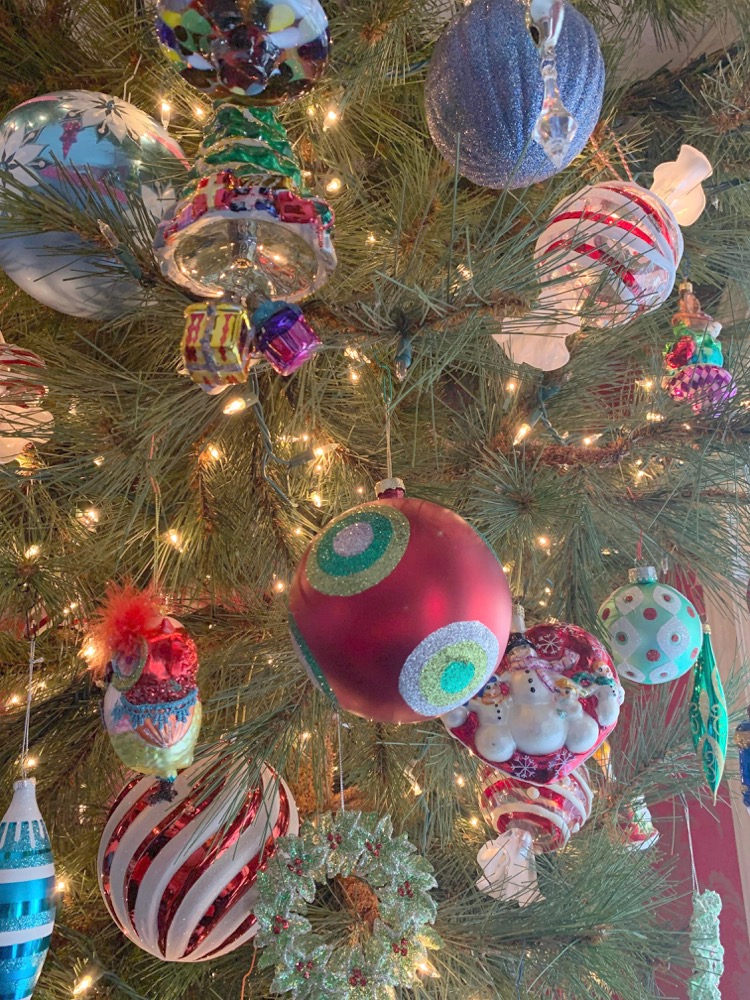 This makes layering the tree with ornaments so much fun because you have a clear visual of each piece.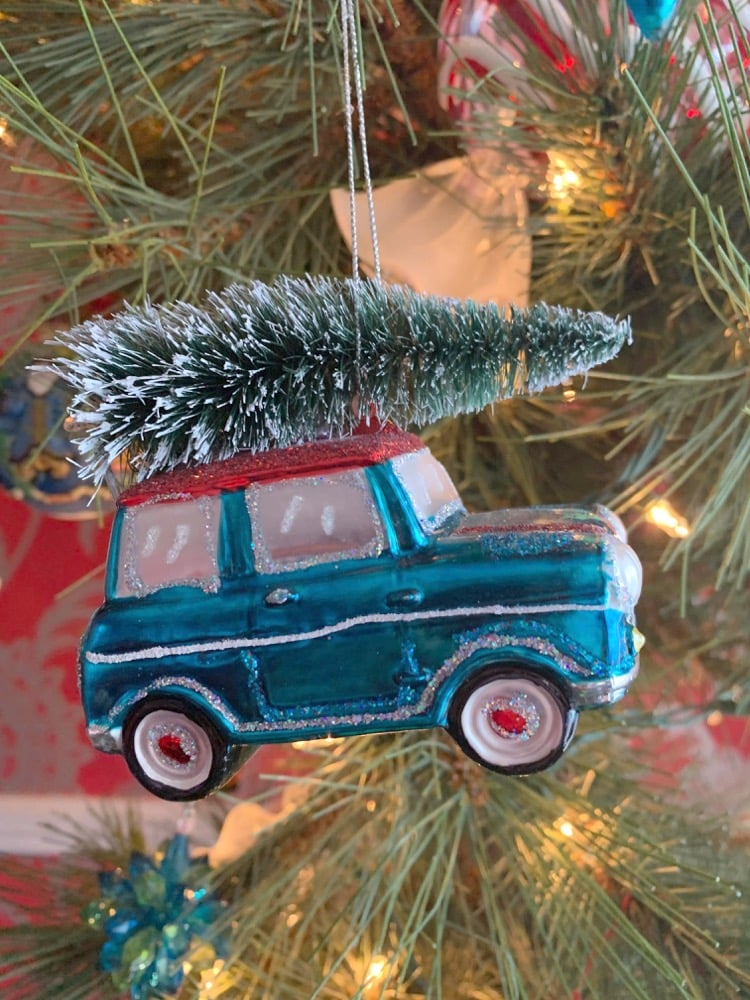 My favorite types of ornaments to showcase are longer, vertical ornaments as well as those ornaments with lots of detail.
Sometimes, I catch myself staring at the tree up close and noticing ornament details that I have never noticed before!
3. Pet Friendly!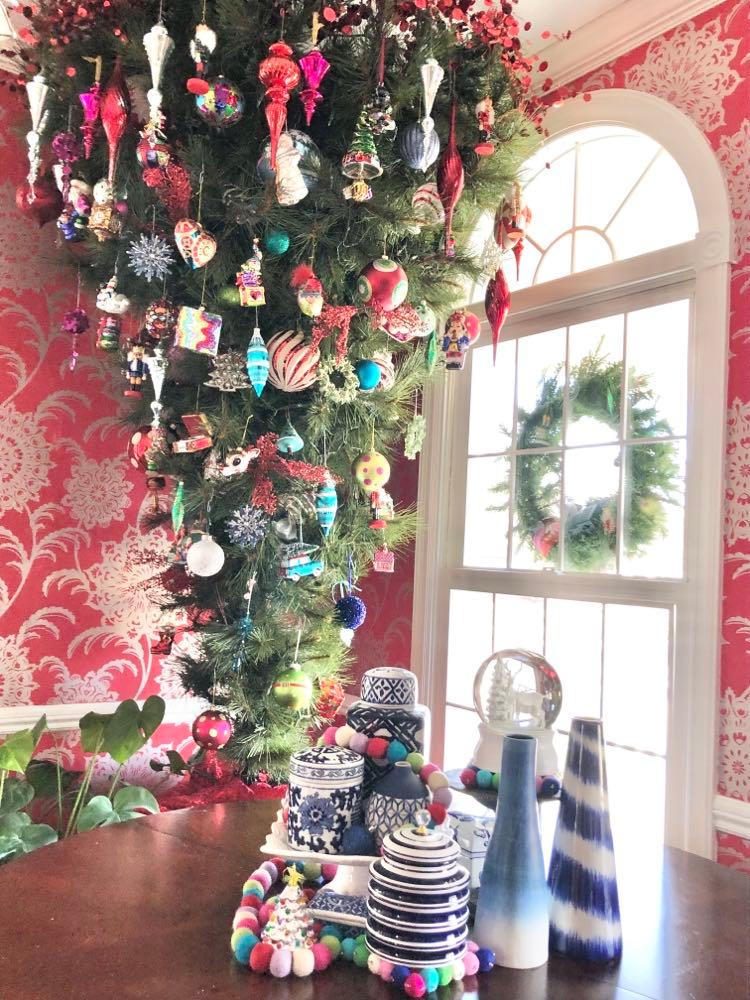 As the proud owner of a curious cat and a large, rambunctious Sheep-a-doodle dog, I can attest that this is the BEST tree for pet owners!
All those bright, shiny, dangling temptations are up off the ground and just too far to be of interest for investigating pets.
Tip: Set up your Christmas tree and let it sit for a day or two before decorating it. Your pet will get used to the "elephant in the room" and will not be as curious when all the ornaments appear.
4. Conversation Starter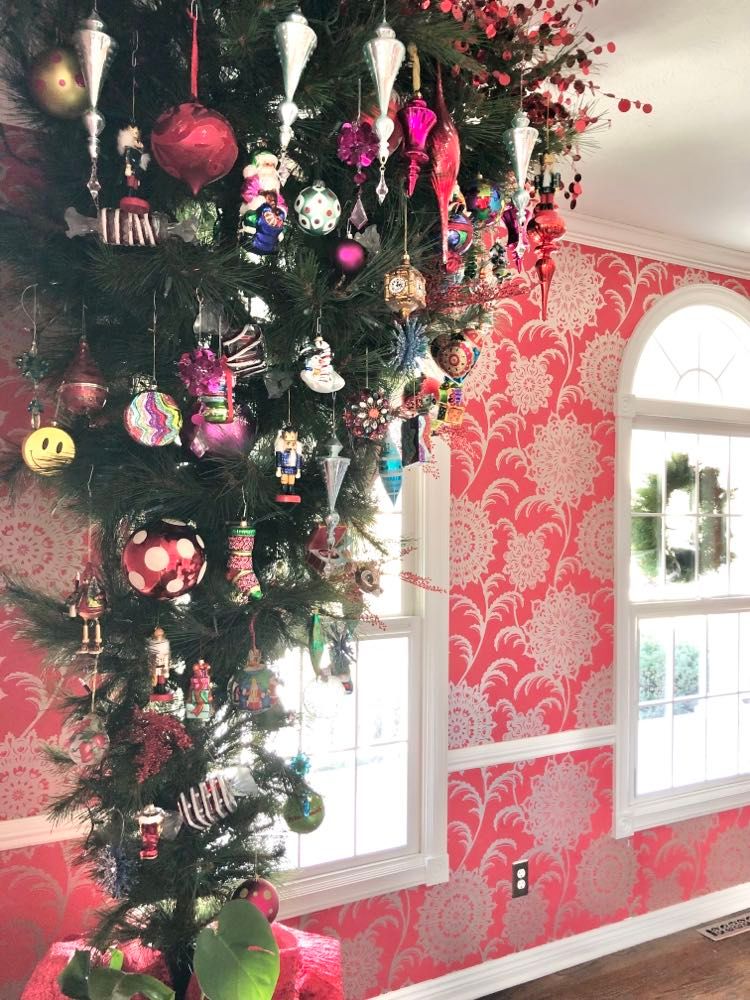 Actually, this is a very traditional tree!
It just happens to be upside down…and people LOVE to talk about it!
"Oh my goodness! Is that a tree?"
"How did you hang it from the ceiling?"
"I love these ornaments!"
"It looks so pretty from the street!"
Fun fact: The upside-down Christmas tree actually has historical roots in the Middle Ages when people would flip their tree upside down to represent the Trinity.
(If you would like to learn more about the history of this tree, here is a really good article.)
This is at least 10 minutes of fun, holiday conversation!
Upside Down Christmas Tree Tips
There are a few tips for setting up and decorating an upside-down Christmas tree.
Set the tree on a sturdy table with enough height. This way, the top of the tree will skim the ceiling and look like you perform tree engineering magic!
Anchor the tree stand points by attaching some sticky tape to the table. This will prevent the tree from moving and sliding on the table.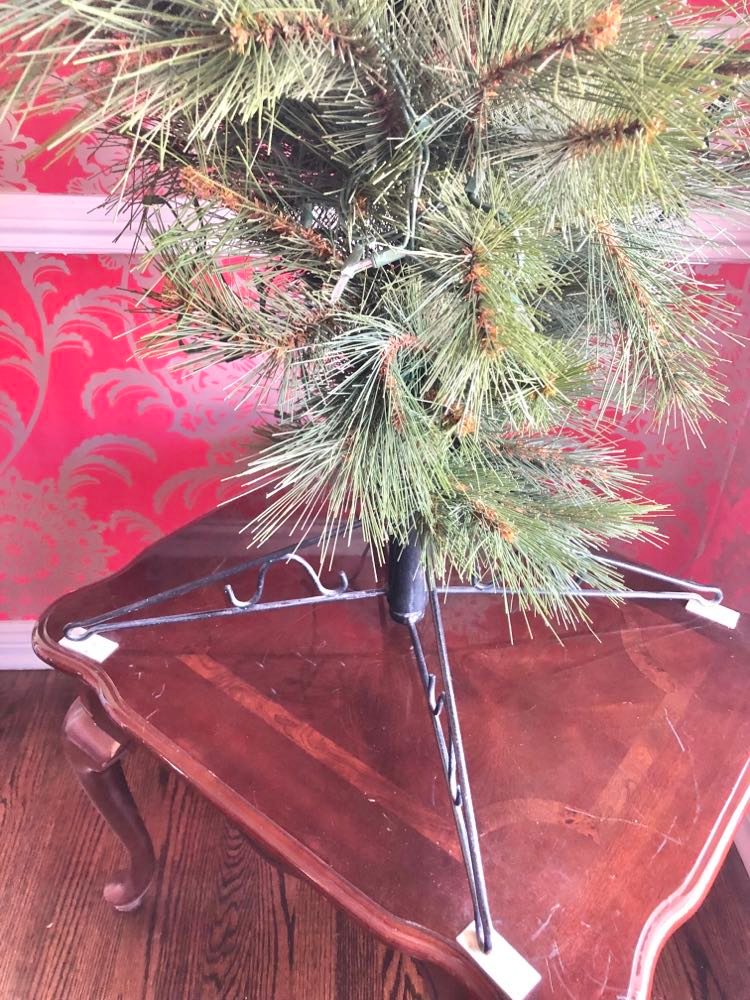 Fluff the tree as usual and add lights is needed. (Our 10 year old tree was originally pre-lit and the lights have shorted out long ago. Now, I string the lights on the tree every year. Even though lighting the tree is a pain, it is so worth it!)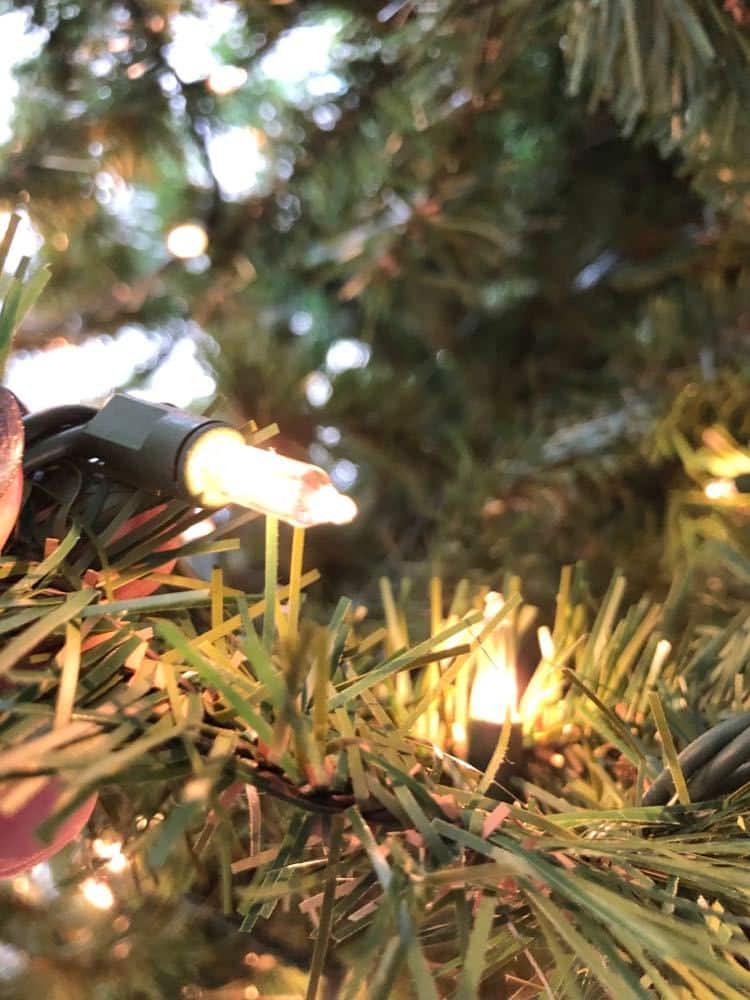 Pay special attention to which direction you hang the ornaments. Make sure "faces" are going the right direction!
Add texture with picks and sprays.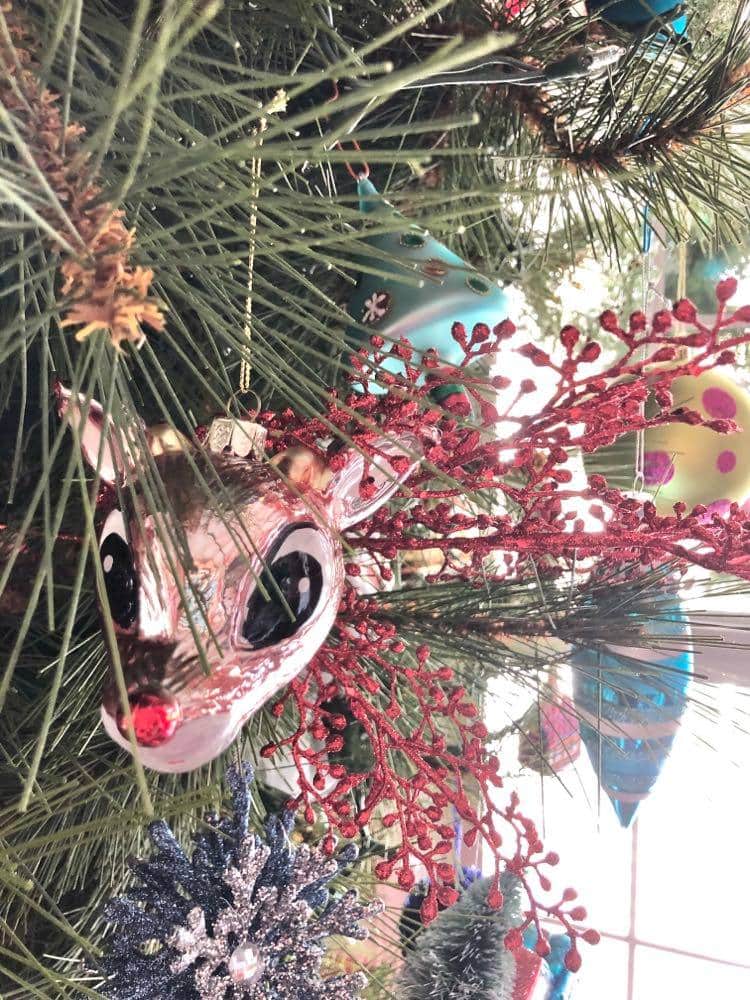 Wrap the base with a tree skirt or fabric draping to hide the stand. Then, start to decorate the room with other holiday decorations!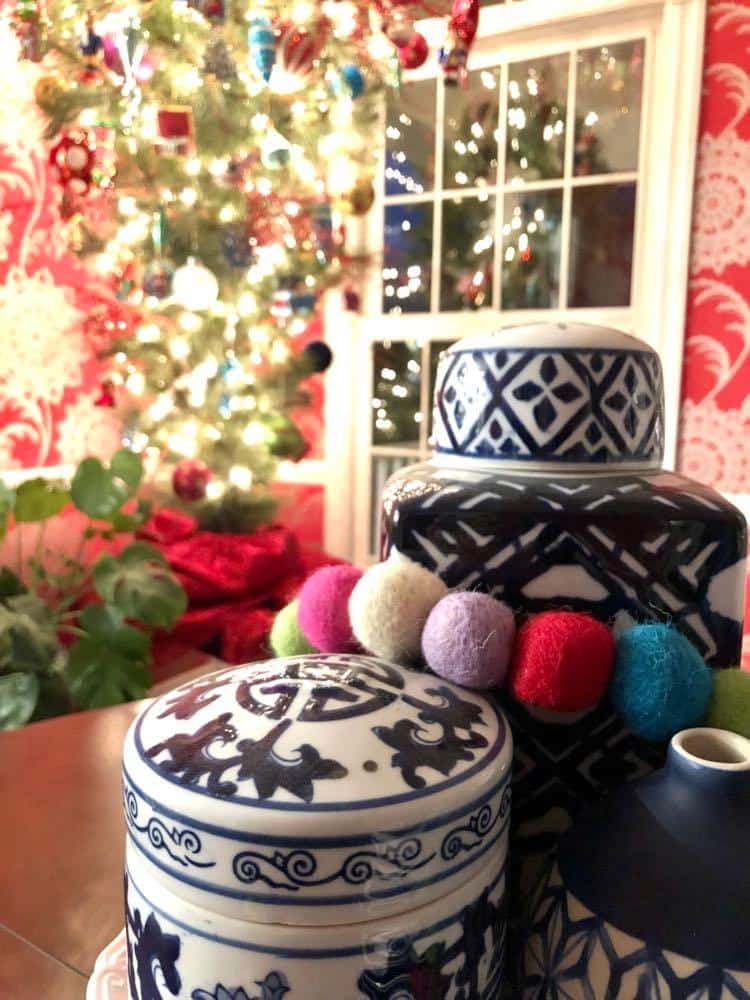 All is Calm, All is Bright
Once you get your upside down tree up and decorated, there is one more thing you must do…
Sit down…and look.
That's right. No tv, no computer, no phone…
Just you and the twinkle of the lights and ornaments.
You will find that your gaze goes upward, your breathing slows, and a sense of calm sets in.
All is calm. All is bright!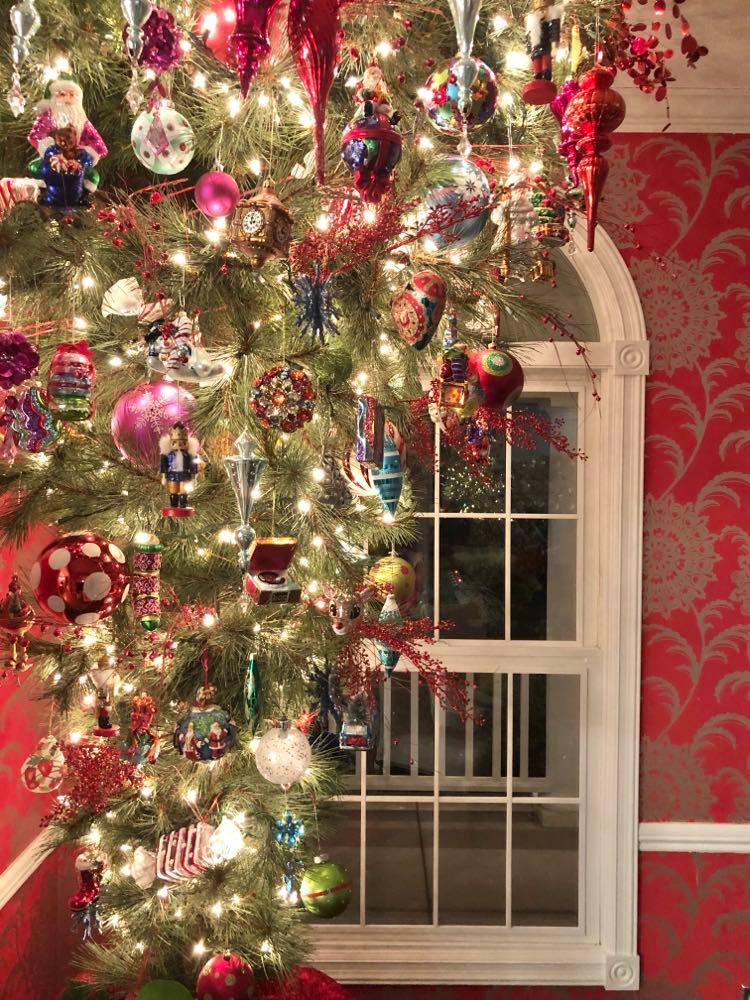 Cheers!

Looking for some gift ideas to wrap and put under this tree? Check out some of these amazing gift ideas!
Three "Super Power" Gift Guides
Add to the Calm of your Holiday Home with this tutorial on creating "Sweater Weather Candle Sleeves!"