How to Wear Classic Patterns
Confused about how to wear classic patterns without looking boring?
Why, pattern makes the world go around!
Think about it…there is pattern everywhere. In nature, fine arts, architecture, media, and on and on.
So, pattern in fashion is a given. In fact, I would argue that it is a driving force in trends that affect all facets of life.
I love wearing pattern but, I don't want to look like a clown with a mish-mash of patterns that don't fit the classic yet unique style that I like.
Sonata Home Design is a participant in the Amazon Services LLC Associates Program, an affiliate advertising program designed to provide a means for us to earn fees by linking to Amazon.com and affiliated sites. Additional affiliates links are also included for your convenience.
General Tips For When You Wear Classic Patterns
Here are just a few general tips for keeping classic patterns…well, classic!
Pair your patterned piece with a non-patterned piece. (i.e. patterned top with solid bottom)
Choose your coordinating pieces by pulling one of the colors from the pattern.
Be bold and choose non-traditional color combinations.
Layer with a classic white blouse
If combining patterns, consider layering large scale pattern with small scale pattern in the same color story.
Here are some of my favorite classic patterns and some tips for styling them:
Plaid
We might as well start with my favorite!
I LOVE plaid!
In fact, I do believe that, in another life, I was the lady of a grand Scottish castle! (Either that, or I have watched too many seasons of "Outlander!")
Often, the first color associated with plaid is red. I love a red plaid but also like to mix it up with other plaid color combos.
Since blue is my favorite color, this plaid was a given. While the plaid pattern is big and bold, the navy blue color grounds the spacious plaid.
Layering with a white blouse is always a win. Since I try to avoid bulky layering, I love the fact that this sweater comes with the white blouse built into it! Don't you love a twofer!
Classic chinos are casual yet tailored and crisp. However, I could just as easily wear this plaid sweater with my favorite pair of boyfriend jeans.
Our dog, Bentley, approves! At least, enough to sit still for 10 seconds and "shake" my hand!
Houndstooth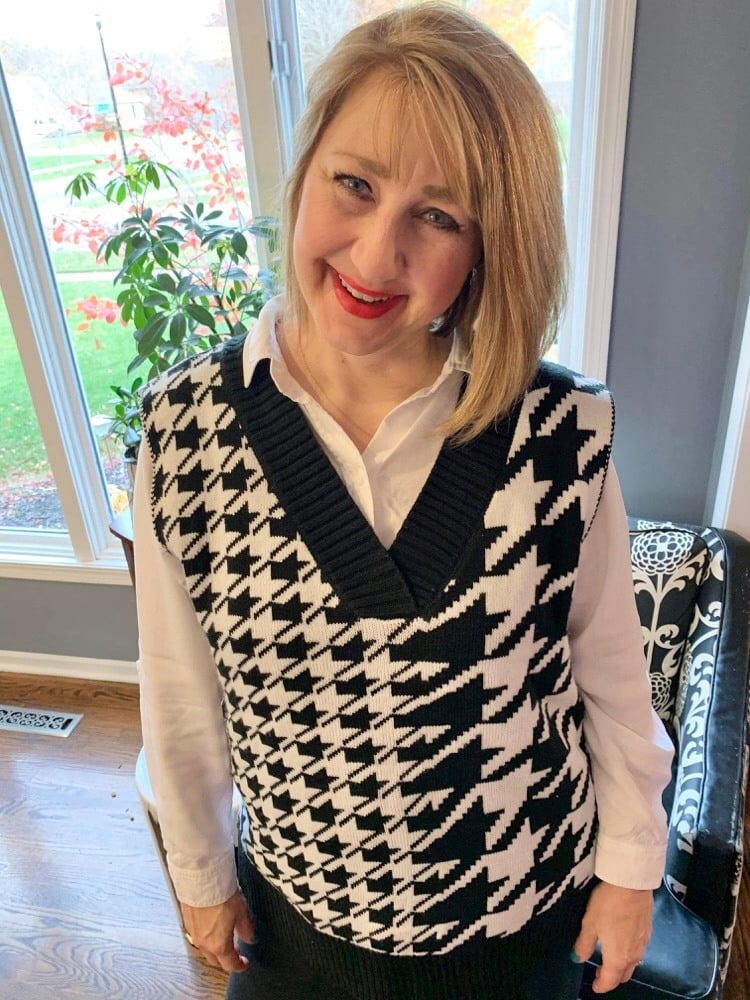 This classic menswear-inspired pattern is graphic, bold, and easily translated into a wardrobe.
I love coming across a classic pattern that is designed in a different way. This vest is a traditional shape yet looks updated with the large versus small pattern design.
Got a pair of black pants? You are set with this easy peasy pairing!
Combining a busy pattern with a solid piece is a great way to keep the pattern from overwhelming the outfit. You want to wear the pattern…not let the pattern wear you!
Because the houndstooth pattern in this vest is busy, I chose to wear wide-leg black knit pants that I am so comfortable I could nap in them! You can see the pants HERE.
Stripes
Who doesn't love stripes!
Whether winter, spring, summer, or fall, there is always room for stripes in your wardrobe!
Some might say to avoid wide stripes…I say "Go for it!" Just keep in mind the proportion for your height. The taller you are, the large the print you can wear. If you are petite, consider a small-scale stripe.
The colors of your stripes are also a consideration. I love a stripe pattern that includes three colors. Classic with just enough color variation.
Stripes are often seen in t-shirts and crewneck sweaters. This poncho turtleneck sweater is comfortable yet stylish and unique with its wide stripes.
Believe it or not, the solid-colored sleeves shake things up a bit by breaking up the stripe pattern.
Toile
What exactly is toile?
Originally invented in Ireland but adopted by the French and the Brits, toile is a pattern with a detailed pastoral scene, images of nature, and/or flowers.
While the toile pattern was the first thing I noticed about this blouse, the smocked turtleneck and flutter sleeves are romantically tailored and oh so interesting in its detail.
Oh, and did you notice that my basic black pants are showing up again? The workhorse of the wardrobe!
Plaid plus solid equals classic pattern success!
Some navy ankle boots tie the whole outfit together. You can see a similar ankle boot HERE.
Yes, Nature is Another Way to Wear Classic Patterns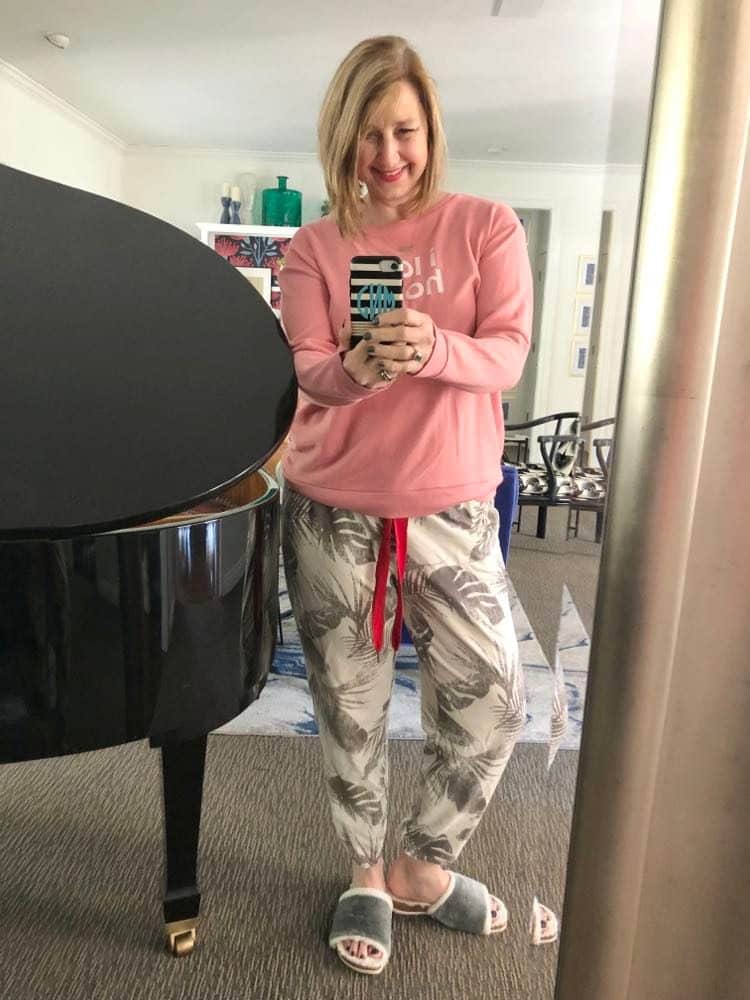 The classic pattern is not just for the upper half!
With nature as my inspiration, I combined these palm print jogger pants with a graphic sweatshirt and slipper slides.
Whereas, before, I wore solid pants with the patterned top, I did the opposite with this outfit…solid top with the patterned pants.
Quirky, yet still classic!
No Fear When You Wear Classic Patterns!
So, no fear, my friend! You can wear a classic pattern that is timeless, unique, and interesting…never boring!
Cheers!

P.S. You might have noticed how I love a white blouse.
In this post, I share How to Wear One White Blouse 5 Different Ways!