Decorating A Colorful Merry and Bright Christmas Tree
Is there anything as festive as a colorful Christmas tree? From the moment you put it up to the last ornament on New Year's Day, there's just something about that tree that makes the holiday spirit come alive.
This year, why not try something different with your tree and go for a bright and colorful look? Here are some tips to help you get started.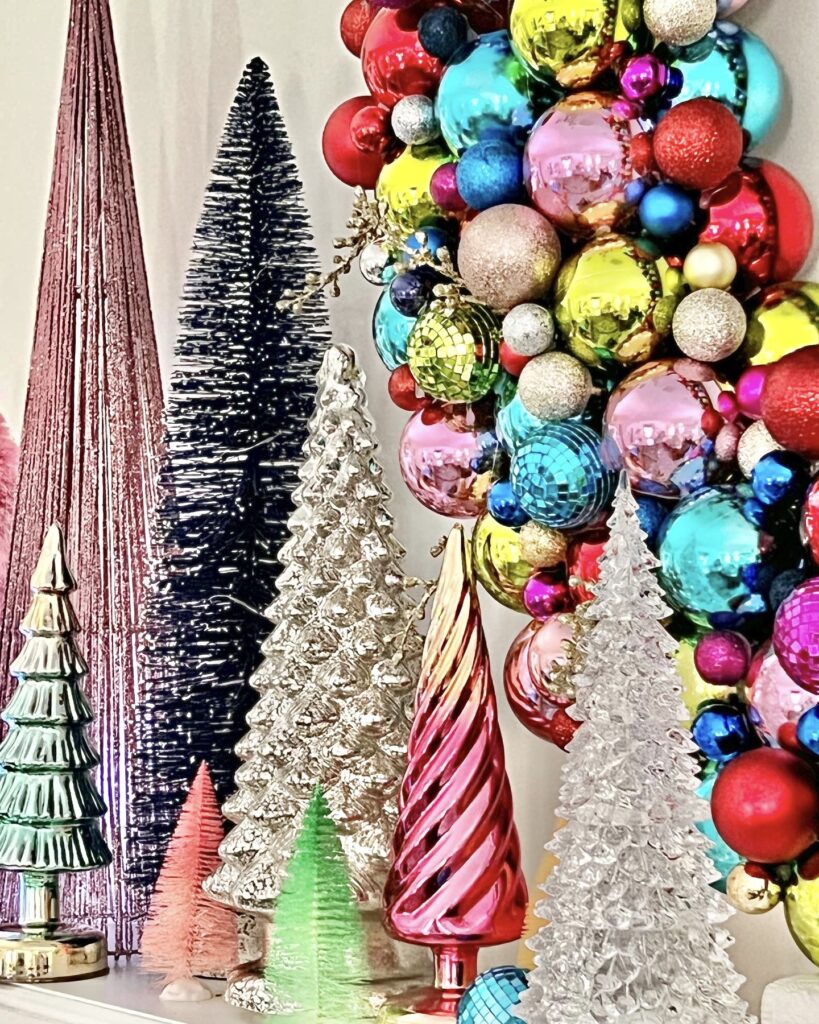 Deck the Halls with boughs of holly!
Fa la la la la, la la la la!
(Did I get the right number of "Fa la las in there!")
Tis the season to be jolly!
Fa la la la la, la la la la!
I am so excited to share this merry and bright Christmas tree!
With the chosen theme of "Merry and Bright", selecting Christmas decor has been truly joyful and fun!
And, actually, I think we all can use some "Merry and Bright" these days, don't you think?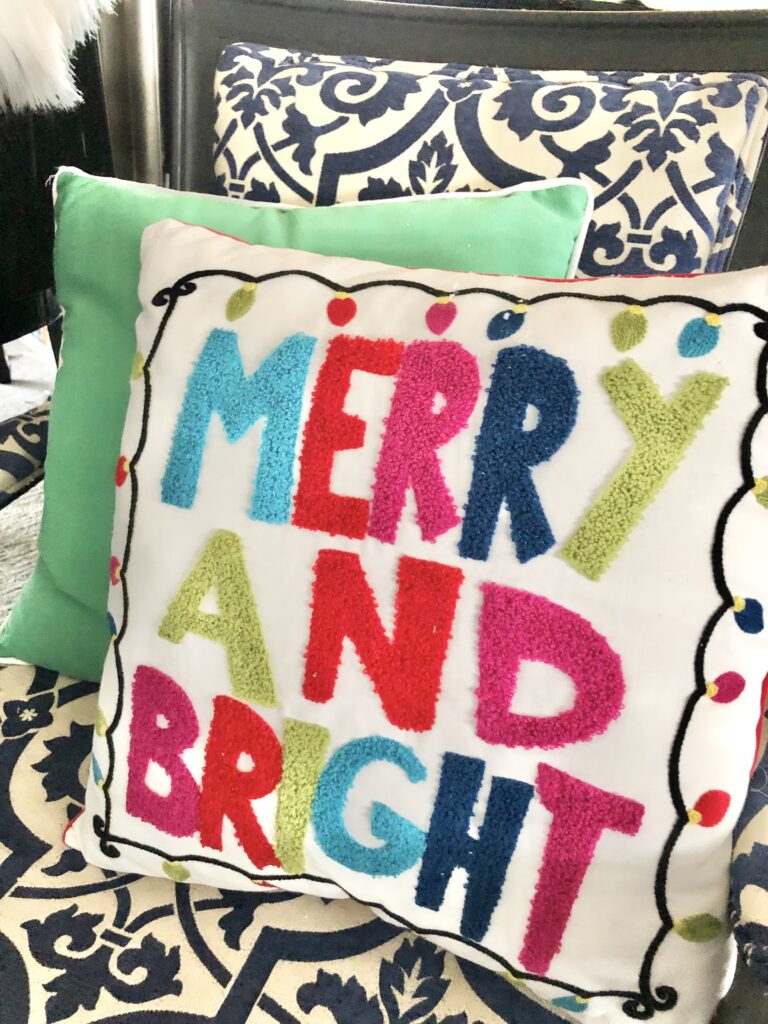 But WHERE???
My Merry and Bright Christmas Tree vision has an issue…
Where to put this themed tree?
After years of collecting various Christmas trees and decorations, I have run out of floor space.
So, obviously, I have to think beyond the floor.
How about going vertical and putting the tree…on our PIANO?
Can we get a collective "Fa la la la la, la la la la"? YOU BET!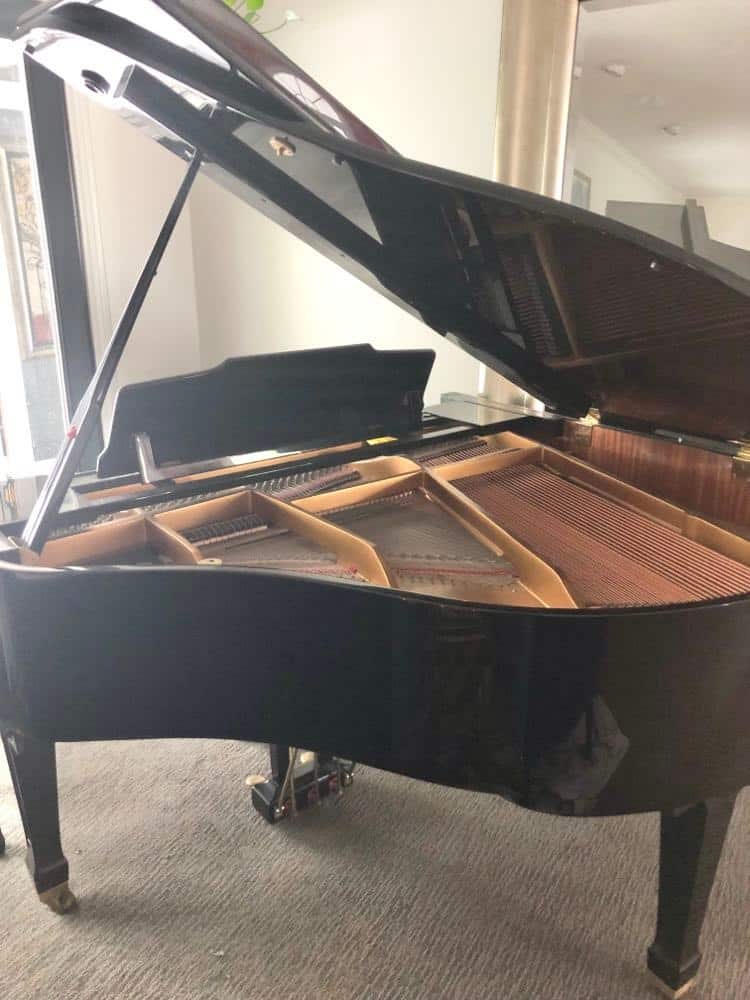 So, down comes the piano lid, and up goes the tree.
I found this darling flocked tree on QVC. It is a 5 ft. snow-tipped aspen tree with LED lights.
Now, when I told my husband I had ordered a flocked tree, he emphatically shook his head… "Say it isn't so!"
Fortunately, we were both pleasantly surprised that this adorable tree does not shed! Whoo Hoo!
Additionally, placing the tree on the piano turned a 5 ft. tree into a 9 ft. tree!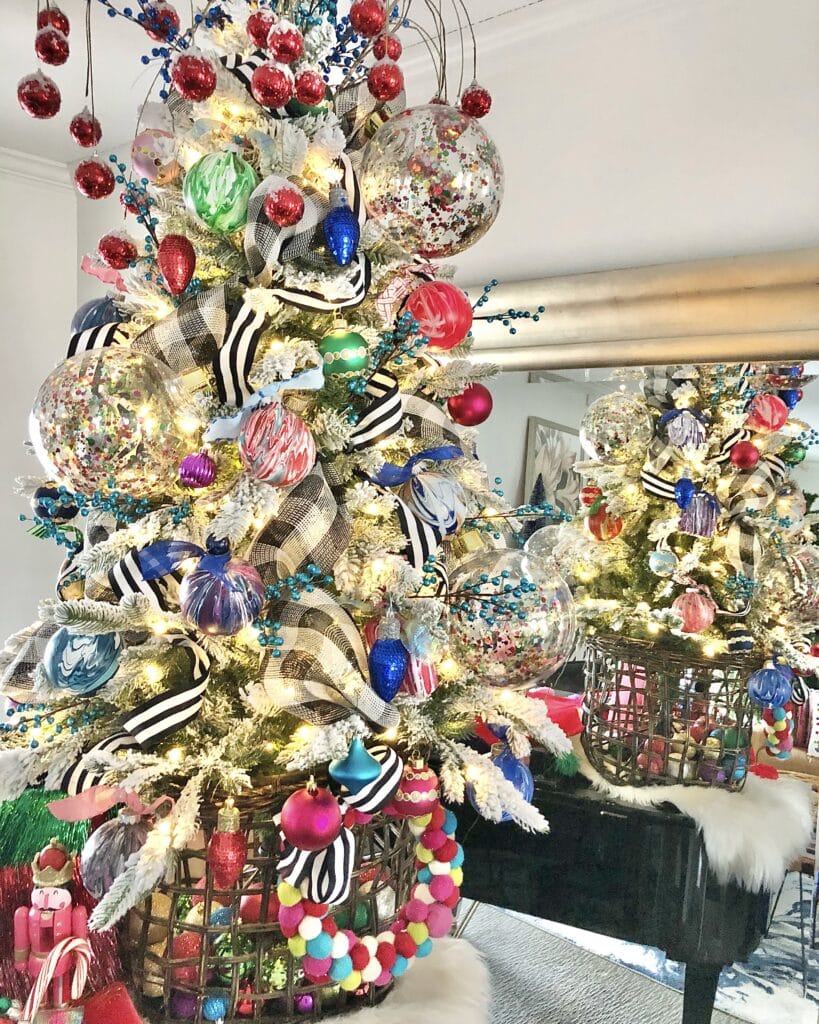 The tree found its landing in an open weave basket which I filled with brightly colored ornaments to cover the tree stand.
Just like a wreath on a door, this wool-felt ball wreath almost shouts "Welcome!"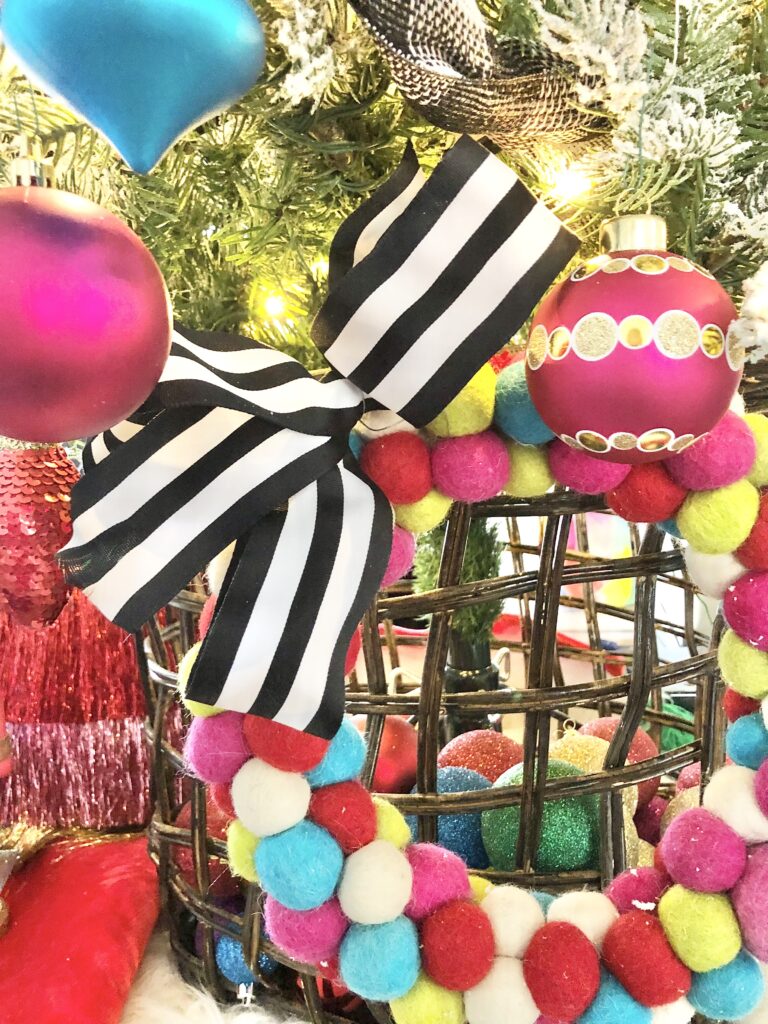 Colorful Christmas Tree Decorating Ideas
Next, I had so much fun decorating the tree with multi-colored ornaments and some clean, crisp, black and white stripe ribbon.
Tip: Use differently shaped ornaments as well as ornaments of differing scales. (Check out the JUMBO Celebration Ornament! You can see it HERE.)
With the tree on top of the piano, I took huge advantage of the large mirror that sits behind the piano.
Double the tree! Double the Merry and Bright!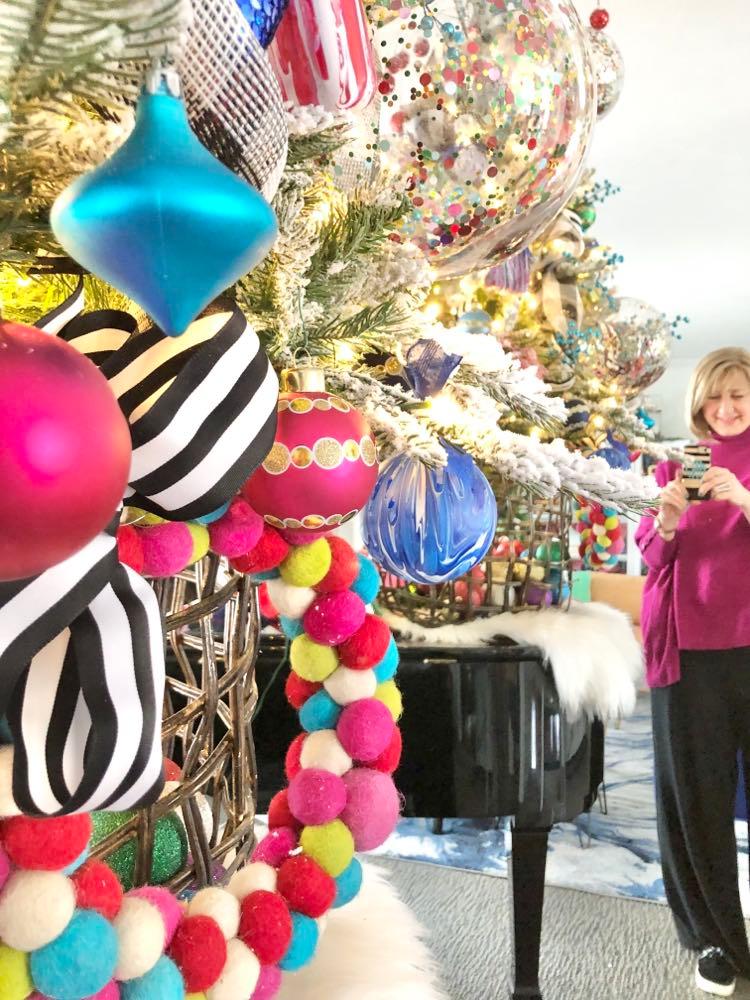 This ornament is one of a set of six in various bright colors. The gold dots really "pop" against the stunning colors!
Don't they just make you smile?


While decorating the tree, I was all by myself in the house. And, clearly, I had the best time!
Taking occasional gulps of hot chocolate and singing at the top of my lungs to my favorite Christmas tunes, I was smiling the entire time I was decorating the tree!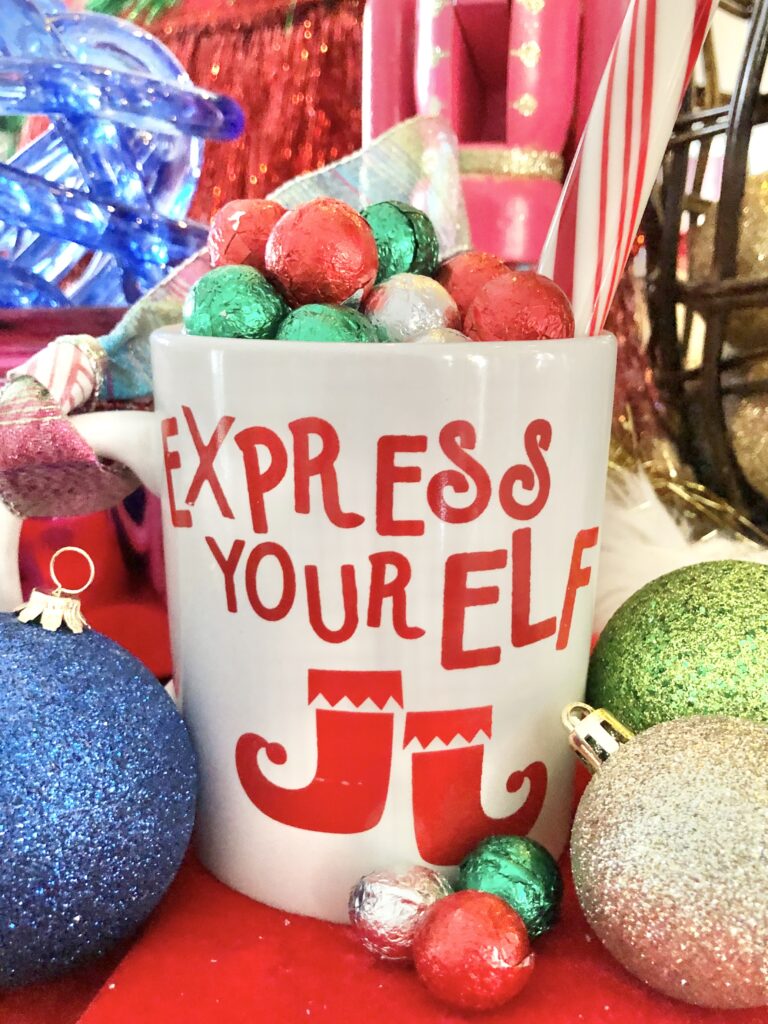 A Colorful Christmas Tree Topper
Oo La La! One of my favorite ways to top a tree is with a profusion of picks.
Tip: Find picks with different shapes and colors for the most eye-popping tree topper.
For example, this tree topper consists of red and white topsy-turvy jingle bell picks, shades of blue picks, and drooping, ice-covered red ornament ball picks. Combined, it gives this tree a headful of colorful whimsy!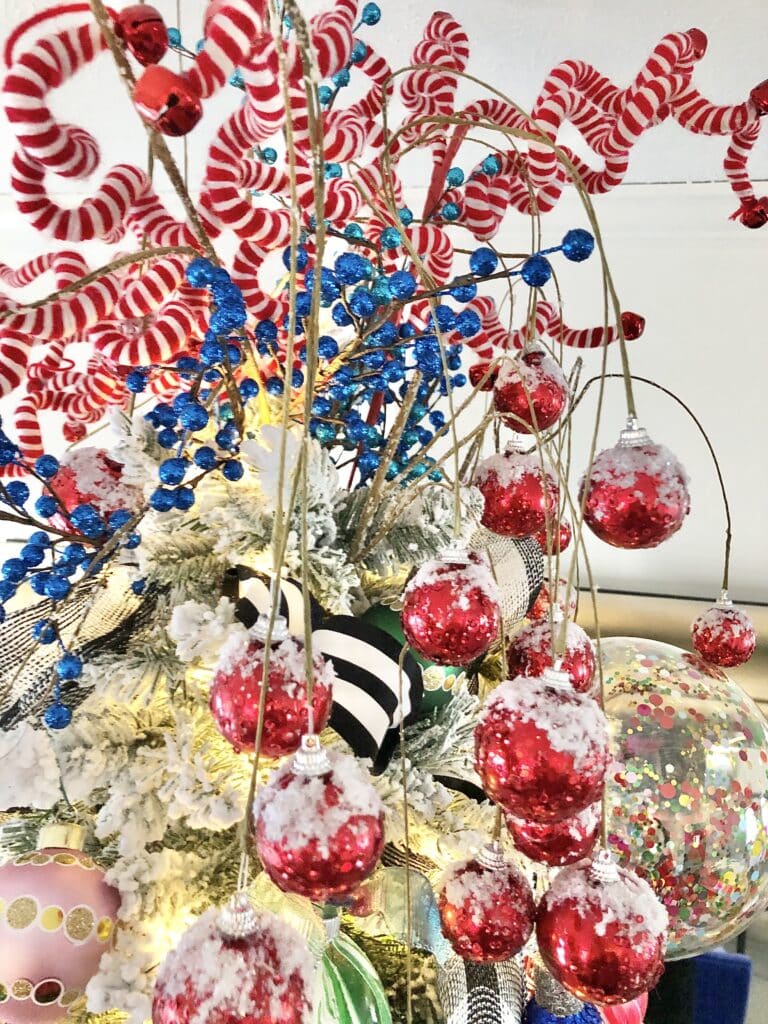 Decorating Around the Merry and Bright Christmas Tree
Take any Christmas theme a step further and consider the decor surrounding your Christmas tree.
In this photo, the tree perfectly frames this vintage velvet and felt framed wall art piece of the three wise men.
My mother made this when I was a little kid in the 70s. (You can do the math!)
Obviously, it is not difficult to figure out where I got my love of color!
Details matter! And, My mother's meticulous crafting is an inspiration and reminder to me of this fact!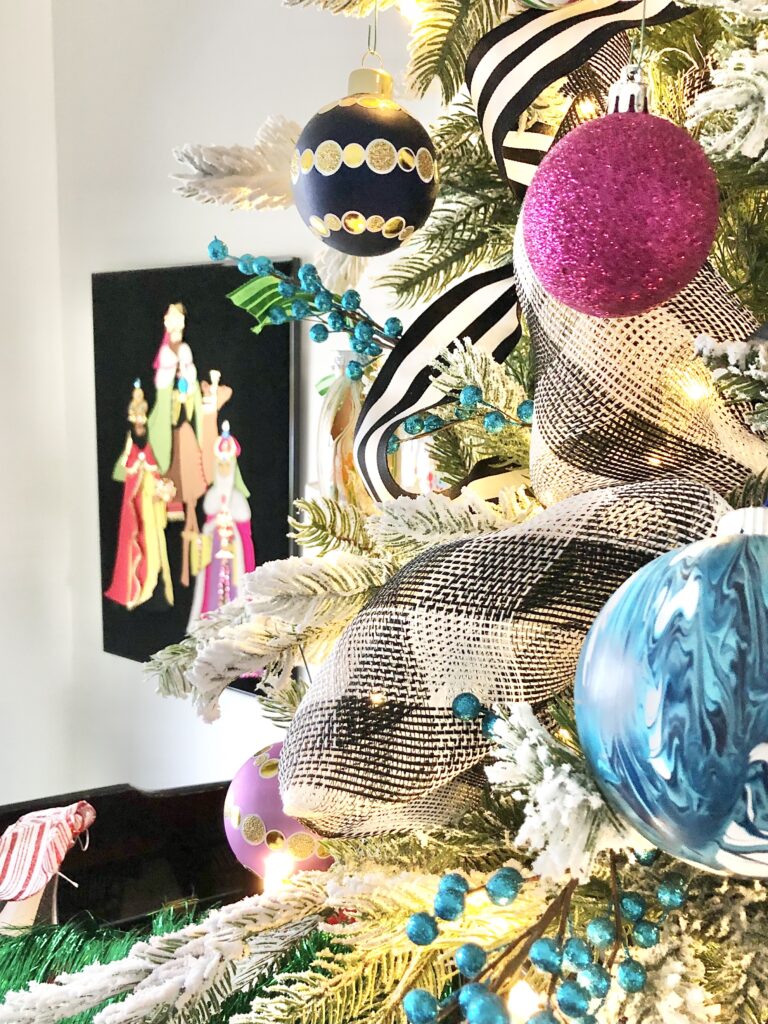 Since the tree is sitting on top of a piano, and since I am a music teacher, and since I happen to have a quirky bust of the composer Beethoven…
Well, let's get Ludvig into the picture! He may have a dour expression but his spray paint coat of cobalt blue and a jolly red Santa hat add a little humor to the scene.
I smile every time I look at his serious face!
Tip: Don't hesitate to add a little humor to your holiday decor.
Besides, doesn't every piano deserves a bust of a famous composer?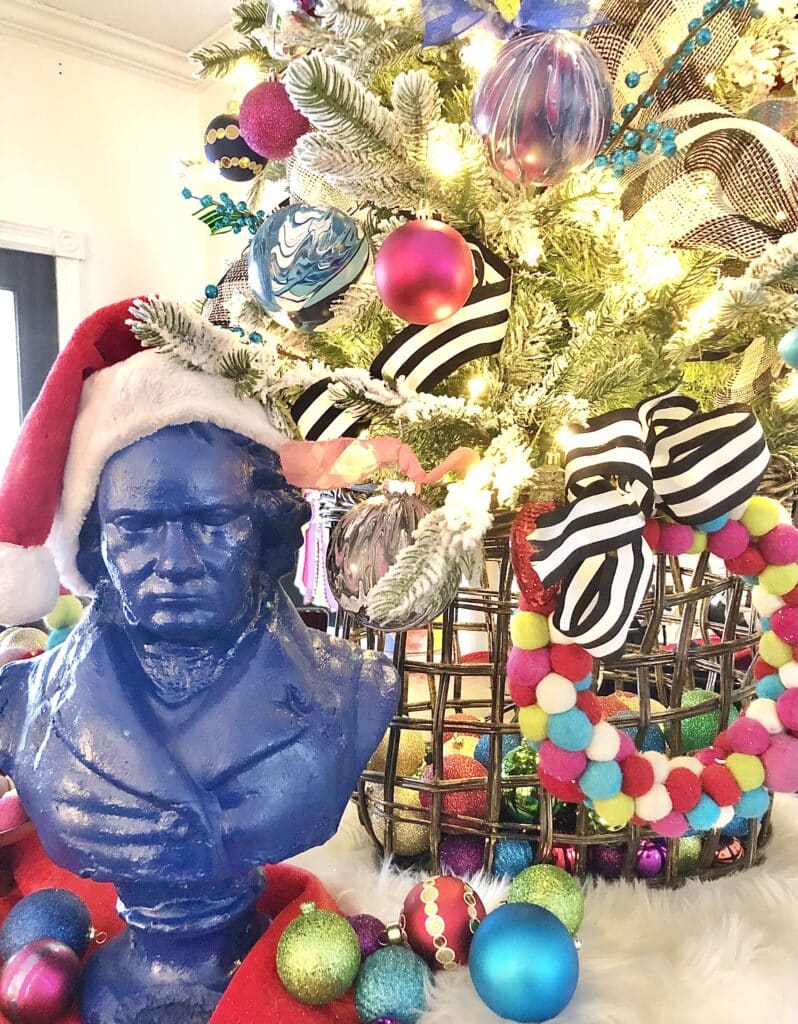 You can read about Beethoven's paint transformation HERE.
The addition of a chair and festive pillows invites anyone to take a seat and admire their reflection in the mirror.
Just in case you didn't catch the tree theme, the pillow makes sure you are aware this is a "Merry and Bright" situation!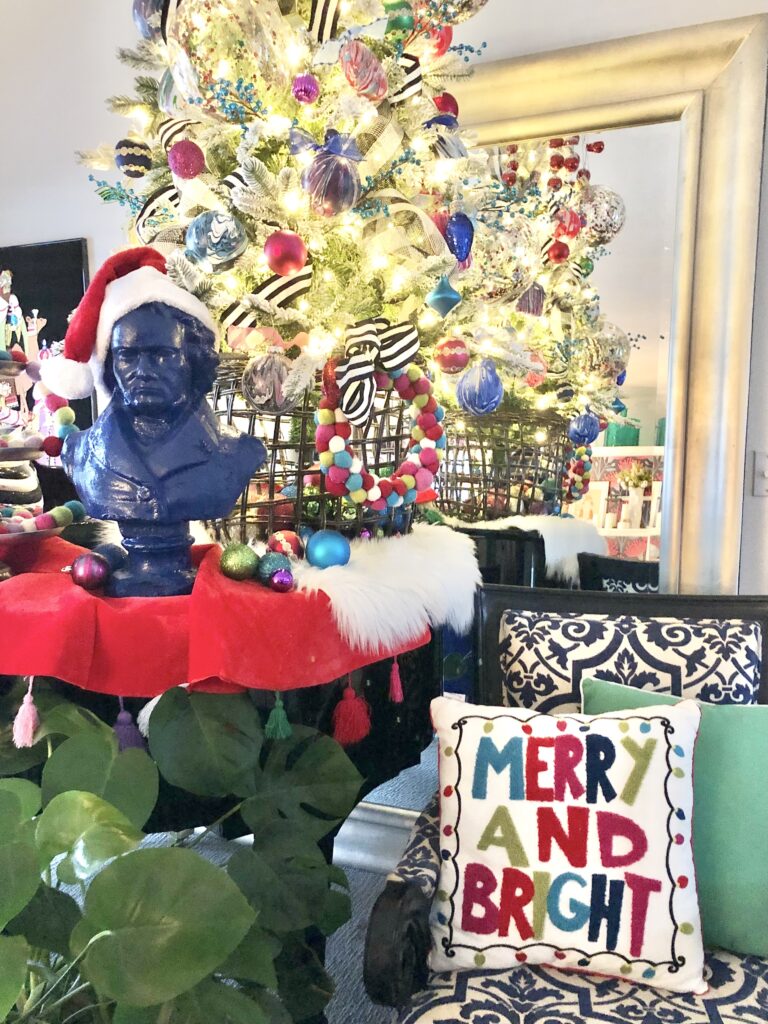 Perhaps, you are inspired to add a little "Merry and Bright" to your holiday decorating?
Regardless, I wish you a very Merry and Bright holiday season!
Cheers!

Don't Forget to Pin It!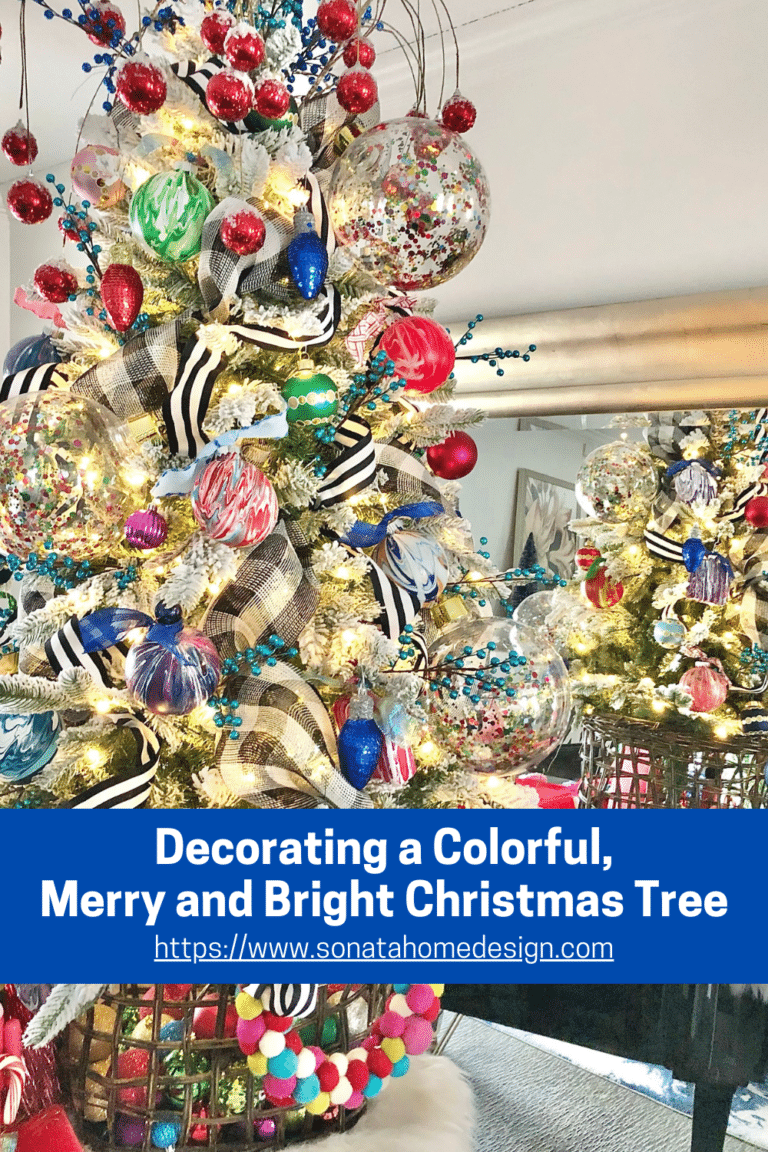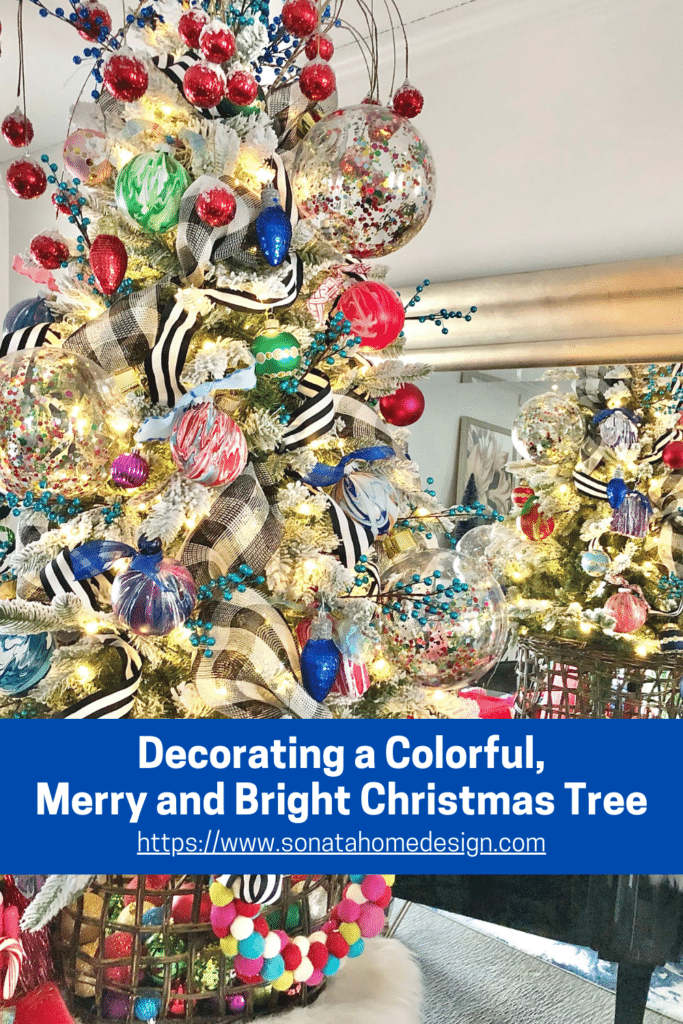 Looking for other holiday decorating projects? Check these out!
How to Make a Felted Wool Ball Trivet
Create a Twine Christmas Tree in 3 Easy Steps
Make a Sweater Weather Candle Cozy