Colorful Christmas Gift Wrap Ideas…One Personality at a time
Gift wrapping can be so much fun, but it's also easy to get overwhelmed with all the different options. This year, why not go for some colorful Christmas gift wrap ideas and wrap your gifts based on the personality of the recipient?
Here are some of my favorite ideas to get you started!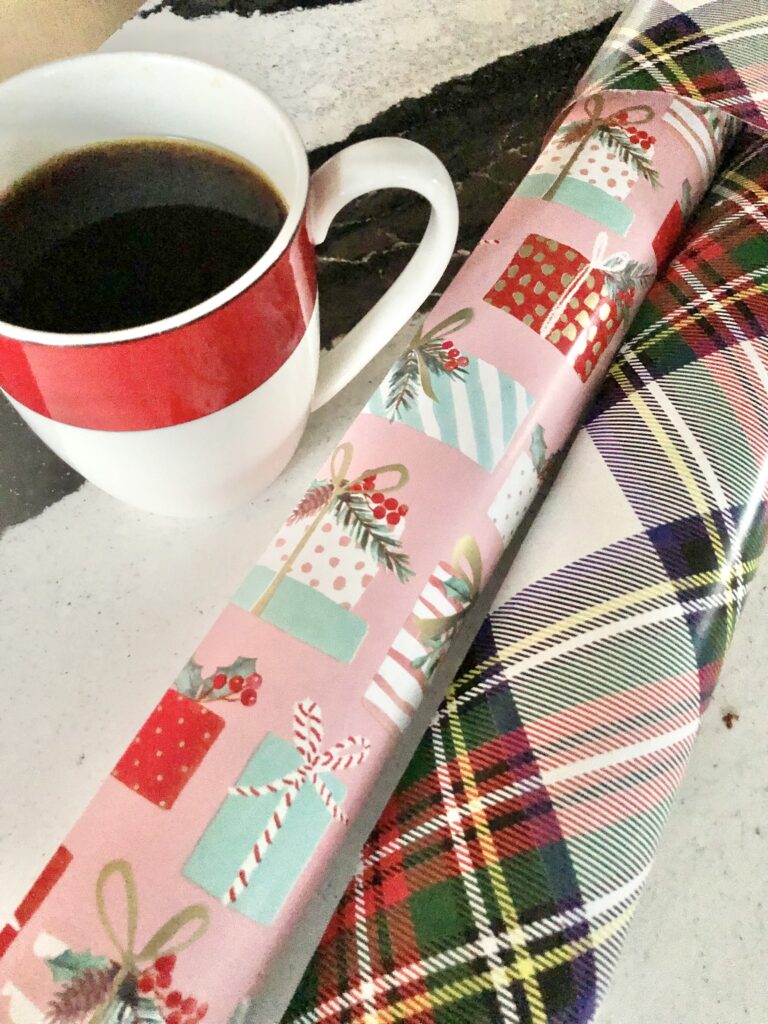 Gift Wrapping Overwhelm?
I have a confession to make.
Gift wrapping intimidates me.
Not kidding!
Don't get me wrong…I love to give gifts and I love to wrap them!
But the intimidation is real.
Because I want the gifts I give to truly mean something.
And, I want the gift wrap to speak to the personality of the recipient.
I have to psych myself up a little bit and set the stage for gift wrapping.
You know, gather the supplies.
Are we out of tape again?
Who took my scissors?
Do I have the right size box? Ummm…hardly ever!
And, the biggest question of all…How do I wrap this gift so well that the recipient says "This is so pretty! I don't even want to open it!"
Nothing like a little self-inflicted pressure!
My Overwhelm Solutions
I have figured out how to trick myself out of this ridiculous state of gift-wrapping overwhelm. (A fresh cup of coffee does help!)
Here are a few tips to get yourself organized for gift wrapping:
Designate a space in your home where you keep your supplies. Whether a specific table, closet, or craft room, keeping everything in one place will protect your sanity
Pick up gift wrap supplies off-season. If it's on sale in January or July, pick it up at a bargain price.
Sharp scissors. Enough said.
Keep a list! A detailed list of who gets what is a game changer in keeping all the gifts and wrapping ideas straight.
Look around your house. Need some greenery? A cute tie-on? Sometimes the right add-on is right under your nose!
Focus on the person to whom you are giving the gift. What is this person's personality? What does this person like? What does he or she wear? How does this person decorate?
How about some case studies? Here are 6 personality styles with wrapping ideas to match.
Sharing these colorful Christmas gift wrap ideas is like introducing you to people I adore!
1. Linear and Classic Gift Wrap
Personality Style: First up, my eldest daughter. (25 minutes older than her twin!) Opera singer with a great sense of humor who lives in New York City, wears black all the time but likes a shot of red color occasionally. She decorates her apartment in a very linear, modern way yet with hints of classic style. I'm going for a tailored yet creative look for this gift!
I started with a solid red colored paper and then tucked in a classic houndstooth patterned ribbon.
For an embellishment, I added a Christmas wood word cut-out (originally a tablescape decor item) to describe the holiday and Samantha herself.
You can see the Christmas wood word accents HERE.
"Jolly" gets center stage and gets her personality as well!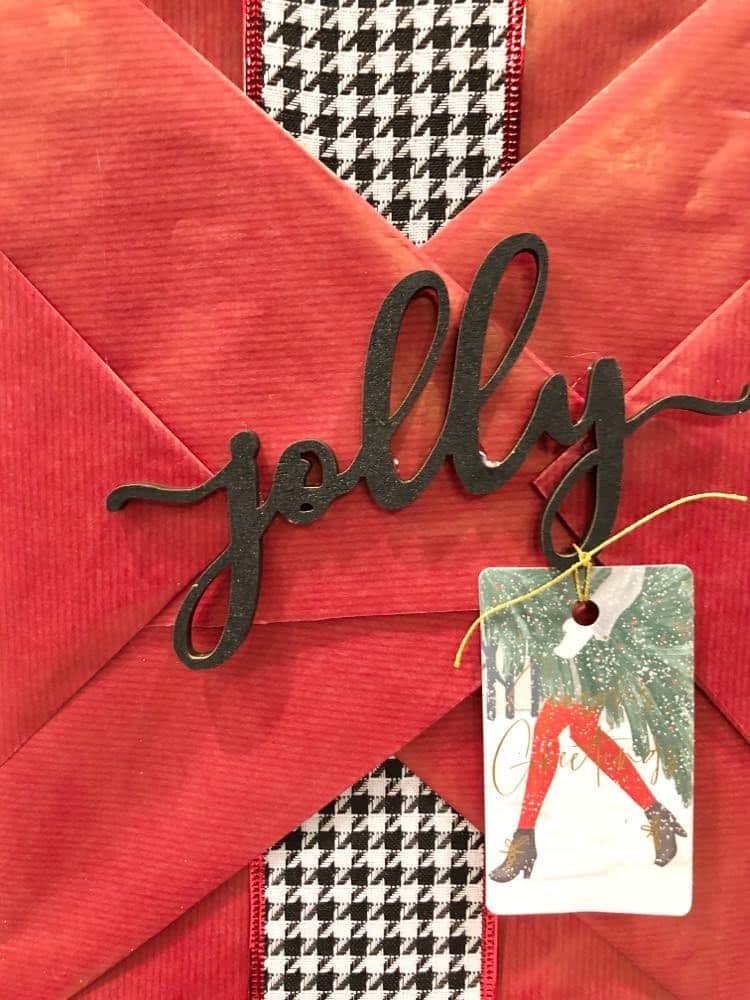 2. Color, Whimsical Fun, and More Color
Personality Style: My younger daughter (she will finally enjoy being the younger twin in about 15 years!) loves color and pattern in a BIG way! With an infectious smile and sparkling personality, she is an elementary music teacher who loves to craft, shop with her mother (Yee!), and mix patterns in her home decor and wardrobe.
This package starts with a basic "cute package" wrapping paper. The next layer is a wide sparkling gold ribbon that is the base for a crafted package "garland."
The felt banners were purchased from a dollar store and then attached to some fun pink gingham ribbon. Since she is a music teacher, I had to add the "Fa la las". I love a white sharpie pen. The felted wool balls are from a leftover craft project.
This package is all about the layers and creating a fun package with some "swag!"
By the way, that felted wool ball craft project is a fun gift to give. Here is the post:
How to Make a Wool Felted Ball Trivet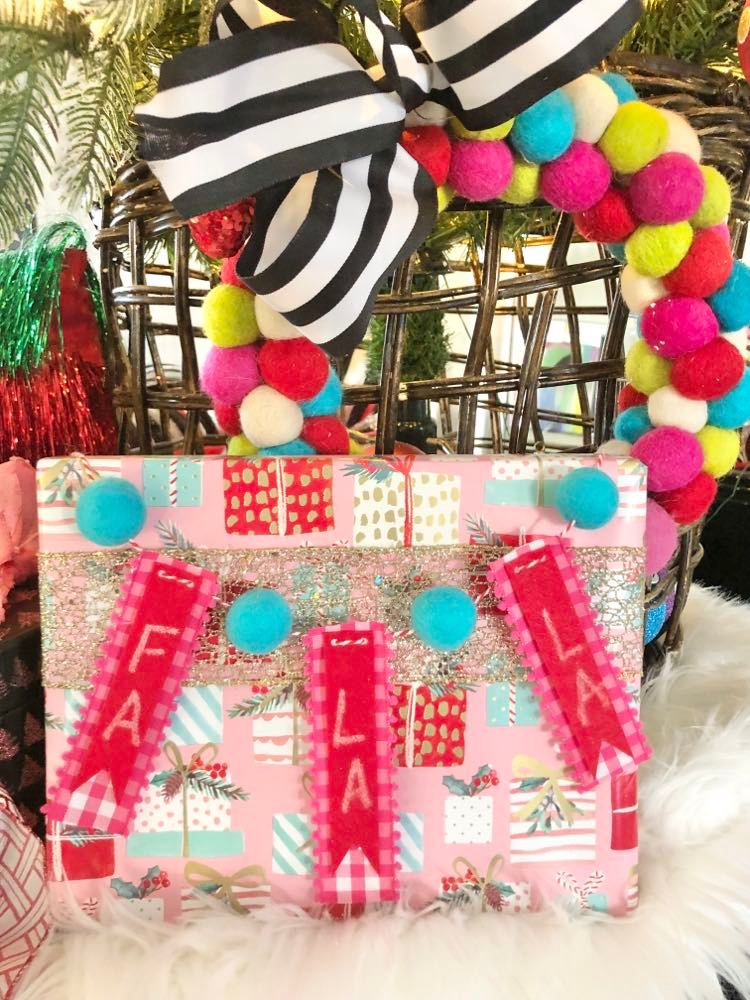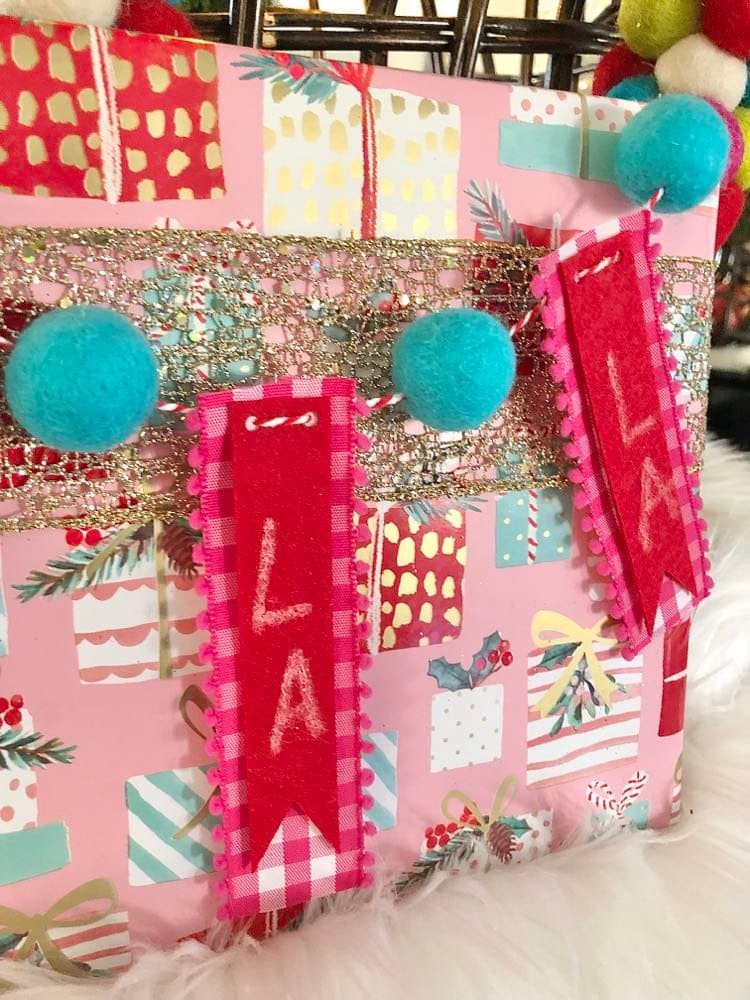 3. Classic with a Twist Gift Wrap
Personality Style: Next, my sister! She loves color and pattern, and dresses in a classic style with a touch of something unique, interesting, or whimsical.
She is also my rock and the one that I go to for advice, shopping, chatting for hours, teaching stories, decorating ideas, and much-needed sister time.
A festive plaid paper is this gift's starting point. This particular paper is part of a set of plaid papers I got from Amazon. I loved the patterns so much that I framed them for our hallway during the holidays. You can see what the framed plaid looks like in this post: A Plaid Tidings Christmas
You could add a red ribbon and it would be beautiful.
However, I was looking for a "twist"! Isn't there an old rock band called "Twisted Sister?"
So, I added some twisted, whimsical polka dot wired ribbon!
A giant chalkboard gift tag sends a clear holiday message!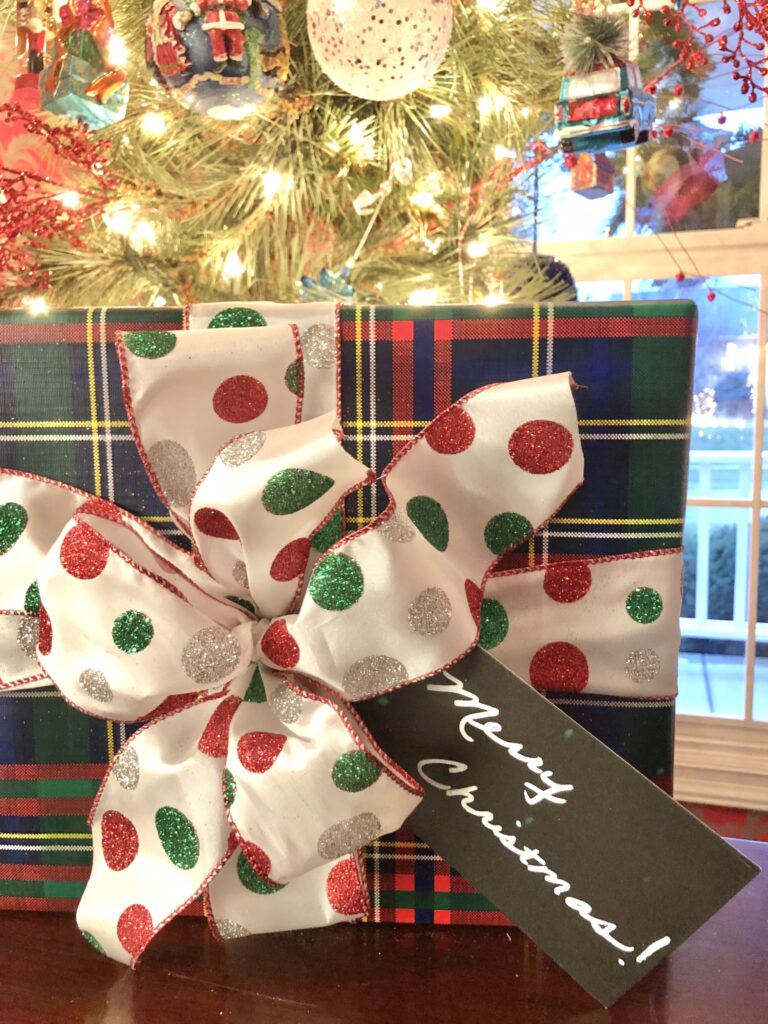 I love a good pattern play!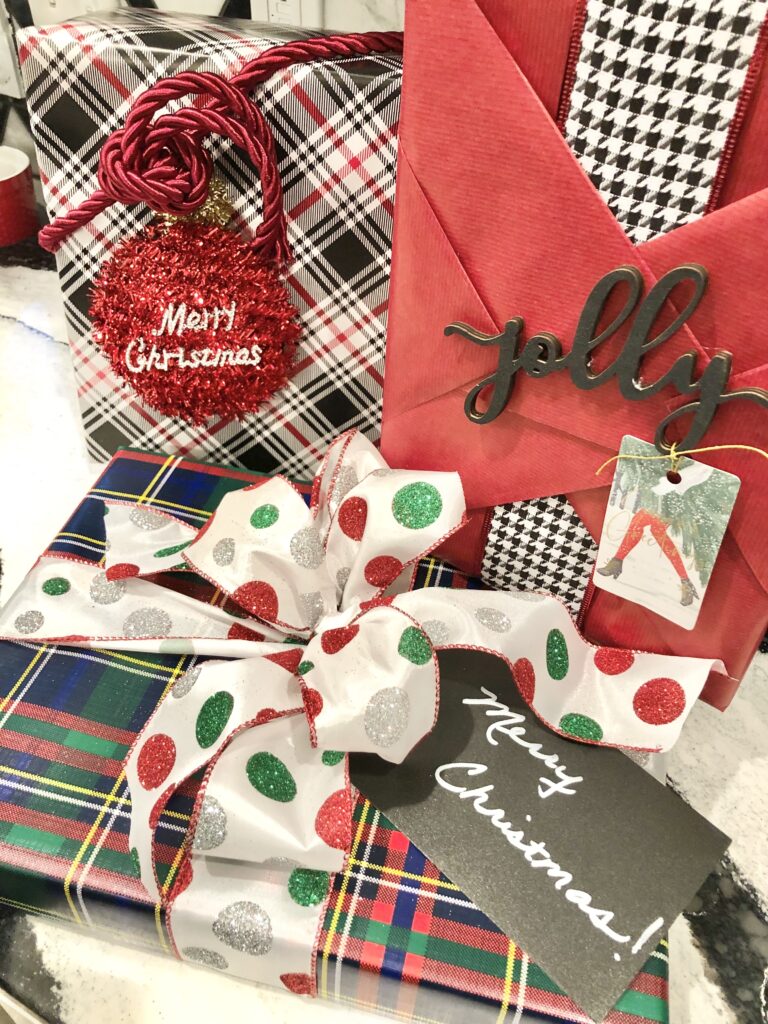 4. "Just Right" Traditional
Personality Style: Active is an understatement when you describe my mother-in-law. Any given day might find her playing golf with her league, chauffeuring her granddaughters to activities, or creating a new quilt. As busy as she is, her traditional home is always warm, inviting, and comfortable.
Rather than a traditional bow, why not weave some ribbon in an interesting pattern on the package?
I slipped some greenery (fresh or faux) through the ribbon and then added a series of ornament balls (hello, dollar store!) on a length of twine.
Traditional but not boring!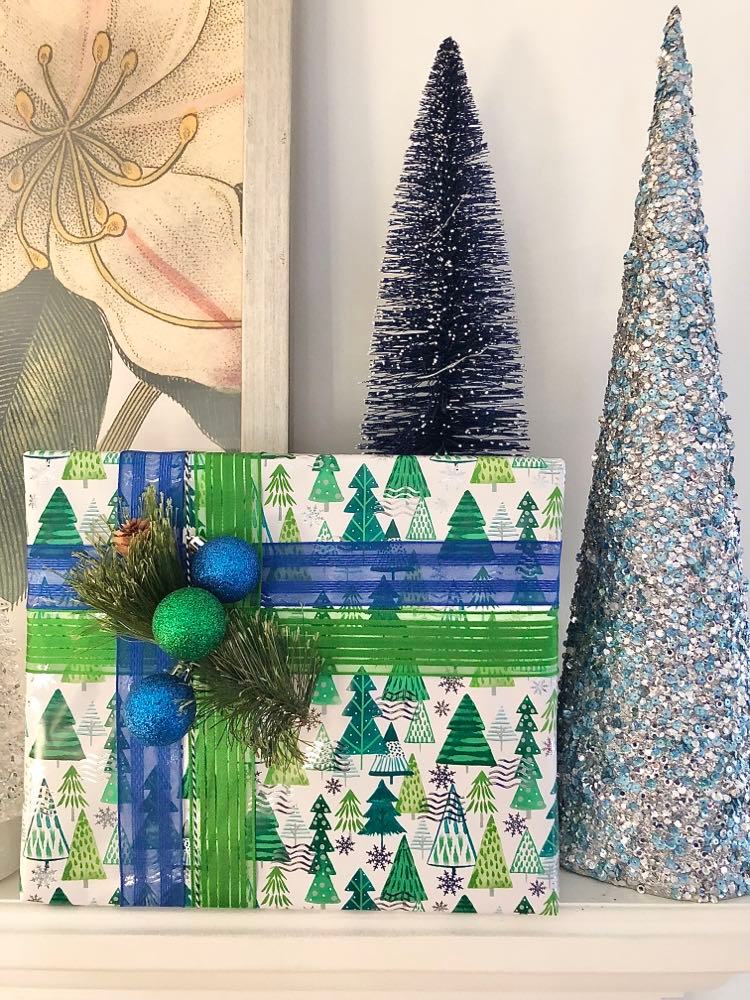 You can never go wrong by adding greenery to a package!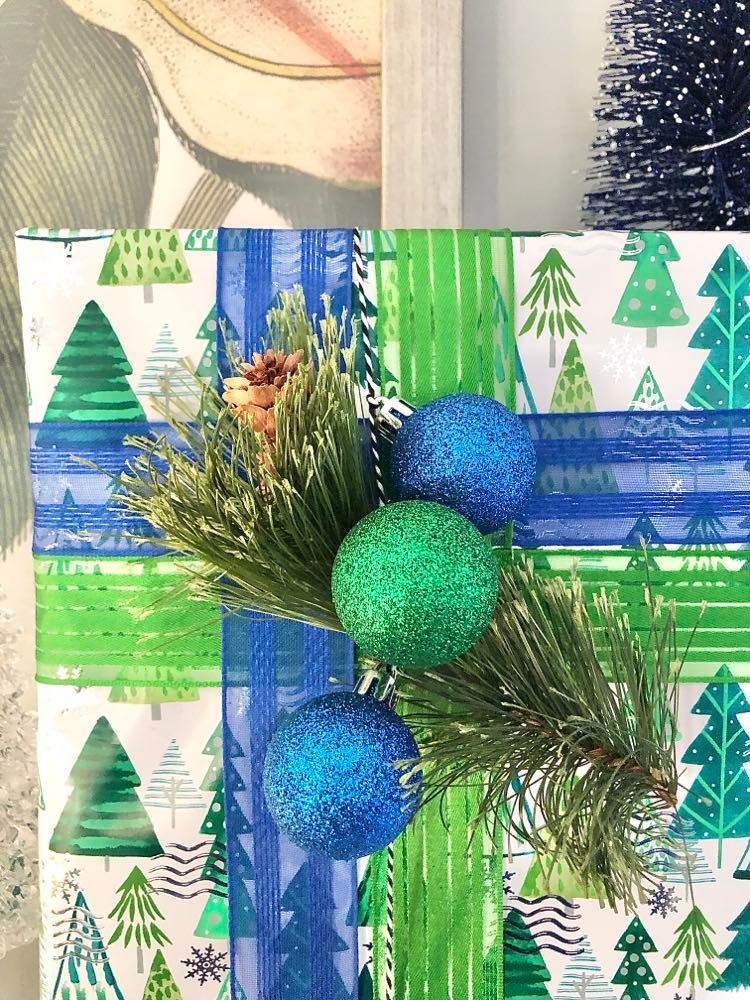 5. Dramatic Details
Personality Style: I saved the most dramatic gift wrap idea for my mother. My mother is a highly intelligent, detail-oriented, trivia-loving, saver of everything, and appreciative of all things bold and beautiful in her home. Add a fantastic sense of humor to that list as well!
This gift is large. As in, I had to search the house for a BIG BOX!
Here is a tip…When adding details to a large box, go big or go home!
How about a wreath? Yes! A whole wreath for the top of the package.
After unwrapping her gift, she can use the wreath to decorate her own home down the road!
Green ribbon anchors the wreath securely on top of the package.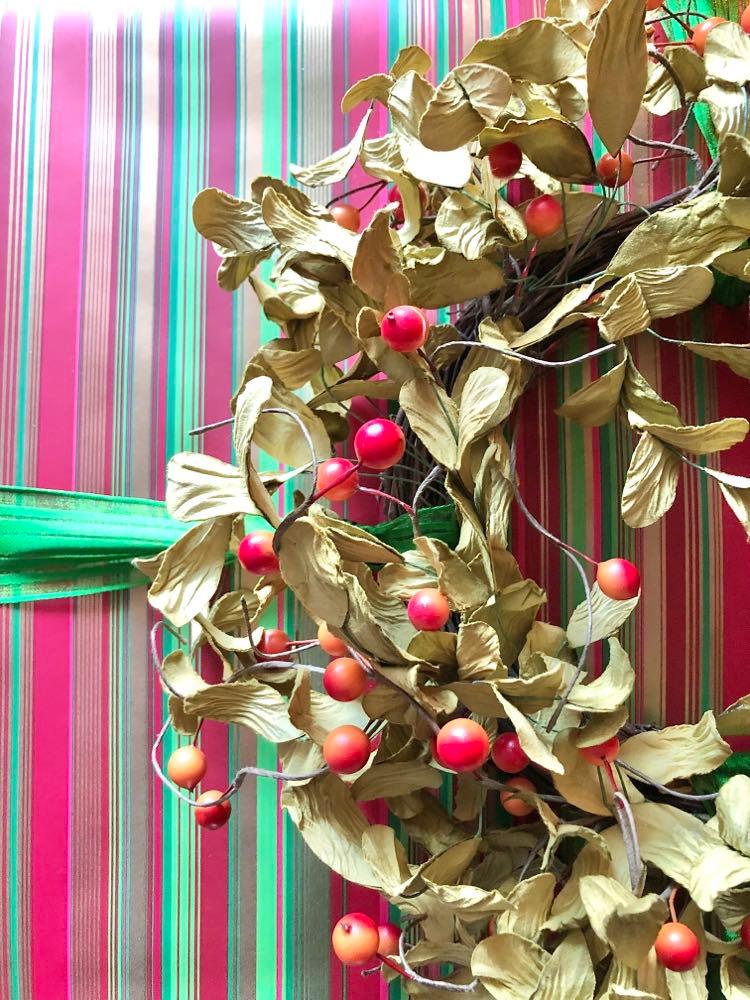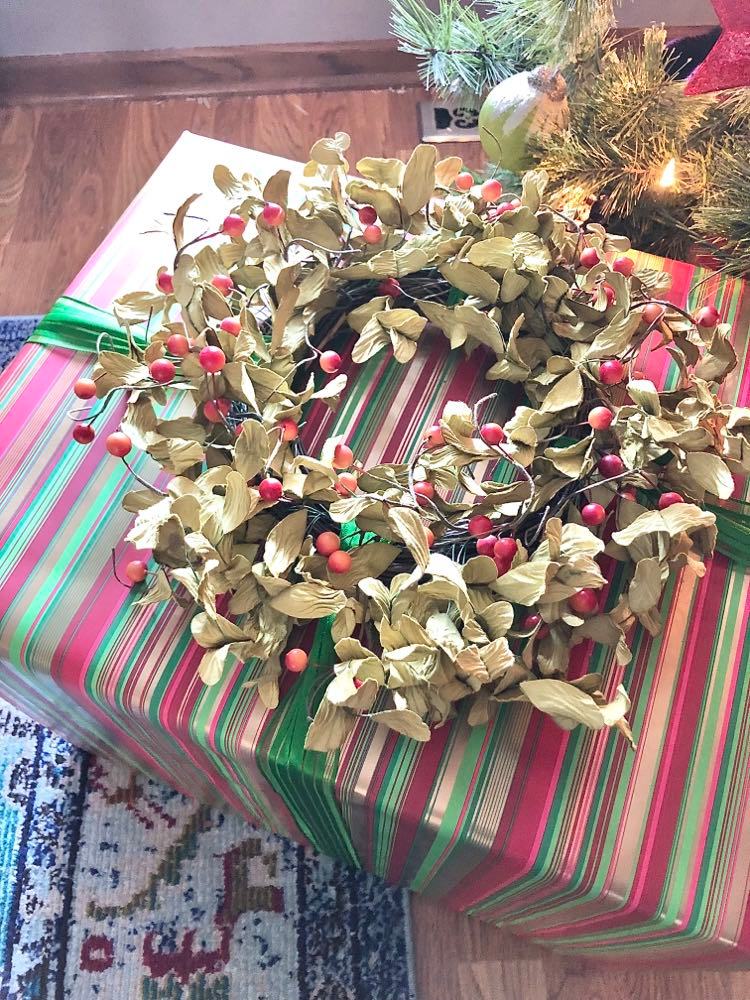 6. Easy Festive Wrap for the "I Don't Know You That Well Yet" Person
Personality Style: We give gifts all the time to people we don't know that well…yet! From the UPS delivery person to the new neighbor down the block, there are lots of opportunities to give to those we don't know well.
You may not have a full grasp of their personality but, they still deserve a festively wrapped gift!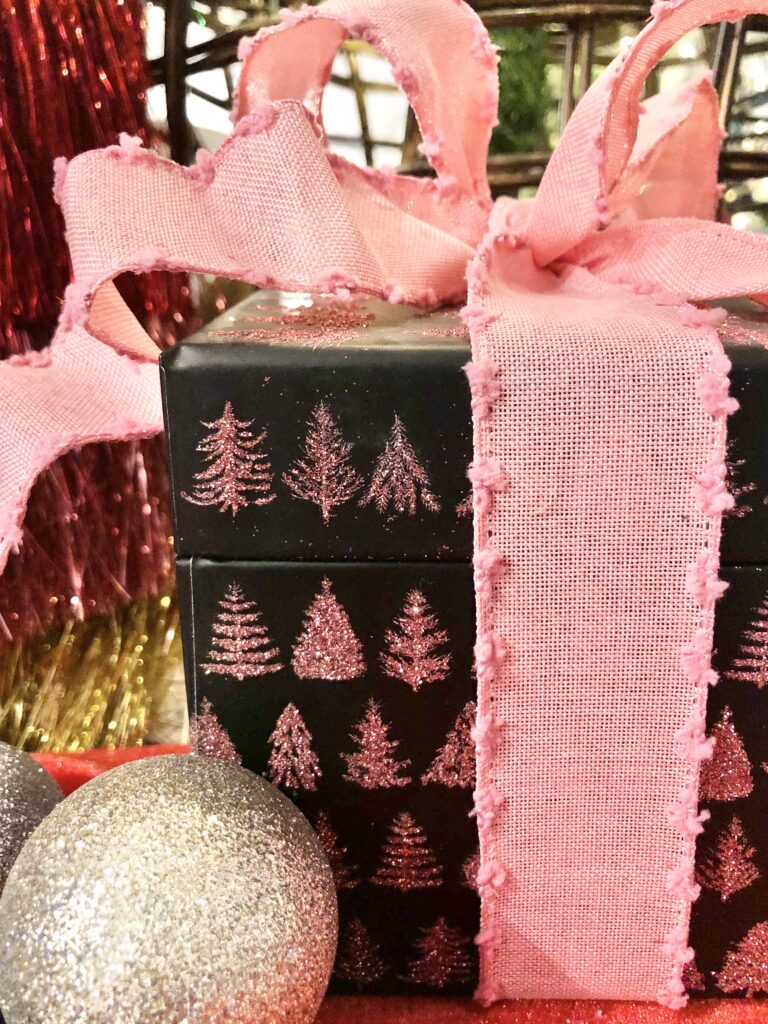 Invest in some pre-decorated gift boxes. Home Goods, Amazon, and even dollar stores have adorable no-wrap boxes. Here is an adorable Candy Cane Gift Box Set.
You can still give your own personal touch by adding a cascading wired ribbon bow and fun gift tag.
Christmas Gift Wrap Ideas
So, gather your supplies and dive in. Remember the special qualities of the person to whom you are giving and let their unique personality guide in you in how you wrap the gift. Remember why they are special to you!
After all, that is why they are on your gift list, isn't it?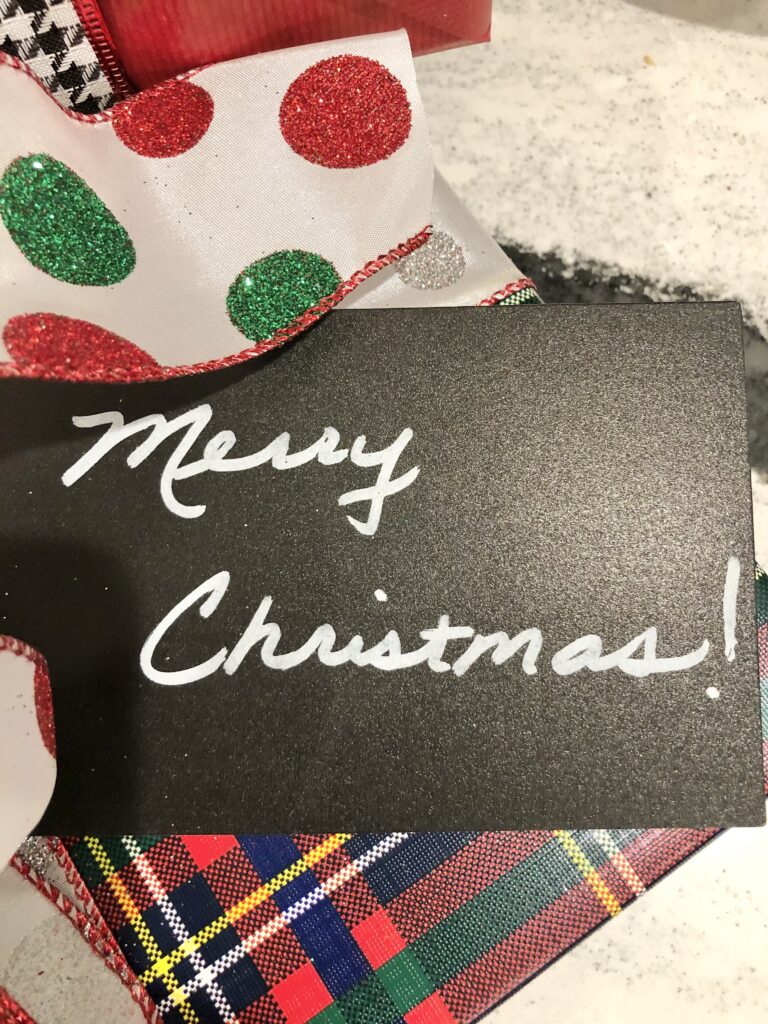 The holidays are a time to celebrate with family and friends, and what better way to show your loved ones how much you care than by wrapping their gifts with a touch of their own personality?
With these colorful Christmas gift wrap ideas, you can reflect the personality of the recipient and add an extra touch of cheer to your holiday celebrations. Have fun choosing colors that express your unique style and put a smile on everyone's faces this Christmas!
Cheers!

Don't Forget to Pin It