How to Wear Boots and Leggings
Knowing how to wear boots and leggings is a must for any clotheshorse!
Boots and leggings are a daily uniform for me. Not a career dictated one, but rather a comfort driven one.
When I take inventory of my shoes (boots!) and leggings in my closet, I am struck by two things…
Boot height and legging color or pattern.
Here are a few ideas if you are trying to shake up or refine your legging/boot wardrobe.
Sonata Home Design is a participant in the Amazon Services LLC Associates Program, an affiliate advertising program designed to provide a means for us to earn fees by linking to Amazon.com and affiliated sites. Additional affiliates links are also included for your convenience.
Ankle Boots and Plaid
Ankle boots are awesome in every way!
When you want to wear a pair of patterned leggings, the lace up ankle boot gives the outfit room to shine. The height of the boot has presence but does not overshadow the pattern of the legging.
You can see the lace up ankle boots HERE. (on sale as of publish date)
In this outfit, my FAVORITE pink and blue leggings are framed by blush pink ankle combat boots that make me feel very "cool girl."
You can see the plaid leggings HERE. (on sale as of publish date)
As is my usual route, I have added a solid denim boyfriend shirt and longer cardigan on top to leave the focus on the legging pattern and the boots.
You can see the denim tunic shirt HERE.
You can see the knit cardigan HERE.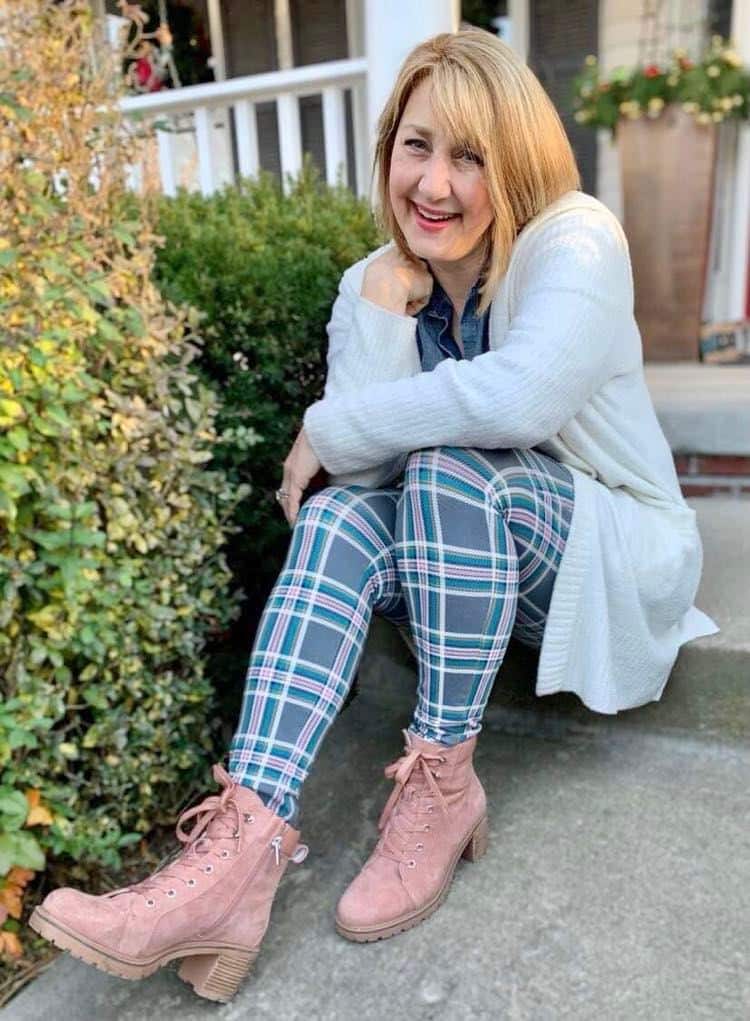 Short Boots
Snow and rain beware…the boots are made for walkin'! In all sorts of weather.
Sometimes you need an all weather boot. But, you don't want to sacrifice style !
A short boot with a low heel and strong tread will keep you steady in all sorts of weather.
Choose a solid, suede boot like this but give it a quick spray with a suede protectant. Your boots will last through multiple seasons and your feet will thank you!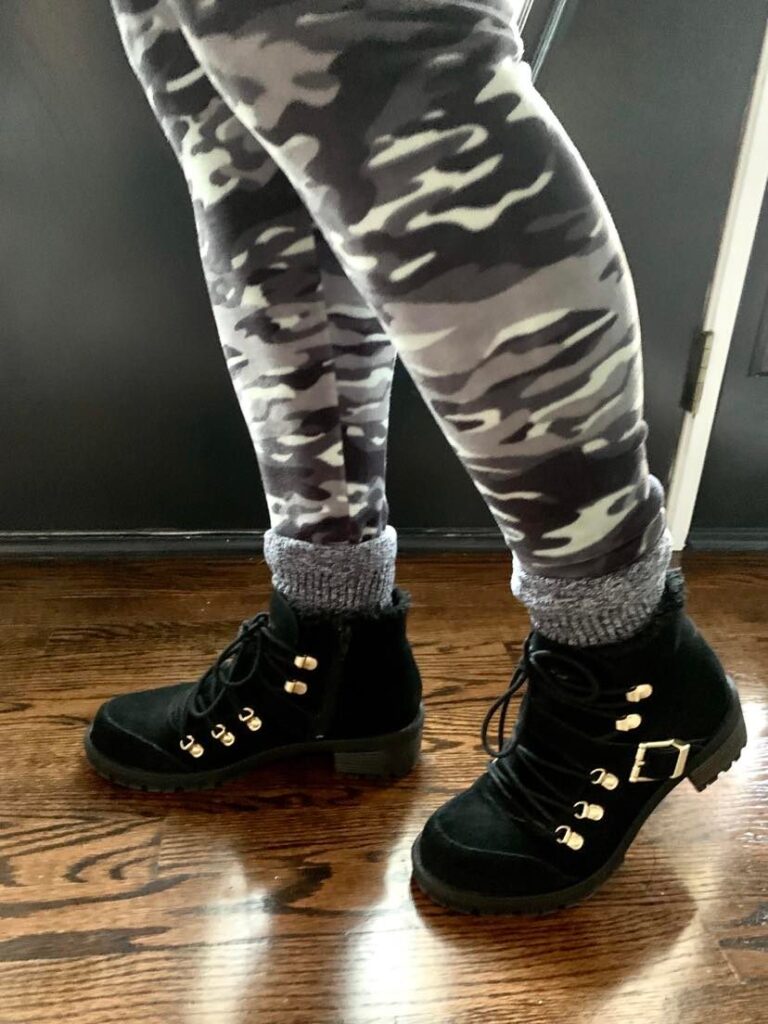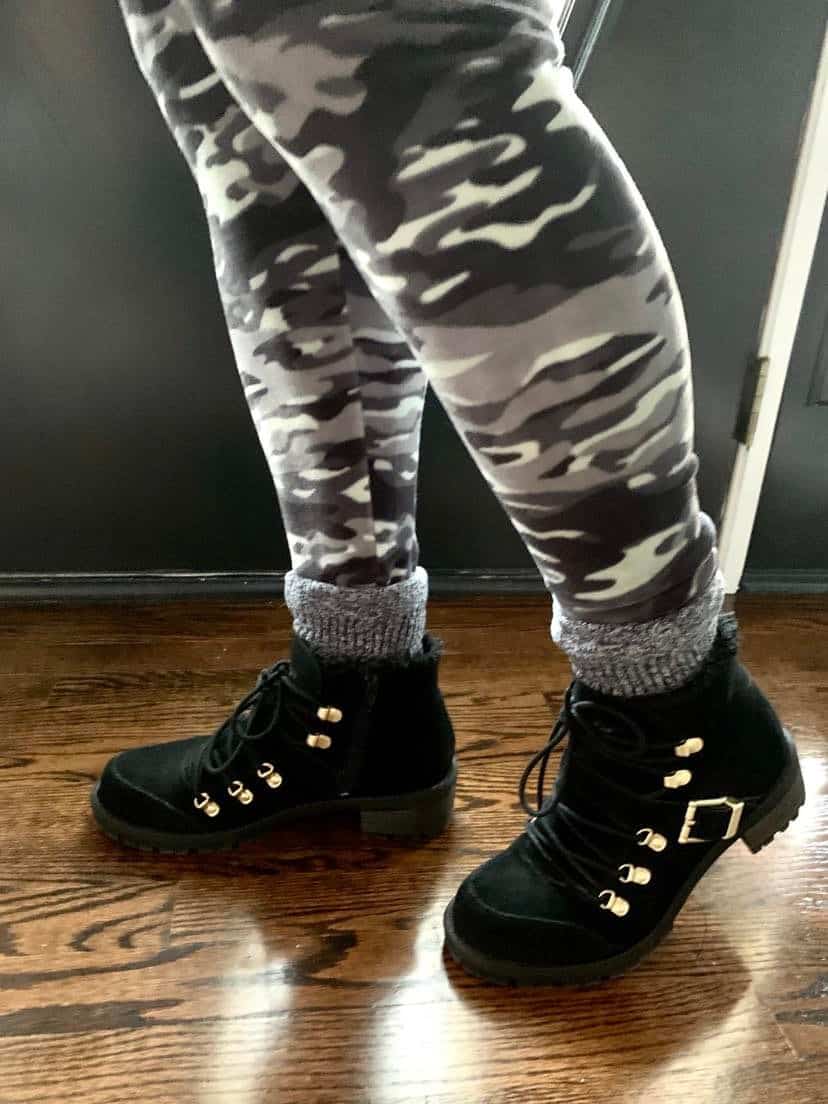 You can see a similar boot HERE.
Speaking of winter weather…leggings come in velour! So warm and cozy on a cold day.
There are so many pattern options available. Don't be shy and go for pattern in your leggings!
These double plush velour leggings come in lots of patterns but I was drawn to the unusual green color palette of this camo print. (Camo is such a huge trend right now!)
You can see these double plush velour leggings HERE.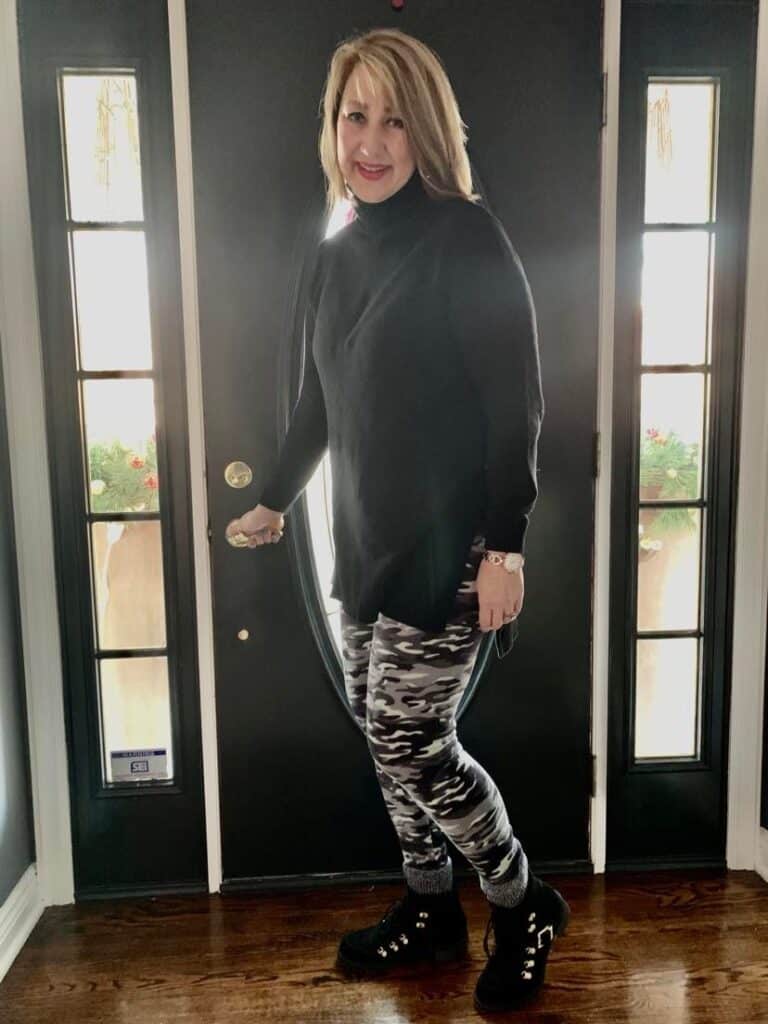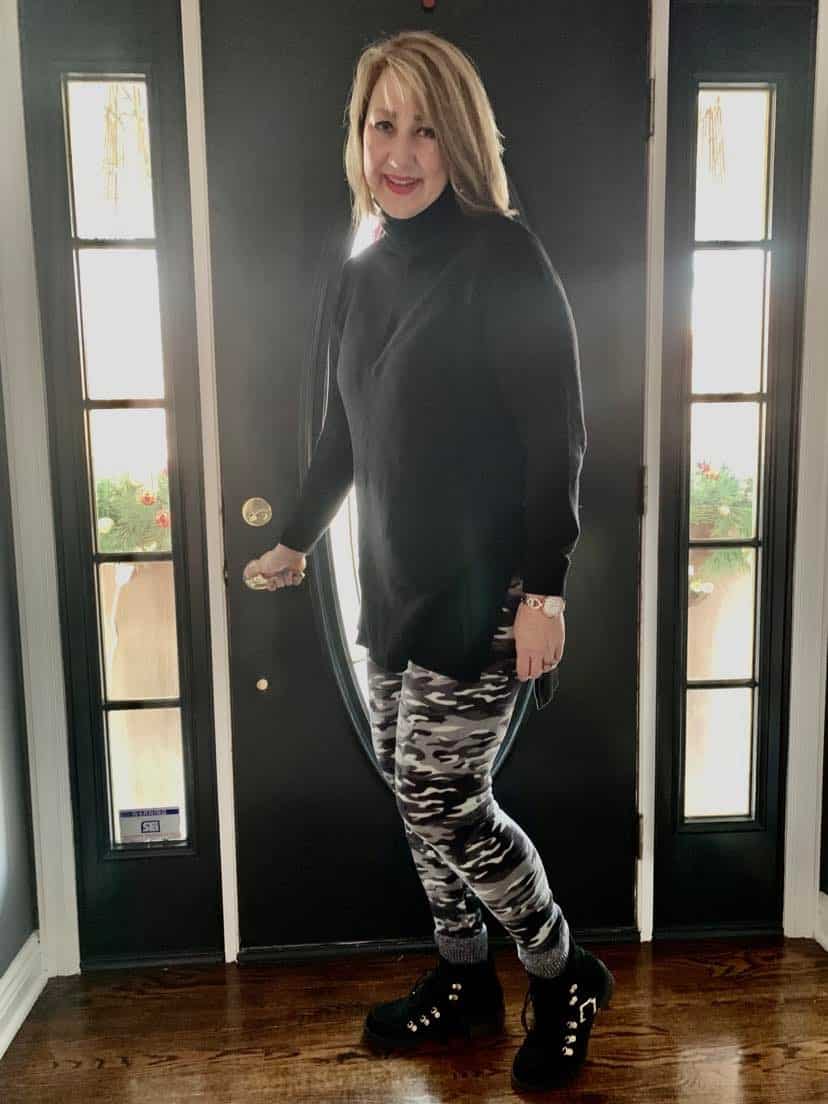 Black Boots and Black Leggings
Classic, never fail look!
What would we do without black boots and black leggings.
First of all, black leggings go with EVERYTHING and are possibly the most versatile piece of clothing in my closet.
I have one rule with black leggings: THEY MUST NOT BE SEE THROUGH!
If in doubt, hold it up to the light and stretch the fabric. You should not be able to see through it.
Whenever I come across a quality legging (that I can't see through), I usually buy at least a couple of pairs.
These are my favorite black leggings. You can see them HERE.
Adding black boots to black leggings guarantees the look of a long leg. I am always looking for ways to look longer and slimmer and the black boot/legging combo is a no fail.
Look for little details that will give your black boots some personality.
I love the gold hardware on these mid-calf boots. You can see them HERE.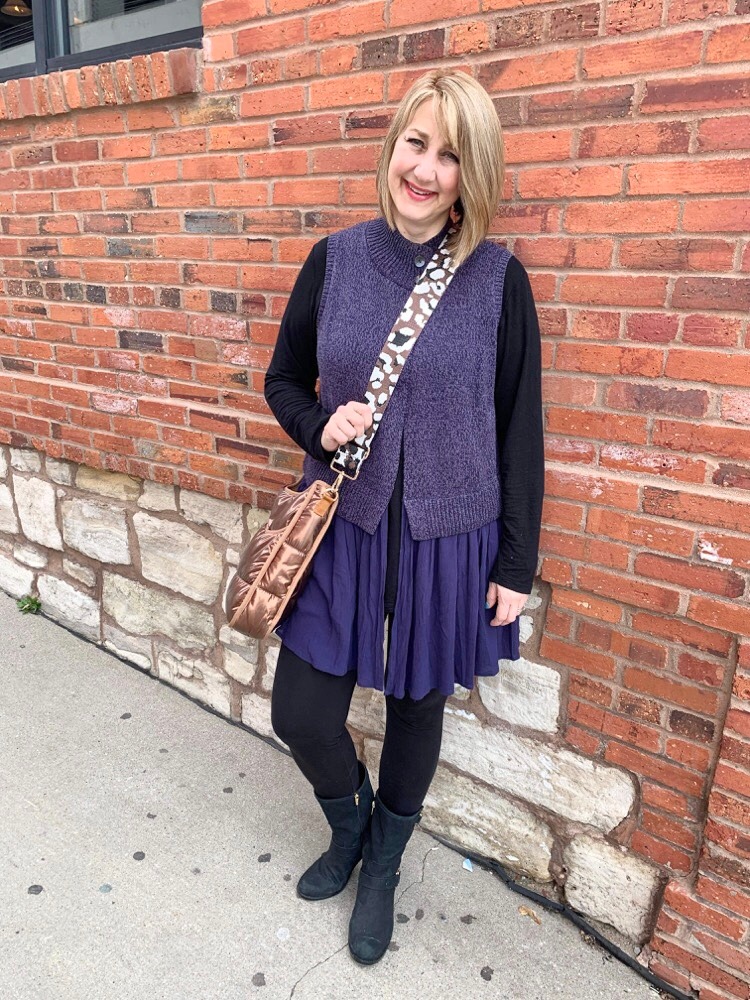 Stay comfy in your leggings and boots!
Cheers!