How to Decorate for a Plaid Tidings Christmas
Make your glad tidings even happier with a Plaid Tidings Christmas!
I used to dress my twin daughters in adorable plaid dresses every Christmas eve.
I can still see their little faces surrounding by festive red plaid.
Perhaps in an effort to relive those memories, I am giving our home some amped up plaid tidings!
Buffalo plaid, glen plaid, tartan plaid, madras plaid, houndstooth…
Am I missing any?
If you are curious about the history of plaid, HERE is a great article!
Let me press pause on my episode of "Outlander" and see if I can research some more plaids!
Decorating with plaid during the year is always a good idea.
But, decorating with plaid during the holiday season is a GREAT idea!
Sonata Home Design is a participant in the Amazon Services LLC Associates Program, an affiliate advertising program designed to provide a means for us to earn fees by linking to Amazon.com and affiliated sites. Additional affiliates links are also included for your convenience.
So, grab a Madras Cocktail (vodka, cranberry juice, orange juice), wrap your neck in a tartan plaid scarf, and let's do some Mad Plaid Christmas Decorating!
Let's start with…
Plaid Tidings Christmas Ornaments
You probably could have guessed this one. You are a smart one!
Plaid ornaments are everywhere from specialty shops to the dollar store.
In this photo, I took a dollar store plaid ornament and gussied it up with a little greenery, red berries, and gold ribbon. Suddenly a "dollar ornament" has a very vintage look!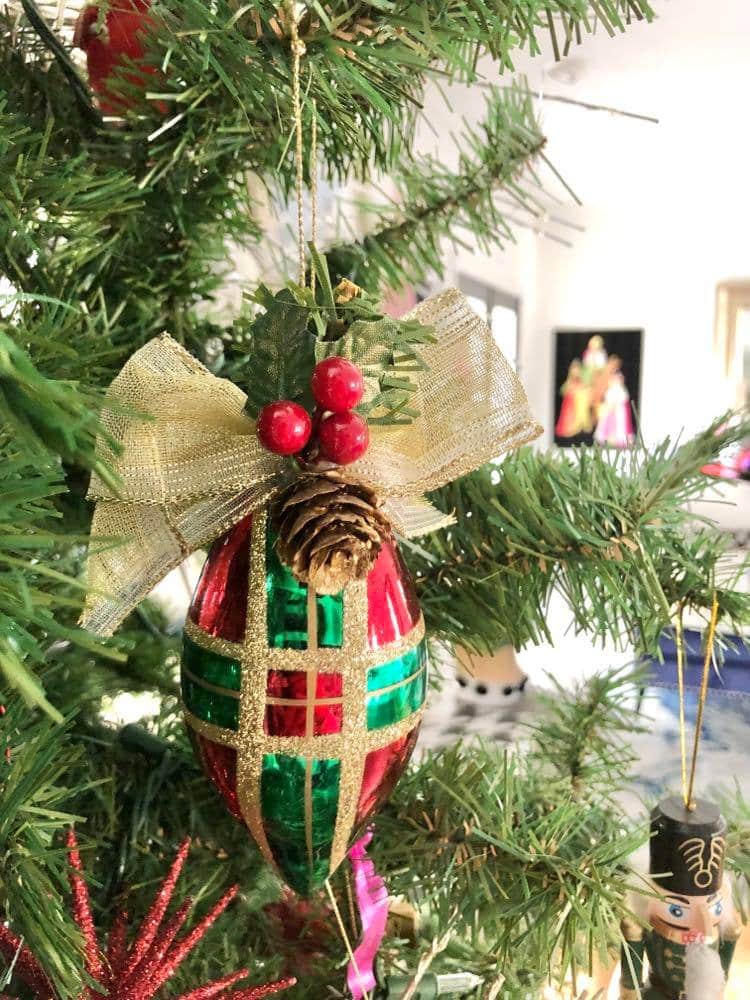 The gnome knows a great ornament when he sees one!
Giftwrap
Giftwrap? For decorating?
You bet!
Last fall, I took a roll of my favorite blue and white animal print wrapping paper and framed pieces of it in an amazing set of square gold frames.
You can see this tutorial here: An Inexpensive Wall Art Idea
Now, with the Christmas season upon us, I took the animal printout and replaced it with various plaid wrapping papers.
No matching allowed!
I gathered up every plaid paper I could find and started framing!
Plaid Christmas Ribbon
From packages and wreaths to tree toppers and little girl's hair ties, plaid ribbon is a staple of holiday decorating.
Try combining two or more plaids together for rich pattern and interest.
This black lantern gets a strong punch of pattern with a tartan plaid and a houndstooth combination ribbon.
Candles..at least the Candle Sleeve!
Do you have an old plaid cardigan, jacket, or sweater?
Before you toss it, consider creating a plaid candle sleeve for all those holiday candles.
You can see my tutorial in this blog post, Creating a Sweater Weather Candle Sleeve.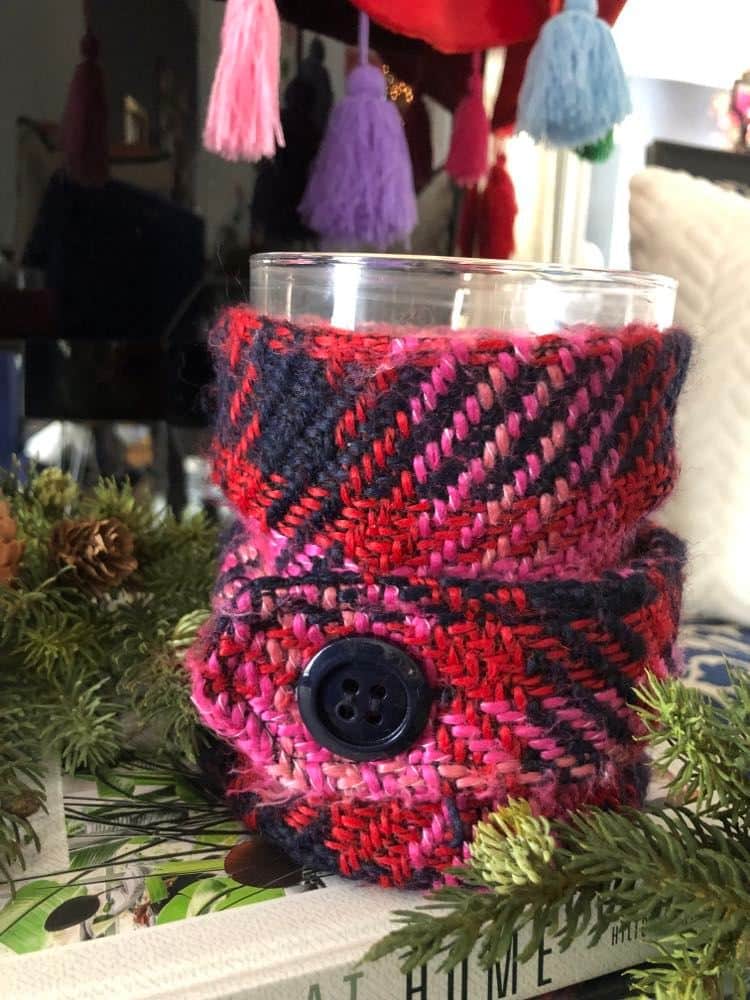 Plaid Christmas Pillows
You can never have too many pillows.
And, this includes plaid pillows!
Plaid pillows do not necessarily scream "Christmas!" But, when paired with other Christmas-themed pillows, you will start shouting "Plaid Tidings!"
Nesting an oversized (and oh so soft) red and cream plaid pillow with my two "transportation" pillows (my parents had a car like that!), takes me back in time and invites me to snuggle in for a nap at the same time!
Just a little plaid on this pillow's snowflake is enough to tie in with the buffalo plaid pillow and the hat of the gnome in the background! (Some peek-a-boo plaid!)
Bedding
If pillows can bring on Christmas cheer, then an entire bed of plaid will have you singing "Fa la la" in no time!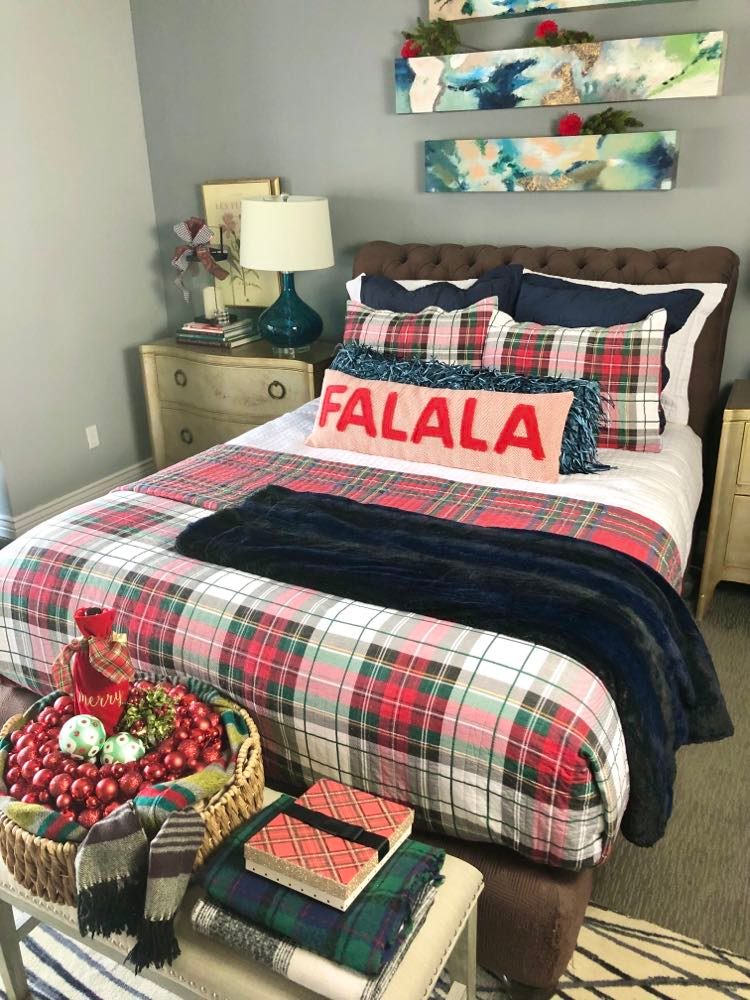 Scarf
You know how sometimes you need to "fill in " around the edges of a tray or pot?
Plaid to the rescue! Stuff the edges with a plaid scarf and, like this wreath and wine bottle, all will be nicely tucked in!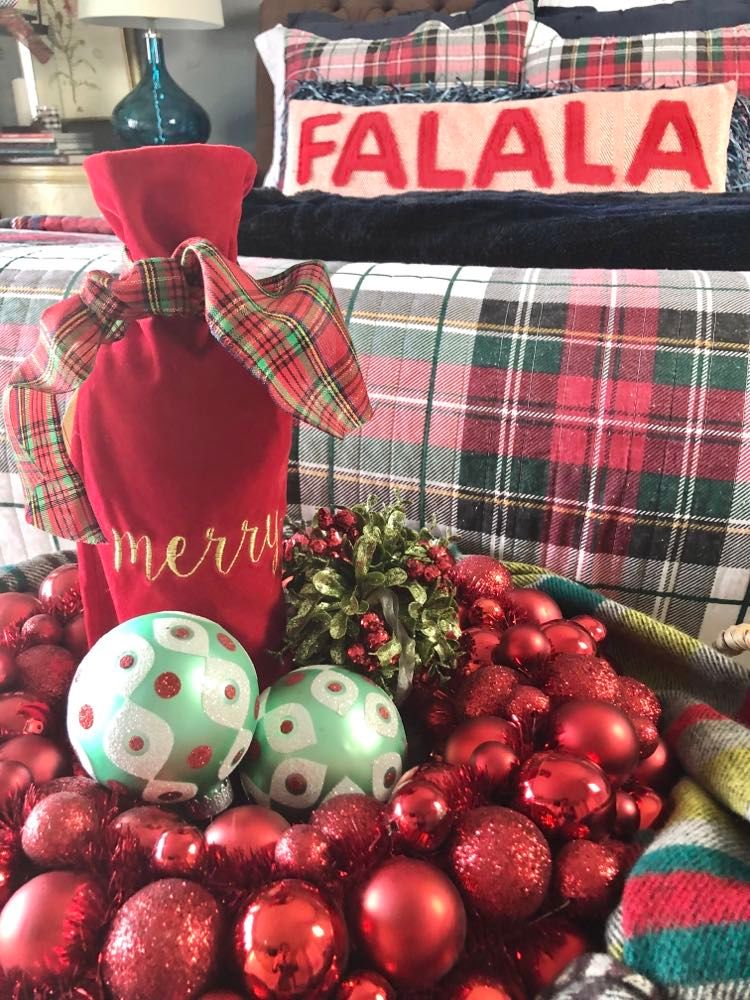 Whimsy
I couldn't help myself.
I saw this little baby tie on Amazon and decided that Bentley needed a little holiday pick-me-up.
If you would like to make one for your pup, you can see it in my post Merry and Bright Holidays with Sir Bentley.
This short, little video gives you a little taste of this ,easy, easy, (did I say EASY!) project!
Mr. Plaid Vogue himself!
Wishing you plaid tidings Christmas!
Cheers!