10 Last Minute Ways to Make Your Holiday Guests Feel Welcome
Are you ready? With just a few days left until Christmas, you might be putting the finishing touches on your Christmas tree, baking cookies, wrapping presents, and preparing to welcome your holiday guests!
I'll be honest…sometimes our guest rooms (plural…remember we are empty nesters!) become holding rooms for all the "extras." You know, the place for things that have no immediate place?
But guests are coming soon! Over the river and through the woods sort of thing! Time to clean up, spiff up, and make our guests feel welcome!
Sonata Home Design is a participant in the Amazon Services LLC Associates Program, an affiliate advertising program designed to provide a means for us to earn fees by linking to Amazon.com and affiliated sites. Additional affiliates links are also included for your convenience.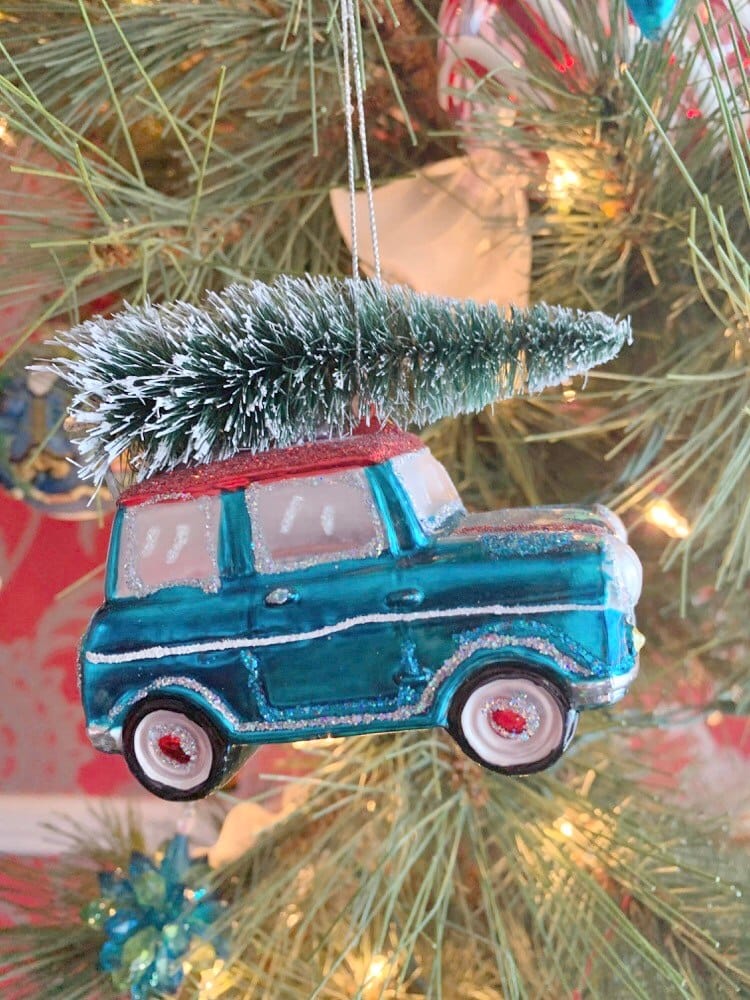 This year, our guests include my mother, my mother-in-law, our east coast daughter, our local daughter and son-in-law, their Goldendoodle dog, and my sister's schnauzer that we are dog sitting.
Menagerie? Perhaps.
Fun, joyful, and welcome? Absolutely!
Not a huge group but enough to get me moving.
The time has come for me to make sure the bedrooms are cleaned, the sheets are washed, and little welcoming touches are added to help make our guests feel special!
Let's make your guests feel welcome with these 10 last-minute holiday welcome ideas!
1. Jingle All the Way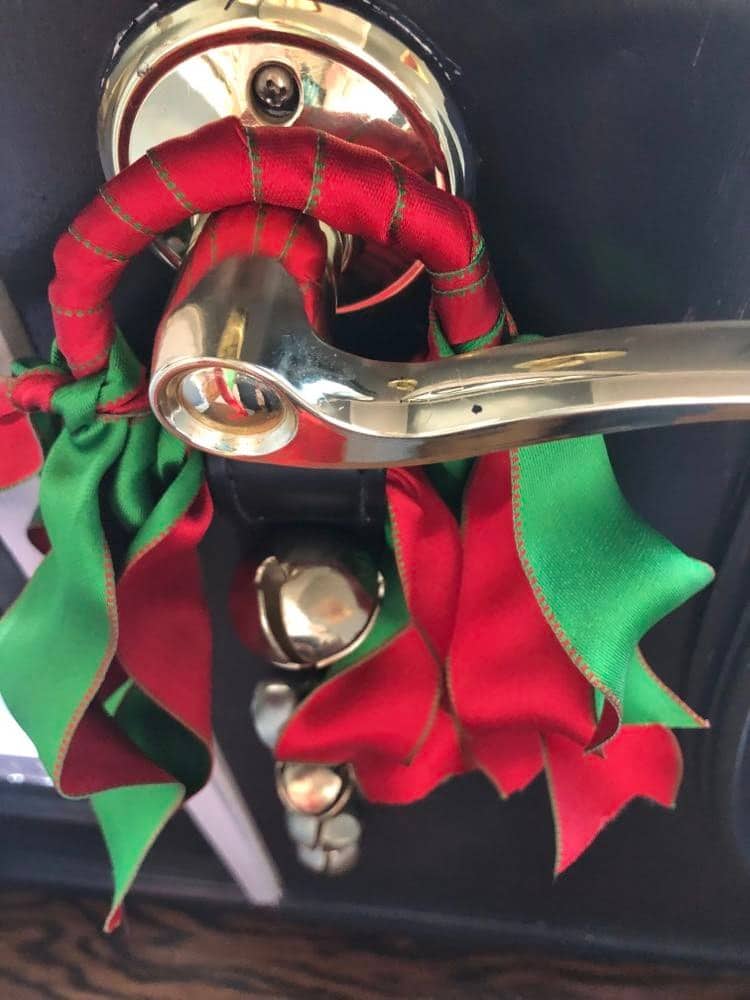 Hang some jingle bells from your front door and your guests will immediately feel your home's holiday cheer!
The ring on these bells has been wrapped with some reversible red and green ribbon for a festive, royal court jester touch.
Bonus…our dog, Bentley, just gives these jingle bells a little nudge when he needs to go outside!
2. Let Your Pillows Welcome Holiday Guests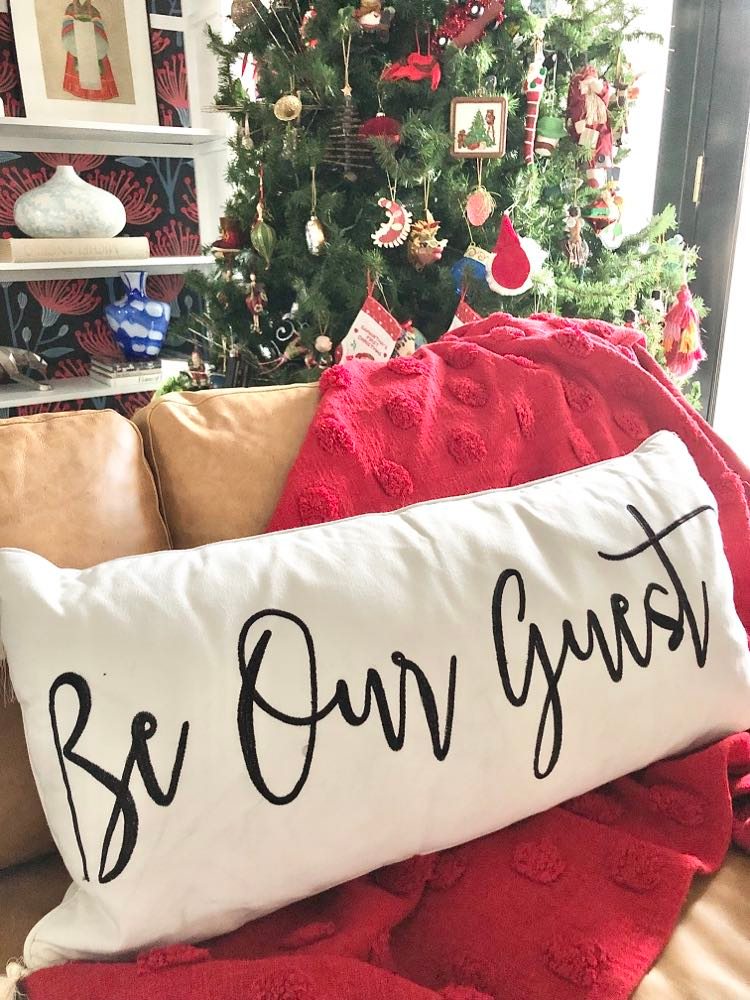 Let your pillows do the talking! There are so many pillows available with printed or sewn welcoming phrases.
From "Be Our Guest" to "Merry Christmas" to "Hello!", a casually placed pillow is a constant reminder that those visiting your home are welcomed and wanted.
3. A Cup of Christmas Tea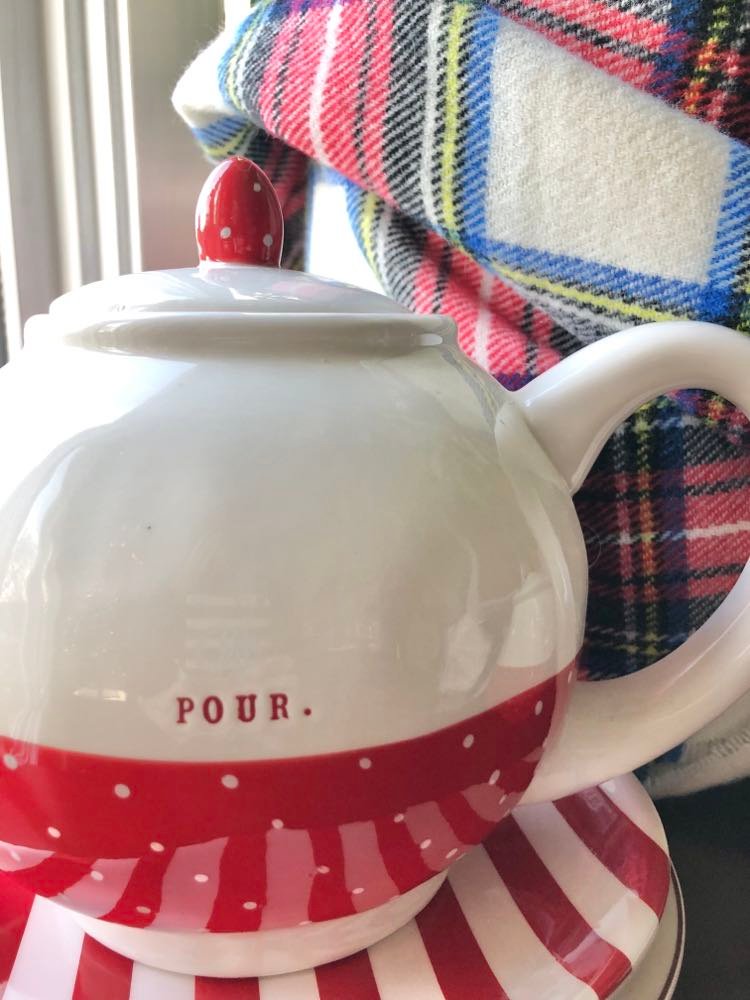 Take a break from all the activity with a cup of Christmas tea in the afternoon. (Very Downton Abbey!) Your guests will appreciate the calm moment…and so will you!
My friend, Susan, at Hen and Horse Design gave me a gift set of loose teas from Saratoga Tea and Honey Company last summer. While I am a profound coffee lover, these teas are my favorite late afternoon moment of calm!
4. Welcome Holiday Guests with Christmas Spirits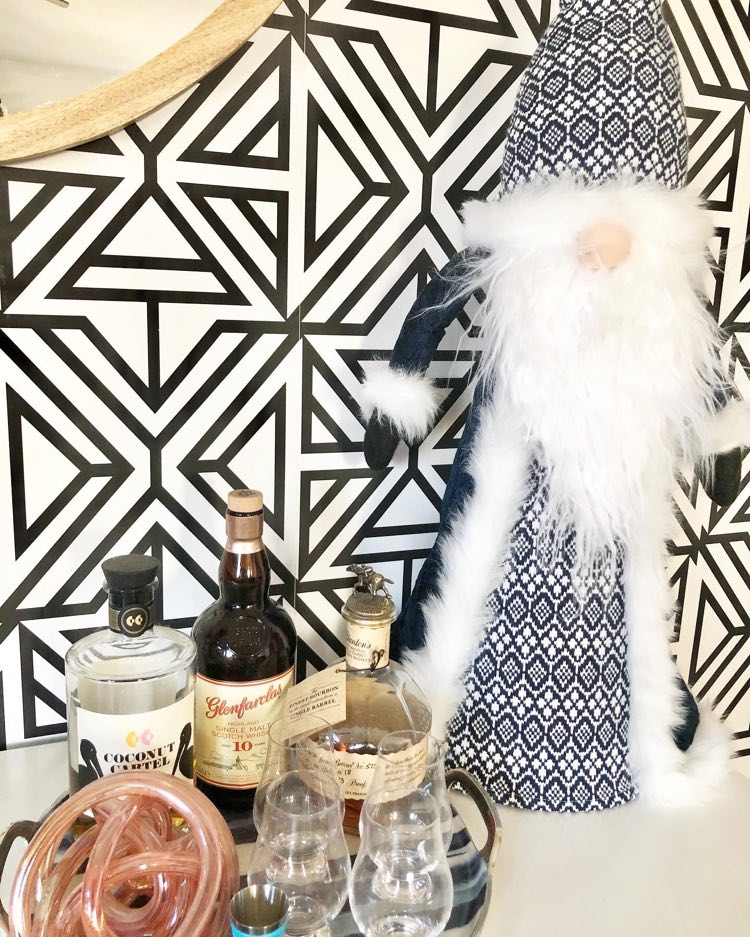 Tea time is over and it is 5:00 somewhere! Place a tray with your guests favorite spirits near the front entry or the living room for easy access. Santa can be the bartender!
No place for a bar tray? I once created a mini-bar out of a suitcase!
A Suitcase Bar Cart: A Transformation
5. Christmas Cheer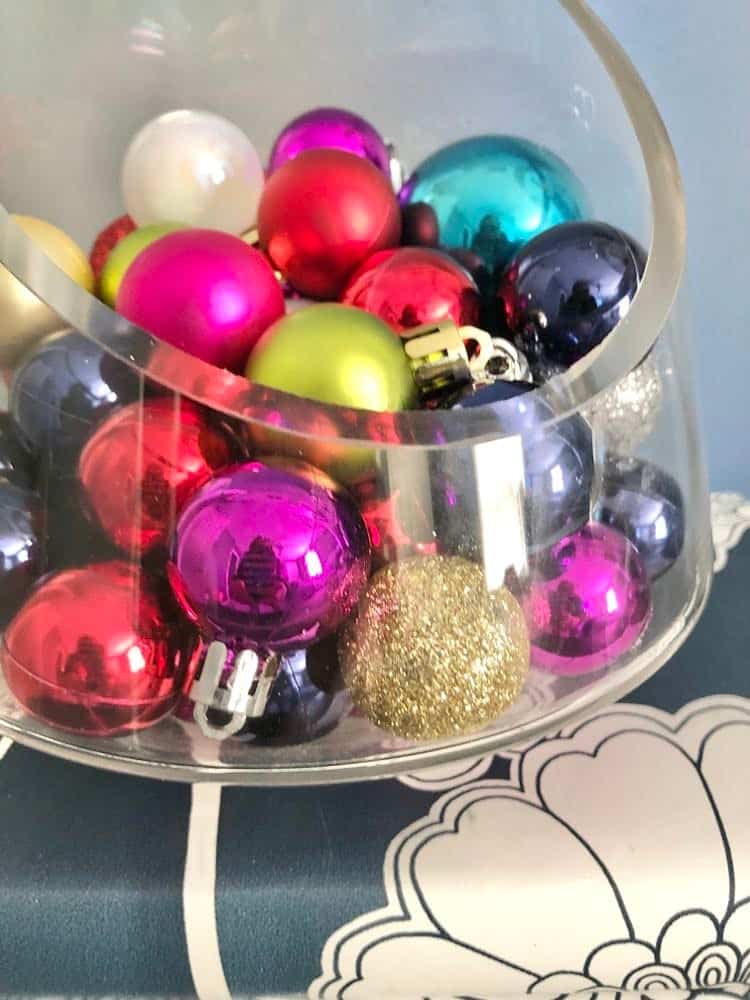 Sometimes spare bedrooms don't get the holiday treatment until the last minute. A quick and easy way to add Christmas cheer is to pour a bevy of multi-colored ornament balls into a glass jar.
It doesn't get any easier than this! Instant "Merry and Bright!"
Curious about more "Merry and Bright" Christmas decor?
Our Merry and Bright Christmas Tree Reveal
6. Go Ahead…Jump On the Bed!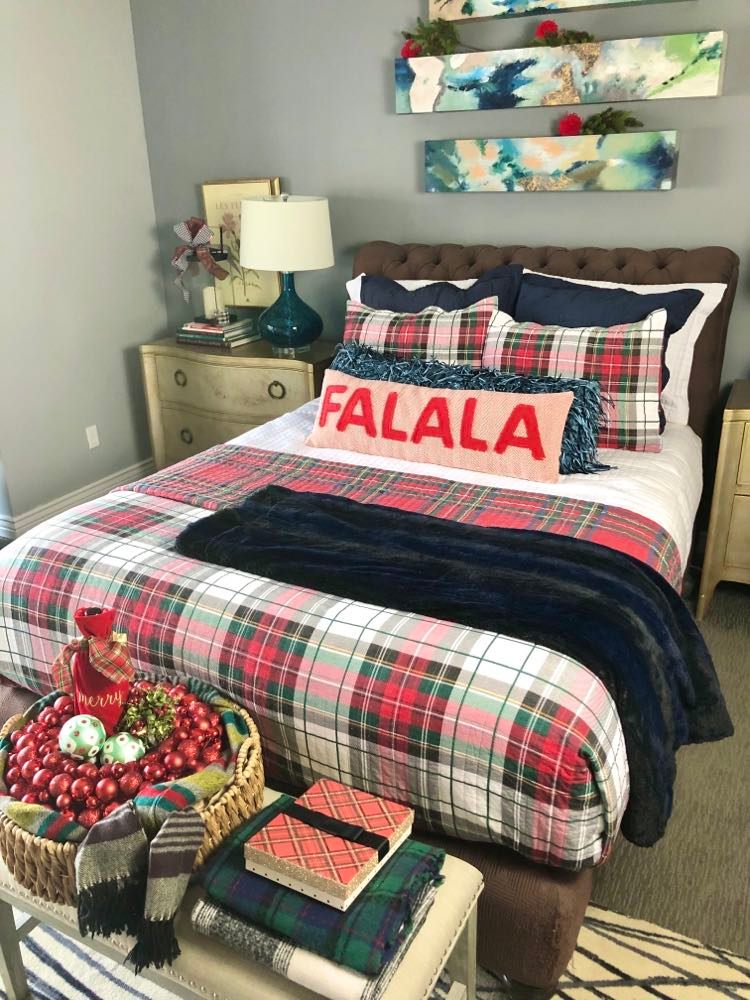 Layer the guest room bedding so anyone is tempted to jump in! Add merry pillows, include extra cozy throws, and add a little holiday gift at the foot of the bed.
Plaid is a fantastic pattern to use in a guest room. In fact, I used it throughout the house this Christmas.
How to Decorate for a Plaid Tidings Christmas
7. Welcome Holiday Guests with…a Suitcase Rack?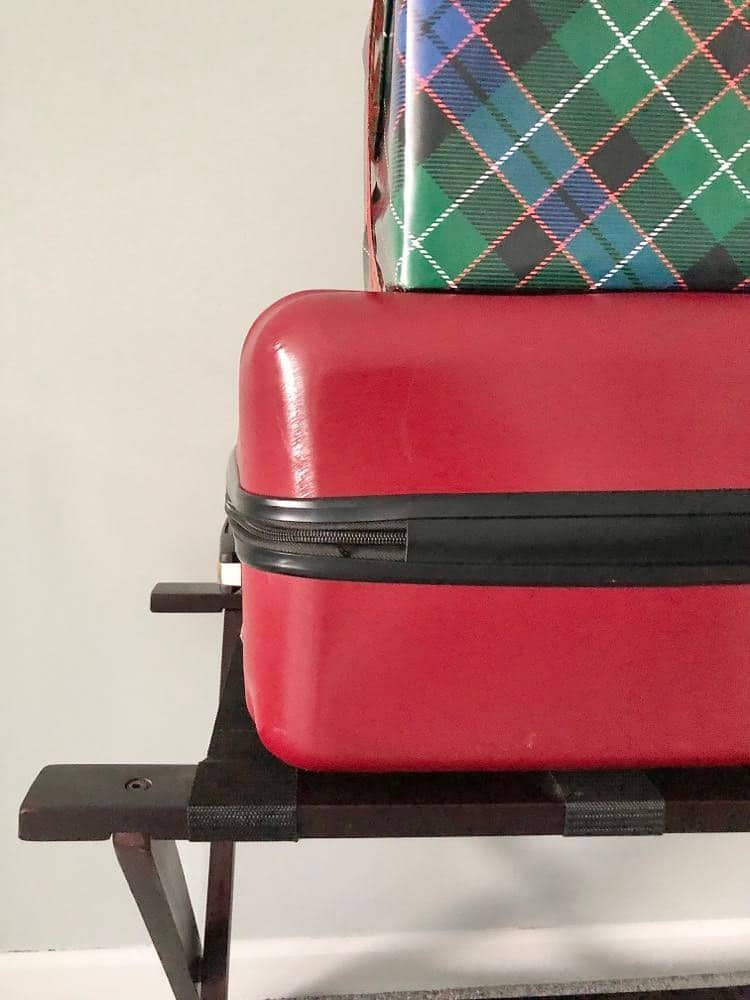 Raise your hand if, when you travel, you enjoy opening your suitcase onto the floor and/or navigating it on the bed.
Anyone? Anyone?
*Crickets.
I thought so. No one likes this! We don't really give it much thought until…
…there is a convenient and handy suitcase rack in the bedroom!
It is a practical yet thoughtful gesture your guests will really appreciate!
8. Hotel Hospitality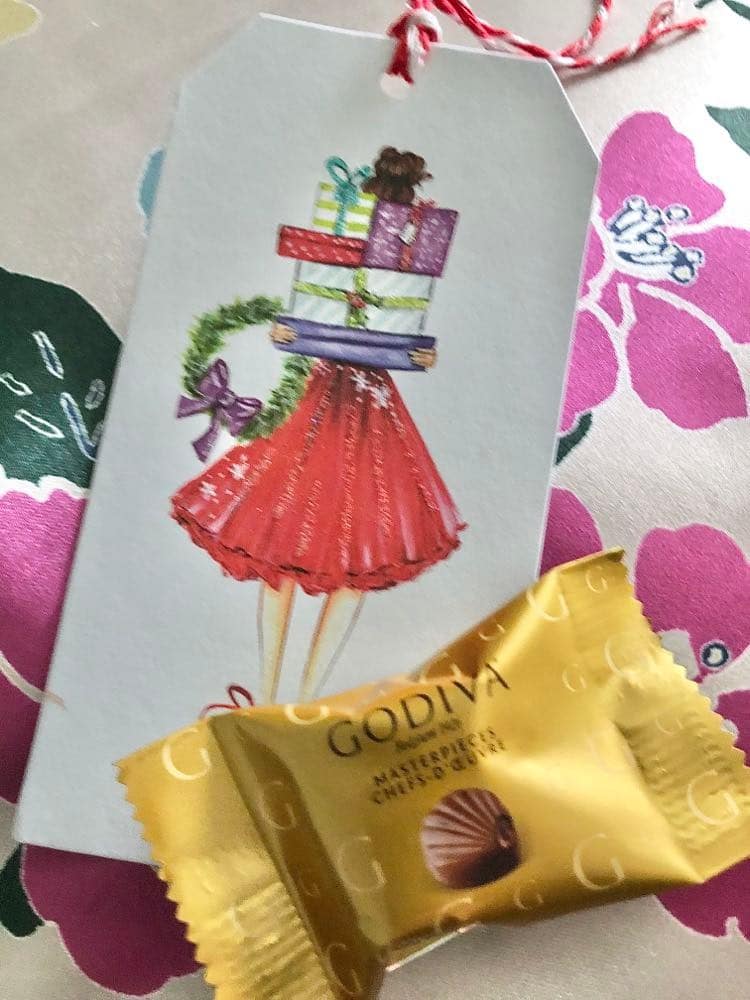 We went on a cruise for our 10 year anniversary. (Yikes! That was over 30 years ago!)
I remember those chocolates that were placed on our pillows each evening. We felt so fancy and could hardly wait to open the door to our teeny tiny cabin each evening!
Why not do the same for your guests! Add a little Christmas tag with a handwritten "Sweet Dreams" on the back for a lovely touch of heart-felt hospitality.
9. Always White Towels!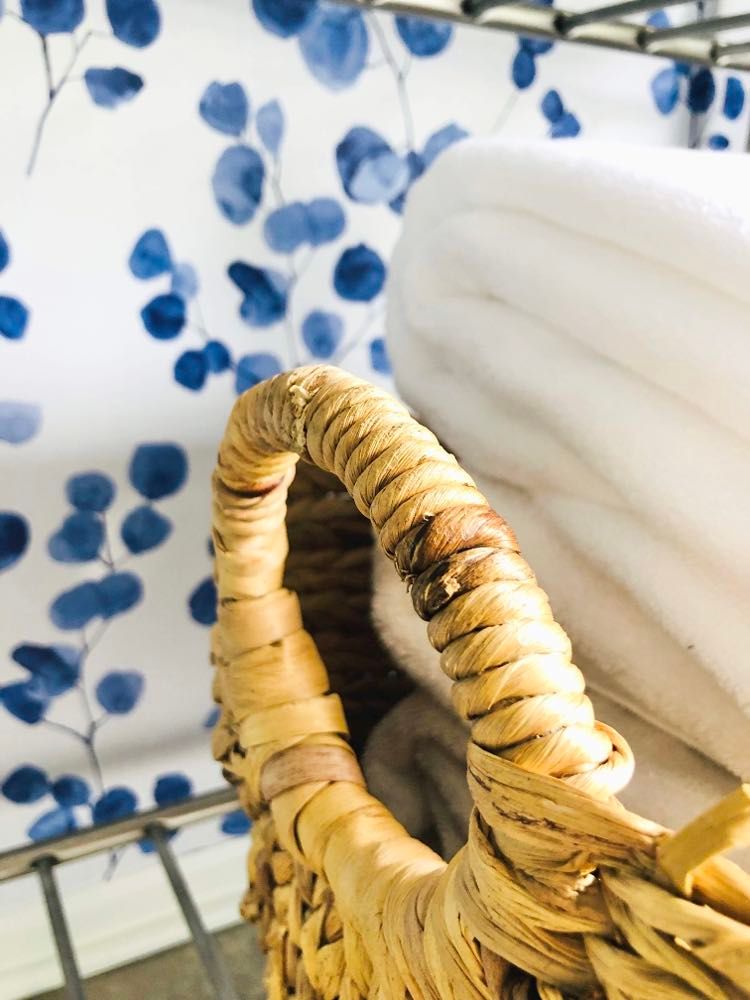 My love of white towels is a year-round obsession but is absolutely essential when hosting during the holidays!
A fluffy white towel equals "spa", "luxury", "spotlessly clean", and "You saved the good towels for me!"
10. Welcome Holiday Guests with A Place of Honor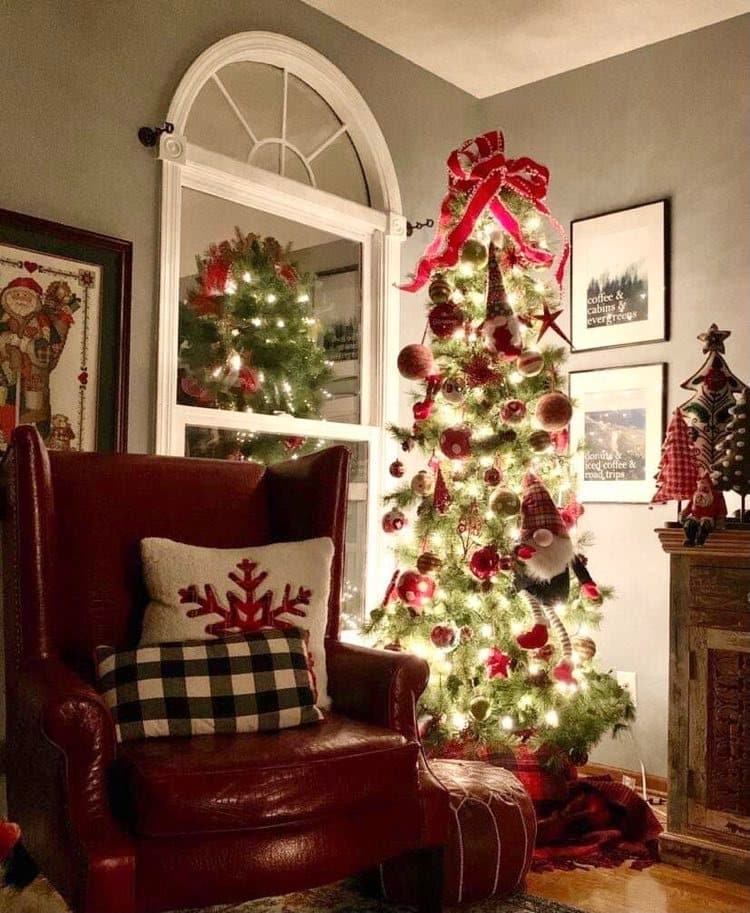 "I have a special spot just for you!"
We always seat my mother first when we gather. She gets the best view of the Christmas tree and of the crackling fire in the fireplace.
She is able to "hold court" with her grandchildren and witness all the happy craziness as it happens. The evening usually ends with the comment "I had the best seat in the house!"
Merry Christmas!
My heart is full this year and I feel such gratitude to you, my reader and friend. Thank you so much for being a part of my blogging journey. You are so special to me and I am grateful for every supportive comment, exploratory click, thoughtful share, general kindness and generosity, and for just being YOU!
I wish you, your family, and all of the special guests in your life a very Merry Christmas!
Cheers!