A Colorful Christmas Home Tour
As you settle into your sweet swirls of eggnog and start to don those festive woolen mittens, please join me on my Colorful Christmas Home Tour.
Find inspiration on how to deck out your home with a whimsical and colorful Christmas decorating scheme that will make your celebration more delightful than ever!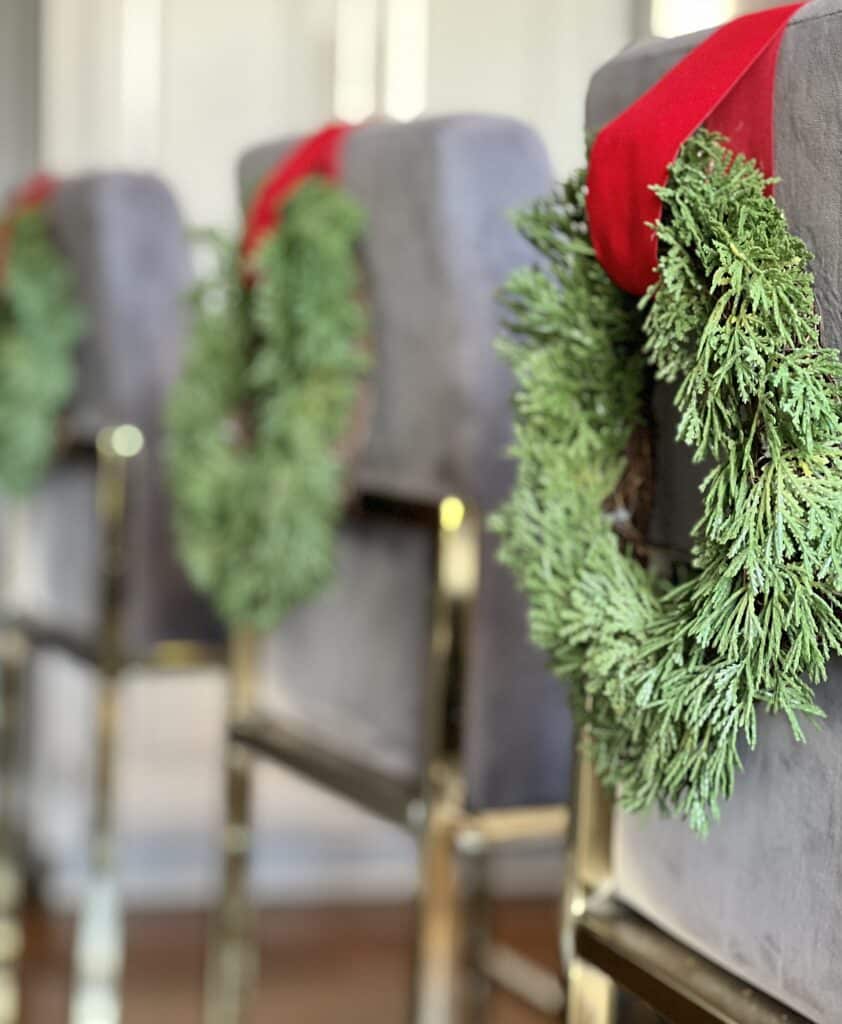 Welcome to our Christmas Home!
The boxes have been unpacked and festive Christmas decorations are now sprinkled throughout our home.
Christmas trees are up and Bentley only chewed up two ornaments!
There are some spots in the house that I decorate the same each year.
And there are areas that got a completely new look this year.
But each room got the "Merry and Bright" treatment with some vibrant Christmas color!
Let's Start in the Kitchen
Anyone who visits our home starts in the kitchen!
Isn't that where everyone heads to in your home?
This year, I added simple green wreaths to the glass front cabinets as well as all of the counter stools in the kitchen.
Bold red velvet ribbon is the only wreath embellishment but it still packs a punch in the kitchen!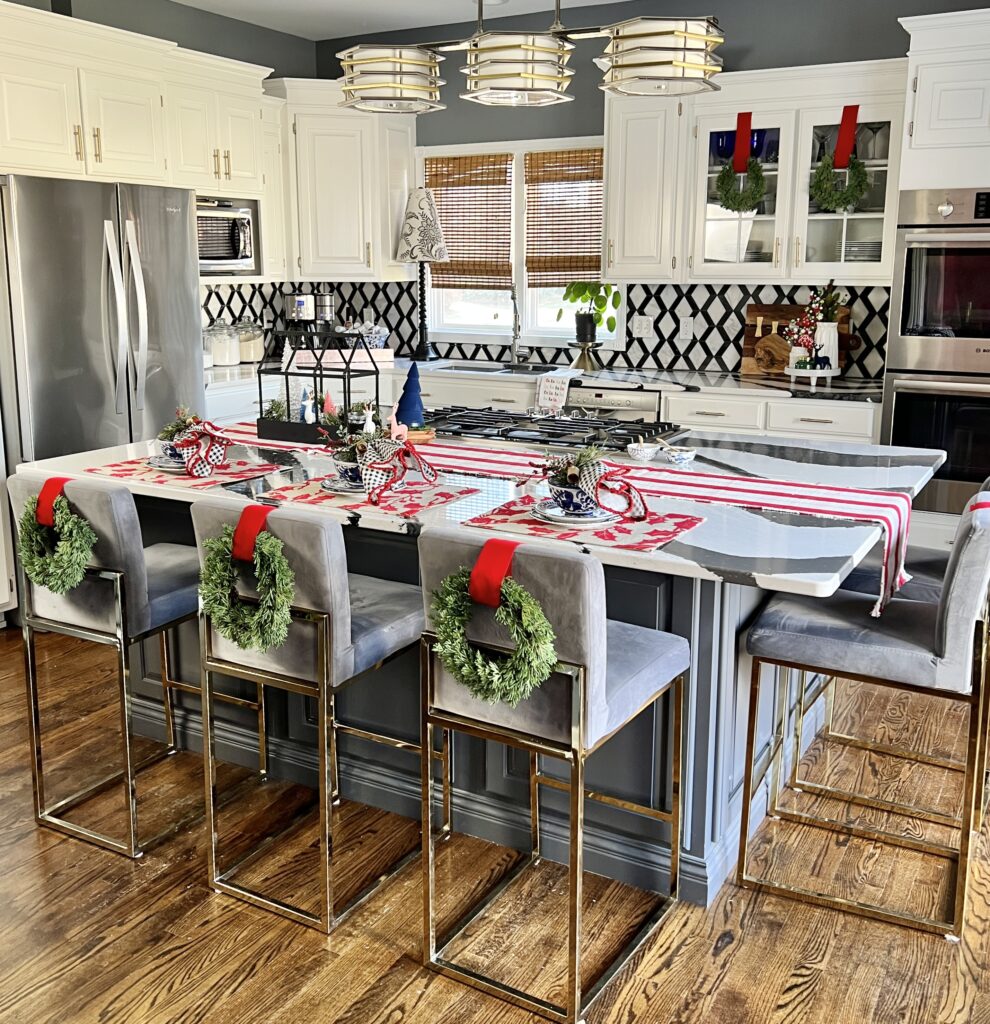 Decorating the kitchen island is one of my favorite things to do.
With a red and white runner spanning the length of the island, it seems the perfect spot for a small open-air mini greenhouse, colorful trees, and charming flocked reindeer.
Our family tradition is to serve clam chowder soup on Christmas Eve so it is the perfect time to use my mother's blue and white soup bowls!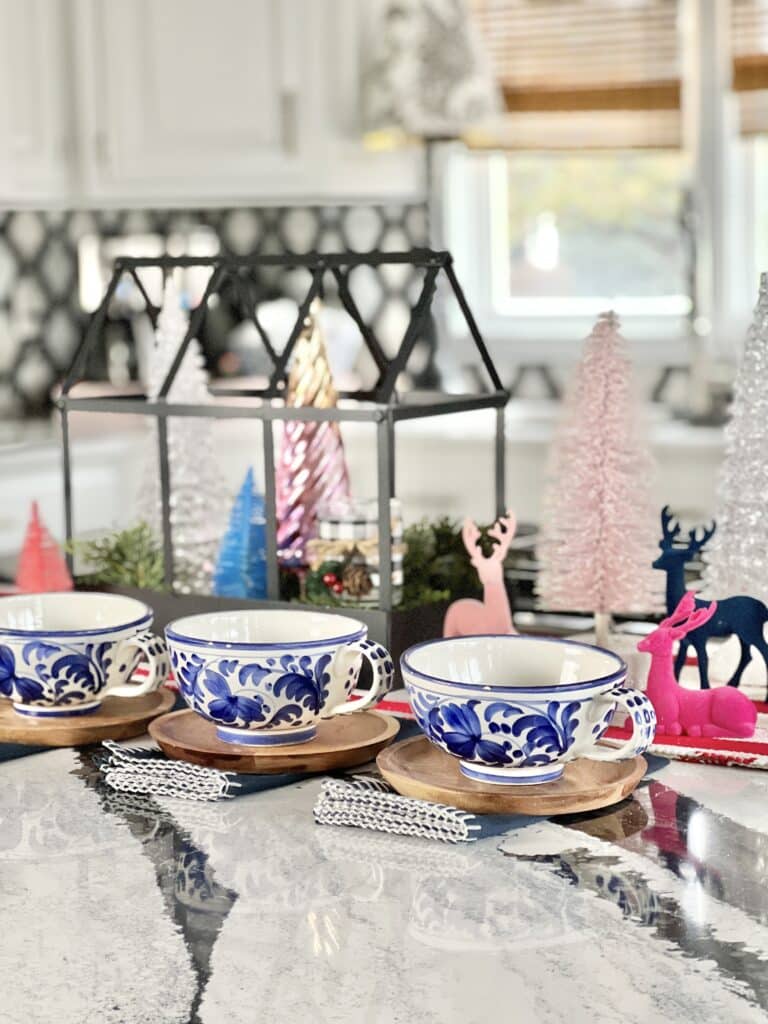 I just LOVE having a Christmas tree in the kitchen!
This champagne-colored tree is decorated in shades of pink and is beautiful to see from the inside as well as outside from the street.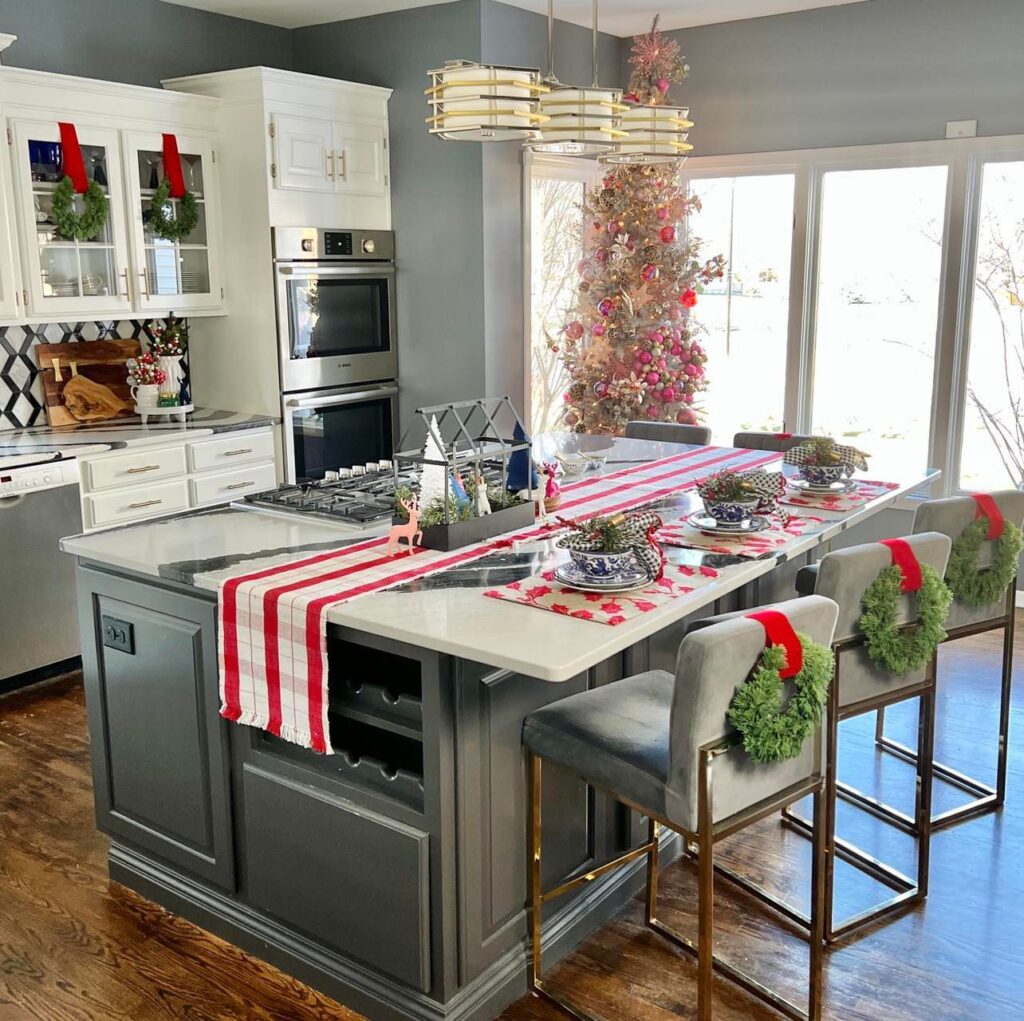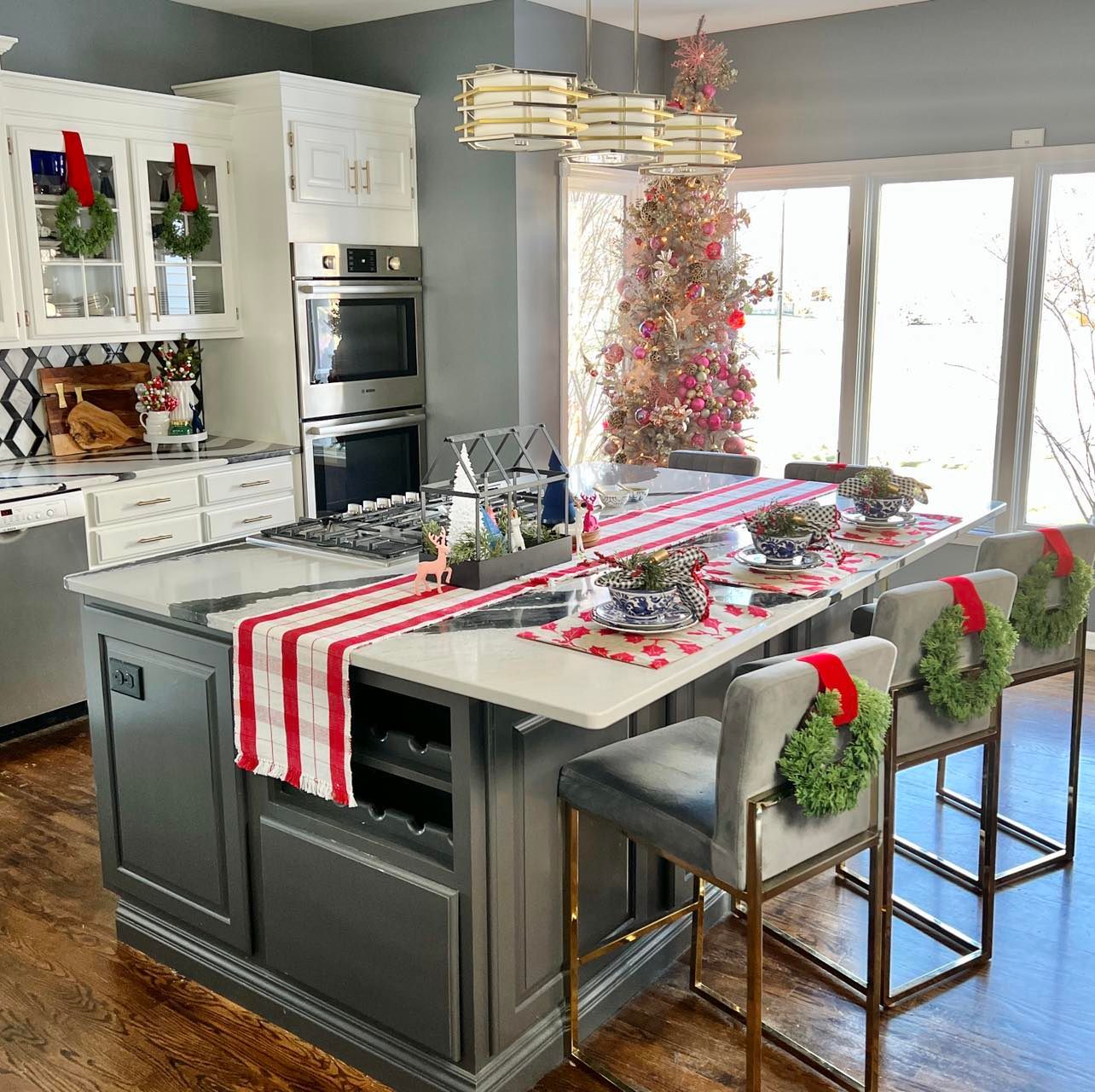 From the kitchen, you can see into the Dining Room!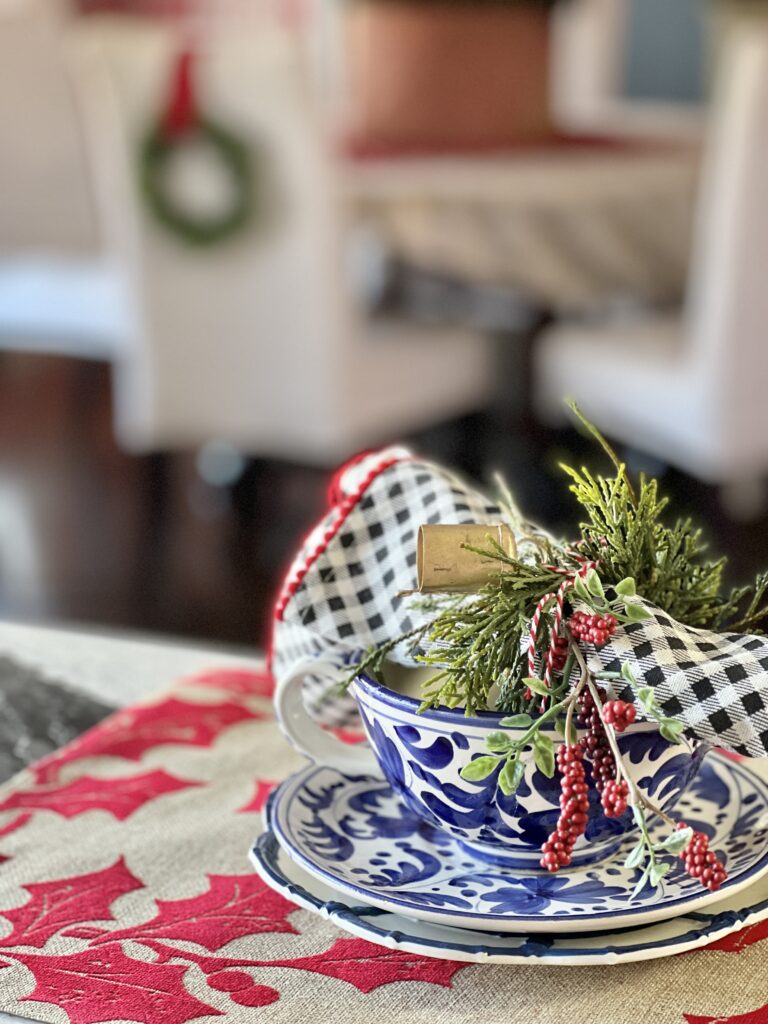 Deck the Dining Room
One of the best decisions we made in our kitchen renovation was to open up the wall between the kitchen and the dining room.
With the addition of the case opening, this is the view from the kitchen. (I get to see another Christmas tree!)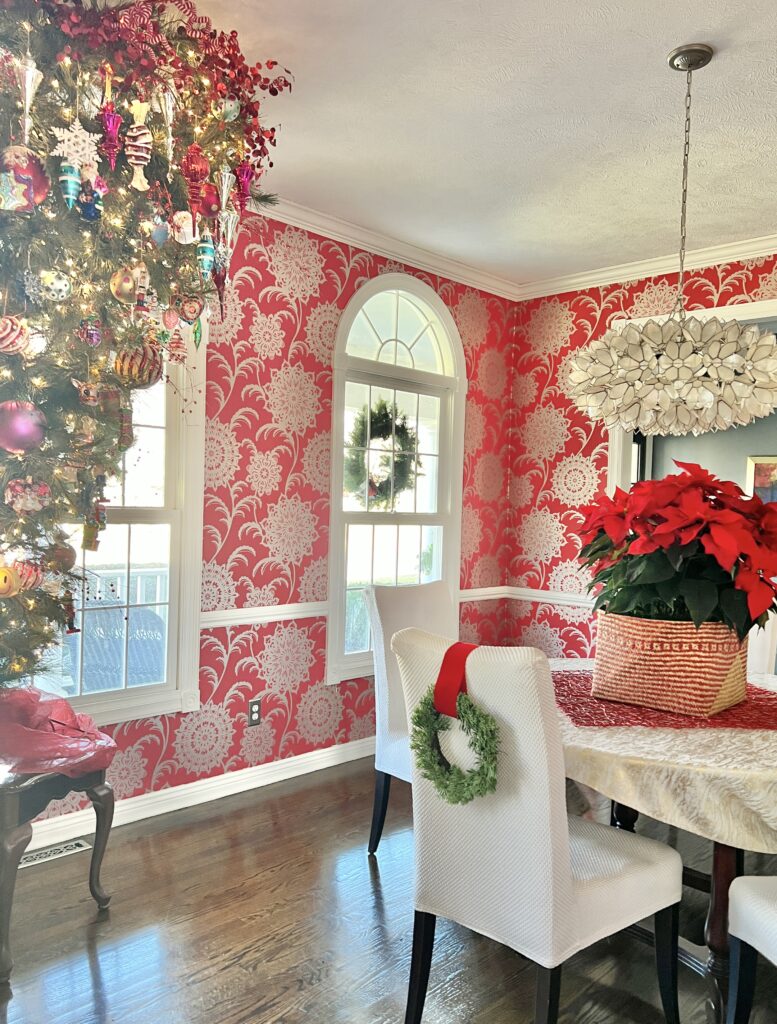 The upside-down Christmas tree sits in this spot every year. I consider putting it in another spot every year but this is really the PERFECT spot for this tree!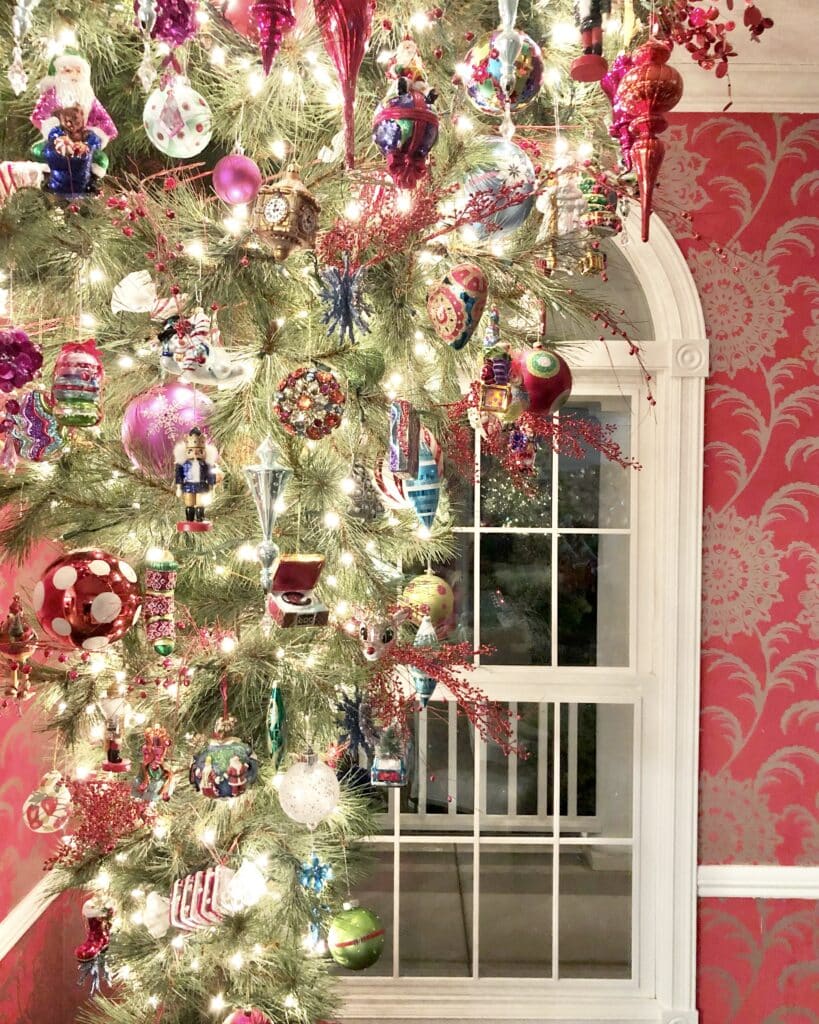 More wreaths on the chairs as well as wreaths on the windows outdoors!
My husband surprised me with this gorgeous poinsettia plant and it is perfect as a dining table centerpiece.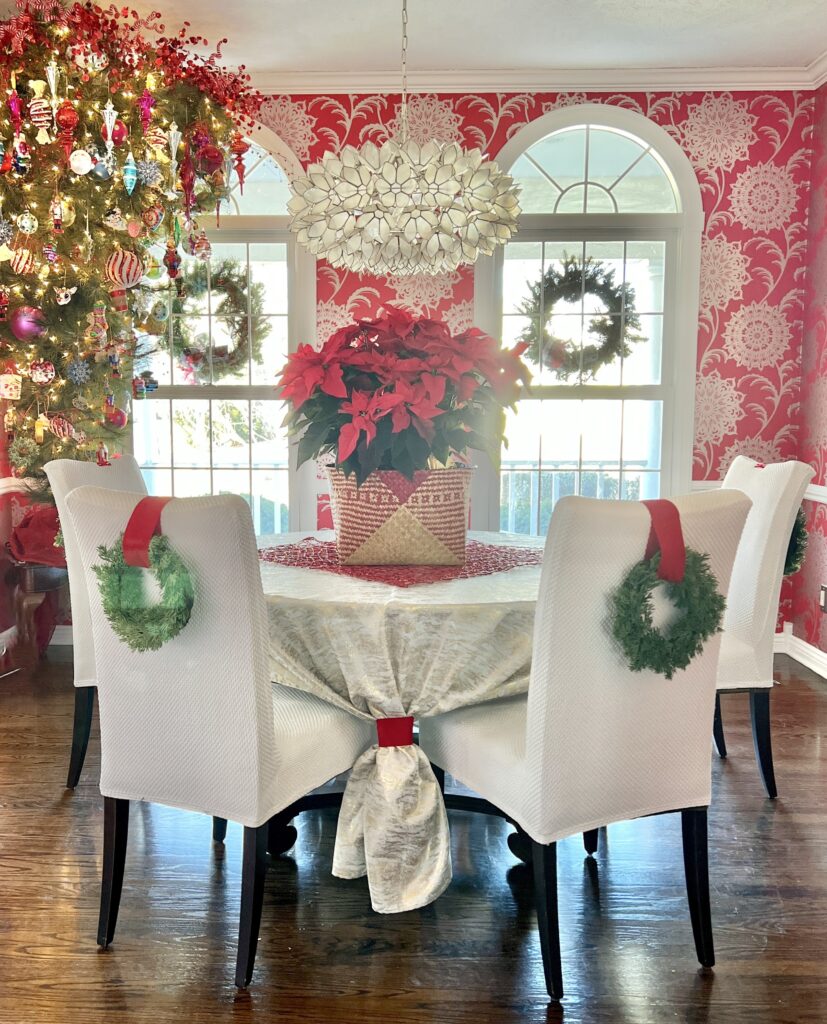 A Merry and Bright Living Room
Welcome to our living room, all decorated for Christmas!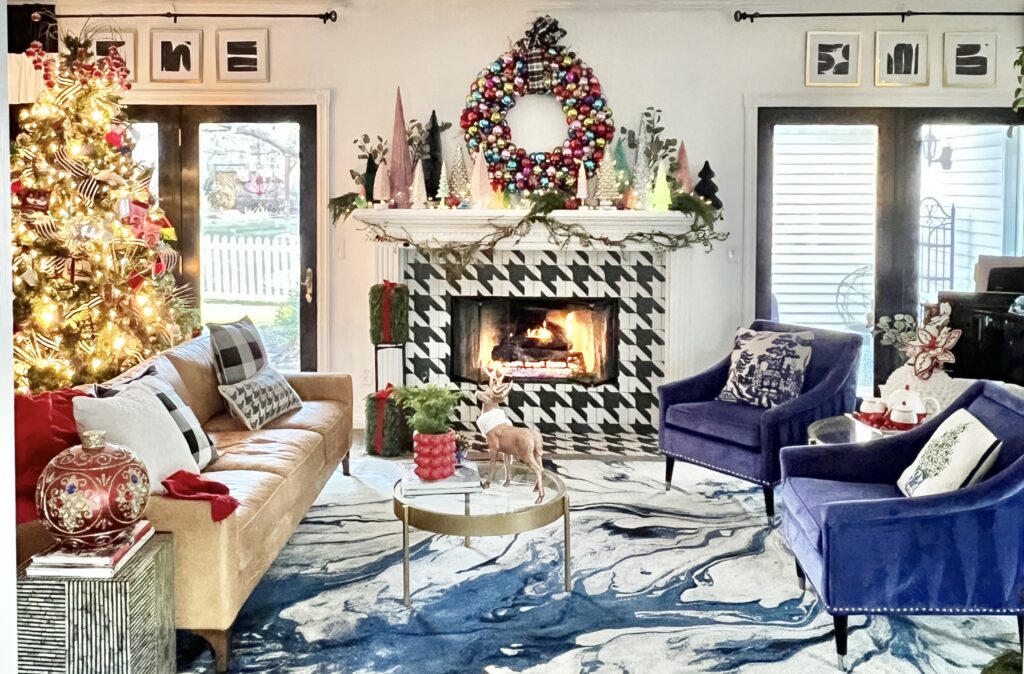 This year, I made a dramatic Christmas ornament wreath out of two pool noodles! And we love it above the fireplace!
Adding lots of multi-colored trees ties in well with all of the bright colors in the wreath.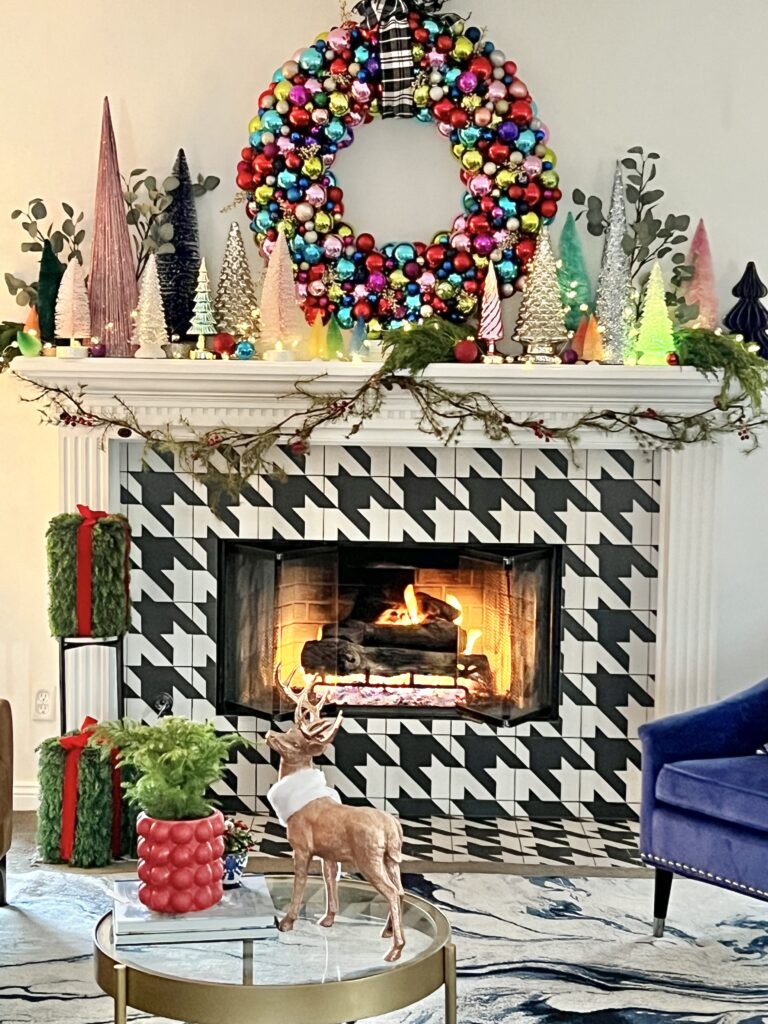 A small flocked tree in a blue and white fish bowl sits atop the piano again this year.
Last year this tree was decked out in a cacophony of color. This year we are enjoying the simplicity of just beautiful white lights and color from the other side of the room reflected in the pier mirror behind it.
The blue chairs are decked out with comfy pillows with a Christmas tea set between them.
Can I offer you a cup of coffee? Tea? Hot cider?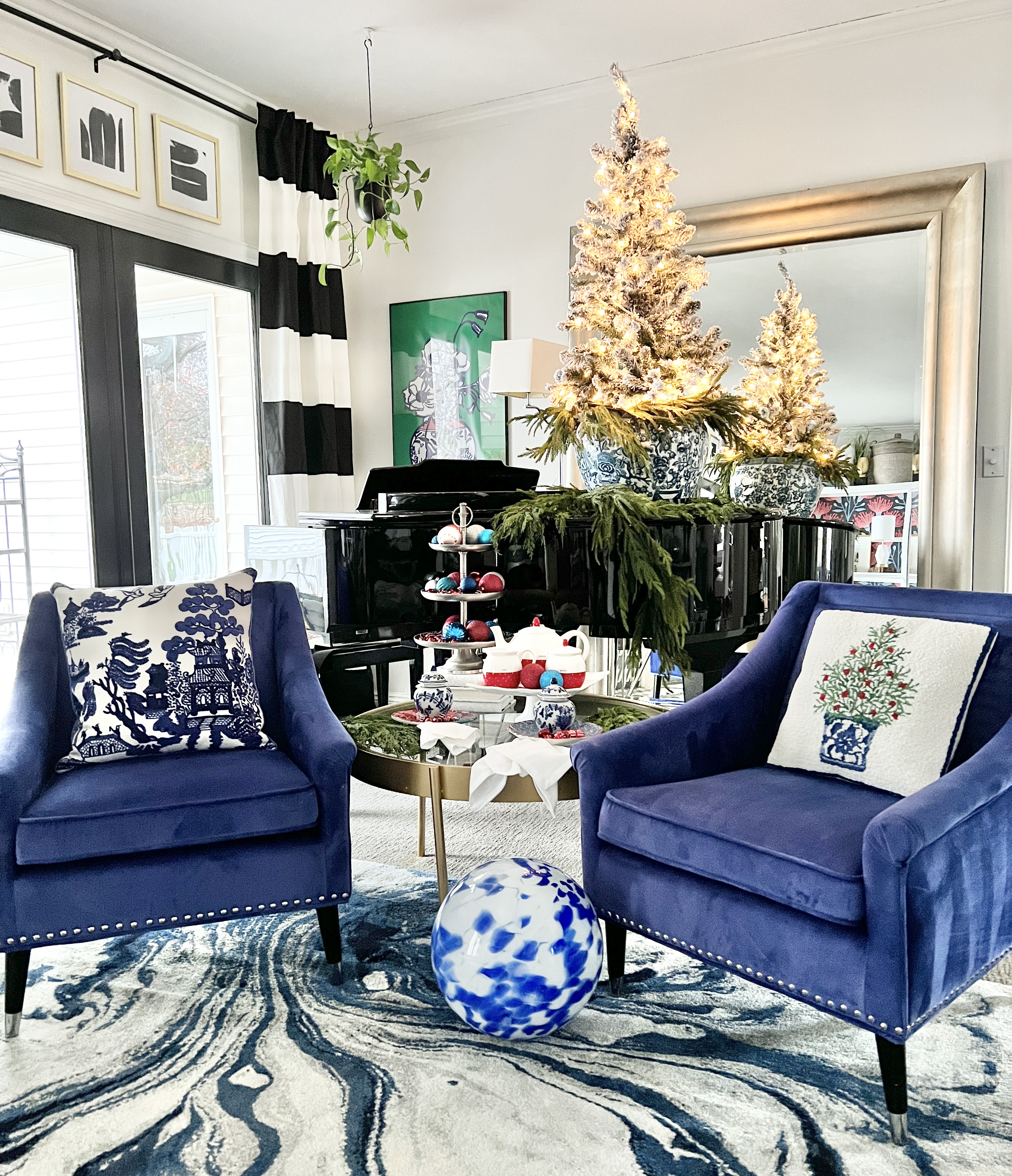 On the opposite side of the room, we have our decorated family Christmas tree.
If you look closely, you can all of the cherished handmade ornaments that we have collected over the year.
This is always my favorite Christmas tree in the house!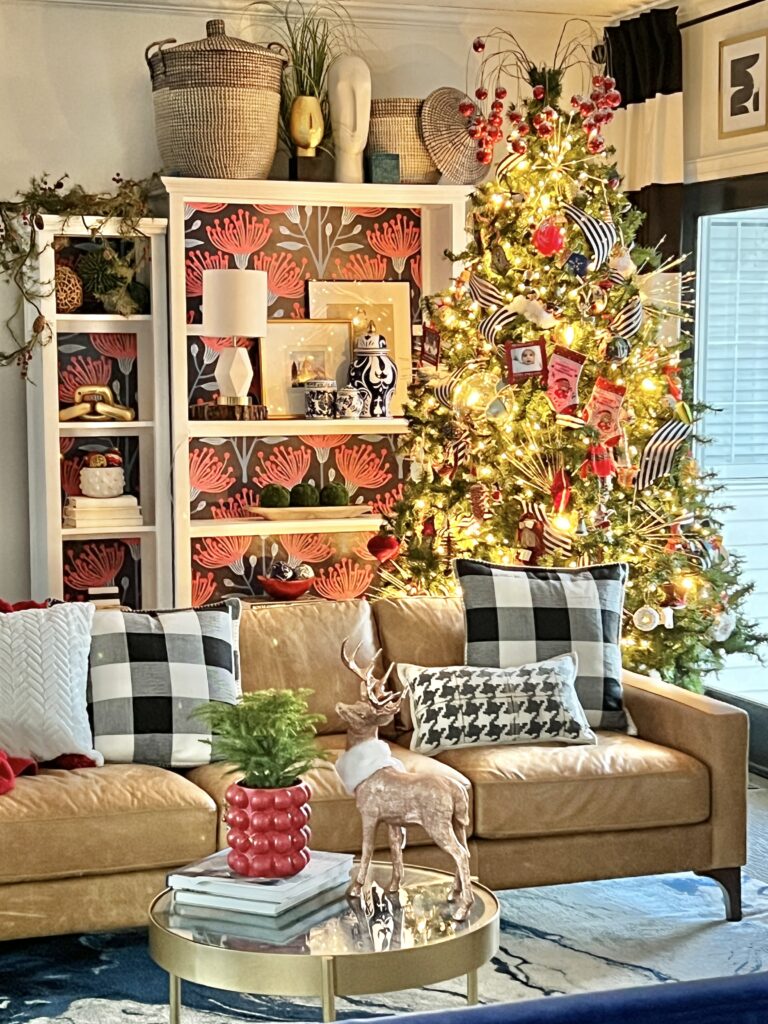 We haven't had snow yet, but we still love a fire in the fireplace!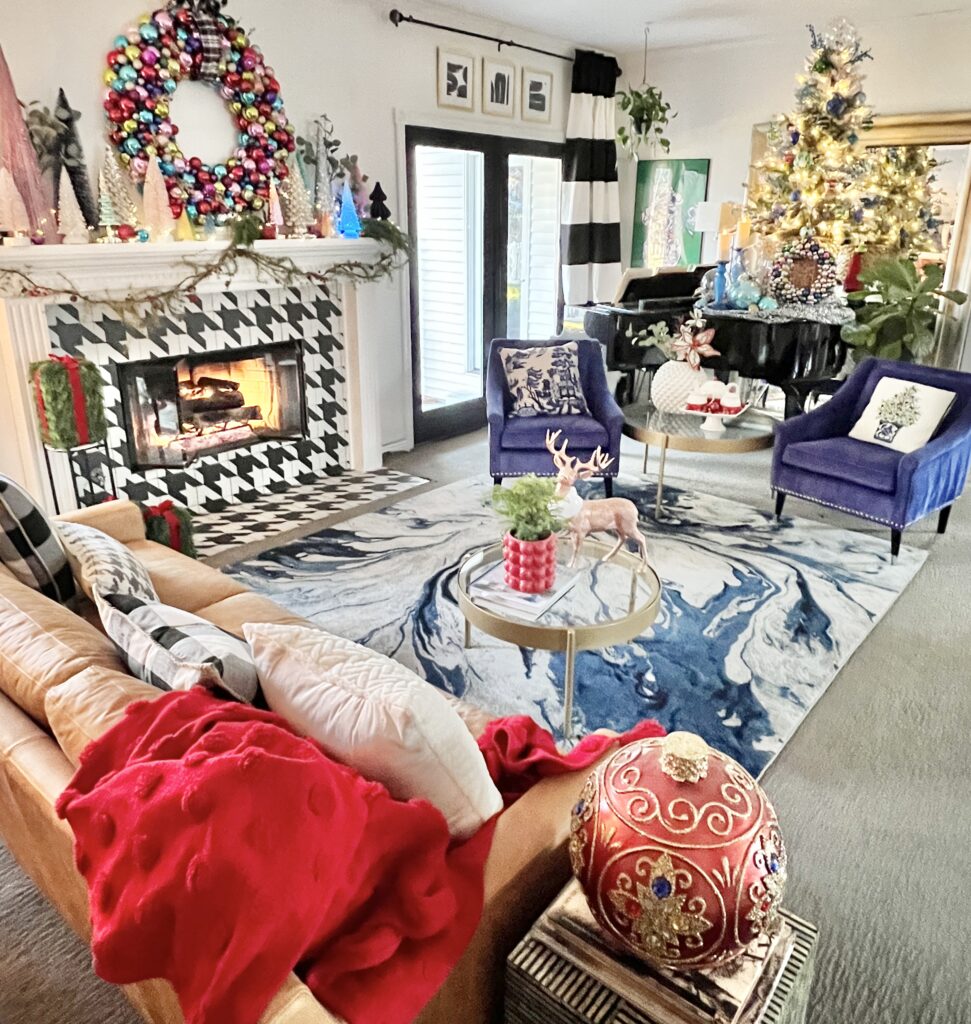 So does Bentley!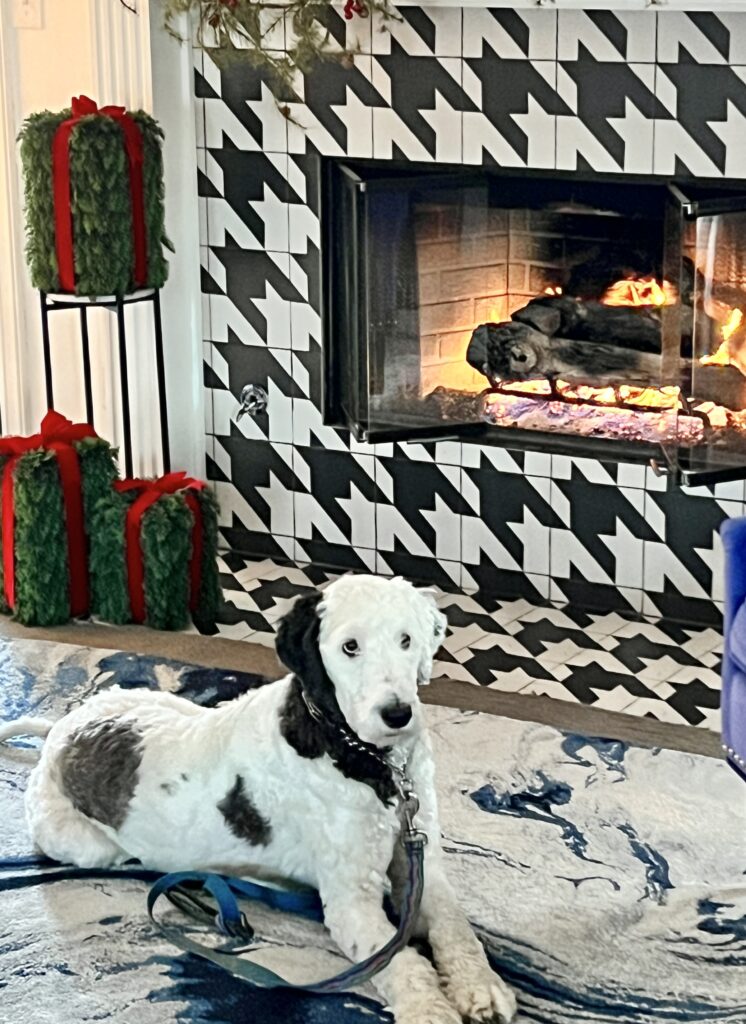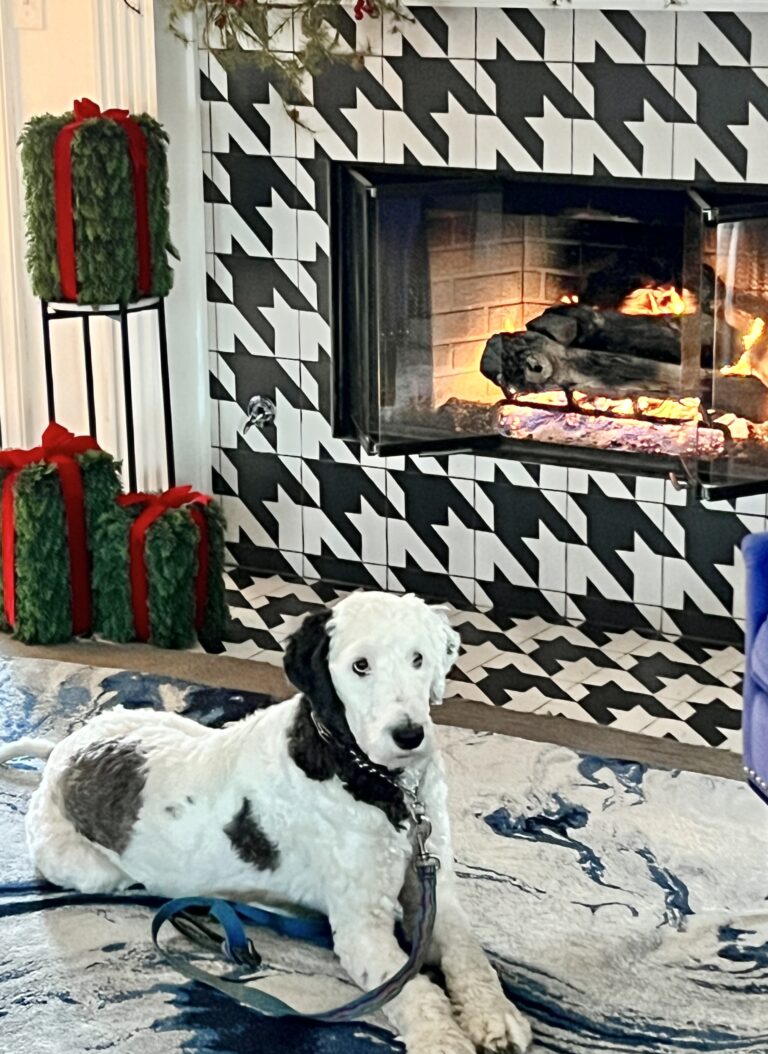 Now, we are ready to join Bentley and enjoy the festive Christmas decor in the house!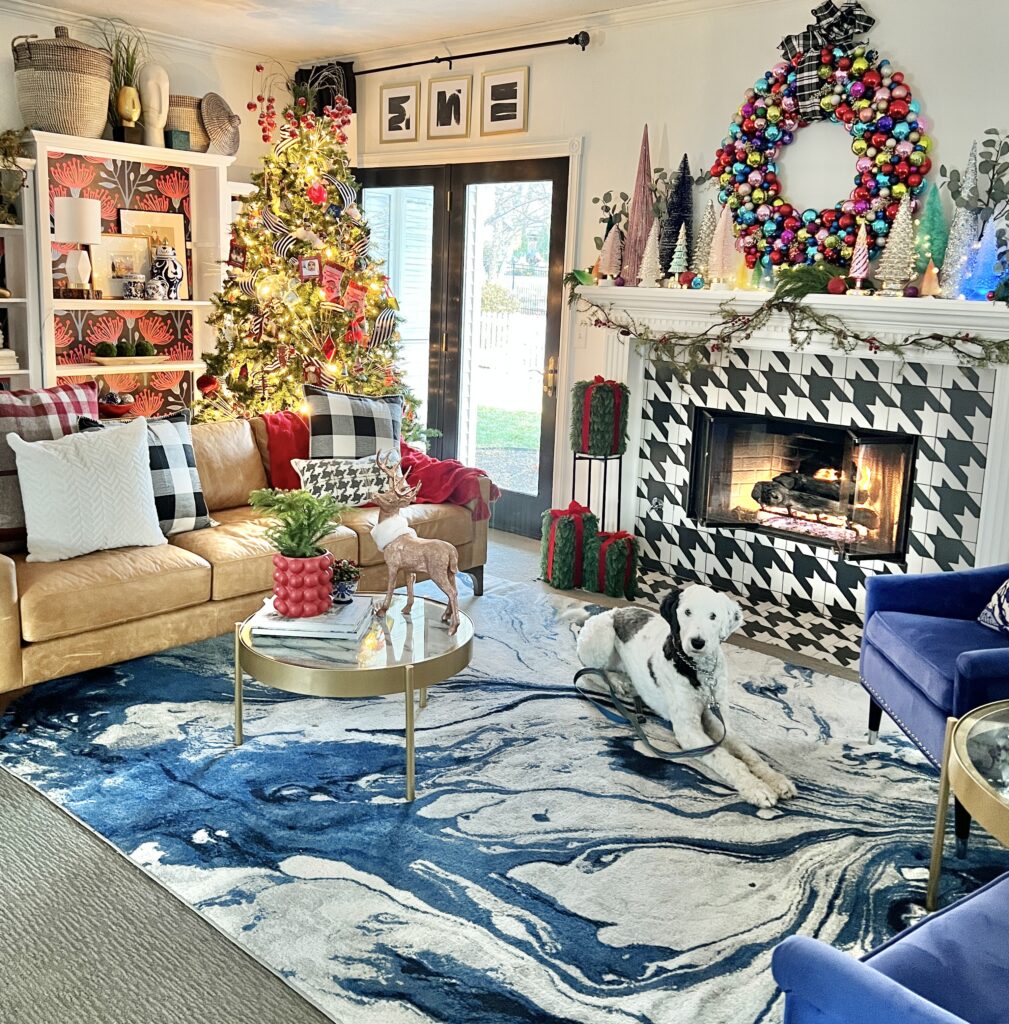 Thank you for joining me for a tour of our colorful Christmas home!
Whether you're just starting to get into the Christmas spirit or are already feeling overwhelmed by all of the decorating that needs to be done, I hope this home tour has given you some ideas and inspiration.
I had so much fun putting it together, and I hope you enjoy it too!
As always, feel free to reach out if you have any questions about how I did something or if you need help with your own Christmas decorating.
Have a very merry Christmas!
Cheers!

Holiday Home and Entertaining
Homemade Chocolate Truffle Recipe + Truffle Tree Idea
Can You Put Spode Christmas Tree Dishes in the Dishwasher?