How to Make a Pool Noodle Christmas Ornament Wreath
If you're looking for a simple (yet festive) decorating idea for your Christmas home decorating, look no further than the pool noodle ornament wreath!
It's really easy to make and fun to customize the wreath to match your own personal style because you choose the color palette. This will definitely add some Christmas cheer to your home!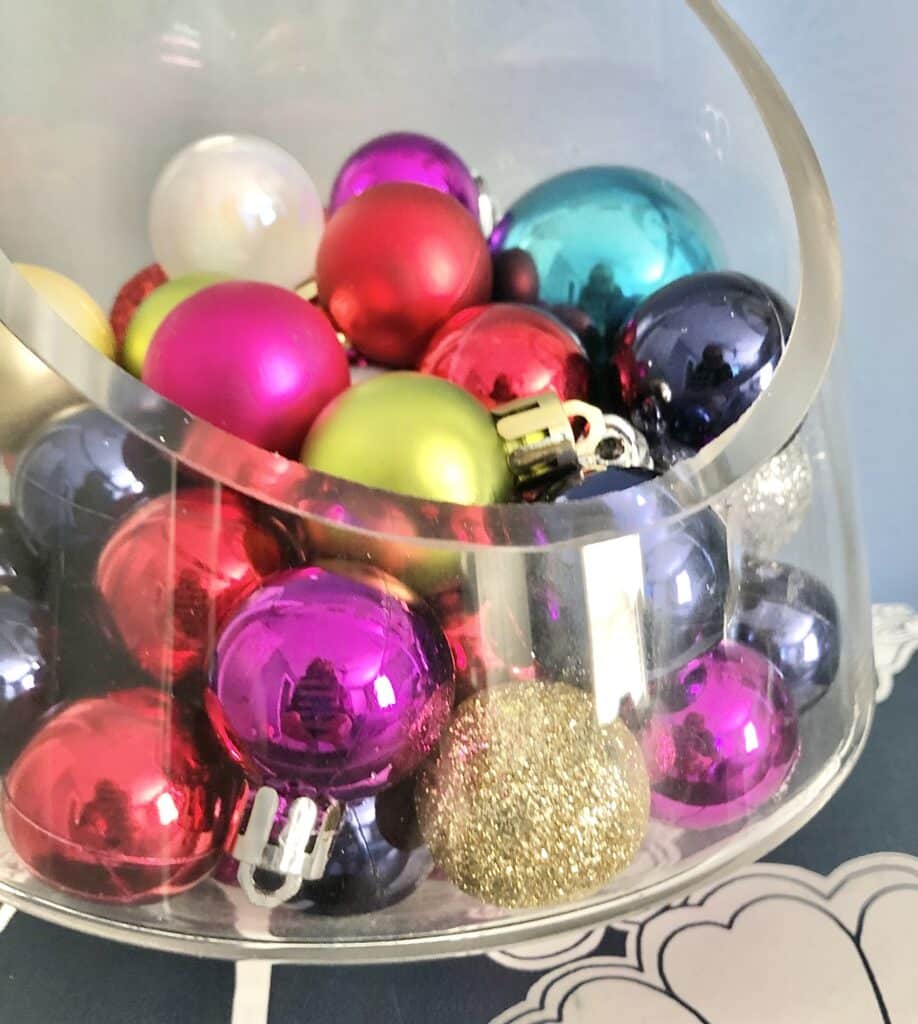 Hi Friends!
Halloween is officially over and it is time for holiday decorating!
No, we don't want to forget the important Thanksgiving holiday…gratitude is so important.
(Plus, I have 10 people coming for dinner!)
However, we can start to plan our Christmas decorating and create any projects ahead of time so we are ready to go when the time is right for you!
I am so excited to share this pool noodle wreath project with you!
I was a little skeptical at first. After all…pool noodles???
But it works! And, it is beautiful!
So…Let's Go!!!
Pool Noodle Ornament Wreath Supplies Needed
2 Pool Noodles
Duct Tape
Christmas Shatterproof Ornament Balls
Hot Glue Gun and Glue Sticks
Wire for Hanging
Scissors
Optional: Garland or Picks
Optional: Hula Hoop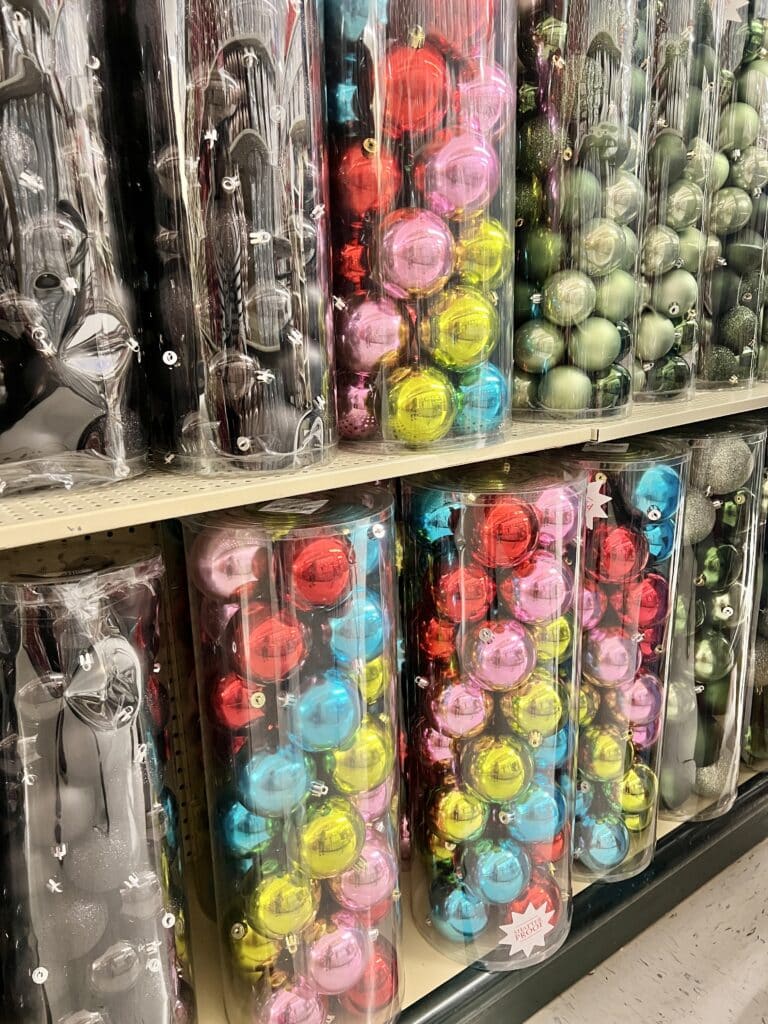 Choose ornament balls that will fit within your Christmas color scheme!

Make the Wreath Form
Two poodles noodles equals one wreath form!
Create a circle from two pool noodles with duct tape as the magic connector!
Because pool noodles can have a mind of their own, here is an easy way to tape the ends together using duct tape.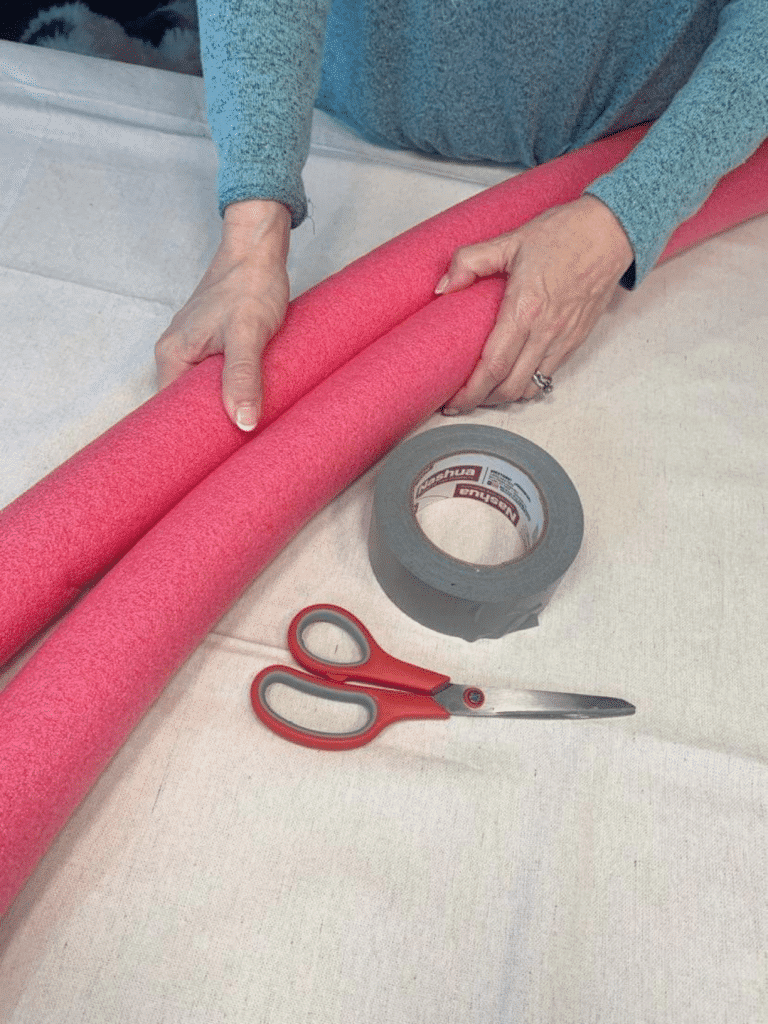 Cut several pieces of duct tape about 8 inches long.
First, cut two or three pieces of duct tape, about 10″ long. Lay one of the pieces vertically on the table,
Join the pool noodle ends on the duct tape with each end taking half of the tape's width.
Roll the two pool noodles along the length of the tape keeping it taut as you go.
Use the other strips of tape to secure the connection. Ornaments can be heavy…you want your wreath form to be secure!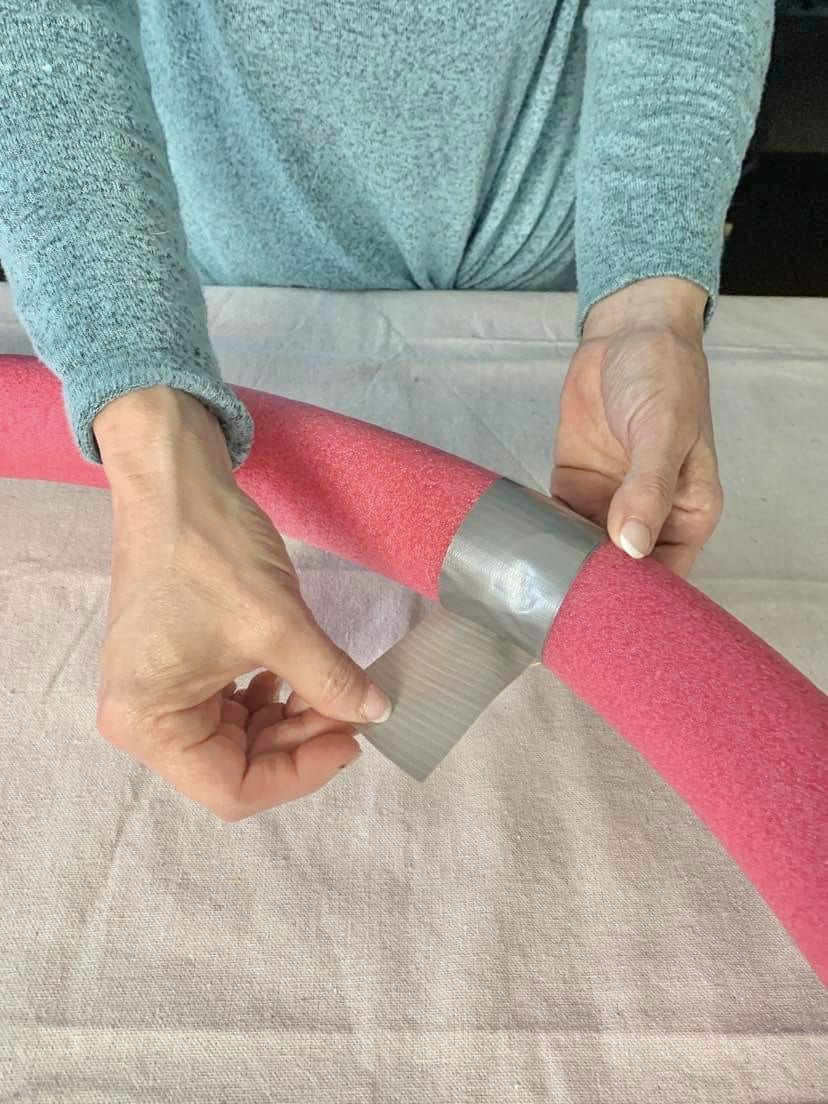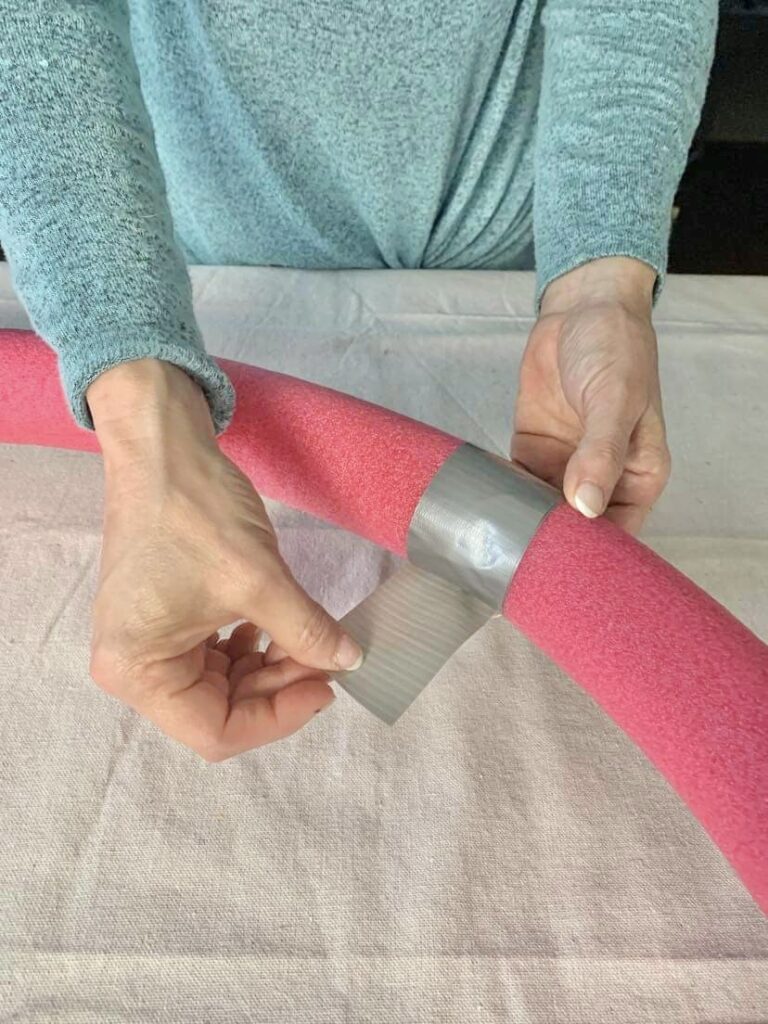 Repeat for the other two ends of the pool noodles.
If you are struggling with some stubborn pool noodles (sometimes they just don't want to bend!), give them a few twists and turns in order to "warm them up." This helps them to be more pliable.

Add a Hanger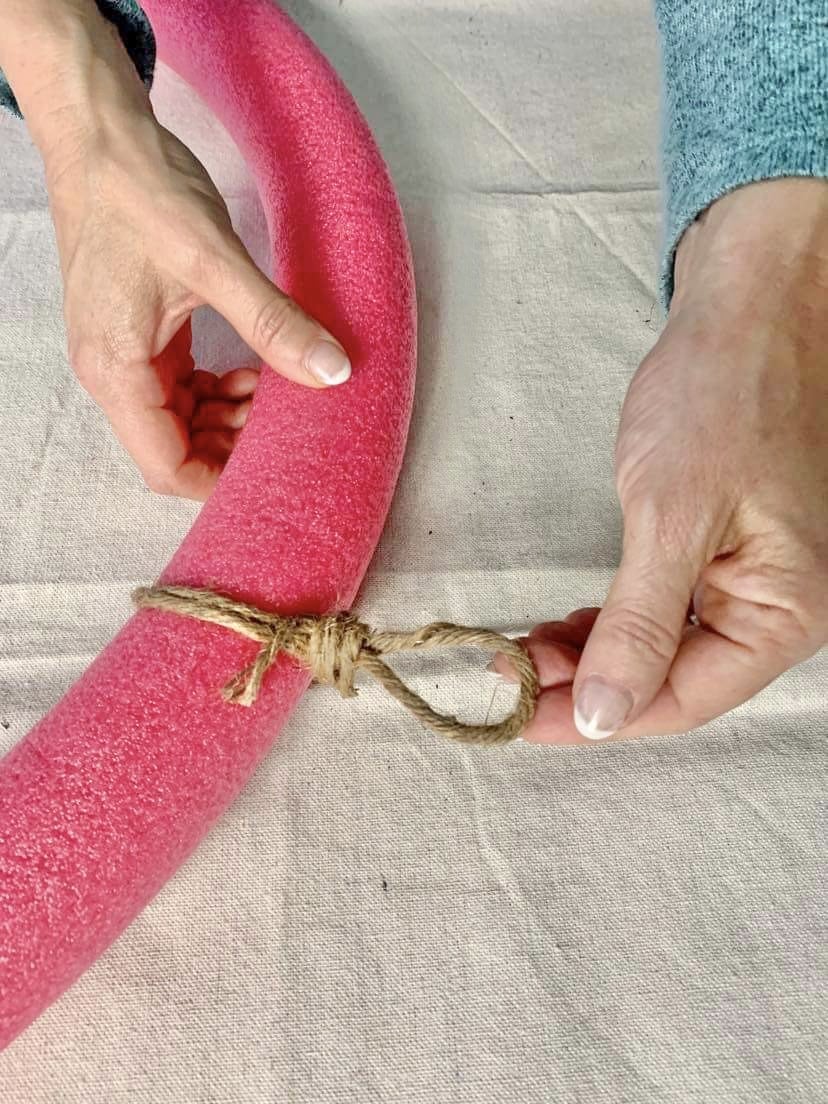 Attach the Ornament Balls
Next, using your hot glue gun and glue sticks, glue ornament balls to the outside of the wreath form.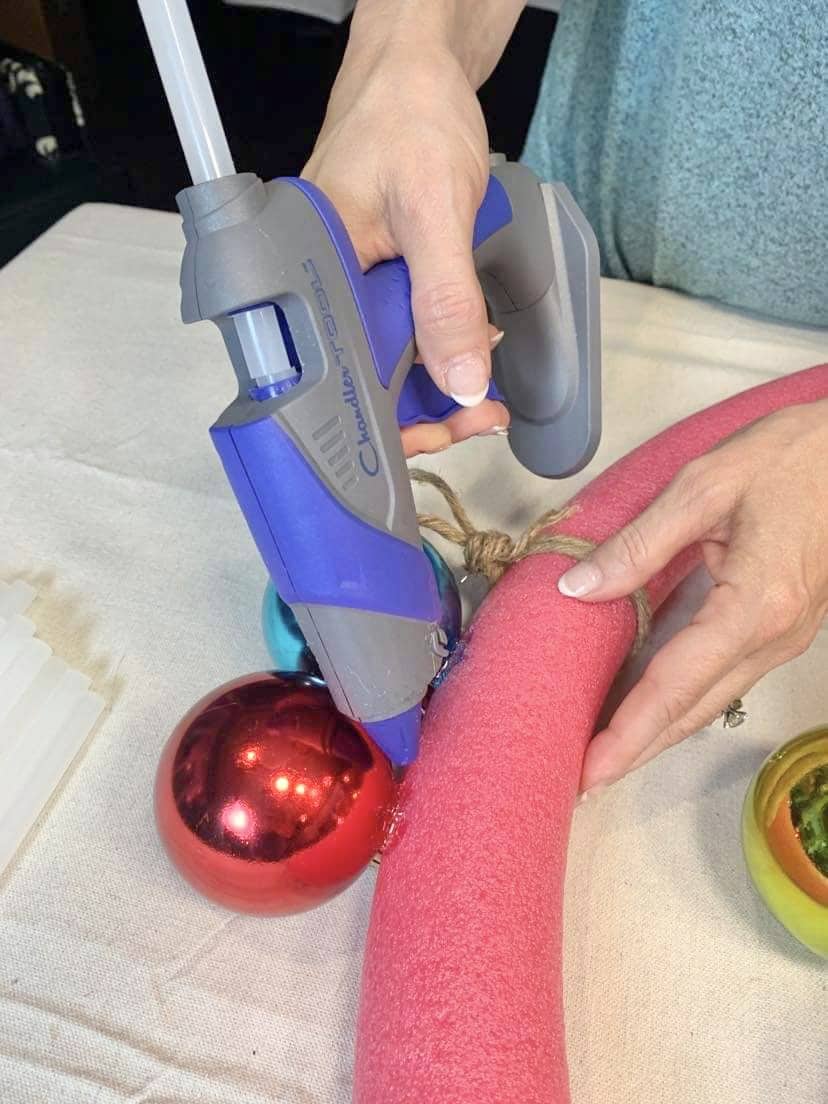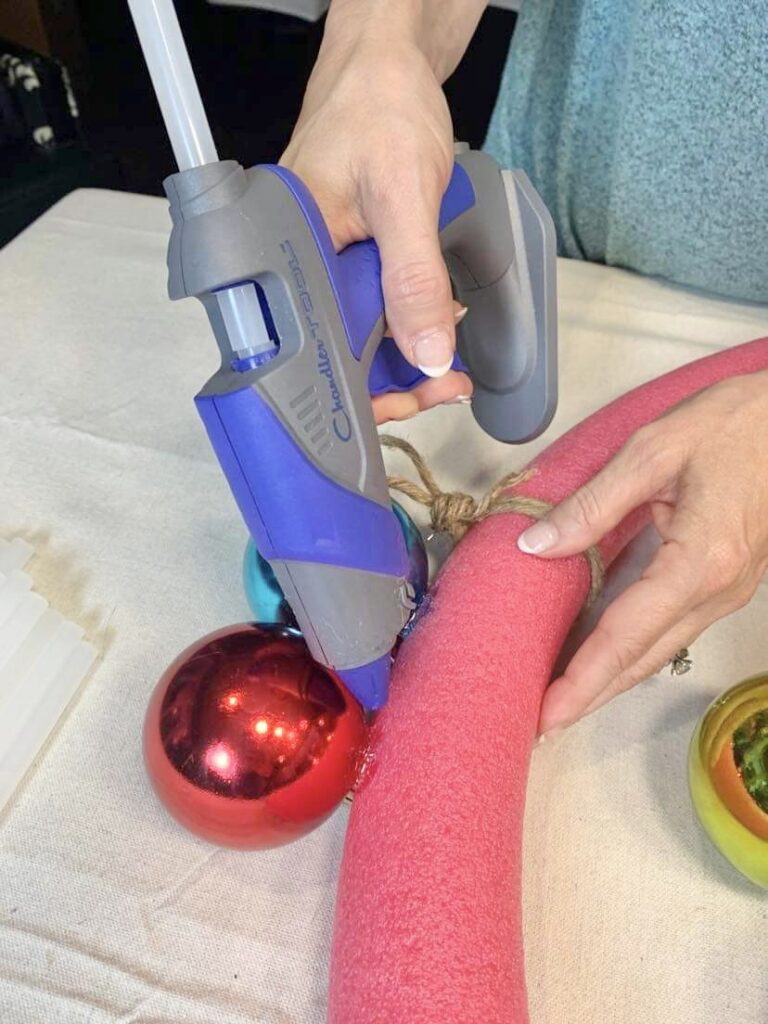 Be sure to put the glue on the ornament and not directly on the form. The pool noodle form could melt a little if you hold the glue gun on it for too long.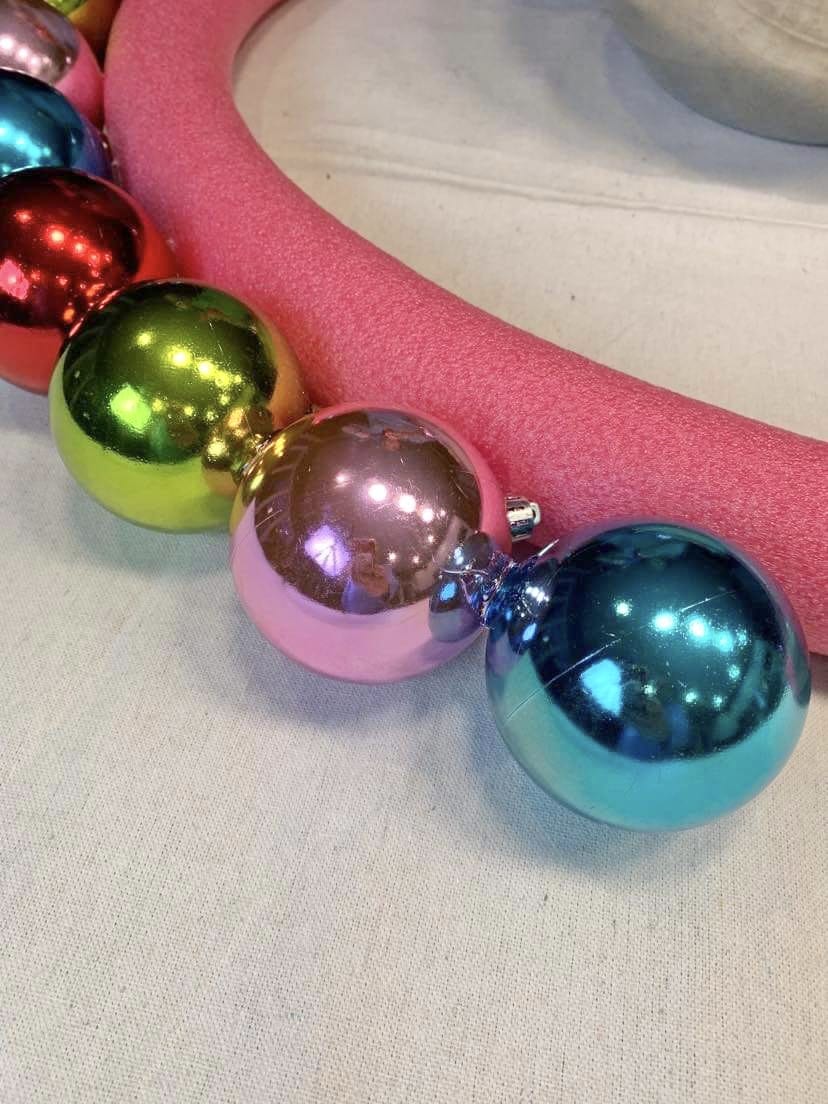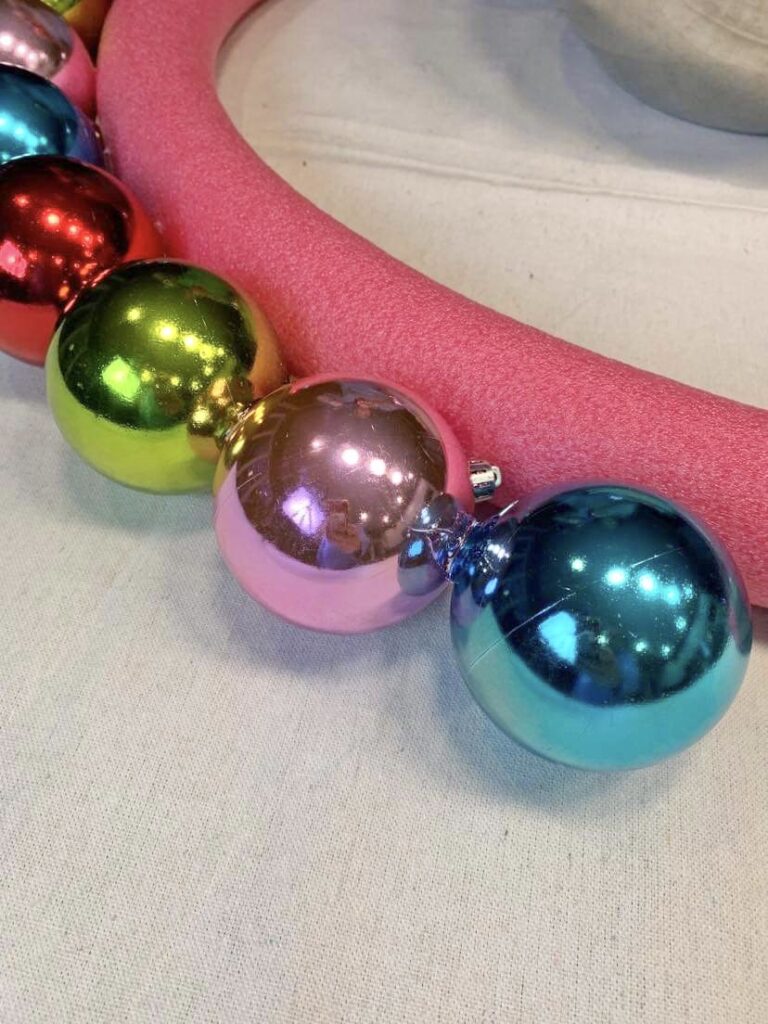 Next, glue ornament balls to the inside of the wreath form.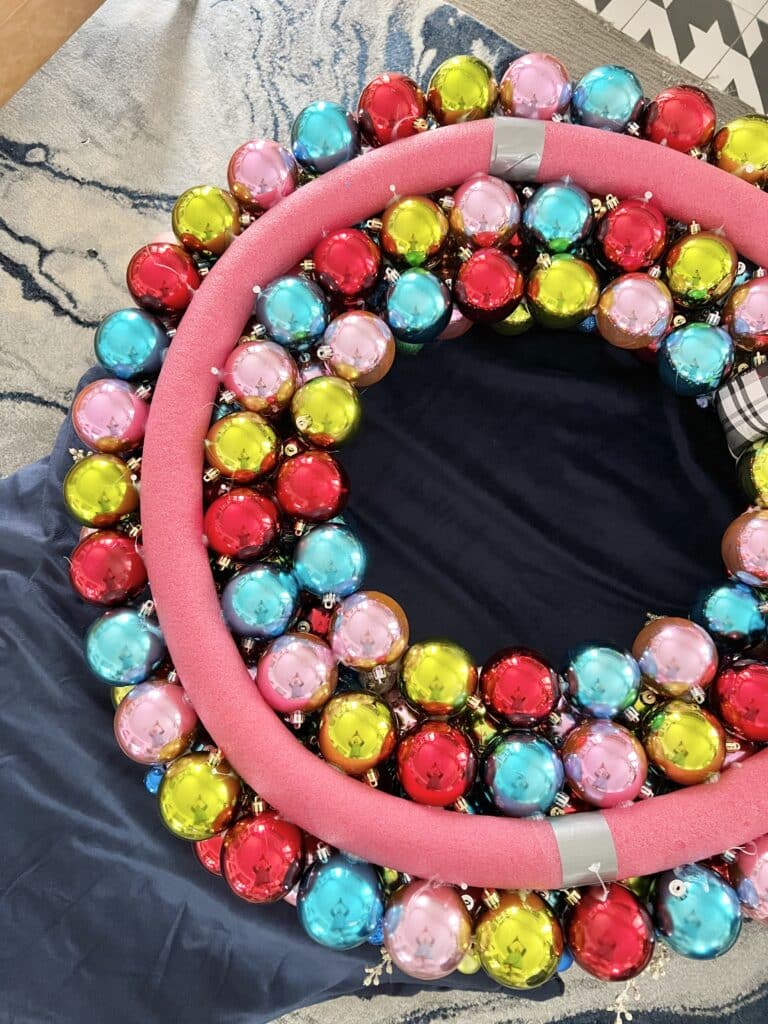 Now, start to fill in the center with ornaments. Once you get the larger ornaments glued to the form, start to attach smaller ornament balls in various sizes. This helps to hide any gaps between the larger ornaments.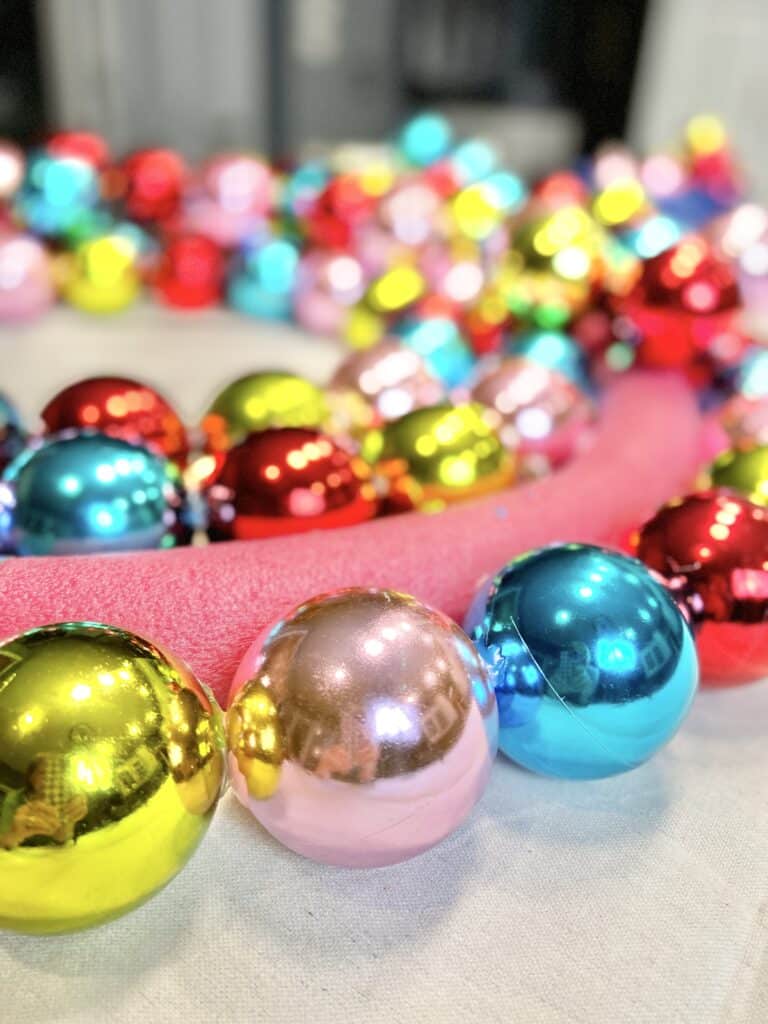 This is truly the fun part! Get creative with the colors you use and vary their placement.
Always Better with a Garnish
Whether you use bits of garland or small picks, take the opportunity to fill in smaller gaps with other decorative bits.
Small berries, tinsel, tiny ornaments…anything festive to fill in gaps and add festive texture!
Metallic picks are a great choice for giving your wreath a little bling!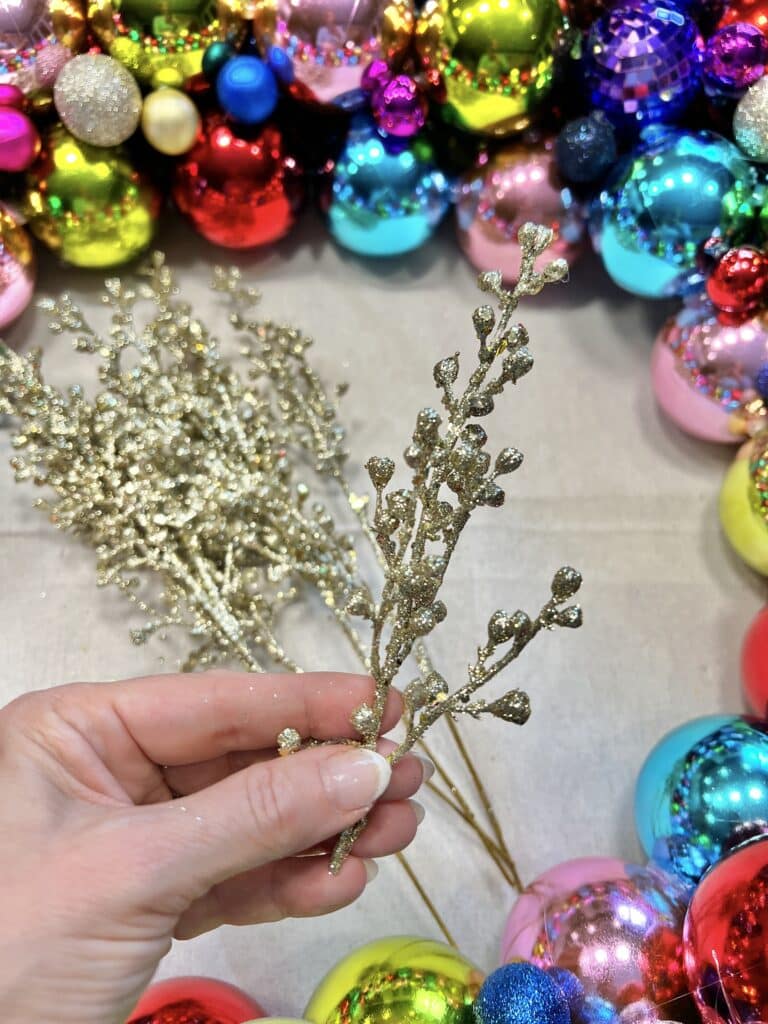 Just tuck them in the tiny spaces!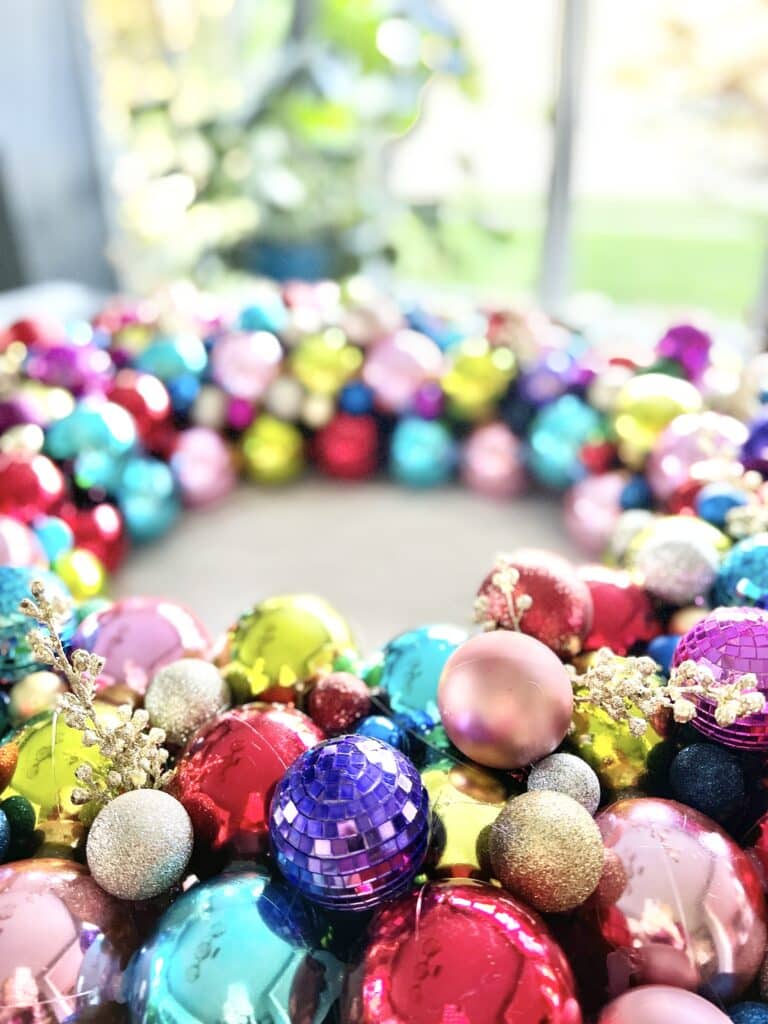 Troubleshooting
There are a few potential issues that might arise with your new ornament wreath. It is made from pool noodles after all…not the sturdiest material in the world.
Cold Weather
Hanging your wreath outside works best if you live in a temperate climate. Since we live in the midwest where winters can be brutal, I leave the wreath outside only until the temperature drops below freezing.
That being said, we sometimes have Decembers that are well above that temperature and it is ok to hang outdoors. (Wreaths are easy to take in and out!)
If an ornament falls off because of the glue cracking…just glue it back on!
Stop the Sag!
Depending on how much you load up your wreath, the pool noodle form could possibly sag because of the weight.
My solution? A hula hoop!
Use duct tape to attach a hula hoop to the back of the wreath.
Solid support and no more sagging!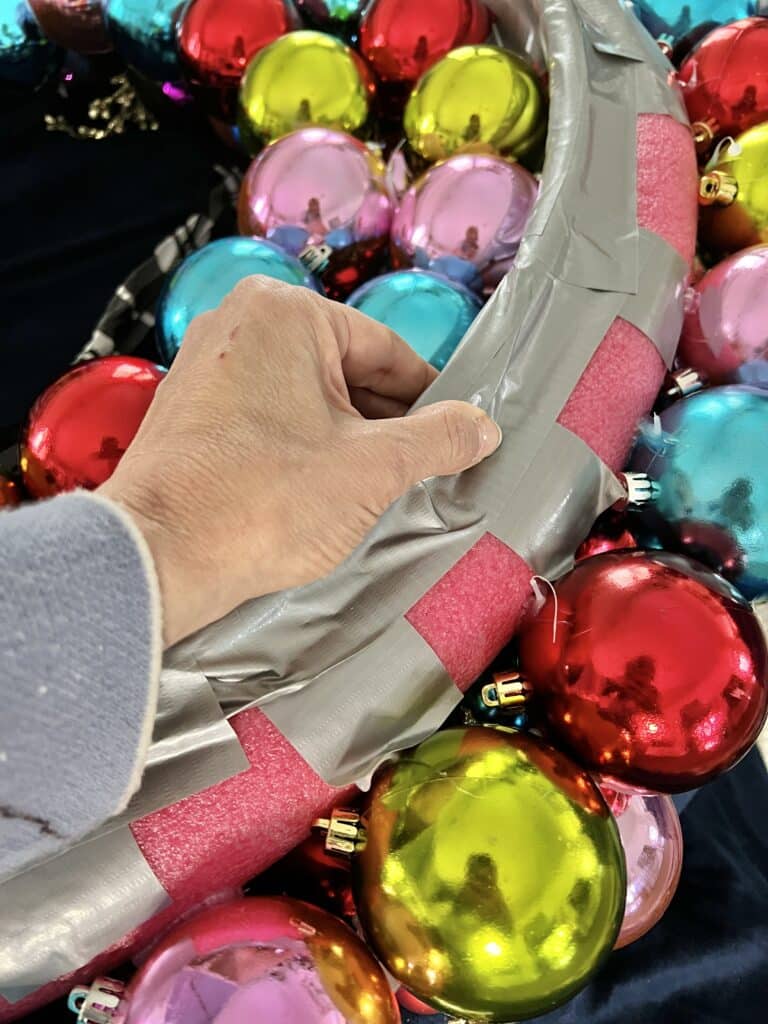 Expense
This wreath does take a lot of ornaments!
However, I found that by watching sales, using coupons, and searching the bottom of Christmas storage boxes, I was able to find a lot of ornaments very inexpensively!
Styling Your Pool Noodle Christmas Ornament Wreath
Now that you have this gorgeous wreath, it is time to show it to the world!
The Window
If you're looking for a way to spread holiday cheer to your neighbors, why not hang your pool noodle wreath on your outside window?
This is such a simple and festive way to show that you're in the holiday spirit, and it's sure to bring a smile to the faces of everyone who sees it.
Such a great way to dress up your home for the holidays!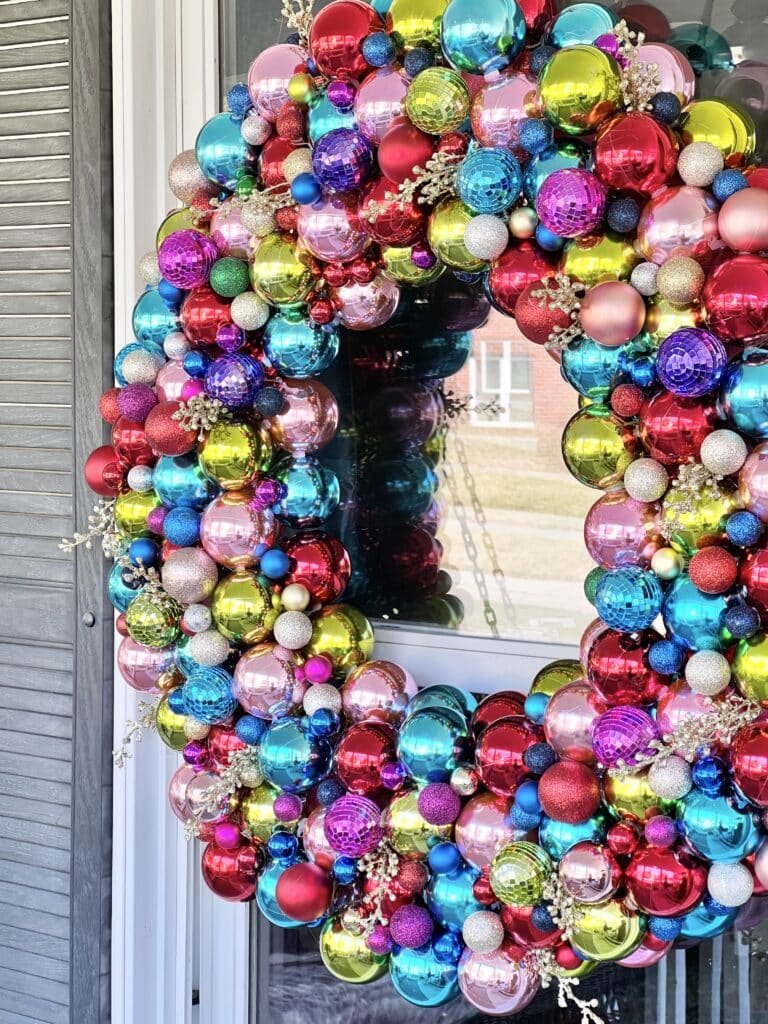 A Dining Table
While most people think of wreaths as being hung on doors or walls, they can also make a dramatic statement when displayed horizontally on a dining table.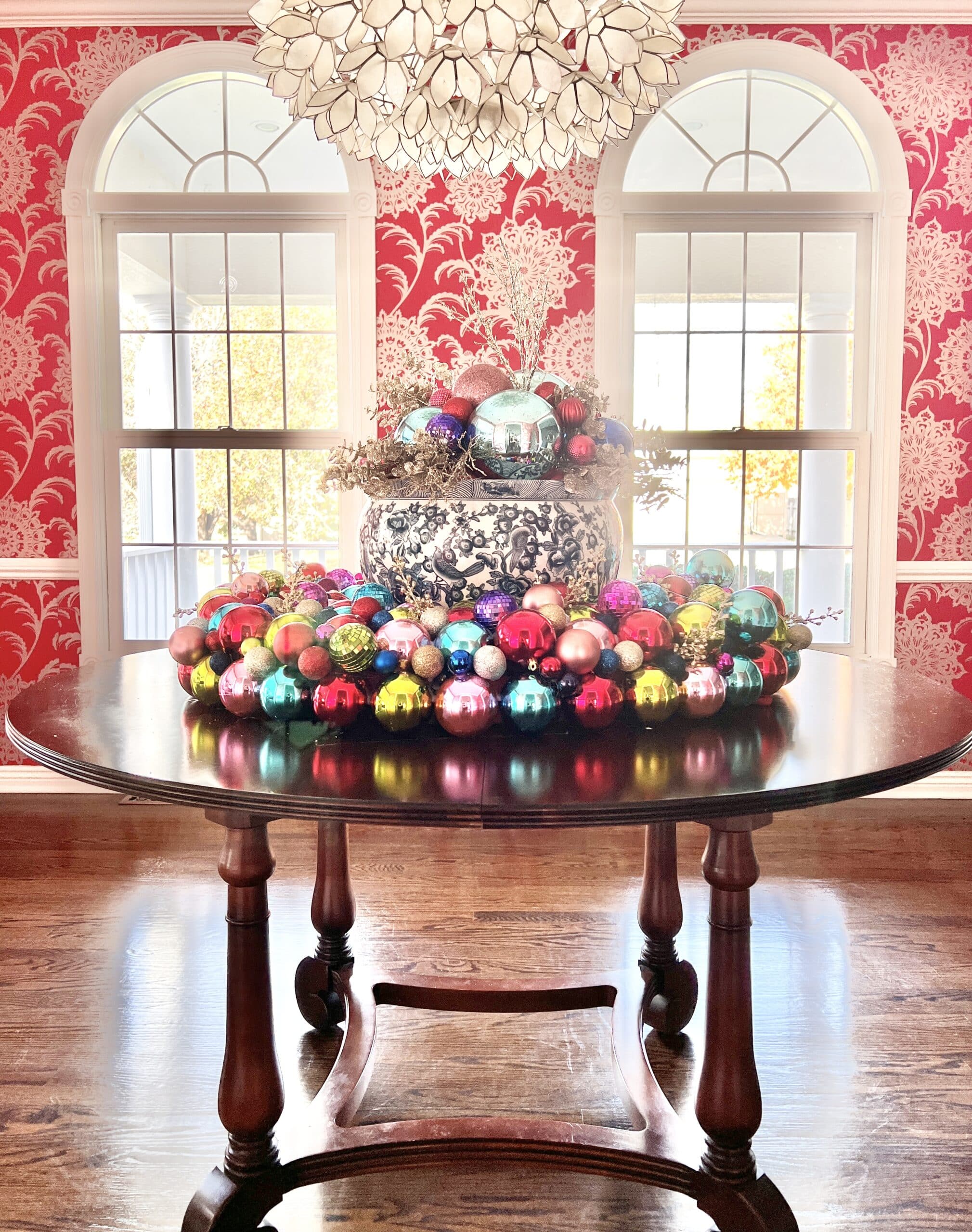 Lay your wreath on your dining table or console table and fill the middle with a beautiful pot, tiered tray, or even a small Christmas tree!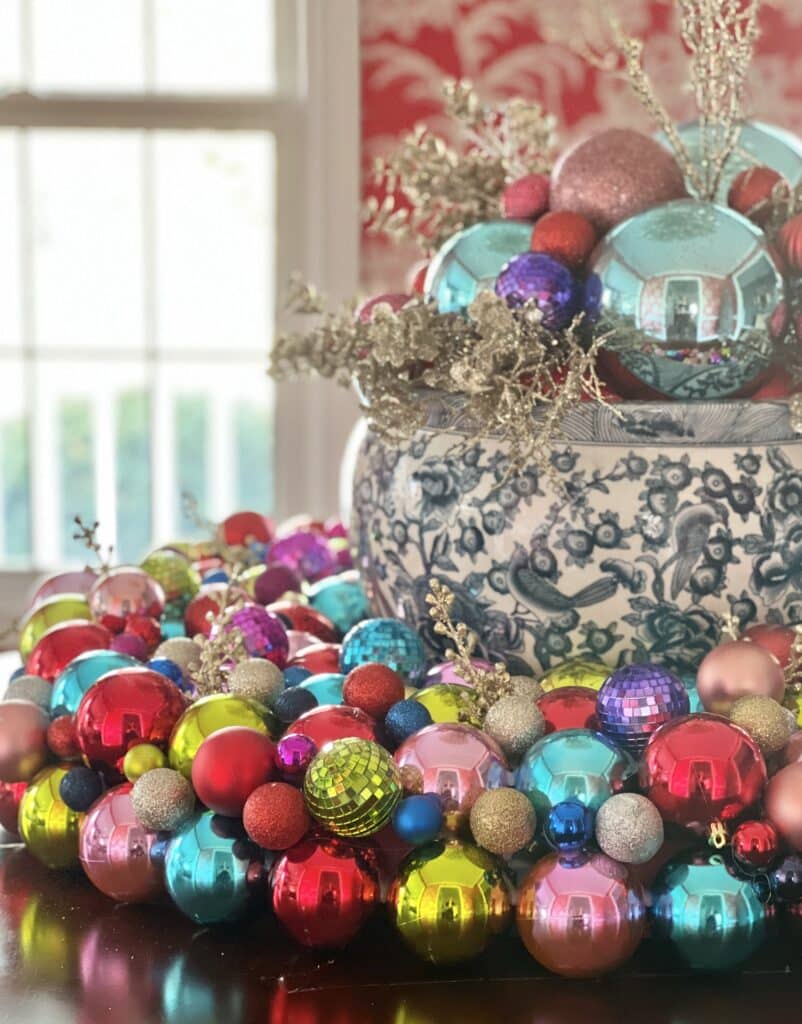 Fireplace Focal Point
I love a wreath above a fireplace mantel!
It is a festive focal point that brings holiday cheer to any household.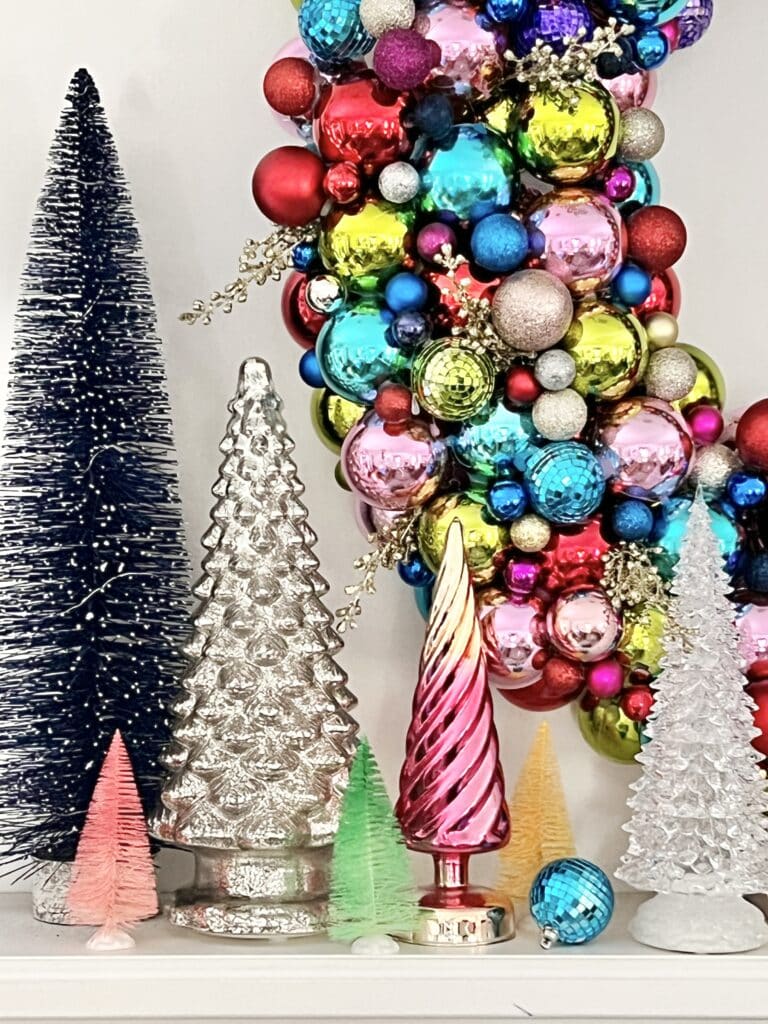 But what's the best way to display your wreath?
Some people like to hang it from a ribbon, while others prefer a more minimalist look. (if that is even possible with this wreath!)
I started to display my wreath by hanging it from a hook but discovered that it worked best to just prop it on top of a couple of books.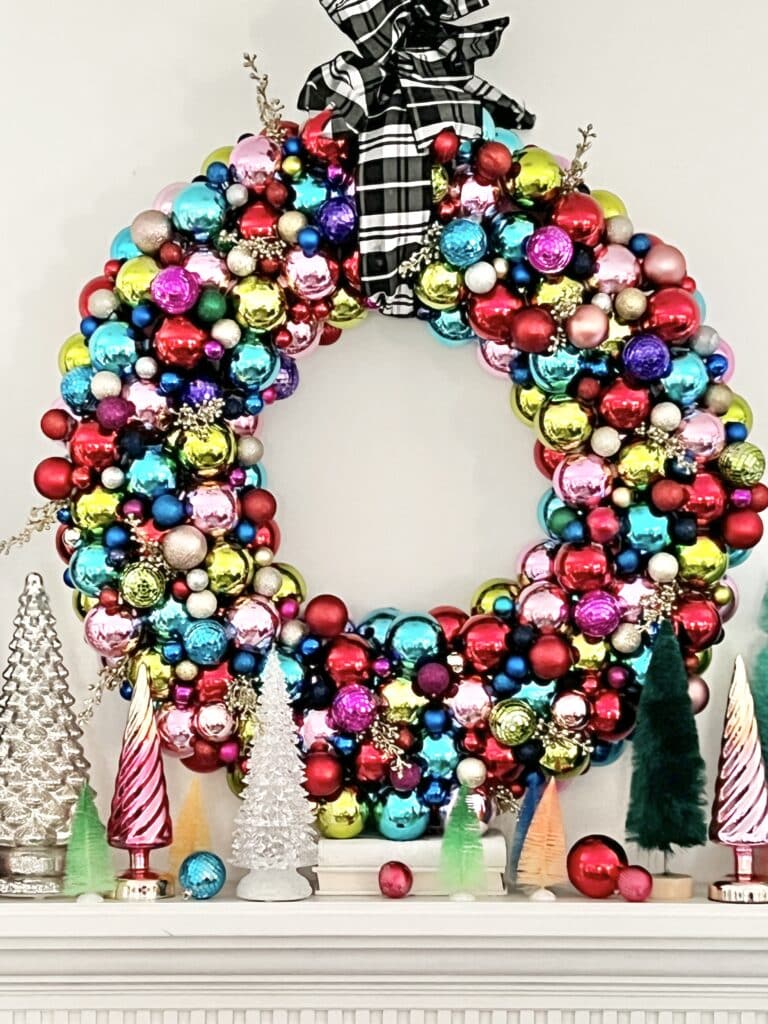 I guess that is the beauty of a heavier wreath!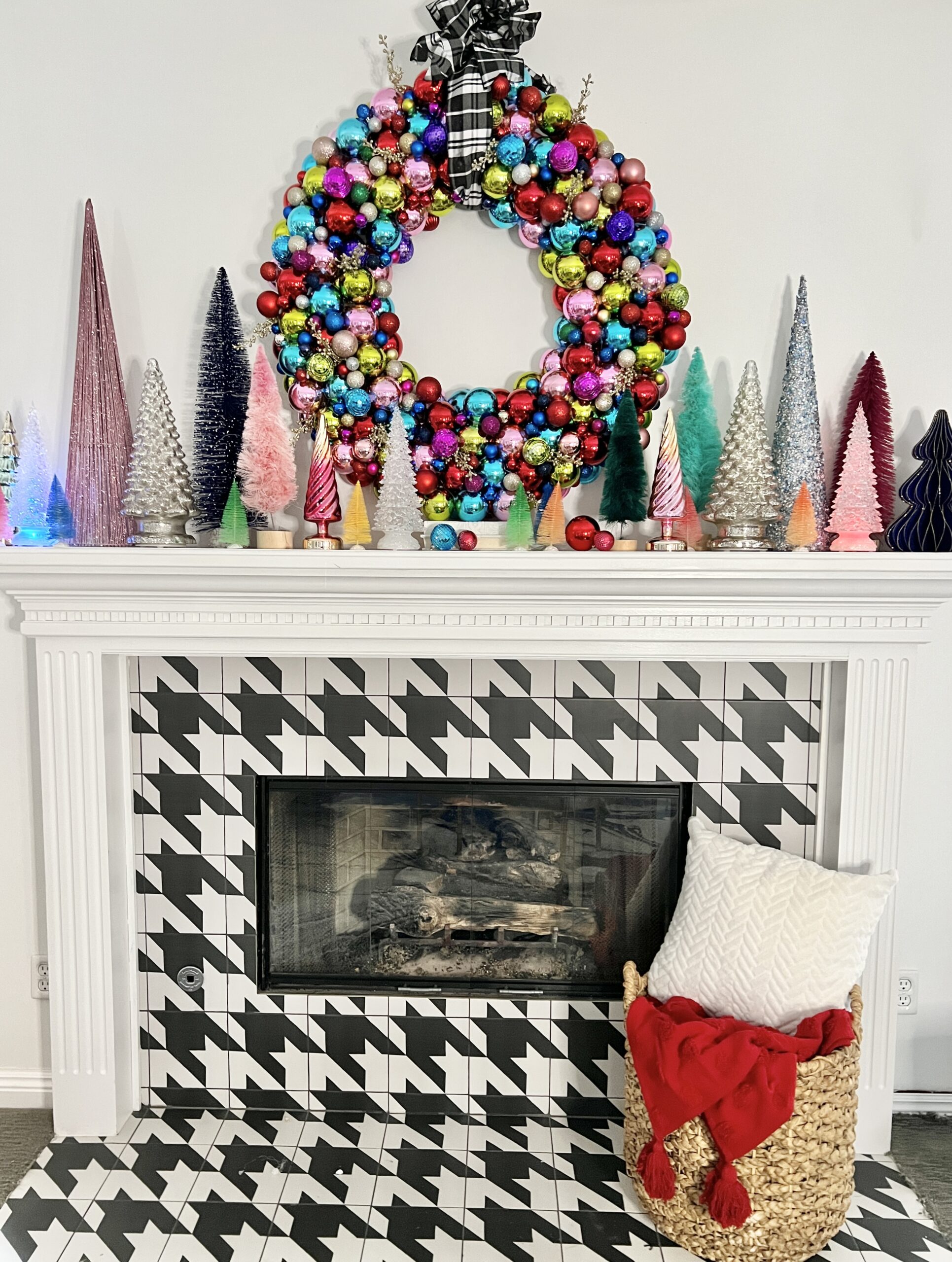 Double the Fun!
There's nothing quite like the sight of a wreath hanging on a mirror!
Not only does it add a touch of holiday cheer to your home, but it also provides the perfect way to show off your Christmas wreath.
Hanging a wreath on a mirror is also a great way to double the amount of light that reflects off of the wreath, creating an even more dazzling display.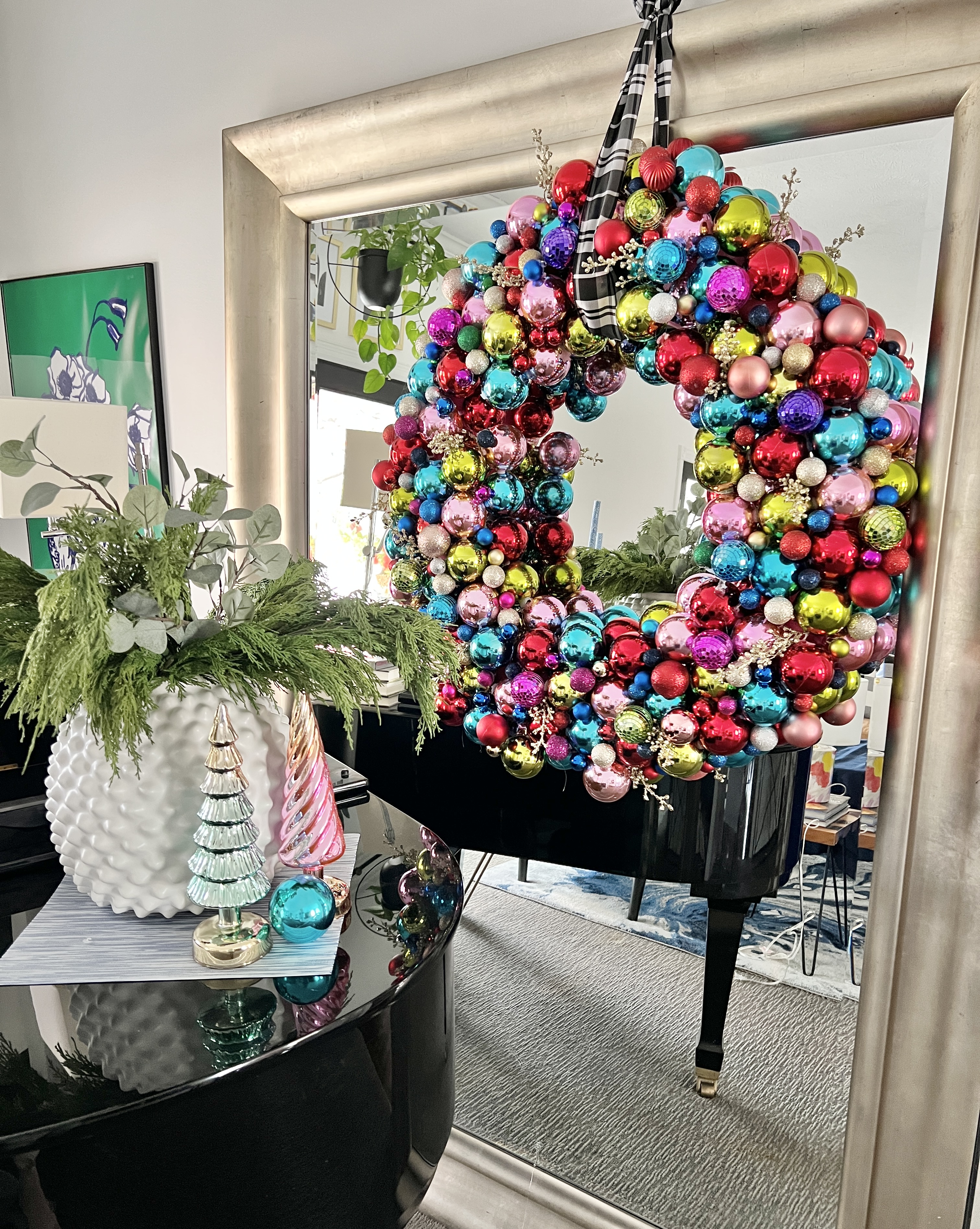 Now that you know how to make a pool noodle Christmas wreath, it's time to get crafty!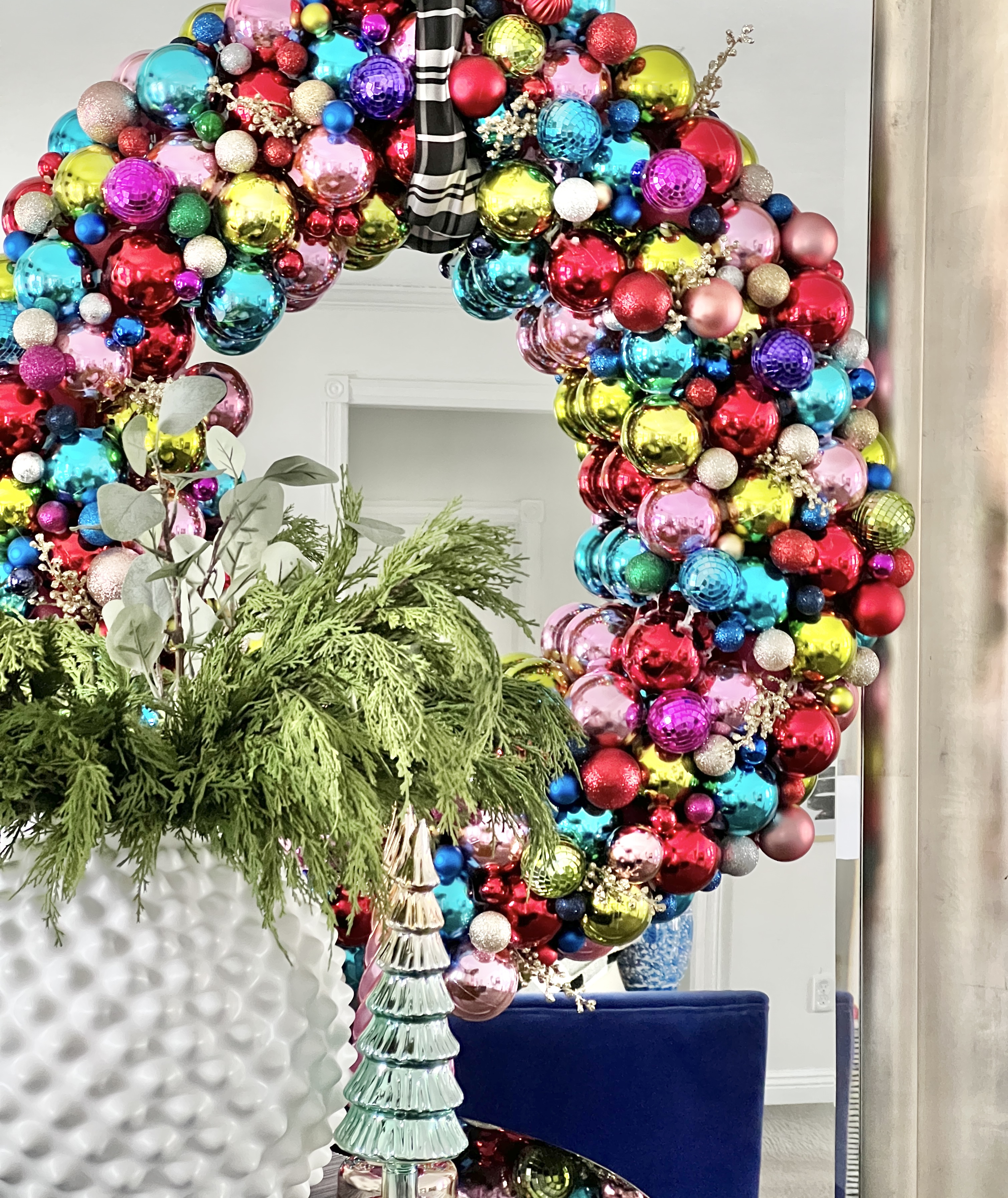 Have fun with this pool noodle wreath!
This project is a lot of fun and it will definitely add some festive cheer to your home this holiday season. Make one for yourself or make one as a gift for a friend or family member – either way, I guarantee that they will love it!
Are you ready to get started?
Cheers!

Looking for other Christmas Decorating Ideas? Try these!
Create a Twine Christmas Tree for Your Wall
A Merry and Bright Christmas Tree
Check Out This Week's Friday Finds with Bentley



Don't Forget to Pin It!