Make This Easy DIY Tinsel Christmas Gift Present
'Tis the season to be jolly and spread some holiday cheer! Deck the halls of your home with a sparkly tinsel Christmas gift present that you make yourself!
With just a few inexpensive items easily purchased at your local craft or dollar store, you can make this Christmas decoration that is sure to give your home a ho-ho-holiday boost!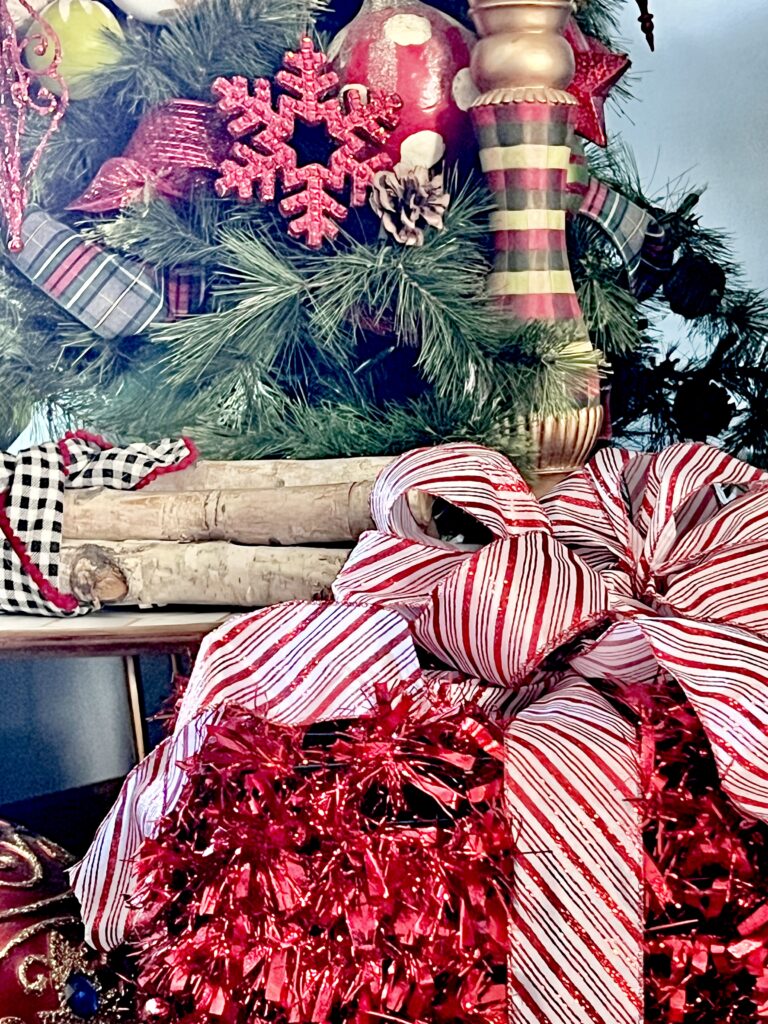 I love holiday catalogs, don't you?
Actual paper catalogs, printed with ink, and discovered with joy in the mailbox!
There is something about gathering a stack of holiday catalogs and, with a hot cup of cocoa, perusing all of the fun Christmas decor and styling inspiration for the year.
I also love to see what I can make on my own for far cheaper!
Let's consider it my holiday "dare!"
Large sparkly decor "gifts" are something I ran across in a catalog.
I bet I can make that!
And you can too!
What You Need for Your Tinsel Christmas Present
The beauty of this is that you don't need many supplies and it is quite inexpensive to make.
All of these items can be found at your local dollar store.
5 square wreath frames
10-12 tinsel garlands (color of your choice)
zip ties
hot glue gun
glue sticks
wired ribbon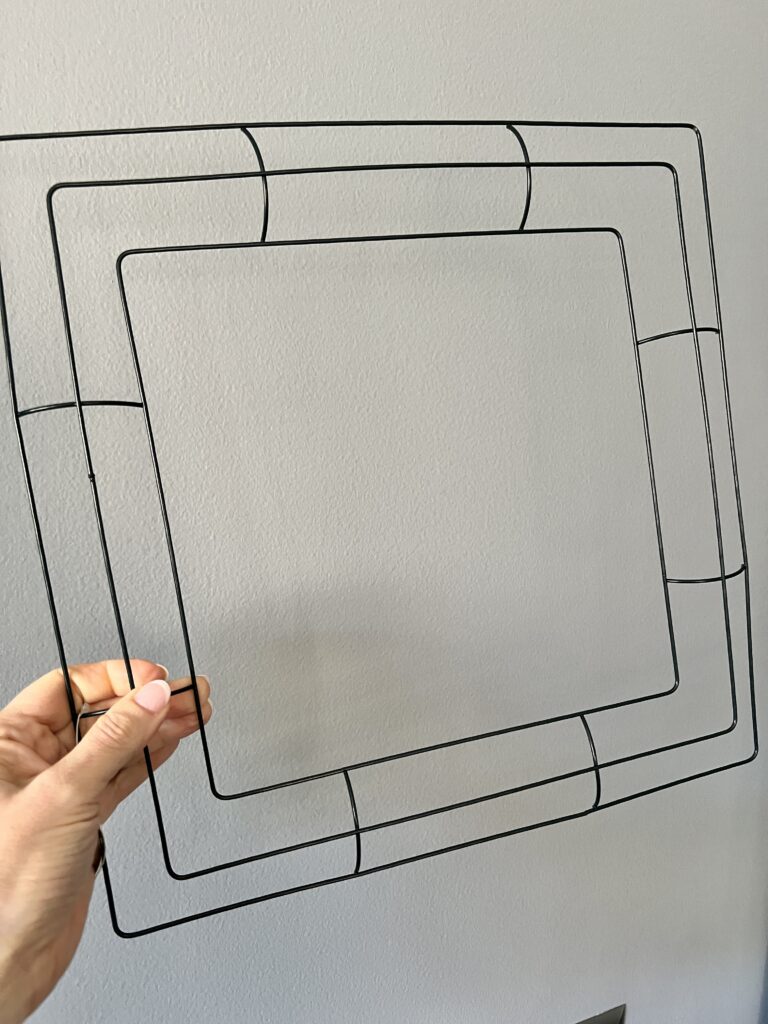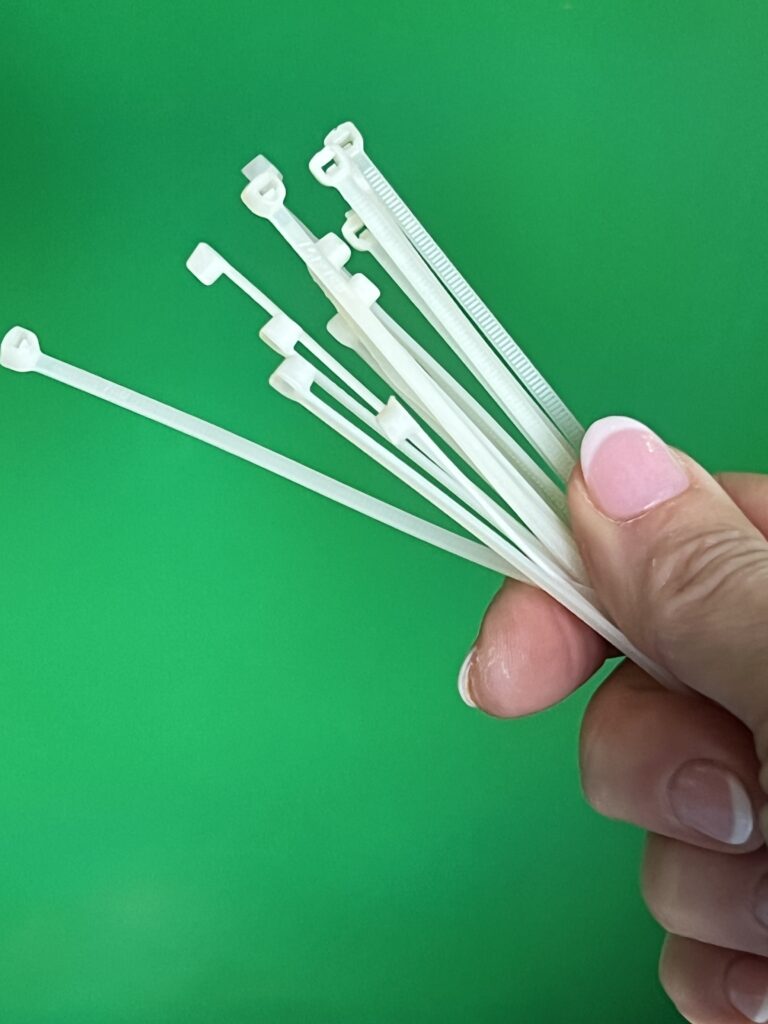 How to Form the Box for Your Tinsel Christmas Present
Place two of the square wreath frames on their side to create an upright "L" shape.
Then, using small zip ties, connect one side of each frame to the other. Use two zip ties one each side to create a solid connection.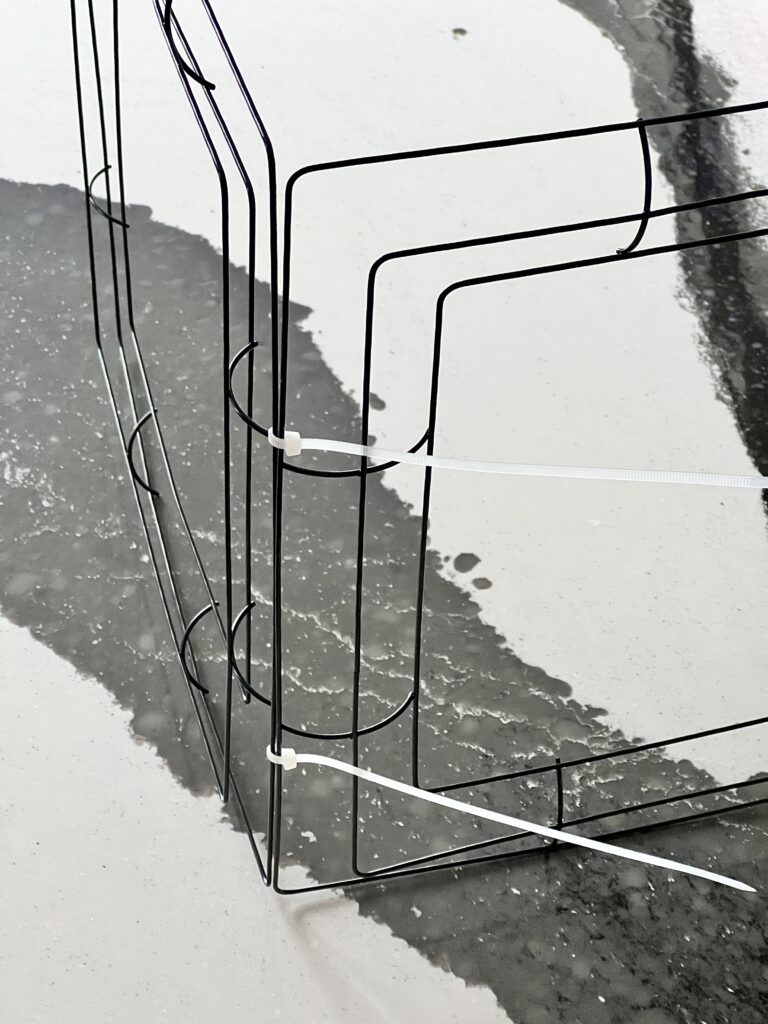 Add a third wreath frame again, using two zip ties and attaching them to the previous two frames.
Continue by adding the fourth wreath frame with the zip ties so all four wreath frames are connected to form a 3Dsquare. Cut off the ends of all the zip ties with some sharp scissors.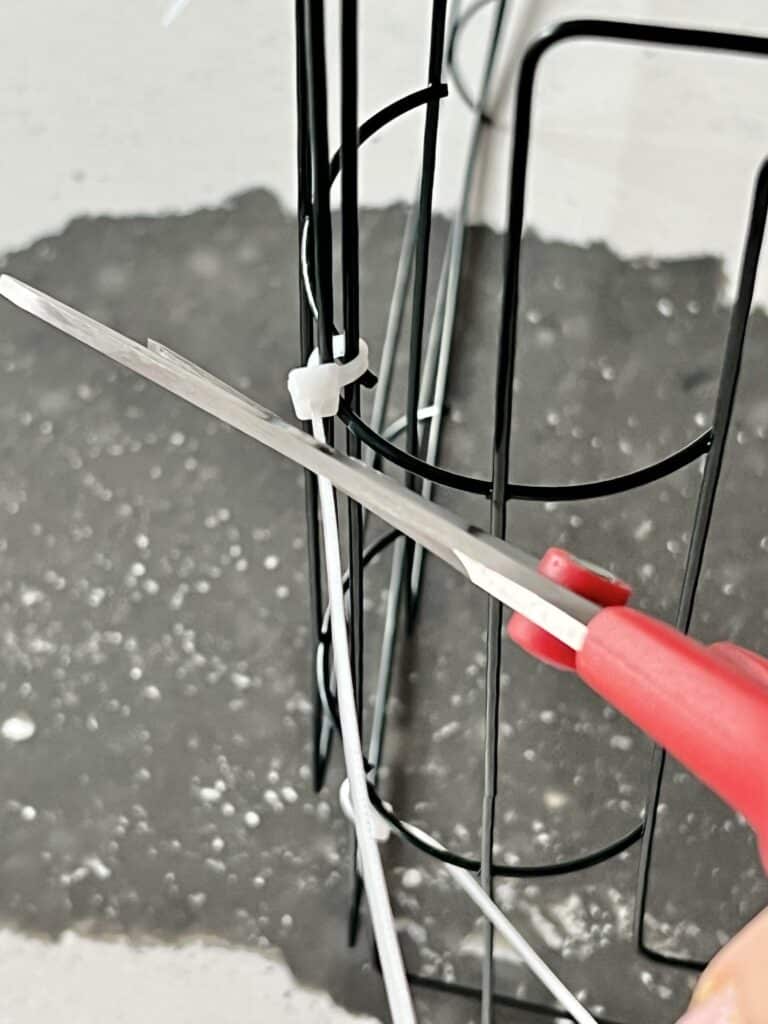 Now, you've got one wreath frame left. Lay the fifth wreath frame on top to create a box and secure it with at least one zip tie on each side.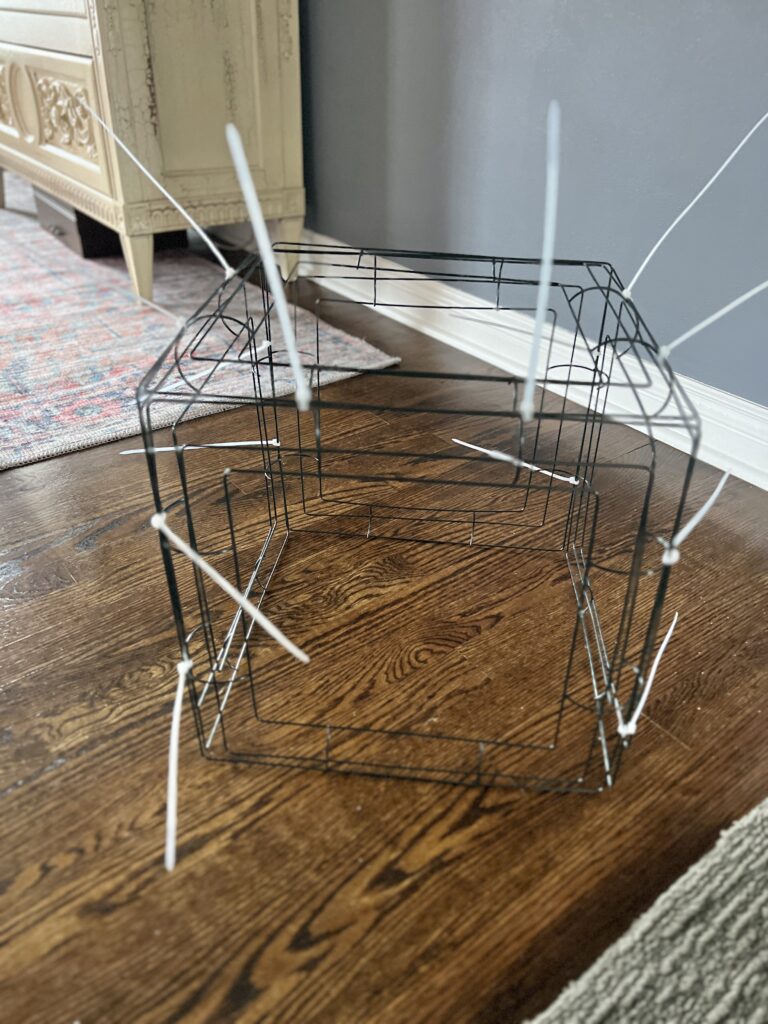 It's Tinsel Time
Grab your favorite color (or colors) of tinsel garland and start "wrapping" the package!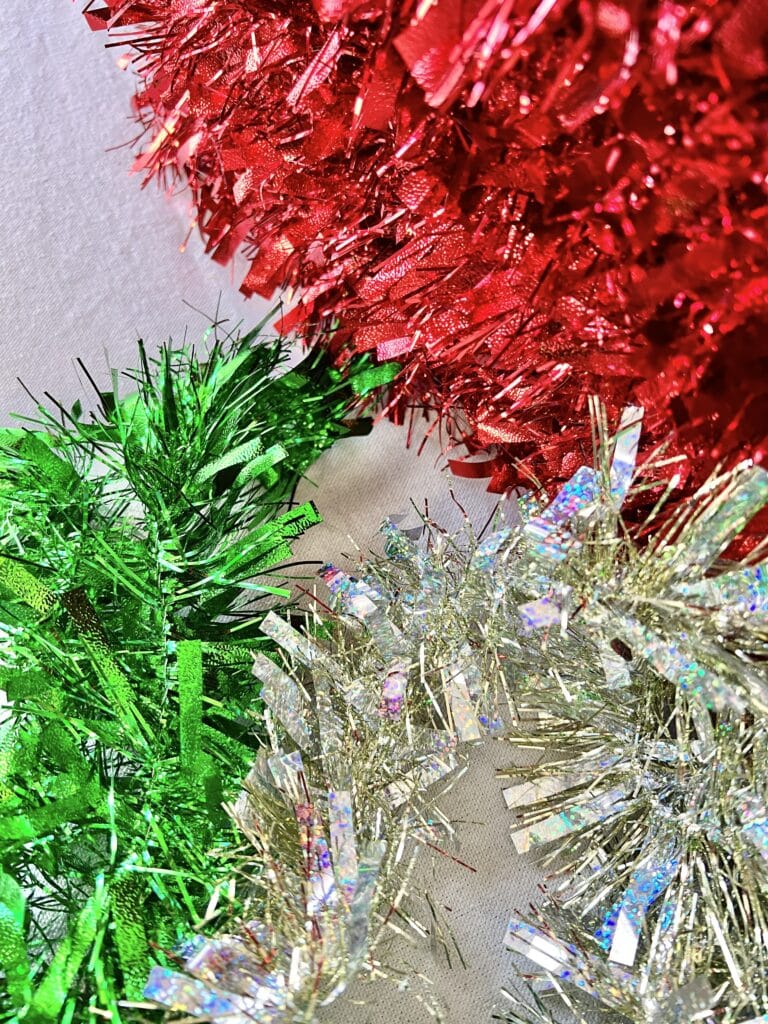 With a hot glue gun, attach the end of the first garland to the bottom corner of the frame box.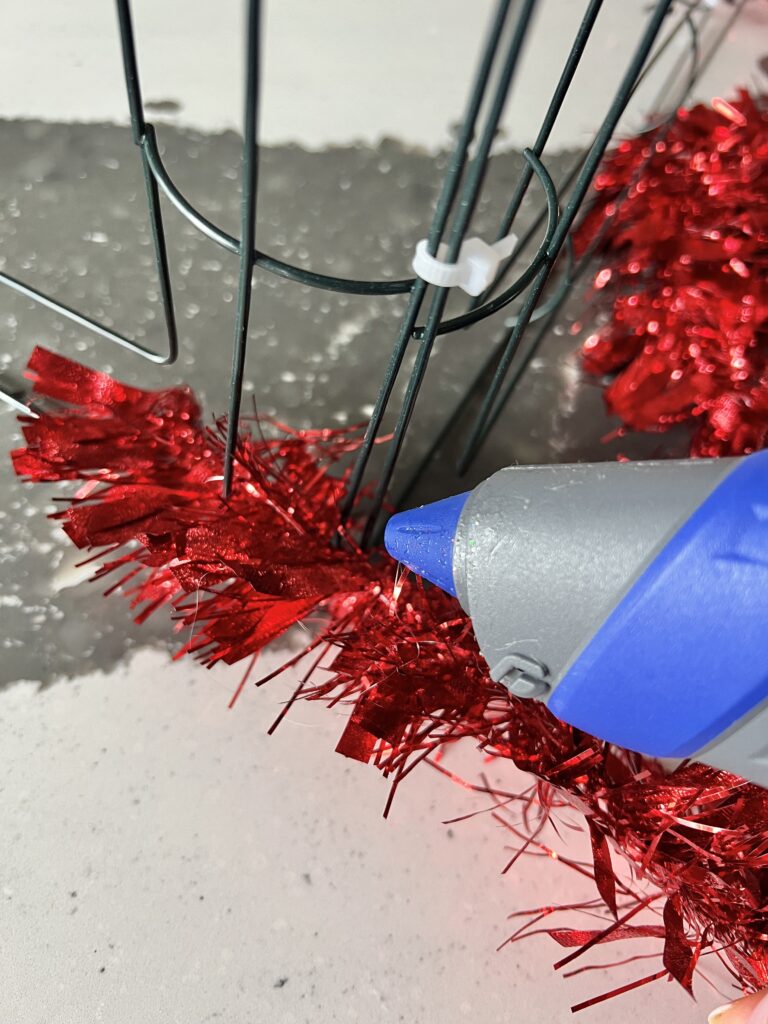 Carefully wind the garland around the bottom of the frame box.
Continue to wrap around the box frame…. periodically using hot glue to anchor the garland. A little glue goes a long way!
When you come to the end of a garland, just continue with another garland, hot glueing at the begininng to attach to the box.
Continue this process until all sides of the frame box is covered.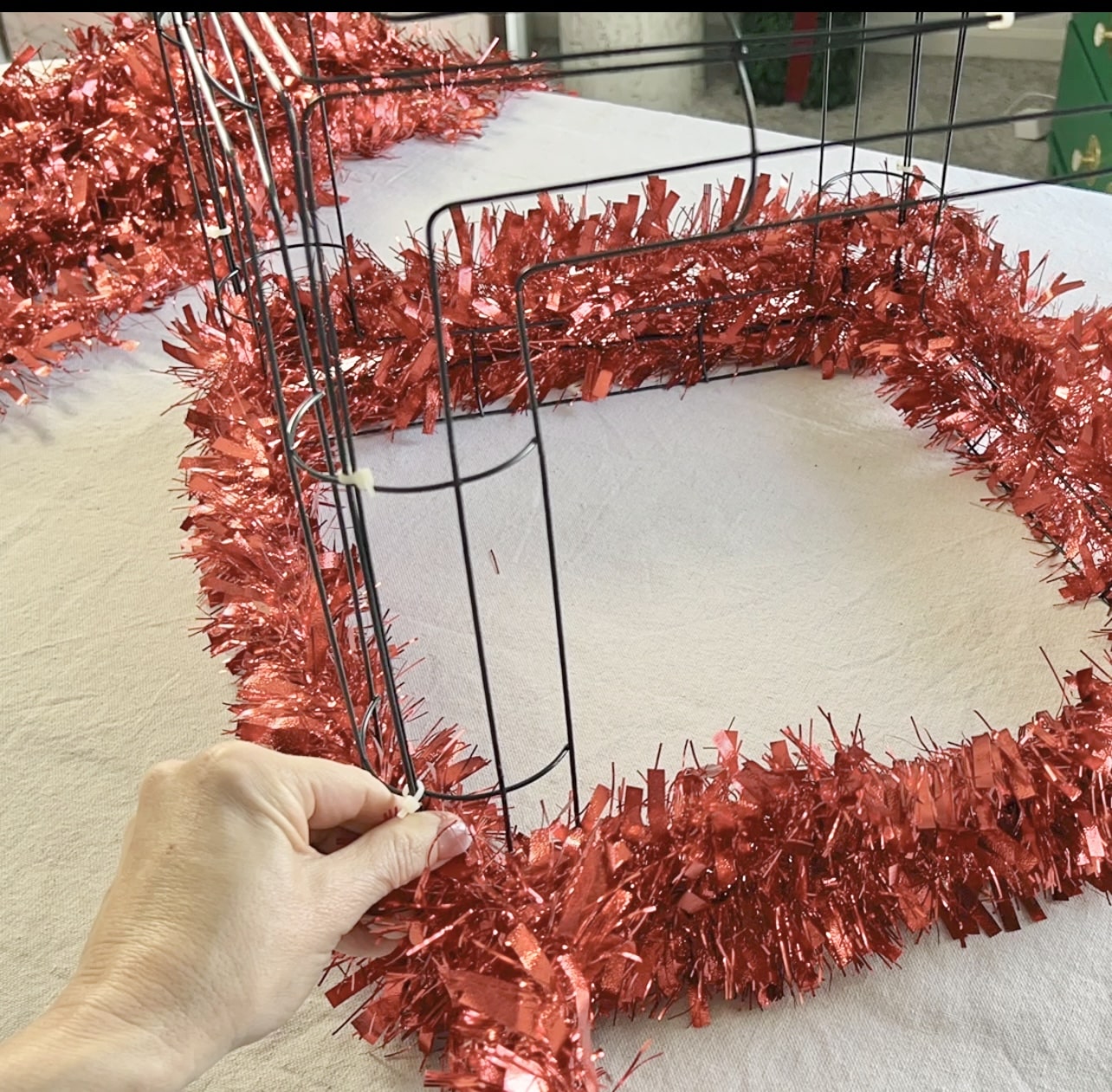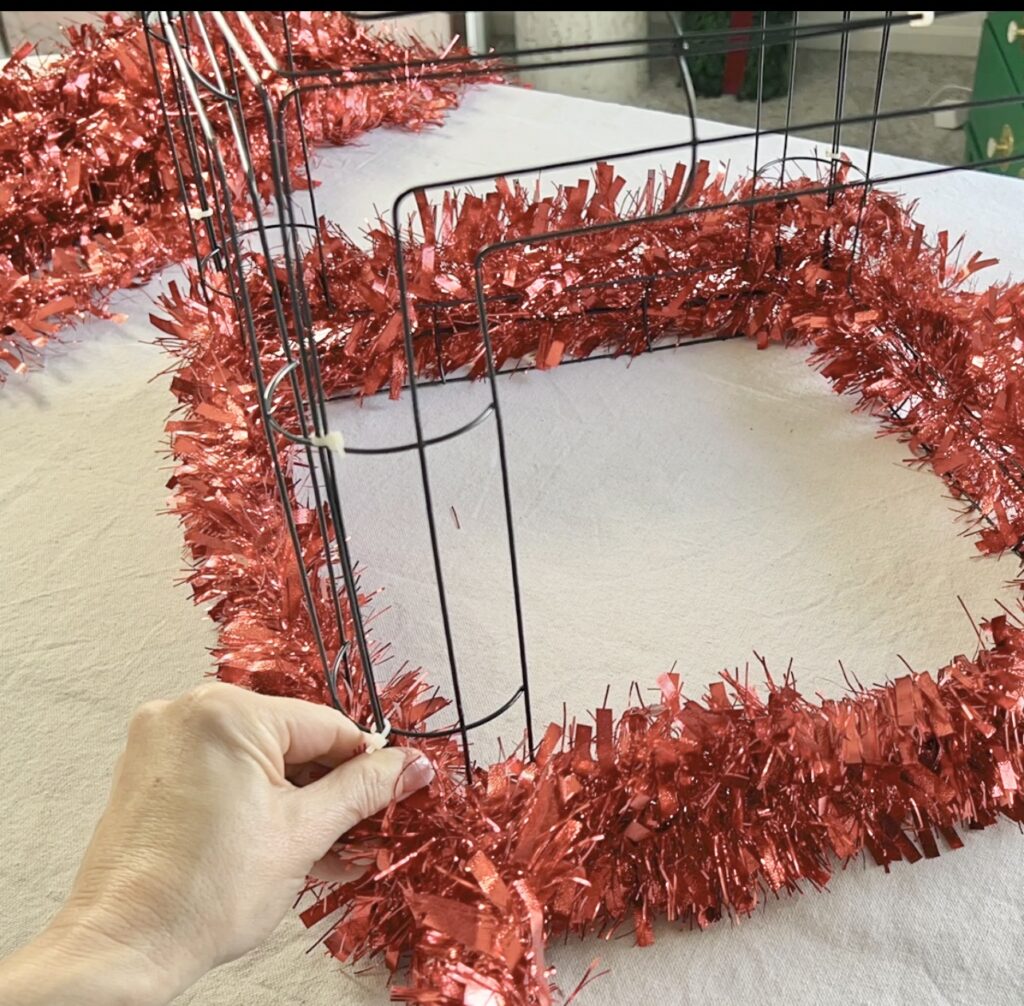 Next, take another garland and start to cover the top.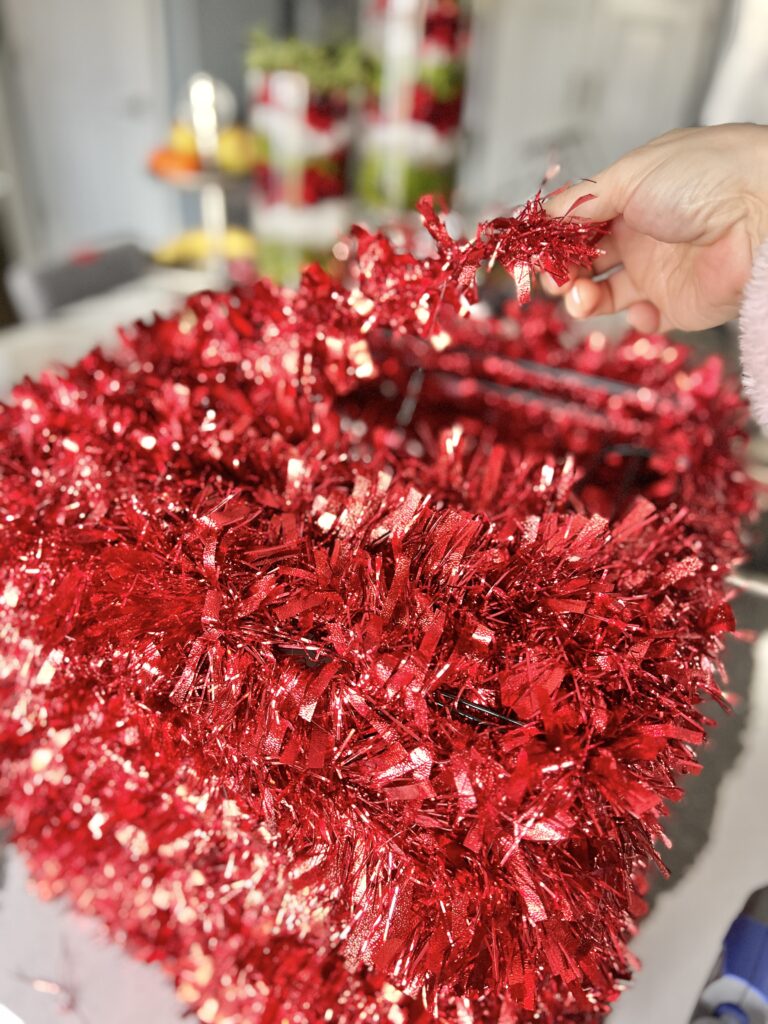 Again, use hot glue to initially anchor the garland end.
Because you are covering the top of the box frame, you can just weave the garland in and out through the sides of the box.
You should still use hot glue at the end to anchor the garland and continue until the top is covered. I used three garlands to cover the top of my present.
Gotta Have a Bow!
Every wrapped present need some some ribbon and a bow!
And this present needs a BIG bow!
Using wired ribbon makes it easy to create multiple loops that will give the bow size and presence.
And there you have it! This project looks great displayed under a Christmas tree or even on a dining table or kitchen island.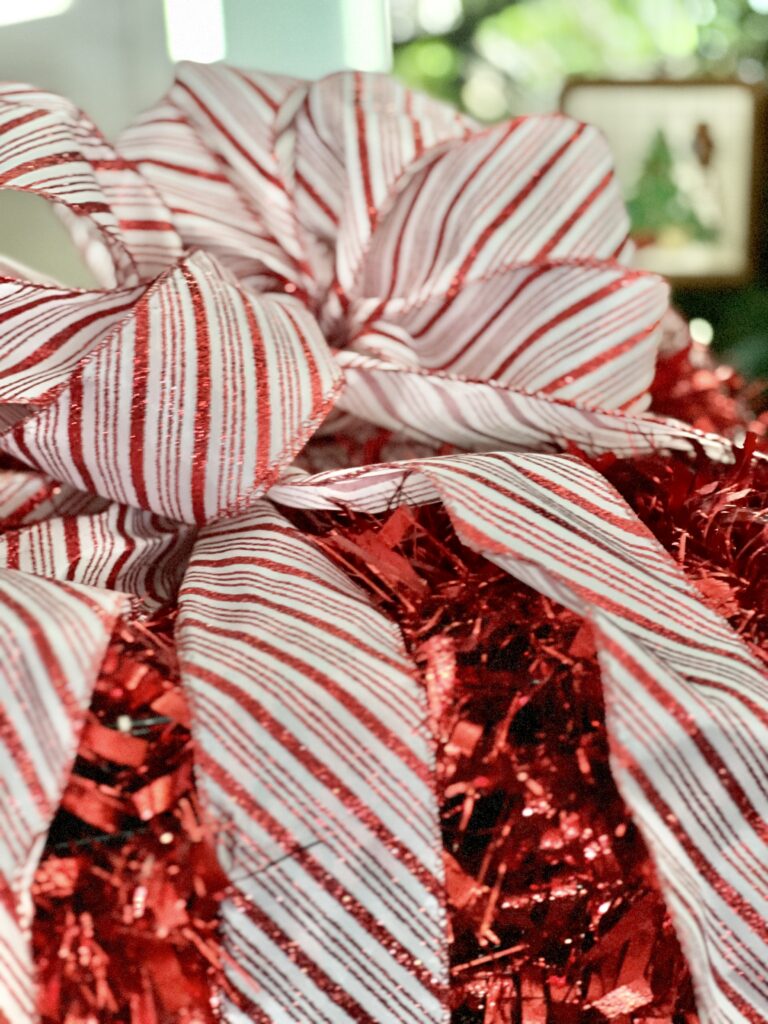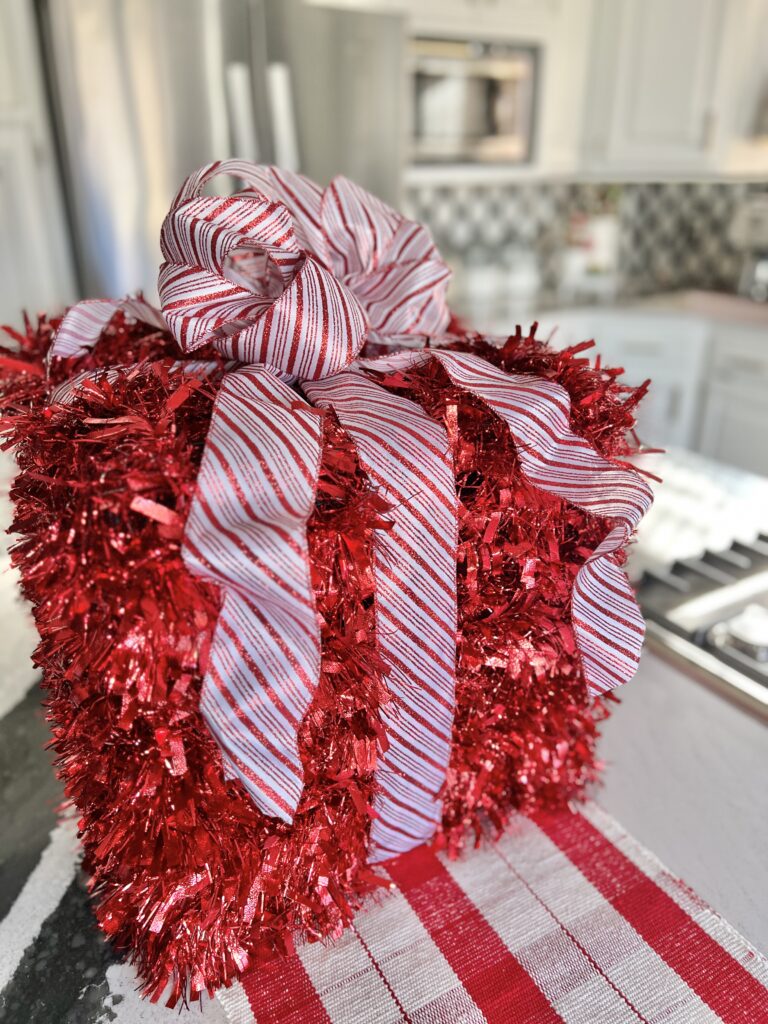 Making your own Christmas decorations is a great way to save money and get into the holiday spirit.
This DIY tinsel Christmas gift present is an easy and fun project that anyone can do.
With just a few supplies and some time, you can make a beautiful decoration for your home that will wow your guests.
So what are you waiting for? Get started on making your own tinsel Christmas gift present for your holiday home!
Cheers!

Looking for some more Christmas decor projects? Here are a few you might like!
Pool Noodle Christmas Ornament Wreath
Colorful Christmas Bed Makeover
Don't Forget to Pin It!