A Colorful Christmas Bed Makeover with Black Dog Salvage
Looking for a fun way to give your bedroom a Christmas makeover? Give your bed a holiday makeover with Black Dog Salvage furniture paint and some colorful Christmas decor.
Follow along and see the transformation of an old bed frame into an eye-catching piece of decor. Read for more tips on how to bring the spirit of the holidays into your bedroom.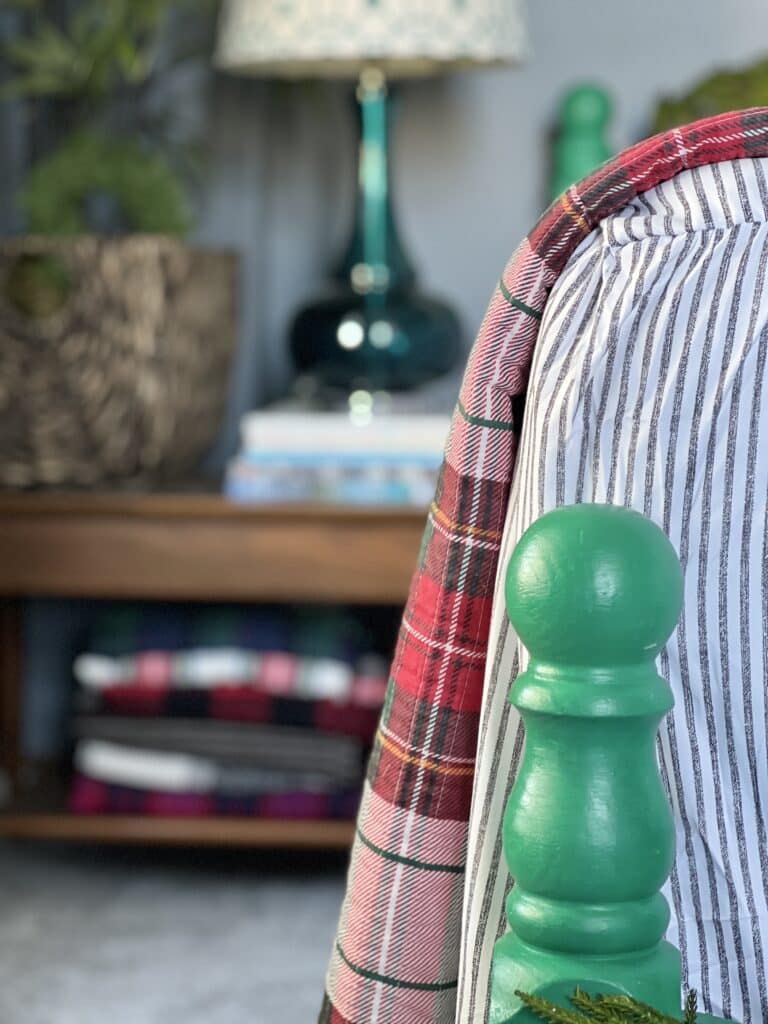 Have you recovered from Thanksgiving and eaten up all of your leftovers?
I think I am still in a post-Thanksgiving food coma.
As in, I just want to lay in bed in my pajamas.
But I also want to keep decorating for Christmas.
I think I can do both though with this bed frame makeover that I want to share with you.
And I want to introduce you to a new line of furniture paint that knocked me off my socks….and into a new bed!
***Black Dog Salvage Furniture Paint gifted me some of their amazing furniture paint and sealer that I am excited to share with you. This post contains affiliate links that enable you to explore their beautiful furniture paint line and earns my business a small commission with each purchase.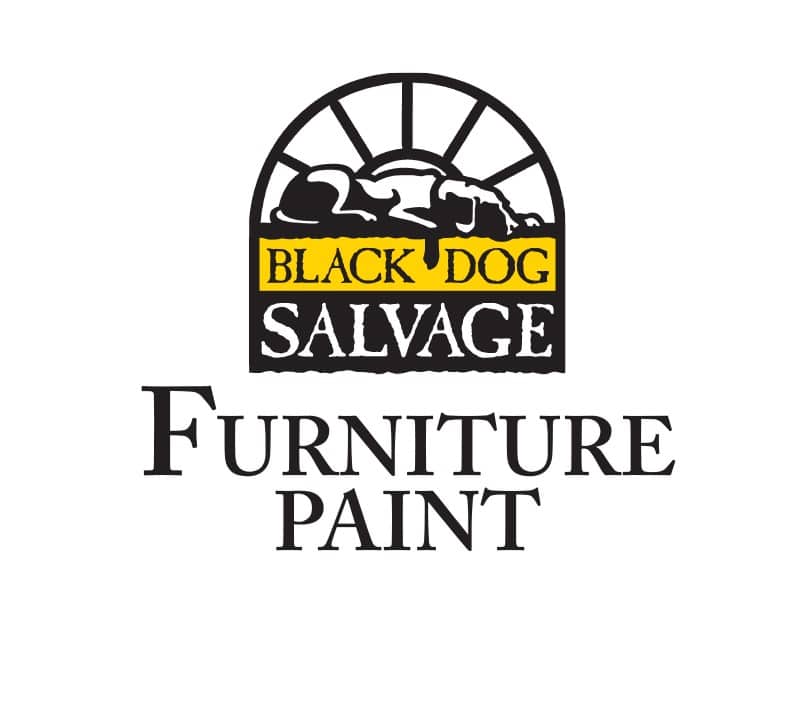 Take a look at this bed frame "gem."
Vintage or just old and outdated? Or both? What is your vote?
This headboard and footboard were my husband's bed frame when he was in high school.
And in his first apartment…
As well as our bedroom as a newly married couple. That's 33 years ago…does this make us "vintage" or just old?
It is solid, brown, and shiny!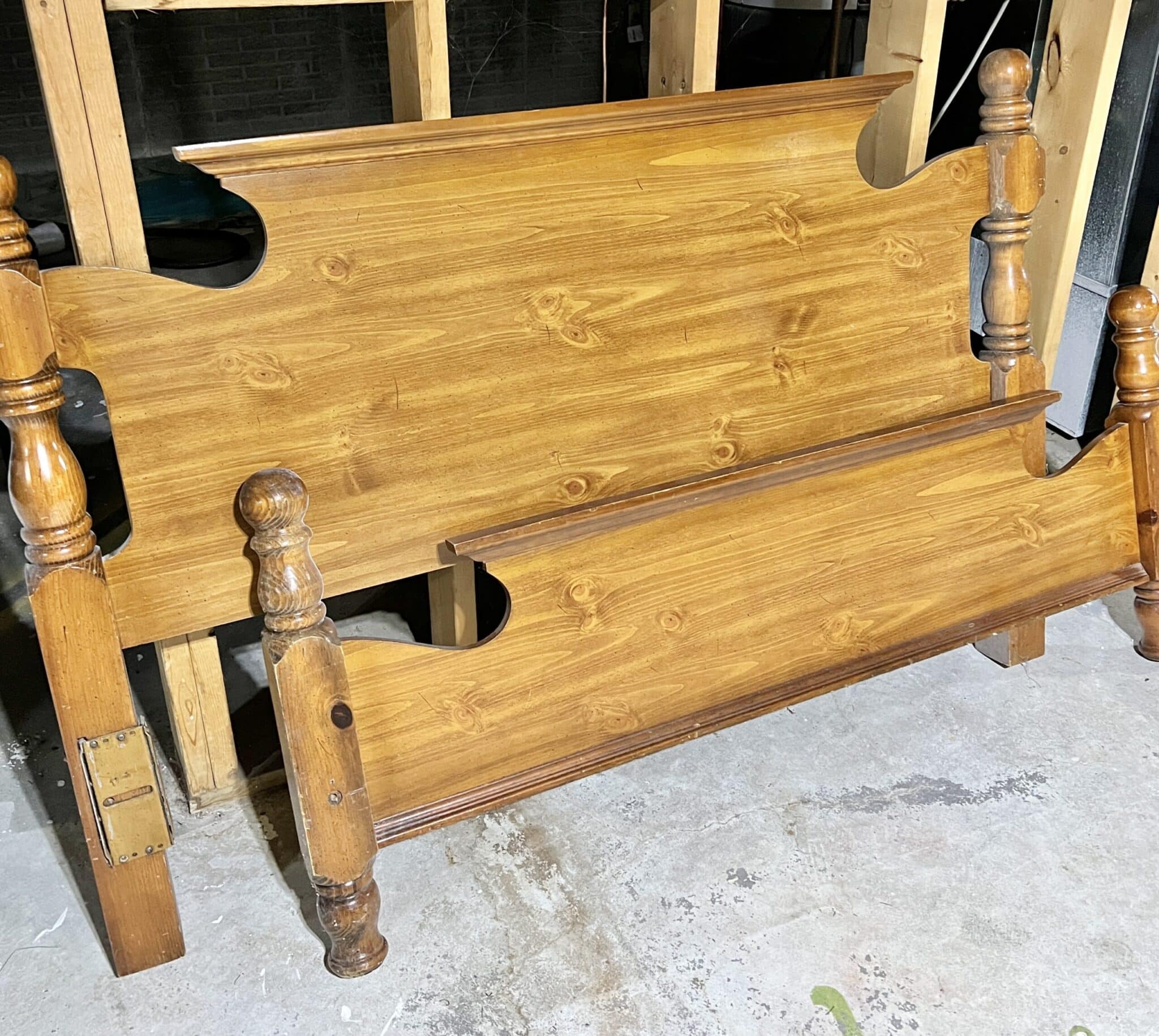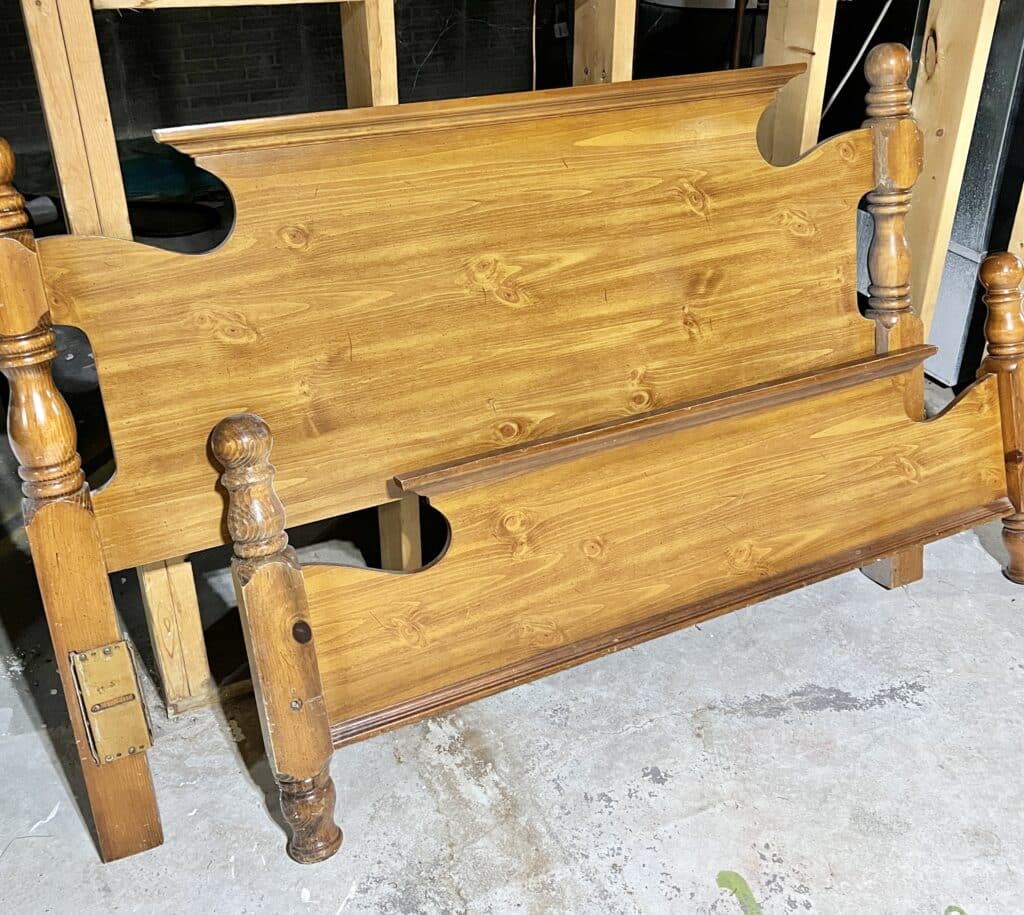 We moved onto a different bed frame as time progressed and this ended up in our basement…for years!
Since we recently moved my daughter's daybed from her bedroom to my craft room (so I can snooze between projects!), we needed a new bed frame for this bedroom.
Guess what got a makeover!
Last summer, I discovered an amazing line of furniture paint.
Have you ever watched the tv show "Salvage Dawgs?
In the show, they disassemble old buildings and salvage architechtural pieces to be reused and repurposed.
Now they have an amazing paint line!
Black Dog Salvage Furniture Paint
Write it down! Or, click on it and check out all of their beautiful color palette and color recipes!
And write this code down to get 20% off a BDSFP purchase. SONATA20
Whether you are a seasoned furniture painter or crafter…or are painting for the first time, this is a paint you need to try!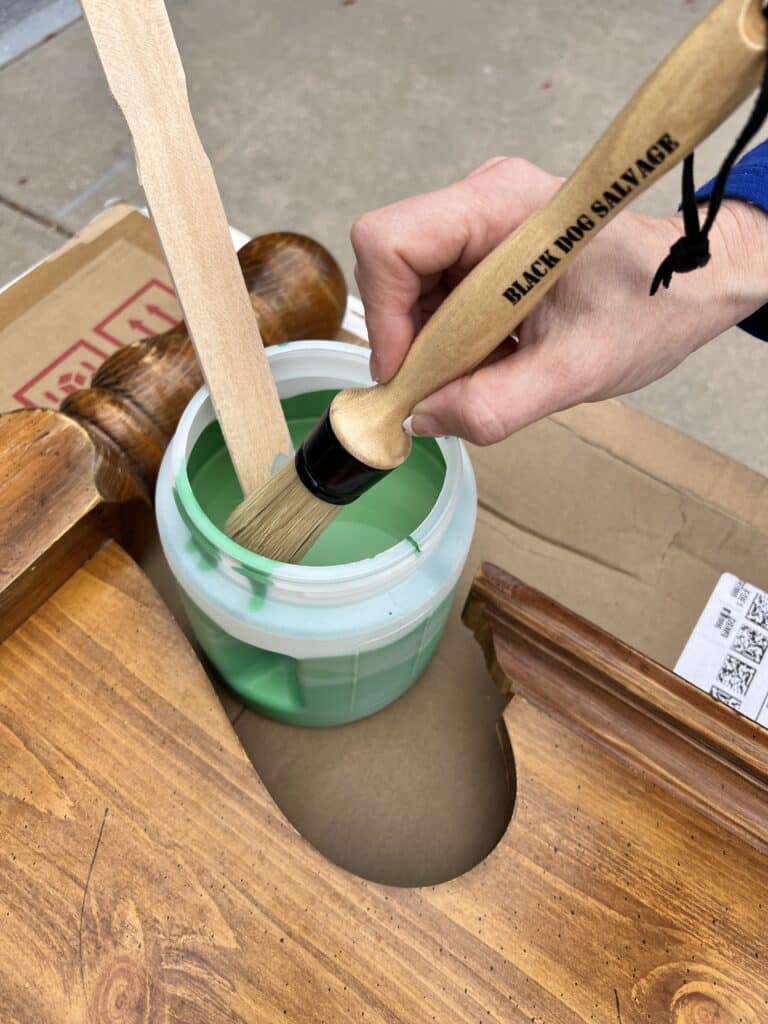 Why Black Dog Salvage Furniture Paint is So Good
This paint is different from any paint I have worked with and there are some key benefits to these differences!
Low VOCs and low odor
Water-based
Can be brushed or sprayed
Can be used over varnished, lacquered, stained, metal or glass surfaces…no priming needed! ( Can you see why this is the perfect paint for my lacquered wood bed frame!)
It is self-leveling so it dries to a smooth matte finish…no brush marks!
And, my favorite thing…Paint Recipes!
This paint makes an old furniture piece come to life and magically hides any surface blemishes…or mistakes by the well-intentioned painter!
My Favorite Benefit
There are so many things to like about this paint line.
However, my favorite thing about BDSFP is that its colors are mixable.
You can create your own palette with black, white, or other colors in the line!
The bedroom where this bedframe will end up is a darker grey color. So, a strong color is needed for balance.
I finally decided on the BDSFP "Emerald City" recipe. (This is not an easy decision…so many great colors!)
One part "Go Green" plus two parts "Keep It Teal" equals beautiful "Emerald City!"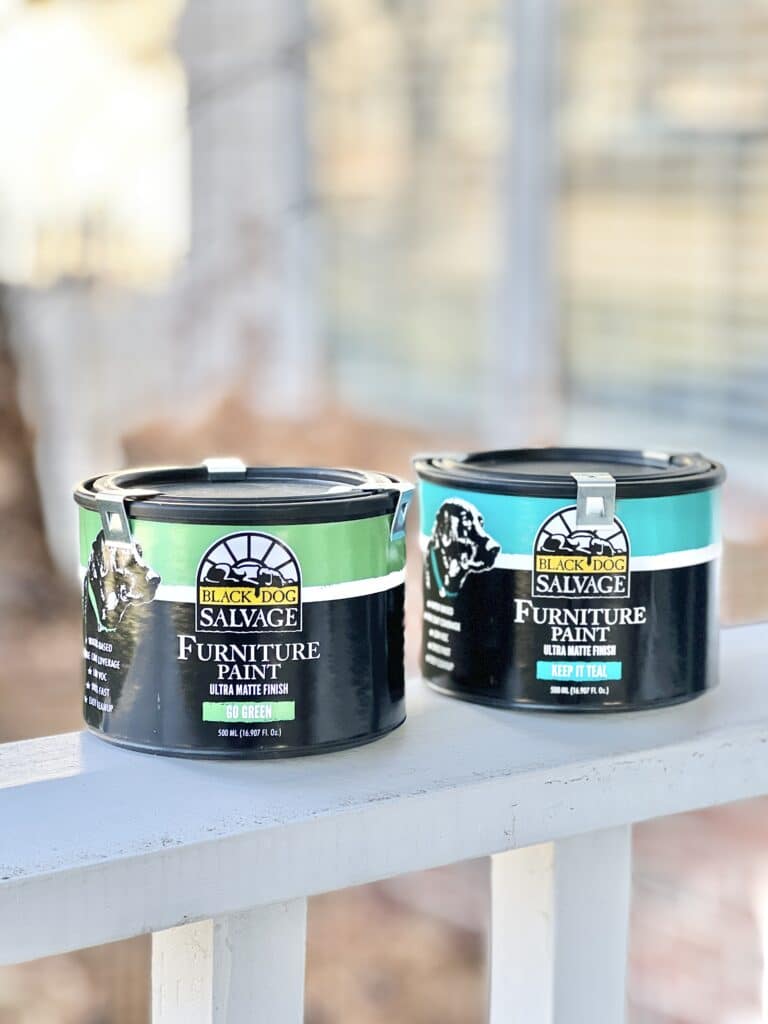 I sanded the frames just a little bit…mainly just over some chips and scratches.
Total time… about 5 minutes. I just scuffed it up a bit.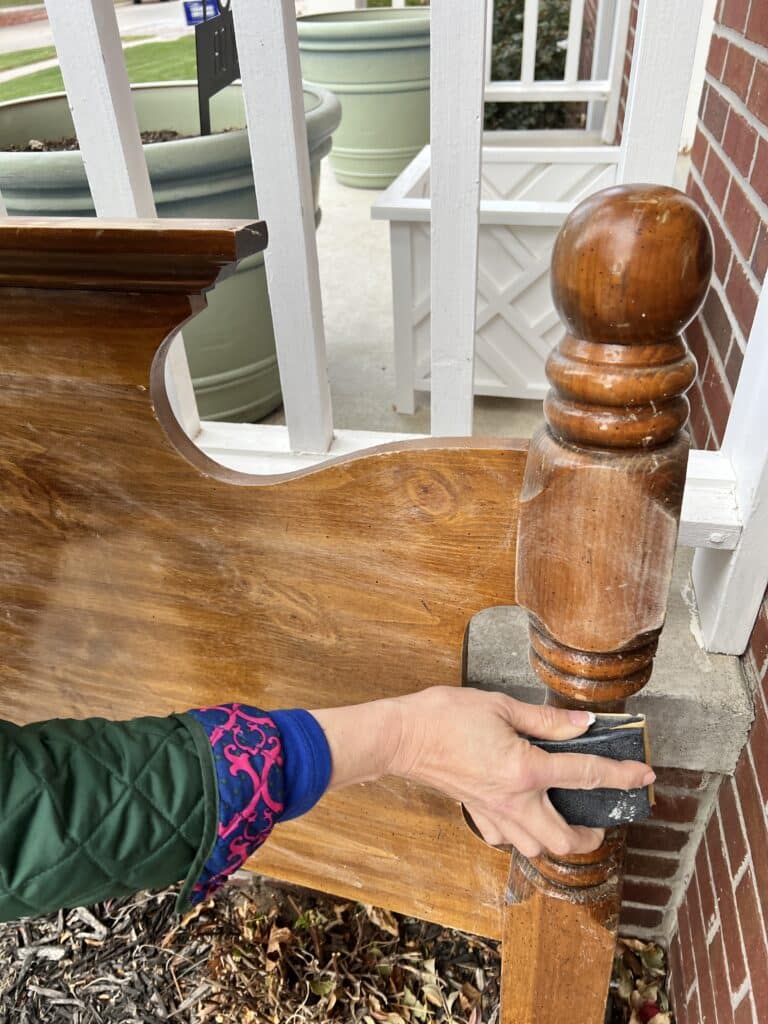 The painting was easy and quick because I didn't need to prime and the paint is self-leveling.
Two coats and I was done!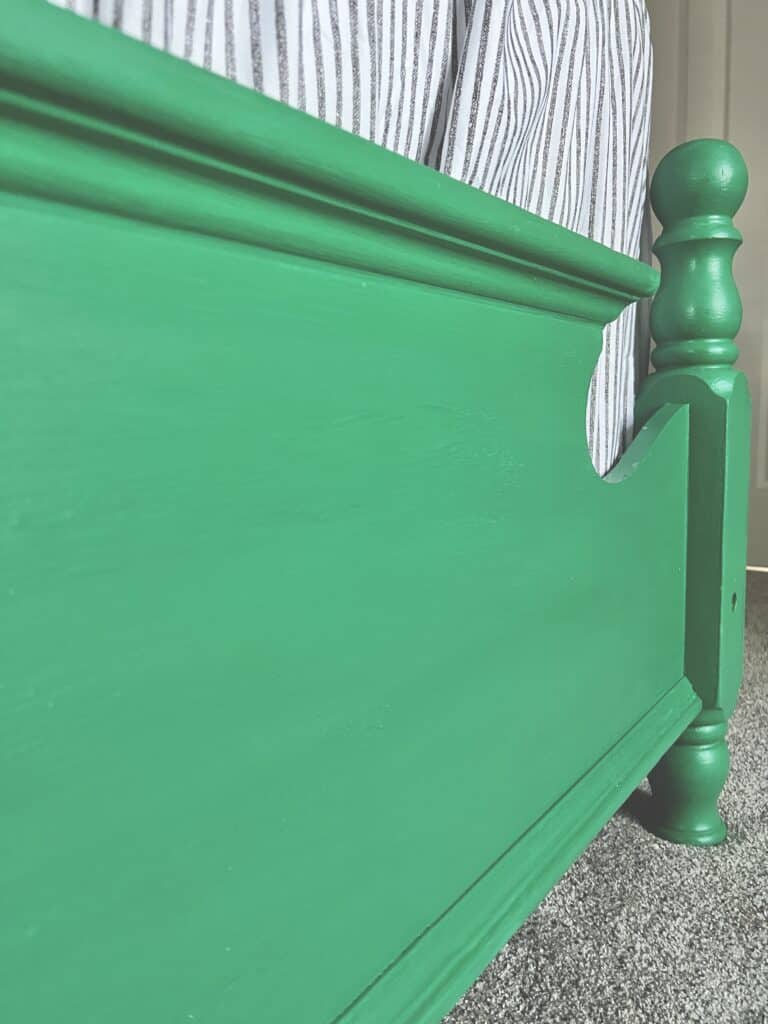 After 24 hours of dry time, I added a couple of coats of the BDS Guard Dog topcoat.
Doesn't the name just say it all?
Guard Dog protection for the makeover bed! (This comes in a satin or matte finish.)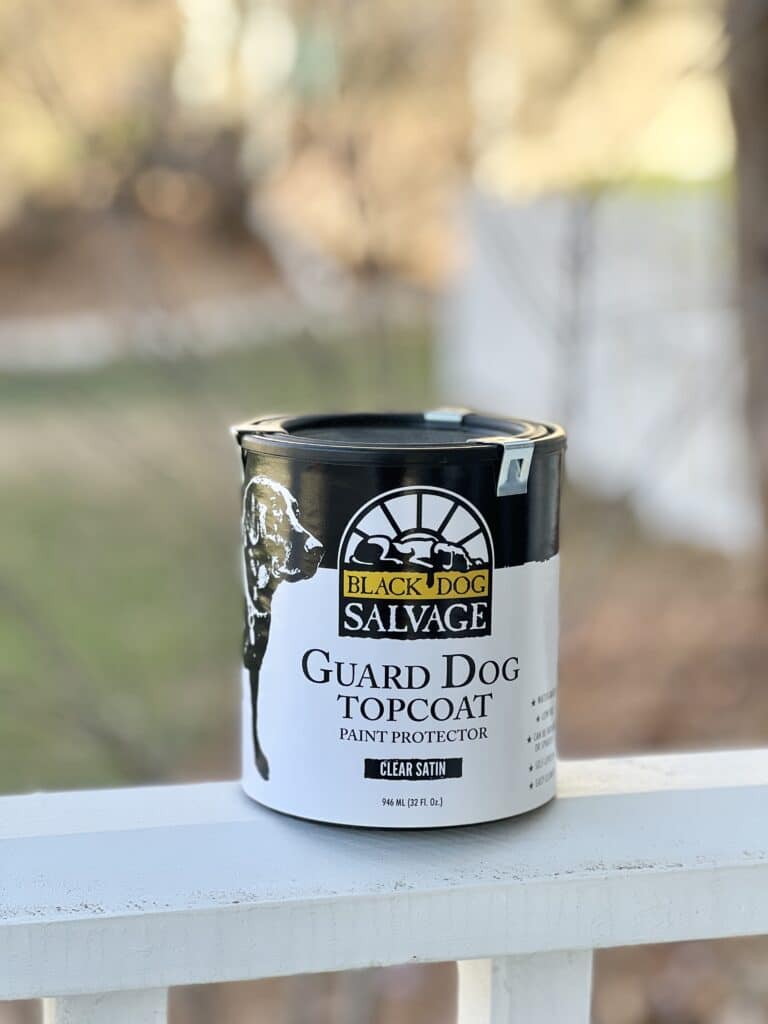 Help for the Novice or Pro
Did I mention how helpful the folks at Black Dog Salvage are?
So helpful that they publish this free Ultimate Painting Guide.
Can we say invaluable? You better believe it!
It includes everything from brush techniques to color theory to creative color combinations!
Bedroom Christmas Cheer
For years I decorated every room in the house for Christmas…except the bedrooms!
Now I really like to give our bedrooms a little Christmas cheer.
My preference is to keep it simple.
Cozy.
Welcoming.
Just the right amount of color and cheer to say "Merry Christmas!"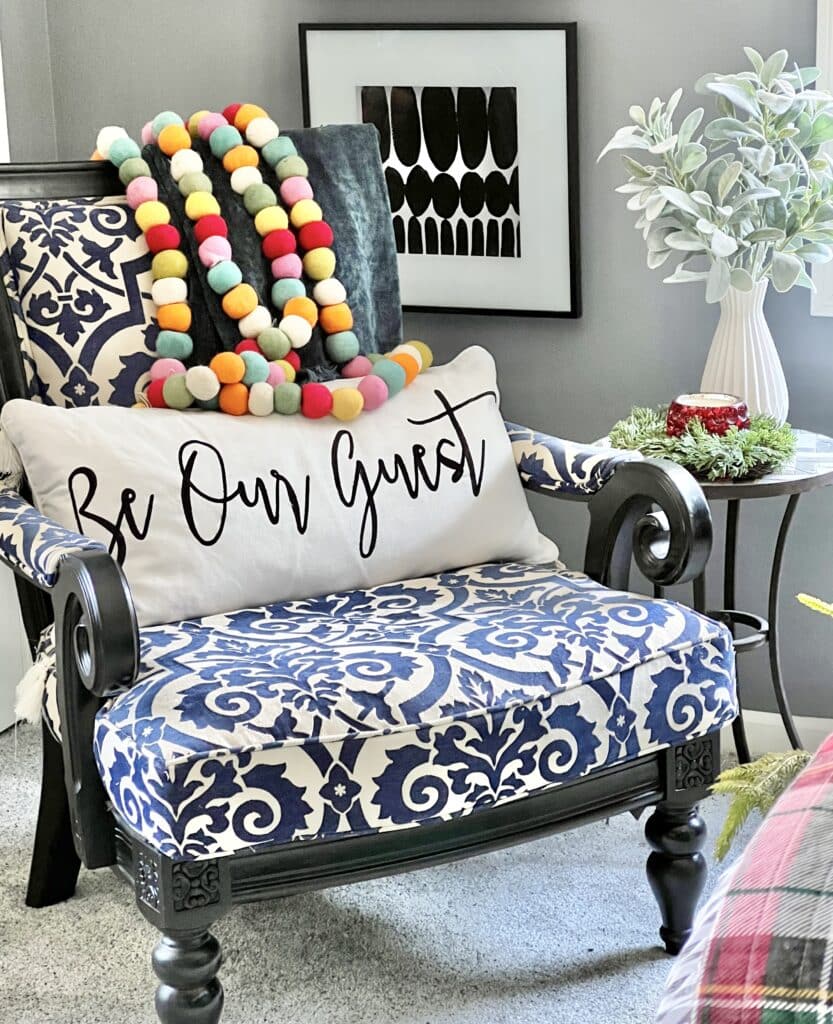 To balance the beautiful, strong green color, I added a grey and white french ticking coverlet to the bed.
Topping it off is a festive plaid quilt with soft greenery outlining the footboard.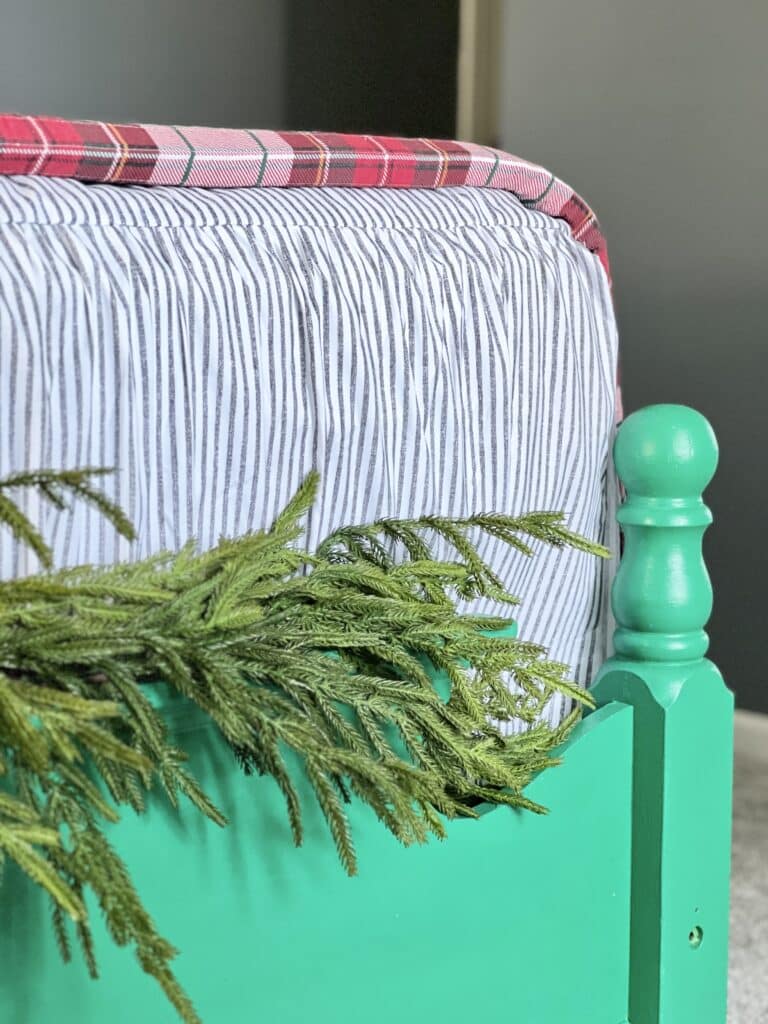 Draping some felt letters with a Christmas salutation livens up his abstract wall art.
And, every bedroom can always use a little "Fa la la!"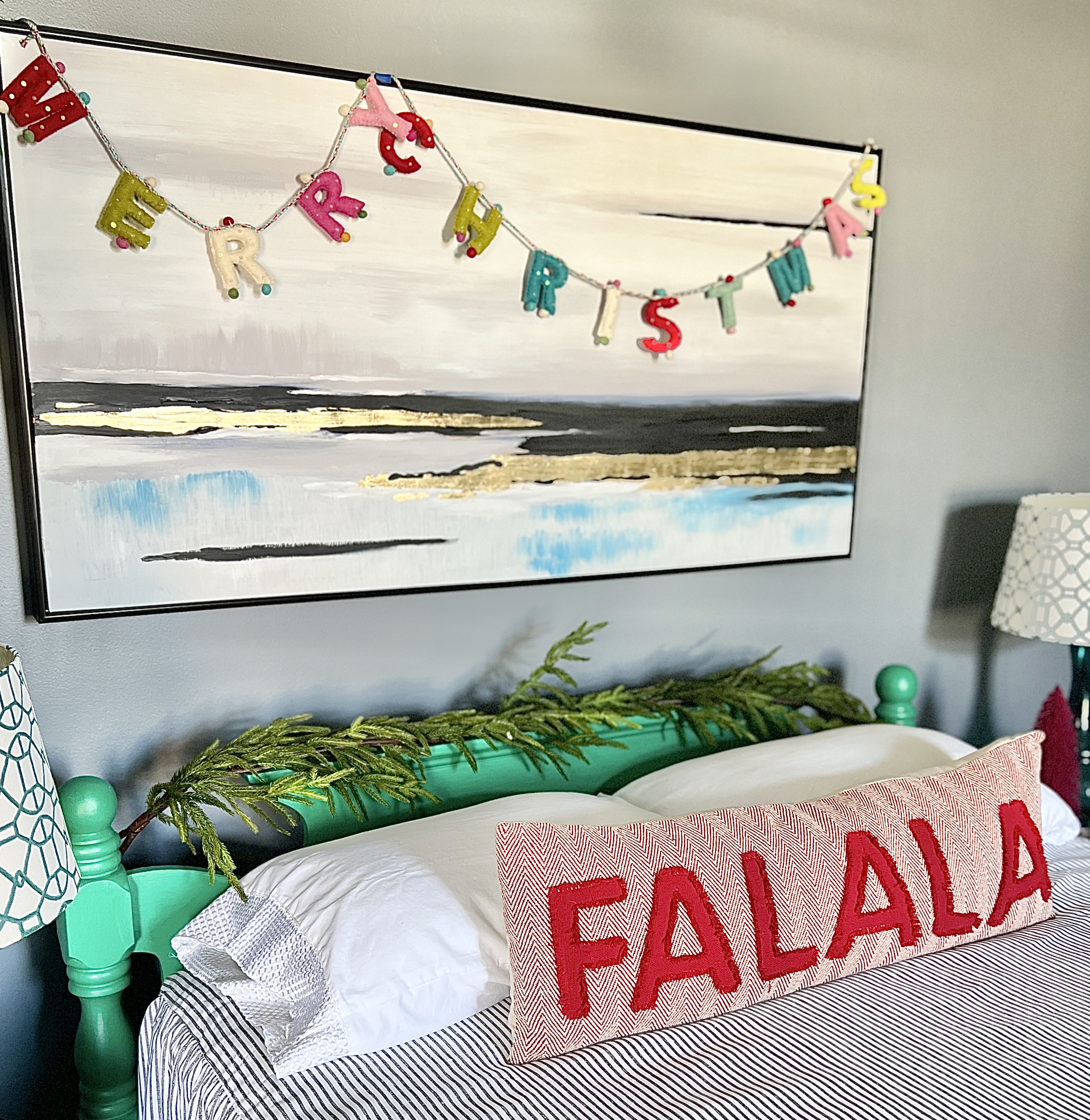 I am in love with this green!
The old, shiny brown tones are gone and the bed frame has a brand-new look!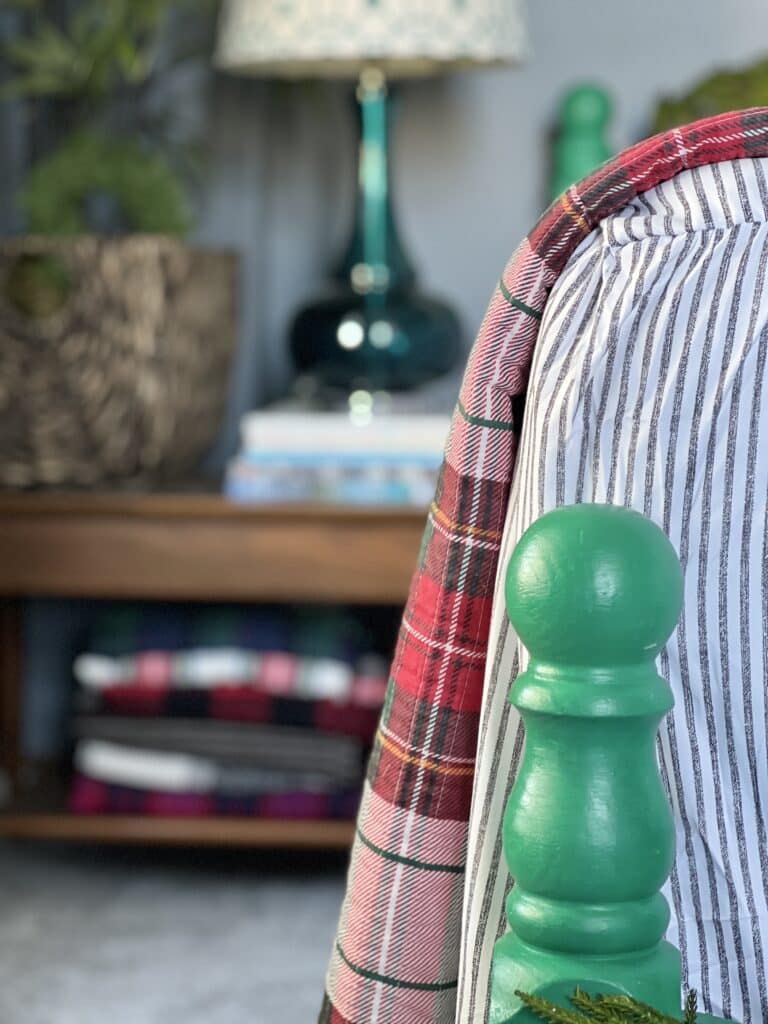 More Christmas Bedroom Ideas
Here are some more Christmas bedroom decorating ideas:
Bring in a Christmas color scheme
Add Christmas colors and patterns to the bed with quilts, coverlets, and pillows
Drape garland on the bed or on the window frame
Add some white or multi-colored Christmas lights to a drapery rod
Bring in a small tree and add some fun ornaments
Add a cozy throw
Don't forget a Christmas-scented candle! (And don't forget to put out the flame!)
You can jump in…Be My Guest!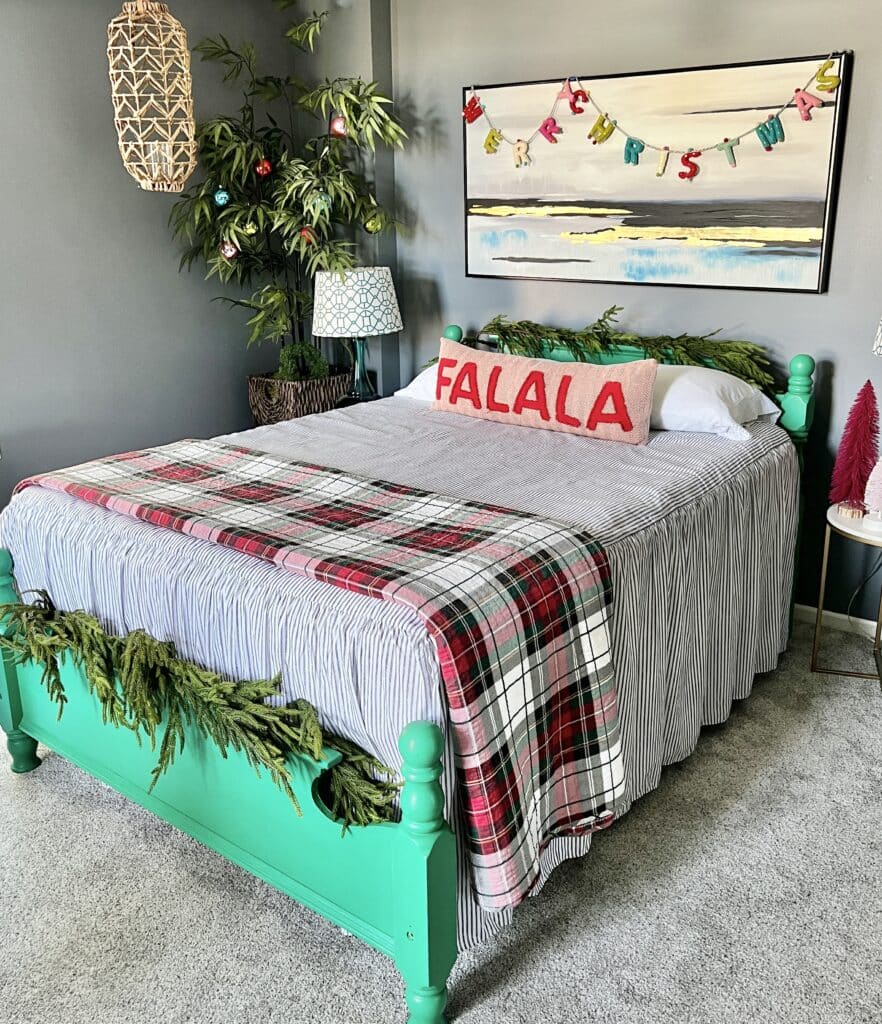 Black Dog Salvage Furniture Paint for the Win!
Black Dog Salvage Furniture Paint is the perfect paint to use on furniture and home décor projects. The paint goes on smoothly, is easy to work with, and covers incredibly well.
I am so pleased with the results of my headboard project using this paint!
If you are looking for high-quality, affordable paint to use on your next furniture or home décor project, I highly recommend Black Dog Salvage Furniture Paint.
You can order the paint online using this BDS affiliate link. Type in the code SONATA20 for 20% off your order!
So don't wait any longer – get started on your next DIY project today!
As for me…time for bed!
Cheers!

Don't Forget to Pin It!