Introducing "The Dot Room": Colorful and Whimsical Craft Room Ideas
Discover oodles of craft room ideas that are both stylish and functional in this colorful and whimsical craft room christened "The Dot Room."
Introducing "The Dot Room!"
Over the past few months, I have been slowly creating a craft/project/hobby room for myself and my business.
A place where I can create…
…perhaps read…
…dream…
…and get something done without having to cart all of my supplies around and commandeer the kitchen island!
Call it my indoor "She-shed!" (Oh, how I have longed for one of these!)
Now that it is complete and ready for project making, I invite you to take a tour of the "Dot Room" and get some craft room ideas that you can use in your own creative space.
Bonus Room Redefined
This room is connected to a guest bedroom.
We never quite knew what to do with it so it became a "Don't know where else to put it so put it in the bonus room" storage room.
Do you have a room like this?
After 18 years in the house, it was time to give it a purpose. Let the craft room ideas flow!
This blog contains affiliate links. This means a small commission is earned if you make a purchase by using this link. The price you pay will be the same whether you use the affiliate link or go directly to the vendor's website using a non-affiliate link.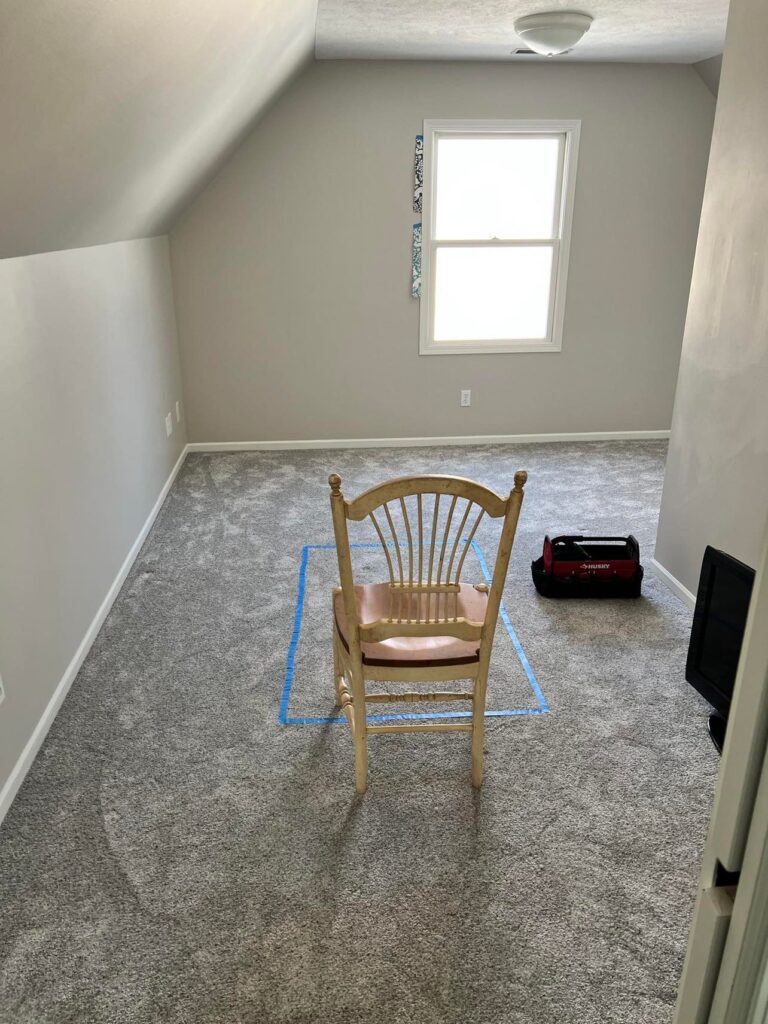 Walls and Floor
Let's face it, one of the primary issues with a craft room is storage. But before you get to the meat and potatoes of the room, why not consider how your walls and floor can surround you with inspiration.
I love wallpaper so decided that this would be a feature of the room. This "Dot" peel-and-stick wallpaper from Target called my name immediately!
Planning the craft room design and hanging the wallpaper was my first step.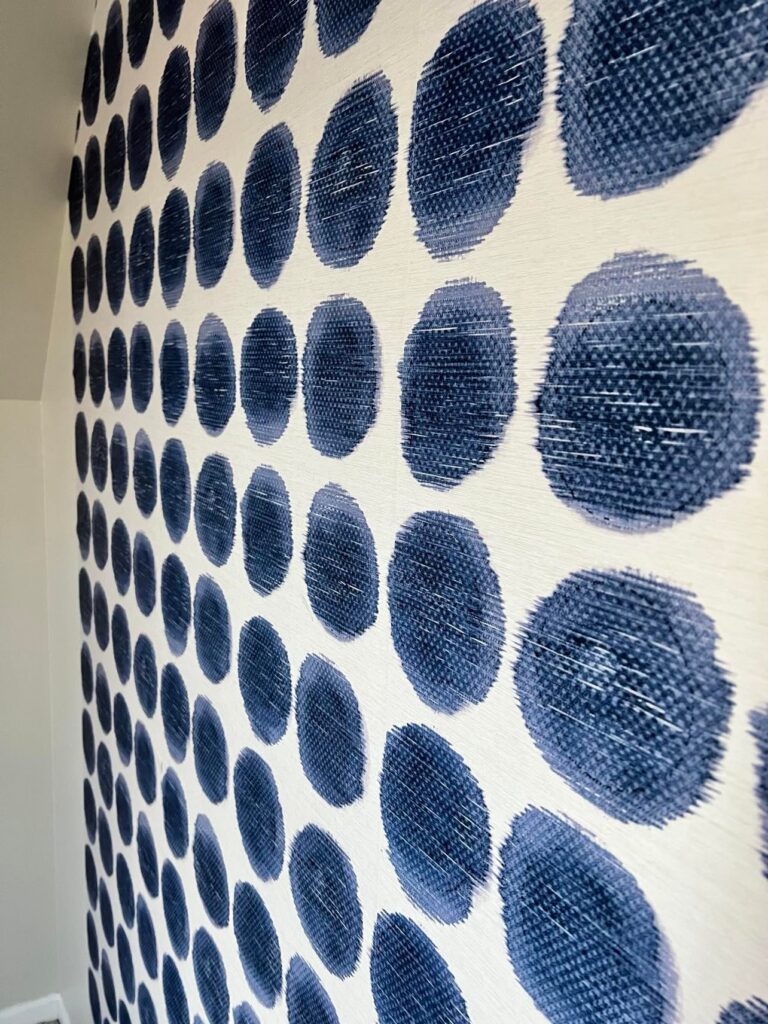 In order to not overwhelm the room and to save some money, I wallpapered only the window wall and the nook space.
Then my love of color took over and I added this pink, green, and blue rug. (Yes, you can lay a rug over the carpet!)
The background of the room was set!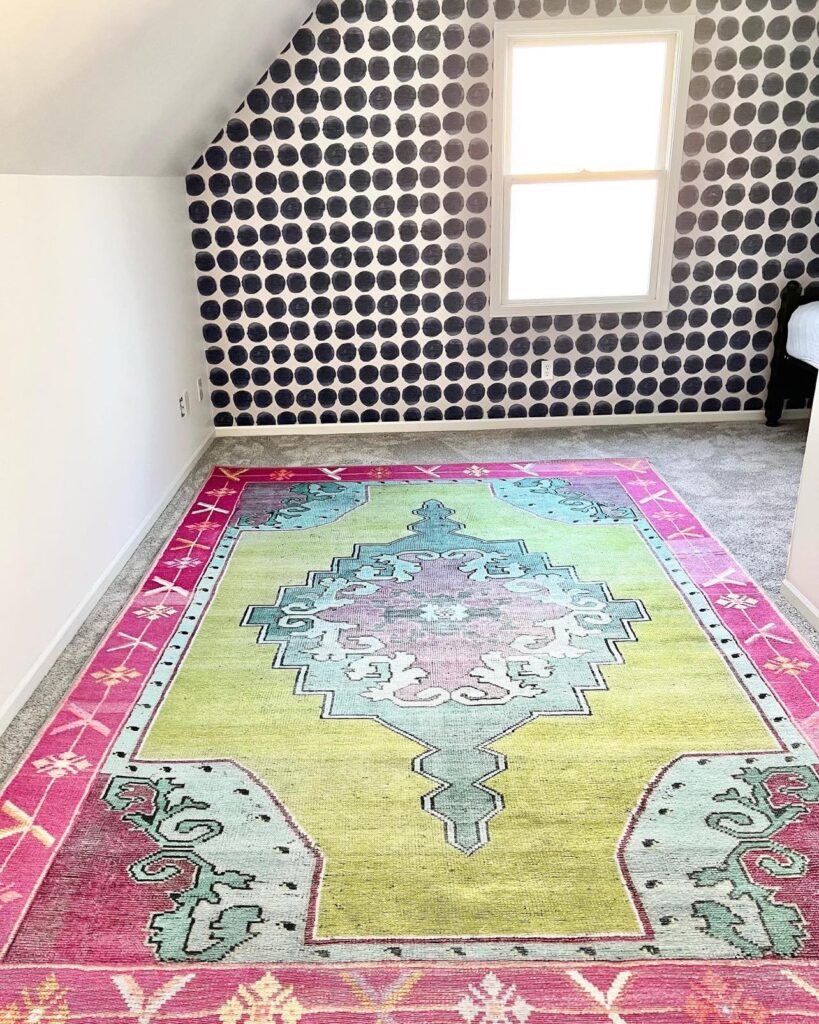 My Craft Room Storage
Storage is probably the most practical of considerations for any craft room. Mine was no exception. I need places to store all of my stuff!
This is a small room with some weird angles. I kept my main storage area low to the ground and consolidated it to avoid the slant ceilings.
These open-shelf storage units were a lifesaver! At just the right height, they came in different widths so I could customize what I needed for the storage wall.
Baskets, boxes, trays, and jars give lots of options for storing supplies of all shapes and sizes.
Vintage garden prints from Urban Gardens are helping me turn my suburban home into a country estate …at least in my mind! You can read about them here!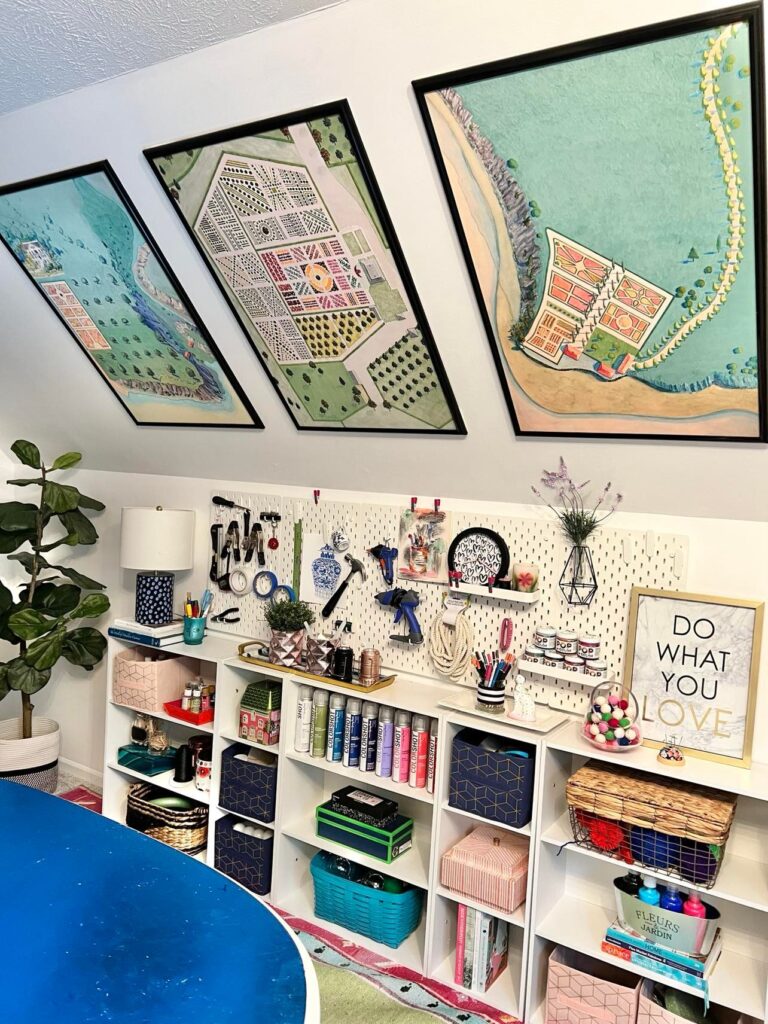 Pegboards – These allow you to hang your tools in a consolidated space with easy access. Don't forget to add some pretty elements to keep your inspiration going. Books, wallpaper or fabric samples and other inspiring "bits" can easily co-exist with a hammer and screwdriver!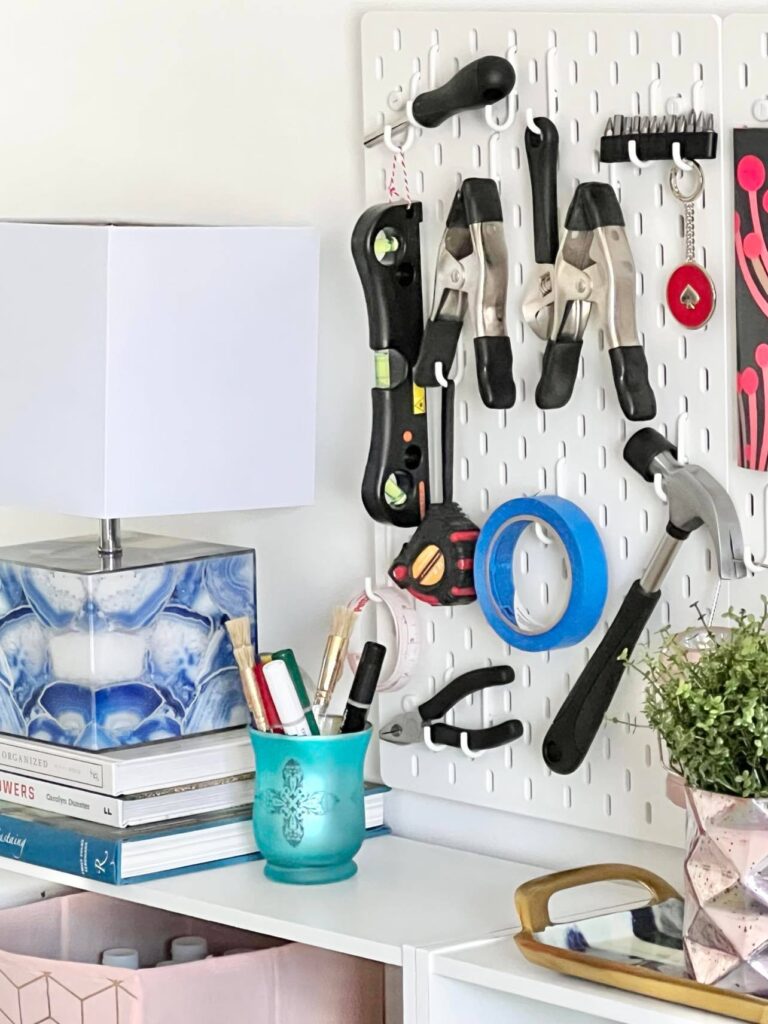 2. Cubbies, Baskets, and Boxes – Open storage can be a really good thing. As a visual person, I am much more likely to use something or know where something is if I can see it!
Fill cubbies with various baskets, boxes, and trays.
I love to incorporate used candle jars as storage. These are great for keeping small supplies in one place.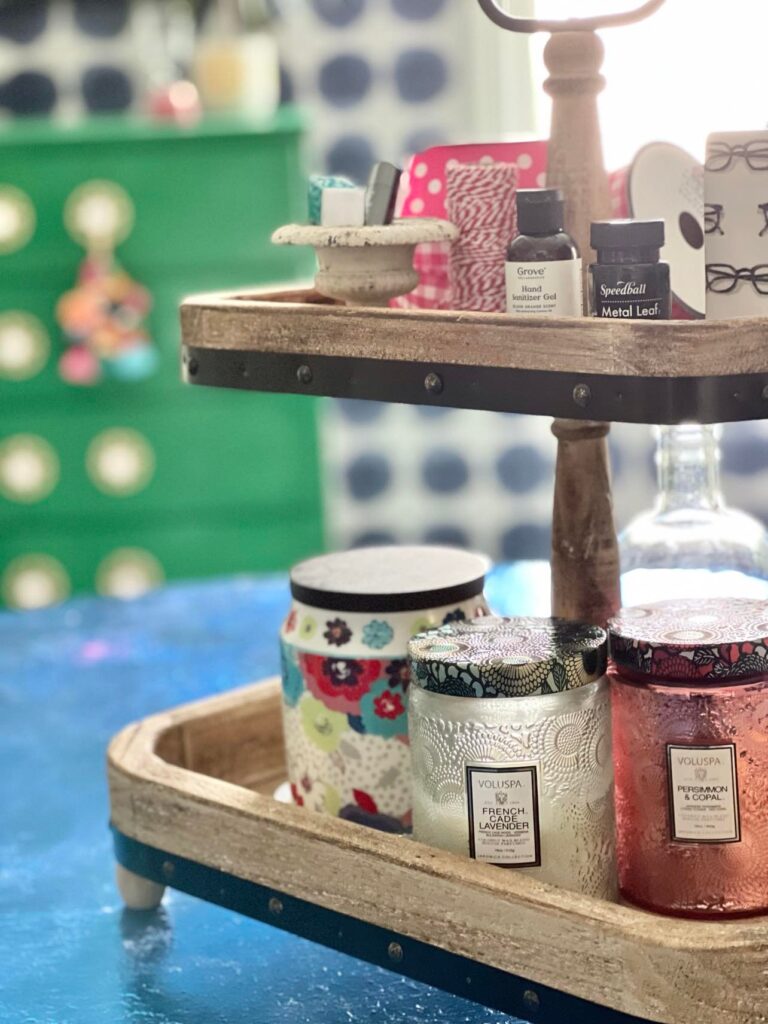 Ribbon Storage
This ribbon rack hanging on a corner wall is a leftover from Sonata's brick-and-mortar days.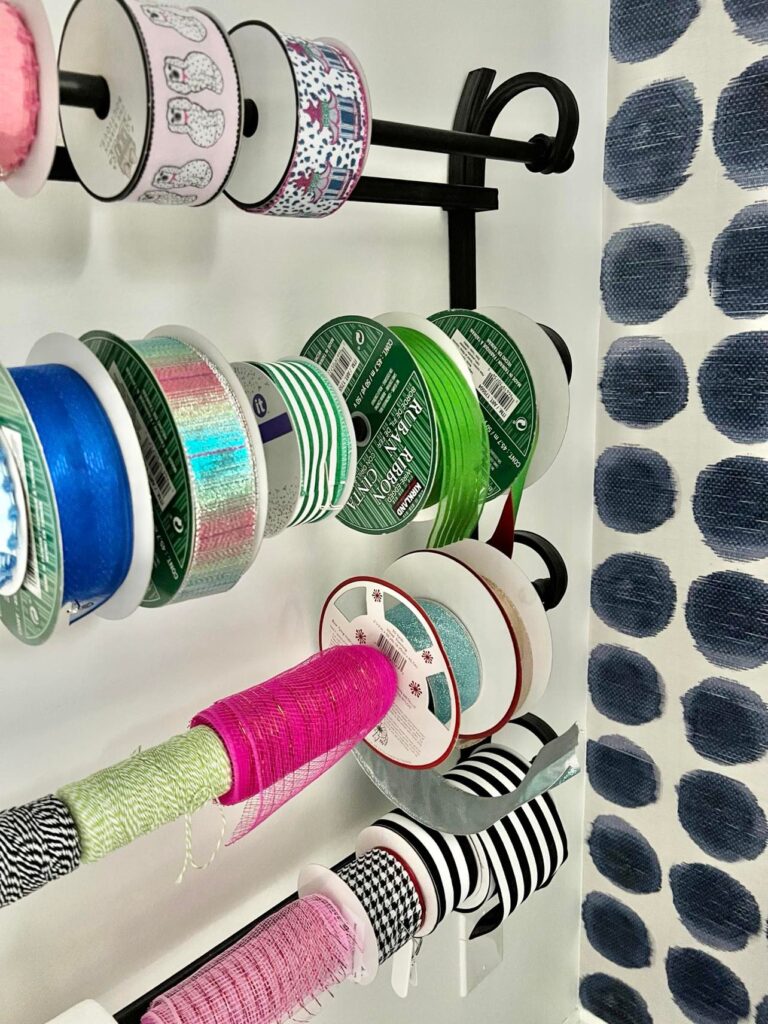 So glad I saved it!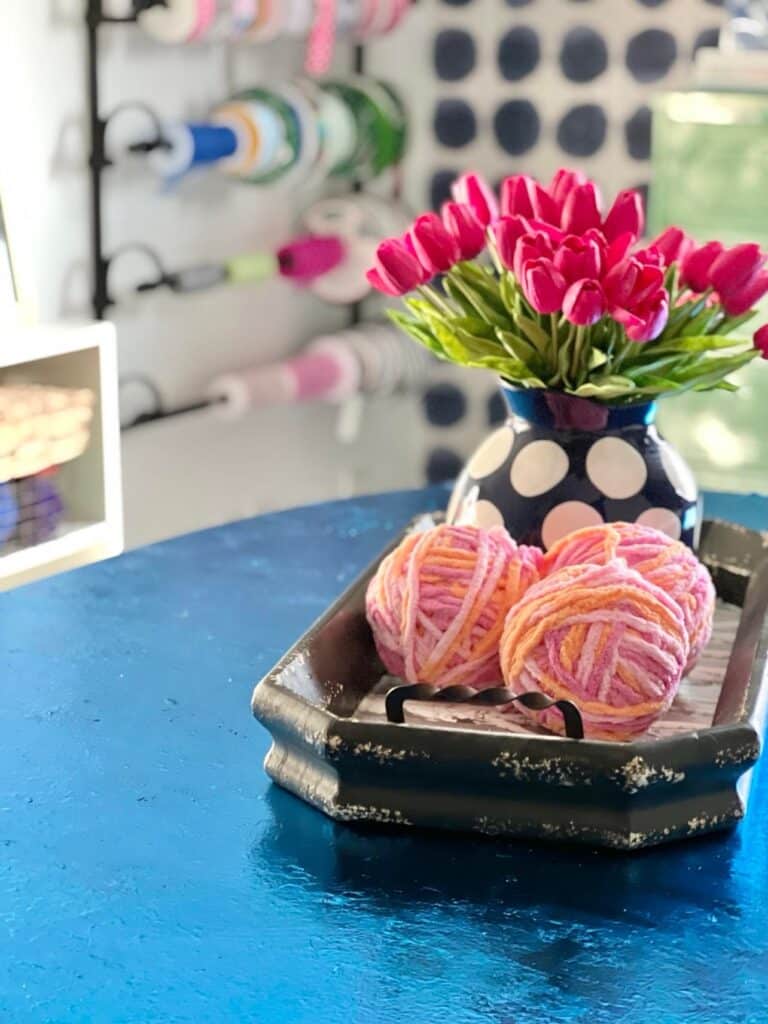 The Craft Room Furniture
The furniture for the craft room also needs to be very functional. But still beautiful and inspiring!
A hand-me-down dresser got a major makeover with some new paint and hardware.
And then there is the table…covered in blue foil leaf!
You can read the story of the blue leaf table here!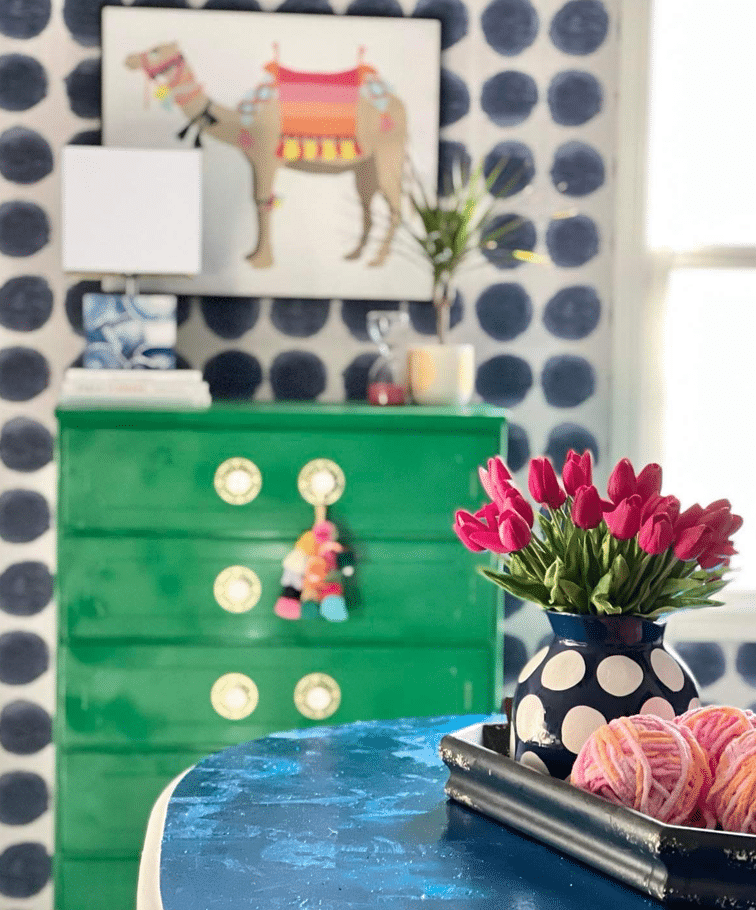 This colorful pom-pom tassel charm is the perfect whimsical detail to hang from the dresser knob!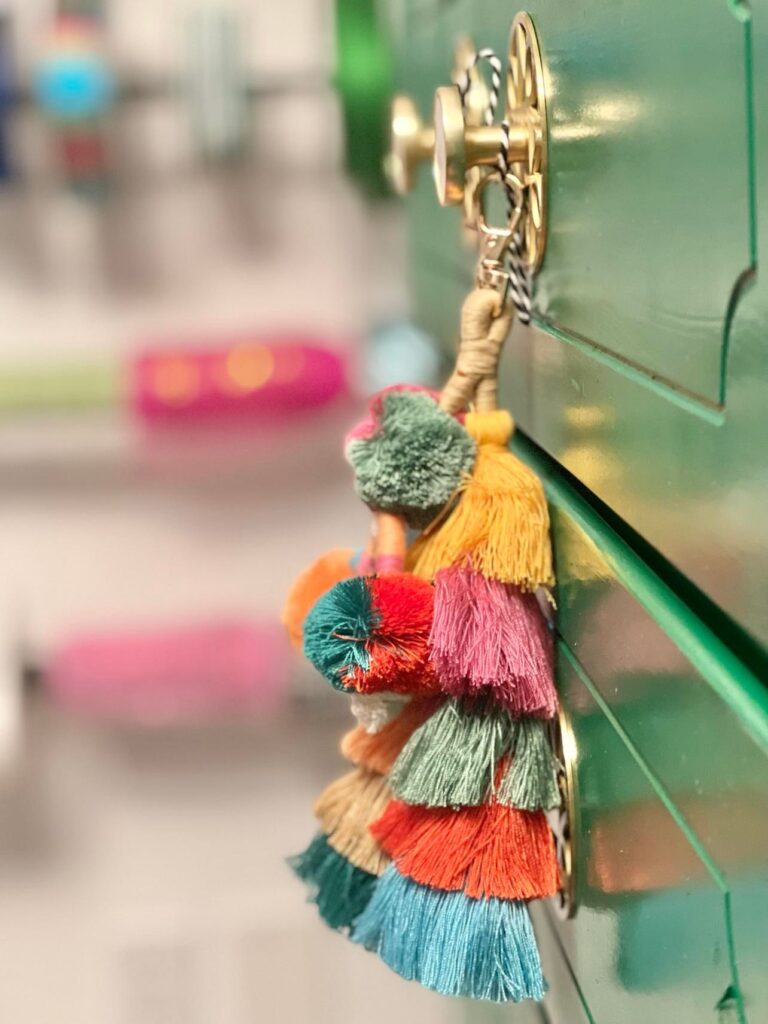 This bulletin board allows me to sit at the table and see my to-do list as well as inspiration for my next project. You can see how I turned a ho-hum bulletin board into inspirational wall art!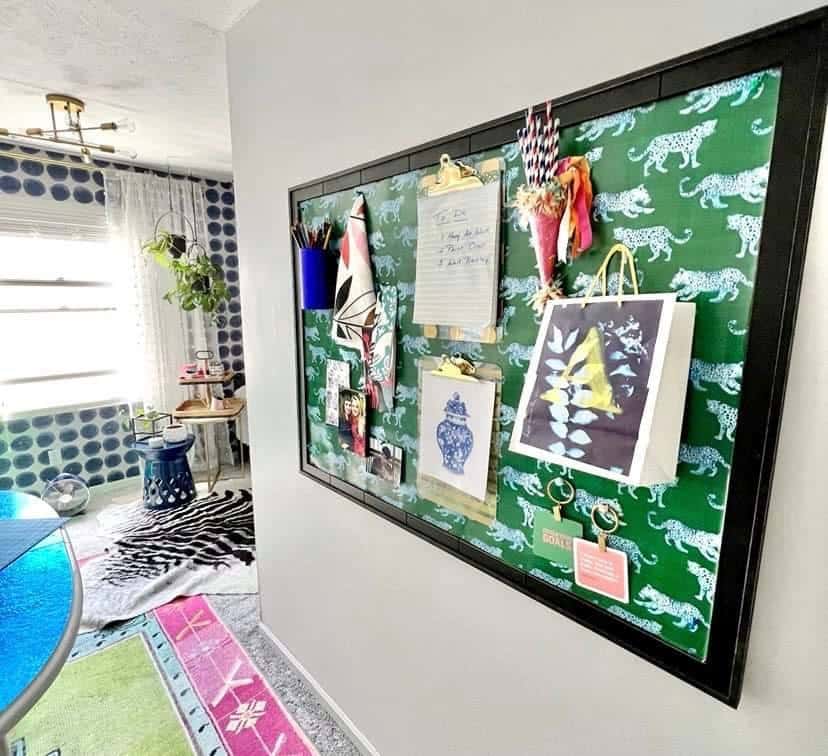 The Craft Room Nook
One of the interesting and challenging areas of the room is this little off-shoot nook.
I considered another work table for the space. However, when I discovered that the daybed from another bedroom fit the space, the function of the area took an unexpected twist!
One of those twists is this amazing butterfly print from Urban Garden Prints!
Why a bed in a craft room?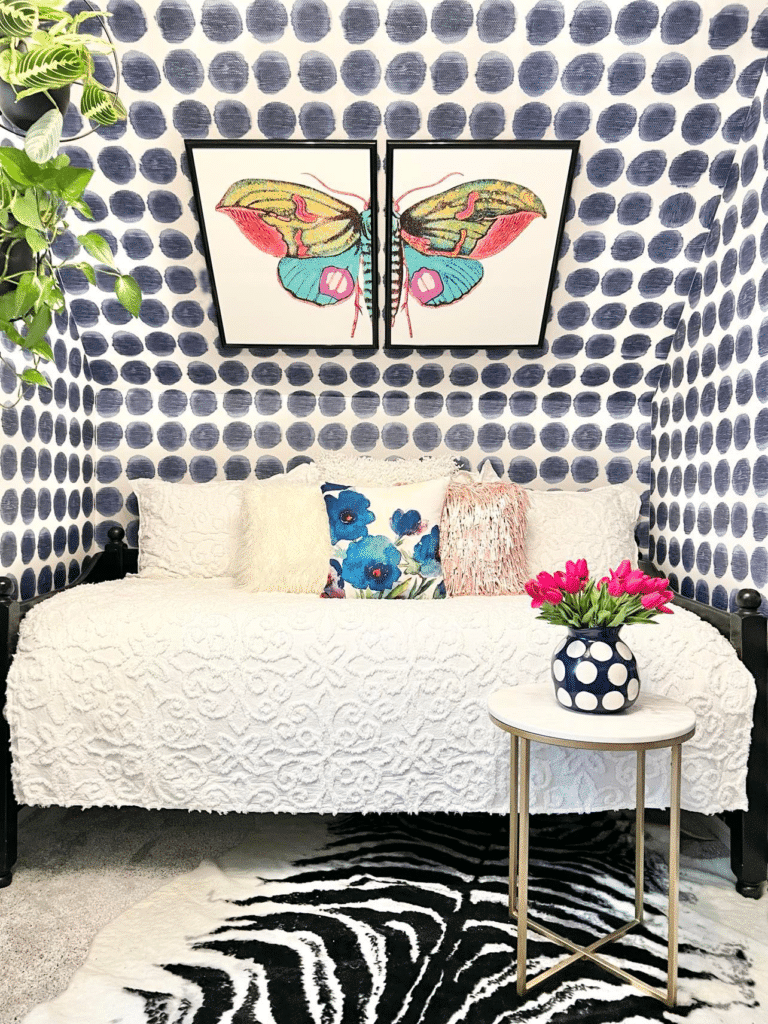 Here is what I can do in this space!
Hand-sewing
Make pom-poms
Wind yarn (I actually do this a lot!)
Create mood boards
Read design books
Video my new Instagram Live weekly spot: Decorating on the Dot!…Wednesdays on Instagram at 2:00 pm (CST) You are invited!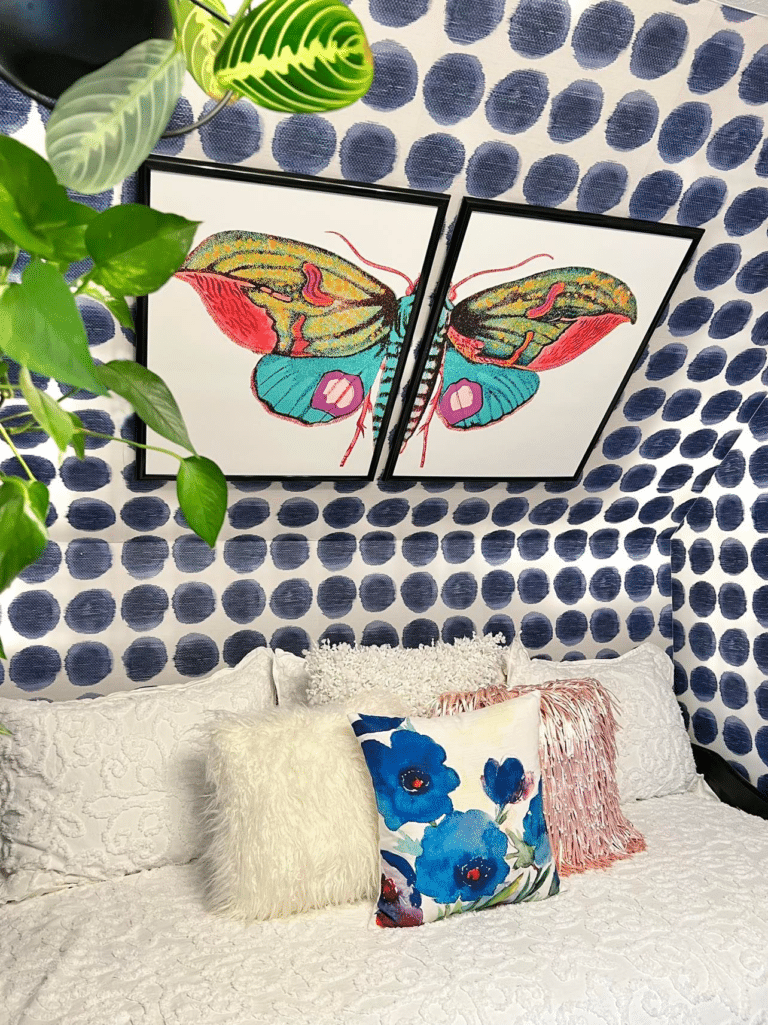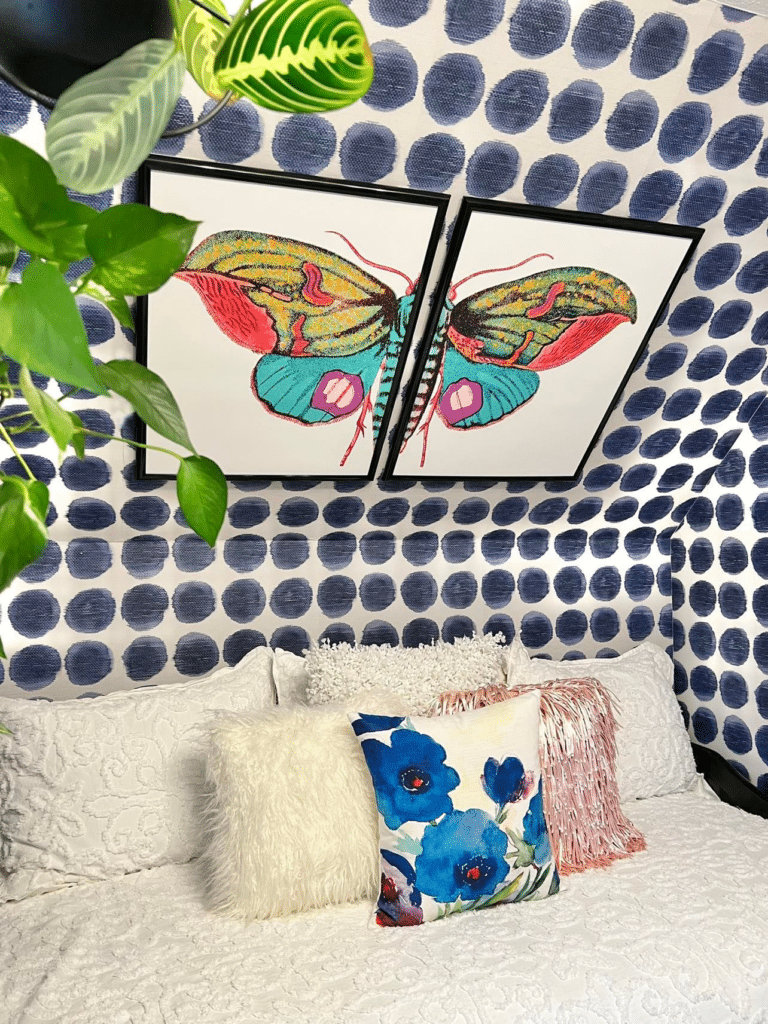 I hope you have enjoyed this tour of my new craft room. Honestly, this is the most organized and "put together" it will ever be.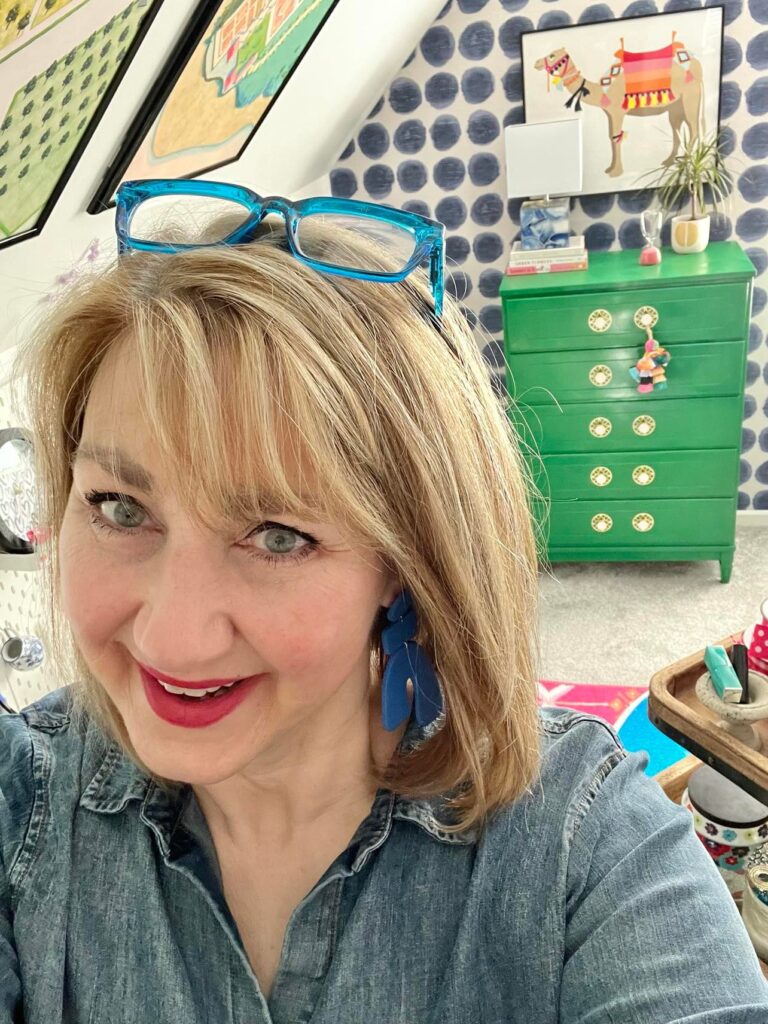 Time to create, make a mess, and keep on dreaming!
Cheers!