How to Organize a Pantry with Pull-Out Drawers
Get some great tips on how to efficiently organize your pantry with pull-out drawers with these easy ideas.
Listen, my friend. I have a secret.
One that I am not very proud to share.
There is a deep, dark, ominous secret lurking in my kitchen.
My secret is…
…ooh, I don't know if I can actually share this!
My secret is…
(Cue dramatic music.)
…my scary, disorganized pantry!
SCREAM!
While I may be a little dramatic here (just a little), the pantry in our kitchen has been a long-suffering source of angst, frustration, and embarrassment.
The pantry looks so pretty on the outside!
We had it painted along with the rest of the cabinetry when we renovated our kitchen.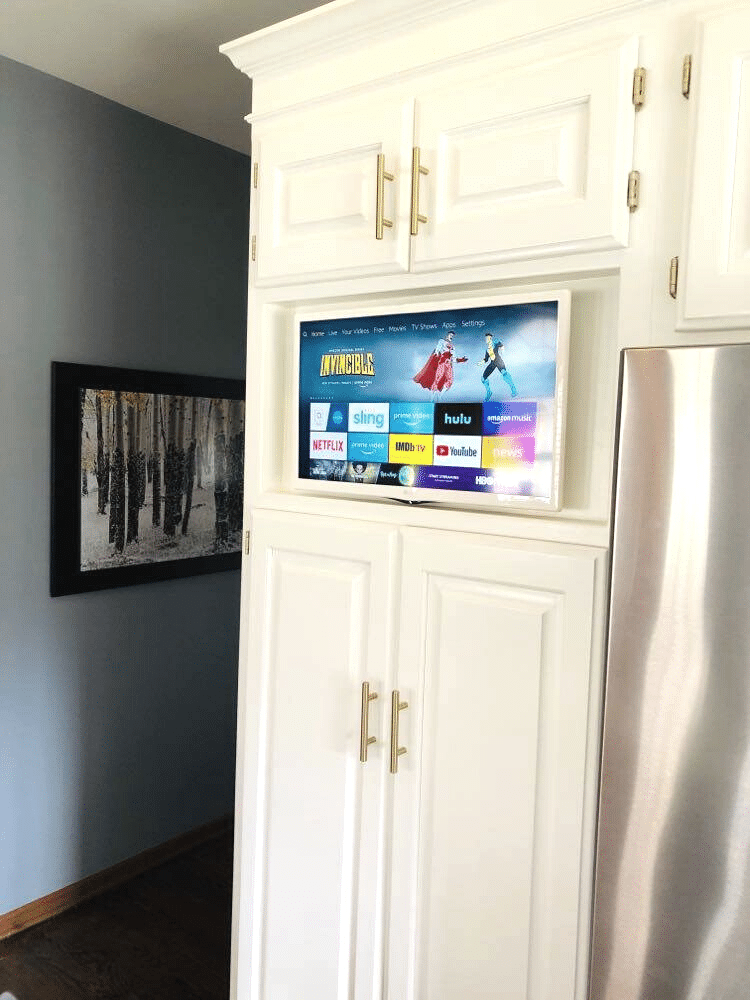 But behind the pretty doors lie chaos, clutter, and disorganization.
We have good intentions. Every few months it would get a massive cleaning and re-assignment of its contents. But what would start out neat and orderly would quickly disintegrate into its prior state.
We needed a plan.
Well, now we've got one!
This blog contains affiliate links. This means a small commission is earned if you make a purchase by using this link. The price you pay will be the same whether you use the affiliate link or go directly to the vendor's website using a non-affiliate link.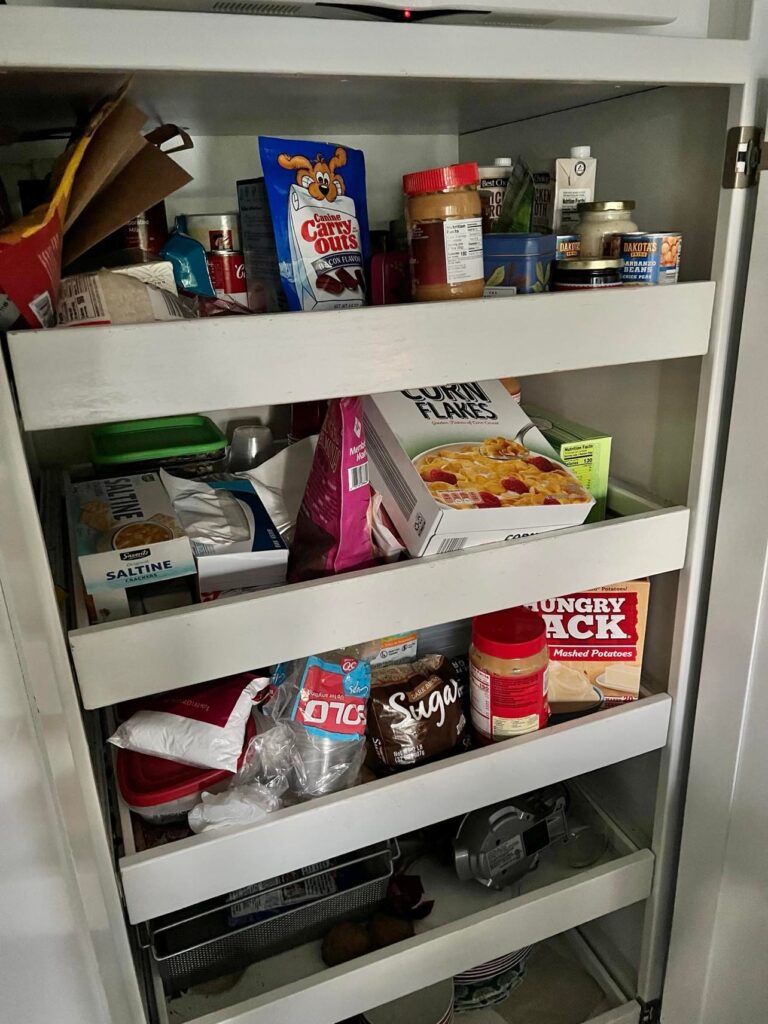 The Pull-Out Drawer Dilemma
Pull-out drawers in a pantry are very economical with regard to space.
In our case, 5 tidy roll-outs are perfectly spaced from one another.
But therein lies the problem.
Not everything we put in the pantry is that same size. Everything comes in its own uniquely shaped packaging and may not fit in those perfectly spaced drawers.
We can't find what we need and, worse yet, we never truly know what we have because it falls to the back or gets hidden underneath another package.
Don't even get me started with trying to store a tall cereal box in these drawers!
Pantry Goals
While my dream pantry has glass french doors, shelving to the ceiling, and miles of open shelving for serving pieces and centerpieces, I will be perfectly happy if the following can be achieved with our simple pantry!
Be able to find what I want, when I want it.
Avoid spills, messes, and wasting food.
Know what we have and what we need when we go to the grocery store.
Look cohesive, organized…and pretty!
So, let's get down to business and organize this pantry with pull-out drawers!
Pantry Prep
Take everything out.
Ugh! This is just like cleaning out my closet!
But so necessary!
Take it out. Take it all out!
Take stock of what you have. You might even be surprised at what you find you do have!
Yikes…we have 6 boxes of chicken broth? Must have been a good sale!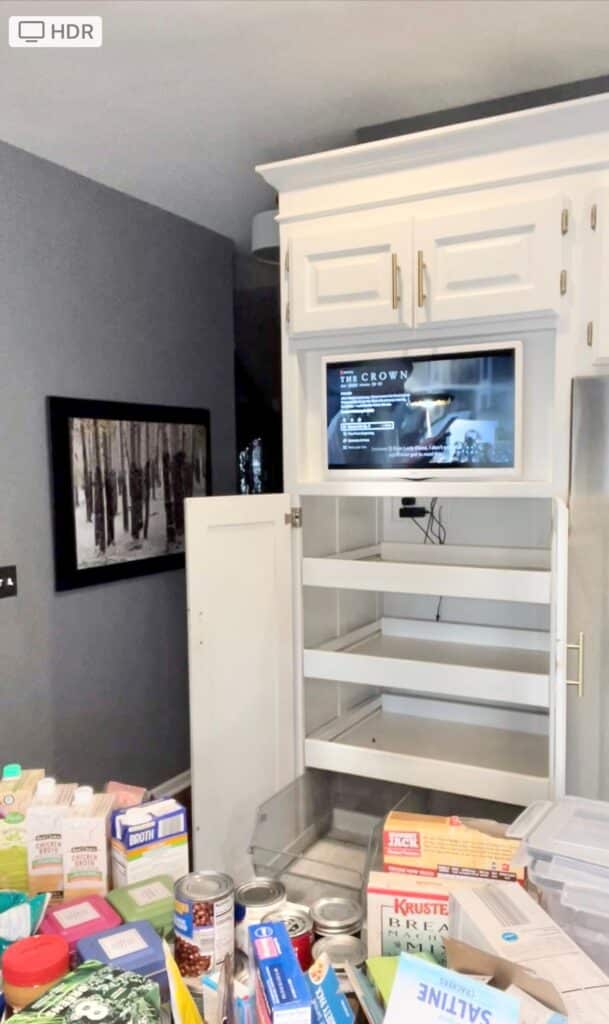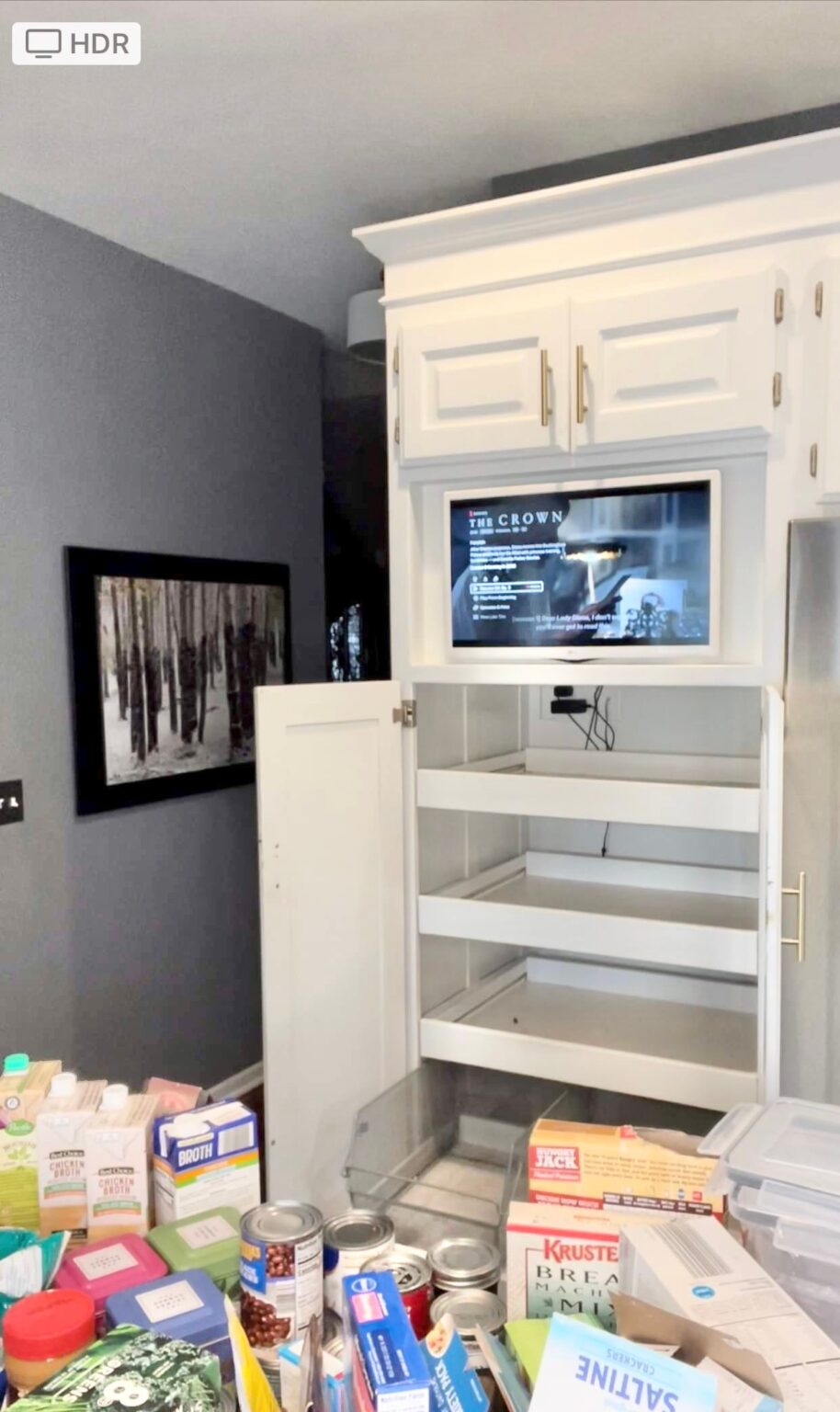 Next, group similar items together.
Throw out anything that is expired. If you have multiples of something or don't want it anymore, donate it. Don't let it go to waste if you can help it!
Clean it Up
I like to start by vacuuming each drawer. This is great for getting up all those little cracker crumbs that magically escape from the package.
Then, give the drawers a general wipe-down with your favorite cleaner and microfiber cloth.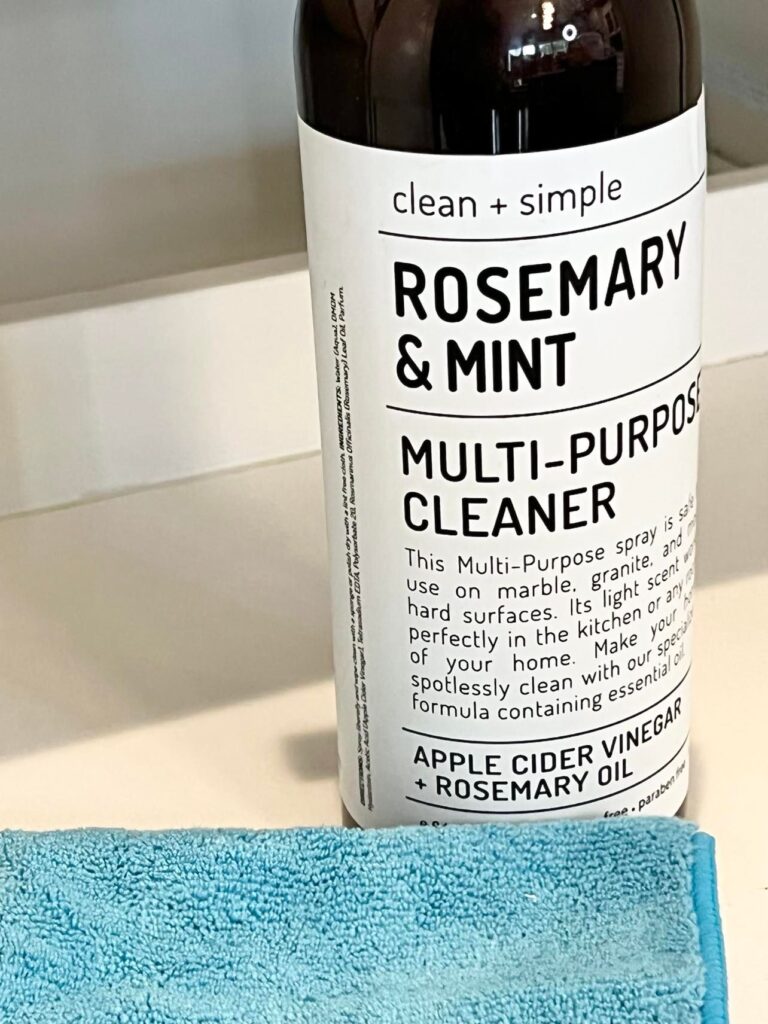 Pantry System
What works in my pantry may not necessarily work in yours because of drawer size and height between drawers.
Before you go out and invest in the most beautiful organizational bins, make sure you measure first.
Actually, measure twice to be sure!
Know the depth of the drawers and the height between drawers so you can buy accordingly.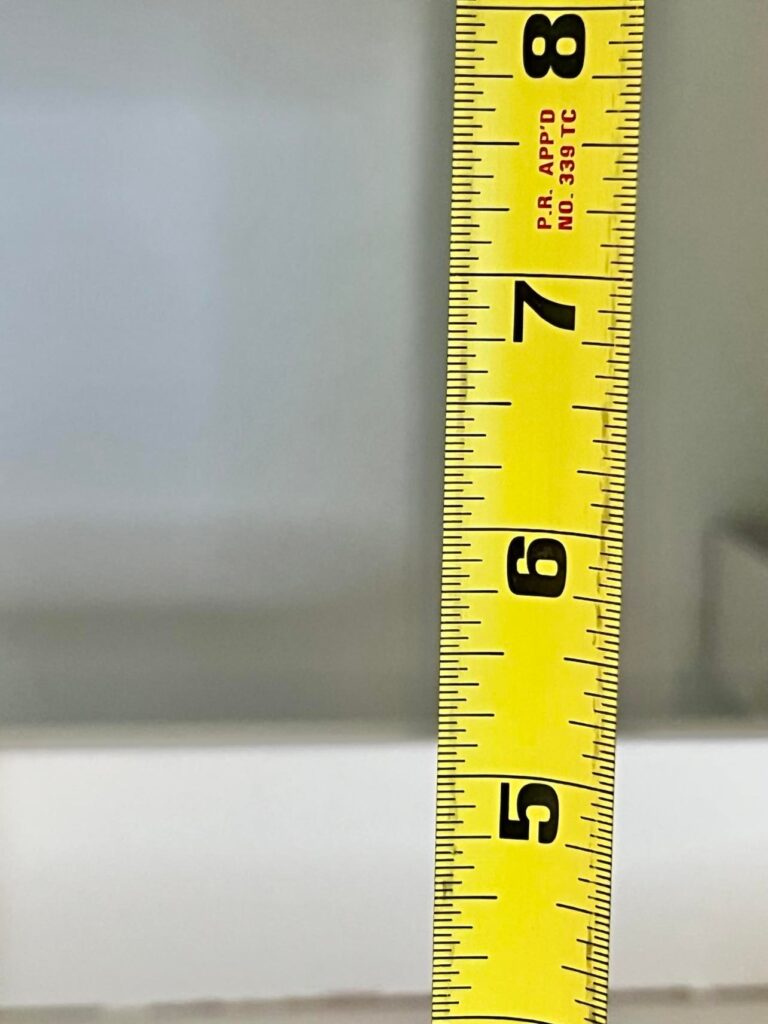 With my measurements, I started researching clear storage bins. (Always go with clear so you can see what is stored inside!)
I discovered that vertical storage bins would not work with our drawers and that horizontal storage is the way to go.
Once in hand, I played with arrangements on the drawers (like Tetris!) and discovered that I could easily stack some for twice the storage.
Vertical storage after all!
The key is to experiment to find the best arrangement.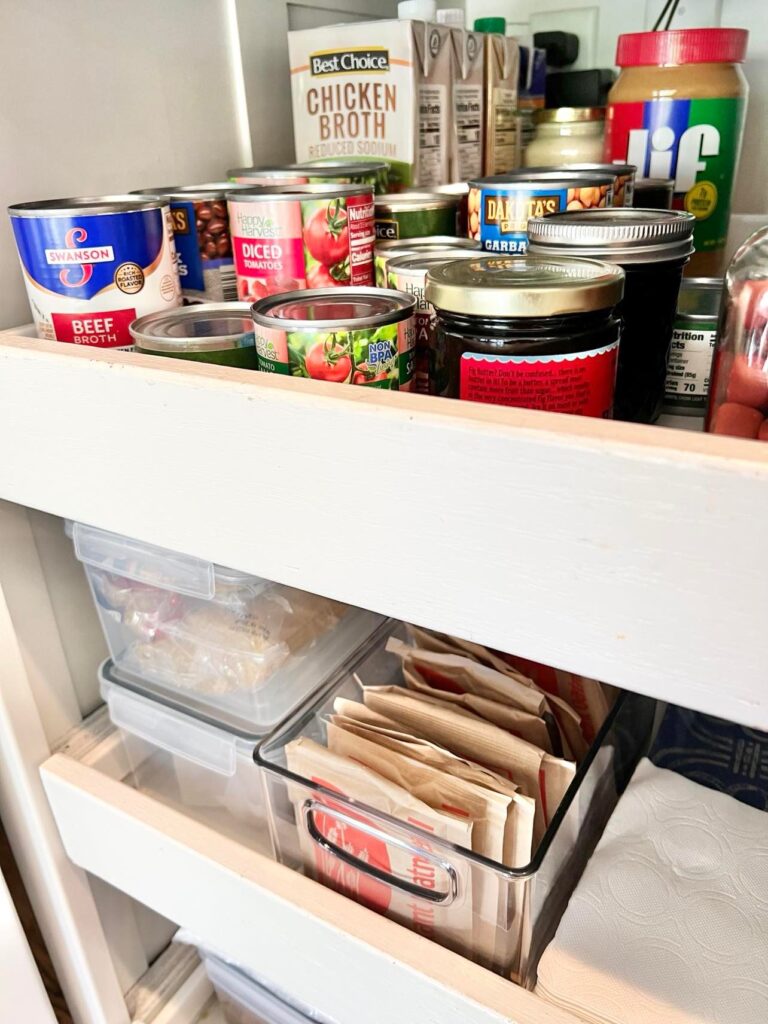 Pantry Arrangement Tips
Store frequently used items in the front of the drawer and less used items toward the back.
A lazy Susan is great for smaller items that can get easily lost in a large drawer. I like to keep tea bags here for quick and easy access.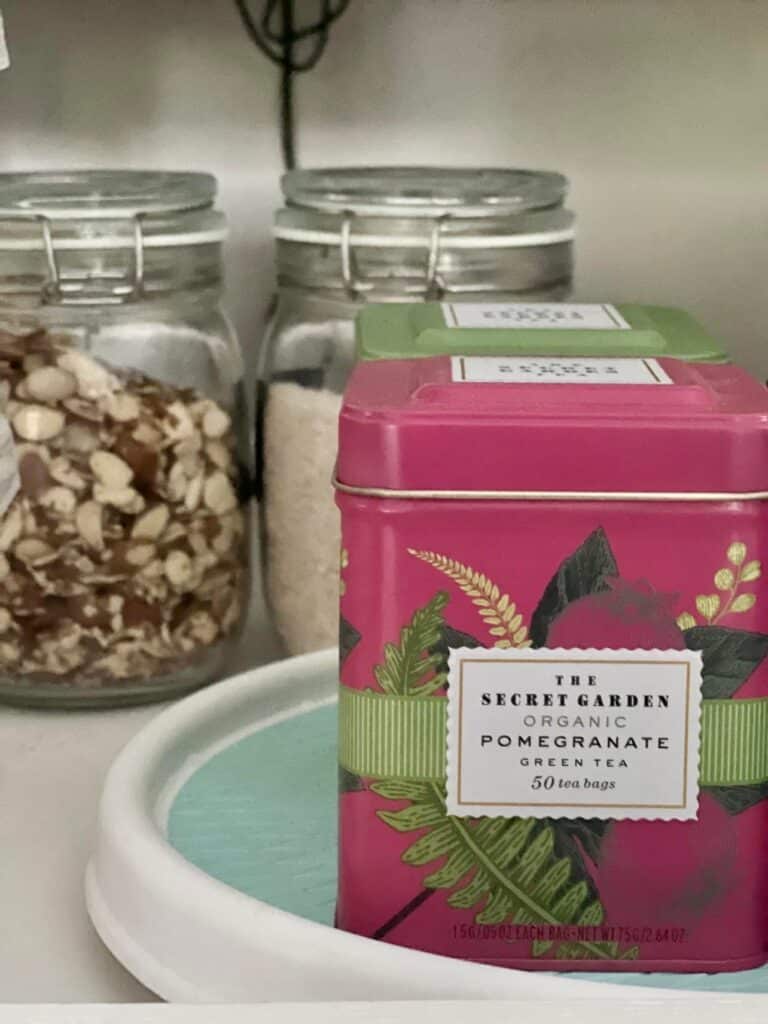 Store your oil and vinegar bottles in the bottom drawers. While they may fit in a top drawer, they can be top-heavy and topple over easily in a higher drawer.
I also store small appliances and even dinnerware on the lowest shelves.
A wired storage basket on a lower shelf is perfect for storing a bag of potatoes.
Put flours and sugars in sealed containers in the same drawer. Same for baking chips.
Now, baking supplies are all together and easily accessed on cookie baking day!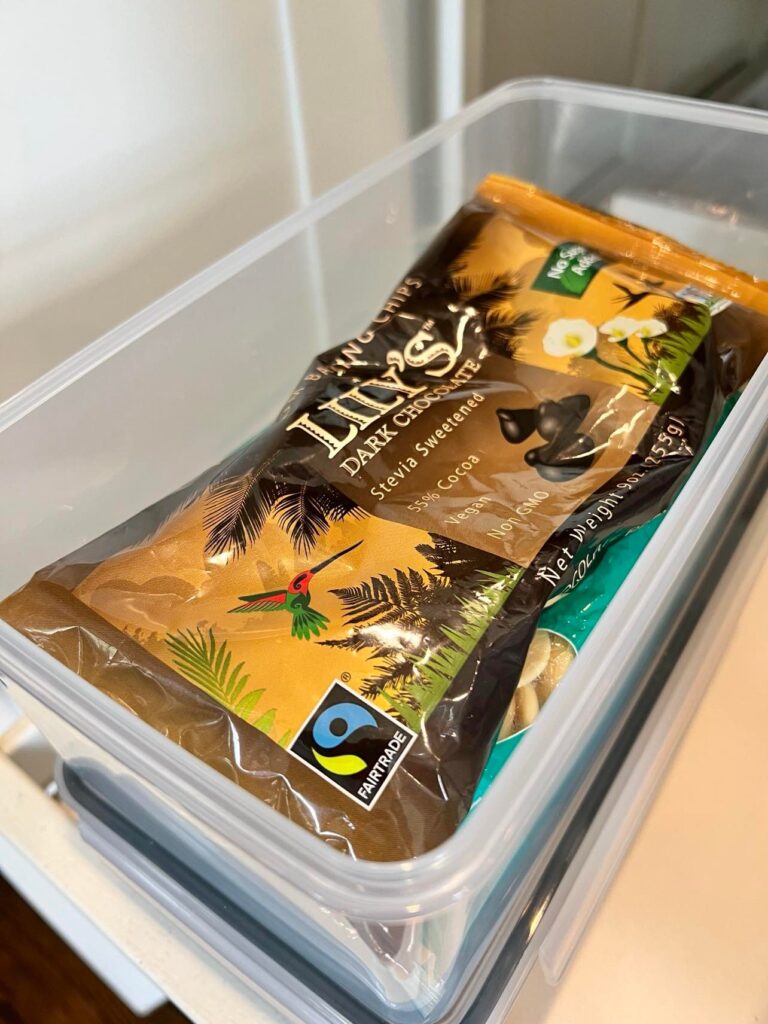 Rice, pasta, beans, and nuts are perfectly stored in glass jars with secure lids.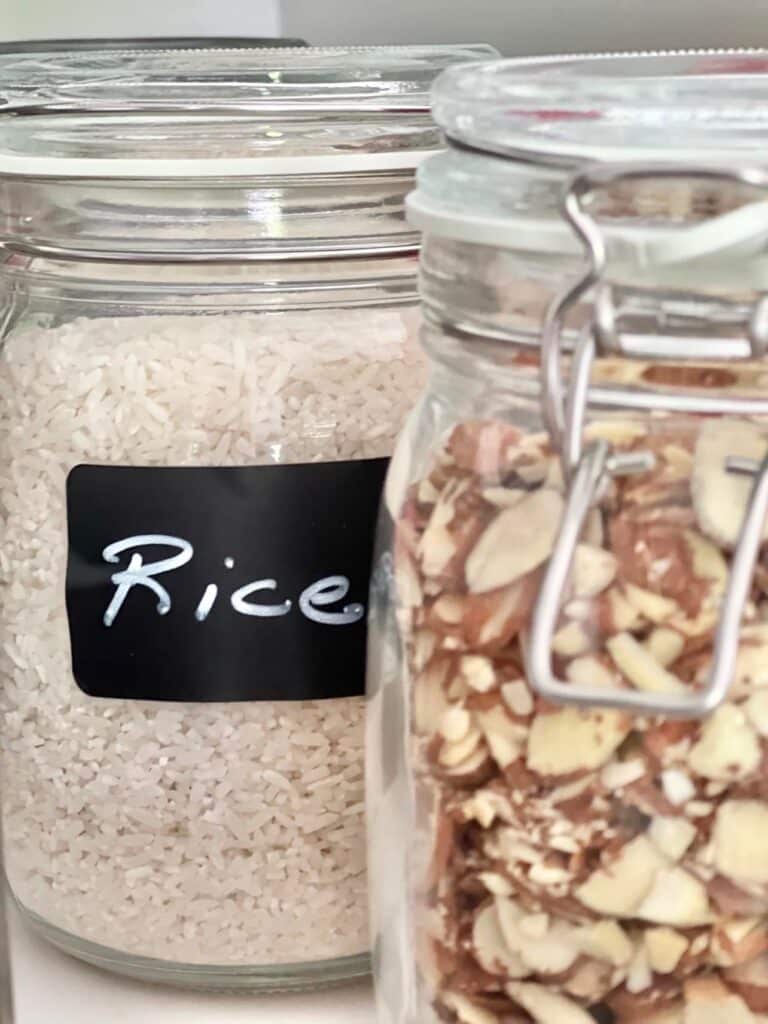 Label and Train
This is where I have failed in the past. By not labeling something, it gives me permission to stick it anywhere when I eventually put it back.
Hence, the reoccuring scary pantry.
Psychologically, a label tells me exactly where I need to place something when finished with it. In essence, the label trains me to be neat and tidy. (Well, most of the time.)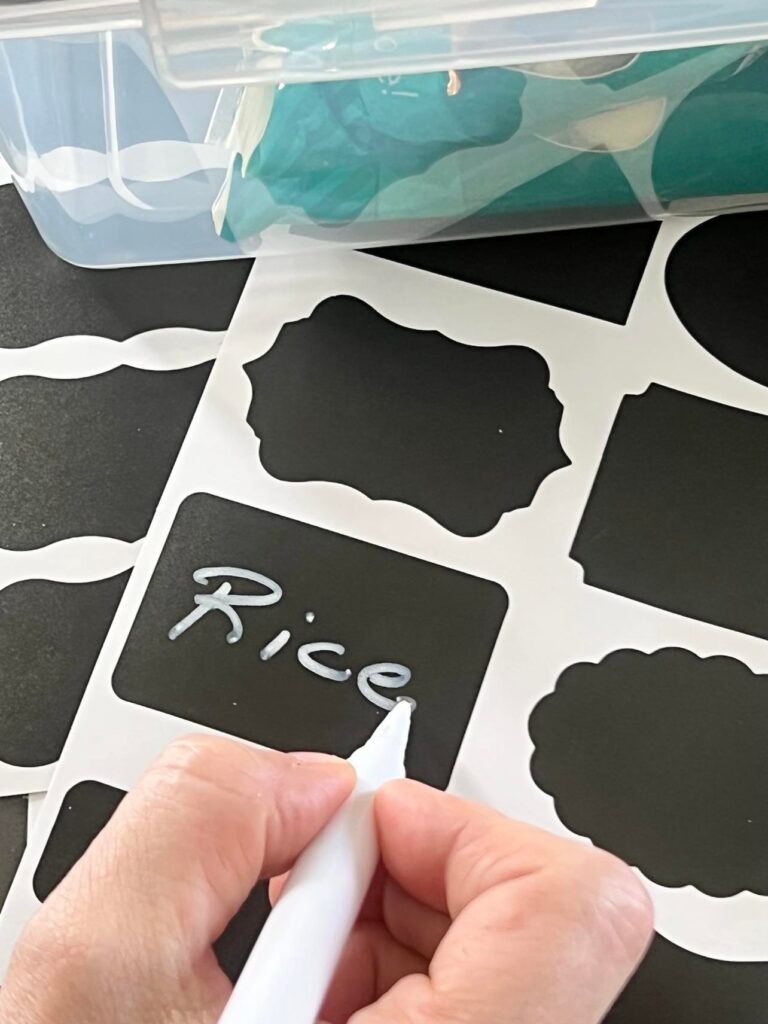 Keep in mind that your food supply and inventory will constantly change. As you buy something new, it will need to be given a place in a drawer.
Try to train yourself to do this immediately each time you come home from the grocery store.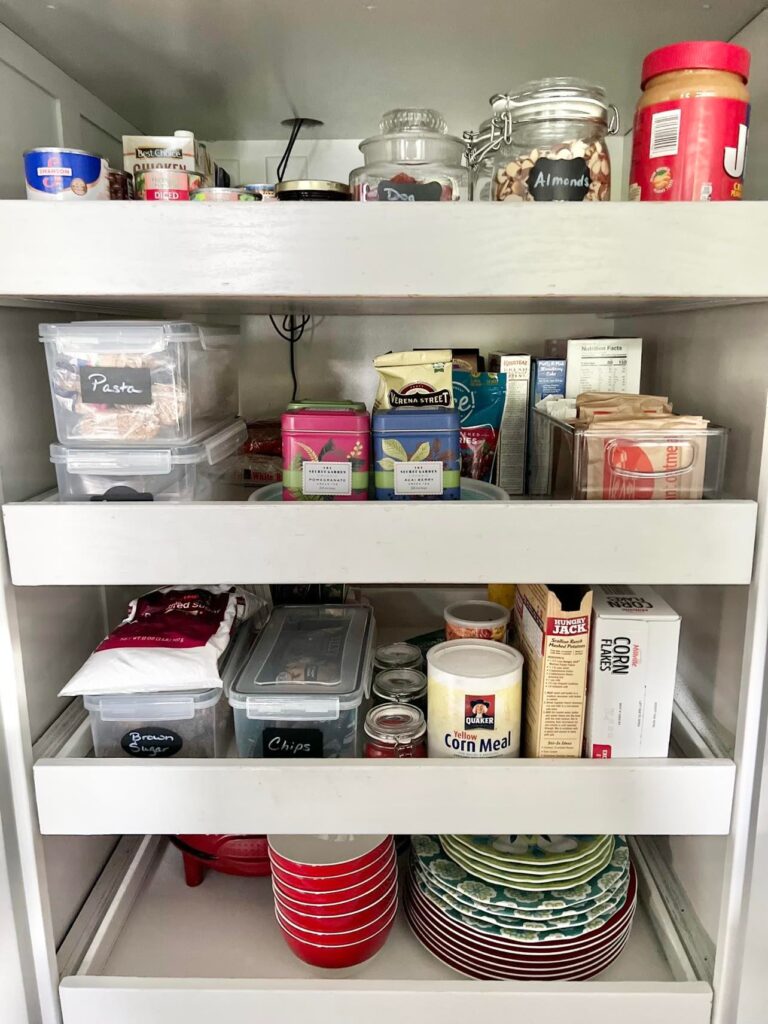 The pantry is less scary to me now. It is actually kind of fun to check the food inventory, roll the drawers back in, and shut the doors. Almost like putting it neatly to bed!
Check back in 3 months and see if we are still on track!
Cheers!