7 Simple Ways to Decorate Your Porch for July 4th
It's time to celebrate the Stars and Stripes! Here are 7 simple ways you can decorate your front porch for the 4th of July and celebrate Independence Day in style!
Do you have a favorite front porch?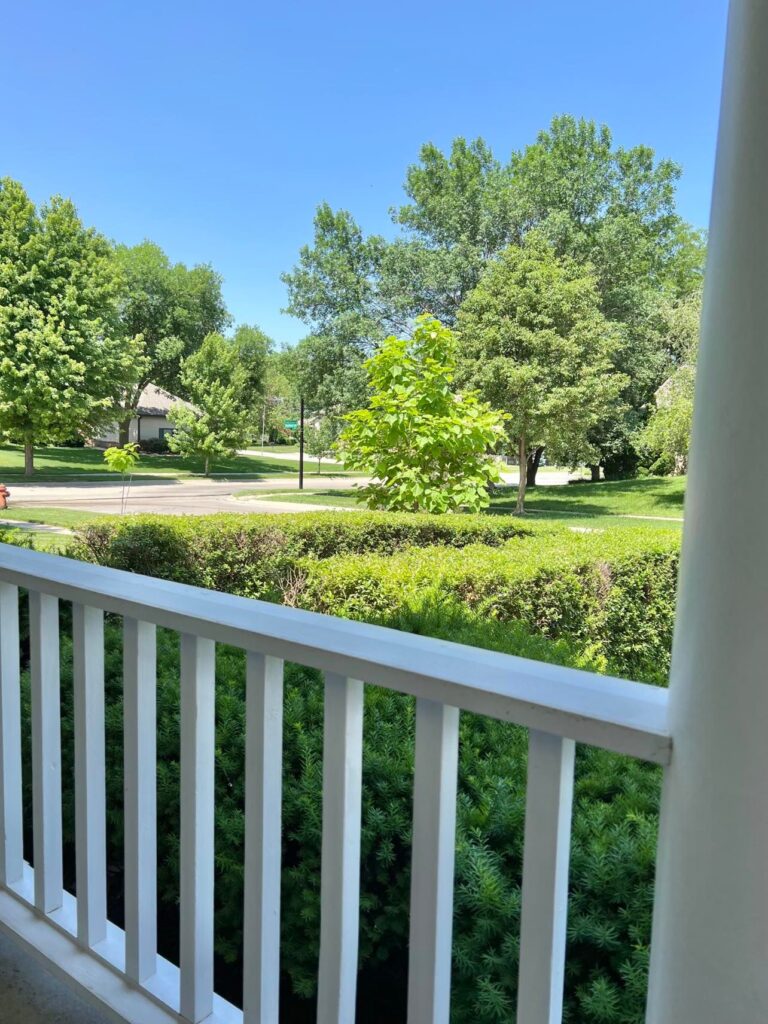 Maybe a house in your town with great front porch architecture?
Or one from a vacation visit or your childhood?
My favorite front porch is that of Sheriff Andy Taylor from the old black-and-white sitcom "The Andy Griffith Show."
Summer evenings were spent hanging out on the front porch after dinner.
Andy played the guitar, Opie sang along, and Aunt Bee finished up the dishes. (Back then, the "menfolk" needed some lessons in helping out after dinner!)
I love hanging out on the porch with my husband, and friends or sometimes, just by myself.
The best thing though…the front porch is a fantastic opportunity for decorating! Especially for a holiday!
Especially Independence Day!
So, let's decorate the front porch for July 4th!
I think Andy, Opie, and Aunt Bee would approve!
This blog contains affiliate links. This means a small commission is earned if you make a purchase by using this link. The price you pay will be the same whether you use the affiliate link or go directly to the vendor's website using a non-affiliate link.
1. A Star-Studded Welcome
Start the celebration with your sidewalk or even driveway!
I tossed red and blue vinyl star placemats onto the walk leading up to our porch.
They are like star-studded stepping stones.
I think it is even better than a red carpet!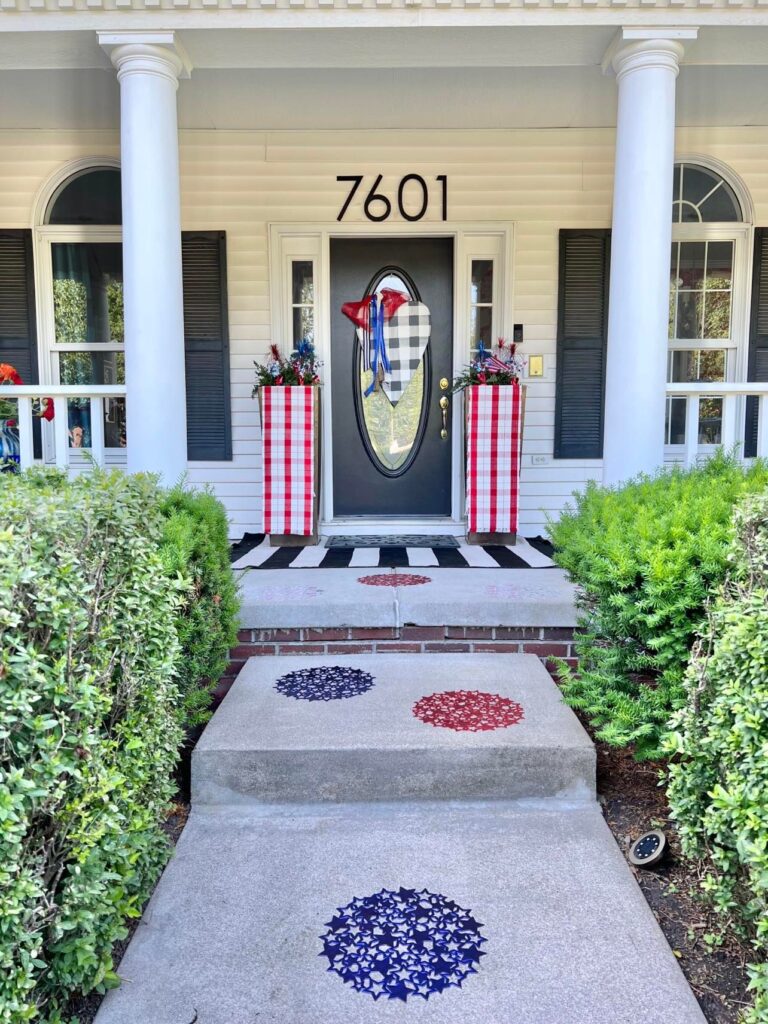 Because they are vinyl, they stick to the concrete and are easy to wipe off.
In all honestly, these have not gotten dirty at all because everyone actually avoids stepping on them. They just exclaim how fun they are!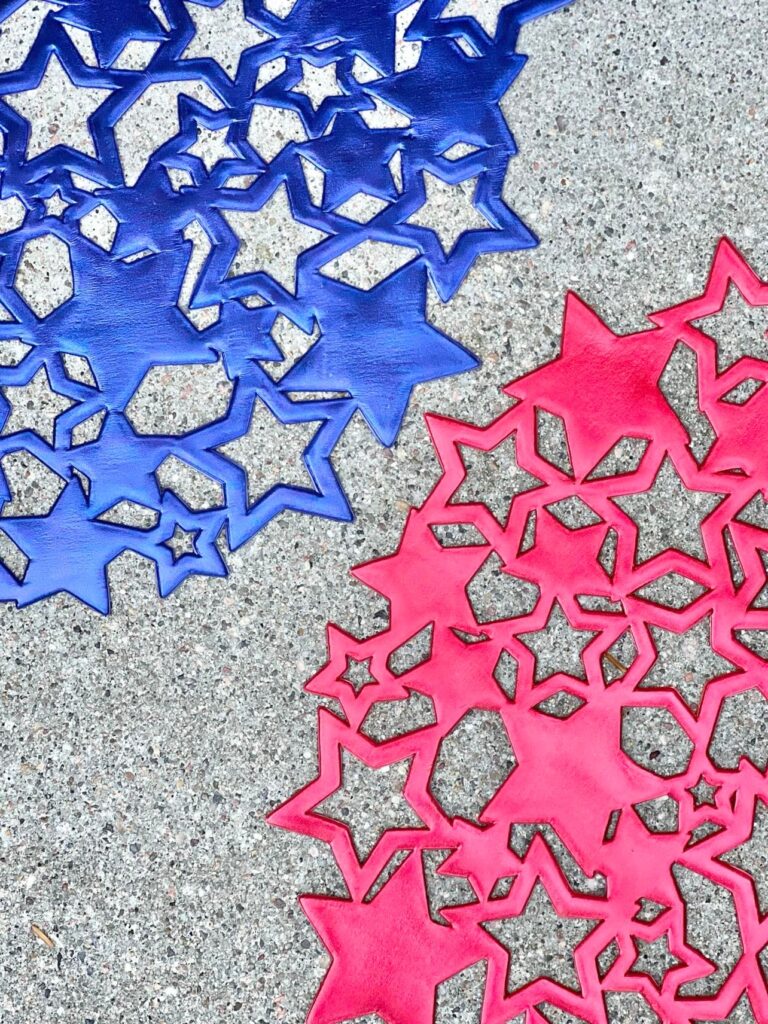 2. Front Door Fireworks
How about using a couple of table runners to decorate your planters?
I just folded these red and cream plaid table runners in half and tucked them into the top of the planters on either side of the front door.
Then, I anchored them with…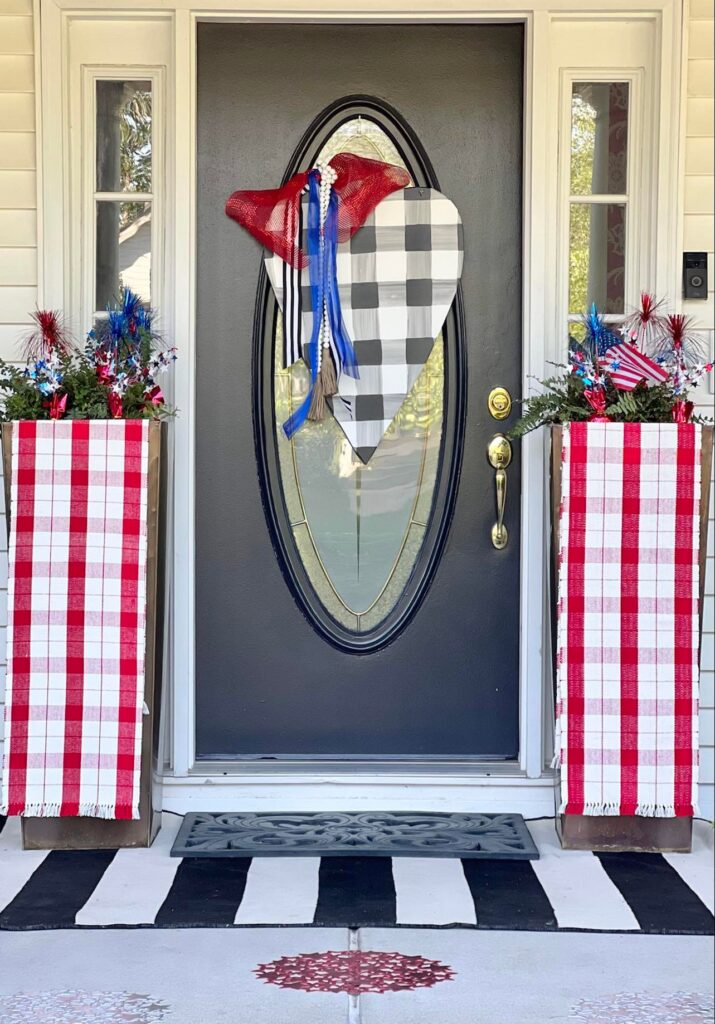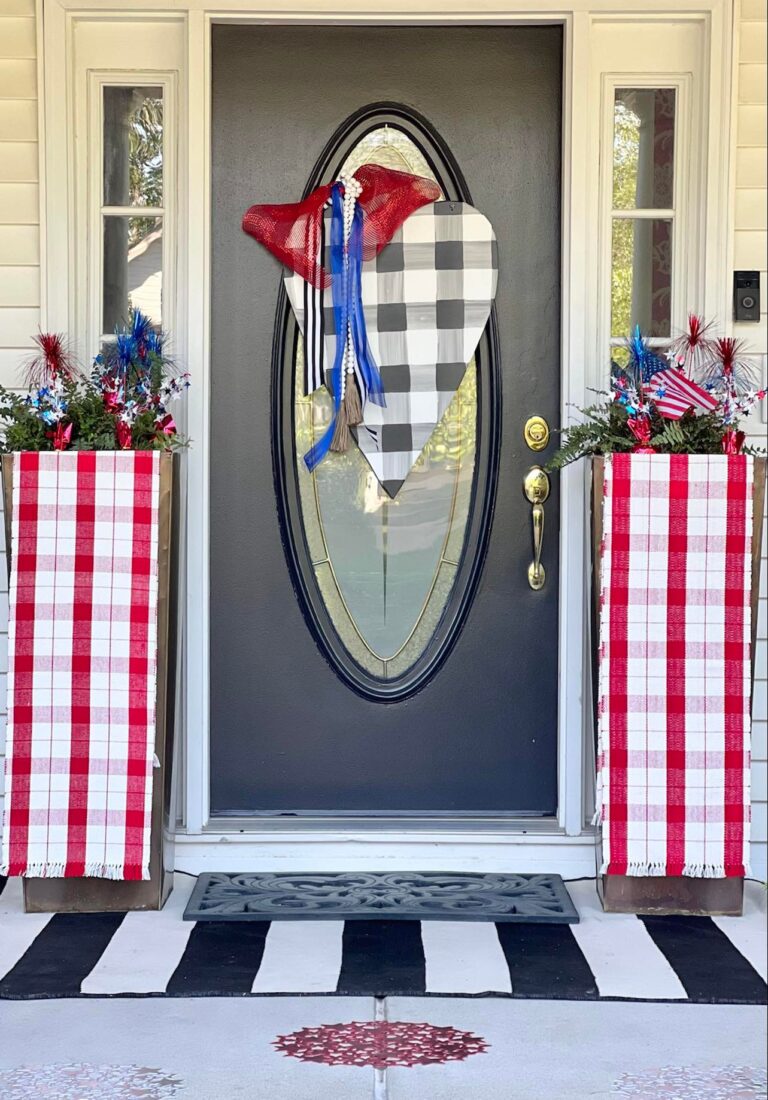 …these adorable little "sparklers" that I picked up at a dollar store!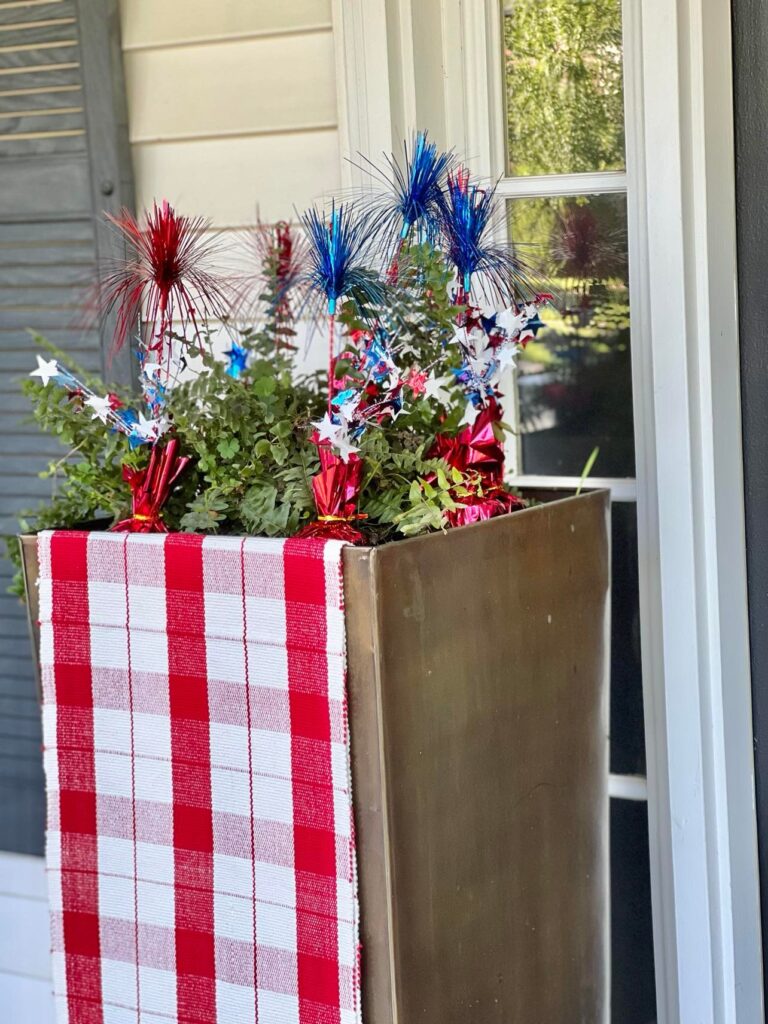 They are weighted at the bottom so plunking them where I wanted them was all that was needed.
A lot of 4th of July "Bang for the Buck!"
And, they are so fun when they shimmer in the wind!
Press "play" to see the shimmer!
Another idea is to hang something fun on your front door. I had some fun creating this abstract flag art and decided the front door was an excellent art gallery!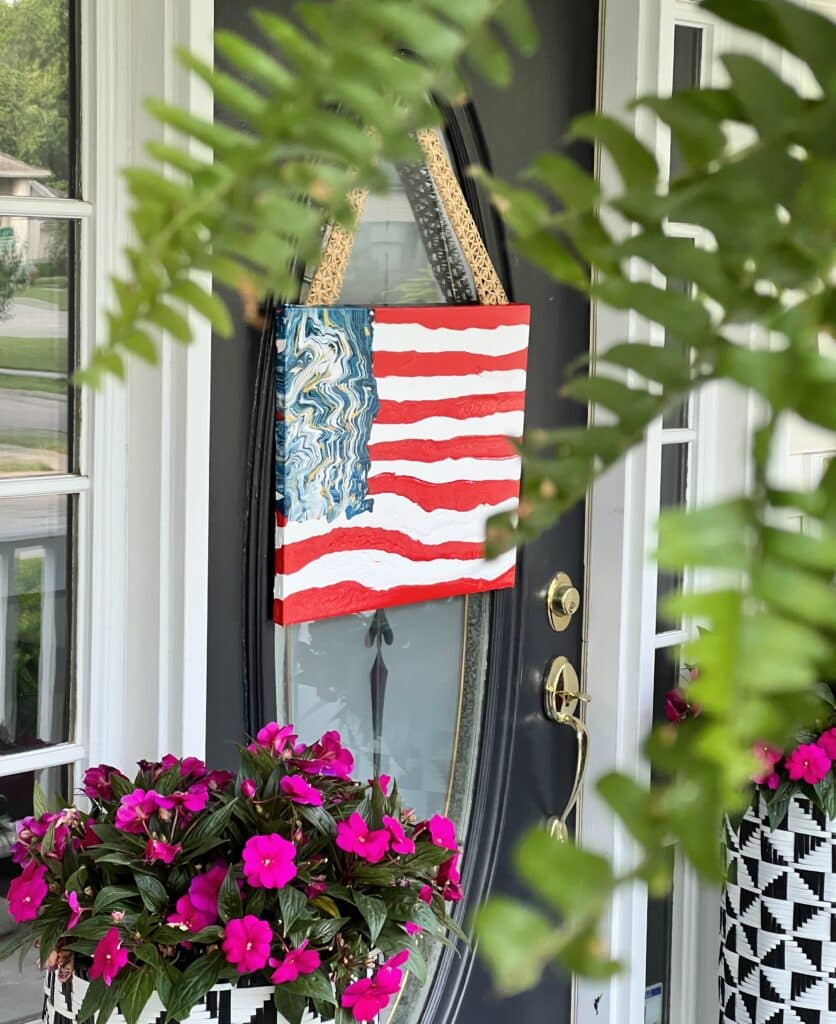 3. Decorate the Porch Swing Area
Whether you have a porch swing or just a comfy porch chair, give this area a little July 4th pizazz using…
Color!
A floral pillow on the swing…
Blue and white abstract vase…
White and blue fabric on the table…
More dollar store "sparklers"…
Blue and white are my anchor colors.
And then I add a punch of RED!
Red and Orange faux poppies (I love these so much!) and some red "sparklers."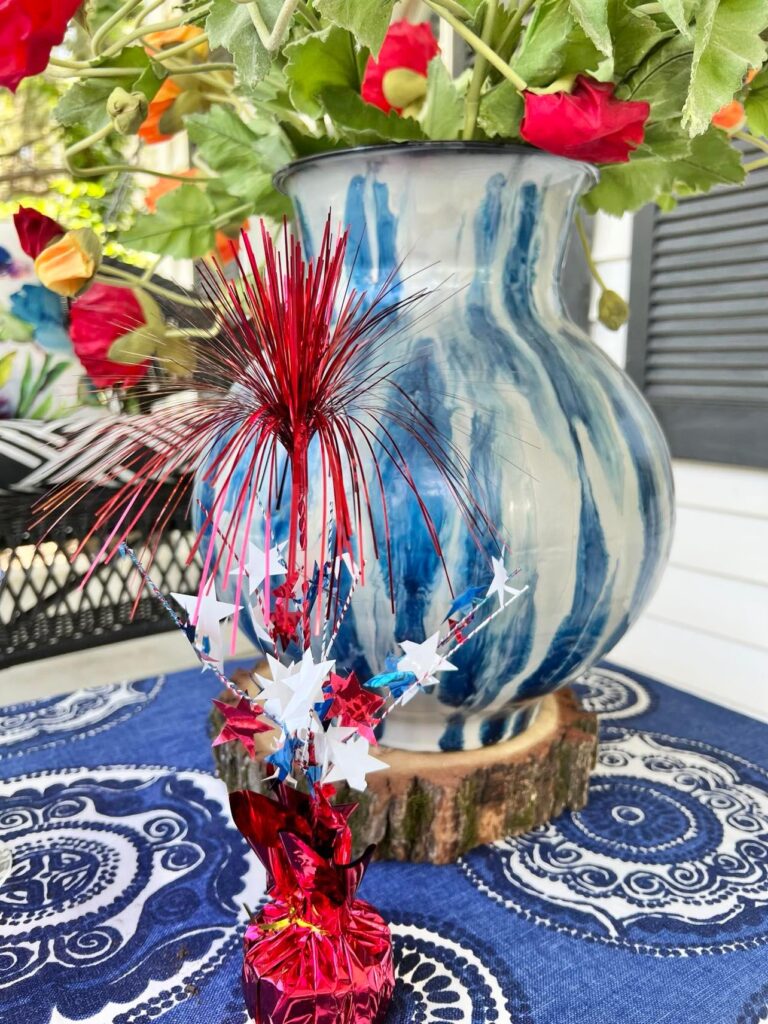 You might notice that there is nothing that overtly says "July 4th." The holiday is inferred through color!
Until…
You hang the flag!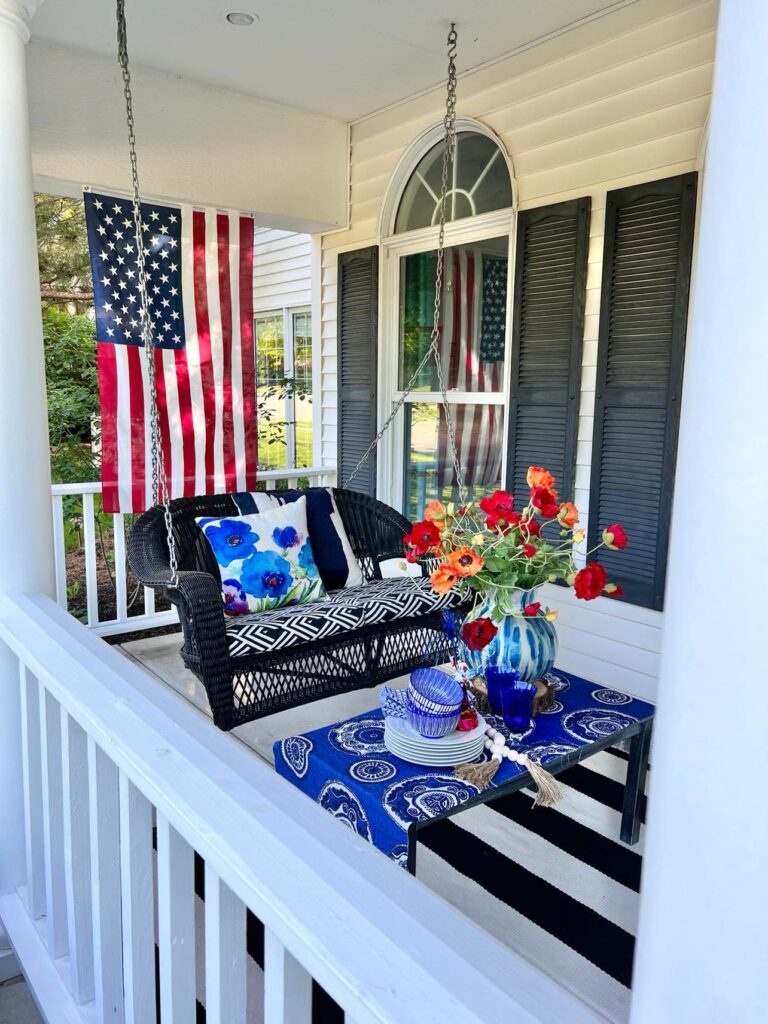 But we'll get to that in a little bit…
4. Set the Table
Why not use your porch for some al fresco dining?
Or, invite a neighbor over for snacks and a drink!
Better yet…chow down while watching fireworks on the 4th!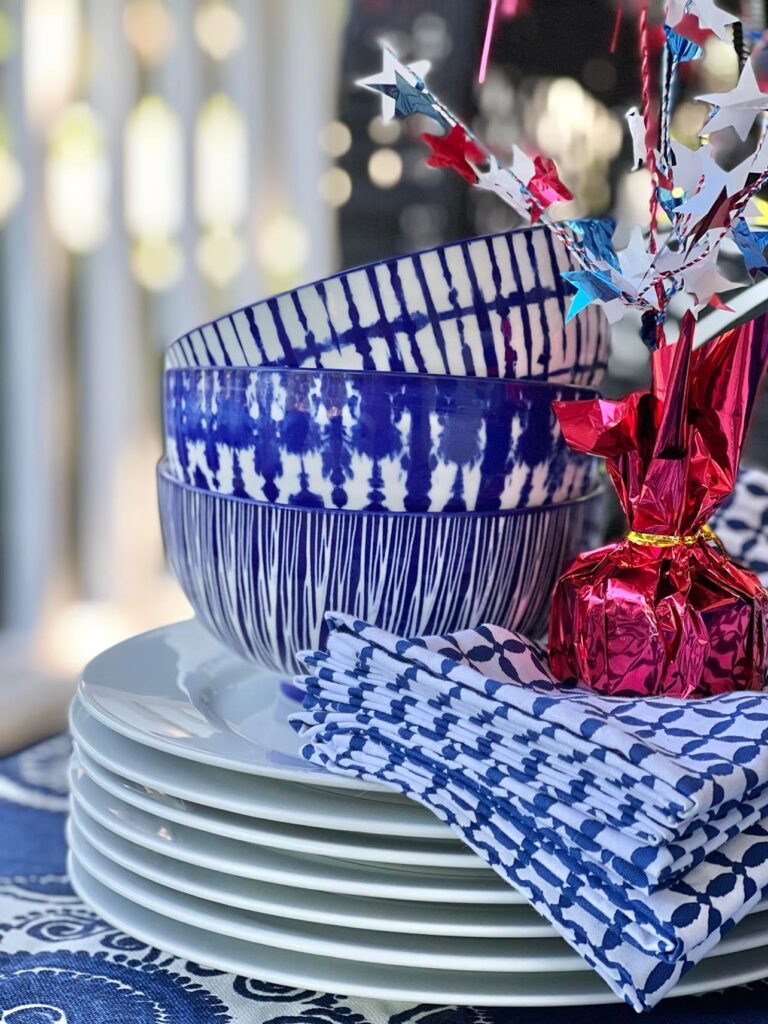 Again, color reigns!
Blue and white dishes and napkins get a red punch with the "sparklers" and the poppies.
I even added some more texture with blush pink bead garland.
5. Every Table Needs a Centerpiece
Tables need a centerpiece and your porch centerpiece is no different.
Flowers in a vase are always a win-win.
And, if you are going to the effort of creating a centerpiece, make it big and make it dramatic!
Buy a few bunches of real flowers from Trader Joe's. (My favorite fresh flower source.)
But don't be afraid of faux flowers. You don't have to worry about freshness and there are some really amazing faux flowers to be found!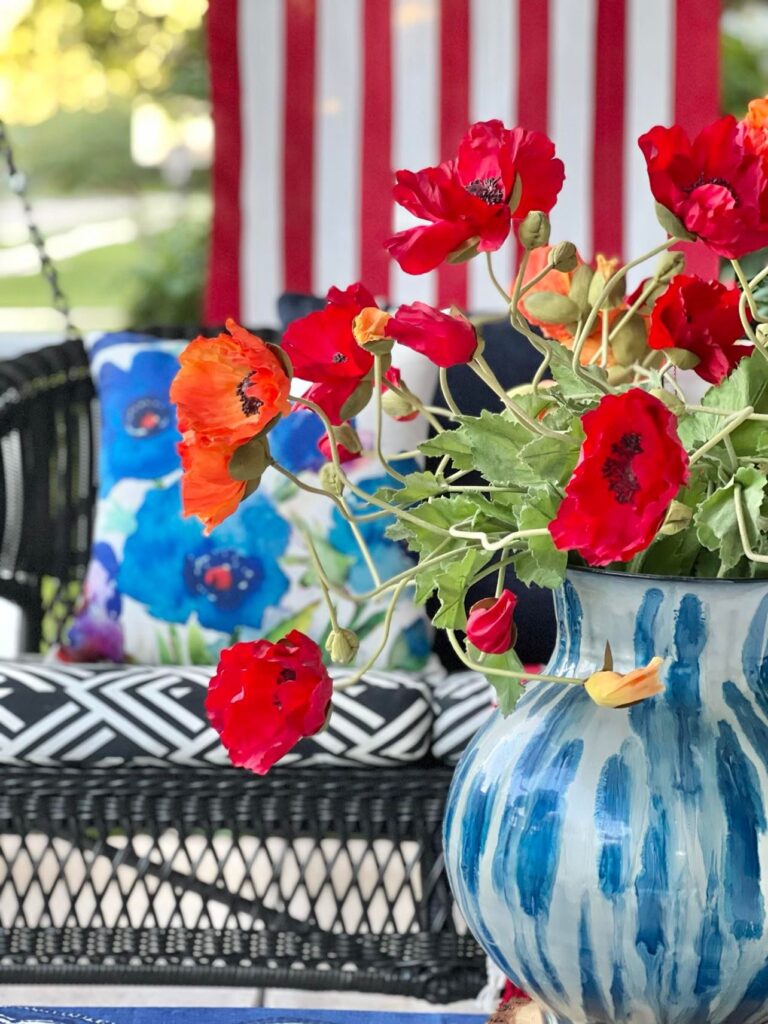 These faux poppies are a staple in my decorating closet. You might remember that I used them last year for a special Memorial Day Tablescape.
I have had my faux poppies for a while, but you can see some similar red and orange poppies HERE.
6. Don't forget the railing!
You might have noticed the prevalence of the "sparklers" from the dollar store.
I could spend a couple of hours putting together festive red and blue "sparklers" anchored in a heavy base with wired red, white, and blue stars wrapped around the base…etc….etc…
Or I can pick them up at the dollar store!
I bought 15 of them and spent $18.75. I can't make them for that!
"Plop" them onto a railing! Such inexpensive impact!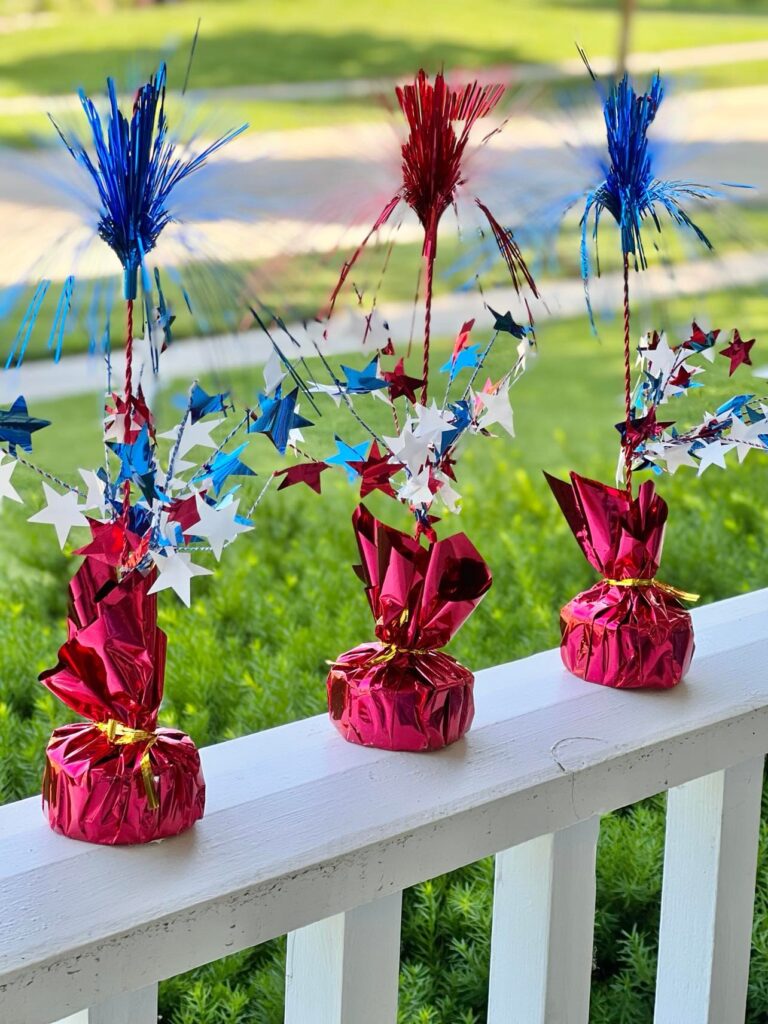 7. Most Important…The Flag!
What ties all of this together?
The Grand Old Flag!
If you are going to decorate the front porch for July 4th, don't forget to include our country's flag!
Small, mini flags can be tucked just about anywhere. (Another great thing to buy at a dollar store!)
Stick into the ground to line a pathway or into pots of plants or flowers.
Vertical banner flags are a favorite of mine. Hang them next to a porch railing, balcony, or column and enjoy the patriotic view!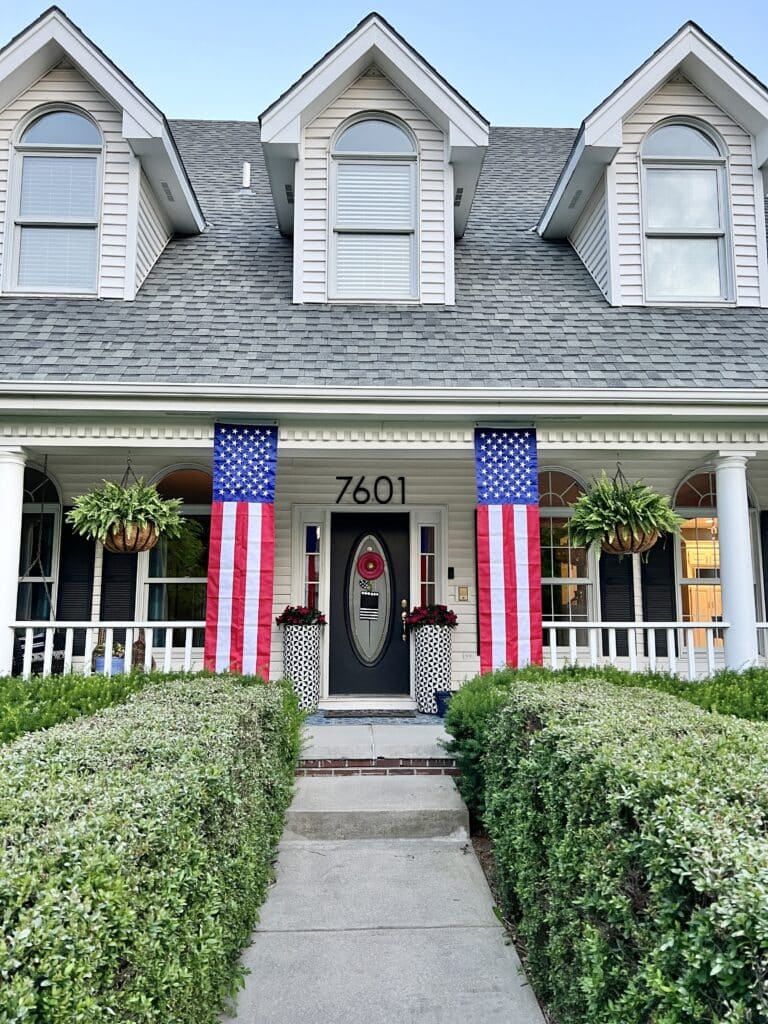 They are even pretty from inside the porch!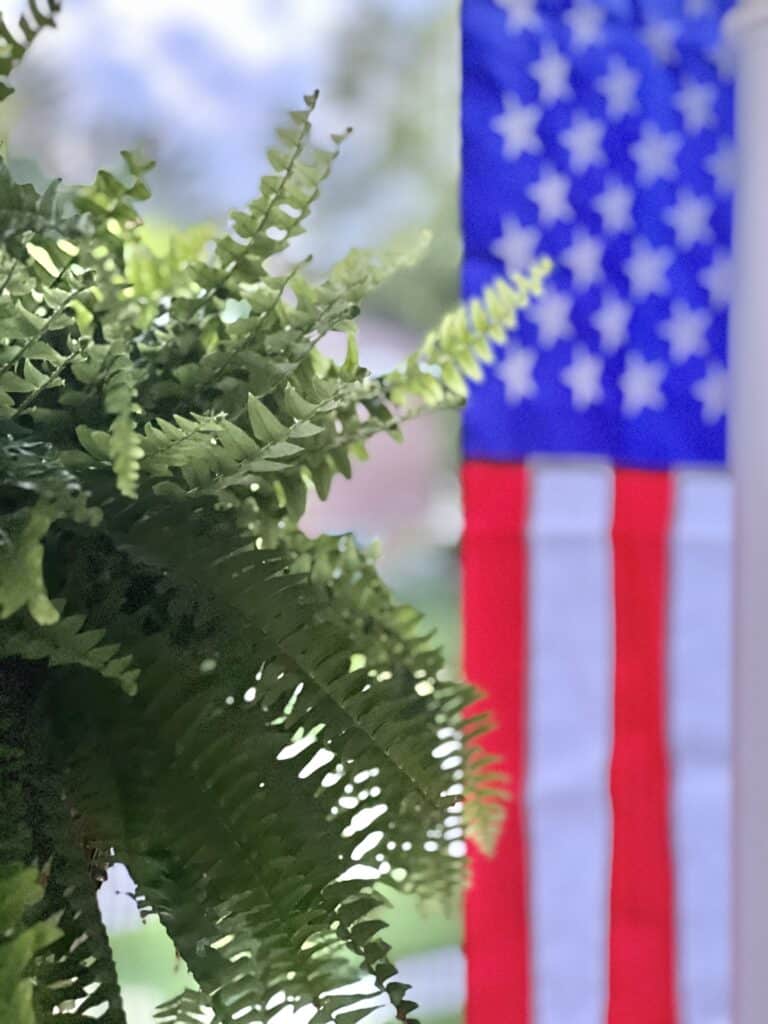 And, then there are full-size flags in all their glory!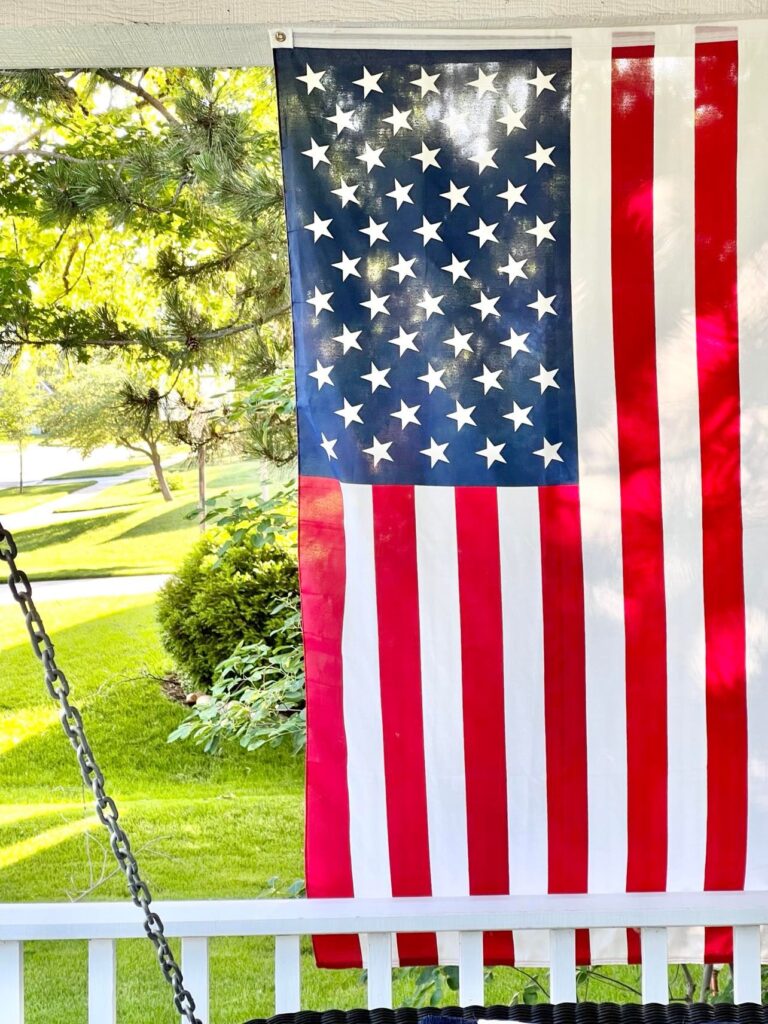 Look for a spot where you can prominently display the flag.
Drape behind or beside the seating and all of your reds, whites, and blues have a patriotic purpose!
Looking for a full-size American flag? You can find a beautiful 3 x 5 flag (with almost 13,000 5-star reviews as of this publish date!) HERE.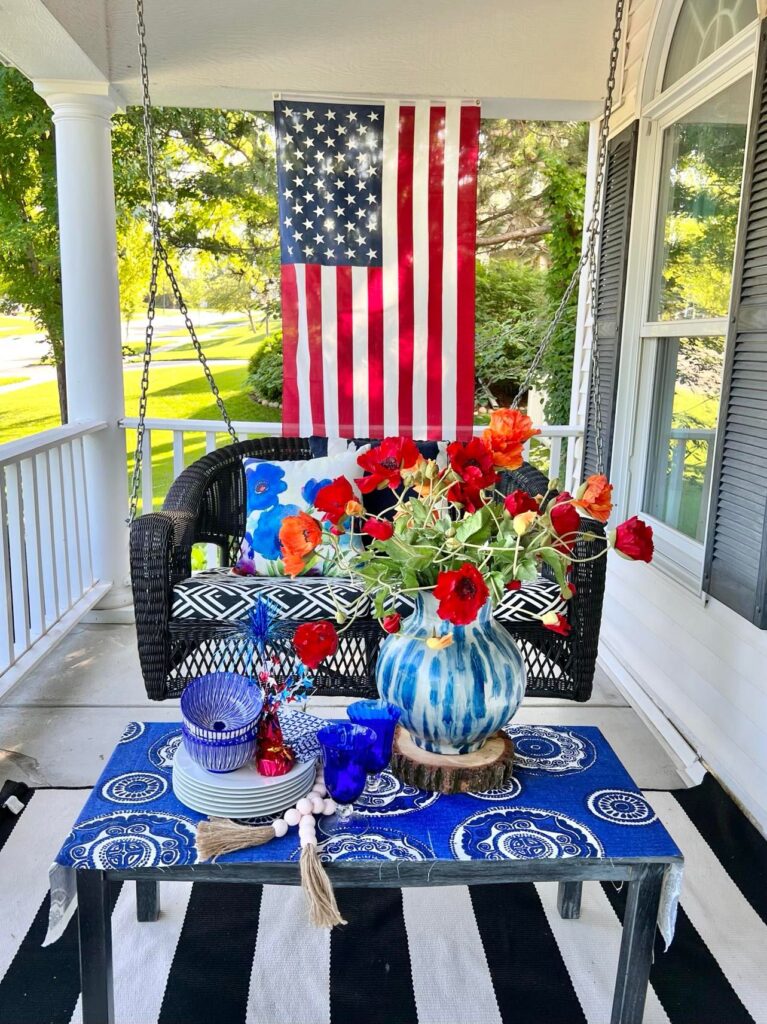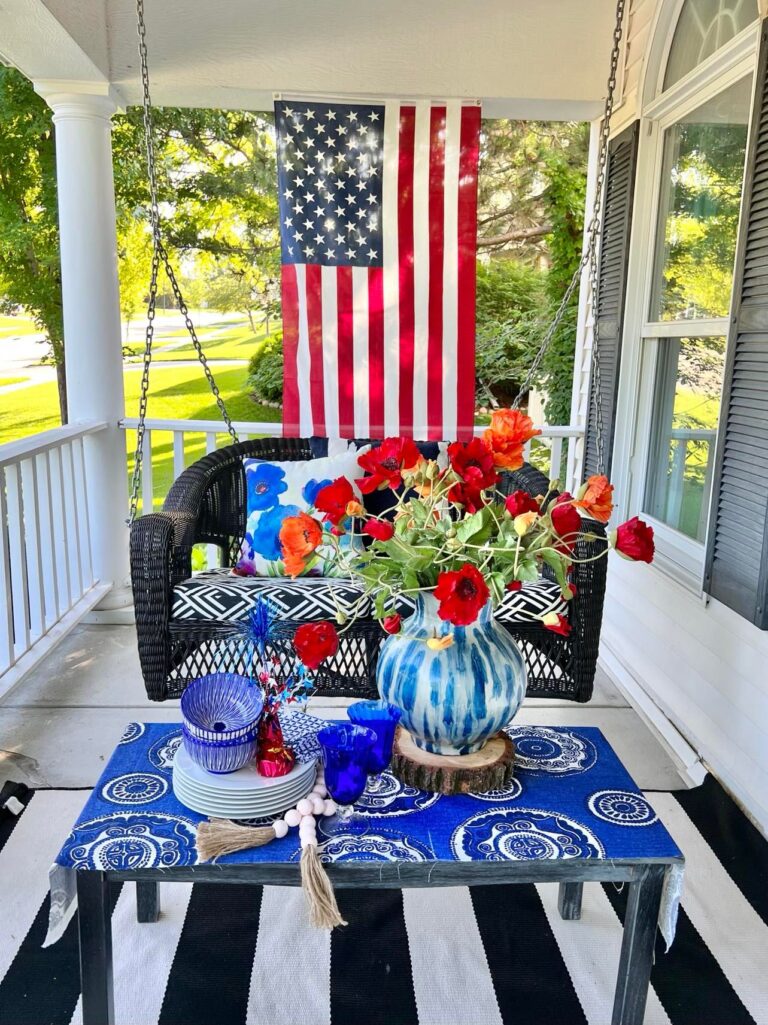 Think of your porch as an important outdoor living space and give it the same holiday attention you would give to a room in your house.
Take the time to decorate the front porch for July 4th and give it your own "sparkle" with your decor!
Stars and Stripes forever!
Cheers!

Want more patriotic decorating ideas?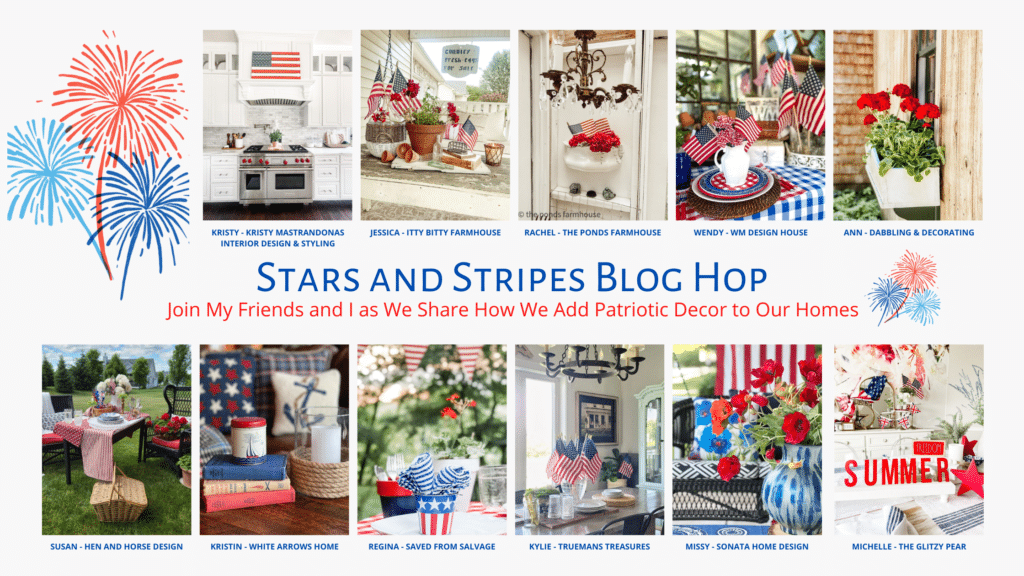 Kristy at Kristy Mastrandonas Interior Design & Styling
Jessica at Itty Bitty Farmhouse