Easy and Festive 4th of July Table Decoration Ideas
Whether celebrating Memorial weekend, hosting a Fourth of July party, or throwing a colorful pool party,  it is time to celebrate patriotic holidays with family and friends. What better way to honor this day than to set a special dining table with a patriotic theme? Check out these 4th of July table decoration ideas!
Food and holidays definitely bring people together. Setting beautiful tablescapes sends the message that the day and your party guests are important and valued. So get your summer menu together and create a unique table to celebrate a truly memorable Memorial Day! These Fourth of July decorations will give you some inspiration!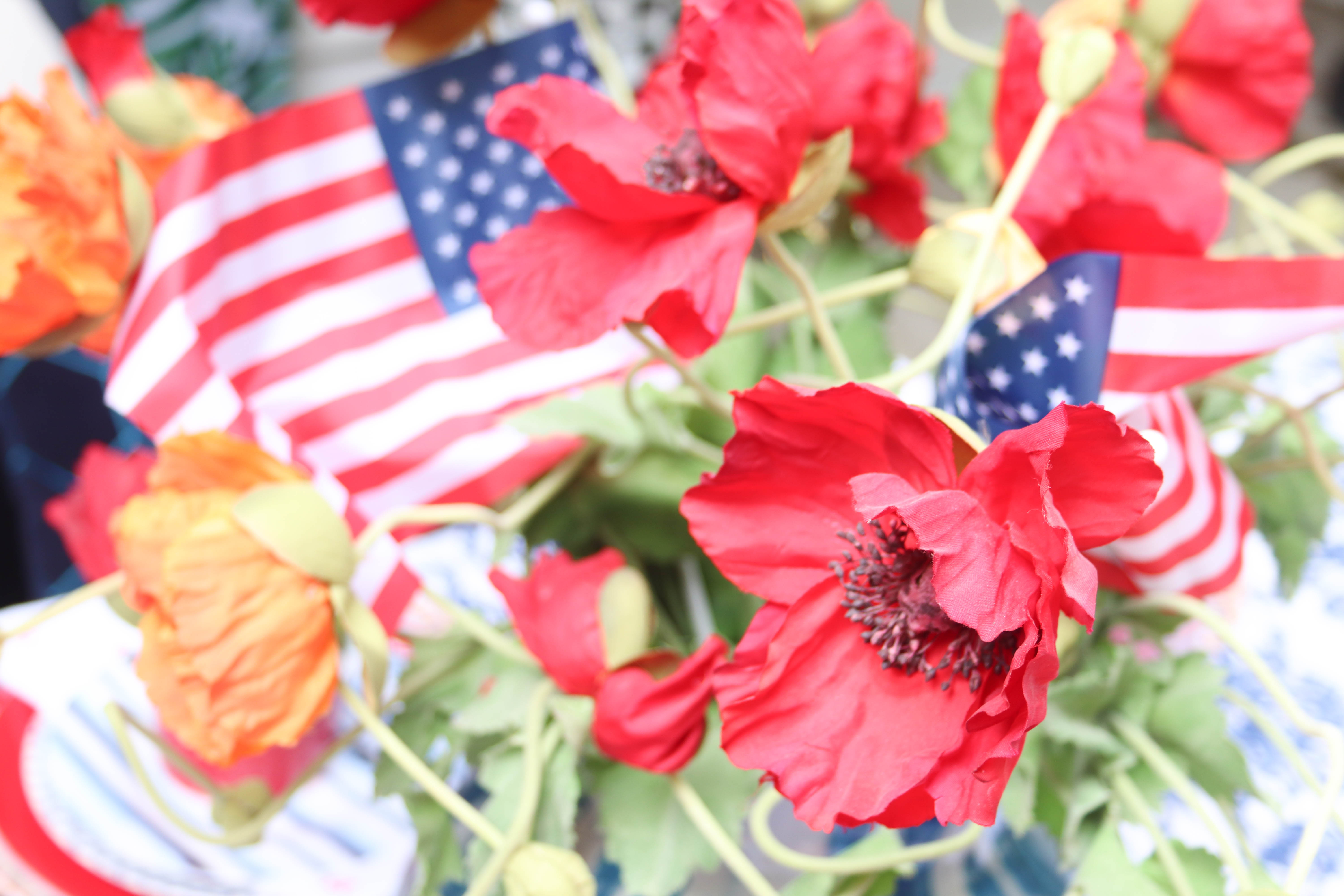 May is coming to an end, school is out (for most), and the temperatures are signaling that summer is ready to make an entrance. Let's set up an amazing patriotic tablescape!
4th of July Table Decoration Ideas
I am in good shape when it comes to dinnerware and glassware. My special love is blue and white dinnerware. For a patriotic theme,  I am pairing it with the red-rimmed plates that I use at Christmas time. Also, I have these adorable red ramekins that I bought from one of my favorite shops in Kansas City, Nell Hills. You can see some similar red ramekins HERE.
However, I am going to borrow some blush pink woven placemats, blue and white melamine plates, and cobalt blue glasses from my daughter, Madeline. (Whoo-hoo!…all those wedding gifts she and her new husband received are coming in handy…for ALL of us!)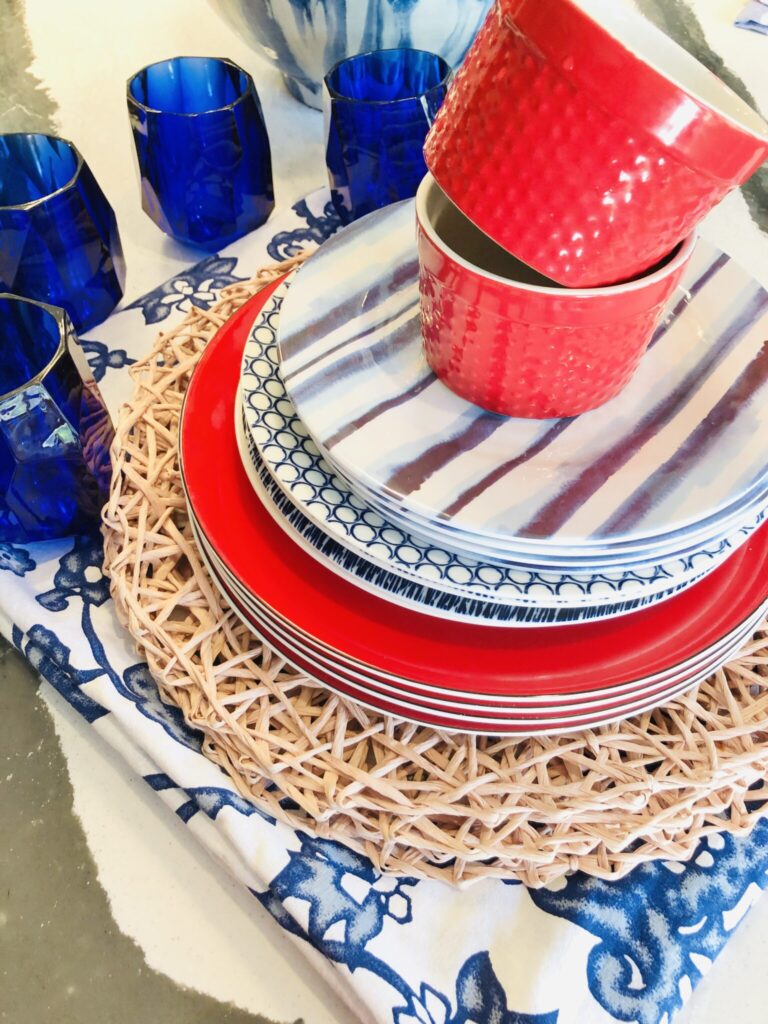 Also featured on the table will be these Royal Doultan Pacific Plates and Royal Doulton Pacific Tapas Plates. At 9″ and 6″ respectively, these plates are slightly smaller than the standard dinner and salad plates but can still hold a lot of food!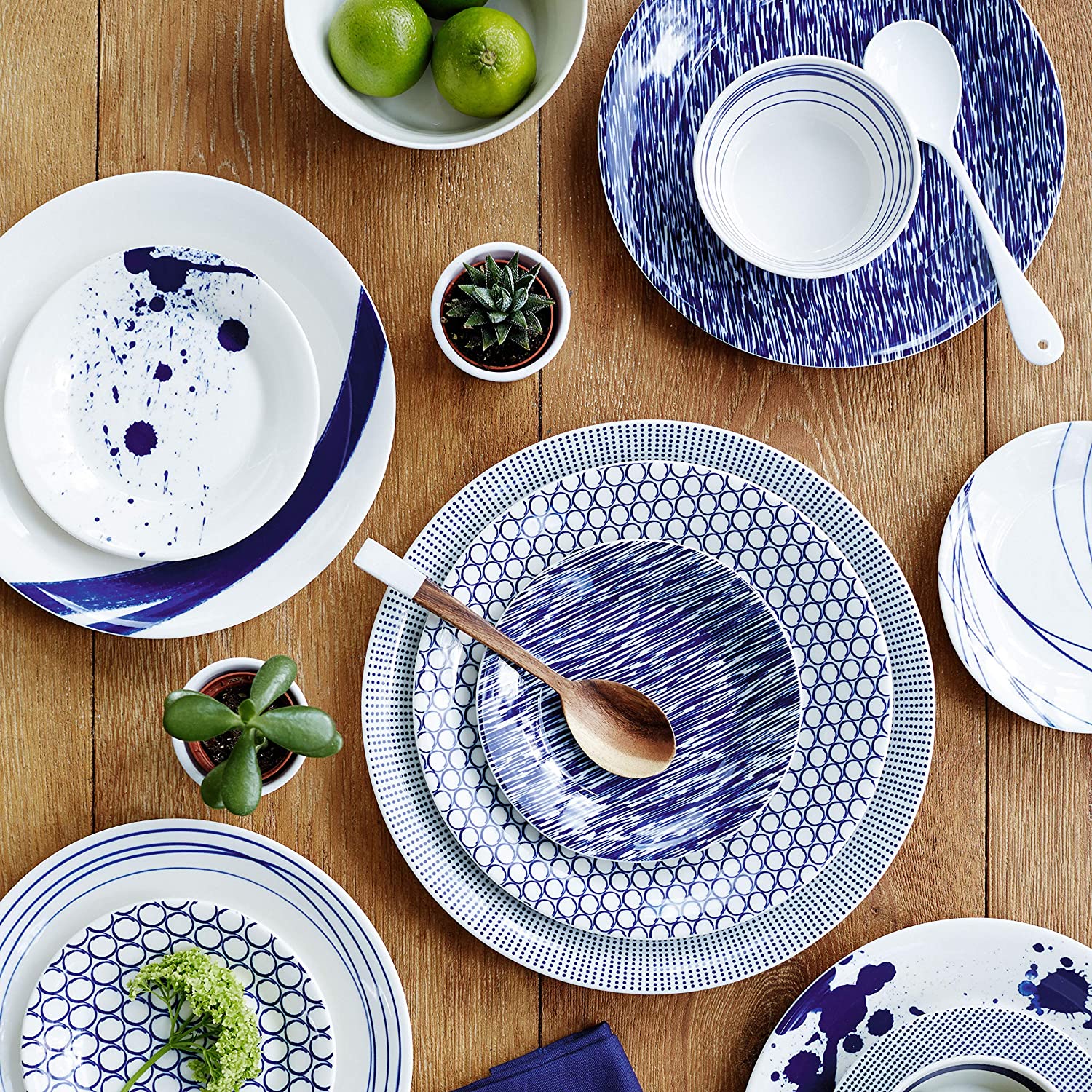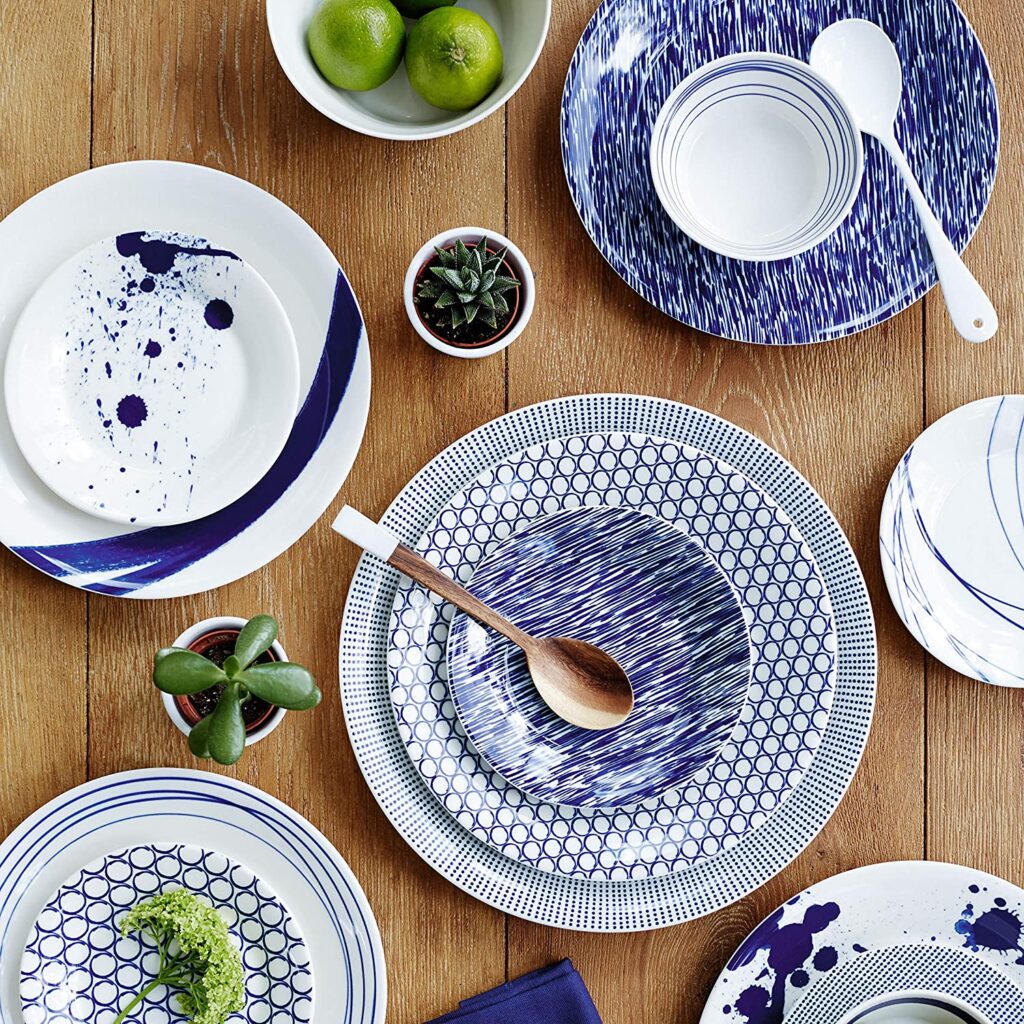 My red tablecloth is too cranberry red for this tablescape and my white tablecloth bit the dust after hosting a bridal shower. So…IDEA! I will use the blue and white shower curtain that (briefly) used to be in the guest room bath. It did not get any use when it was hanging upstairs and I saved it when I changed the colors in the bath. (Don't worry….it is spotlessly clean!)
You can see a similar Blue and White Shower Curtain HERE. (Maybe you are actually looking for a shower curtain that doubles as a tablecloth???)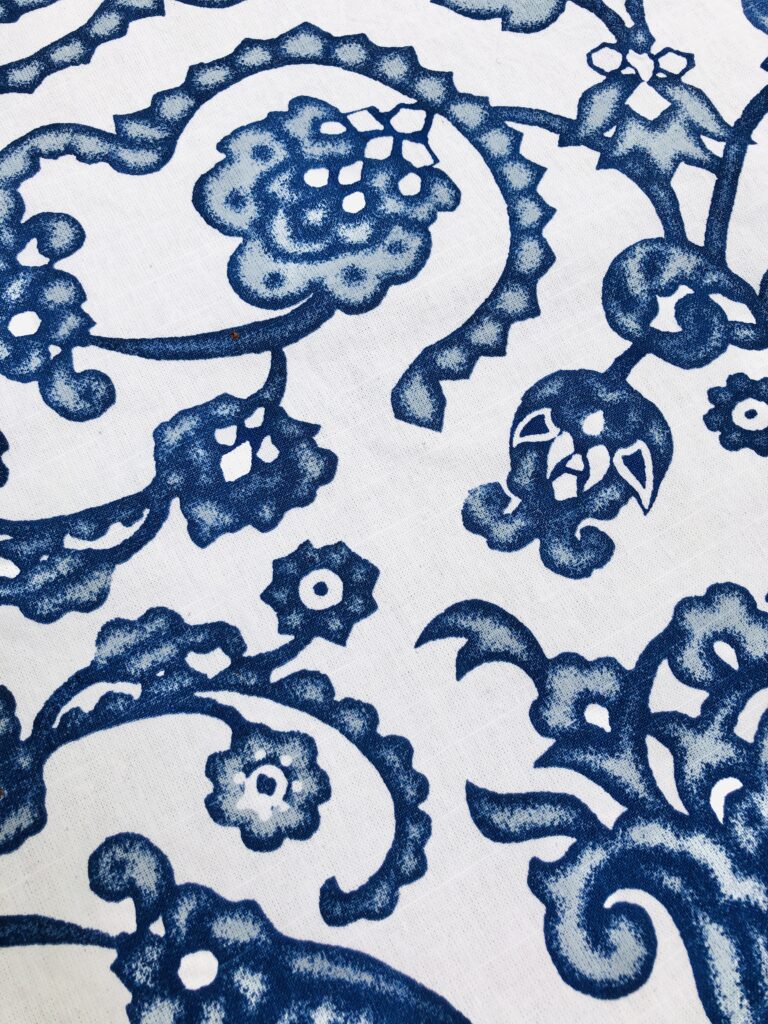 I bought just a few things…. adorable stars and striped straws (say that three times fast!) as well as mini flags from Dollar Tree.
And, during a random trip to Target, I found these great dishtowels in coordinating stars and stripes patterns.
Dishtowels for napkins? Why not! I say, the bigger the better when it comes to summertime cloth napkins! This is a perfect way to serve barbecue…with extra large napkins!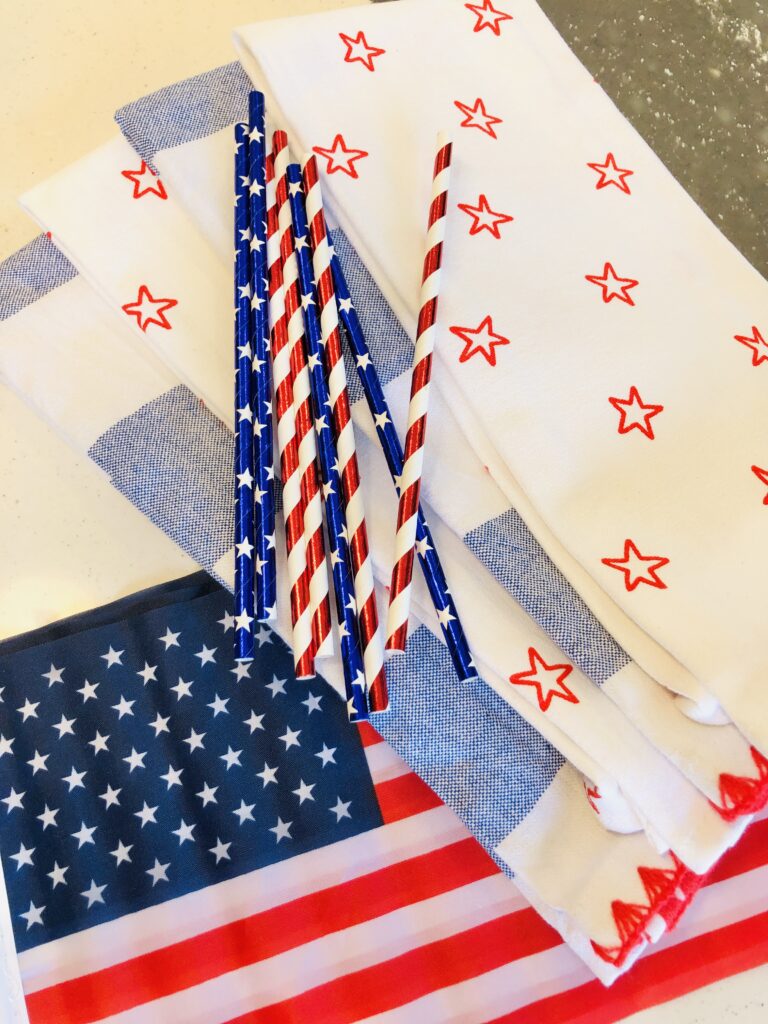 A Memorial Day Table Comes Together
Layering colors and textures is like opening a new box of crayons. So many possibilities!
I took the mini flags and cut off the wand so I could hang the flags under each place setting. Safely secured under a placemat, the flags are still easily seen and are given a place on honor on the table.
From the woven placemats to the seeds on the fresh berries, this place setting is an invitation for good food and conversation stretching into the evening!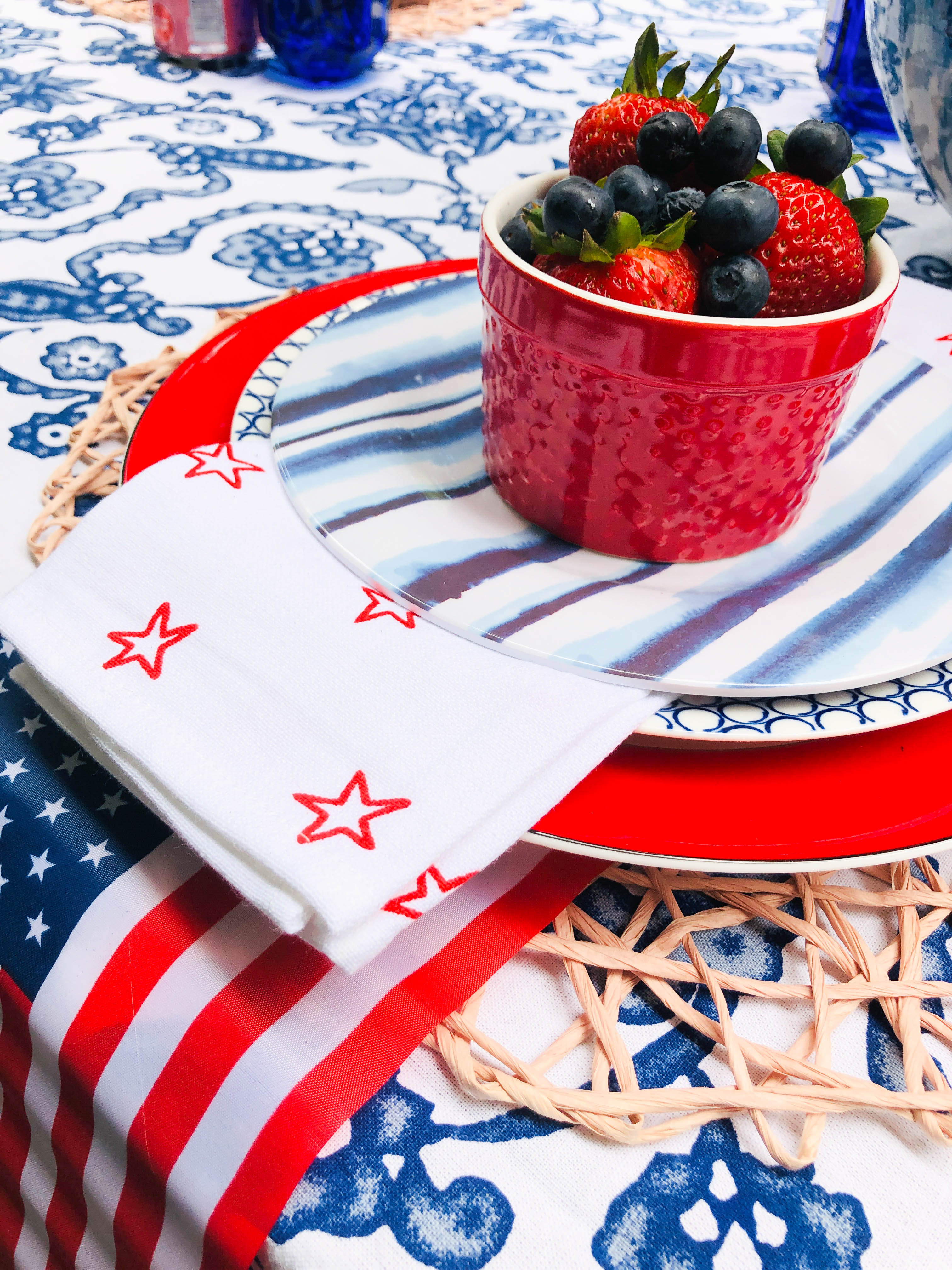 I'm in love with these straws I found at the dollar store.  Last year, I bought enough for Memorial Day and July 4th and I still have plenty left over for this year!  They are the perfect addition to any patriotic party!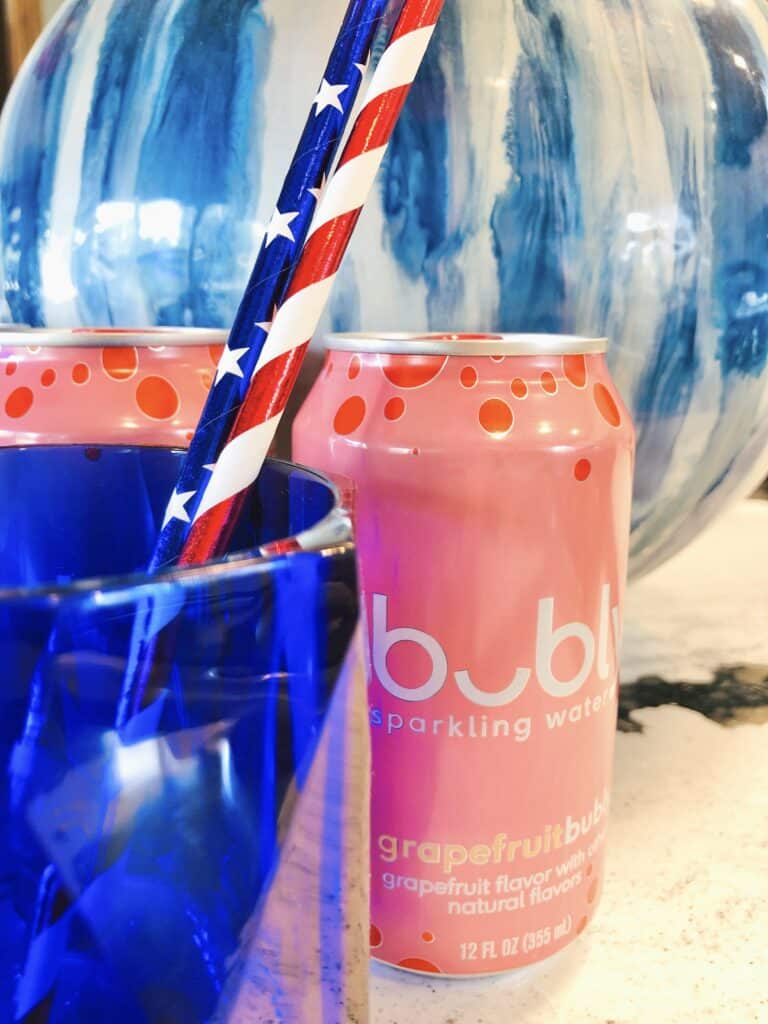 The Perfect Centerpiece
Every table needs a focal point! And poppies are my centerpiece flower of choice.
This centerpiece took so little time to put together because I just plopped them into the blue and white metal vase.
While I don't use faux flowers very often, these are so vibrant and FUN to twist and turn into a dramatic centerpiece.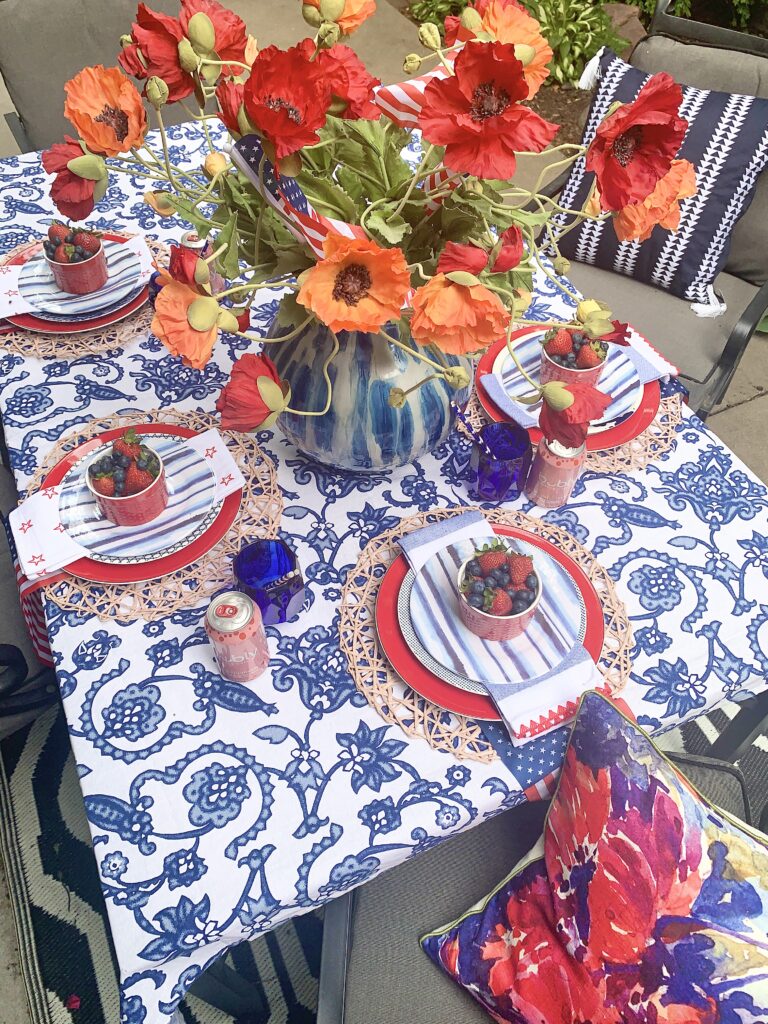 The orange poppies deviate from the red, white, and blue color story but add a little color surprise to the whole table setting. A couple of small flags tucked into the vase seal the deal!
Patriotic 4th of July Centerpiece Ideas
Here are some other great ideas to create your perfect  patriotic centerpiece:
Mason Jar Vases: Grab a few mason jars and fill them with simple white daisies or wildflowers. Tie a red, white, and blue ribbon around each jar for a touch of patriotism. Arrange them down the center of the table for a charming and effortless centerpiece with a rustic look.
Red Geraniums: This is such an easy centerpiece idea! Grab a pot of red geranium (they are the best red for patriotic celebrations) and place it front and center on your table.
Mini American Flags in a Vase: Take a clear glass vase or jar and fill it with mini American flags. You can find these at party supply stores or online. Add some decorative star confetti or red, white, and blue candies to the bottom of the vase for an extra festive touch.
Patriotic Paper Lanterns: Hang a string of red, white, and blue paper lanterns above the table to create a fun and festive atmosphere. You can find affordable paper lanterns at party supply stores or even make your own using colored paper and string.
DIY Mason Jar Candle Holders: Take small mason jars and fill them halfway with sand or small pebbles. Place a tea light candle in each jar and arrange them in a cluster in the center of the table. Tie a red, white, and blue ribbon around the cluster for a simple yet charming centerpiece.
Red, White, and Blue Fruit Bowl: Create a refreshing centerpiece by filling a large clear bowl with a mix of strawberries, blueberries, and sliced white peaches or bananas. The vibrant colors of the fruits will add a festive touch to the table, and guests can enjoy a healthy snack too.
Patriotic cupcakes on a cake pedestal: Who can pass up a cupcake? Decorate your cupcakes with patriotic sprinkles and you have an instant and easy centerpiece!
Send Out the Invitations!
Our yard is not huge but it is a lovely place to entertain family and friends. The patio is shaded by a beautiful maple tree and has a great view of the small aspen tree "grove" we planted two years ago. Just by adding a few patriotic decorations, this space is transformed into a welcoming place for a large gathering!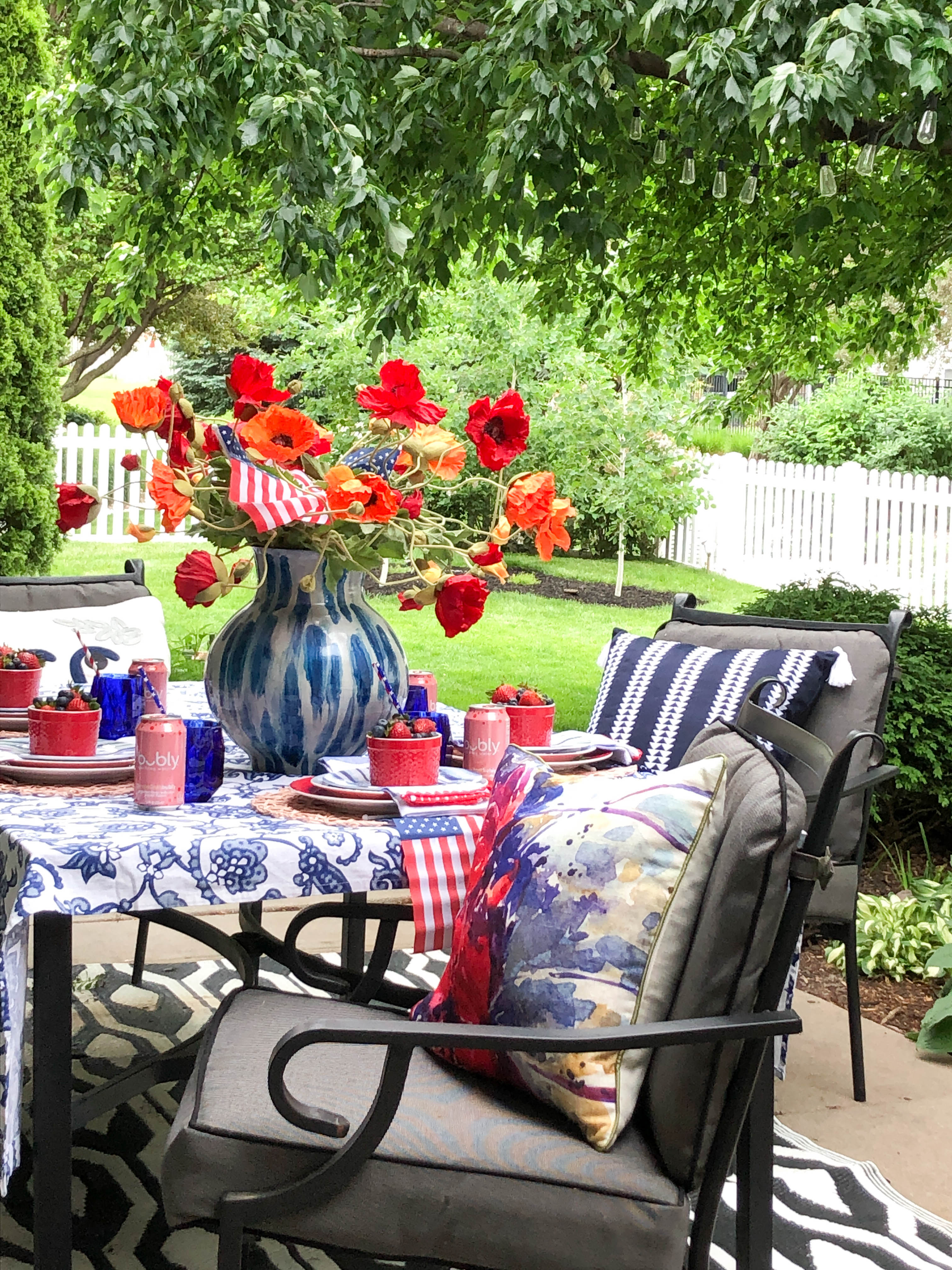 I hope you're feeling inspired and ready to make your Memorial Day or Fourth of July celebration extra special. Whether you choose to incorporate a patriotic color scheme, DIY crafts, or themed centerpieces, the key is to let your creativity shine and have fun with the process.
Remember, it's the little details that make a big difference! So don't forget to add some of these 4th of July table decoration ideas. Add sparklers, flags, or personalized touches to truly make your table setting shine. Wishing you a memorable and joyous Independence Day filled with delicious food, great company, and a beautifully decorated table that sets the perfect stage for the festivities! 
Cheers!

Other Outdoor Entertaining Project Ideas
An Easy DIY Patio Table for Outdoor Dining