Meet KariAnne Wood: Amazing in every way
In honor of Mother's Day, I am dedicating each Sunday in May to a different mom who has intrigued, influenced, and inspired me with her design style, career choice, decorating aesthetic and/or all of the above!
Meet KariAnne Wood!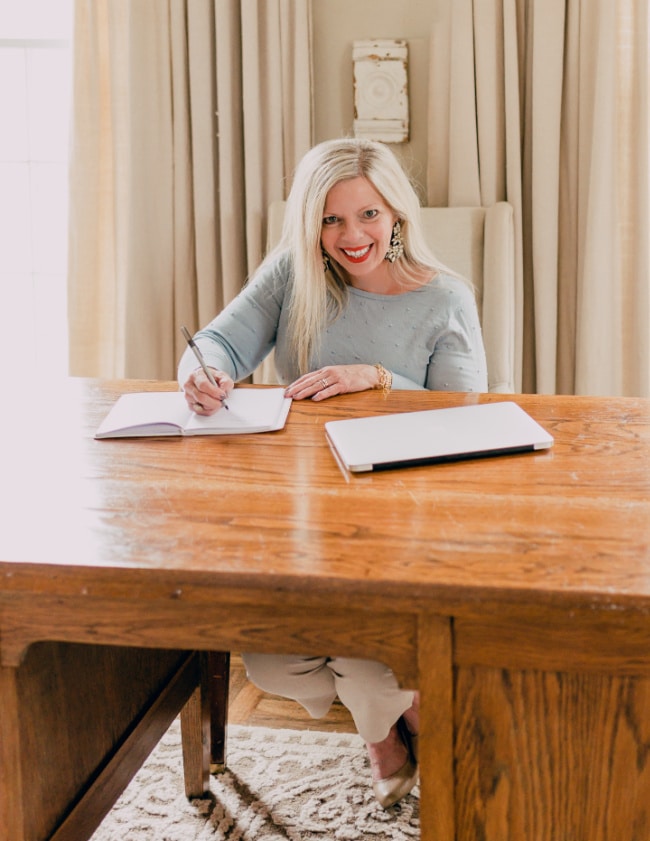 I honestly don't know how I found her. I just know that all of a sudden, she was everywhere: in my mailbox, in my social media feeds, in my business plan, and on my mind! (Don't worry….I invited her into all of these spaces!)
This dynamic woman of creative, decorating energy became a quarantine inspiration for me. As Sonata Home Design became a reality for me and searched to find an audience, the online presence of KariAnne Wood of Thistlewoodfarms prompted a continual and persistent "what if?" in my brain.
Can I write a blog? More importantly, can I write a blog that someone might want to read?
According to KariAnne, "YES!"
Last year, KariAnne created the Thistlewood Mastermind Community, a coaching and support group for new and not so new bloggers. To say that the door was opened is an understatement. Floodgates of information, guidance, support, and inspiration were opened and the Sonata Home Design blog was born. After meeting KariAnne and spending time with her in monthly zoom meetings, I find that her influence is not just surface admiration. Her influence is hands-on, actionable, and creative instruction, guidance, and support. This influence guides me to express my own voice on my own piece of internet real estate: the Sonata Home Design blog.


Her laugh is infectious, her spirit is generous, and her style is beautiful. AND, we both have beautiful twin daughters. AND, we both are obsessed with blue and white. AND, she tells me and my fellow Mastermind bloggers that we are AMAZING! (In fact, this is a required self shout-out at the end of every zoom meeting.)
AMAZING is the perfect word to describe KariAnne Wood.
Let's hear more!
Missy: When did you get bitten by the decorating bug? Did you decorate your room as a little girl?
KariAnne: Yes! I actually had a Barbie house when I was little. I spent most of my time decorating the Barbie house instead of actually playing with the Barbies! I wallpapered their walls I made food out of clay dough and I would research at the library how to make miniature everything! It was such a fun time and really where I think all of my love of decorating started! I also had an entire Laura Ashley room that I put together when I was in high school. The lampshade matched the comforter matched the sheets matched the wallpaper. To say it was amazing is an understatement!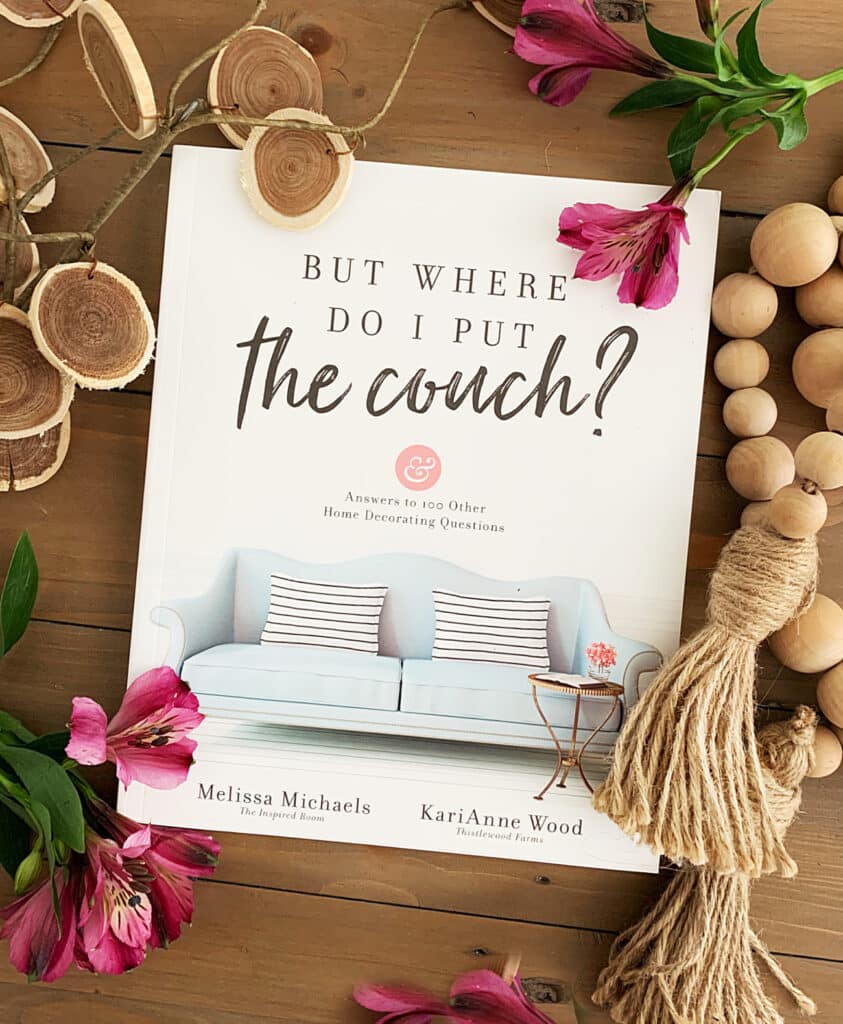 Missy: Can you share the story of how you got into blogging?
KariAnne: I actually started blogging after we moved to Kentucky. I was at my house, my kids were in school, and truthfully? I was lonely. Online I found an entire community of people who were just like me – – they all loved to decorate and they all love their houses just like me! I started sharing my home and my DIY's and my stories.
I didn't really know blogging could become a business until I went to a blog a conference called haven. There I discovered an amazing group of women who were these incredible entrepreneurs, making a living from blogging. The month after I came back from Haven I put on my marketing hat, made my first thousand dollars and never looked back.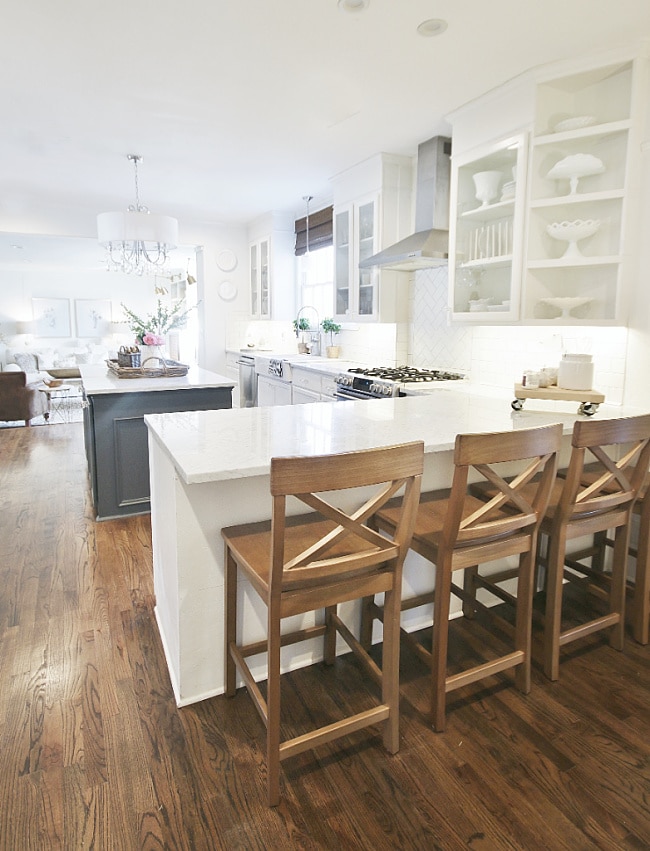 Missy: Any funny blogging stories that you would like to share?
KariAnne: I've had so many amazing opportunities with blogging. I've also made some incredible friends along the way—who are kind and generous and helpful! I still remember going to a blogging event and wearing this amazing blazer. Later on, I realize that I have been walking around with a tag the entire time. I didn't even notice, and no one mentioned it the entire time. When I went home and took it off I saw it! So embarrassing! Good thing I was among friends.
Missy: Who or what inspires your home decorating?
KariAnne: I'm inspired by so many different things – – I love to look at Pinterest. I love to look at magazines. There is inspiration all around us everywhere we look. For example, the other day I was in a restaurant and saw the most amazing wall treatment. My first thought was how can I re-create that in my home. Inspiration is all around if you just look for it.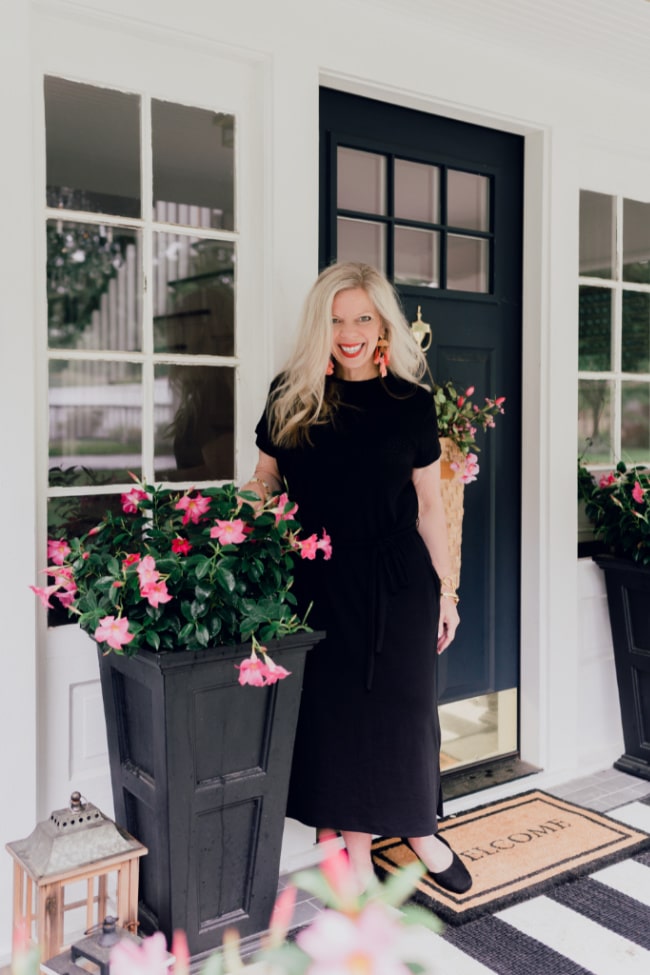 Missy: What are some of your favorite current home trends?
KariAnne: I live in a traditional home. So my current style – – is traditional with a twist. I use clean and classic color combinations like blue and white and mix them with incredible patterns in different varieties. I also love to juxtapose different design styles. For example, I have a very traditional rug with a modern brass coffee table and farmhouse accessories. It's kind of the surprise that makes decorating a little more interesting!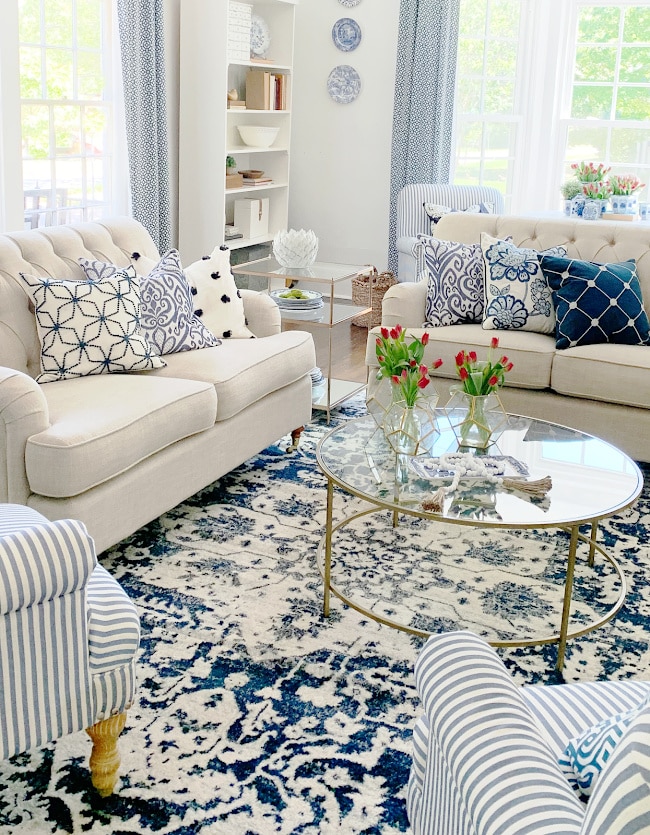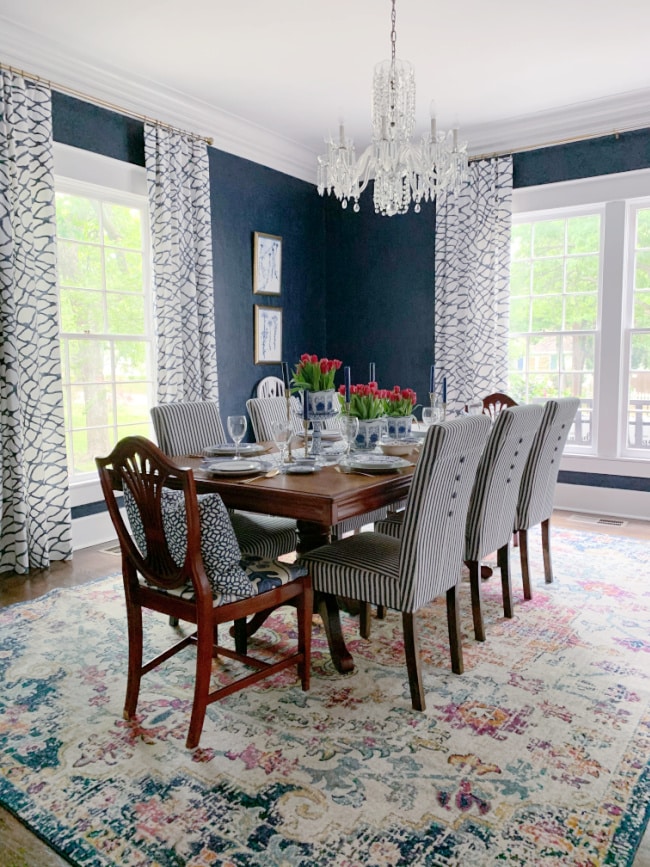 Missy: What is your favorite room in your home and why?
KariAnne: My favorite room in my house right now is my upstairs craft room. We just redid it and it's full of vintage finds and yard sale pieces that I've used to organize crafts. It's such a bright sunny space and it's filled with a giant table and comfortable chairs and tons of inspiration. It's where I write my blog post and create my DIY's and dream my dreams.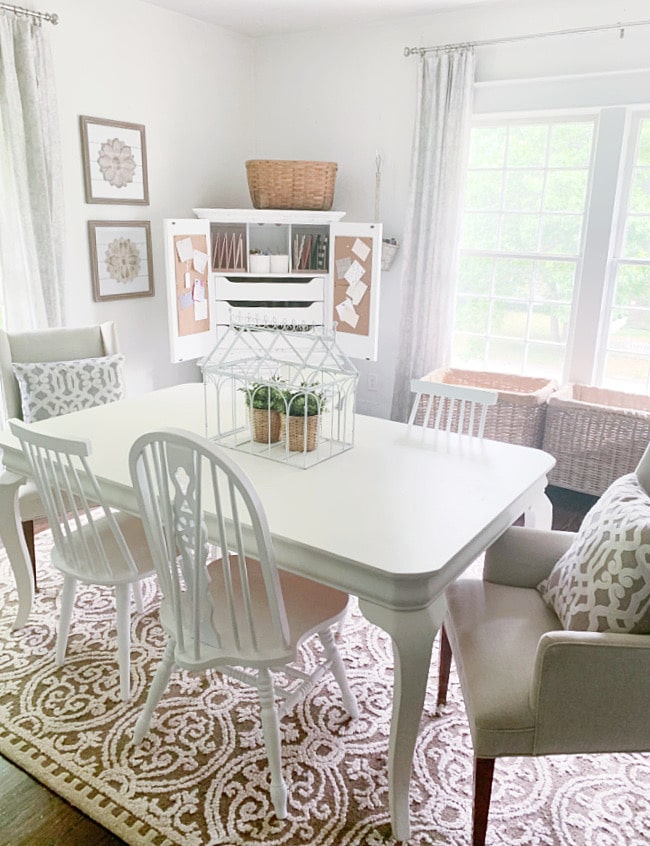 Missy: Do you have a favorite home accent in your home? Why is it your favorite?
KariAnne: Yes! I think my favorite thing in my entire house is a blue and white rug in my front living room. I ordered it online and I wasn't sure if it was going to work in the space. When it arrived, the pattern was so perfect for the room and it made me fall in love with blue and white all over again.
Missy: Does your family share your love of home decor projects?
KariAnne: I'm lucky enough to have my husband work with me on home decor projects. He is an amazing carpenter and painter in general DIYer! If I can envision it – – he can build it.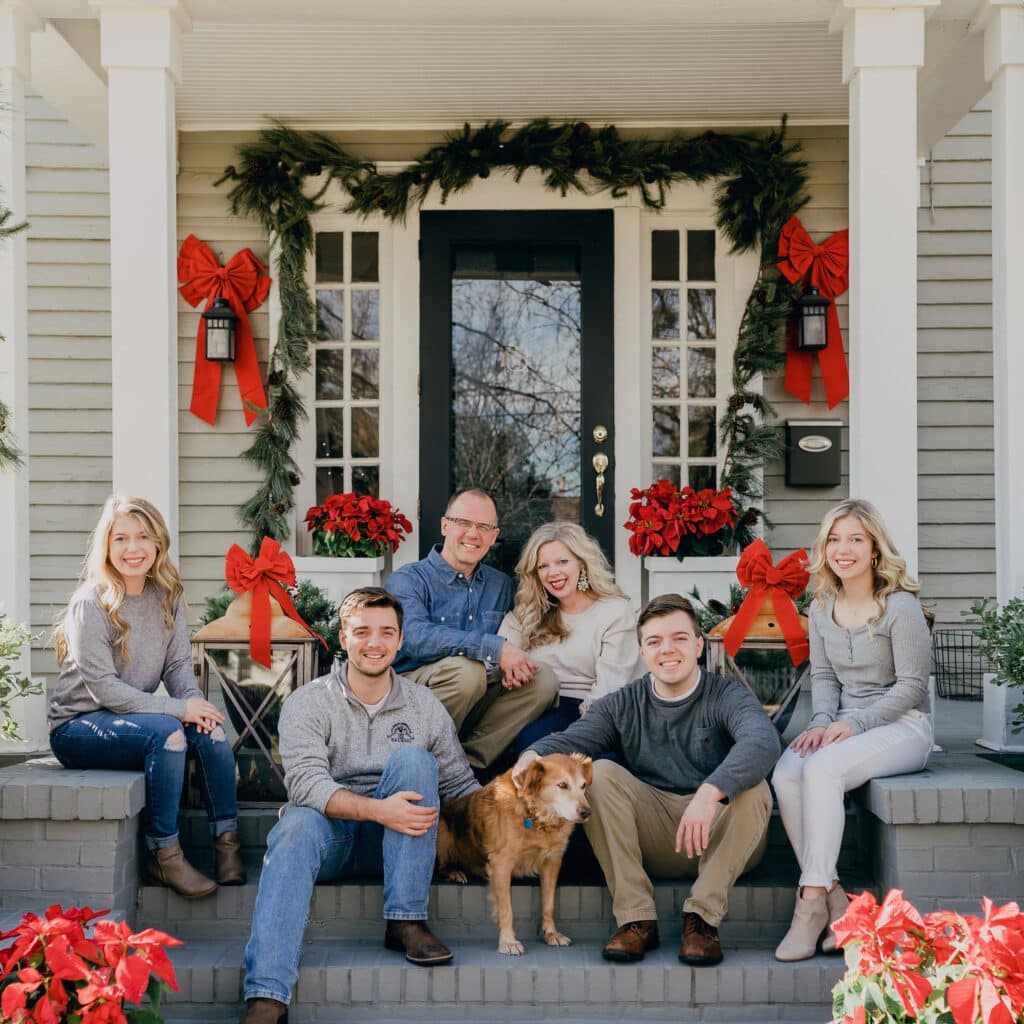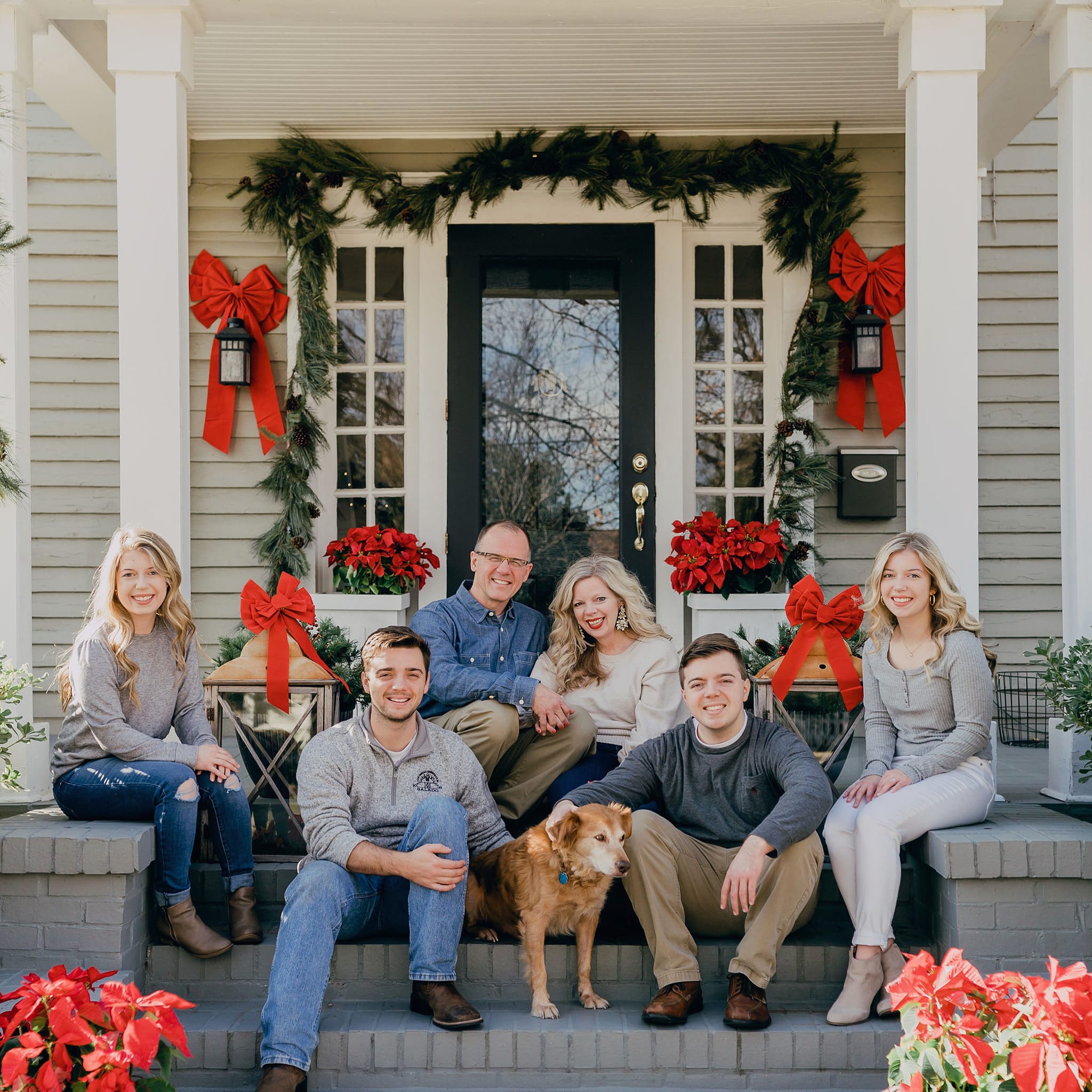 Missy: What are some of your favorite memories of your family in your home?
KariAnne: I have so many memories of this house – – because this is where I grew up. I think my favorite memories are sitting on the stairs waiting for Christmas morning. There's a French door that opens up between the entry and the living room. I can remember wishing that door was open so I could see what Santa brought under the tree. My dad would toss the door open and we run into the front living room on Christmas morning. And now – – I still get to celebrate Christmas in that same living room for my children.
Missy: If you could give your children one piece of advice, what would it be?
KariAnne: That's a great question – – I think I would help them to find their own style. I think the key to creating a home that you love is to find what works for you and your style and create a home around it. I would remind them that they are special, that they are wonderful, that they are unique, and that they are one-of-kind. Their home should be a reflection of that.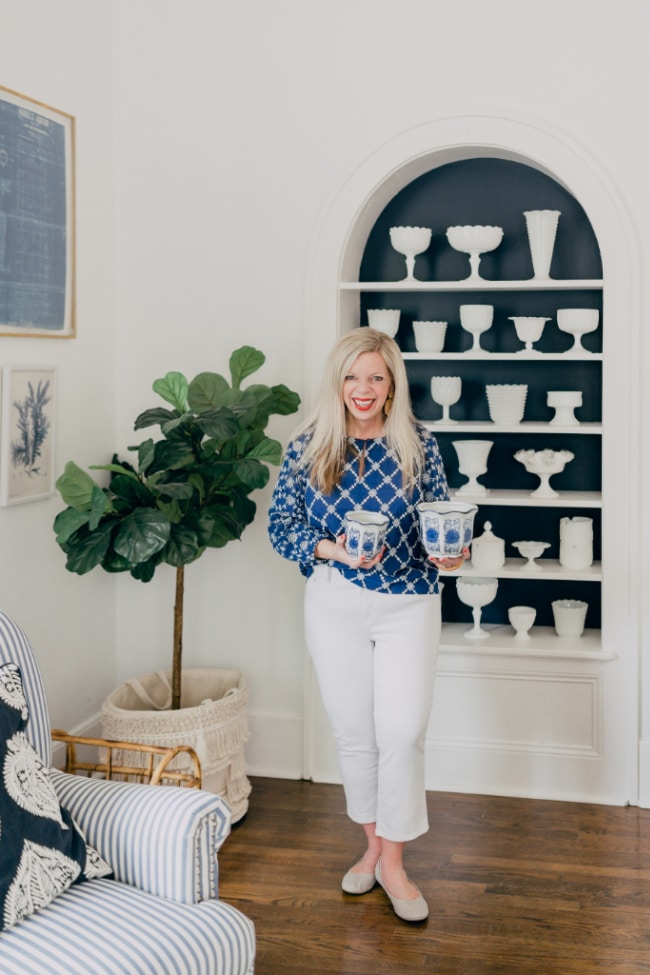 So, I think we can all agree that KariAnne's name could be listed un the definition of "Amazing" in the dictionary. I would highly encourage that you visit her blog at Thistlewoodfarms. You will find home design, DIY's, craft projects, and all sorts of lifestyle inspiration. KariAnne is just a click away!
All the thanks I can give to you, KariAnne!
Cheers!

Disclaimer: This post contains affiliate links.