A Patio Table Makeover: A Before and After Reveal
Do you like to eat outside? We do, especially in the summer. There's something about sipping coffee, eating dinner, or sipping wine at a patio table under an open sky that just feels special.
But our old patio table was looking a little sad. The paint was faded and it was looking pretty shabby. So, I decided to give it a makeover! Check out the before and after pics below. (Seriously…you will want to see this!)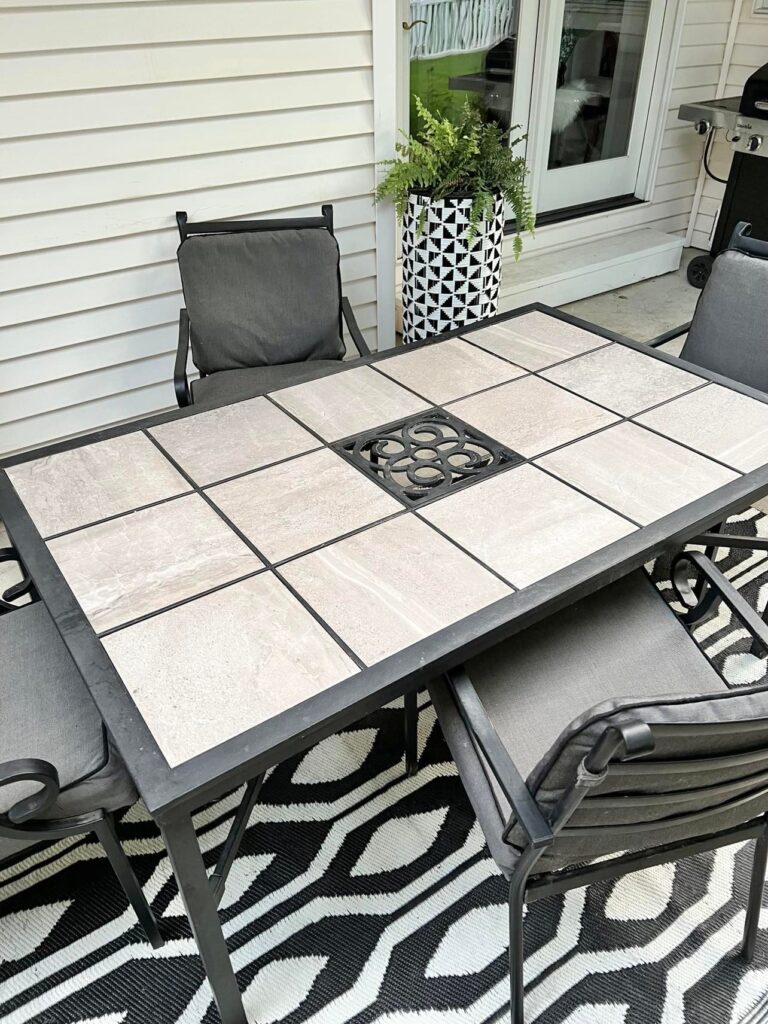 There's nothing like dining al fresco on a beautiful summer day.
But our patio table was looking a little worse for wear…a little faded and a little dented.
Do you have a table like this?
Good bones but looking shabby?
The shopper in me would have loved to plunk down some cash for a brand new table. Whoo hoo!
But the budget-minded me was digging in her heels because she didn't want to spend the money. (Hello! Newly retired!)
Then, I ran into some blogger luck!
You see, I follow an amazing blogger who I discovered on Instagram. Her name is Liz Morrow and she writes a delightful blog called "Delightfully Tacky."
She is possibly the coolest blogger I have ever followed. Like, really cool, hip, "with it"…all those adjectives that my millenial daughters tell me not to use. It just means I am probably her main middle-aged fan girl. You should follow her!
She posted an Instagram reel that stopped me in my tracks.
For in that reel was a table…almost exactly like ours!
Grid frame…tiles…almost exact!
A patio table makeover revealed right before my eyes!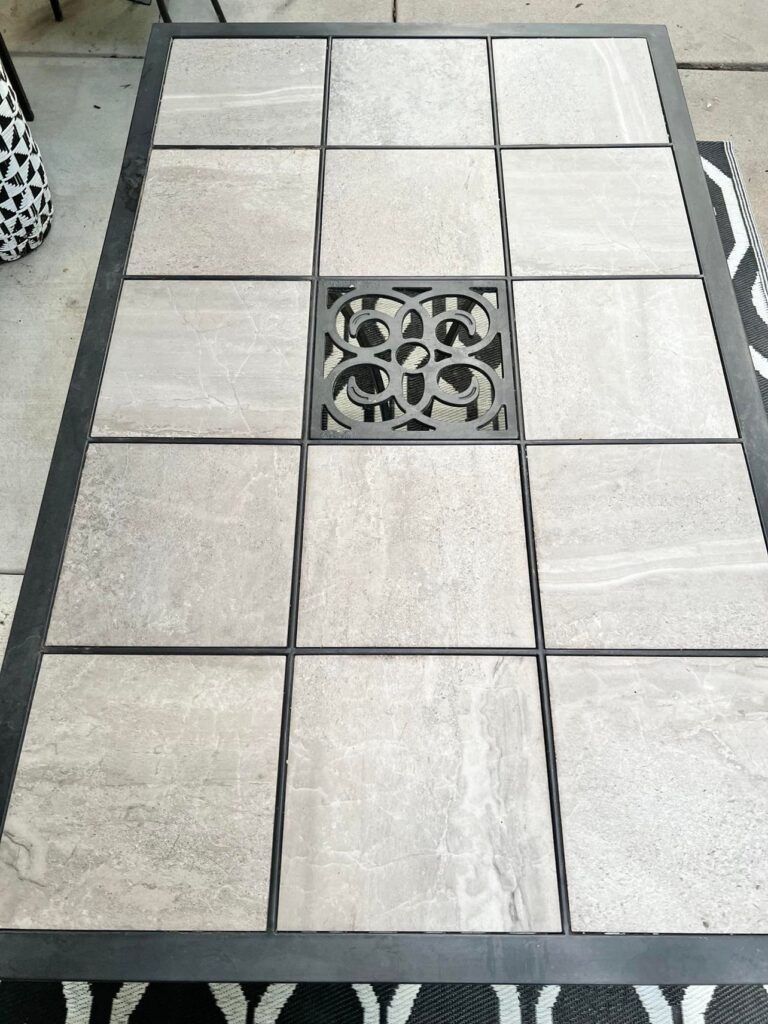 What she did was inventive!
Transformative!
And just cool girl amazing!
Not going to lie…I loved her idea and ran with it with our own table.
Here is the project. Thank you, Liz Morrow…you saved our table…as well as our budget!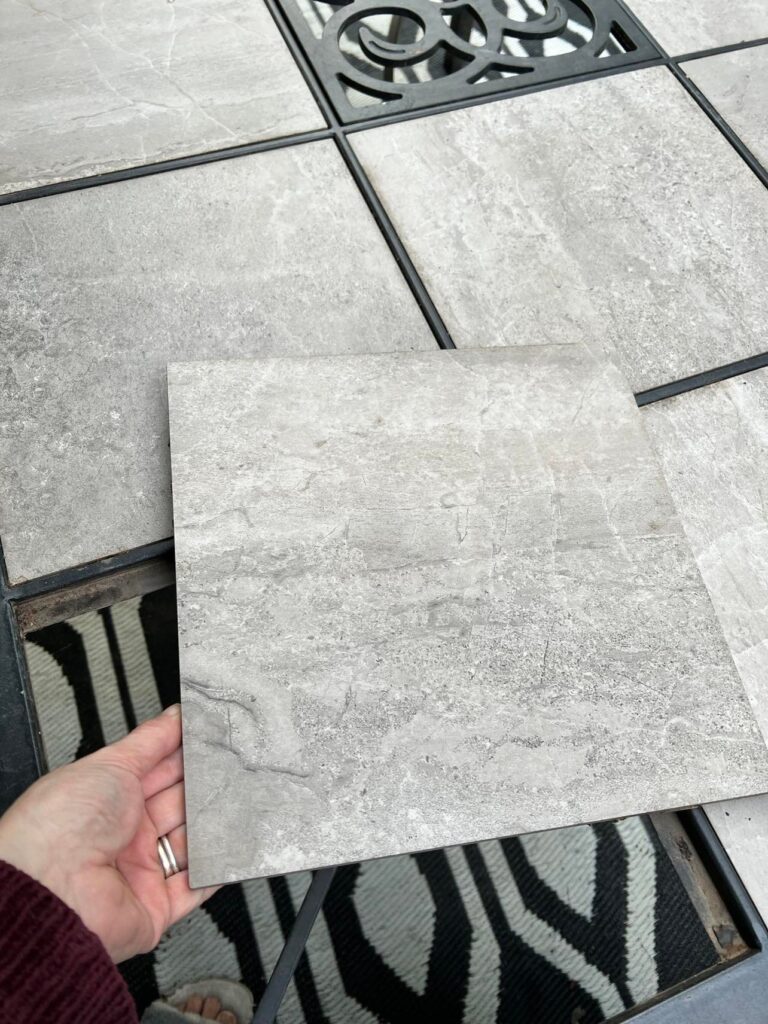 The Patio Table Frame
The frame of our table was in pretty good shape. Only a slight wobble that was fixed with a quick tightening of some bolts.
There are a few dents. But this was easily camouflaged with a quick refresh coat of Rust-Oleum black spray paint.
Yes, don't hesitate to refresh your black pieces with black spray paint. The table really looked brand new!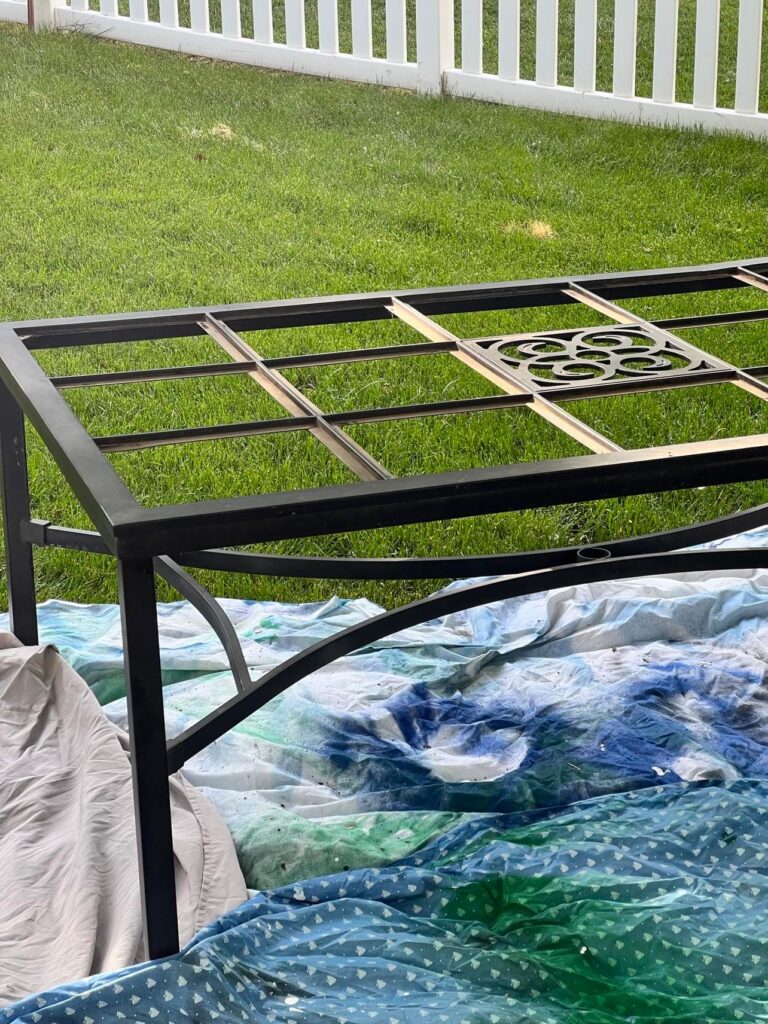 And the Tiles…This is Where the Fun Begins!
There is a story here…
The tiles in our patio table are actually floor tiles.
What?
Long story short…the original glass tiles were shattered when our roofer dropped a hammer from…you guessed it…the roof!
In an attempt to salvage the table, I bought floor tiles to replace the shattered mess.
They were fine…but kinda boring!
So, the floor tiles that were now table tiles also got the Rust-Oleum treatment…this time in white.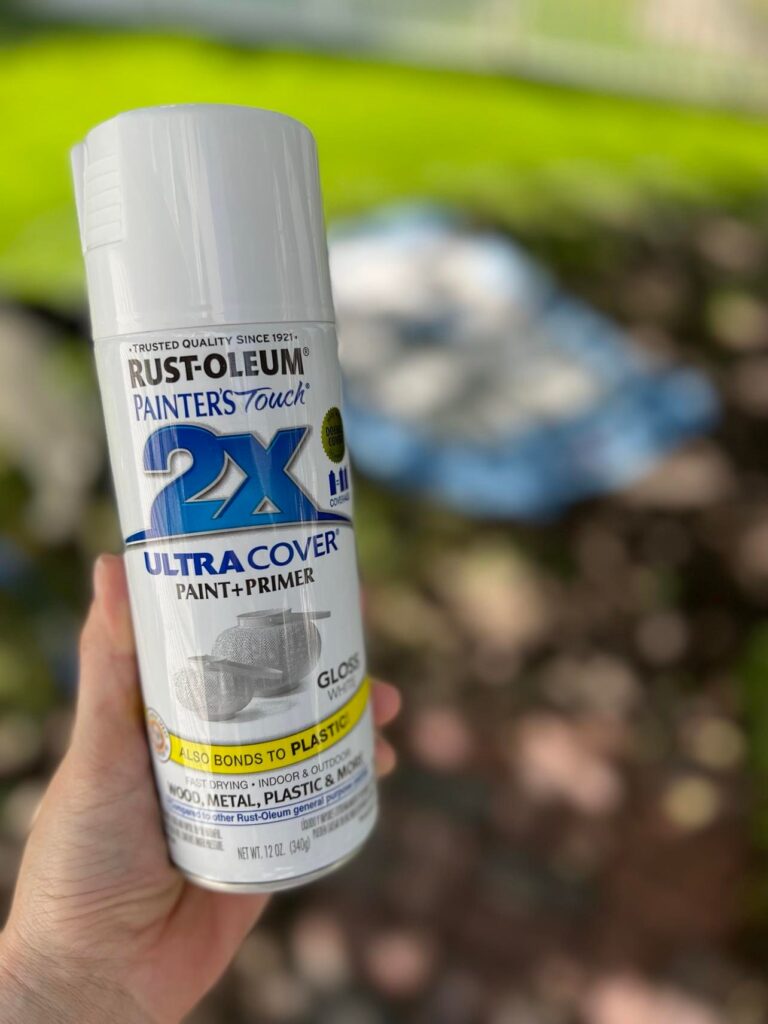 I Knew I Liked Geometry
Algebra and I are not friends. Algebra was mean to me in the 7th grade!
Geometry and I have always been besties!
And I needed to create my "pattern." So, geometry helped me!
Actually, I just needed a simple arc.
Which, a pencil and some string provided!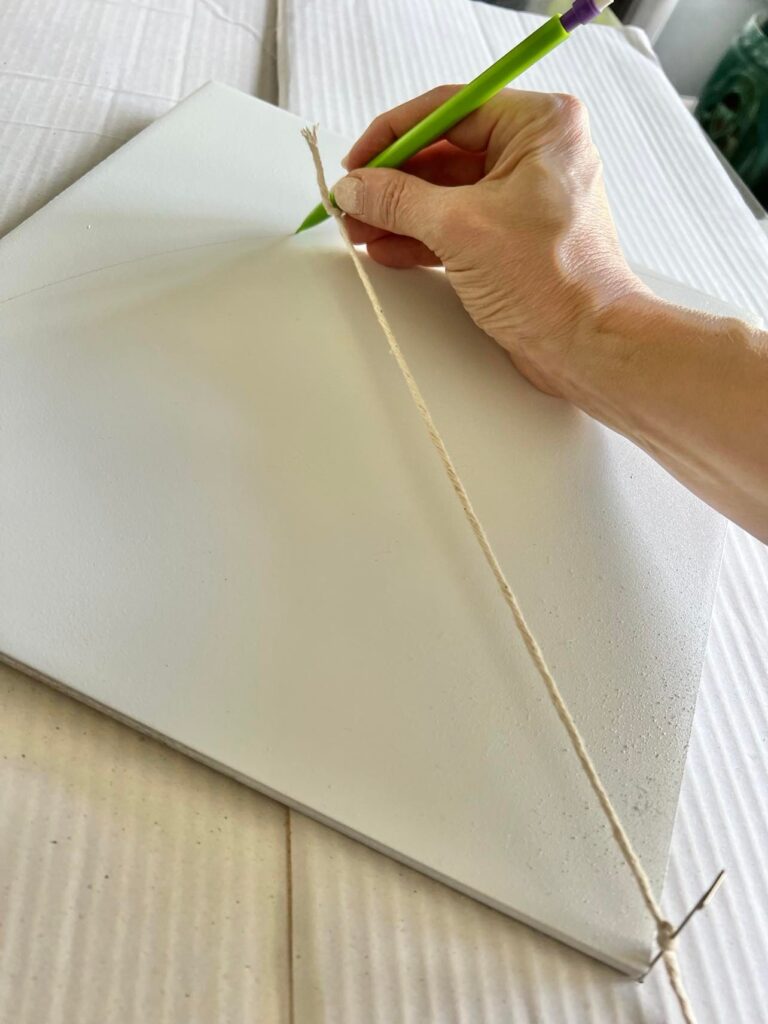 This strange configuration shows how I taped off the areas of the tile that I don't want to get hit with the next layer of paint.
Curious yet as to the pattern?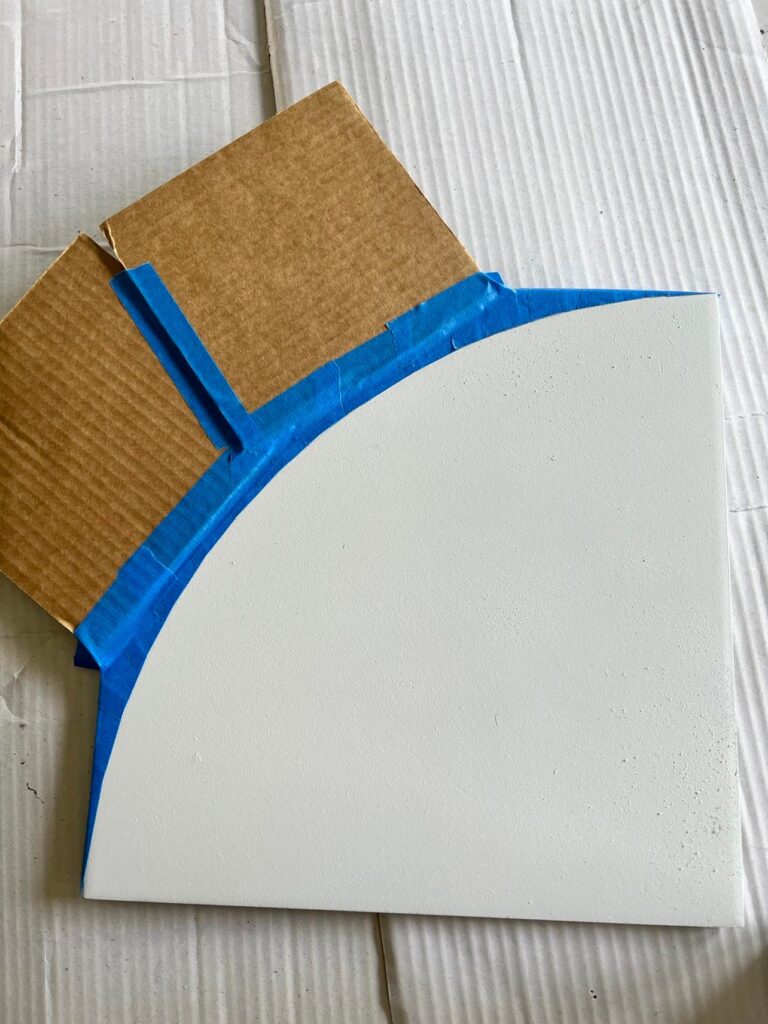 The next step was spray painting the exposed areas on the tile with…
Well, here is that same Rust-Oleum black spray paint!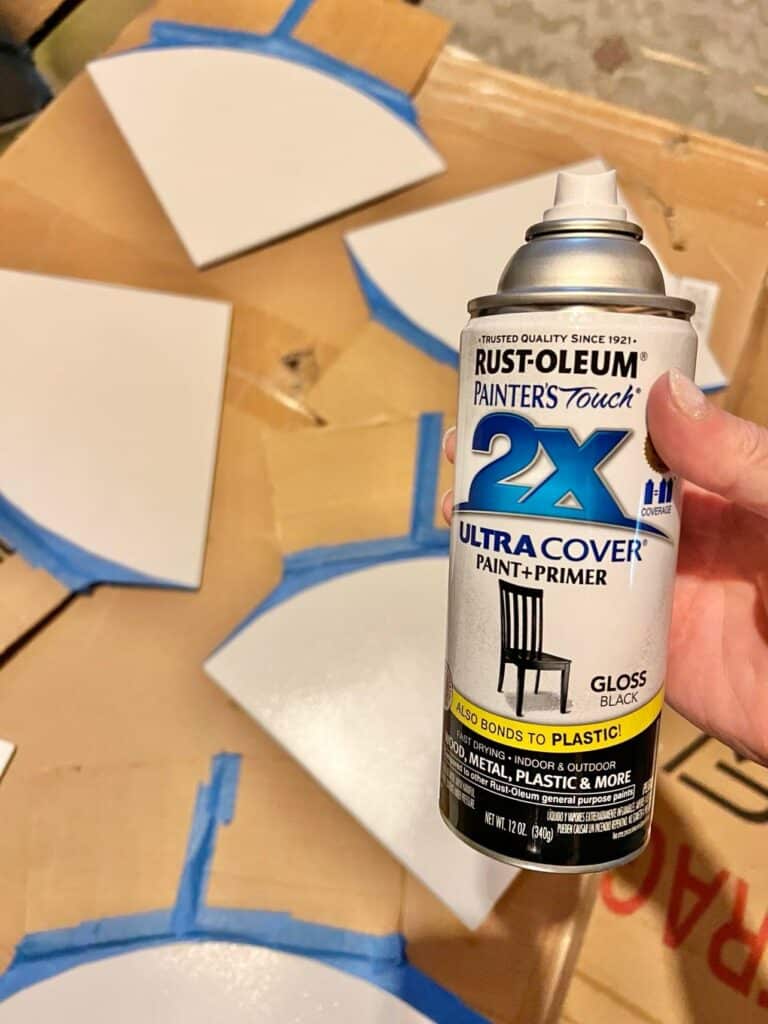 After several days of drying…
(actually I went to the Haven Blogger Conference in Atlanta!)
…I started to peel away the painter's tape.
Such a satisfying sound and feeling, don't you think?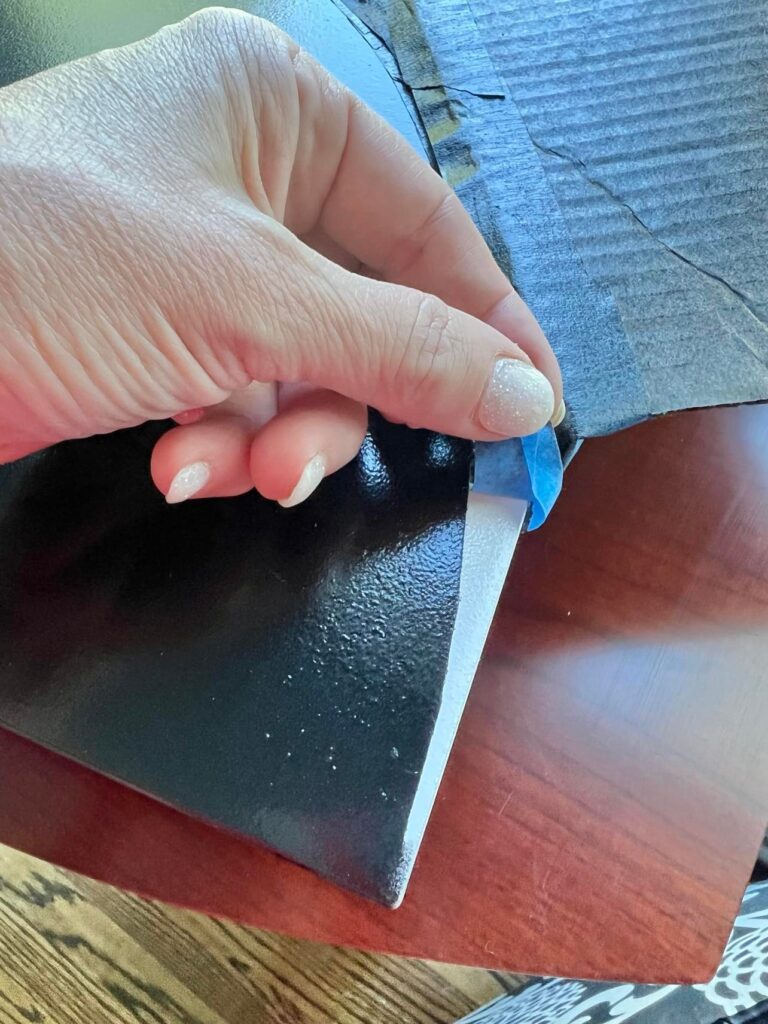 Ready for this patio table makeover reveal?
Drumroll, please!
Voila!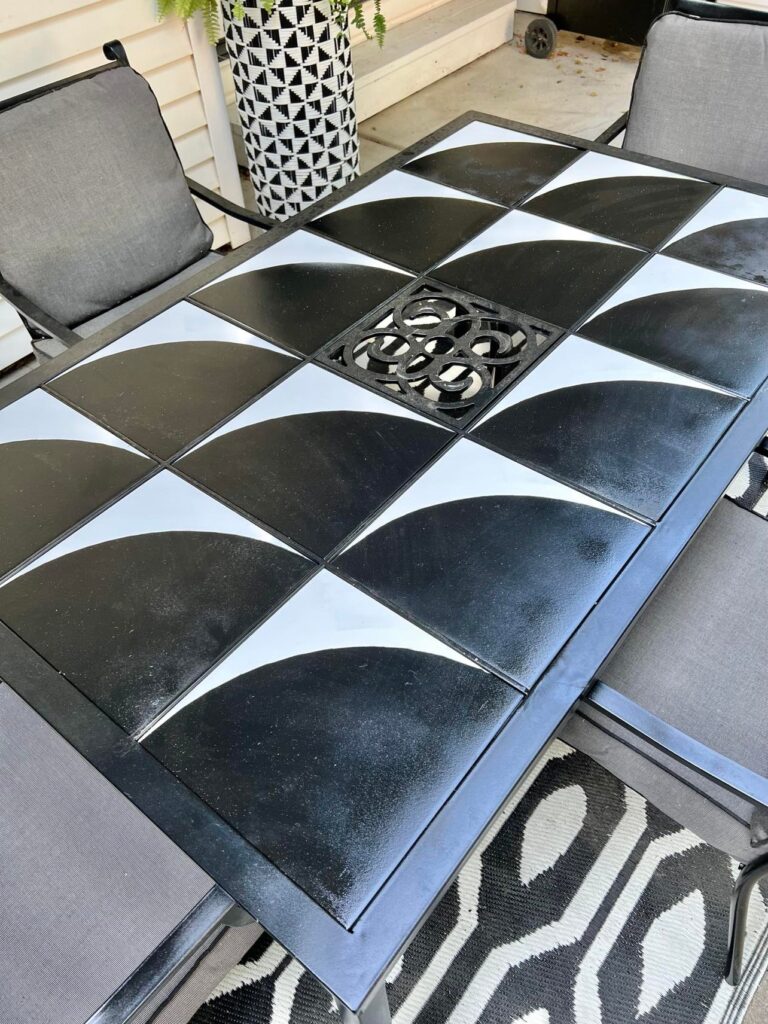 Gleeful joy doesn't begin to describe how much I LOVE this!
Those old floor tiles are now feeling smart, sassy, and COOL!
The magic of spray paint is real, my friends!
I find myself just staring at it…actually for quite some time!
Morning coffee, evening dinner, twilight wine…this table is now a true centerpiece for our patio and backyard!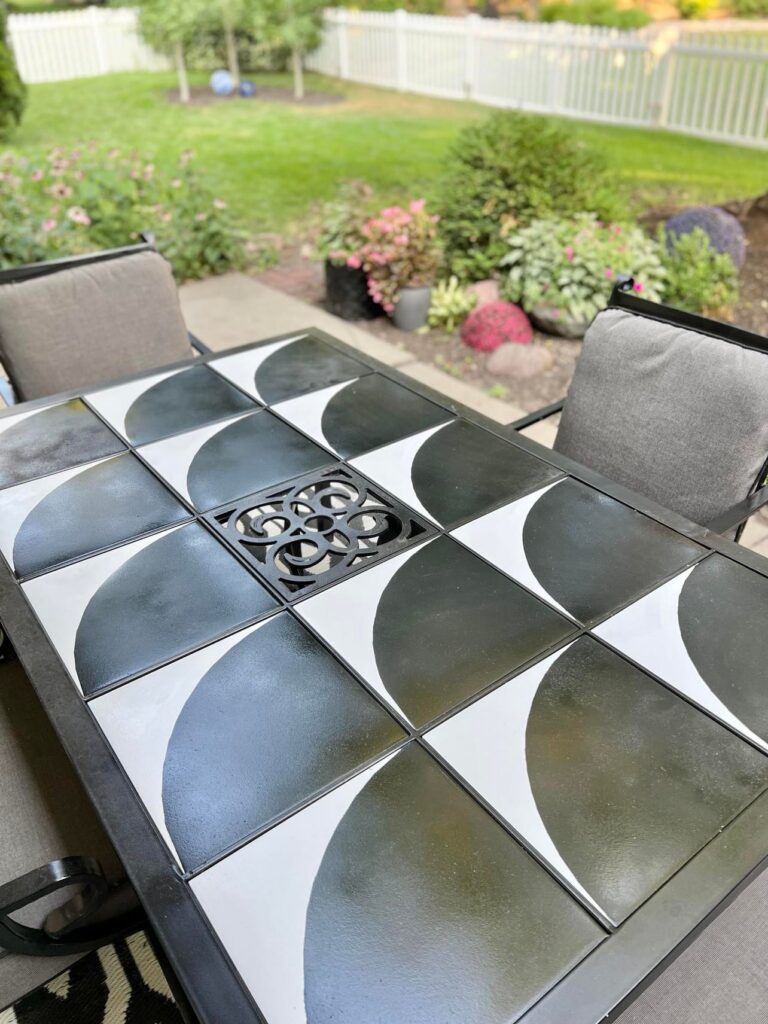 This was a table that had lived a few lives and was looking pretty shabby. We were so close to just ditching it.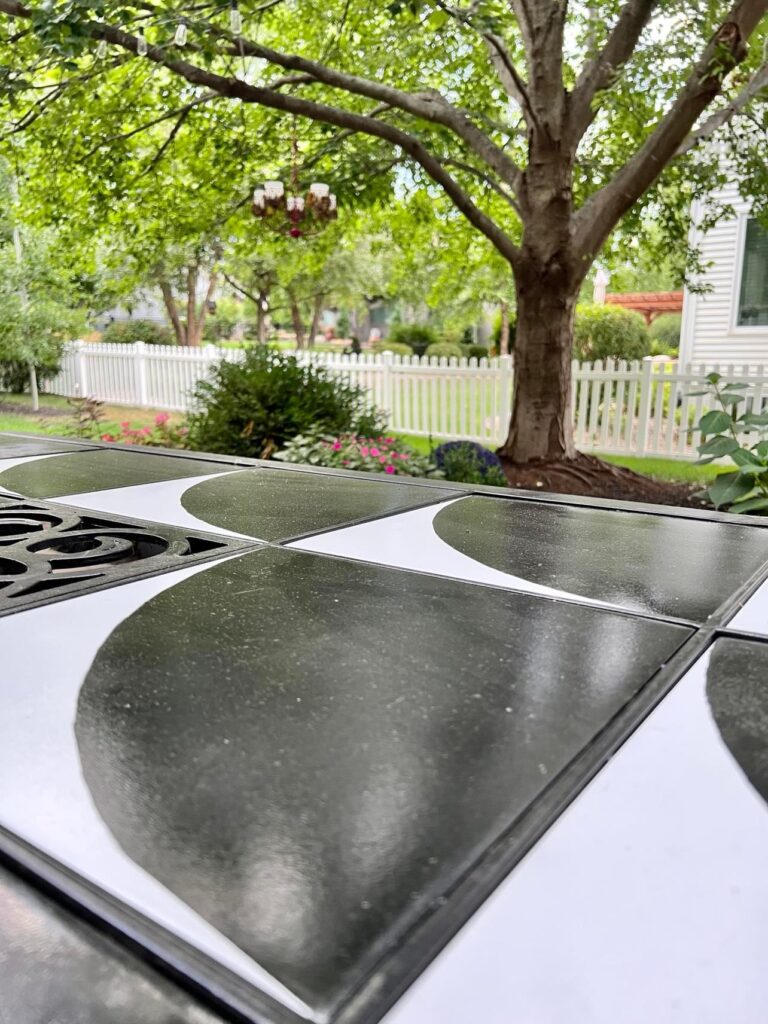 Thank goodness we didn't!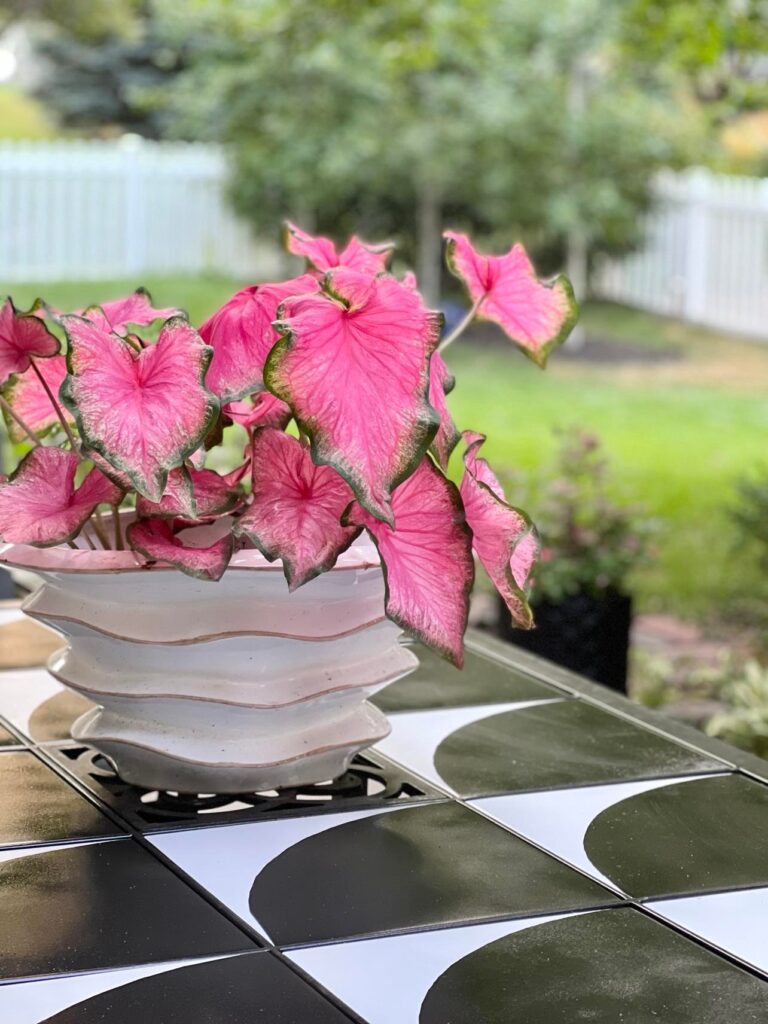 Cheers!

Pin the images in this post to your furniture or DIY boards on Pinterest (just click the Pin button in the top left corner). You can also follow along with me on Pinterest!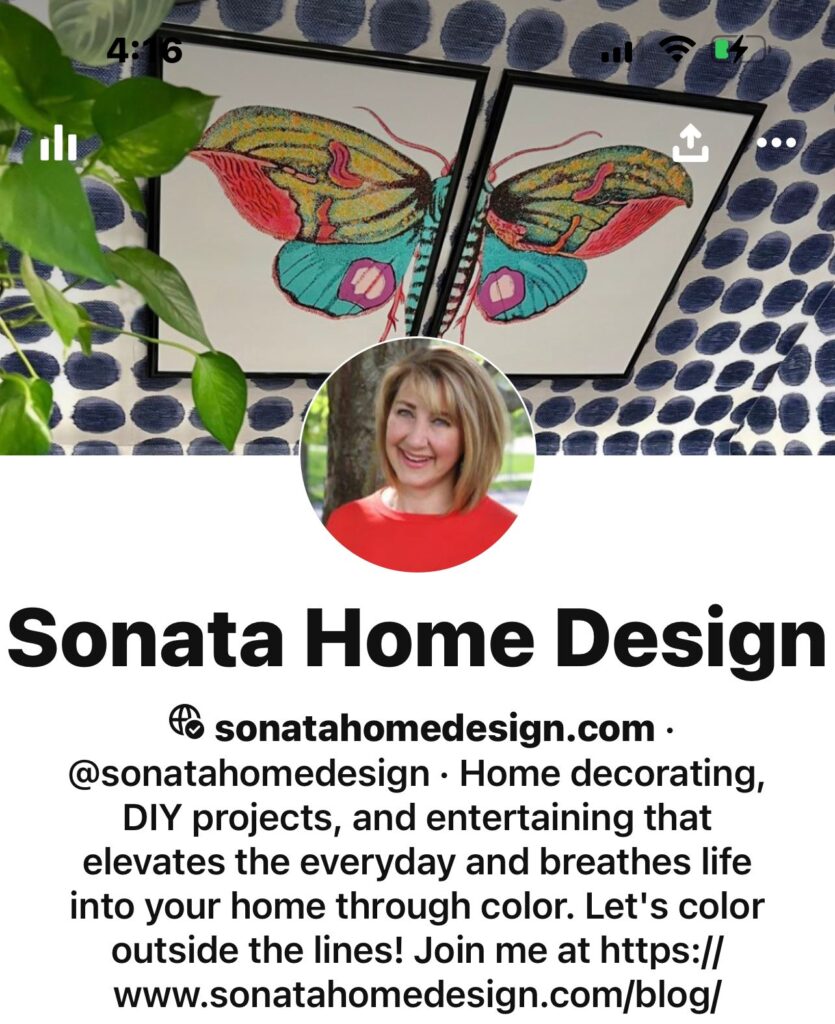 Since I'm feeling so "cool" with my new table, here are some of my favorite cool finds!
The Sonata Home Design blog sometimes contains affiliate links. This means that I earn a small commission if you make a purchase by using this link. The price you pay will be the same whether you use the affiliate link or go directly to the vendor's website using a non-affiliate link. My retirement fund thanks you!