A Tale of Two Tiles: A Bathroom Renovation
How two very different tiles set the tone for a bathroom oasis.
Are you a shower person? Or, are you a bath person?
Most of us have to be shower people out of necessity. Hop in and hop out.
Wake up, take a shower, and start the day!
Quick, efficient, and routine.
When we bought our home 17 years ago, part of the deal was a very large bathroom. VERY large.
I was thrilled! Double sinks, corner windows, a walk in closet, and a WHIRPOOL TUB!
At first, I was ecstatic! Oh, the spa baths I was going to take!
The twins loved it! To them, the whirlpool jets were so cool and, when each got a chance in the tub, you could go to town with bath paints!
Those were the pros. The enthusiasm waned a little with time. The cons were that it took a long time to fill the tub and it used up a lot of the hot water in the house. Also, dusting it was a bit of a task. (This tells you how often we actually used it.)
Disclaimer: If you love whirlpool tubs, more power to you! I hope you enjoy every moment with it. In fact, for those interested, here is one that is very similar to what was in our house.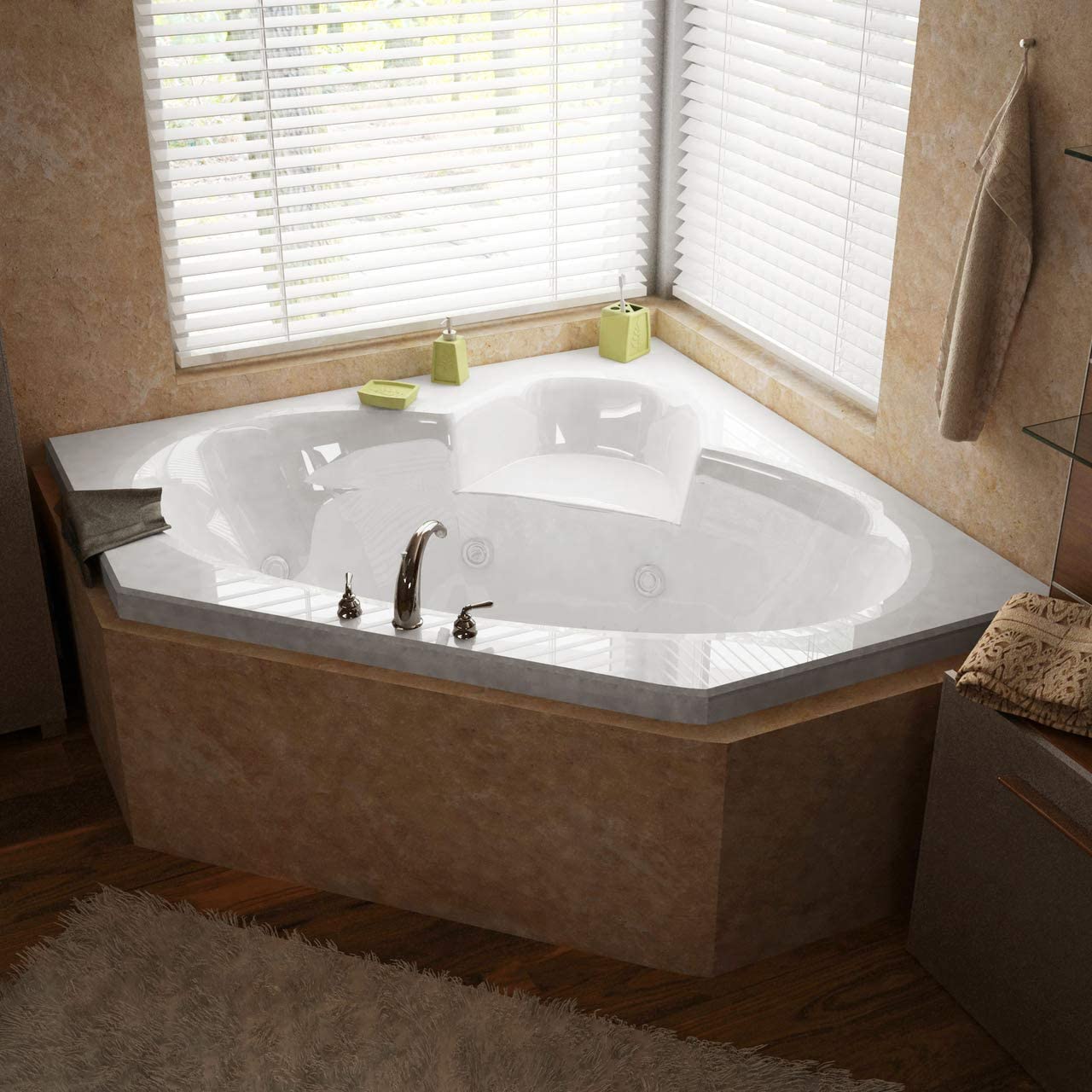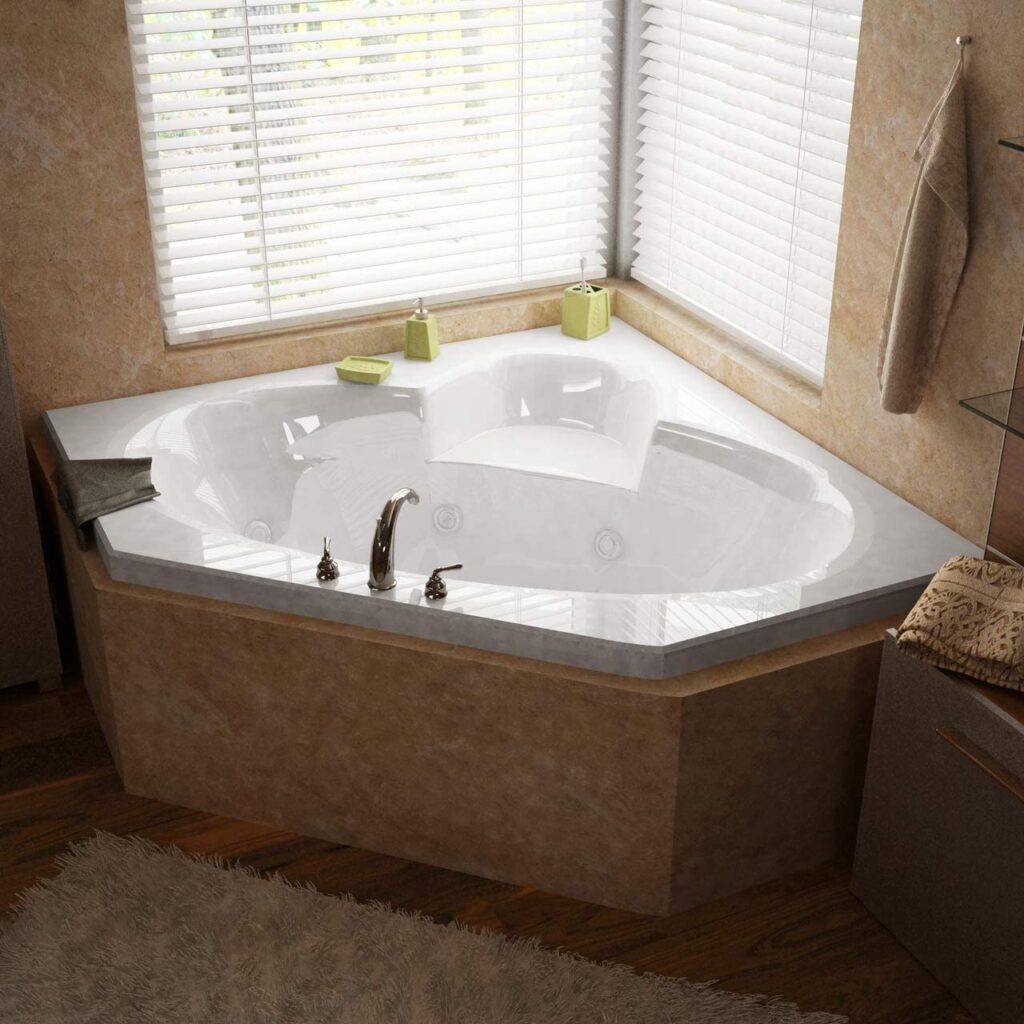 Time for a Change
After a while, it was time for a change.
Ok, it was quite a while…as in we got our kids through college before we decided to take on the bathroom renovation.
Once we demoed the space and figured out the floor plan, the fun stuff began…choosing the finishes!
But this can be so overwhelming. SO MANY OPTIONS!
It was two very different tiles that made the job easy for me.
Classic Subway Tile
The first tile choice was a basic rectangular 2 X 6 subway tile. Simple. Classic.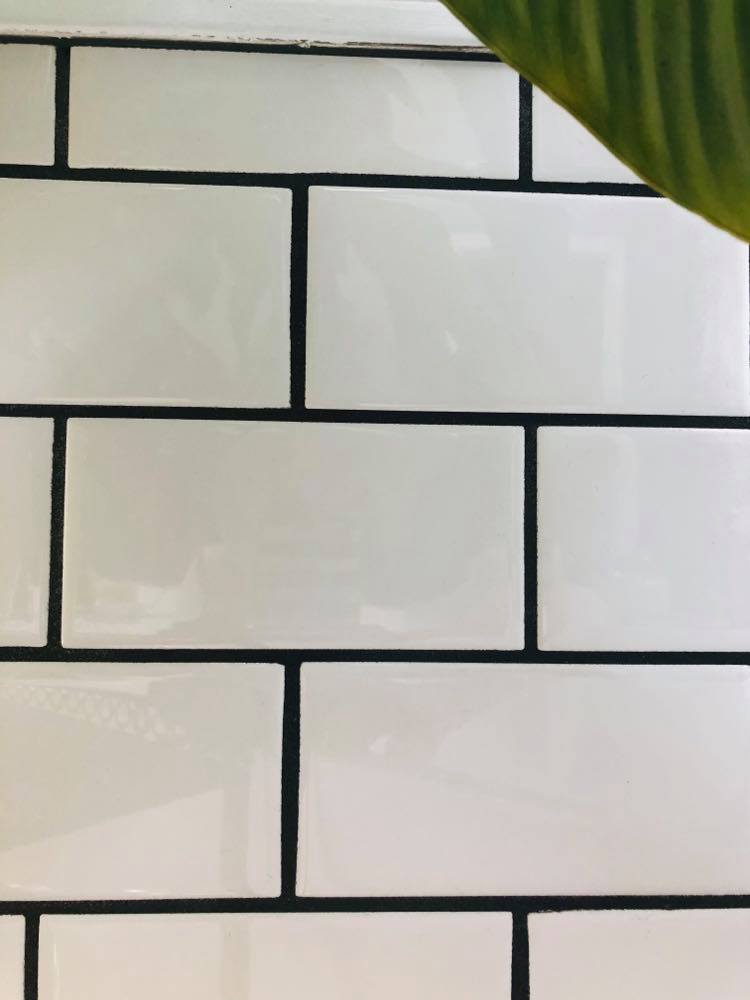 Yes, I know you see it everywhere and there is a reason for this. It's clean, classic, and best of all, inexpensive. This was an easy choice for the shower, the tub surround, and the vanity backsplash.
Here is a similar tile in a 2″ x 8″ size.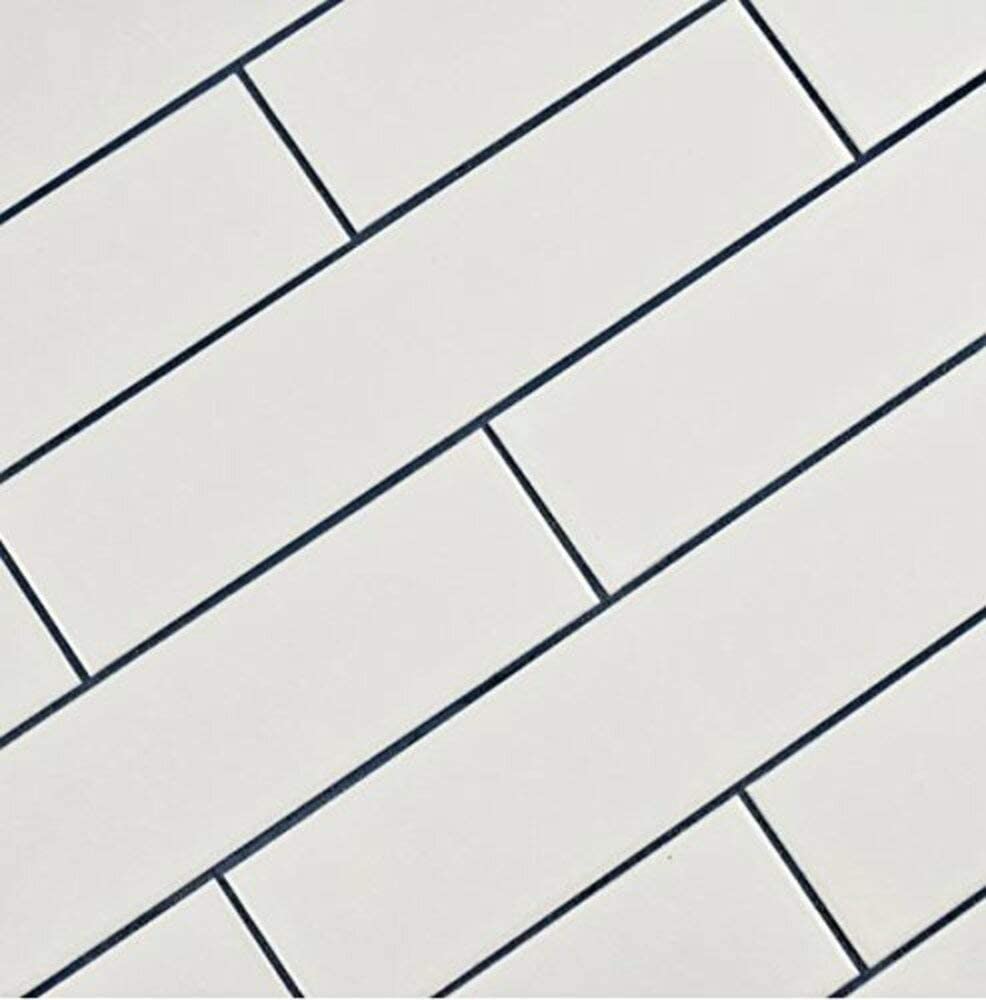 I decided to "edge it up" by choosing a charcoal grey grout and I love it! Just enough definition to give the subway tile some drama and coordinate it with the other selected tile.
Speaking of which, the next tile was also an easy choice because it stole my heart!
Drama Tile
TA-DA!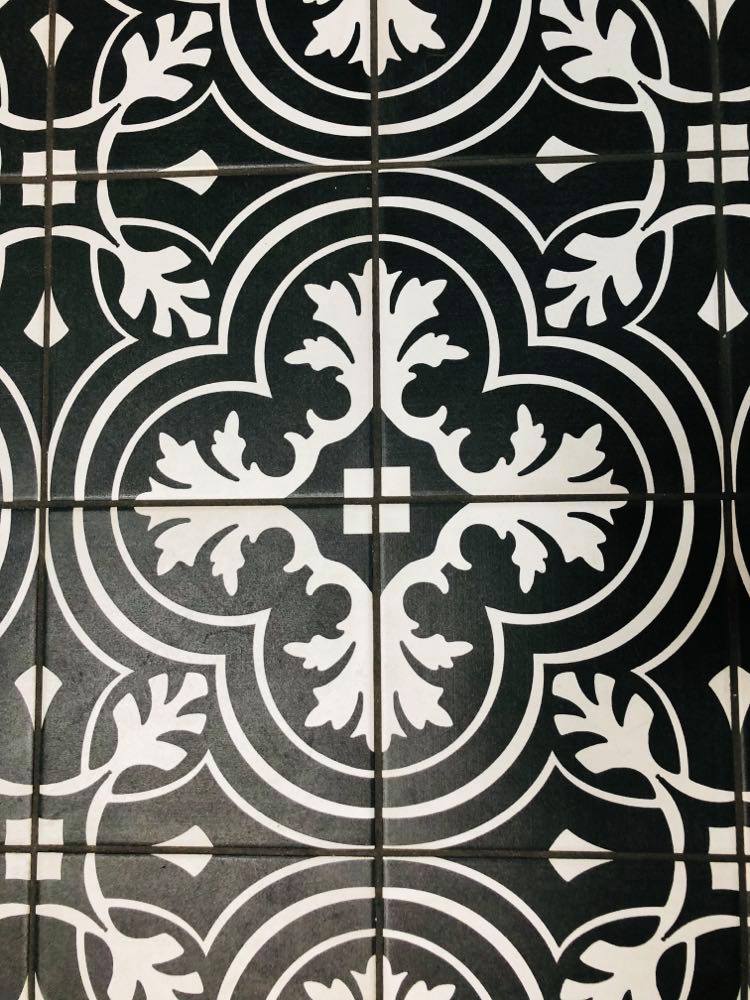 I fell in love with these black and white patterned tiles. Romantic, yet dramatic. Classic, yet interesting. I love them!
We had the floor professionally tiled because of the four tile pattern. It was a thinner tile and we didn't want to risk it with our middling tile skills.
Tip: If you are not working with a contractor, make sure you have several professionals come to your home, physically measure and view the space, and give you a bid. We got four bids for the floor project and each one was VERY different.
Bath Oasis
Those two tile choices set the tone for the entire bathroom. The canvas was prepped! Now, it was ready to create a bathroom oasis.
Here is the bathtub area today. We chose a smaller tub that we actually use now!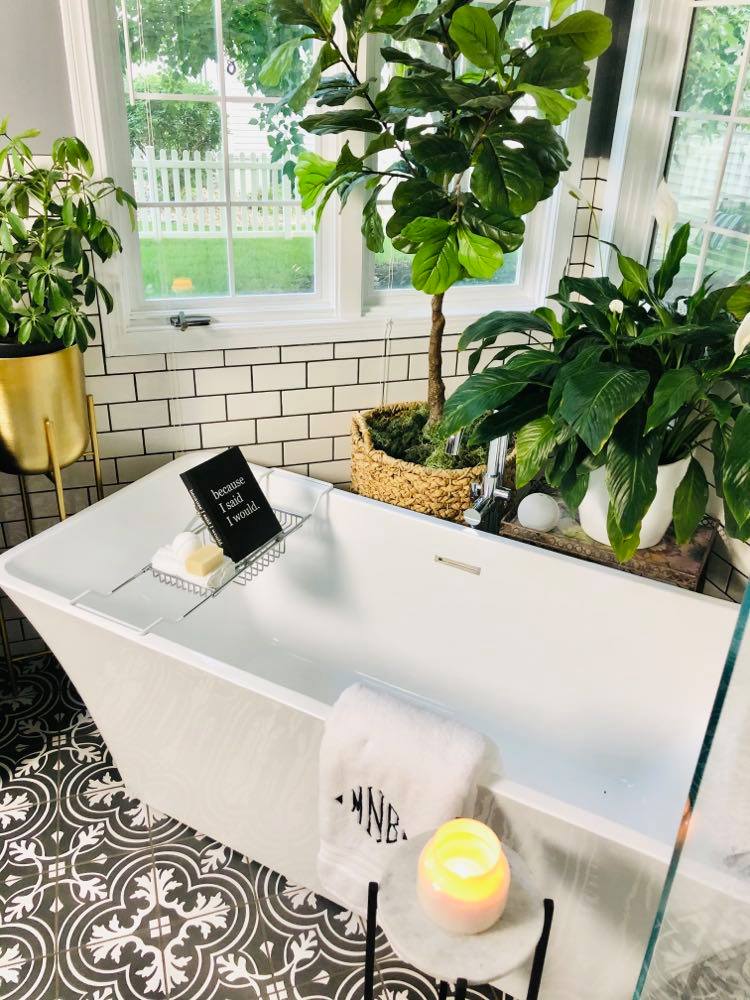 How to Create a Spa Bath Area
Here are a few tips for creating a spa space out of any type of bathtub.
Add greenery!
Just by adding an element of nature, the luxury quotient goes WAY up! Plus, plants love the humidity in a bathroom and will thrive.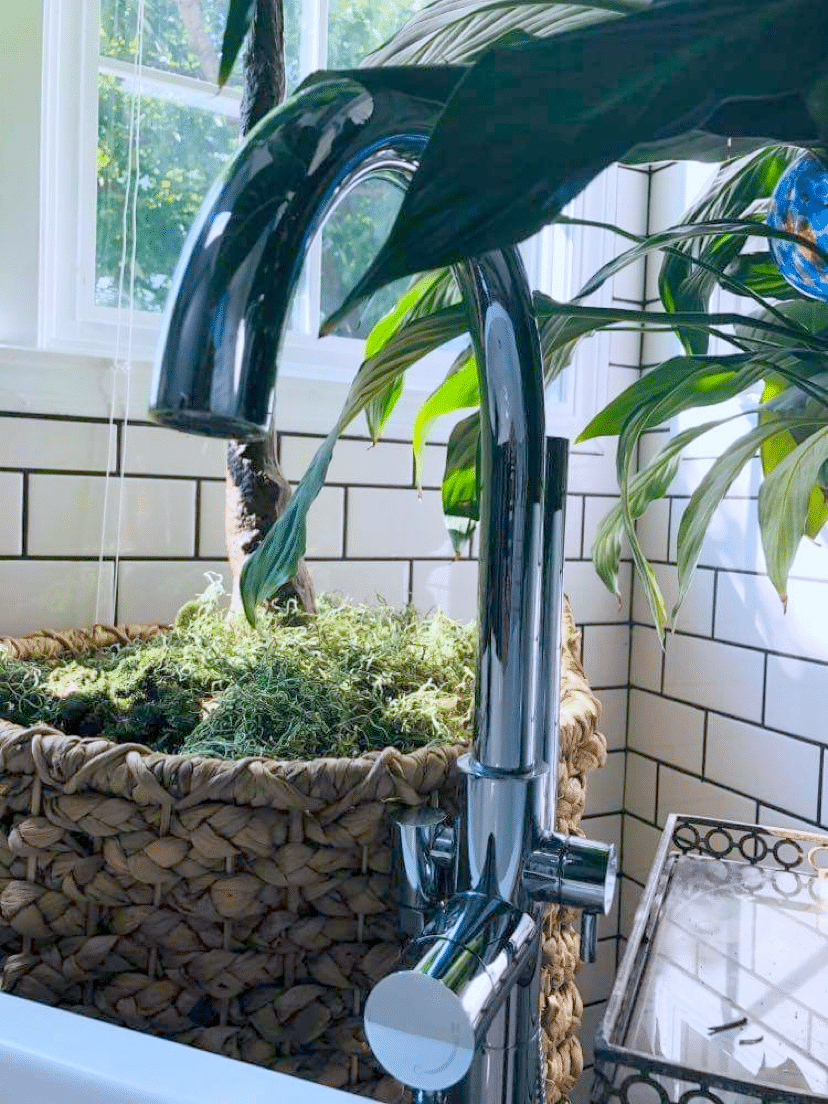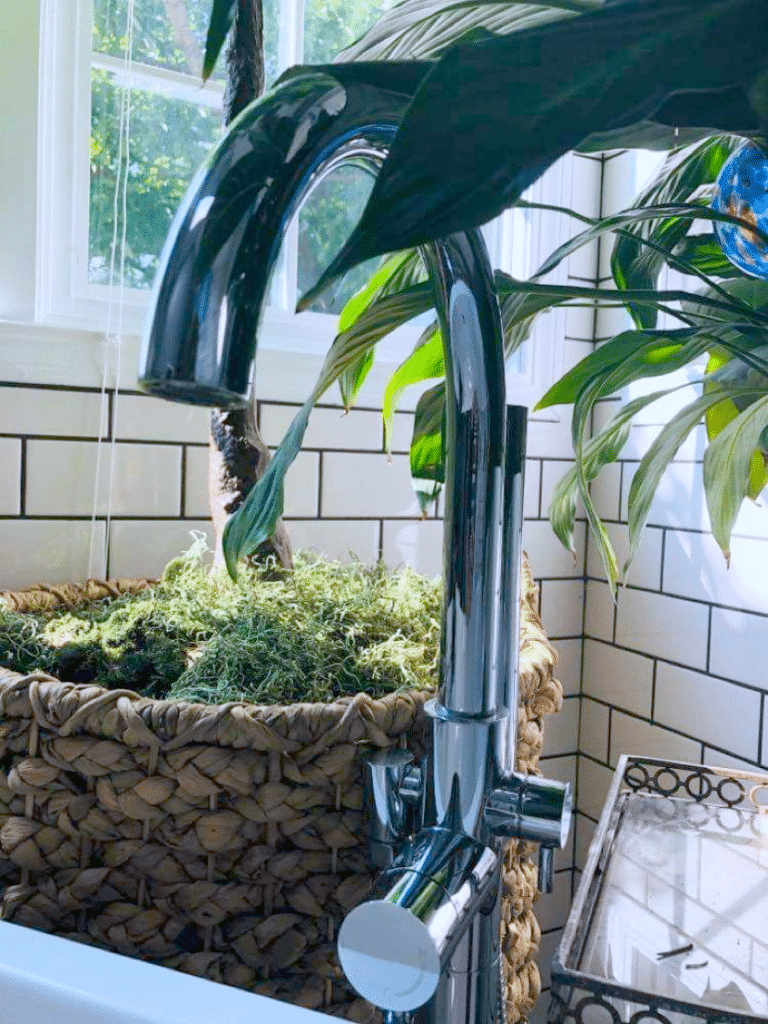 Choose your tunes!
Keep your phone or iPod handy with a selected "spa music list." I like to keep my Alexa nearby so I can change the music by voice.
To get you started, here are "10 RELAXING SONGS FOR A LONG SOAK IN THE BATH" as published by a great bathroom supplier called Soakology.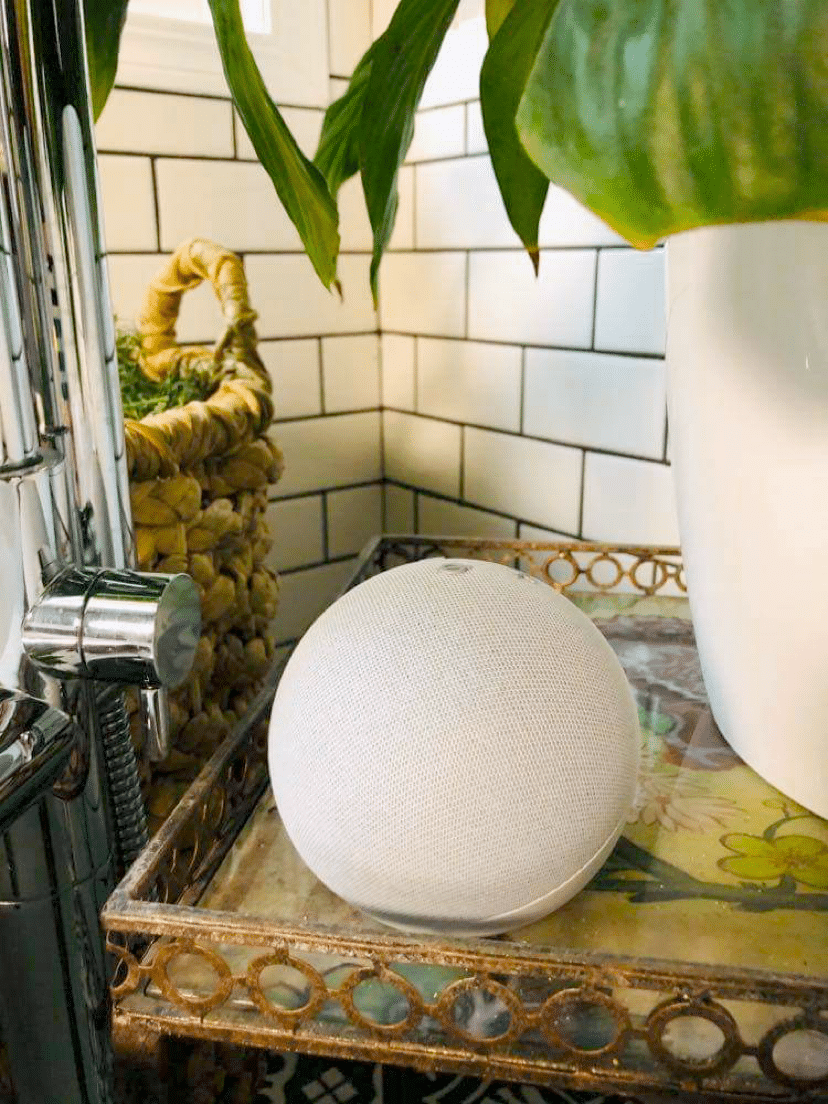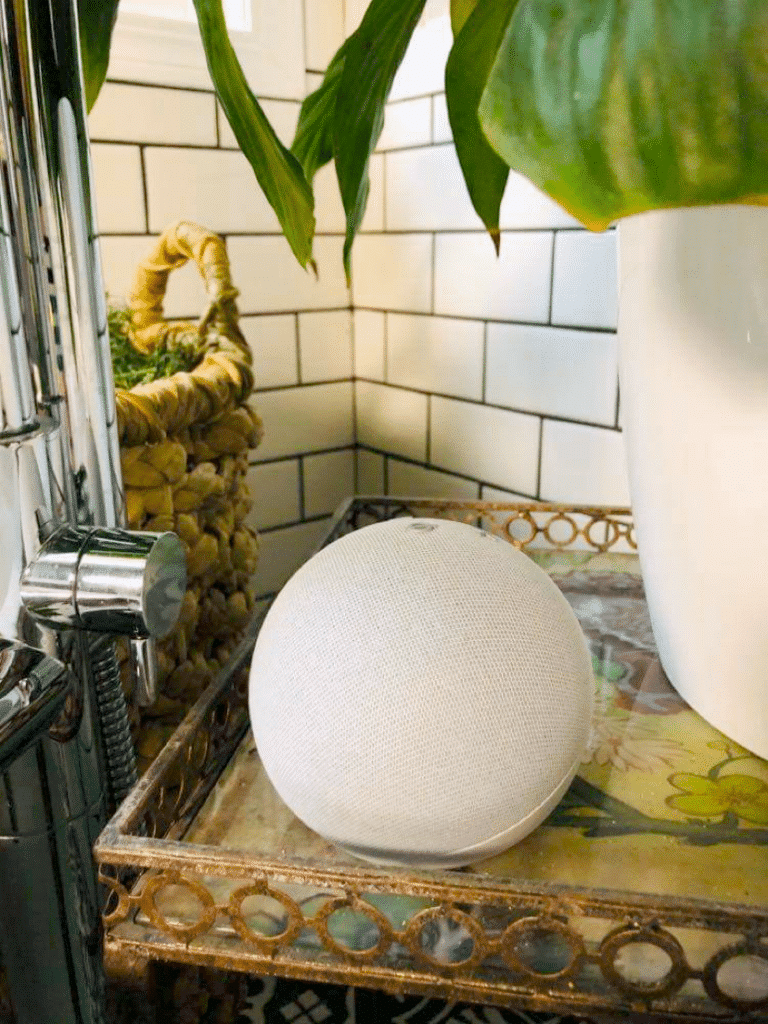 Go for the Good Towels
One of the hallmarks of a spa experience is having big, fluffy towels! Take it a step further and have those special towels monogrammed! (special thanks to my mother-in-law for her embroidery skills)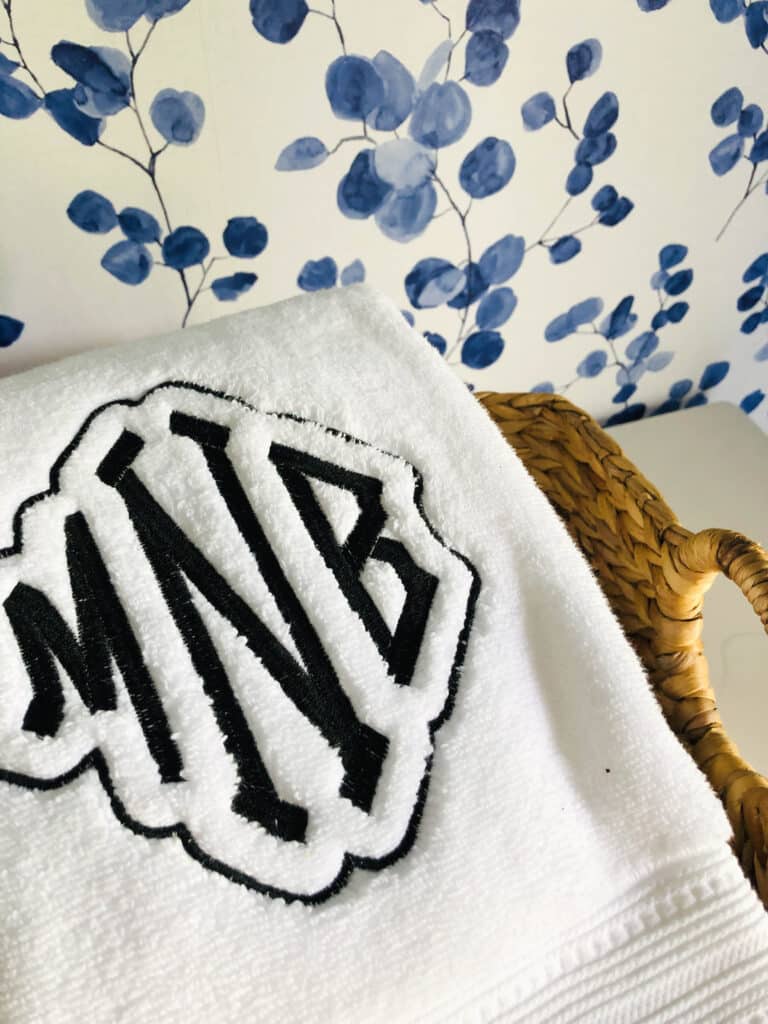 Set the Mood with Candles
There is nothing like the glow of a candle to make a moment special. Light it up, shut the door, and let your cares drift away!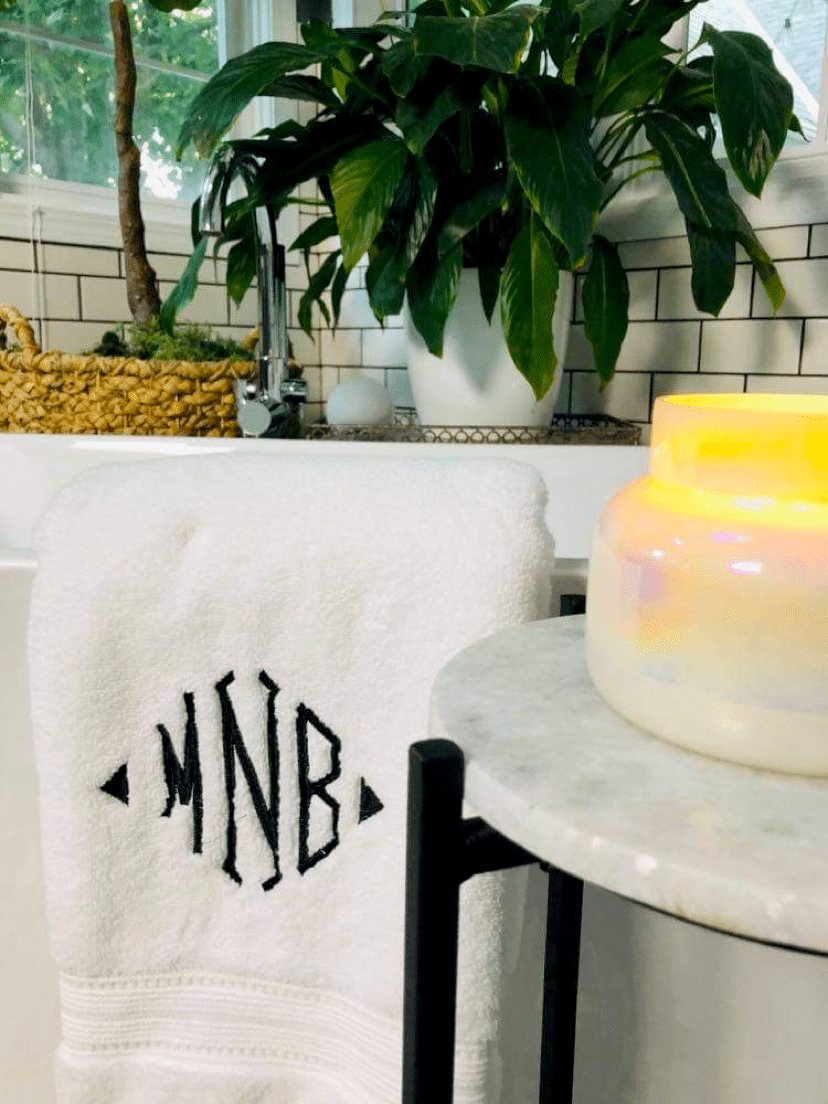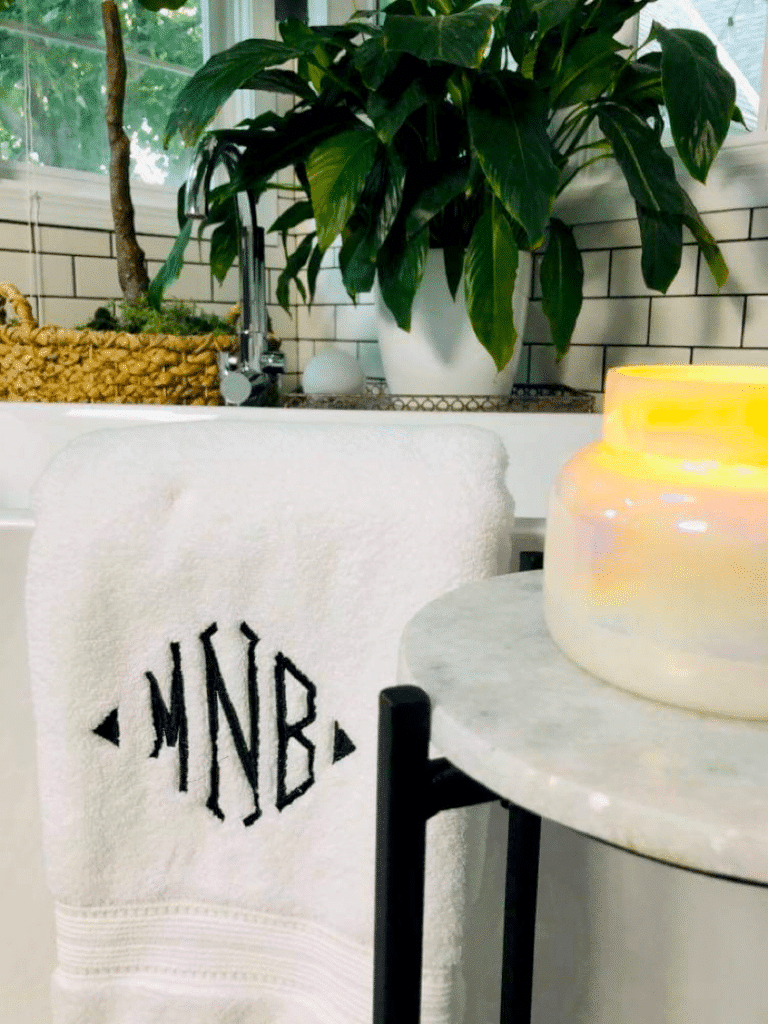 Bath Book Nook
Leave the heavy reading for another time. Choose something inspiring or romantic that will relax you and let you escape reality for a bit.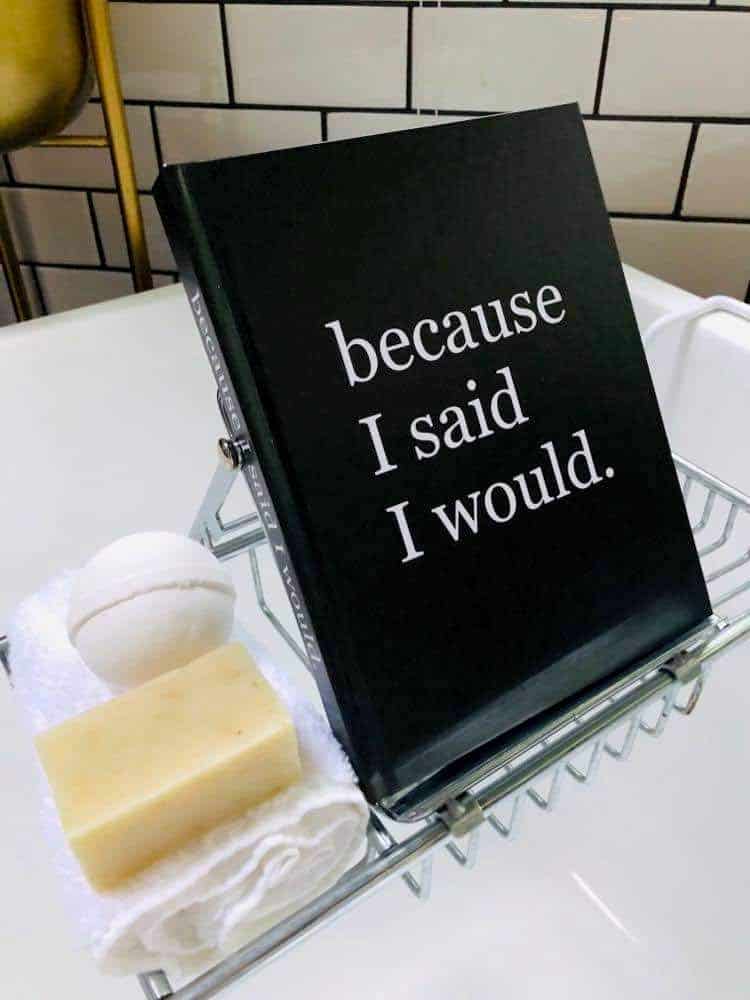 This space calls my name every day!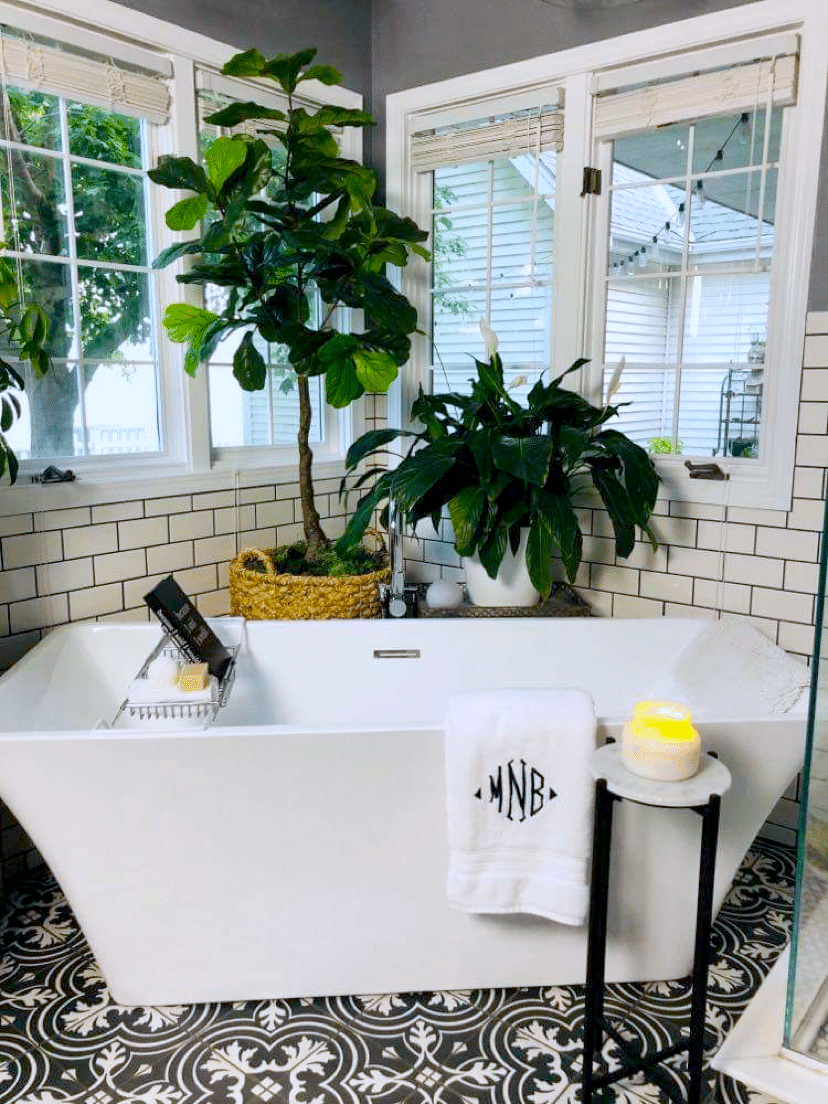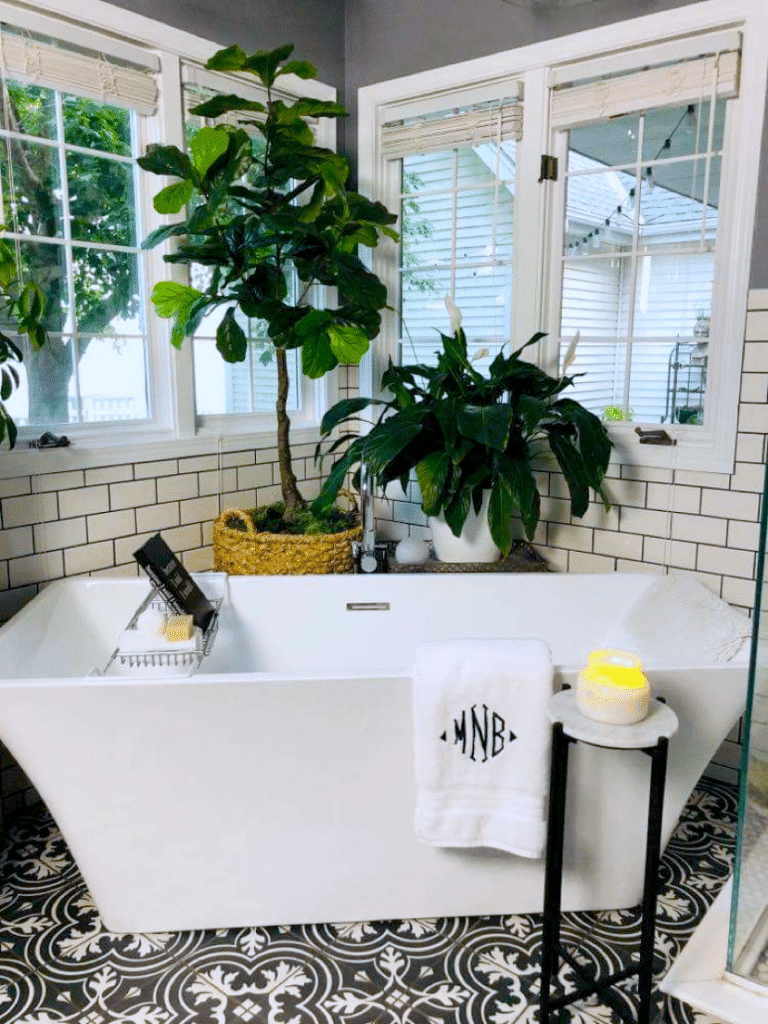 I love a video moment…From tile to tub: one of my favorite spots in the house!
Cheers!

Disclaimer: This post contains affiliate links.