Wicker Trunk Magic with "Super Friends" Rust-Oleum and FrogTape
White wicker. How many ways do I love thee?
SO MANY!
My teenage bedroom was full of it.
I had the perfect white wicker vignette.
There was a small white wicker side table and chair. The chair cushion was covered in the most adorable fabric with a meandering strawberry pattern. There was even a white wicker SWAG light fixture and a little white wicker trash can.
It was white wicker overload but…I was SO COOL! (Or, at least I thought I was!)
White wicker is timeless but…
it can also draw the occasional yawn.
A couple of months ago, I scored this white wicker chest at a yard sale. It would have fit in perfectly with my white wicker den of 1982!
Great size and in great shape but yearning for a little pick-me-up. Don't you just love a good deal!
But, it sat there in our garage for a long time. I wasn't quite sure what I wanted to do with it.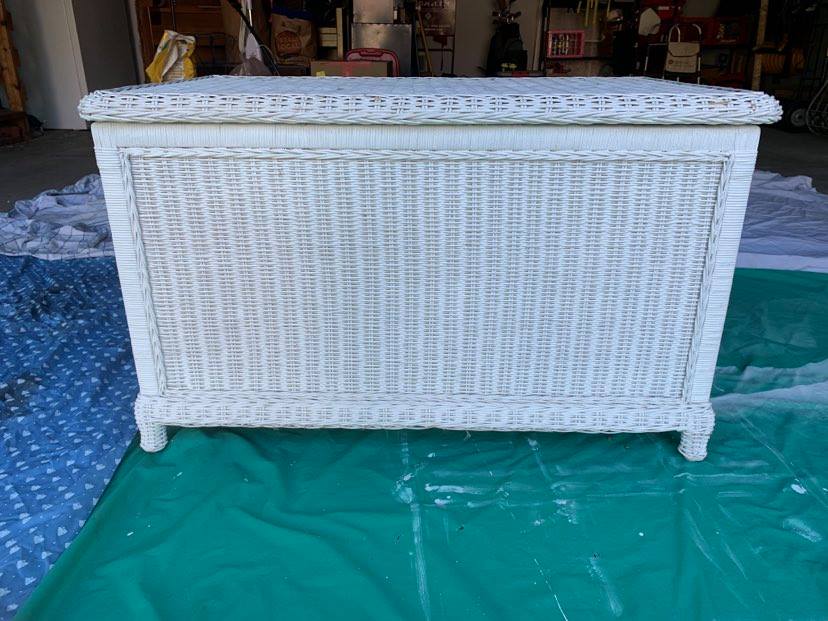 If you are looking for a similar chest, you can find one here.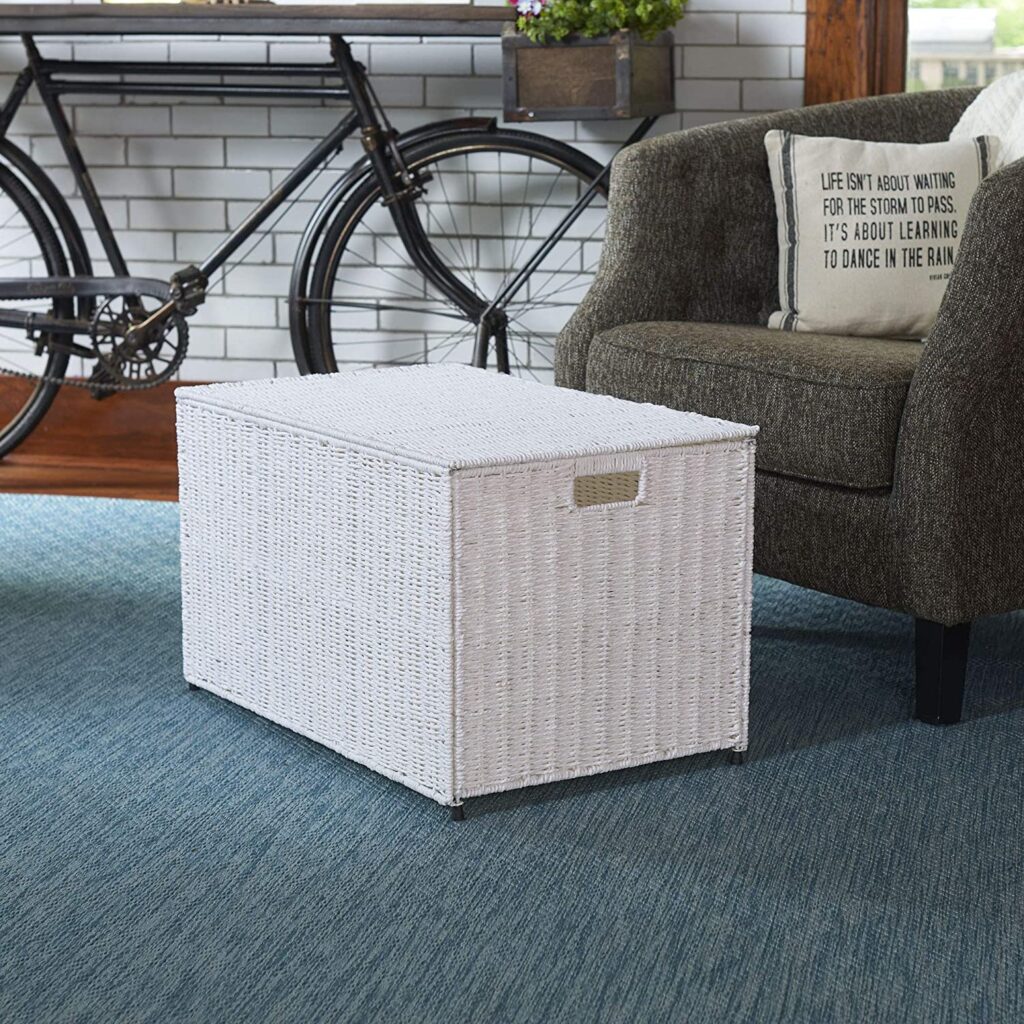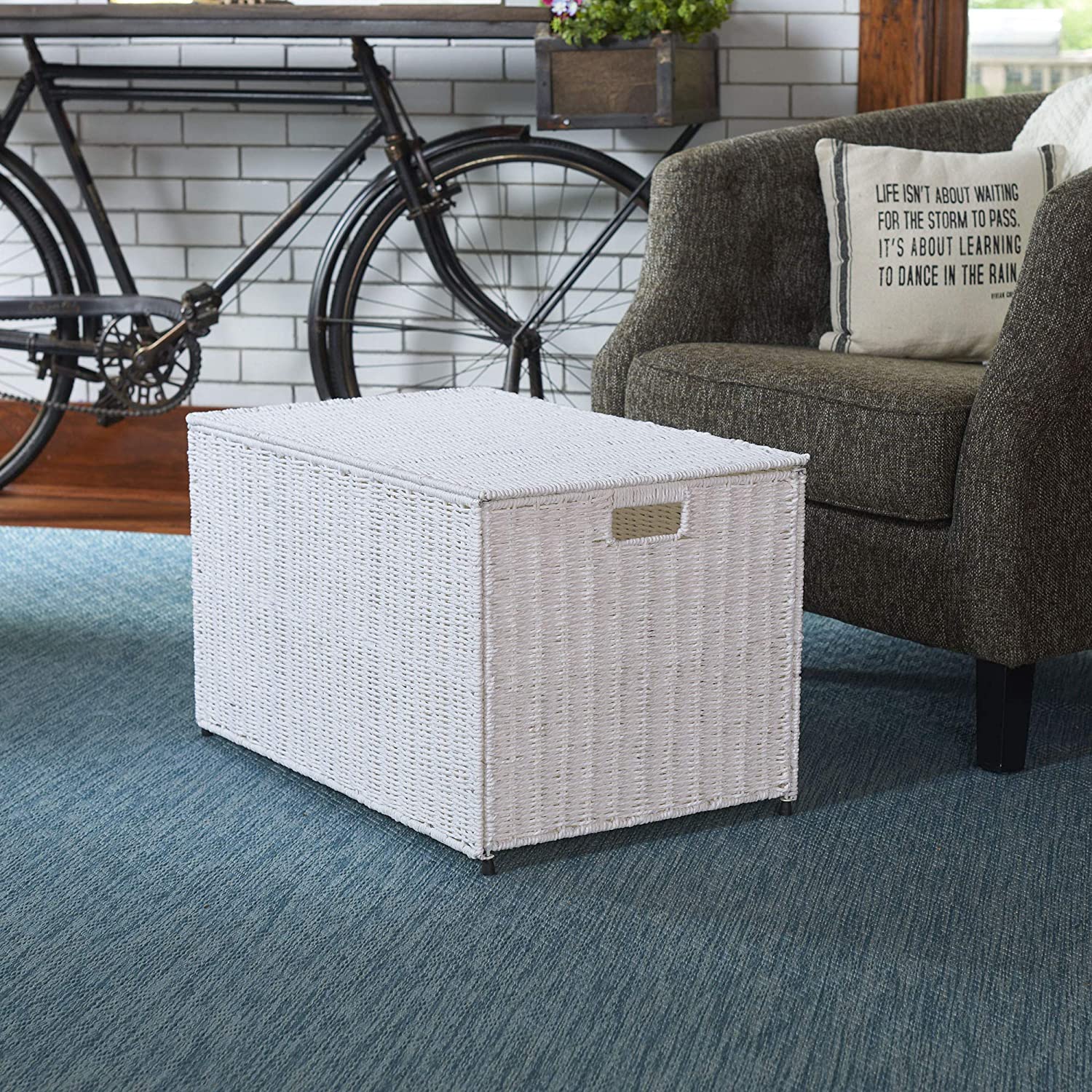 Then, my first Super Friend, Rust-Oleum, came to the rescue!
You remember the DC Super Friends: Superman, Wonder Woman, Batman, Aquaman, the Wonder Twins, etc.
(These Super Friends fit so well into my vintage white wicker world!)
I needed a Super Friend for this project.
You see, I am headed to the Haven conference next week and Rust-Oleum sponsored a project challenge. It may be my first Haven, but I am determined not to stand in the shadows!
The mission? Transform something using Rust-Oleum spray paint.
Wonder Twins Power…ACTIVATE! (Sorry millennial readers…I am stuck in my childhood era references!)
Our cabinet is FULL of Rust-Oleum spray paint from past projects. Rust-Oleum is my "go-to." Rust-Oleum is my magic friend! So many colors in one transformative can.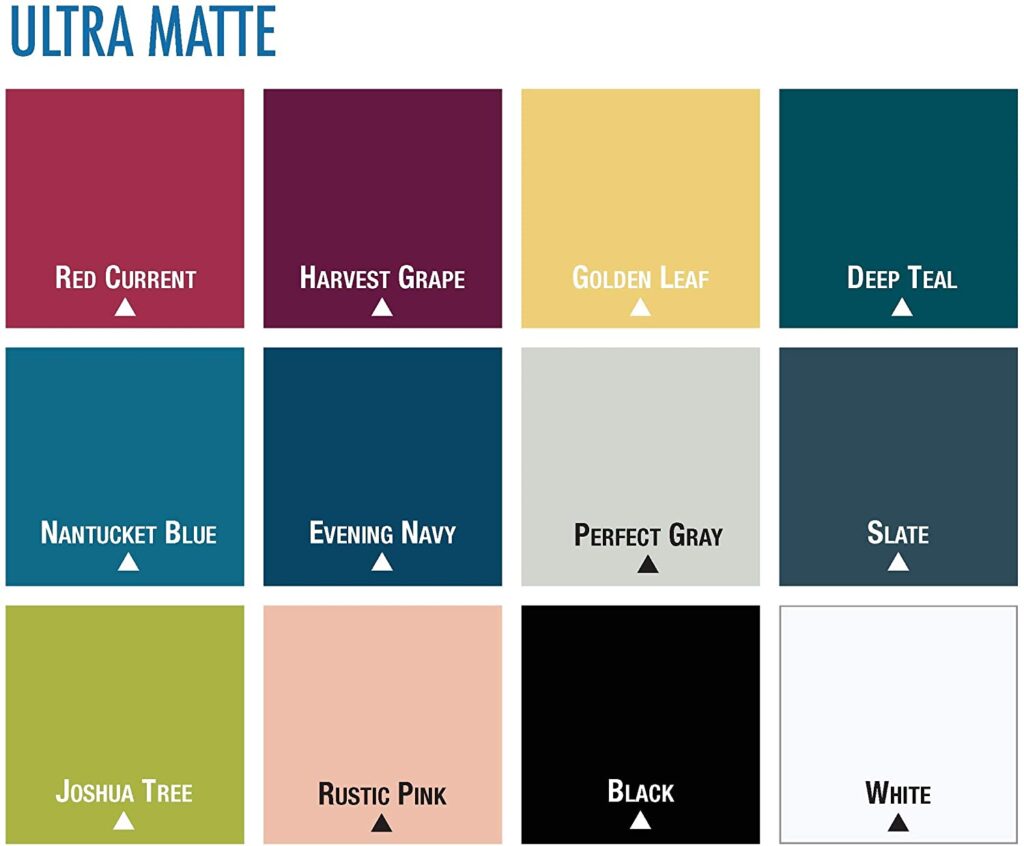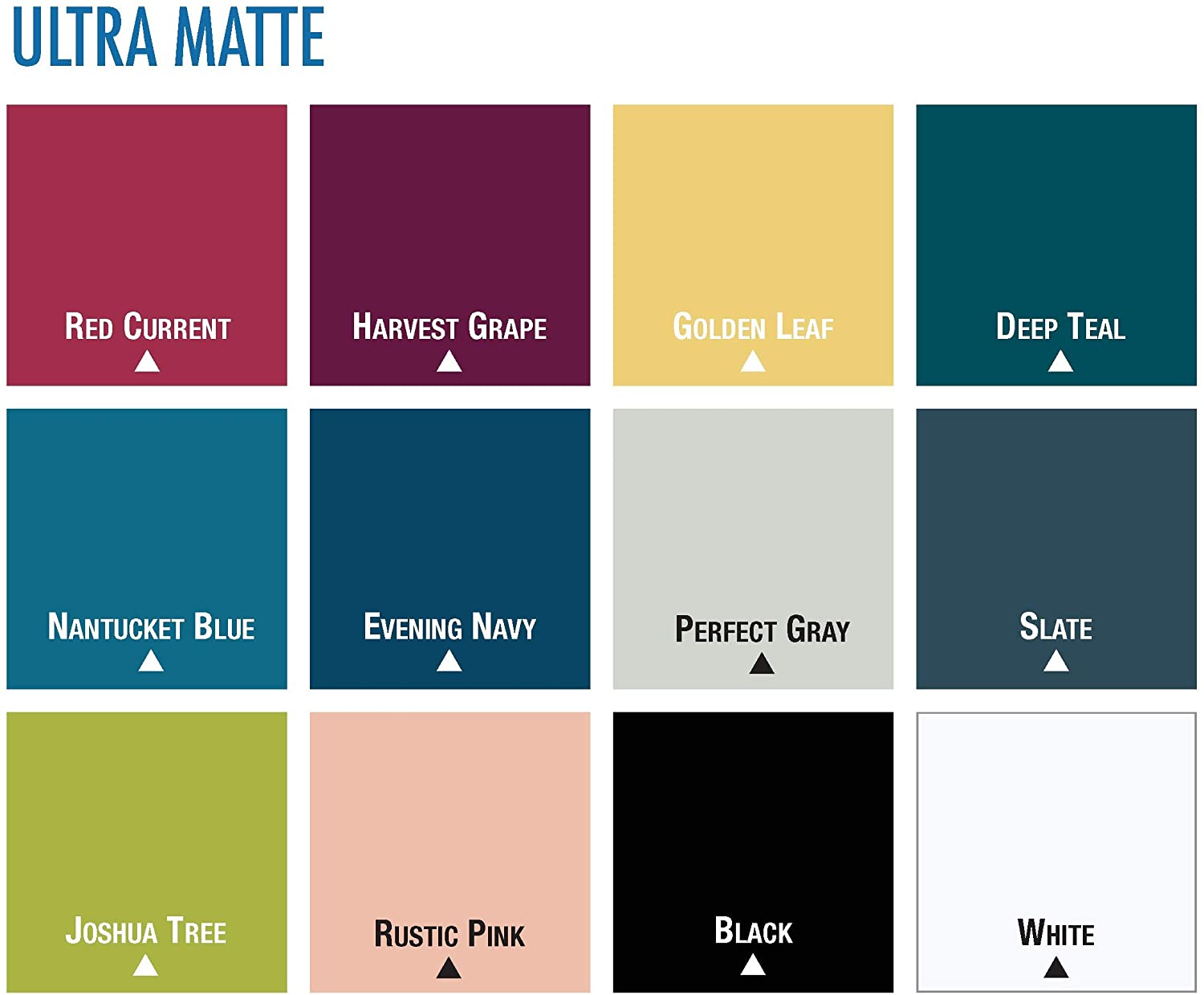 Now, what to do, what to do…
I have spray painted many things one solid color over the years but not much beyond that.
I freshened our front porch swing with a fresh coat of black spray paint.
This rocking chair got a paint makeover with the color Ink Blue.
White paint and wallpaper did the trick in turning this dated cd tower into an updated storage unit.
12 Spray Paint Projects that are Fun and Easy!
Hmmm…
Hmmmmmmmmm…
Brilliant idea! STRIPES!
Immediate self-doubt; paint on wicker can bleed.
Super Friends to the Rescue!
But just like Batman has Robin and Wonder Woman has her magic lasso, Rust-Oleum has a Super Friend.
That Super Friend is…..FrogTape, the BEST tape for a clean paint edge!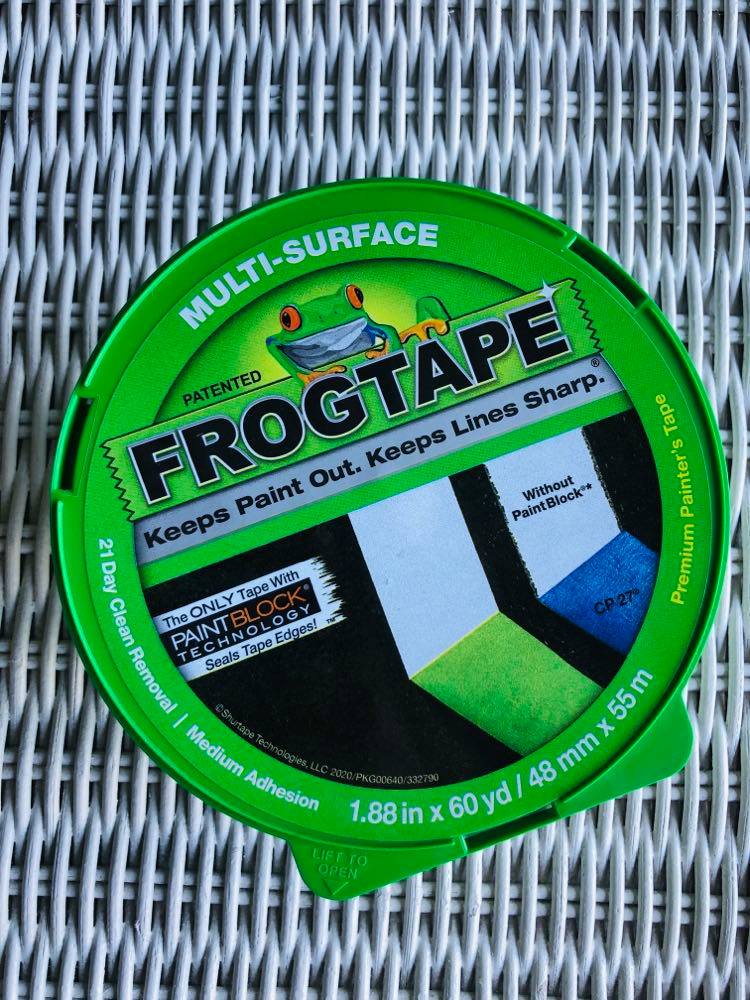 Decided. Stripes on the white wicker chest.
First, the chest got an overall freshening coat of white with navy blue as the anchor color. (No surprise there.)
Next, I added a lighter shade of blue and a pop of coral…we are in business!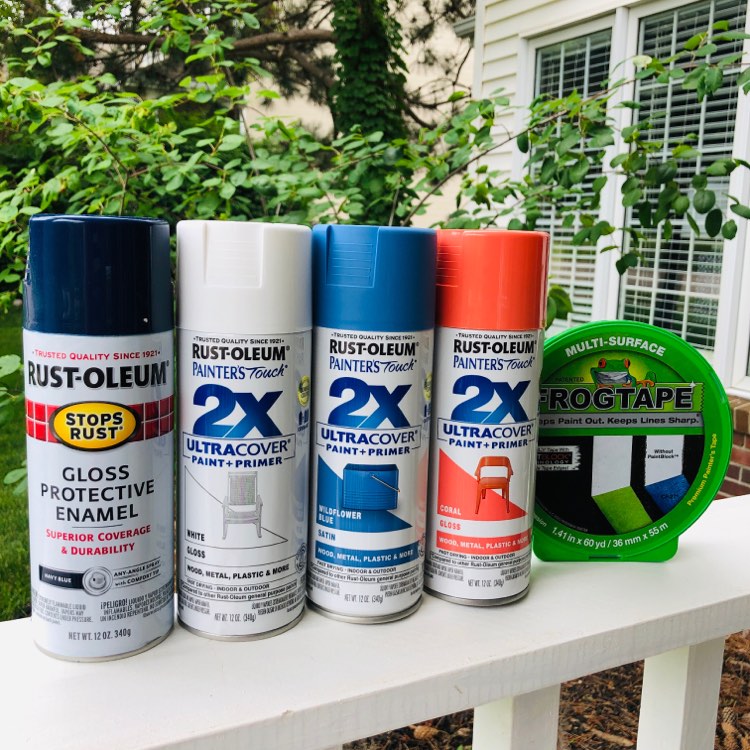 The spray painting was easy. Rust-Oleum coverage is fantastic with beautifully saturated colors and quick coverage.
The hard part was keeping my patience while taping…a LOT of taping. 🙂
In order to keep the sections from bleeding into each other, you need to tape off what you are NOT spraying.
Wicker Tip: Because of the deviation of the weave, use your fingernail to press the FrogTape deep into the groove.
Tape. Spray. Peel. Repeat!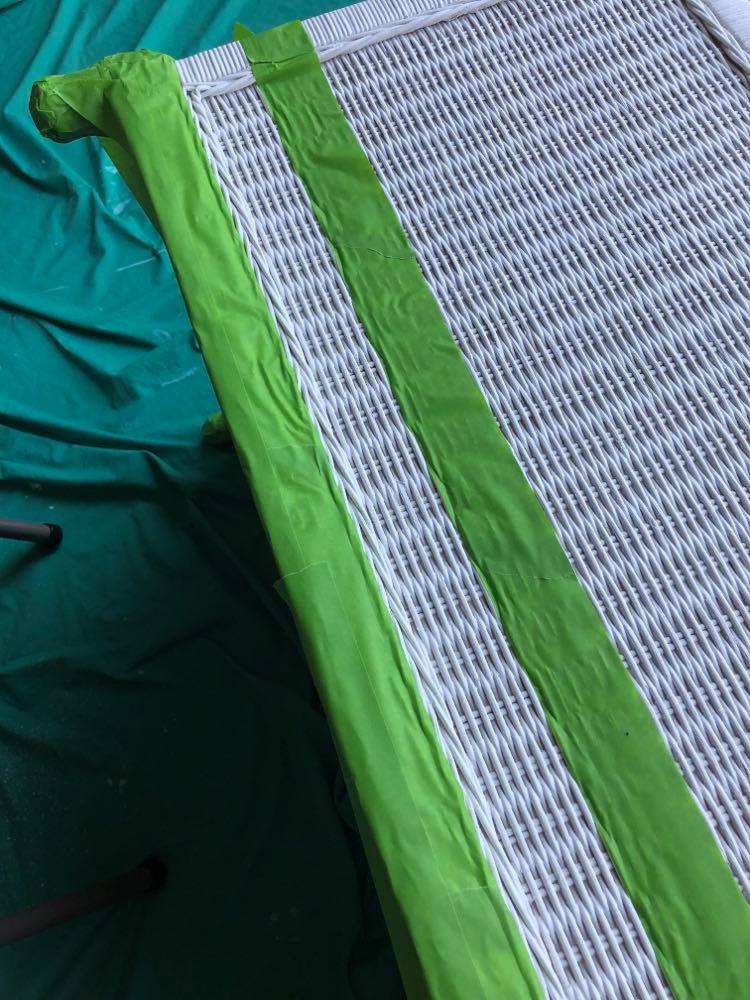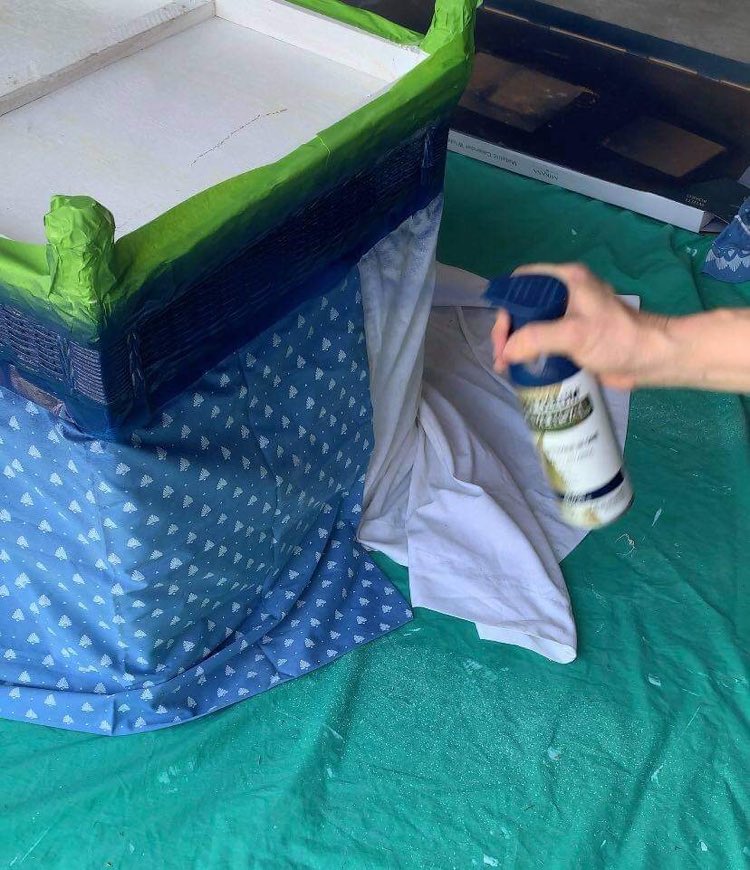 Over and over again.
FYI – I used some old sheets to help cover spaces not being painted.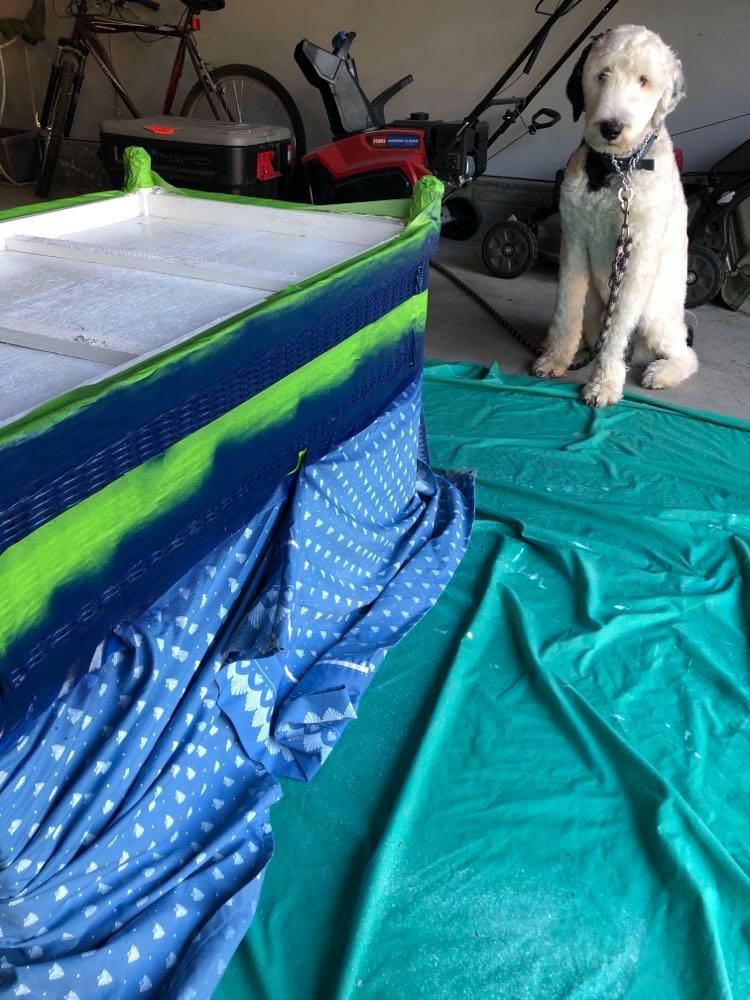 I LOVE peeling the tape off. It's a combination of excitement and terror. Did it work? Did it bleed?
Another Wicker Tip: don't be in a hurry. Let the spray paint dry thoroughly and pull the tape slowly and evenly.
Humor me. Listen to the 3 second video clip (shown below) and tell me this is NOT a satisfying sound!
The Super Friend combination was working! I had stripes!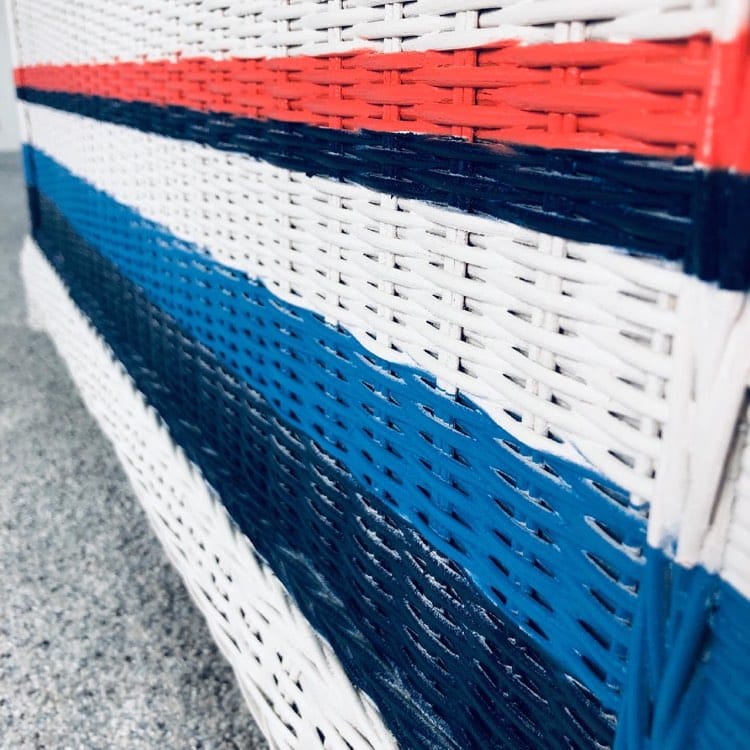 But one more element was needed. A "handle" for the chest. Here is where another secret "Super Friend" came into play!
My Secret Super Friend
My friend, KariAnne Wood, of Thistlewood Farms had told me about a colorful boho pom pom tassel charm key ring on her weekly youtube series "What I Bought Wednesday." This was perfect for the handle!
This colorful beauty now sits at the end of a bed with a comforter in the same colors.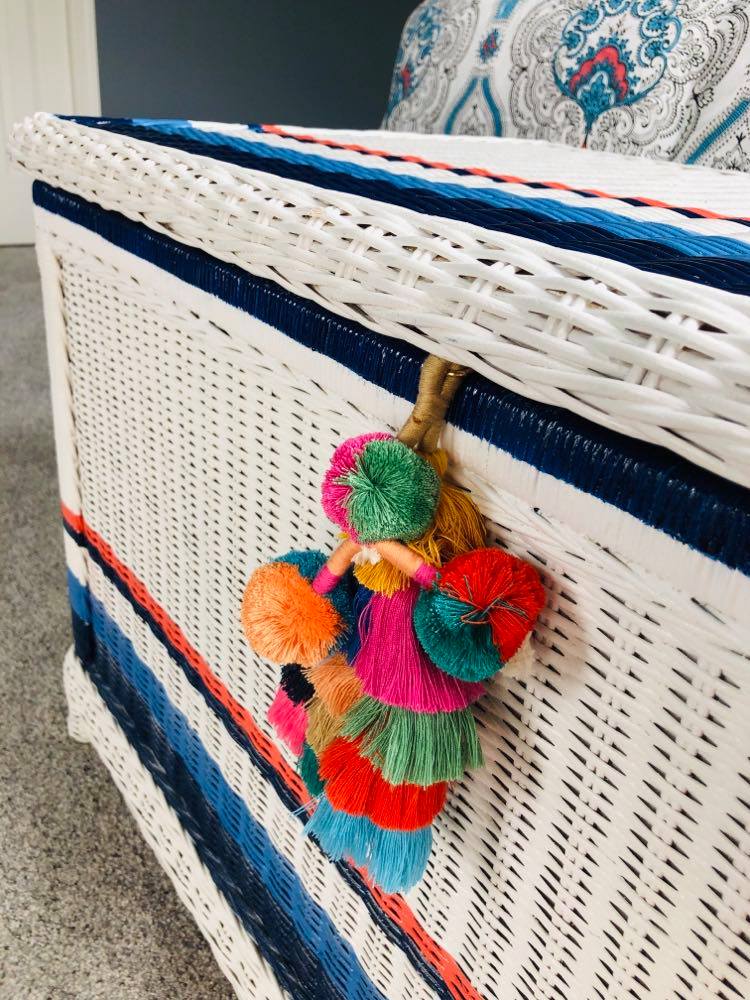 Thank you to all of my Super Friends: Rust-Oleum, Frogtape and Thistlewood Farms! The challenge of spray painting stripes on wicker is real …
…but absolutely possible with a little help from my SUPER Friends!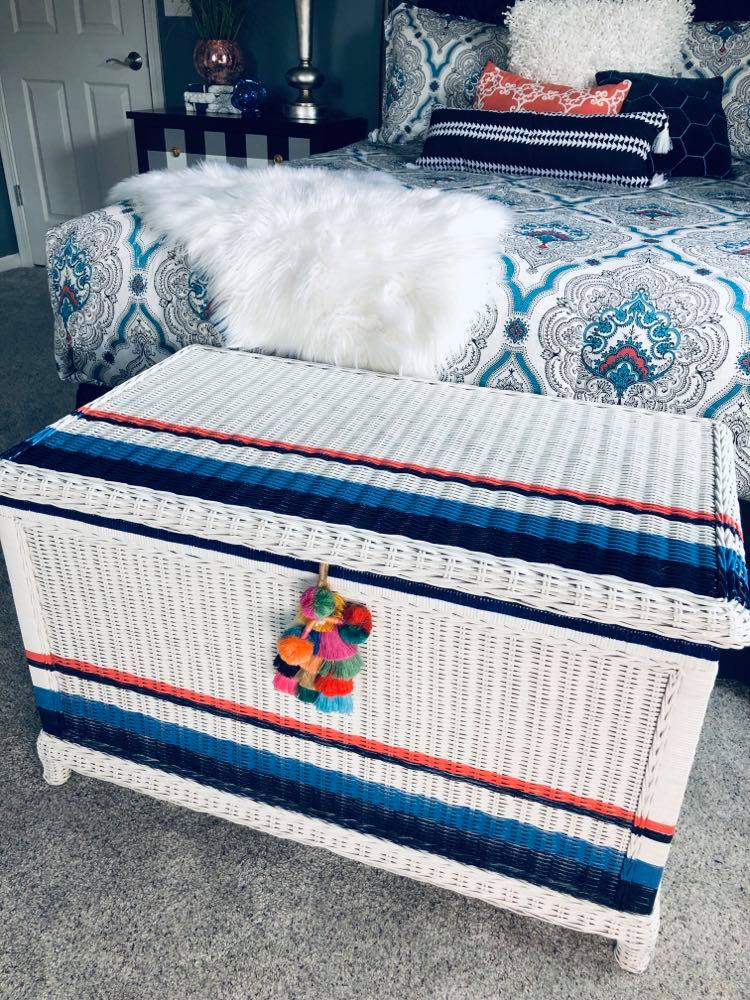 Cheers!

p.s. I can't resist. Check out these Super Friends!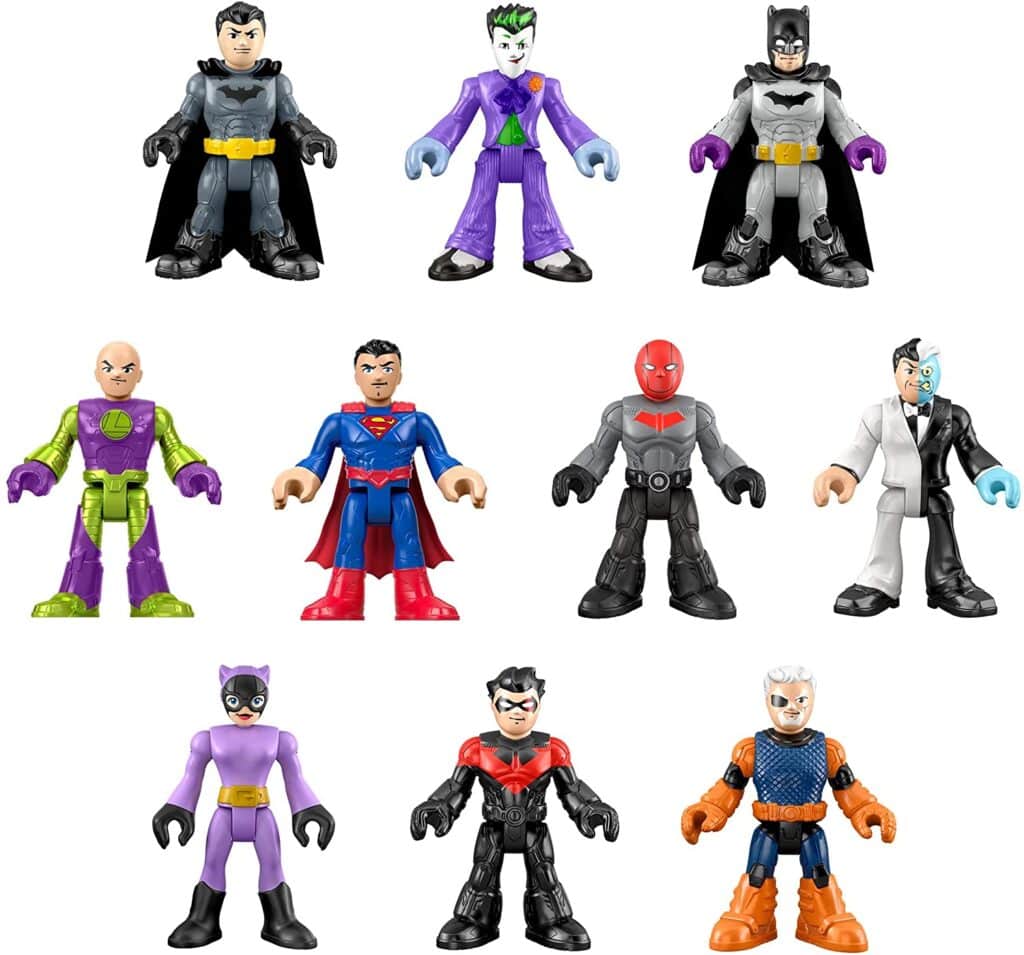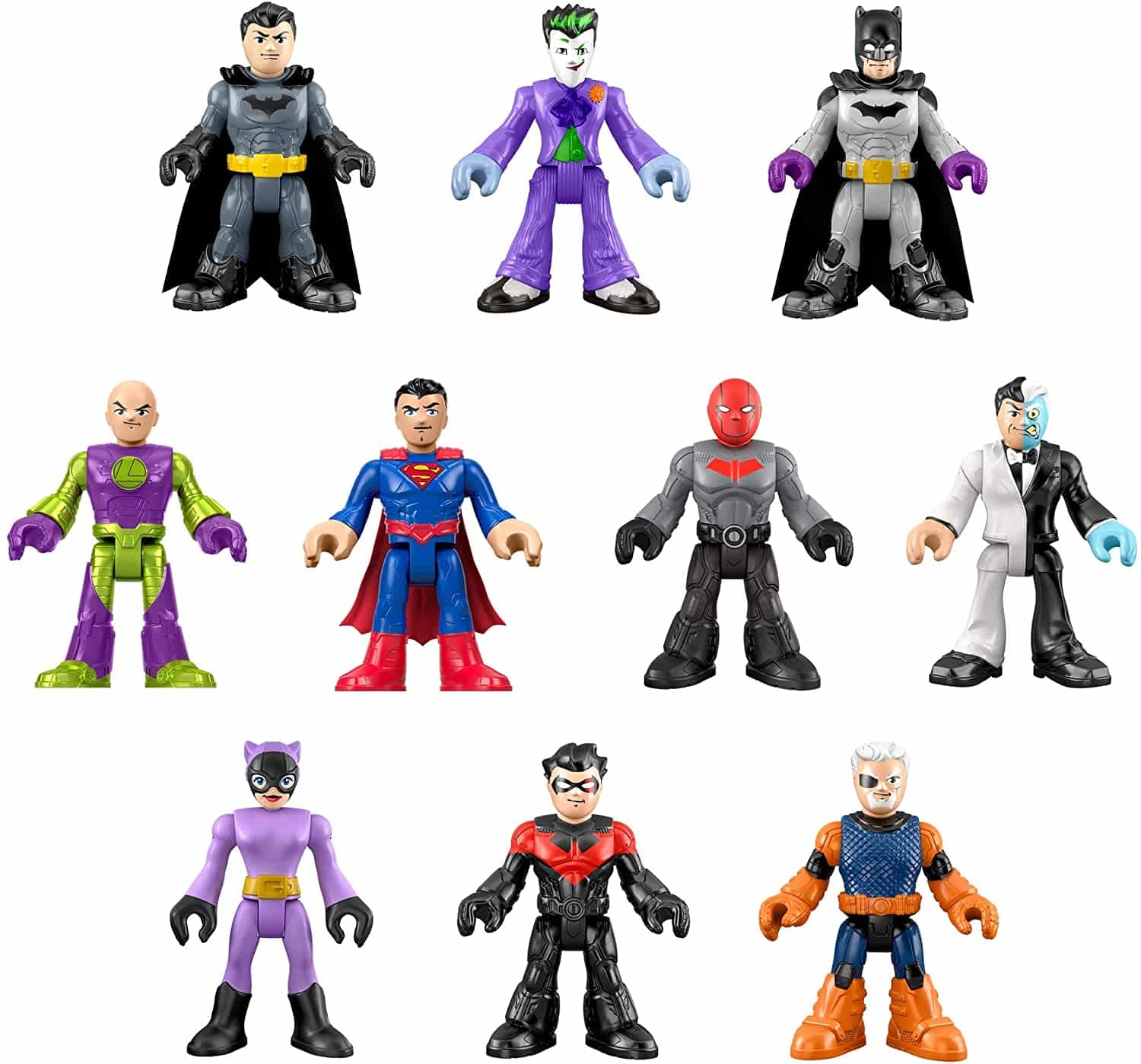 Disclaimer: This post contains affiliate links.