The Best Broccoli Grape Salad with Crunchy Bacon

It's time to shake things up with a delicious and exciting salad that will leave your taste buds wanting more! This Broccoli Grape Salad with Crunchy Bacon is the perfect dish to bring everyone together.
This recipe combines the crunchiness of bacon, sweetness from red and green grapes, and the refreshing texture of broccoli. It can be enjoyed as part of an easy weeknight meal or dressed up for a special occasion.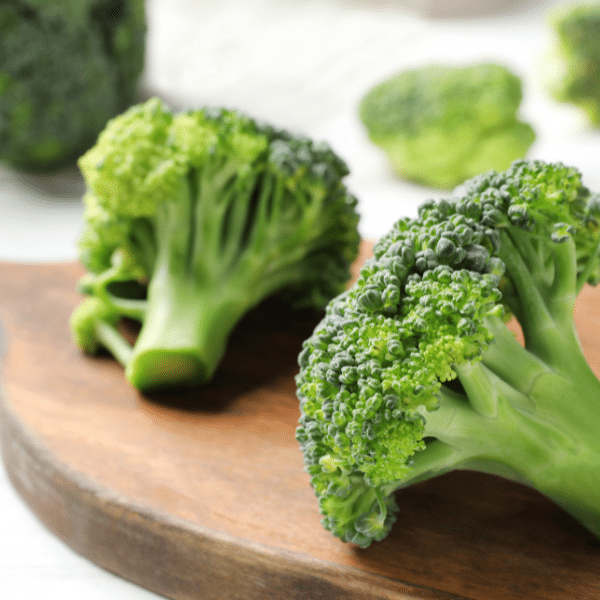 This blog contains affiliate links. This means a small commission is earned if you make a purchase by using this link. The price you pay will be the same whether you use the affiliate link or go directly to the vendor's website using a non-affiliate link.
"Can I bring something?"
"Don't you have a really great broccoli salad? You know, the one you brought last year that has bacon in it."
"You mean the one with crunchy bacon, fresh broccoli, and juicy grapes? The one that feeds a LOT of people?"
"That's the one! Could you bring that? Everyone loves it!"
"OF COURSE! It's my favorite salad for a crowd!"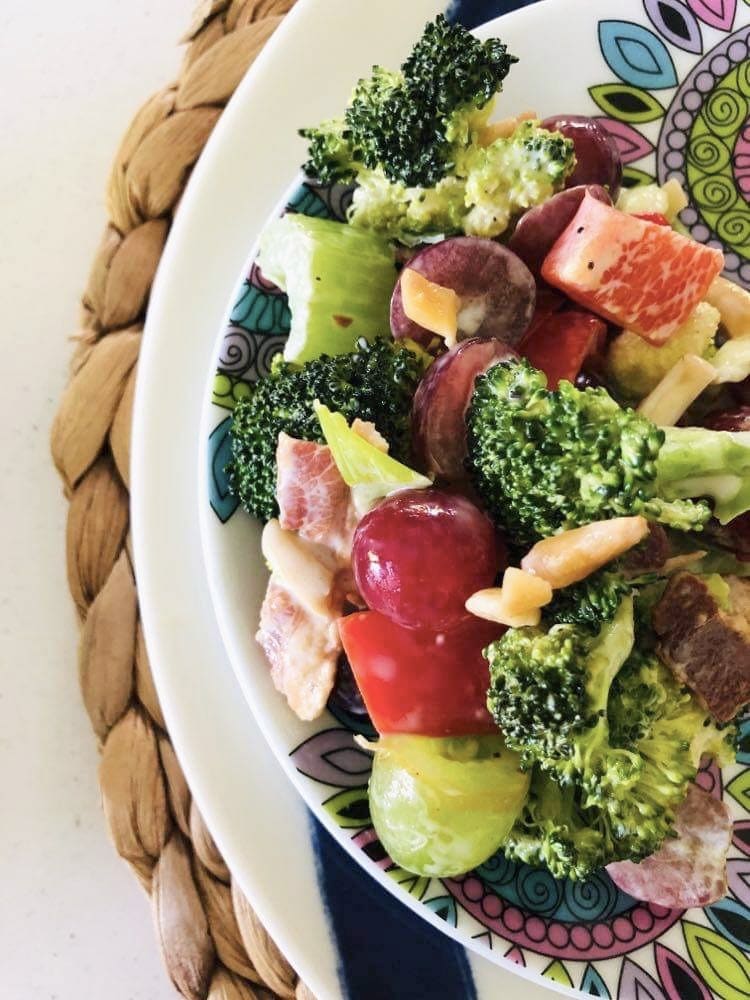 I'm not really sure where I got this recipe. It lives on a faded recipe card that is smattered with water spots and dressing stains.
Look even closer and you will see that there are lots of spots where I have to decipher my own handwriting. However, I've made this so many times that I can read through all those spots. I almost have it memorized. It is the best broccoli grape salad recipe and definitely a family favorite!
In this easy recipe, it is the combination of grapes and bacon that grabs my attention. The delicious dressing seals the deal.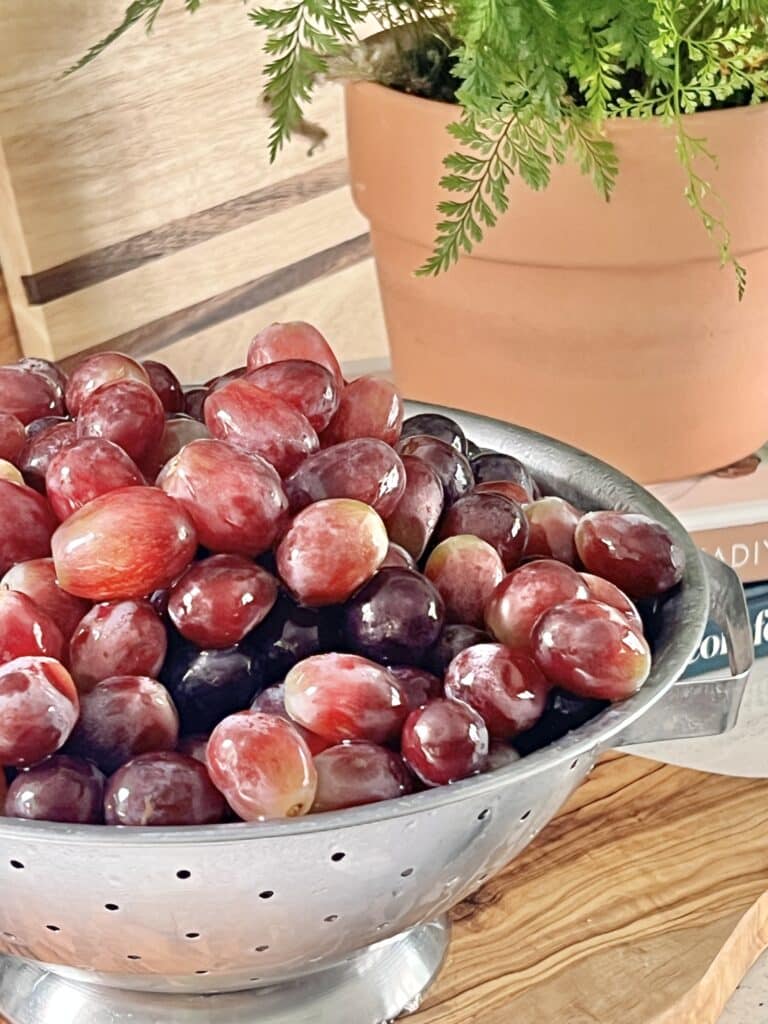 Broccoli Grape Salad Ingredients
This classic recipe lives on summer after summer in our household.
It feeds 8-10 people, is easily doubled, and is a crowd favorite for summer parties and potluck picnics.
Nothing fancy about the tasty ingredients…just use fresh ingredients for the best flavor!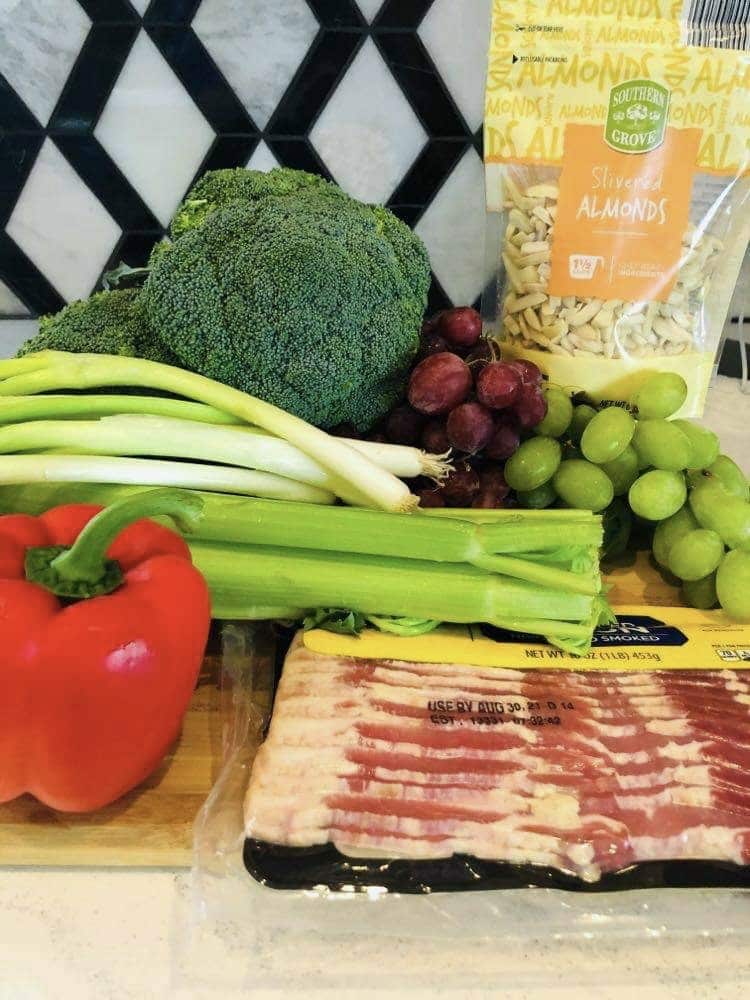 Growing up, we always called broccoli "trees" for obvious reasons. "Pass the trees, please!" Broccoli may not have been my favorite as a child but it was sure fun to ask for it!
For this recipe, chop off the crowns of broccoli so you are left with bite-sized broccoli florets.
​Red and green seedless grapes add sweetness while celery and red peppers add a crunchy texture to the salad.
Basically, with this easy broccoli salad, you chop and toss! Easy!
The tangy dressing is a simple combination of real mayonnaise, apple cider vinegar, a bit of sugar, salt, and pepper. There is so much flavor packed in the combination of these dressing ingredients!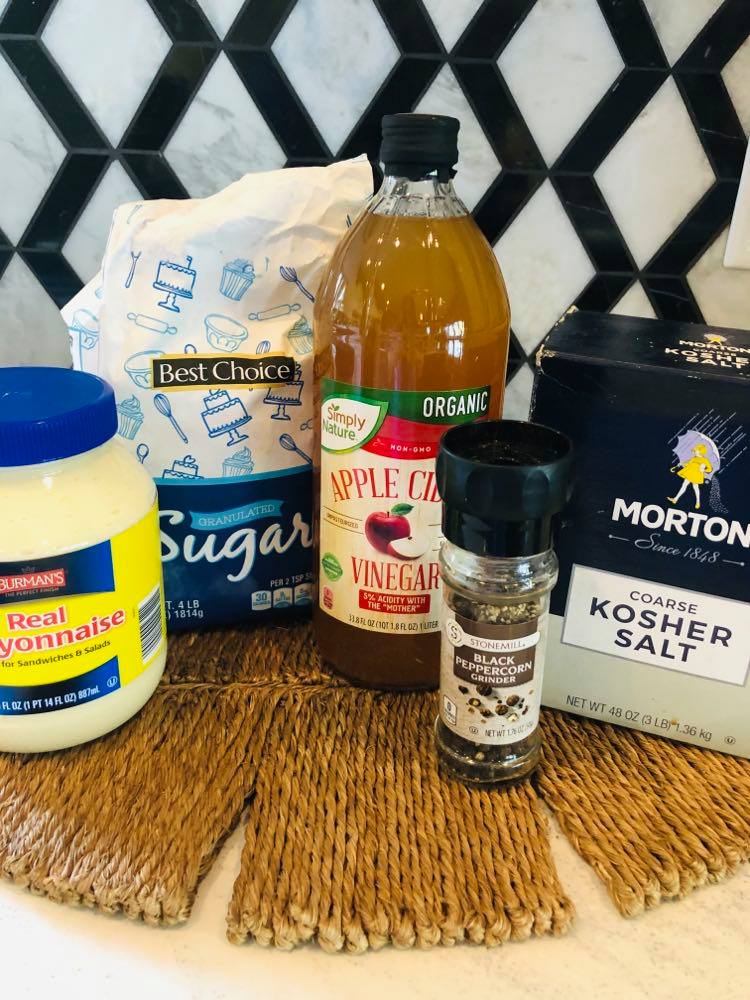 Combine all of the fruits and vegetables with the creamy dressing in a large mixing bowl and refrigerate for a couple of hours.
Here is the most important part of the recipe. Add the dressing and the remaining ingredients (toasted almonds and bacon) to the salad right before you serve it. The crisp crunch and nutty flavor in the salad will be fresh for eating.
While you can store leftovers in an airtight container for the next day, the salad is best eaten on the first day when all of the ingredients are fresh and crunchy.
Here is the full recipe for this yummy broccoli grape salad!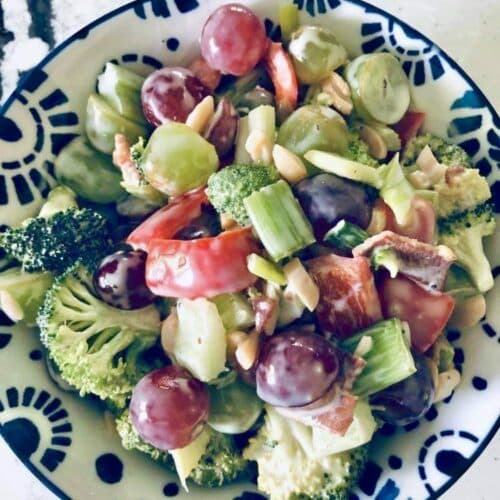 The Best Broccoli Grape Salad with Crunchy Bacon
Making this delicious broccoli salad is a breeze; in no time you've got an incredibly satisfying salad with amazing flavor. Broccoli, grapes, bacon, nuts and your favorite tangy dressing all come together beautifully to create a perfectly balanced salad that everyone can enjoy. Plus, it's the perfect salad to take outdoors or serve at a crowd get together.
Equipment
1 chopping knife

1 cutting board

1 large mixing bowl

1 colander
Ingredients
1

large bunch

broccoli, cut in bite size pieces

1

cup

celery, chopped

1

bunch

green onions, chopped

1

red bell pepper, chopped

1

cup

seedless red grapes, cut in half

1

cup

seedless green grapes, cut in half

1

cup

slivered almonds, toasted

1/2

lb.

bacon, cooked crisp, drained and crumbled
Dressing
1

cup

mayonnaise

1/4

cup

sugar

2

tbsp.

apple cider vinegar

1

tsp.

salt

1/2

tsp.

black pepper
Instructions
Mix the first 6 ingredients together and toss in a large bowl.

Mix together the dressing ingredients together and add to the salad.

Toss and refrigerate for 2 hours.

Toss with toasted almonds and bacon just before serving.
​A Side Dish to What?
What can you eat with this great salad?
Any way you serve it, this is a winner!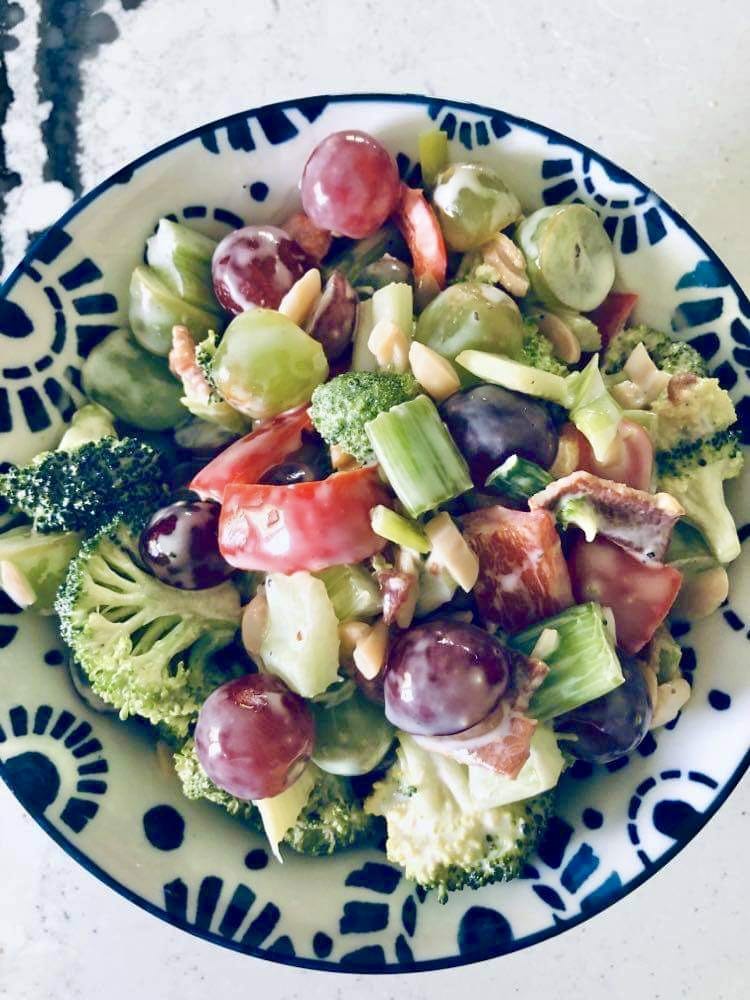 Making a delicious cold broccoli salad with grapes and bacon is an easy yet impressive dish to serve at your next gathering. It requires only six simple ingredients and can be made in just 20 minutes. Best of all, its mix of sweet, salty, crunchy, and creamy flavors makes it one of the most flavorful salad recipes out there.
If you're looking for the perfect side dish to bring to your next outdoor dinner or crowd get-together, this delicious salad is sure to make your guests happy!
Cheers!

Hungry for Something Sweet?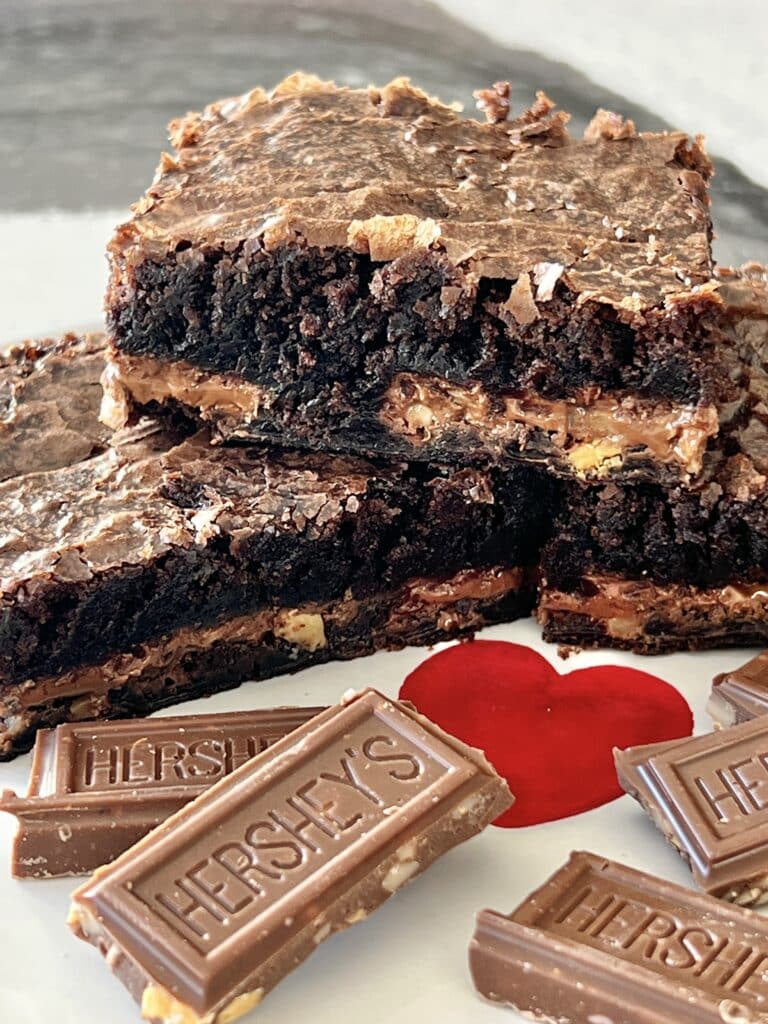 A Melt in Your Mouth Chocolate Trifle