A Healthy Winter Vegetable Soup Recipe
Jump to Recipe
Looking for healthy soup recipes? Enjoy this delicious, healthy winter tomato vegetable soup that is perfect for warming up on a cold day!
As the temperatures continue to drop, we all start looking for a way to get through winter. But who says comfort foods can't be healthy? Today, I'm showing you how to make the perfect bowl of delicious and nutritious tomato vegetable soup that will have your taste buds thanking you. All you need are a few simple ingredients and a few minutes on the stovetop for this warming winter favorite!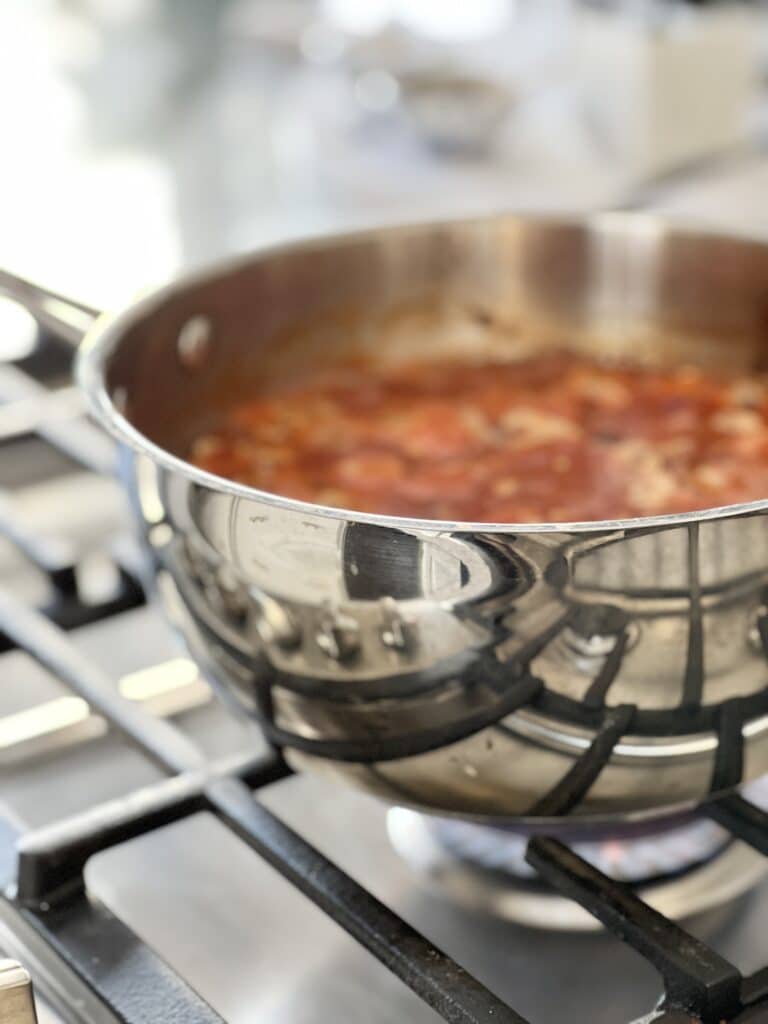 This blog contains affiliate links. This means a small commission is earned if you make a purchase by using this link. The price you pay will be the same whether you use the affiliate link or go directly to the vendor's website using a non-affiliate link.
I'm cold, my friend!
It is a typical winter day.
Cold with a high in the low 30's.
You might find me decorating the house for the winter months while wearing layers of cardigans!
The chill of winter has taken hold of me and my toes are cold all the time.
It happens every winter…once my toes are cold, it is hard to warm them up!
A few things warm me up…my fuzzy socks, a long bubble bath, and our dog Bentley flopping his body on my feet!
And soup!
This is perfect soup weather!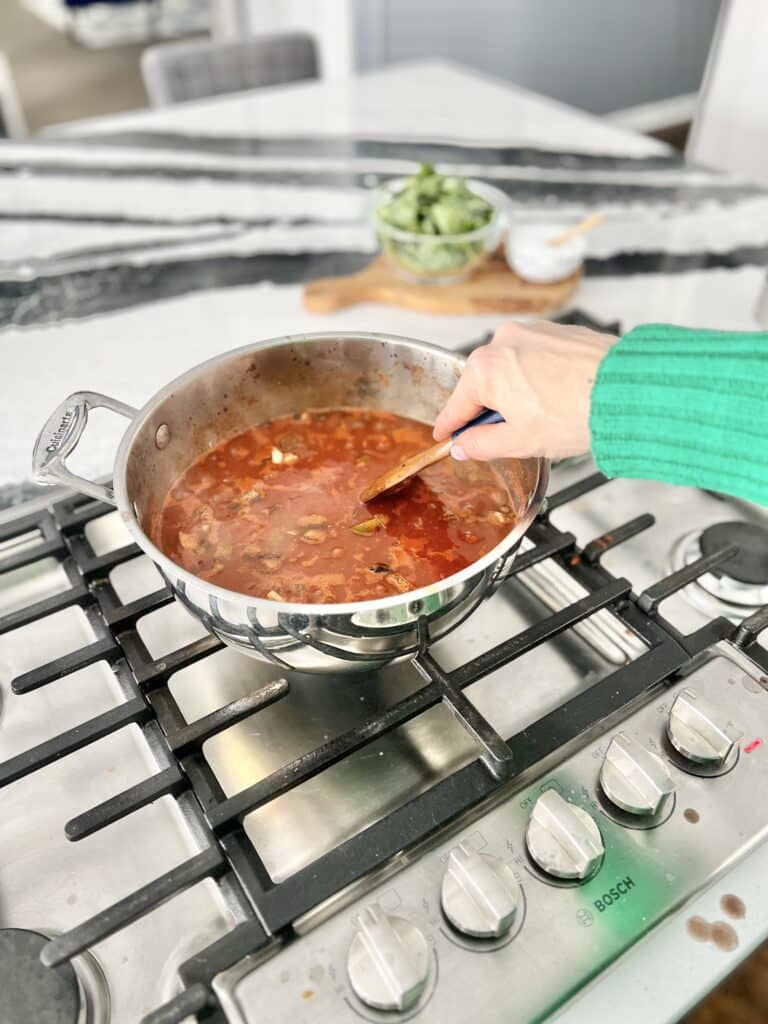 To go along with my resolution to eat healthier, I am making this hearty veggie soup all the time.
I mean ALL the time!
It warms me up, fills me up, and ranks high on the "How many veggies did you eat today?" chart!
Let's start with a little chopping! (but not too much!)
Make a Healthy Winter Vegetable Soup
The beauty of this soup is that you can personalize it!
My recipe calls for mushrooms.
Don't like mushrooms? Leave them out!
My recipe doesn't have zucchini.
But it you are dying for some zucchini? Throw it in!
Chicken broth, crushed tomatoes, and onion are key.
As are the black beans.
And the chili powder…
Everything else is negotiable!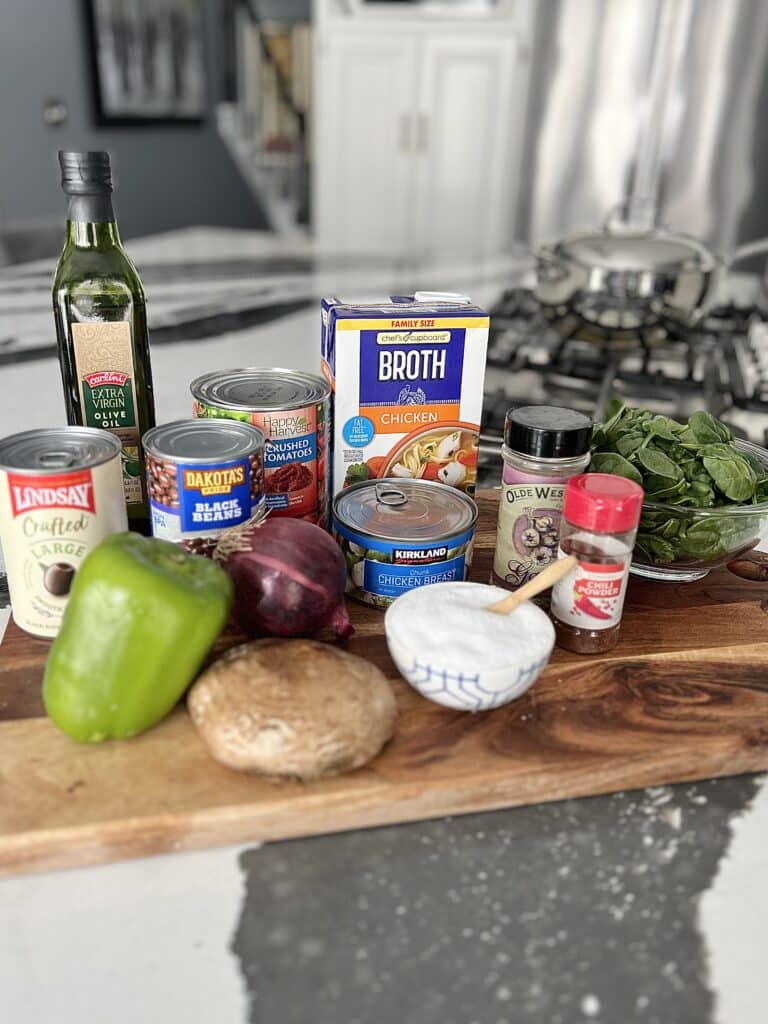 Olive oil, green peppers, onion, and salt are the first layer of flavor.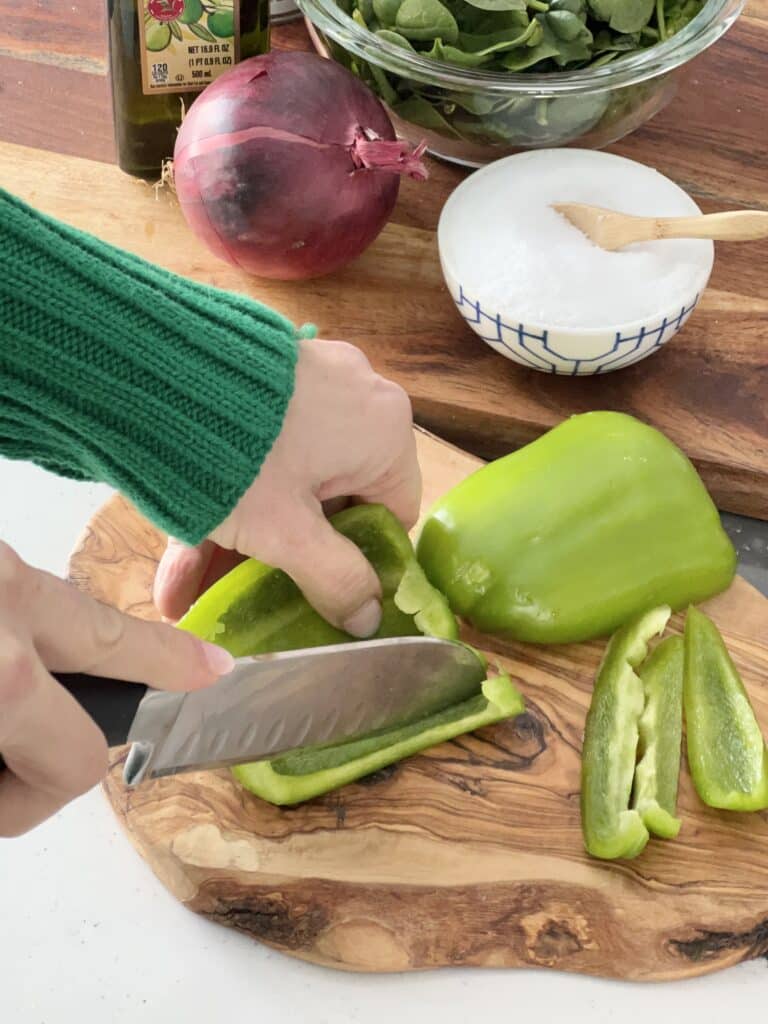 A pile of chopped vegetables is so satisfying!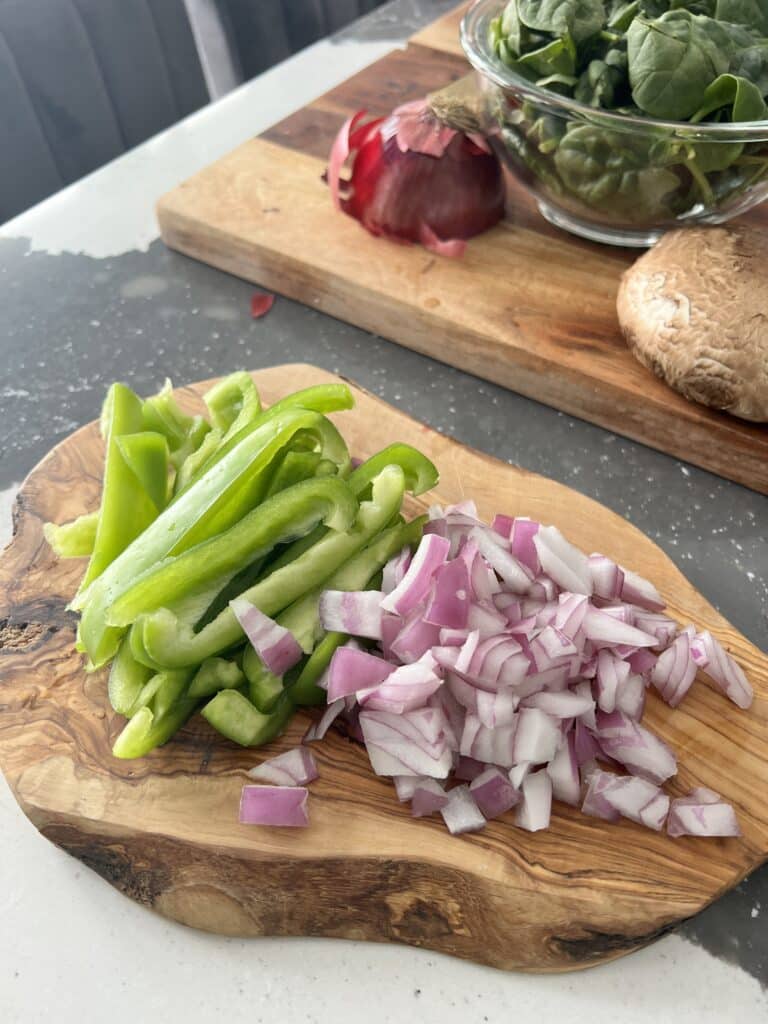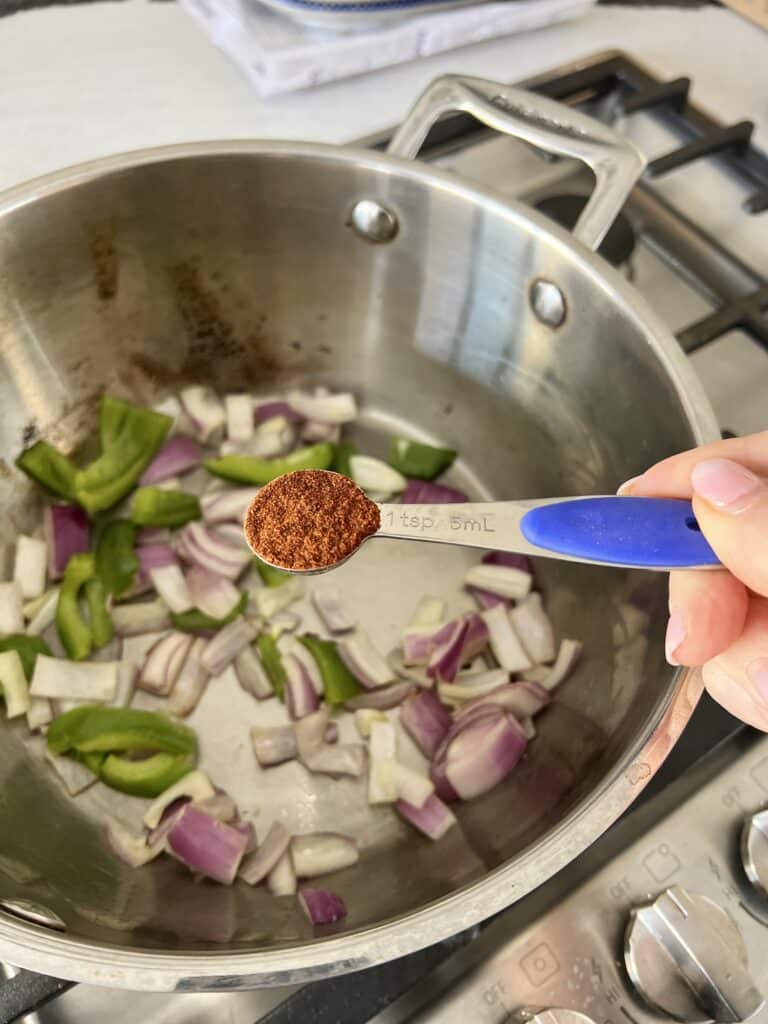 Next comes the chicken broth.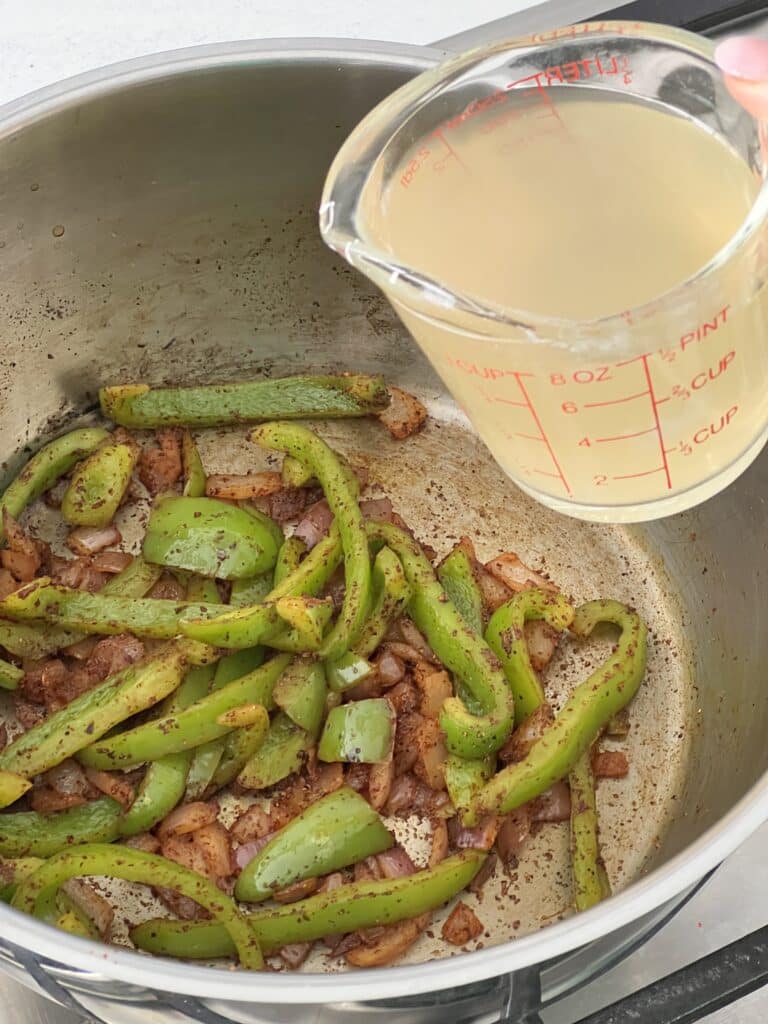 After the chicken broth and some simmering, everything else (seasonings, beans, chicken) gets thrown in.
15 minutes of simmering and you throw in some baby spinach. Let the spinach wilt in the soup and it is ready to eat!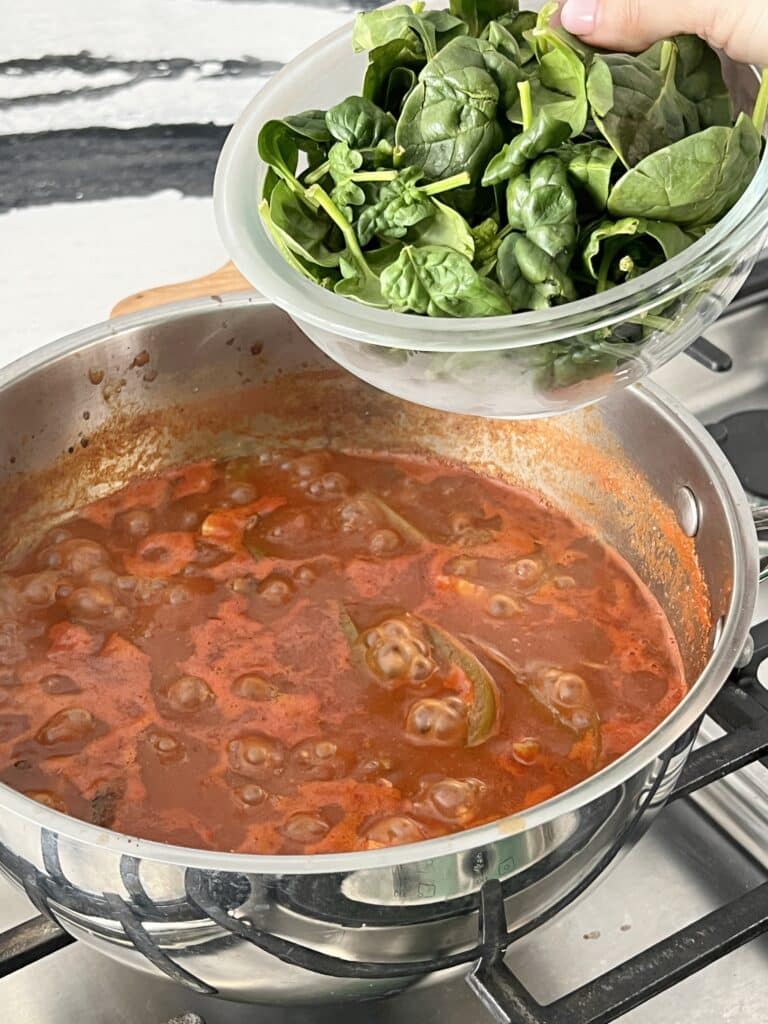 By this time, my mouth is watering and I can't wait to fill my bowl!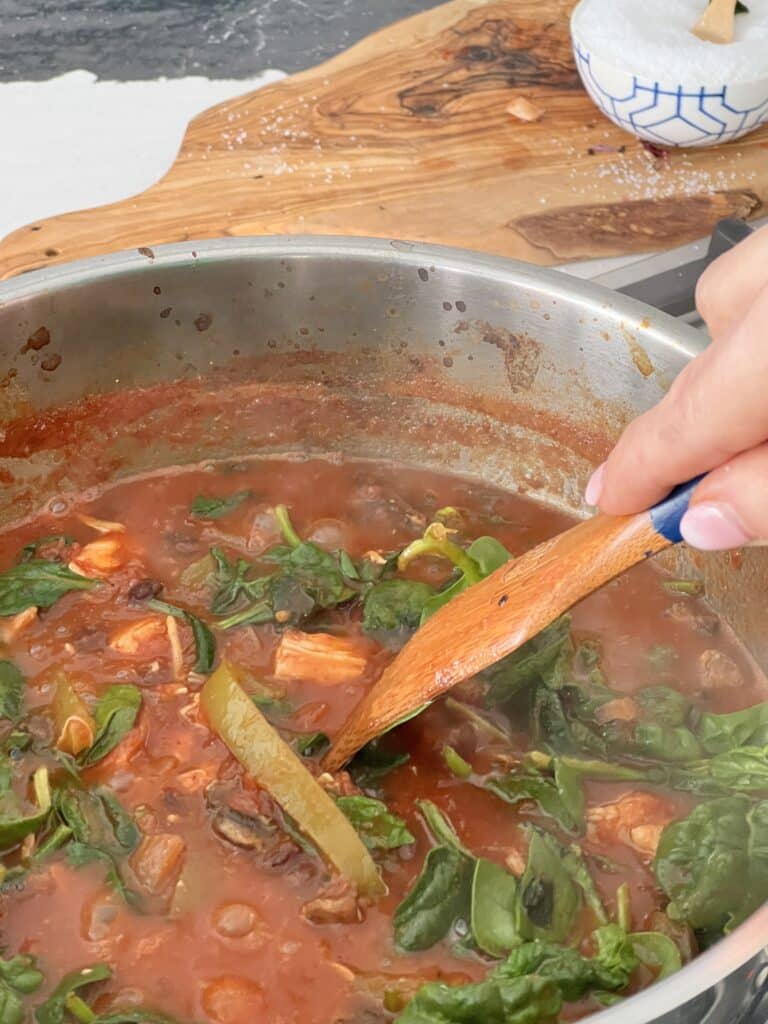 Salt to taste and…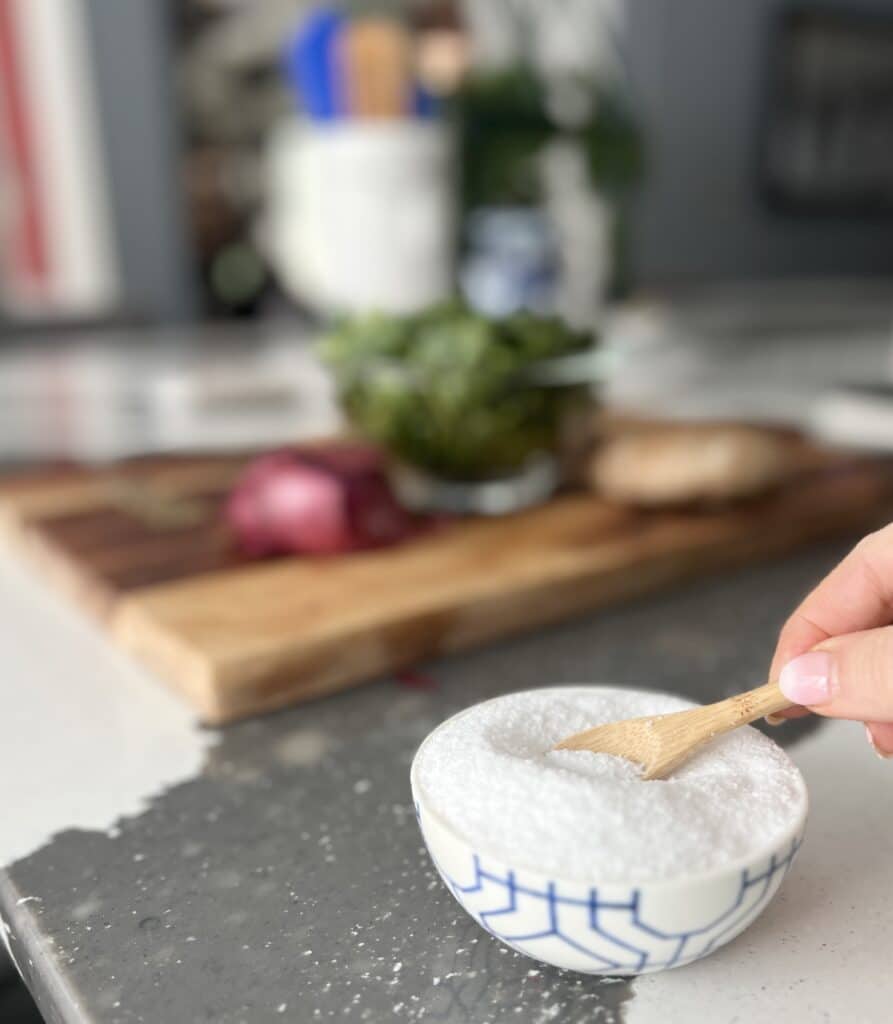 Soup's on, everyone!
Serve with oyster soup crackers and enjoy!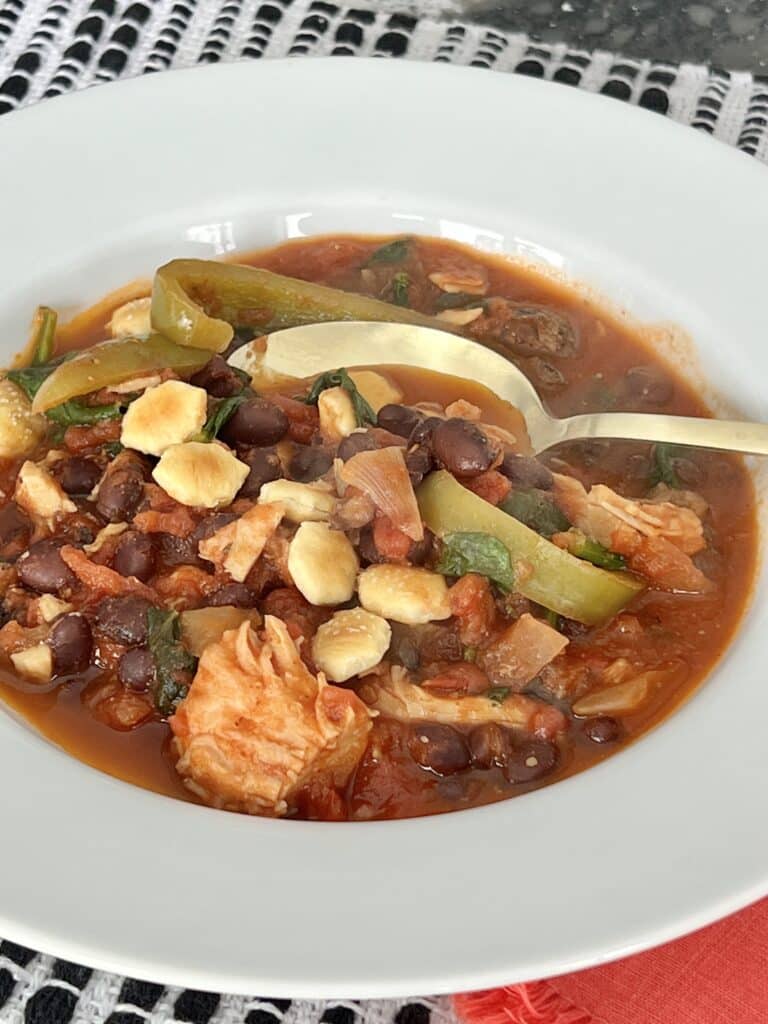 Helpful Equipment and Serving Pieces
Because I make this soup so often, I have learned to love some of the tools that I use!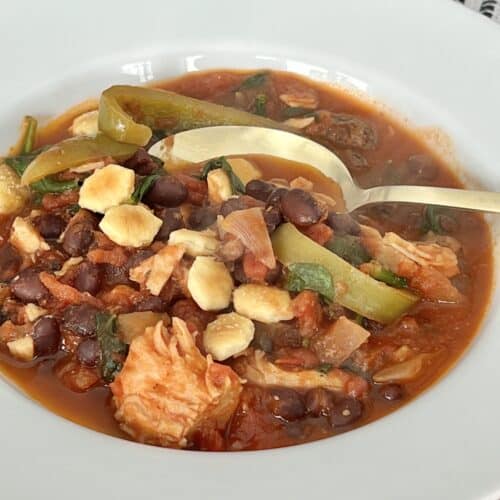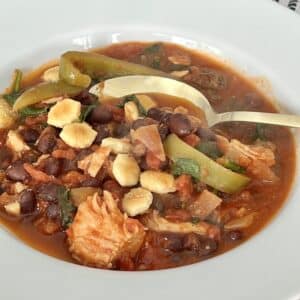 Healthy Winter Vegetable Soup
Full of healthy vegetables, this rich, savory vegetable soup is the perfect healthy option for the cold winter months. You can substitute any vegetables you want and adjust the chili powder for the level of "kick" that you want!
Ingredients
2

tsp

Olive oil

1/2

cup

Chopped onions

1

cup

Green pepper strips

1/2

tsp, divided

Salt

1

tsp

Garlic powder

1

tsp

Chili powder

2

cups

Chicken broth

12.5

oz can

Chunk chicken breast

15

oz can

Black beans

28

oz can

Crushed tomatoes

1

cup

Mushrooms

2

cups

Baby Spinach
Instructions
In a large saucepan, heat the olive oil over medium heat. Add the onions, green pepper strips, and 1/4 tsp. salt. Cook until tender, 4-6 minutes, stirring frequently.

Add the garlic powder and chili powder. Cook 1 minute, stirring constantly.

Add the chicken broth, mushrooms, and tomatoes. Bring to a boil over high heat. Reduce the heat to a simmer.

Stir in the black beans and simmer for 15 minutes.

Stir in the spinach until it wilts. Season with the remaining 1/4 tsp. salt.
Notes
You can add any vegetables you want to this soup to make it your perfect healthy winter soup: Green beans, zucchini, carrots, and celery are all great options!
Wintertime is soup time!
There's something about a big pot of simmering soup that makes the whole house smell good and feels like a warm hug on a cold day. This winter vegetable soup recipe is perfect for those chilly days when you're craving something hearty yet healthy.
This easy recipe is perfect for a cold winter night. So curl up with a bowl of soup and enjoy the rest of your winter.
Cheers!

Don't Forget to Pin It!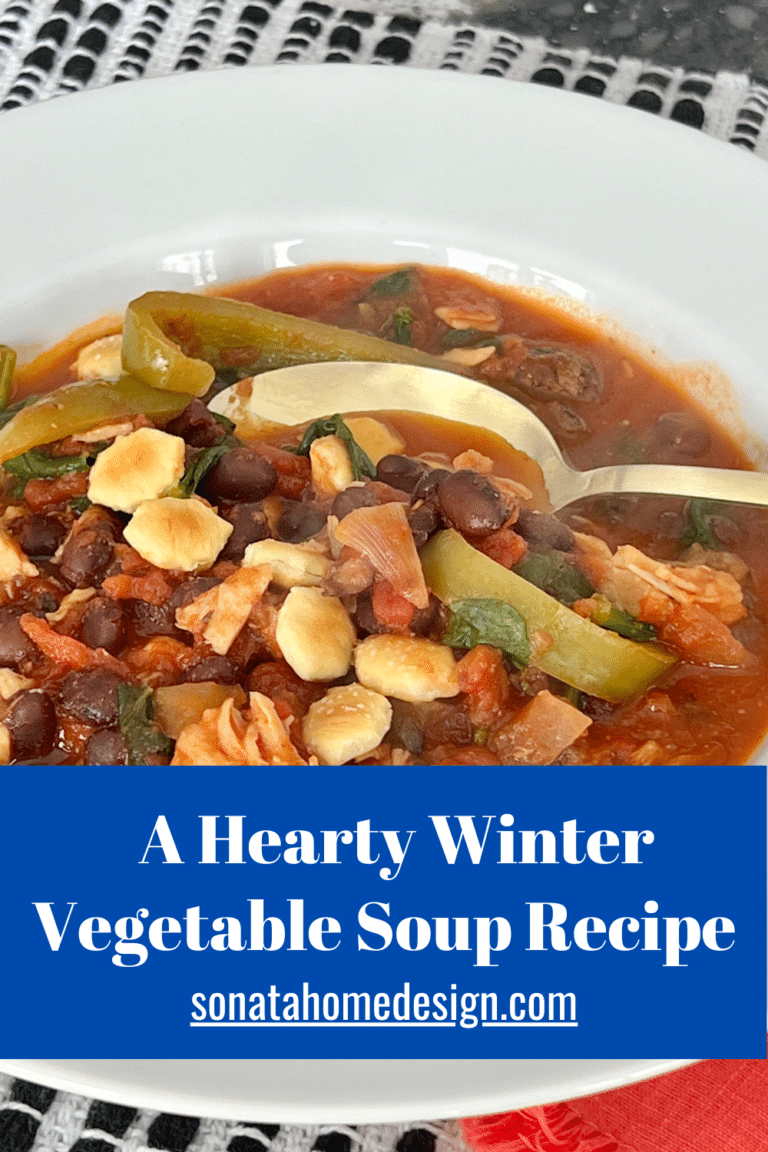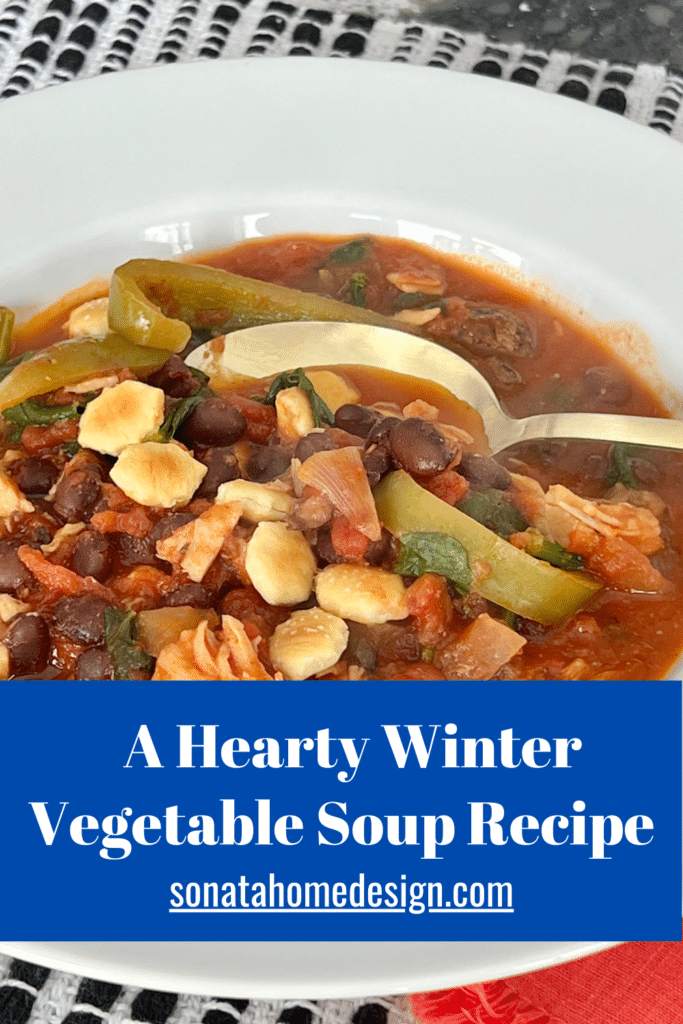 Introducing the Handcrafted Society!
A collaboration of talented bloggers ready to revolutionize the DIY world with their brilliant ideas.
I am thrilled to join Wendy @wmdesign House, Jenn @tatertotsandjello, Amy @amysadlerdesigns, Regina @savedfromsalvage, Jennifer @cottageonbunkerhill, Michelle @thistlekeylane!
On the first Tuesday of each month, you can find seven unique ways to make something special from a shared theme or medium – and that's not all!
We'll also be featuring an invited guest monthly to share their talents with you.
Get inspired and join us on this creative journey!
You can find us on our blogs, Instagram and Pinterest.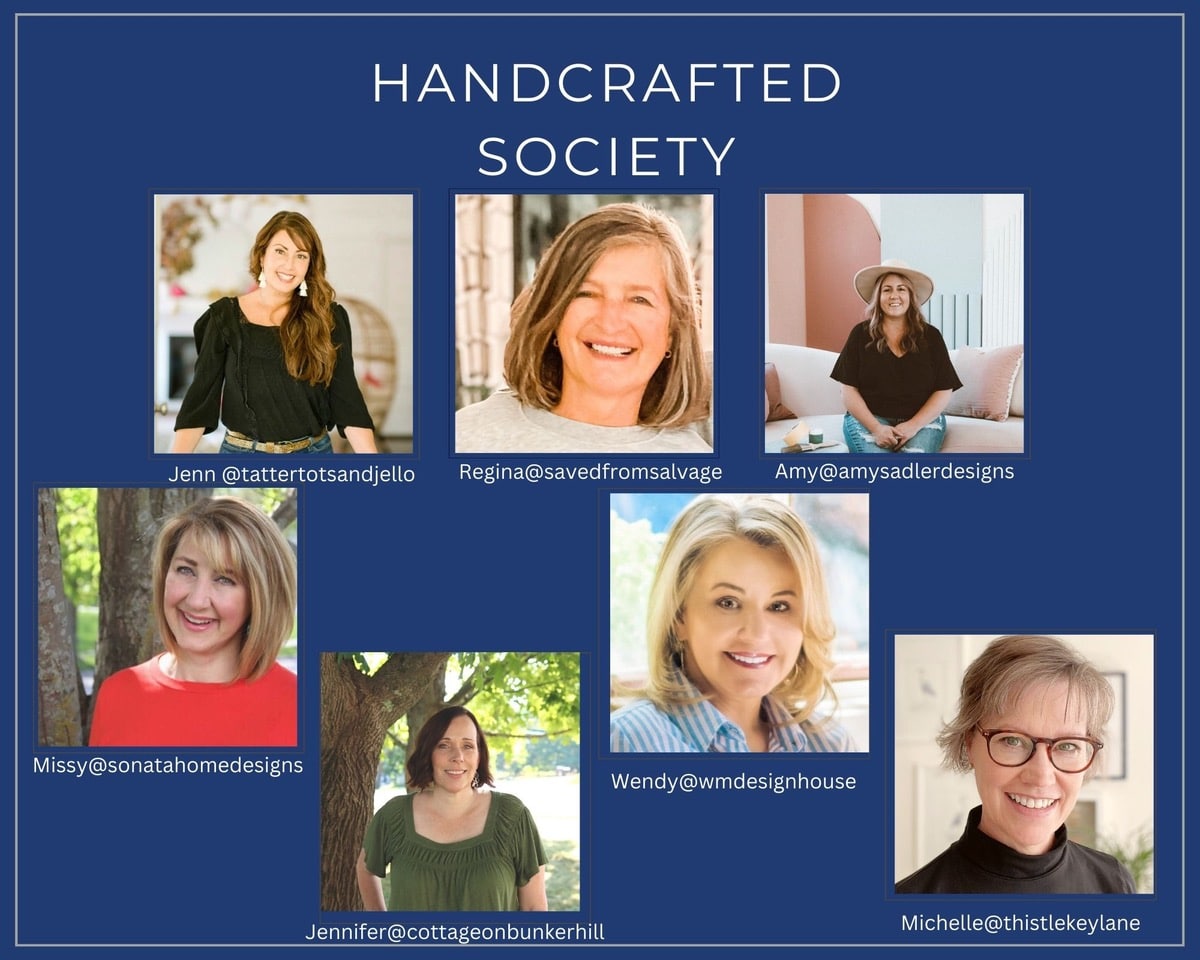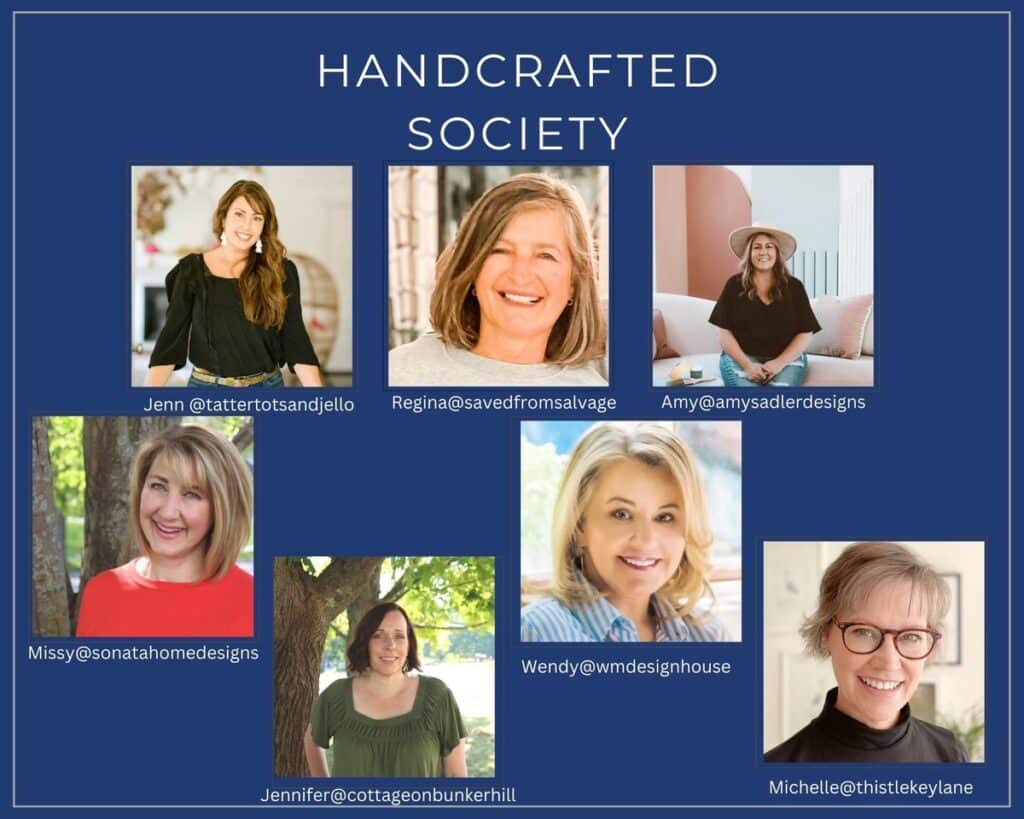 Recents Blog Posts
Try this Spicy Sausage Muffin recipe to go with this soup!
How about a little sweetness to go with your soup? Try this Tangy Lemon Curd on an English Muffin!
While we're hanging out in the kitchen, check out my Top 7 Must-Have Kitchen Decor Items!
And 13 of My Favorite Kitchen Island Displays!
Some Favorite Things!