Tension Rod Shoe Storage for Your Closet
Are your shoes a disorganized mess? Learn how the simple tension rod can help you to organize shoes in your closet and save valuable space!
So, grab some inexpensive tension rods and discover how to organize your shoes!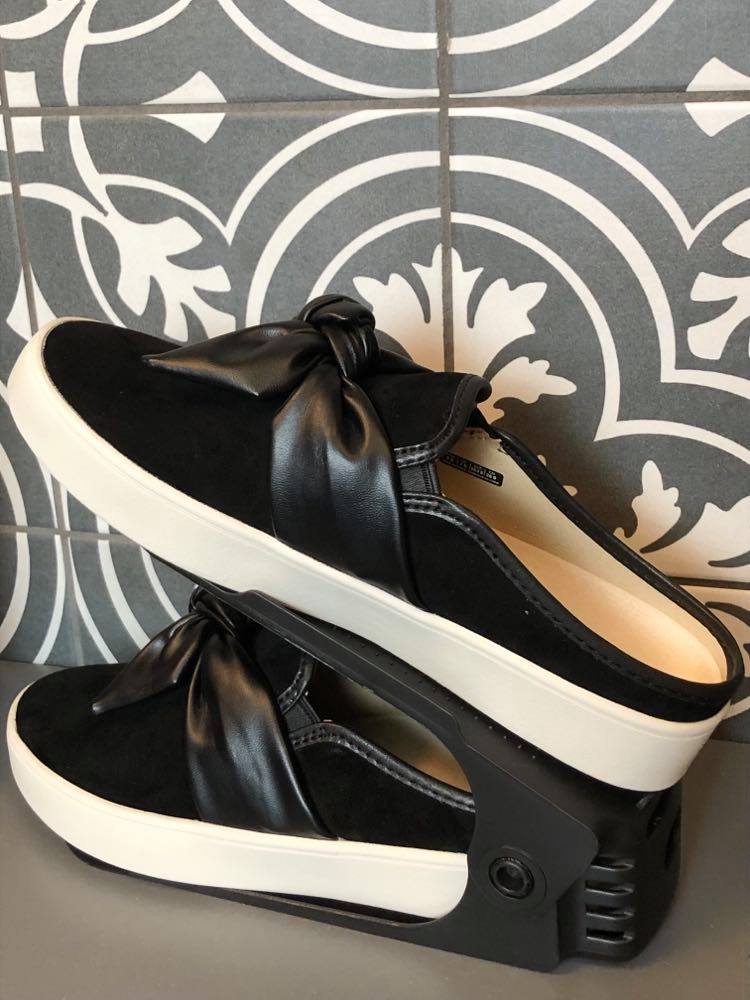 This blog contains affiliate links. This means a small commission is earned if you make a purchase by using this link. The price you pay will be the same whether you use the affiliate link or go directly to the vendor's website using a non-affiliate link. Sonata Home Design is a participant in the Amazon Services LLC Associates Program, an affiliate advertising program designed to provide a means for us to earn fees by linking to Amazon.com and affiliated sites.
Piles of shoes.
As a teenager, I was notorious for them.
I would kick them off and hope they ended up near the shoe pile on the floor of my closet.
Fast forward to grown-up, married me…
I share a closet with my husband and…ahem… he likes to kick off his shoes and hope they end up in his shoe pile in the closet.
(Love you, dear!)
We have wisely divided the closet in half and take ownership of the organization and tidiness of our respective sides.
(I actually really love our closet which got a makeover a couple of years ago. )
In the complete 180 of adulthood…I crave shoe tidiness!
Take that, young Missy!
And now I have found the perfect way to organize my shoes within a small area.
Tension rods!
It's not sexy…but it works! Take a look…
How Does a Spring Tension Rod Work?
Not sure how a spring tension rod works? Don't worry, it's actually quite simple.
The two thin metal rods work together like magic – when the smaller one slides into the bigger one, that spring inside starts compressing and using its power to make sure your job stays secure!
Voilà – in no time you'll have turned those flat surfaces into a firm foundation for whatever project is up next.
How to Install a Tension Rod in Your Closet for Shoe Storage
Tension rods are so reasonably priced and really pack a punch in versatility!
Here is how the tension rod magic works for shoe organization:
To use a tension rod, simply twist the end of the rod to release the spring and continue to twist until you get the width that you want.
Take two tension rods and install them horizontally in your closet area designated for shoes.
The heavier your shoes, the wider you will want the tension rods to be.
All you do is twist until the rods are securely taut against the wall.
But here is the trick…The front rod should be placed about a half-inch lower than the back rod. This will give your shoes a slight angle forward without them falling off.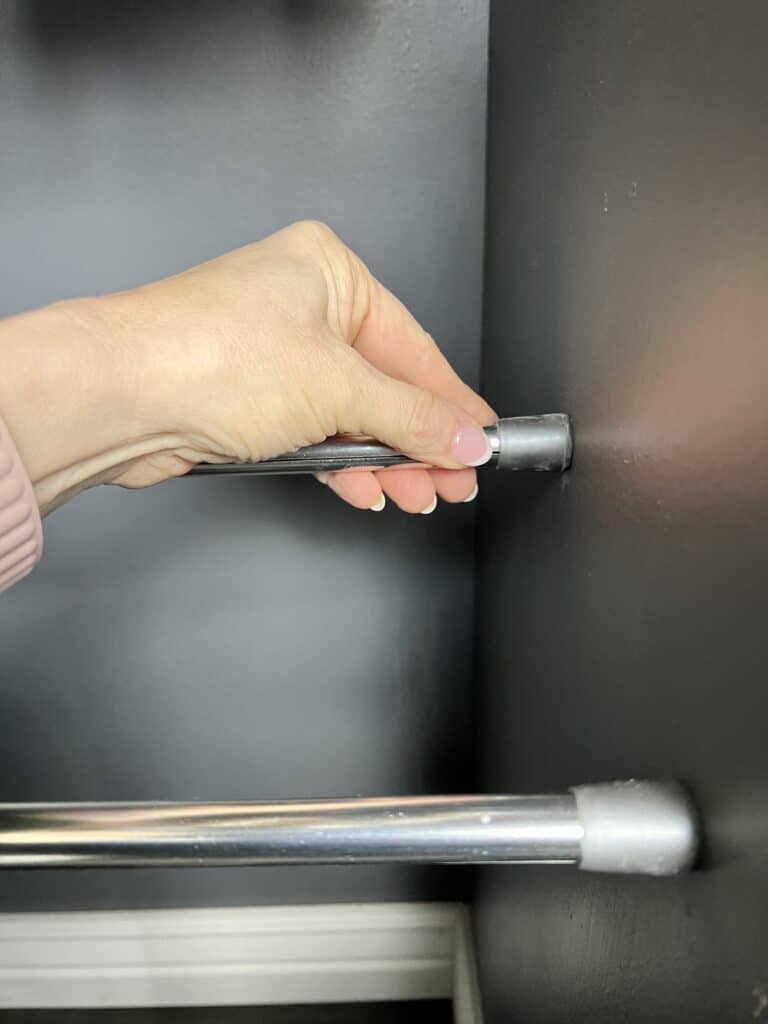 Be sure to twist the rods so they are taut against the wall (or in my case the adjoining cubby) and don't slip when the weight of the shoes is placed on them.
Continue to add sets of 2 tension rods to create additional levels of shoe racks.
Add your shoes and enjoy a well-organized shoe rack in your closet!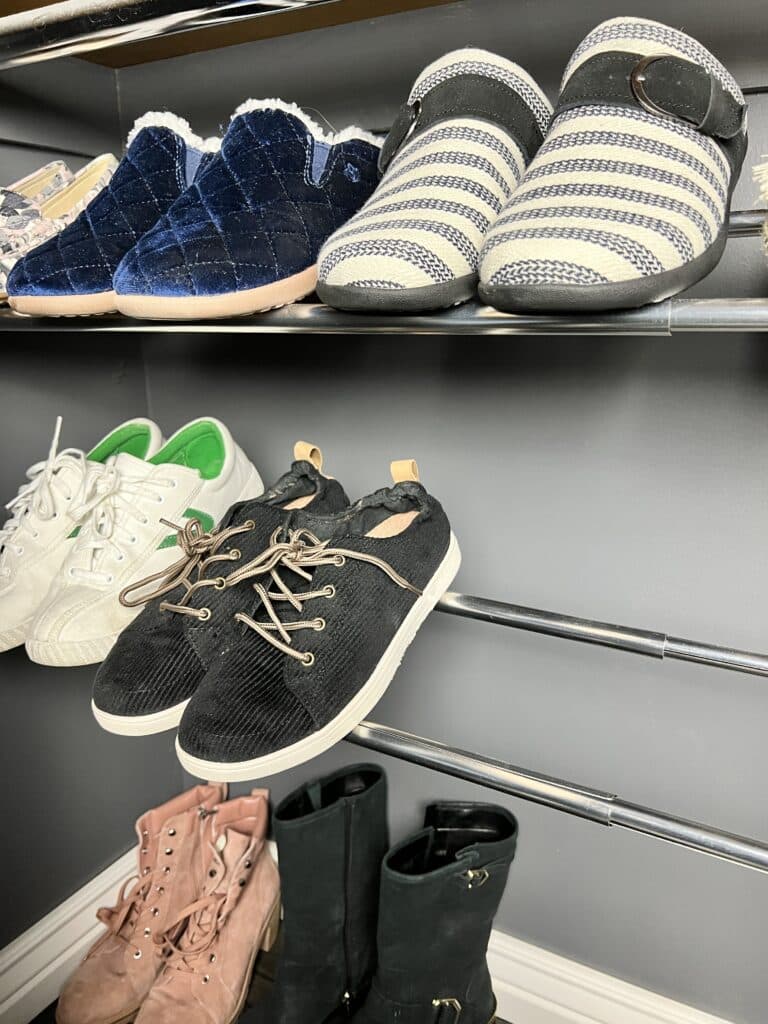 I still use the floor and line up my heavier shoes as my organizational row.
Then, I added my sneakers followed by my slip-on mules.
Since I retired, sneakers have become my favorite type of shoe! (I share some of my favorites at the bottom of this post.)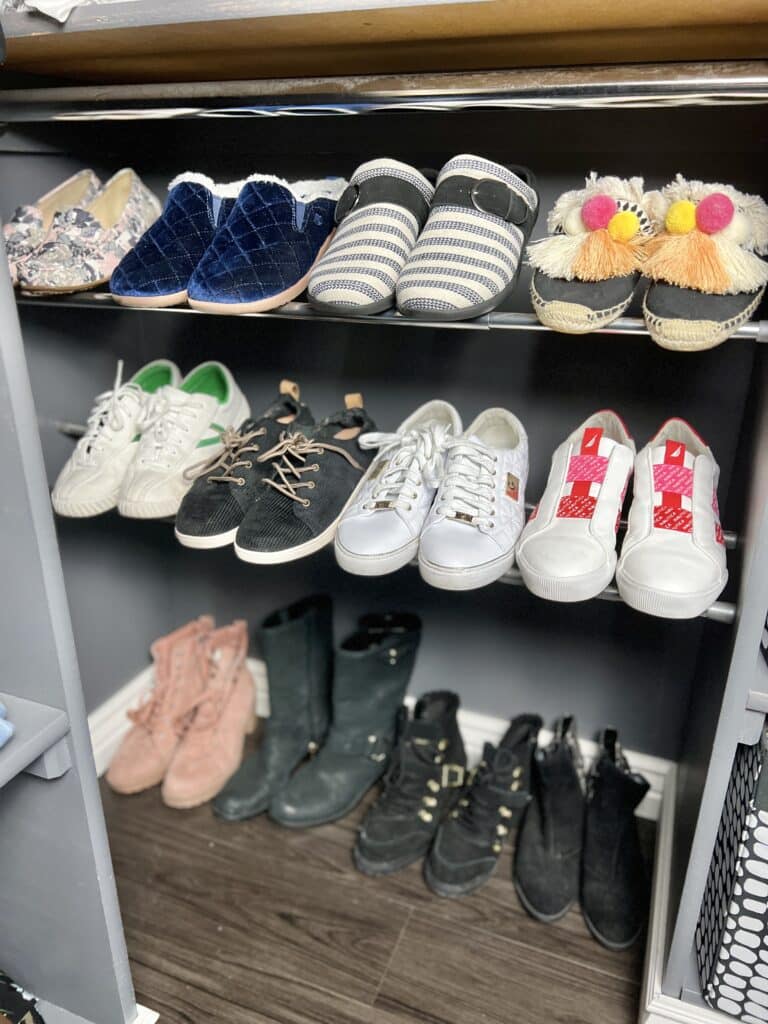 Boot Bonus: Organize with Tension Rods
You can organize your boots as well!
This time, I placed the tension rods vertically on the top shelf and twisted them tautly into the ceiling.
No more sad, wilting boots!
This is the perfect way to keep boots upright and organized.
Your boots can't help but stand at attention!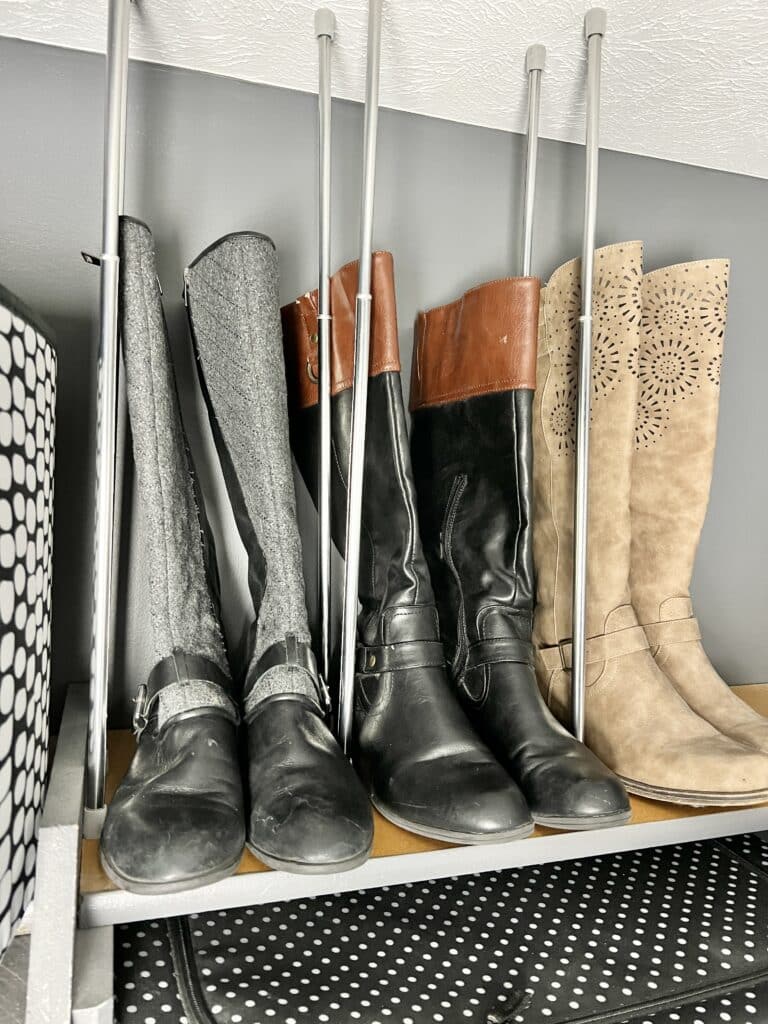 Using tension rods might just be the answer to organizing all your shoes in your closet space.
Adaptable and budget friendly, they can slip into any nook and cranny of your closet without taking up too much room, or costing too much money.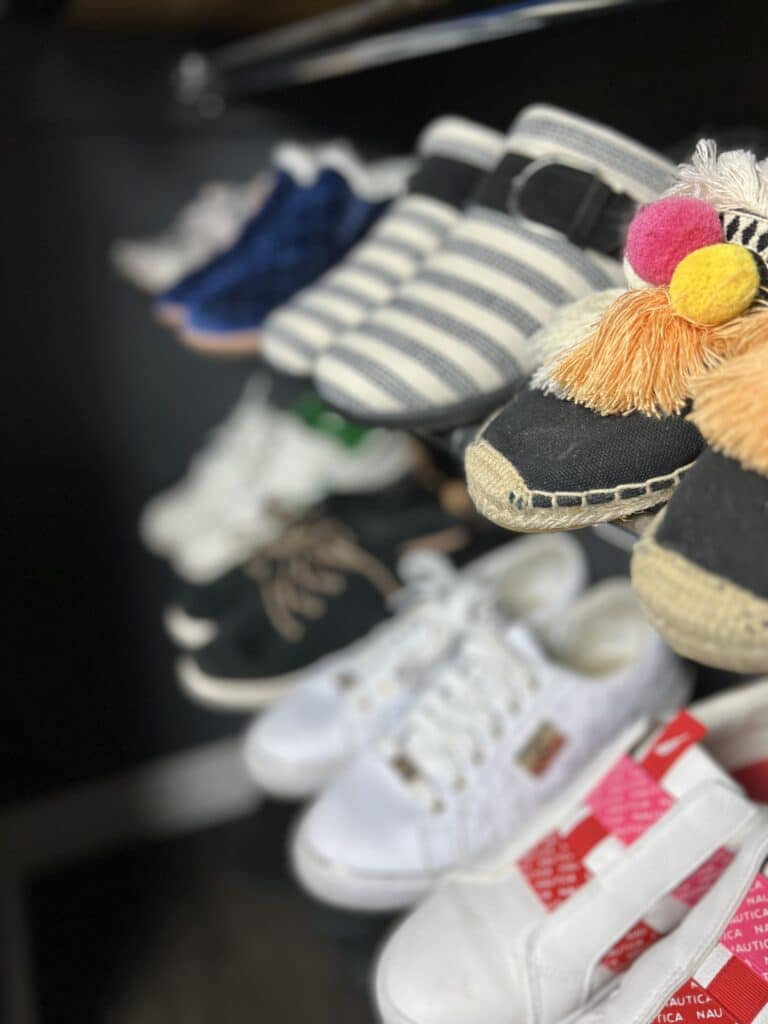 Who knew a few small rods could make such a huge difference?
It's like you're getting a completely new closet without having to move out of your house!
Give yourself a nice pat on the back after installing tension rods and marvel at how much of an upgrade you just gave to your organizationally challenged closet!
Cheers!

Looking for other organizational ideas? Try these!
How to Organize a Pantry with Pull-Out Drawers
Earth Breeze Laundry Detergent Sheets: A Real Solution
Don't Forget to Pin It!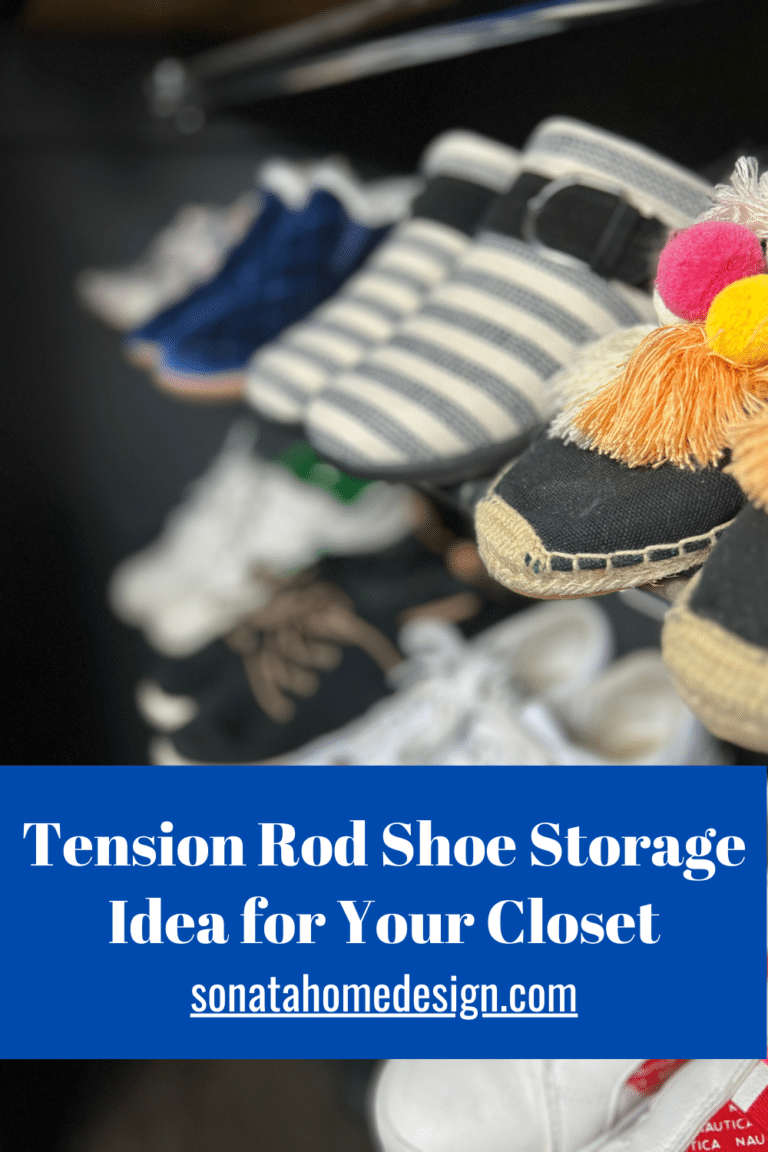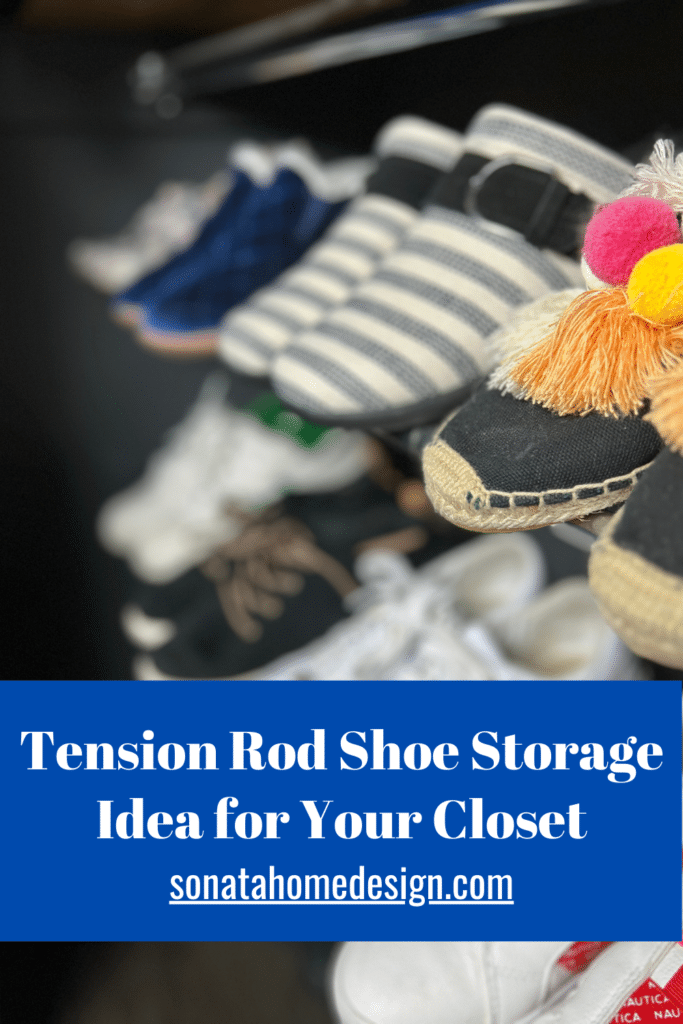 Some of My Favorite Shoes