How to Hang Peel and Stick Wallpaper: Your New Best Friend
Do you love wallpaper but are fearful of the hanging process? Are you interested in trying peel and stick wallpaper? Here is an easy guide with some realistic tips for how to hang peel and stick wallpaper.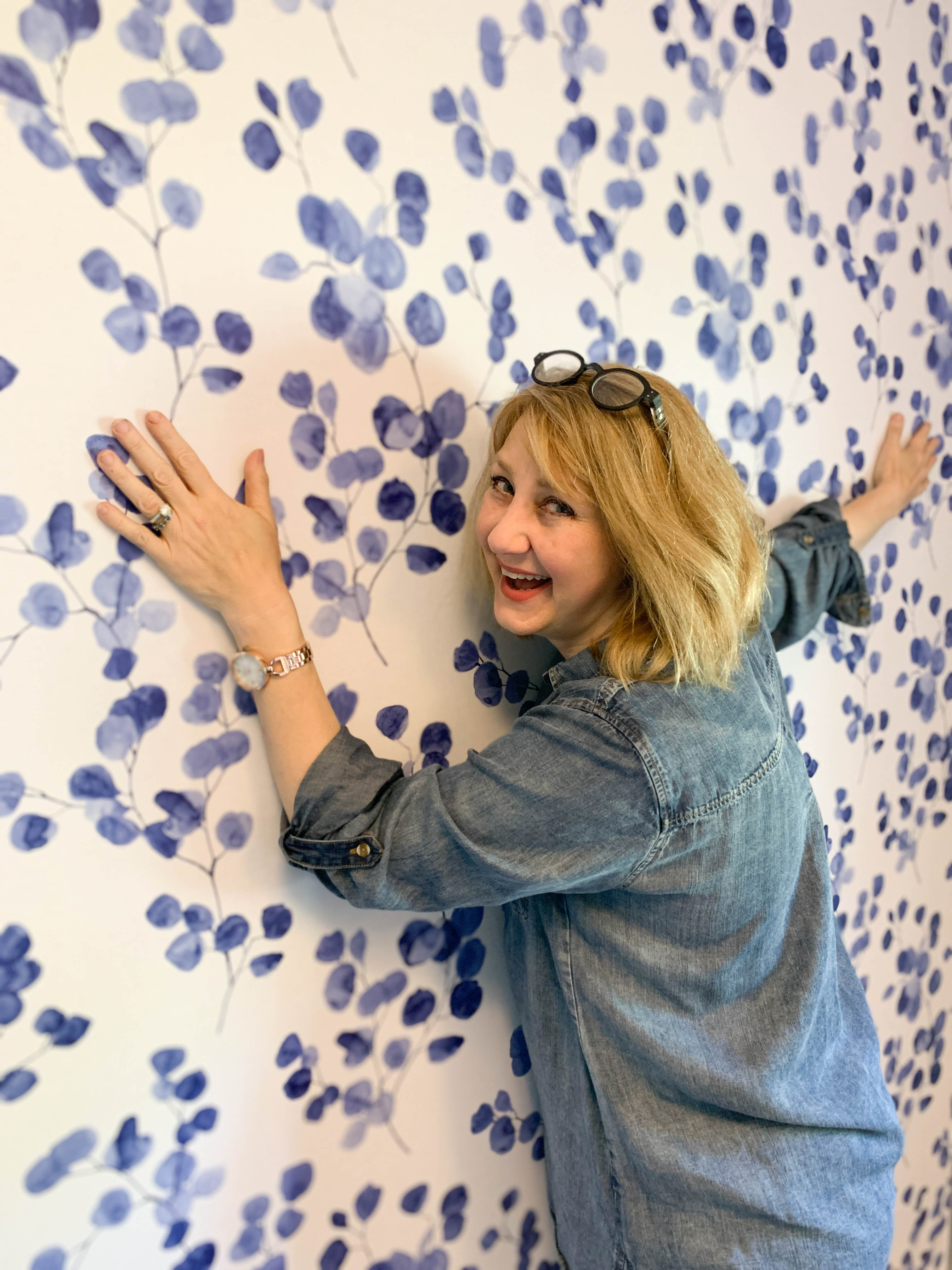 Before I go any further, I want to say "Thank you!"
From the bottom of my heart.
With 6 months under my blogging belt, I am overwhelmed with your support, encouragement, and friendship.
I can feel your encouragement! So, thank you, thank you, THANK YOU!
Can I ask a favor? I would love to invite you to follow me on Facebook, Instagram, or Pinterest. I am learning so much about how to use these platforms other than just sharing photos of my cat and dog. (Although, you still get some of those pics!) My goal is to share continued inspiration through my social media. Let me know what you want to see, learn, and try!
My learning curve is STEEP!
But, with friends like you, so much FUN!
Fun like wallpaper?
How is that for a segue?
The word wallpaper strikes terror in some people's hearts.
Wallpaper gives me JOY!
And, now that I have discovered the world of peel and stick wallpaper, I am OVERJOYED!
Peel and stick Wallpaper is such a great alternative to traditional wallpaper. No messy paste or brush. It is a temporary fix so it is perfect for rentals and those who don't like the work of traditional wallpaper.
Any kind of wallpaper is a wonderful way to add a pop of dramatic color to a room.
I've even used wallpaper for fun projects like wallpapering drawers and covering books.
More importantly, if you make a mistake with peel and stick…NO BIGGIE! You get a DO-OVER!
Let's get started!
My Project
Before we even start, I can't wait to show you the end result!
Oh, but I'm getting ahead of myself.
Peel and stick wallpaper projects do not need to be complicated.
Unless you are wallpapering every inch of a multi-level mansion.
I'm keeping it super simple and papering ONE wall in our mudroom. This room is our busiest entrance to the house, our cat's haven from our sheep-a-doodle, and also the laundry room. Additionally, this nook is going to be home to a laundry folding table. It is dark, boring, and needs some brightening drama!
Here is my brightening peel and stick wallpaper of choice! It coordinates beautifully with grey/blue walls that will surround it. If I have to be folding laundry, I want to look at this while I fold!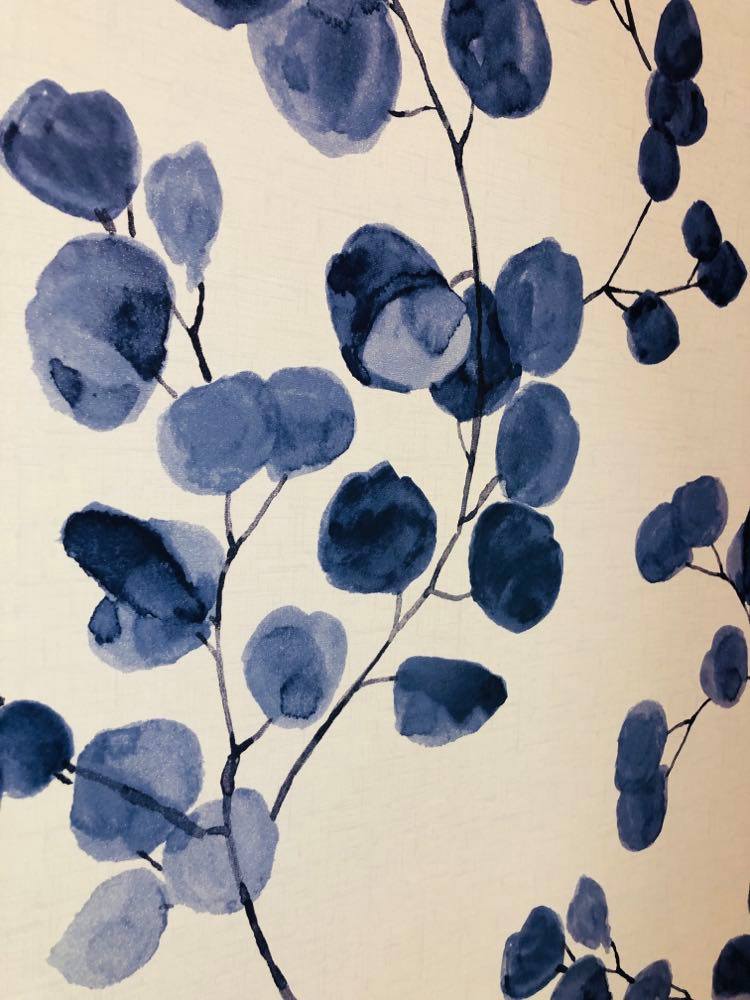 First, there are some supplies needed.
Supply List
Water or mild cleaner
Clean cloth
Straightedge
Pencil
Utility Knife
Smoothing tool (although I used my hand most of the time.)
Peel and Stick Wallpaper…Can't forget this part! Here are some peel and stick papers that I LOVE!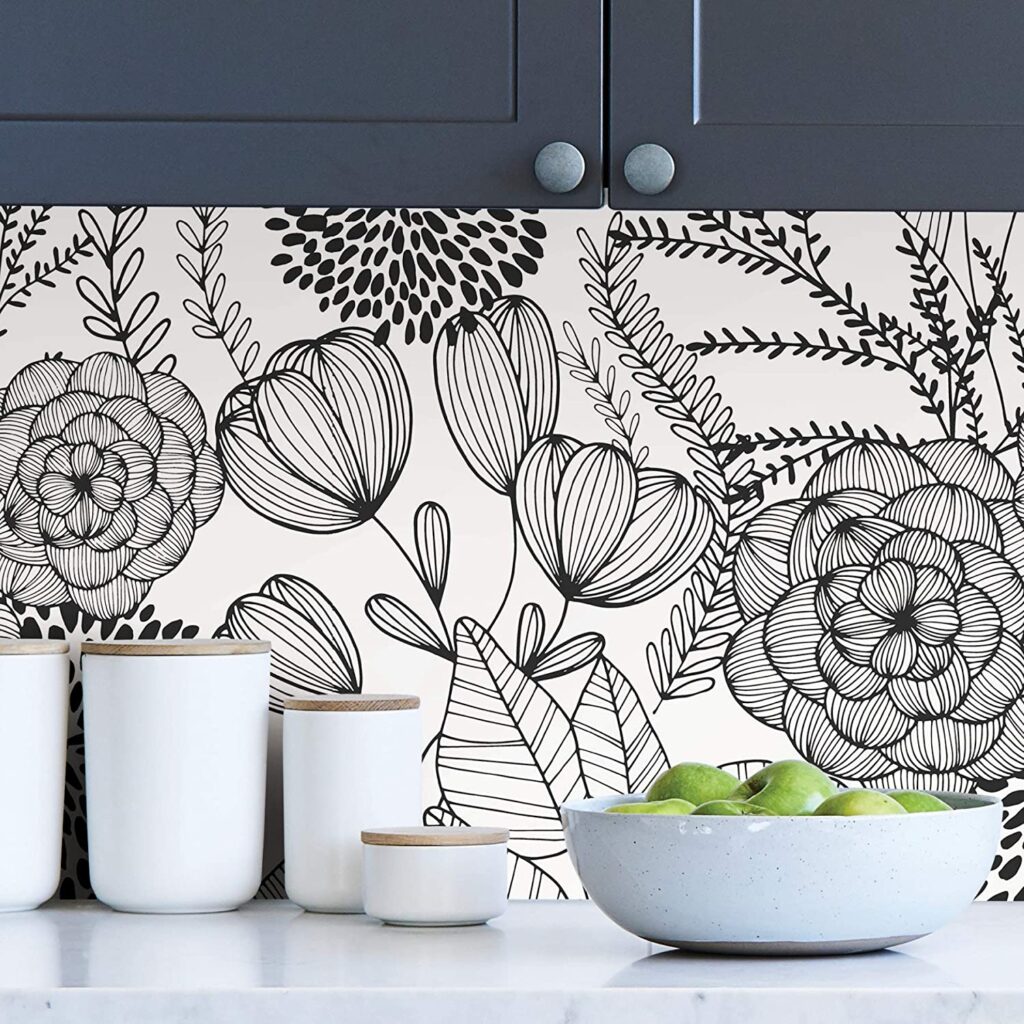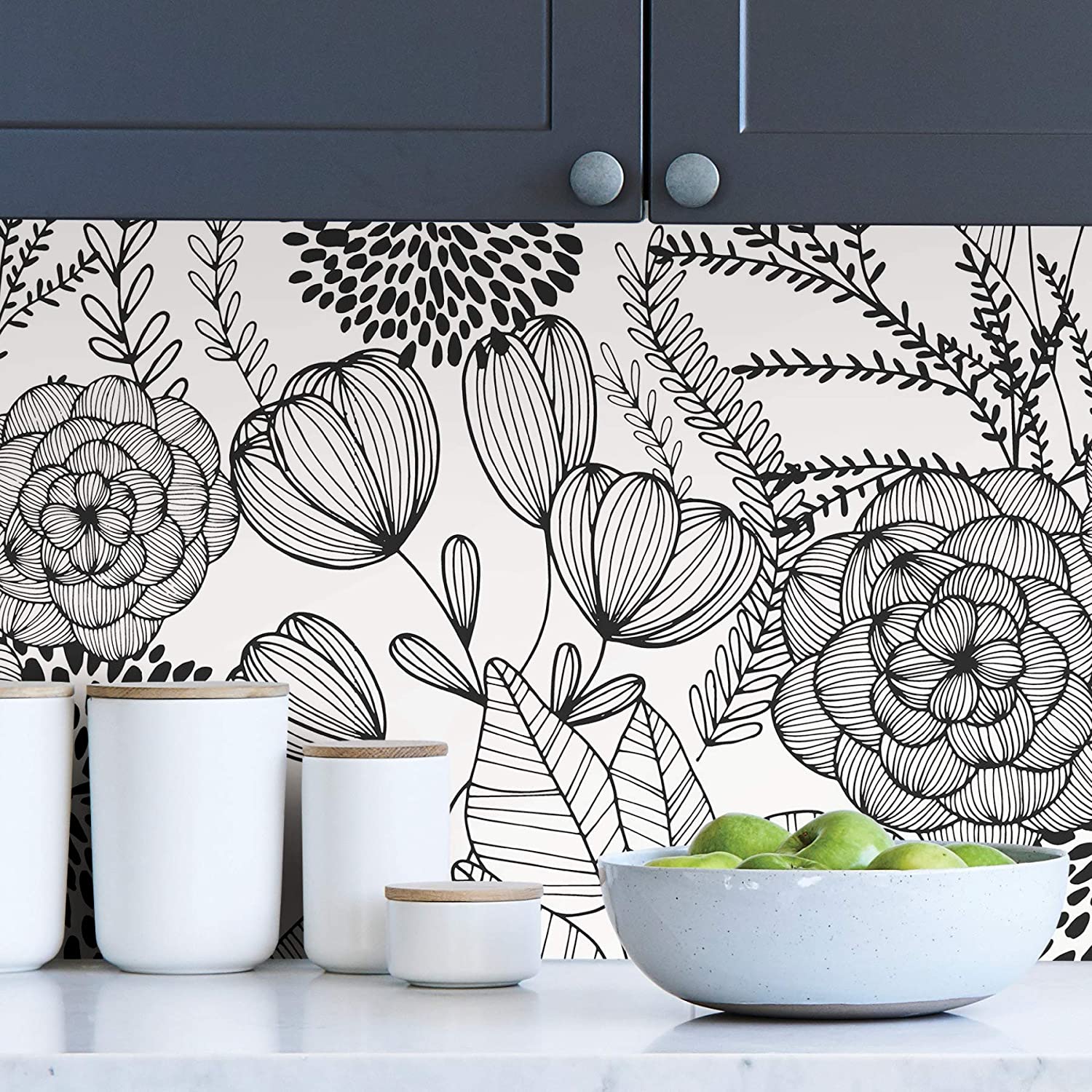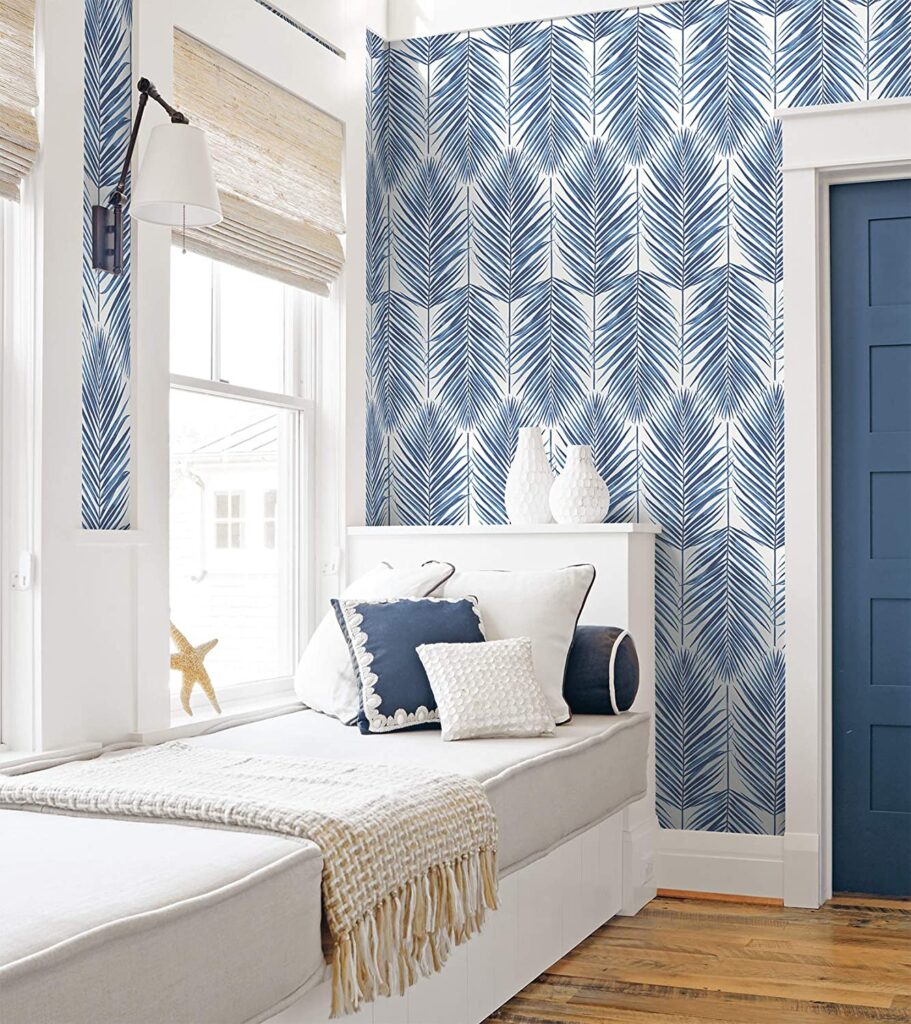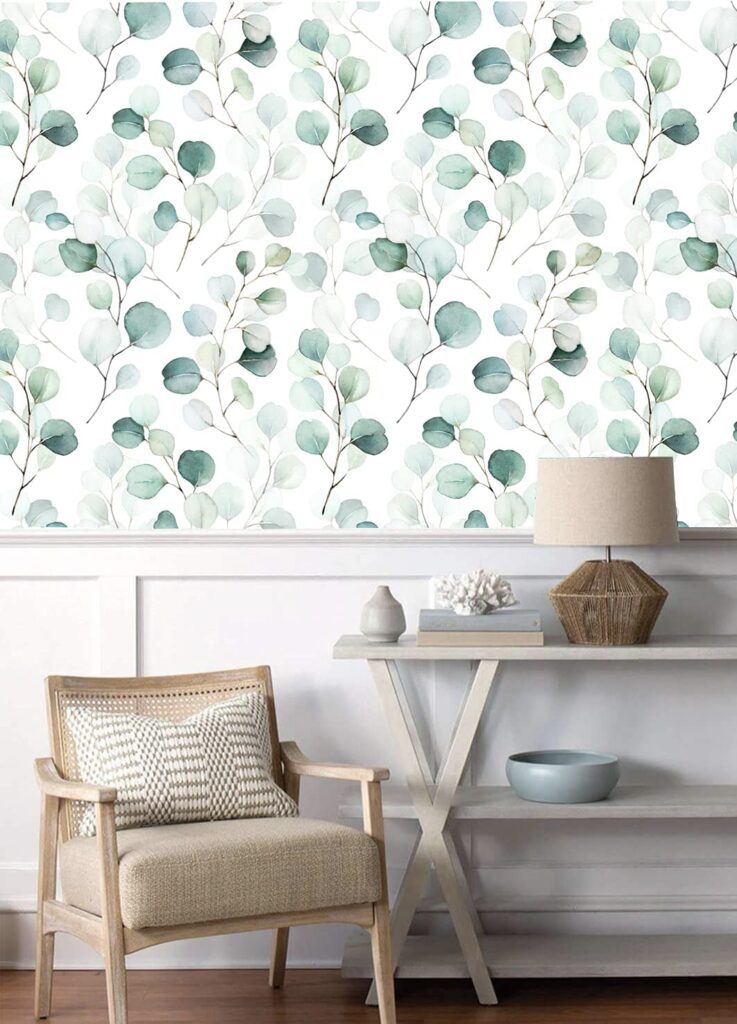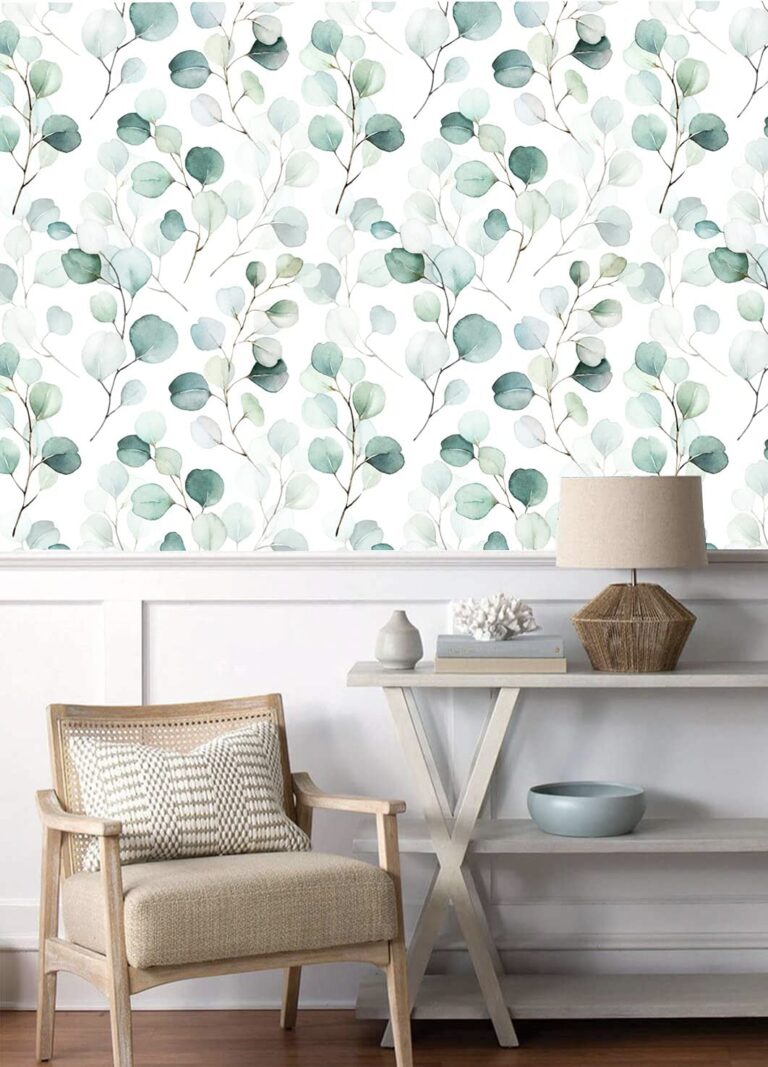 Here is a Tip
When choosing your wallpaper pattern, consider this. If you want a more formal look, go for a large, dramatic pattern. If you want fun, cheerful look, select a smaller pattern. Don't be afraid of color! Just coordinate it with the color scheme of your room.
In the case of our mudroom, the goal is to lighten and brighten so I chose a paper with a white background that has a faint blue crosshatch pattern. The meandering leaves remind me of the outdoors and, with all luck, will distract me from the laundry chore at hand.
Now to the nitty gritty…
How to Hang Peel and Stick Wallpaper
Measure your walls carefully to make sure you have enough paper. In your calculations, allow for the pattern's repeat. The larger the repeat, the more paper you will. (The paper I am using has a 23″ repeat.) Buy slightly more paper than you think you will need to allow for corners, doors, and windows.
2. Next, you will need to prep your walls. Turn off the power and remove any wall switch plates. Wipe down your walls with a damp cloth or mild cleaner and let dry. Furthermore, peel and stick works best with smooth surfaces with an eggshell, satin, or semi-gloss finish.
3. Your first piece is an important guide for the rest of the project. Measure the width of your paper and transfer that measurement to your starting point. (A corner is usually the best place to start.) Using a level and a straightedge, draw a line from ceiling to floor (or the space you are covering.) Remember, this is a guide. If your walls are not level, you will need to make some adjustments as you go along.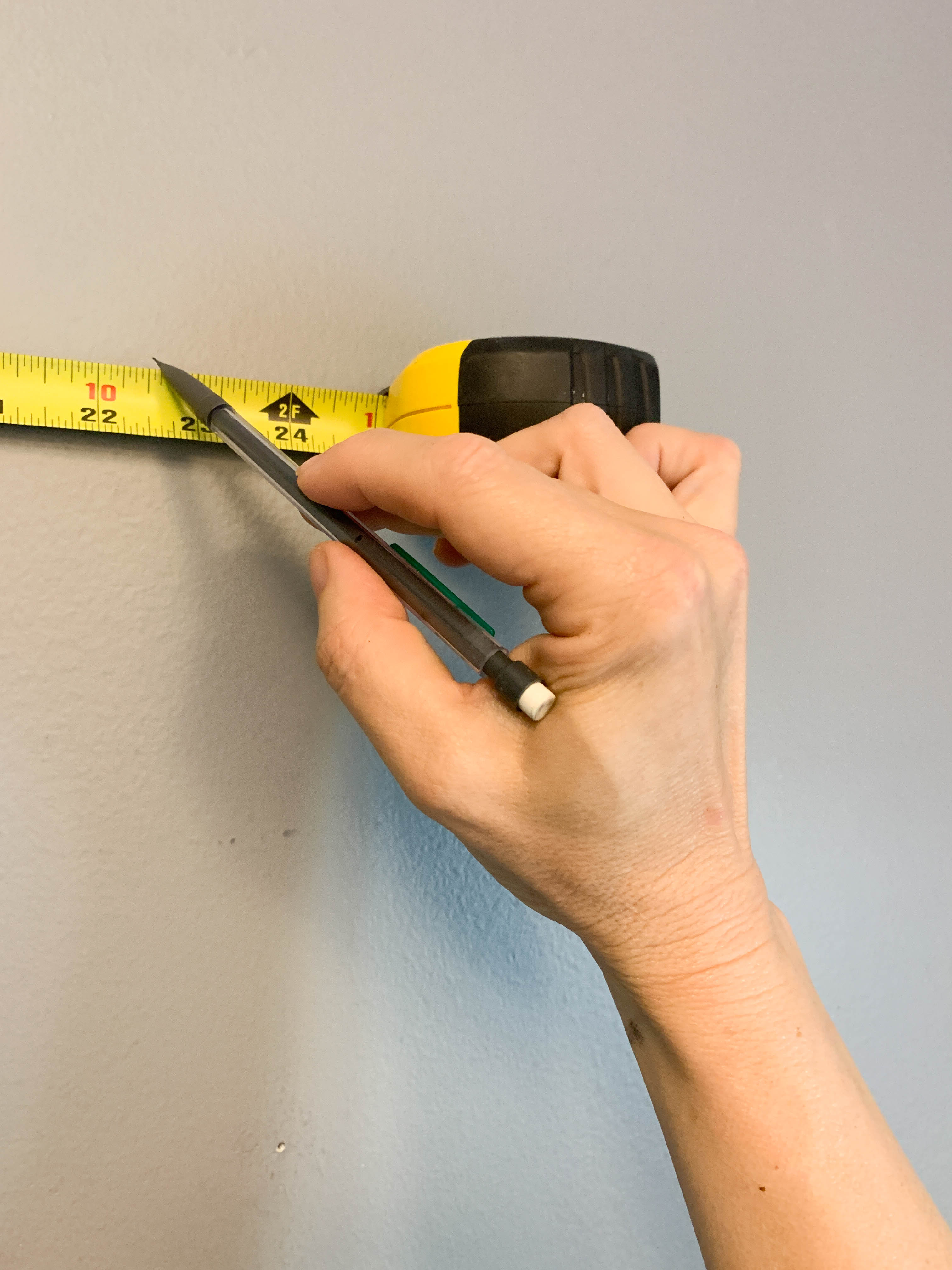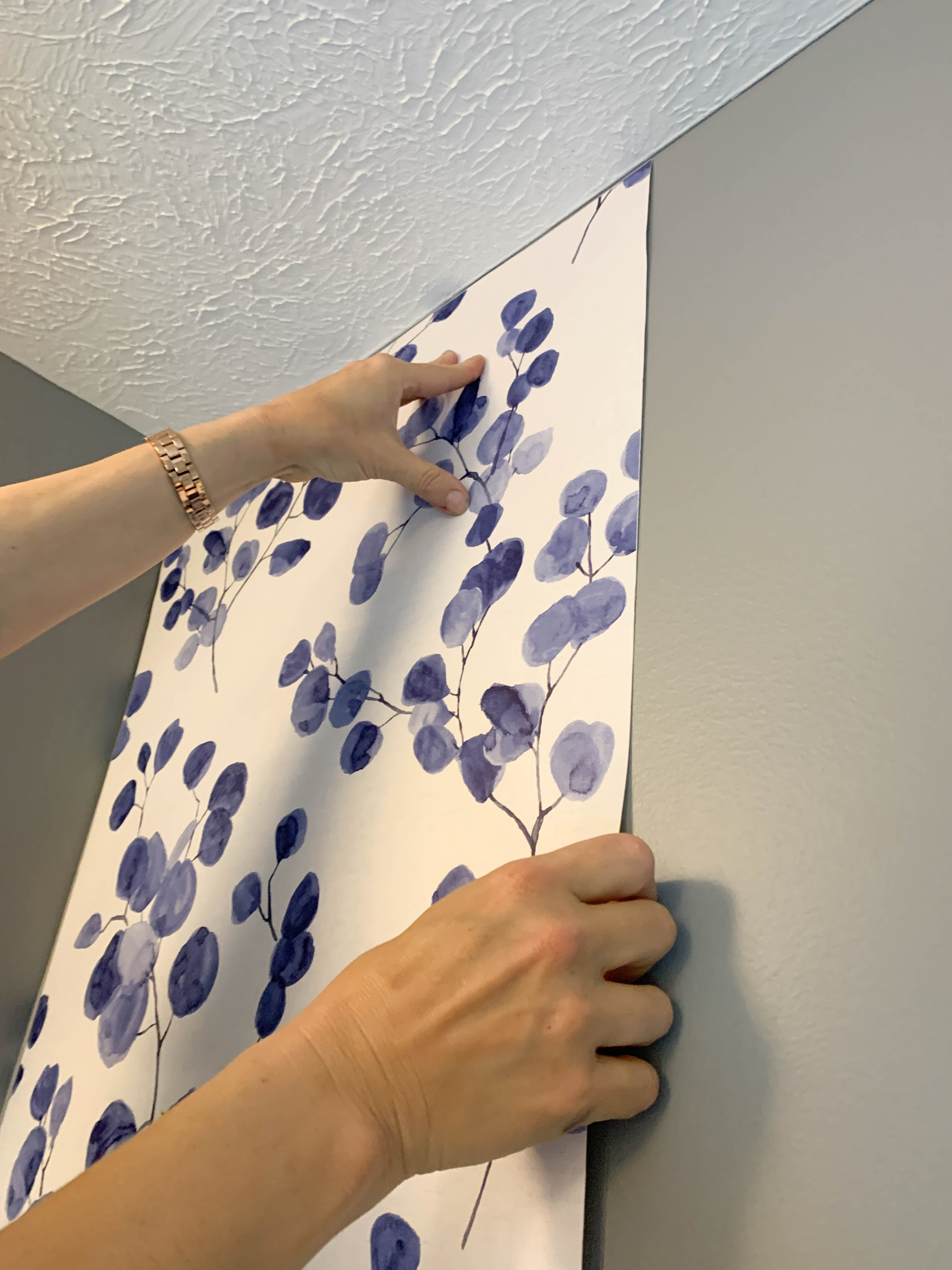 4. To apply the paper, peel down about 12 inches and, starting at the ceiling, line your paper up with your guideline. Moving from top to bottom, smooth the paper on to the wall.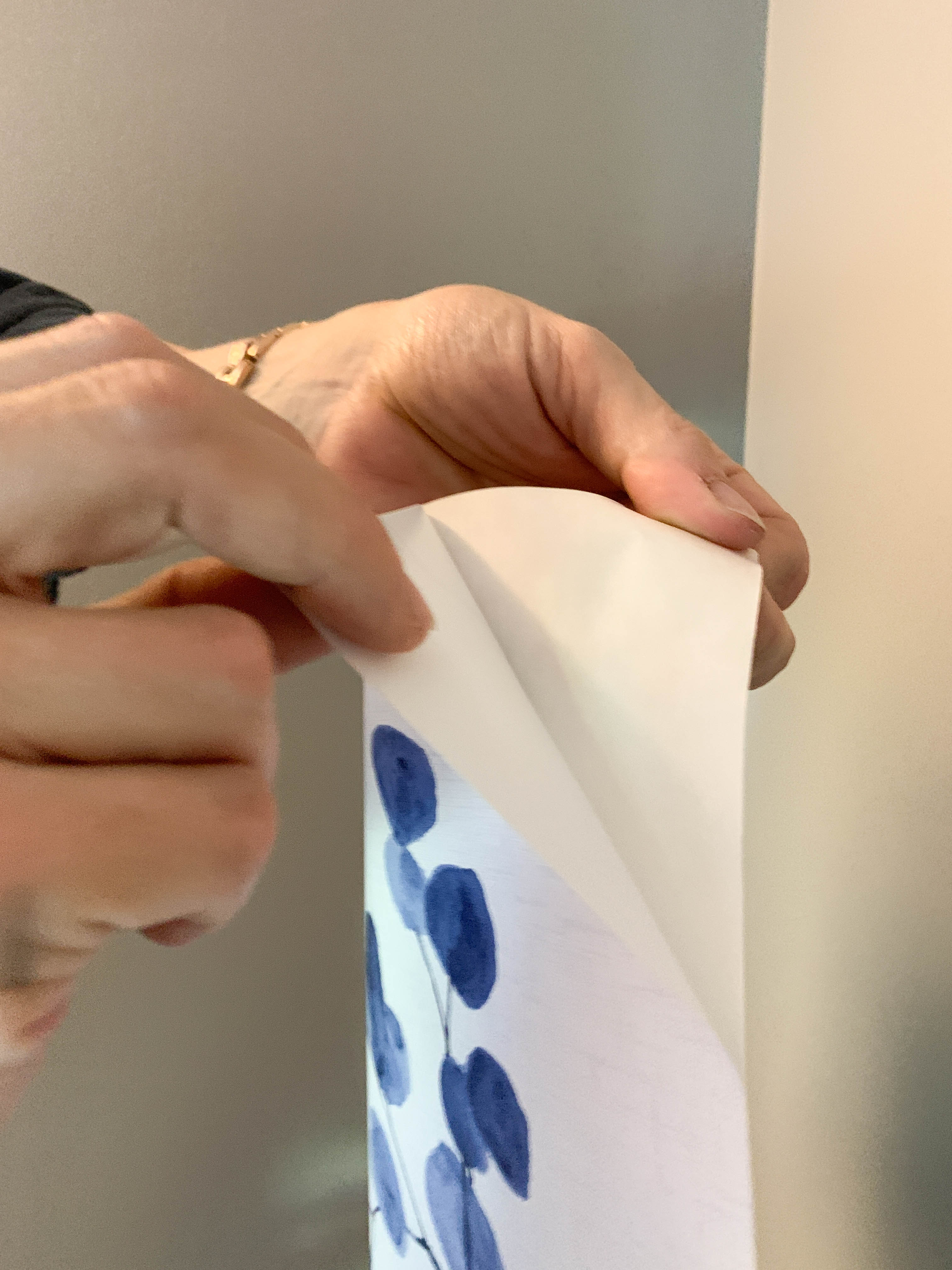 5. Equally important, I find that starting from the side and pressing down and out gives me the smoothest finish and the least amount of bubbles to wrestle. If you get a bubble, simply lift up the paper and try again! A straightedge can be very helpful to smooth out bubbles. However, I always go back with my hand to double-check.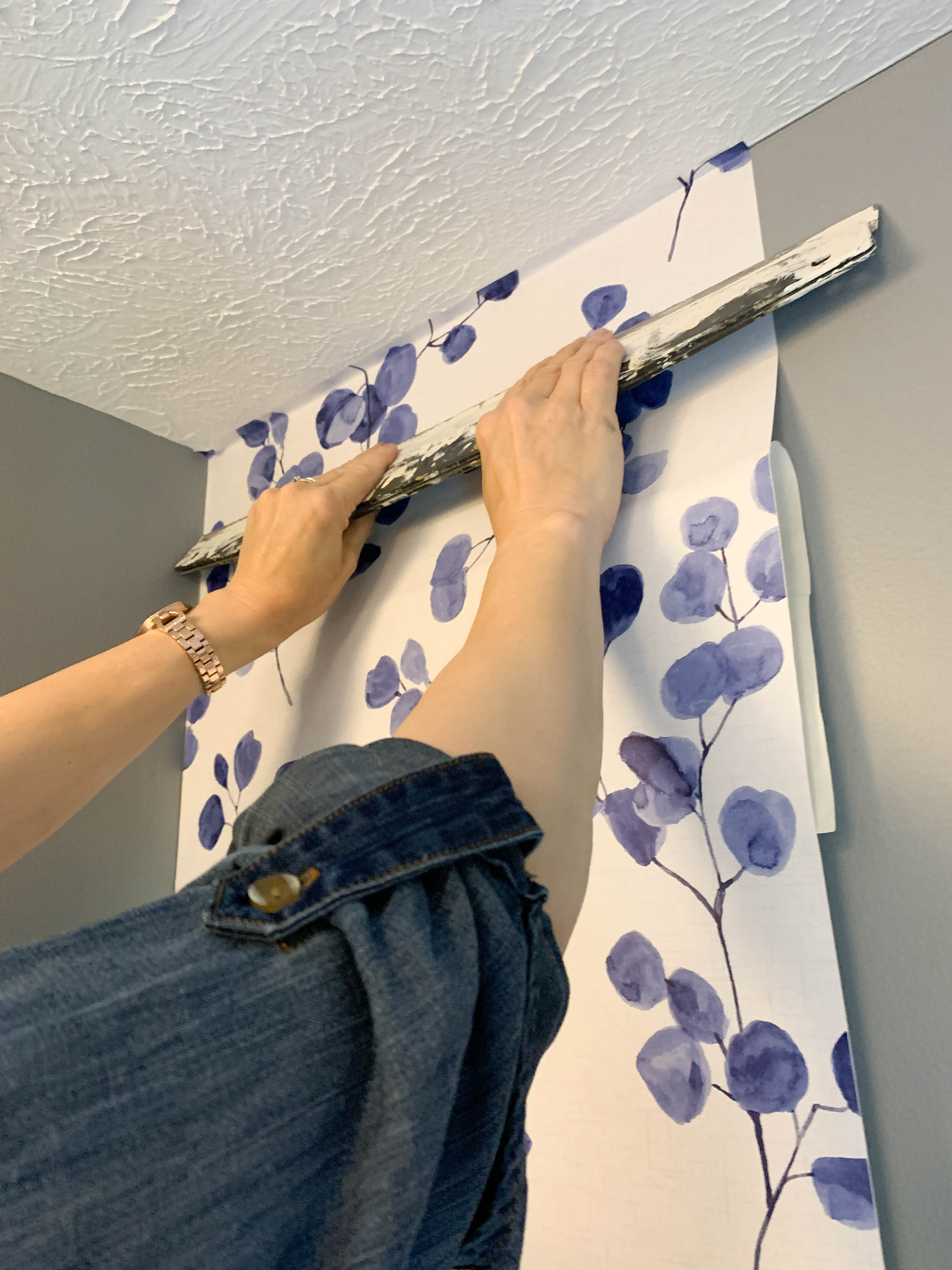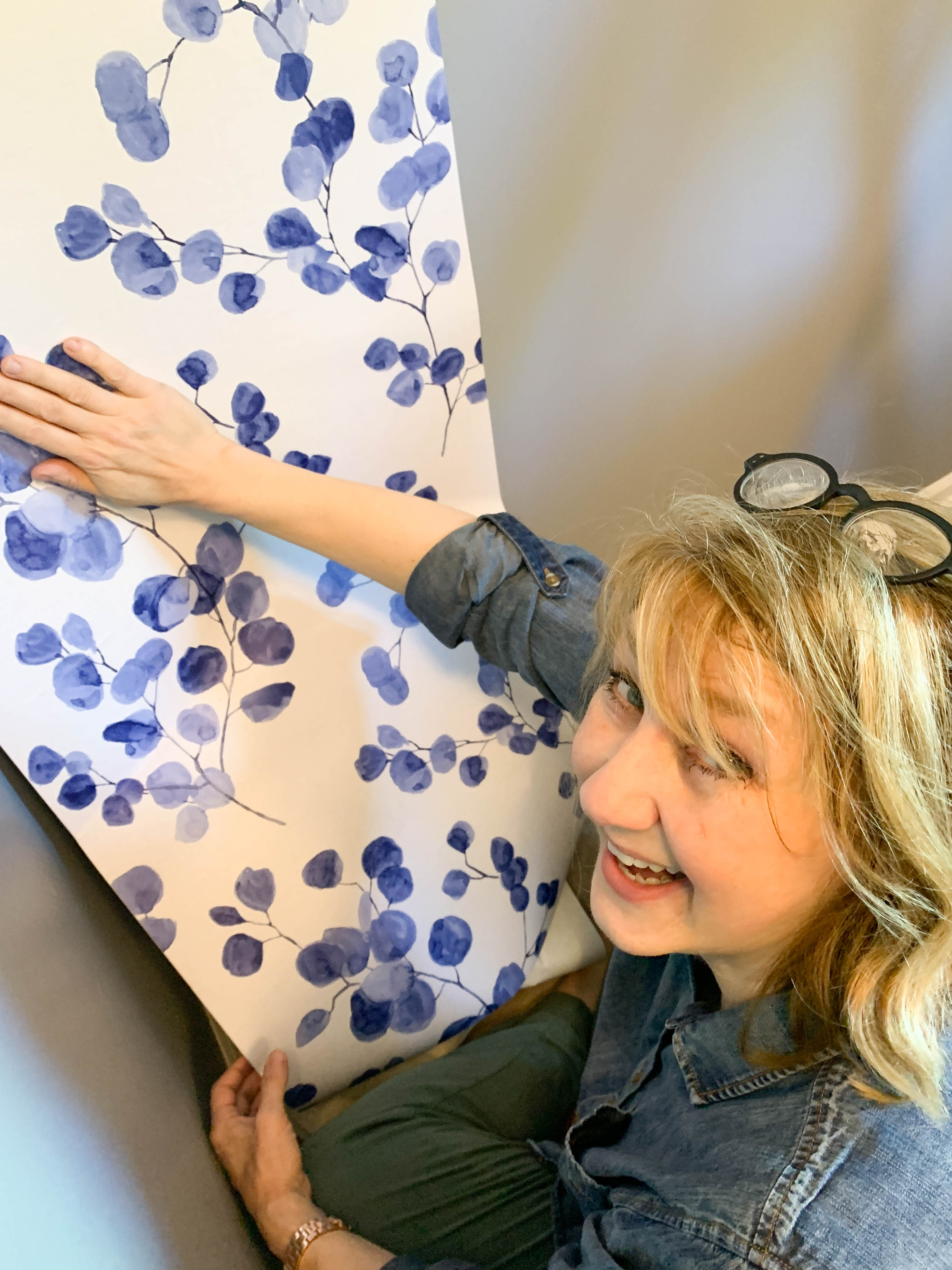 6. Next, use a utility knife or blade to trim and remove the excess paper at the ceiling and baseboard.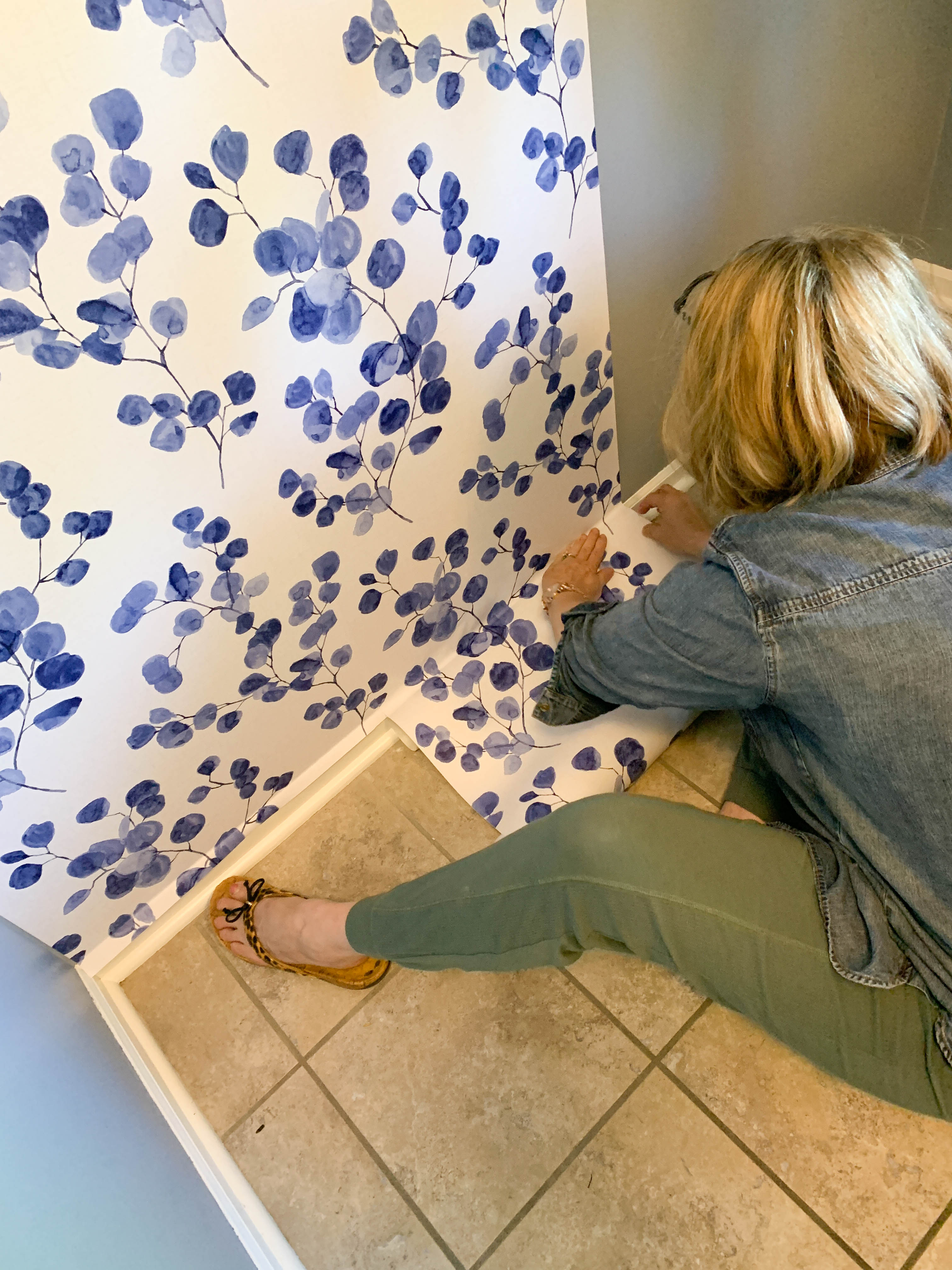 7. As you add subsequent pieces, be sure to line up the paper to match the repeated pattern for a seamless look. Just keep matching the pattern and repeat!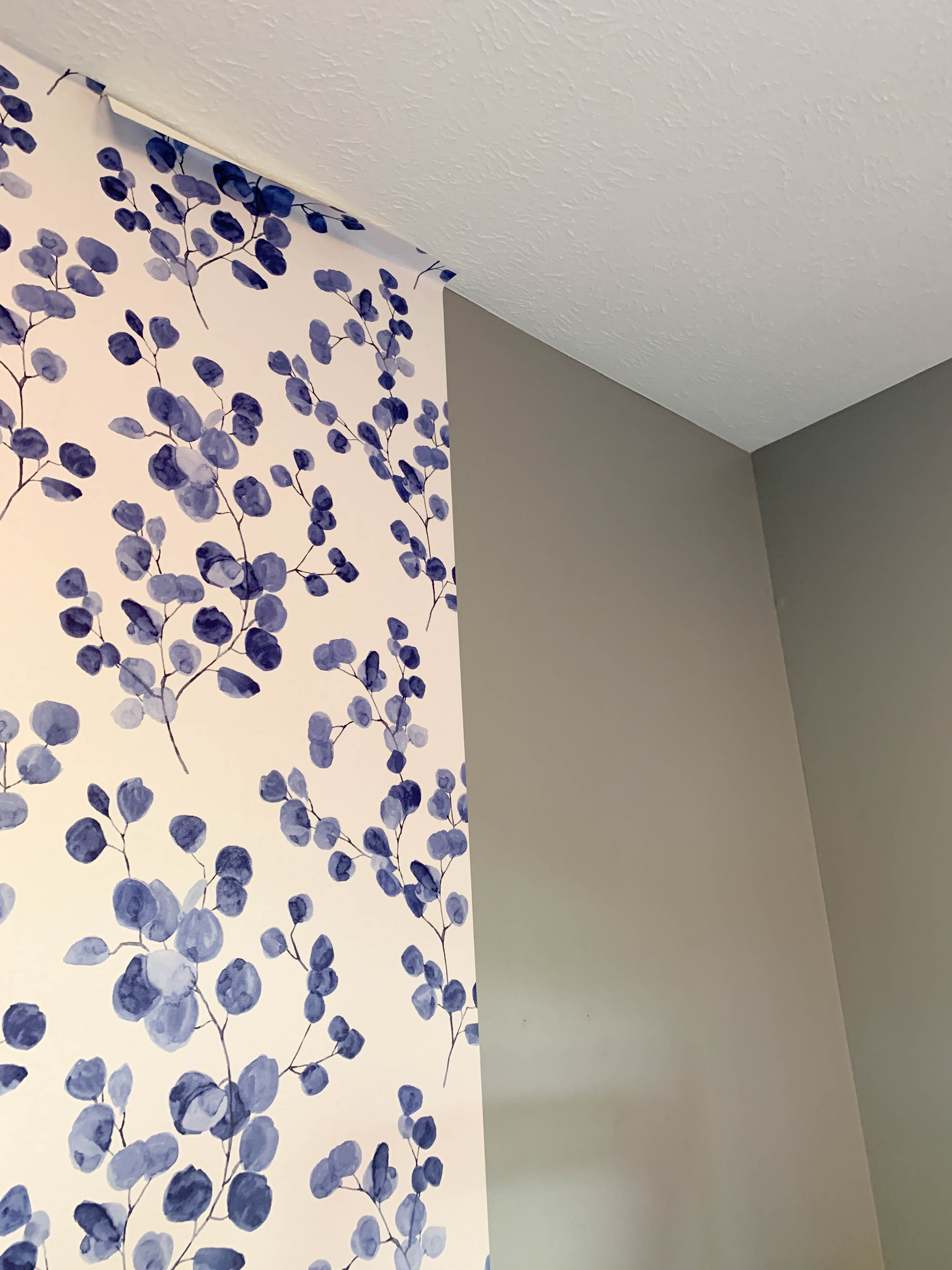 8. If you are working around an outlet, door, or window, let the paper overhang the edges and then trim once the entire piece is smoothed down. Trim the excess. Don't worry about trimming perfectly around an outlet…your outlet cover will literally cover any edges.
Always check for air bubbles as you work but also as a final check at the end.
There you go! You now know how to hang peel and stick wallpaper. Pat yourself on the back!
Voila!
I LOVE IT! (How can you tell?)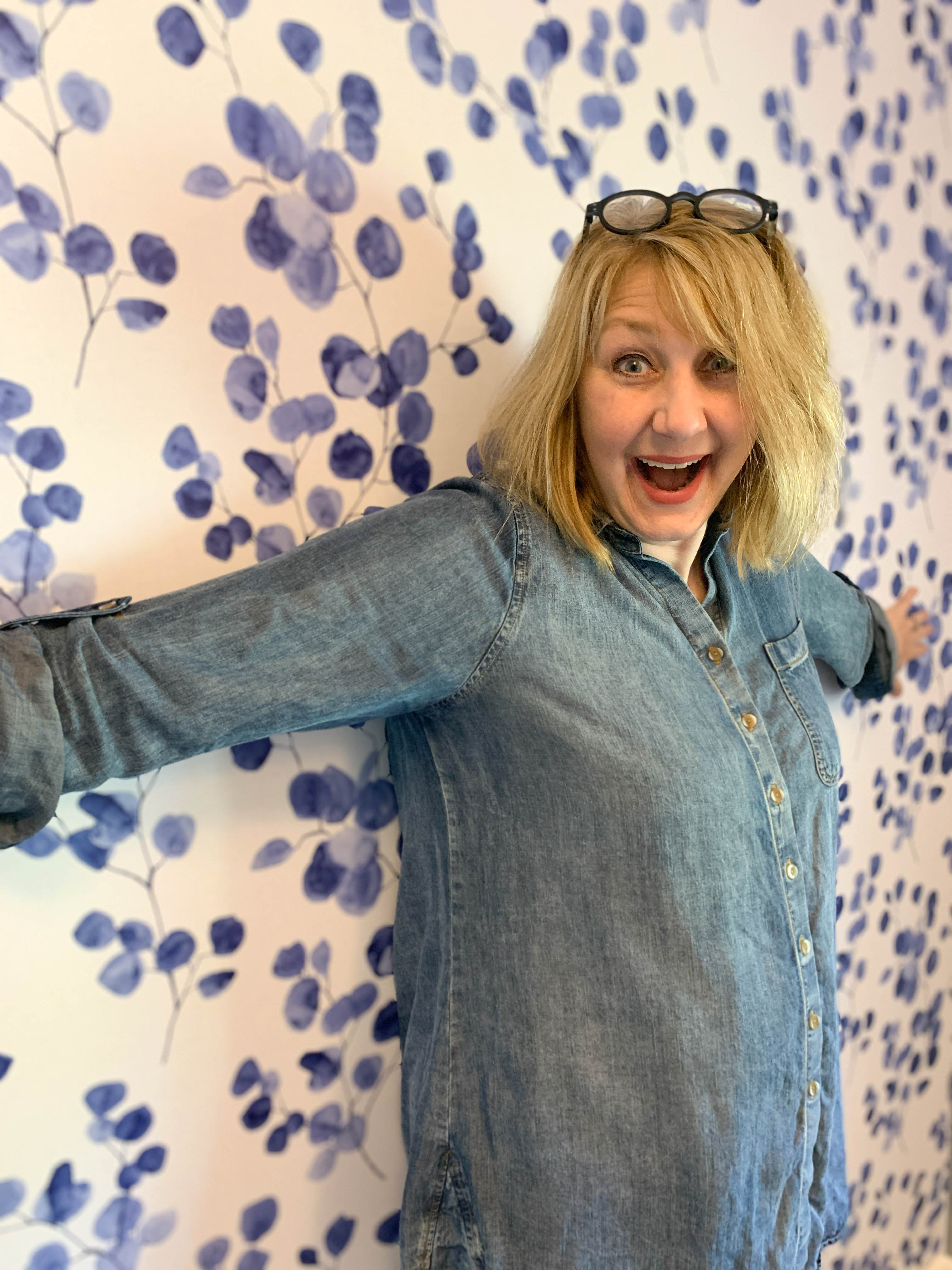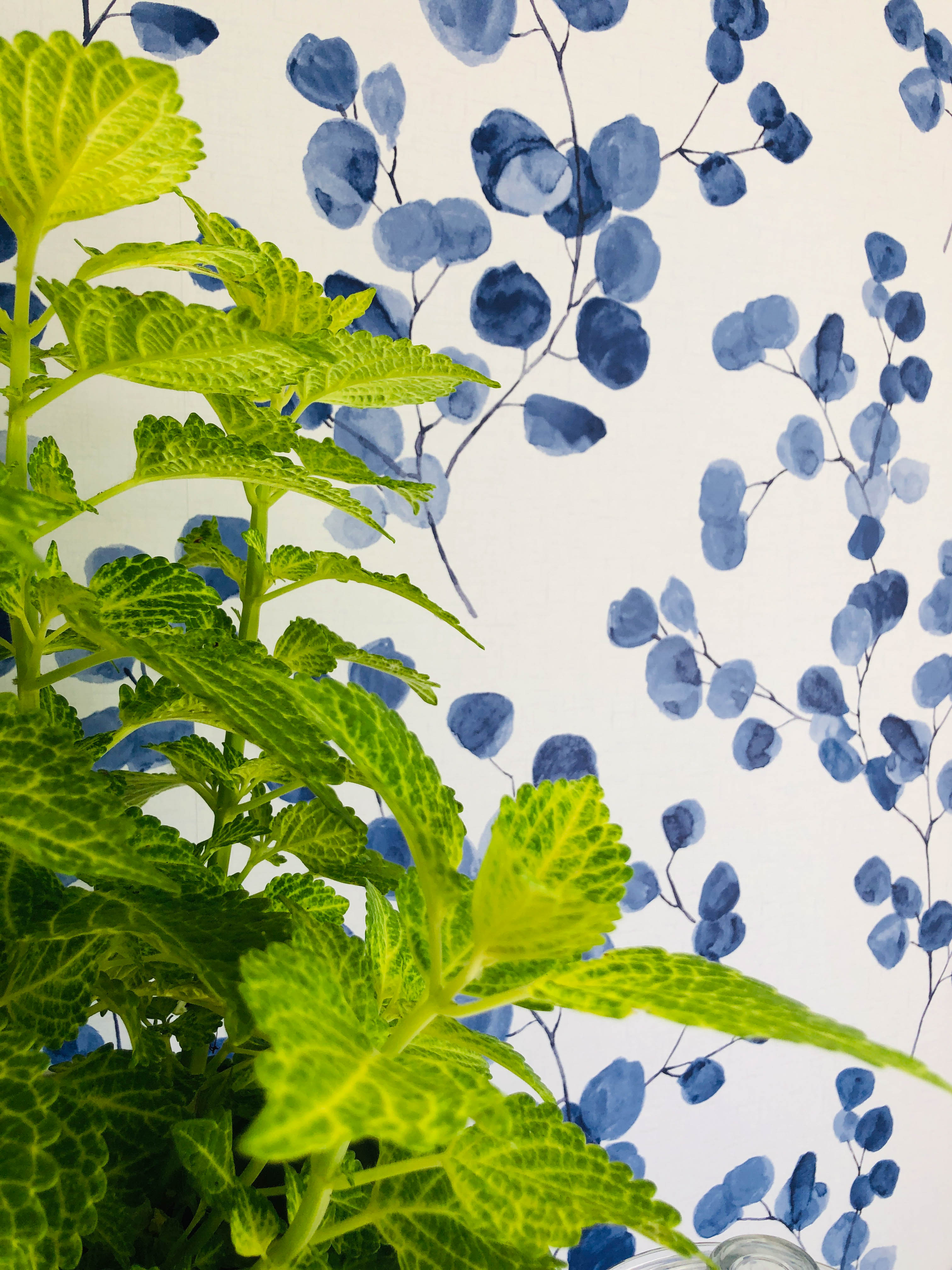 Oh, I couldn't be happier! I'm using white accessories so the blue on the wallpaper POPS!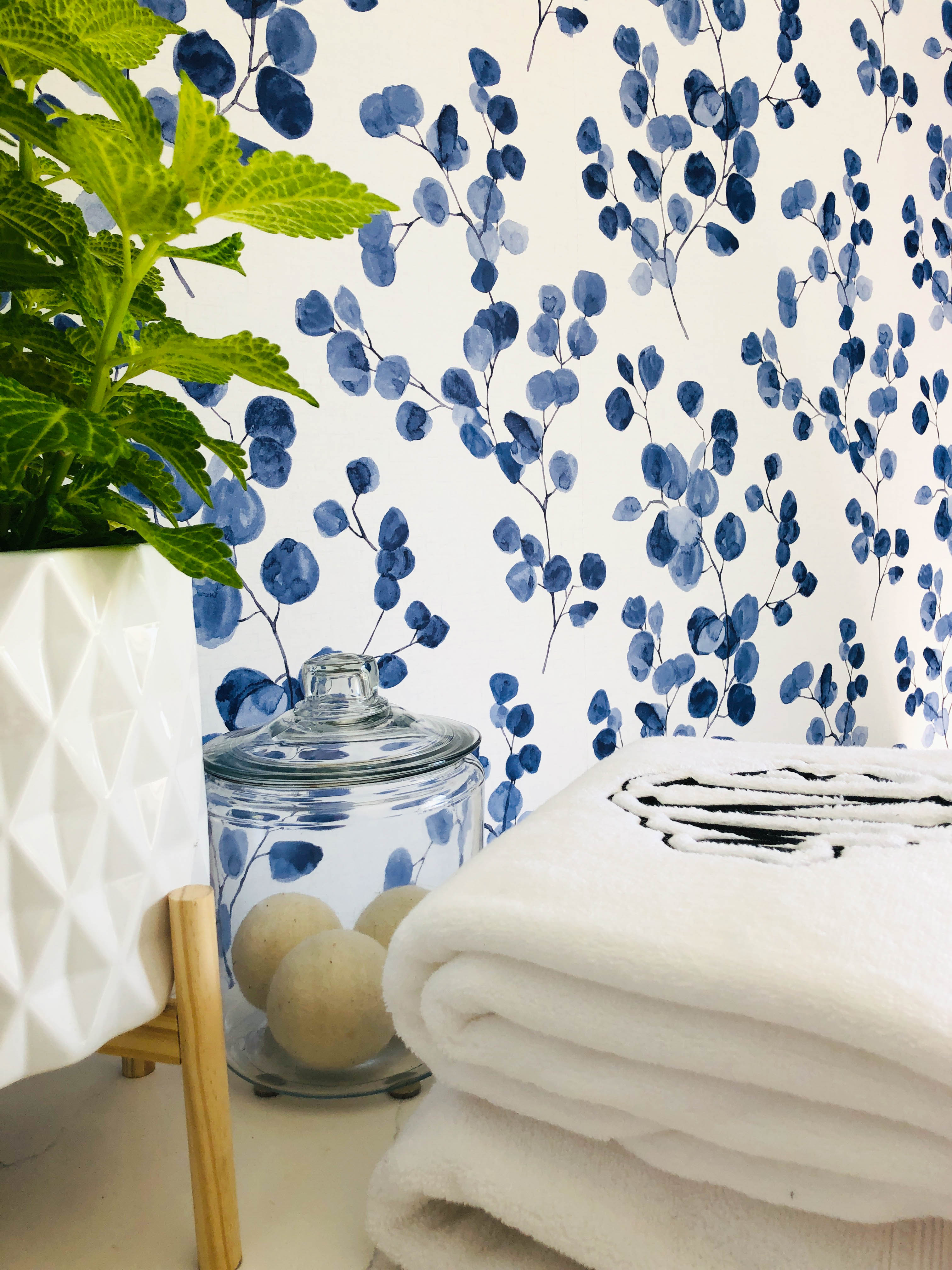 Now, it is a pleasure to fold our new monogrammed towels with this as our backdrop! (You know how I love monogramming everything!)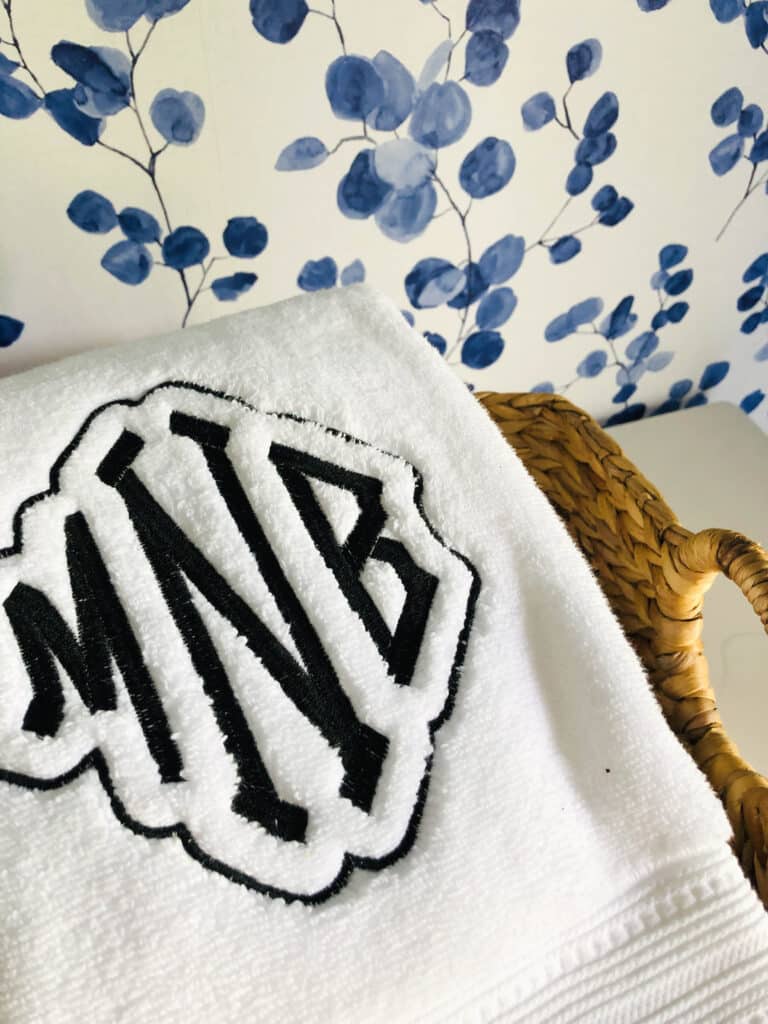 I'm adding a natural element through this water hyacinth woven basket to give the space a touch of warmth and texture.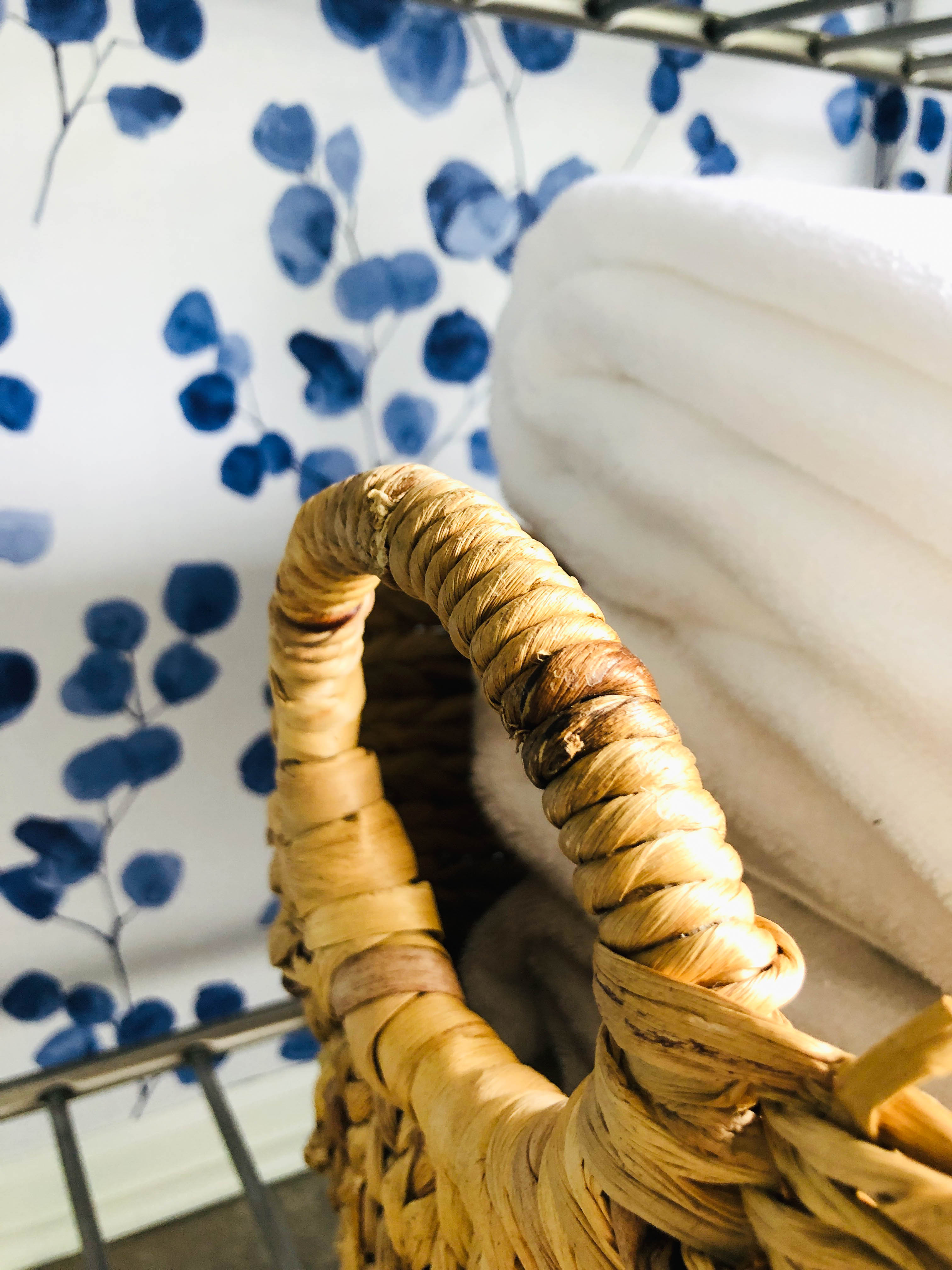 In this case, some wall art adds more interest to the space. I am propping this piece because I might change it out for something different as my mood changes!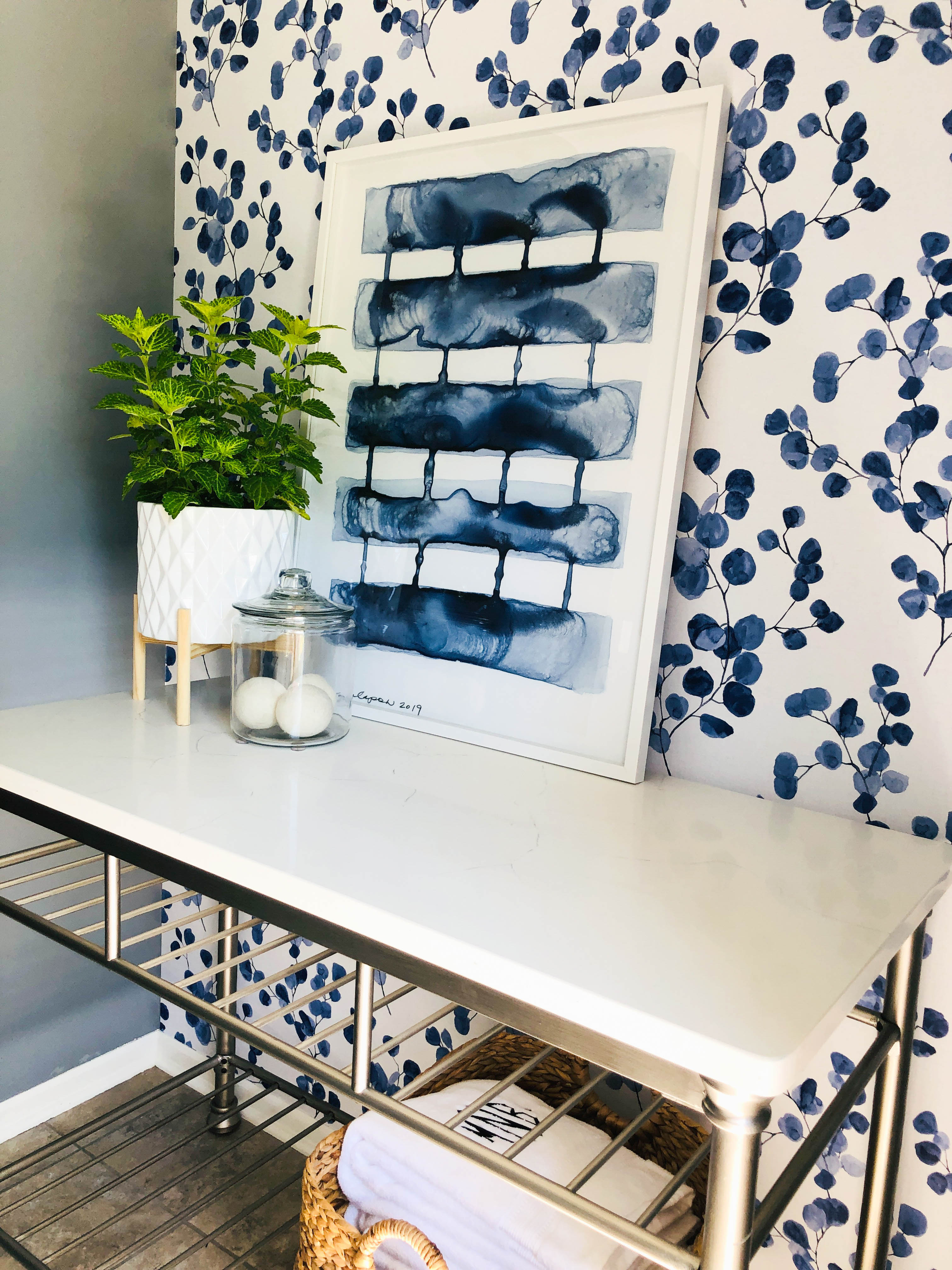 Even Bentley approves!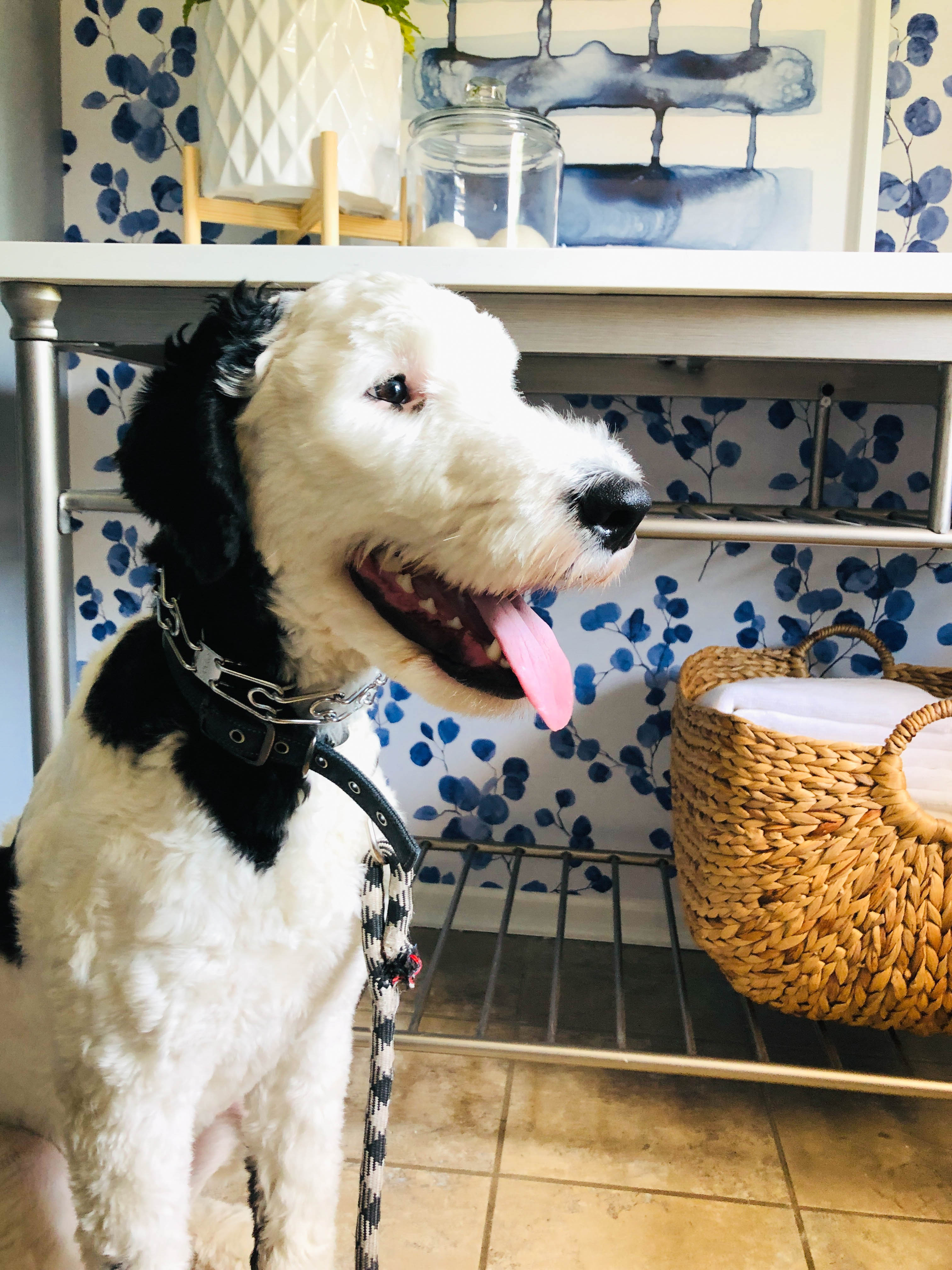 Peel and stick wallpaper does not need to be scary. It is incredibly forgiving and gives a space such a lift!
In our case, a Laundry Room Lift!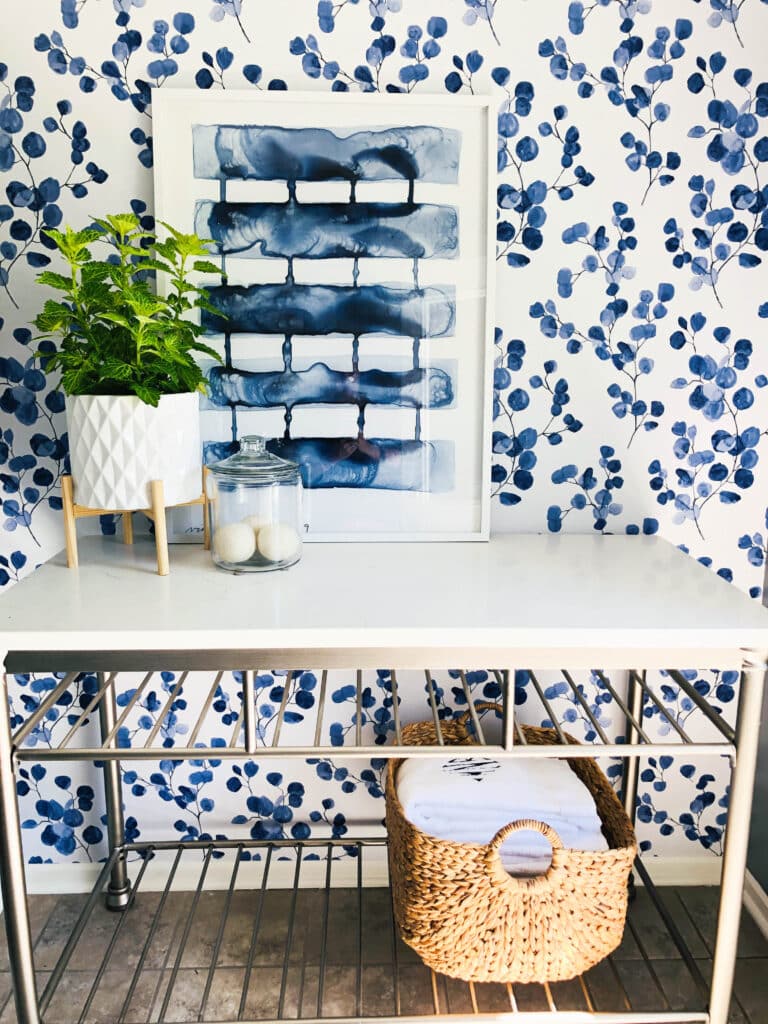 You can do this! If you have any questions, please send them my way. I love to hear from you and want to help in any way. Also, please send me your photos. After all, we should be celebrating all of our AWESOME new peel and stick walls and projects!
Cheers!

Disclaimer: This post contains affiliate links.