It's Not Your Mother's Monogram: A Modern Twist
Using Monograms in Old and New Ways
"Remember that a person's name is to that person the sweetest and most important sound in any language." ~Dale Carnegie
My name is Missy. Easy enough, right?
Yet, I have been called Misty and Mitzie more times in my lifetime than I care to remember.
Hmm.
Our last name is Noonan. Easy enough, right?
At our wedding, the guest minister (truly one of the nicest men on the planet!) mistakenly introduced us from the altar as "Mr. and Mrs. NEWMAN!"
Oops!
While people may not get our names correct 100% of the time (It happens. We forgive!) we can rely on the tried and true monogram to establish our identity (and label our possessions) in traditional and not so traditional ways.
Traditional
Who doesn't love a traditional monogram? Oh so elegant!
I am incredibly fortunate to have a very talented and generous mother-in-law who embroidered these gorgeous towels with our combined monogram. (Missy Noonan Brian – MNB) The only thing better than pristine white towels are pristine white towels with a stunning monogram! Thank you, Linda!
By the way…monogrammed white towels are the BEST wedding gift!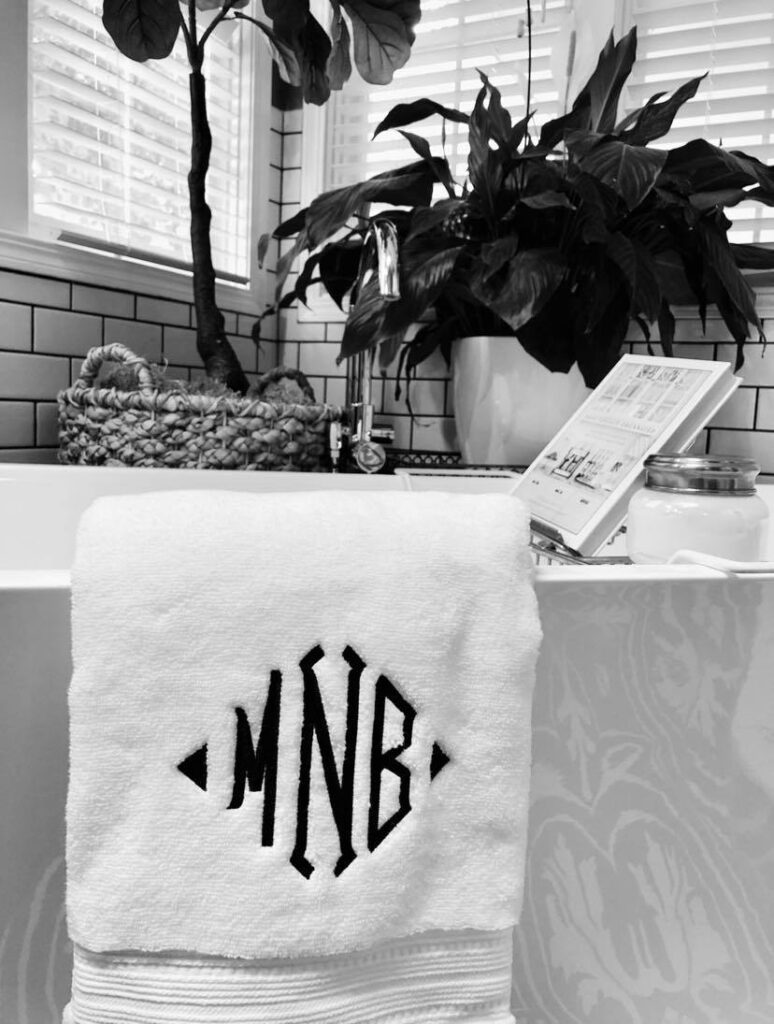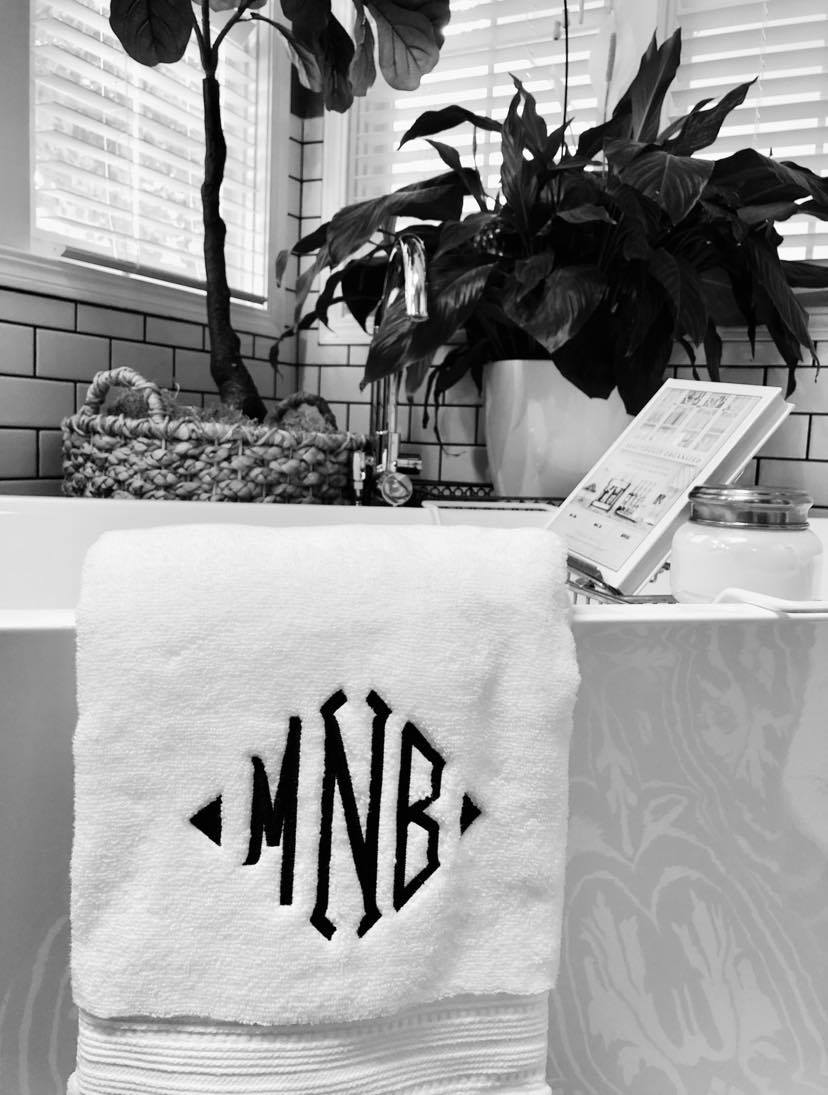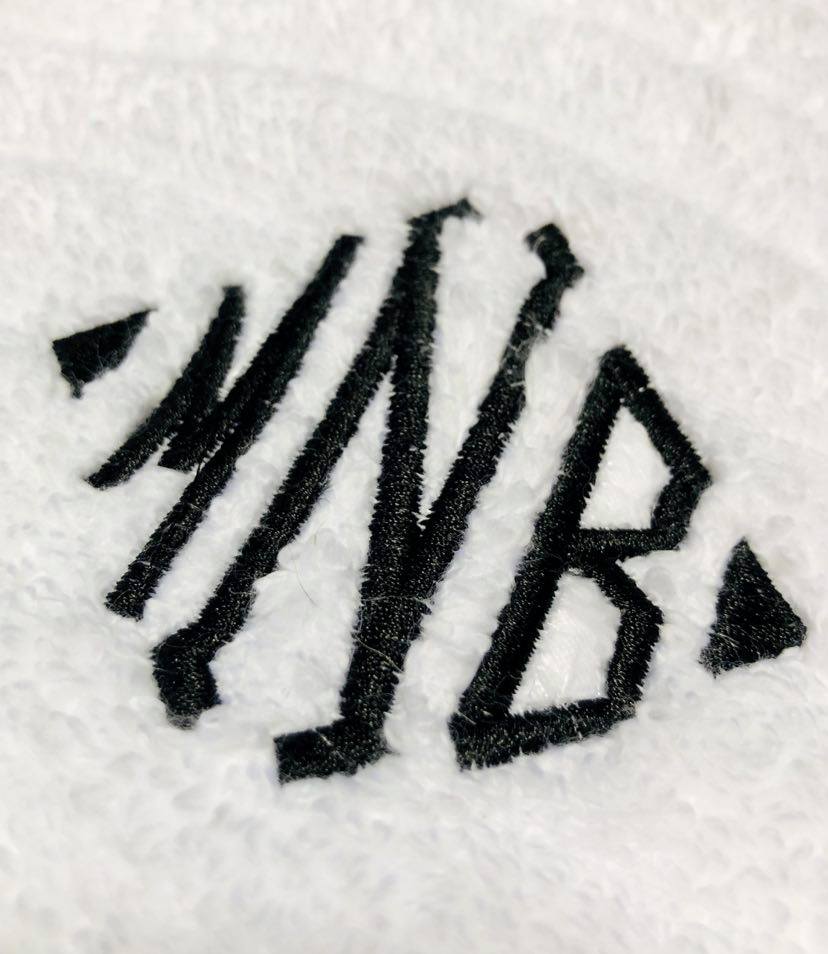 A Modern Twist
But hold the phone! Tradition loves to pave the way for a modern twist. There are fun "sticky" ways to enjoy a modern version of monograms.
A few weeks ago, I wrote a blog post about my rocking chair remake. The star of this project was the monogram that I used on the seat. You can read about my DIY Rocking Chair makeover HERE. Oh, how I love to sit in this chair. There is no doubt as to its owner!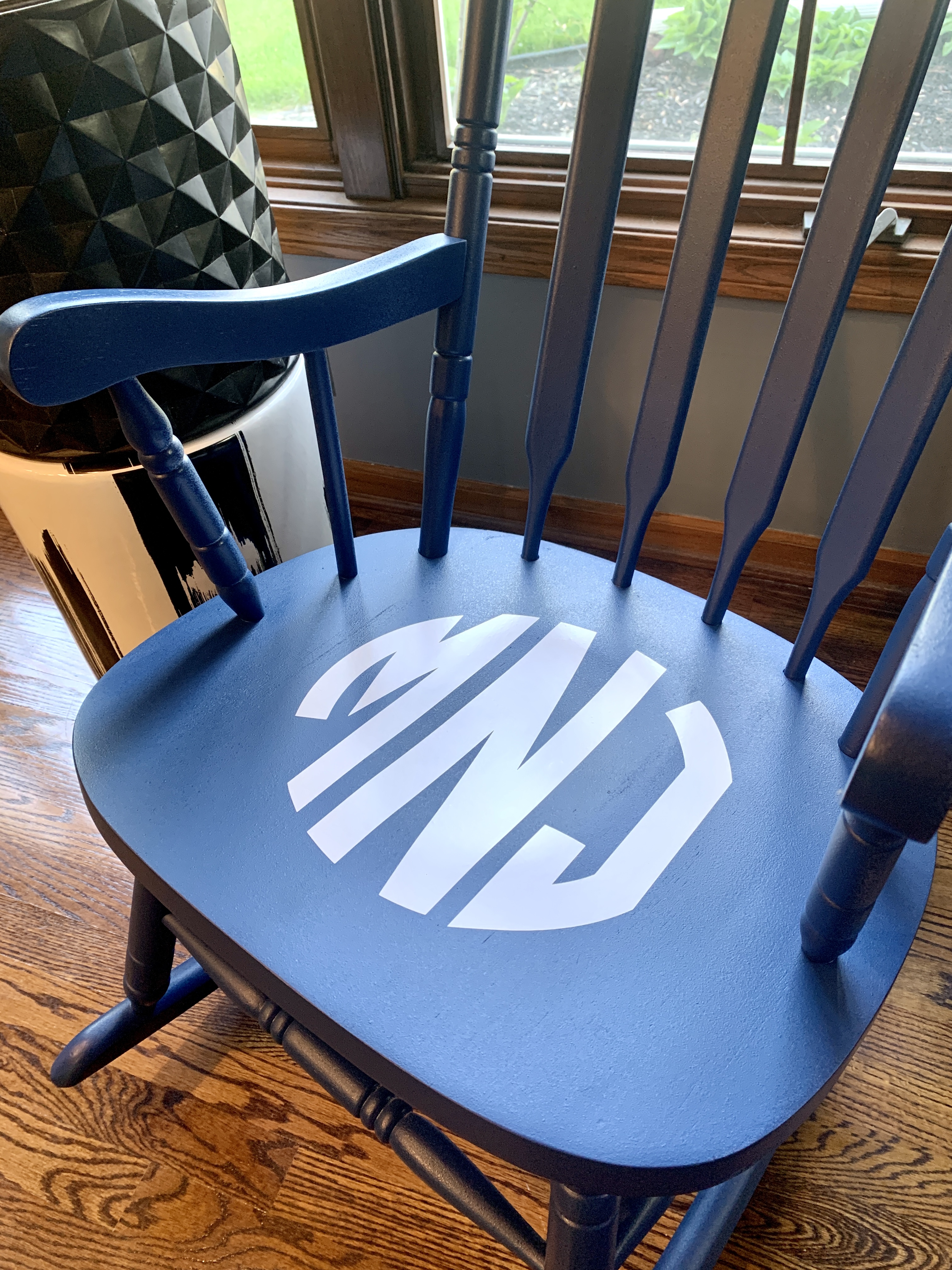 If this project is a little too big for your liking, here are some fun, smaller ways to "stick" your monogram.
I found a super fun monogram shop on Etsy shop called OMD Monograms. I love Morgan's monogram options with so many UNIQUE patterns! Here is a very simple monogram that I ordered for my laptop computer. It arrived (super fast) in the mail ready to be applied. These are SO easy to apply. Just follow the instructions carefully.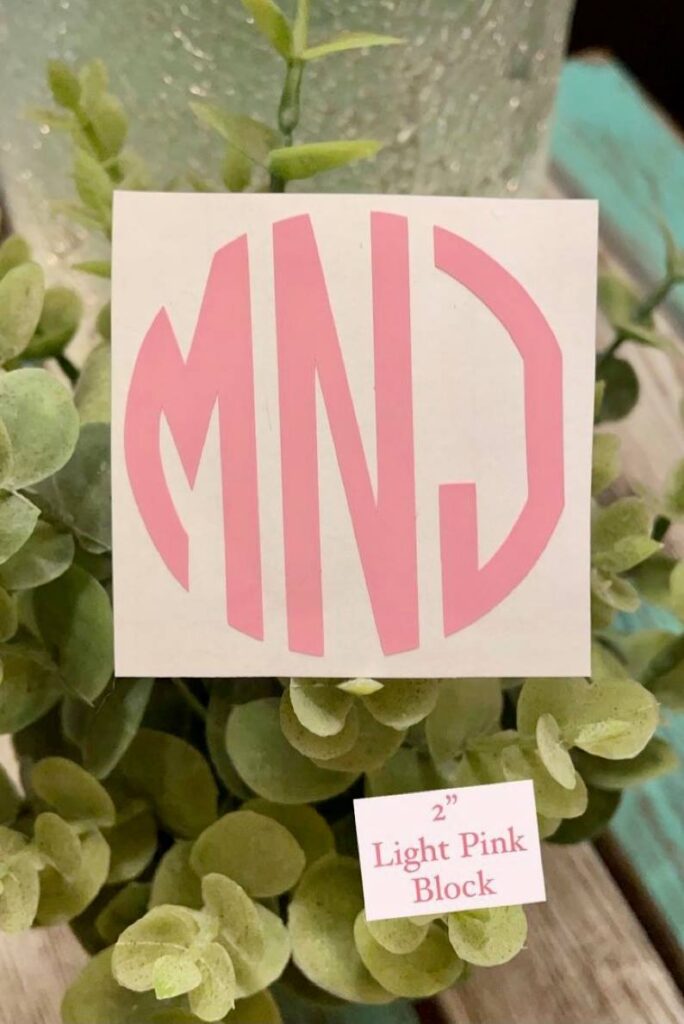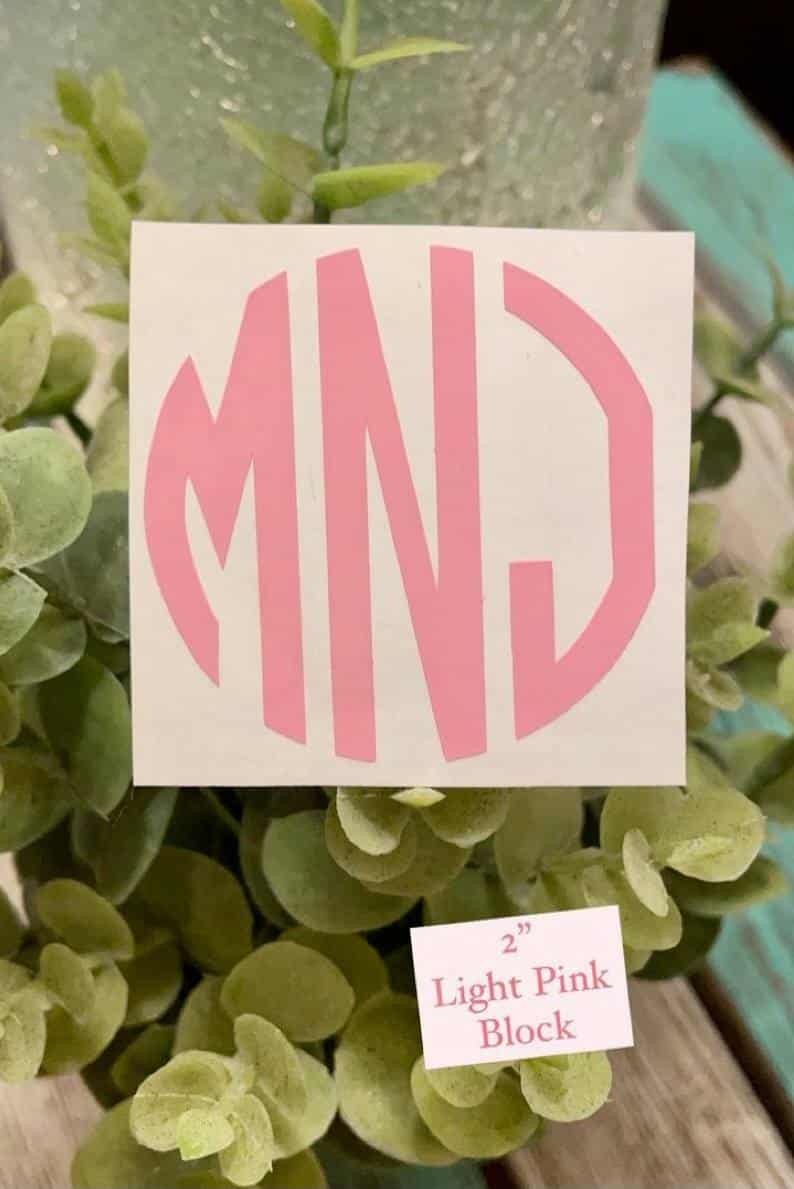 Classic, simple and defining. This laptop is mine and no one else's!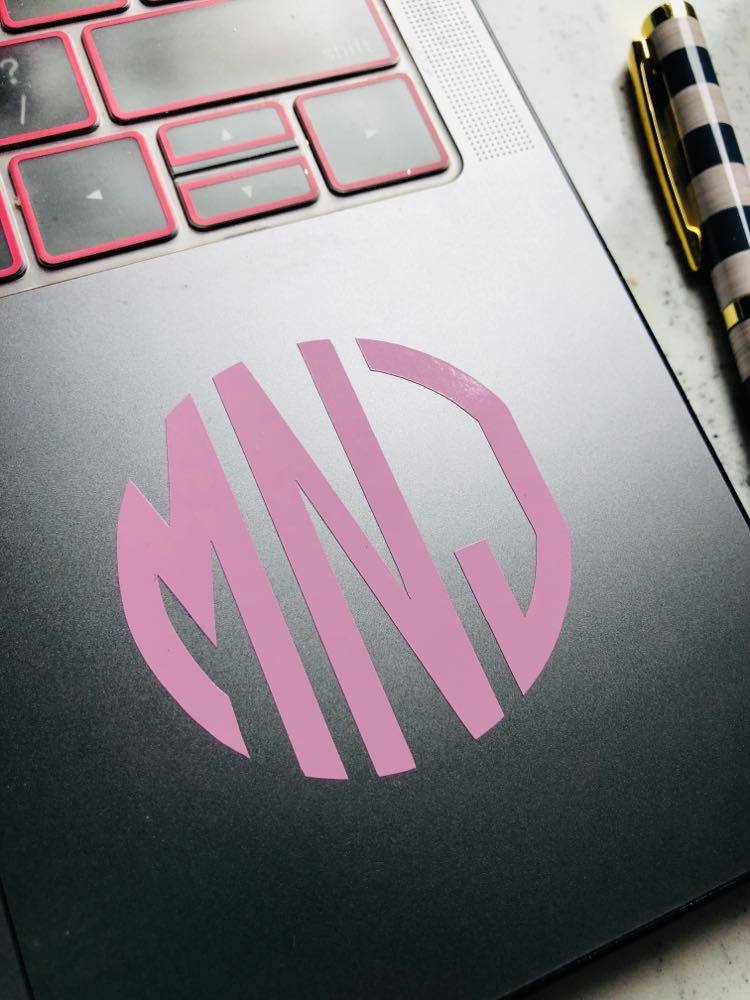 As a child of the 70's, this funky, disco version called my name…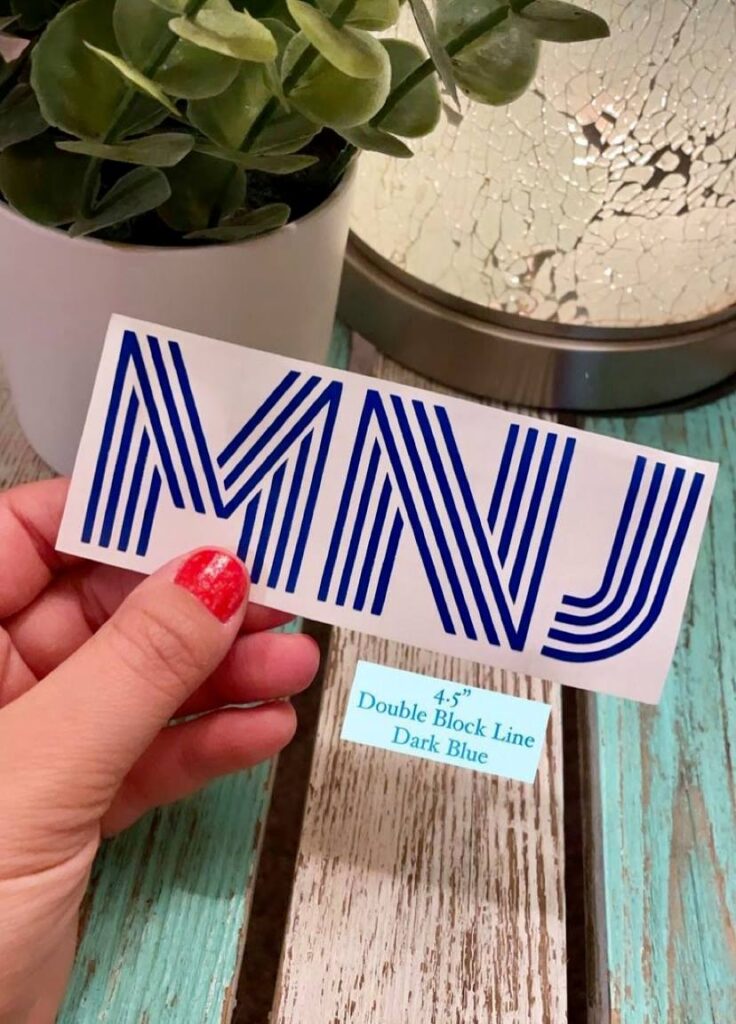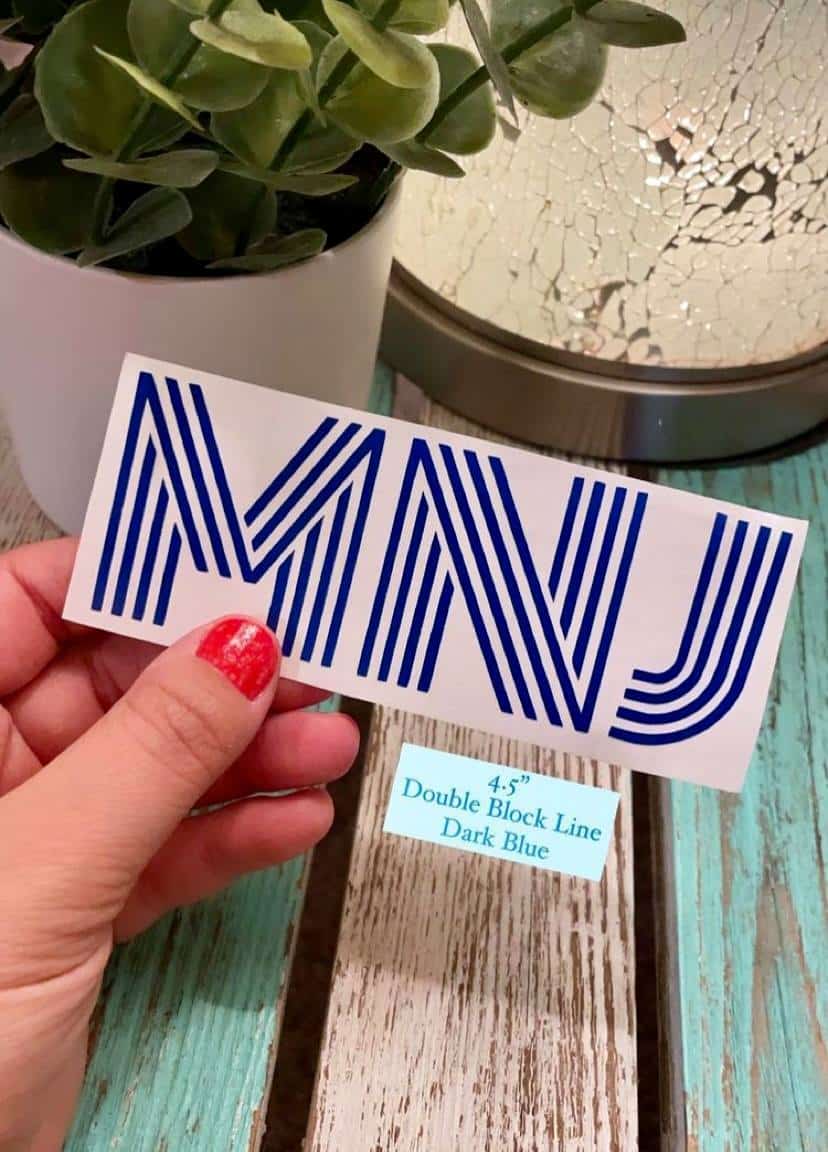 …and ended up on my travel mug!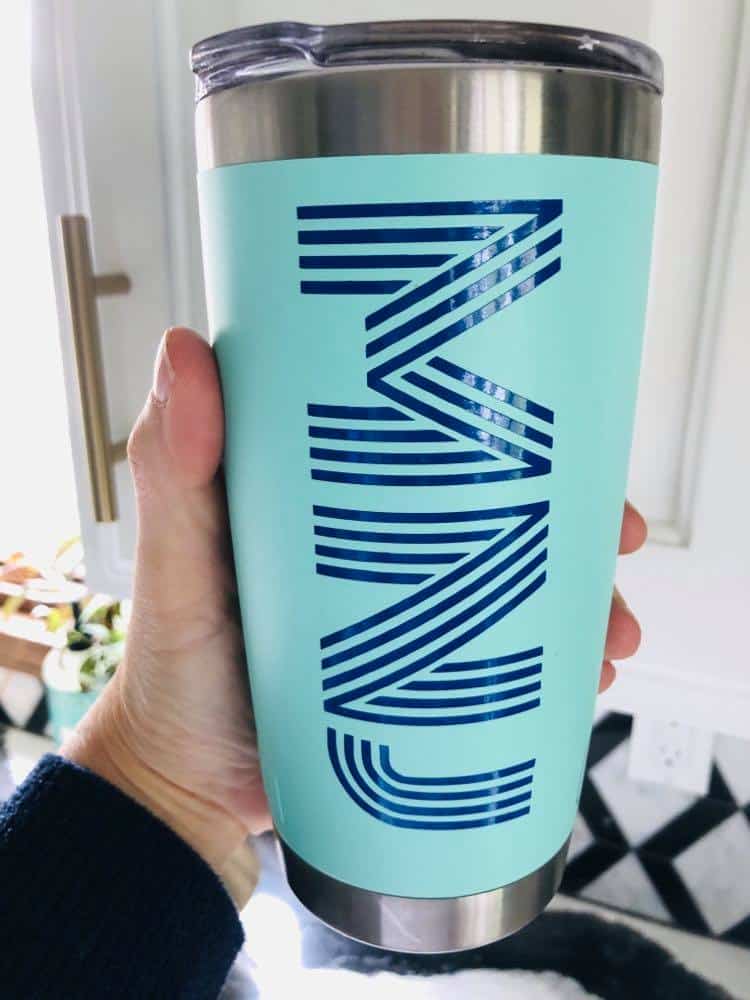 These last two are my FAVORITE! I am a huge fan of blue and white chinoiserie and here it is…
with my MONOGRAM!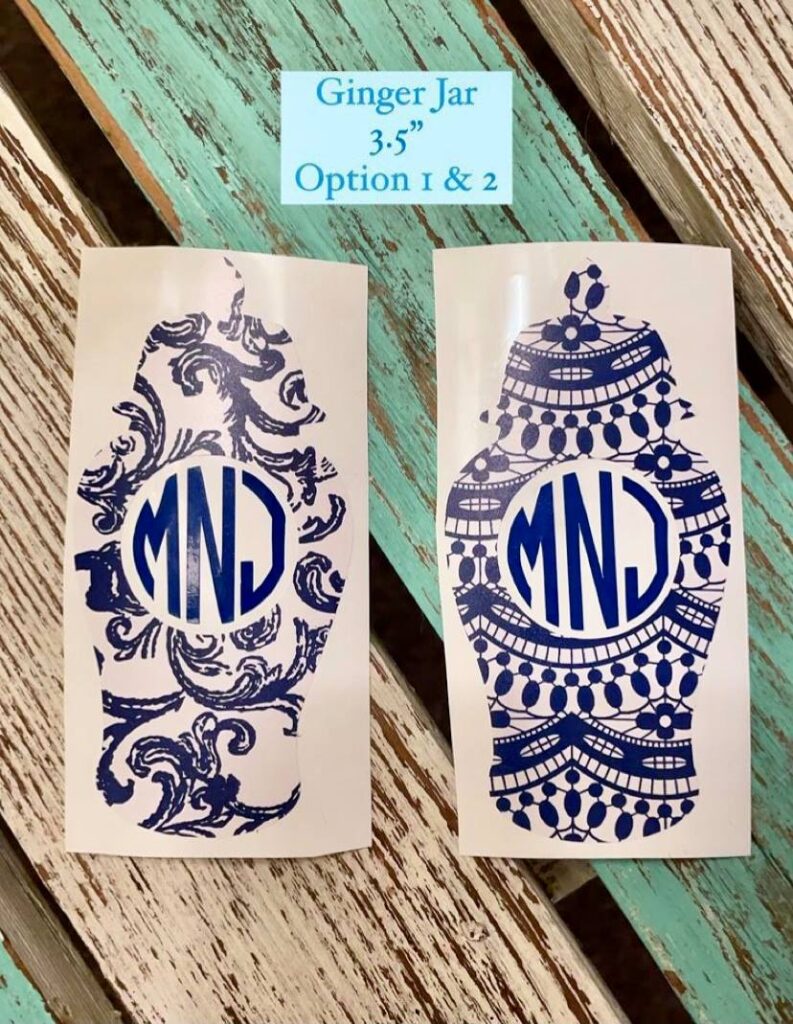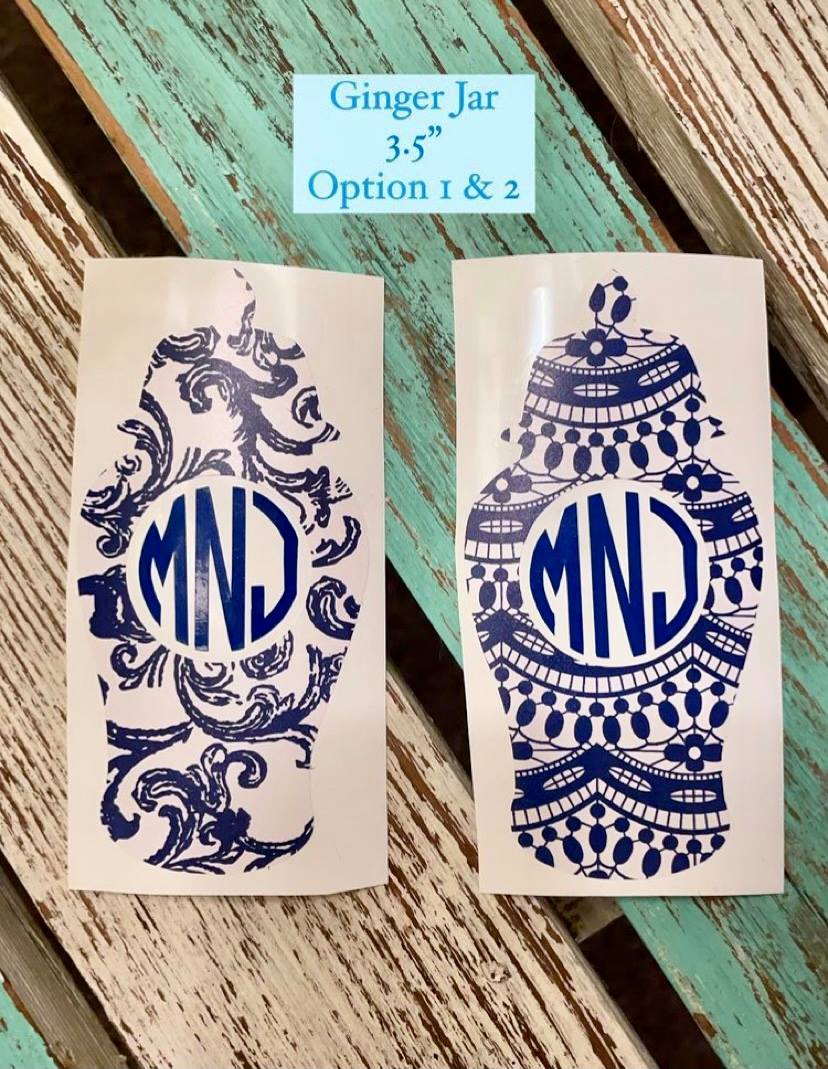 I love this so much that I ordered the monogram in two different vase patterns. I placed the stickers (again, follow the easy directions carefully) on opposite sides of a basic white IKEA pot. I added a plant and nestled it among other blue and white treasures…be still my blue and white heart!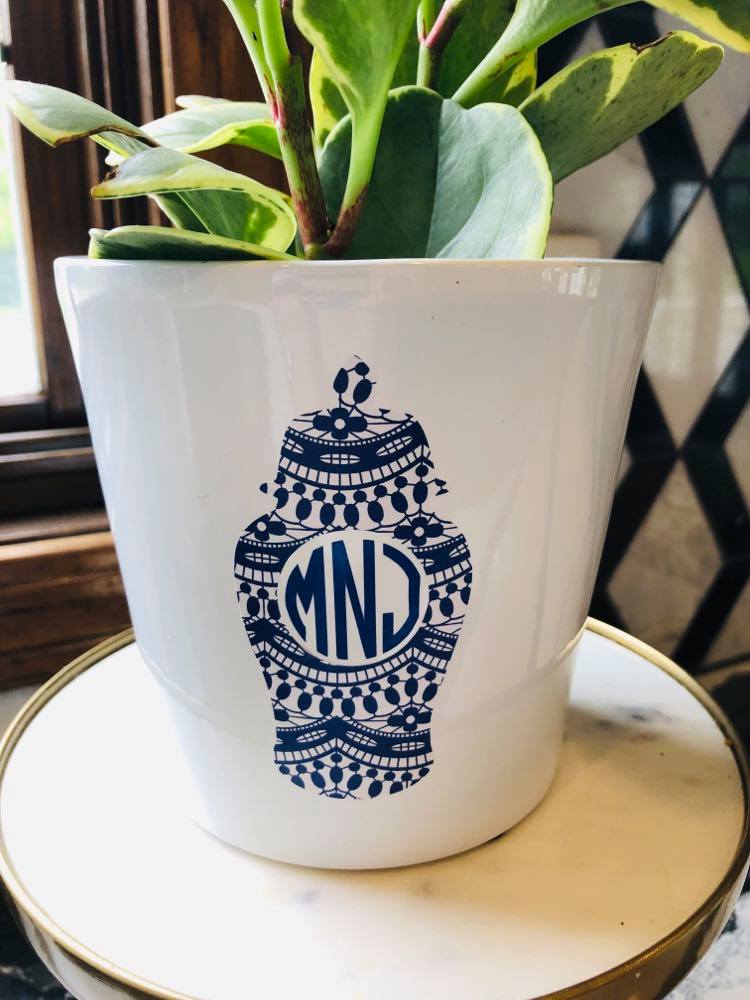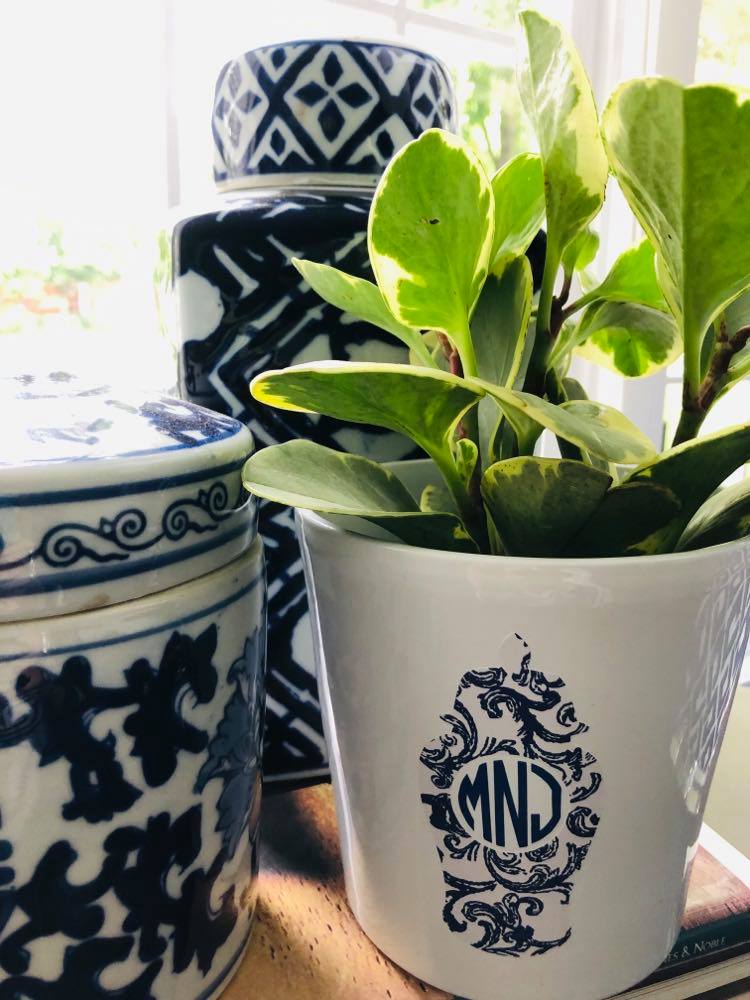 I'm thinking I might be making another online trip to OMD Monograms on Etsy. Maybe I will shop while using my monogrammed laptop while lounging with my monogrammed coffee mug with my hair wrapped in my monogrammed towel.
Nobody can mess up my name now…at least not my monogram!
Cheers!