How to Make a Paper Cone Valentine Heart
Looking for a fun Valentine to give? Follow these simple steps to make a beautiful and unique paper cone valentine heart this Valentine's Day.
Valentine's Day is coming up and you know what that means – lots of lovey-dovey things! But why stop at just the traditional cards and chocolates when you can make something extra special for your Romeo or Juliet? Learn how to create a fun, paper cone valentine heart to fill your home with some vibrant Valentine vibes!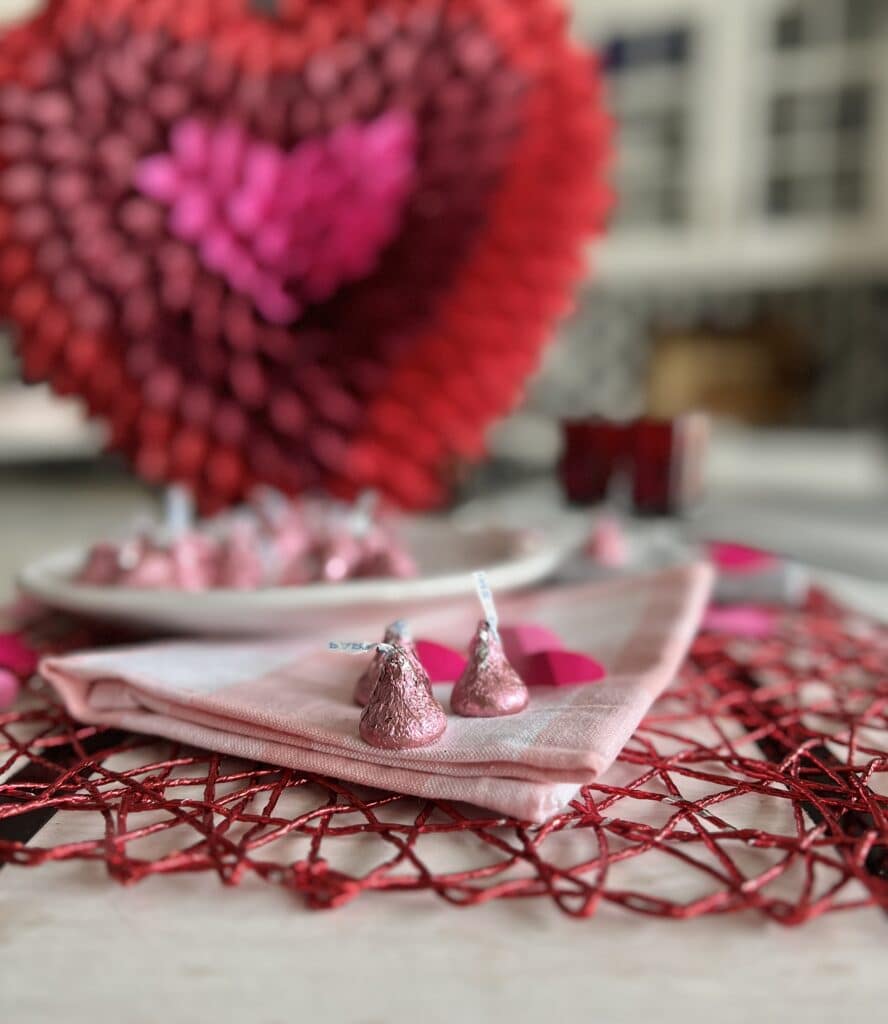 This blog contains affiliate links. This means a small commission is earned if you make a purchase by using this link. The price you pay will be the same whether you use the affiliate link or go directly to the vendor's website using a non-affiliate link. Sonata Home Design is a participant in the Amazon Services LLC Associates Program, an affiliate advertising program designed to provide a means for us to earn fees by linking to Amazon.com and affiliated sites.
"Handcrafted."
Doesn't that word have a nice ring to it?
Crafted by hand…there is just something special about it!
Because it means that something has been made by hand with thought, time, intention, and…love!
I am thrilled to be part of the Handcrafted Society… a very talented group of women who are amazing handcrafters!
You will want to know these ladies and follow their work on their blogs!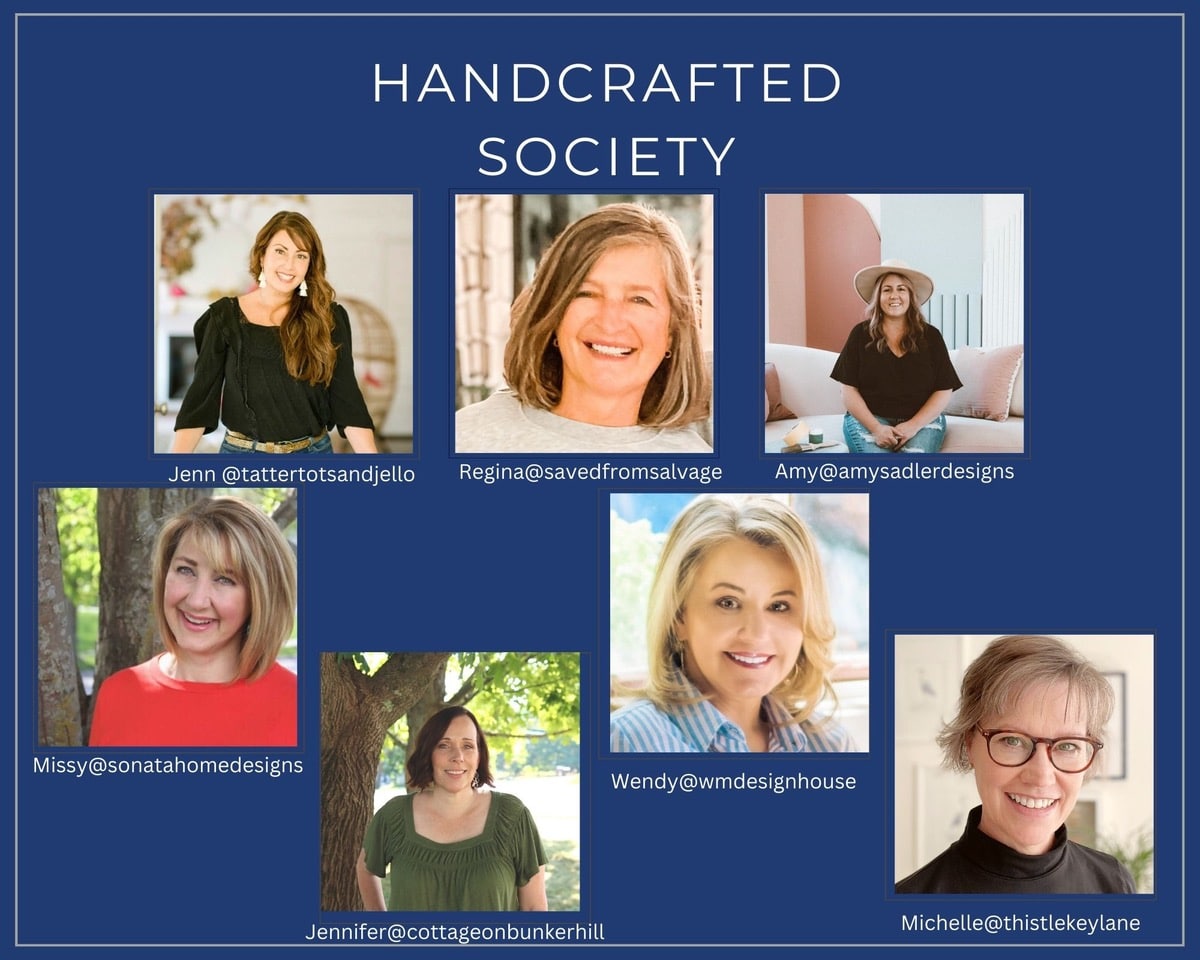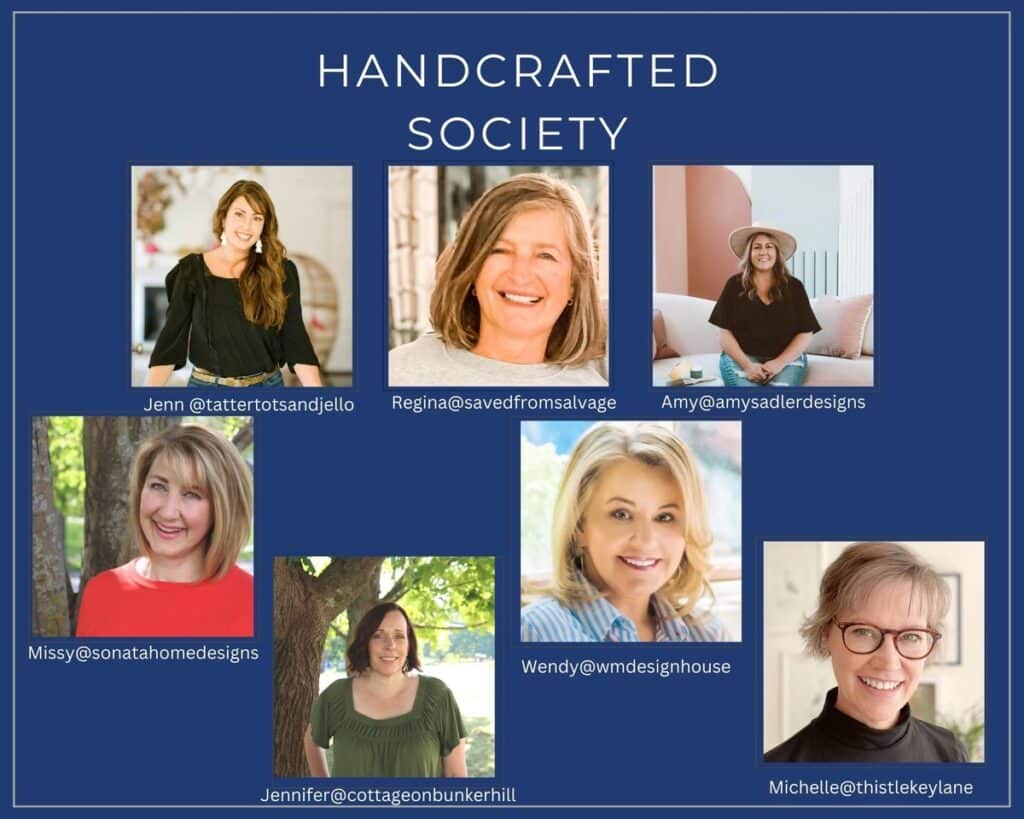 Founded by Wendy at WM Design House, each month we are given a theme and medium…and set free to create!
How fun!
For our inaugural month, Wendy gave us the perfect project combination…hearts and paper!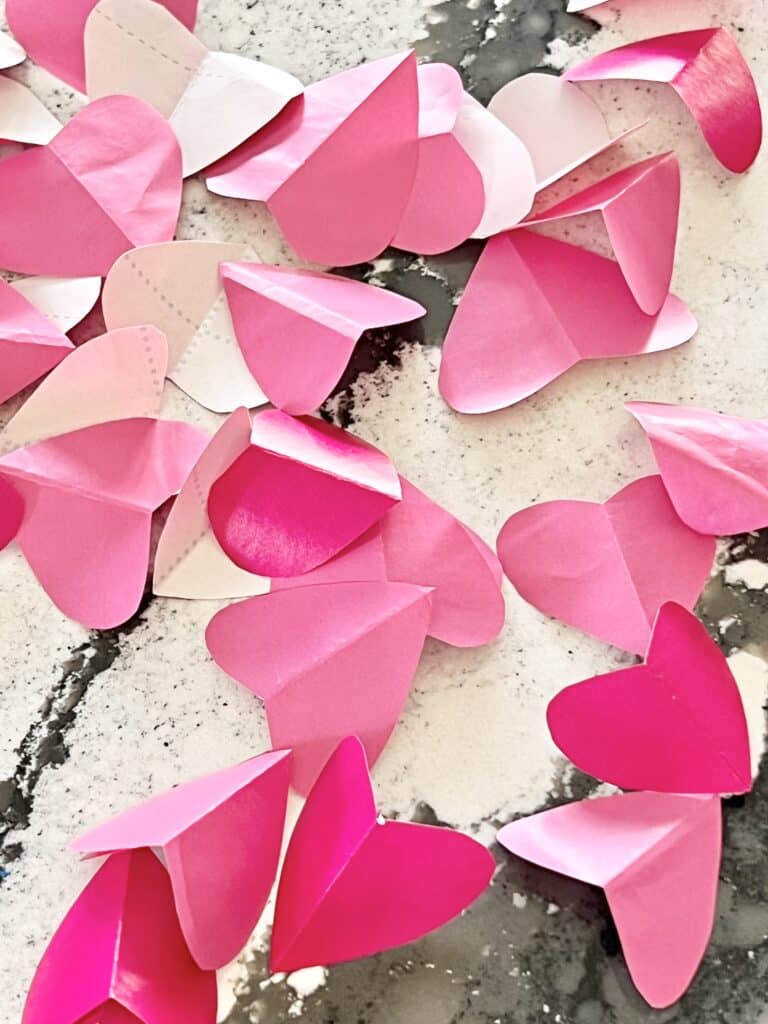 For my handcrafted project, I decided to give some paper a "twist" to create a heart.
Twisted into lots of little cones to create a paper cone Valentine heart!
Give this project a try and be sure to read to the bottom of the post to see the other 7 fantastic Handcrafted Society projects!
Here is what you need for your Paper Cone Valentine heart.
Supply List
Red or Pink Cardstock
Ruler
Pencil
Scissors
Hot Glue or Scotch Tape
Cardboard
No need to overthink the cardboard…I used a leftover box!
How to Make a Paper Cone Valentine Heart
The first step is to create your cardboard base.
Draw a heart on your piece of cardboard and cut it out using sharp scissors
You can free-hand this but I always prefer to use a felt heart from the dollar store when drawing a heart.
Without a template, my hearts tend to look like they need some pick-me-up surgery!
Next, cut (lots) 3′ x 3″ hearts from your cardstock.
I'm going for shades of red!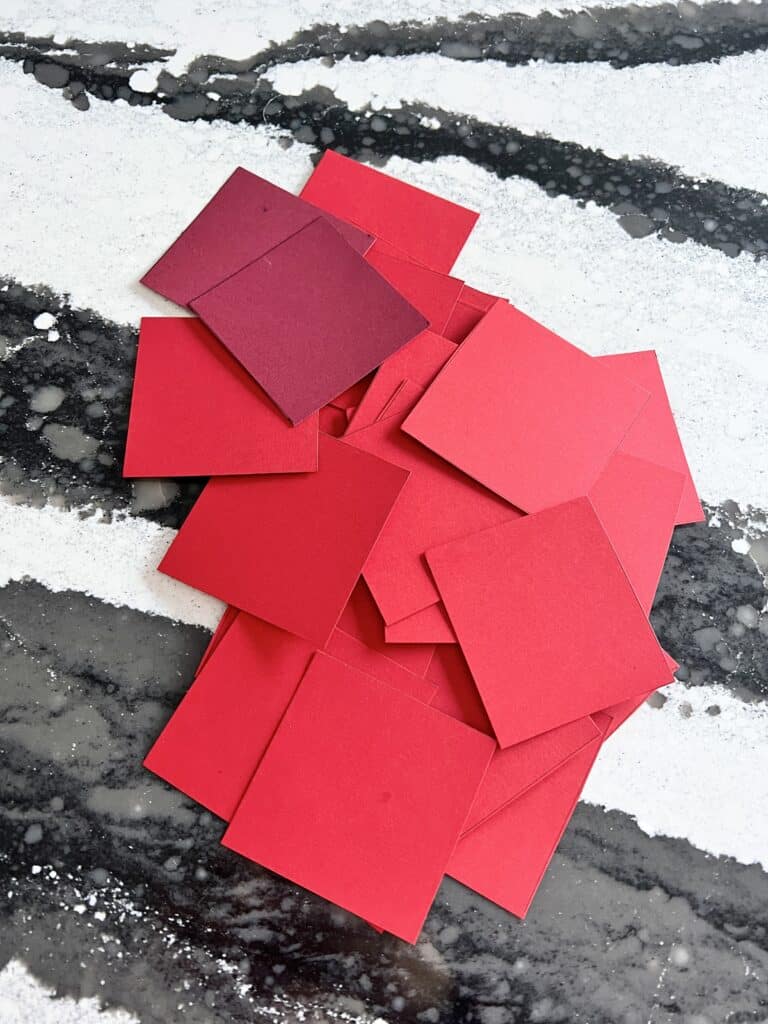 Making the Paper Cones
Take one of your squares and twist it into a cone.
This took me a few tries to get the cone shape that I wanted… tight tip at the bottom and a rounded opening at the top.
Once I got the hang of it, I was a paper-twisting machine! (I watched "Emily in Paris" while twisting!)
Add a touch of hot glue to seal the cone. I tried scotch tape but they kept popping open. Just go for the glue!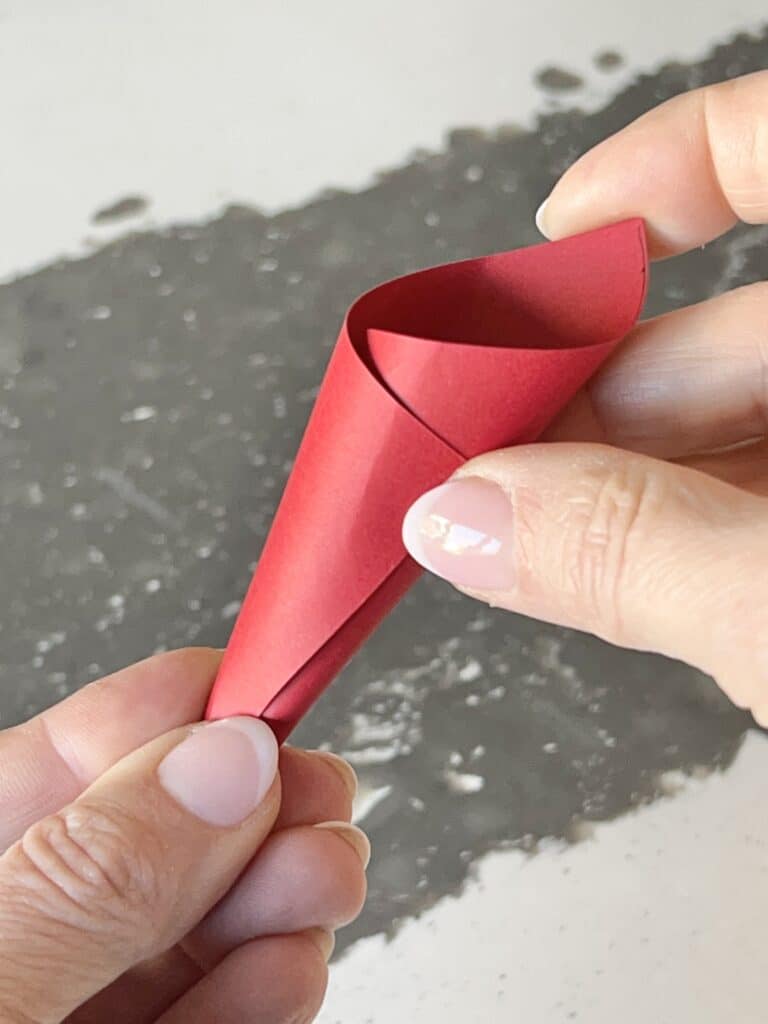 Twist LOTS of cones!
The number of cones that you need depends on the size of your cardboard heart.
I loved seeing my pile of red cones grow as I twisted them!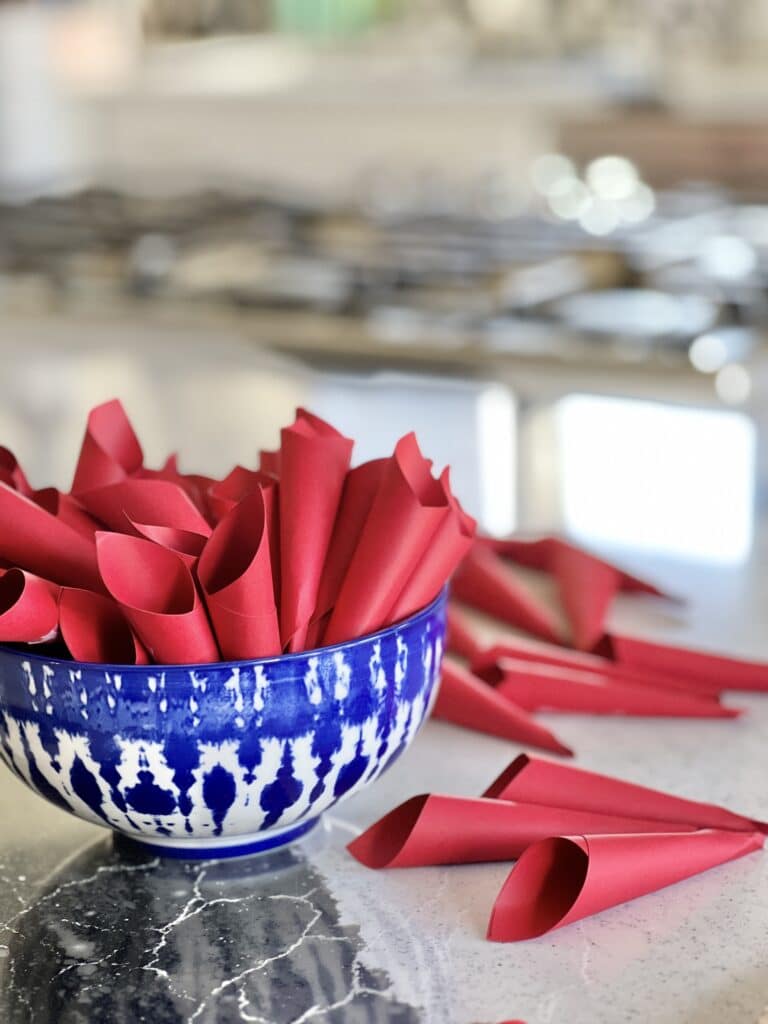 Creating the Paper Cone Heart
Starting at the bottom of the cardboard heart, glue each cone with the tip toward the middle and the opening facing out. Continue to glue the cones around the perimeter of the heart.
Angle them as needed so the cone openings face out and create a border around the cardboard. Don't worry about spacing between the bottoms of the cones…they will eventually be covered.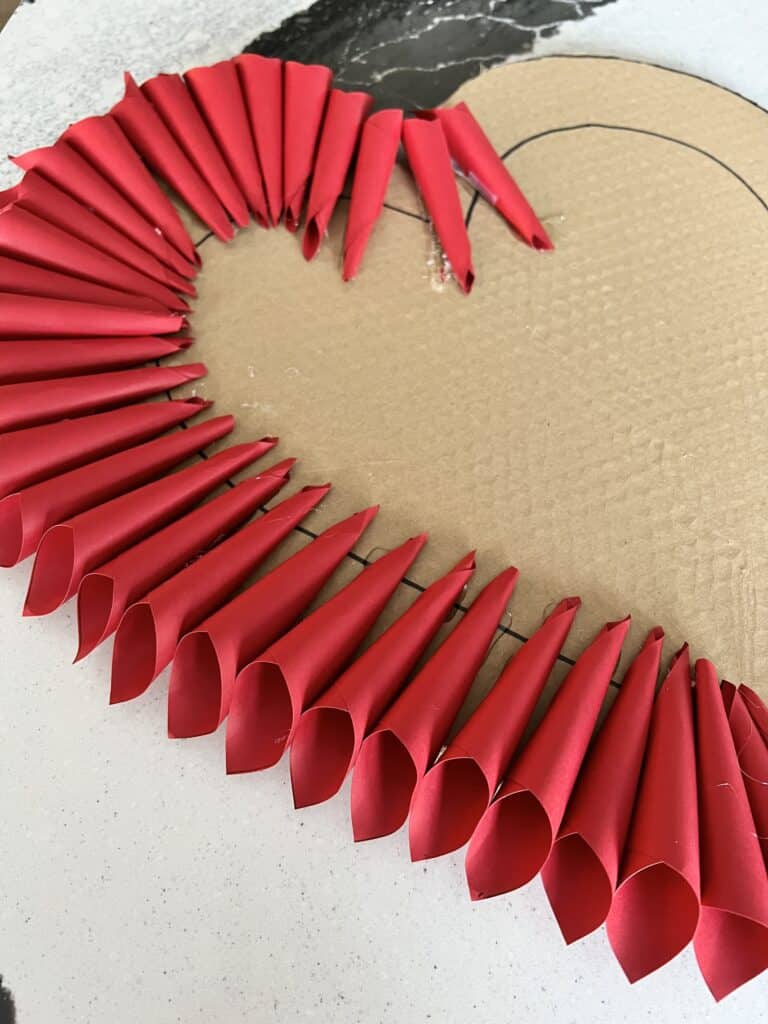 Once you get the first layer completed, add another!
For the secondary layers, pull the cones back slightly so there is an angled "stack" of cones.
Keep layering!
I decided to change the shade of red on the fourth layer to a burgundy red.
As you add layers and try to fit them all in, you will find that you need to glue the cones in a more upright position…and then the cones are too long!
Just bend the bottom or cut the tip of it off.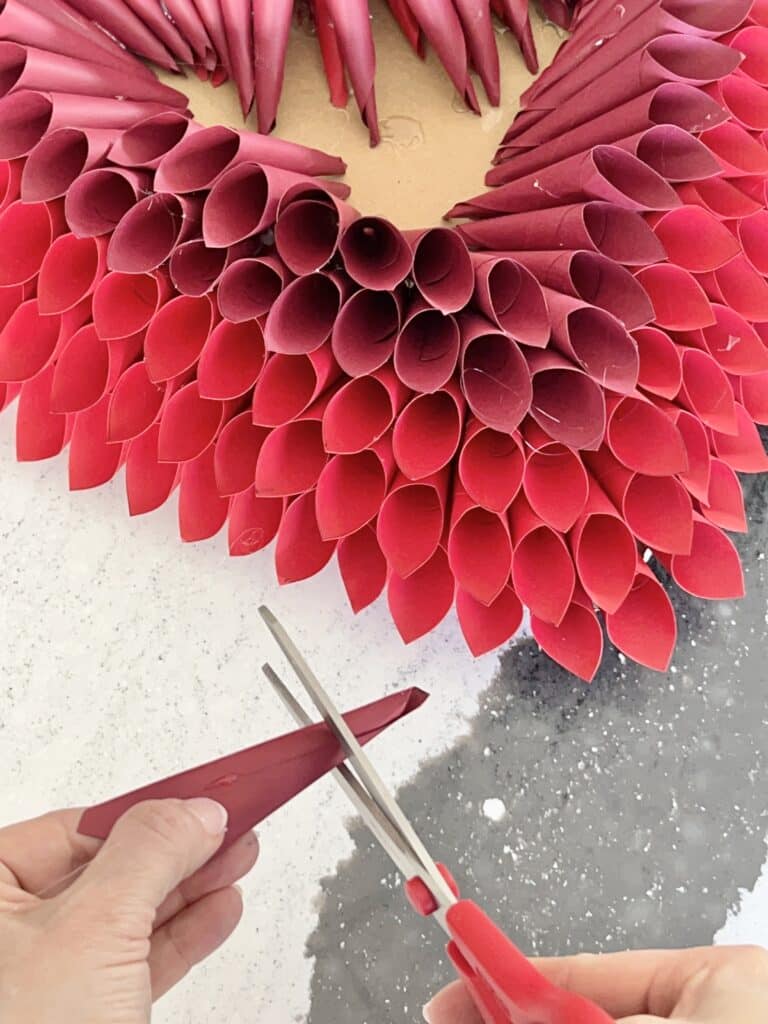 How about some shocking pink for the center?
Yes, please!
I love how sculptural this turned out!
It reminds me of a museum sculpture, a bee's honeycomb, and a box of chocolate…all in one paper cone heart!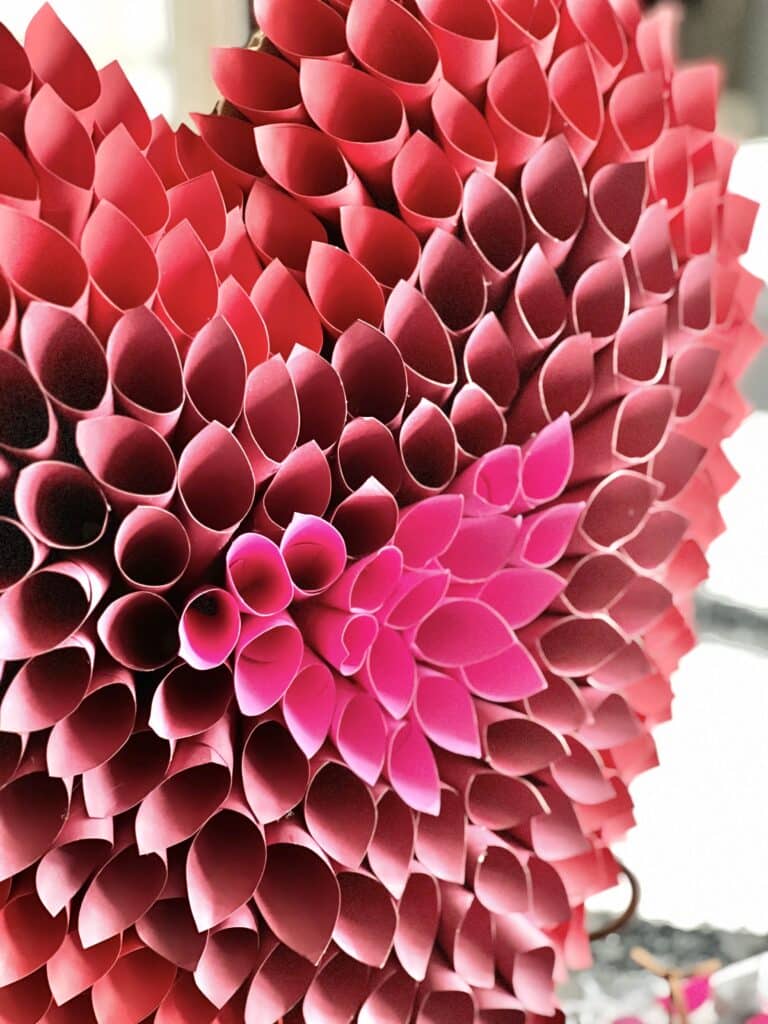 You could…
Hang from a door.
Set on a coffee table beside a book of poetry.
Prop on a fireplace mantel.
Leave it on the doorstep of someone special.
Use as a table centerpiece flanked with, of course…chocolate kisses!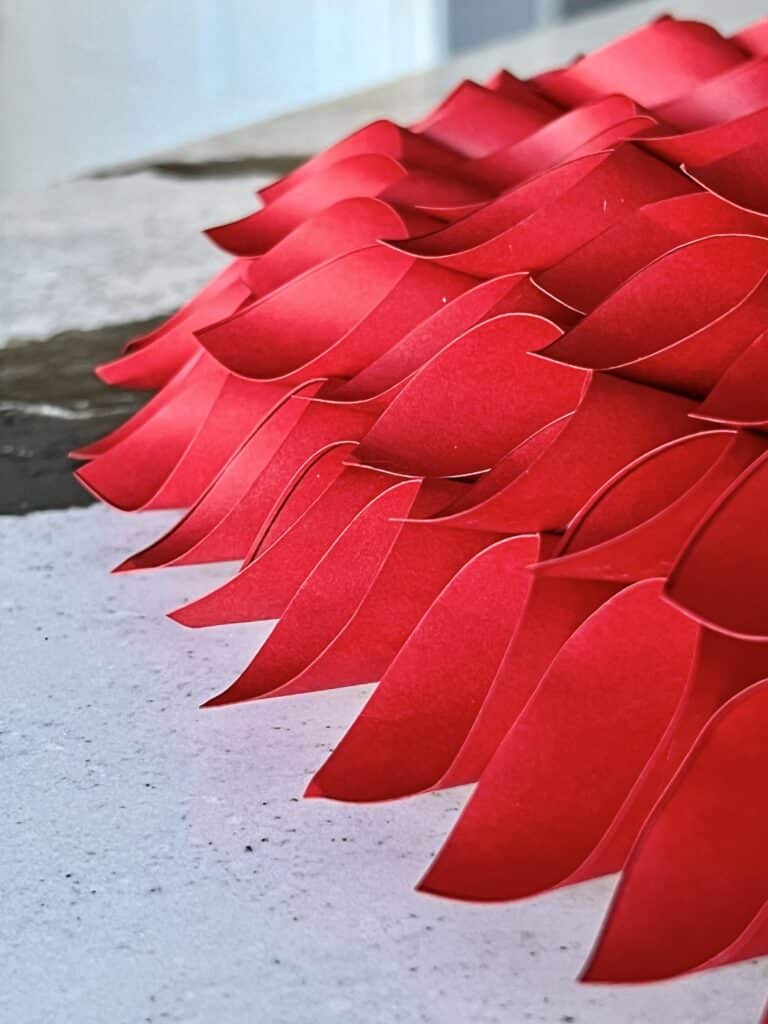 I styled it as a centerpiece on our kitchen island.
Chocolate kisses and Gran Marnier are ready to go for Valentine's Day!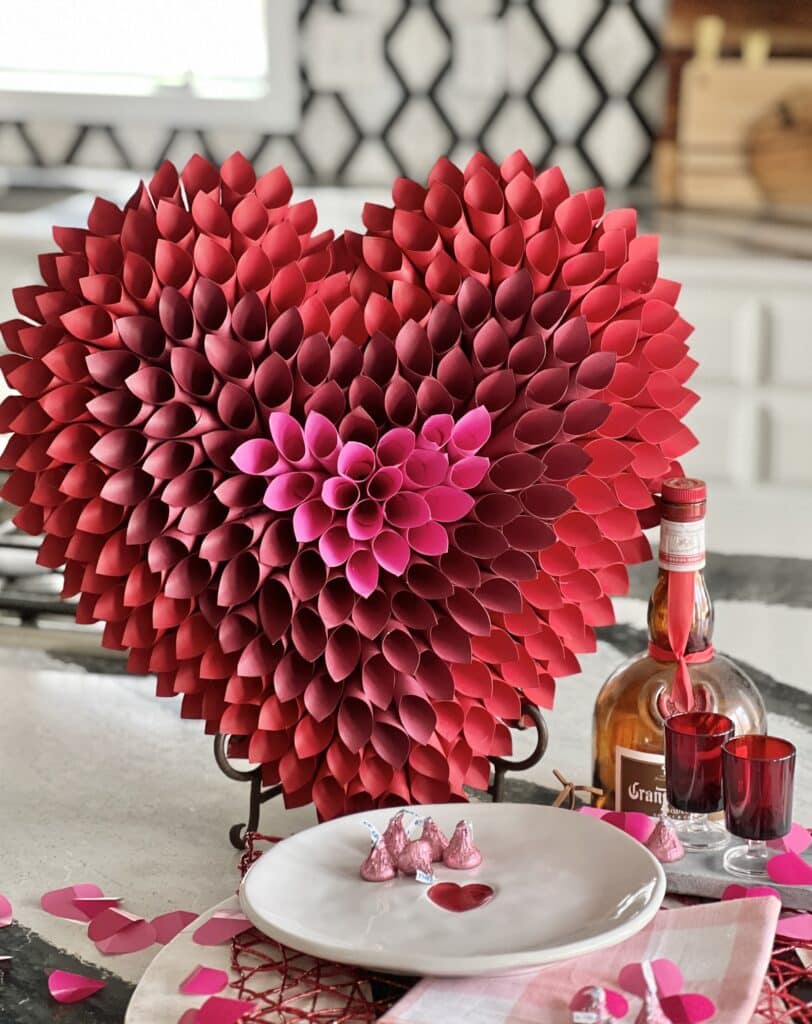 If you want to make someone feel special this Valentine's Day, try making them a paper cone Valentine Heart. You can make a heartfelt gift that will put a smile on anyone's face!
I had a blast with this first Handcrafted Society project! Be sure to check out the other 7 LOVE-ly projects below!
And follow along to see what the Handcrafted Society comes up with next month!
Now get out there and start spreading the love!
Cheers!

The Handcrafted Society
Don't Forget to Pin It!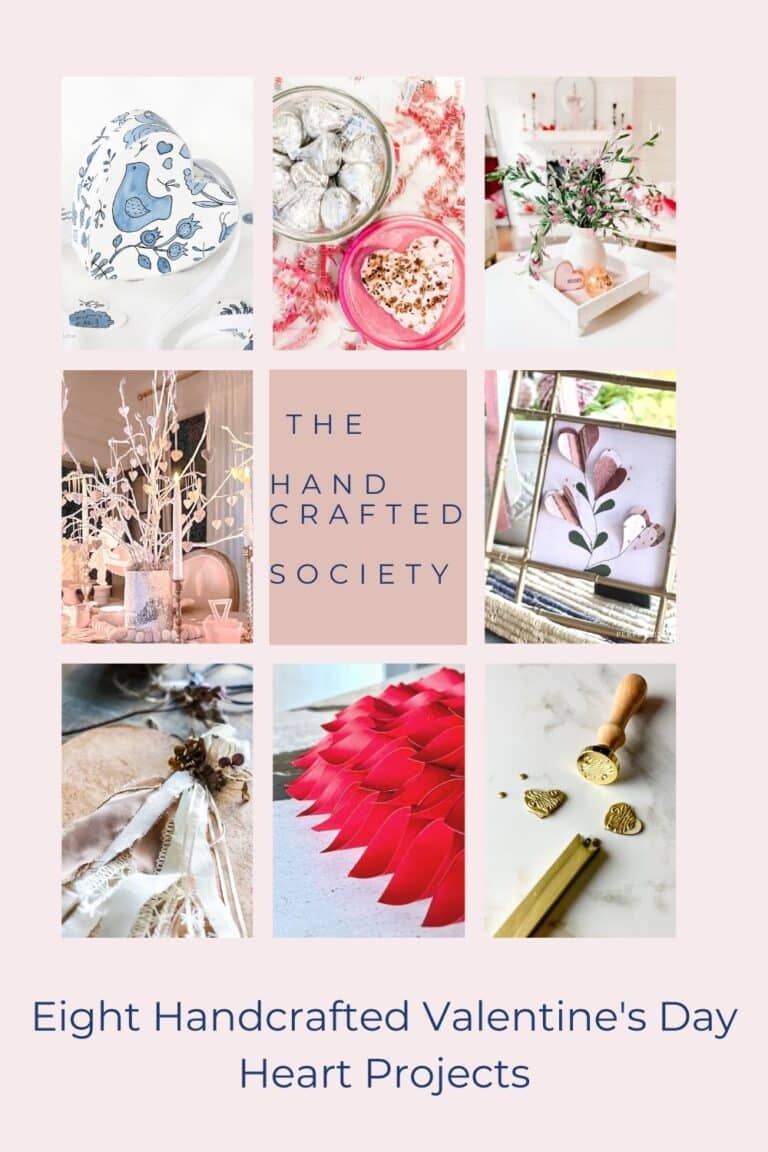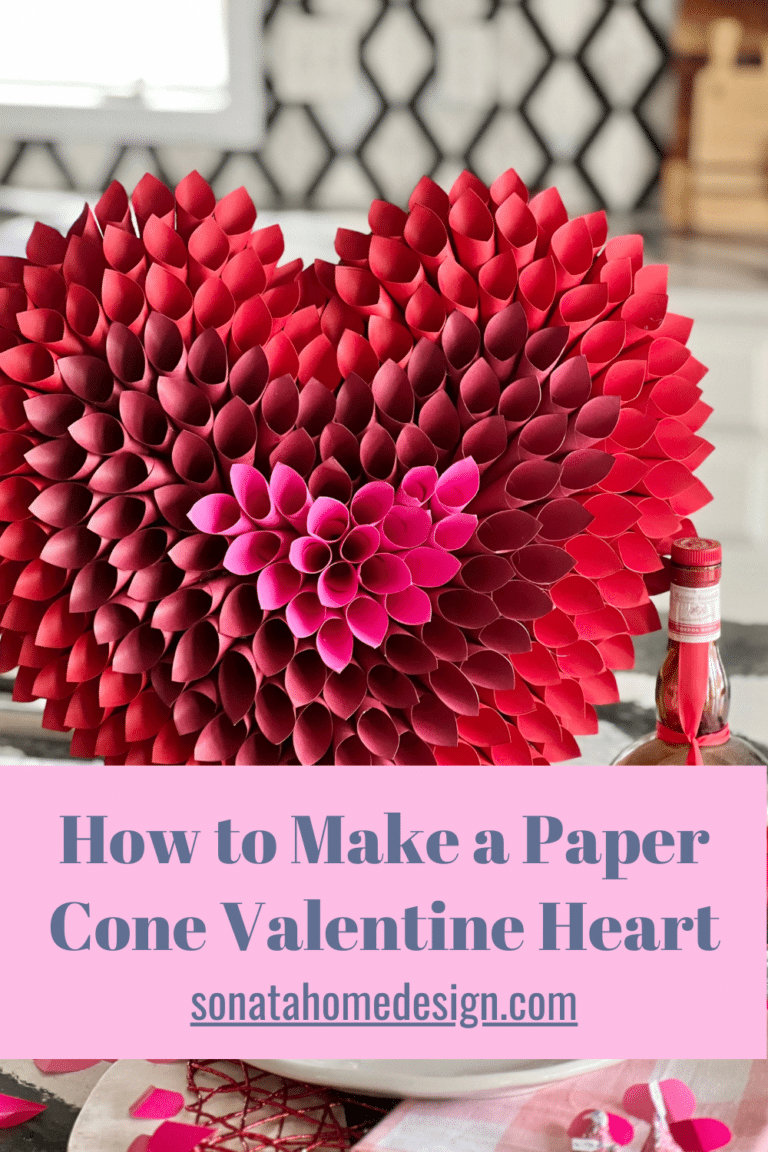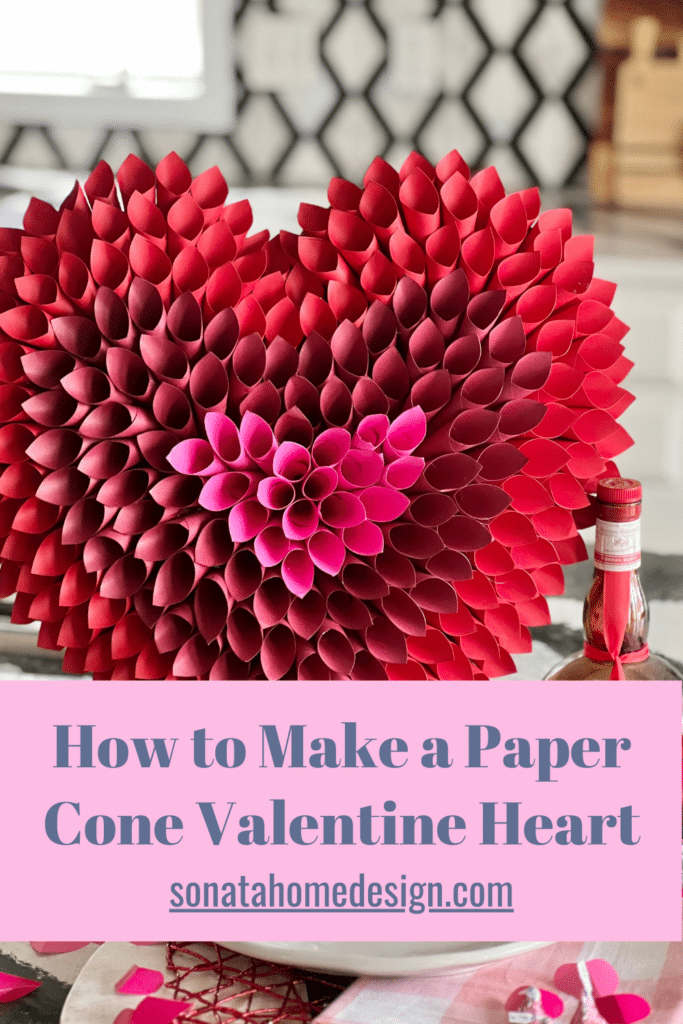 More Valentine Inspiration!
A Valentine's Day Decor Idea Using Tulips
14 Easy Valentine's Day Decor Ideas