A Valentine's Day Decor Idea using Tulips
Love is in the air! Learn how to make a simple and beautiful tulip-themed Valentine's Day decor project in a few easy steps.
Whether you give it away or keep it for yourself, check out this simple and easy way to add a touch of Valentine's Day magic to your home.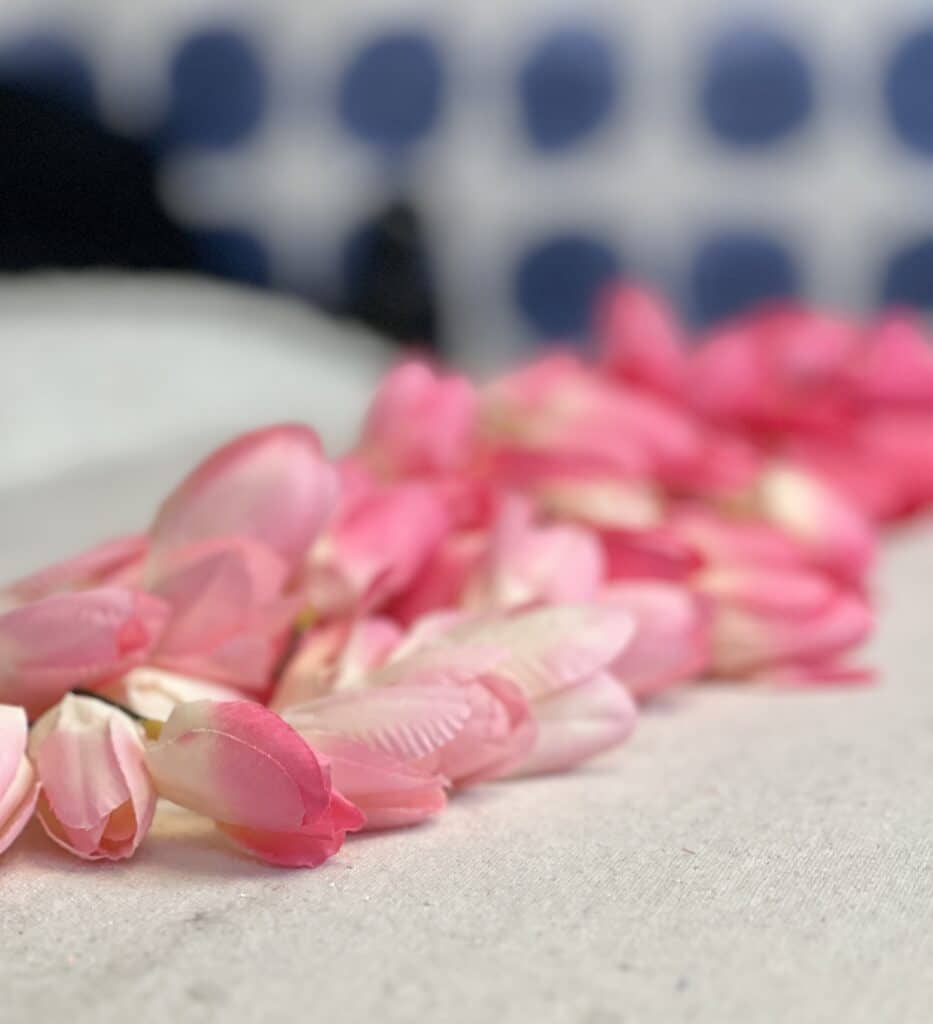 This blog contains affiliate links. This means a small commission is earned if you make a purchase by using this link. The price you pay will be the same whether you use the affiliate link or go directly to the vendor's website using a non-affiliate link. Sonata Home Design is a participant in the Amazon Services LLC Associates Program, an affiliate advertising program designed to provide a means for us to earn fees by linking to Amazon.com and affiliated sites.
Do you remember decorating your Valentine's Day shoebox for school?
Each year, my elementary teacher would instruct us to bring a shoe box to school to collect all of the valentines we would get.
Oh, the anticipation!
The clever homemade valentines. (Sometimes with candy attached!)
The "buy in bulk" valentines that could be purchased so that no one in the class was left out.
The secret hope that a certain boy in the third row would share his undying love for me through a hastily signed 2″ x 3″ folded "Be Mine!"
And the joy of decorating the box!
Paper hearts, silky ribbons, sparkling sequins, buttons, felt hearts, and…glitter!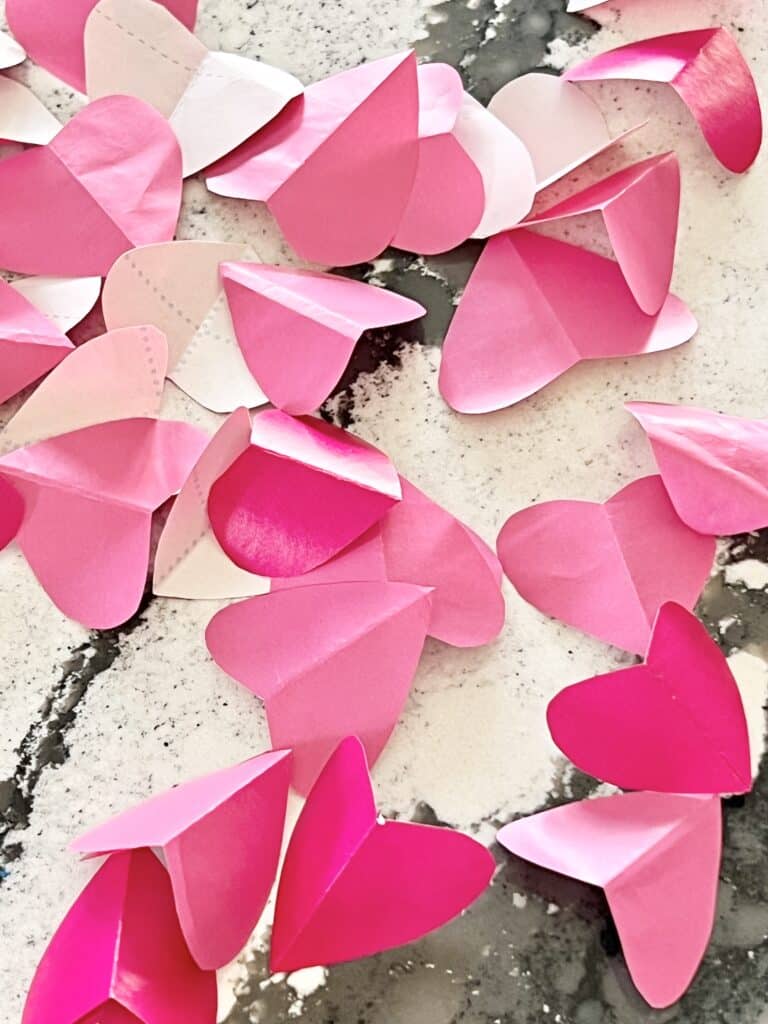 All of these glorious supplies were provided for us and we could use any and all of them.
I, of course, used them all! (More is more to an 8-year-old!)
My taste has evolved and simplified (thank goodness!) but I still love to make fun Valentine's Day decor!
A Valentine's Day Decor Idea Using Tulips
This is a project that requires just a few supplies.
I promise…no glitter!
Unless you want it!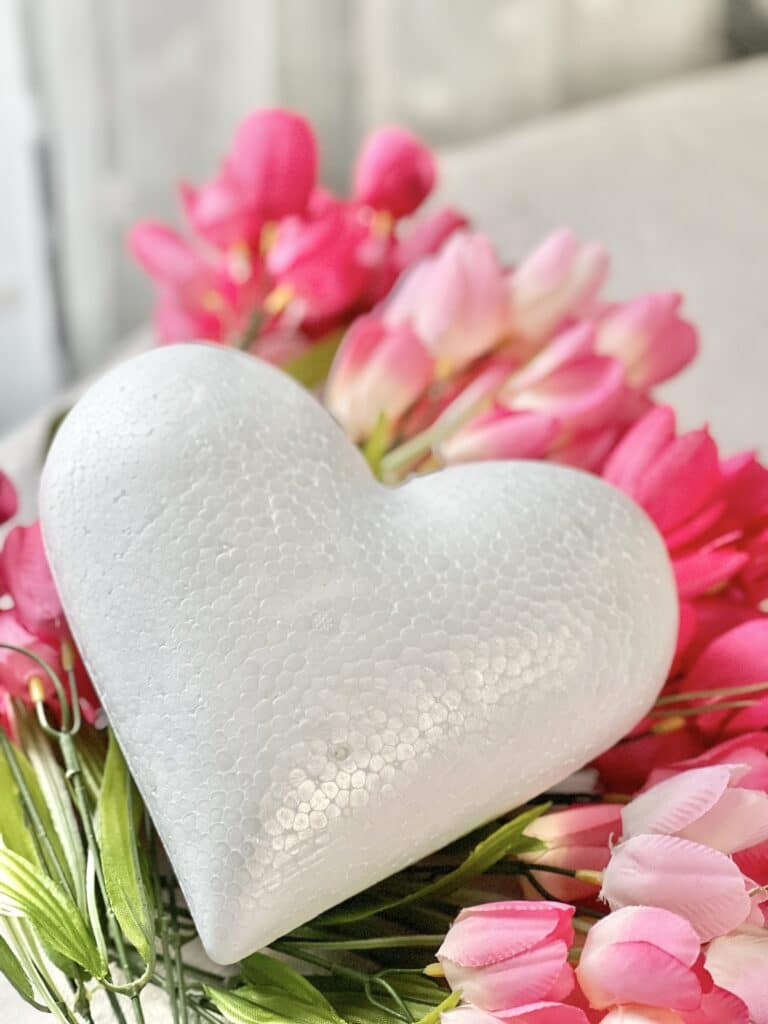 Supply List
What is the Meaning Behind Tulips?
Flowers all have certain meanings that are tied to them.
You can thank the Victorians!
During the Victorian era, silent conversations were conducted through floral arrangements! If someone wanted to answer a "yes" or "no" question without saying anything, they'd hand over flowers with their right hand for yes and left for no.
Talk about non-verbal communication! Let's hope they were paying attention during floral deliveries!
Carnations meant love and captivation.
Roses meant love but got quite specific in the type of love when given.
Chives meant usefulness.
Yikes!
Just yikes!
And then there are tulips!
Tulips are a beautiful way to show the depths of your love and admiration for another.
For centuries, these timeless blooms have been given as symbols of perfect and unconditional affection – making them an ideal gift for someone special in your life!
Prepping the Tulips
Tulips are my favorite!
And using faux tulips for this project is a little twist on the traditional use of roses for Valentine's Day
I chose to use tulips that are in different shades of pink so I could create an ombre effect.
Don't you just love ombre!
First, you will want to cut the blooms off the stems. Leave enough stem length so it can be inserted into the foam heart.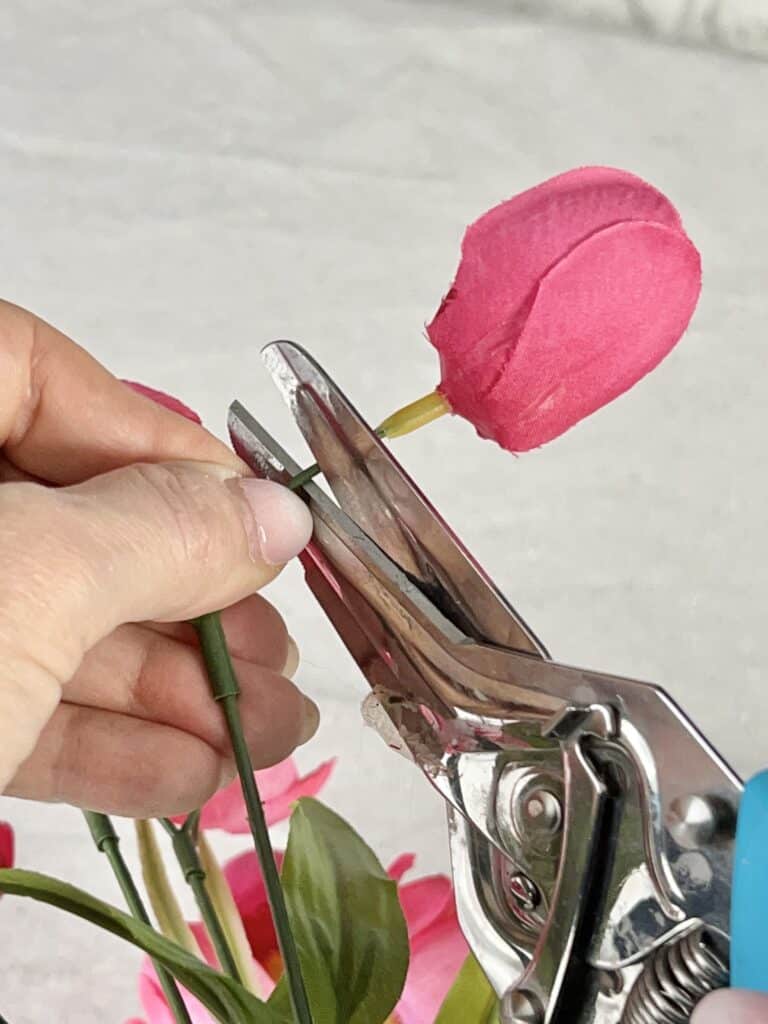 Creating the Tulips Covered Heart
If your tulip stems are strong and sturdy, you can push them directly into the foam heart.
My tulip stems were on the weak side. Every time I tried to push one into the foam, the stem just bent and curved. It needed some help!
So, the problem was solved with the use of a T-pin. I keep T-pins on hand for upholstery projects but am amazed at how often they solve little problems like this.
Simply push the pin into the foam to create a pilot hole.
Just a little prep hole so the tulip stem can be pushed in the heart form.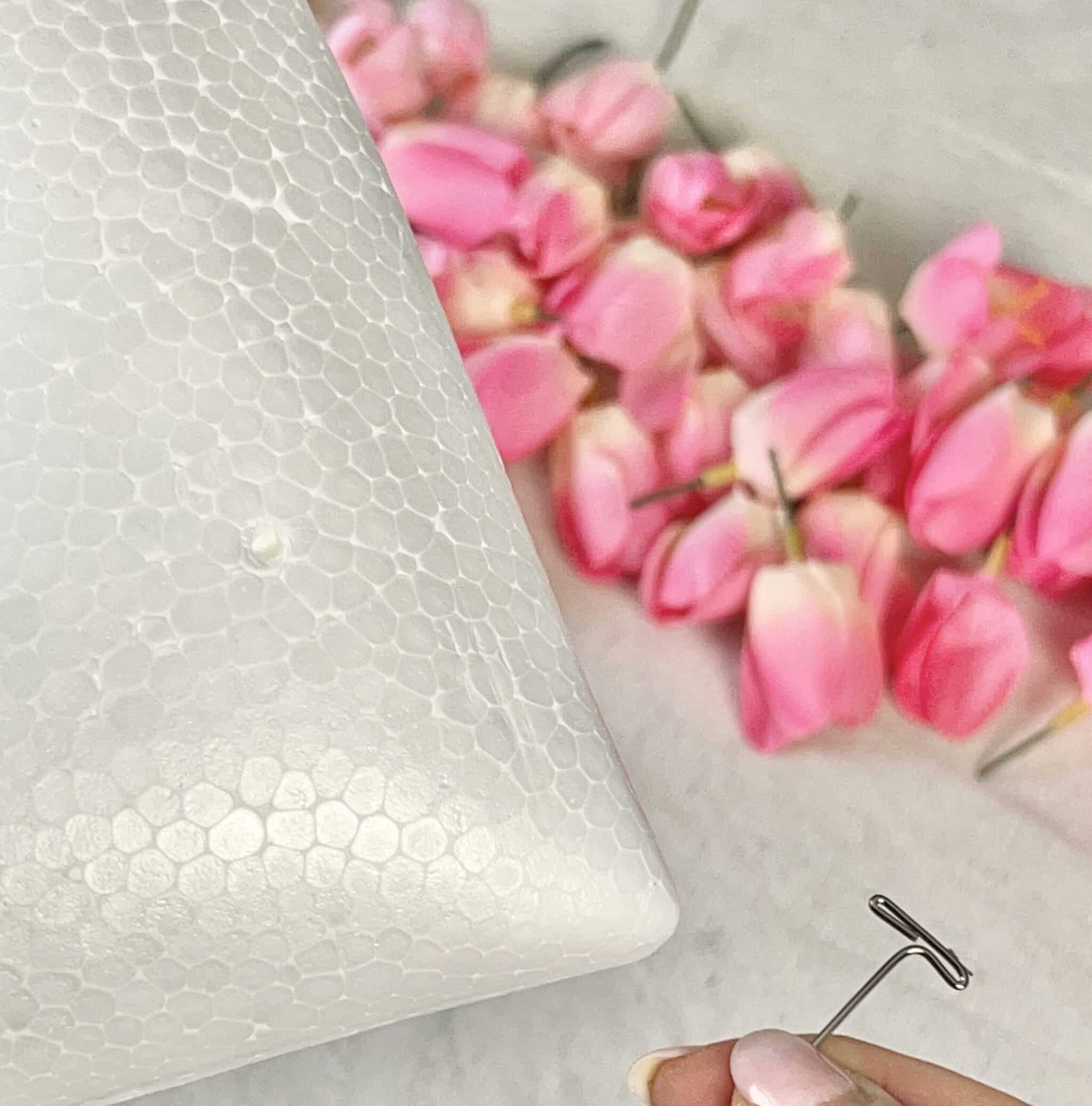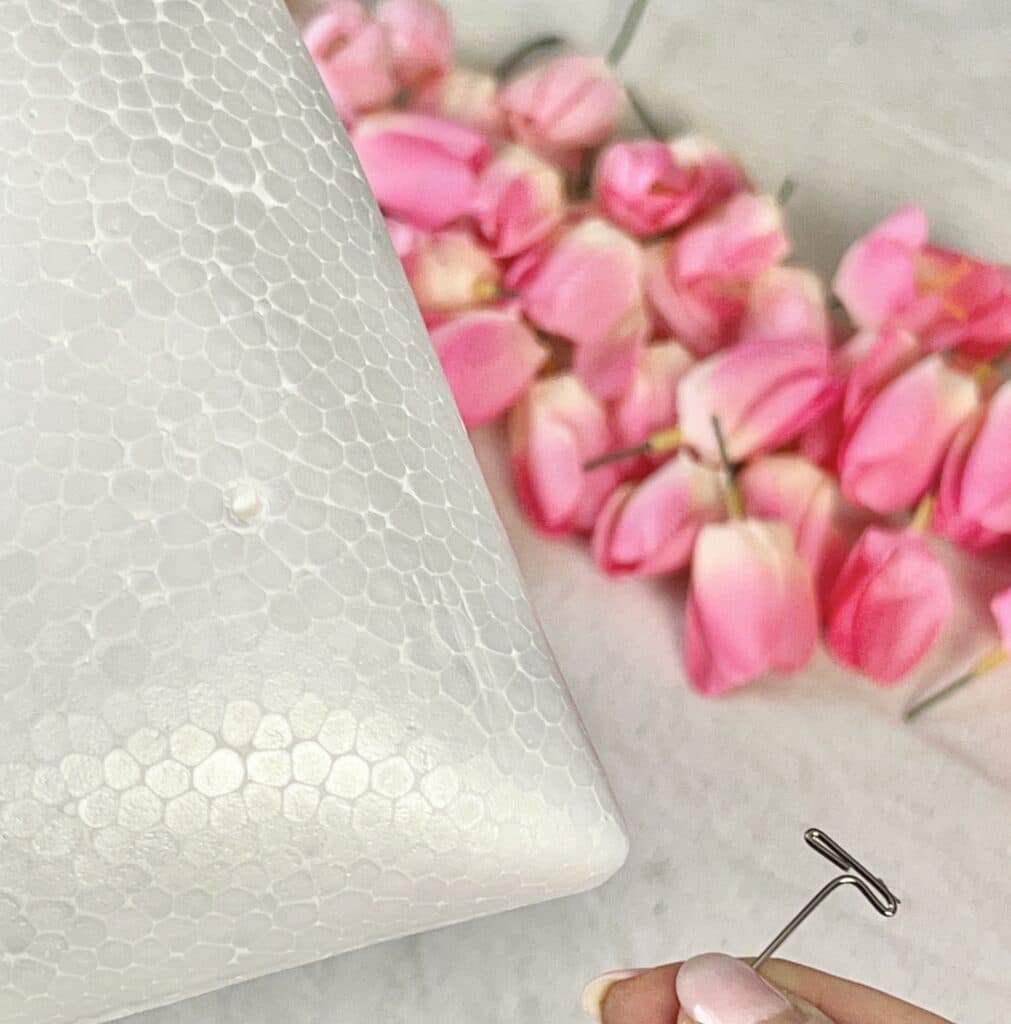 Start by inserting tulip blooms at the very bottom tip of the foam heart.
Then, work your way around the outermost edge, filling it with blooms until you complete an outer ring on the form.
Because I went for an ombre effect, I used the very palest pink tulips for the outside border.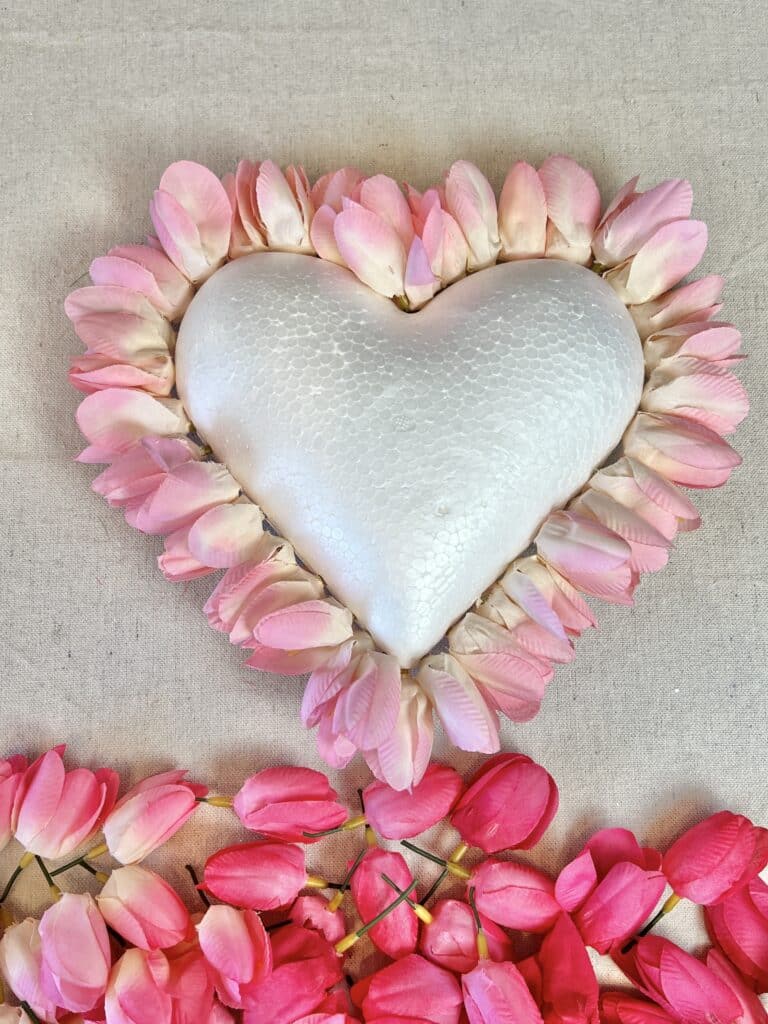 Add another layer of tulips just inside the border layer and continue to add the layers until you reach the center.
With each layer, I used tulips that were a stronger pink.
Pale pink on the outside and moving to stronger pinks as I filled into the center.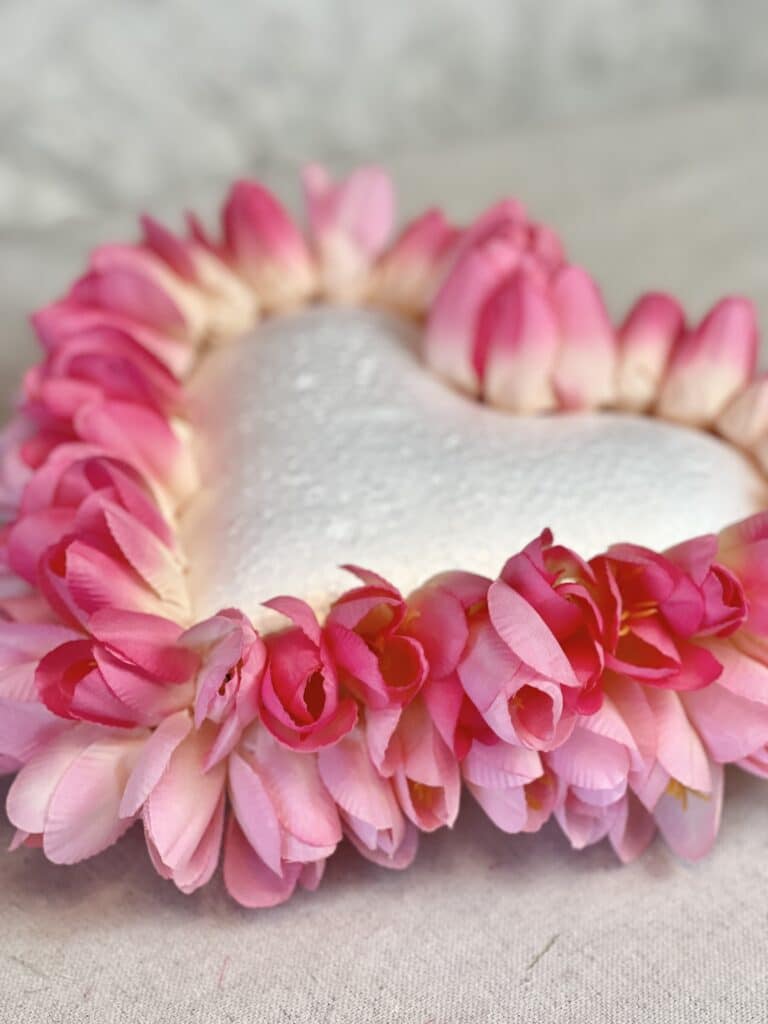 The closer I got to the center, the more I alternated the shade of pink blooms.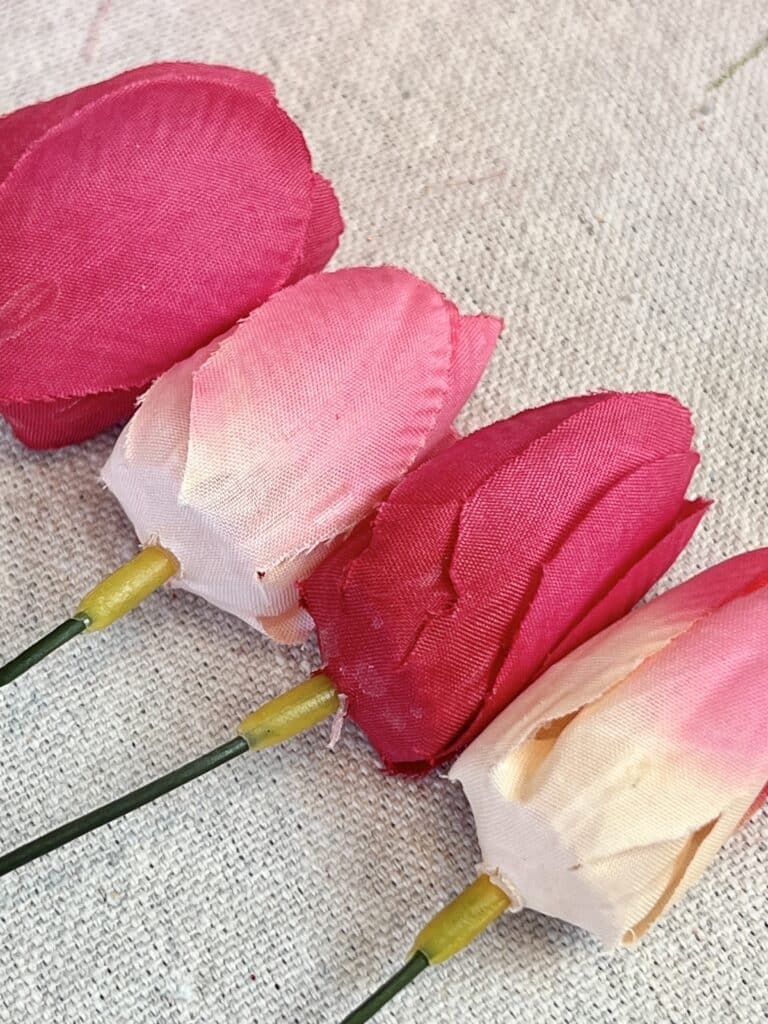 There are even some red tulips close to the center.
And don't forget the other side! This is a dimensional foam heart so I filled the other side with tulips as well!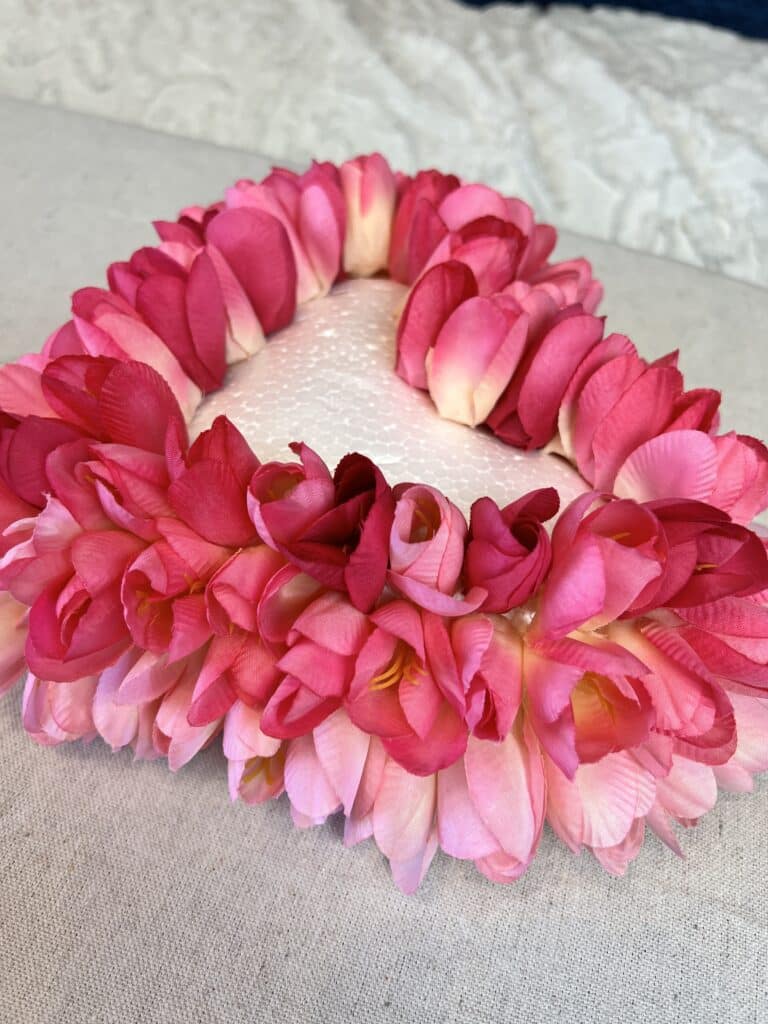 The Finishing Detail
Using a greening pin or a florist pin, attach a ribbon of your choice to the top center indention of the heart.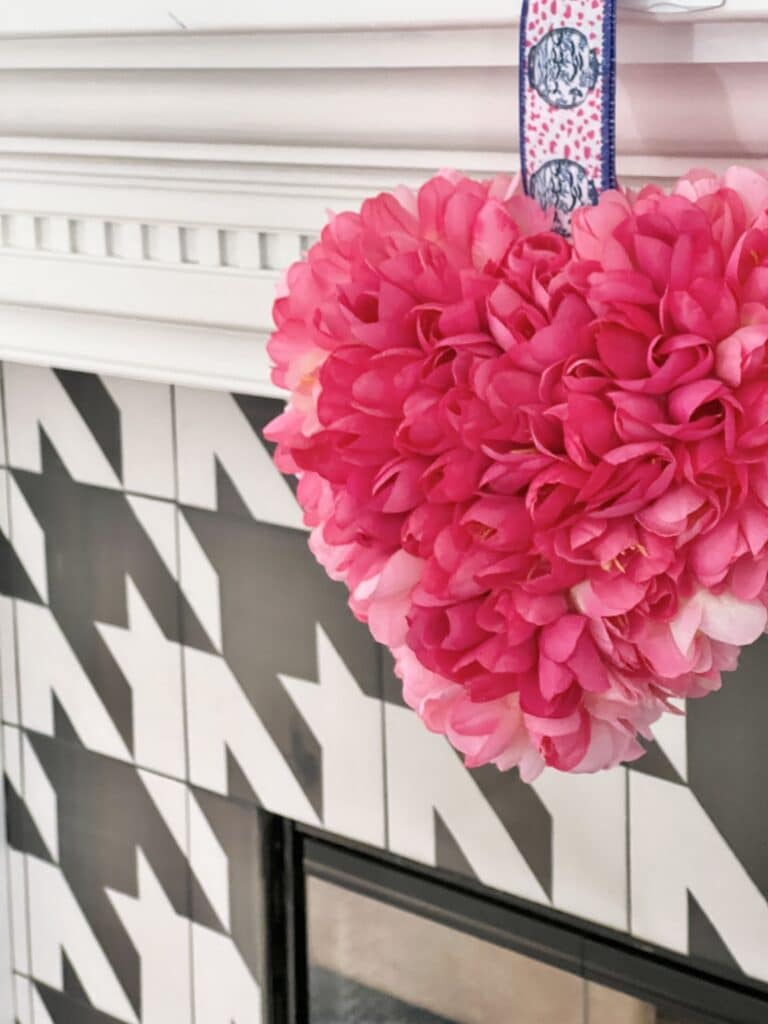 You can hang from a door, a window, a door knob…
Or a fireplace mantel!
Bentley didn't quite what to think of the hanging heart on the fireplace.
But he loved the treats I gave him for sitting still for a couple of seconds for a photo!
Valentine's love comes in canine form too!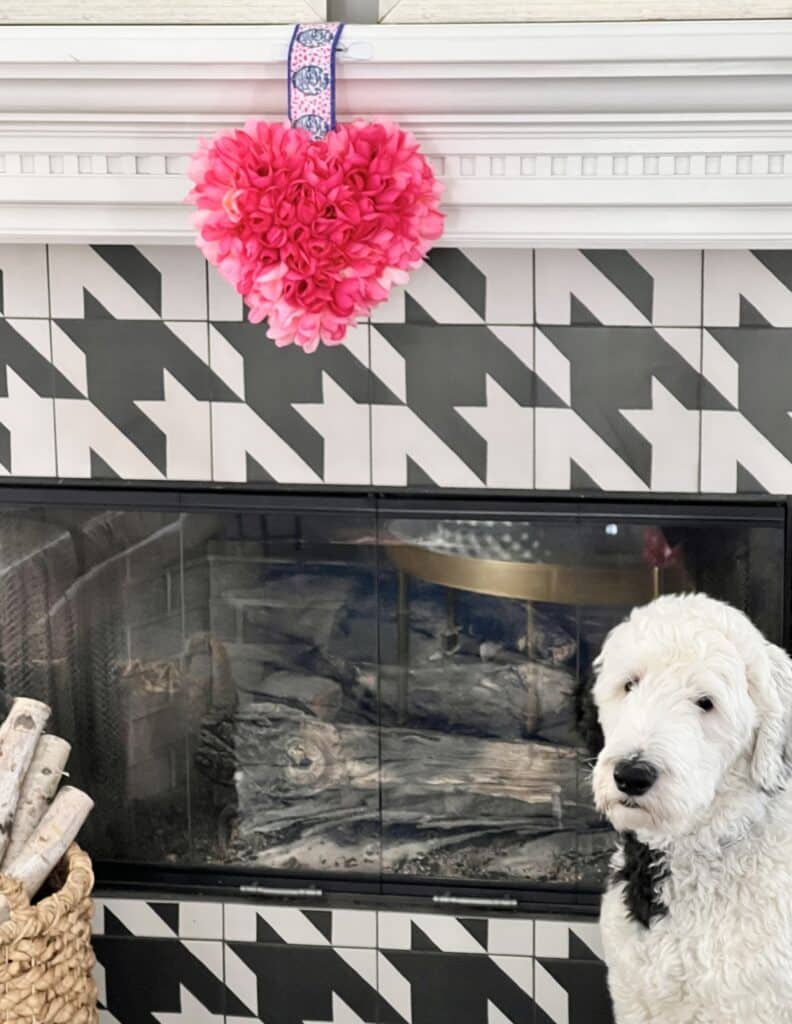 Even nestled among some greenery and home decor jars, this tulip Valentine decor has my heart!
With Valentine's Day just around the corner, it's time to start thinking about how you can show your home some love. This tulip heart decor is the perfect way to do just that.
Plus, it's easy to make!
So tiptoe through the tulips and send someone some non-verbal perfect, deep, and unconditional love!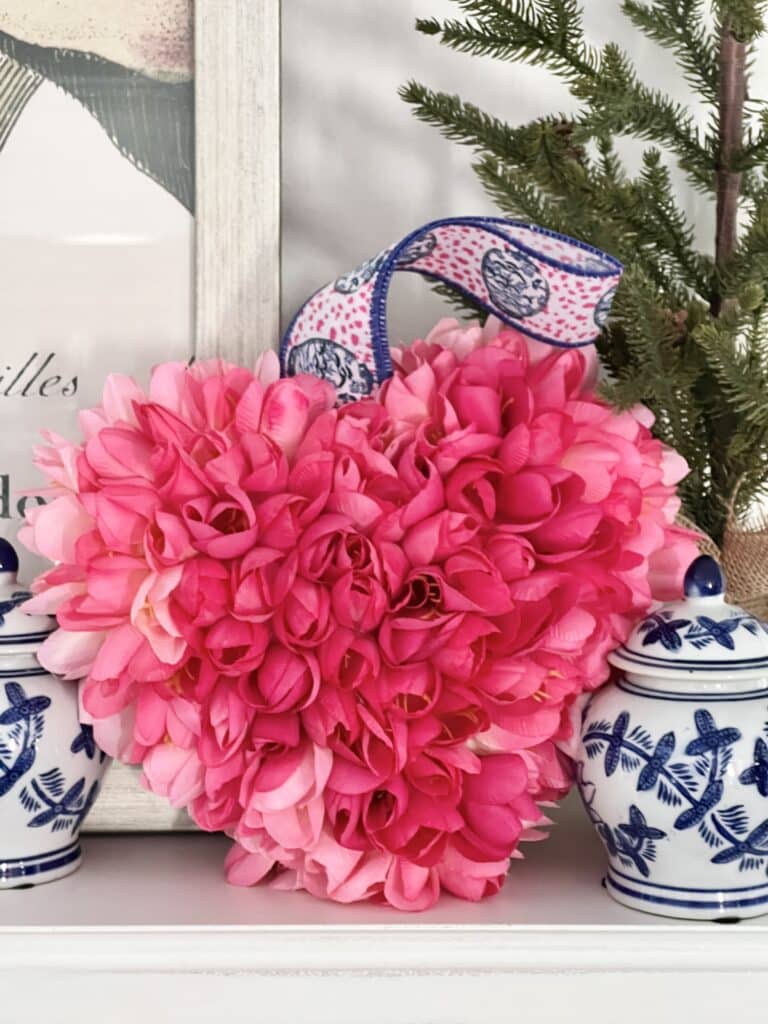 Cheers!

Does Valentine's Day make your heart go pitter-pat? Try these fun ideas!
How to Make a Paper Cone Valentine Heart
14 Easy Valentine's Day Home Decor Ideas
A Valentine Table for Any Day of the Year
Don't Forget to Pin It!
Pin the image below to your boards on Pinterest (just click the Pin button in the top left corner). You can also follow along with me on Pinterest!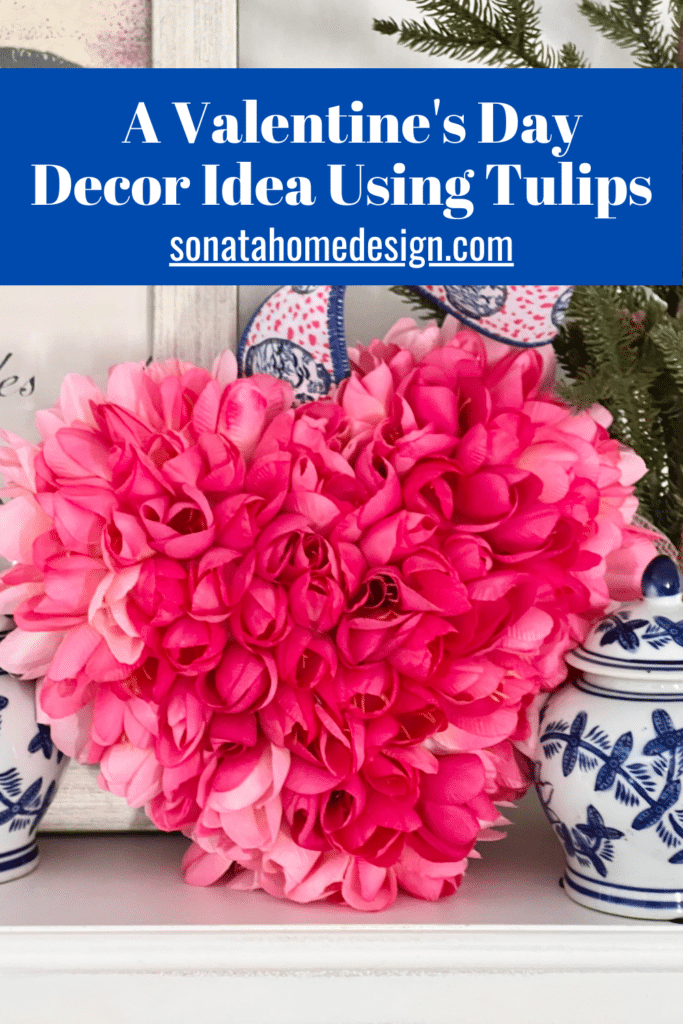 Additional Valentine's Day Blog Posts
14 Easy Ways to Decorate for Valentin's Day
A Valentine's Table for Any Day of the Year
Love Story on a Wallpaper Tray