A Valentine Table for Any Day of the Year
I'm craving Valentine's Day!
Red hearts, fresh flowers, and sweet treats…bring it on!
Winter has settled in to stay and, without a fresh coat of snow on the ground, we need a little pick-me-up now and then.
Why wait till February 14?
Some meals may be homemade works of magic and some, admittedly, may come from a take-out bag.
Regardless, set your table with a little (or a lot) red, some fresh flowers, and sweet treats!
Let's Start Layering a Valentine Table!
My sweet mother-in-law made this beautiful embroidered "LOVE" tea towel for me. Paired with a red plaid runner (leftover from Christmas!) and another tea towel (those stripes and that heart….Be still MY heart!), the groundwork is laid for a lovely table setting for any day of the year!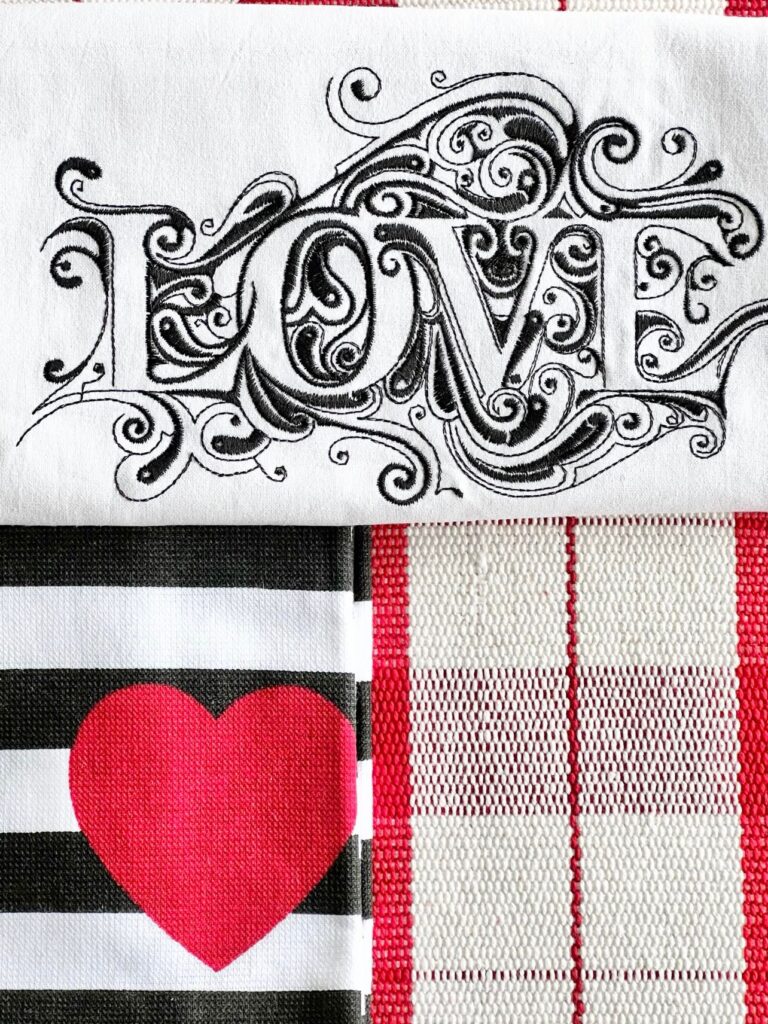 See the bare branches and snow outside! All the more reason to set a special table inside!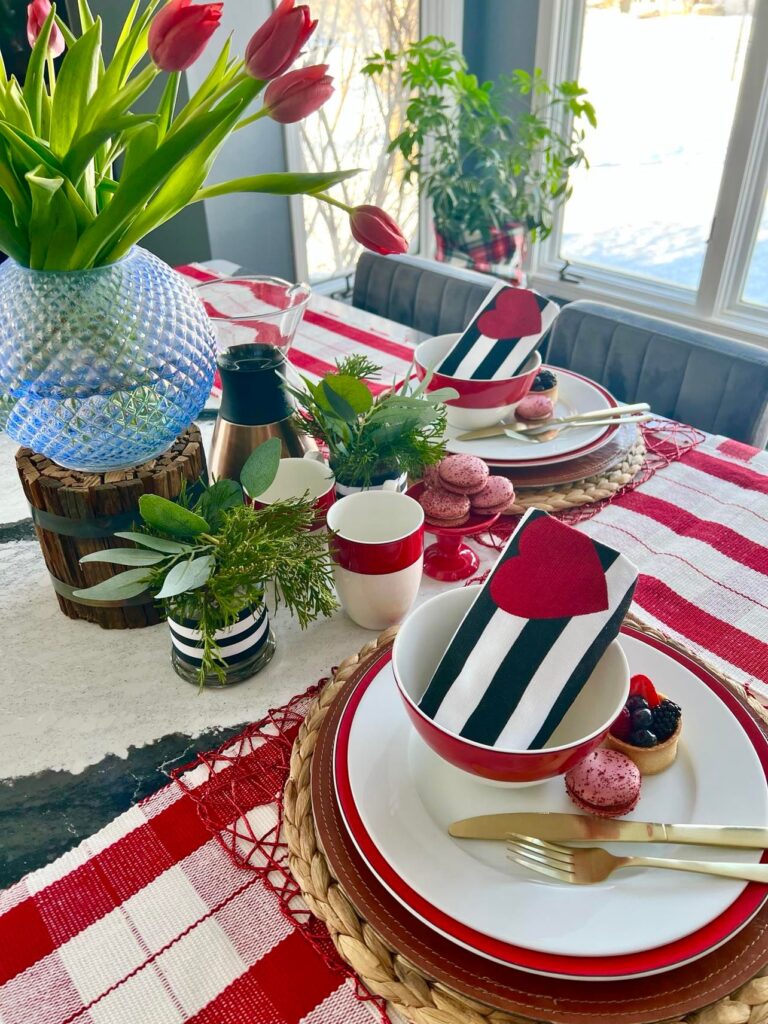 There are so many awesome patterned tea towels available and I love to use them as napkins. They add pattern and color, drape across the lap beautifully, and, honestly, can really come in handy!
This is the only overtly Valentine-y item on the table.
Still great for any day of the year!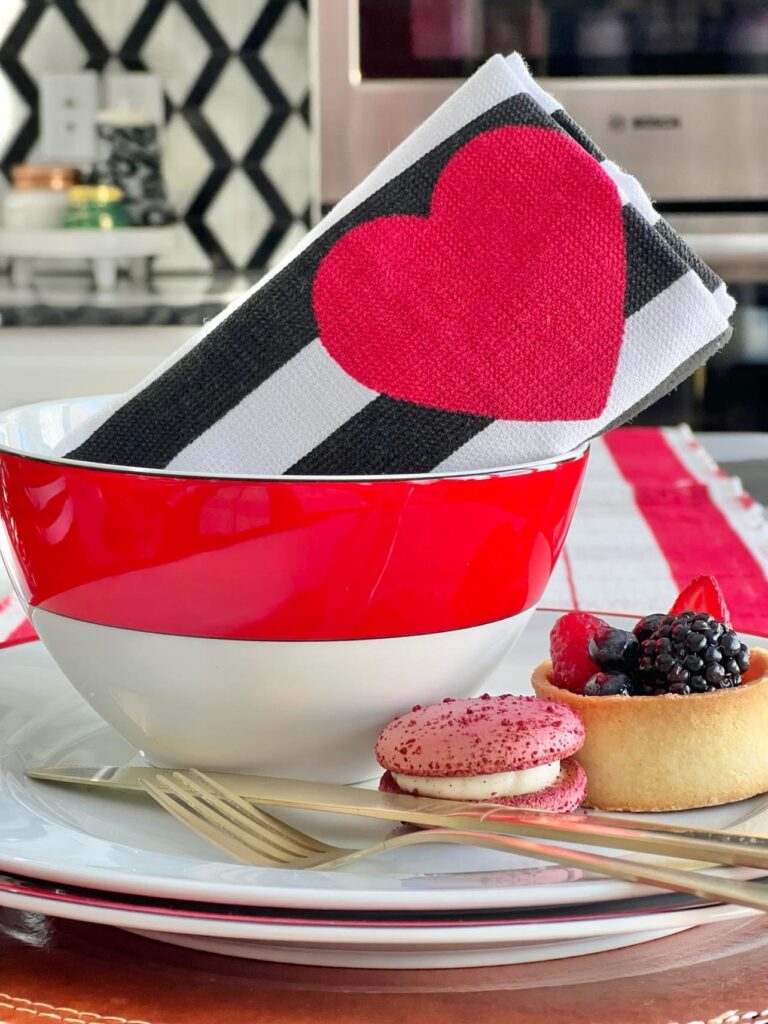 Red for the Win!
Tip: Include
Aside from a solid white plate, red and white dishes are possibly the most versatile you can own. You can see a similar set of red and white dishes HERE.
Think of all the holidays…Christmas, Valentine's Day, Memorial Day, Independence Day, and, if you live in "Husker Nation", perfect for Nebraska football game days!
You can see my Favorite Pops of Red HERE.
Faux leather chargers and water hyacinth placemats add texture and give the eye a resting spot next to the red.
You can see some great water hyacinth placemats HERE.
Check out some similar faux leather chargers HERE.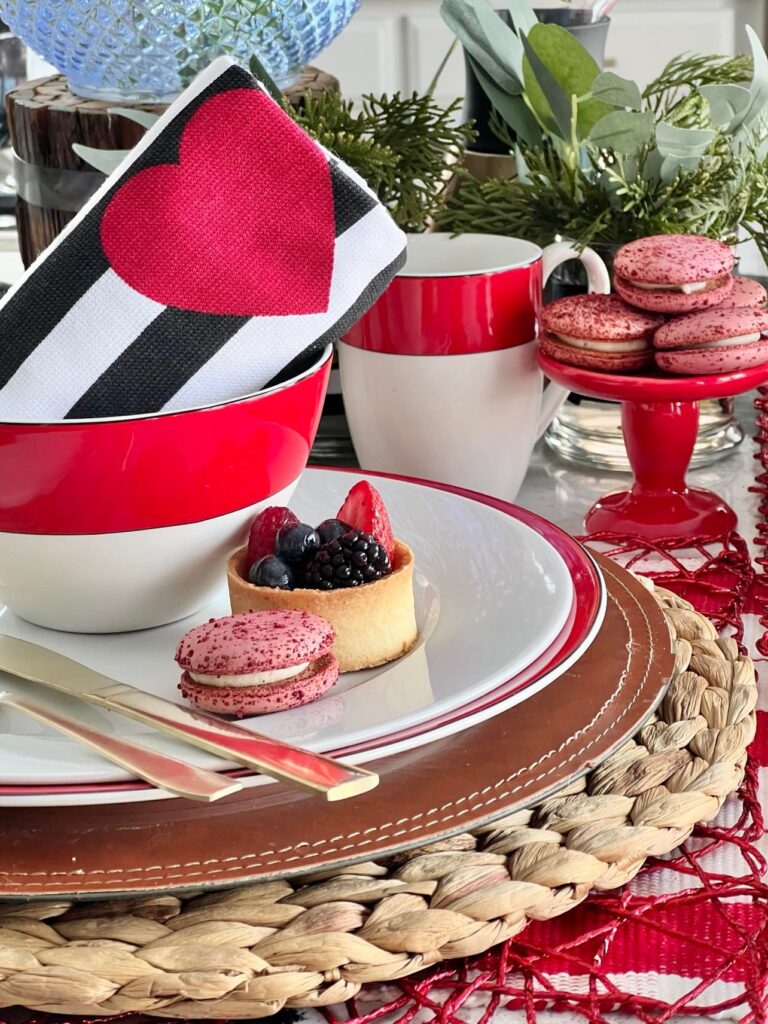 "Pop of Color" always "pops" into my head when I decorate. You might be interested in these 3 Easy Steps to "Pop of Color" Books.
You can never go wrong with tulips! Never!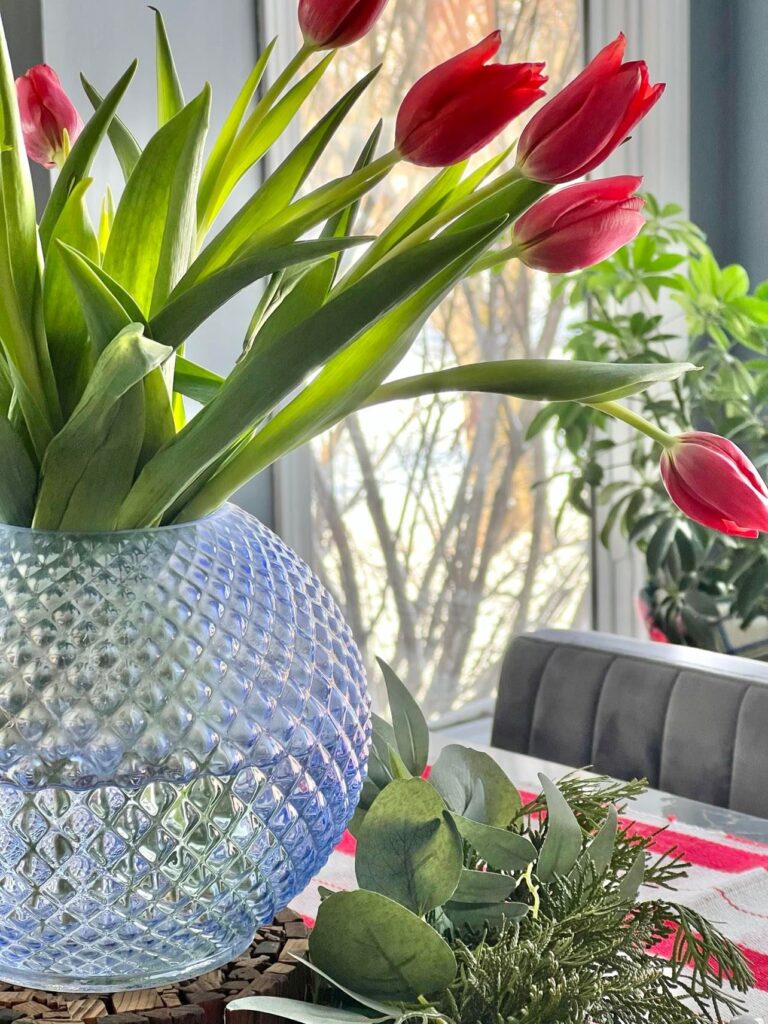 Sweet tooth anyone? Mini fruit tarts and macarons from Whole Foods are available year-round!
All I can say is "YUM!"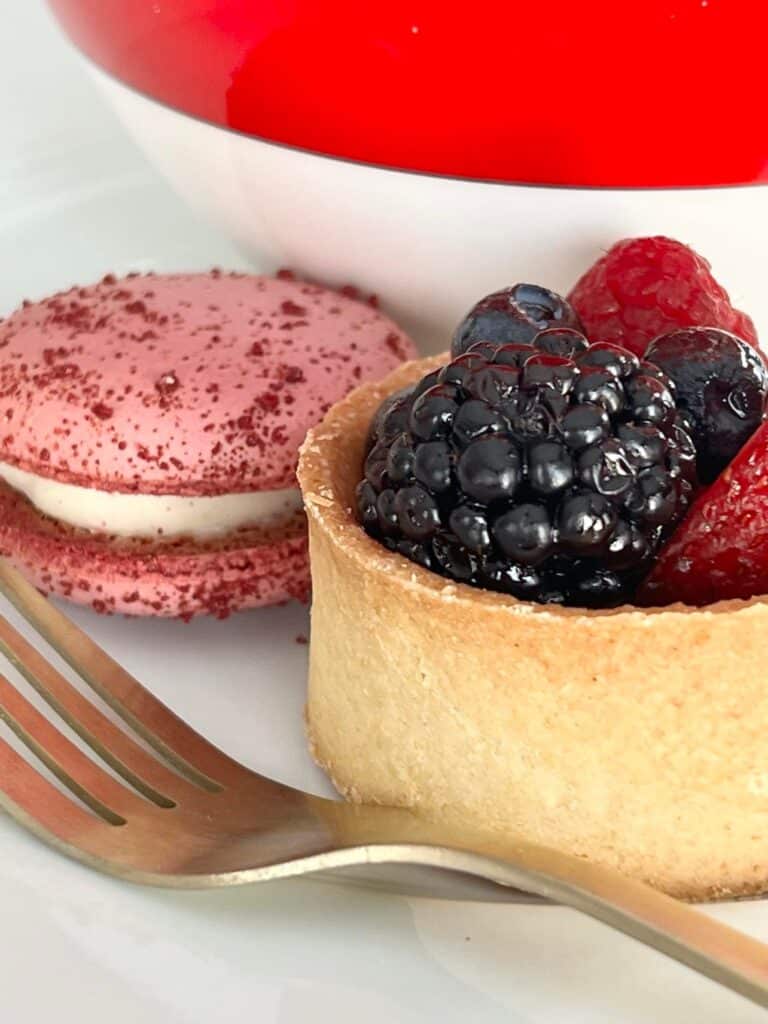 Don't Save It For Only Holidays
This is perfect for Feb. 14… March 14…or August 14th!
Show a little table love any day of the year!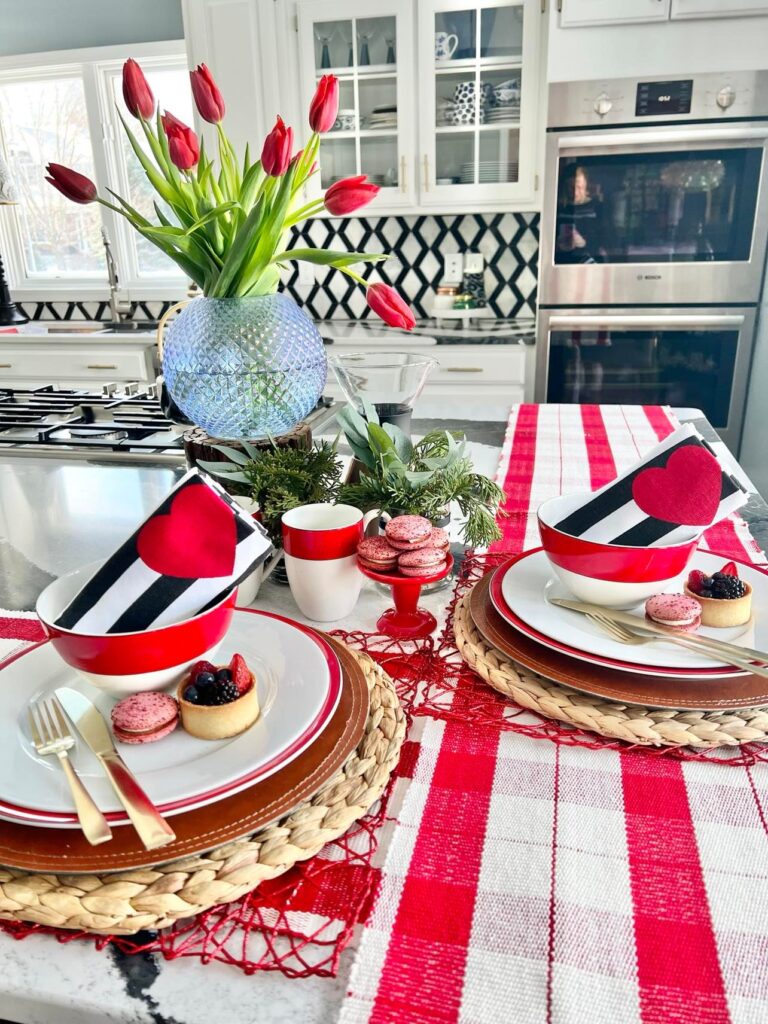 Cheers!

Sonata Home Design is a participant in the Amazon Services LLC Associates Program, an affiliate advertising program designed to provide a means for us to earn fees by linking to Amazon.com and affiliated sites. Additional affiliates links are also included for your convenience.
Need an idea for Feb. 14? Here is a Simple, Small Flower Arrangement for Valentine's Day.