Craft Room Storage Solutions in a Small Space
Learn how to maximize craft room storage space in a small room with these efficient, budget-friendly, and attractive storage solutions.
I am so excited to create my new craft room…a dedicated room in our house where I can craft, create, video record, live stream, and decorate with as much pink as I like! I am also excited to share how I am able to create craft room storage on half of a wall!
You heard me…HALF of a wall!
You see, the room I am using is possibly the smallest in the house.
AND, the room has slanted wall angles that minimize storage space opportunities.

Sonata Home Design is a participant in the Amazon Services LLC Associates Program, an affiliate advertising program designed to provide a means for us to earn fees by linking to Amazon.com and affiliated sites. Additional affiliates links are also included for your convenience.
Here is a peek at the first stage of the craft room creation.
Creating a Craft Room: Stage One of "The Dot Room"
There are lots of amazing craft room ideas….mine focuses on utilizing the one wall that is available to me for craft supply storage.
Correction…the one-HALF wall!
Craft Storage On Half A Wall?
See the white wall on the left?
THAT is my available storage wall!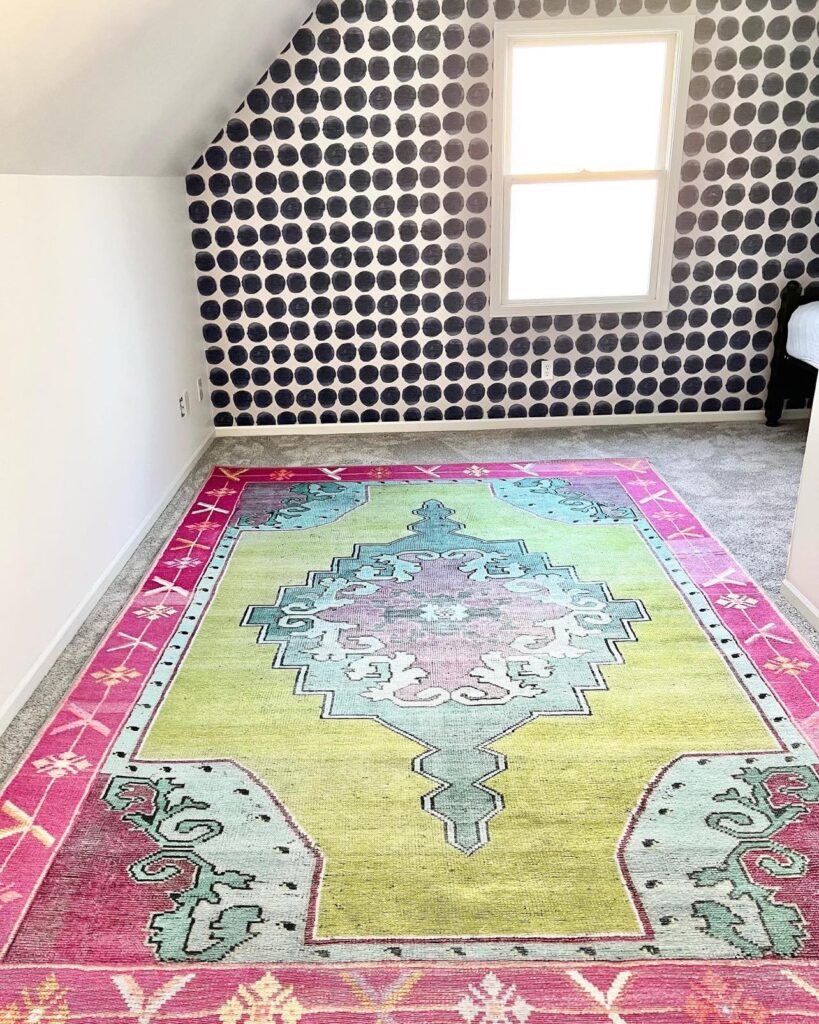 Now, I fully intend to create other storage opportunities in the room. However, this wall will be the workhorse storage spot for tools, supplies, and storage.
It all began with measuring carefully the space from floor to slanted ceiling.
58 inches.
Time to divide and conquer!
The lower half of the storage wall will hold baskets, boxes, and bins where I can tuck away craft paint, yarn, styrofoam, wall hanging supplies, etc.
Basically, storing stuff that needs a home but I don't necessarily want to see.
These white bookshelves are just the ticket!
These three shelf units from Amazon were just the right height for a really great price.
5 shelving units became one large unit when we bolted them together.
They come in various sizes so I was able to create my perfect configuration. Down the road, I could even add a couple more.
You can see the larger bookshelf units from Amazon HERE. And the smaller units HERE.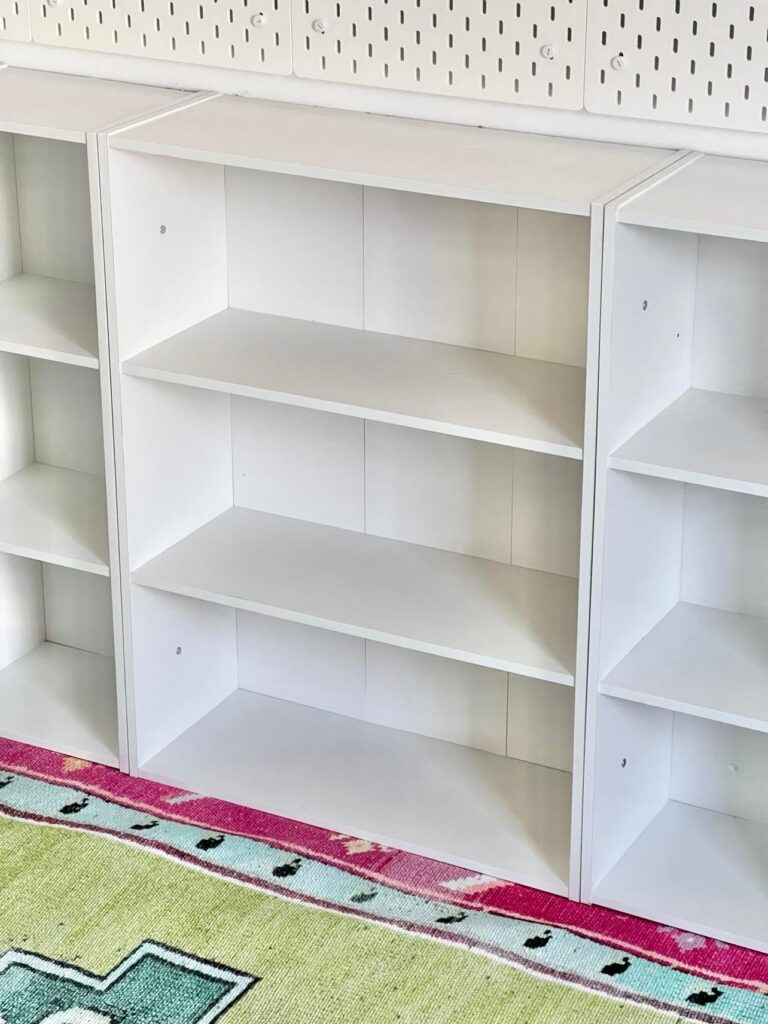 Now For The Upper Half
26 inches of space left…
Five Ikea pegboards to the rescue! In so many ways!
Yes, these pegboards fit the space perfectly. (I mean perfectly!)
But they also are a goldmine of storage space that is…drumroll, please…attractive!
And, they have all sorts of fun hooks, trays, and other accessories that are amazing storage solutions!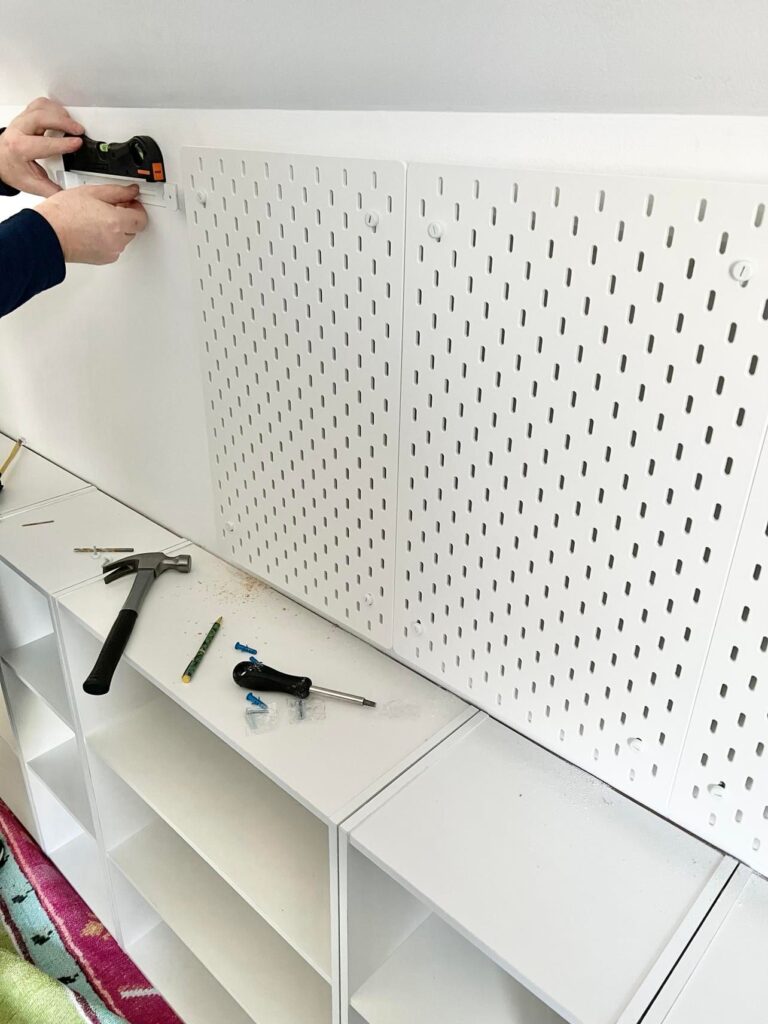 We lined the pegboards up side by side and did lots of checking with a level.
Four hands were definitely needed for this project.
At least I like to think that my holding things in place for screwing in the boards was critically important!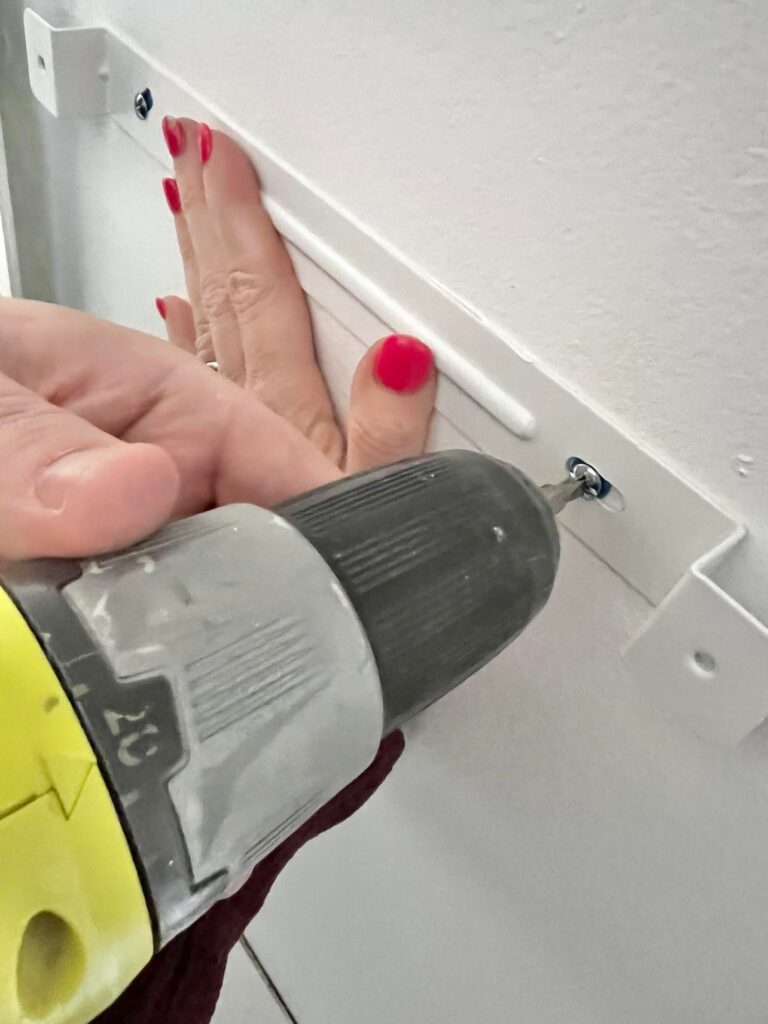 Loading In
I couldn't wait to start loading the pegboards and shelves!
The first two items…a hammer and a pretty print!
You can have decorative storage! Any opportunity for blue and white ginger jars! (This print is actually from a set of six blue and white chinoiserie prints. You can see them HERE.)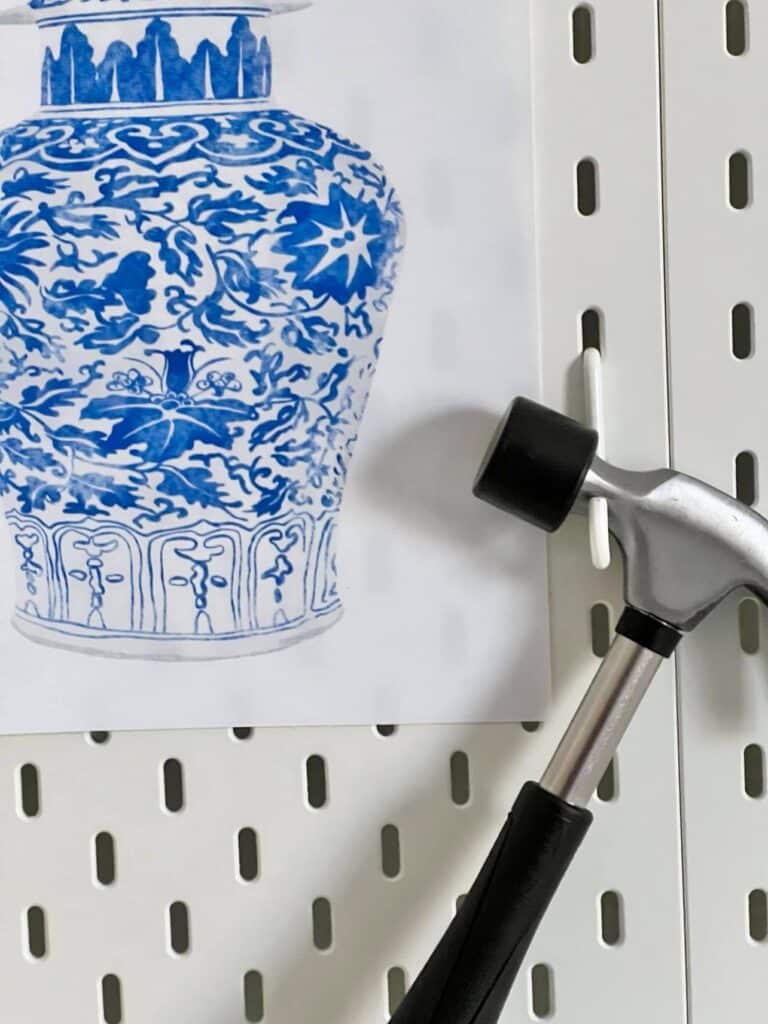 Here come the rest of the tools!
These are the tools that I use the most and it is good that these are out in the open. Otherwise, I lose them and they end up rolling around in a junk drawer.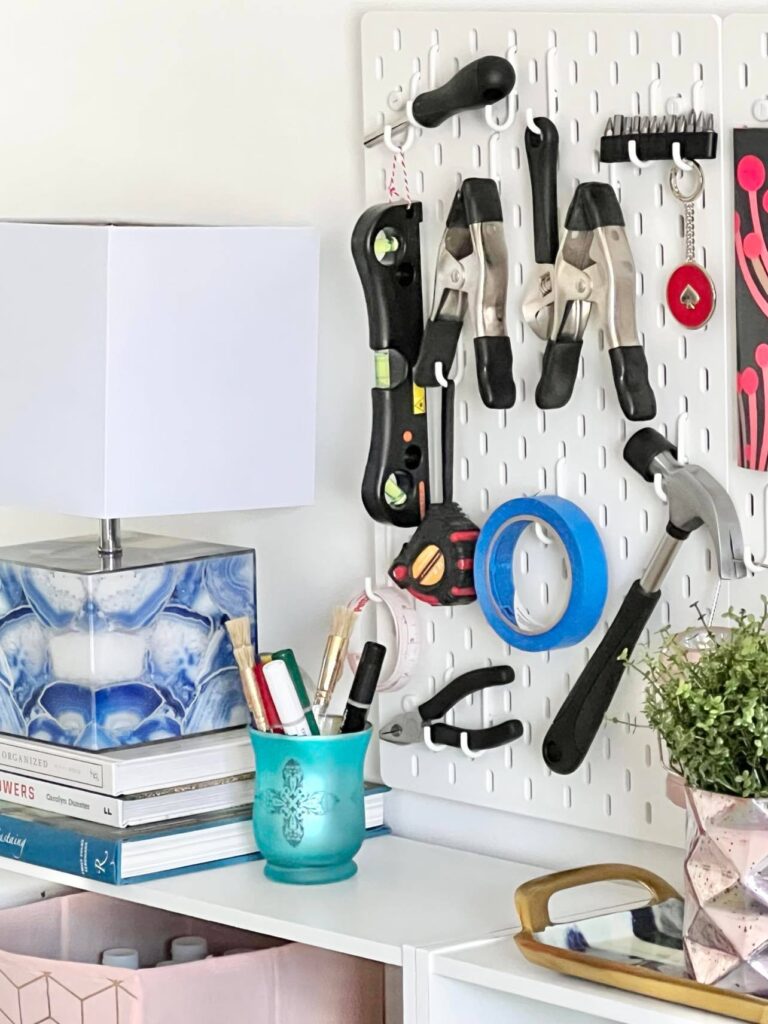 Loading in the supplies was much more fun than I anticipated.
Fabric bins from a dollar store hold bottles of paint.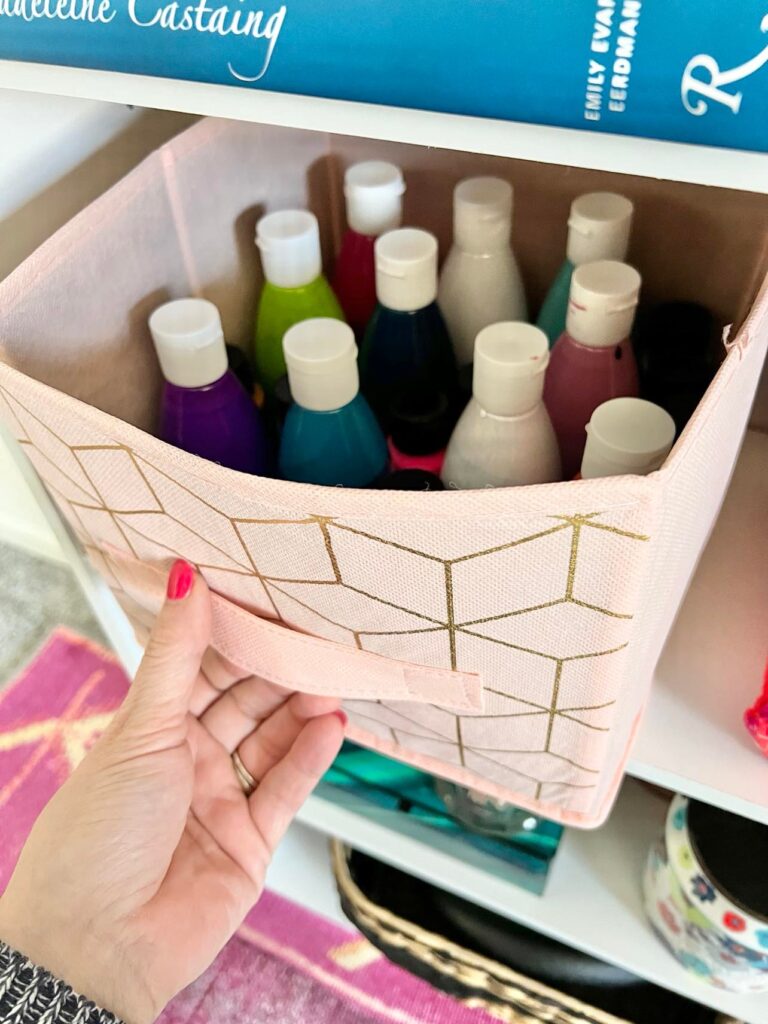 Glass jars hold clothespins. Aren't the mini clothespins so cute!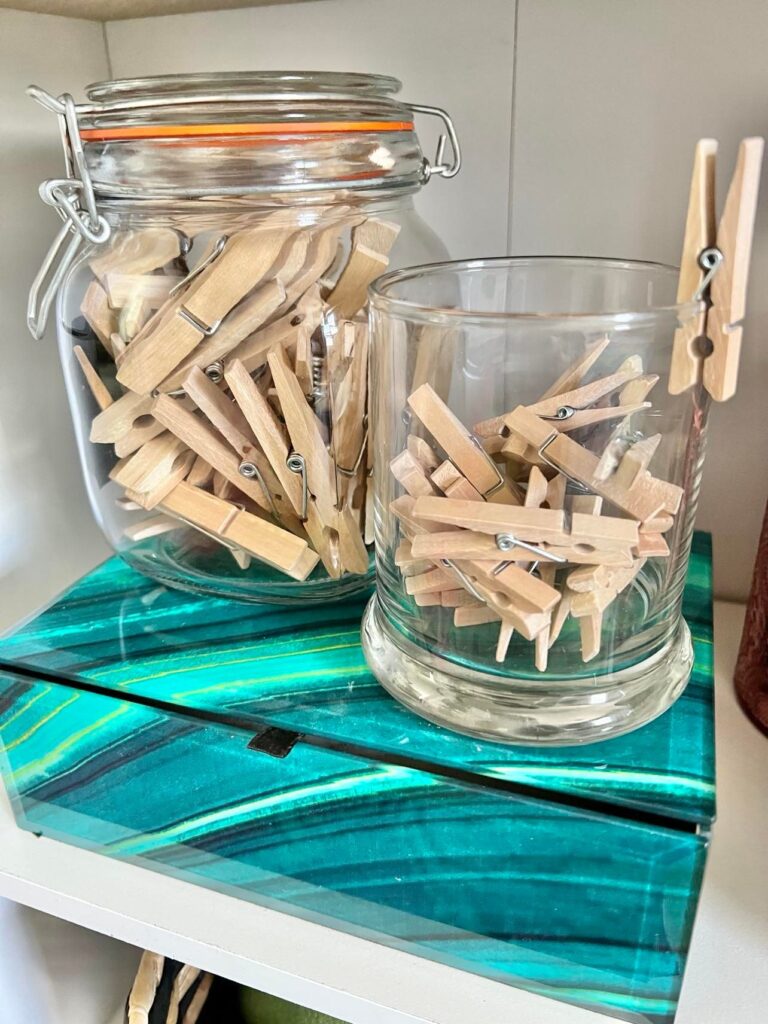 More glass jars hold pencils, paint pens, and markers.
Pegboard trays hold fun Pop of Color paint pots.
I can't help myself…every once in a while I tuck in a decorative element. This little pup is actually a Christmas ornament that reminds me of our dog, Bentley. (Oh, if only Bentley could sit this quietly and refined!)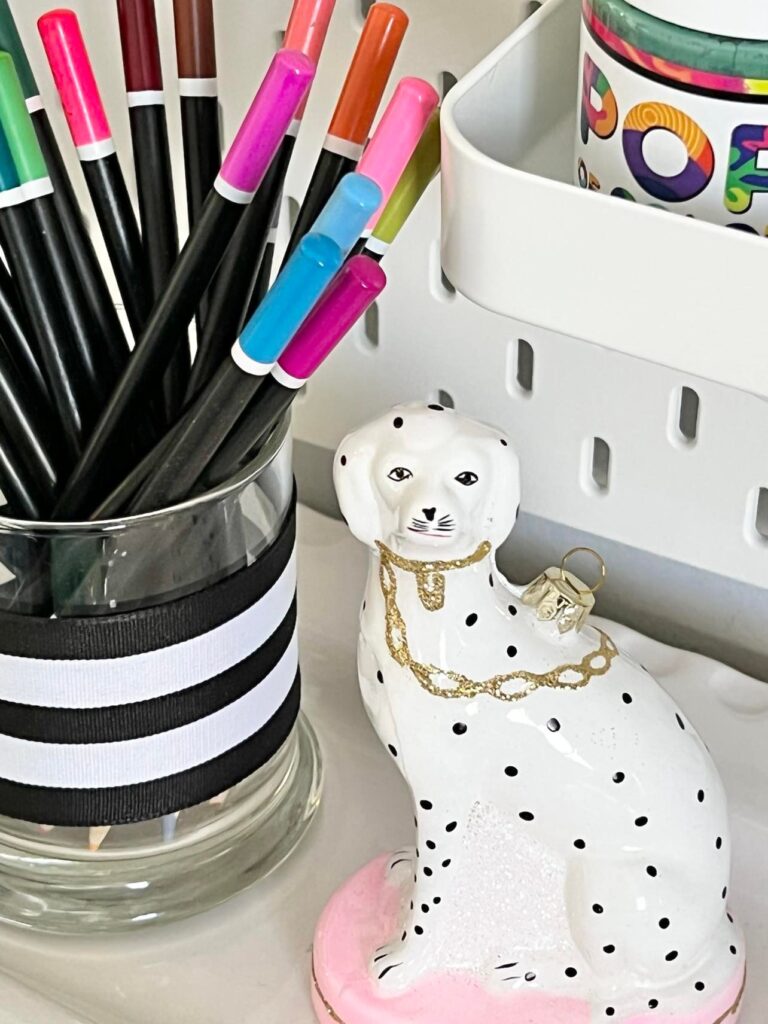 Who loves ribbon? Me! And, storing ribbon can also be pretty and decorative!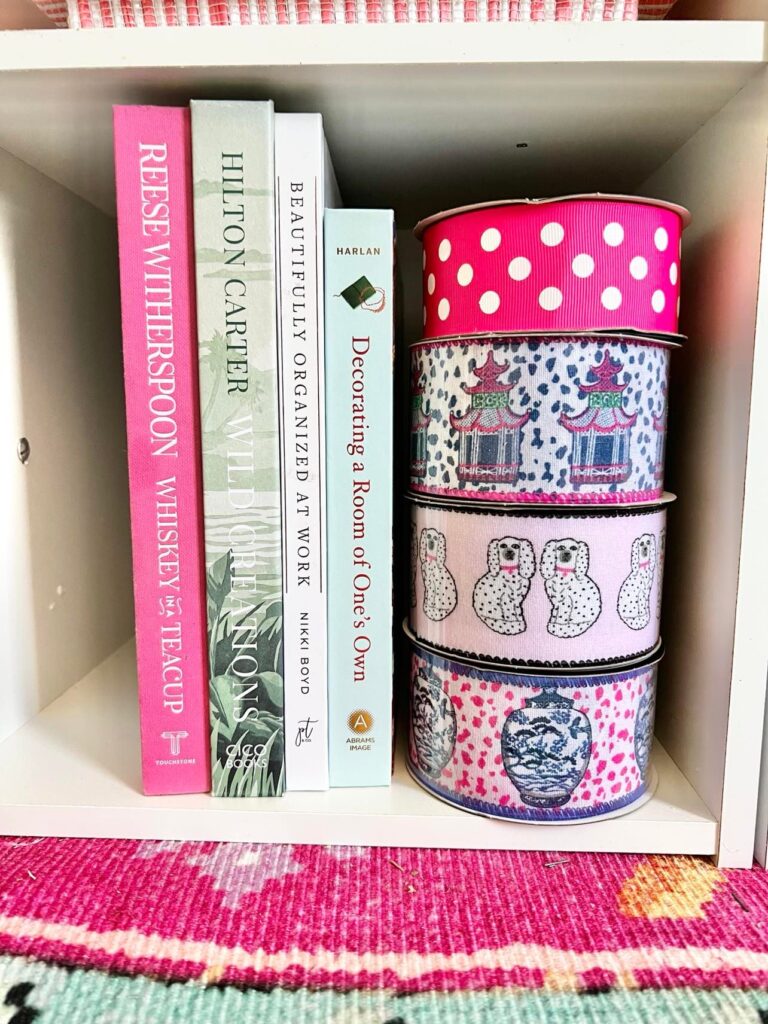 A definite MUST…a place for my reading glasses!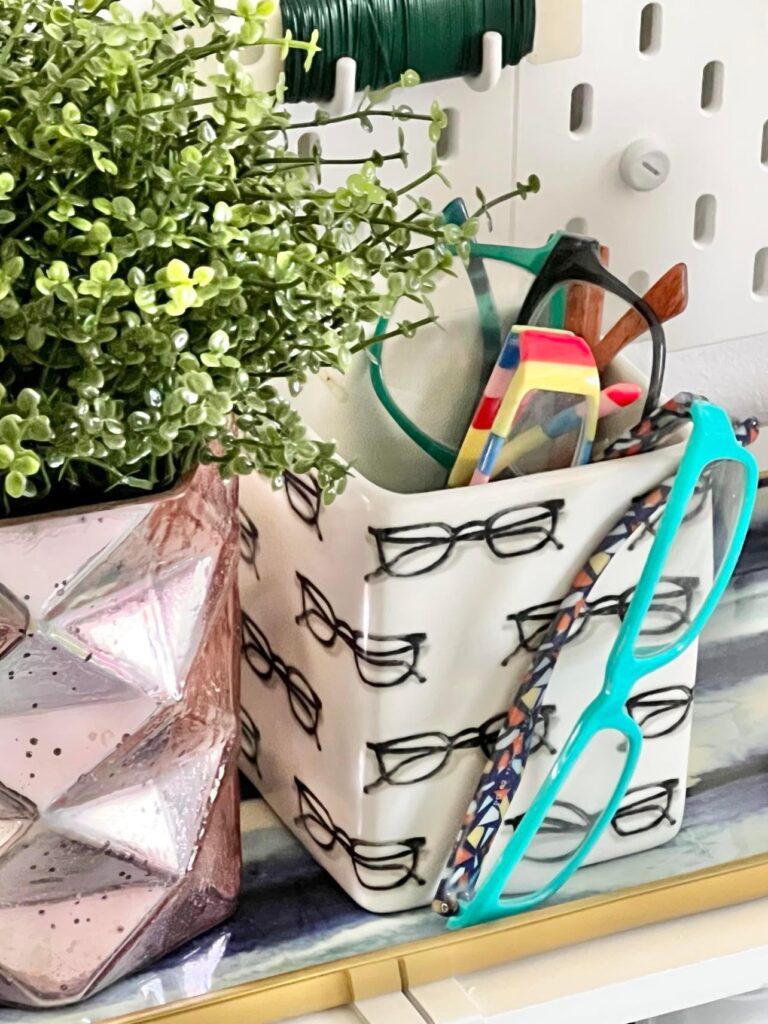 Hanging fabric swatches keeps them front and center in my mind for current or future projects.
Felted wool balls are a new obsession of mine, so I filled an entire jar with them!
Have I mentioned…I am doing what I love! You should too!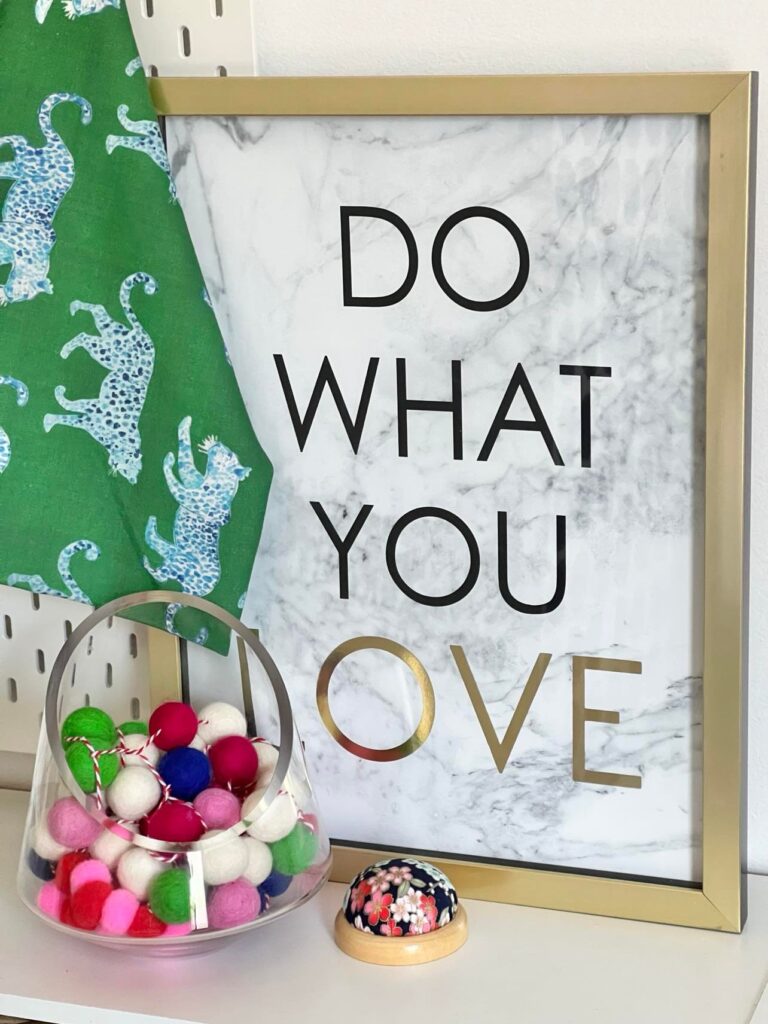 Part Craft Storage – Part Vision Board
It is amazing what I have been able to store on this half wall. I cleared out my office closet and was able to find an assigned space for most of it.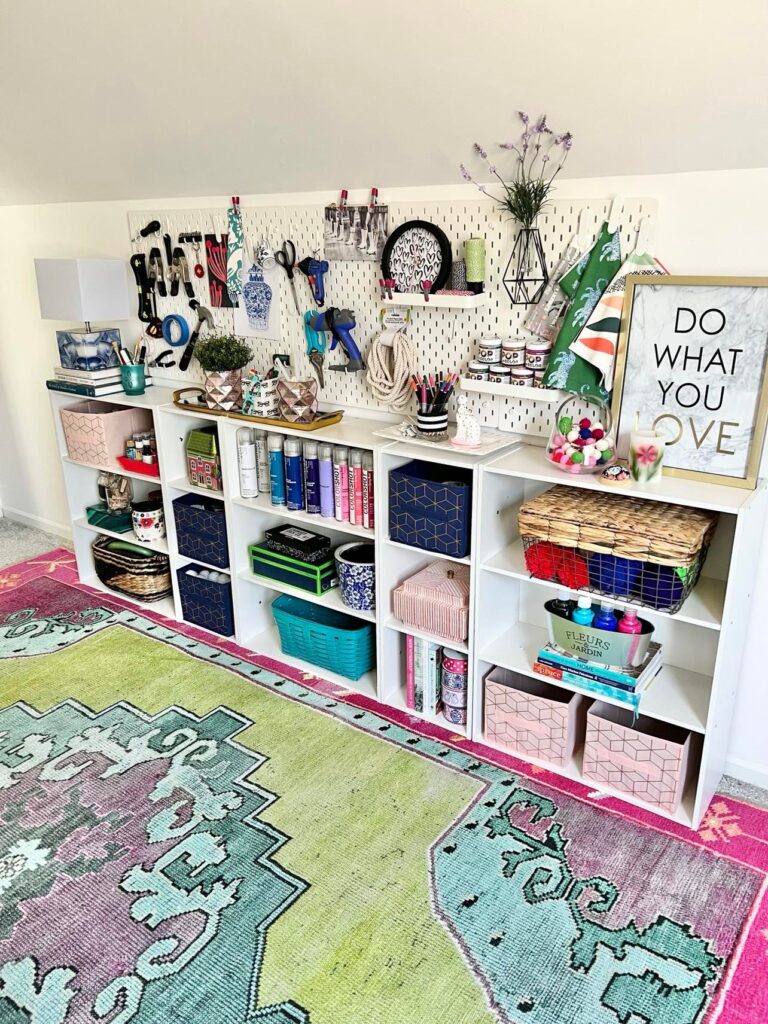 I will be adding more storage solutions for the room: a dresser for fabric storage, a wall rack for ribbon storage, and a narrow etagere for a few room essentials…namely, a small tv and a coffee pot!
Mostly storage, this space is also serving as a 3-D vision board that is already giving me some great ideas!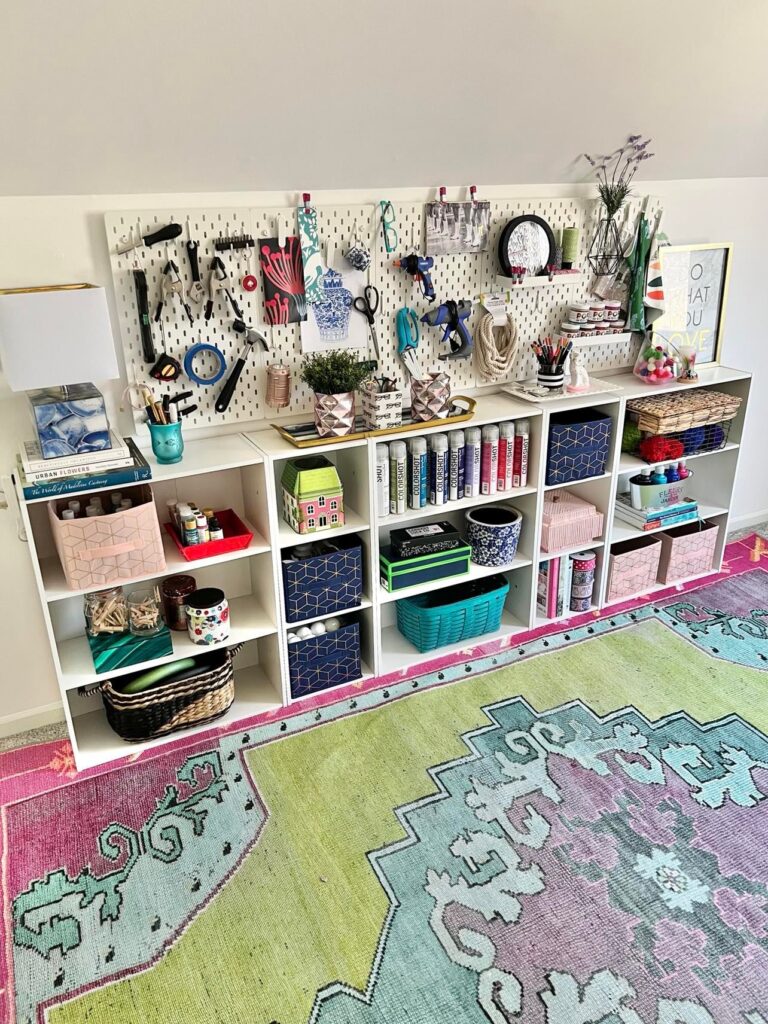 The next steps in the room should come quicker so stay tuned!
Cheers!

Want to see how I filled that slanted wall space above the storage wall with the help of Urban Garden Prints? Check this out!
Urban Garden Prints in a Suburban Home: My New Love Affair
Here are a few projects that I created on our kitchen island. How much easier projects like this will be in my new project room!
Mirror Mirror on the Wall: How to Decoupage with Paper Napkins
Let's Make a Simple Flower Arrangement
An Inexpensive and Easy Wall Art Idea