Let's Add a Wee Bit O' Green Decor!
Get some green inspiration on how to add a Wee Bit O' Green Decor into your home through decorative accents, greenery, and even your laundry!
Green is having a moment in the decorating world.
But, come on…when isn't green a wonderful color to use in our homes?
We yearn for carpets of spring green lawns.
And, we nurture our pandemic plants with great love and tenderness.
We even have a certain Irish holiday in which we honor the shamrock and dye our rivers bright green!
Let's add a Wee Bit O'Green decor to our homes!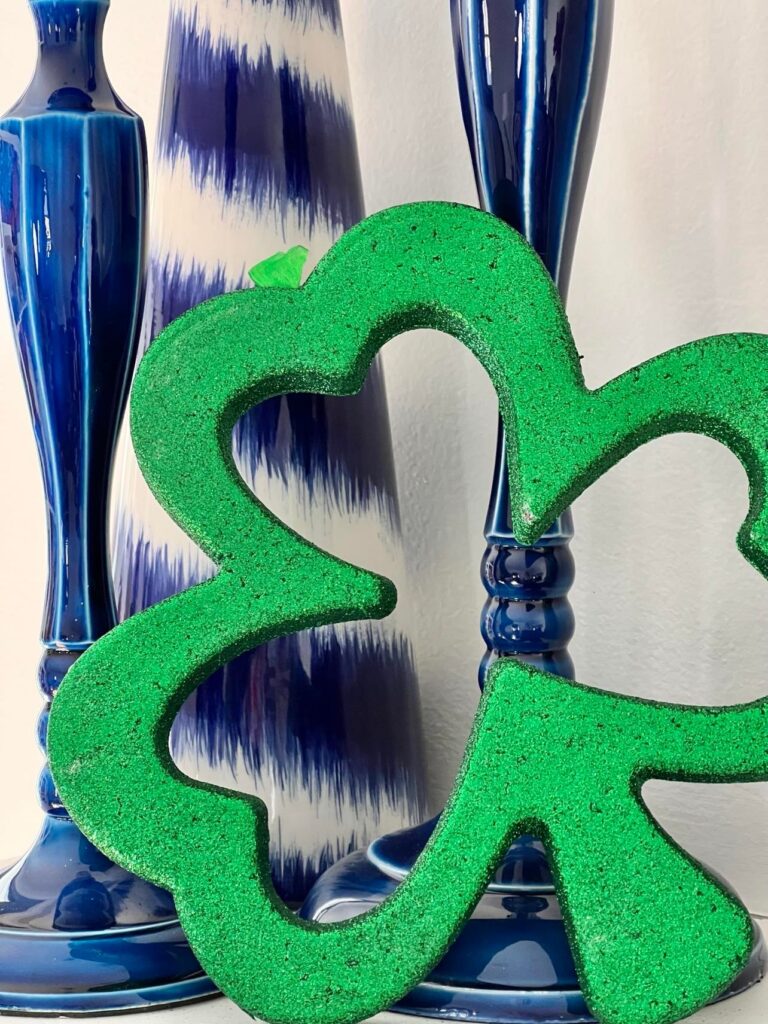 If you have followed me for any length of time, you might have guessed that my favorite color is…
drum roll……
BLUE!
Yet as a blue obsessed decorator, I can honestly say that green runs a close second and is the perfect complement to all of my blue decor.
I have been sprinkling green throughout my house in subtle and not so subtle ways. Let's take a wee look!
Sonata Home Design is a participant in the Amazon Services LLC Associates Program, an affiliate advertising program designed to provide a means for us to earn fees by linking to Amazon.com and affiliated sites. Additional affiliates links are also included for your convenience.
Obvious Wee Bit O' Green Decor
St. Patrick's Day is the obvious green holiday but I don't usually do much Irish decorating in a literal sense.
Rather than go shamrock heavy, I like to infuse green in the house.
Raise your hand if you are a fan of the group "Tears for Fears!"
Now, raise your hand higher if, in 1985, you wore your hair crimped, permed, feathered, or in a "whale spout" style?
Whoops! I digress…
I decided to use this record as the focal point in a Wee Bit O'Green decor in our kitchen.
This display does highlight a vintage shamrock 45 record that belongs to my husband from 1985. It is an actual record album!
I knew it would come in handy someday! It is the perfect topper for this tiered tray display.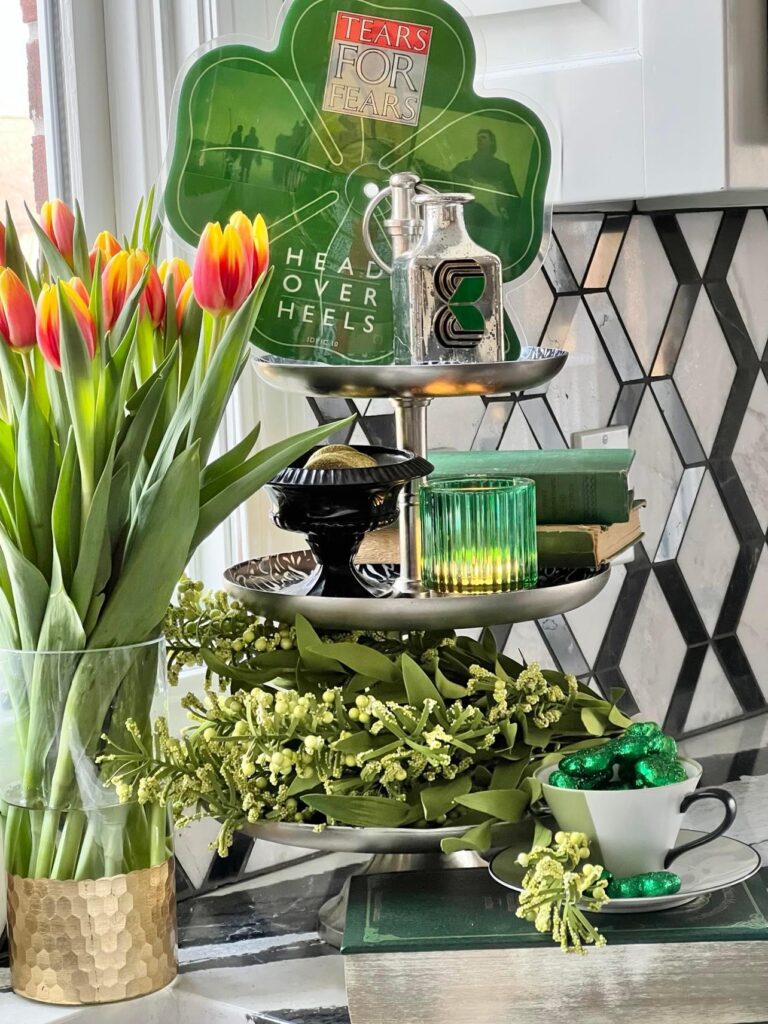 A Wee Hack
Standing in front of the shamrock record is a little thrifted project hack that I created for $1.97!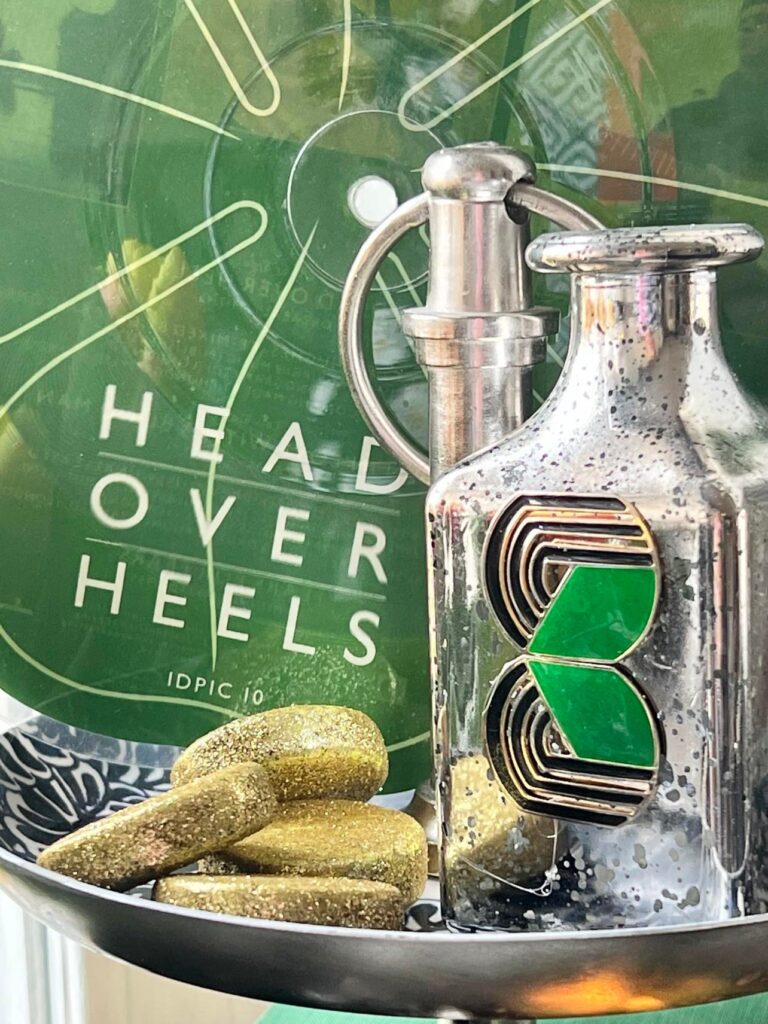 This little mercury silver bud vase was only $1.97 at the thrift store!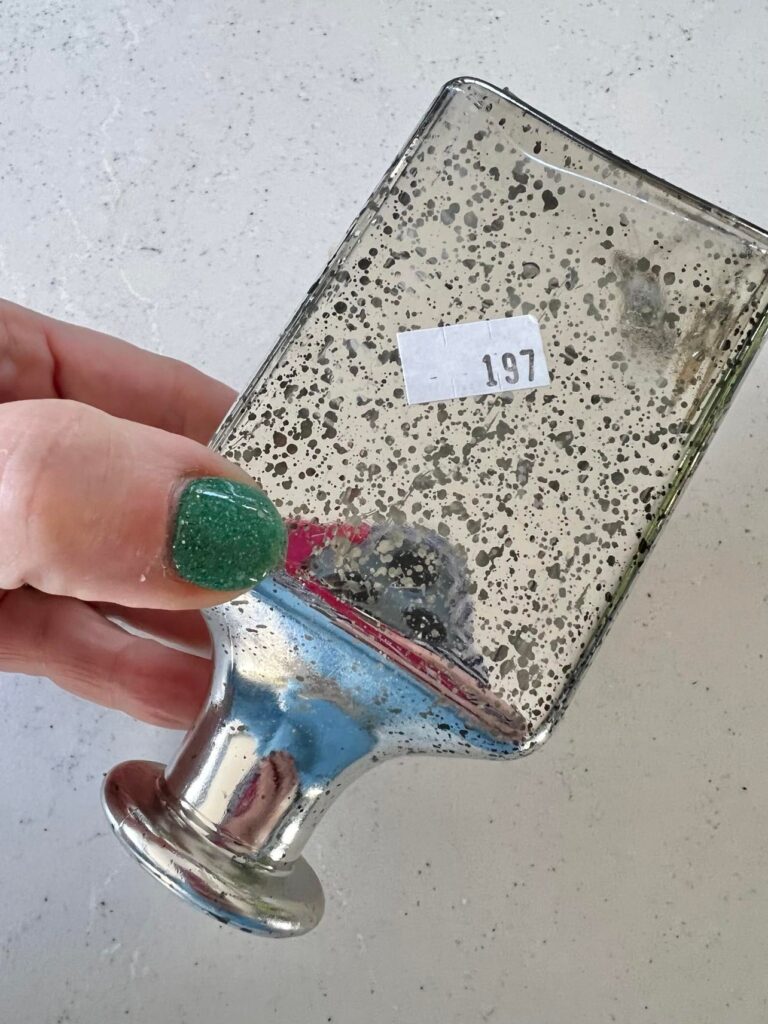 The green "medallion" actually consists of a pair of earrings they gave me for FREE at the thrift store.
Cause for Paws is one of my favorite thrift stores in town. All proceeds go to help local animal charities and rescue organizations. Additionally, they assist with vet bills for people in need of some financial help. They have great inventory and I know that my purchases are helping a great cause…for paws!
Plus, when you round up your purchase price, you can choose something from the "free table."
Hence, my free earrings!
I simply removed the ear posts. (They twisted right off with some pliers.)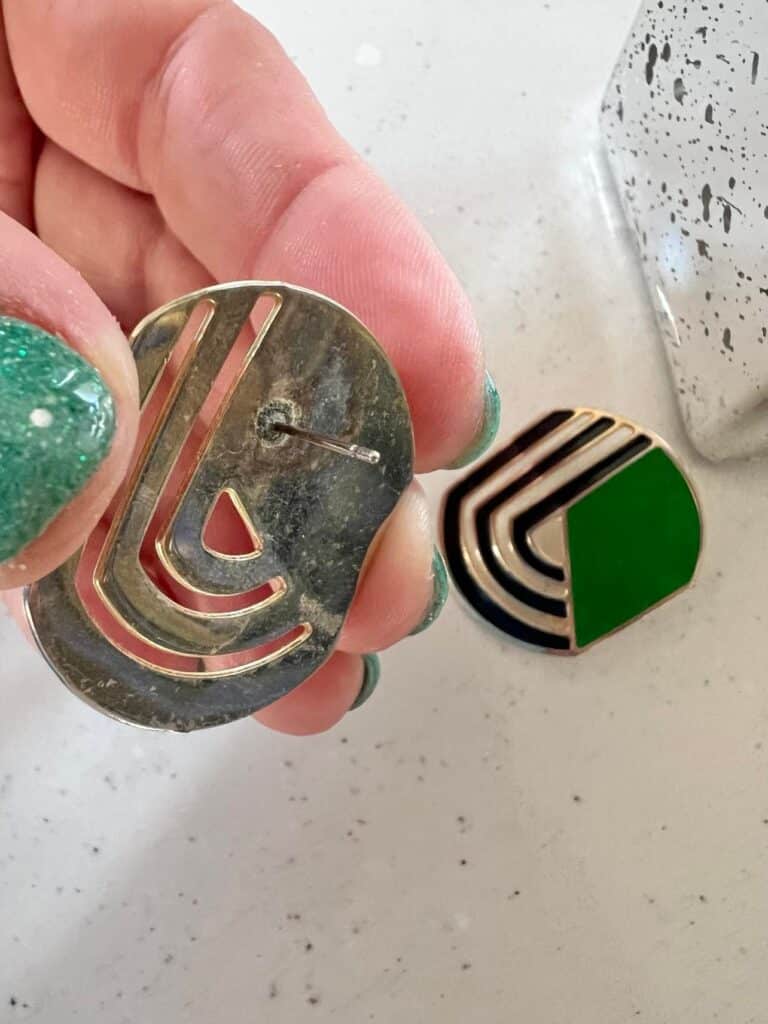 And attached them to the bud vase with a glue gun.
Could not be an easier wee bit o'green! The hardest part was figuring out exactly how I wanted to lay out the pattern. Brings a little Art Decor vibe to the display!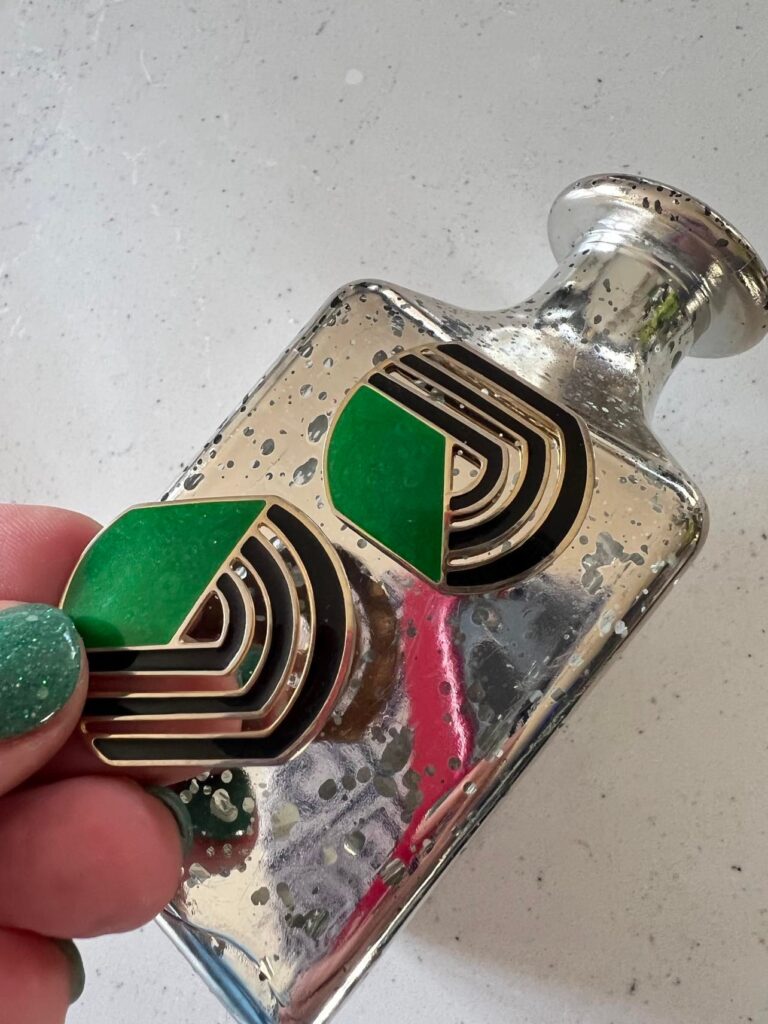 50 Shades of Green
This is not just a Wee Bit O' Green Decor. It is a LOT of Green Decor! I don't know if there are exactly 50 shades but I know there are a lot!
This was super fun to put together!
You see, I belong to an Instagram group called "The Dough Bowl Divas." Each month, we offer a challenge to followers to create a vignette using a dough bowl and the theme of the month. As hosts, we offer our own dough bowl inspiration. If you are on Instagram, give us a follow at @thedoughbowldivas!
And follow @sonatahomedesign while you are at it! =)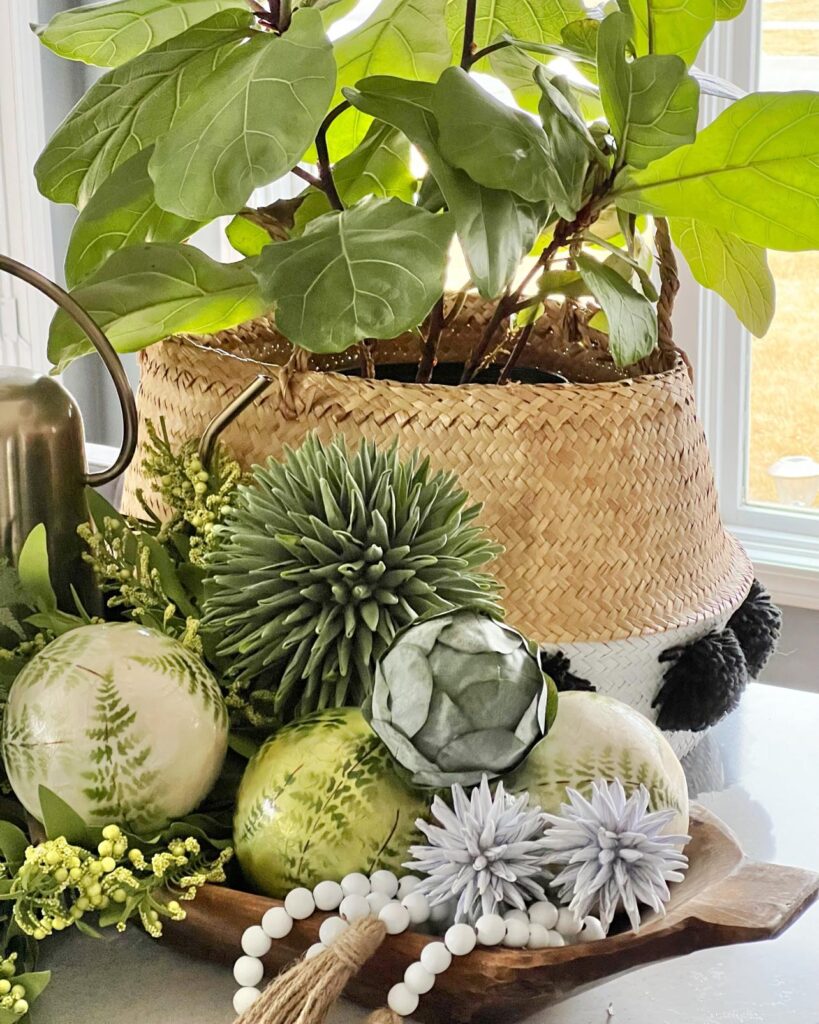 The theme of this dough bowl challenge was "Green Goodness."
My green goodness started with these fern imprinted decorative balls.
Layering with different textures created interesting contrast…spiky, layered, round, rough…I just want to reach out a touch the different textures!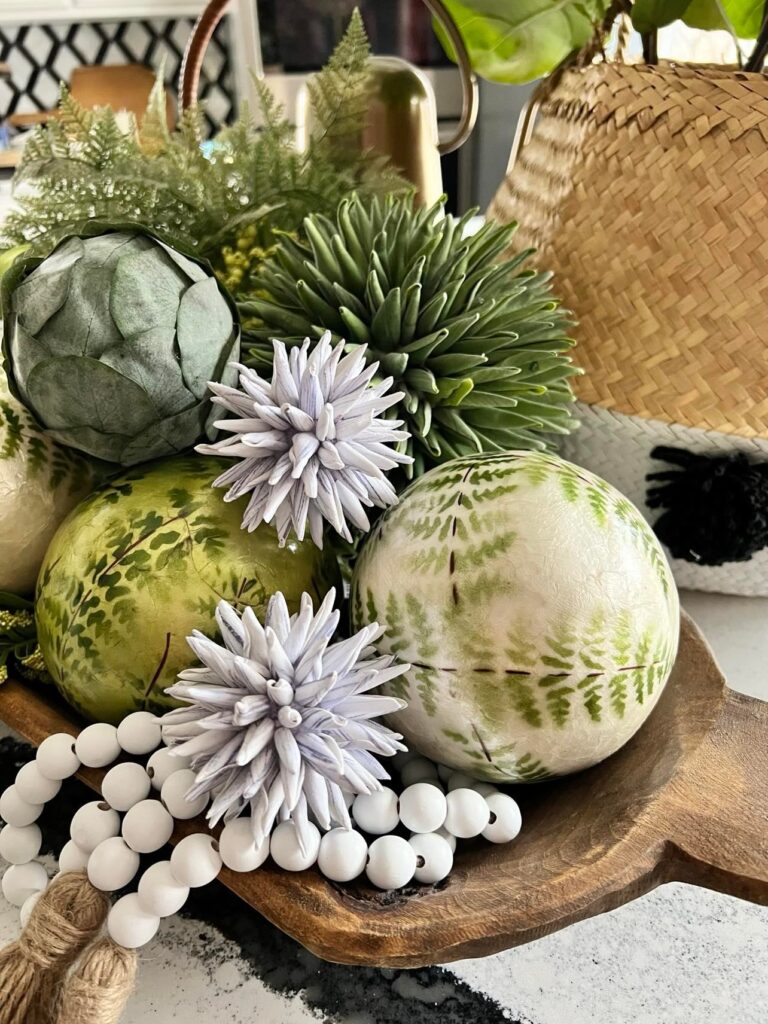 Adding some white beads with a jute tassel really makes the color of the various balls "pop!"
By the way…I use this wood bead garland EVERYWHERE in our house. They come in all sorts of colors and are so versatile. You can see them HERE.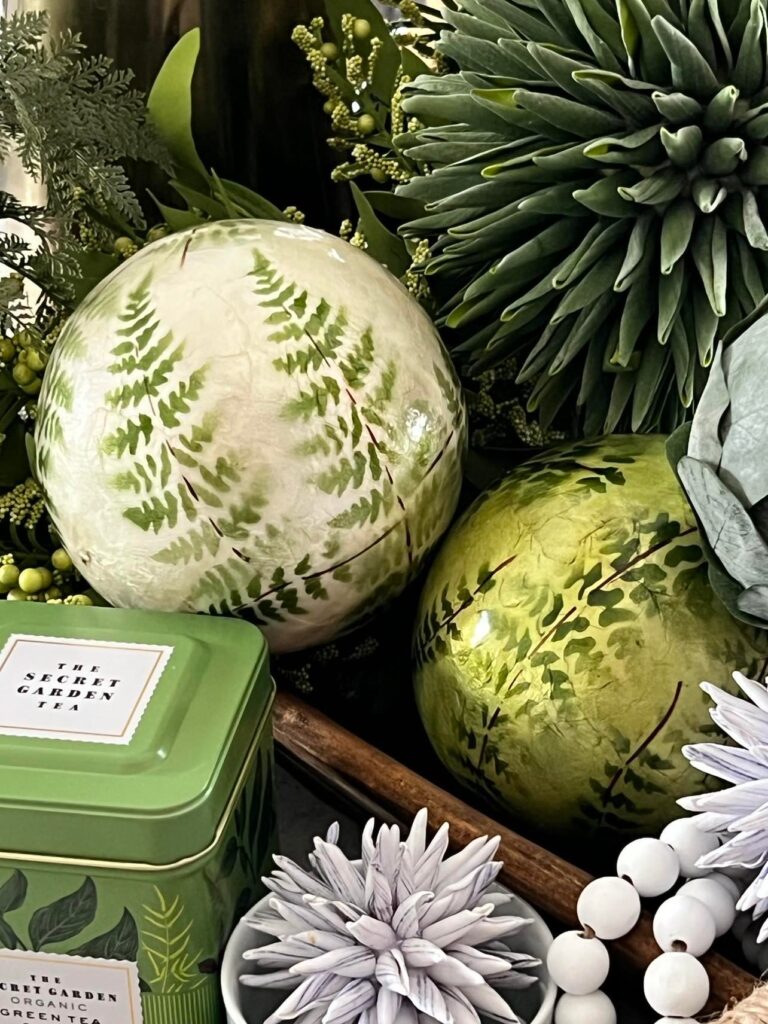 It seemed appropriate to add a tin of green tea to the display.
Not kidding…this green tea is my go to every evening. Such a nice cup of tea when i don't want coffee.
This also comes in lots of yummy flavors. (Acai berry and pomegranate are also favorites of mine.) You can see if HERE.
Big Impact with this Wee Bit O'Green
Whether real or faux, incorporating plants into your decor is one of the easiest and most impactful ways to bring green into your decor.
This is a Chinese Money Plant that was started at the beginning of the pandemic. Two years later, it has grown into a gorgeous beauty and has produced so many little "pups" that my daughter is transplanting them and selling to people!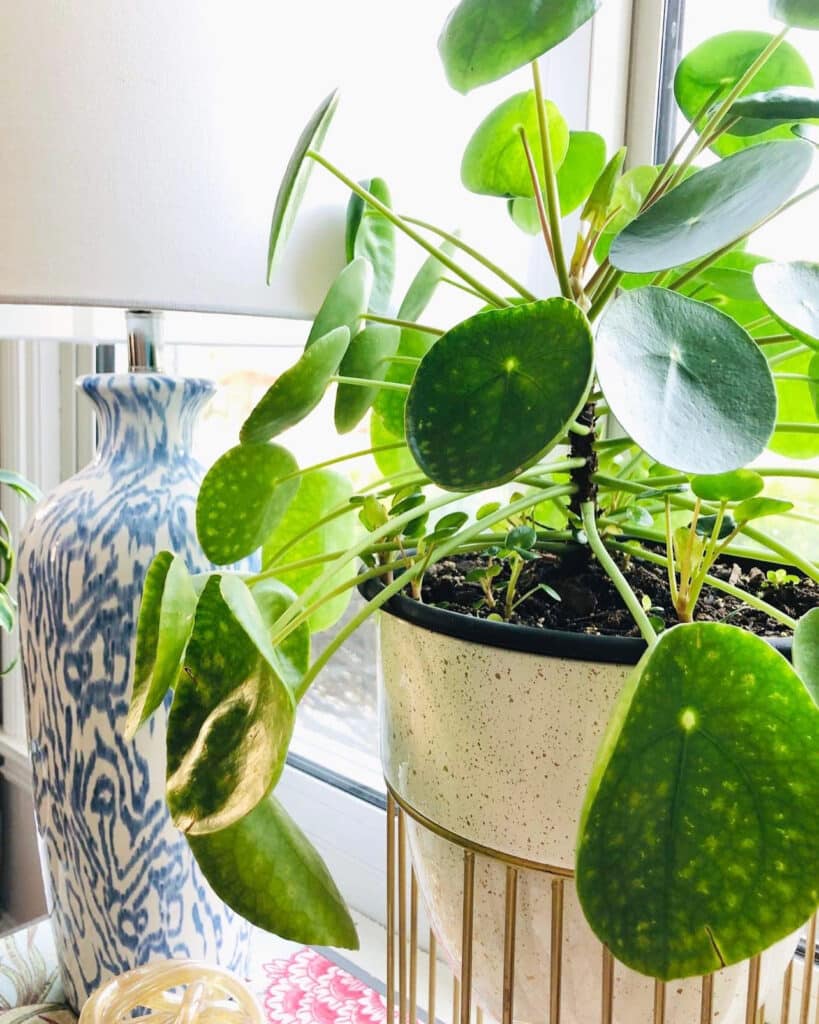 Even succulents can get into the green scene!
I planted these succulents in a lovely dog bowl. Yes, a dog bowl!
Create your own DIY Dog Bowl Succulent Garden HERE.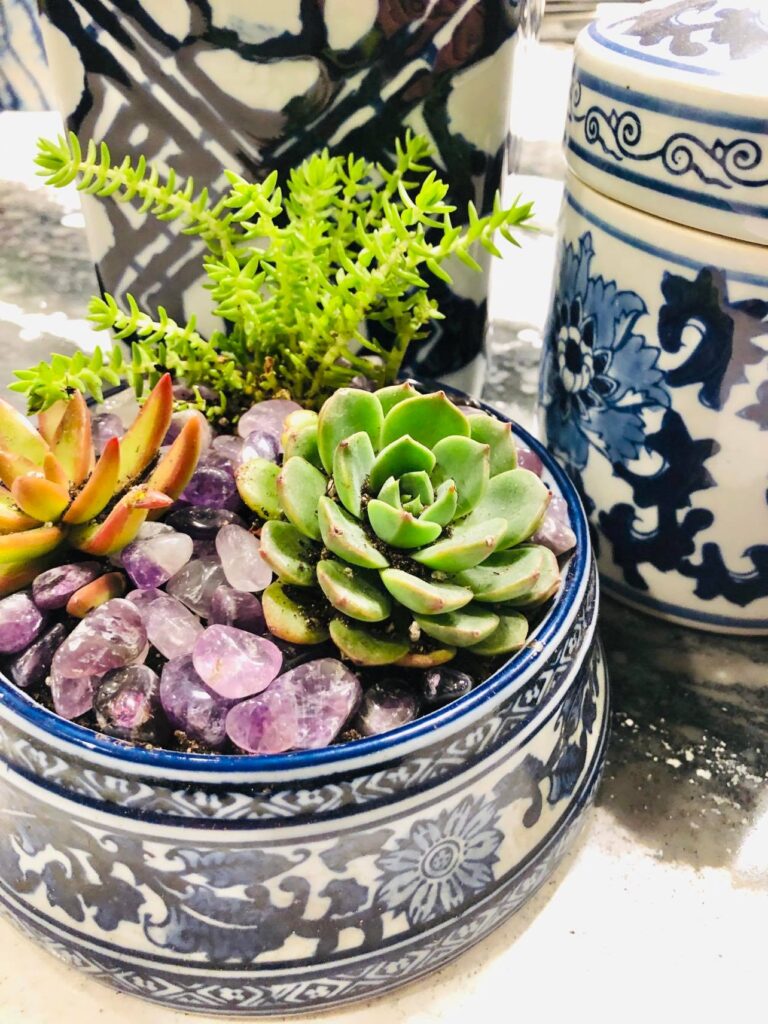 Stems and leaves count!
These tulips are a grocery store purchase and, yes, are pink.
But the stems and leaves are so sculptural and such a gorgeous shade of green!
Support systems are important, don't you think?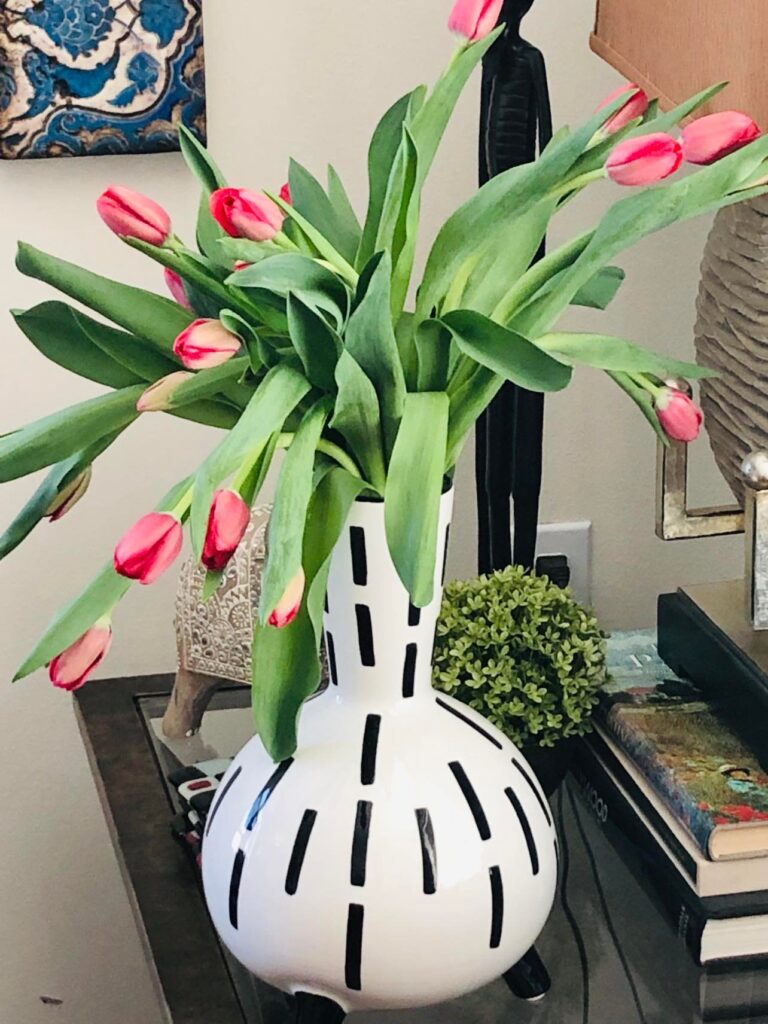 Green Reading
Pull out your gardening books, poetry books, children's book….anything with a green in its cover can be grouped together for a stack of green reading.
Plus, reading about green gets us ready to start planting green in a few weeks!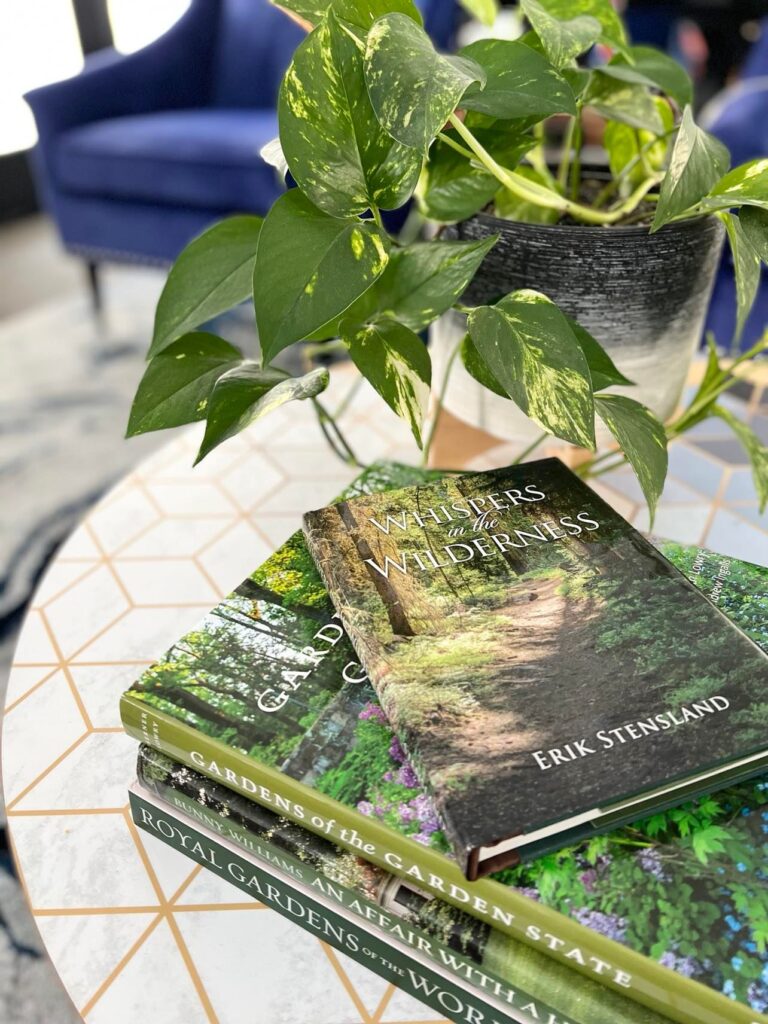 Green Tea Towels
In our household, we have two types of tea towels.
We have those that are basic and functional for every day use.
And then we have the "company" tea towels. These are the tea towels that have beautiful colors and patterns and match various table settings. I break these out when we are entertaining.
They are very functional and we still use them, but they are given a little more TLC.
Such a great chance to incorporate a Wee Bit O' Green!
Display on your counter or kitchen island as a single towel or layer with other coordinating colors and patterns.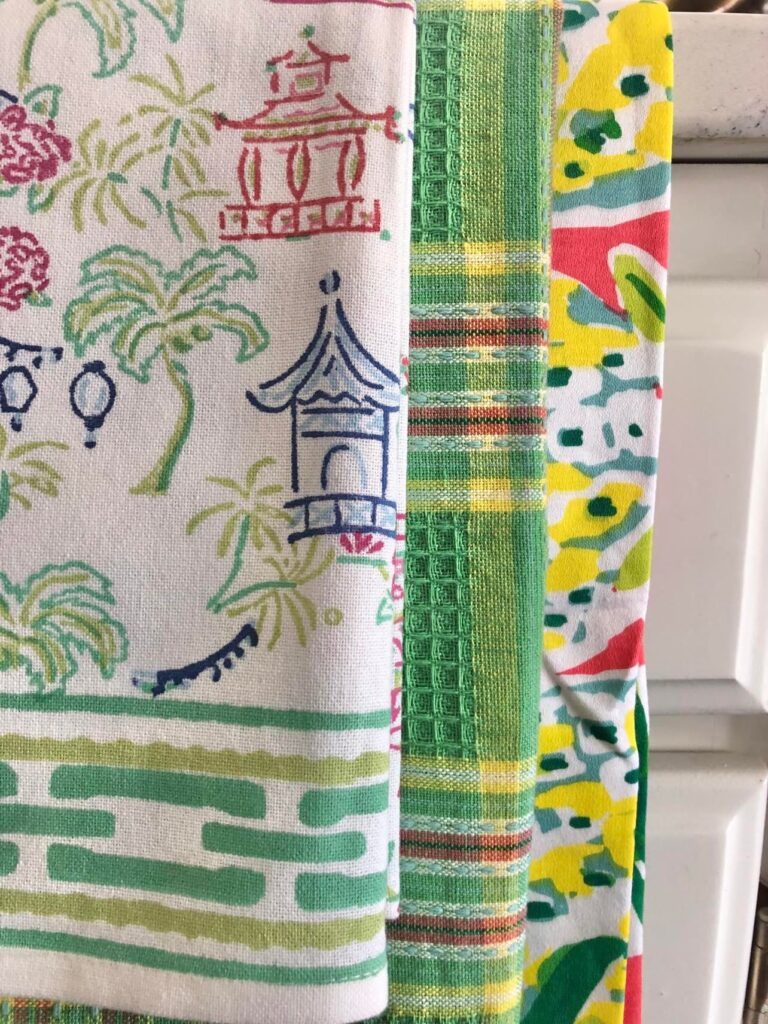 Go Green…and Make a Difference!
Some green is not necessarily displayed in the house but it critical with every load of laundry we run.
Earth Breeze Laundry Detergent Eco Sheets are one of the easiest ways to "Go Green" in your home and make a significant positive impact on the environment!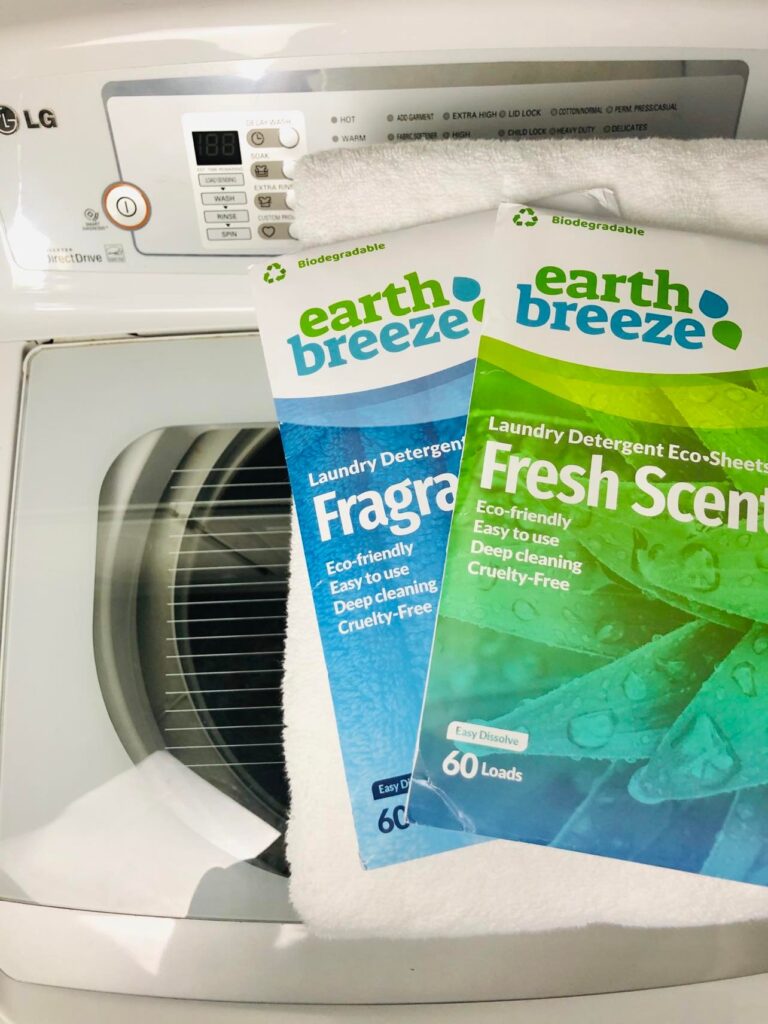 Toss a sheet in with your washing machine (even HE models) for clean laundry that is
Plastic free packaging (no big and bulky detergent jugs!)
Sensitive on skin (even baby skin!)
Cruelty free (guaranteed vegan and animal friendly)
Powerfully clean! (tough stain and odor removal!)
To subscribe, just follow my affiliate link.
Earth Breeze Laundry Detergent Eco Sheets
I do earn a small commission for each subscription purchased. However, I was an avid and happy customer of Earth Breeze long before I became an affiliate. I truly believe in this product!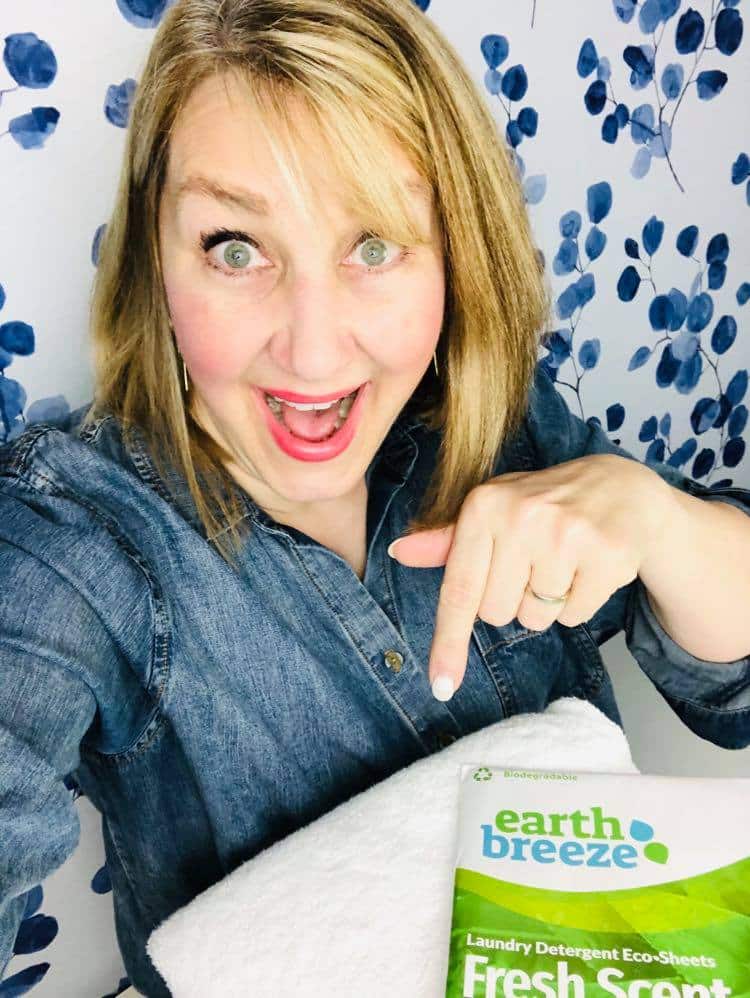 I hope this post gives you some ideas for adding a Wee Bit O' Green decor into your home.
Green Teaser!
My next green project…painting an old dresser green. Blog post reveal coming soon!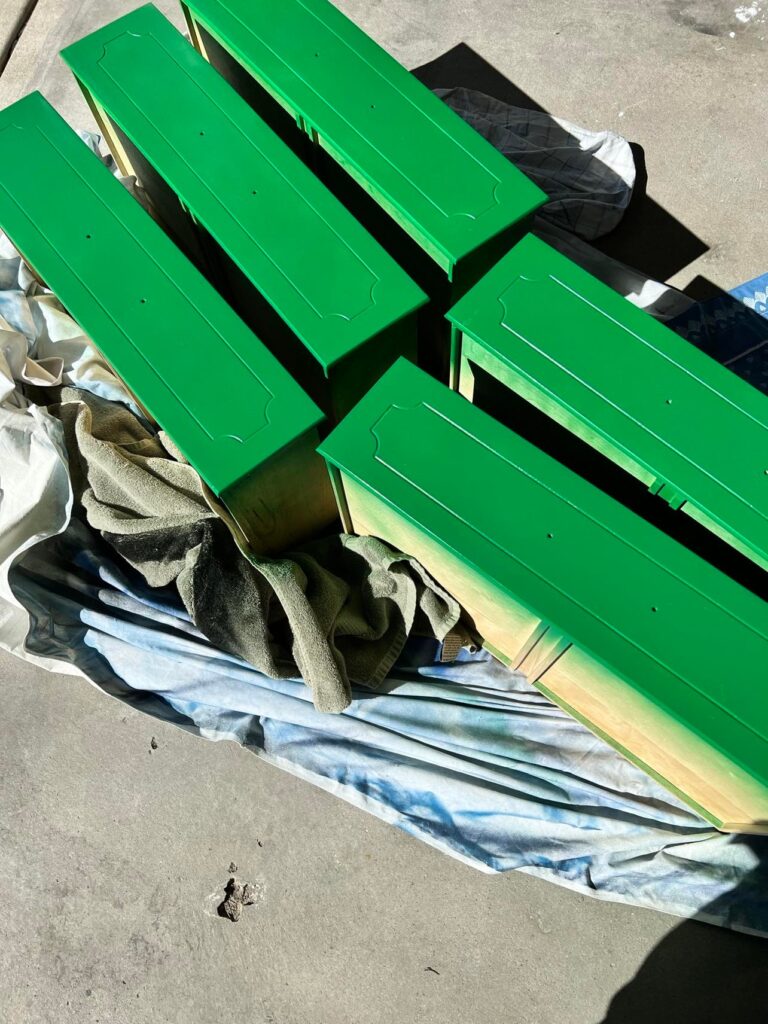 Cheers!