Urban Garden Prints in a Suburban Home: My New Love Affair
Join me as I share my newest love affair with Urban Garden, original art prints featuring nature in modern, and on trend designs.
Urban Garden art prints: It started as a crush.
I saw from afar and moved in for a closer look.
(Actually, I saw for the first time on Instagram and swooped in for a closer look and a "save!")
I couldn't stop checking out my new obsession!
Swipe. SAVE. Swipe. SAVE. SAVE!
The crush turned to infatuation as I gazed and imagined my life with such exciting artistry.
And then…I knew I was in love!
I very well could be talking about my charming, handsome, and talented husband. (Our story is close to this!)
But, this is a different love affair I describe today. One of color, style and sophisticated nature in all her glory.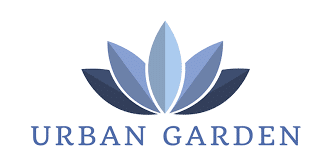 Urban Garden. This amazing business, created and owned by two southern sisters, produces their own giclee fine art prints featuring themes from nature. From the design to color to printing, Urban Garden takes traditional subjects of nature and gives them zaps of unique color with a surprise design, often with a cheeky perspective.
Think "traditional nature" but designed with a modern, urban twist!
And these Urban Garden prints are giving my suburban home a very cool twist!
As of this posting date, you can get 30% off art prints when you purchase a frame!
***Urban Garden gifted me some stunning art prints that I am excited to share with you. This post contains affiliate links that enable you to explore their beautiful catalog and earns my business a small commission with each purchase. My retirement fund thanks you!
A Suburban Dilemma
How to make a basic white room in our suburban home come alive with unique personality?
We had a "leftover" room upstairs. It was a basic white room with strange slanted walls that had been used for miscellaneous storage for years. Until…I decided to turn it into my indoor "she-shed!" (No room outdoors so why not bring it inside!)
You can read about the journey of this room here…
Creating a Craft Room: Stage One of the "Dot Room"
Craft Room Storage Solutions in a Small Space
There were two areas in the room that needed some wall art personality.
The first is the space above the craft supply wall.
Elevate the ordinary!
Pliers and glue guns on display are not necessarily a decorating goal of mine. But I want my supplies handy and still looking good!
When paired with some beautiful artwork, it is a decorating win!
These three vintage garden prints from Urban Garden were EXACTLY what I was looking for to give my craft storage a little outdoor inspiration!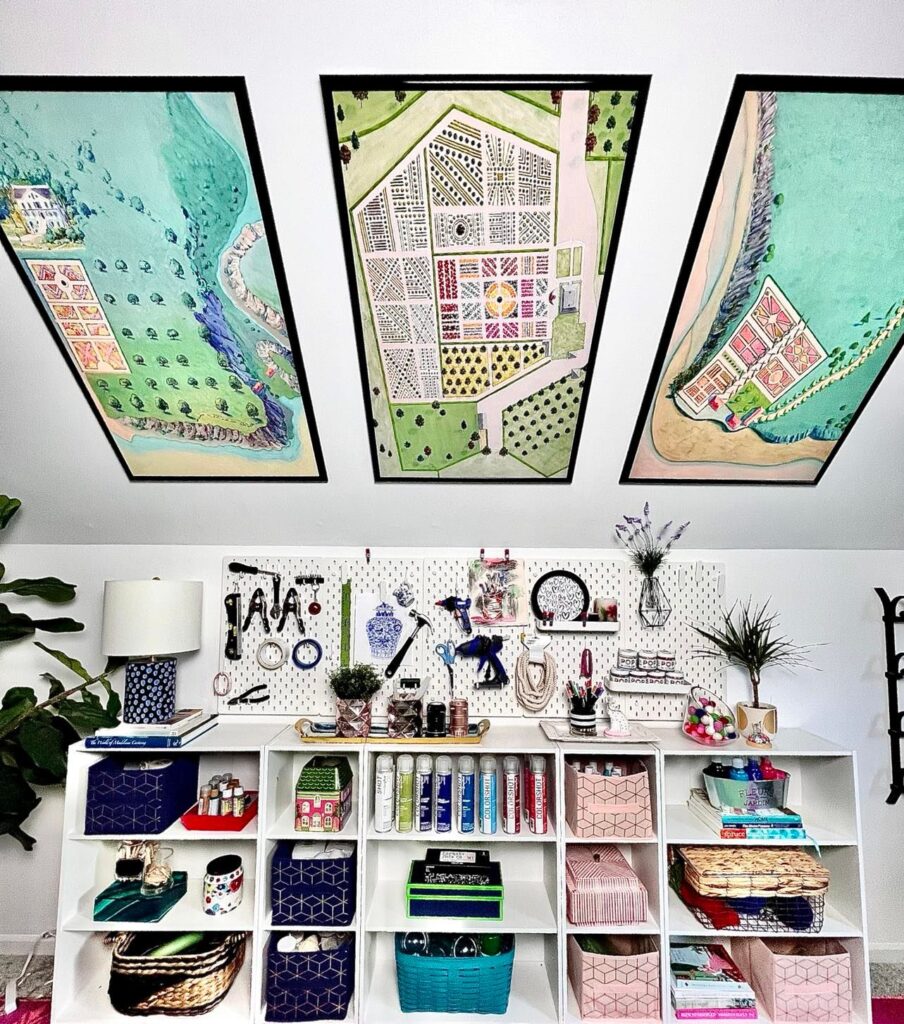 These are a playful, modern take on the traditional garden map. The designs are so creative and imaginative!
The colors are amazing…clear, vibrant shades of green, coral, yellow, and aqua. They grab your attention and keep you looking!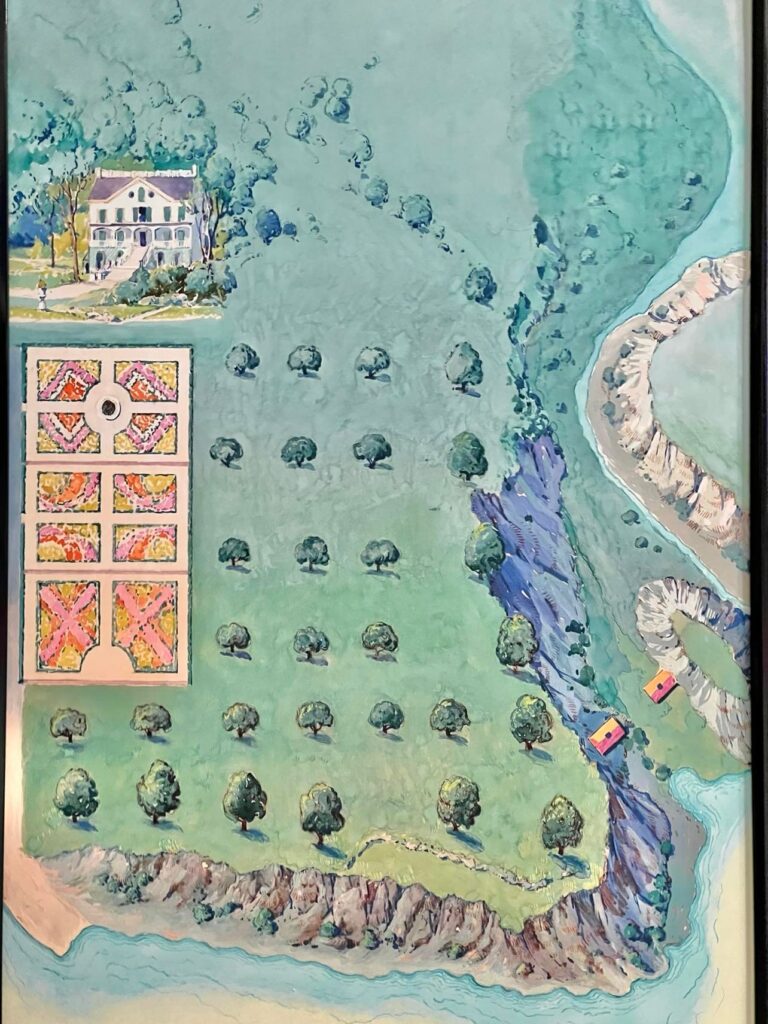 The quality of these prints are equally amazing. From the moment I took them out of the shipping tube, I could feel the high quality of the paper in my hands.
For hanging, upon recommendation from Urban Garden, I took off the acrylic from the front of the frames. This prevents glare and gives the artwork a higher end gallery look. These are printed on high quality acid free paper, so they don't need the protection of the acrylic to keep them from fading.
And, since I was hanging on a slanted wall, taking the weight of the acrylic off was a huge bonus!
Don't you love the inclusion of the charming house on the print! Can I live there, please?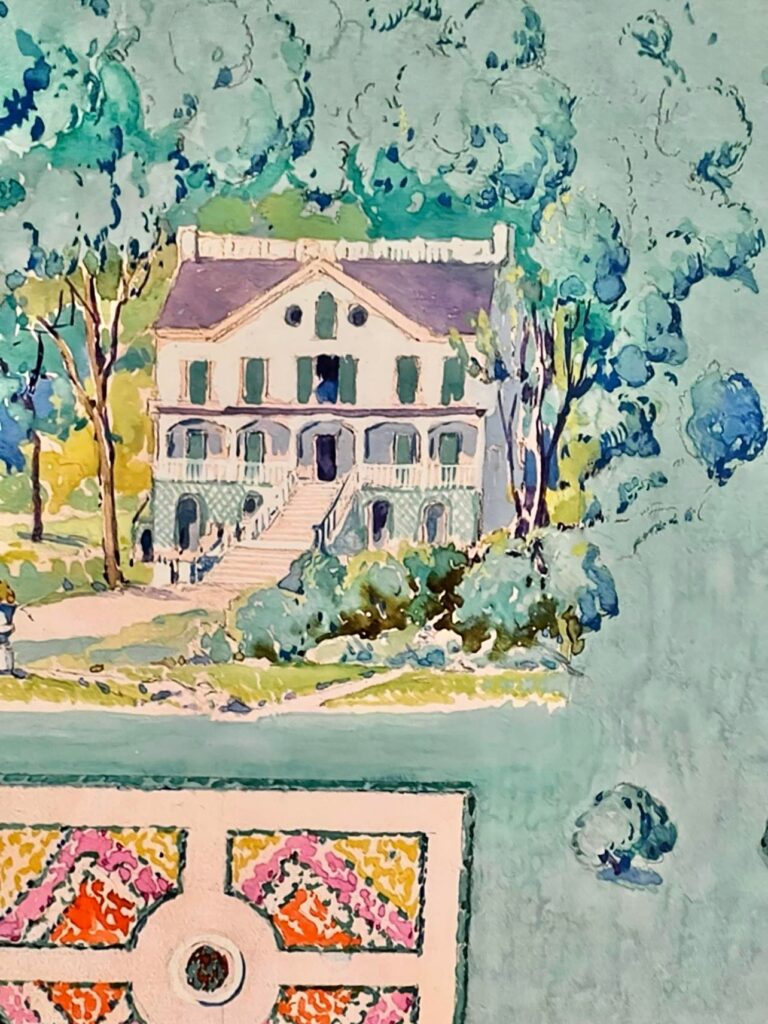 The garden map is a close up of a garden I wish were in my backyard!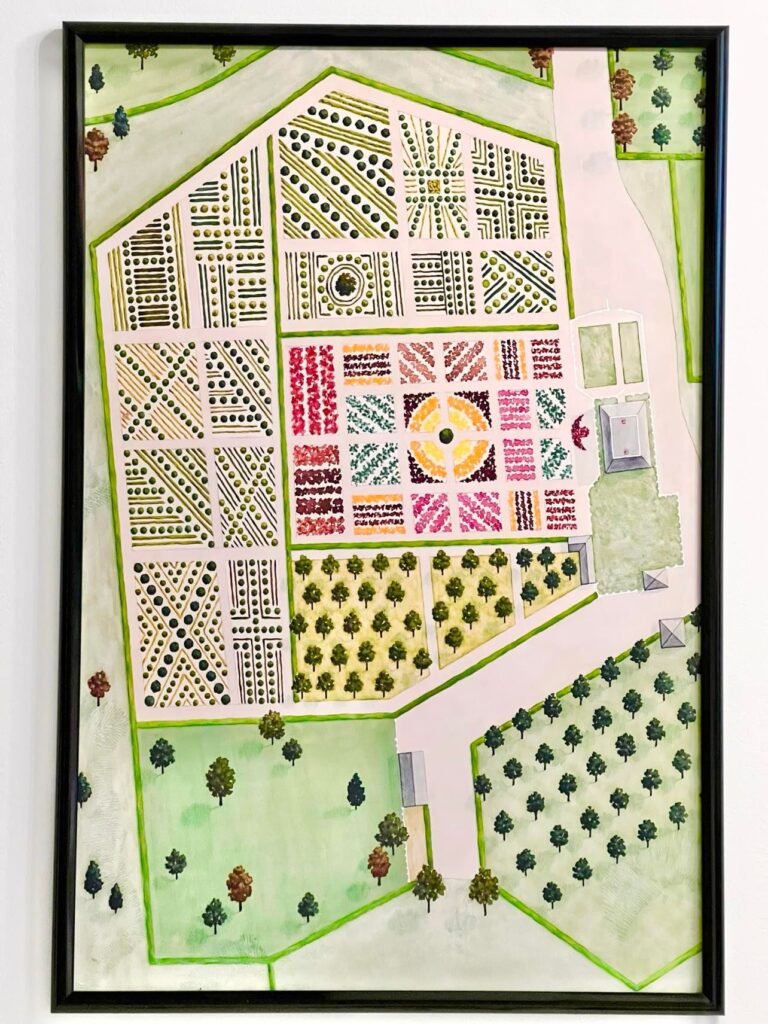 And this print makes me think there is another garden just around the corner!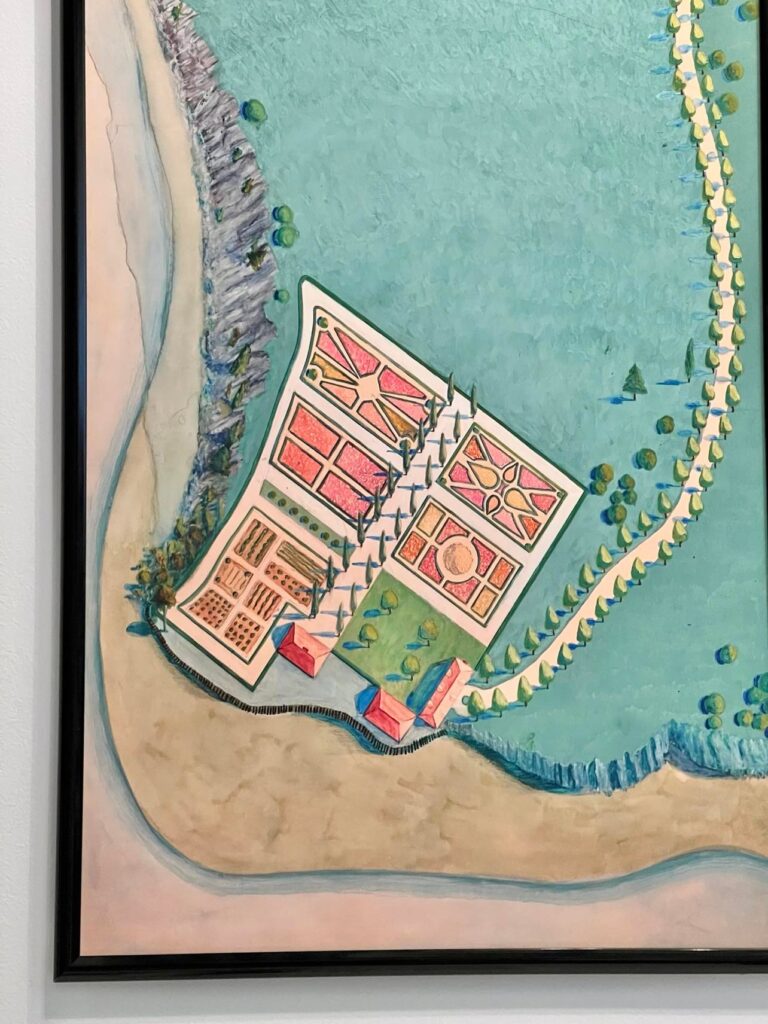 This is what I get to look at while crafting and creating in the new room!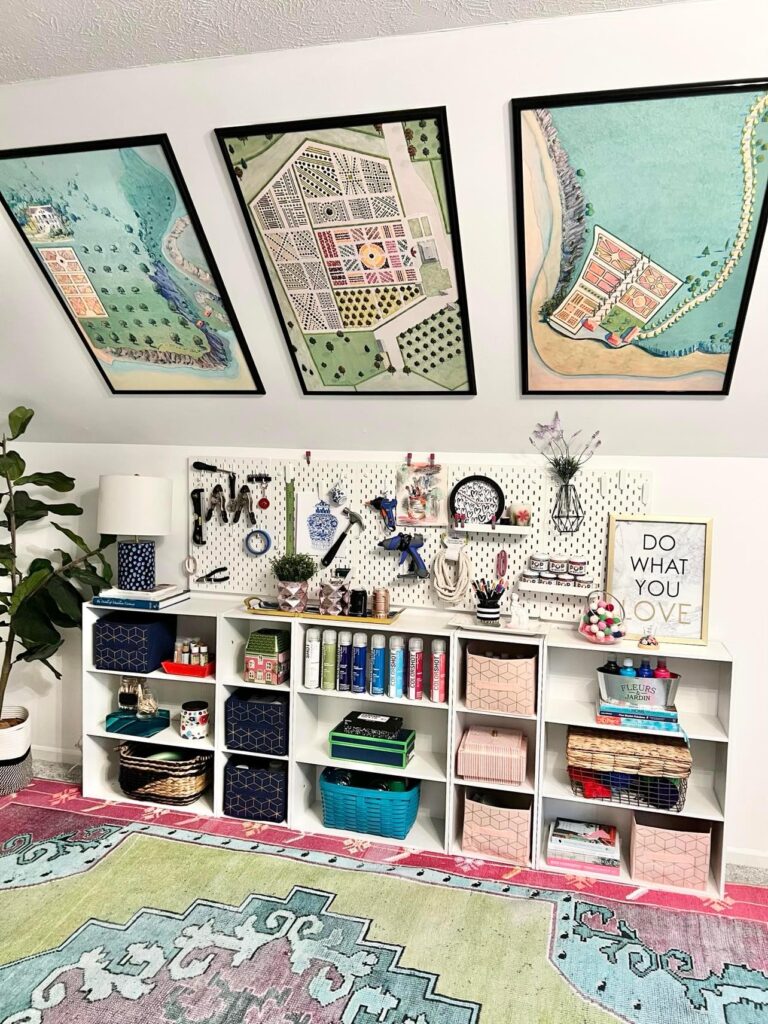 There are many different vintage garden maps to choose from on the Urban Garden site. These three called my name and are now artistically filling this once awkward slanted wall.
So Many Dots!
The next space that needed some wall art is the nook in the same room. The dot wallpaper is whimsical, playful, and quite an eyeful when you look at it straight on. Something was needed to break up the dots and serve as a focal point for this slanted wall above the daybed. (Another slanted wall to deal with!)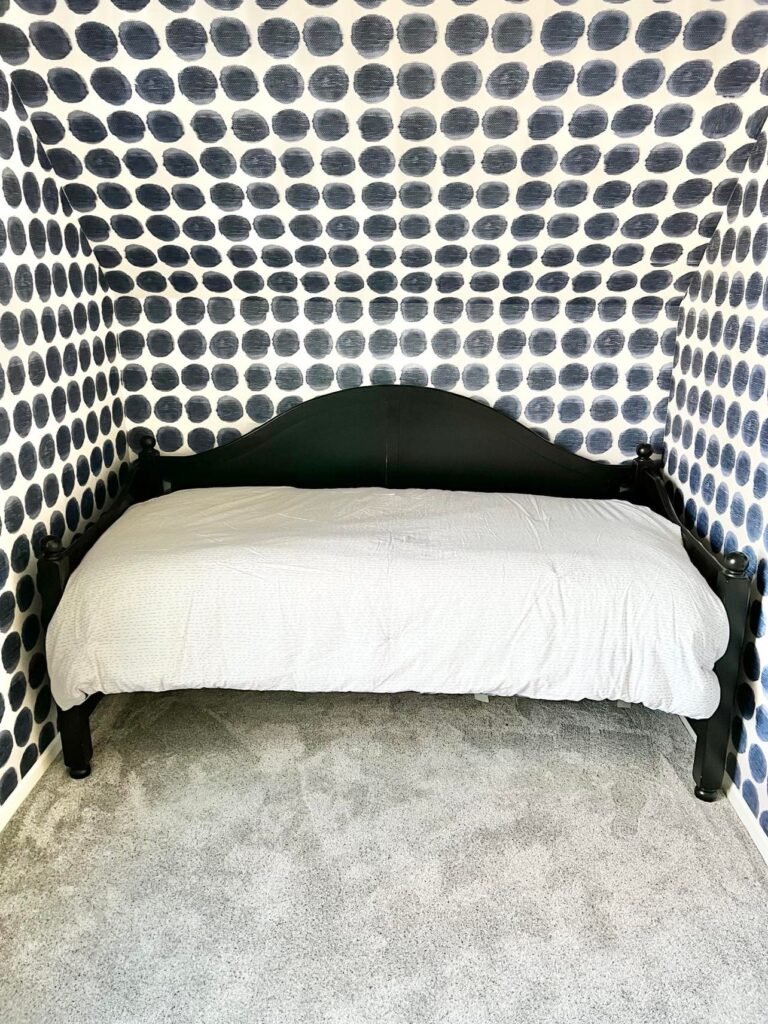 Urban Garden to the rescue!
Check out this split "Forest Moth!" Oh my goodness, the colors! Perfect with the rug!
You can find this particular print in many different color combinations. Check it out HERE.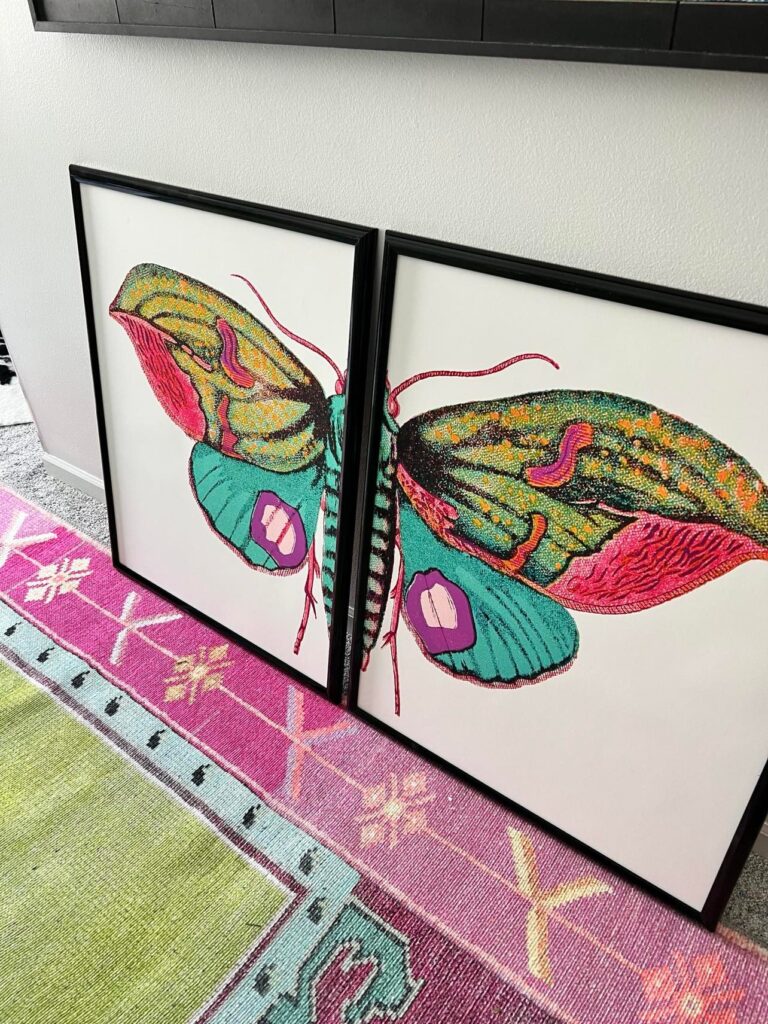 And on the wall? Magic!
Suddenly, all those dots become a charming backdrop for this "drop the mic" wall print!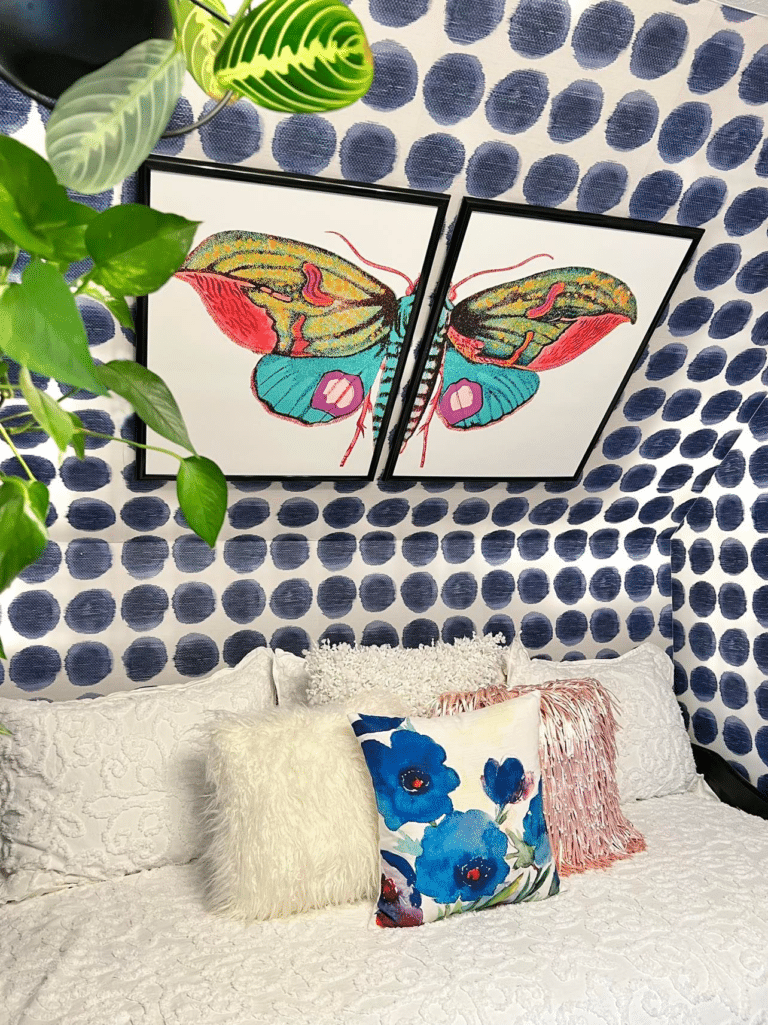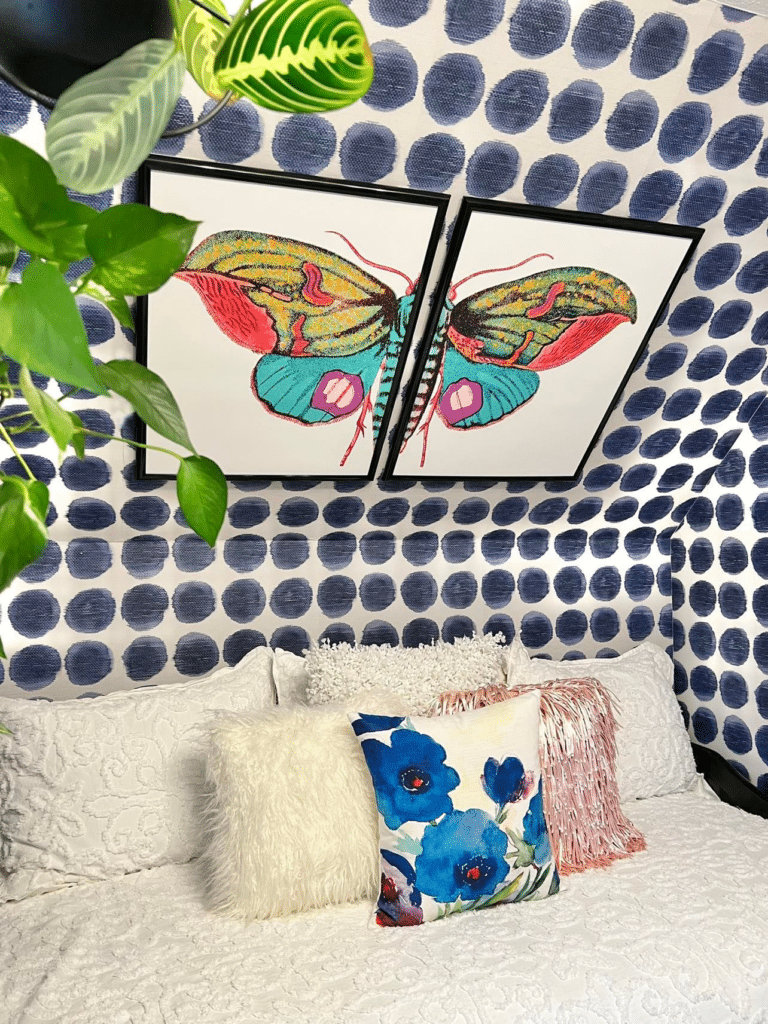 The colors are saturated, vivid, and full of energy!
You can actually see the heavy weight paper using archival inks. This craft room definitely now has a gallery vibe thanks to the artwork.
Now the nook is fun, fanciful, and fabulous!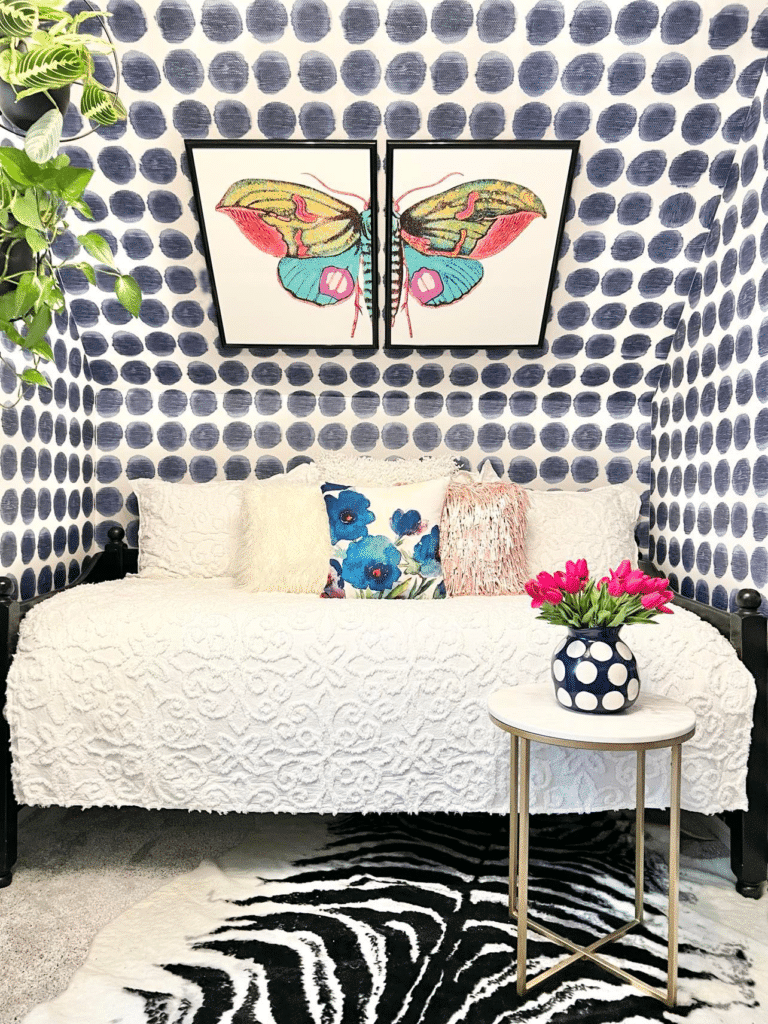 My dear reader, you really must take a look at all that is offered. The Urban Garden online catalog is full of garden and nature inspired prints in a variety of subjects and styles. Boho, grand-millennial, coastal, new farmhouse, minimalist, and modern. There is truly something for everyone!
Urban Garden helped me turn a ho-hum suburban bonus room into a playful, creative space that I get to hang out in every day! My own suburban urban garden!
Thank you Urban Garden for these amazing prints and letting my love for your designs come full circle! You captured my eye…and then my heart!
Cheers!

Remember, as of this posting date, you can get 30% off art prints when you purchase a frame! Whoo Hoo! You can take a look HERE!