One Room Challenge Spring 2023 – A Half Bath Makeover
I am thrilled to be participating in the Spring 2023 One Room Challenge! Join me on this project journey as I makeover a half bath with bold color and pattern!
The One Room Challenge is an online bi-annual event where designers are challenged to creatively transform a room in an 8-week time span. With Apartment Therapy as its media sponsor, it is one of the best things for finding interior design inspiration.
Well, this is kick-off week! Here we go!

Kitchen, bedroom, home office…what room would you transform in your home?
My choice is not a large room. In fact, it is a very small space…the smallest in our home!
I will be transforming our first floor small half bath. Time for a bathroom remodel!
Some call it a powder room. Some charmingly call it a water closet. Whatever the label, it can use a refresh.
The current half bath has served us well and for a long time. But it is time for a clean slate with which to add some bold color and pattern through colorful home decor.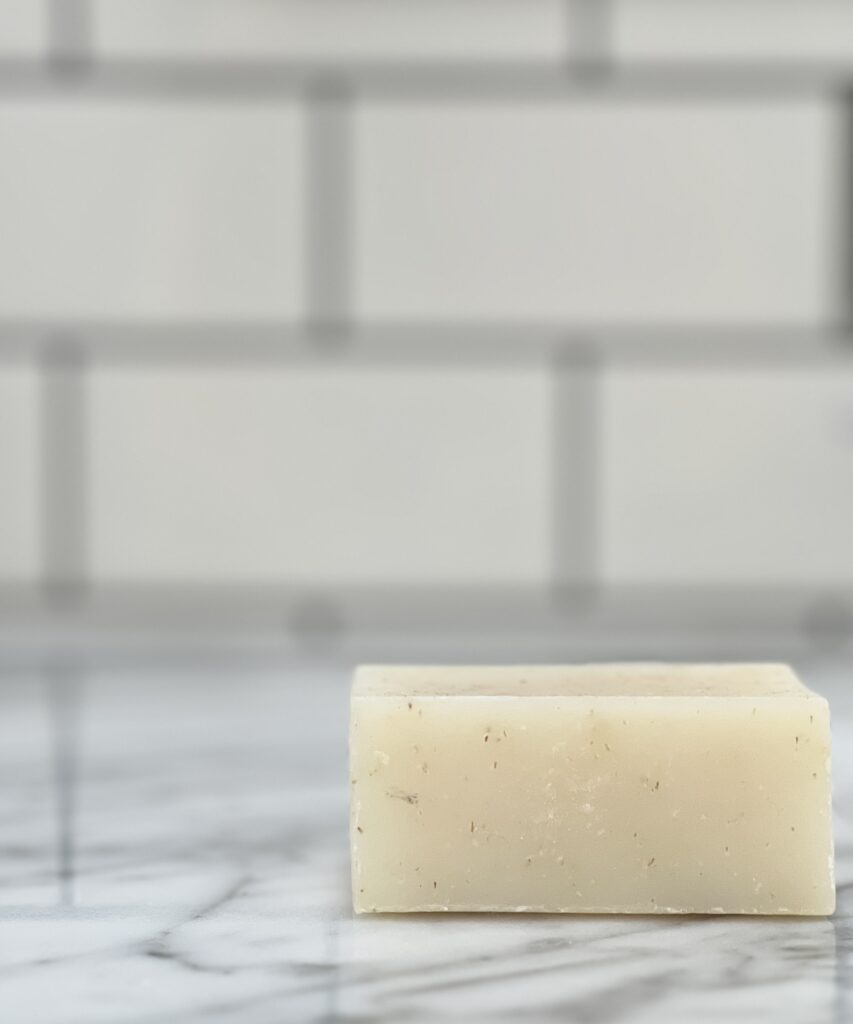 This blog contains affiliate links. This means a small commission is earned if you make a purchase by using this link. The price you pay will be the same whether you use the affiliate link or go directly to the vendor's website using a non-affiliate link.
I wish I could fill this post with glorious photos of what this half bath transformation looks like in my mind. But first I need to share the dark reality of what it looks like now.
Keep reading though…I can't wait to show you the mood board at the end of this post!
Why This Half Bath Makeover Needs the One Room Challenge 2023
This little bathroom is fine.
Just fine.
Just…you know…fine.
But we can do better than "fine!'
At first glance, the main thing that strikes me is how dark it is.
As much as I love a deep paint color (and deep moody colors are trending) I'm aiming for a lighter, brighter, and bolder design.
A design to welcome guests, flow with the design of the rest of the house, and function as the most often-used bathroom!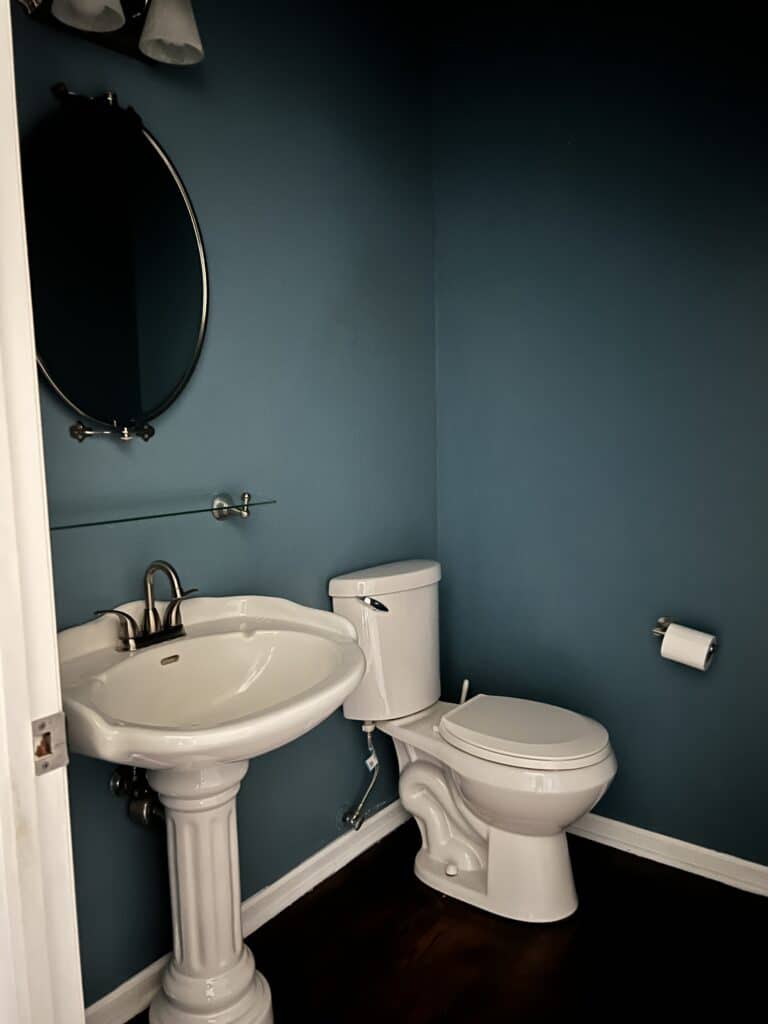 There are flaws.
Like this glass floating shelf that is pulling away from the drywall.
We have tried to repair it several times. It stays put for a while and starts to fall out again.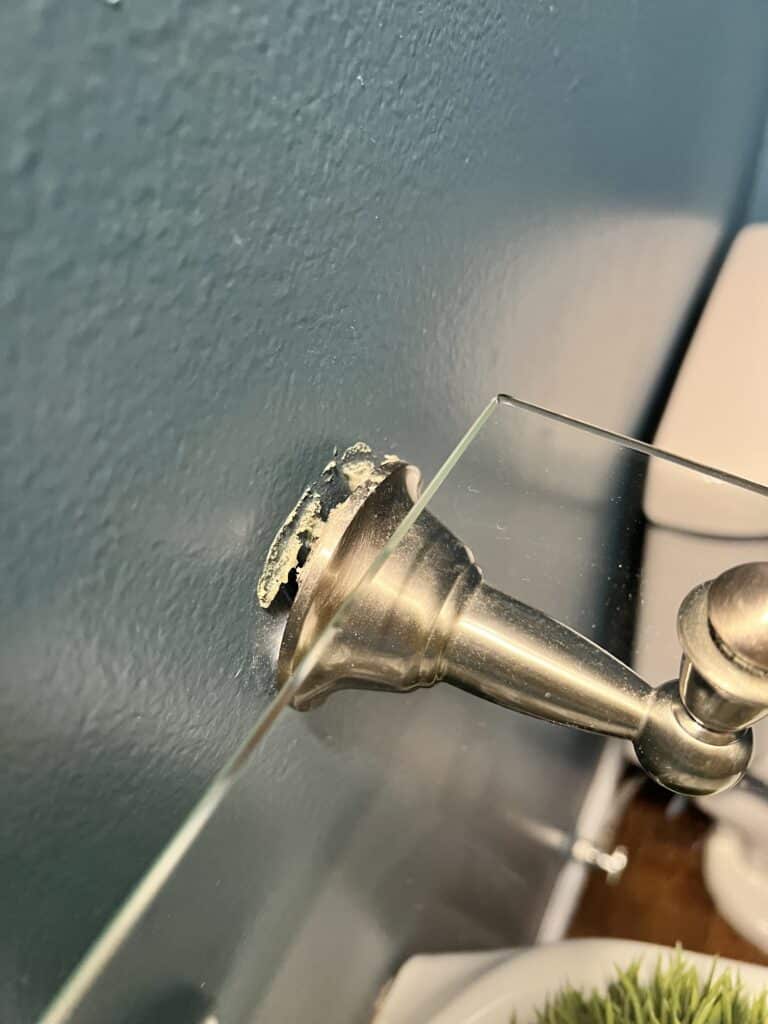 This white pedestal sink is charming but is just a little bit top-heavy. And, there is no extra storage or even vanity surface space.
See how the soap bottle is tipping? No flat surfaces!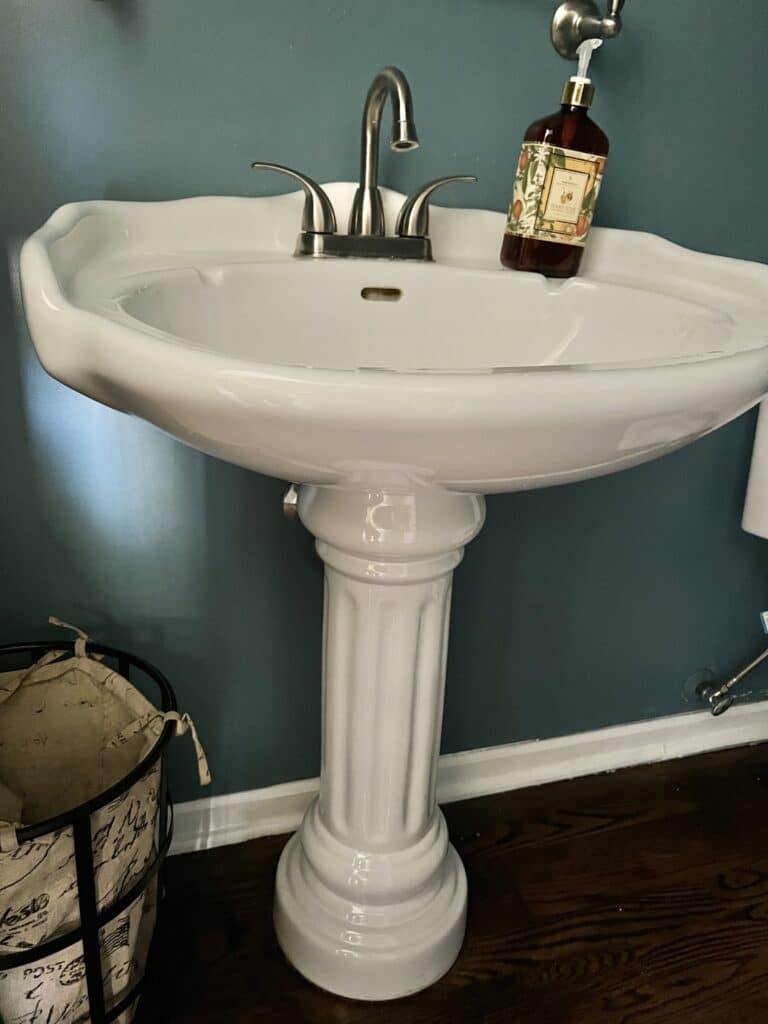 Nothing really wrong with this light fixture.
But I have grown tired of it shadowing my face and adding dark circles under my eyes that aren't usually there.
A girl has priorities, you know!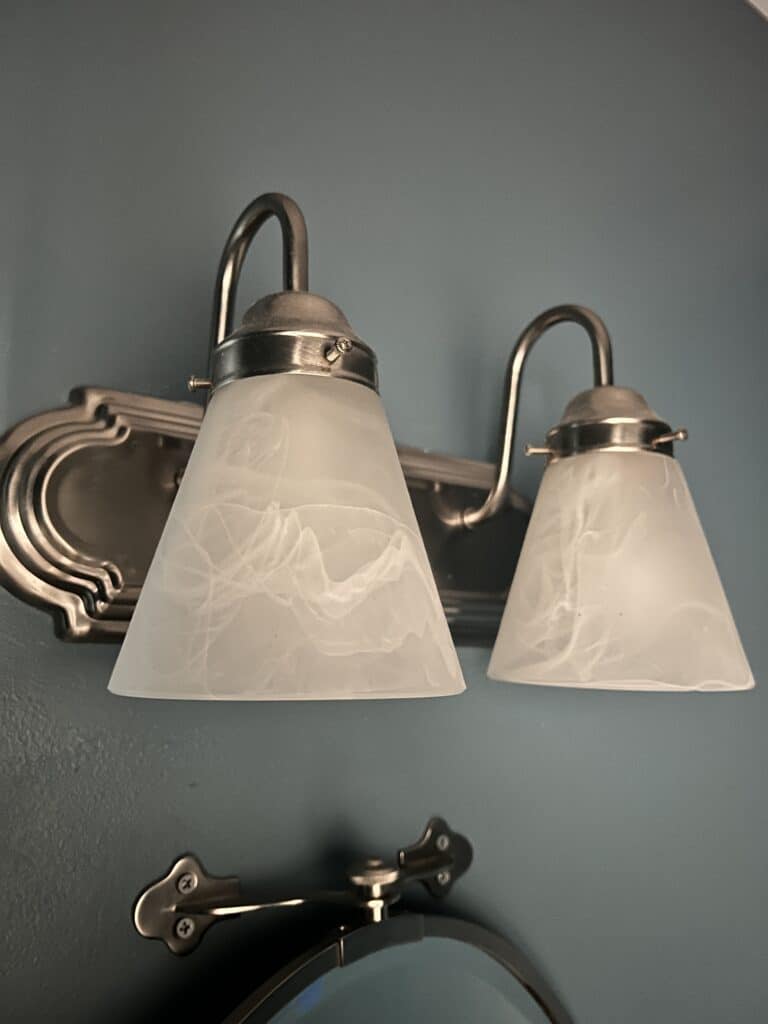 I love this tilting oval pivot mirror!
Yet, as much as I love it, the existing mirror is not tall enough to balance out the pedestal sink.
This mirror will definitely get repurposed in the house. Time to look for a larger, more funky mirror!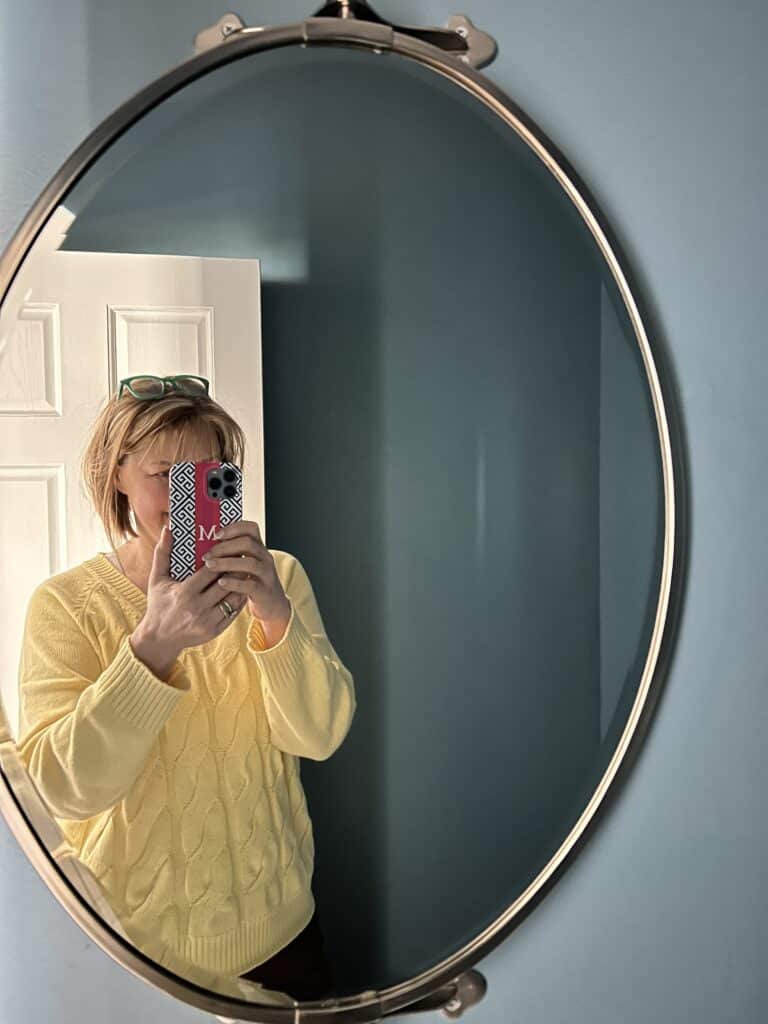 The Challenges
Teeny-tiny space – This is definitely a one-person powder room with limited floor space. How to make a small room feel spacious and lux? How to give the illusion of more space in a tiny bathroom?
The Vanity Light – The current light fixture casts shadows on anyone standing in the space. How to make everyone in the room looks stunning? A new light fixture solution is needed.
No vanity surface space – I'm a big fan of pedestal sinks. But this one has no surface area or storage space…at all! I'm really shooting for a new sink with a new faucet that will have a big impact!
The toilet paper roll holder keeps falling out of the wall.
Blank wall – The first thing you see when you open the door is a big wall. I have tried various pieces of wall art but want something very special to greet you!
Budget – I don't have just a ton of money. Great things can be done on a limited budget!
Let's get real – The toilet is too short! We are a tall family and need a little height in our privy! Time to get rid of the old toilet.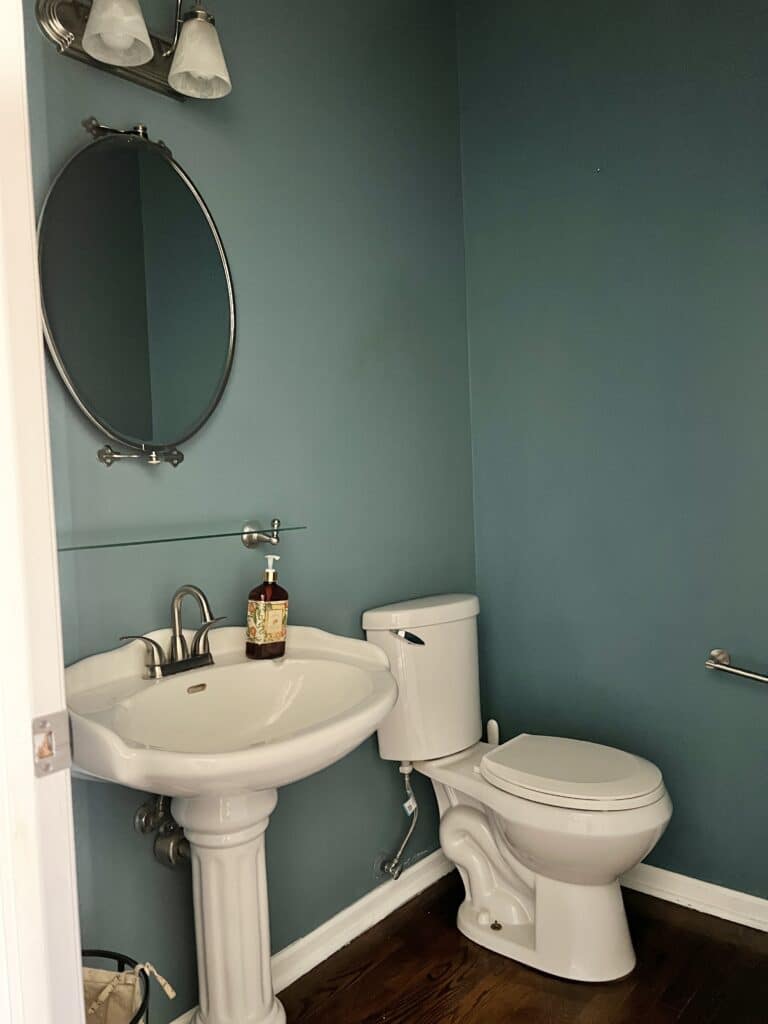 The Good News
Teeny-tiny space – Yes this also tops the list of challenges. But small spaces can deliver a powerful design punch!
Wall space – There is room for a larger mirror, improved lighting, and fabulous wall art!
Wood floors – The wood floors are in good shape and don't need any repair.
Moulding – The wood moulding has already been painted a crisp white color. A few touch-ups are all that is needed.
Low labor costs – I will use an electrician for the electrical work and am hoping that we can tackle the plumbing ourselves.
The best part! – I'm going to be working with Lights.com and Urban Garden Prints for this half bathroom makeover!
Half Bath Makeover Vision – The One Room Challenge Spring 2023
Emerald green, navy blue, gold, and champagne…I'm feeling luxurious just typing these colors!
Believe it or not, infusing color and pattern into the room will give the illusion of extra space and make a big difference in transforming the whole project.
Bringing in a dramatic pattern can trick the eye into thinking there has been an architectural change when there really has not been anything changed structurally.
Wallpaper, new wall sconces, a new sink and toilet, and luxurious hand towels…won't it be fun to transform this blank slate into a glorious pop of color!
Project Timeline
Week 1 – Plan and finalize the design; Order materials.
Week 2 – Remove the toilet and sink.
Week 3 – Fill nail holes and prime the dark walls for wallpaper with light background. Touch up the moulding paint.
Week 4 – Wallpaper
Week 5 – Install new toilet and sink.
Week 6 – Install new lighting.
Week 7 – Give this small bathroom makeover a good cleaning; Hang wall art; Style accessories
Week 8 – Photograph and reveal!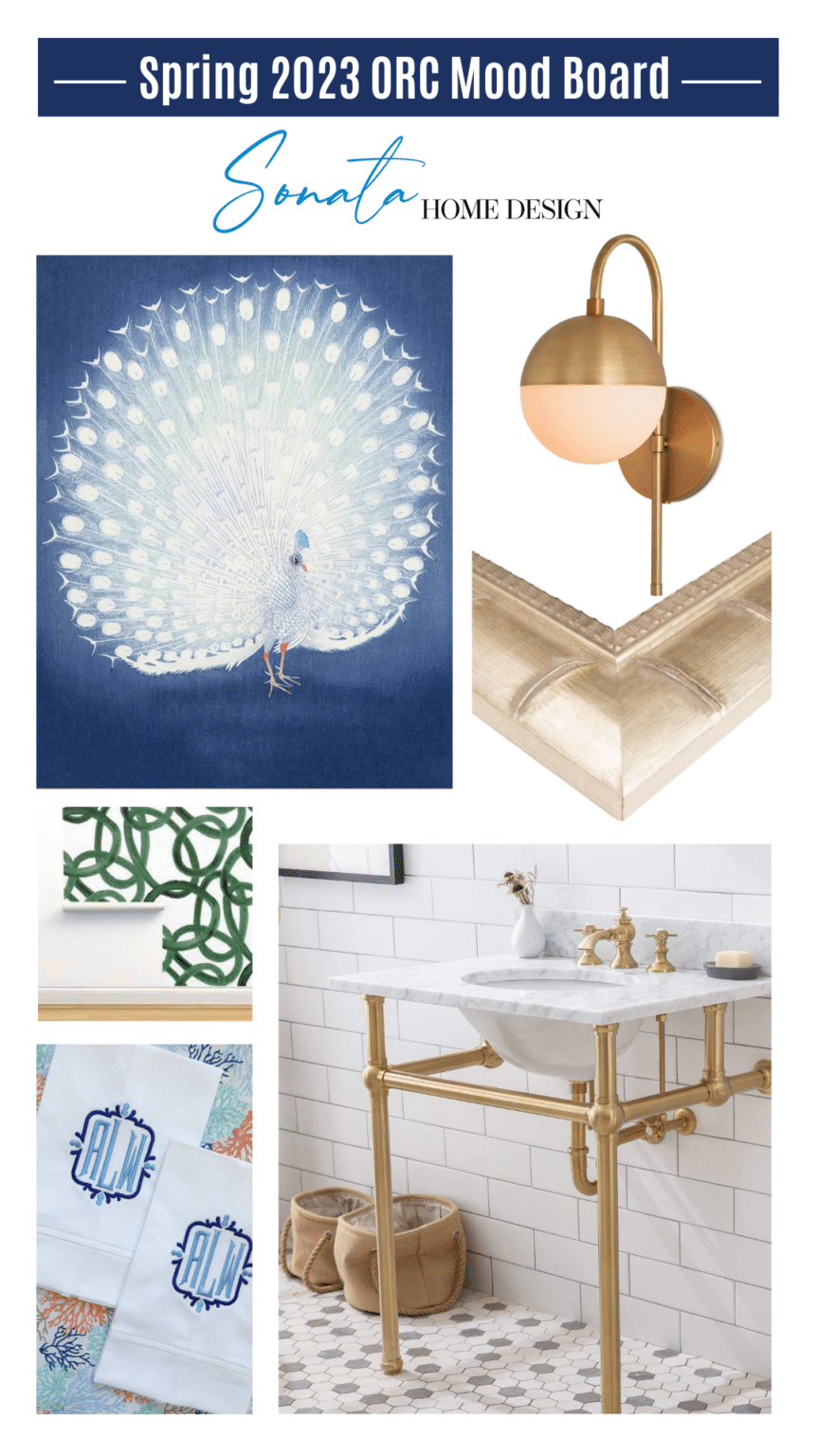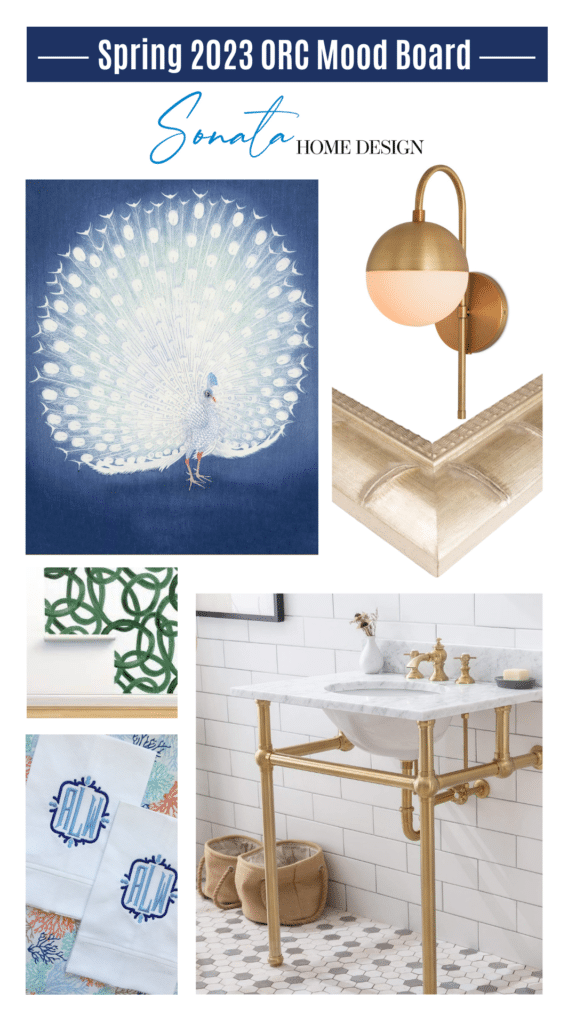 Join me on this journey of transforming this small area from its current state to one with a completely different finished look! I will be blogging about the progress of this half bath makeover every Thursday. (or at least every other Thursday!)
Watch as this half bath goes from "fine" to "FABULOUS!"
Cheers!

See the Completed Half Bath Makeover!
A Bold and Beautiful Half Bath Makeover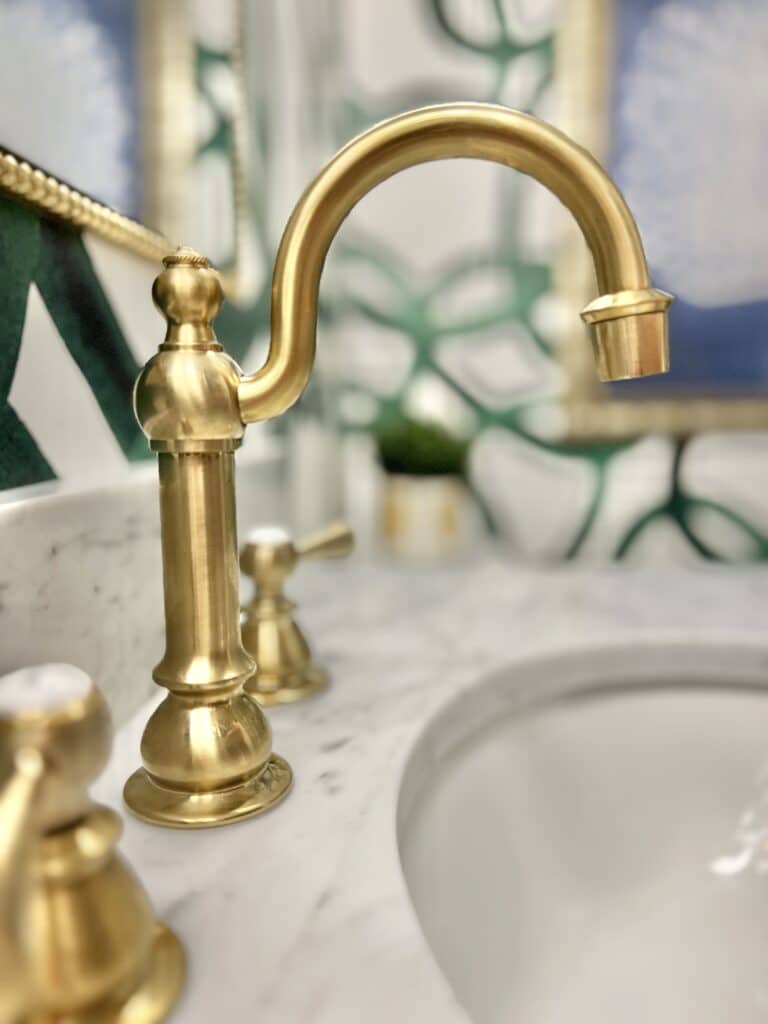 Don't Forget to Pin It!
Pin the image below to your boards on Pinterest (just click the Pin button in the top left corner). You can also follow along with me on Pinterest!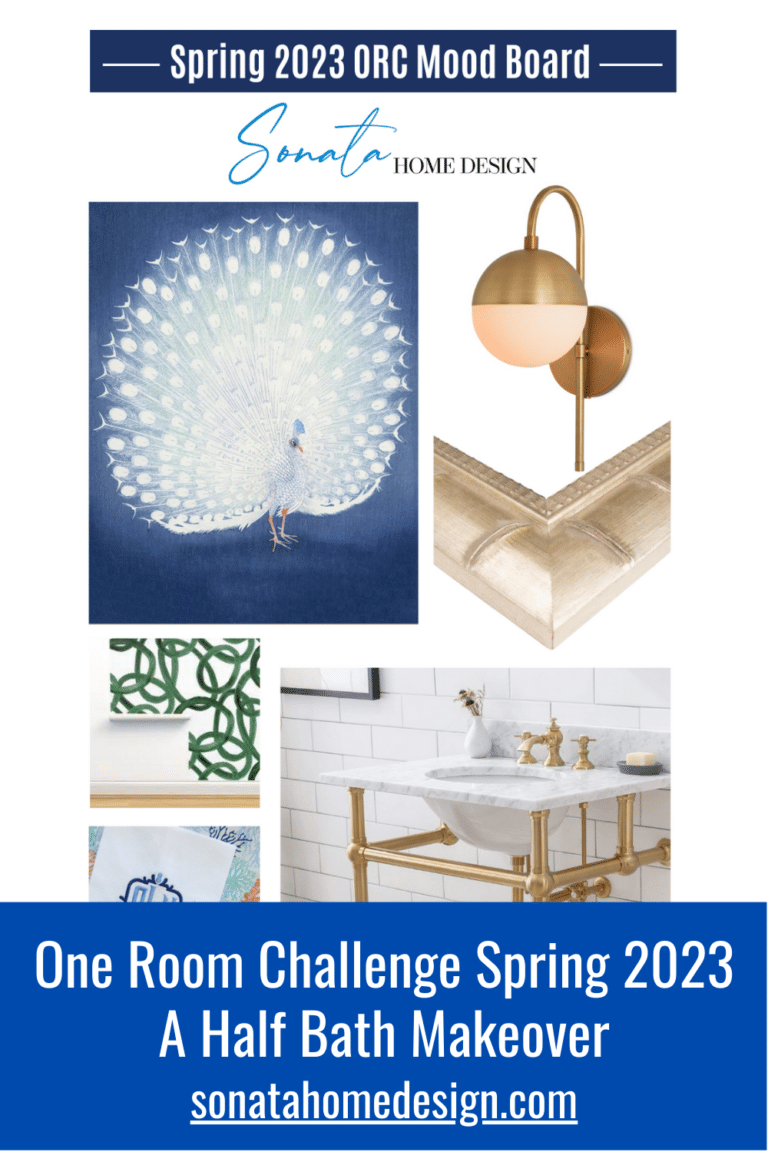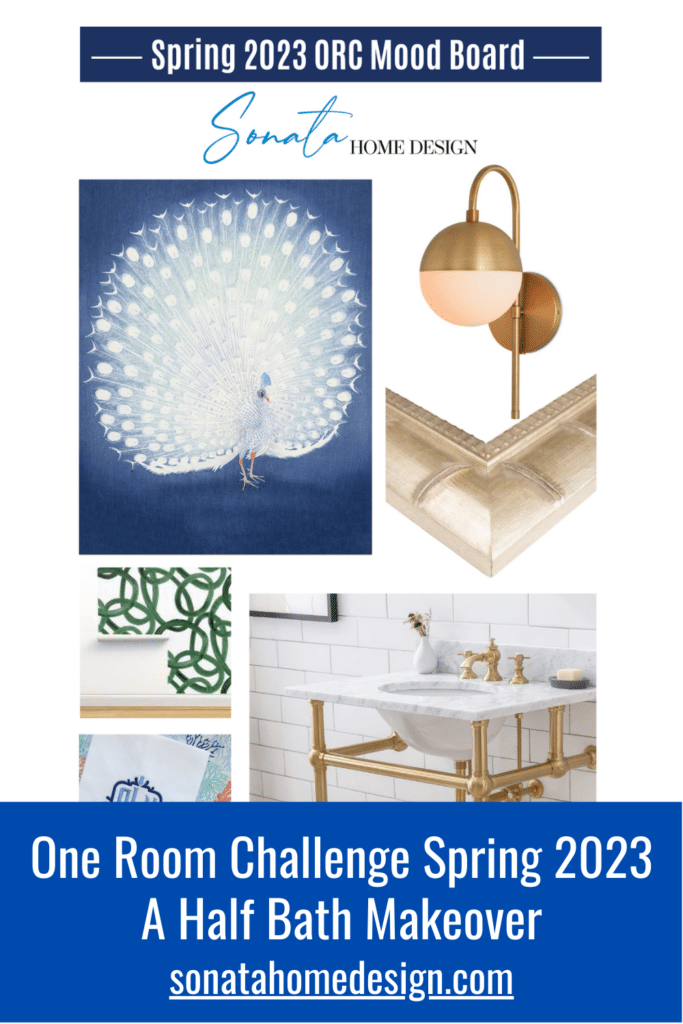 Recent Blog Posts
An Easy Fleur de Lis Flower Pot using Air Dry Clay
An Astonishing Before and After Bookcase
How to Make Dazzling DIY Mirrored Outdoor Hanging Decor
How to Make Symphony Brownies: Easy and Scrumptious!
Shopping for the Bathroom