Bold and Beautiful Half Bath Makeover Ideas
Are you feeling a little "meh" about your half bath? If so, here are just the pick-me-up makeover ideas for you! I love to make small spaces feel bold and beautiful and found the perfect opportunity by joining the Spring 2023 One Room Challenge.
I'm excited to share how our tiny, dark half bath went from lackluster and drab to bright and bold with this 8-week showstopper transformation! Get ready to spice up your powder room with some style and pizzazz inspiration!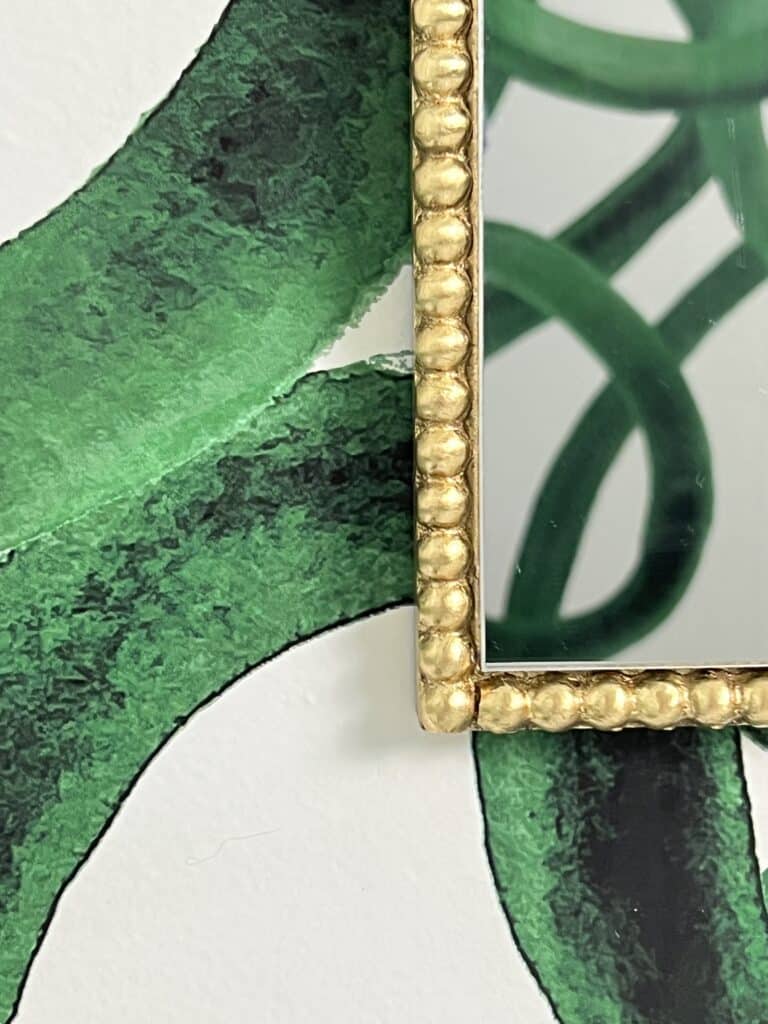 This blog contains affiliate links. This means a small commission is earned if you make a purchase by using this link. The price you pay will be the same whether you use the affiliate link or go directly to the vendor's website using a non-affiliate link.
What is the busiest room in your house?
Did you say your kitchen? Me too!
And the second busiest?
In our house, it is probably the half bath that is down the hall from the kitchen and is the tiniest room in the house.
It was also the darkest. Here is just a reminder of what it looked like!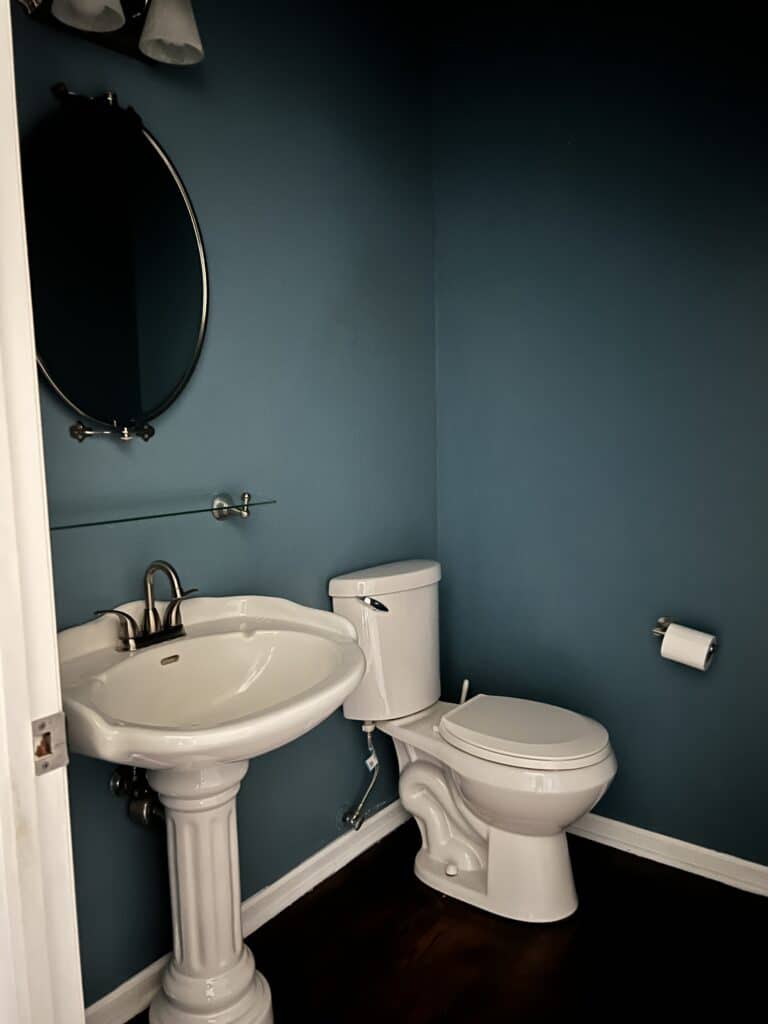 Did the sink work? Yes. And did the toilet work? Yes.
Did the room have style? Nope!
Personality? Natural Light?
Nope! Nope!
The room left me a little cold and definitely needed a little love.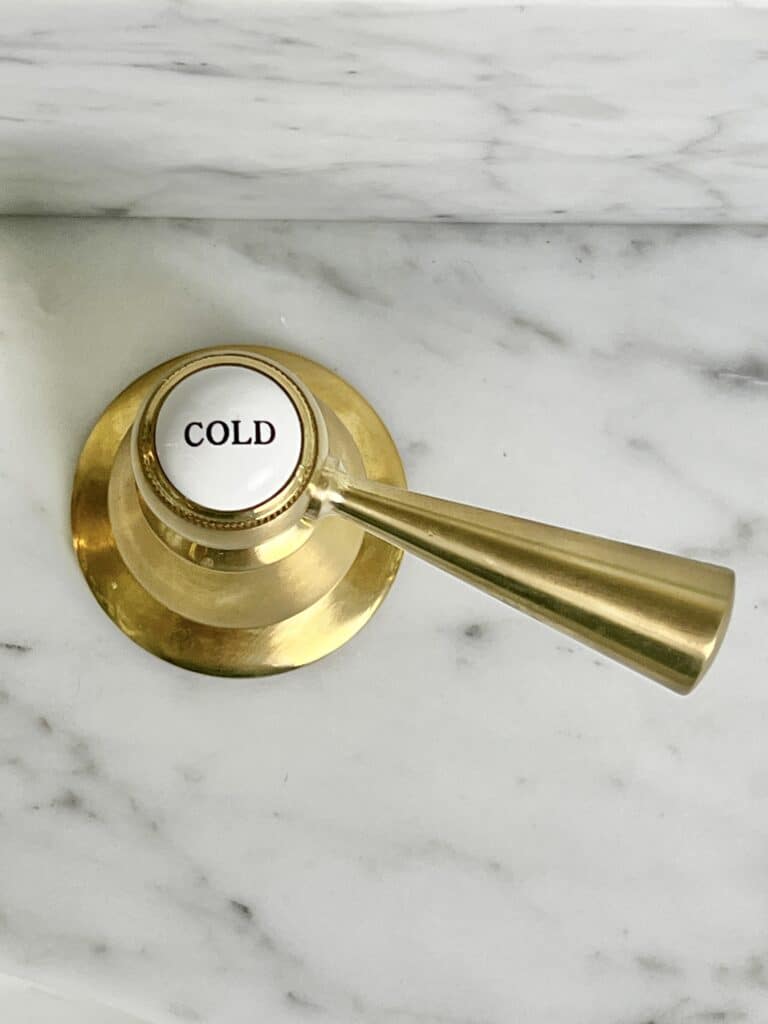 As a participant in the Spring 2023 interior design One Room Challenge, I was thinking that giving a tiny bathroom would be a quick and easy project to do.

How hard could it be to design such a small space with only 25 square feet? Let's just say I underestimated this smaller space project.
The design was set and everything ordered but I ran into all sorts of issues because of a sink that went missing in shipment and an unexpected leak that did some damage to the floor.
The good news is that the sink arrived and this little guest bathroom is complete!
Photographing the room with such limited floor space has been a challenge but I'm excited to give you a tour and share some amazing half bath makeover ideas!
Half Bath Makeover Ideas
Bold colors, pattern, an illusion of more space, and a sense of energy and movement…these were the goals for this little bathroom. I set out to transform the space with the following half bath makeover ideas:
Wallpaper with a curvy pattern…
Stunning gold wall sconces with a graceful arching curve…
A marble vanity with gold pipes…
A faucet with an elegant gold curve…
The grandeur and personality of large wall art…
All tucked into a teeny-tiny 5' x 6' room!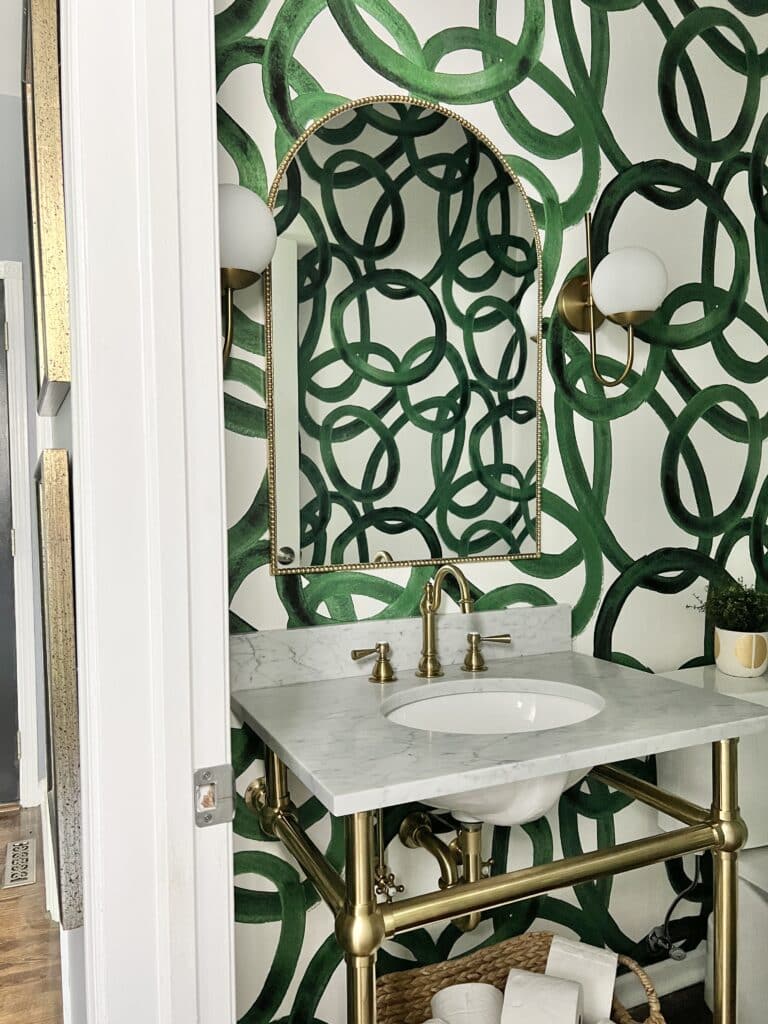 The Half Bath Wallpaper
This amazing wallpaper from Spoonflower caught my eye immediately. The abstract emerald green circles are like dancing drama against the pristine white background! This is a pop of color that swirls around you and gives energy to the small half bath.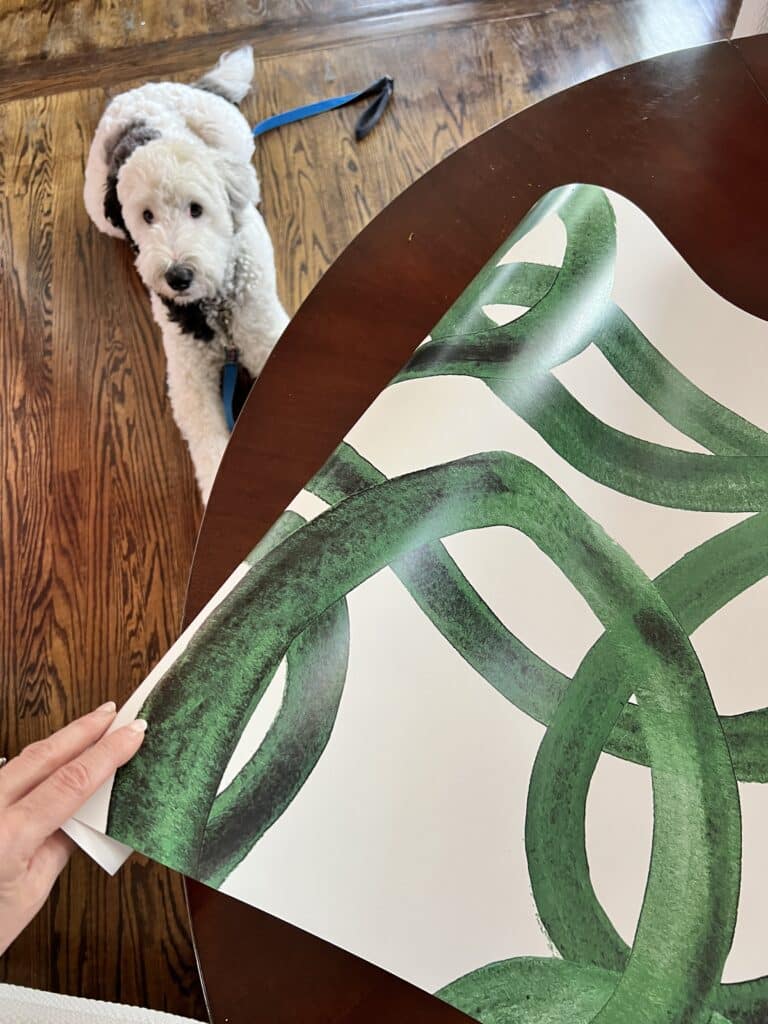 Going with a large-scale pattern for such a small room may seem counter-intuitive. However, that is what makes this unlikely partnership work. The large pattern actually creates an illusion of space making the room seem larger…and TALLER!
In sharing this idea with others, I would inevitably get asked…"Are you putting the wallpaper on all four walls?"
Yes!
Some might say "crazy town" but I love the feeling it invokes. Motion and movement and colorful whimsical energy! If there is one room in your house to try this, a powder room is the perfect place to go for it!
Applying wallpaper with a white background to dark blue walls was a slight concern. However, this worry disappeared when I opened the box of wallpaper from Spoonflower. Their paper has substance and is definitely high-quality.
Also, I discovered the best primer for dark walls. There is no hint of any blue coming through this paper!
The Half Bath Sink
The old pedestal sink was fine but I had two complaints. First, there was little actual flat surface space (try balancing a glass dispenser on an angled, gridded soap space!). Second, the pedestal was too short for me and my tall-ish family.
This bathroom vanity sink with a brushed gold faucet by Water Creations has been on my wishlist for a long time! It took some patience to get it here, but it was worth the wait!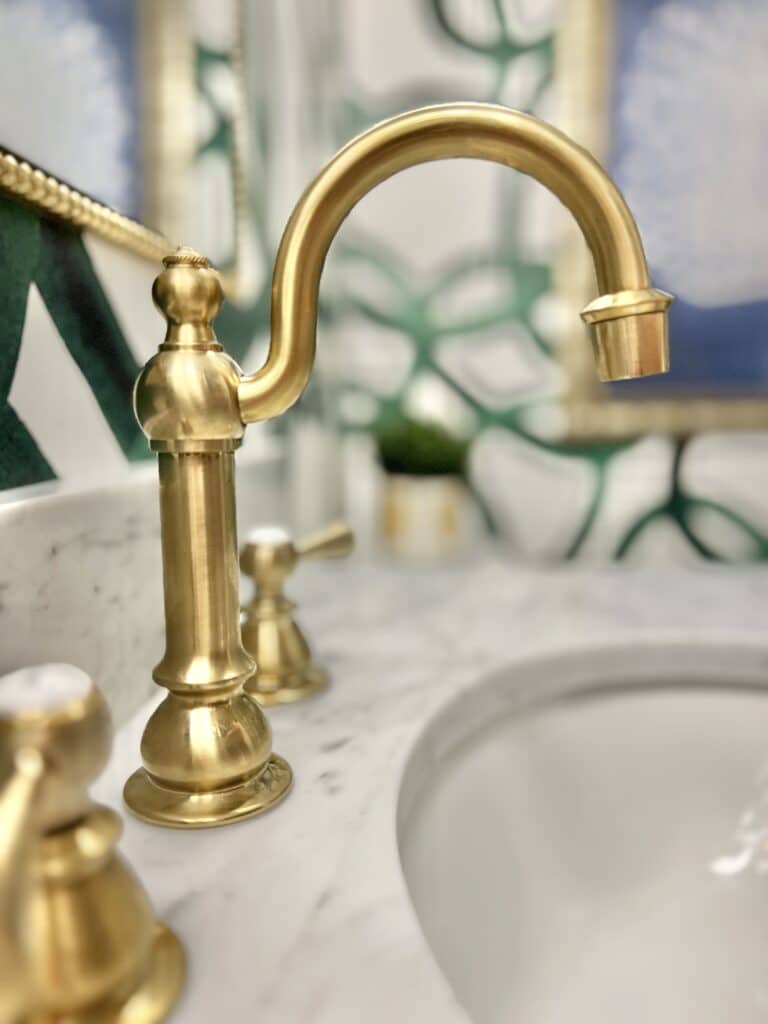 The vanity top has much more surface space which can now hold a soap dispenser, a small plant, or a hand towel.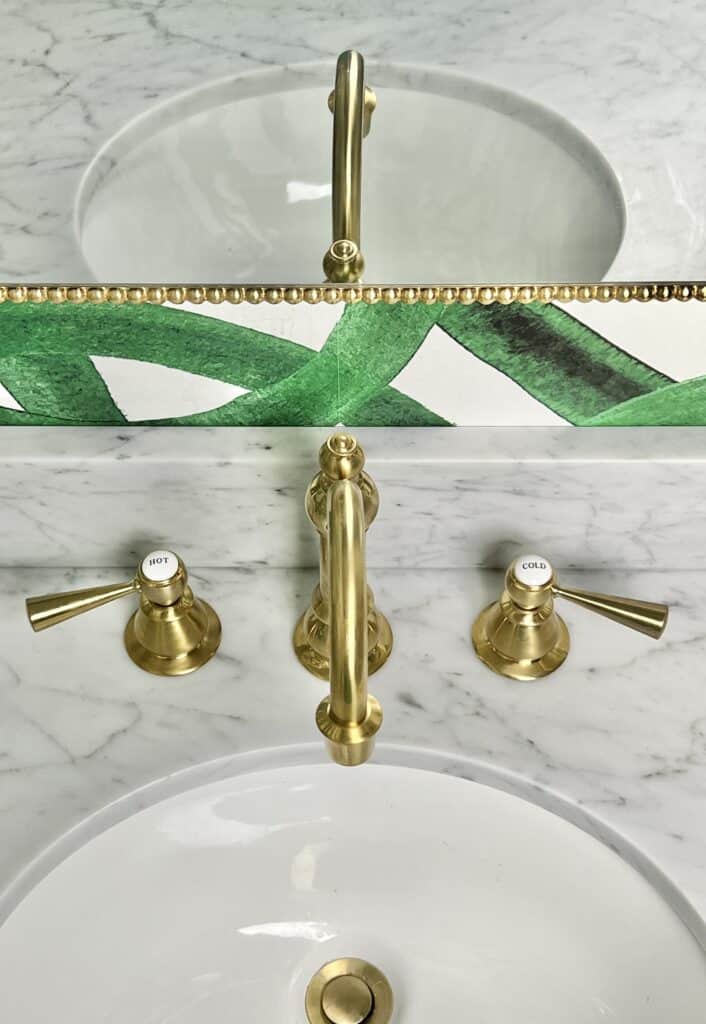 The underside of the vanity is open so you can see all of the glorious gold pipes!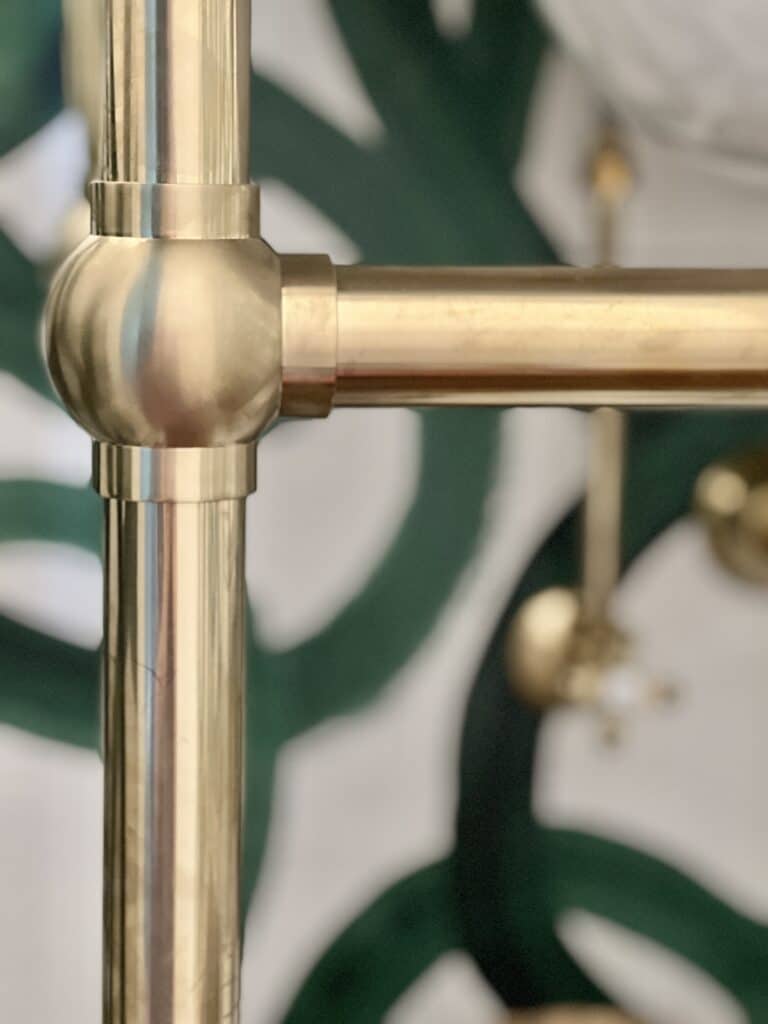 A classic sink calls for a classic mirror!
To go with a funky mirror would have been too much given the wallpaper, so I chose an arched mirror with a gold bead mirror frame.
Half Bath Makeover Ideas for Storage
You can't talk about half bath makeover ideas and not talk about storage!
Storage in a small bathroom can be a problem. Here are some ways that I added storage to our teeny-tiny powder room.
Increased Vanity Surface Area! This is prime real estate for soap and lotion dispensers, paper guest towels, and small decorative items.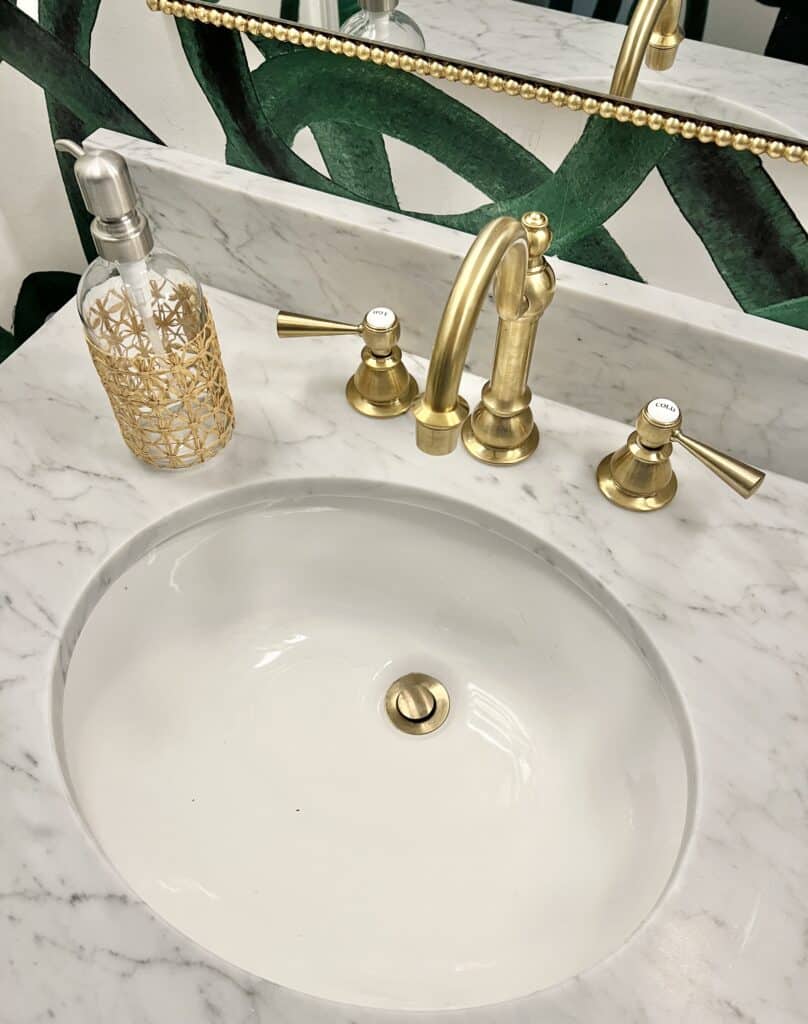 Don't forget the area on top of the toilet. Currently, this underutilized space holds a sweet green plant. But it is the perfect place for hand towels, toiletries, and other bathroom necessities.
Use baskets or decorative bins to corral smaller items like towels, toilet paper rolls, and cleaning supplies. Place them on open shelves or inside cabinets for a neat and organized look. I used one large basket under the sink for extra storage.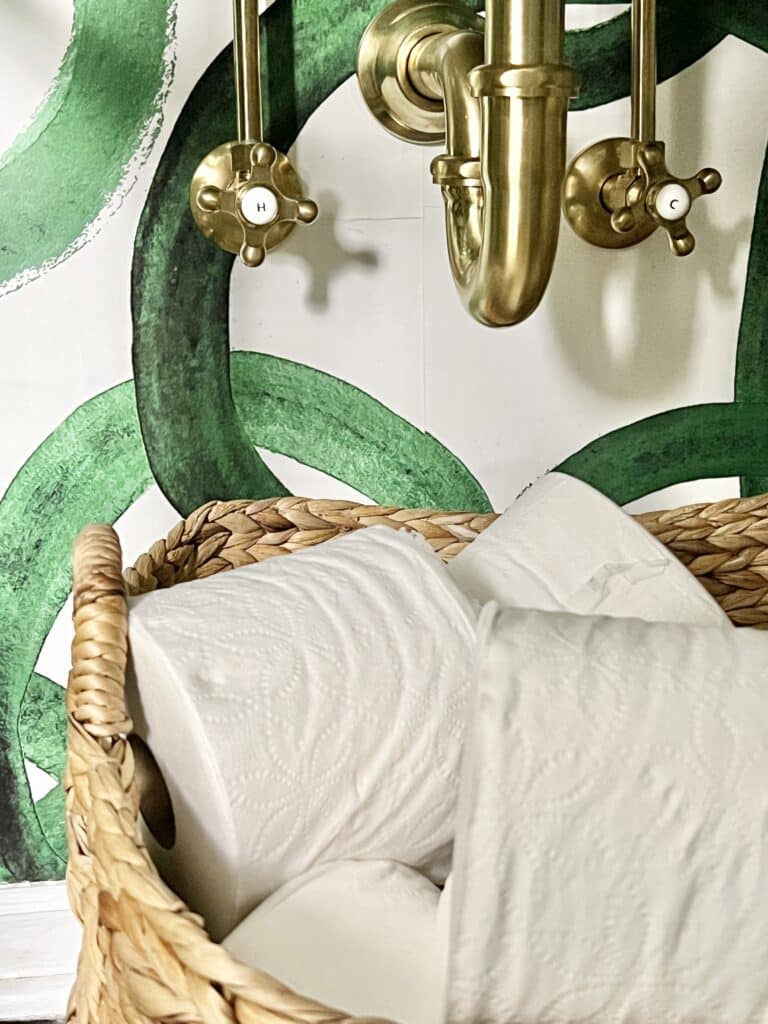 Other half-bath storage ideas:
Wall-Mounted Cabinets: Utilize wall-mounted cabinets or medicine cabinets with mirrors to provide storage space for toiletries, medications, and other bathroom essentials. These cabinets help keep items organized while also serving as a mirror for grooming.
Wall Hooks: Install wall hooks or adhesive hooks on the back of the door or on empty wall space to hang towels, robes, or even small storage baskets. This helps keep items within reach while maximizing floor and counter space.
Vanity with Storage: Choose a vanity with built-in drawers or cabinets to store toiletries, cleaning supplies, and other bathroom essentials. Or, as my dream sink, opt for a vanity with an open shelf or towel bar to maximize storage options.
Under-Sink Organizer: Utilize the space beneath the sink with an under-sink organizer or storage bins. These allow you to sort and store items such as cleaning supplies, extra toilet paper, or personal care products while keeping them easily accessible.
Half Bath Lighting
Lighting in a bathroom is incredibly important and makes such a big difference in the function and aesthetic of the room.
This is, after all, where we check our hair, refine our makeover, and give ourselves a "Let's take on the day" wink! We need a vanity light that enhances the room and our faces!
Overhead lighting can sometimes create shadows that I don't want on my face. Wall sconces solve that problem beautifully by dispersing the light evenly on the face without shadows. Definitely a better look for me!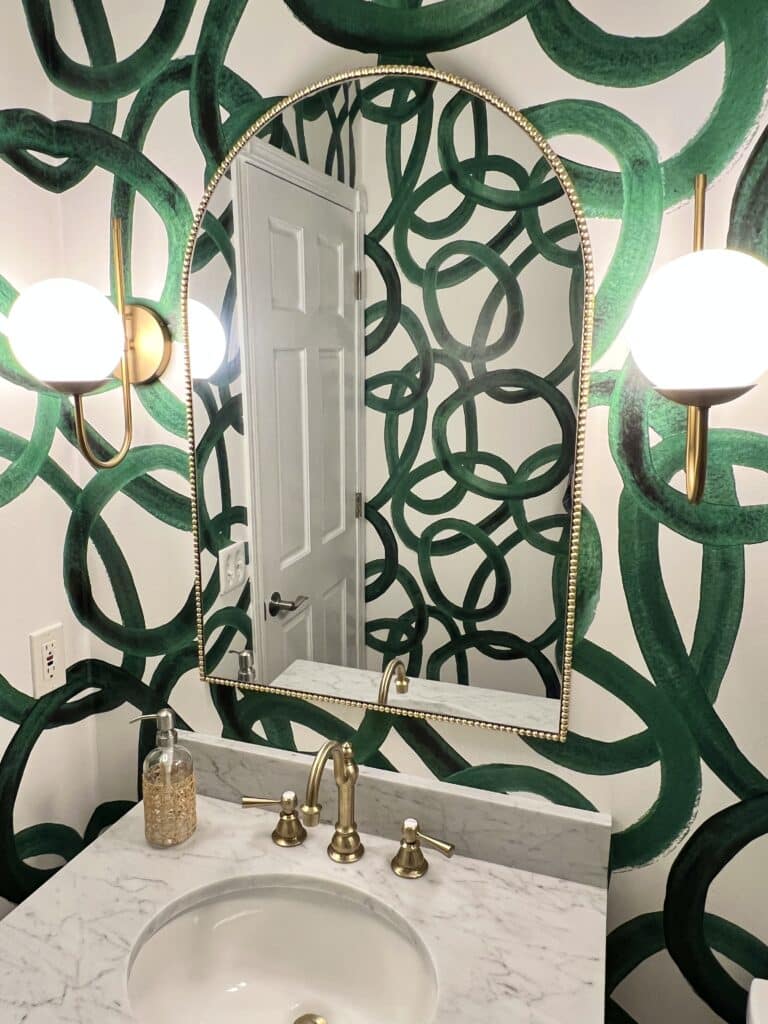 Lights.com generously provided two of their Castell Curved Arm Wall Sconces in aged brass. (They also come in black.) With a nod to mid-century modern design, the sconces feature a single frosted glass globe that is artfully suspended from the gracefully curved arm.
I considered thoughtfully how high to hang the wall sconces and found the sweet spot!
The LED bulb casts a warm glow that softly illuminates the room and my face in the mirror.
Not only are they modern and stylish, but they also continue the curved energy of the wallpaper and the faucet. Thank you, Lights.com!
The Best Way to Hang Wall Sconces in a Bathroom
When it comes to hanging wall sconces in a bathroom, you want to strike the perfect balance between functionality and style, without any "shocking" surprises.
Start by selecting the right location for the sconces, keeping in mind the height and proximity to other fixtures in the room.
Ideally, they should be placed at eye level, approximately 60-66 inches from the floor. Make sure the sconces are symmetrically positioned on either side of the mirror or vanity, providing balanced lighting. Be sure to use a level to check the vertical and horizontal lines.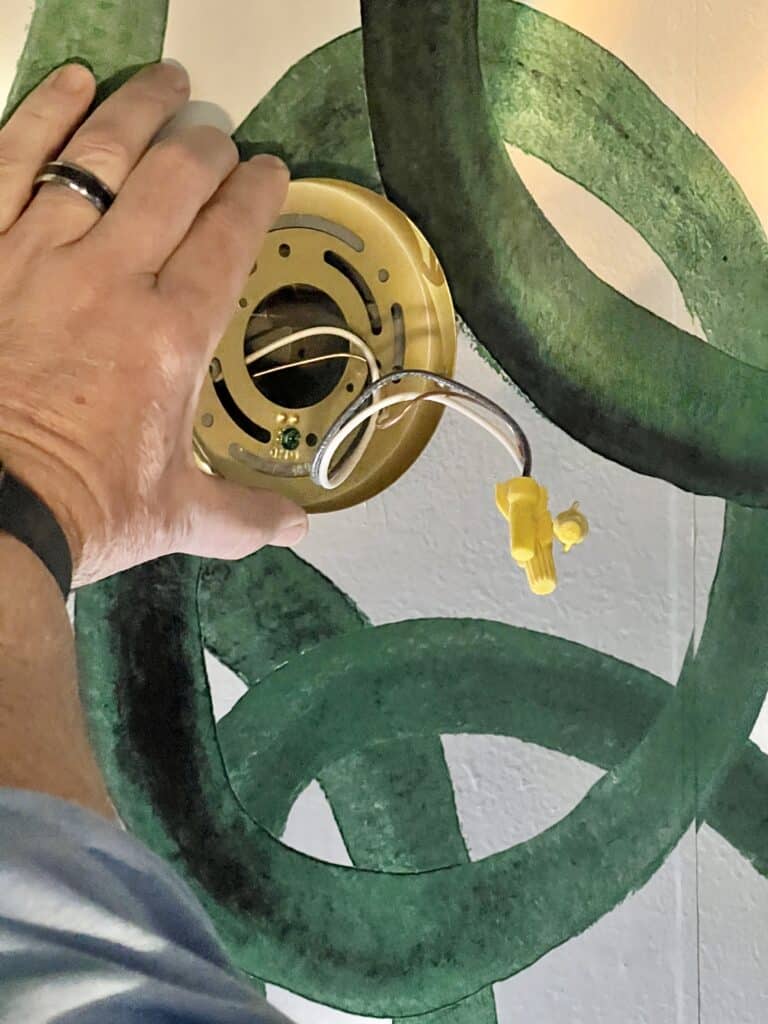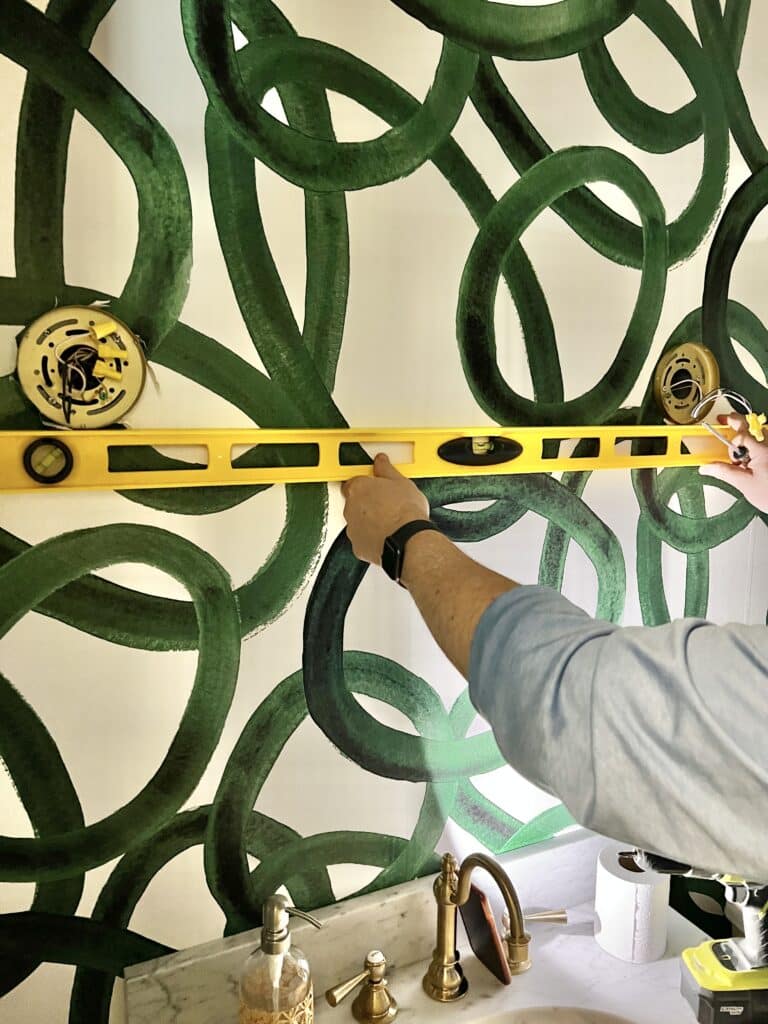 As always, it is a good idea to ensure that the electrical wiring is safely and professionally done, adhering to local building codes.
Install wall anchors or use existing studs for a secure mount. After mounting the sconces, connect the wiring according to the manufacturer's instructions or consult a professional electrician if needed.
Finally, let the sconces shine their light and bask in the glory of a well-lit bathroom!
Half Bath Artwork
Don't let the fact that a room is small keep you from hanging artwork that is large!
Artwork is the jewelry of a room and one of the best finishing touches in a room. Hanging large wall art in a small room can actually work wonders for the space. It adds a bold focal point that draws the eye and creates a sense of depth, making the room appear larger than it actually is.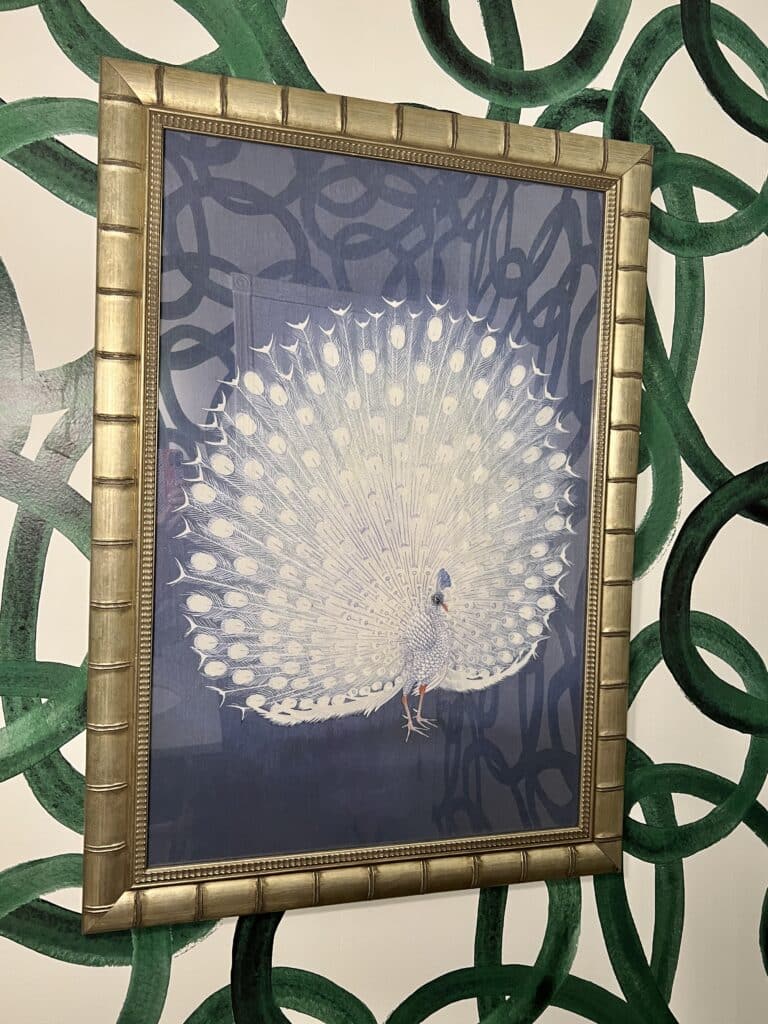 This proud peacock was provided by Urban Garden Designs and loves being front and center when you enter the powder room.
Urban Garden Designs feature gorgeous fine art prints with a focus on nature. I love their classic themes with vibrant pops of color!
The navy background behind the peacock is a great color complement to the green wallpaper design.
And the gold frame is a bold reference to the sink faucet and plumbing.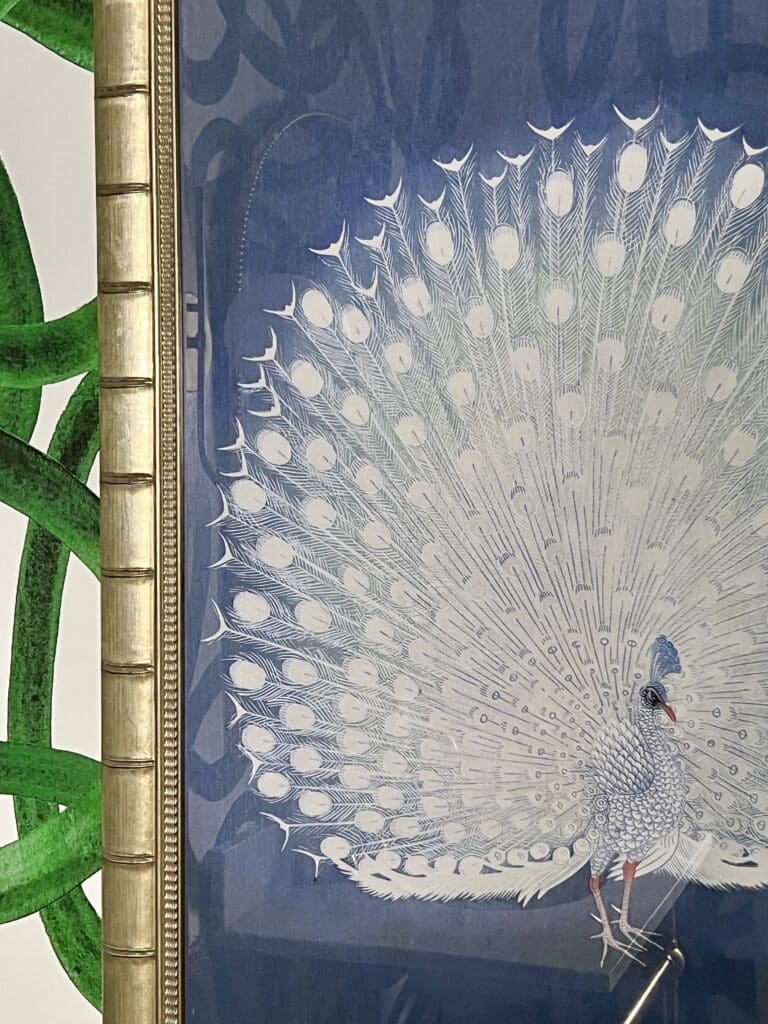 It's a clever trick to play with scale and proportion, adding a touch of drama and personality to your surroundings
Time to embrace the power of large wall art!
One Room Challenge Complete!
I love the new life and finished look of the half bath! This Spring 2023 One Room Challenge was my way of showing just how much personality and color you can add to a half bathroom with the help of some fun wallpaper, chic sconces, eye-catching artwork, and classic fixtures. I love sharing these half bath makeover ideas and hope you have been inspired to spruce up your own powder room space.
Special thanks to Lights.com and Urban Garden Designs for helping to make this half bath both bold and beautiful!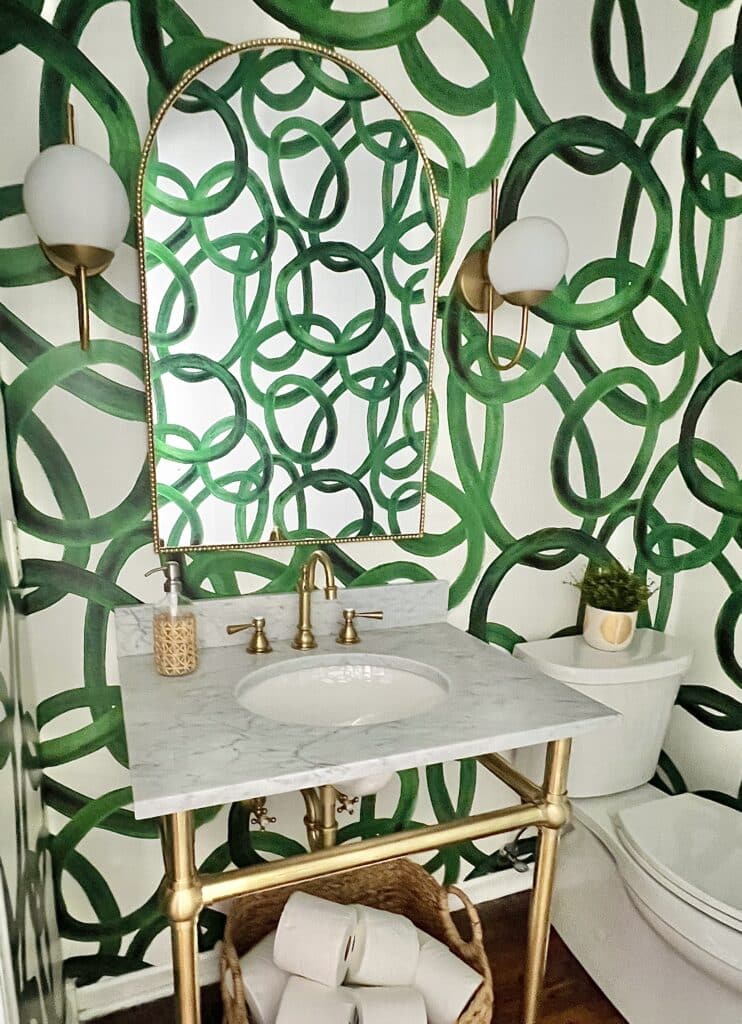 Remember, when it comes to designing your home, dare to be daring. Let yourself let go and be fearlessly creative with every stroke of design genius. (You are a genius, you know!)
Don't decorate your home as if you are renting from the next owner! Have faith in yourself and push the boundaries of what is possible for creating beautiful spaces that express who you are and that fill your heart with joy.
Cheers!

Don't Forget to Pin It!
Pin the image below to your boards on Pinterest (just click the Pin button in the top left corner). You can also follow along with me on Pinterest!
More Home Renovation Projects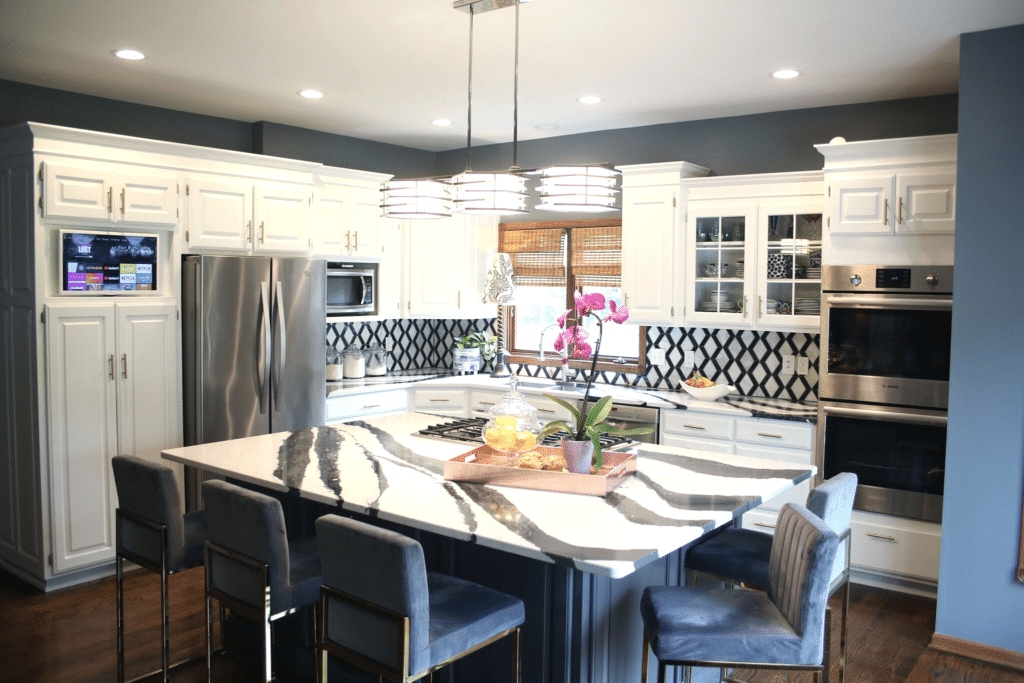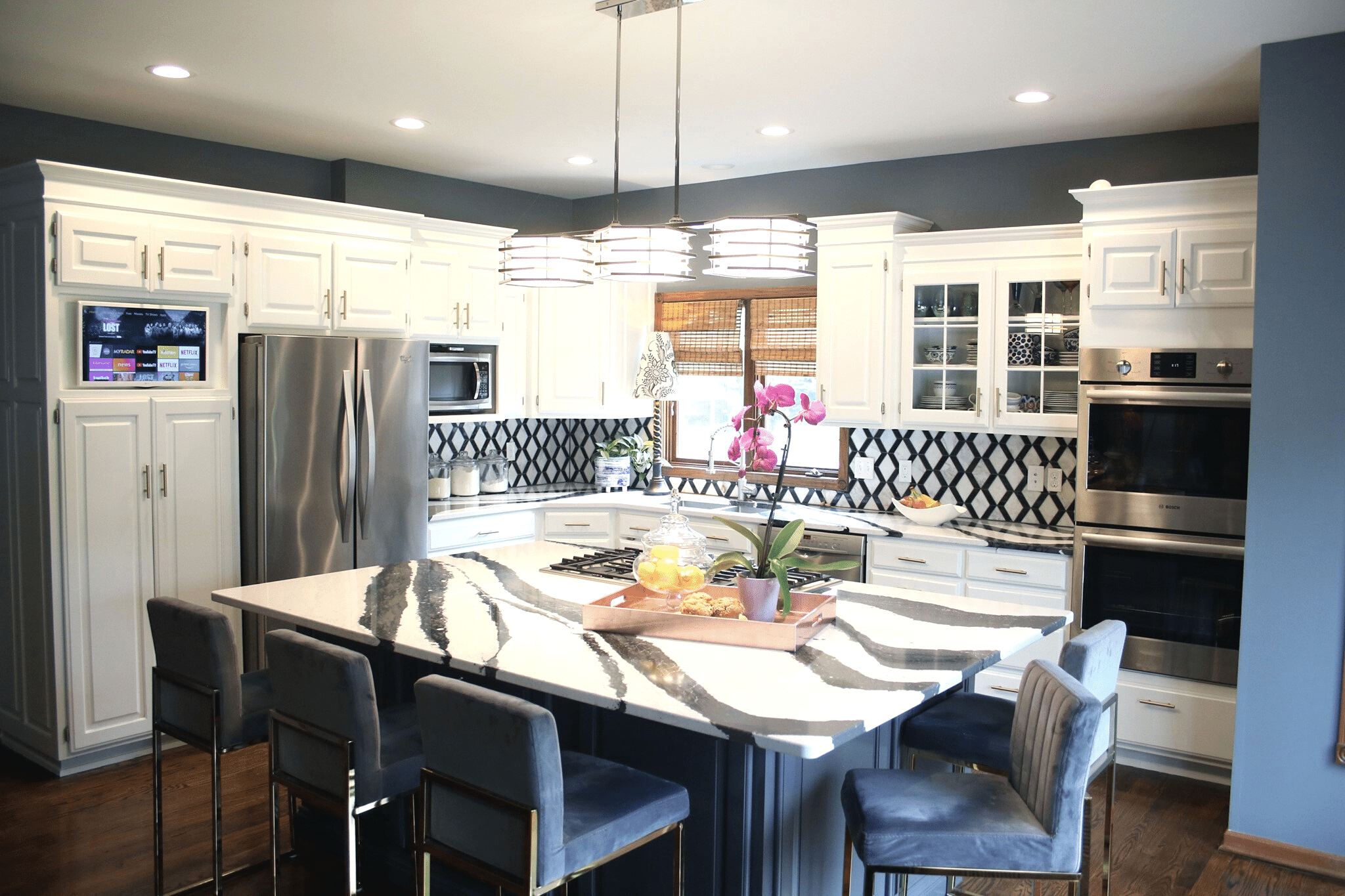 A Tale of Two Tiles: A Bathroom Renovation