A Guide to How High to Hang Bathroom Wall Sconces
Have you ever wondered where the best place to hang wall sconces in your bathroom is? I'm here to tackle this common decor dilemma of how high to hang bathroom light sconces.
It may seem like a small detail, but getting the height just right can make a significant difference in the overall look and functionality of your bathroom or powder room. So, let's dive in and shed some light on this topic!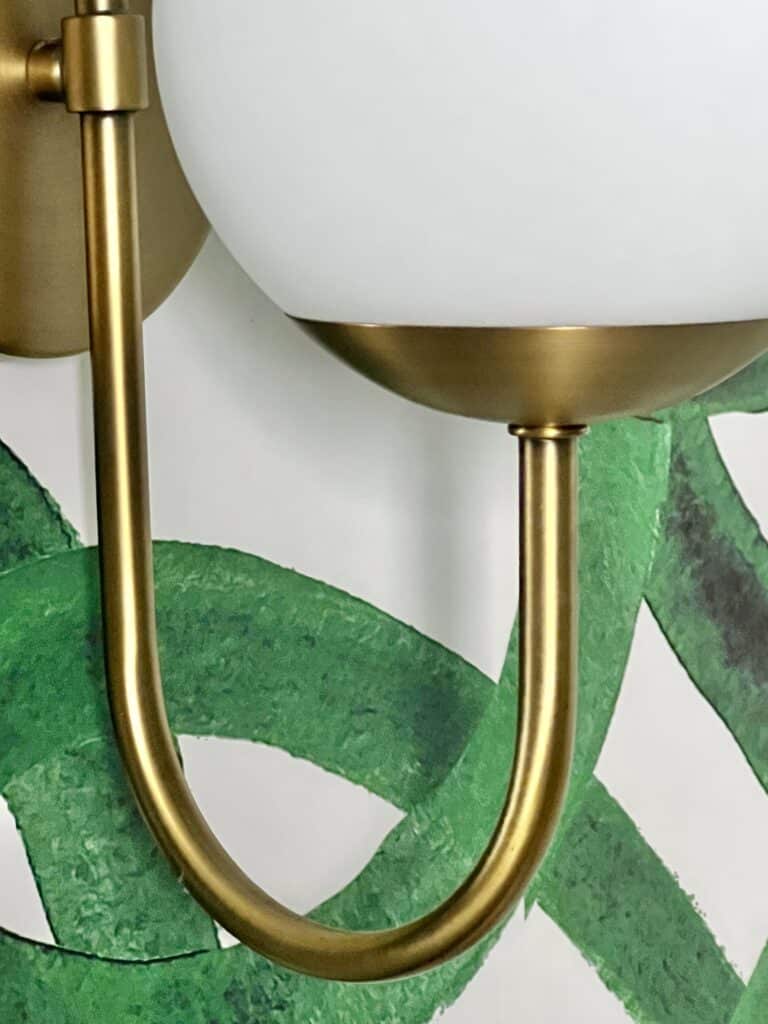 ***Lights.com gifted me some stunning wall sconces that I am excited to share with you. This post contains affiliate links that enable you to explore their beautiful catalog and earns my business a small commission with each purchase.
Don't they say that bathrooms and kitchens sell homes?
Well, I think bathrooms and kitchens also keep in your home…when you fall in love with them!
It began with a Wall Sconce!
This past spring I had the opportunity to participate in the Spring 2023 One Room Challenge. This online challenge gives designers of all types a forum for sharing the inspiration and process of giving a room a makeover…all within an 8-week time period.
My project was a bathroom renovation of our tiny half-bath down the hall from the kitchen.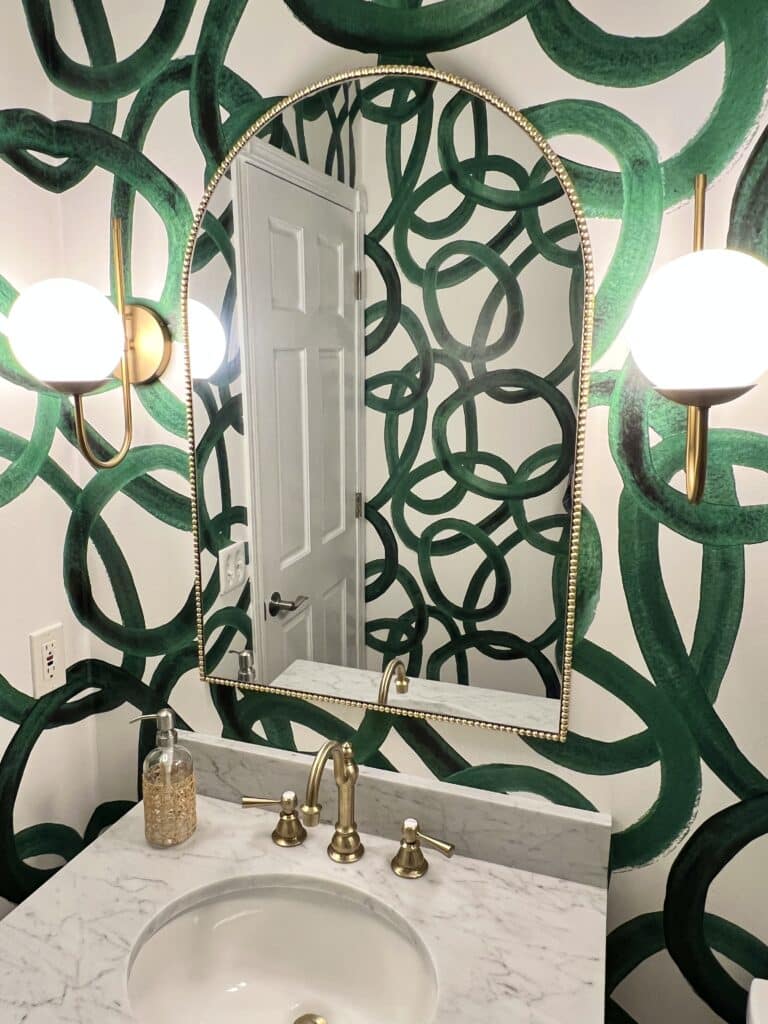 I was beyond excited to choose new light fixtures that would give the space enough light without the harsh glares of a bare bulb or overhead fixture.
Even more exciting are these Castell Curved Arm Aged Brass Wall Sconces from Lights.com! They were generously gifted to me and were a game changer in this half bath makeover.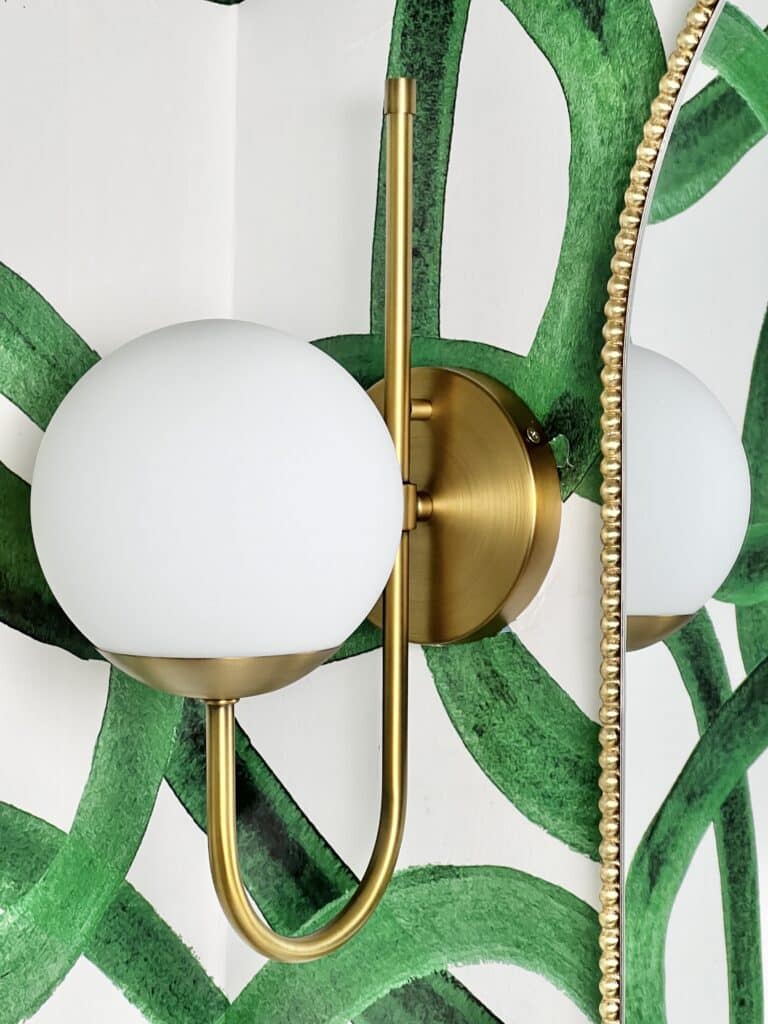 These beautiful lighting fixtures were the inspiration for the entire space!
The gracefully curved arm inspired my choice of the bold, curvy patterned wallpaper. The stunning finish also inspired me to choose a vanity with gold pipes and faucet. They even inspired my decision regarding the style and size of the mirror!
Who knew that one decorative element could inspire an entire room? This fabulous element did just that!
Why Use Wall Sconces in a Bathroom?
Wall sconces hung on each side of a mirror in a bathroom are a great way to add general lighting that also functions as task lighting. Additionally, this source of light is flattering to the space and to the face!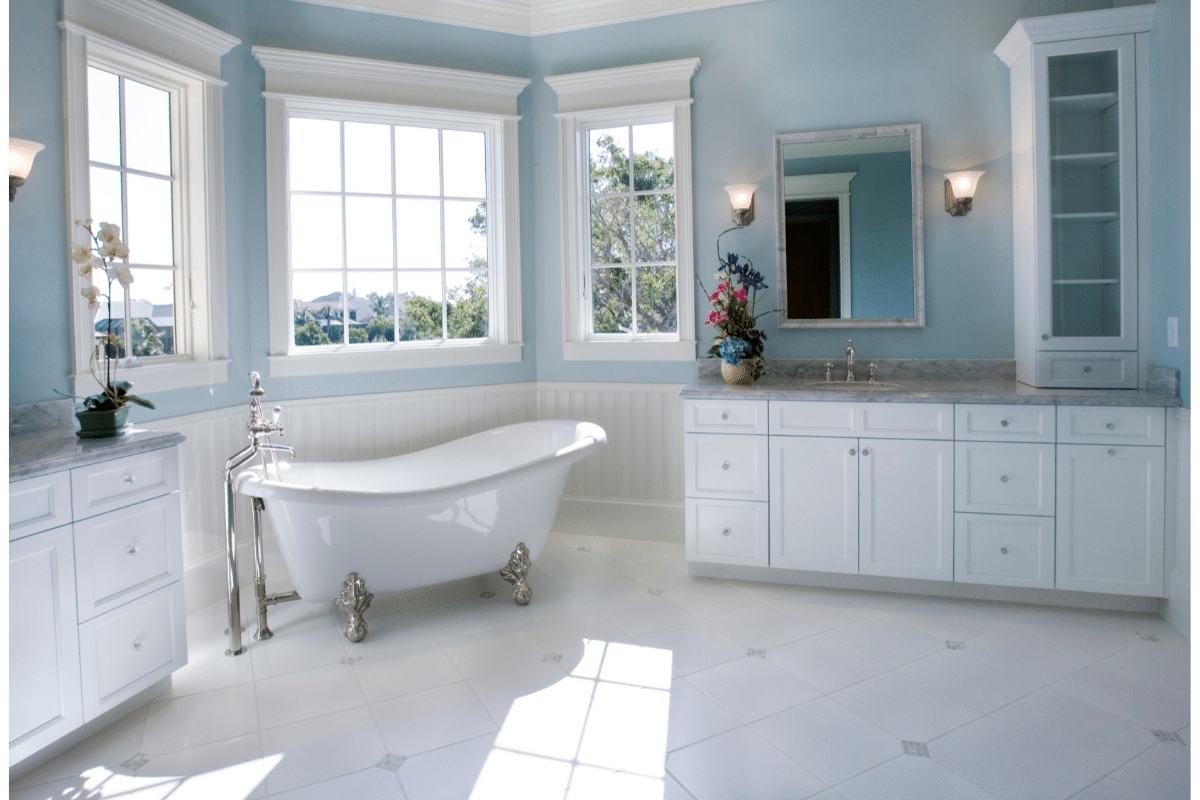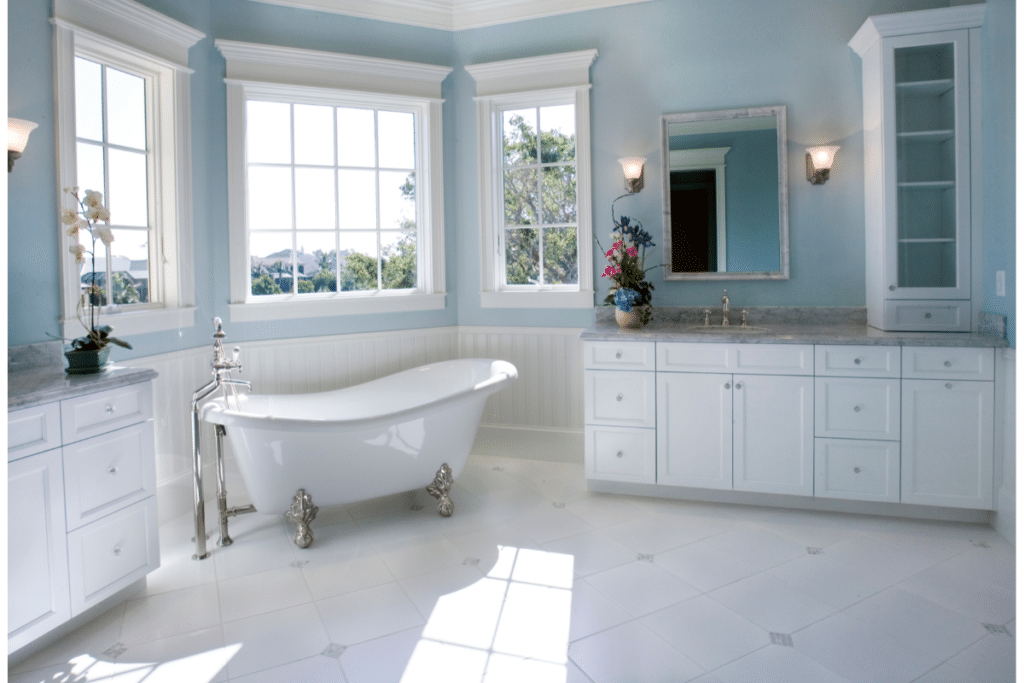 But there are quite a few important factors to consider when deciding where to place sconces on the wall…
Why Does the Height of the Wall Sconce Matter with Vanity Lighting?
Before we jump into the specifics, let's understand why the proper height of bathroom sconces is crucial. Lighting is one of the most important things in a bathroom.
The right placement of a light source can enhance both the functionality and aesthetics of your bathroom.
Properly positioned sconces provide optimal task lighting for things like applying makeup or shaving, while also creating an inviting and visually balanced atmosphere.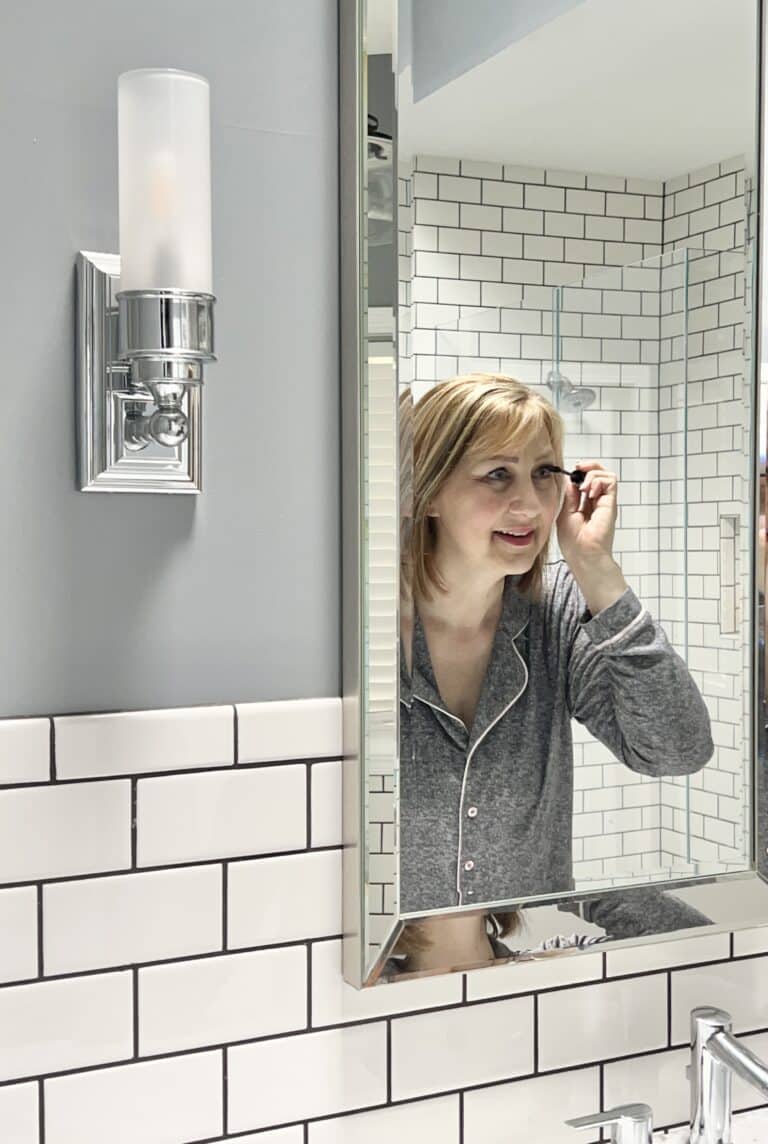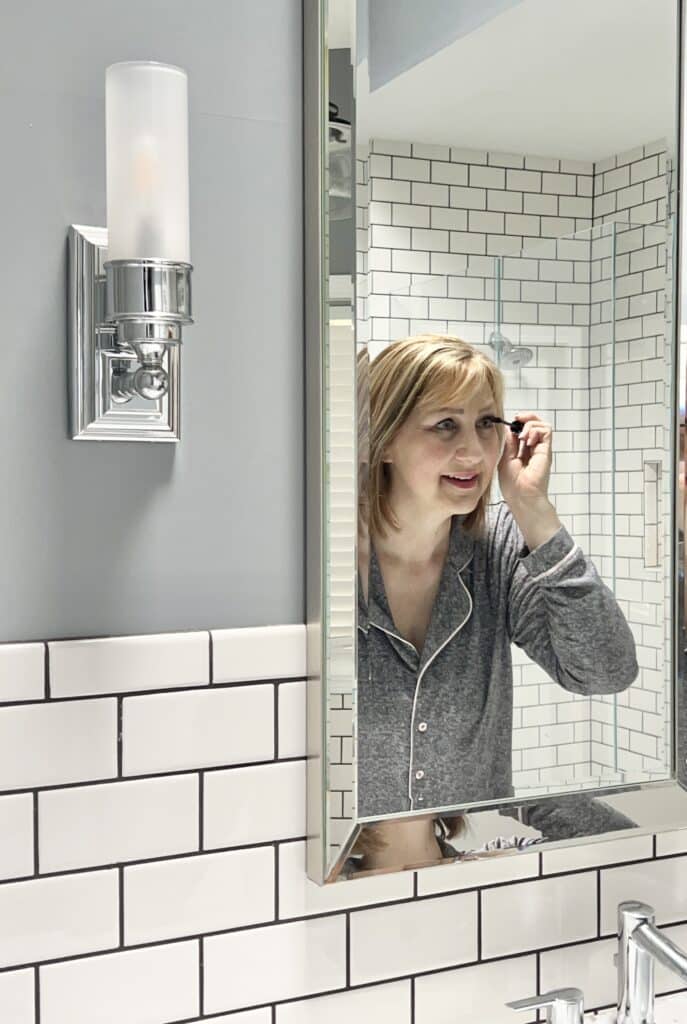 Consider the Bathroom Vanity Height
When determining the right height to hang your bathroom light sconces, start by considering the height of your vanity.
Generally, the sconces should be mounted at eye level, or slightly above, to ensure an even distribution of light across your face. This positioning eliminates shadows and helps you achieve the best possible lighting for your daily grooming routine.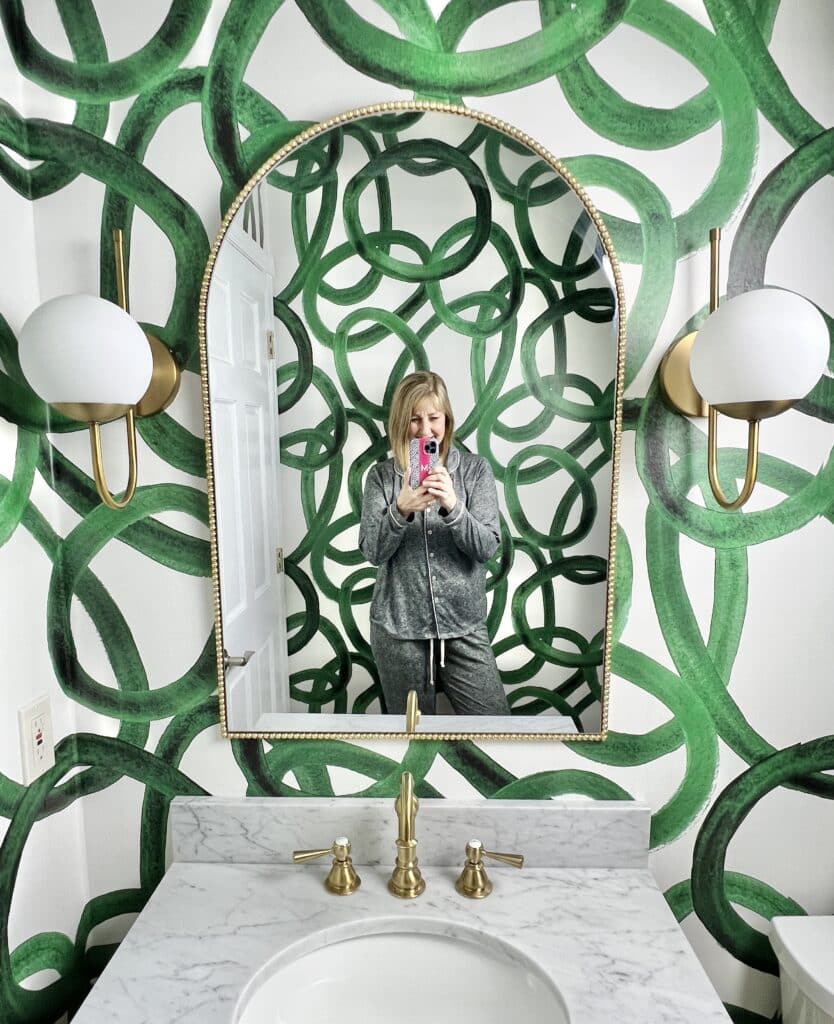 The Rule of Thumb for Placement of Wall Sconces
Now, you might be wondering about the exact measurement for sconce placement.
While there's no one-size-fits-all answer, a good rule of thumb is to position the sconces around 65 to 70 inches above the finished floor. This standard height works well for most people and provides an optimal lighting angle.
***It is always advised that you use a licensed electrician for installing electrical fixtures.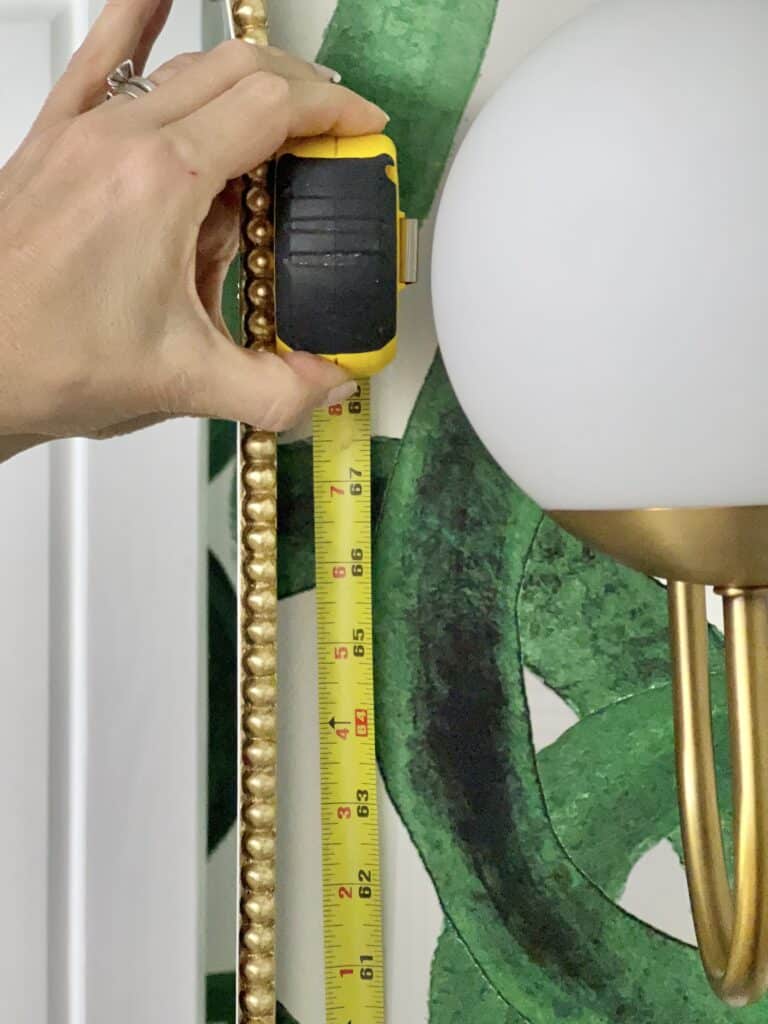 However, keep in mind that you may need to make adjustments to find the ideal height based on the specific dimensions of your bathroom and the height of your family members.
Once you decide the best height placement of your sconces, mark where the center of the sconces will be. This will be where the junction boxes will be installed.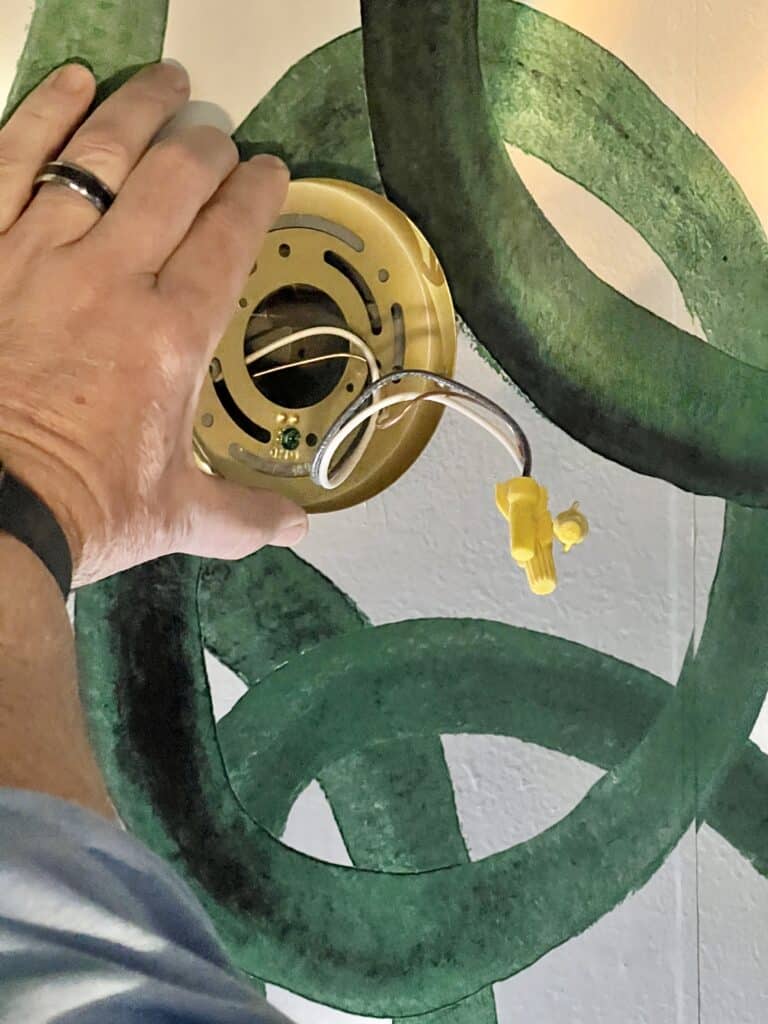 Consider the Bathroom Mirror Size and Placement
Another important factor to consider is the size and placement of your vanity mirror.
For smaller mirrors or those placed on top of the vanity, you can follow the earlier general rule of 65 to 70 inches above the floor. Remember, it's all about achieving the right balance between functionality and aesthetics.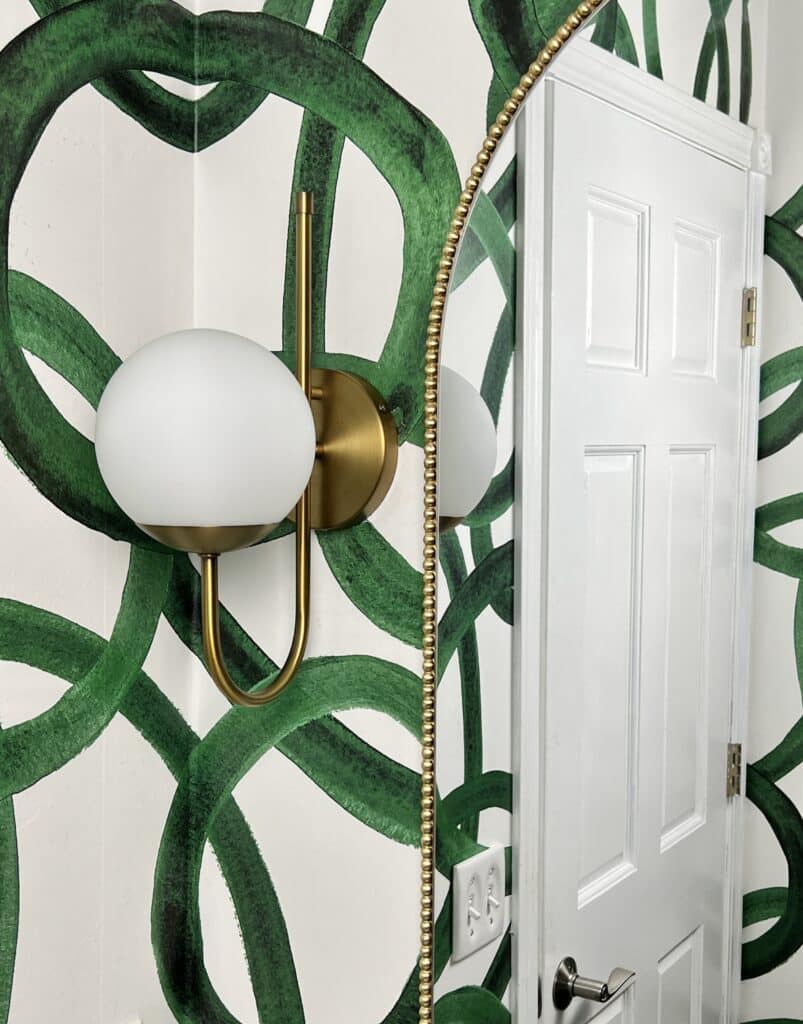 If you have a large mirror that extends from the vanity to the ceiling, it's generally recommended to mount the sconces directly onto the mirror or approximately 3 to 6 inches above its upper edge. This placement ensures that the light is evenly distributed across the mirror's surface and eliminates any shadows that may hinder your grooming routine.
Maintaining Symmetry with Bathroom Wall Sconces
If you have a double vanity or multiple sinks in your bathroom, maintaining symmetry becomes crucial.
In such cases, it's essential to ensure that the vanity lights are placed at an equal distance from the center of each sink. This creates a harmonious and balanced look while providing ample lighting for each side of a mirror.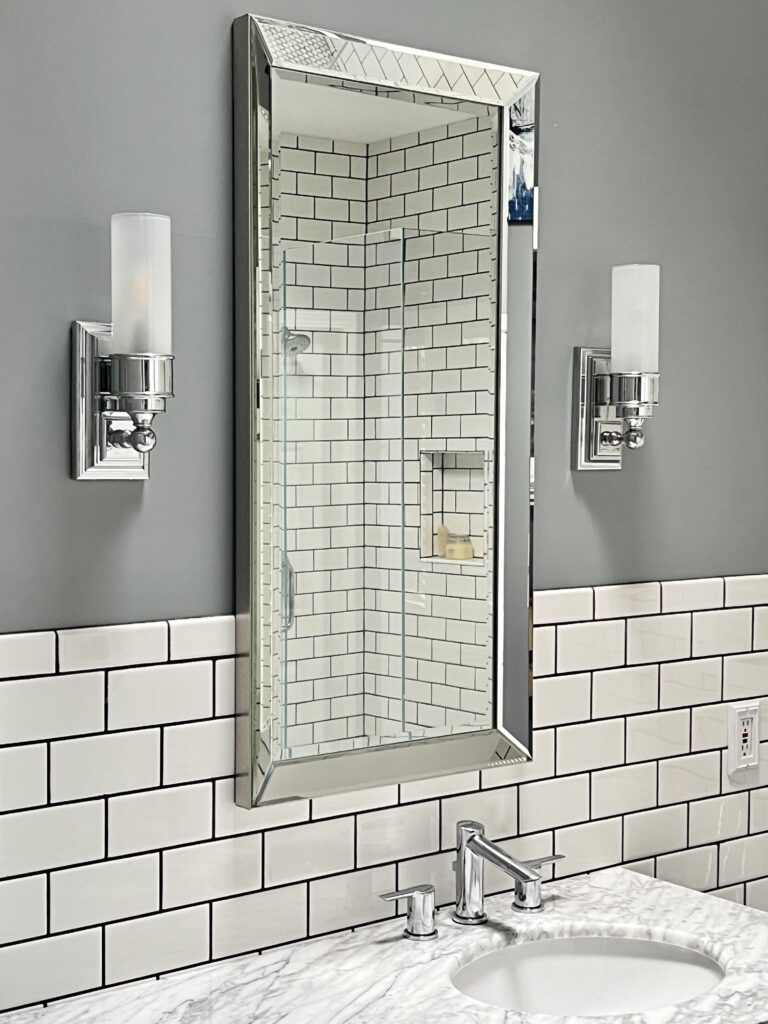 Don't Forget the Wall Space
While finding the perfect height for your bathroom light sconces, also take into account the available wall space.
You want to ensure that the sconces are evenly spaced and leave enough room between the mirror and the wall so they don't look crowded.
Consider the overall design aesthetic and aim for a cohesive and visually pleasing arrangement.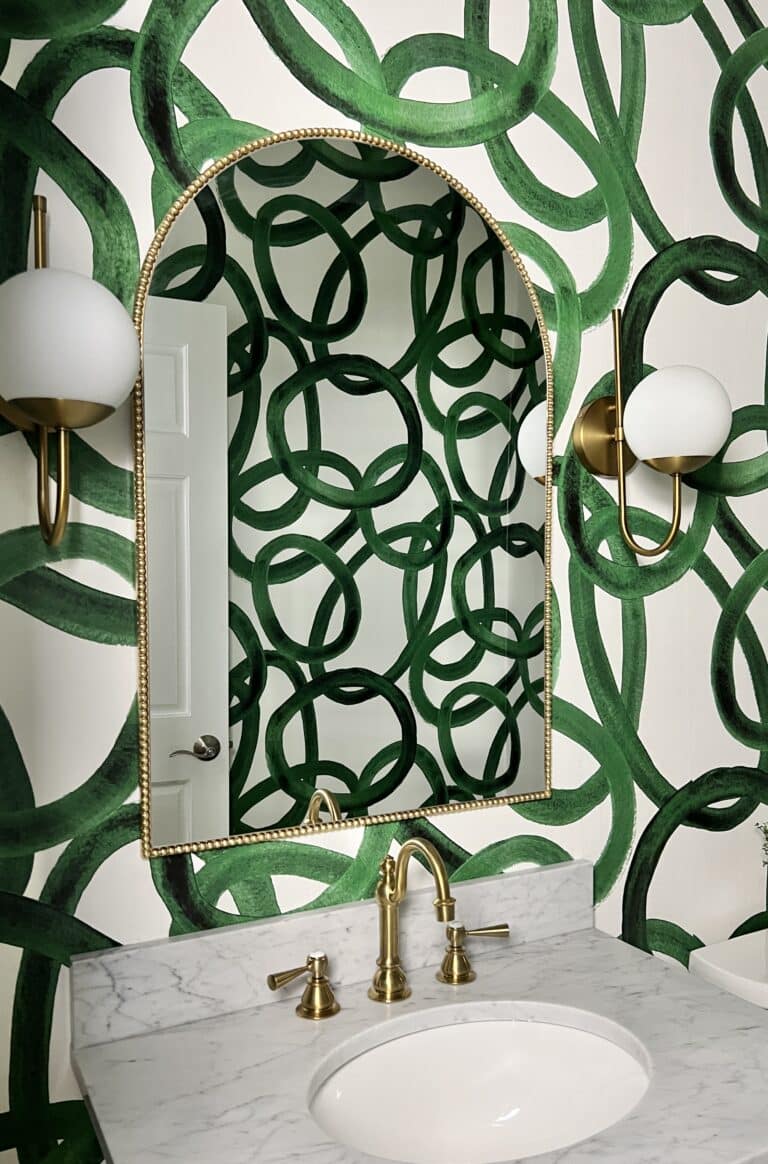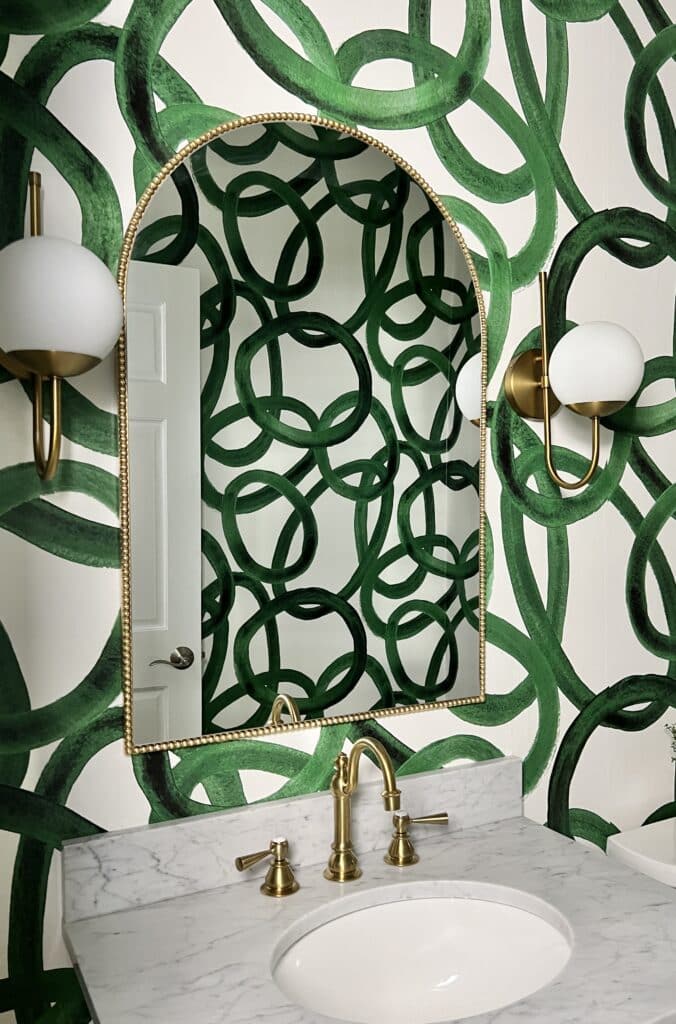 Final Touches and Personal Preferences
As with any design decision, it's essential to consider your personal preferences and the overall style of your bathroom.
Play around with different heights and positions to find what works best for you. Trust your instincts and make adjustments until you achieve the desired look and feel. Remember, it's your space, and you have the freedom to get creative!
FAQ
How Bright Should Bathroom Sconces Be?
For guest and master bathrooms, using light bulbs ranging from 75 to 100 watts is ideal. However, in half-baths or powder rooms, you can opt for light bulbs between 45 and 60 watts.
Like my wall sconces from Lights.com, I like to use LED bulbs in bathroom lights. The warm white glow is perfect for adding soft illumination to a space.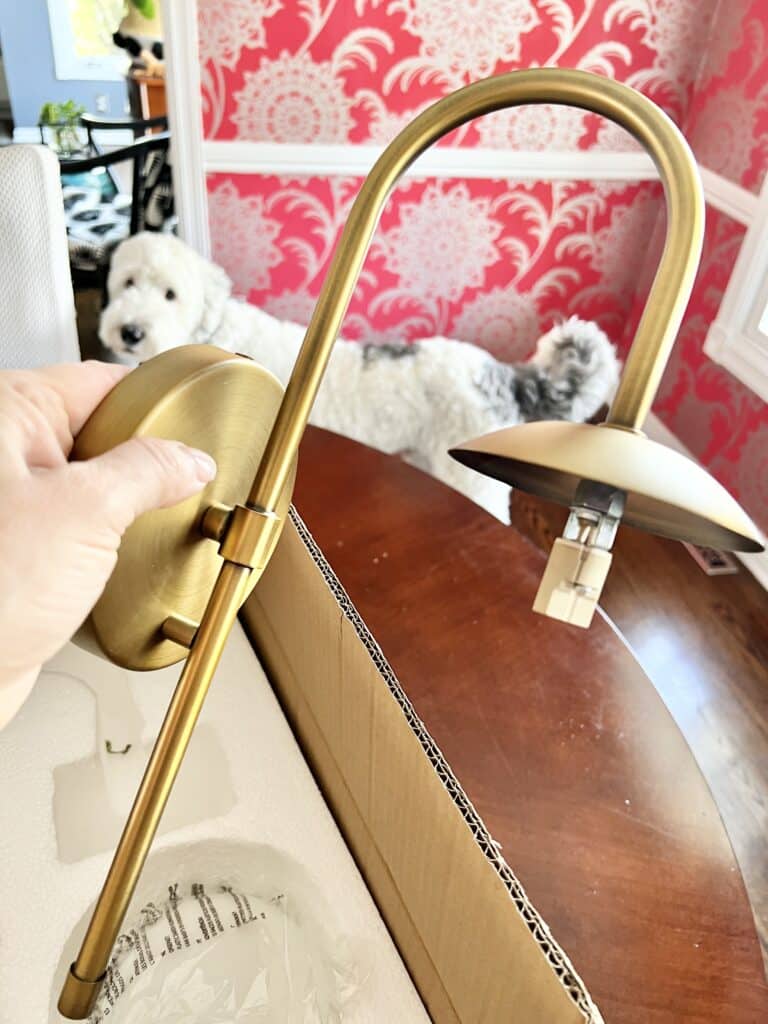 Should Bathroom Sconces Be Up or Down?
This is up to you!
The most important factor to consider is which direction achieves the most flattering lighting for your face while using a mirror. If a wall sconce is placed at eye level on both sides of the mirror, determine which direction of sconce placement is the most aesthetically pleasing and makes you look the best in the mirror!
It's important to choose sconces that emit ambient light outward rather than directional light up or down. This will create a pleasant and balanced lighting effect in your bathroom.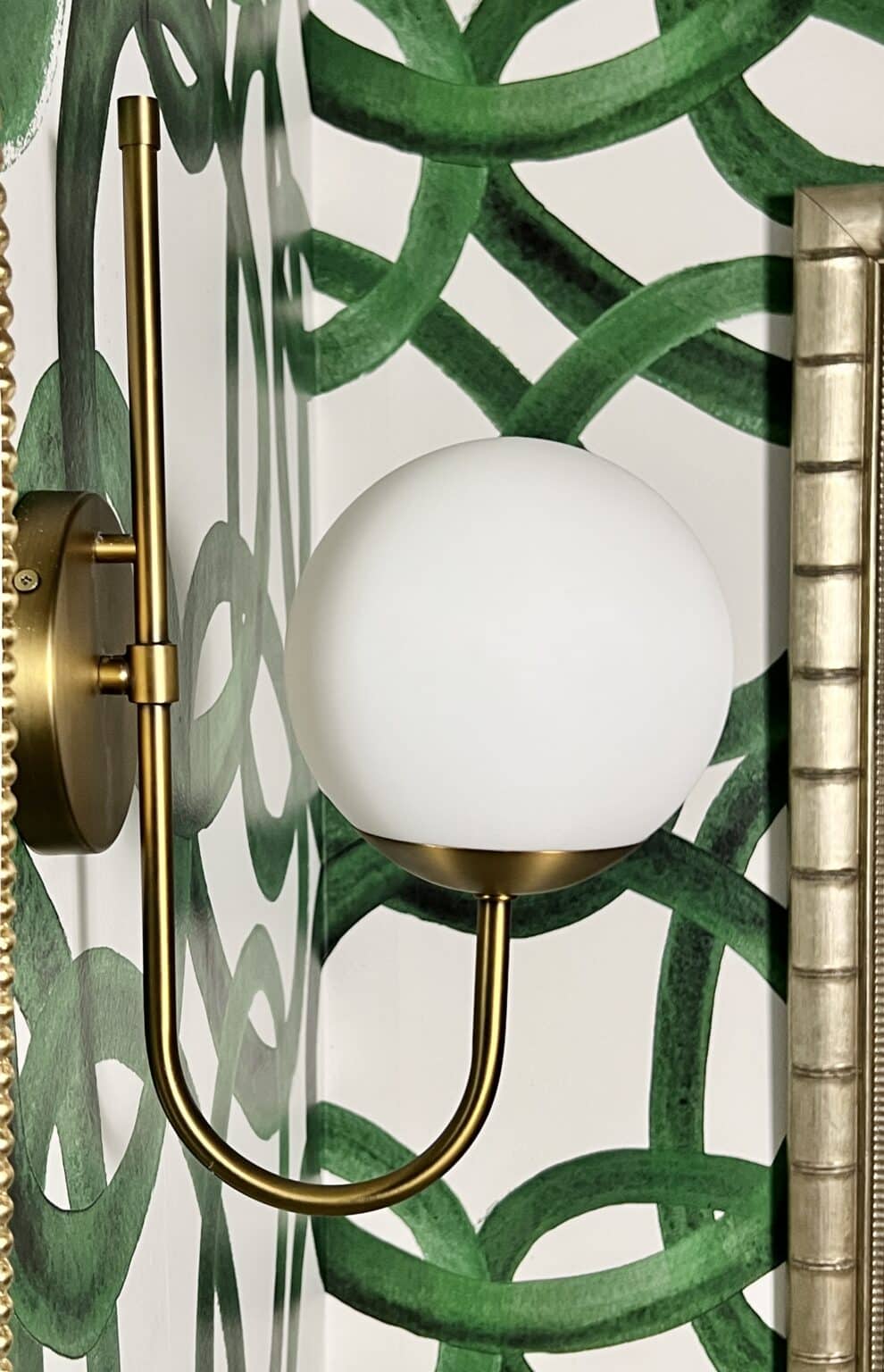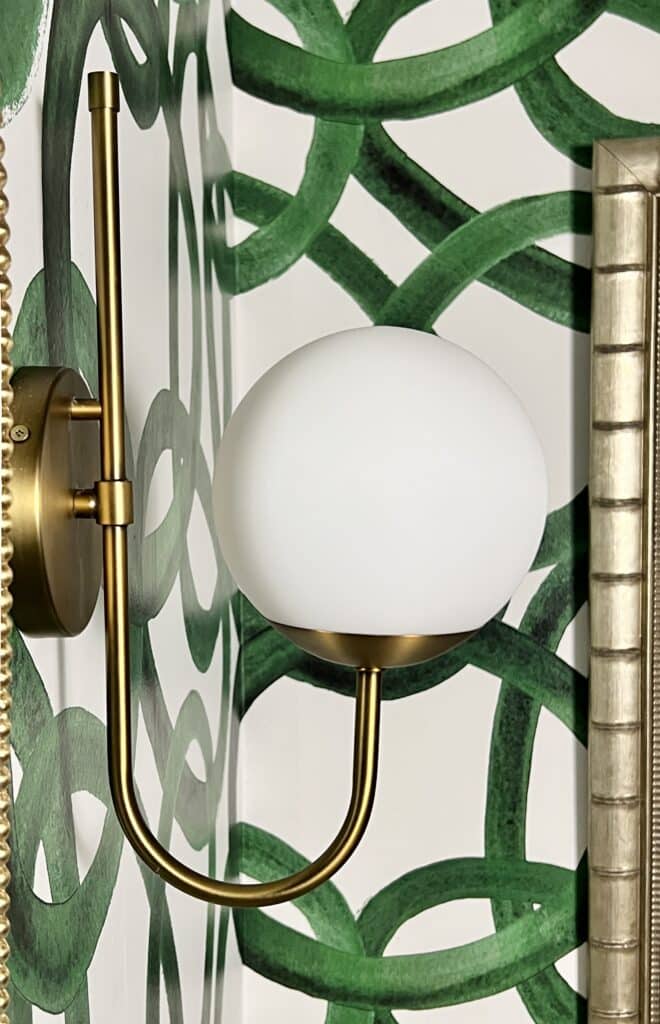 How High Do You Install a Light Fixture Above a Mirror?
When installing a single light above the mirror, aim for a height of around 80 inches from the floor to achieve an ideal placement. Ensure that the bottom of the fixture or shade sits at least two inches above the top edge of your mirror.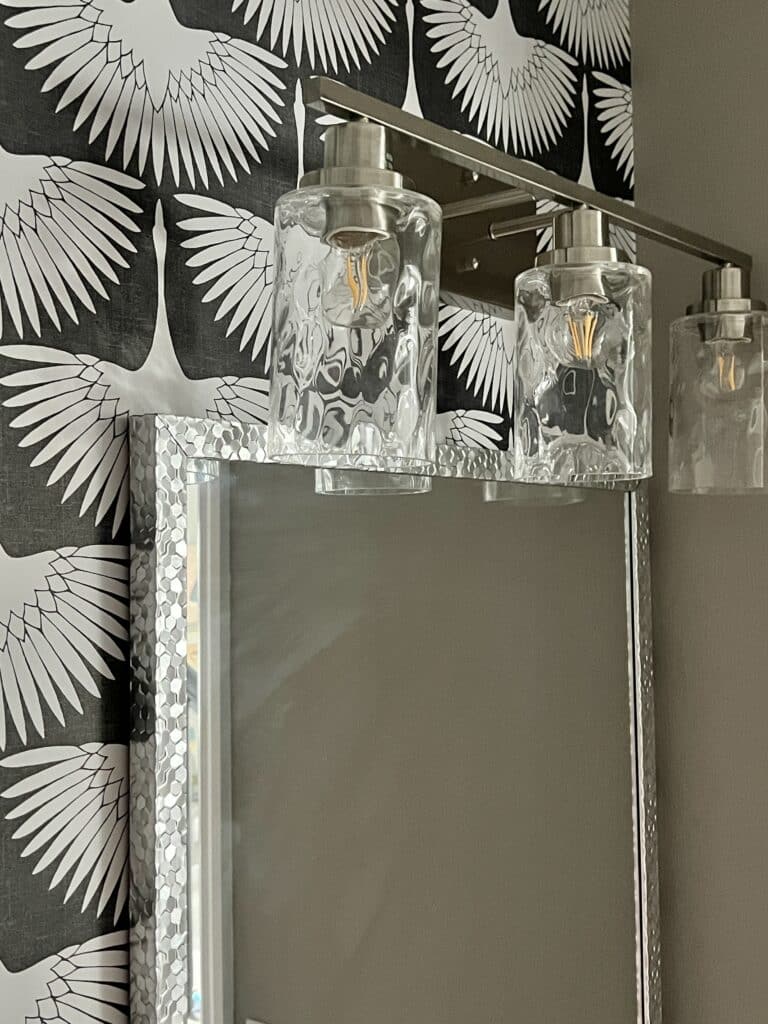 You've just mastered the art of knowing how high to hang bathroom sconces for perfect form and function!
Special thanks to Lights.com for these amazing wall sconces!
Remember that your goal is optimal lighting and atmosphere in the bathroom; it's worth taking some extra time to get your installation just right.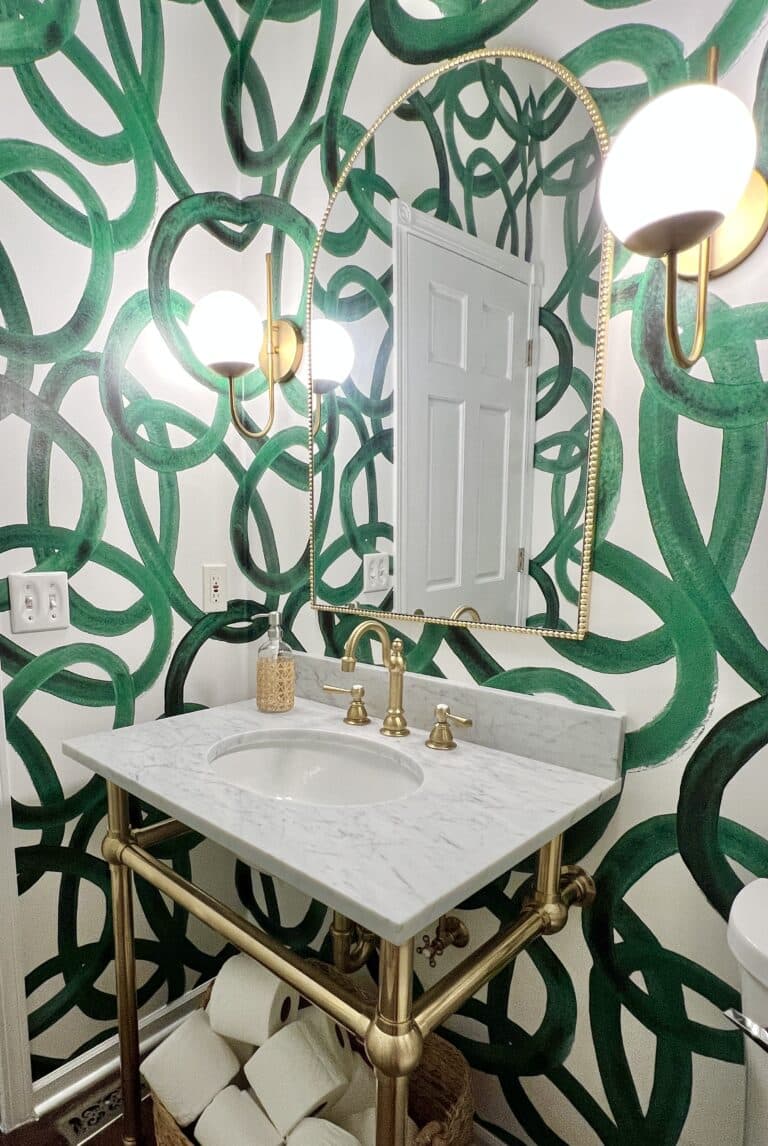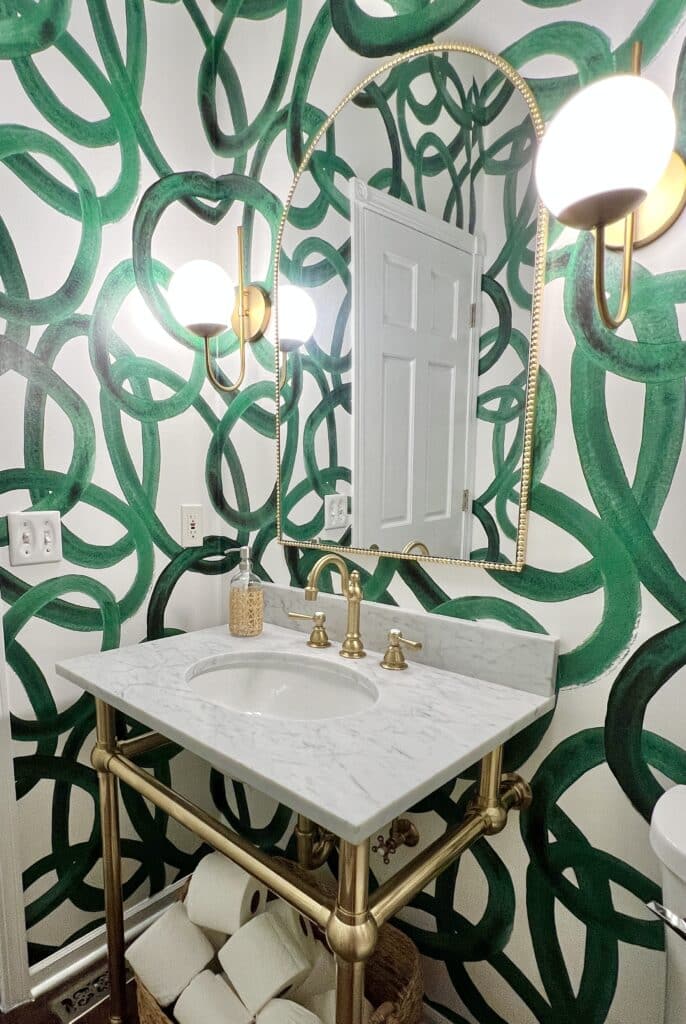 By considering the vanity height, mirror size, placement, symmetry, and wall space, you can create a well-lit and visually appealing bathroom that perfectly suits your needs. So go ahead, experiment, and find the ideal balance between functionality and style. Let your bathroom shine, quite literally!
Cheers!

Don't Forget to Pin It!
Pin the image below to your boards on Pinterest (just click the Pin button in the top left corner). You can also follow along with me on Pinterest!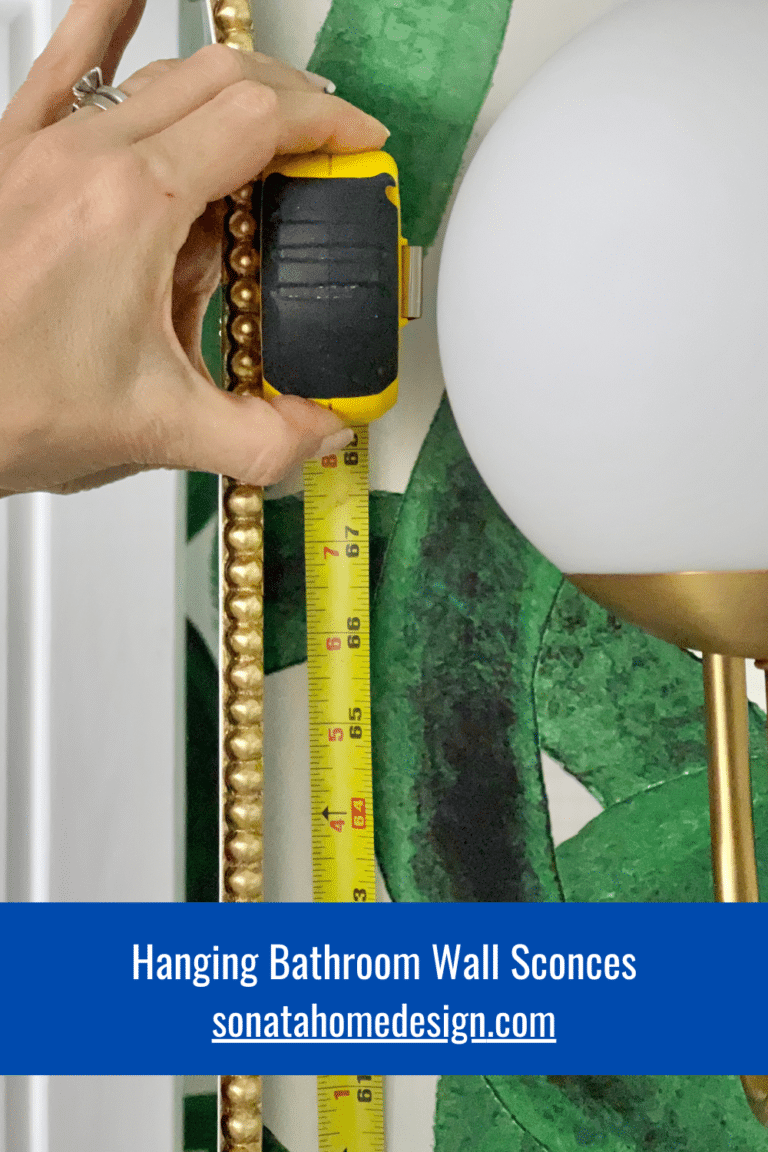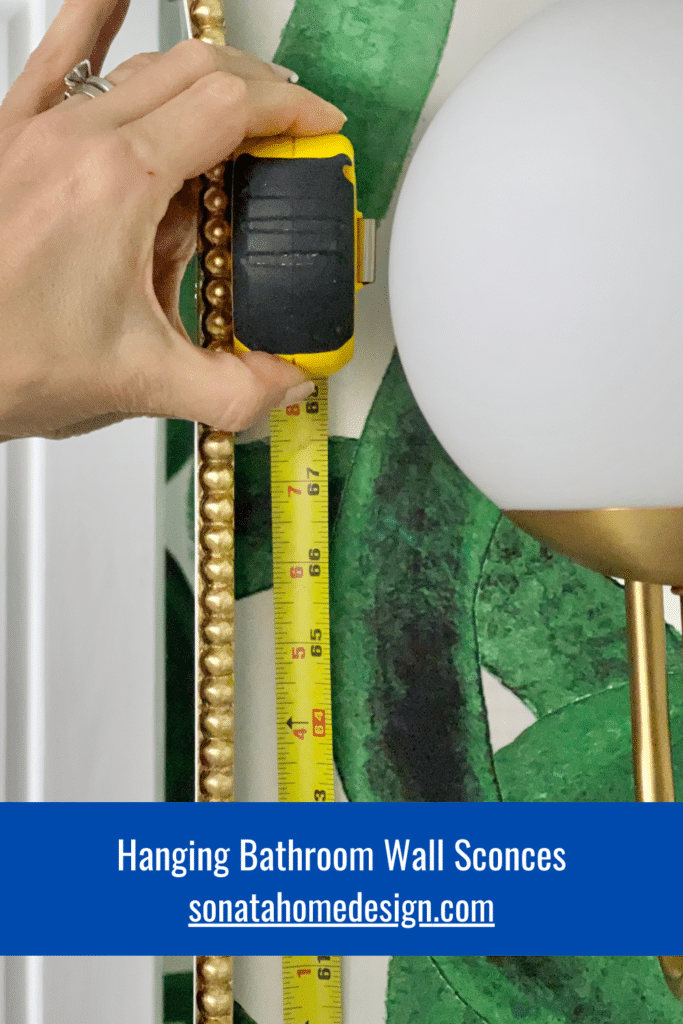 This blog contains affiliate links. This means a small commission is earned if you make a purchase by using this link. The price you pay will be the same whether you use the affiliate link or go directly to the vendor's website using a non-affiliate link.