7 Budget-Friendly Ways to Easily Create a Bathroom Spa Experience
Are you needing some pampering at home? (Yes, you do!) Here are 7 budget-friendly ways to easily create a spa bathroom experience using inexpensive items.
I was in my 40s before I had my first pedicure in a salon.
Almost 50 when I had my first massage at a spa.
For some, I would be considered a late bloomer in the world of professional personal grooming. For others, I am a "lucky duck" to ever walk into a spa at any age!
Admittedly, I do love a pampering moment and love the ambiance of a spa. I have often wondered…"Why does this self-care have to be restricted to going somewhere else? Why can't I do this at home?"
This blog contains affiliate links. This means a small commission is earned if you make a purchase by using this link. The price you pay will be the same whether you use the affiliate link or go directly to the vendor's website using a non-affiliate link.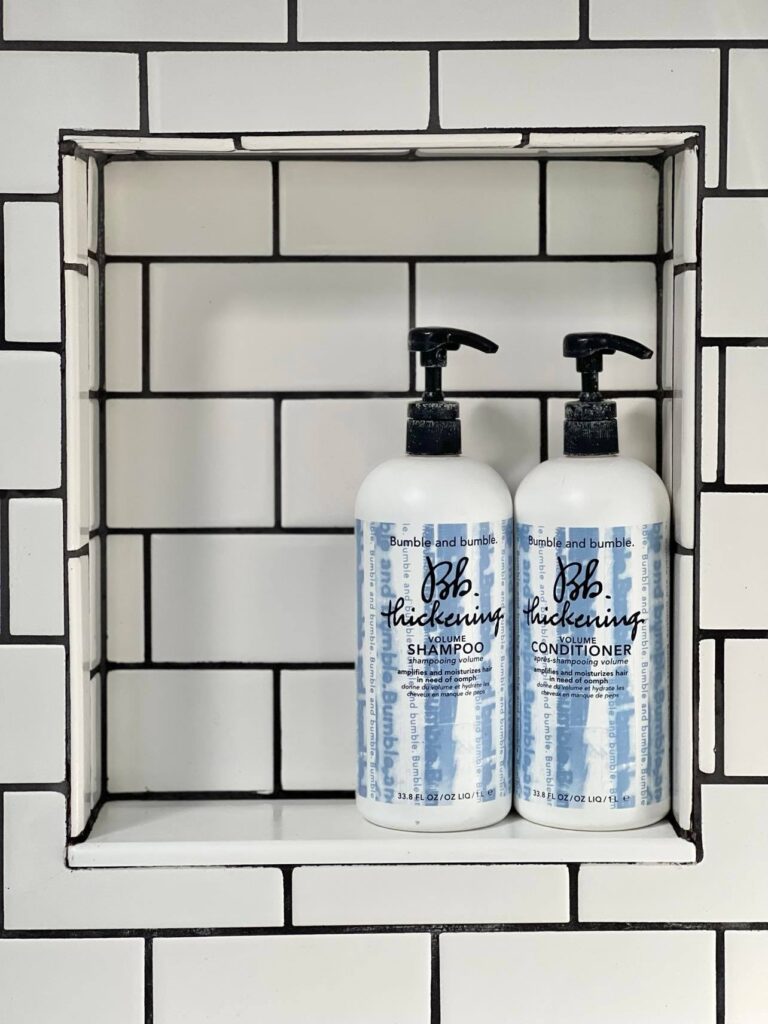 Well, my friend, I can!
And, so can you!
Whatever size bathroom you have, large or small, here are some very simple, budget-friendly ways to create a bathroom spa experience that you can enjoy every day at home!
1. Spotlessly Clean
Sorry, my friend, to start with something so mundane and unexciting, but here is the truth…
The foundation of feeling pampered and rested is the lack of dirt in the room.
You don't want to be soaking in your bubble-filled bathtub only to notice the cloud of dirt in the corner behind the door.
Buzz kill!
Obviously, this is a chore you need to do anyway, but give the room an extra little "shine-up" when doing your usual cleaning.
Let your room shine!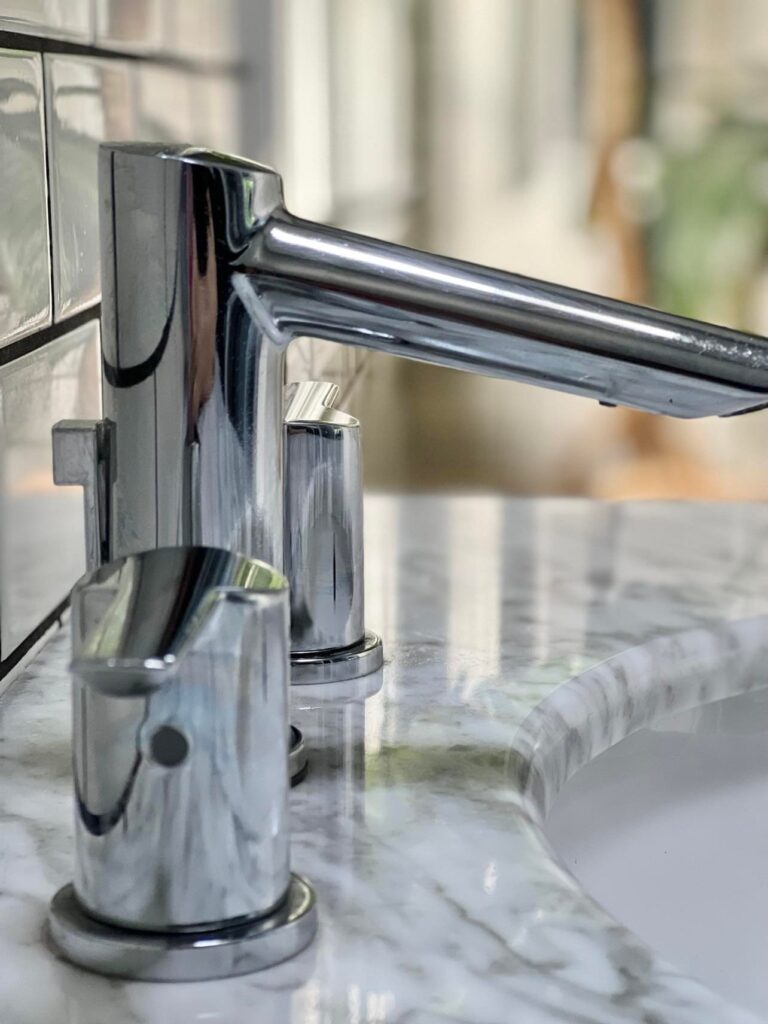 2. Organize Bottles, Jars, and Brushes
You may be a soap and water person or, like me, you have found the perfect (or several perfect) bottles of magic to help you look and feel good.
But they take up space and can look oh-so-cluttered!
To combat beauty tool clutter, I gathered make-up brushes into a vintage mint julip cup with brow pencils, and eyeliners in another.
Lipsticks are kept in a colorful tray and everything is gathered onto one glass-bottomed tray…a container holding containers!
Use glass jars, a small basket, or even a special teacup to gather your beauty tools and keep them looking spa-lovely!
Everything is gathered neatly into one place and can be found easily.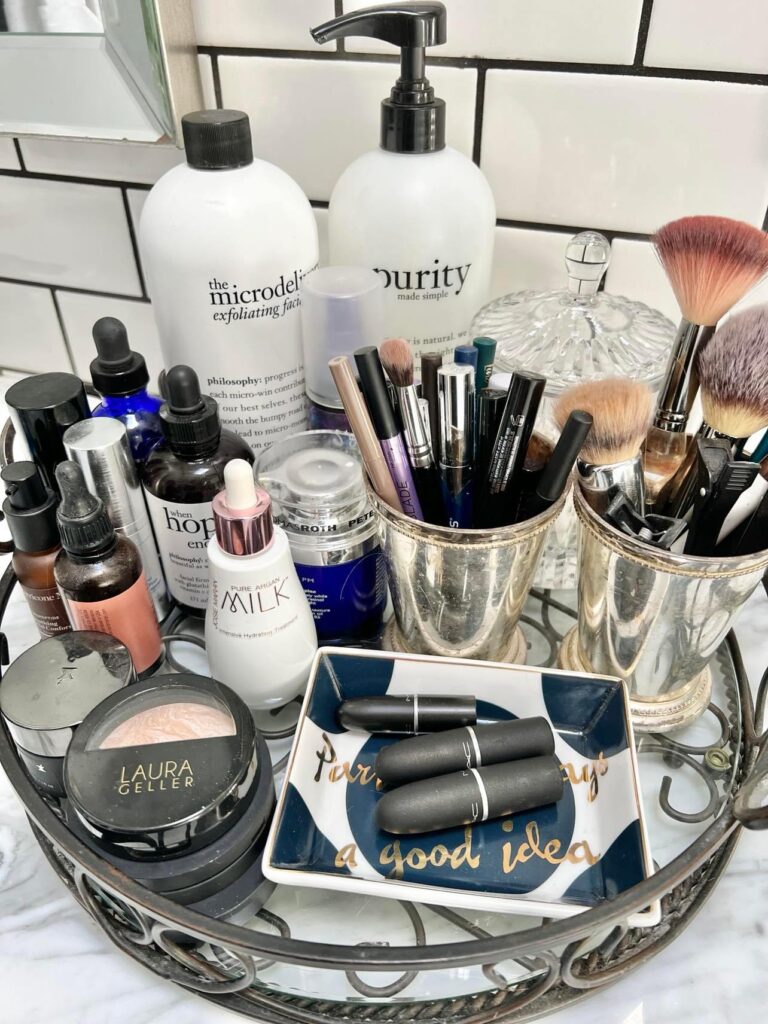 3. White Fluffy Towels
White towels!
A spa experience calls for the whitest, fluffiest towels you can find.
Then, take it a step further…tie them with a satin ribbon or even have them monogrammed. (My talented mother-in-law monogrammed these for us!)
And, here is a home stager tip: Slip a dryer sheet between your towels to give your bathroom the scent of clean, fresh cotton. Budget-friendly scent!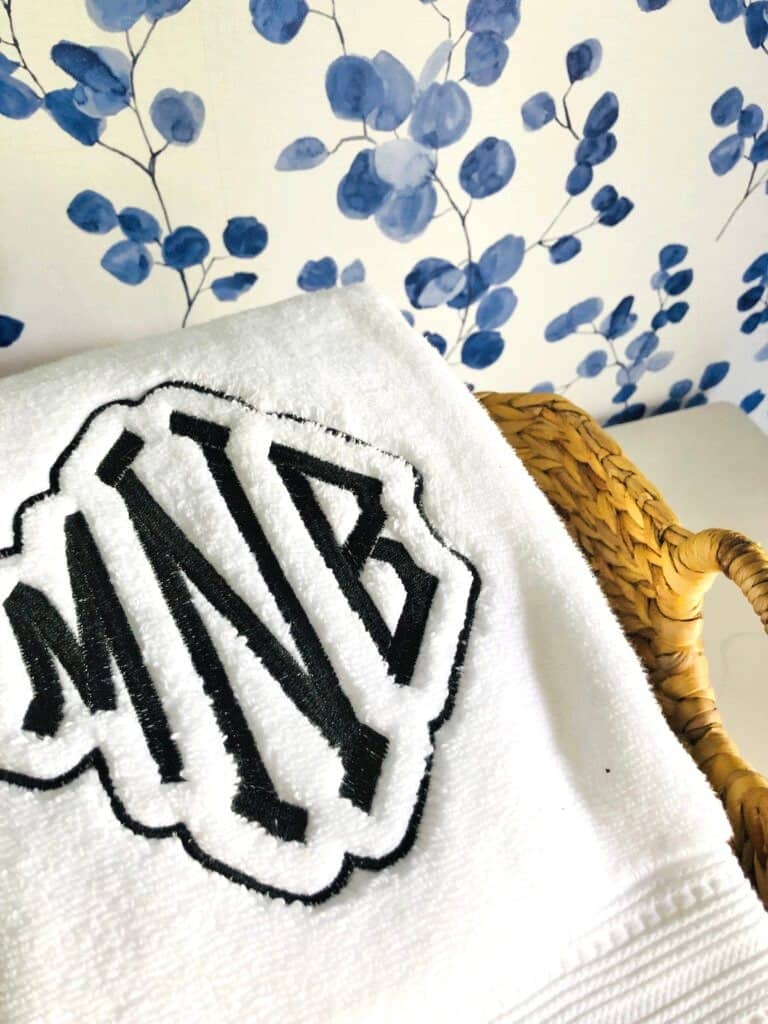 4. Live Plants
Adding live plants to the bathroom brings an important element of nature into the bathroom.
As human beings, we need to connect with nature and sometimes a live plant is the closest we can get.
Plus, plants love all the humidity in the bathroom and will thrive!
This pothos plant was started from a cutting from another plant. It was FREE!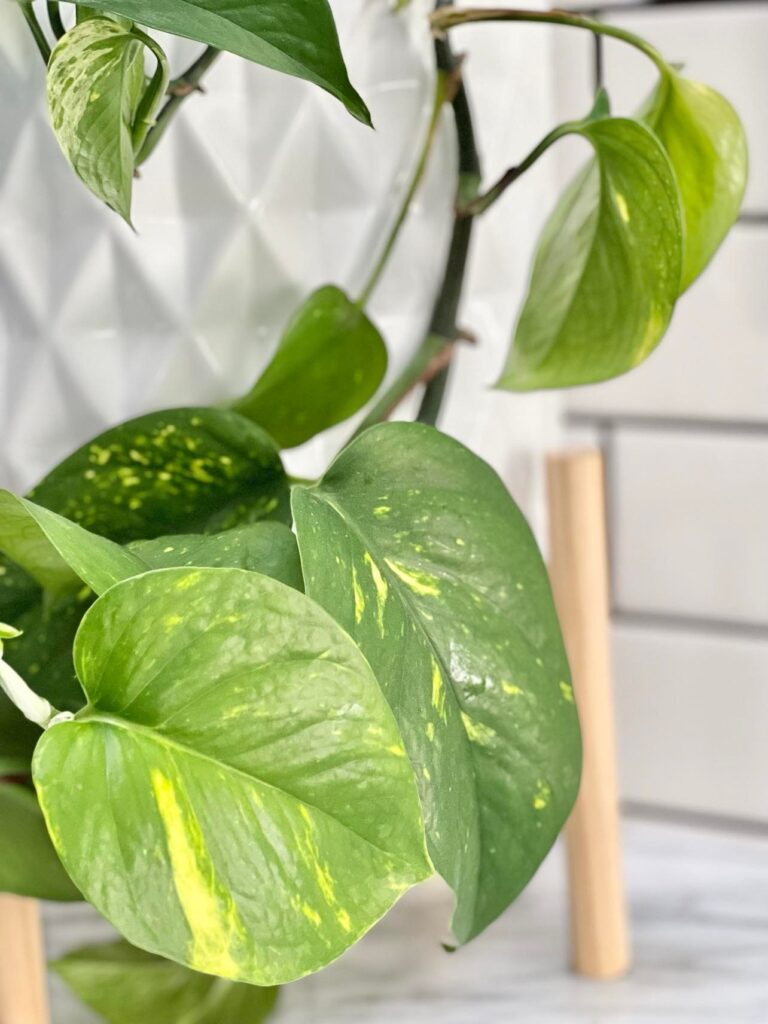 5. Bath and Shower Goodies
Pretty soaps shouldn't just be for guests! And, the market is chock-full of budget-friendly soaps, bath oils, and bathtime bubbles.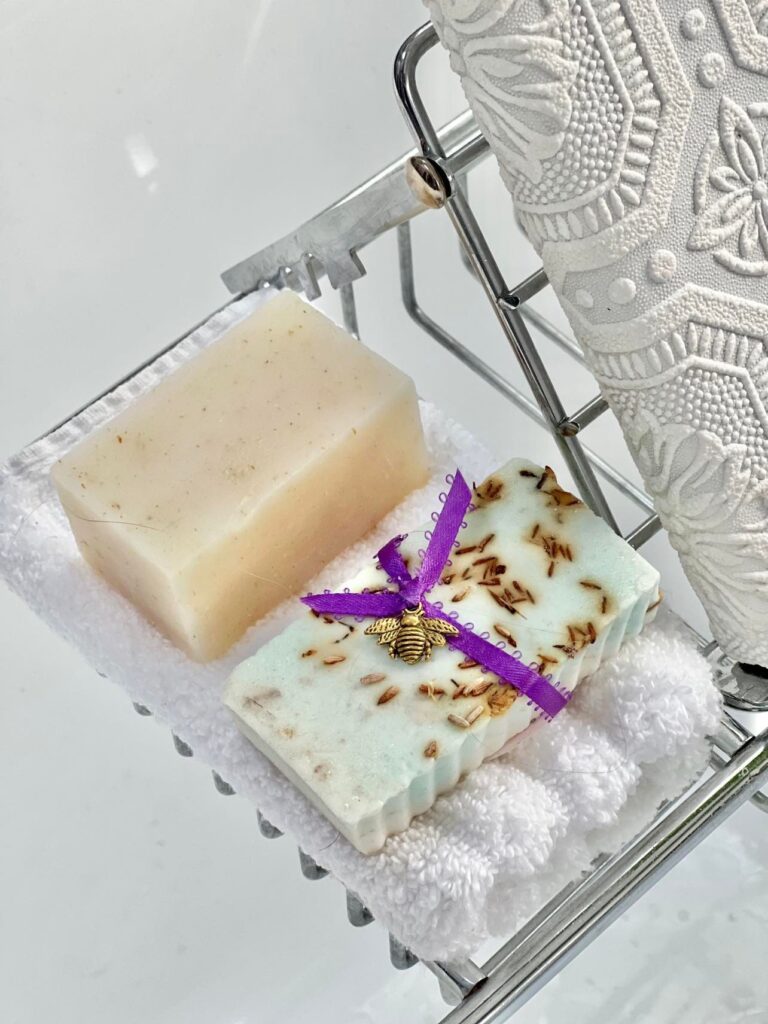 My friend Susan of Hen and Horse Design gave me this beautiful Oatmeal and Honey Lavender Shea Butter handmade soap. You need to try this! Amazing soap and so pretty!
And, if you are wanting the softest skin in town for pennies…
Anyone?
Just pour a scoop of Epsom salts into the warm bathwater. Bathtime gold!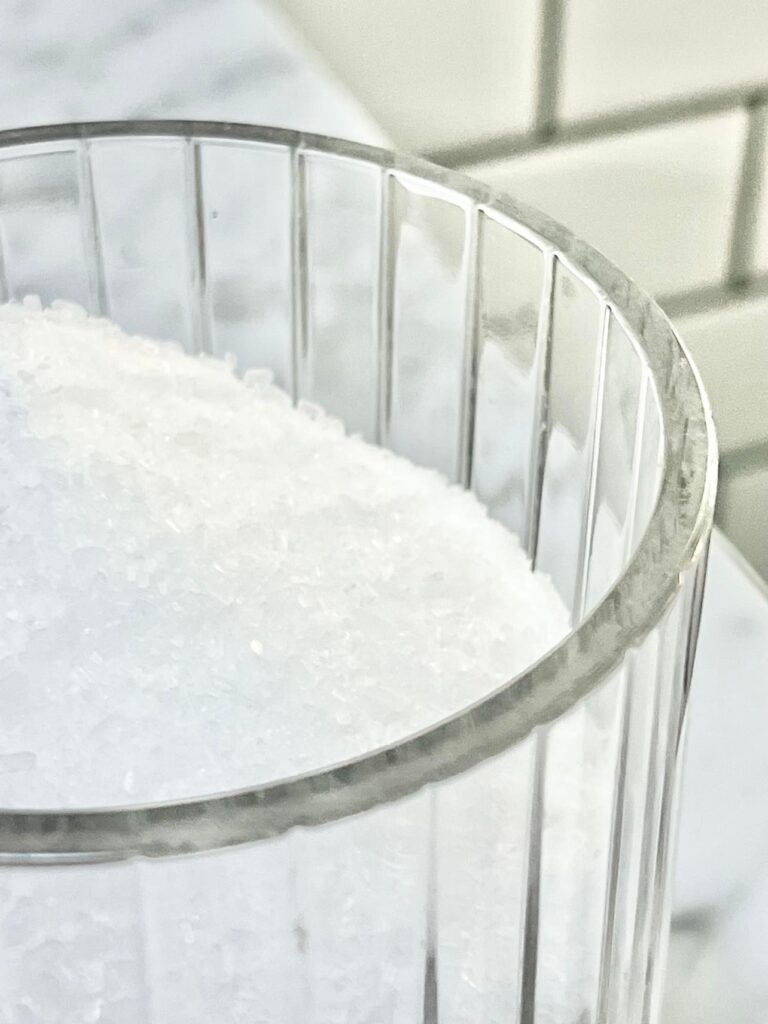 Epsom salts are inexpensive and come in all sorts of different scents. (Avoid using if you have a bathtub with jets.)
Not kidding… you will have the softest skin in town!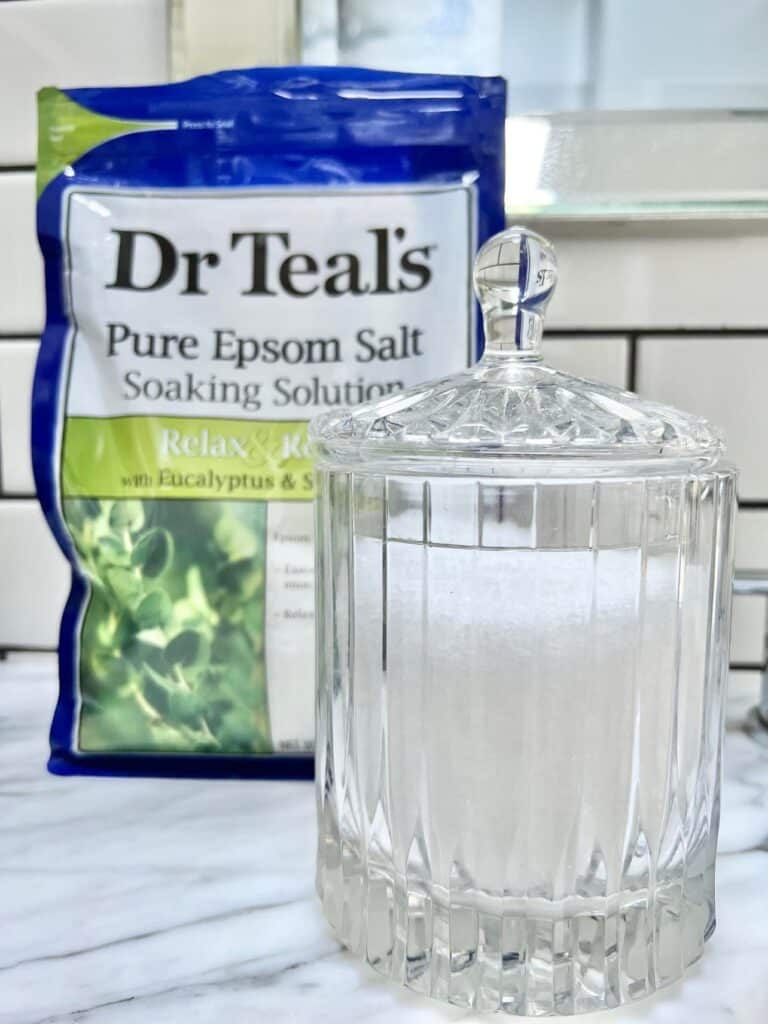 Don't neglect the scent in the shower!
For a few dollars, you can purchase a bunch of fresh eucalyptus at the grocery store. (Trader Joe's is my favorite!) Tie a bunch to your showerhead and let the shower steam go to work.
Shower time will smell SO good! (and it wakes you up in the morning!)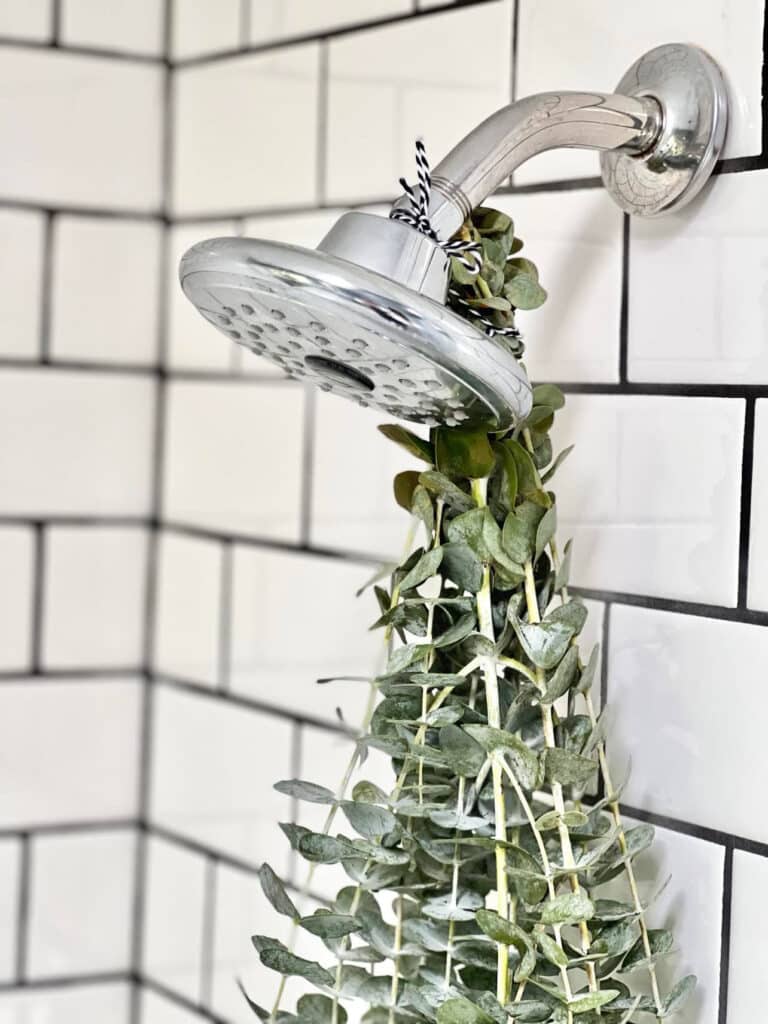 6. French Anything
Perhaps I have watched too many episodes of "Emily in Paris" but I am well aware of the French philosophy that quality is paramount.
Quality ingredients, quality shoes, quality time, and quality self-care…the French are on to something that deserves our attention.
So, bring a French element into the bathroom that reminds you of this lovely philosophy. French script is always a good idea as it immediately gives off French vibes.
Shop your favorite thrift or vintage shops. Or, grab a marker or stencil and create your own French inspired decor!
These apothecary jars have charming French labels and can hold the inexpensive Epsom salts!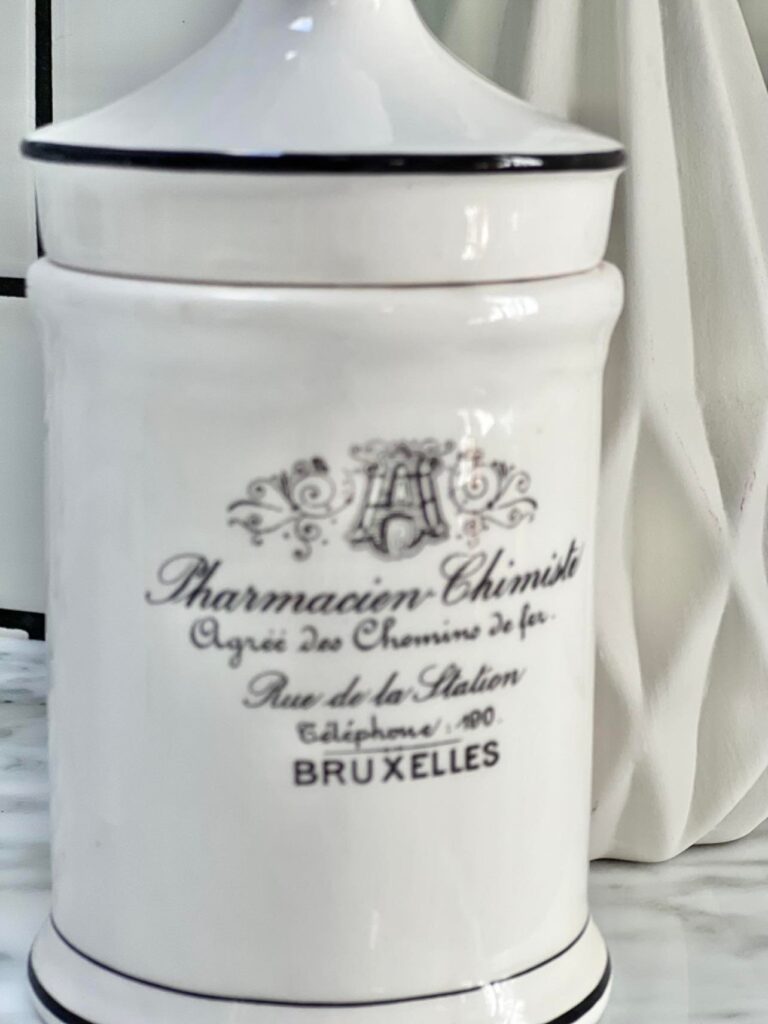 This little tray holds some of my jewelry and reminds me to channel my inner "Coco Chanel!"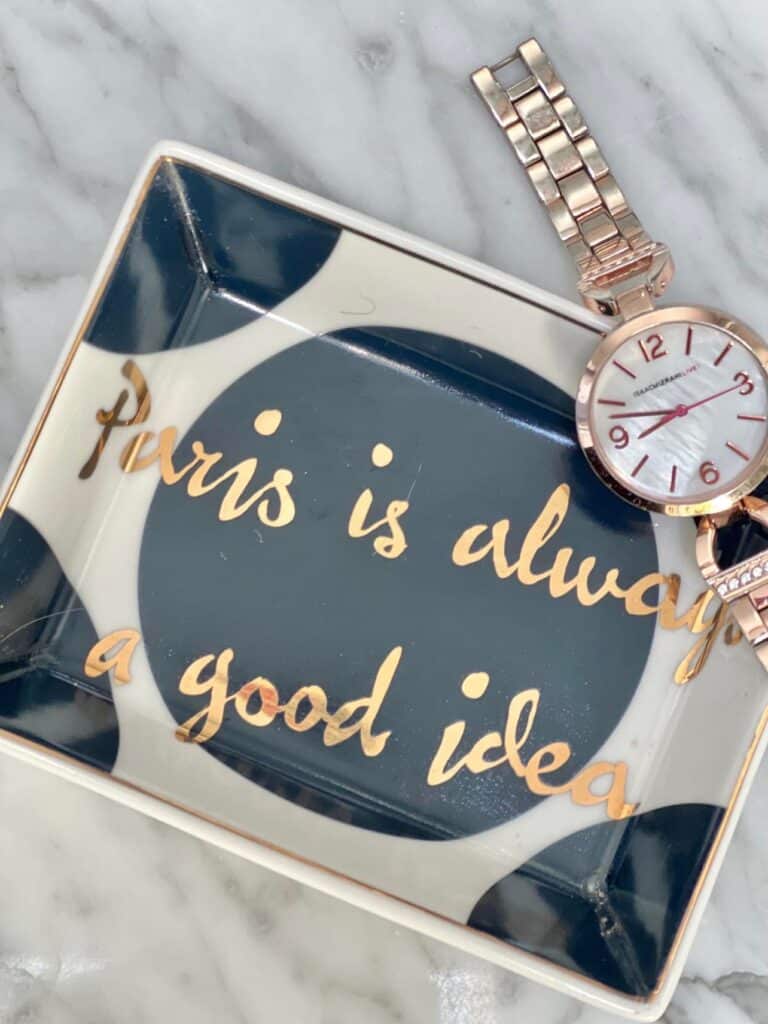 7. Toilet Tissue
I saved this little detail for the end.
Toilet Paper?
Not because it is most important (well, maybe it is?) but because it is a "spa" detail that is free other than the cost of a rubber stamp or, in my case, an embossing tool.
Here's how to give your toilet tissue the spa treatment!
Fold the corners of the toilet tissue back to form a triangle.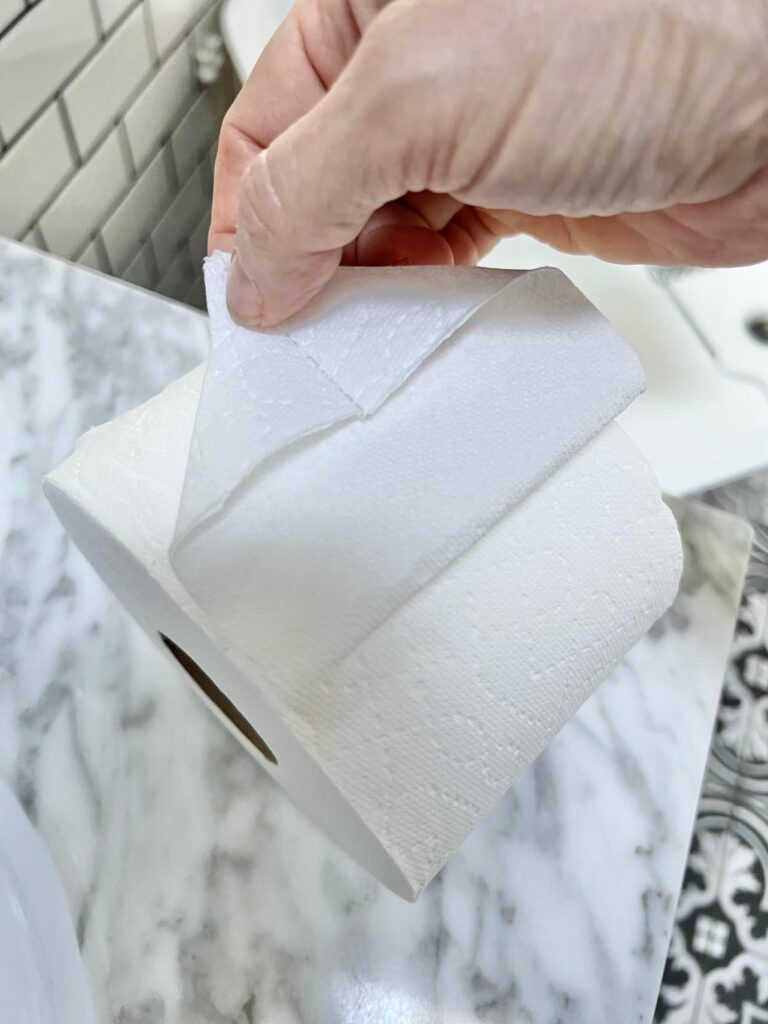 Wet your embossing tool or rubber stamp with water and…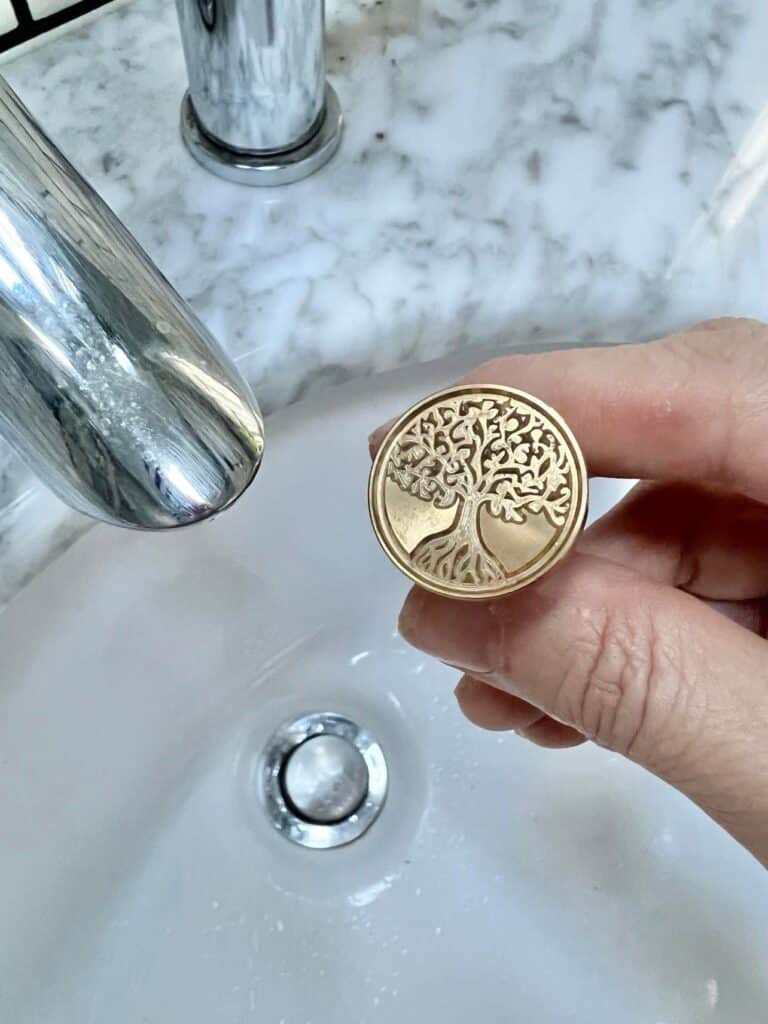 Press!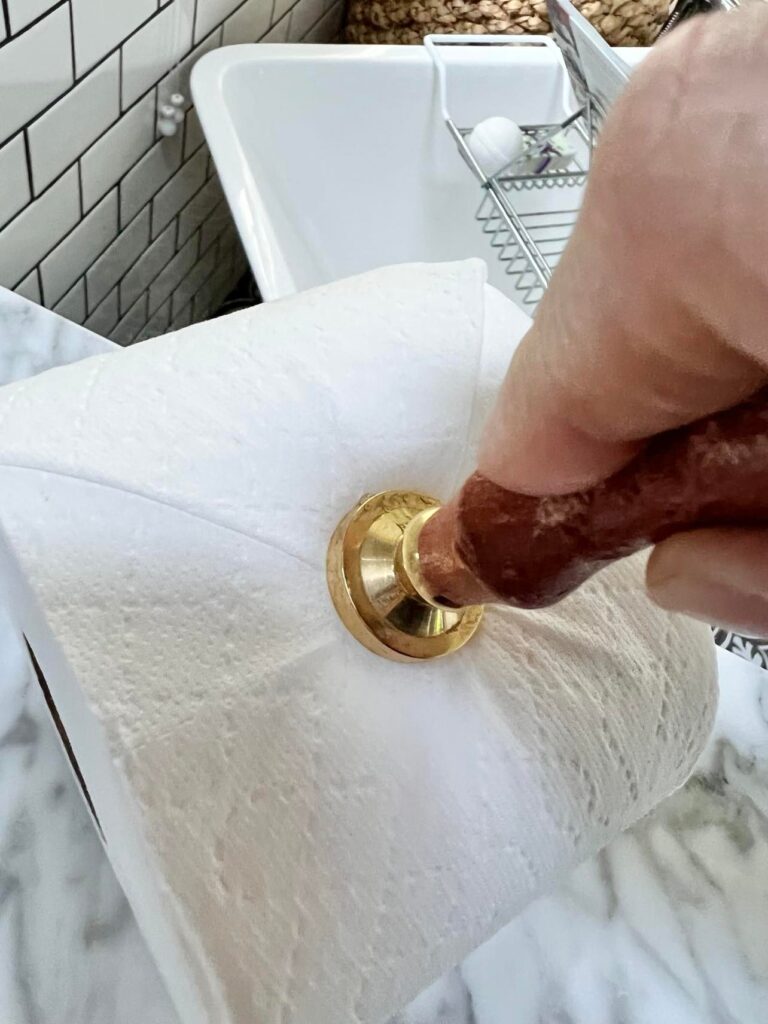 This makes me smile every time! And, this process is oddly satisfying!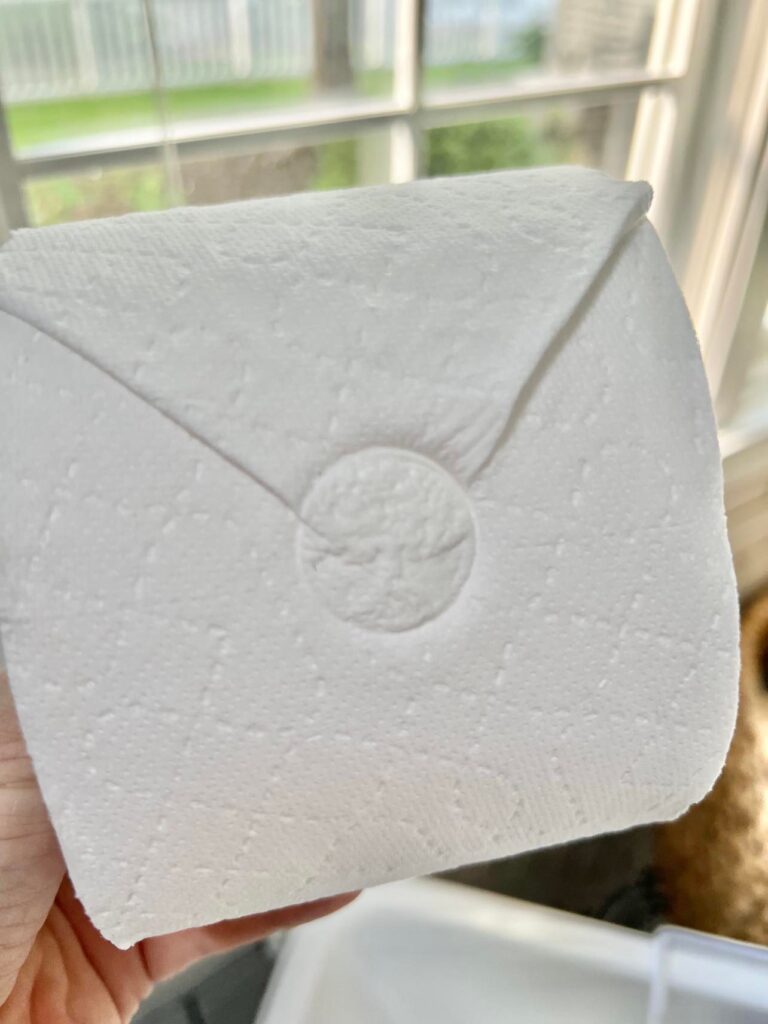 Stamp an entire package of toilet tissue all at once and you have spa elegance at the ready!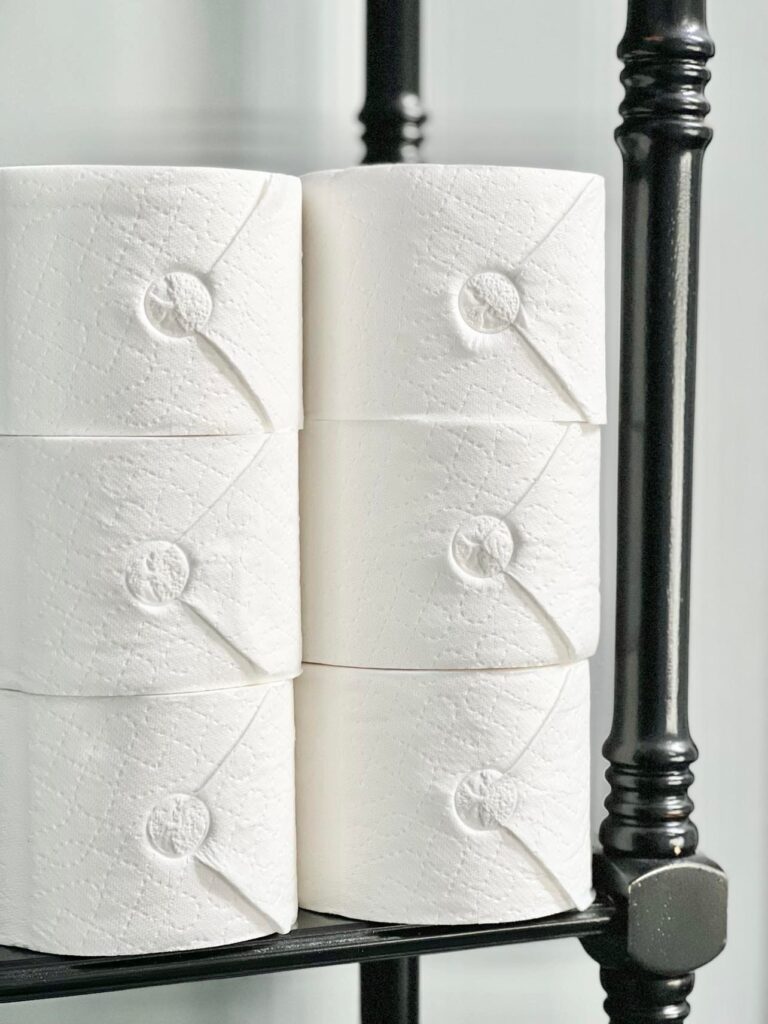 Any spa experience is about the details. And these details don't have to cost a lot of money.
So, turn your bathroom into a personal spa! You have earned it!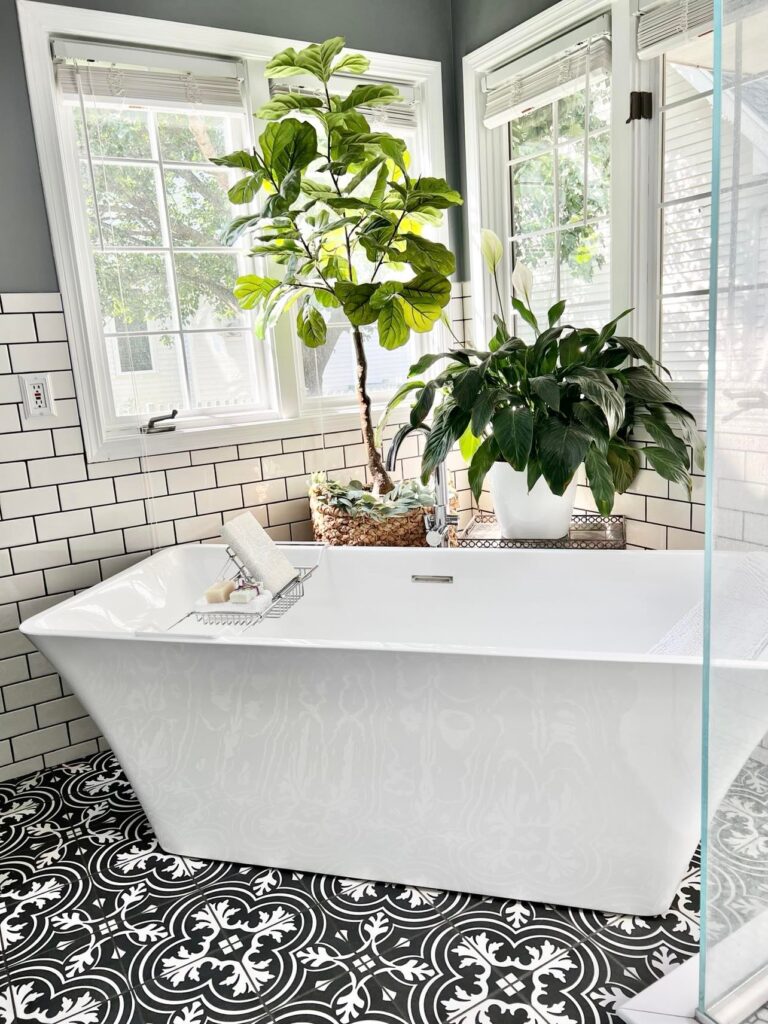 Cheers!

You might be interested in…
Our primary bathroom renovation