The Best Recipe for Easy Pumpkin Pie Crunch Cake
Jump to Recipe
There's no better way to embrace the essence of the fall season than by baking! One kitchen treat that stands out as a quintessential fall dessert is this recipe for Pumpkin Pie Crunch Cake.
This heavenly creation combines the warmth of pumpkin pie with the delightful crunch of a cake topping. If you're ready to embrace the cozy, aromatic goodness of fall in a dessert, then follow along as I share this mouthwatering recipe.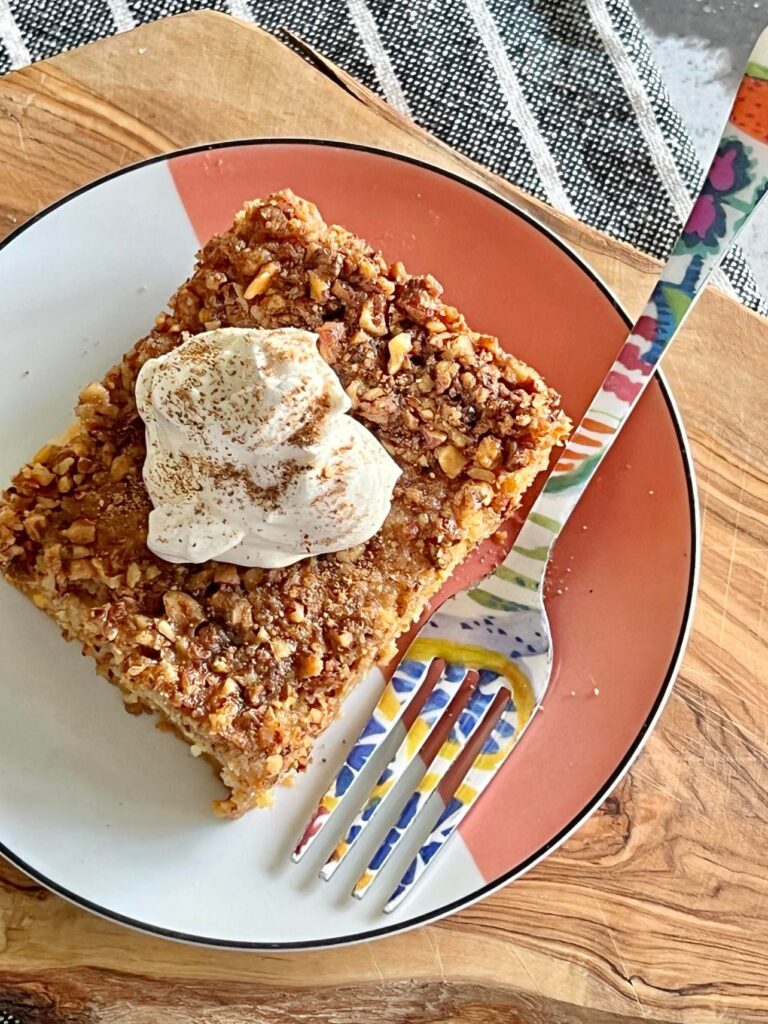 This blog contains affiliate links. This means a small commission is earned if you make a purchase by using this link. The price you pay will be the same whether you use the affiliate link or go directly to the vendor's website using a non-affiliate link.
You are going to love this "Puh-Cake!"
Puh-What?
One of my daughters had popped over for dinner and my husband had cooked a wonderful meal. I was in charge of the dessert.
Enter "Puh-Cake!"
This is the goofy name that my family came up with for this delicious dessert recipe for Pumpkin Pie Crunch Cake that I served the other night.
This recipe is the perfect combination of creamy pumpkin pie and a crunch spice cake.
Pie plus cake equals "Puh-cake!" (This is the best phonetic spelling I could come up with!)
Yup! This is the type of silly game my family plays at the dinner table!
Not only is this one of our favorite pumpkin recipes, it is so easy and a great alternative to a traditional pumpkin pie recipe.
How to Make This Recipe for Pumpkin Pie Crunch Cake
The best part is that this is essentially an easy pumpkin dump cake recipe!
The base of this Pumpkin Pie Crunch Cake is a velvety layer of a pumpkin puree mixture. It is important to use actual pumpkin puree and not pumpkin pie filling.
The pumpkin puree combines harmoniously with the evaporated milk, sugar, eggs, and a dash of pumpkin pie spice to create a creamy, pumpkin pie-like filling. This layer is rich, comforting, and brimming with fall flavors.
What truly sets this dessert apart is the delightful crunch that crowns it. A layer of yellow cake mix combined with chopped pecans and a generous drizzle of melted margarine creates the cake part of this pumpkin pice crunch recipe. During baking, this layer transforms into a golden, buttery, and irresistibly crispy topping that adds a delightful contrast to the creamy pumpkin layer beneath.
The taste of fall comes from pumpkin puree, pumpkin pie spice, chopped pecans, and lots of melted butter!
Ingredients You'll Need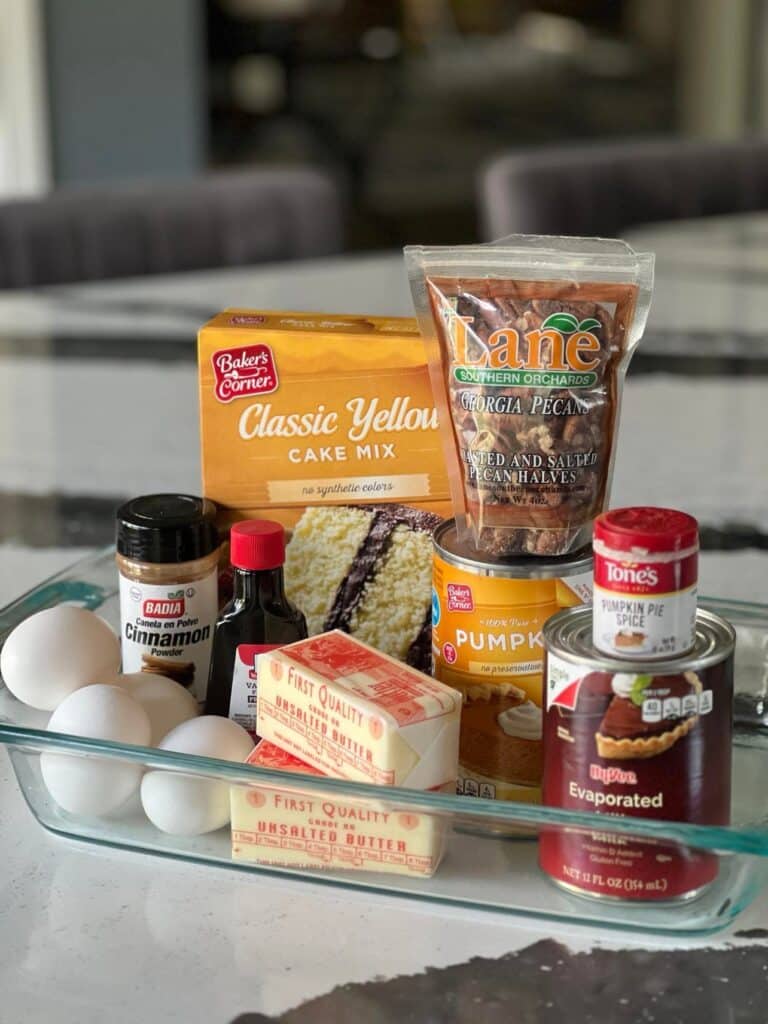 There are just a handful of ingredients for this recipe:
1 (15-ounce) can of pumpkin puree
1 (12-fluid ounce) can of evaporated milk
1 cup of white sugar
4 large eggs
1 teaspoon vanilla
2 teaspoons of pumpkin pie spice
1/2 teaspoon cinnamon
1 teaspoon of salt
1 (15.25-ounce) package of yellow cake mix
1 cup of chopped pecans
1/2 cup of chopped pistachios (optional)
1 cup of melted butter
1 (8-ounce) container of frozen whipped topping, thawed
You have options with your choice of dry cake mix. I used a yellow cake mix but you could instead use a spice cake mix or even a butter pecan cake mix.
Prep and Mix
Preheat your oven to 350°F (175°C). While the oven is preheating, grease a 9×13-inch baking dish.
In a large bowl, combine pumpkin puree, evaporated milk, sugar, eggs, vanilla, pumpkin pie spice, cinnamon, and salt. Mix until well blended and then pour this mixture into your prepared baking dish, spreading it evenly over the entire pan.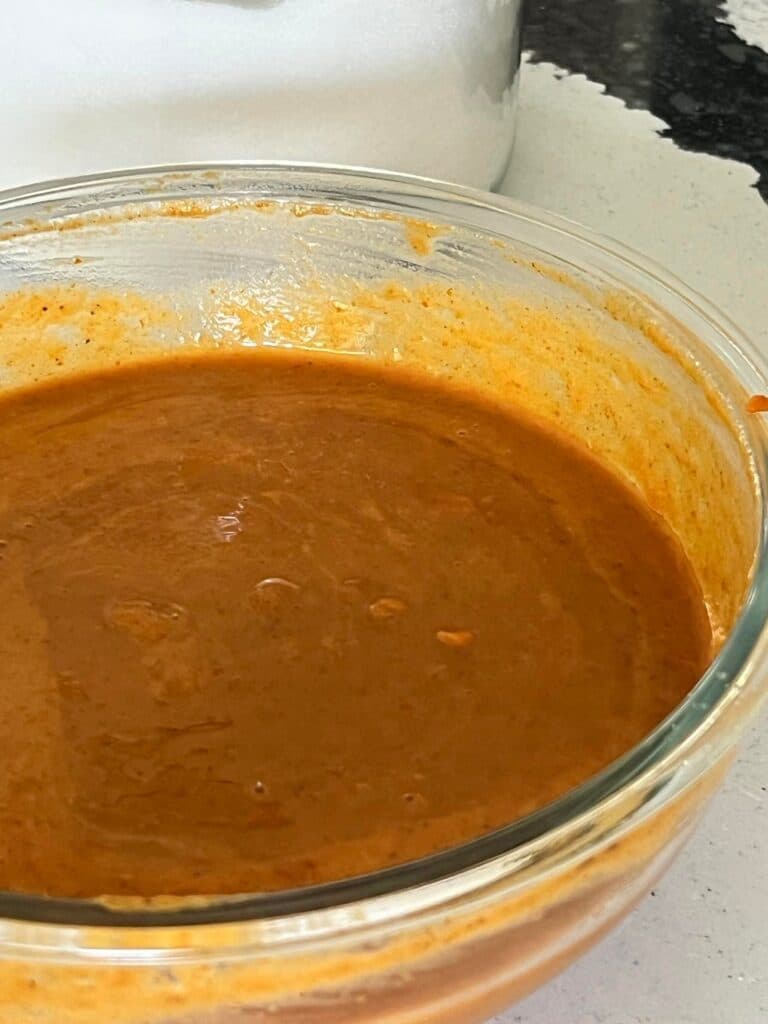 Yummy Fall Layers
​Next, sprinkle the dry cake mix over the top of the pumpkin mixture.
Follow up by adding a layer of crunchy pecans over the cake mix.
And finally, drizzle a top layer of melted butter over the top of the entire cake.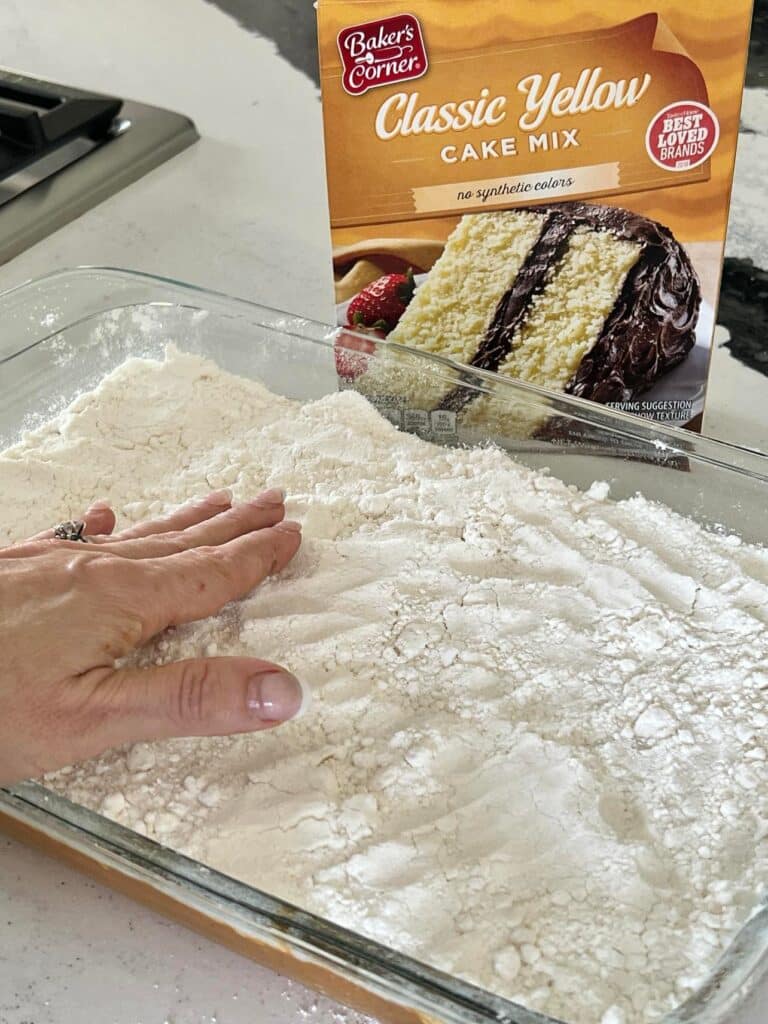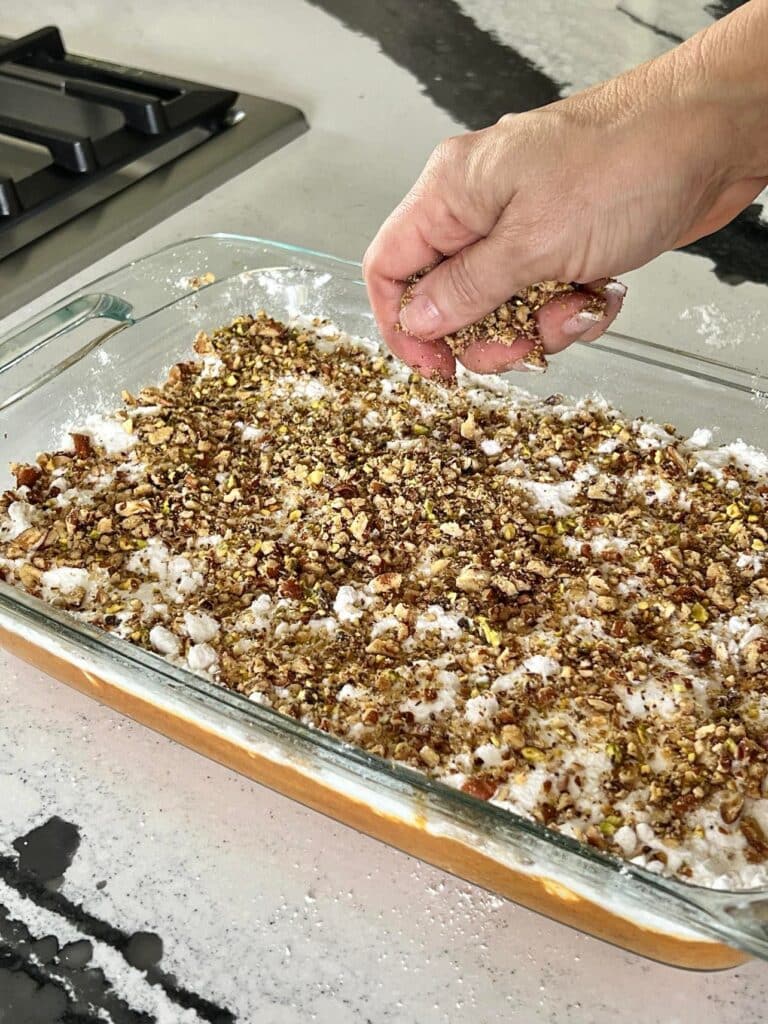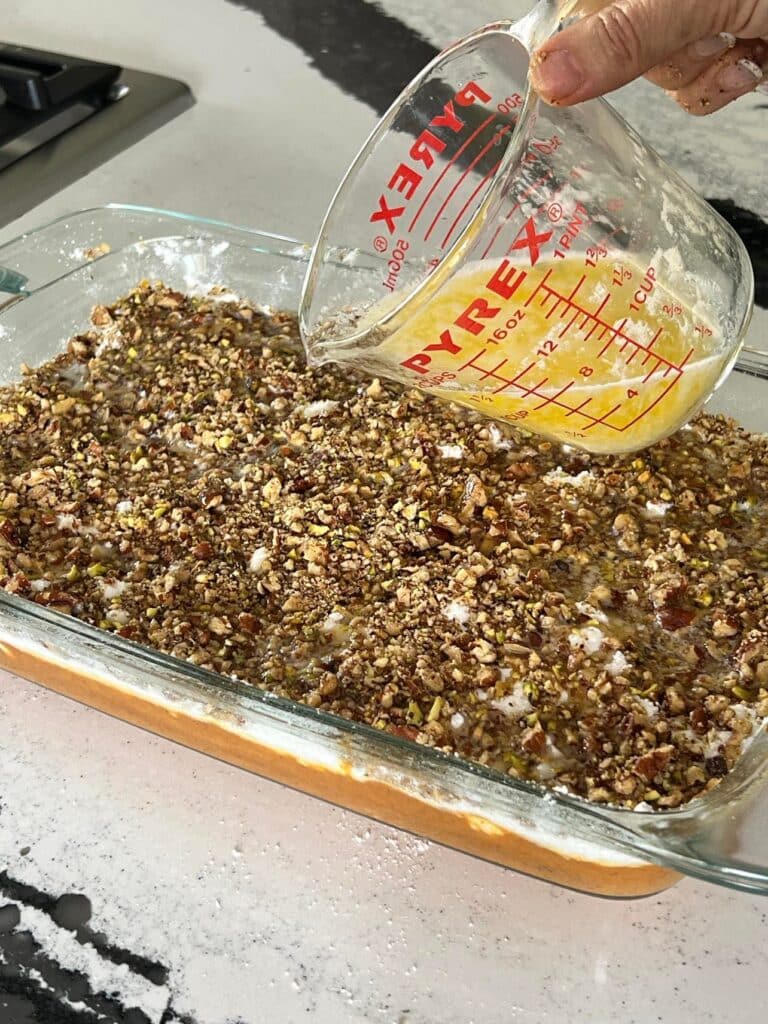 Bake to Perfection
Place the baking dish in the preheated oven and bake for 60 minutes or until the top is golden brown and the center is set.
Once done, remove the cake from the oven and allow it to cool completely to room temperature.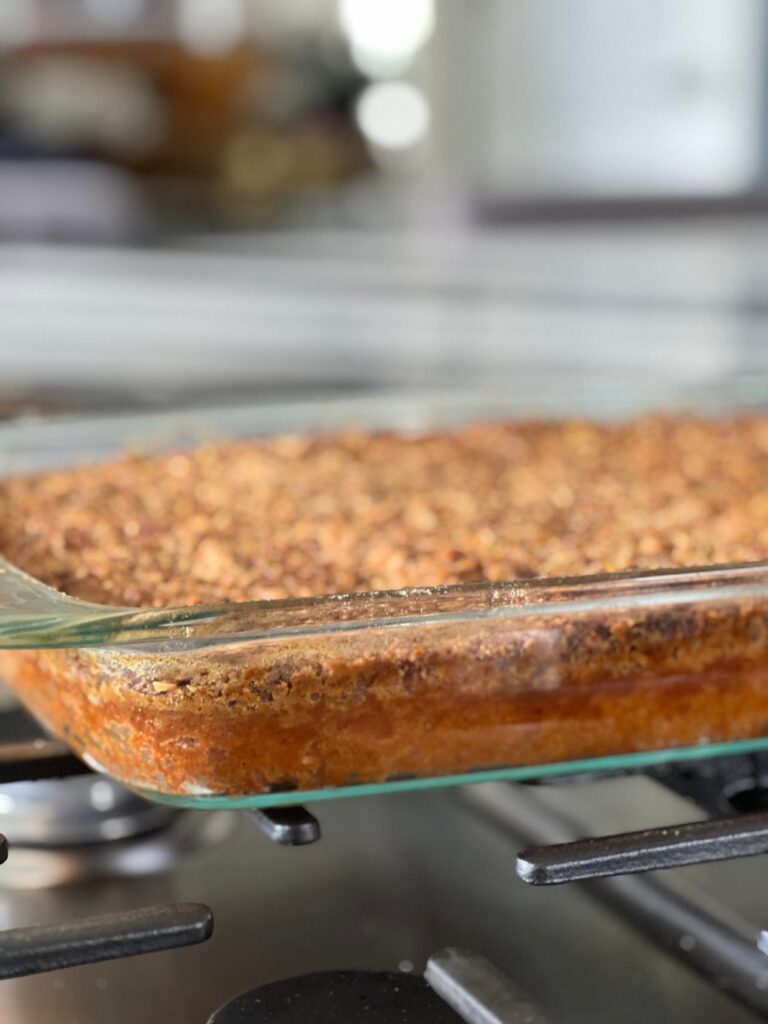 Serve each slice with a dollop of thawed whipped topping and perhaps a sprinkling of nutmeg!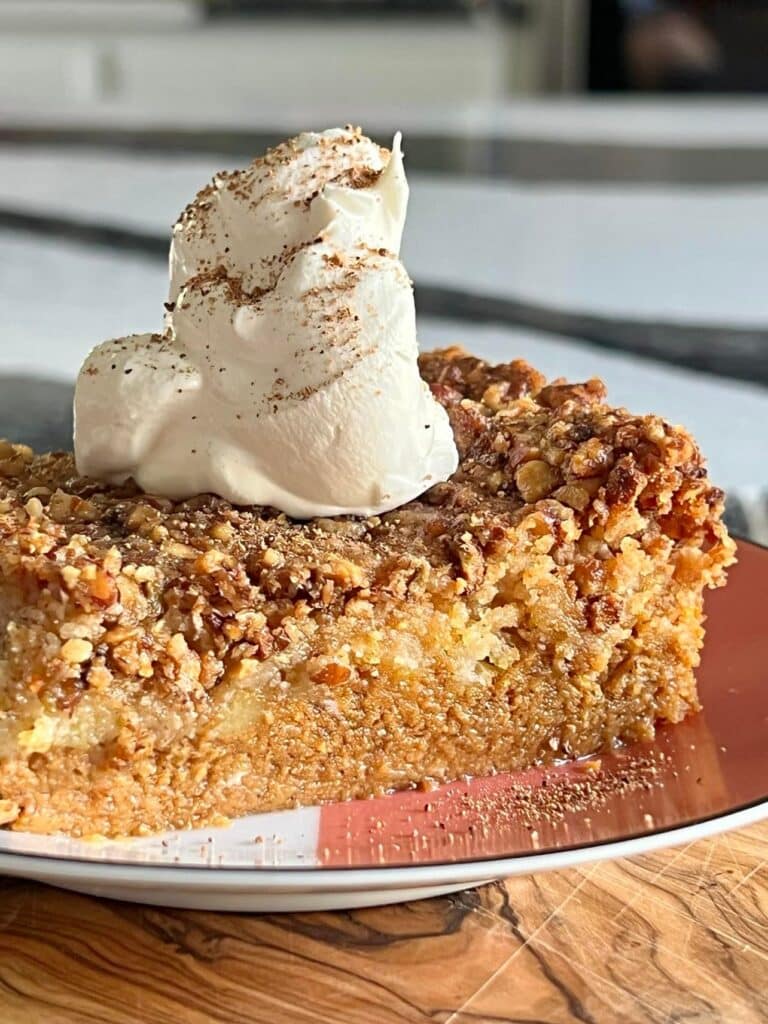 Variations and Serving Suggestions
Feel free to get creative and combine several of these variations to make your Pumpkin Crunch Cake uniquely delicious.
A Scoop of Vanilla Ice Cream: Need I say more?
Cream Cheese Swirl: Add a cream cheese swirl by mixing softened cream cheese, sugar, and vanilla extract. Dollop spoonfuls on top of the pumpkin layer before adding the cake mix and pecans.
Nutty Delight: Experiment with different nuts like walnuts or almonds for a unique crunch and flavor profile.
Chocolate Chips: Sprinkle semi-sweet chocolate chips on top of the pumpkin layer for a delightful chocolate-pumpkin combination.
Gluten-Free: Use a gluten-free cake mix and ensure all other ingredients are gluten-free for a gluten-free Pumpkin Crunch Cake.
Maple Drizzle: Drizzle warm maple syrup over the cake just before serving for an added layer of sweetness.
Caramel Swirl: Add a caramel drizzle or swirl into the pumpkin layer for a rich, caramelized flavor.
Spiced Whipped Cream: Top each slice with a dollop of spiced whipped cream made by mixing whipped cream with a pinch of cinnamon and nutmeg.
Nut Butter Infusion: Swirl almond or peanut butter into the pumpkin layer for a nutty, creamy surprise.
Pumpkin Seeds: Garnish with roasted pumpkin seeds (pepitas) for a crunchy, seasonal touch.
Candied Pecans: Use candied pecans for an extra layer of sweetness and crunch.
Individual Servings: Bake the cake in individual ramekins for single-serve portions.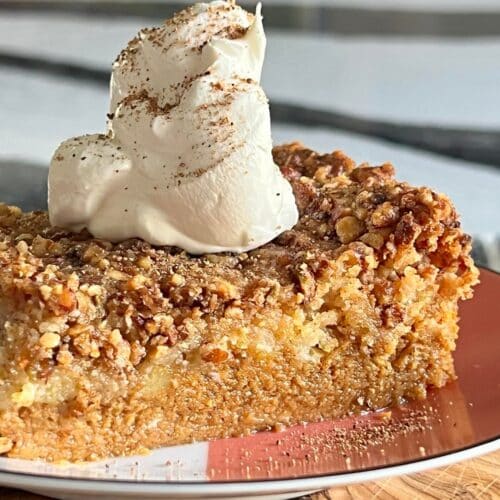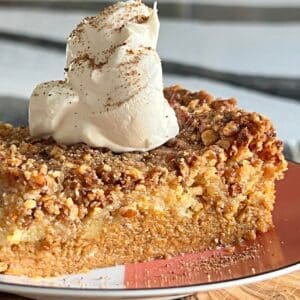 Pumpkin Pie Crunch Cake
This mouthwatering treat features layers of creamy pumpkin goodness, a golden and buttery cake mix topping, and a generous sprinkle of chopped pecans for that perfect texture contrast.
Equipment
1 large bowl

1 9 x 13 baking pan
Ingredients
1

15. oz

can pumpkin puree

1

12 oz

can evaporated milk

4

eggs

1

cup

sugar

1

tsp

vanilla extract

2

tsp

pumpkin pie spice

1

tsp

cinnamon

1

box

yellow cake mix

1

cup

pecans, chopped

1/2

cup

pistachio nuts, chopped

1

cup

unsalted butter, melted

1

8 oz.

container whipped topping
Instructions
Preheat the oven to 350 degrees. Grease a 9 x 13 baking pan.

In a large bowl, combine the pumpkin puree, evaporated milk, eggs, sugar, pumpkin spice,cinnamon, vanilla, and salt until all is incorporated.

 Pour the batter into the greased baking pan. Sprinkle the yellow cake mix on top of the batter and gently pat the cake mix into the batter.

Sprinkle the pecans and pistachios over the cake mix.

Drizzle the melted butter over the chopped nut layer.

Bake for 1 hour or until a knife comes clean from the center of the cake.

Let the cake cool for 5-10 minutes and then serve with whipped topping.
FAQ
How Do I Store This Pumpkin Crunch Cake Recipe?
To store your Pumpkin Crunch Cake, follow these steps:
Room Temperature: If you plan to consume it within a day or two, you can cover the cake with plastic wrap or aluminum foil and leave it at room temperature. Be sure to store it in a cool, dry place away from direct sunlight or heat sources.
Refrigeration: For longer storage, it's advisable to refrigerate the cake. Cover it tightly with plastic wrap or aluminum foil or transfer it to an airtight container. Properly stored, it should stay fresh for up to 4-5 days in the refrigerator.
Freezing: If you want to keep your Pumpkin Crunch Cake for an extended period, consider freezing it. Wrap individual slices or the whole cake tightly in plastic wrap, followed by aluminum foil or a freezer-safe container. Label it with the date to keep track. When stored in the freezer, it can maintain its quality for 2-3 months.
Before serving, allow the refrigerated or frozen cake to come to room temperature for about 30 minutes. This will ensure that you enjoy its full flavor and delightful texture. Enjoy your Pumpkin Crunch Cake whenever the craving strikes!
What is the Difference Between Pumpkin Puree and Canned Pumpkin?

Canned pumpkin often includes pumpkin puree along with added sugar and extra spices, while pumpkin puree consists solely of pure pumpkin. To create the best Pumpkin Crunch Cake, make sure to use pumpkin puree in your recipe.
Can I Make Pumpkin Crunch Cake without Evaporated Milk?
You can make Pumpkin Pie Crunch Cake without evaporated milk by using a suitable milk substitute.
One common alternative is to use regular milk, but you can also use dairy-free options like almond milk, coconut milk, or soy milk, depending on your dietary preferences or restrictions. Simply replace the evaporated milk with an equal amount of your chosen milk substitute in the recipe. This substitution will work well and maintain the cake's creamy texture while accommodating various dietary needs.
A Slice of Autumn Bliss
Each forkful of this cake is like taking a bite out of autumn itself. The familiar spices of pumpkin pie dance on your taste buds, while the crunchy topping adds a satisfying surprise. Whether enjoyed as a cozy evening treat or as the grand finale to your Thanksgiving dinner, Pumpkin Pie Crunch Cake is the perfect fall dessert!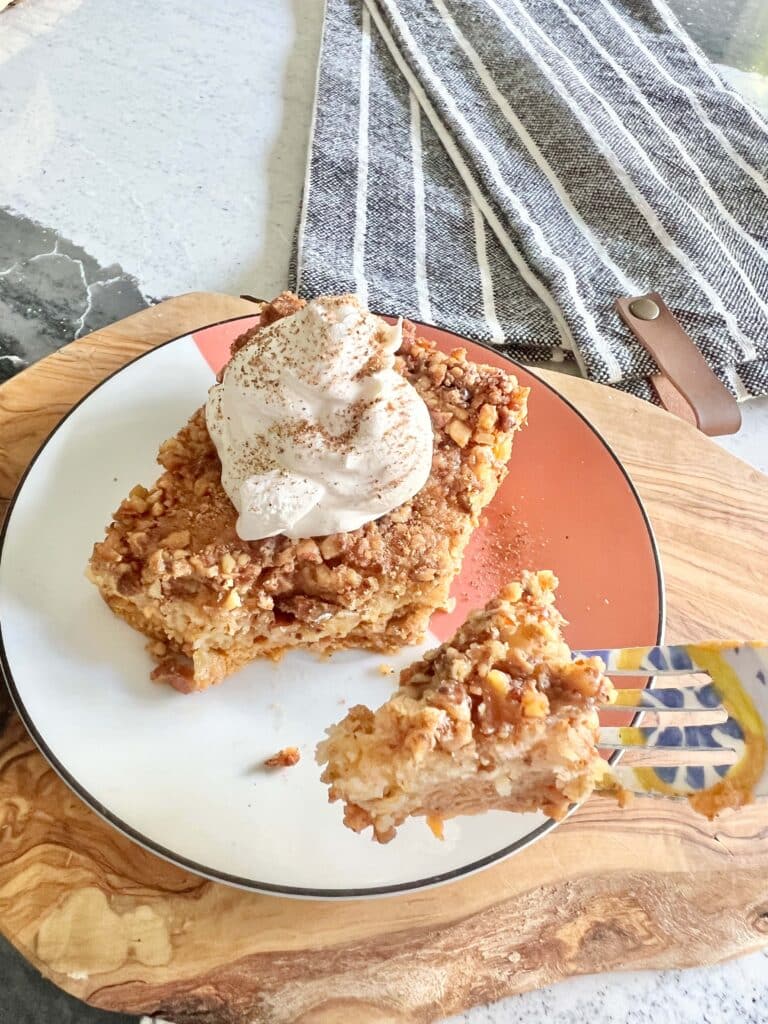 Pumpkin Pie Crunch Cake embodies everything we love about fall and this time of year– comforting, aromatic, and filled with the flavors that make this season so special. It's the kind of dessert that brings people together, creating cherished moments and lasting memories.
Enjoy every slice, pumpkin fans!
Cheers!

Don't Forget to Pin It!
Pin the image below to your boards on Pinterest (just click the Pin button in the top left corner). You can also follow along with me on Pinterest!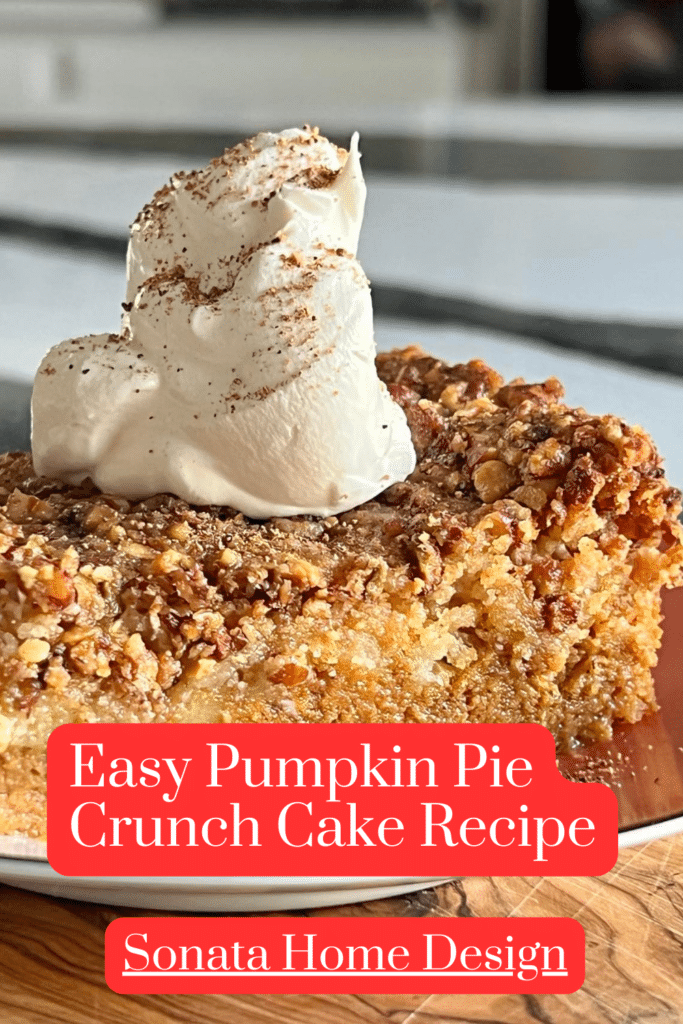 More Tastes of Fall