Cranberry Pecan Bagel Spread Recipe
Jump to Recipe
This easy-to-follow recipe will show you how to make a delicious and mouth-watering cranberry pecan bagel spread in no time!
Are you ready to get your bagel game on? I'm here to give you the perfect sweet and crunchy spread that will kickstart your morning like no other. Whether you opt for a classic plain or sesame bagel, this cranberry pecan spread is the perfect deviation from your usual swipe of butter or cream cheese. So let's get schmearing, my friends!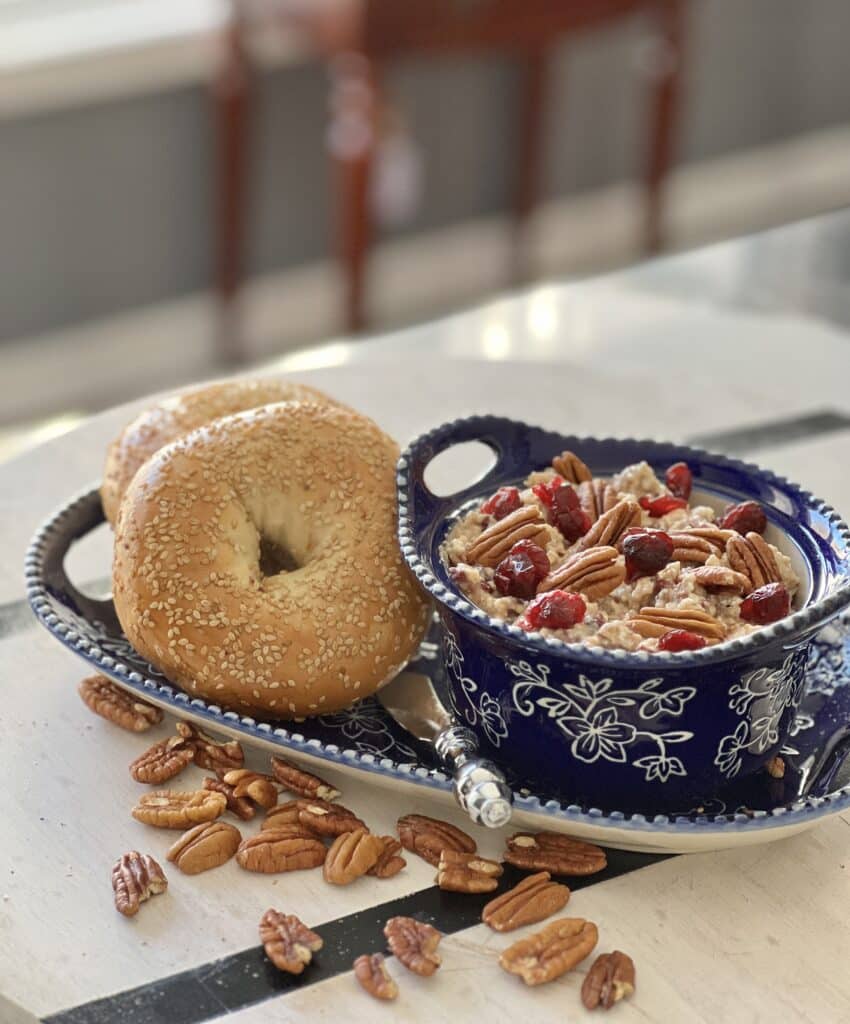 This blog contains affiliate links. This means a small commission is earned if you make a purchase by using this link. The price you pay will be the same whether you use the affiliate link or go directly to the vendor's website using a non-affiliate link. Sonata Home Design is a participant in the Amazon Services LLC Associates Program, an affiliate advertising program designed to provide a means for us to earn fees by linking to Amazon.com and affiliated sites.
Bagel Spread Required!
Breakfast is my favorite meal of the day and bagels with a yummy bagel spread are at the top of the list!
Bagels have been enjoyed by many for ages. But bagels on their own can be quite boring sometimes, and a tasty bagel spread really takes them to the next level!
You could even enjoy it all day long – why not grab a bagel with bagel spread for lunch? It's no wonder it's been a go-to sandwich alternative for so long.
So I can't let your bagels be lonely any longer – let me help you give them the loving embrace of a delicious bagel spread!
My Favorite Bagels
I have to admit to being a little spoiled when it comes to bagels because I have a daughter who lives in New York City.
As in…"Home of the Best Bagels in the World New York City!"
You might be asking…What is a NYC bagel versus a regular bagel? Why is a NYC bagel better?
I'm glad you asked!
Why are NYC Bagels better?
Who knew that a legendary bagel could be attributed to something as seemingly ordinary as water?
The water?
Yes! New York's soft tap water is actually one of the key factors in creating an undeniably superior bagel.
Not only do these famous creations benefit from having lower mineral concentrations, but they also gain doughy texture thanks to hard-to-beat gluten optimization!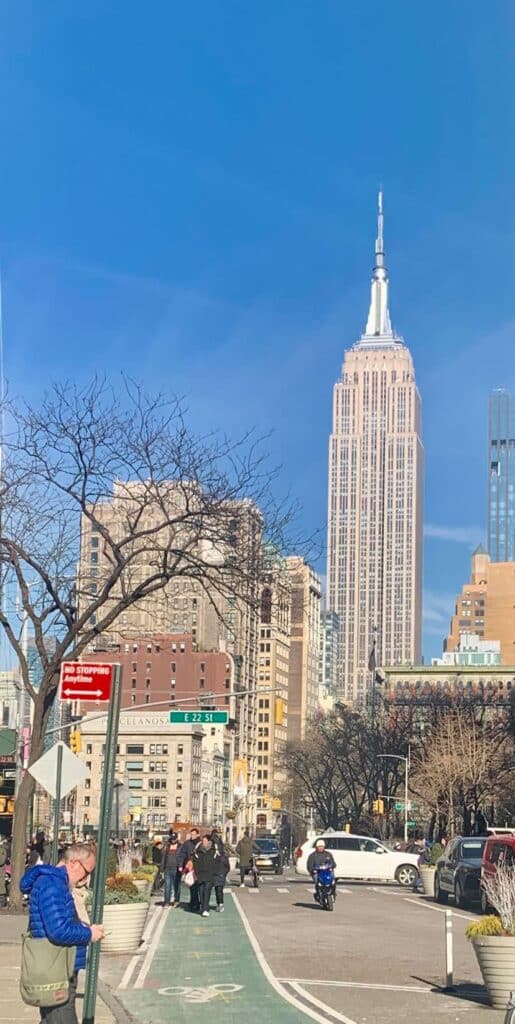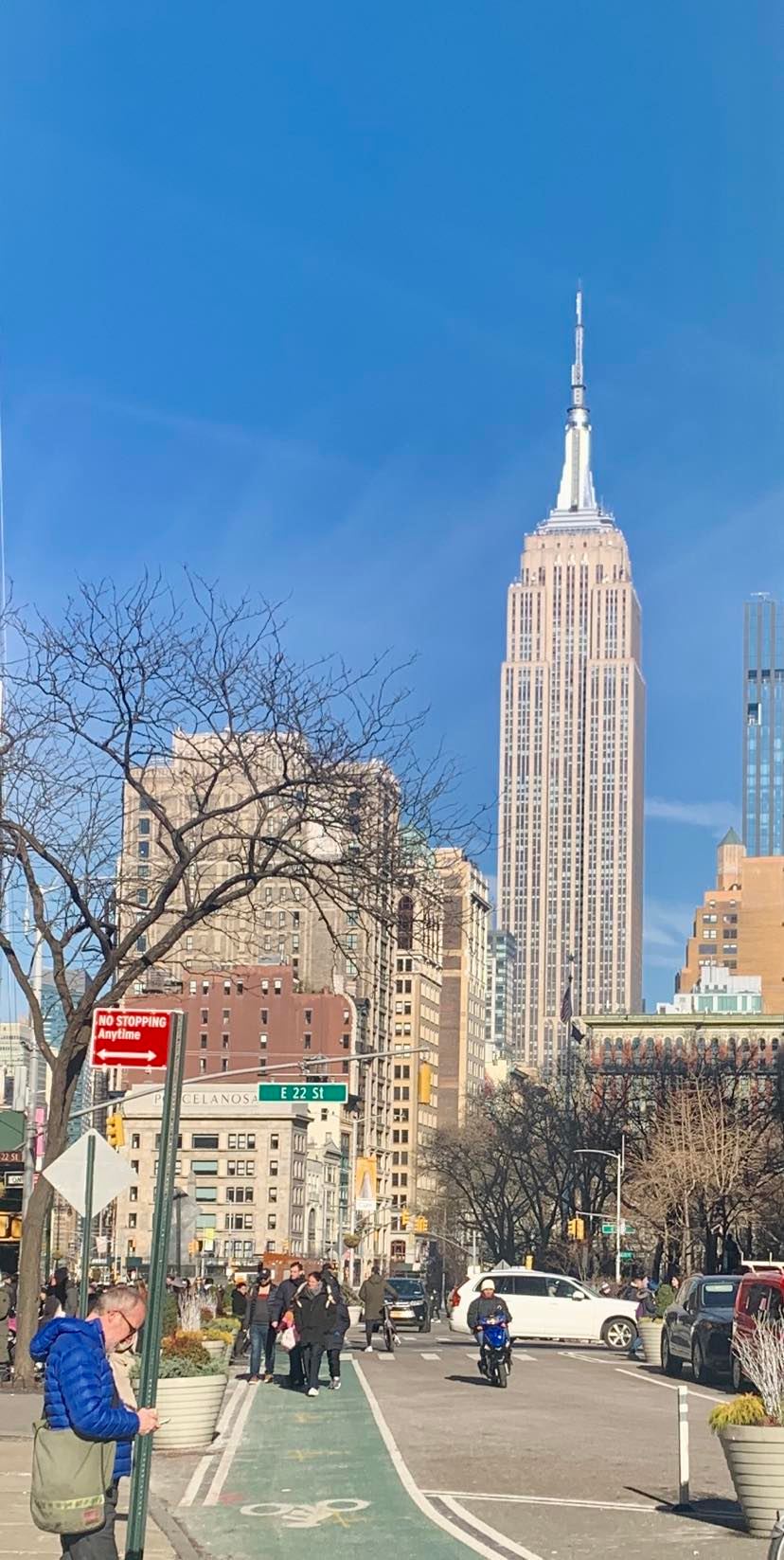 Well, I live in Nebraska. This works only if you live in NYC, right?
Wrong!
You can have NYC bagels shipped to your door!
There are lots of specialty NYC bagel shops that will ship bagels straight to your doorstep.
I am loving Just Bagels that I order through QVC. They offer a great variety and they are shipped the day they are made. (and shipping is free!)
What can make a bagel even better? This delicious Cranberry Pecan Bagel Spread!
Bagel Spread Ingredients
One of the joys of this recipe is that it doesn't require a lot of ingredients and it is very quick to put together.
I used to make this bagel spread only for special breakfast occasions.
Then I thought…why can't we enjoy this more often?
So now, this is a quick weekend treat that I like to throw into our breakfast/snack rotation.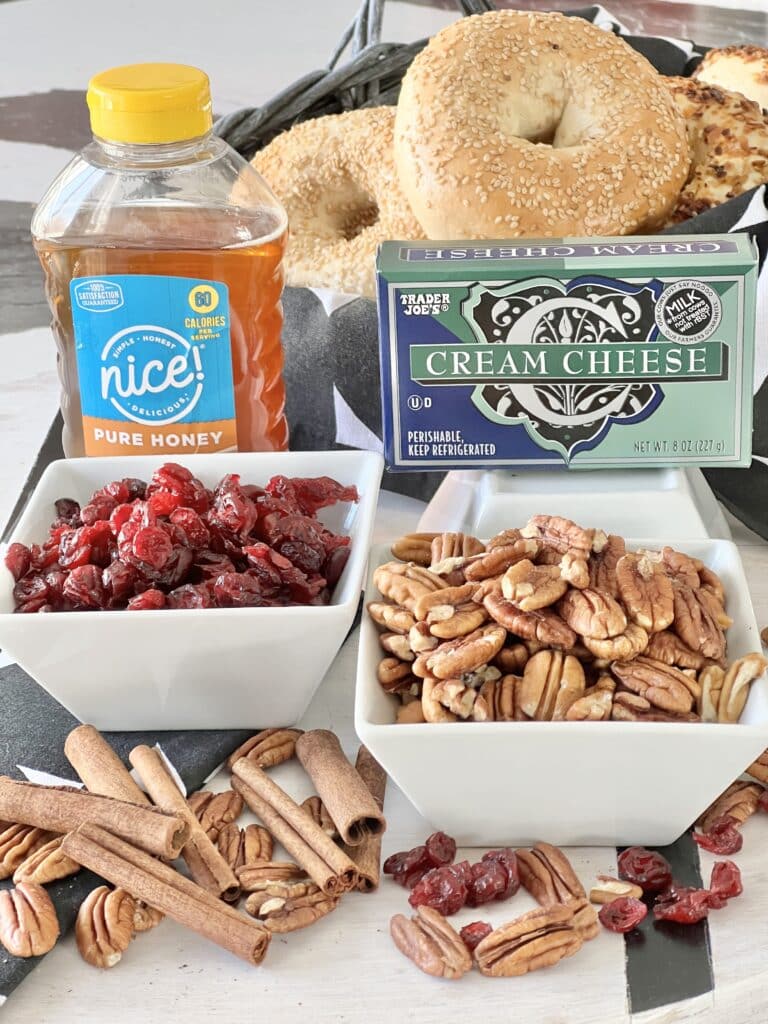 Crream cheese, honey, and cinnamon form a beautiful marriage…smooth and sweet but with cinnoman-y depth.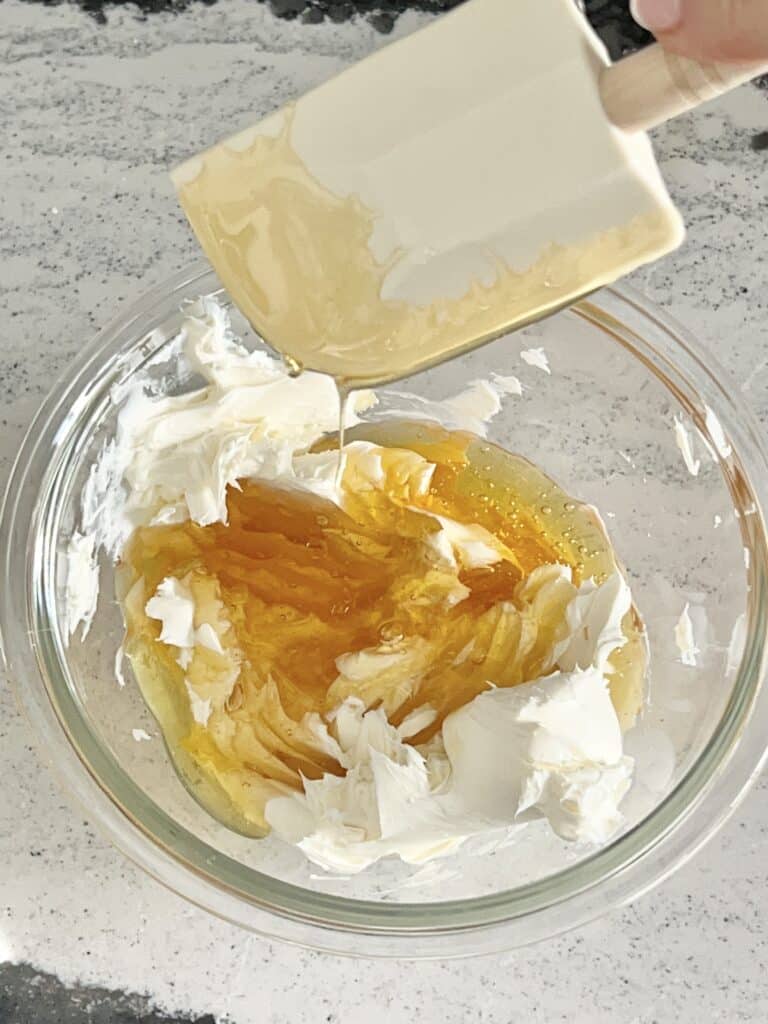 Cranberries and pecans bring the party together with a tangy zip and nutty crunch. Yum!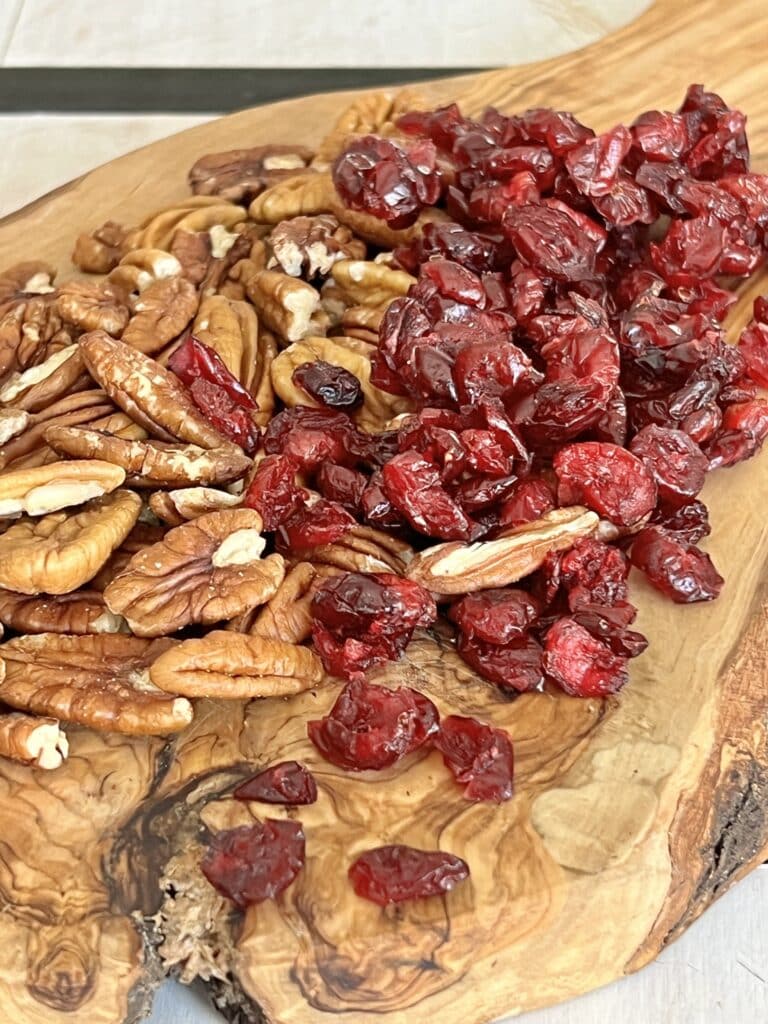 The recipe calls for chopped cranberries and pecans. I like big chunks of these two things in my bagel spread so I give them a "rough chop." …Just enough chopping to break them up a little!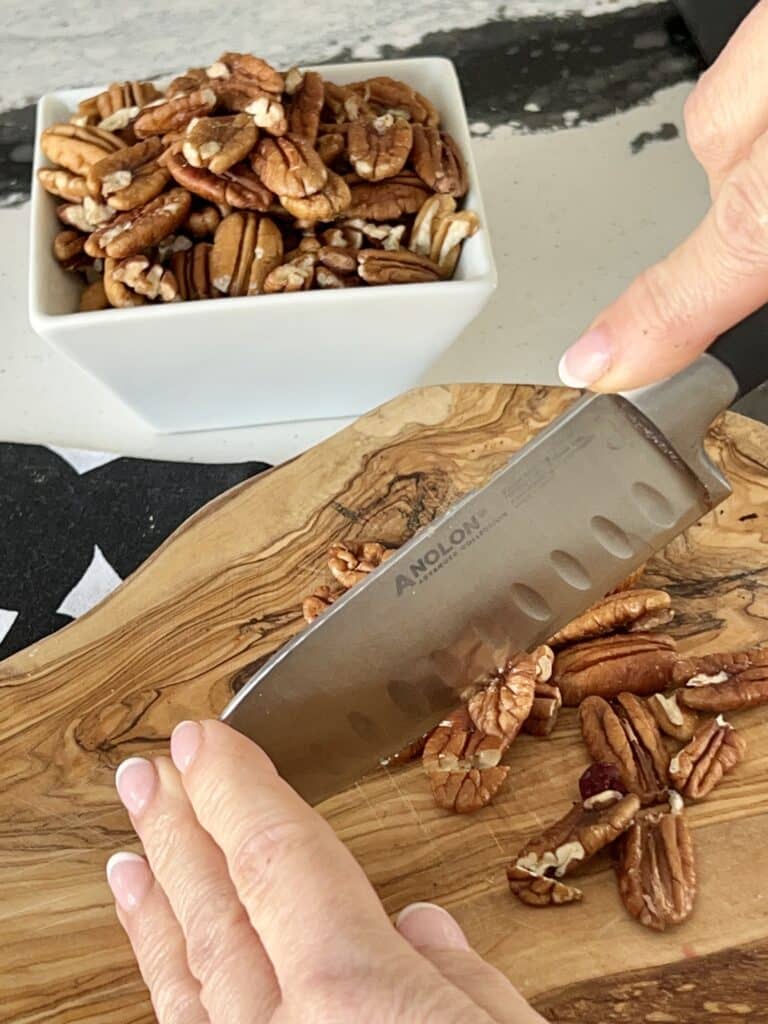 Cream Cheese Bagel Spread with a Twist
Cream cheese is probably the most popular choice for a bagel spread.
Just by adding some honey, spice, and delicious pecans and cranberries, you can turn classic cream cheese into a mouth-watering (and pretty) bagel spread!
My favorite pairing is with a savory sesame bagel! It is just the right combination of sweet, savory, chewy, smooth, and crunchy!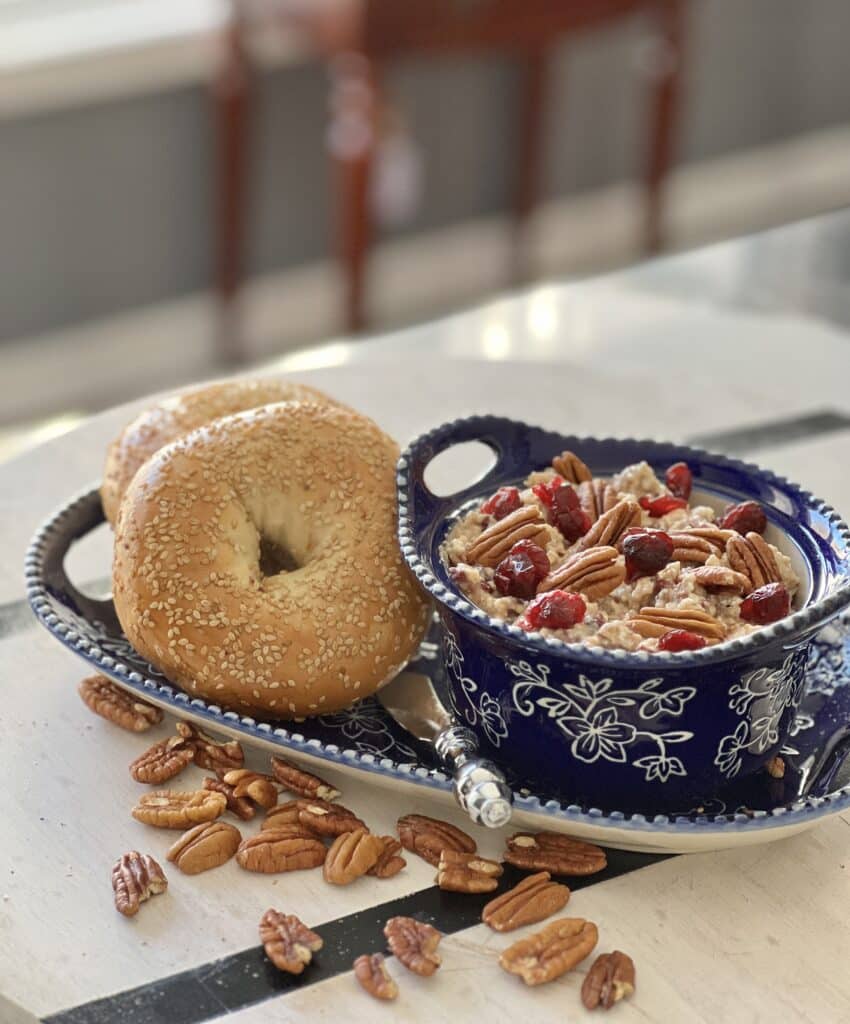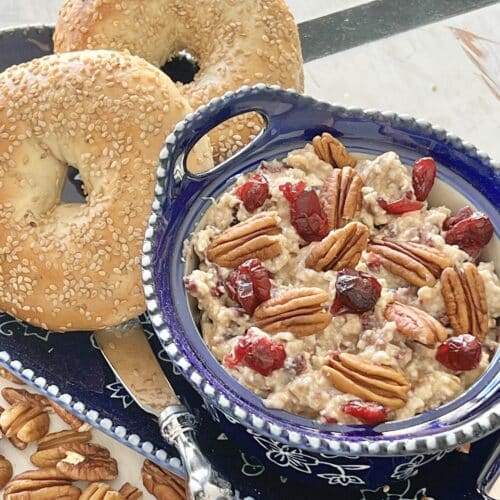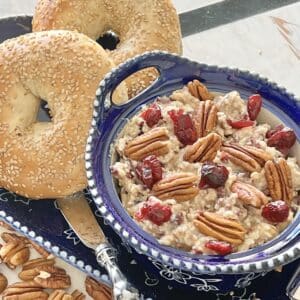 Cranberry Pecan Bagel Spread
This Cranberry Pecan Bagel Spread is just what you need to give a fresh twist to any bagel. Tasty cranberries and crunchy pecans beautifully complement each other, creating a flavor combination that is sure to tantalize your taste buds. It only takes a few minutes to whip up this bagel spread, leaving you with plenty of time to enjoy it!
Ingredients
8

oz.

cream cheese, softened

6

tbsp.

honey

1/2

tsp.

cinnamon

6

tbsp.

dried cranberries, chopped

6

tbsp.

pecans, chopped
Instructions
Mix the cream cheese, honey, and cinnamon.

Add the chopped cranberries and pecans.

Enjoy this with your favorite bagel!
This Cranberry Pecan Bagel Spread is a delicious and unique topping that will take your bagel game to the next level.
Whether you're making it for breakfast, lunch, or just snacking in between – it's guaranteed to provide you with the flavor and satisfaction of a classic, but with a tangy, nutty twist.
Make sure you toast your bagels just right – not too light, or too crispy – for the perfect texture when you spread it on!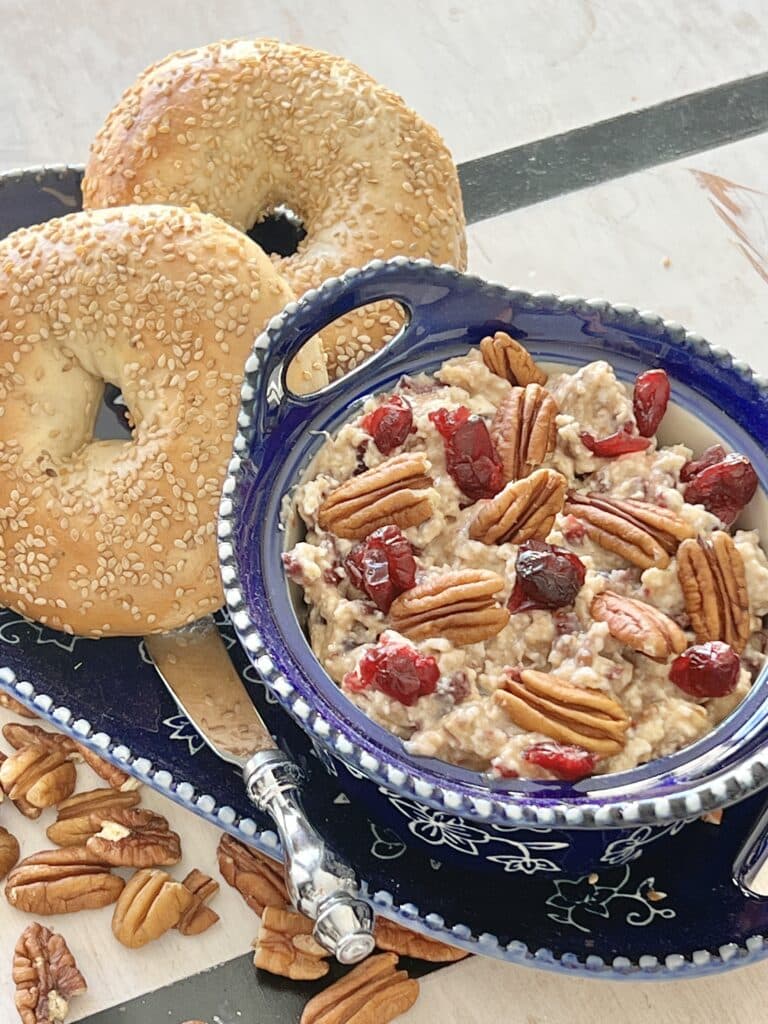 This spread is a hit for any occasion – from breakfast to post-brunch snacking. So grab a bagel, some cranberries, and pecans, and start spreading on the goodness of this scrumptious bagel spread!
Make some Cranberry Pecan Bagel Spread soon and enjoy every single bite of it!
Cheers!

Don't Forget to Pin It!
Pin the image below to your boards on Pinterest (just click the Pin button in the top left corner). You can also follow along with me on Pinterest!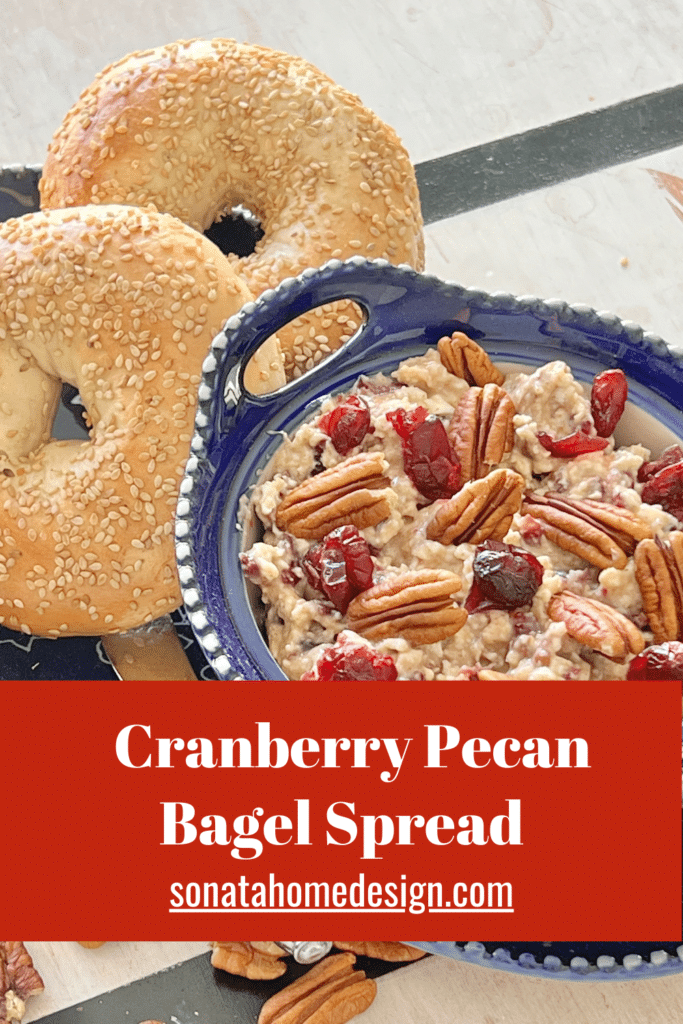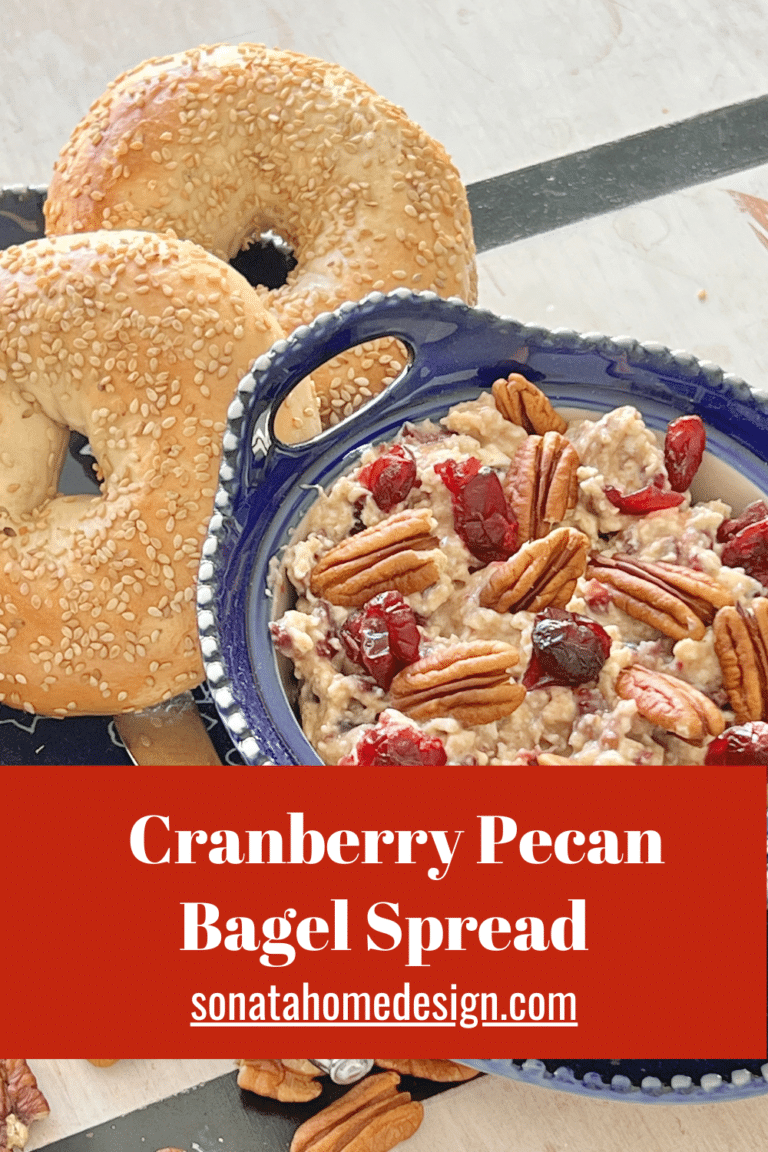 Still Hungry? Try These Recipes!
Easy Buster Bar Ice Cream Dessert Recipe