How to Make Symphony Brownies: Easy and Scrumptious!
Jump to Recipe
Got a big sweet tooth? Follow this easy recipe and learn how to make delicious Symphony Brownies with a candy bar twist!
Ah, brownies – they just scream comfort in every way. They're the perfect indulgence to eat while watching your favorite movie or having family get-togethers with the kids and grandkids. That's why I'm here to show you how to make yummy Symphony Brownies in a cinch! Satisfy your sweet tooth in minutes!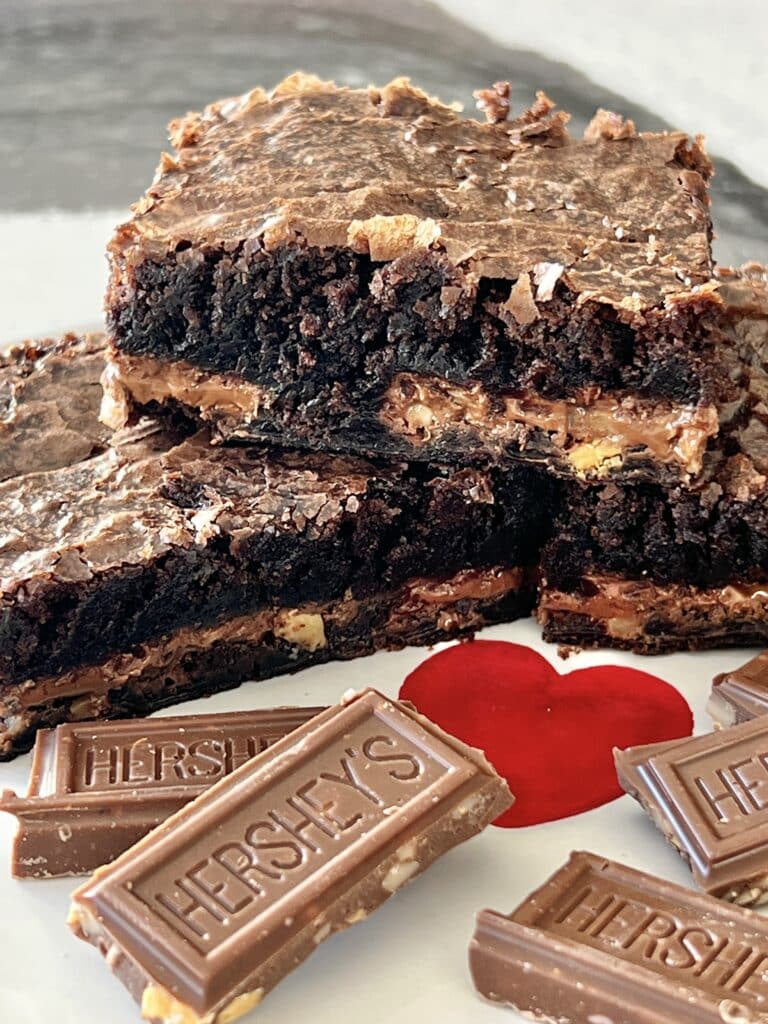 This blog contains affiliate links. This means a small commission is earned if you make a purchase by using this link. The price you pay will be the same whether you use the affiliate link or go directly to the vendor's website using a non-affiliate link. Sonata Home Design is a participant in the Amazon Services LLC Associates Program, an affiliate advertising program designed to provide a means for us to earn fees by linking to Amazon.com and affiliated sites.
Thank goodness for brownies! For they have saved me on more than one occasion!
When my twin daughters would come home from school starving…
…those times when serving a big crowd with lots of kids.
That time I needed to bring a dessert to a potluck…and found out 30 minutes prior!
All those times when my sweet tooth was craving dense, chocolatey goodness!
Who Invented Brownies?
Delicious brownies have been a national favorite since 1893 thanks to a prominent socialite, Bertha Palmer.
As a member of the Board of Lady Managers for the World's Columbian Exposition (that's a mouthful all by itself!), she was looking for a delicious dessert that could be easily transported in box lunches to be served at the Women's Pavillion.
Fortunately, Bertha was able to ask the pastry chefs of her renowned establishment, Palmer House Hotel in Chicago, to create an irresistible treat that could be enjoyed by all—and boy did they deliver!
I owe you one, Bertha!
The Great Symphony Brownie Hack
I give my sister full credit for enlightening me about this brownie recipe.
Actually, I'm not sure if this should be classified as a recipe or just a really great hack.
Its magic has been tasted by many. So often that I think the whole world must make them this way.
But every time I serve them, I get asked for the secret ingredient.
What is this secret ingredient?
Hershey's Symphony chocolate bars!
Milk chocolate, almonds, and toffee. The perfect ingredient to add to brownies!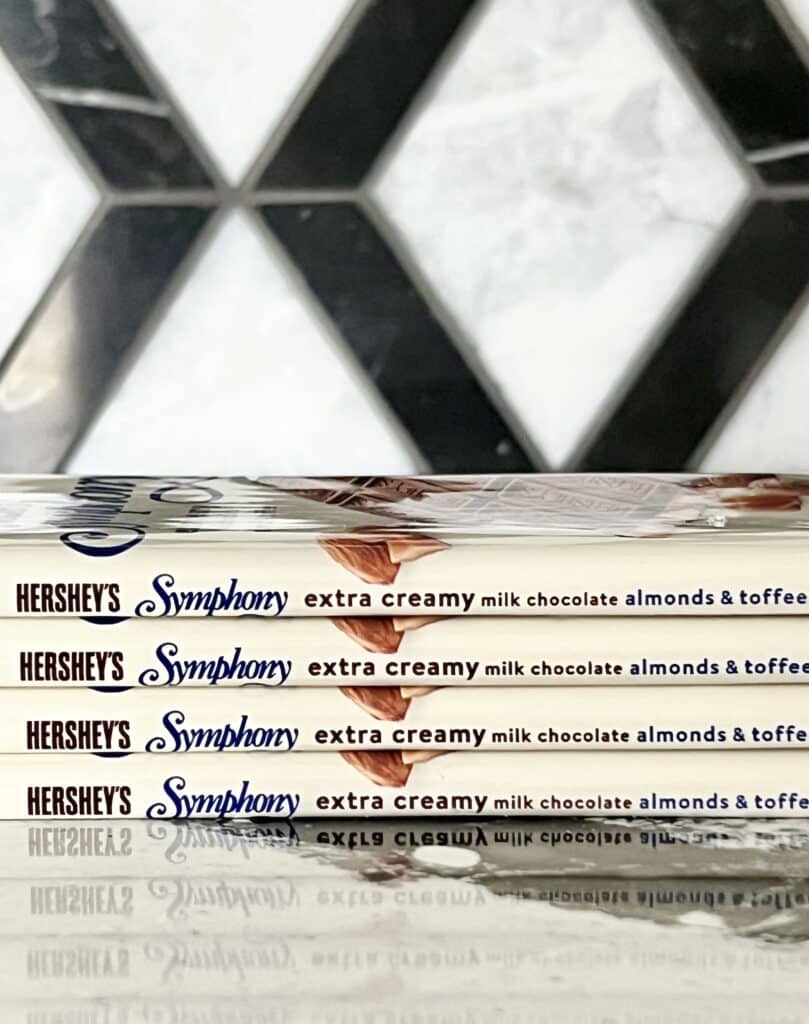 Ingredients for Symphony Brownies
Here is where the "hack" comes in…
All you need is a box of brownie mix, the required box ingredients, and the Symphony bars.
I usually use three large Symphony bars.
But often buy four because I can't help but nibble them!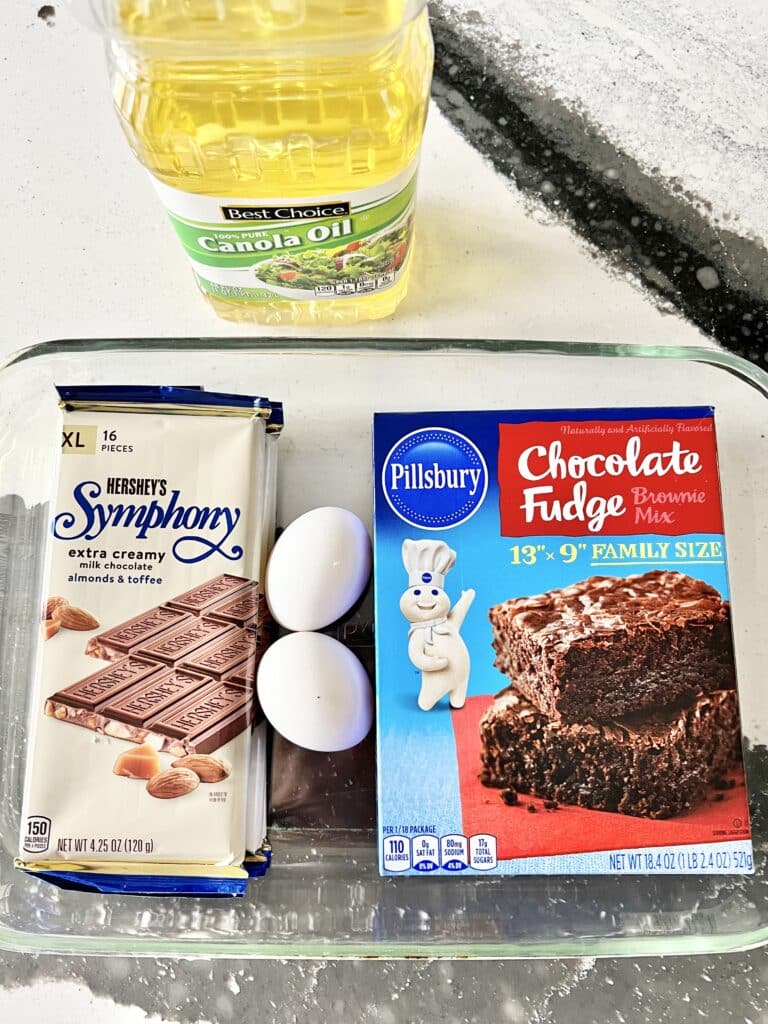 Making the Symphony Bars
Simply follow the directions on the brownie mix box.
I chose a fudge brownie mix and just needed the usual oil, water, and eggs to create the batter.
Mmmm!
Who wants to lick the bowl?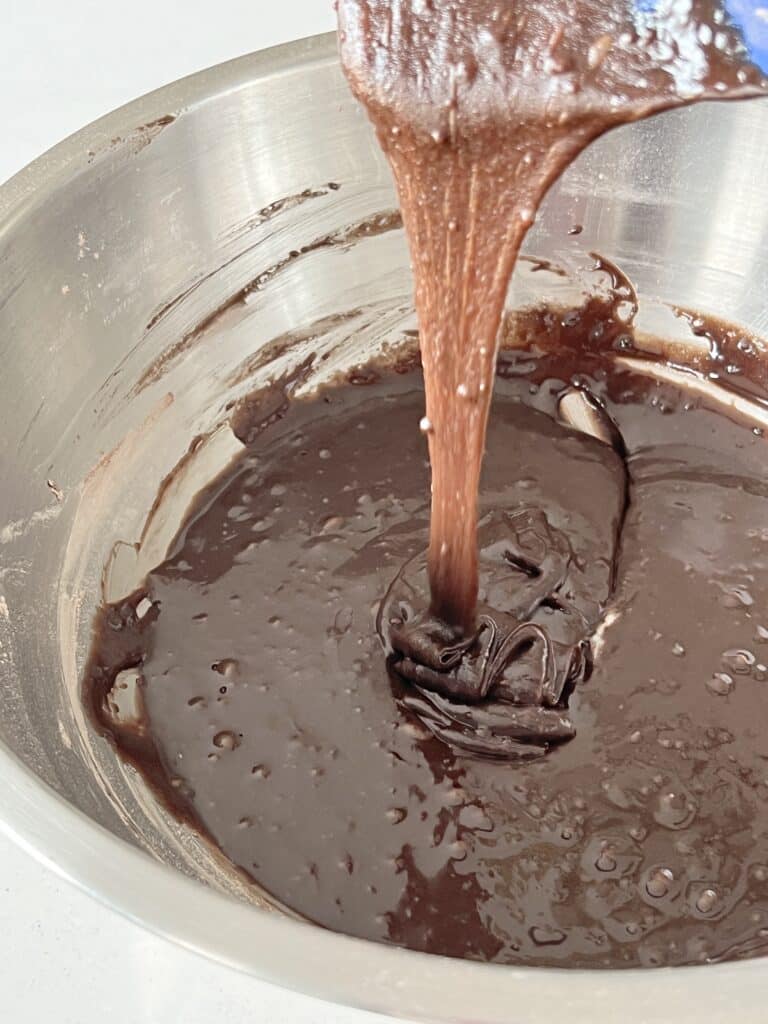 Pour half of the brownie batter into a 9 x 13 baking pan for thin brownies or a 9x 9 pan for thicker brownies.
I love the density of a thinner fudge brownie so used a 9 x 13 pan.
Then, simply lay the chocolate Symphony bars on top!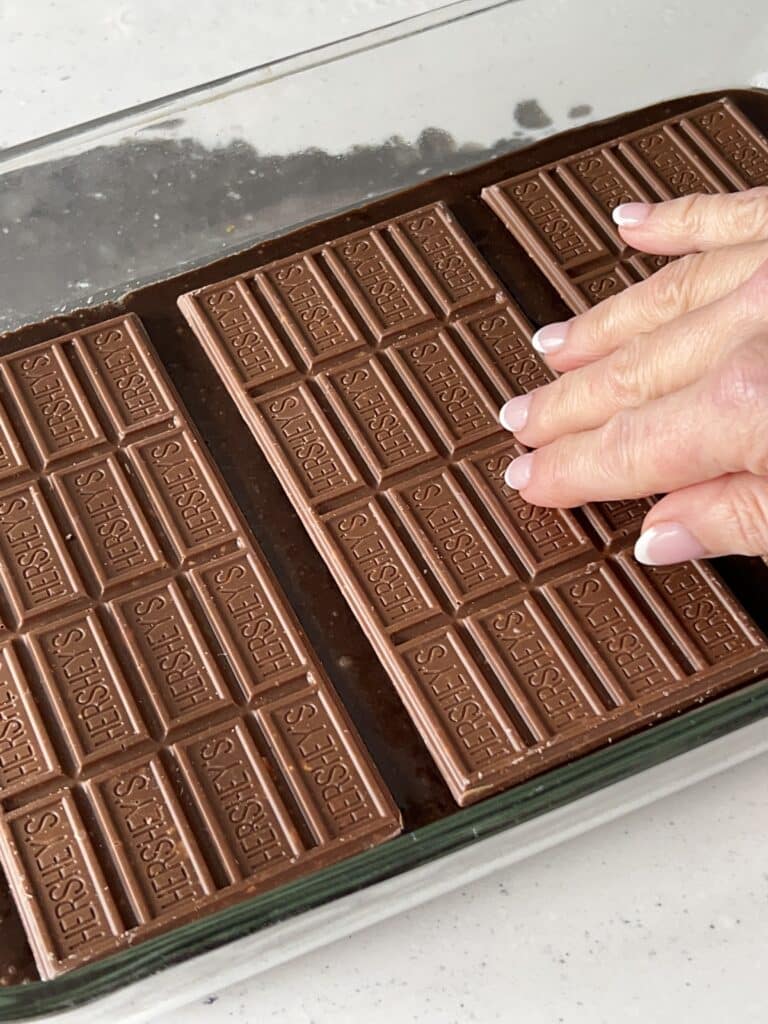 Pour the rest of the batter on top and spread with a spatula to cover the chocolate bars.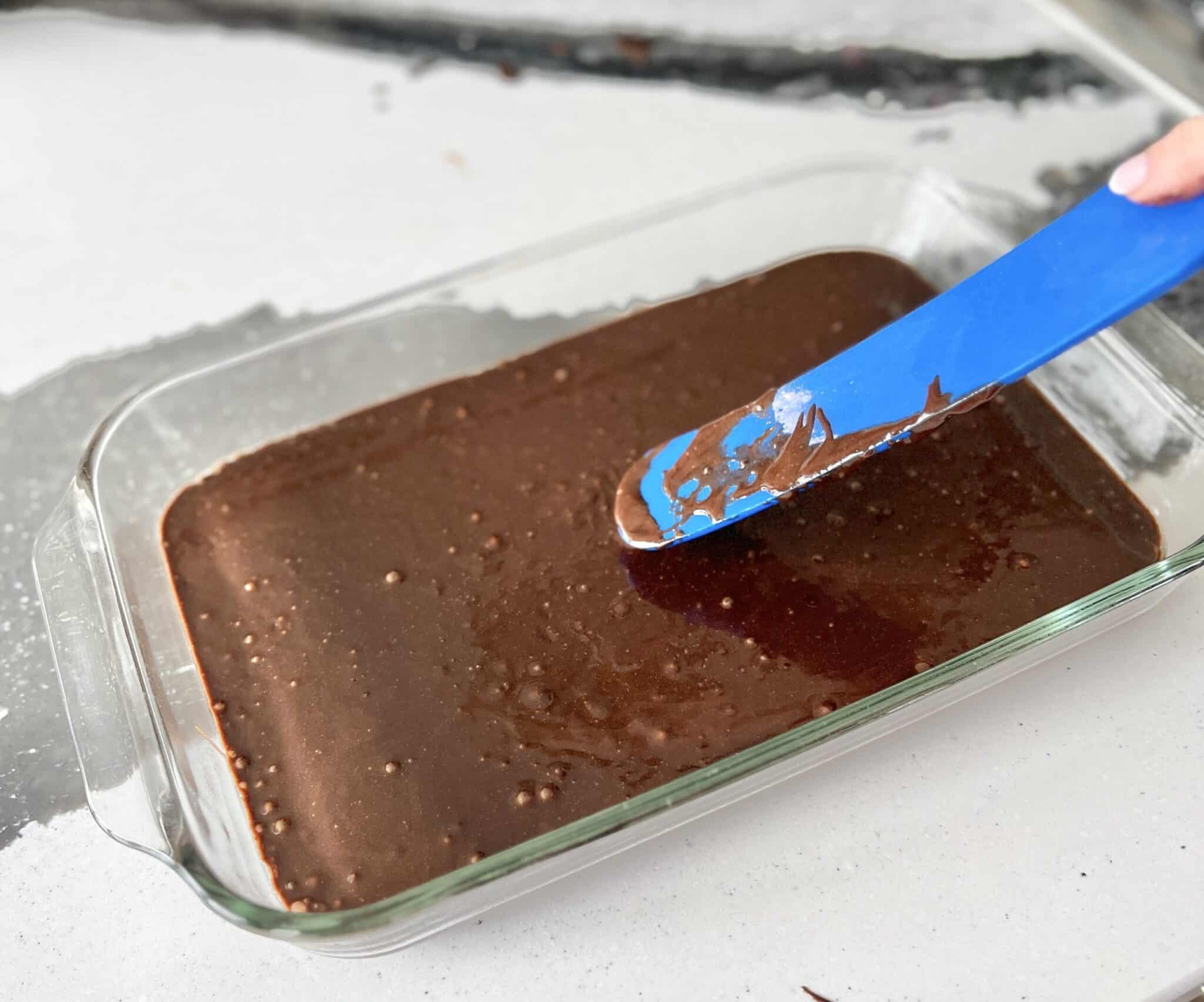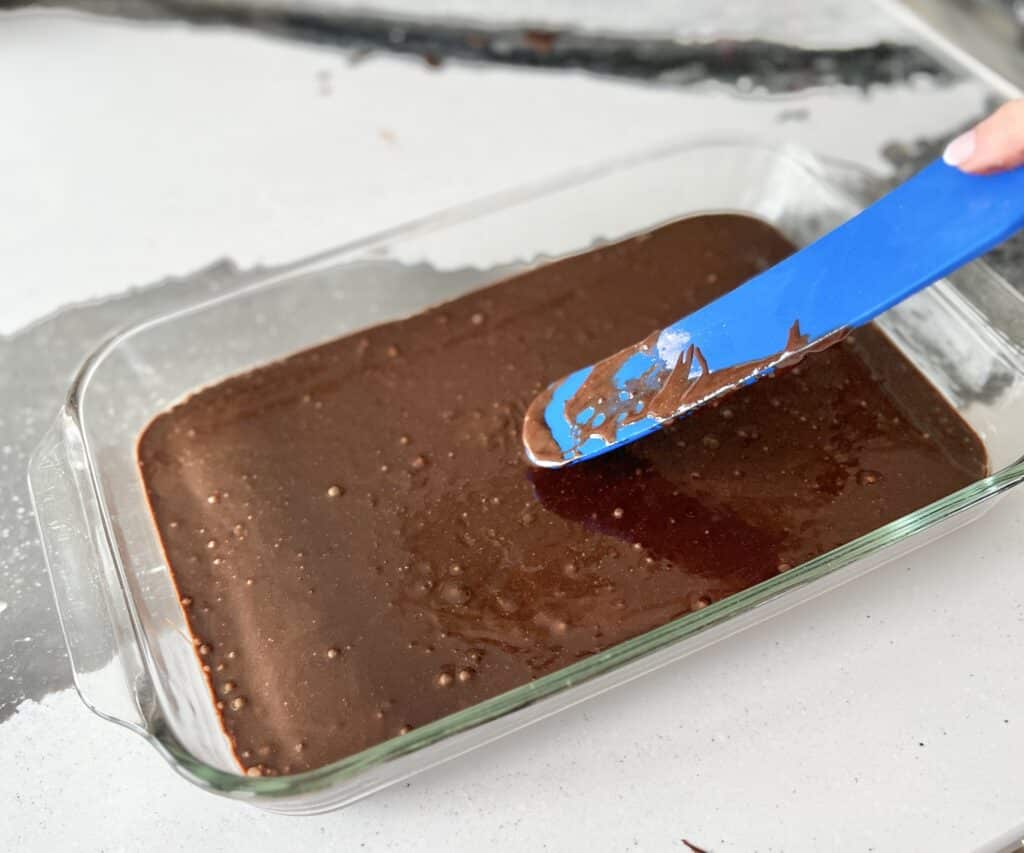 Pop in the oven and follow the instructions for baking on the brownie mix box.
You can cut them into 12 large brownies or 24 small brownies.
Of course, I'm going for large!
You are going to LOVE these!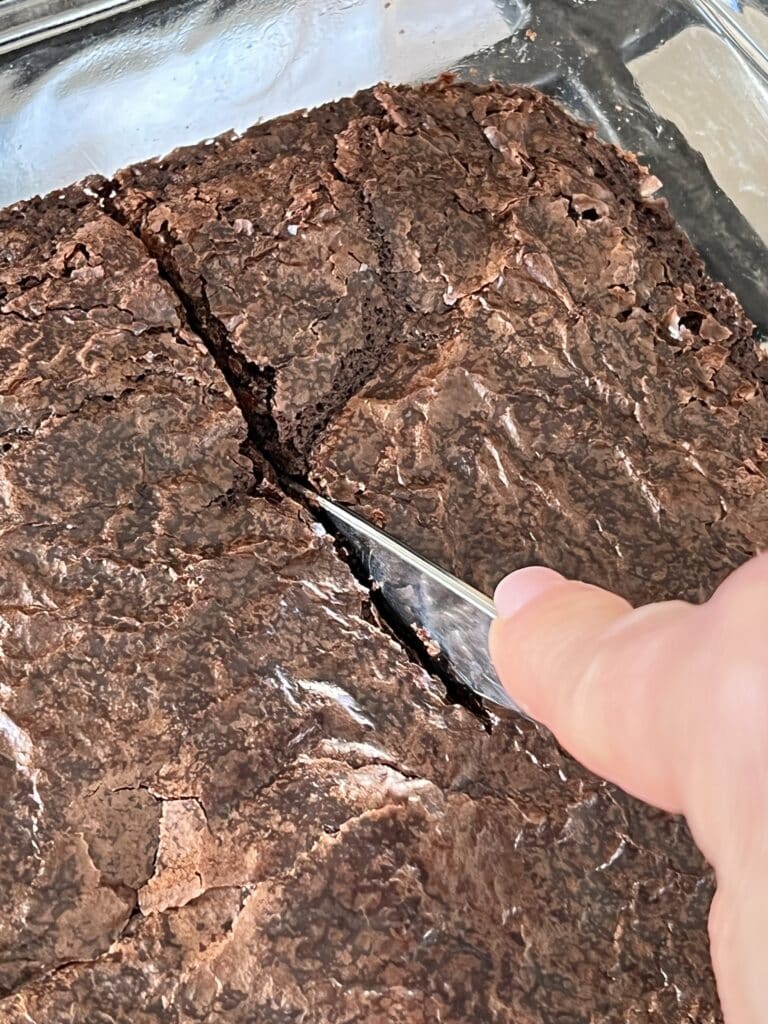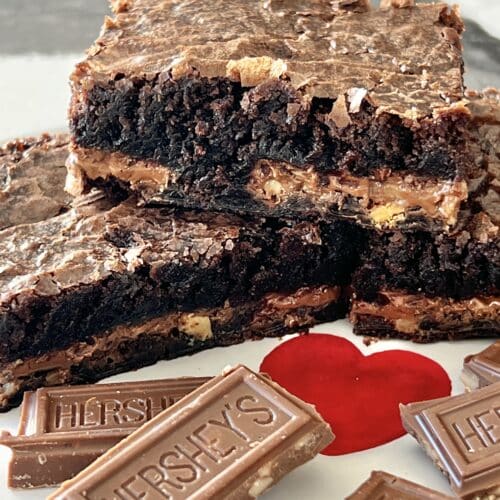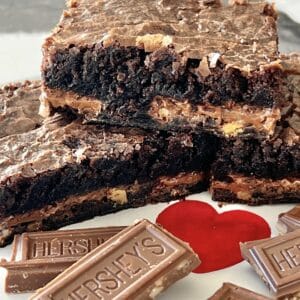 Symphony Brownies
Enjoy an indulgent treat like no other with Symphony bar brownies! With a luxurious layer of chocolate and almond toffee candy in the middle, these thick chewy delights are sure to satisfy your sweet tooth cravings!
Equipment
medium mixing bowl

1 9 x 13 baking dish

1 spatula
Ingredients
1

box

brownie mix

2/3

cup

oil

1/4

cup

water

2

eggs

3

4.25 oz.

Hershey's Symphony Bars
Instructions
Prepare the brownie batter according to the direction on the brownie mix box.

Pour half of the batter into a 9 x 13 baking pan

Layer the chocolate bars on top of the batter.

Pour the remaining half of the brownie batter on top of the chocolate bars.

Bake according to the brownie box instructions.
These are perfect as an after dinner dessert with coffee or as an afternoon pick-me-up with a tall glass of cold milk!
Whether you use a fork or your fingers, the yummy combination of chocolate, almonds, and toffee is the best!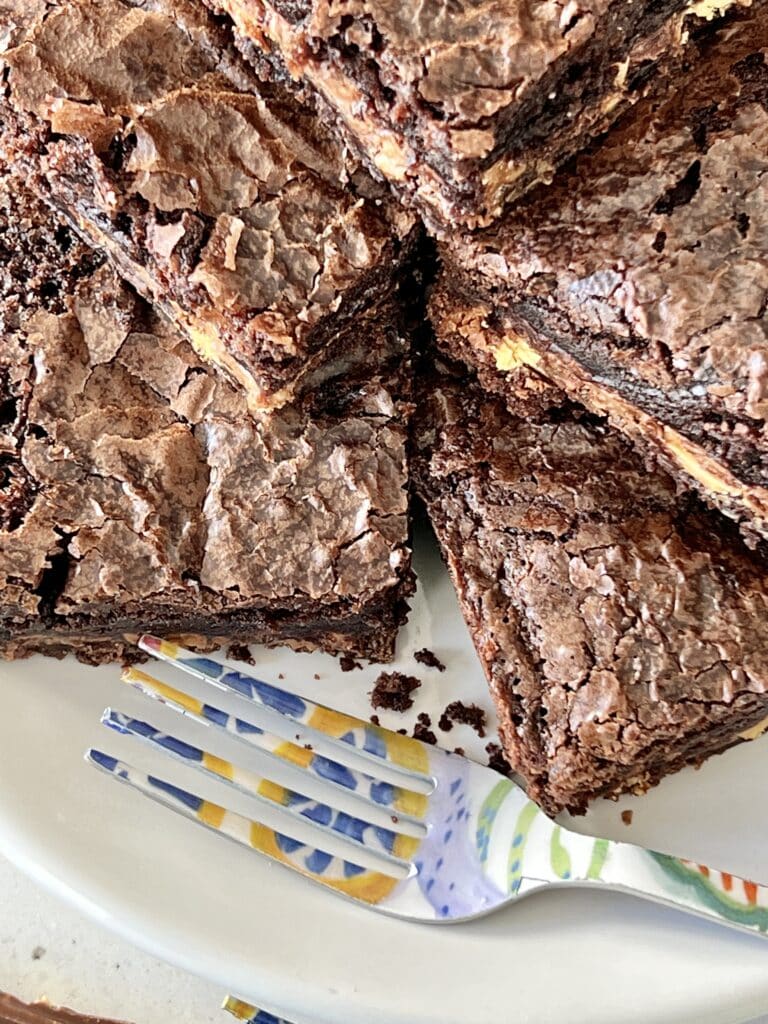 You've now made the yummiest and most delicious brownies your tastebuds have ever experienced!
Your friends, family, and neighbors will almost certainly be coming down the street to ask for a bite when they get a whiff of what you've baked.
Your brownie-making skills are surely off the charts now!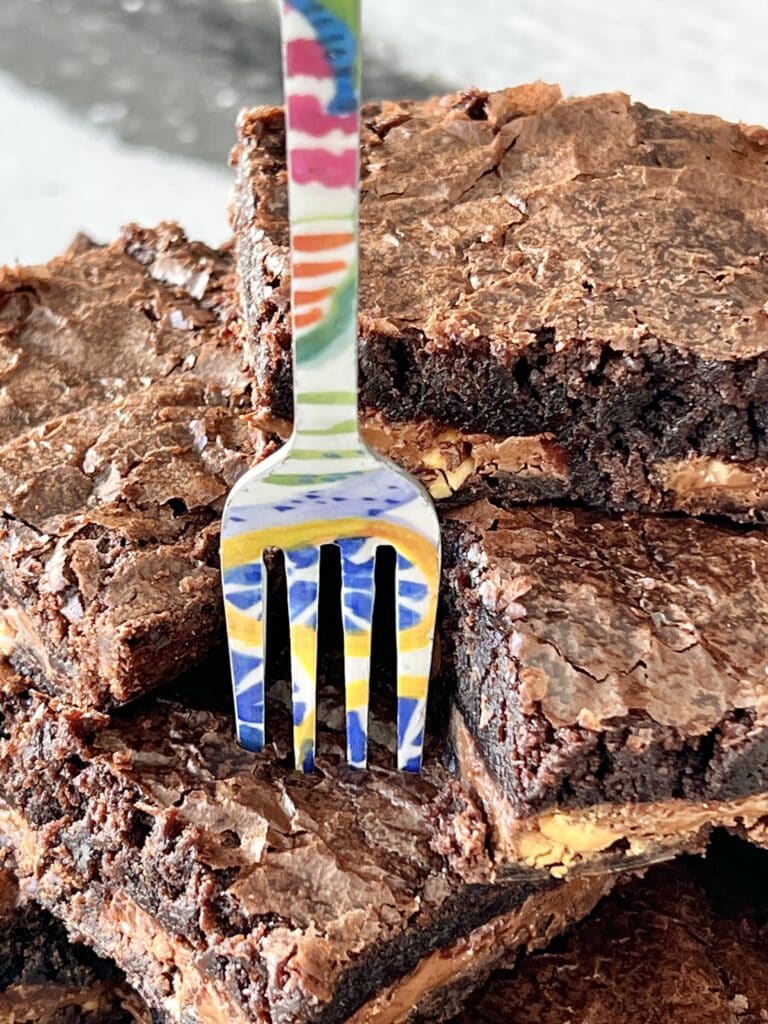 If you want to take basic brownies to the next level of majesty, why not give Symphony brownies a try? They might just make all other desserts jealous!
So BRAVO! Time to serve up something special. These brownies are sure to be a hit!
Cheers!

Don't Forget to Pin It!
Pin the image below to your boards on Pinterest (just click the Pin button in the top left corner). You can also follow along with me on Pinterest!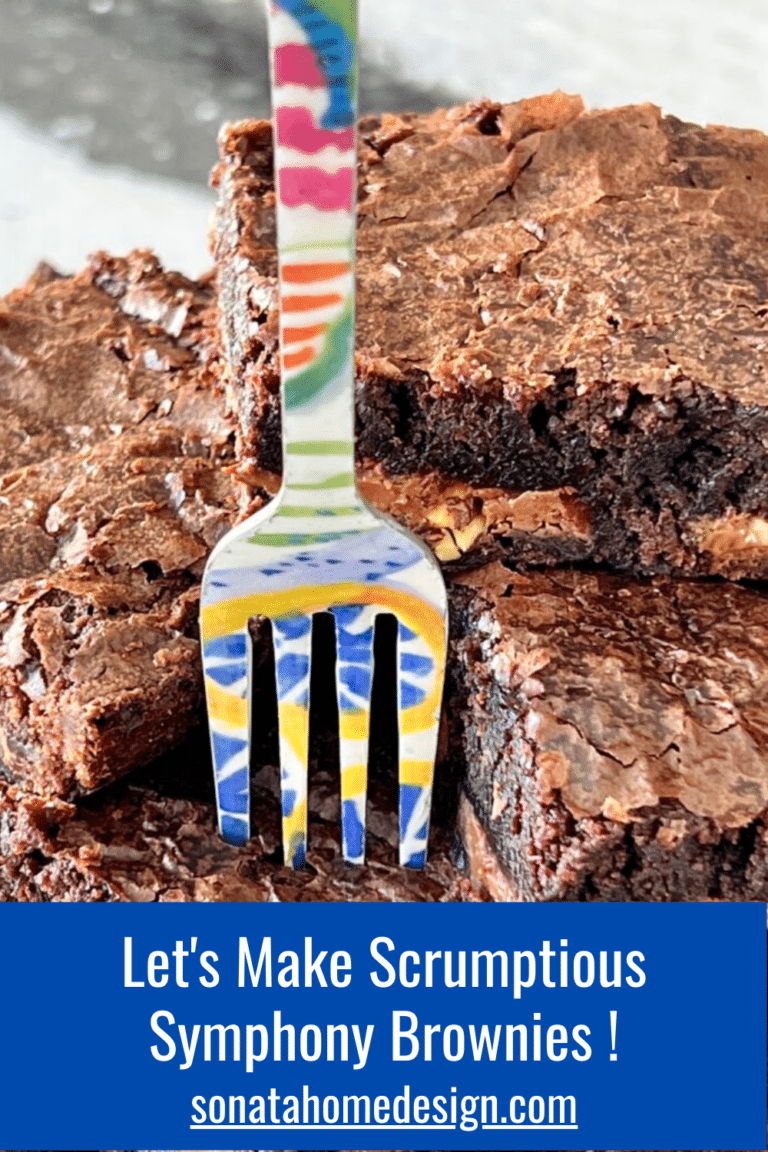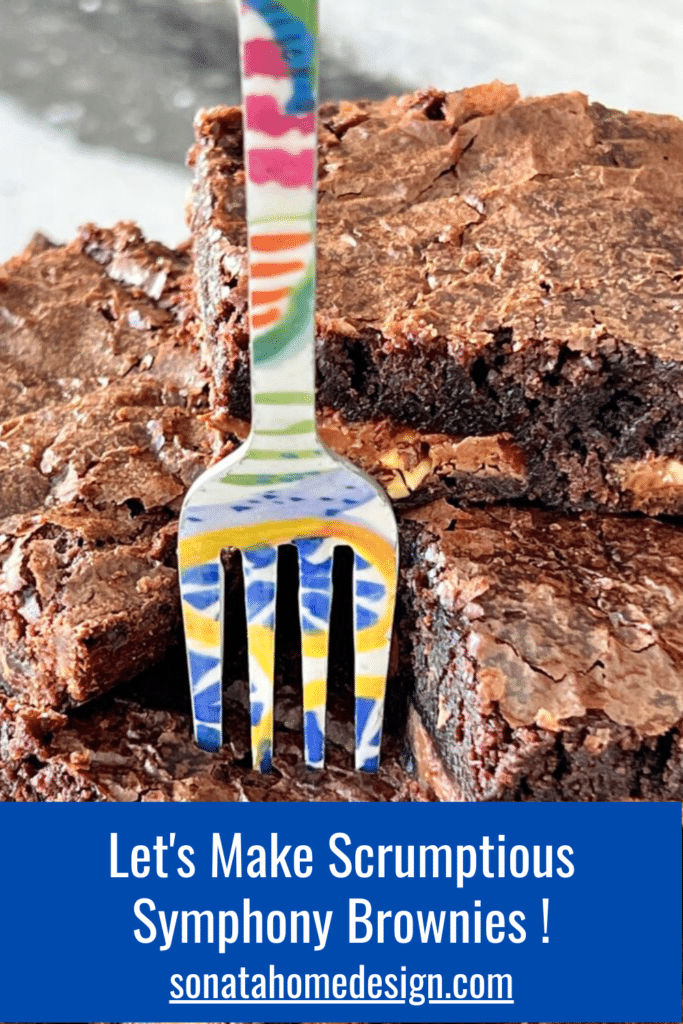 Still Hungry?
Melt-in-your-mouth Chocolate Trifle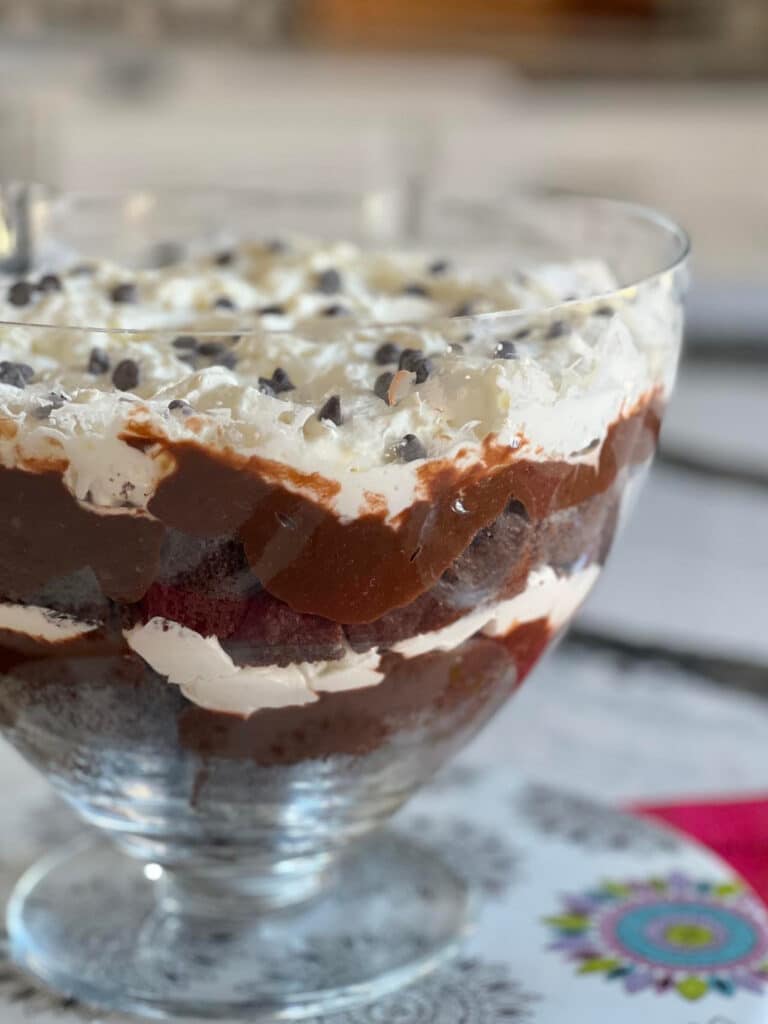 Peanut Butter Corn Flake Cookies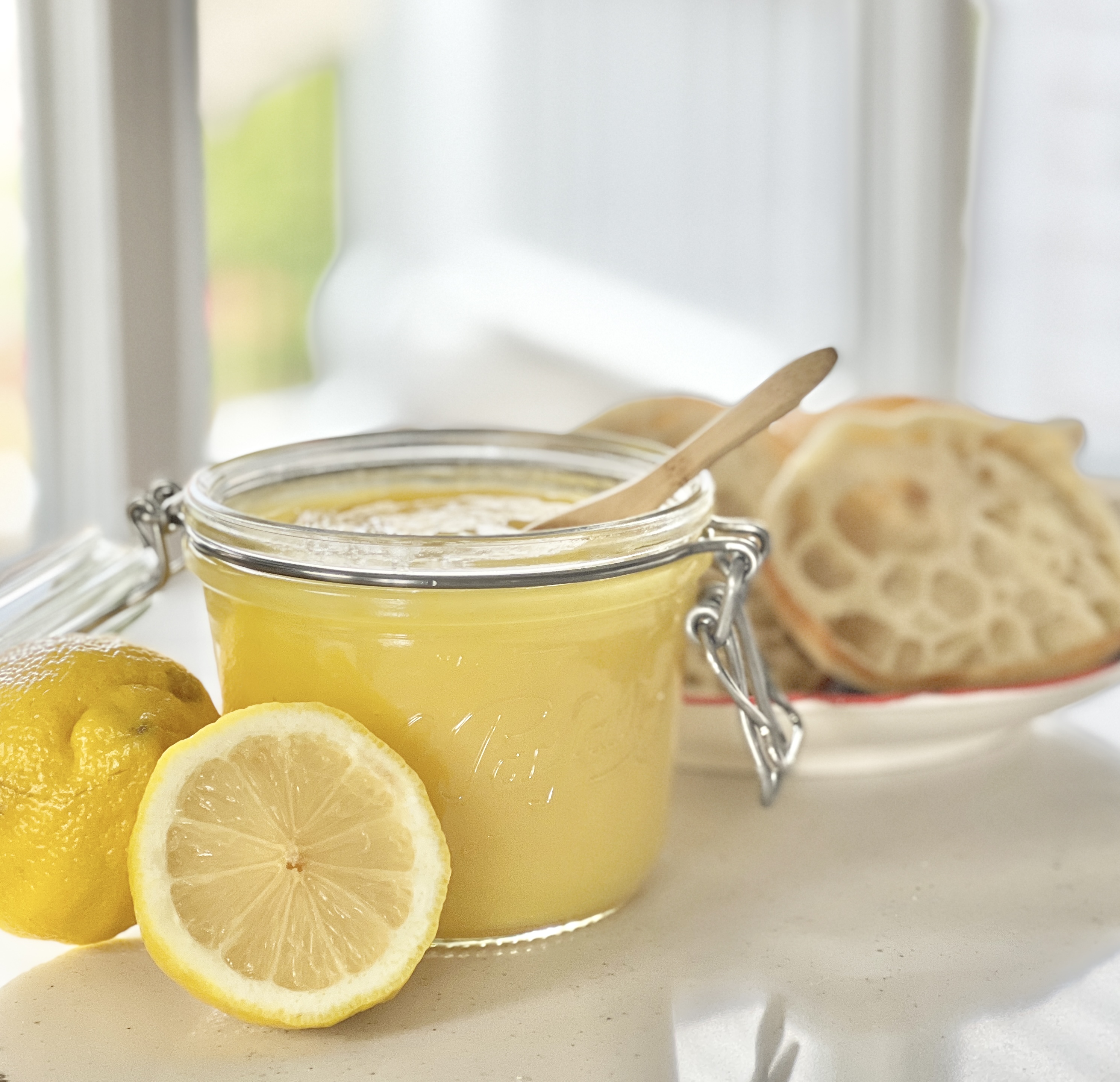 Favorite Things