How to Make a Melt-in-Your-Mouth Chocolate Trifle
Jump to Recipe
Looking for an easy and delicious dessert recipe? This easy chocolate trifle recipe is decadent and delicious – perfect for any occasion!
This show-stopping dessert comes together in a snap and is sure to be the talk of any dinner party. So get ready for ooey-gooey layers of decadence that will have guests cleaning their plates and begging for seconds (or thirds!)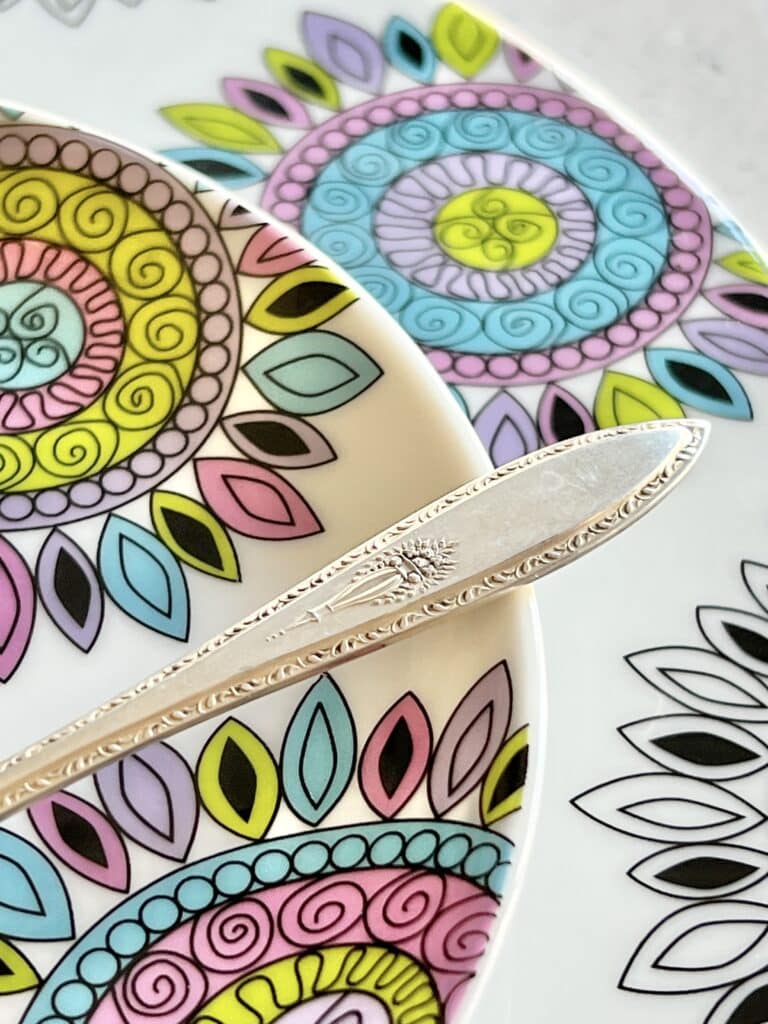 This blog contains affiliate links. This means a small commission is earned if you make a purchase by using this link. The price you pay will be the same whether you use the affiliate link or go directly to the vendor's website using a non-affiliate link. Sonata Home Design is a participant in the Amazon Services LLC Associates Program, an affiliate advertising program designed to provide a means for us to earn fees by linking to Amazon.com and affiliated sites.
Sweets are a bit of a ritual with me…rituals that are tied to wonderful memories and people that I love.
I remember my mother's snickerdoodles, sitting warm and cinnamon-y as they were set out to cool. They were such a treat when I walked in the door after school!
My twin daughters' birthdays were always my signal to spend hours on a decorated, sugary character cake…one for each daughter!
Special sugar cookies baked on the first day of school…
A chocolate orange in the bottom of a Christmas stocking…
Lindor chocolates given to me by my husband…
We all have our favorite dessert memories!
A decadent chocolate trifle was my go-to dessert to make for one of my daughters. It was, and is, one of her favs.
I haven't made it in a while and was reminded of it when I read my friend, Susan's recipe for Chocolate Ricotta mousse on her blog, Hen and Horse Design. So good!
I'm so excited to share my Chocolate Trifle with you!
What is a Trifle?
England's beloved trifle has been around since the 18th century, delighting people with its three or four layers of deliciousness.
Their version consists of a delightful combination of fruit, sponge cake soaked in alcohol, and creamy custard all topped off – if you're lucky! – by some more fruit or homemade jelly!
The American version? They can have layers of fruit but, in true American fashion, often have less fruit and more chocolate!
This classic dessert is typically served in the iconic round trifle bowl.
All the better to see all those luscious layers!
What is a Trifle Bowl?
Clear and round, a trifle bowl showcases the beautiful layers of the classic trifle dessert.
Often with a glass stem adding balance – trifle bowls filled with creamy and crunchy layers are as pleasing to look at from below as top-down!

How to Make a Chocolate Trifle
This is easy.
As in… if you can read the directions on a box…that easy!
It starts with a box of brownie mix and a box of instant pudding mix.
Some milk for the pudding mix…easy!
As some family members are lactose intolerant, I used almond milk instead of regular milk. When making this substitution, use 2/3 of the amount called for. (Ex: The directions on the box of instant pudding called for 3 cups of milk. I used 2 cups of almond milk and it set up beautifully.)
A couple of eggs, a little oil, and a little water for the brownies.
Told you…easy!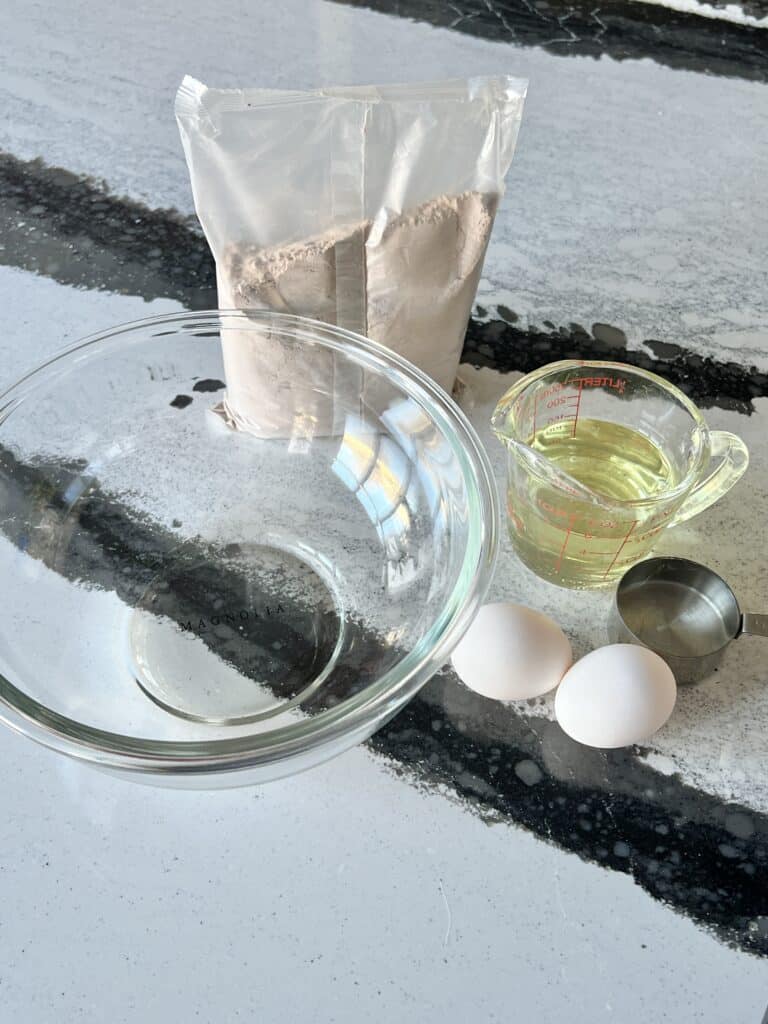 You can choose any type of brownie mix you want.
Milk chocolate, dark chocolate, chocolate fudge…
Don't you just love cutting into a pan of freshly baked brownies?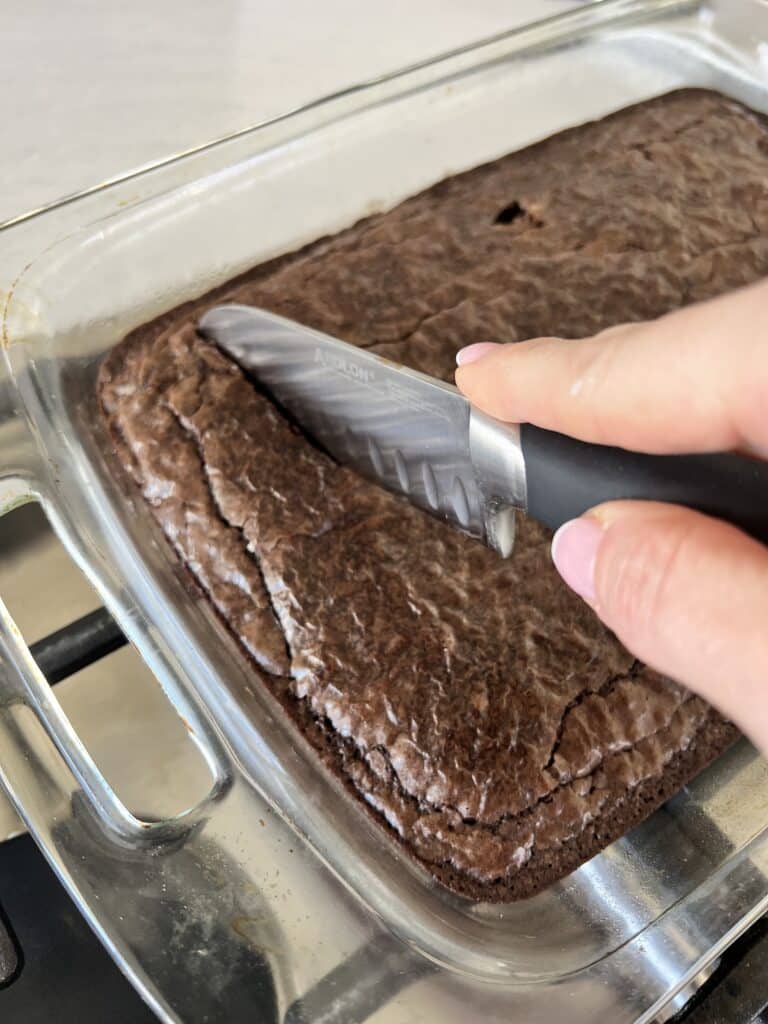 The Luscious Layers of a Chocolate Trifle
The beauty (and yumminess) of a chocolate trifle is in the layers!
The brownies are the first layer followed by a layer of pudding.
Then, a delicious cream cheese layer!
While I love chocolate overload, adding this cream cheese layer gives the trifle added flavor and texture.
And then there is the cookie layer!
My recipe calls for crushed sandwich cookies.
Let's be honest…its the heavenly taste of Orea cookies!
I usually crush them in a plastic bag but this time I was out of bags.
Instead, I placed the cookies between two sheets of wax paper on a baking sheet and proceeded to take out my aggression with a rolling pin.
Voila! Broken cookies!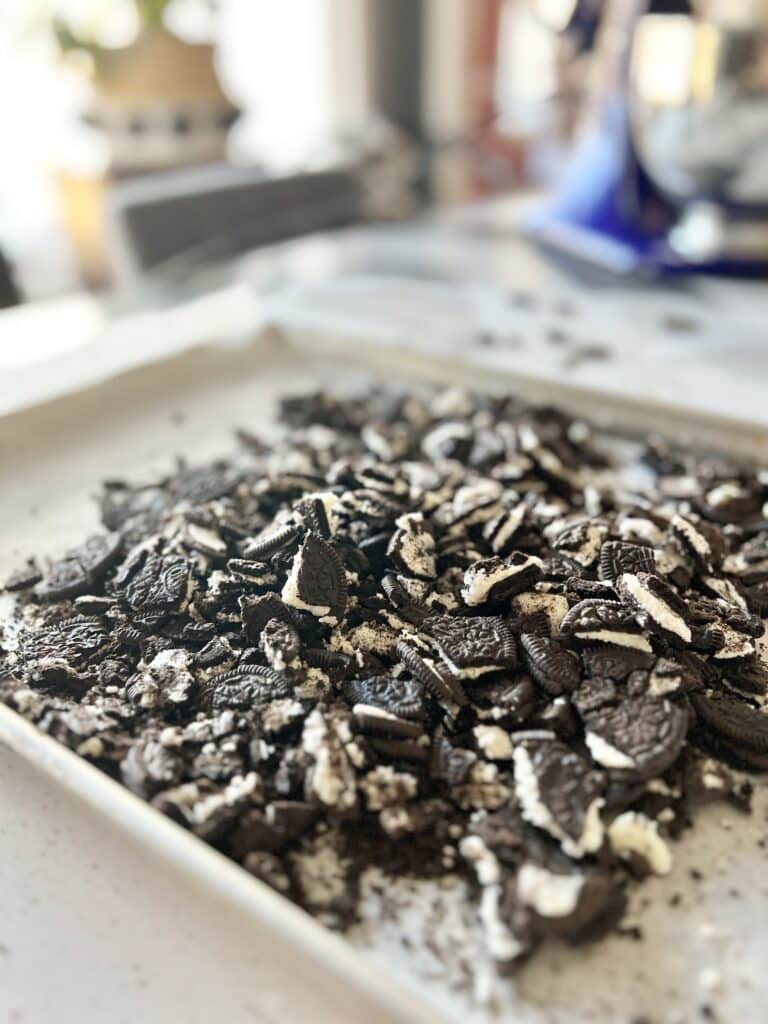 Assembling the Chocolate Trifle
There are four layers…doubled!
Start first with a layer of brownies. I like to cut mine up into smaller chunks and toss them in.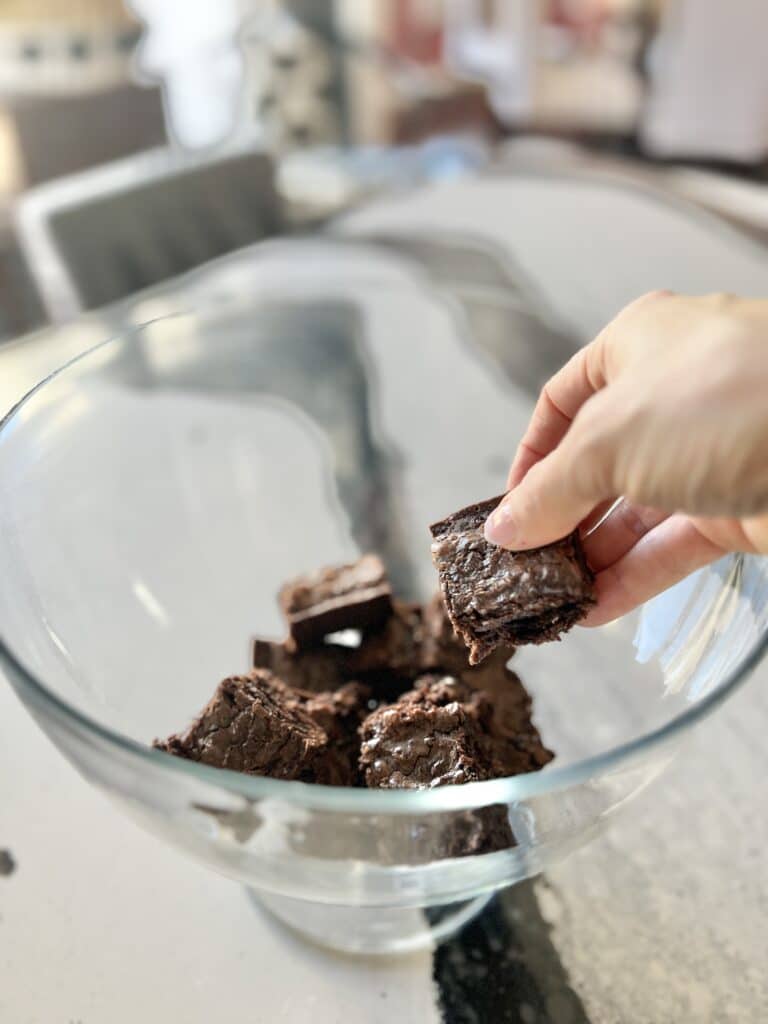 The next layer is half of the pudding mixture…
…followed by half of the broken cookies…
…followed by the cream cheese mixture.
Repeat all those lovely layers!
They don't need to be perfect layers.
In fact, the trifle is even better when the different layers mingle and invade each other's territory!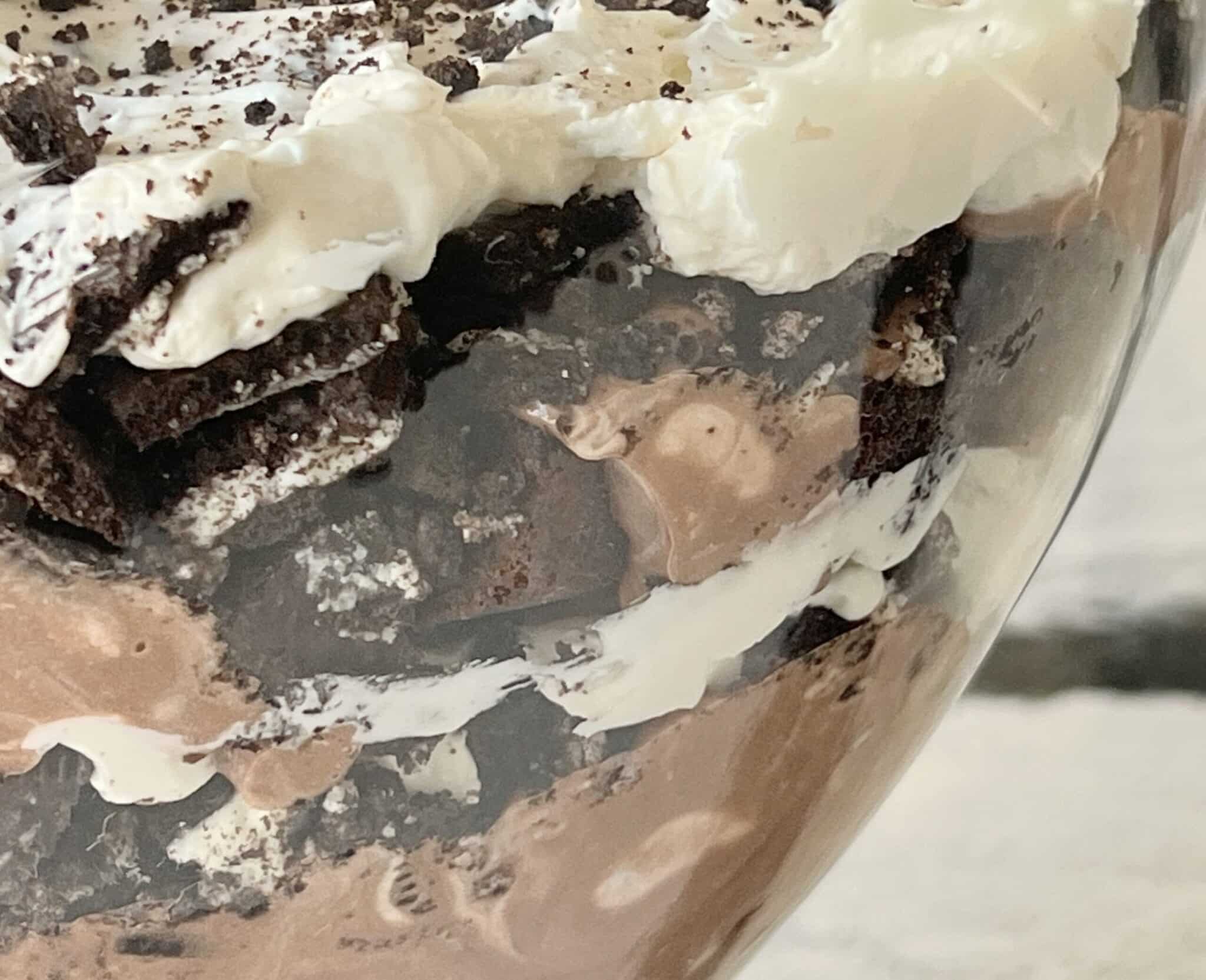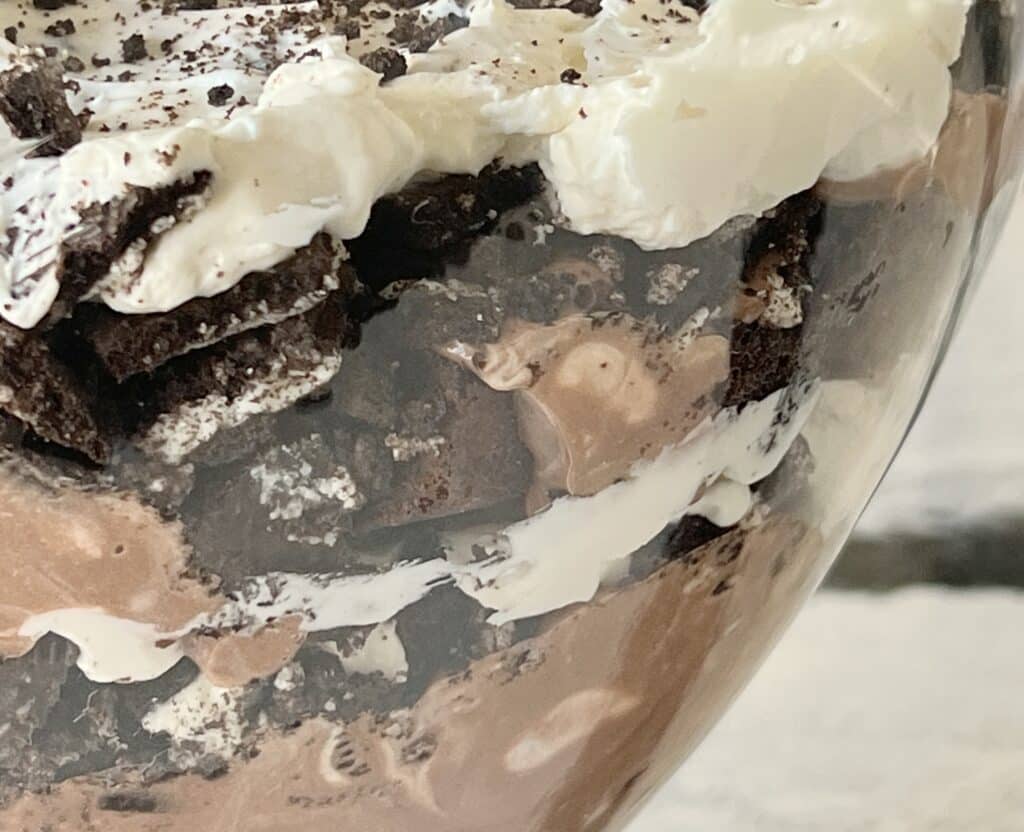 Some mini chocolate chips sprinkled on top of the trifle are the crowning touch!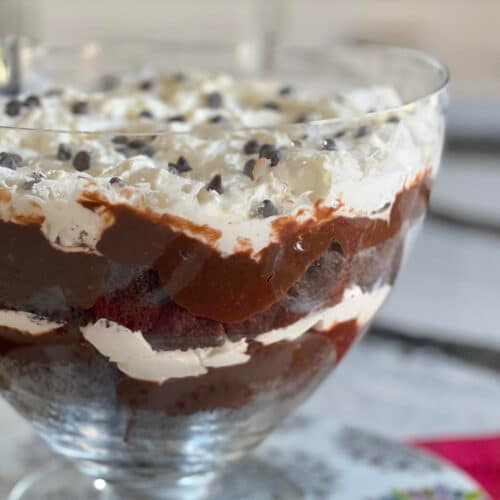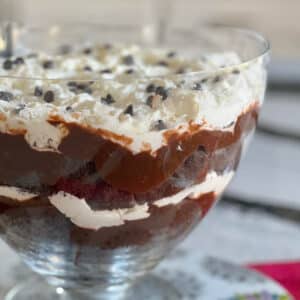 Melt-in-Your-Mouth Chocolate Trifle
This delicious and decadent chocolate layered dessert is easy to make with box mixes and a yummy cream cheese mixture. Create this chocolate work of art in a glass trifle bowl so you and your guests can see all the lovely, luscious layers!
Equipment
2 Mixing Bowls

1 9 x 13 baking pan

1 Stand Mixer

1 Trifle Bowl

2 Rubber Spatulas
Ingredients
1

20 oz. box

dark chocolate brownie mix

1

large

egg

1/2

cup

canola or vegetable oil

1/4

cup

water

1

5.9 oz. box

instant chocolate pudding

3

cups

milk (2 cups if using almond milk)

1

8 oz. pkg.

cream cheese, softened

1/4

cup

granulated sugar

2

cups

heavy cream

2

tsp.

vanilla

1

14.3 oz. pkg

Oreo cookies

1/8

cup

chocolate chips
Instructions
Preheat the oven to 325°. Lightly grease a 9-by-13-inch baking pan. Prepare the brownie batter according to the package directions using the egg, oil and water. Spread the batter into the pan and bake 18 to 22 minutes. Set aside and let cool the brownies completely. 

 Prepare the pudding according to package directions using the milk. Chill for at least 30 minutes.

Beat the cream cheese and sugar on medium-high speed in a mixer with a whisk attachment until smooth and fluffy…aboutg 3 to 4 minutes. Reduce the speed to medium and gradually add the heavy cream and vanilla. Beat 1 to 2 minutes or until the cream is whipped and well combined with the cream cheese.

Fold about 1 cup of the cream mixture into the pudding. 

Cut the brownies into small pieces about 1 inch by 1 inch. Place the chocolate sandwich cookies in a large zip-up bag and coarsely crush the cookies using a rolling pin. 

Arrange half of the brownies in an even layer in a 4-quart trifle dish. Layer with half of the chocolate pudding, half of the cookie pieces and half of the remaining whipped cream cheese. Repeat the layers one more time. Let sit in the refrigerator for up to 24 hours and let the flavors meld.

Sprinkle chocolate chips on top of the trifle and eat within 48 hours of making. Serve and enjoy!
Serving the Chocolate Trifle
Time to pull out your special dessert plates, your grandmother's passed-down dessert bowls, or a pretty, patterned paper plate!
Or, how about this?
Serving the chocolate trifle in martini glasses! It is such a fun and unique way to enjoy this yummy dessert!



I chose to set the dessert-filled martini glasses on small dessert plates and bring out my grandmother's vintage silver spoons.
Bonus: You can dish up the dessert ahead of time and have it waiting in the fridge until after dinner.
Unless you want to eat dessert first!
Make every meal count and use those special serving pieces that are tucked in your cabinet!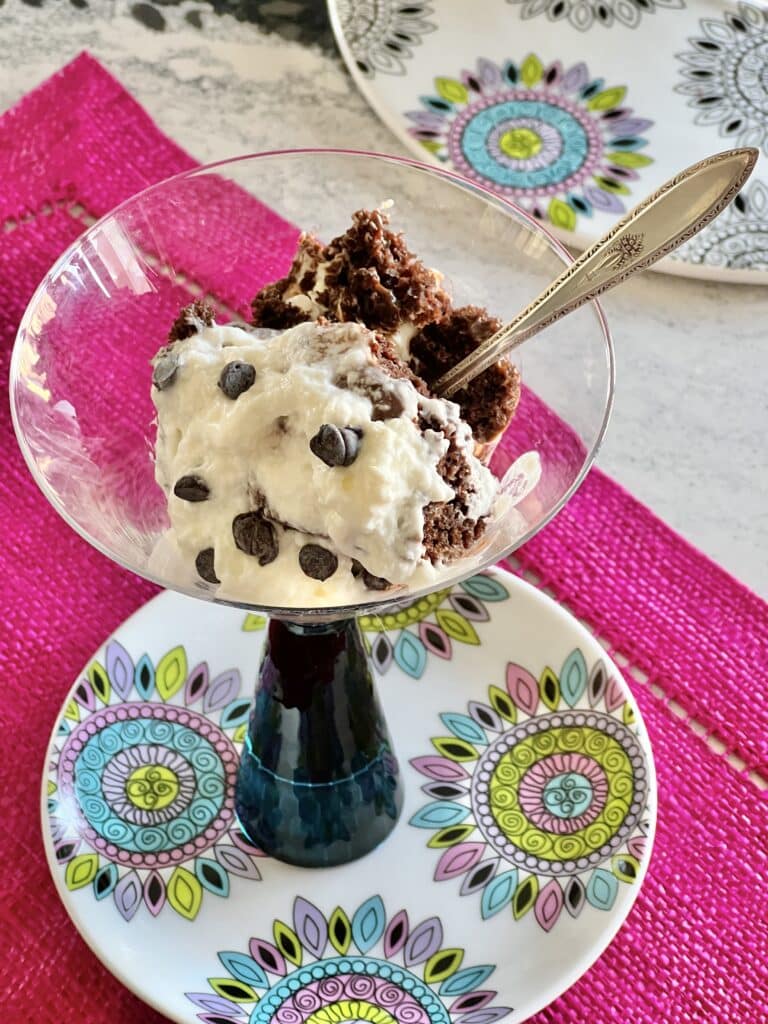 Creamy and crunchy layers are the perfect sweet combination!
I promise…you will want seconds!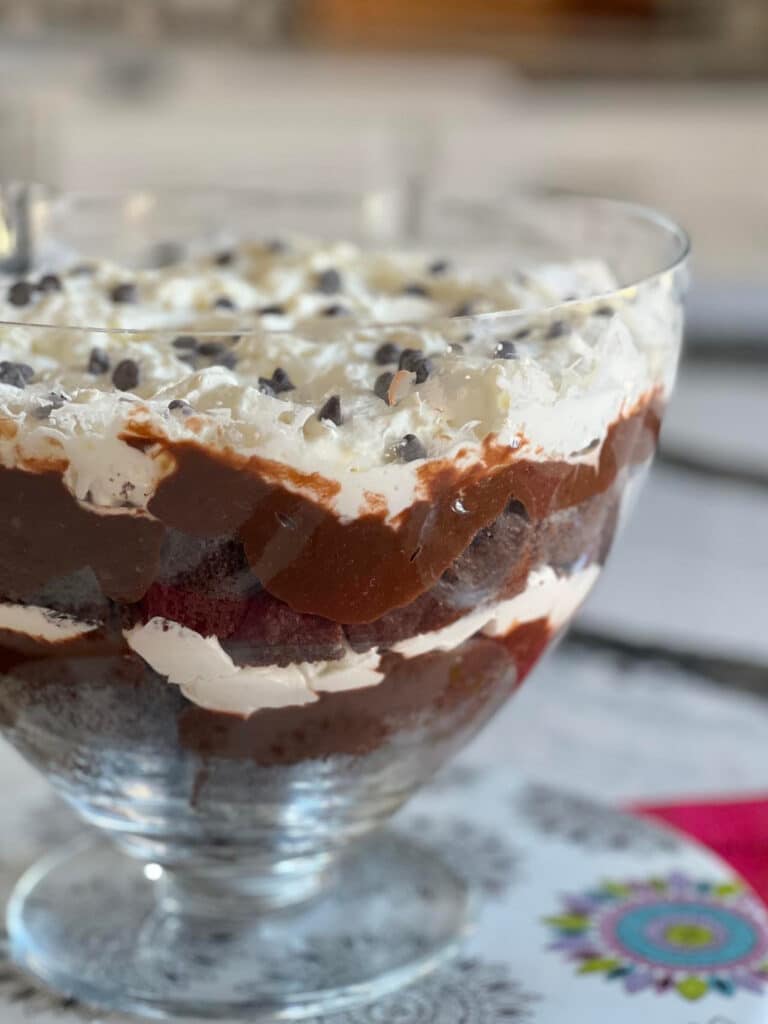 All in all, making a chocolate trifle isn't as intimidating or challenging as it might seem! It's a simple and delicious dessert you can make for special occasions, or just for any day of the week. . As the saying goes, "Life is short, eat desserts first."
Just think of all the delicious layers of chocolate cake, custard, whipped cream, and chocolate shavings…yum! So what are you waiting for? Get in the kitchen and whip up a Chocolate Trifle today!
Cheers!

Still Hungry?
Don't Forget to Pin It!
Pin the image below to your boards on Pinterest (just click the Pin button in the top left corner). You can also follow along with me on Pinterest!