Jump to Recipe
Love lemon curd? Learn how simple and easy it is to make this classic homemade lemon curd with these step-by-step instructions! Pucker up!
This recipe is easy to make and requires just a handful of ingredients. Plus, it's perfect for topping pancakes, waffles, and other sweet treats. So why not give it a try? Your taste buds will thank you!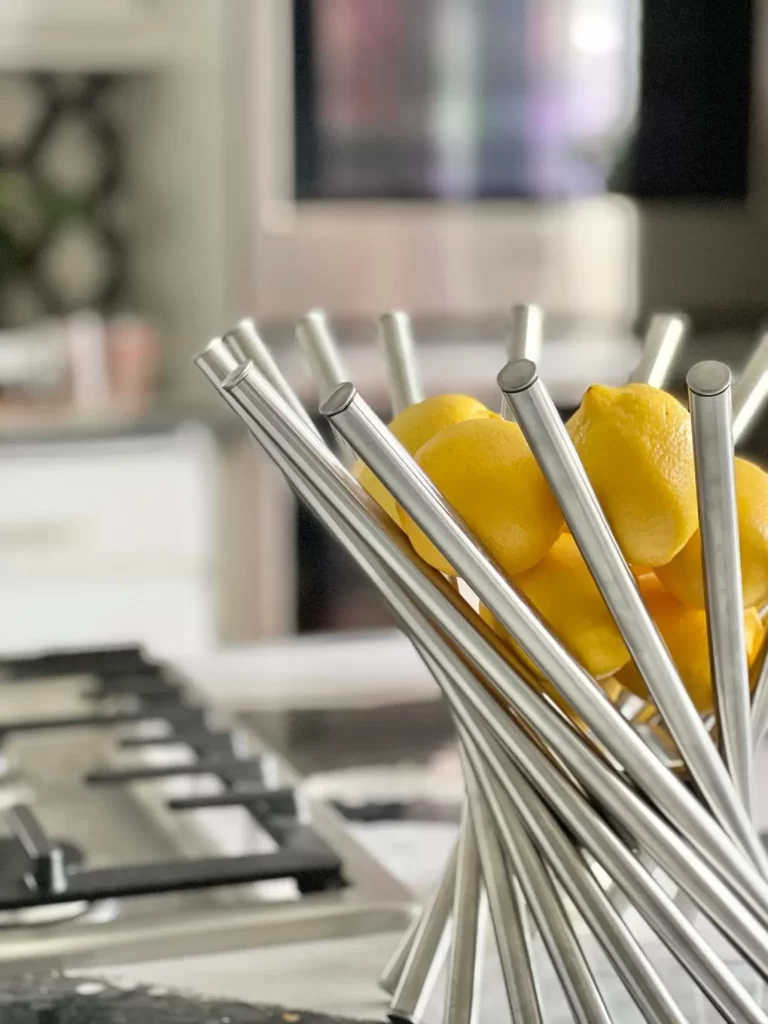 Are you a lemon lover like me?
As a child, I remember sharing half a lemon with my mother.
It was so fun to "drink" the juice from the lemon and then involuntarily squish up our faces.
We would try to see who could make the silliest face as we bravely slurped the sour!
Obviously, lemons are so tart and acidic, but also refreshing. And what's better than a nice lemon dessert?
Lemon curd is one of my favorite things to make any time of the year because it's bright, tastes fantastic, and makes the kitchen smell amazing.
I'm going to share how to make your own from scratch. It's really easy and much cheaper than buying it from the store!
Is Lemon Curd the Same as Pie Filling?
These two yummy treats are both lemon-flavored, but that's where the similarities end, my friend!
Lemon curd is a rich, creamy mixture made from lemon juice, sugar, and eggs. It's often used as a filling for tartlets or as a spread for scones or toast.
Pie filling, on the other hand, is a thickened mixture of fruit (usually lemon) and sugar that's cooked until it's thick enough to hold its shape in a pie crust.
So while lemon curd and pie filling may be similar in flavor, they're definitely not the same thing.
What You Will Need
The key ingredients in lemon curd are lemons, sugar, butter, and eggs.
Pause for a moment while I sing…"These are a few of my favorite things!"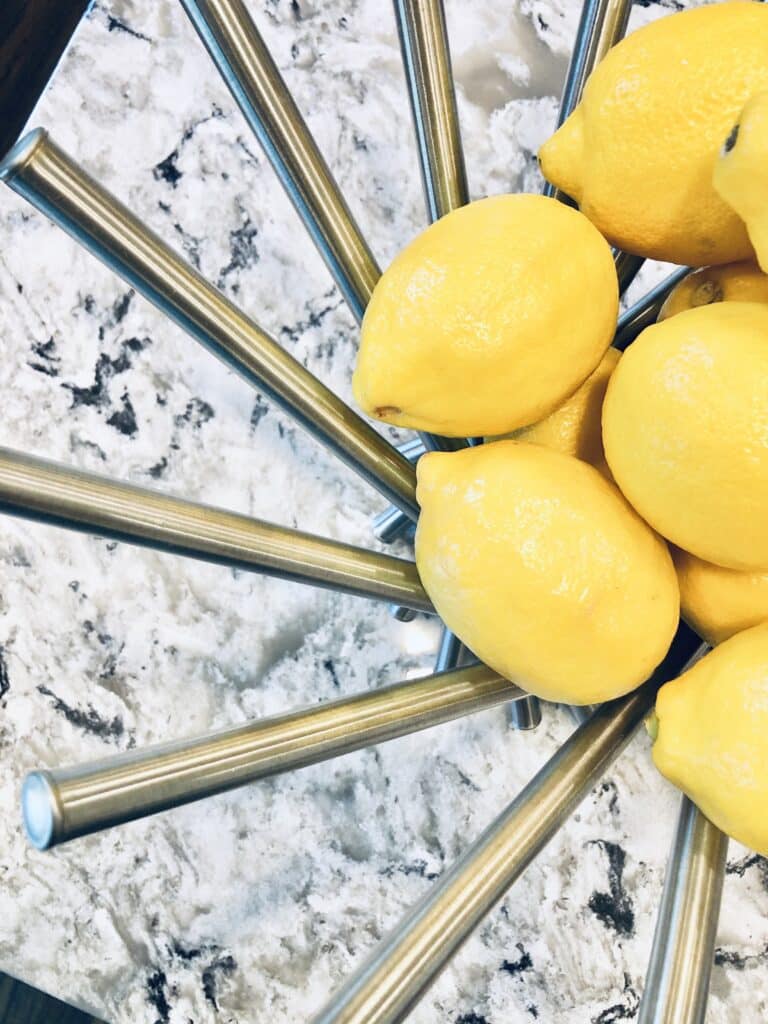 Ingredients:
Zest of 3 lemons
1 1/2 cups sugar
1/4 lb. unsalted butter, room temperature
4 extra-large eggs
1/2 cup lemon juice (3-4 lemons)
1/8 teaspoon kosher salt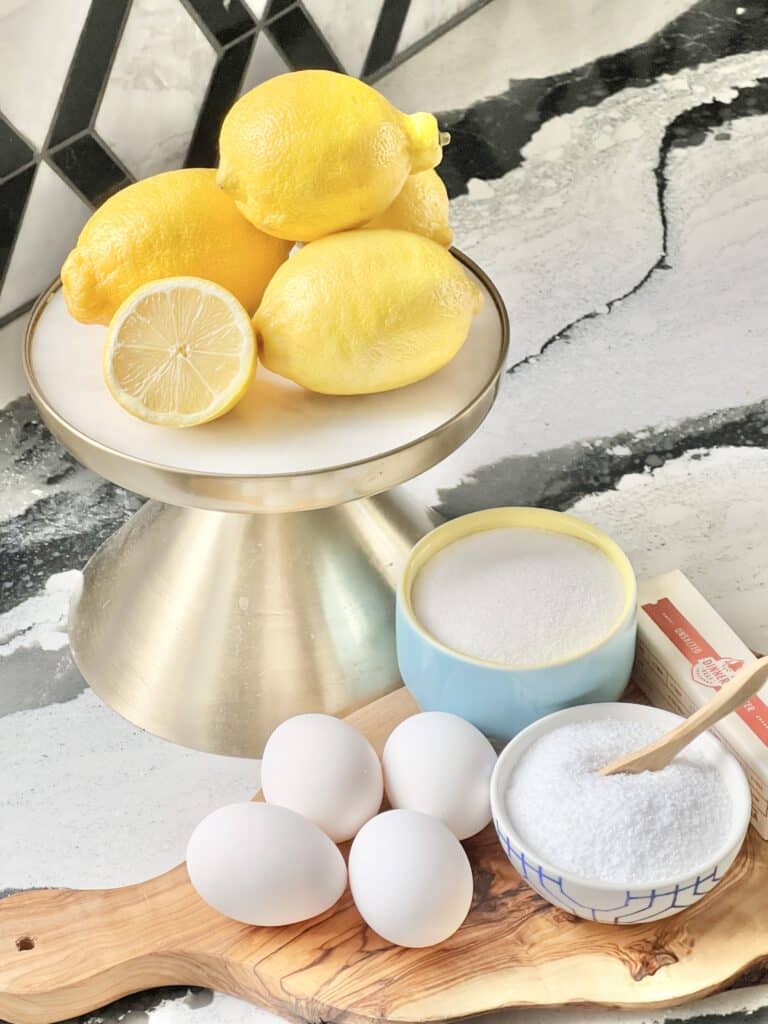 The lemon juice and zest give lemon curd its tart flavor, while the sugar balances out the sweetness. The butter helps to create a smooth and creamy texture, while the eggs bind all of the ingredients together. When made correctly, this tasty spread should be thick enough to spread but still light and fluffy.
Today, lemon curd can be found in a variety of recipes, from pies and tarts to muffins and scones. It can also be enjoyed on its own as a spread for toast or crackers.
How to Make Lemon Curd
So, what are the steps to making homemade lemon curd?
Though it may seem like a daunting task, lemon curd is actually quite easy to make!
First, zest and juice 4 lemons. When zesting, be careful to avoid the white pith of each lemon.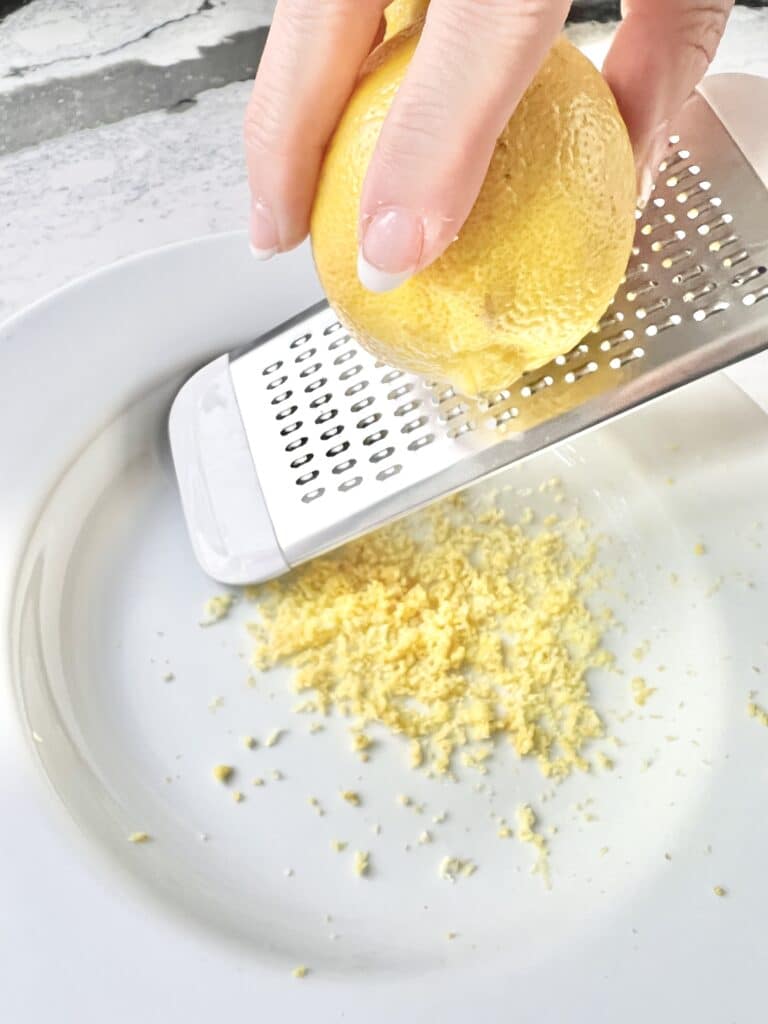 My preferred way to juice lemons is by using a stainless steel juicer.
Quick, easy, and strangely satisfying!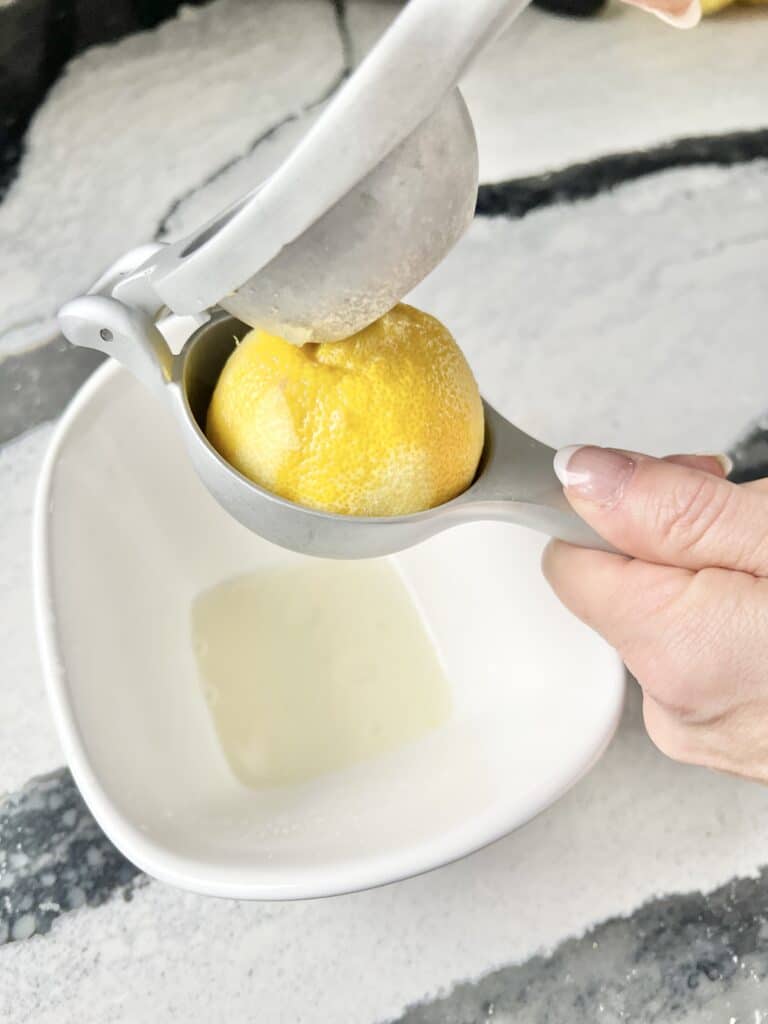 Now, it mainly a matter of combining!
I love to have everything measured out and ready to pour.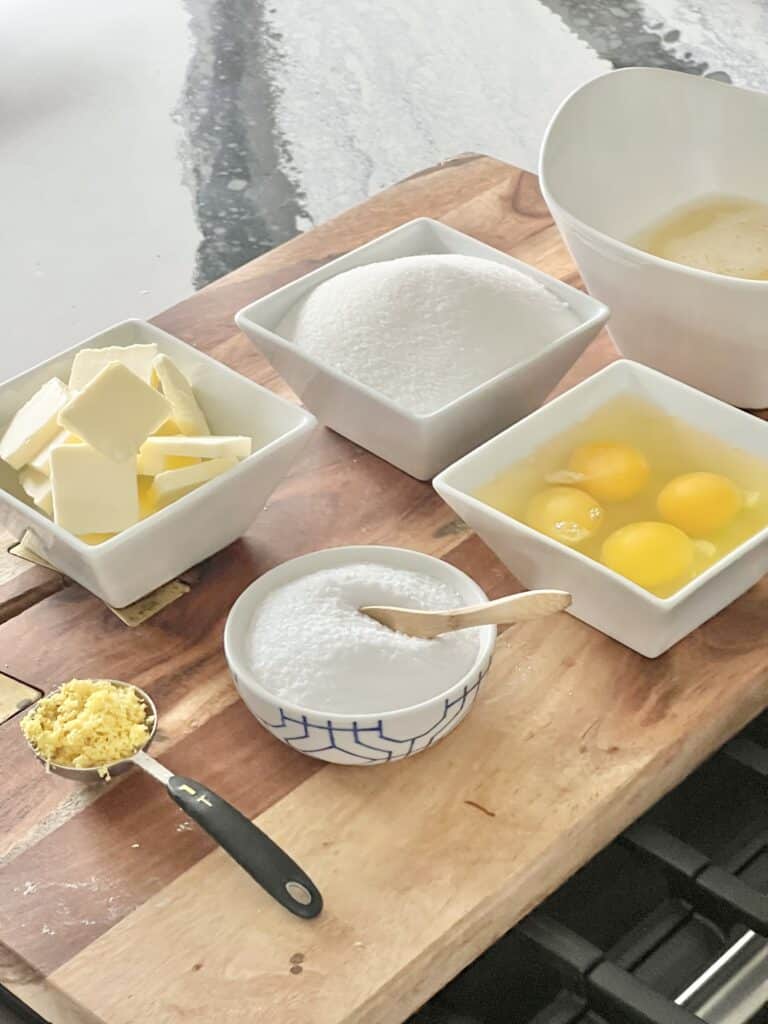 It makes me feel like I am on a cooking show.
Or better yet…the Great British Baking Show! (I'm obsessed!)
Farthest thing from reality but it is a fun daydreaming moment for me!
Pause: Are you enjoying this post? If so, please consider following me on Instagram! Recipes, decorating inspiration, DIYs, and more!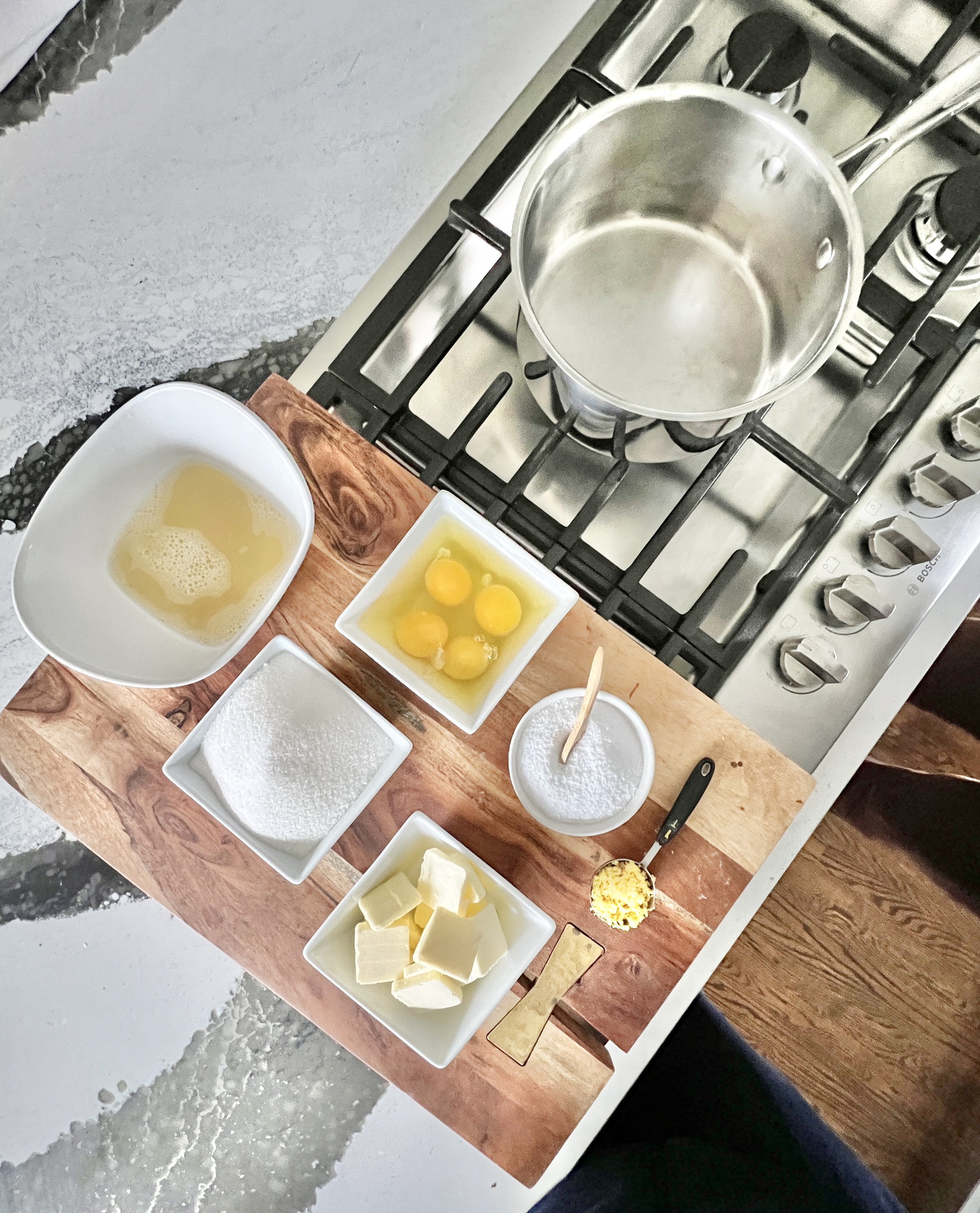 Now, combine the lemon juice, sugar, eggs, and salt in a saucepan. I like to incorporate the eggs one at a time so there is no risk of them heating up too quickly. Cook the mixture over low heat, stirring constantly until it thickens.
Once the lemon curd has reached the desired consistency, remove it from the heat and stir in the butter.
Note: One time, I was combining and stirring this while on a zoom call, was not paying attention, and added everything at once.
Oops! I had bits of egg floating around and it never became quite as silky and smooth as when combined correctly.
So, save the zoom calls for later!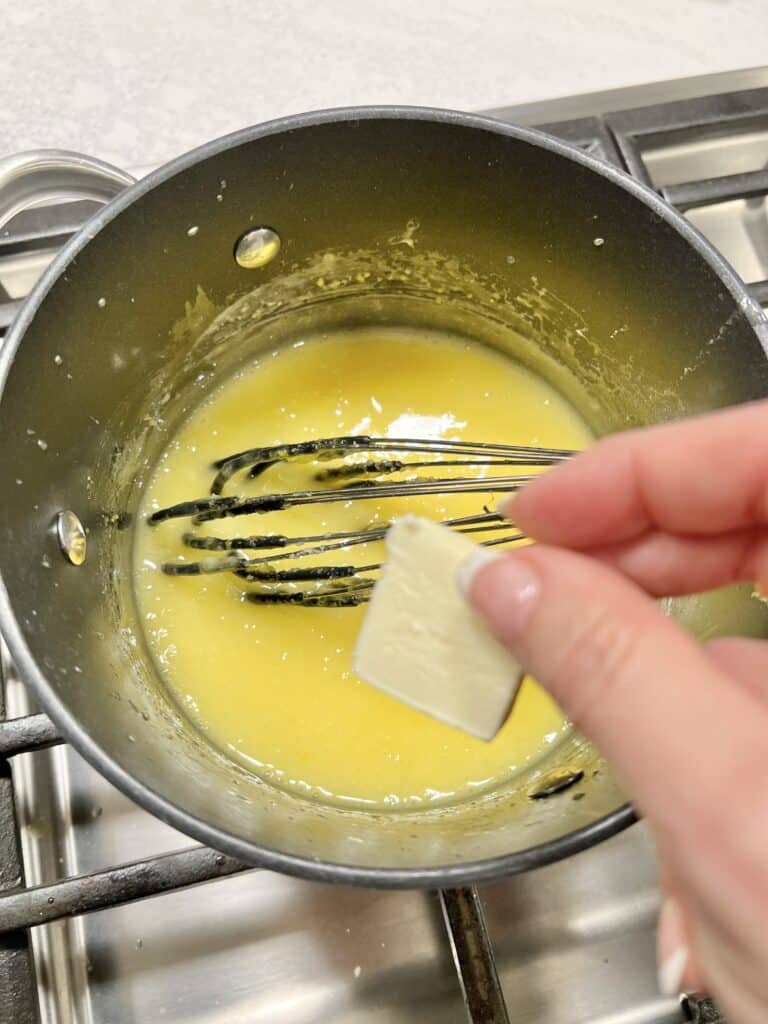 Finally, pour the mixture into a jar and refrigerate until it is cold.
Now, here is an important tip…
As the curd cools, place a piece of wax paper on top. This will prevent a "skin" from forming on the top of your beautiful new lemon curd!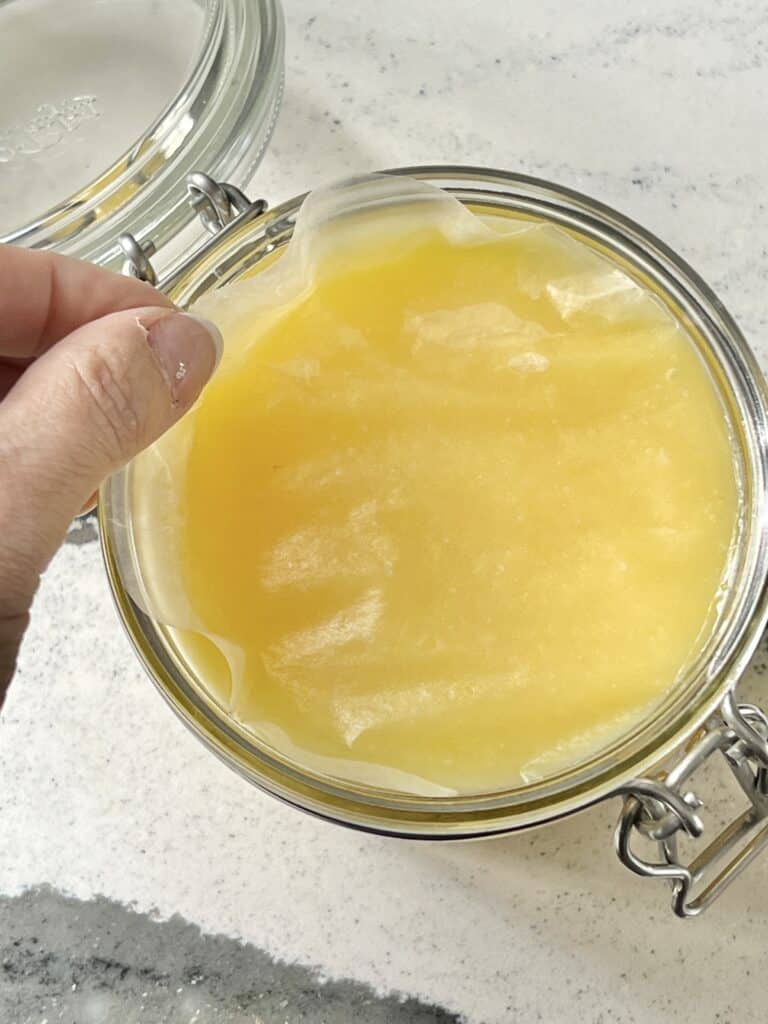 Just look at the gloriously sweet, tangy, lemon-yellow color!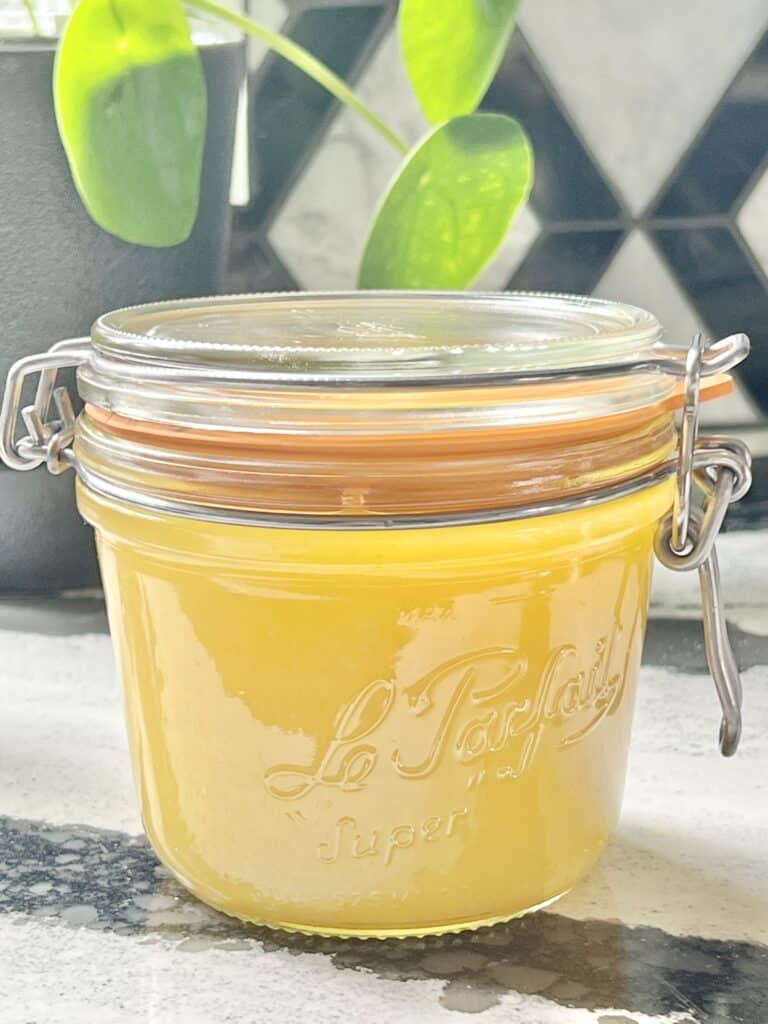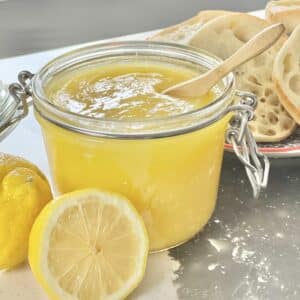 Lemon Curd
A sweet and tangy topping with strong lemon flavor that is used to complement muffins, scones, waffles, and other desserts. This always reminds me Sunday brunch, Downton Abbey, and my beautiful mother!
Ingredients
1

Tbsp

lemon zest (3 lemons)

1 1/2

cup

sugar

1/4

pound

unsalted butter, room temperature (cut into cubes or pats.)

4

extra large eggs

1/2

cup

lemon juice (3-4 lemons)

1/8

tsp

kosher salt
Instructions
Zest and juice 3-4 lemons.

Combine the lemon zest, sugar, lemon juice, and salt in a saucepan. Add the eggs one at a time and incorporate into the mixture.

Cook over low heat, stirring constantly until it thickens.

Once thickened, add butter pats one at a time and stir until each melts into the curd.

Pour the curd into a glass jar and let cool. Place a piece of wax paper on top to prevent a "skin" from forming.

Store in the refrigerator.
How Long Does Lemon Curd Last?
According to the National Center for Home Food Preservation, you can keep homemade lemon curd in the refrigerator for up to a month and in the freezer for up to a year.
So, how can you tell if your lemon curd has gone bad?
The nose knows!
The best way to test it is by giving it a smell. If the lemon aroma is noticeably weaker than when you first opened the jar, or if there's any hint of sourness, then it's probably time to toss it out.
Another telltale sign is if it has changed color, usually to a darker yellow or brown. Lastly, if the curd has started to form any lumps or clumps, then it's also past its prime.
But, this lemon curd is so good, you will eat it all before it has the tiniest chance of going bad!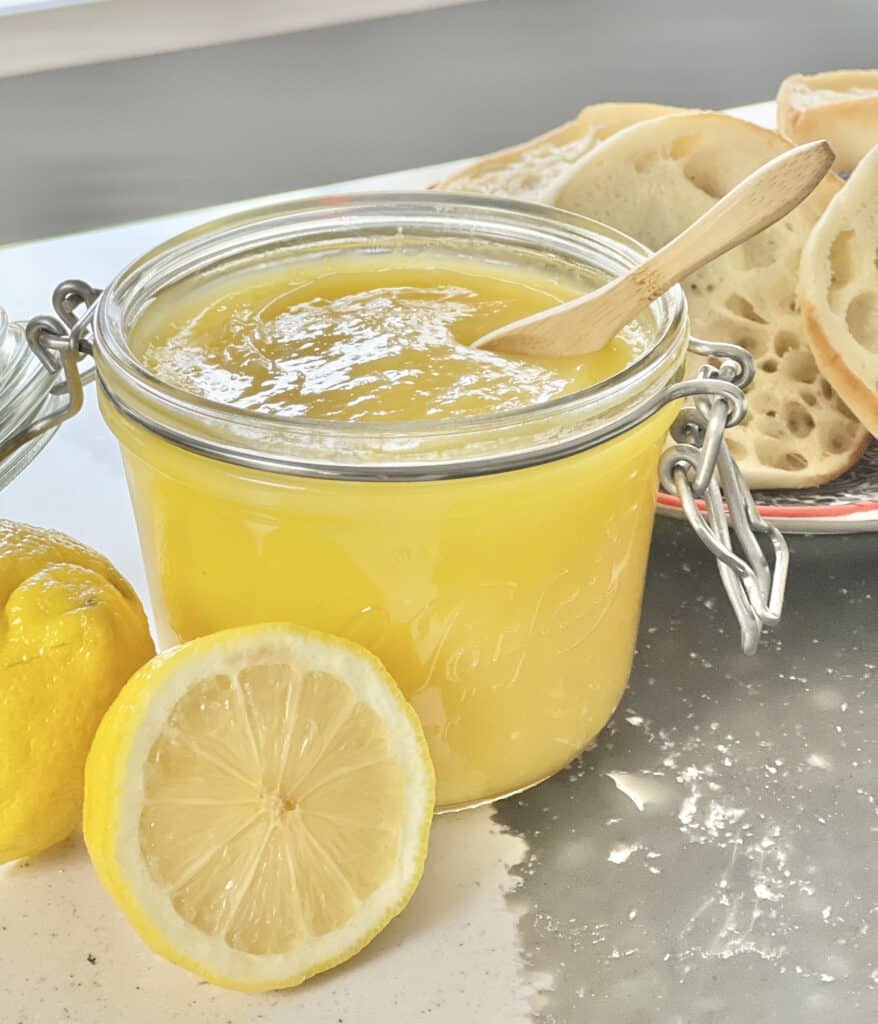 So there you have it, a foolproof guide to making lemon curd!
It's really not as difficult as it seems and the results are well worth the effort.
This is such a versatile spread that can be enjoyed all year round with everything from toast and scones in the morning to cakes and desserts at night.
Or, be like me, and just eat it by the spoonful!
Give it a try and let me know how you get on!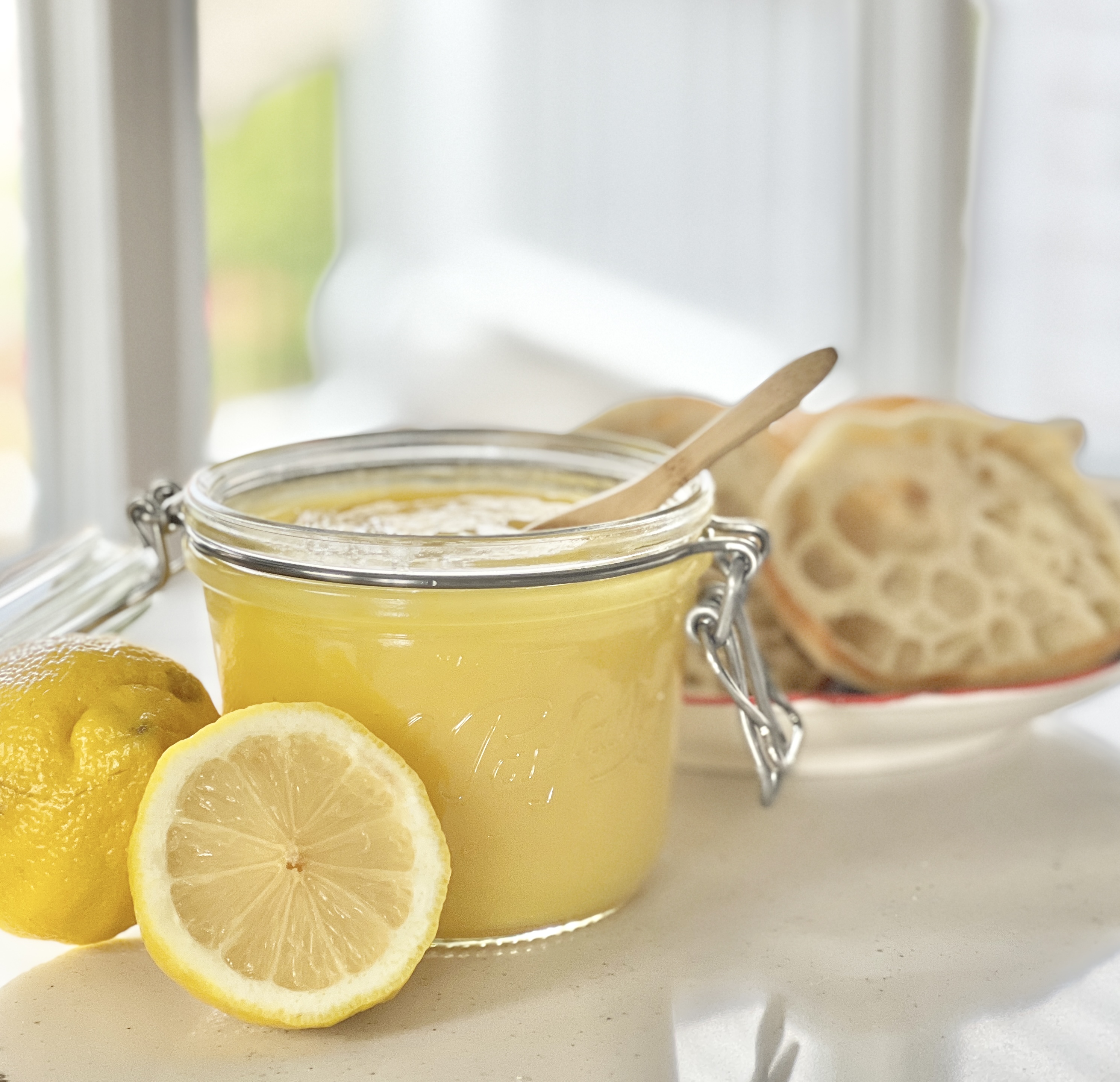 Cheers!

Still Hungry?
Melt-in-Your-Mouth Chocolate Trifle
Simple and Easy Roast Beef and Tomato Bruschetta
Don't Forget to Pin It!