Decorative Eggs for Spring with Just the Right Bling
Do you feel like you have spring fever already? Bring a bit of color and shine to your home this spring with the Handcrafted Society! Our theme this month…decorative eggs and color!
Whether it be due to the longer days, warmer temperatures, or simply wishing for something new and cheerful in your home decor – each one of us in the Handcrafted Society is eager to show there's no better way to celebrate the coming of spring than with some colorful decorative eggs. And mine…how about just a little bling!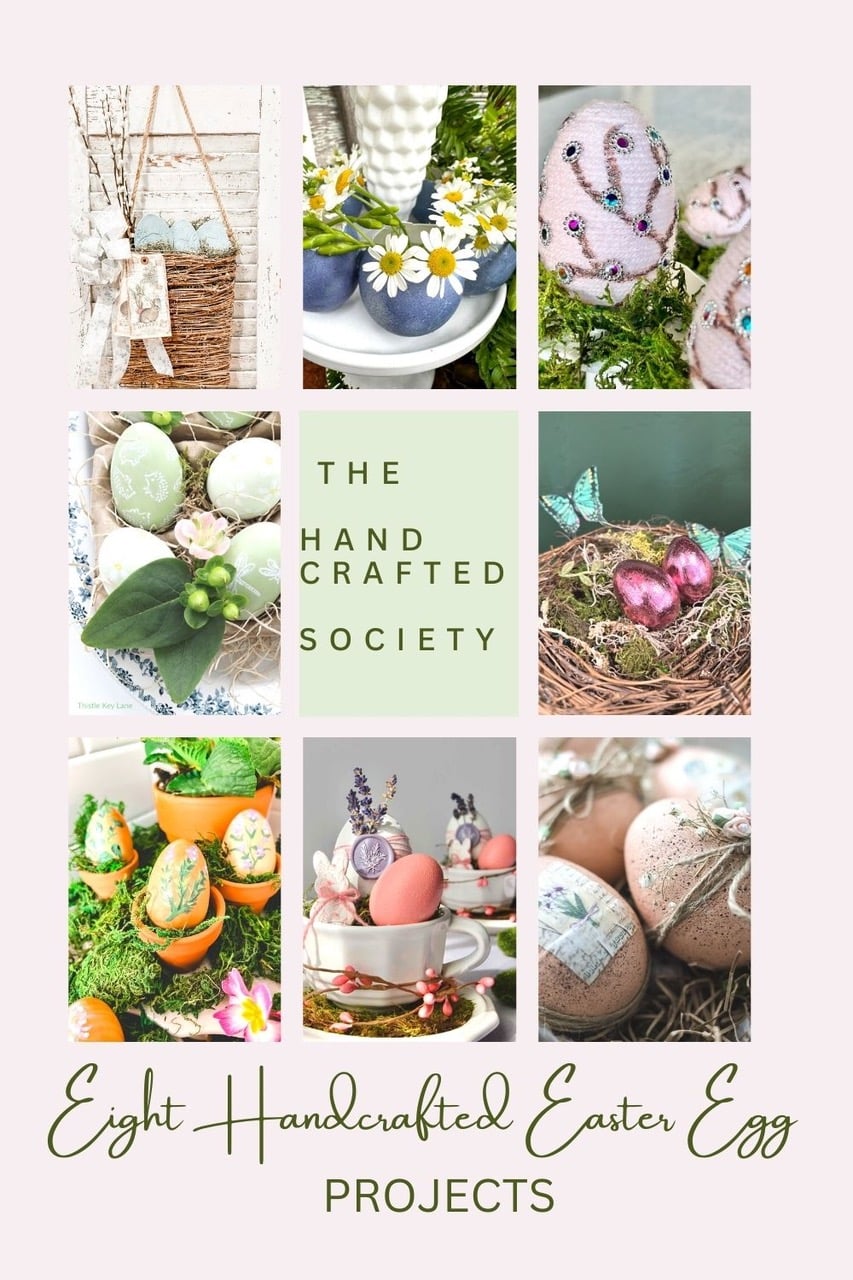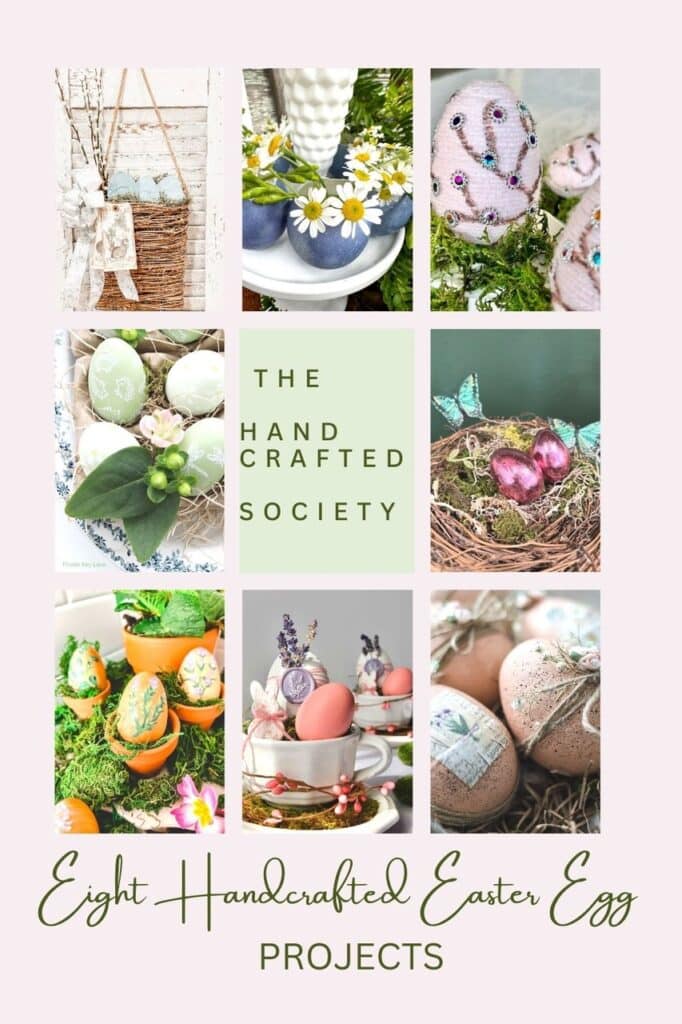 This blog contains affiliate links. This means a small commission is earned if you make a purchase by using this link. The price you pay will be the same whether you use the affiliate link or go directly to the vendor's website using a non-affiliate link. Sonata Home Design is a participant in the Amazon Services LLC Associates Program, an affiliate advertising program designed to provide a means for us to earn fees by linking to Amazon.com and affiliated sites.
You might be coming from Jennifer's fabulous blog Cottage on Bunker Hill…I always love what she creates! Welcome to Sonata Home Design!
It's my turn!
As a member of the Handcrafted Society, I got to choose the theme for this month.
Since we are heading into the Easter holiday, it made perfect sense to use "eggs" as our medium.
But I wanted a little twist…with color!
So, each creator was assigned a color and given the challenge of creating eggs in that color with their own stamp of creativity.
And I love what each person came up with!
For my part, I chose light pink…with a twist!
Decorative Eggs for Spring with Just the Right Bling
This is an easy project that anyone can do!
And, you can choose pretty much any color and bling that you like!
So let's get started!
You need just a few supplies…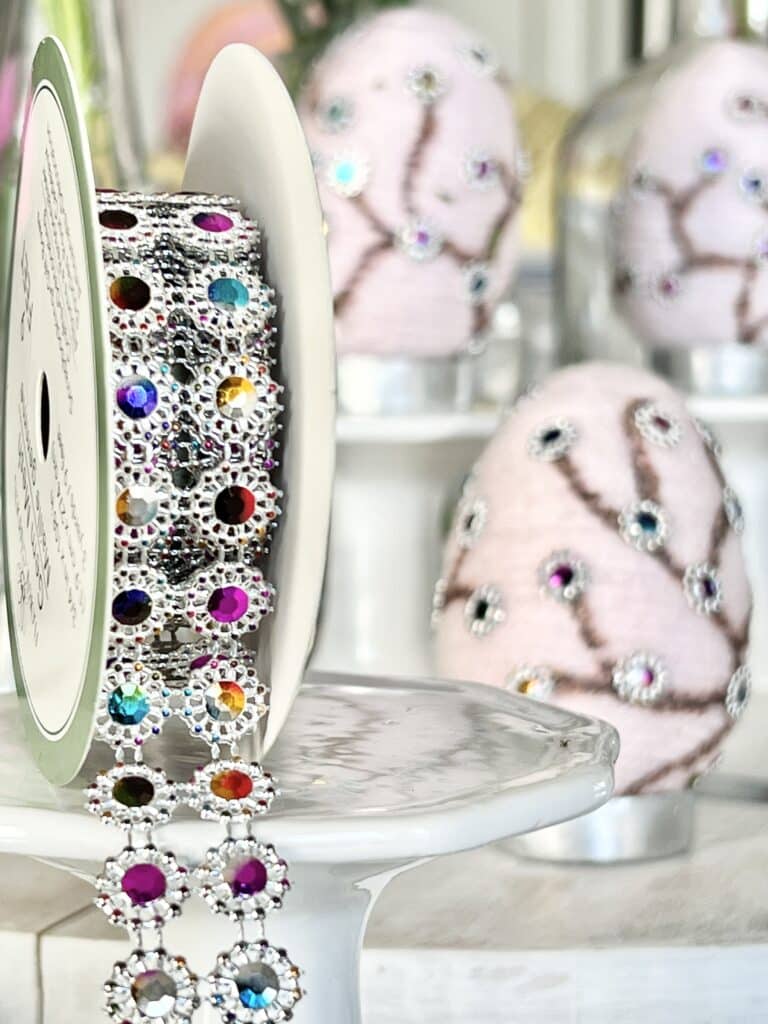 Supply List
Yarn Wrapping a Decorative Egg
Start with a dollop of clear glue on the top of the egg and anchor the end of the yarn.
Then start winding and wrapping, applying the clear blue as you go.
The top half of the egg went very quickly for me. However, once I got to the bottom half, gravity started to work against me and it was more challenging to keep the winding tight on the egg.
A simple needle to the rescue!
After winding the yarn on top of the glue, a simple push with the needle helped to keep the yarn coverage tight.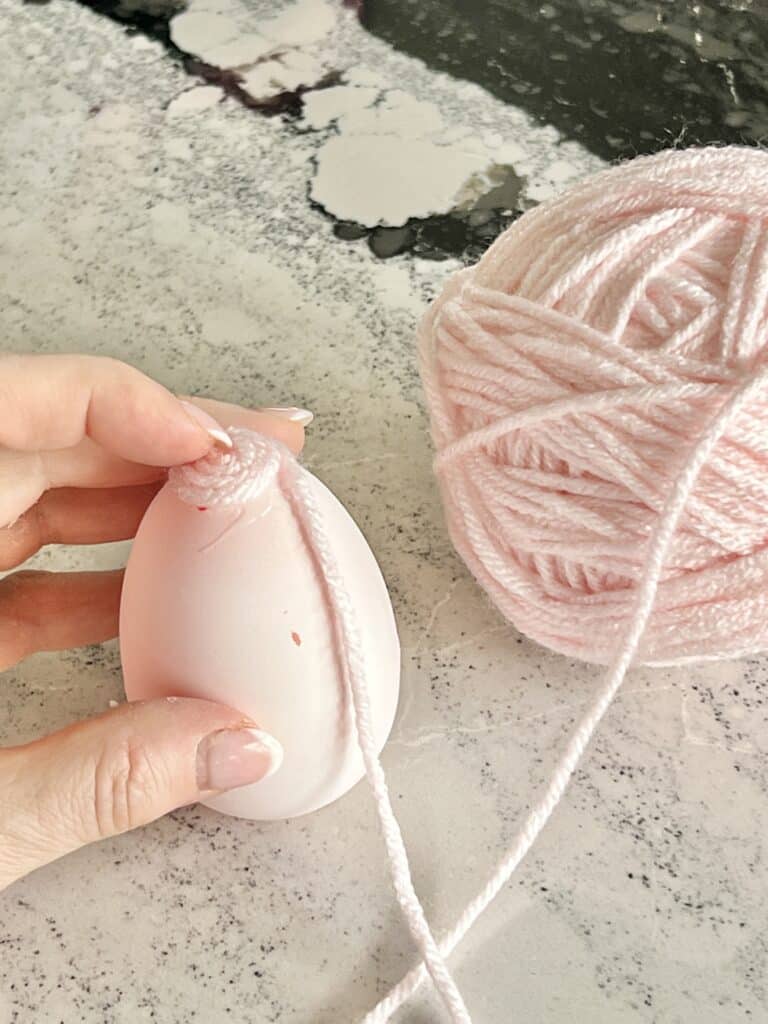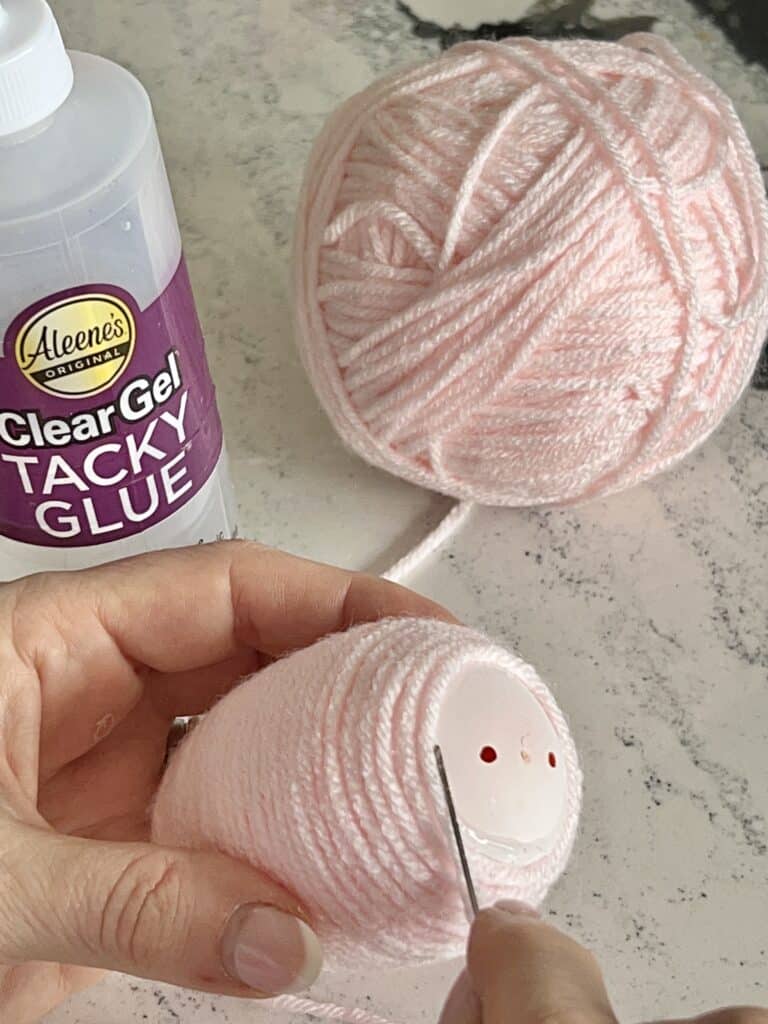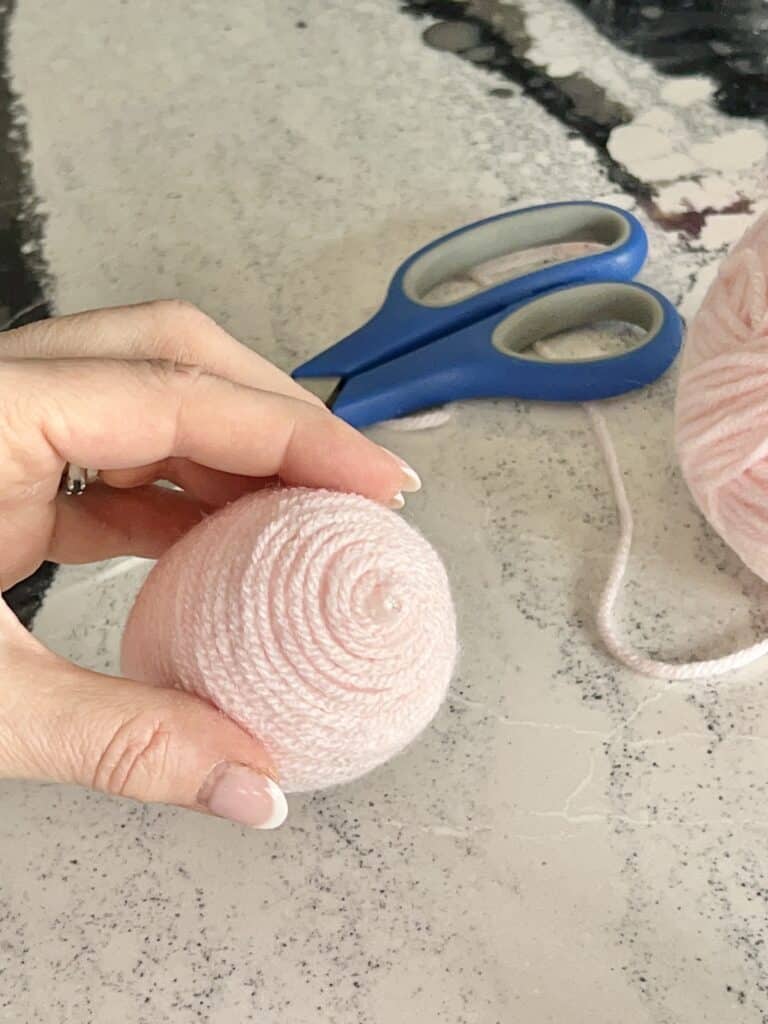 Just the Right Bling
Using a Sharpie marker and starting from the bottom of the egg, draw some meandering branches up the egg.
And remember as you draw…branches emerge from branches!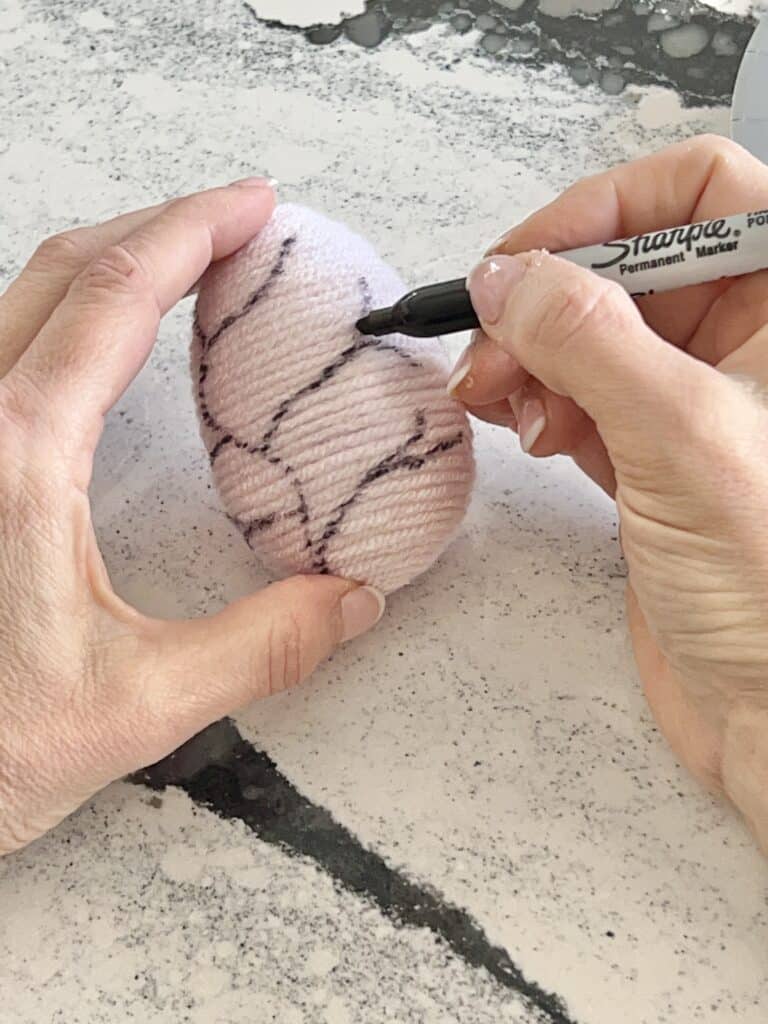 Adding an overlay of bronze metallic paint on the branches gives them just a little more depth and "pop!"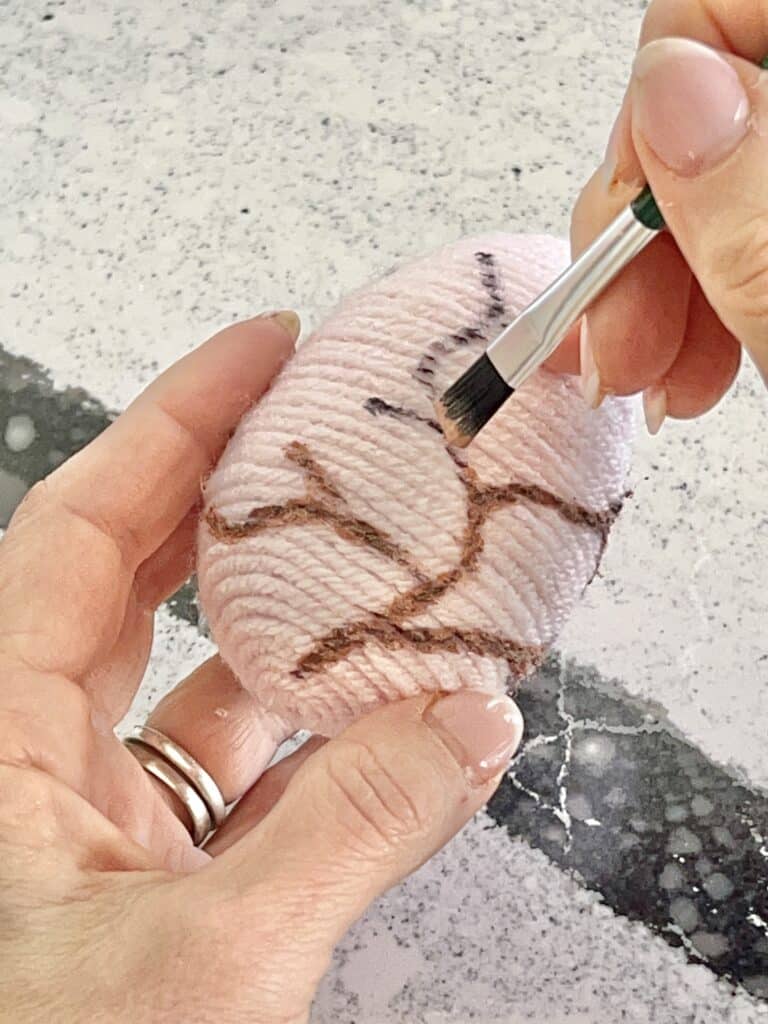 There are so many types of "bling" that can be used for the flowers on the branches.
Rhinestones, mini flowers, color, metallics…
I found all of these in a simple jeweled ribbon at the dollar store.
A quick snip, snip with some scissors and I had loads of colorful, metallic, rhinestone flowers!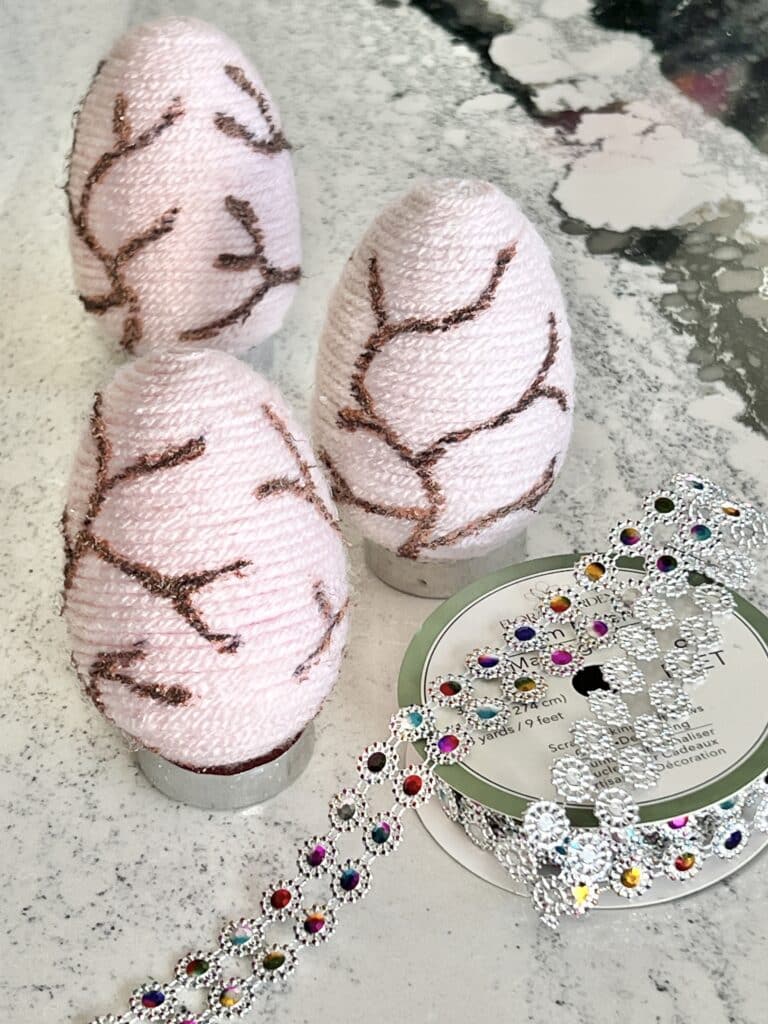 Just a dot of clear glue is all it takes to create blooming flowers on these branches.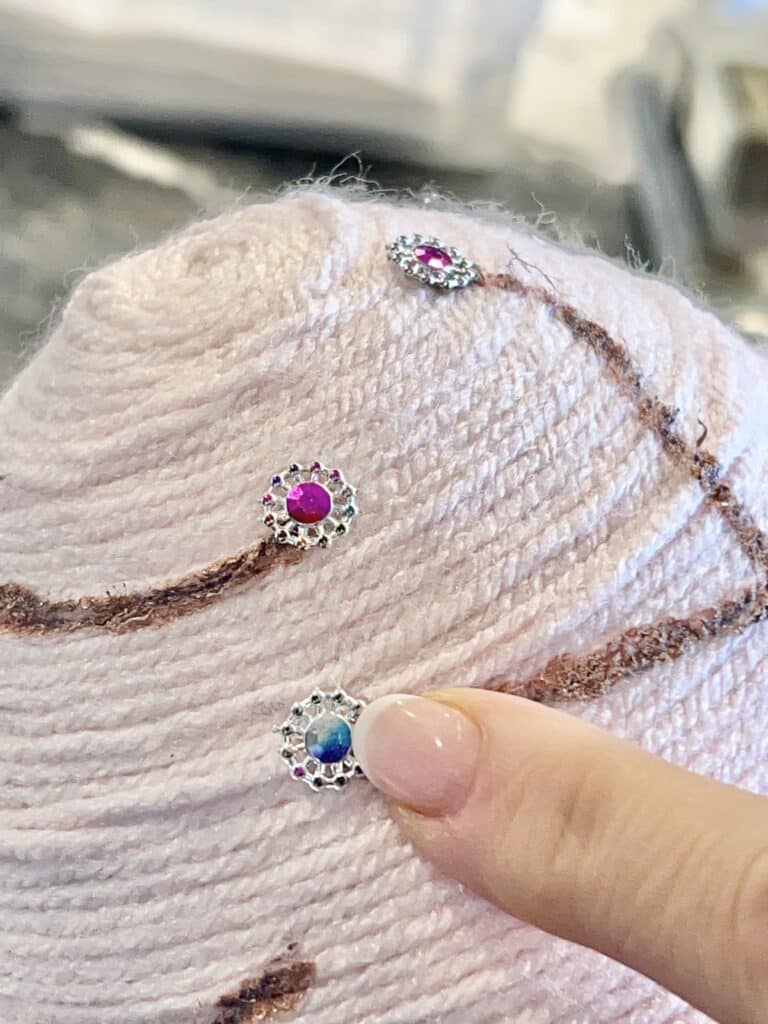 These eggs are so sweet!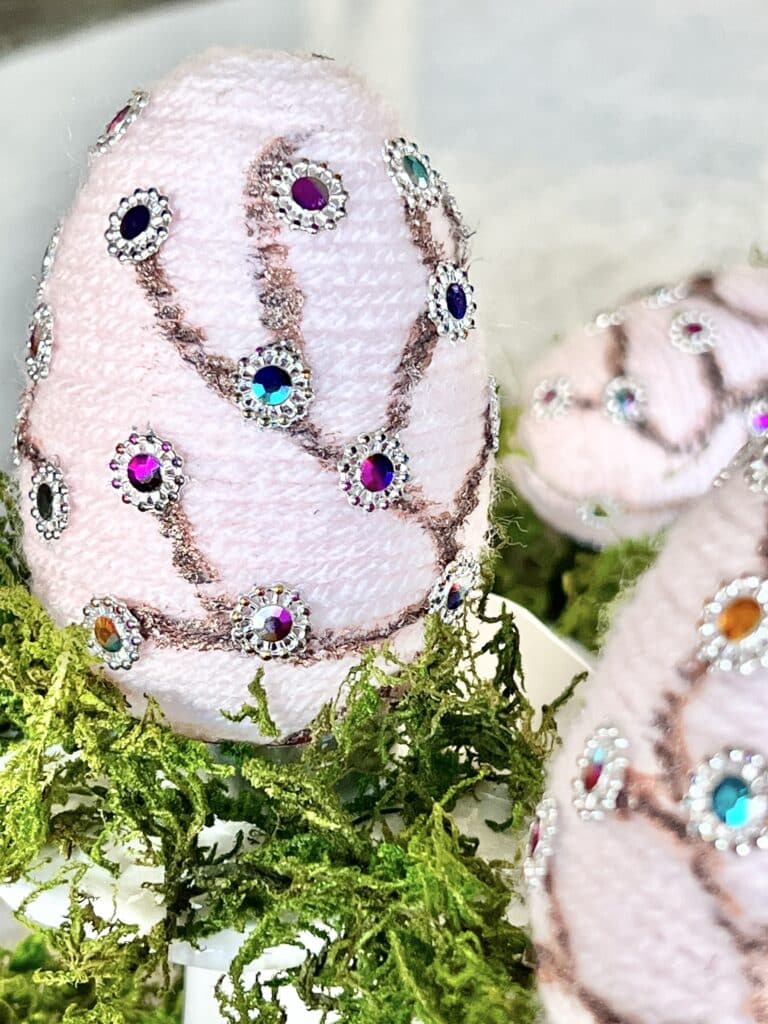 A little green moss and some sweet white cupcake pedestals for display…they are giving me cheerful, cherry-blossom vibes!
Spring has sprung!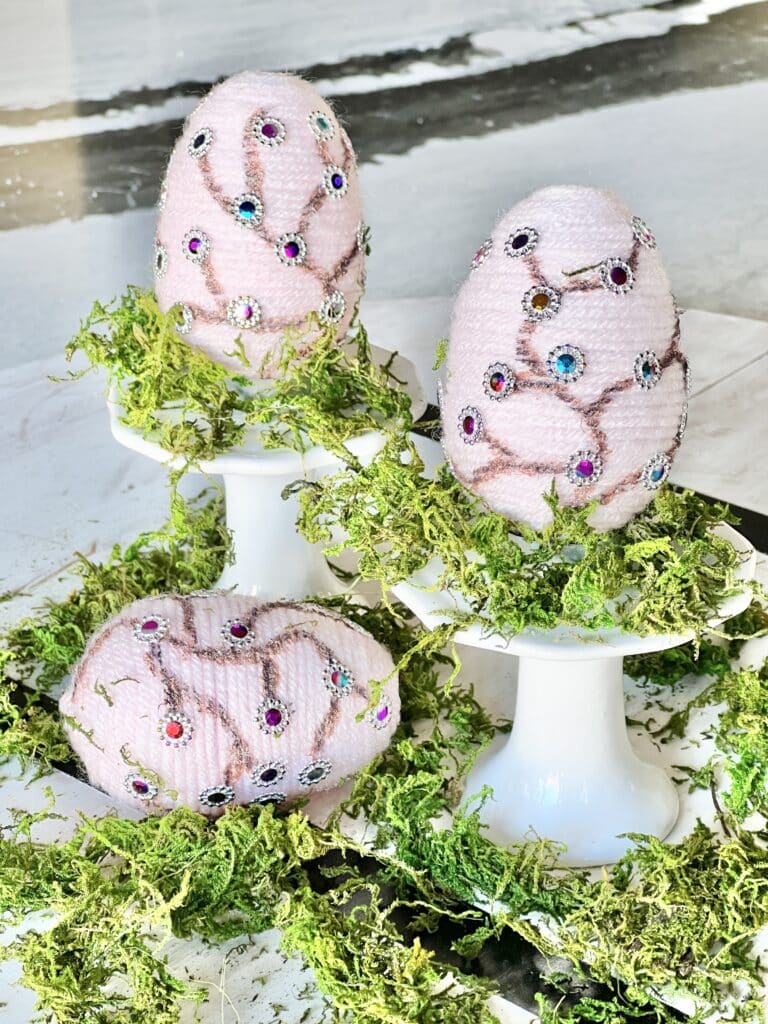 How about an ombre decorative egg companion?
An Ombre Yarn Decorative Egg
I love ombre!
Yarn is available in so many beautiful ombre color combinations.
I adore this pink/peach chenille yarn. Perfect for an ombre yarn-wrapped decorative egg!
Same process: glue, wind, and line up. The ombre yarn creates its own random ombre pattern on the egg.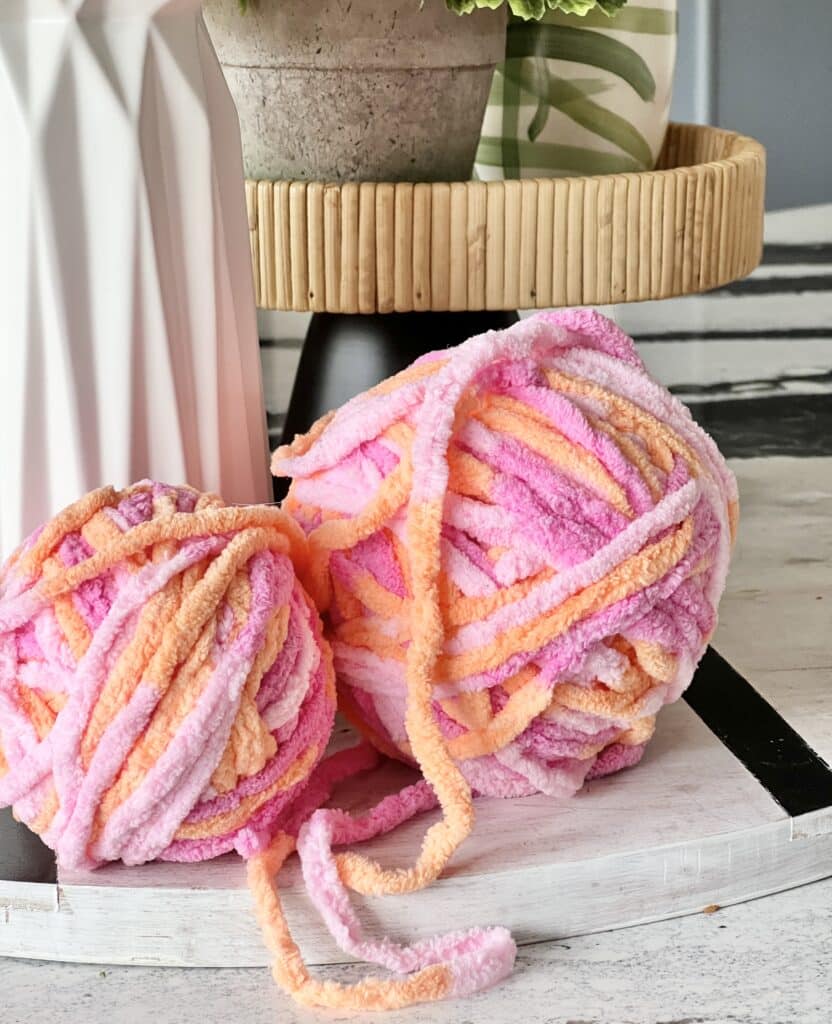 The completed ombre egg has a funkier vibe to it.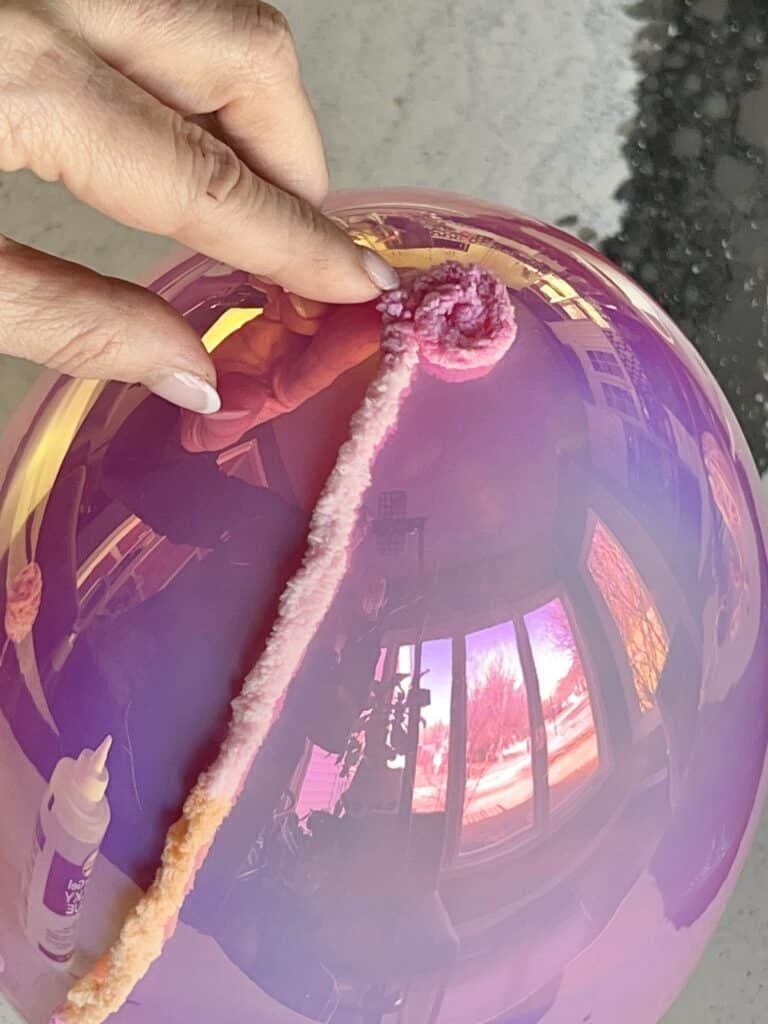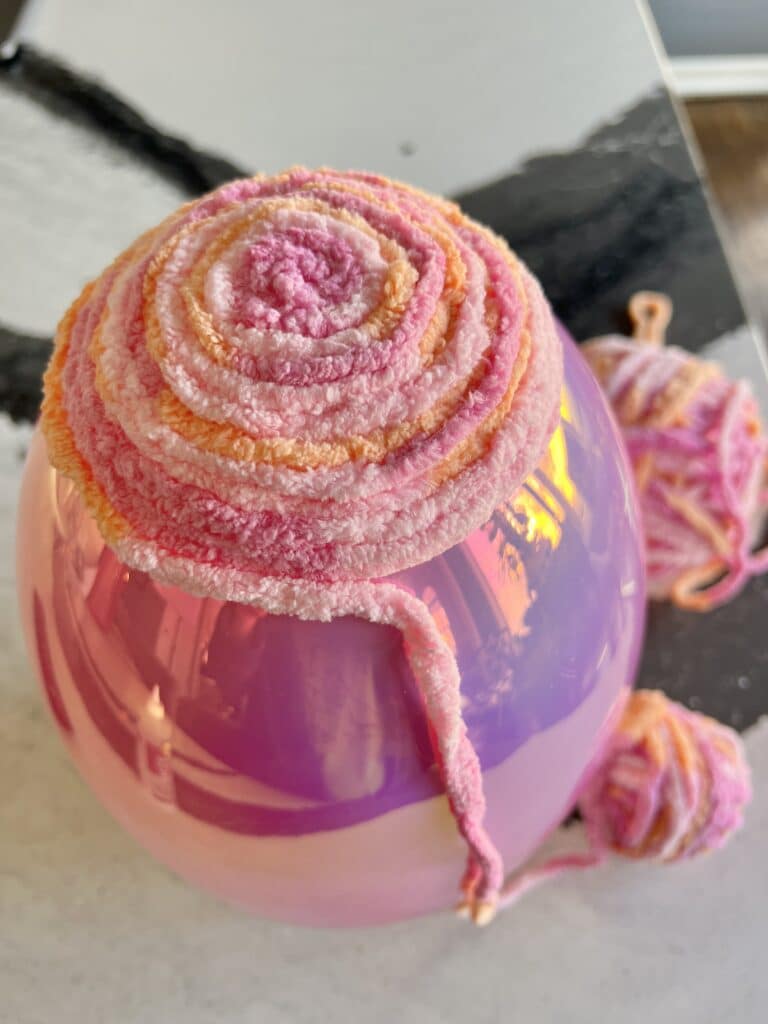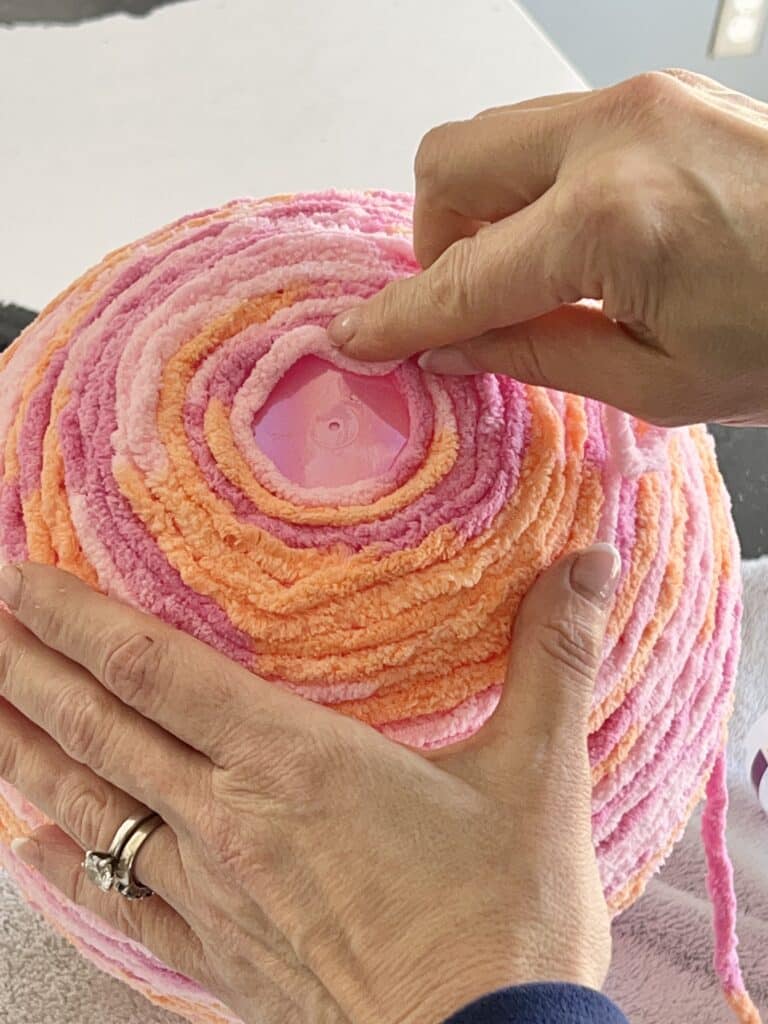 And I love it with the sweet, flowering branch eggs!
So does my little bunny friend!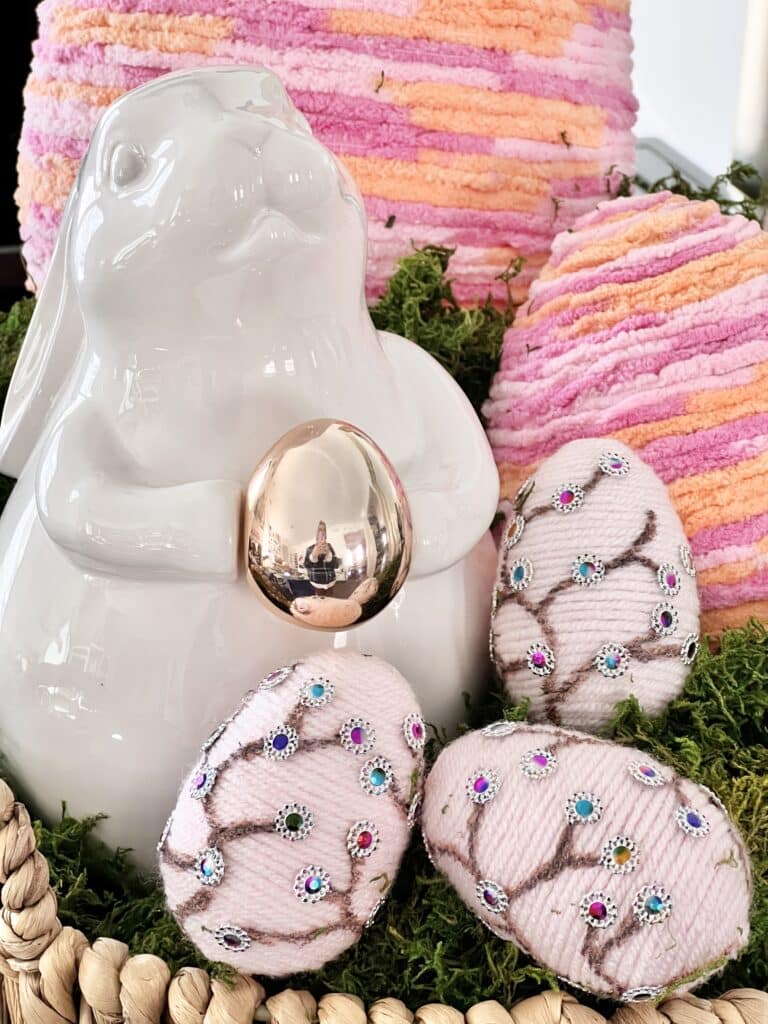 Color, texture, and just the right bling!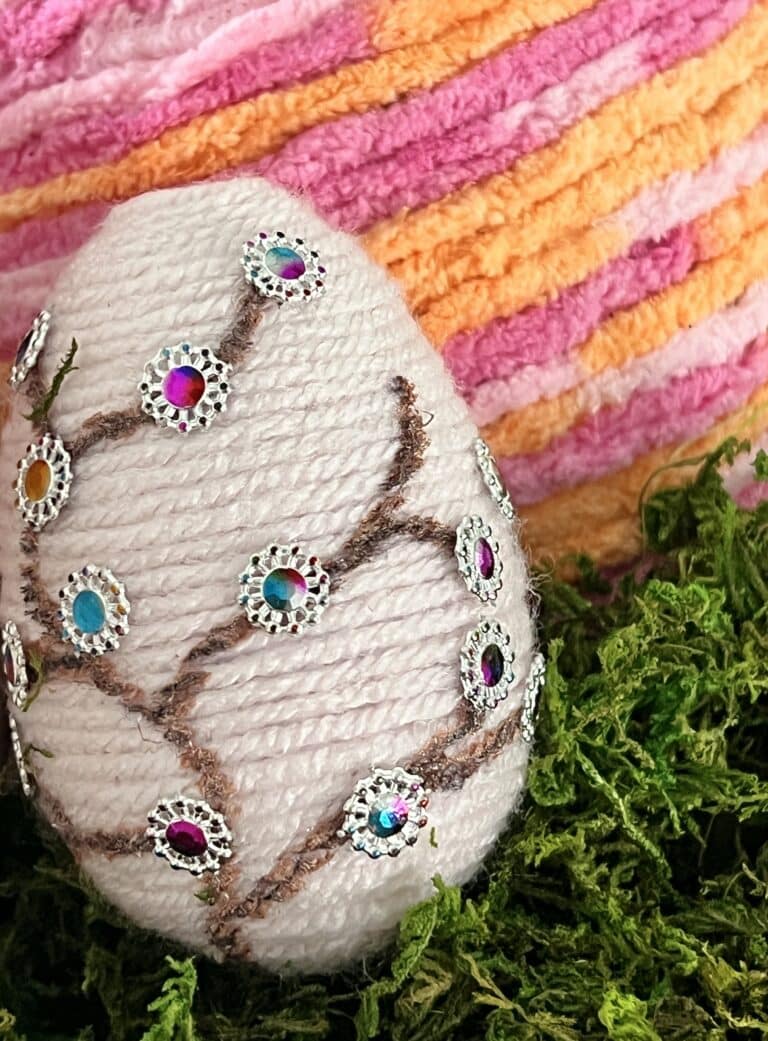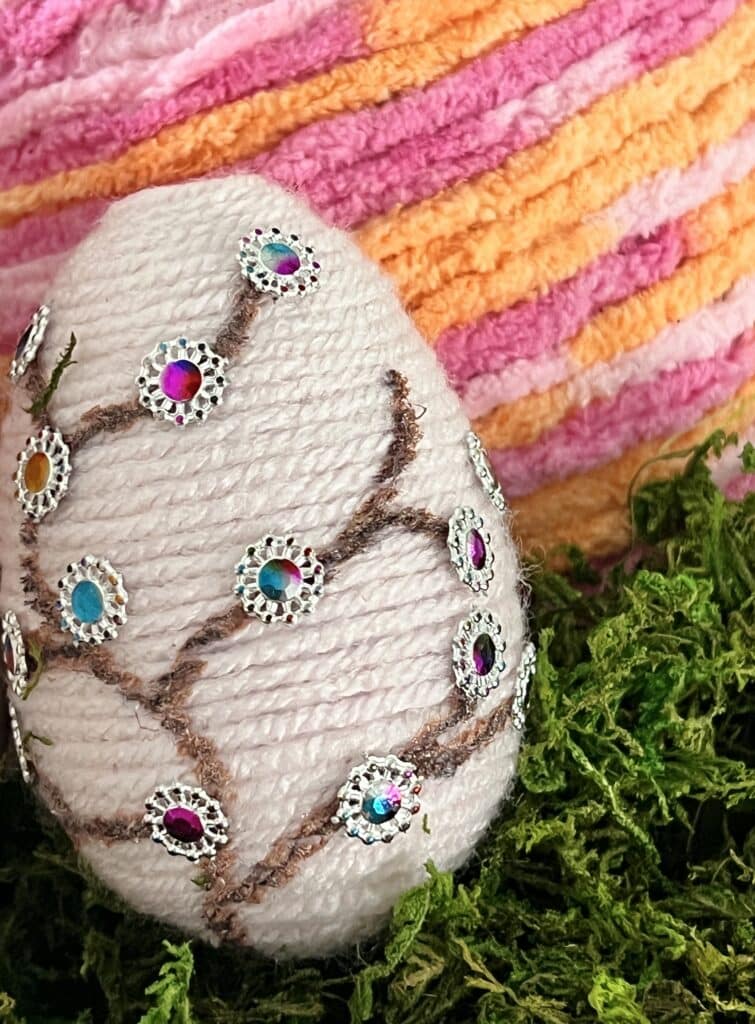 It's amazing how a few simple supplies can be woven together to create something so unique and beautiful. With a few twists, some colorful yarns, and just the right bling, you can make Easter feel like a real celebration.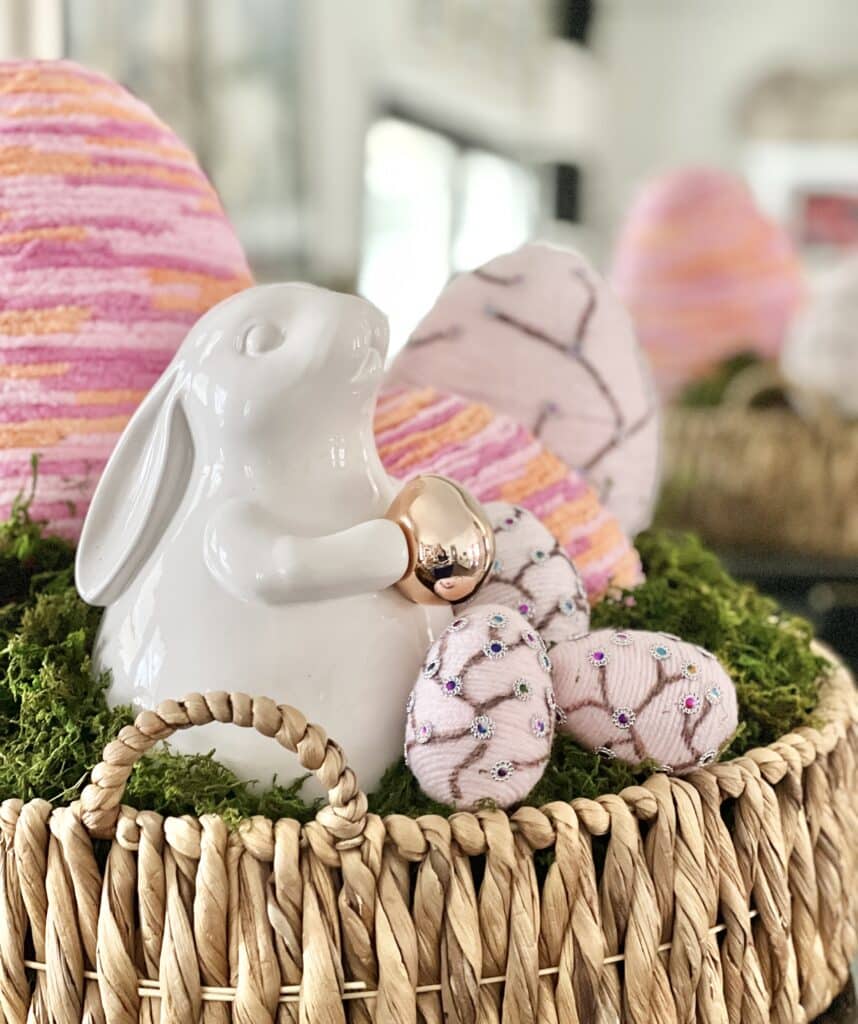 So get out there and get creative! Showcase your style by crafting colorful yarn-wrapped eggs that will surely be an eye-catching centerpiece at your next event.
Let these decorative eggs take center stage at brunch, dinner parties, or as Easter home décor.
Next, head over to see an amazing hand-painted herb egg centerpiece at Tater Tots and Jello! So creative!
And be sure to check out all of the amazing Handcrafted Society decorative eggs. Get inspired and create some decorative eggs with color, texture… and maybe a little bling!
Cheers!

Don't Forget to Pin It!
Pin the image below to your boards on Pinterest (just click the Pin button in the top left corner). You can also follow along with me on Pinterest!